In the heart of Montreal's Old Port Town sits Hotel William Gray, a property that successfully manages to meld old and new while providing an exceptional experience. Here's why.
Location
I spent a little under 36 hours in Montréal, but it was easy enough to get to the hotel. Driving takes around 20 mins in light traffic from YUL airport and roughly double that on the aptly named 747 Trudeau/Centre-ville shuttle.
It's located in a great part of the city within close walking distance to key landmarks in the old town as well as just ten minutes to Chinatown or major shopping streets. It is an excellent location to base yourself to explore Montréal.
Public spaces and amenities
The hotel has created some beautiful spaces on the ground floor for hotel guests or visitors to relax, shop, eat and drink. The reception can be found immediately on the right after the entrance.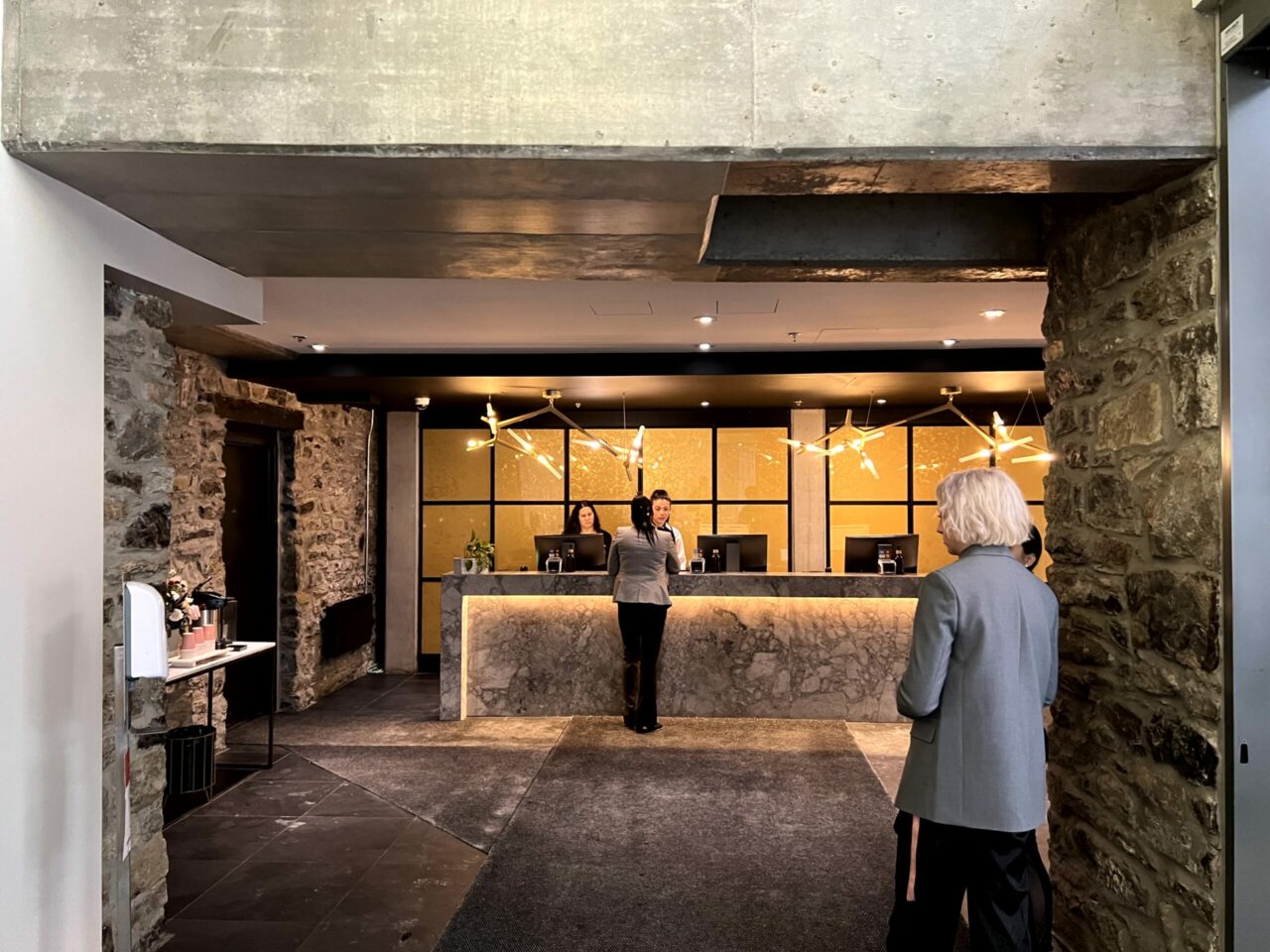 Attached and accessible through the hotel is a small coffee shop called Café Olimpico Vieux-Montréal which leads through to a small boutique for the local fashion brand Le Cartel. The addition of these two outlets feels better than just having a soulless hotel-operated café or shop.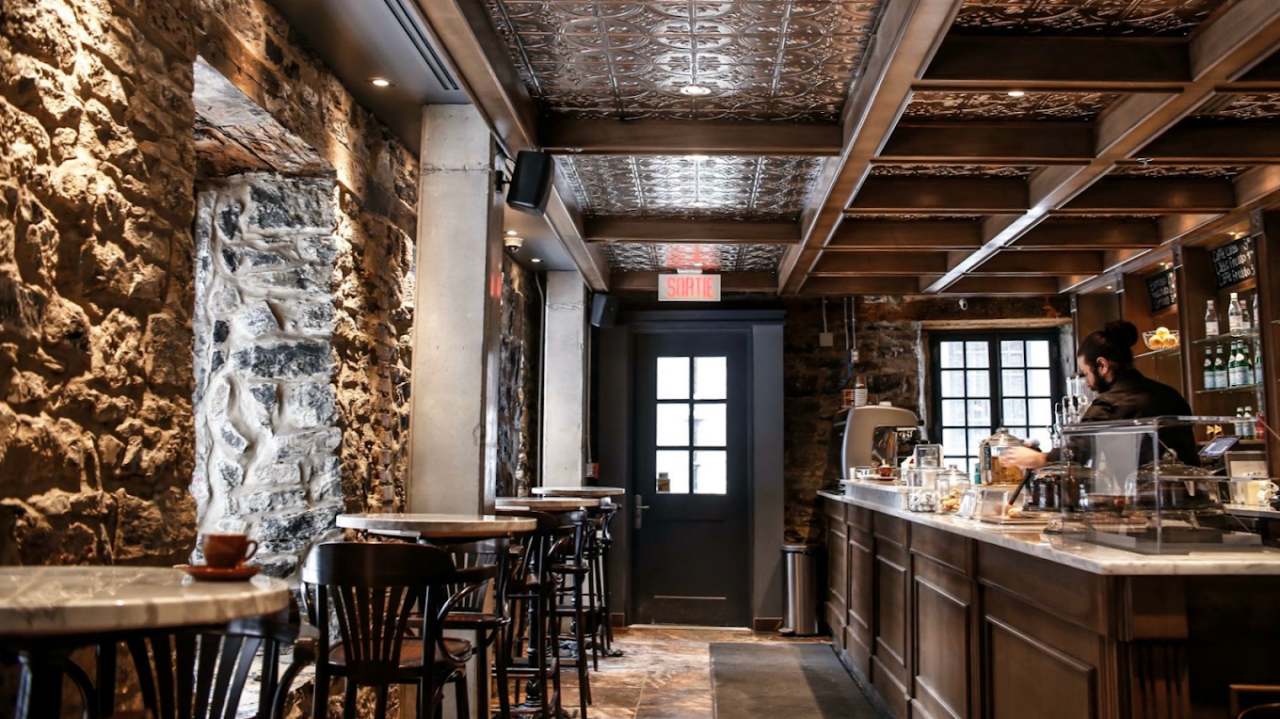 Further around on the ground floor is a co-working and lounge space which can be a great place to work from after you've grabbed a coffee from Café Olimpico – which in itself severely lacks seating.
A staircase leads up to a conference area, as well as a beautiful-looking firepit which I wasn't quite brave enough to sit in during the cold and snowy weather.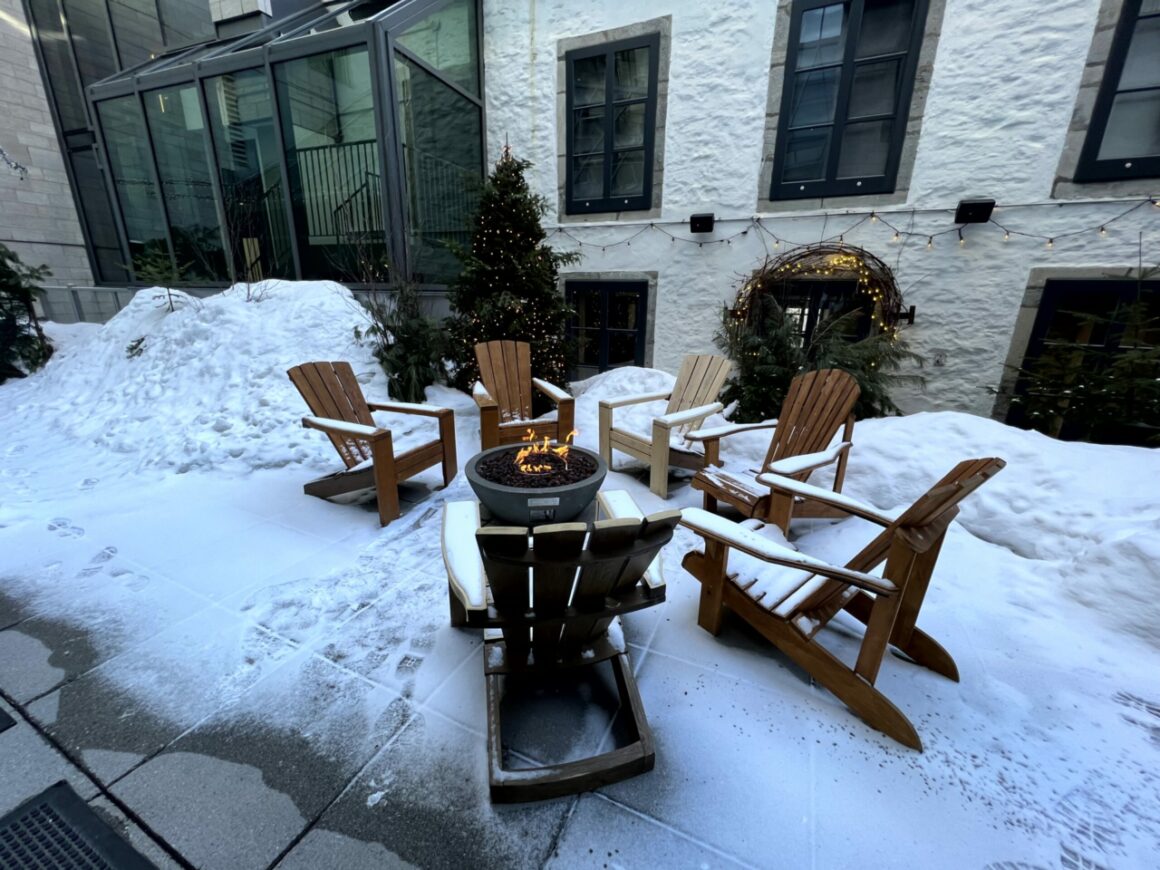 Behind this is the property's spa and fitness centre. Treatments seemed on the more expensive end, so I didn't opt for one. I did use the gym, though, and the small but well-equipped selection impressed me.
The property plays host to three different restaurants, but I didn't manage to try any of them after "needing" to sample poutine – or cheese, chips and gravy to Brits. Maggie Oakes, on the ground floor, offers more traditional bistro-style foods, while Perché on the fourth floor offers a 'healthy menu' but appears to only be open during the warmer months. Finally, Terrasse William Gray is their winter terrace pop-up restaurant on the eighth floor, offering set menus at dinner or brunch. Only breakfast is offered at Maggie Oakes, and prices seem aligned with what you would expect in the city centre.
The room
For my stay, I spent the night in the Alcove King Room, which seems to retail for around GBP 240 in the winter months to over GBP 300 in the peak months. This room is a fair size with plenty of room to move around and place luggage – this is certainly not as constricted as a room in New York would be. A comfortable but firm King Bed is located in the centre of the room, where I slept for almost ten hours.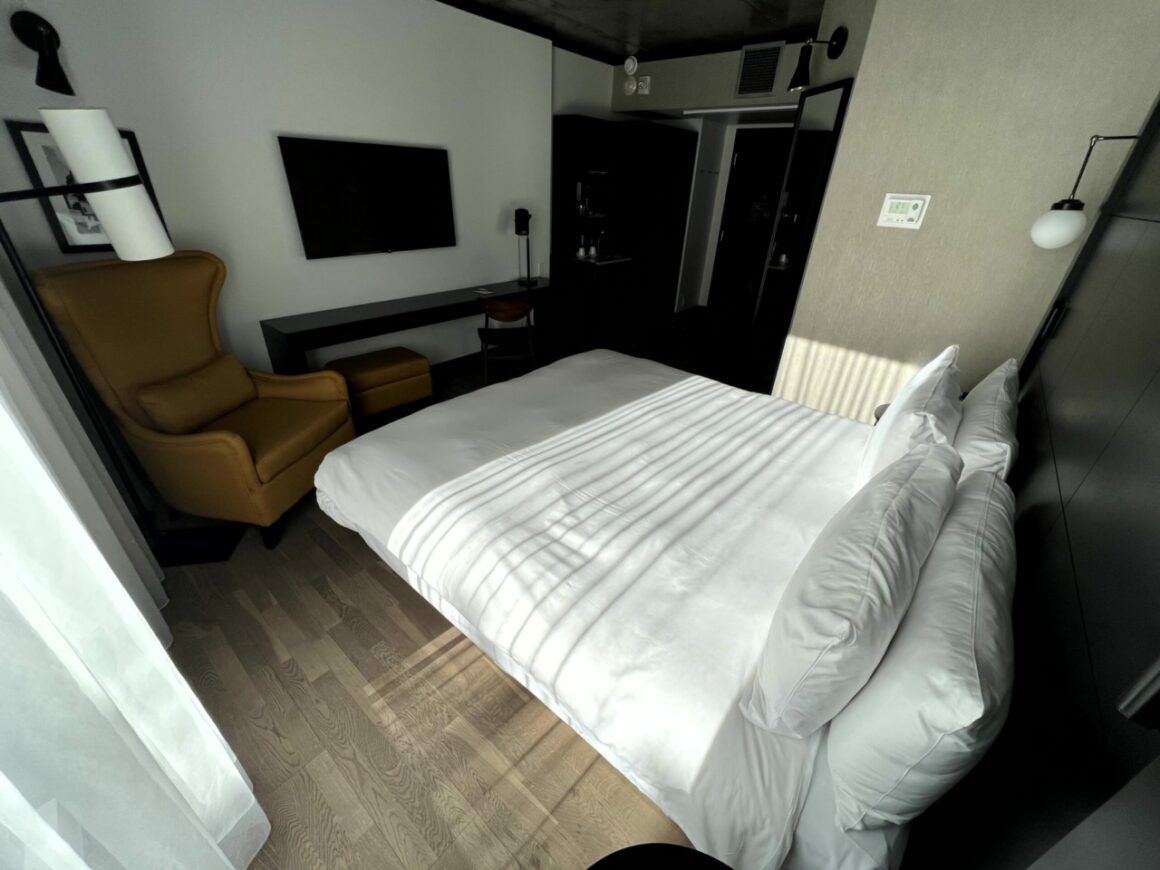 Light streamed through the floor-to-ceiling windows on this beautiful February day with a view over the quaint cobbled streets in this part of the old town.
While the colour scheme could be described as quite neutral, with the usual of greys, whites and black, the splash of mustard on the chair and stool provides a satisfying variation in the design. I'm not a particular fan of the unfinished (?) style ceiling though.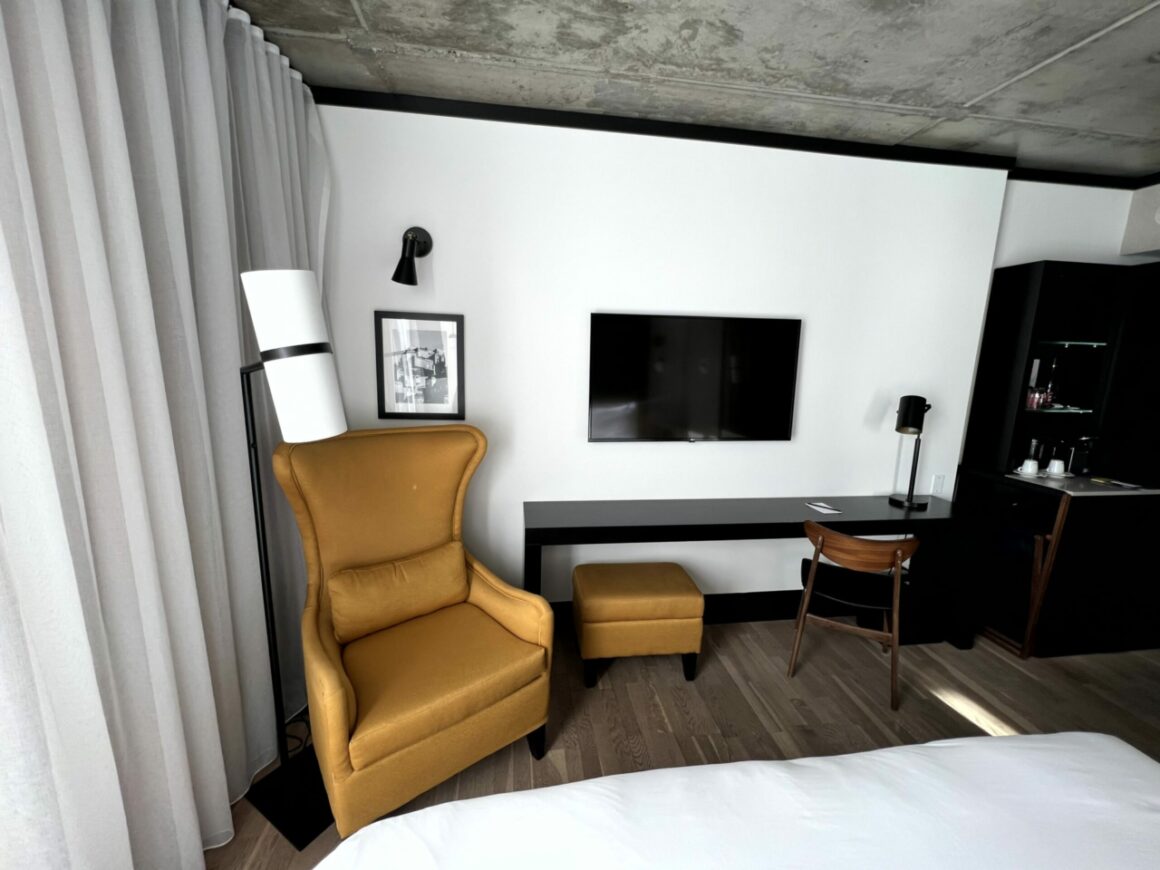 A large television with working Chromecast functionality completes this part of the room. You can also use the high-quality Bang & Olufsen Bluetooth speaker if you wish to listen to music while relaxing in the room. I would probably say that the desk and chair are only good for short bursts of working from this room. Instead, nip down to the ground floor, where the space will be much more comfortable to work at.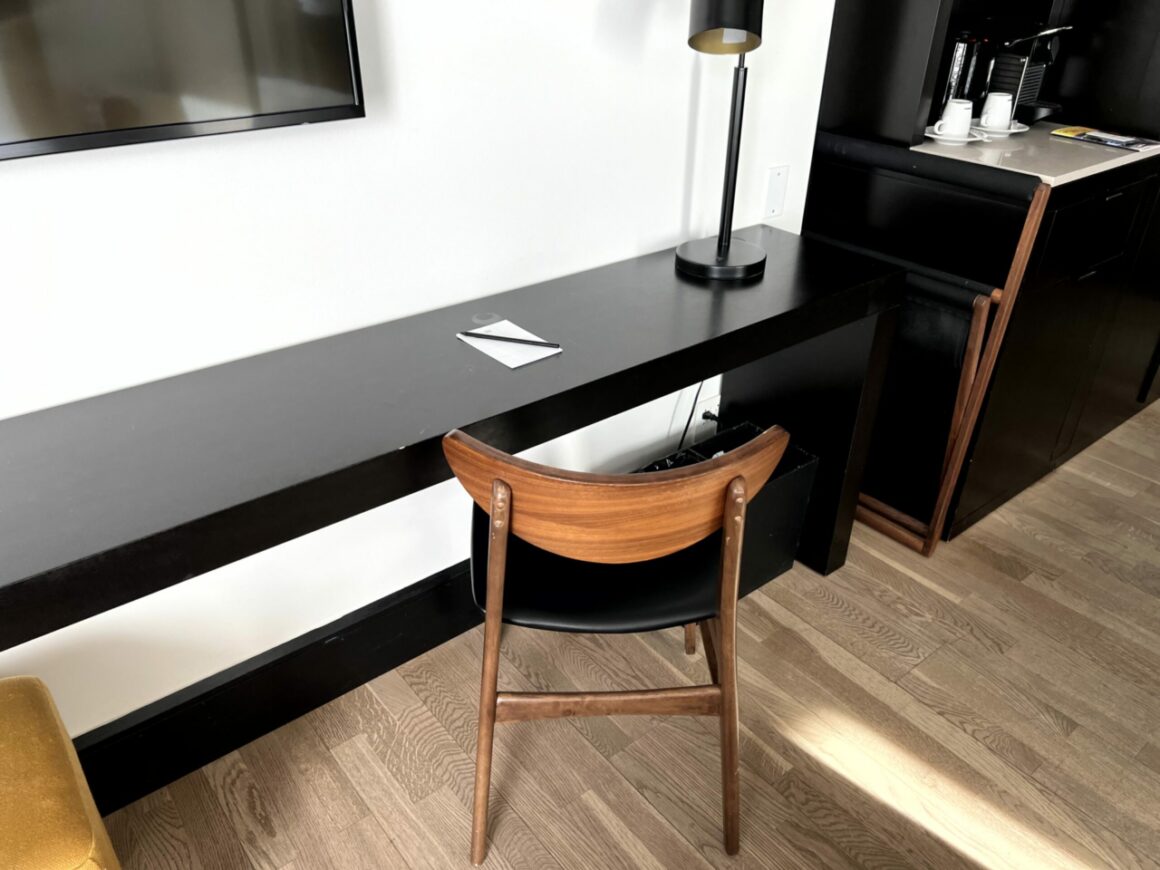 In the wardrobe area, a Nespresso machine and kettle are available to use, which is appreciated. Space inside the wardrobe itself is quite limited but is probably sufficient for ninety percent of guests who are on short-term city breaks. Soft bathrobes are provided.
Onto the bathroom, and it is a well-proportioned clean space. While the use of the marble effect is a bit too liberal in my view, it's bright and airy rather than anything too dingy. The shower itself is powerful and hot, which was needed after a day in the cold Quebecois climate.
The hotel uses excellent Le Labo moisturisers, shampoo, conditioner and shower gel. While it is personal preference, I would probably prefer large dispensers (which by all means could be attached to the wall due to the cost) over miniatures.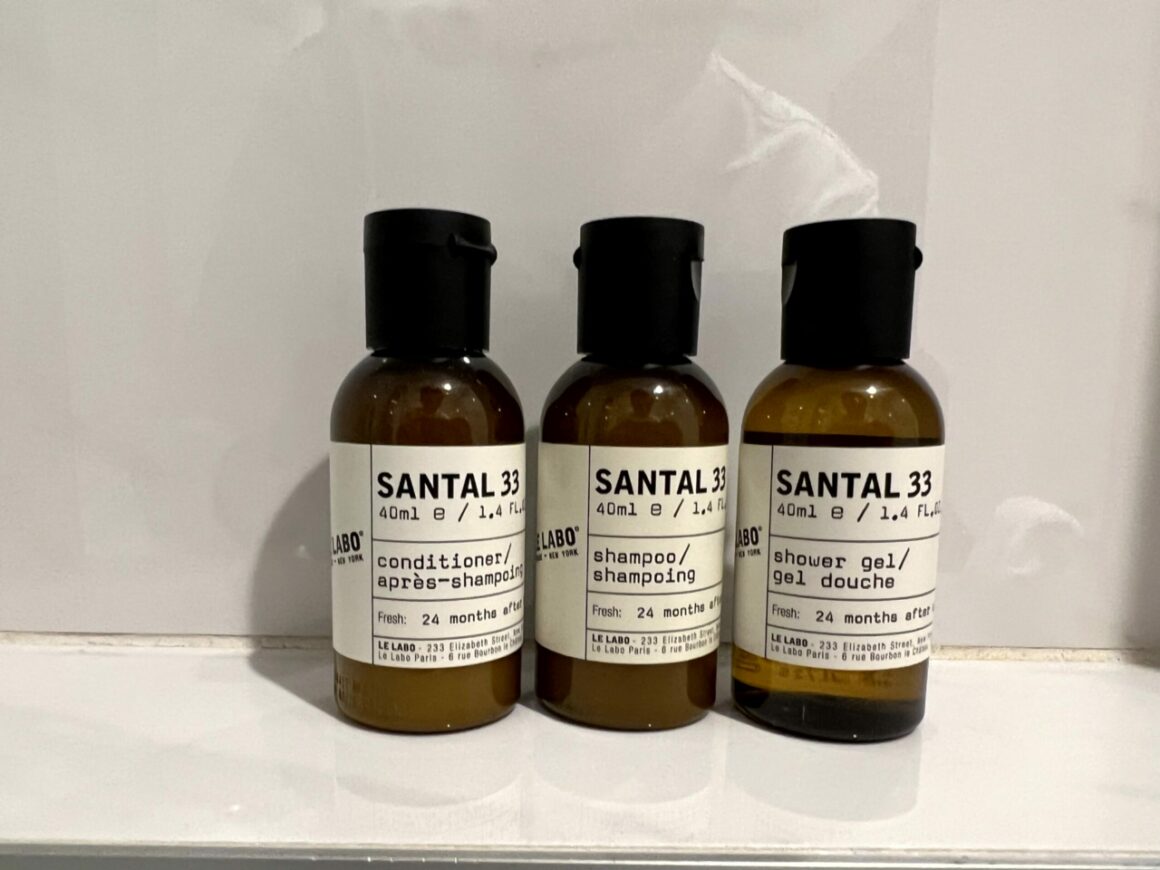 My only major gripe with this property was the WiFi. Standard speed-free WiFi is available and is functional. However, in 2023 and at this cost, to have a CAD 9.99 per day high-speed option seems anachronistic. I get this kind of penny-pinching at a GBP 40 per night Premier Inn, but at this price – just include it.
Conclusion
WiFi gripes aside, Hotel William Gray, is a lovely property. The combination of old and new building style alongside comfortable spaces throughout the hotel and its central location make this a good place to stay. Its location makes it an excellent hotel to base yourself at and explore this cosy city with a distinct character from the rest of Canada.
Like our Hotel William Gray review? You can read more hotel reviews here.