Win some essentials to help with the lockdown
I was going to do our regular competition to give away some amenity kits and PJs but since we now in lockdown, I'm not sure how long before I can safely post them. I will still aim to do the competition in the next week or so and hopefully the courier can either pick them up or I will send when it is safe to do so.
My friend, Jersey Girl, sent me a great idea for a gift to help someone through the crisis, especially if like me you are battling to get any food delivered online! So I thought I would do a giveaway of that instead.
We are giving away a Fortnum and Masons Necessities Gift Box which is a way to recreate the first-class experience at home! The gift contains Baerii Caviar which has a moreish briny, hazelnut flavour and is best served using the Fortnum's Caviar Dish and Spoon. This is accompanied by a bottle of Fortnum's Blanc de Blancs Champagne, made exclusively for them by Laurent Hostomme from his vineyards within the Grand Cru region of Chouilly. It will be available for delivery from 10 April. If you would like to order one for yourself you can find the details on this page.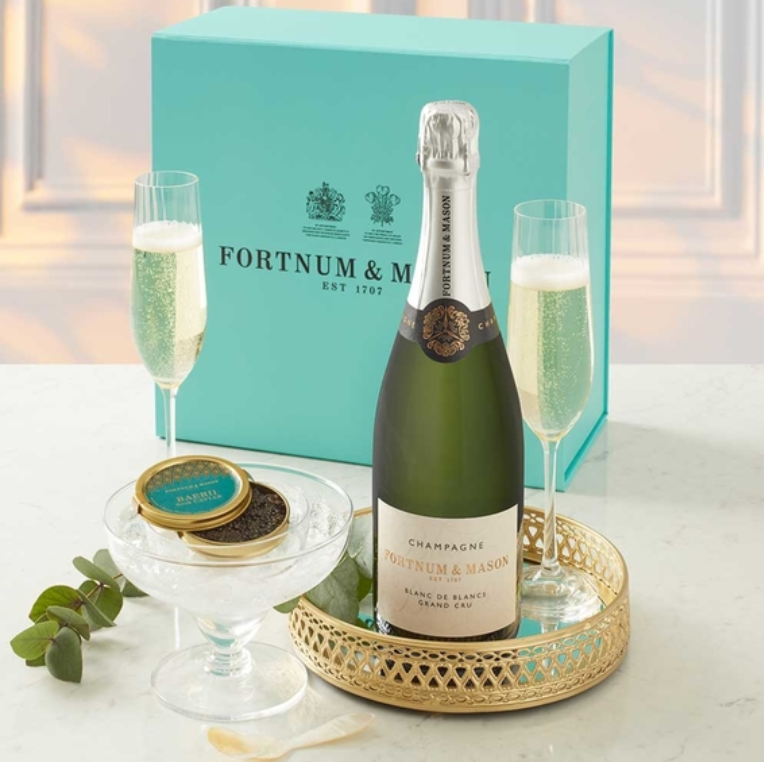 To enter the competition, we want you to recreate a travel experience at home and take a photo of it. Whether you chose to recreate a cocktail from a lounge or one of your favourite airline meals whilst lounging in your first class PJs, we don't mind! You can either post it on our social media on Facebook page, Turning Left for Less Champagne lounge Facebook group or Twitter @turningleftfor.
Here is some inspiration of the sort of creative things people have come up with:
Vacationing with coronavirus.
Sadly brilliant.
(ht @julianpopov) pic.twitter.com/nhomdfgopy

— ian bremmer (@ianbremmer) March 21, 2020
If you don't have social media you can enter by email to [email protected] Please note by entering the competition we reserve the rights to post the photo on this blog or our social media.
I will run the competition until midnight on Monday 30 March to allow time for that Ocado delivery! The best photo wins the Necessities box.
See bottom of the page for full terms and conditions.
Help for travel junkies and virtual social events
If you are missing out on your travels and have time on your hands we will be running some articles over the coming days of how to cope with those withdrawal symptoms. We will be doing a best travel movies, books, virtual tours and more. If you have any suggestions let us know in the comments below or on social media. We will also be looking at doing some live reader virtual social events, so look out for those in the next week or so.
In the meantime here a couple of things to feed your travel habit:
If you haven't yet joined our TLFL Champagne lounge Facebook group, it's a great way to share experiences with dealing with the fallout of the current situation. You can post on anything vaguely travel-related at the moment and our main rule is just polite and kind to people!
I also run a group for British Airways Gold/GGL Executive Club cardholders on Facebook. We are doing weekly virtual cocktails, so if you are Gold feel free to apply to join the group.
Flyertalk is having a thread to post pictures if your BA meal that you have recreated https://www.flyertalk.com/forum/british-airways-executive-club/2014087-stay-home-taskmaster-recreate-ba-meal.html
One of my favourite vloggers Sam Chui will be doing a Youtube live session tomorrow Wednesday 25 March at 4pm GMT.
Competition terms and conditions
This competition is open to all UK mainland residents due to shipping restrictions.
This competition excludes anyone professionally connected with this promotion.
Promotion period: The competition will run for 6 days: Enter between 17.30 on 24 March and 12.00am on 30 March 2020
No purchase necessary to enter
By taking part in this promotion, all Eligible participants confirm that they accept these Terms and Conditions
All entries must be made directly by the person entering the Promotion.
To enter the competition, entrants must recreate a travel experience at home and take a photo of it. This must either be emailed to [email protected] or via TLFL Facebook, TLFL Facebook group or Twitter .
All photos entered into the competition may be used by TLFL on social media and turningleftforless.com
The Promoter is no way liable for the reproduction or indirect access via third-party web sites or home page access or where any reproduction of the information relating to this promotion misstates or omits any of the information or terms and conditions connected with the promotion.
Personal data will be taken where necessary from all entries received but shall be limited to those details reasonably necessary for the administration of the competition. This information may be shared with any other third parties reasonably involved in the competition without liability to the Promoter or such third parties.
Promotional materials form part of these terms and conditions. This prize draw is governed by English law and is subject to the exclusive jurisdiction of the English Courts.
The Promoter is www.turningleftforless.com
Winners will be able to receive their prize subject to delivery times from Fortnum and Mason.
The prize is as follows: one Fortnum and Mason Necessities Gift Set