Hilton Honors is the loyalty programme for the hotel chain whose most recognised brands are: Hilton, Waldorf Astoria, Conrad, DoubleTree and Hampton Inn. Approximately 6,000 hotels in 110+ countries participate in Hilton Honors. As one of the largest hotel chains, you can usually find a Hilton Honors property wherever you are travelling.

How Do I Earn Hilton Honors Points?
Hotel Stays
Hilton Honors members earn 10 base points per US dollar spent at nearly all Hilton brands. (the exceptions are home2 suites by hilton™ and tru by hilton™ hotels, which you will rarely come across.)
You earn points on your pre-tax room rate and other eligible room charges, including telephone calls and room service. When paying for your room in a currency other than US dollars, Hilton will strip out any taxes included in the rate, and convert the remainder to US dollars (at a rate usually to Hilton's advantage).
You must book directly with Hilton Honors to earn points. Reservations made via online travel agencies (such as hotels.com, booking.com, etc.) will not entitle you to points.
When making a reservation using a combination of points and cash, you will earn the standard 10 base points on the cash portion.
You can no longer earn both miles and points for the same hotel stay, except during specific promotions.
Hilton Honors typically runs chain-wide promotions year-round, the most common of which is double base points. (i.e. an additional 10 points per US dollar) Hilton Honors is increasingly promoting its co-branded credit cards with additional bonuses; however the UK's Hilton Honors Barclaycard is no longer available to new applicants.
Other Ways of Obtaining Hilton Honors Points
You can buy Hilton Honors points. The standard price is 1 US cent (0.8p) per point, although frequent promotions reduce this to 0.5 US cents per point (0.4p). You must be logged into your Hilton Honors account to purchase.
Hilton Honors is an American Express Membership Rewards partner (in the UK), with a mediocre conversion rate of 1 : 2.
You can pool your Hilton Honors points with anybody. (no need to share address, family ties, etc.)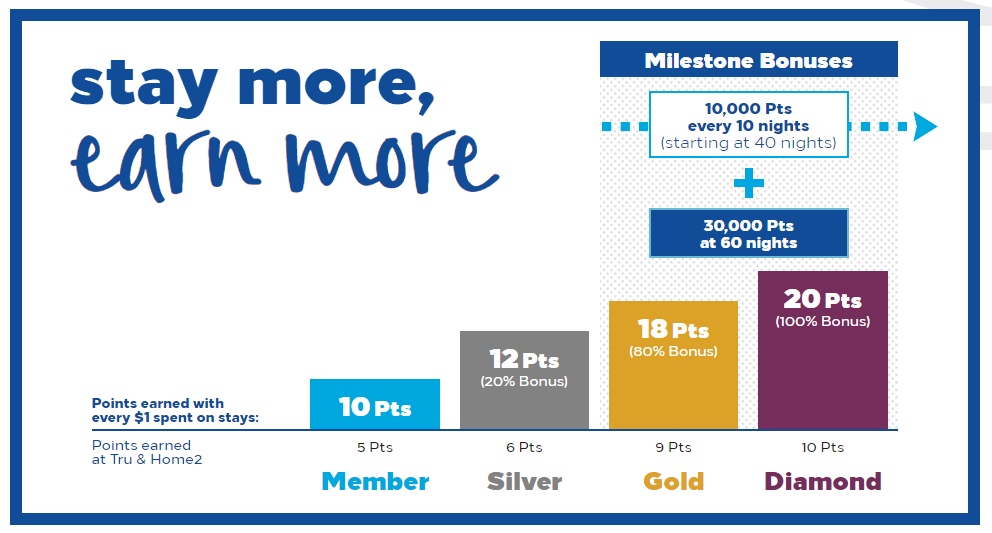 How Can I Spend Hilton Honors Points?
Standard Room Rewards
Hilton Honors no longer publishes an award chart or assigns individual hotels to a particular award category. Instead, award prices (for free hotel nights) are established dynamically, using the underlying cash rate as a guide for the number of points required.
However, the number of points charged per night is capped. The cap varies by hotel, but ranges from 5,000 points per night to 120,000. These caps can (and do) change with no advance notice. This website – click here – allows you to investigate the typical pricing ranges of each Hilton Honors property. (although the lower pricing range does appear overly optimistic for a number of hotels – i.e. if actually available, some of the really low rates might only be found on one or two nights during the year)
When using points for a free hotel night, you do NOT have to pay any taxes or resort fees. (unlike some other hotel chains)
If you have insufficient points for a full award night(s), you can also book rooms using a combination of points and cash. (however in this scenario you WILL have to pay taxes and resort fees and you will not receive the "fifth night free" benefits I will describe in the elite status section)

Other Reward Options
Unlike other hotel chains, you can book any room in the hotel using points. These are called "Premium Room" rewards, but typically provide much poorer value than the "standard room" rewards mentioned above.
You can convert Hilton Honors points into Avios and other airline miles. The conversion rate is usually 10,000 points –> 1,000 or 1,500 miles. This is generally considered to be a very poor use of Honors points.
Hilton Honors operates a scheme called Hilton Honors Experiences – click here for details – where you can spend your Hilton Honors points on concerts, sporting events, cultural activities, etc.
Do Hilton Honors Points Expire?
Points expire after 12 months of account inactivity.
Although you can pay to restore expired points, your best bet in a pinch is to purchase 1,000 points from Hilton Honors and thereby remain active. Tools such as Award Wallet allow you to track expiry dates.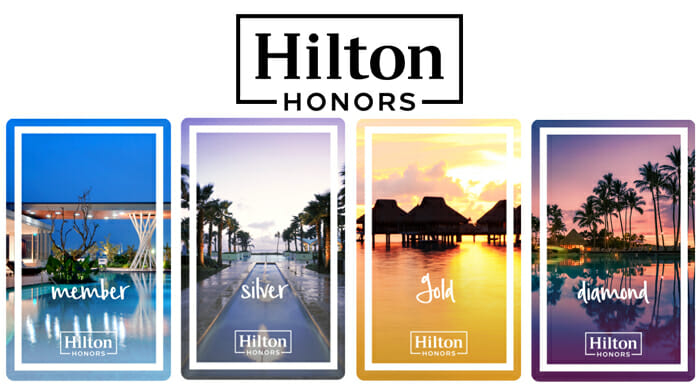 How Do I Earn Elite Status?
Hilton Honors has three levels of elite status – Diamond, Gold and Silver. Only Diamond and Gold provide meaningful benefits.
Through Stays / Nights
Elite status qualification runs on a calendar year basis – 1 January until 31 December. To reach elite status, you must complete:
Diamond – 30 stays or 60 nights
Gold – 20 stays or 40 nights
Silver – 4 stays or 10 nights
A "stay" means one or more consecutive nights at the same hotel. You cannot generate "stays" by making a series of one-night reservations at the same hotel. You must move to another hotel to receive another "stay".
Reward stays count for elite status purposes. "Day use rates" also typically earn both a stay and a night credit.
Hilton Honors offers "rollover nights". For night-based qualification ONLY, any excess nights will roll over to the subsequent calendar year. For example, if you stay 19 nights during 2019, you will qualify for Silver status, but start 2020 with 9 elite nights rolled over.
Short Cuts
British Airways Executive Club provides complimentary Hilton Honors Diamond status to its Gold Guest List members. (5,000 Tier Points)
The £575-per year Platinum card from American Express provides you with Honors Gold status.
Thanks to the U.S. "MVP Fast Track" programme, you can receive Gold status by staying 4 times within a 90-day period. Details here.
The Bright Side… time your fast track appropriately and you can receive nearly two years of Gold status. (the rest of the current year, all of the next year, and the first three months of the following year!
Hilton Honors operates a published status match programme. Within a 90-day period, you must stay 10 nights for Gold or 18 nights for Diamond. Reward nights do count for status match purposes. Details here.
The Bright Side… Some people, myself included have signed up for the IHG credit card and/or Ambassador for the express purpose of using IHG's Platinum status to status match to Hilton Honors!
What are the Benefits of Elite Status?
Hilton Honors elite status members will receive:
Diamond – free breakfast, guaranteed lounge access, 100% bonus points, welcome bonus points, room upgrades (suites not included although occasionally offered nonetheless), late check-out (subject to availability, but usually granted)
Gold – free breakfast (or welcome bonus points), 80% bonus points, room upgrades (including to room types that include lounge access, however this is not guaranteed), late check-out (subject to availability)
Silver – 20% bonus points
All Silver, Gold and Diamond members receive the "fifth night free" when booking reward stays (standard rooms only). The ultimate result is a discount of 20%, but only when booking 5, 10 or 15 night stays.
Can I Earn Cashback? Or "Milesback"?
The major cashback websites in the UK – Topcashback and Quidco – offer 1% cashback to Hilton Honors members with Silver, Gold or Diamond status and 5% to non-status Blue members.
You can earn 4-6 Avios per £ spent by booking via the British Airways Executive Club e-store.
You can also earn 4-6 miles per £ from Virgin Atlantic Flying Club through their Shops Away platform.
Hilton Honors is notorious for declining cashback and/or taking several months post-stay for you to receive your miles.
For the avoidance of doubt, you still earn points, elite status credit, etc. when clicking to the Hilton Honors website from a cashback or "milesback" website.
The 30-Second Lowdown
Hilton Honors offers plentiful high-standard hotels that many travellers love. It also has a number of dire hotels in desperate need of refurbishment, particularly in the UK and Ireland. A chain offering 7,000+ hotels means that it is easy to find a Hilton Honors hotel during your travels. However, the lack of a lucrative cashback option means that you simply get what you (or your employer) have paid for.
Hilton Honors has the best mid-tier (i.e. Gold) elite status benefits amongst the major hotel chains. It is also relatively easy to find a short cut to elite status. The flipside of that situation is "when everybody is elite, then nobody is". It is nearly impossible to receive a noticeable room upgrade in North America and somewhat difficult in the UK / Europe. There is relatively little additional benefit from becoming a Diamond member (instead of Gold).
The various short cuts to Hilton status means that Hilton Honors is an excellent choice for those who want elite treatment for a few top-end hotel stays per year, without the hassle of staying 40+ nights per calendar year. It's been a very long time since I stayed 60 nights at Hilton, but that hasn't stopped me receiving suite upgrades at certain Conrad hotels!
The move to "dynamic pricing" means that hoarding Honors points is a mistake. Most decent hotels cost a minimum of 50,000 points per night, with the truly aspirational properties costing 80,000-95,000. However this could all change (for the worse) in an instant.