The Churchill was one of those hotels that I had walked past many times and I always thought it looked rather luxurious and worth a stay. Then there was a plethora of Amex offers that appeared last Autumn, so with one specifically for Hyatt I thought now was the chance to do it.
Booking
Another advantage of the current low prices is that if you don't mind spending your normal budget, then it means you can end up with a much better room. In this case, there was an Amex offer for £50 off when you spent to £250 or more. The normal rooms were around £210 which was not enough to trigger the offer. But if I upgraded to a suite for £300 a night, with the Amex discount it would actually only cost £250 which was a bargain for a large suite in a five star hotel in a great location.
If I hadn't been doing a one night stay I would have booked through a Hyatt Prive agent. Minimum stays to get Hyatt Prive benefits vary by hotel brand and for Hyatt Regency it's a minimum stay of 2 nights. If you were to book the hotel through a Hyatt Prive agent such as Debonair, TLFL's partner luxury travel agent you would get your usual Hyatt perks and points. You would also get additional benefits such as
$100 hotel credit to spend during your stay (some Regency hotels offer $50)
A one category room upgrade confirmed within 24 hours of booking (room-to-room or suite-to-suite) — based on availability at the time of booking
Daily full breakfast for two in the hotel's restaurant
Early check-in (as early as 9AM), subject to availability
A welcome gift and letter
If you want to book on points, prices start from around 25,000.
Location
The location of the Churchill is ideal for me being only a few minutes walk to Selfridges and with plenty of bars and restaurants also a short stroll away. It's set on leafy Portman Square meaning it's not too noisy or bustling. On a nice day, the bar has a terrace which makes a pleasant people-watching spot too. The nearest tube is 5 minutes walk away. Hyde Park is also a similar distance.
Check-in at Hyatt Regency London – The Churchill hotel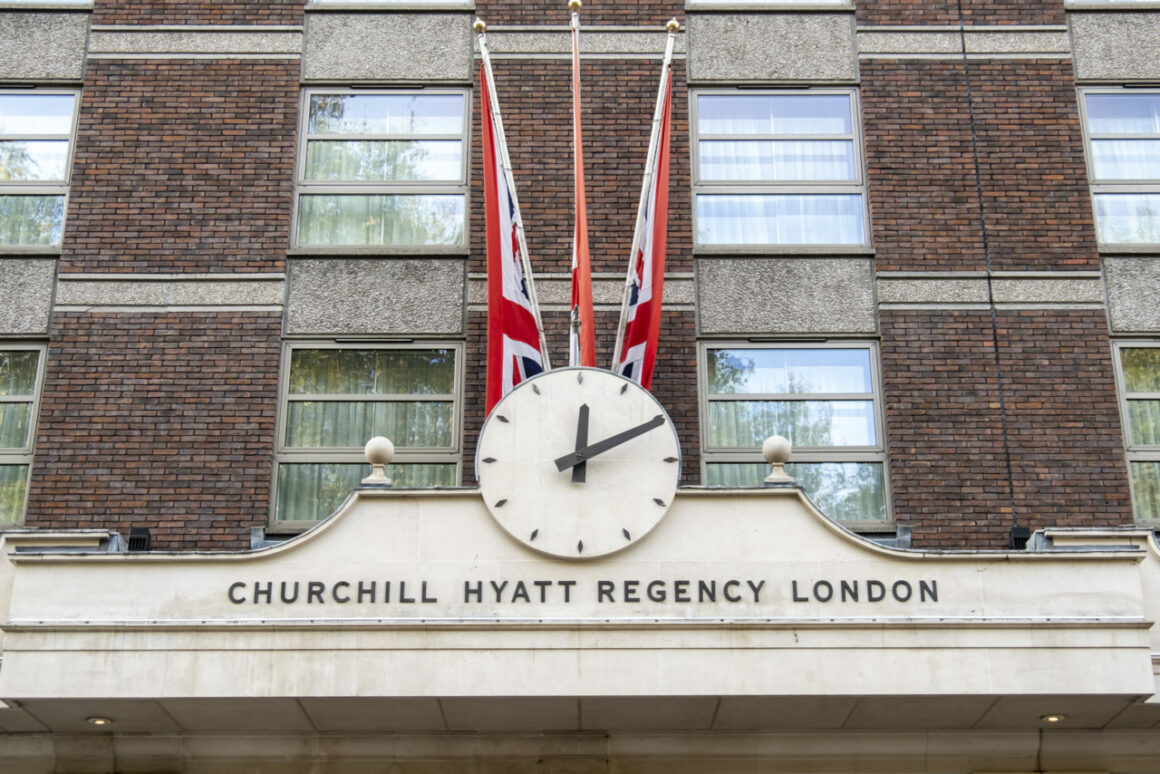 The hotel was largely deserted when I arrived but I was offered help with my luggage when I arrived. The lobby and reception areas are impressive as well as subtly themed with the Churchill paintings and bust.
I had been contacted prior to my stay with information about what was open but the receptionist also explained a few things such as the free drinks that were available instead of lounge access. Housekeeping Service is scheduled every three days, unless you request daily service, in which case the room will be cleaned daily and the linen changed every three days. Since I was only staying one night, it wasn't an issue but I feel it's a bit cheeky to say they won't change the bed linen when you want it changed due to Covid. Otherwise, the staff were very friendly and helpful at reception throughout my stay.
Hyatt Regency London – The Churchill hotel Room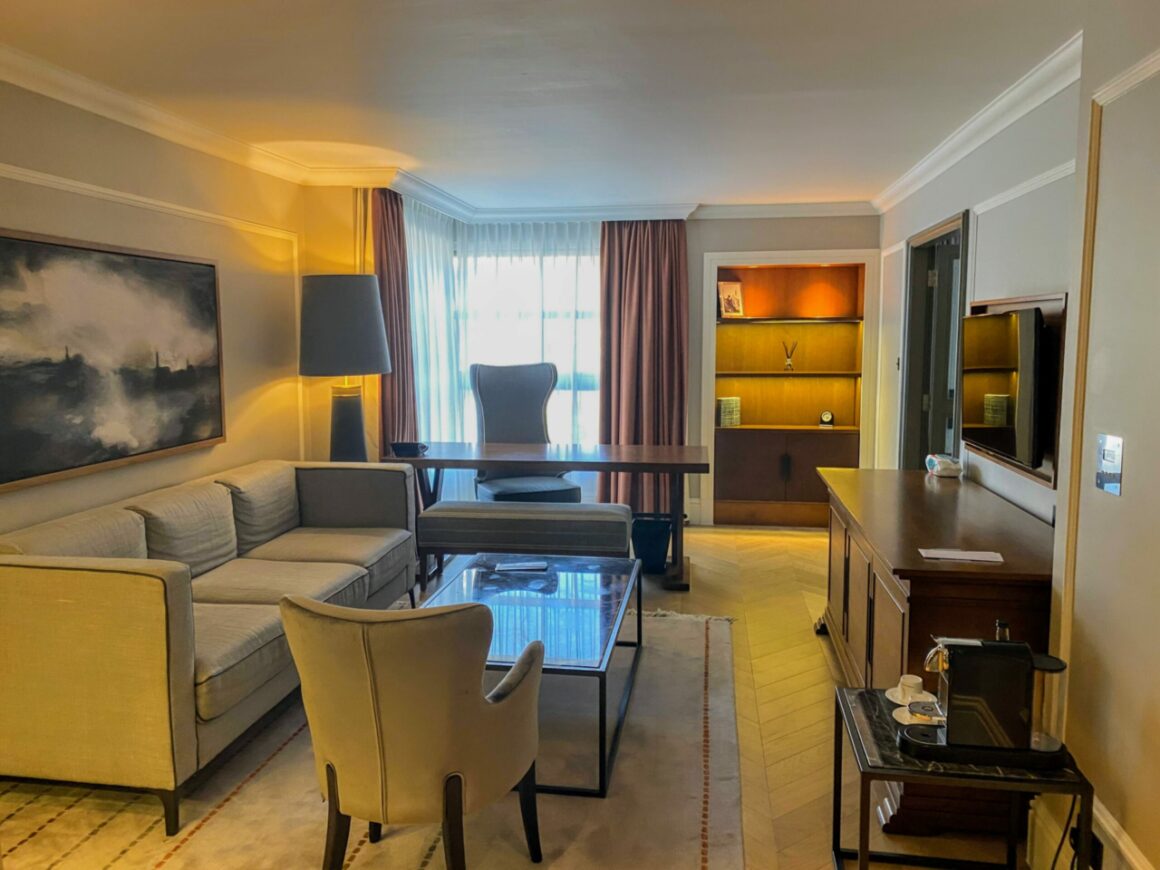 I had booked a Regency Executive Suite. There are several categories of suites including Regency Suites with a Balcony. I have xxx status with Hyatt which I got from doing a very badly timed status challenge last year (I was unimpressed that Hyatt would not budge on the timeframe despite the fact that none of their hotels in London were open during most of the challenge period even though they were legally allowed to.)
On arrival at the room, there was a sign saying that the room had been sanitised.
The one-bedroom suite had a large living area with a very comfortable chair at the substantially sized desk which was perfect for me to work. Howver, they had missed one of the most important things by the desk – sockets. Although there was one close enough to plug my laptop in, I would normally expect plug sockets directly by a desk designed for working. I liked that the room felt like a proper living room, some hotel suites can seem very sterile due to the lack of furnishings.
There was a rather large pack of sanitising wipes next to the TV which seemed a little wasteful as I can't see how they could be allowed to keep them for the next guest. However, I definitely could not complain about a lack of wipes!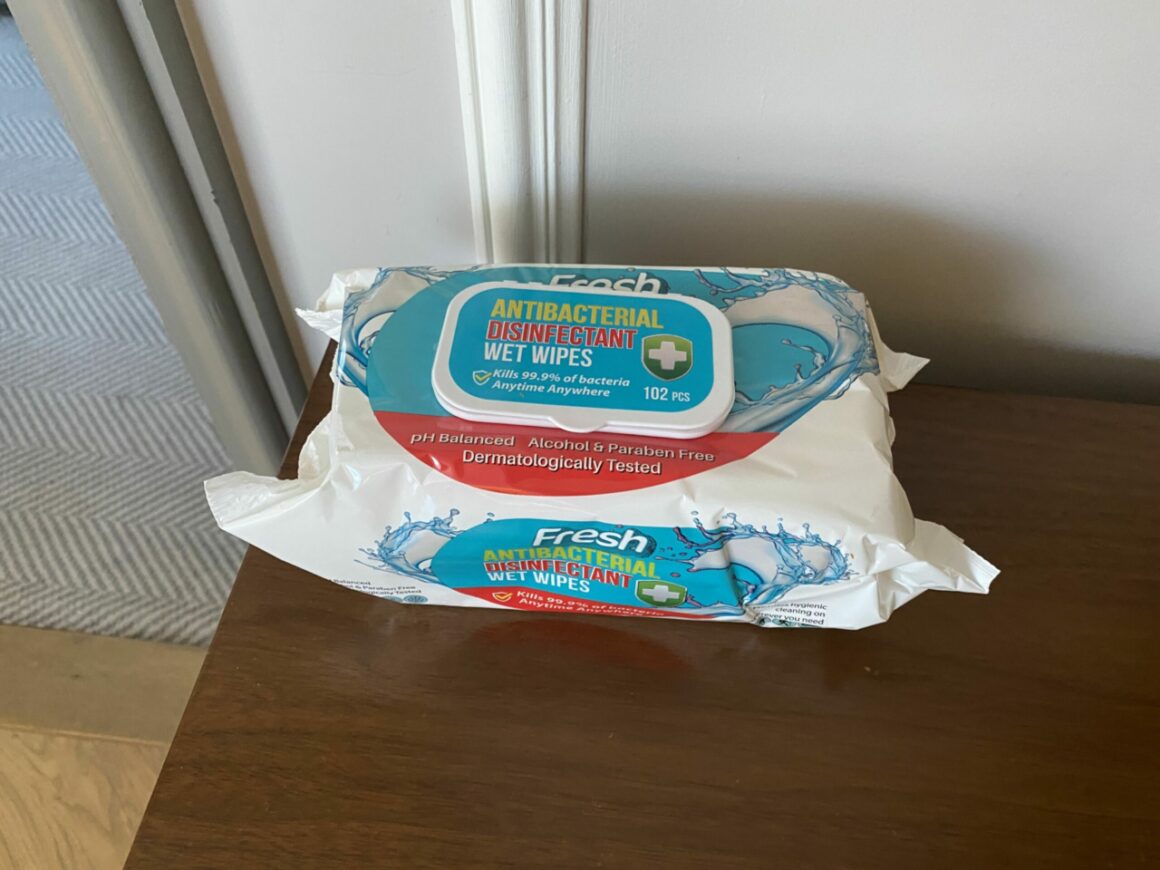 The room appeared very clean and the TV remote was in a plastic sleeve too.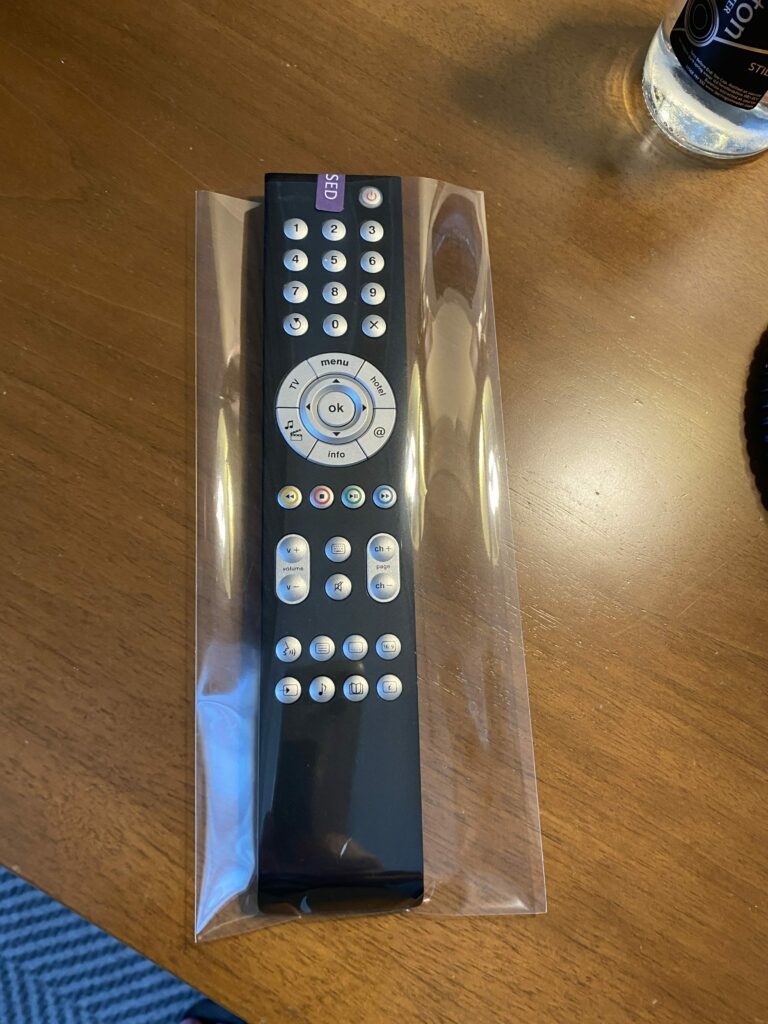 I particularly loved the view from the room and it was pretty quiet too, although what it would be like when traffic is back at normal levels, I'm not sure.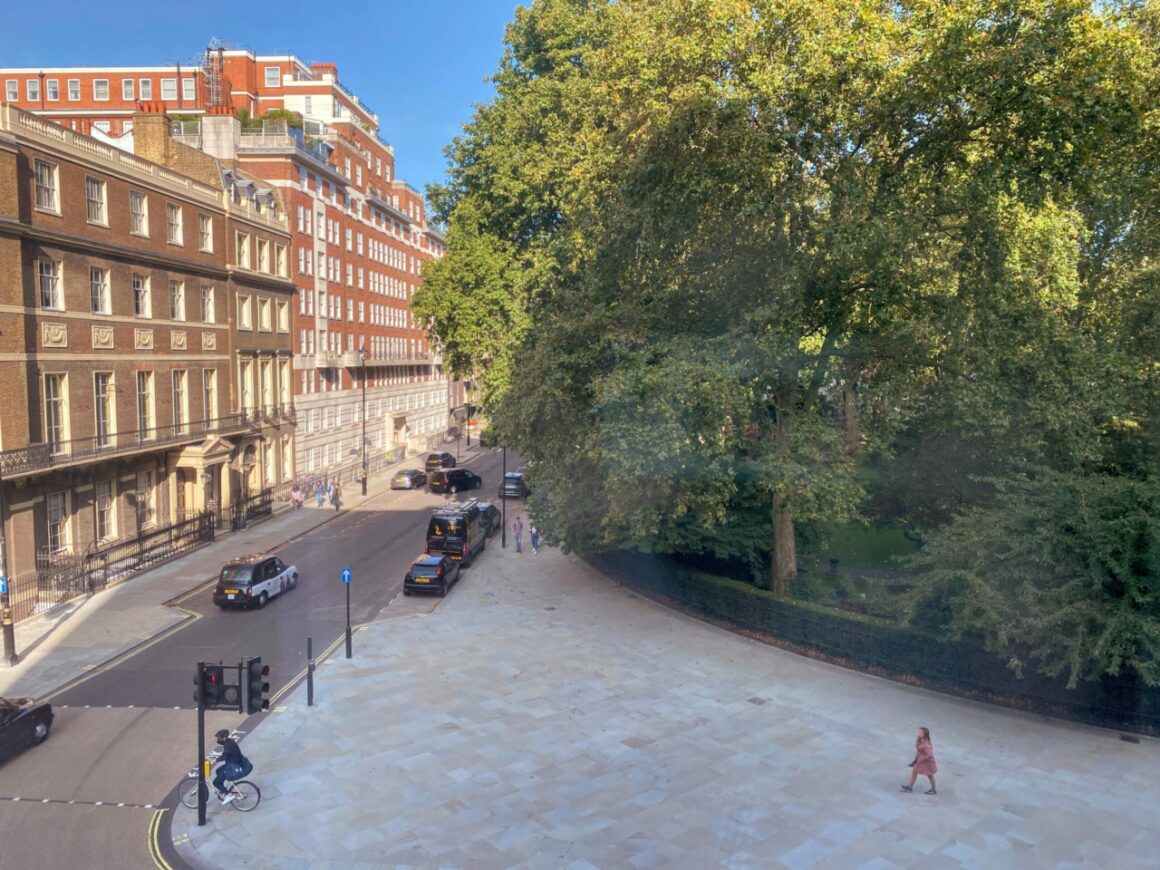 Also in the lounge was a Nespresso coffee machine and plenty of bottled water.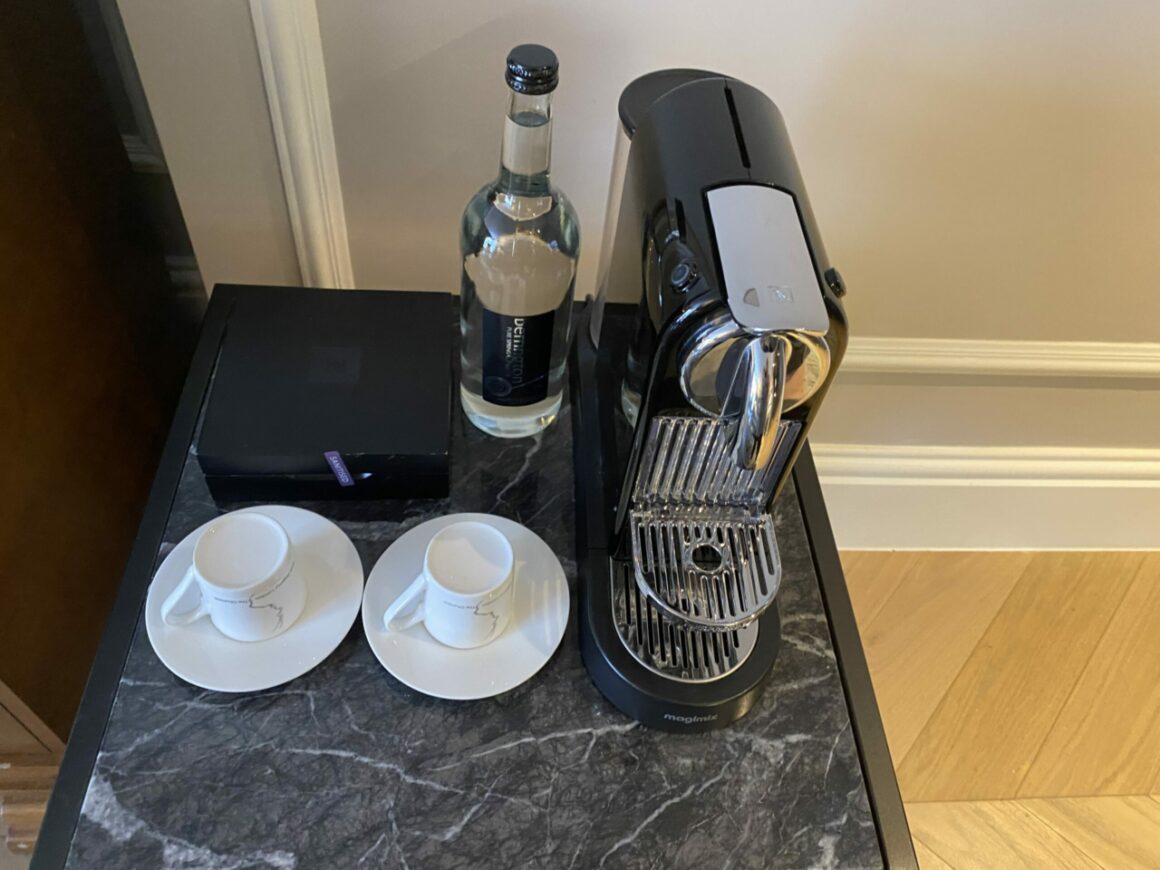 Off the living area, there was a small guest toilet as well.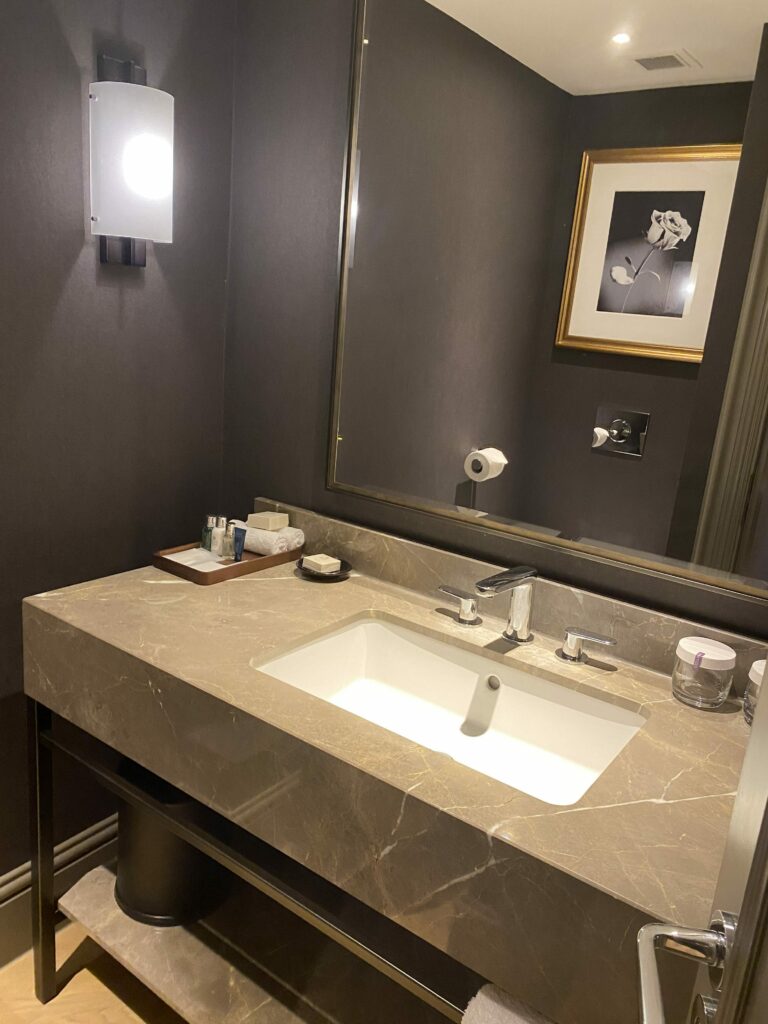 The bedroom was also a good size with a similar view. There was plenty of closet space and I found the bed pretty comfortable, although I would have preferred a softer pillow.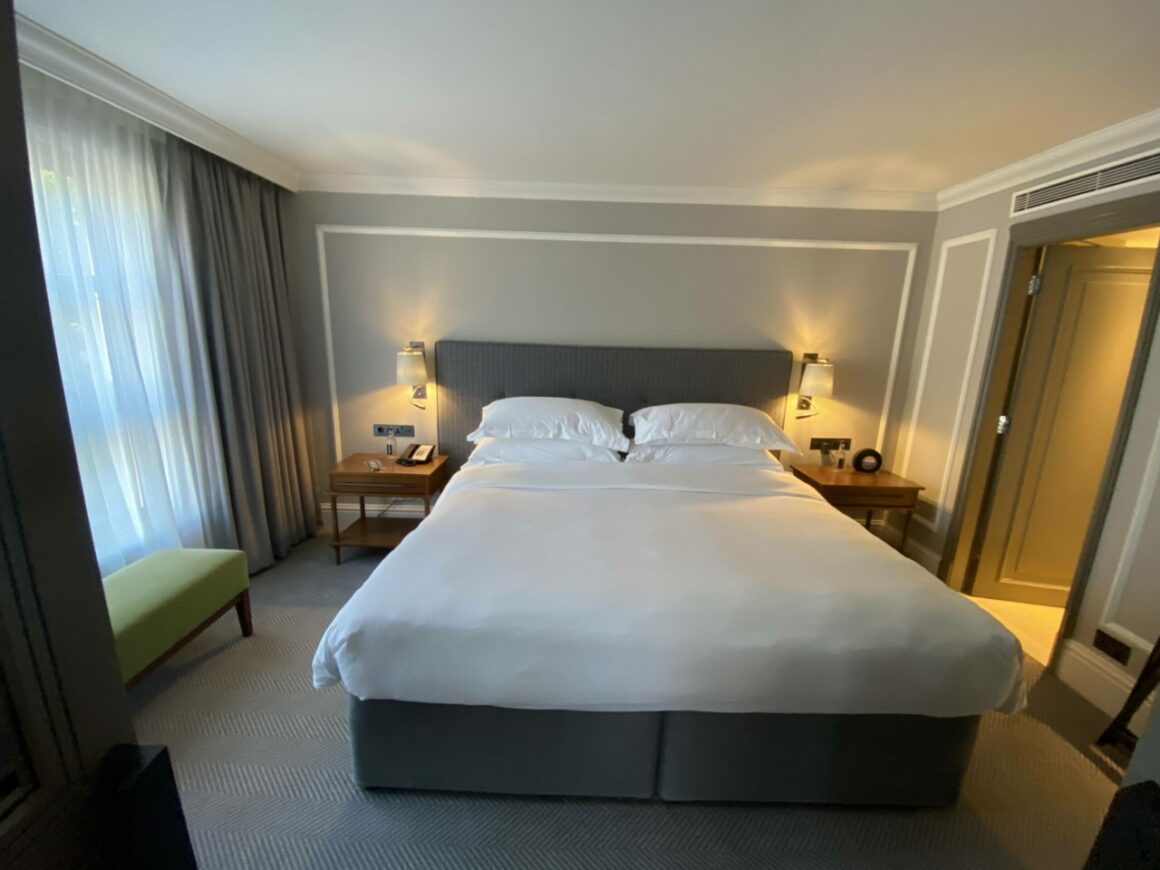 The bathroom had everything I could want with a separate bath and shower plus a very large sink area, with plenty of storage space and a magnifying mirror.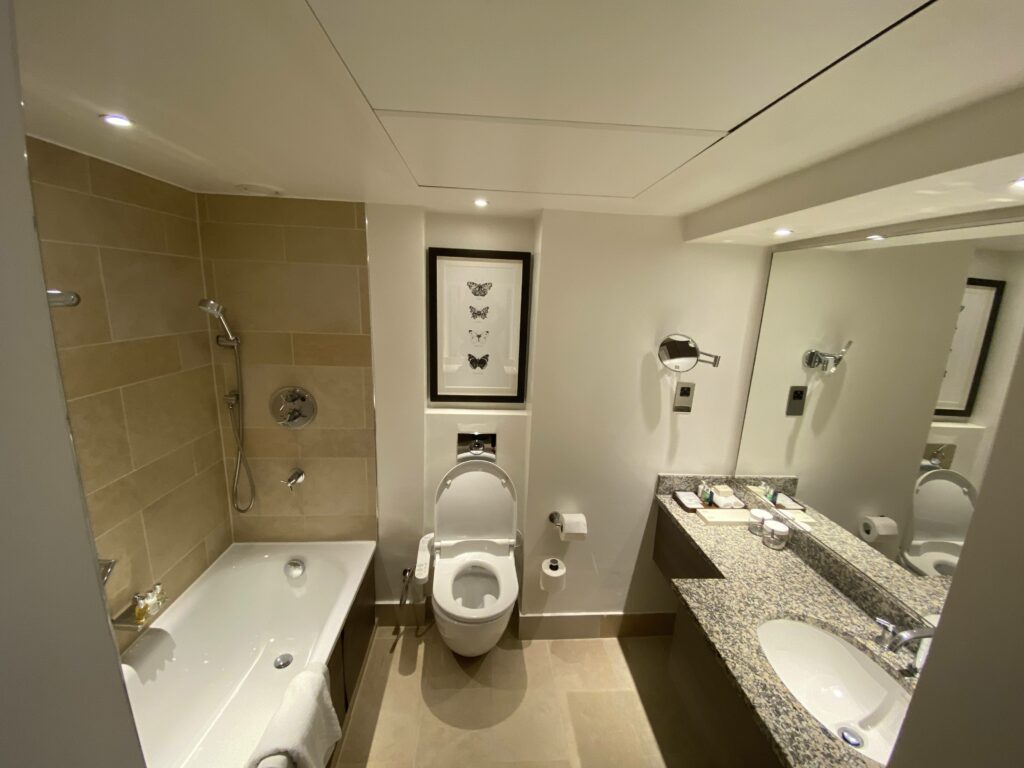 I was particularly impressed with the Molton Brown toiletries which were plentiful in decent size containers and even included eye gel!
There were also sealed pouches of cotton wool, cotton buds and a nail file. I was pleased to see that the glasses had a sanitised seal on them as well.
The crowning glory was a Japanese style toilet as well as the roomy shower stall.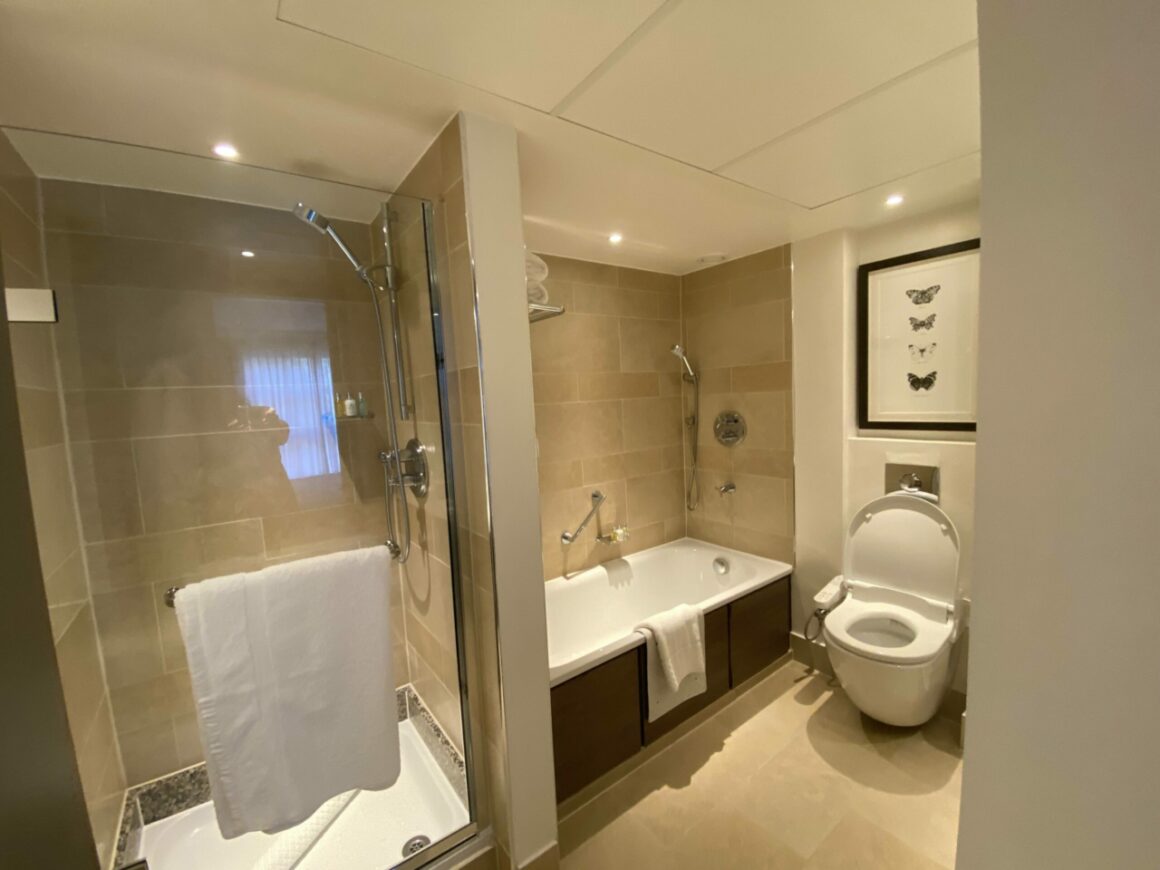 Hyatt Regency London – The Churchill hotel Food and drink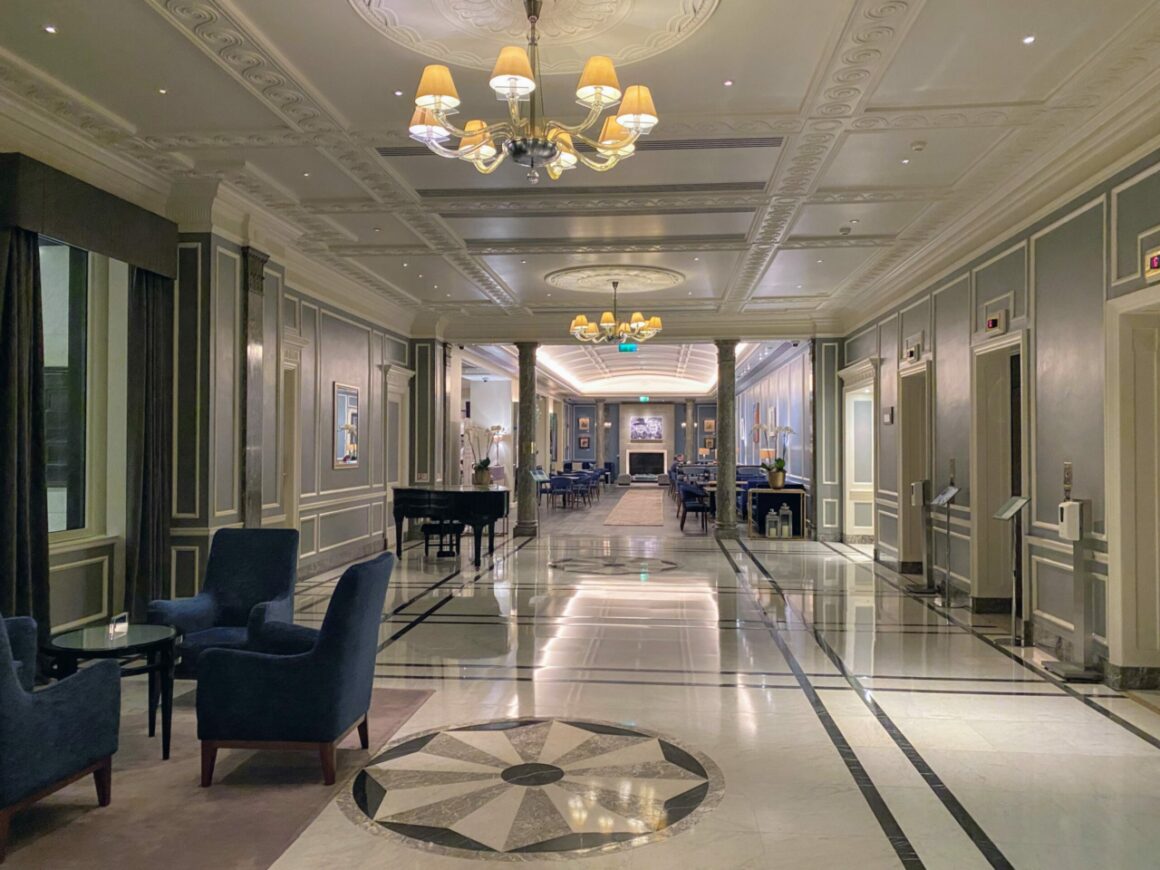 During my stay, the Montagu Kitchen restaurant and the Promenade were closed after lunch and dinner was served in The Churchill Bar and Terrace.
I was entitled to Executive Club lounge access with my suite but as that was closed, I could have breakfast in the main restaurant and drinks in the bar instead.
Breakfast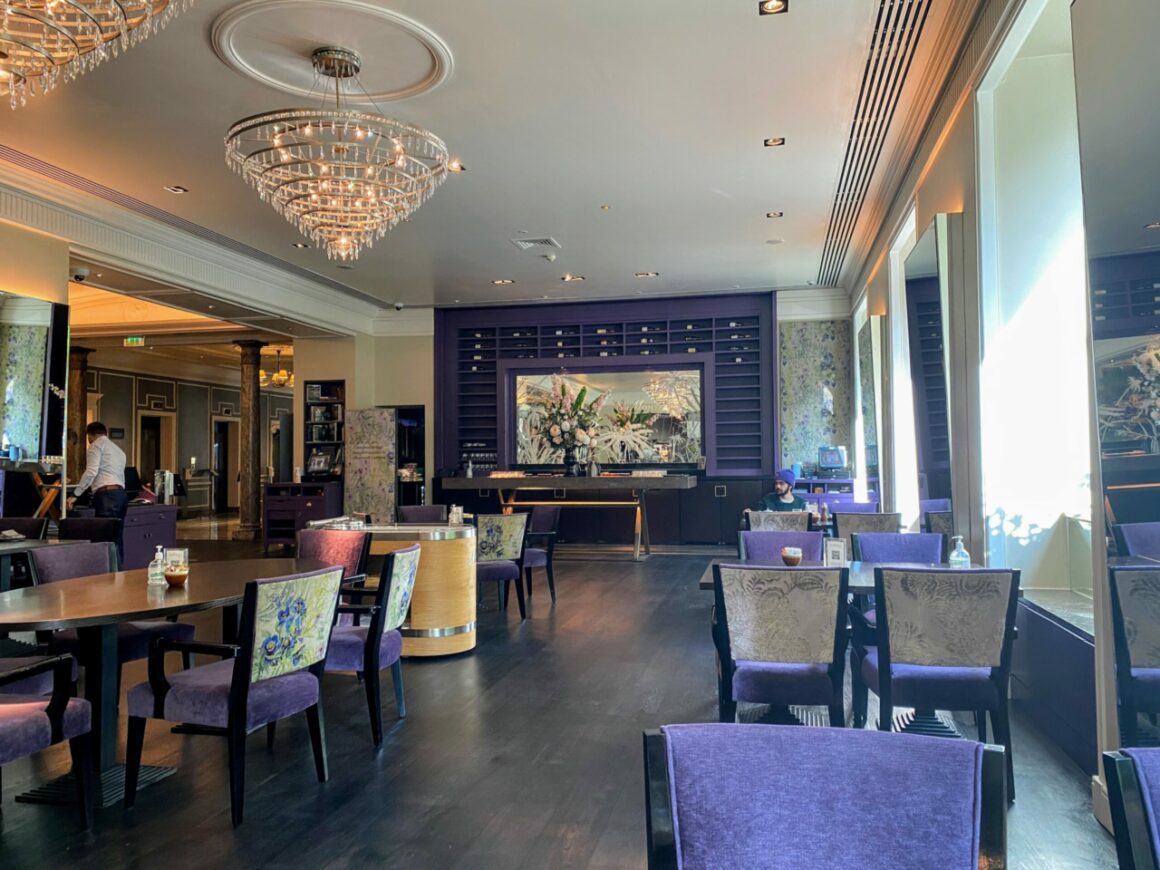 This was served in the Montagu Kitchen and was a la carte instead of the normal buffet. There was plenty of choices on the menu but I went for a traditional English. I was also given a selection of pastries and offered tea/coffee and juice when I first sat down. There was a large bottle of hand sanitiser on each table.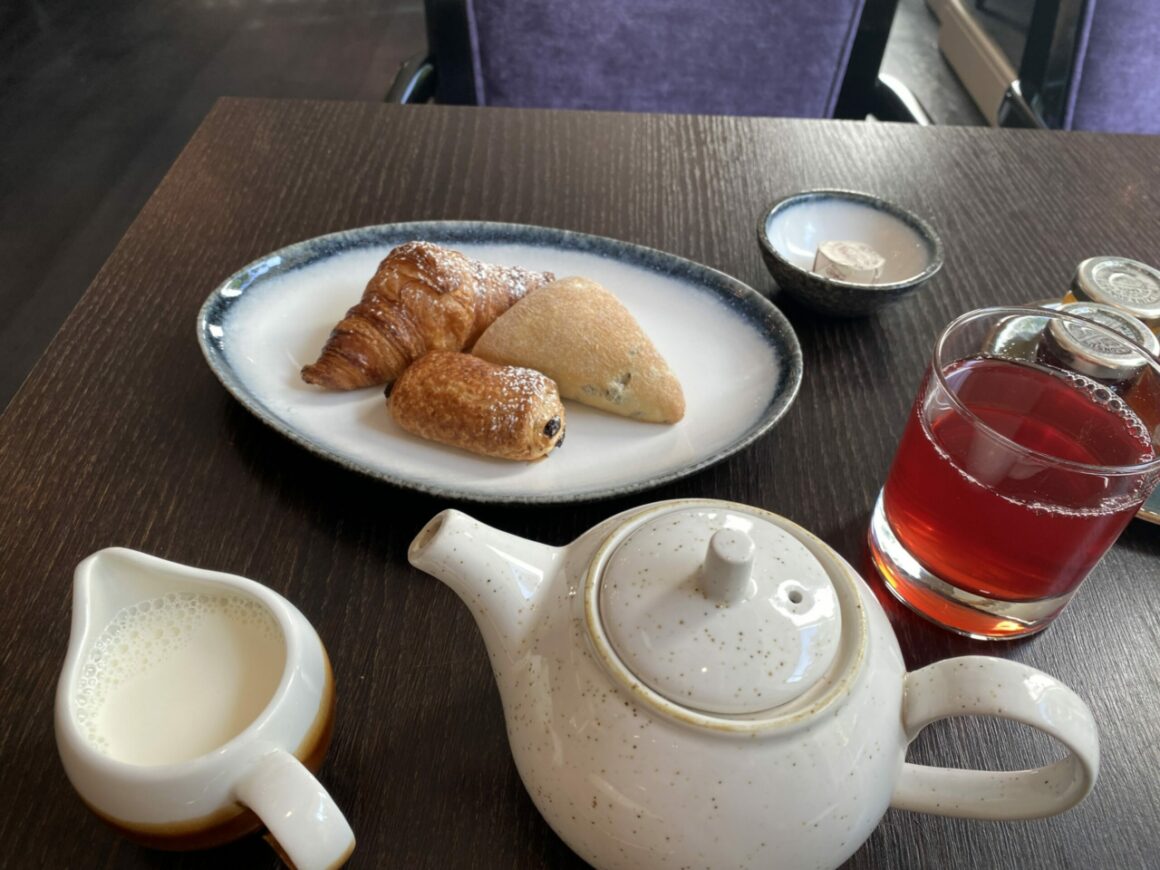 The staff were very friendly and even did a muffin with a candle and Happy Birthday on it for my partner.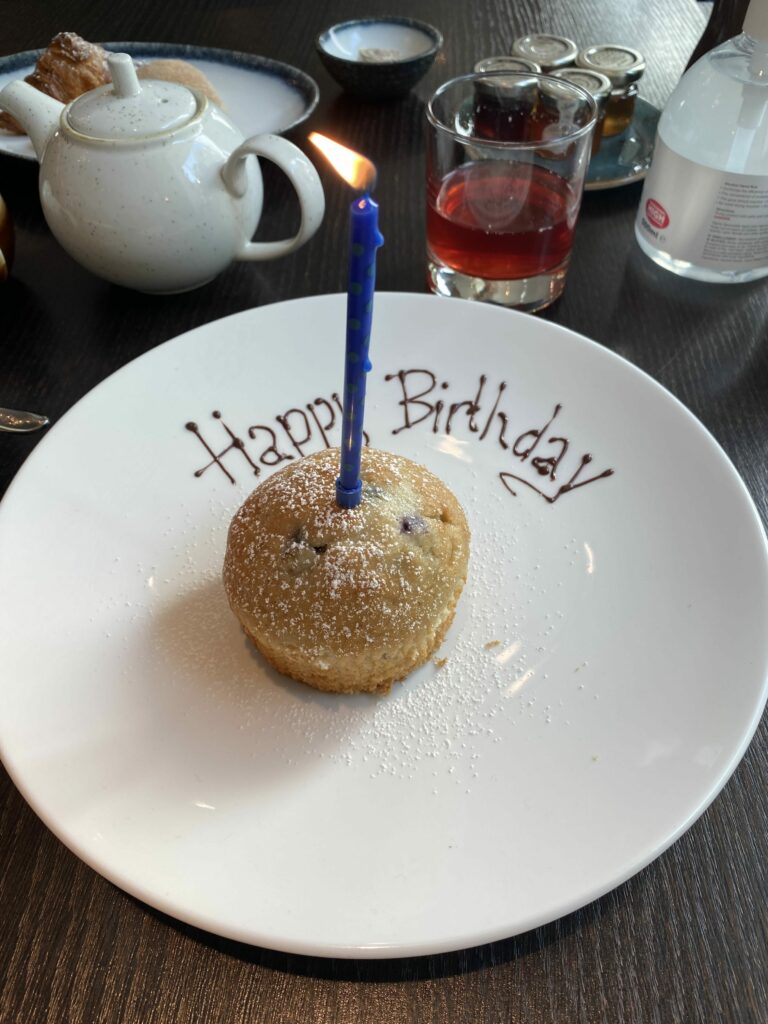 The English breakfast was substantial and all well cooked.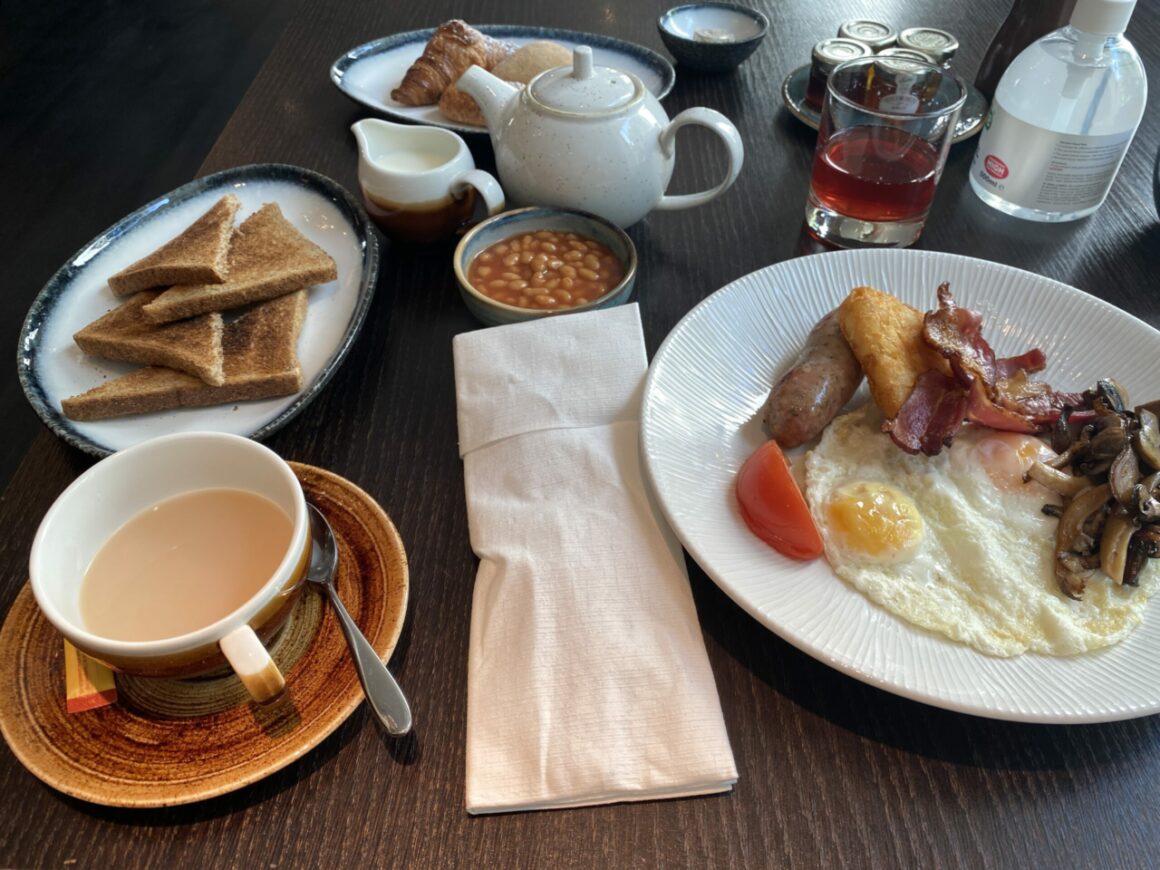 The Churchill Bar & Terrace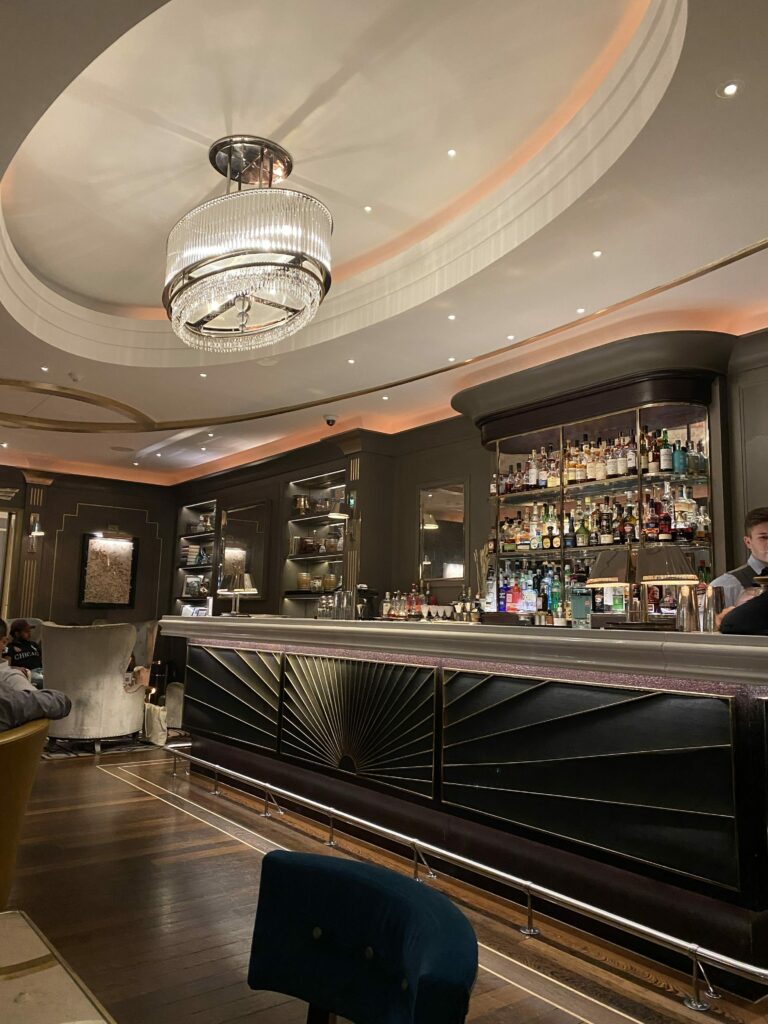 I had never been to the Churchill before but I would definitely go back even if I wasn't staying at the hotel. It was a bit chilly when I was staying so we decided to sit inside but I would definitely give the terrace a go in the future as it does have heating. I loved the art deco style of the bar and it felt very elegant. The only negative is that it's pretty small so it would be hard to get a table if it was busier but you could book in advance. They do a wide range of cocktails and also specialise in cigars.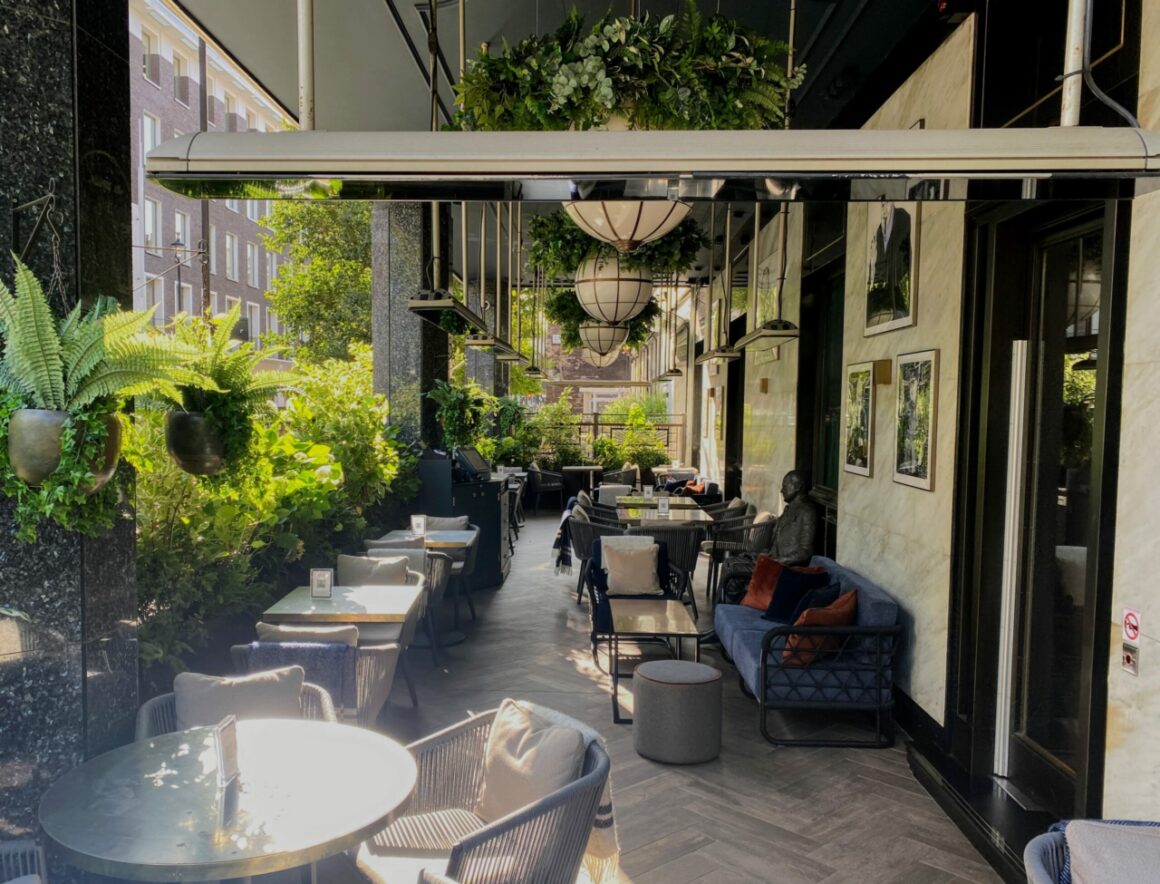 For the free drinks you could have: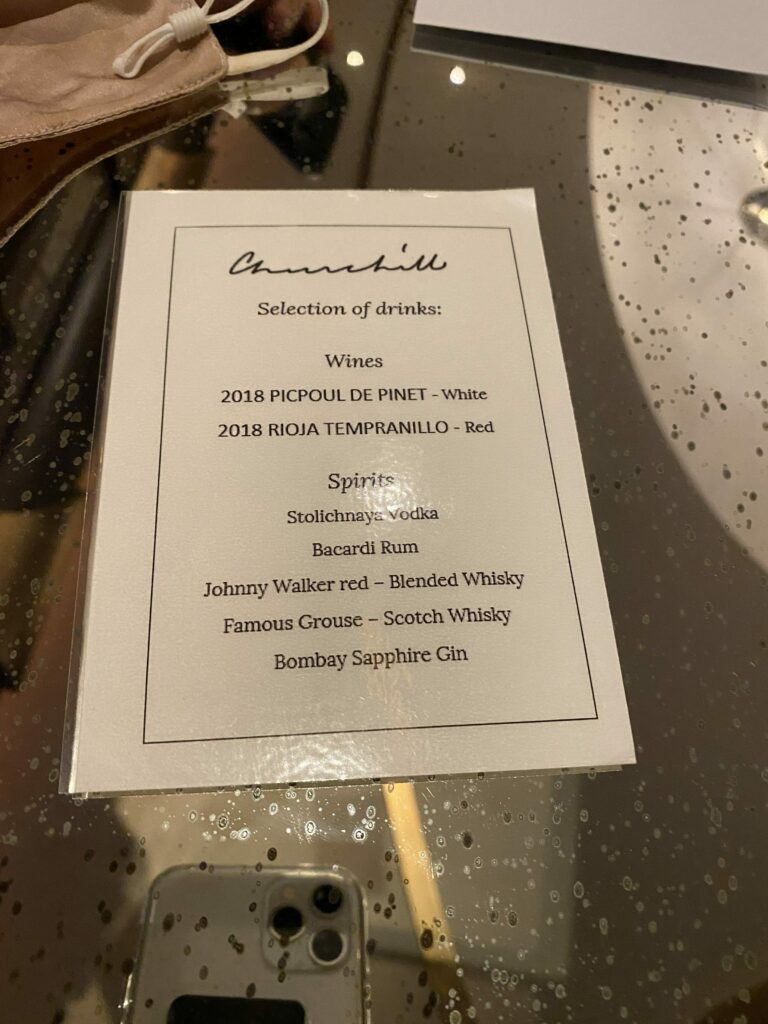 It seemed rather odd that you could not have beer, but the bar staff were happy to give us beer if we wanted. I thought it was a bit stingy not to offer proper food like you would have got in the lounge. The bar staff could not have been nicer though. I was waiting on my own for a while and the staff were very chatty and made sure I was well looked after. We decided to try some whitebait and they were enormous but lovely and crisp with a generous portion size.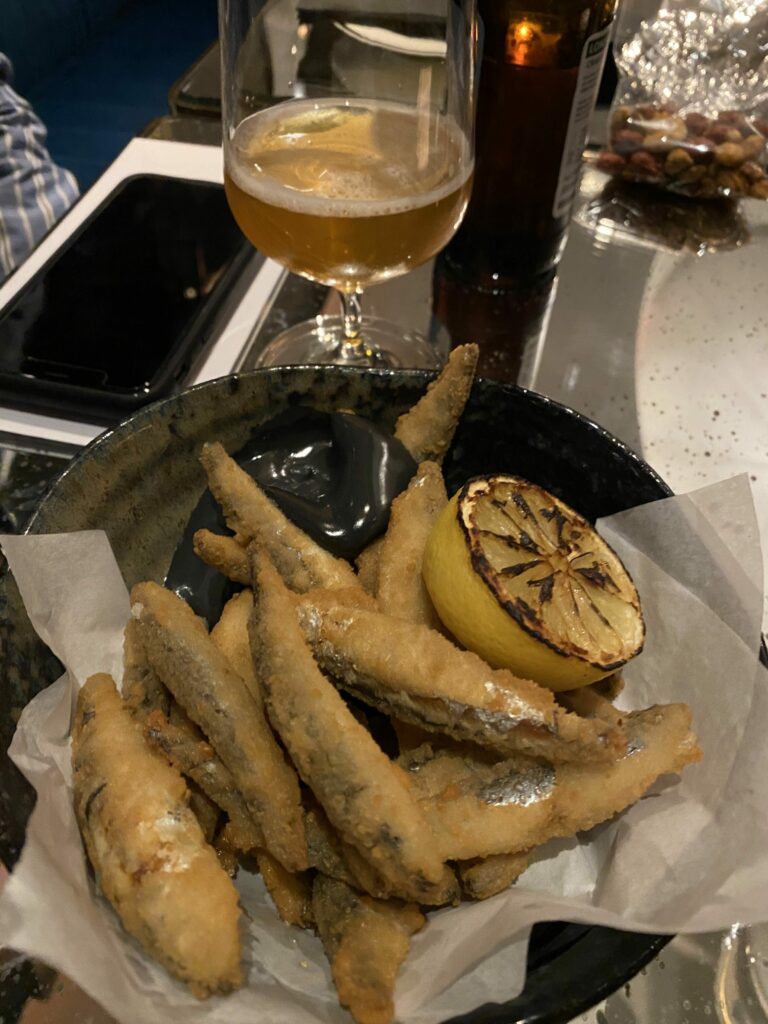 The wine was definitely drinkable which is more than you can say for many lounge offerings! Picpoul is usually one of my regular white wine choices anyway as it's a very reasonably priced crisp dry white, similar to a Muscadet.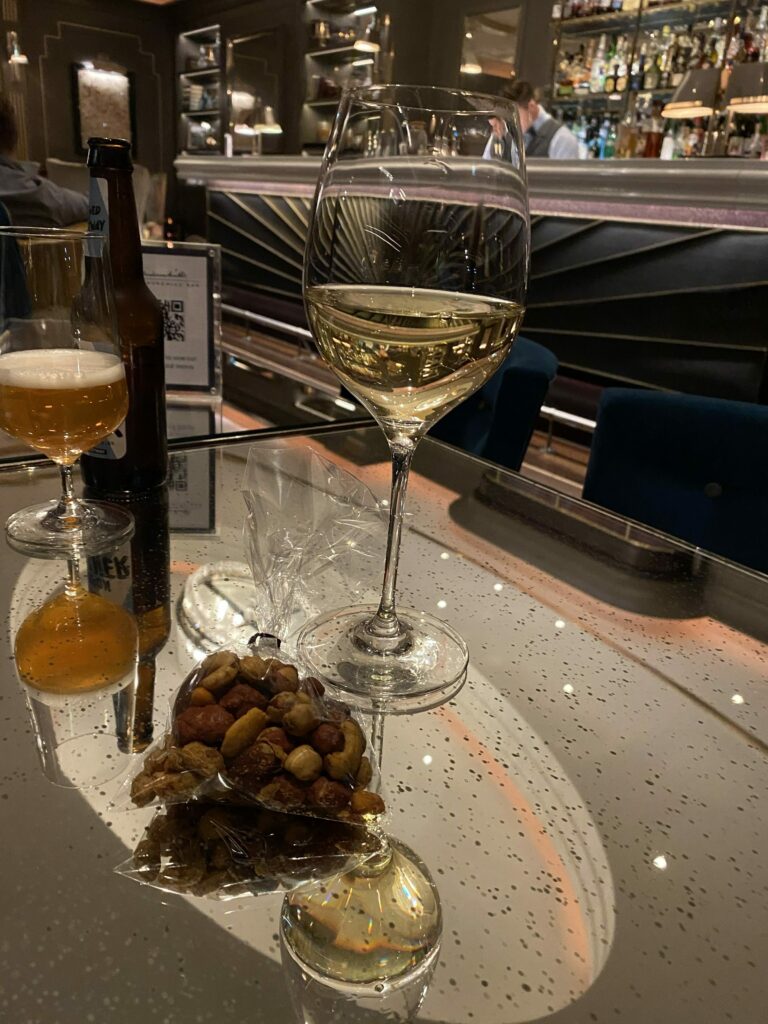 We were given a selection of roasted nuts to go with the drink.
Facilities at Hyatt Regency London – The Churchill hotel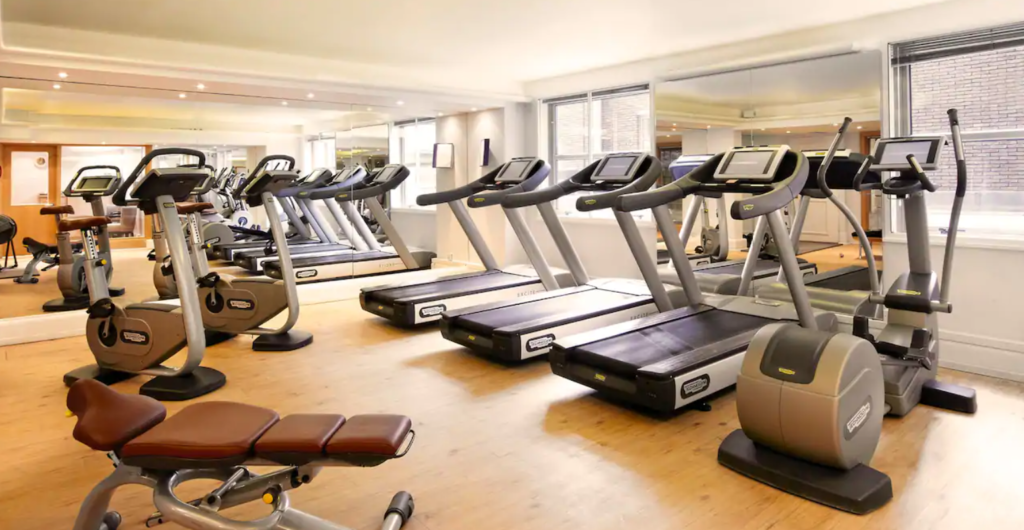 The one area that the hotel is lacking in is facilities. There is a gym which is light and reasonably well equipped. There are a few treatments rooms but no real spa as such.
Booking – how to get a free upgrade & $100 credit
If you want to pay cash, your best bet is to book through a Hyatt Prive or Select luxury agent. These are luxury travel agents who are able to give extra Hyatt benefits and you still get all the points and perks as a Hyatt member the same as booking direct which is not the case with most travel agents.
The rates are flexible and for most places don't need payment in advance. The Hyatt rates are available on Hyatt Regency, Park Hyatt and Unbound collection hotels.
The benefits are:
$100 USD Food & Beverage credit
Complimentary buffet breakfast for two daily
Property will offer early check-in and late check-out upon availability
Property will offer upgrade at time of check-in – subject to availability
High-Speed/Enhanced Wi-Fi
You can book Hyatt Prive and Select rates with our partners Debonair who are part of Pro-Travel, one of the largest collections of independent luxury travel agents in the world.
Conclusion for Hyatt Regency London – The Churchill hotel
The Churchill is normally pretty expensive – in normal times the average price was around £300+ a night. With current prices depressed in London, it felt like I got a real bargain here when combined with the Amex offer (Amex Gold Preferred Rewards). The suite was very large and elegantly furnished. I felt that the hotel had done a good job sanitising and making everything Covid safe. The staff were all great being both professional and friendly. The only thing I would have challenged was the lack of some form of canapes in the evening in place of the lounge. Pretty much every other London hotel I have stayed in with a closed lounge has offered some form of canapes in the bar as compensation for no lounge.
I would definitely stay again if I wanted a central London luxury option within walking distance of Marylebone, Mayfair and Oxford Street.