I was invited to review the new Hyatt Regency Malta which opened in autumn 2020. I paid for all meals and expenses apart from the cost of the one-night hotel room.
Location
The Hyatt Regency is well situated right in the centre of St Julian's, near Valetta. This is the area for the majority of resort hotels. Although it appears to be on a steep hill, there is in fact a handy way to avoid that. Opposite is a shopping centre that is connected to the hotel at car park level or you can simply cross the street and use the escalators to go down to street level in the middle of St Julian's.
Even though it is in the centre of things, the road that it is in is pretty quiet so there is no road noise or noisy bars. It's about a 5 minute walk to the sandy beach.
Check-in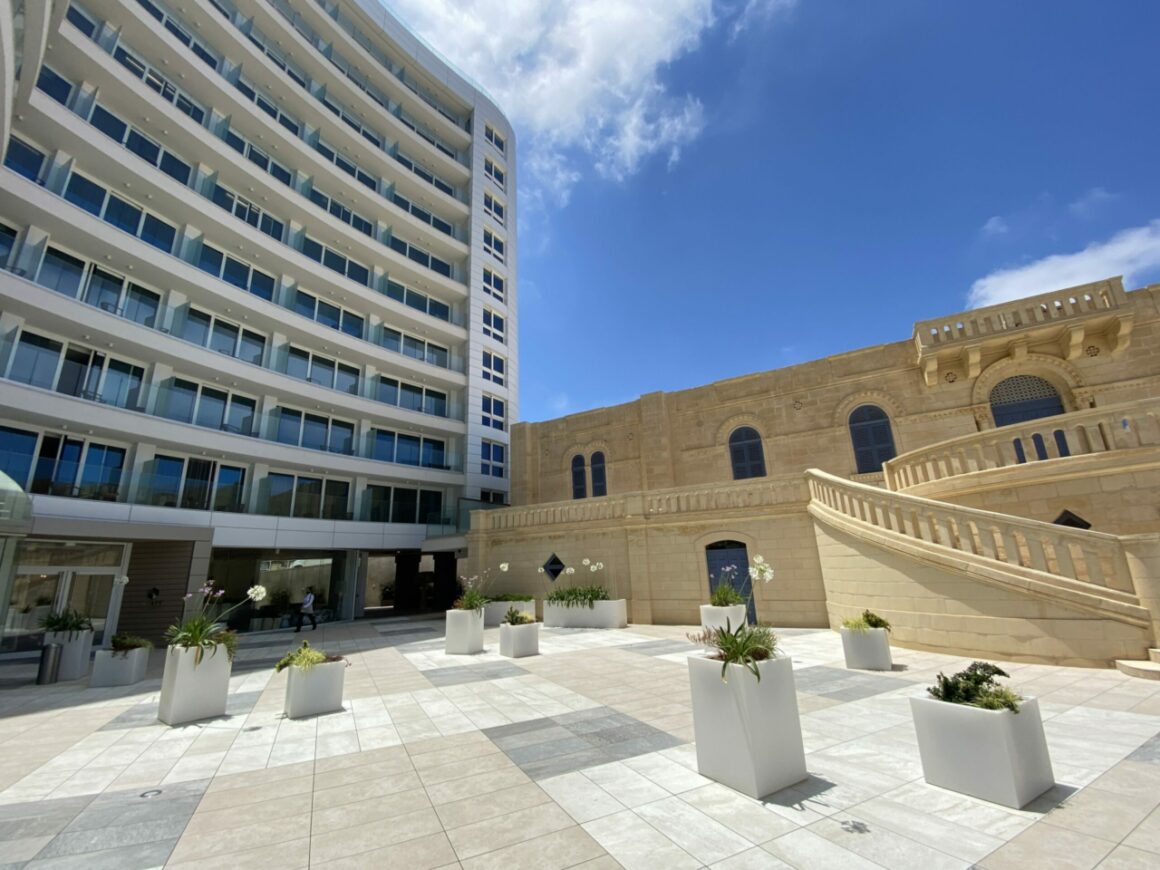 As you arrive you walk past the old priory opposite and the outdoor courtyard to the entrance of the hotel where someone immediately helped with our bags. We had arrived very early so only one of the rooms was ready but we were offered a drink while we waited for the second room.
The reception area is modern and bright with a few quirky touches. The hotel doesn't feel like a generic Hyatt Regency, more like a boutique hotel. There's a large seating area where you can get drinks or a coffee from the bar. There is also a communal work area with charging points.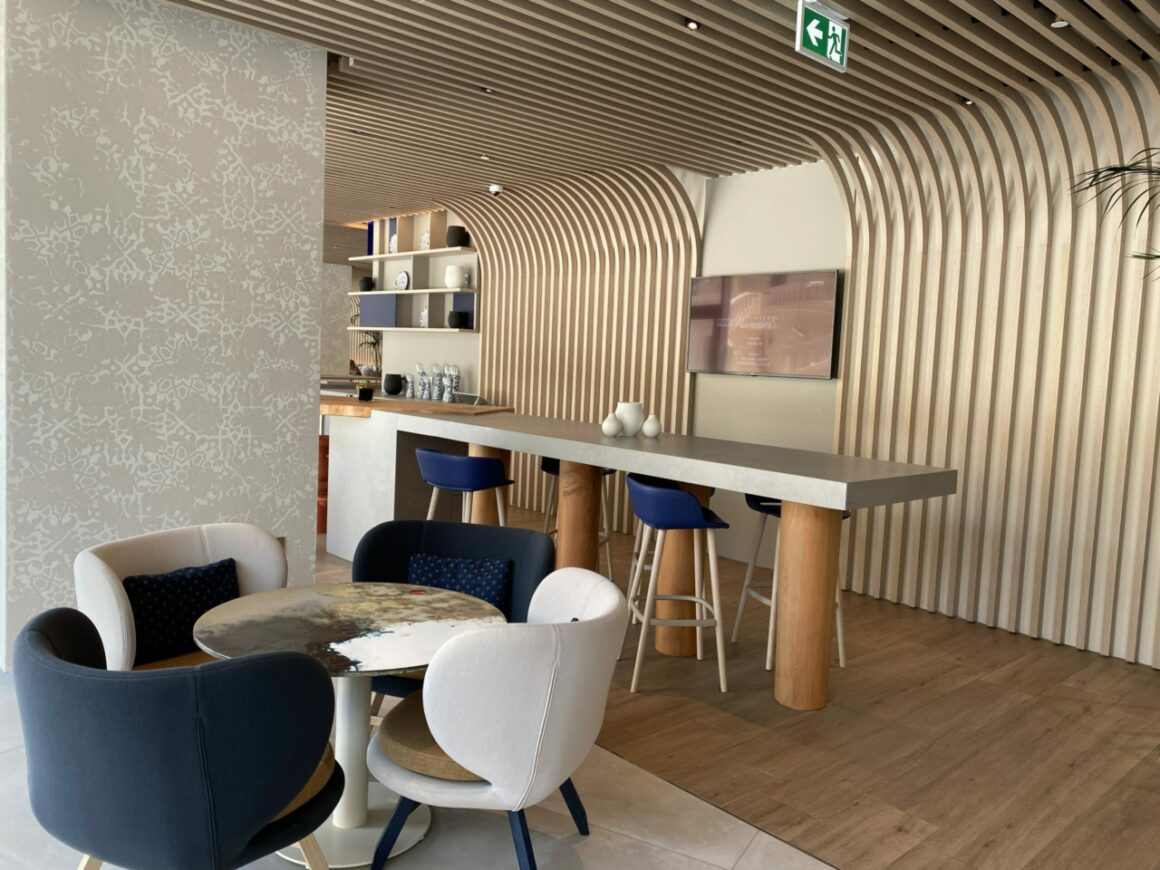 The receptionists were friendly and explained all the basics of the hotel such as breakfast and the pool. One appeared to be fairly new as she needed some help and at times did not seem to grasp what we were asking, though a more senior receptionist always jumped in if there was an issue.
Hyatt Regency Malta Room
As you walk down the hallways you can feel that the carpet is new as you almost sink into it. The bold blue design felt like it was reflecting the colours of the turquoise Mediterranean sea in Malta. The hallways were also lined with huge artwork.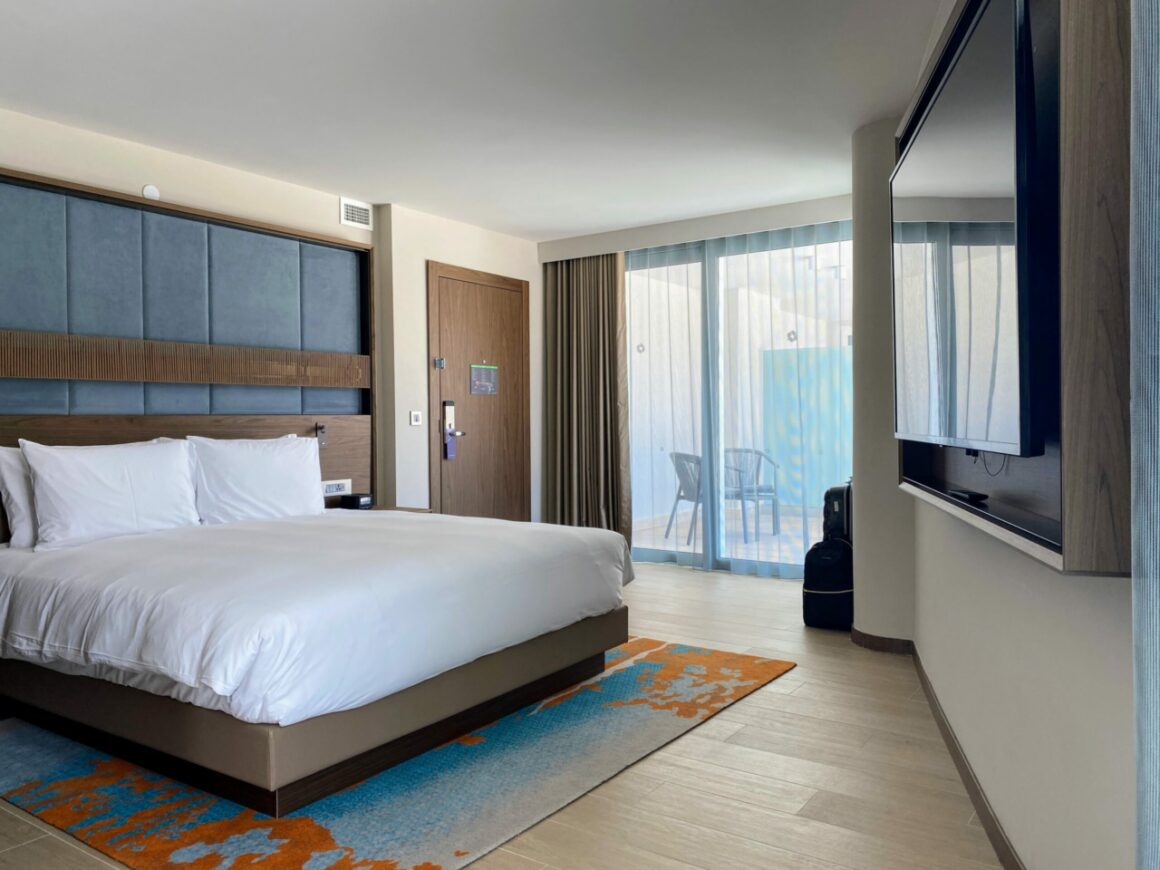 Both Marek and I were given a Regency Suite with one king bed. This overlooked the Augustian priory opposite. Although both rooms were the same category, the layout varied slightly. I had the end room which has the bed as you walk in and then the seating area.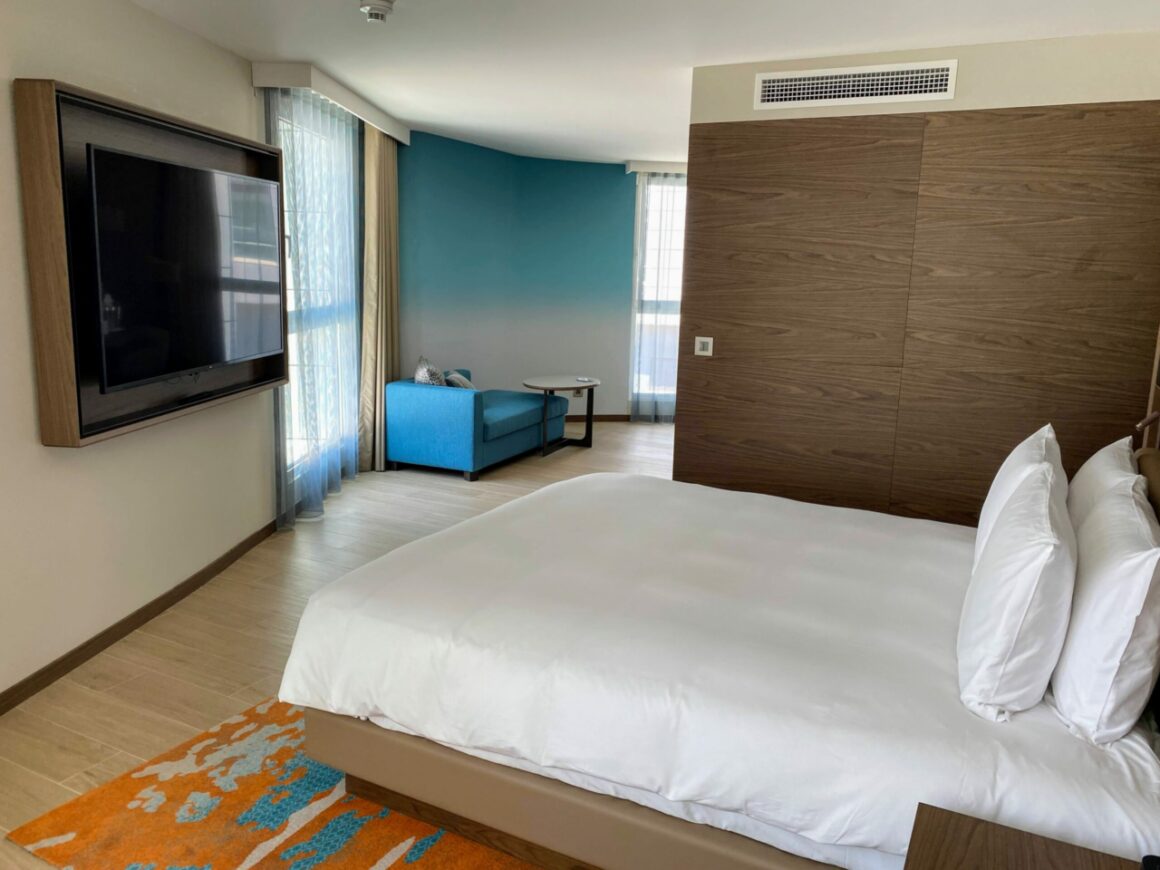 The room felt very large and had a lot of windows which was good for light but a bit of a faff for drawing all the curtains! The TV screen stood out at a massive 65" which is the same in the standard rooms. This is definitely one of the biggest TV screens I have seen in a hotel room. You could set up screen mirroring which was straightforward to do and I managed to watch an episode from Netflix on my phone on the screen. There were also plenty of English channels if you wanted to relax with some TV in your room.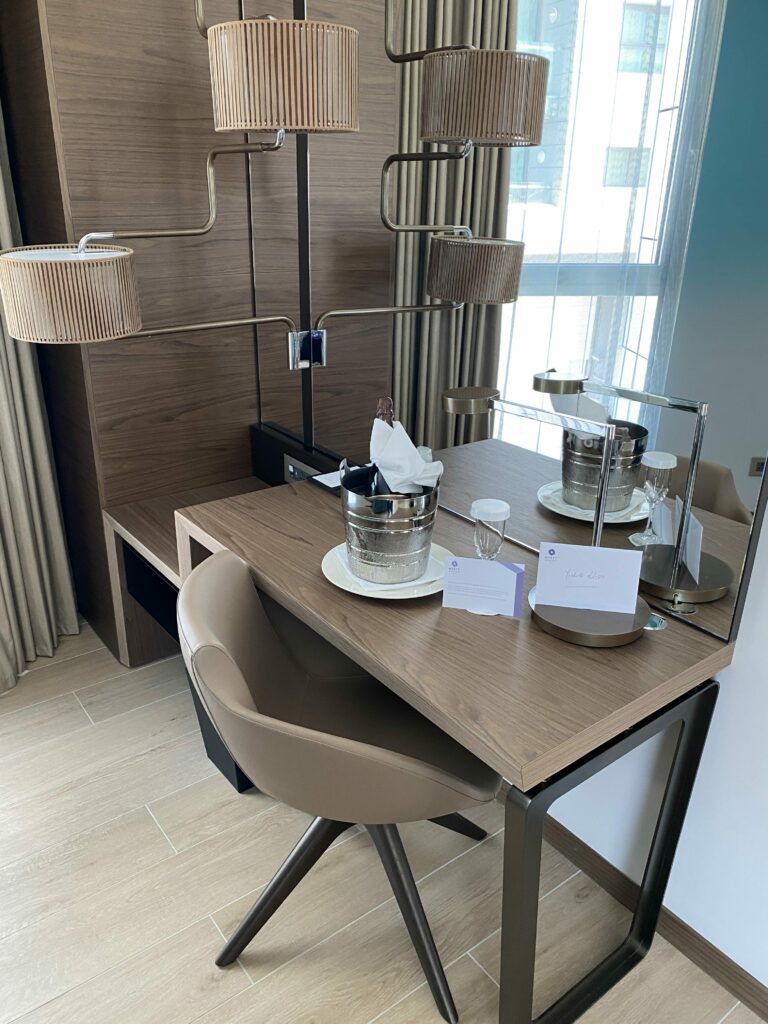 As well as the seating area there was a desk which was a good size for working and well lit. There were plenty of sockets next to the desk and you could also use it as a dressing table thanks to the mirror. So many hotels have nowhere to dry your hair with a mirror in easy reach, but this was perfect.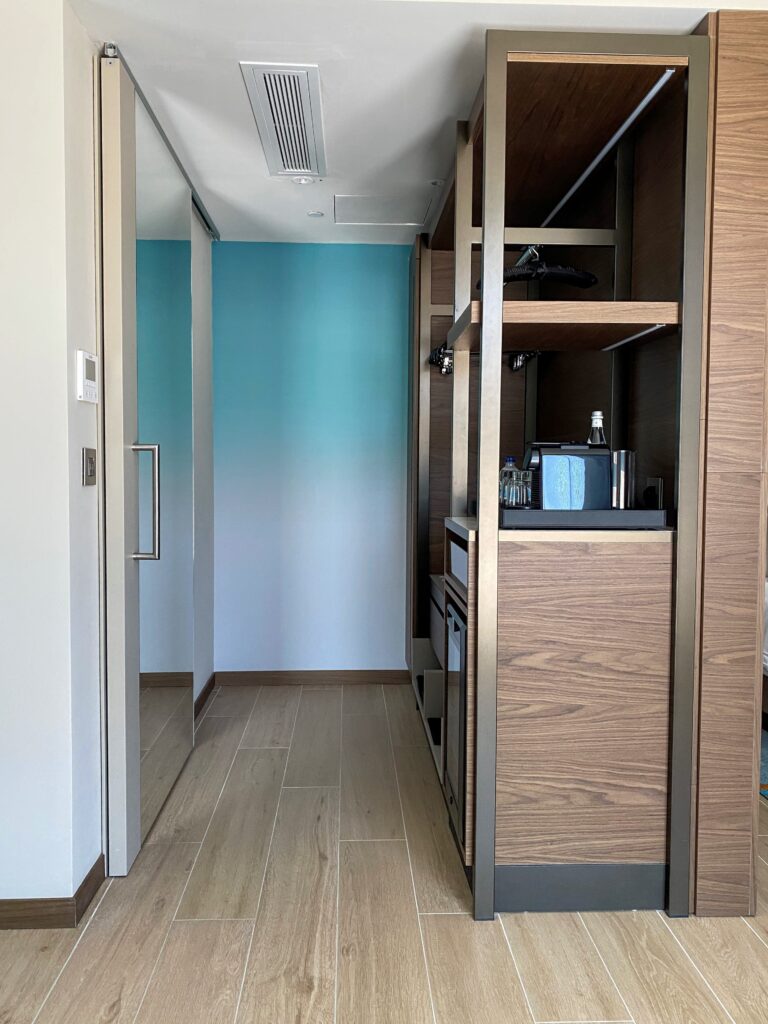 I liked the walk-in dressing area which had plenty of space for clothes and luggage as well as an iron and ironing board. All rooms have a Nespresso maker as well as a kettle which is impressive, and free water too. There was also an empty fridge.
The bed was incredibly comfortable thanks to the Hyatt Luxury Eurotop Mattress, but the pillows were also just right for me as I like them fairly soft like a feather pillow. Both Marek and I did struggle a bit with all the light switches even though they were labelled with pictures. We struggled to find the right ones to turn them all off at night, but got there eventually. There was a universal power socket as well as a USB by the bed which I am always happy to see. Being on the end of the corridor I did not hear any noise in my room at all.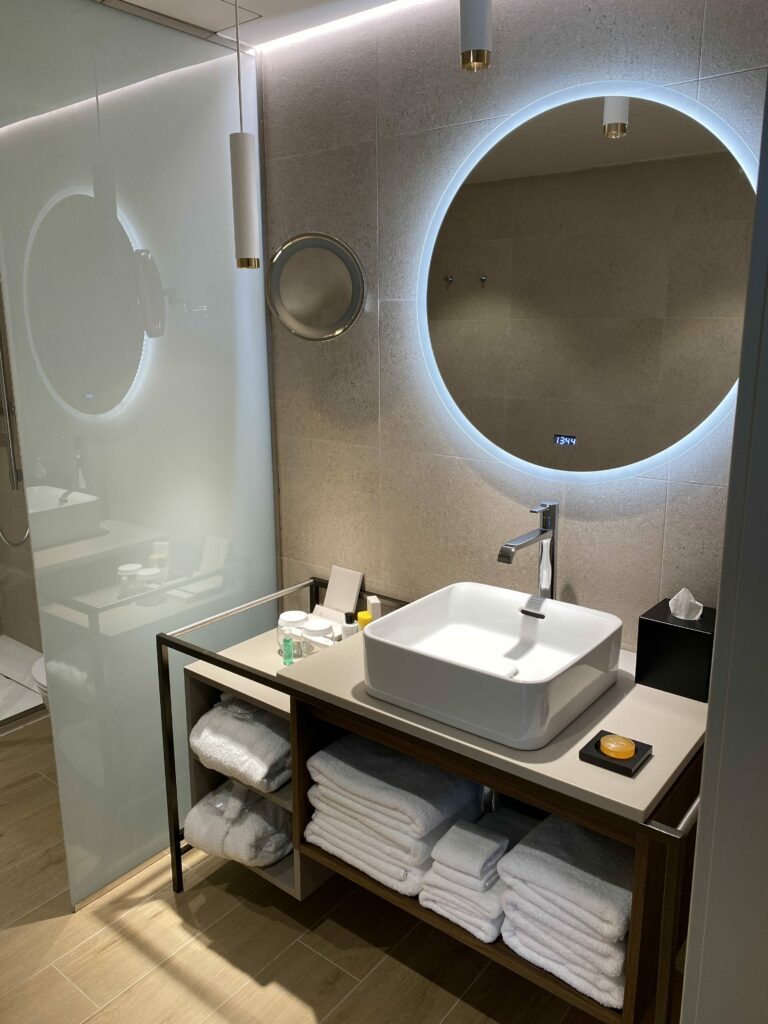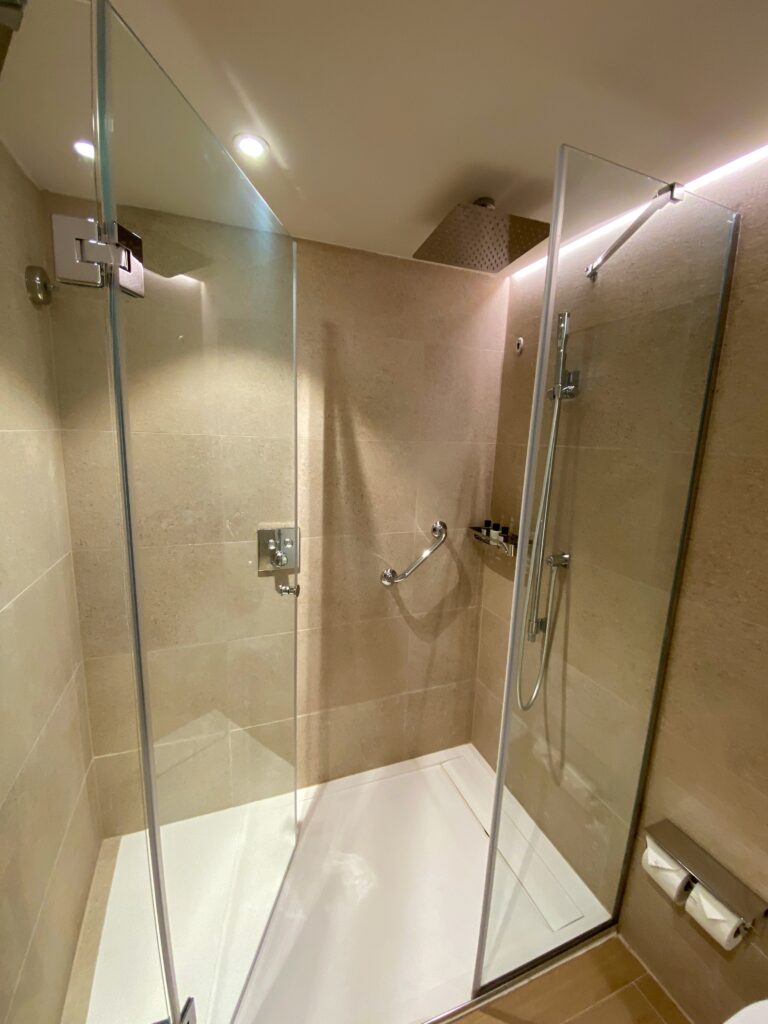 The highlight for me was the bathroom which had been well planned. The usual robe and some very soft padded slippers were provided along with one of my favourite luxury toiletry brands for hotels, Acqua di Parma. These were provided in a large size making them more environmentally friendly as they would last you around a week for one person. I also liked the large well lit mirror with the clock in, which I have never seen before.
The shower is cleverly designed so you can turn it on without getting wet while it warms up. For once you didn't need a degree in engineering to work out which combination of handles to use to get it to work. The shower is turned on with a simple touch of a button and was easy to adjust. There was a large overhead rain shower as well as a more traditional shower which you could use at the same time if you wanted.
With the large fluffy white towels and gorgeous citrusy-smelling toiletries, it was a very pleasurable showering experience!
Other room categories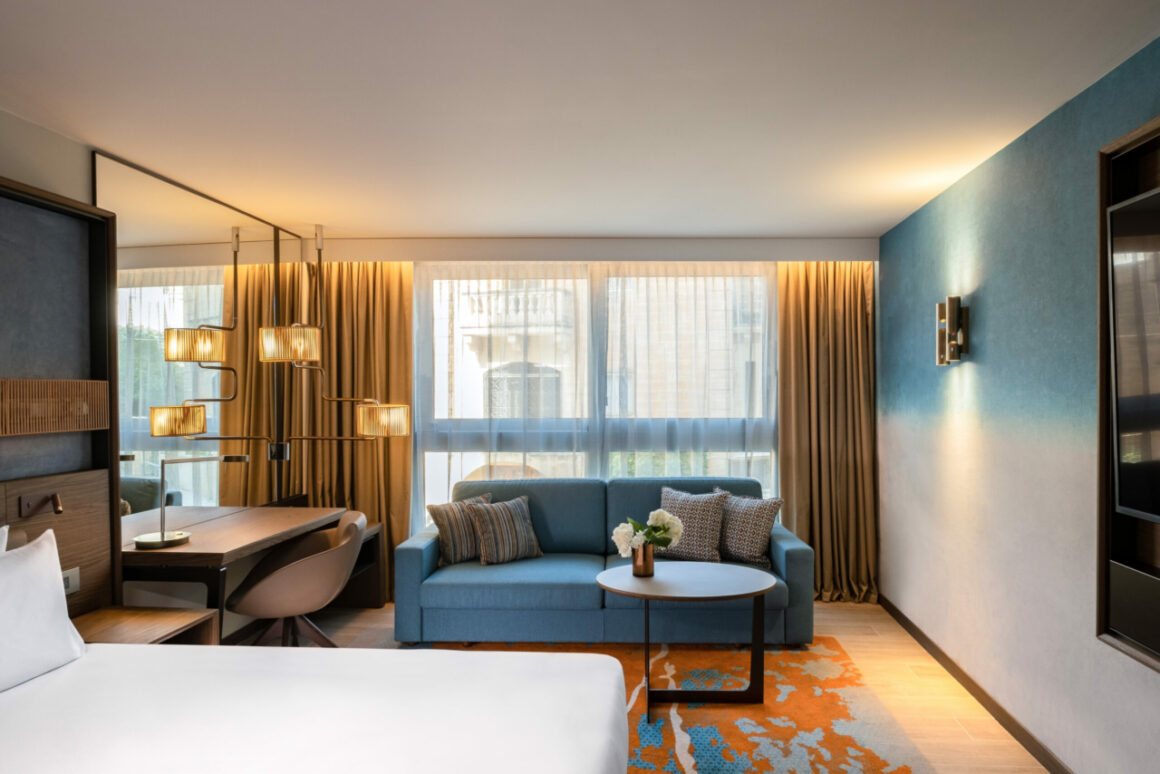 The basic 1 King room does not have a balcony as standard. If you go up to the next category which is the 1 King bed with view, you get a balcony overlooking the priory, very similar to the one I had. The rooms still have a sofa and the desk area, plus a similar bathroom.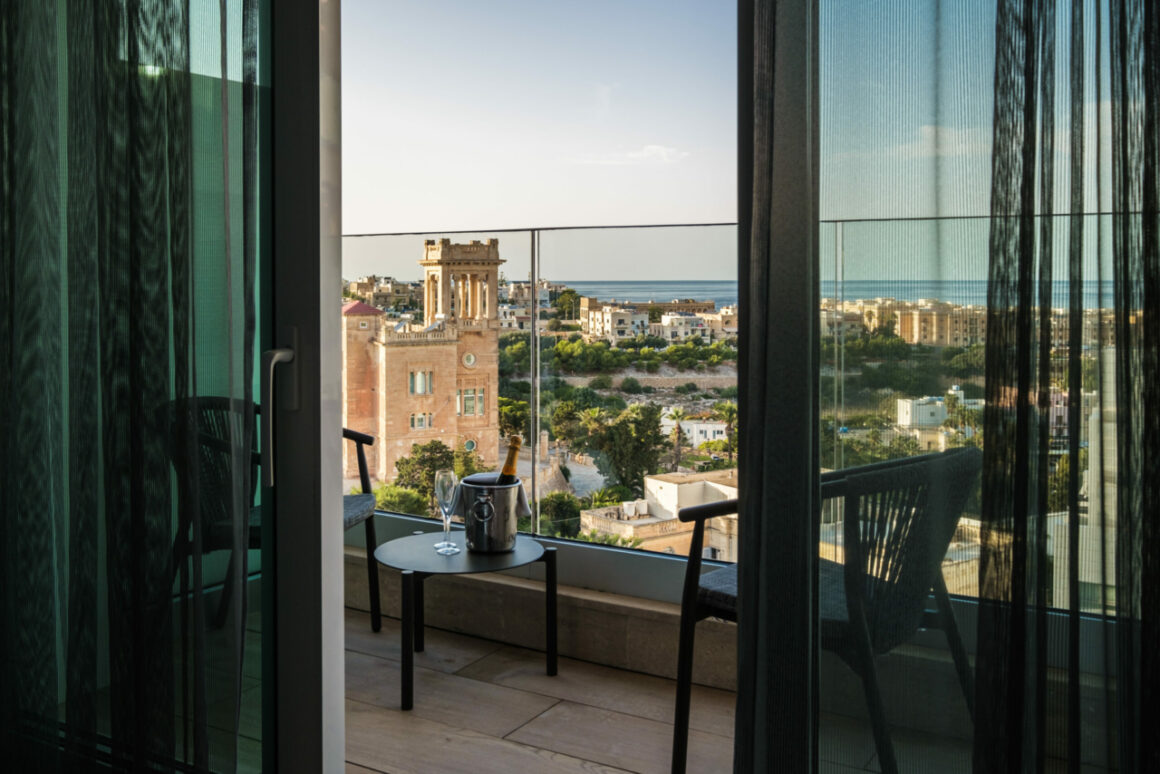 The 1 King room with high floor gives views of the city and the Mediterranean Sea. All the rooms have the same features such as the night lights that react to you getting up and Nespresso machines. They do have different toiletries to the suites but are the standard Hyatt range, Pharmacopia.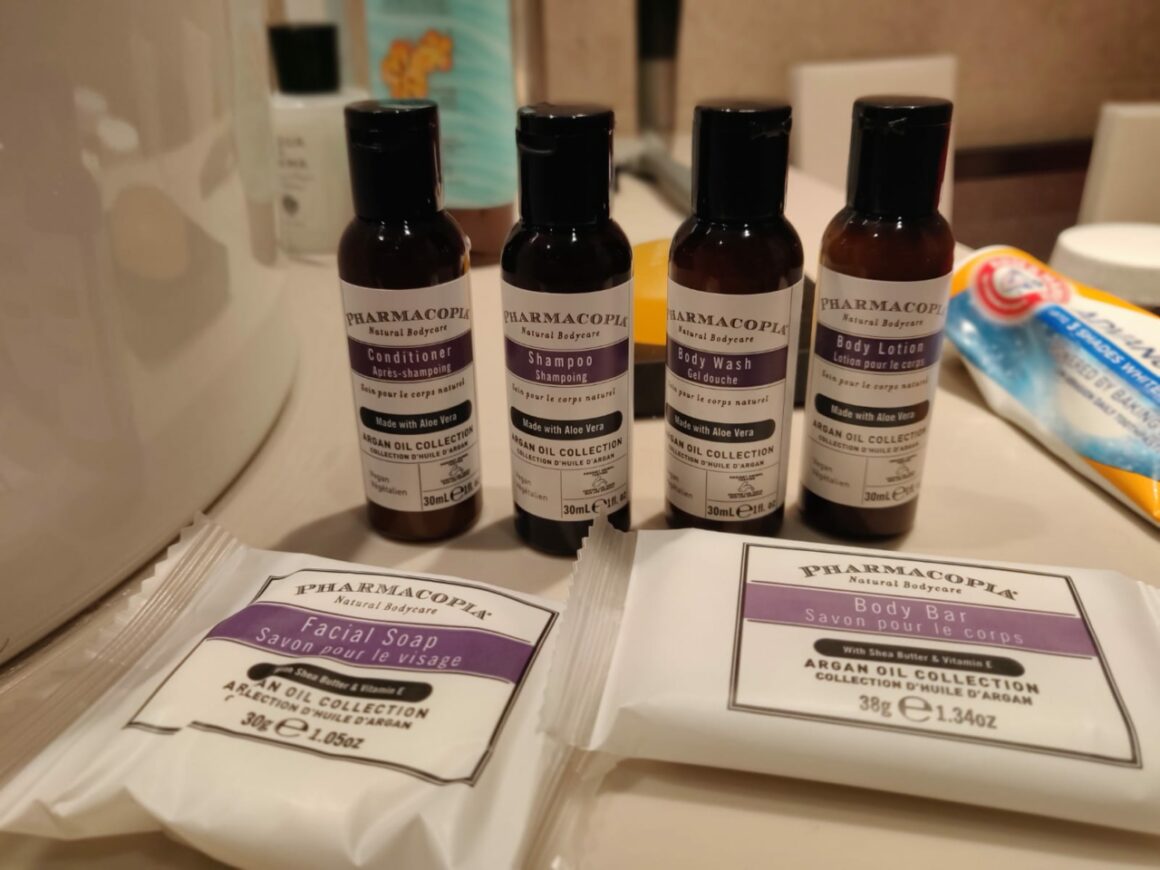 Food and drink
Breakfast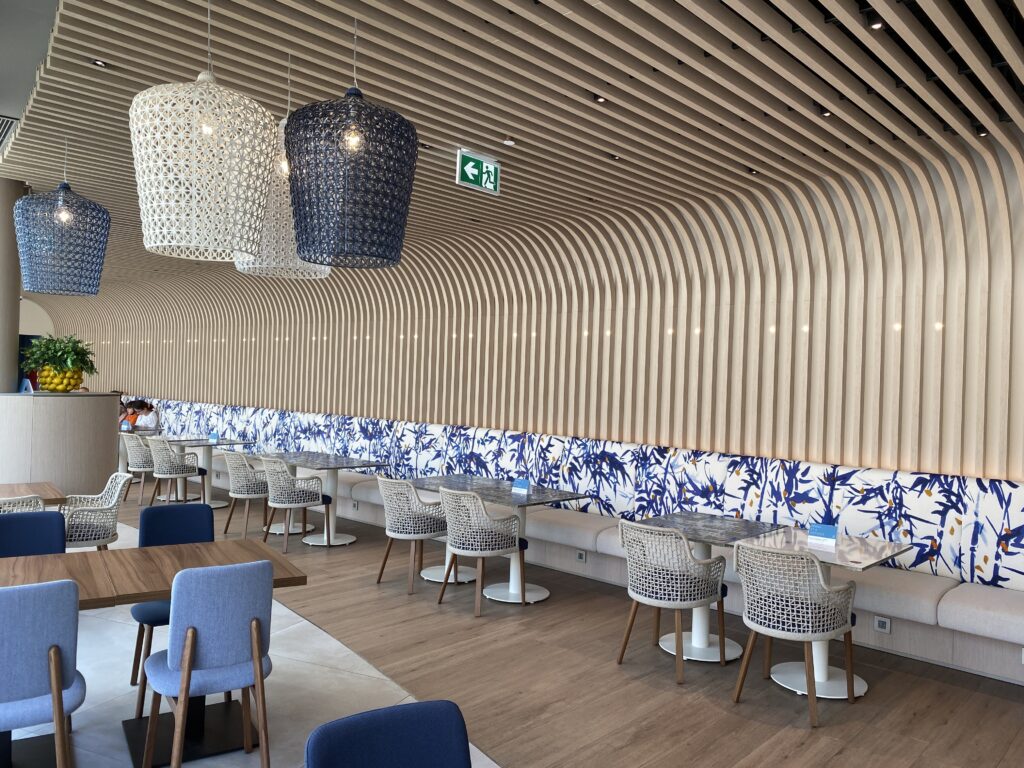 During Covid times, breakfast has been a bit hit and miss in hotels with some actually being an improvement and some being downright stingy. I was very pleasantly surprised by the Hyatt breakfast. As it is a smaller hotel, there is actually a choice of food to order as well as a small buffet of cold items that you are served from. The staff were extremely efficient and helpful at breakfast which is a rarity all too often. They checked to see if we needed more drinks on a very regular basis. Marek stayed the whole week there and said it was consistent throughout his stay. The Hyatt prides itself on a personal touch and I can say that was definitely evident throughout my stay.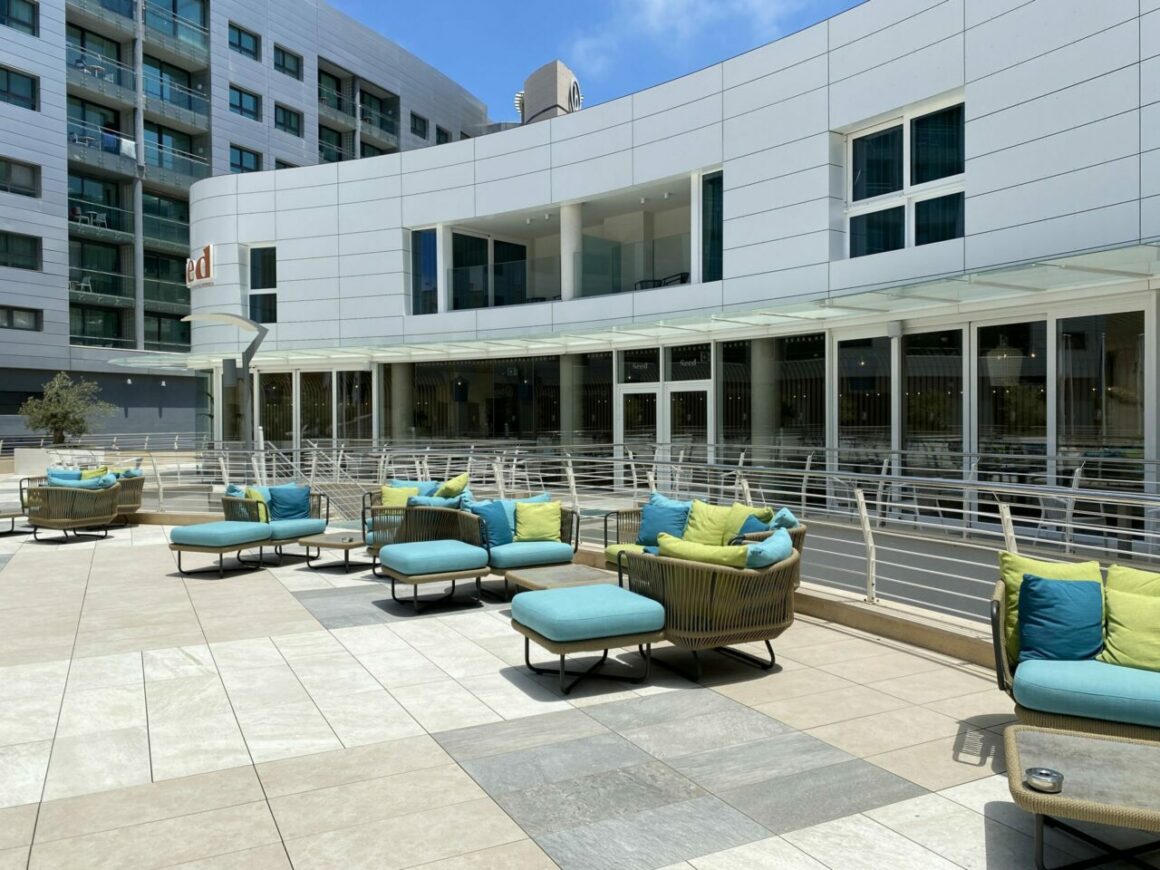 You could sit inside the Mediterranean coloured dining room or outside on the terrace for breakfast.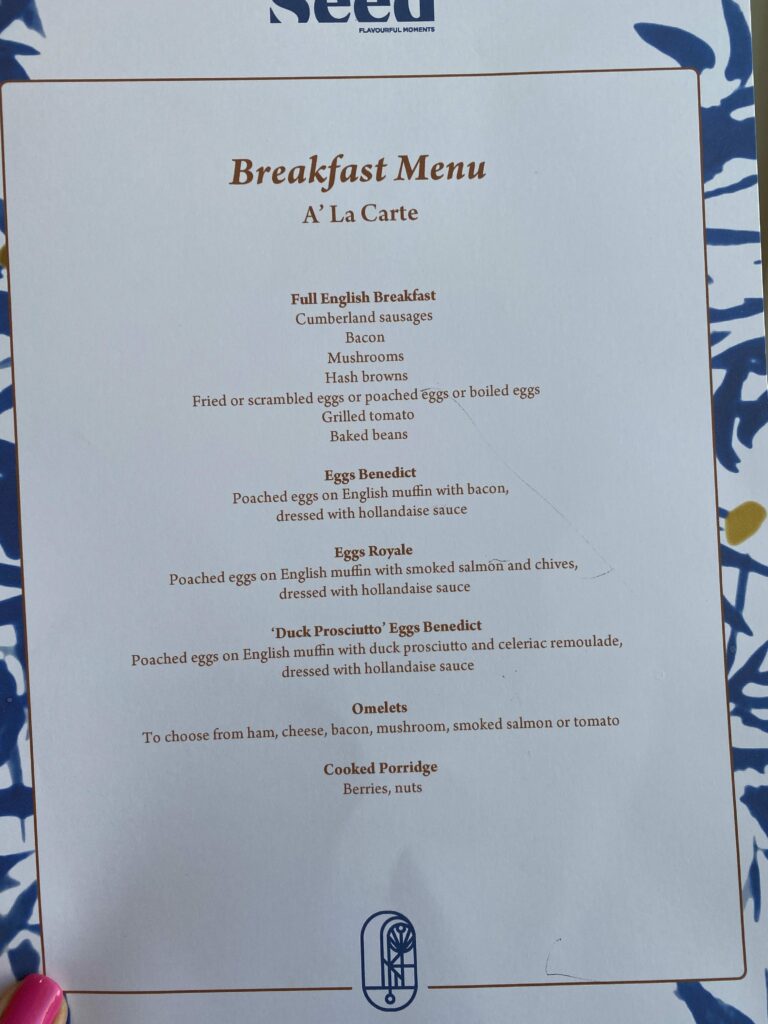 I had a flat white coffee that was good quality and not out of a machine like the Westin. The orange juice also tasted freshly squeezed.
To eat I had the eggs Royale which were good with plenty of luscious creamy hollandaise sauce although the poached egg could have done with a few seconds more (I'd say I find this in about 90% of hotels).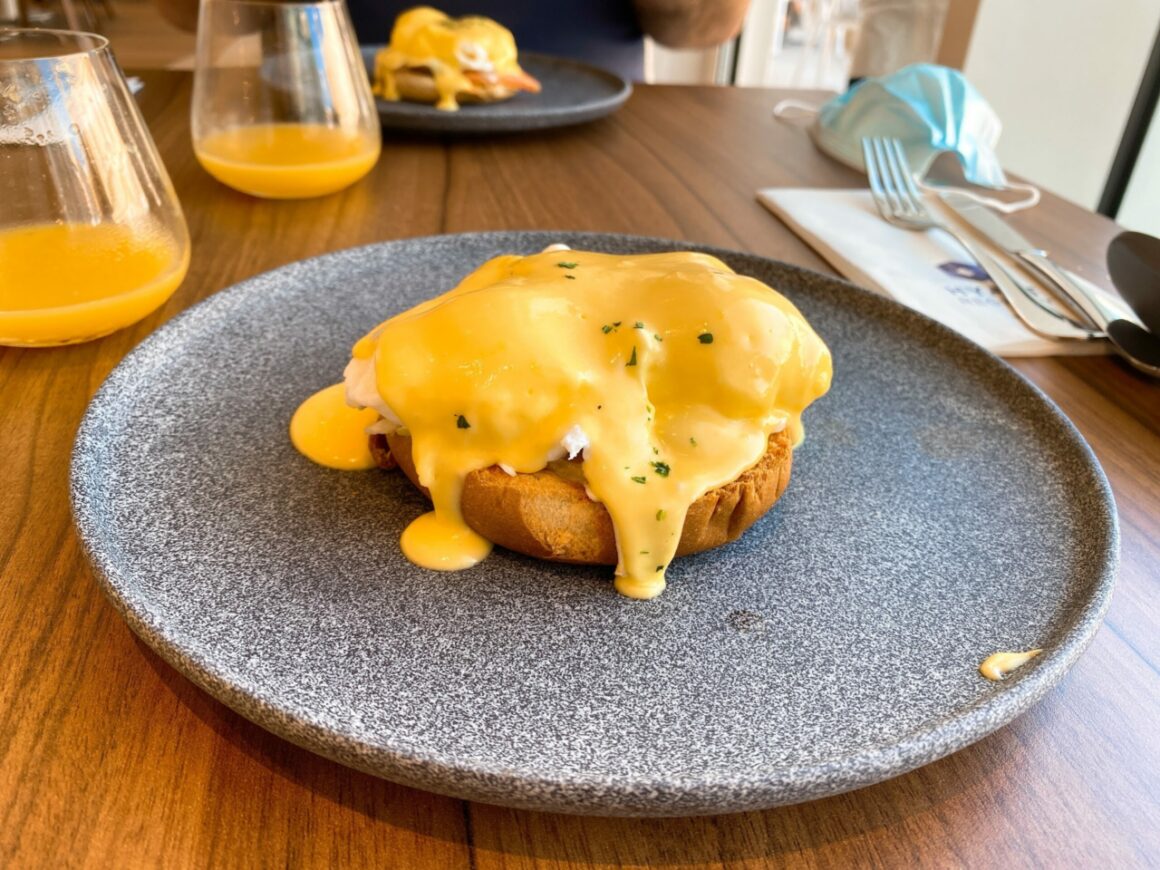 Seed
I ate dinner at the hotel on two nights. Seed is the fine dining restaurant in the evening as well as being the setting for breakfast.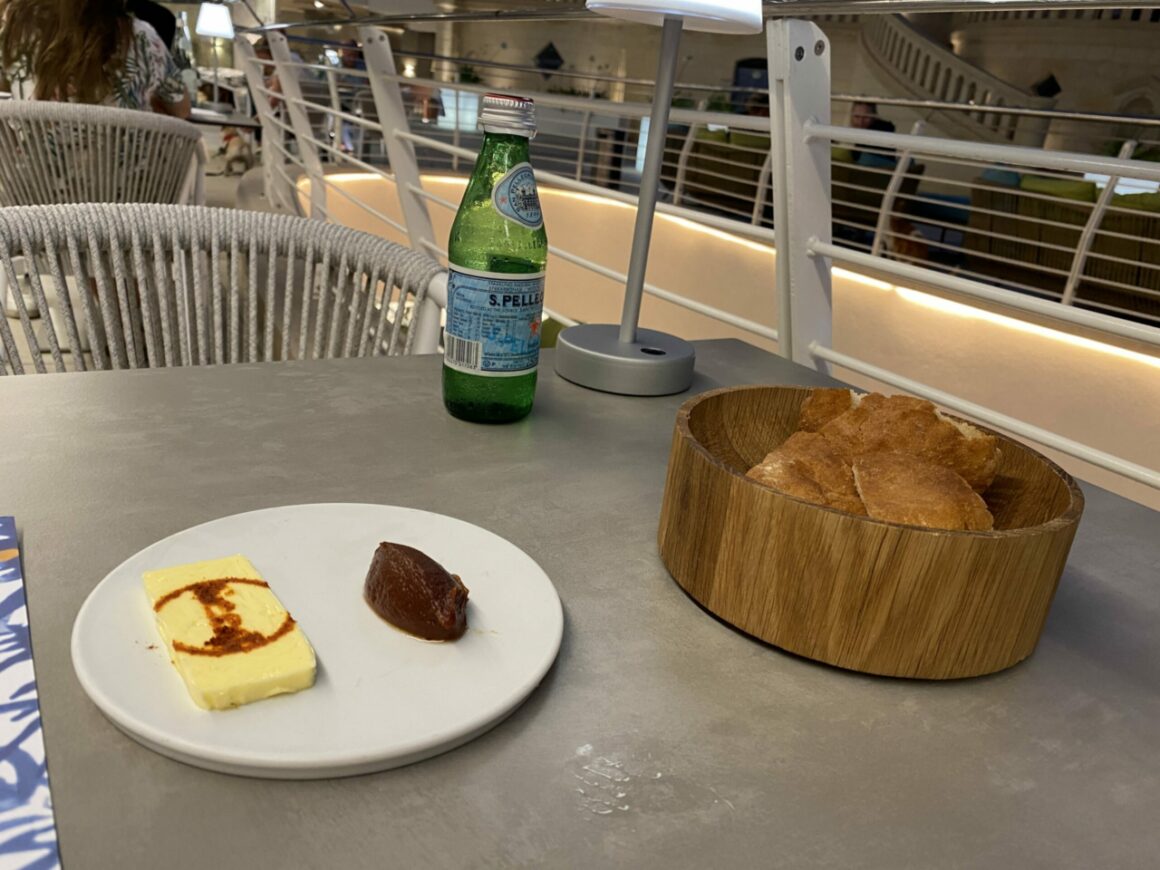 It describes itself as using "local, seasonal ingredients, contemporary technique, and presentation." and a "unique farm-to-fork eatery which prides itself on crafting all its gastronomic creations daily from the very best of the island's produce as well as its very own herb garden."
The meal started with some warm crusty bread that had a fluffy interior and was served with a tomato paste. I have never had anything like that before and it was a revelation. I need to get the recipe for the paste!
Here is the menu:
I started with the Caprese tart which was full of creamy basil flavours in a crispy thin pastry shell.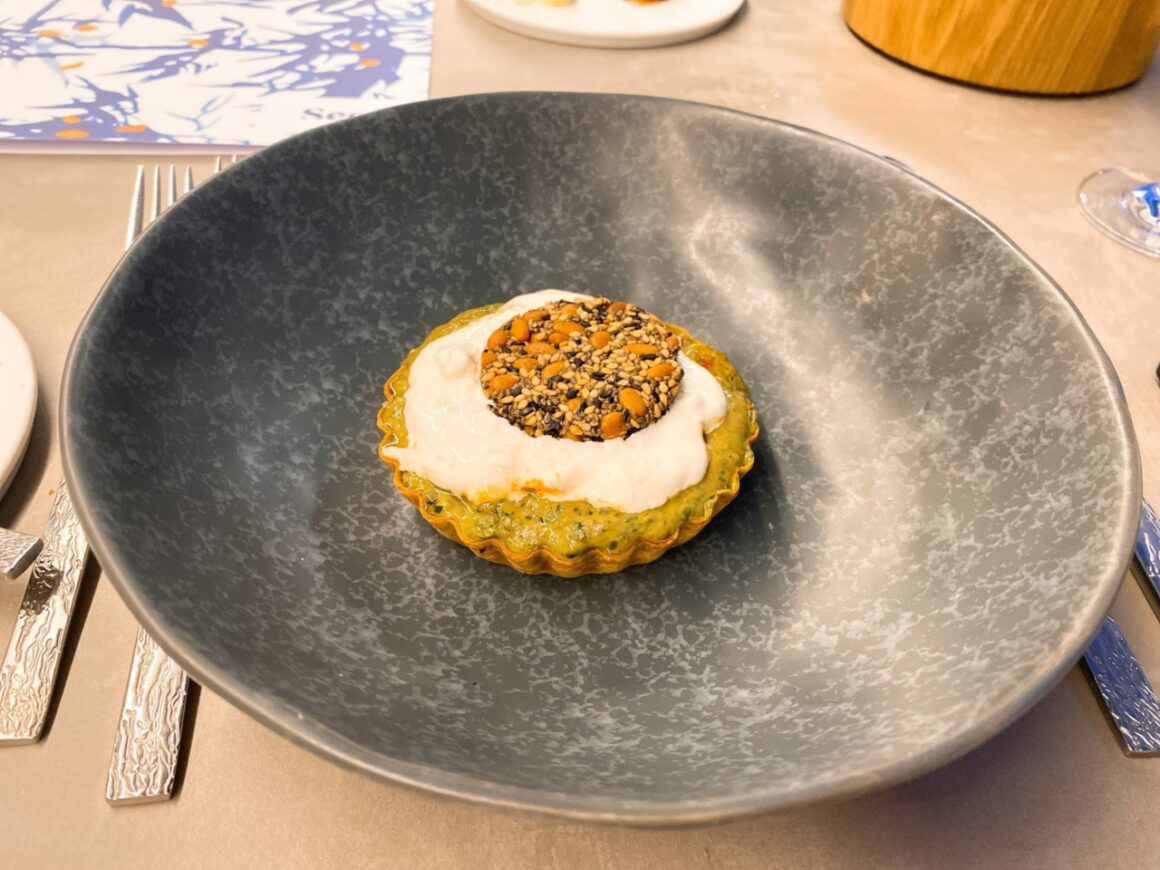 Next, I had the prawn ravioli which was again robustly flavoured with the Thermidor bisque providing a rich sauce to the sweet prawns. I would have liked a little more of the lemon flavour to cut through the richness but otherwise, it was delicious.
My favourite dish was the dessert which I am not normally much one for eating. The cheesecake was not too sweet and perfectly offset by the juicy peach topping and slightly sour ice cream. Even if you are not staying at the hotel, Seed is worth a visit for competent contemporary cooking.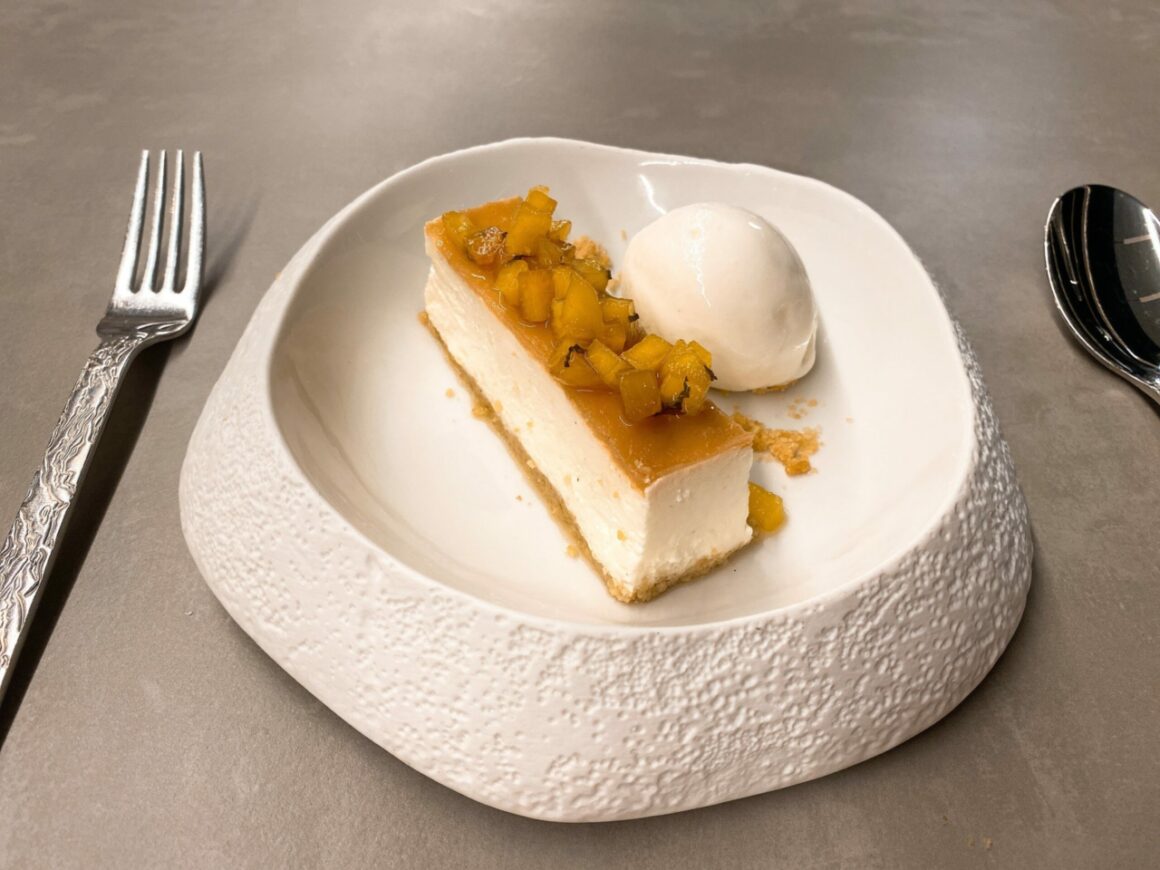 GIN-ger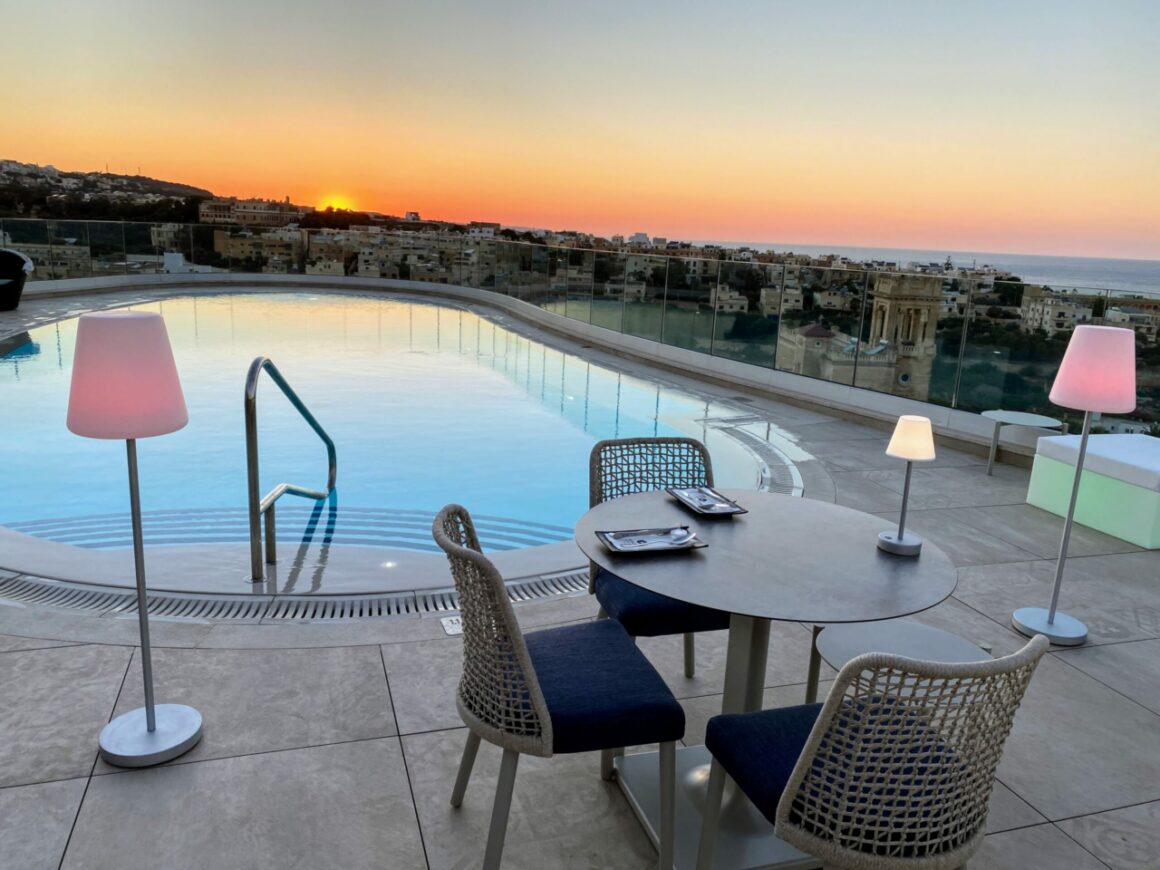 GIN-ger is the rooftop restaurant and bar that was only open Tuesday to Saturday when we were there. It specialises in Gin and also cocktails with a ginger slant plus Asian food.
Gin menu:
It's worth getting up there in time for sunset. We dutifully tried quite a few of the cocktails and enjoyed them all although the ginger daiquiri was a little too punchy on the ginger flavour for me. Our favourite cocktail was the Gingertini which was perfectly balanced between the spicy ginger and the level of sweetness.
The small plates are generous portions so you may wish to share. Here is the food menu: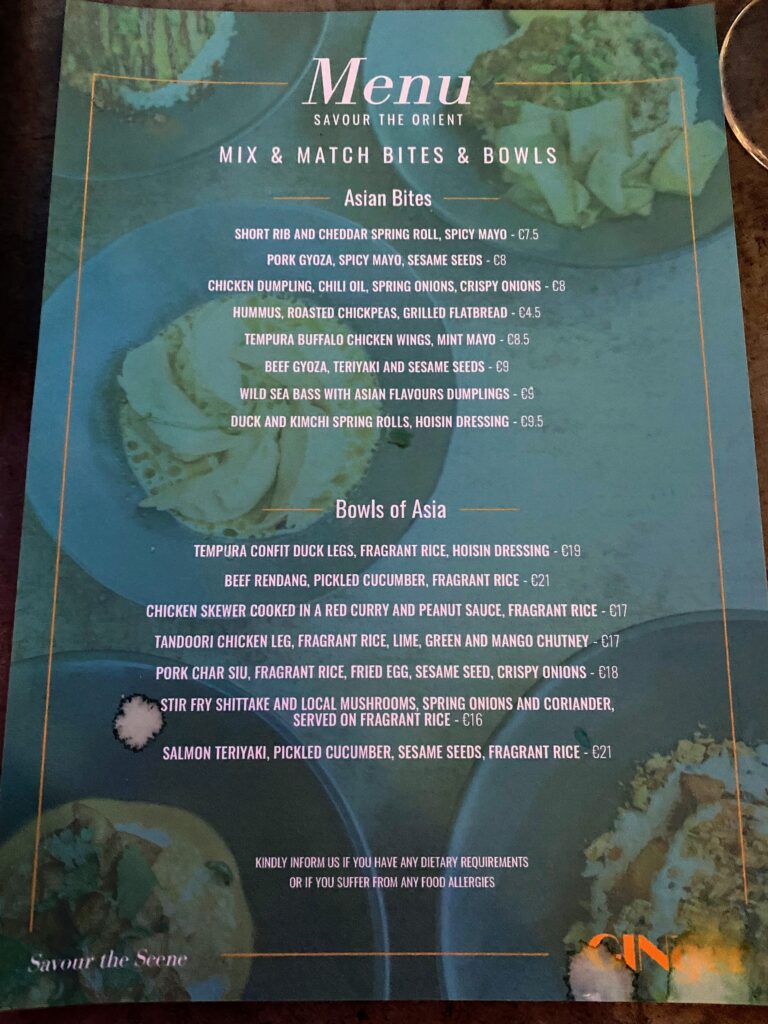 I started with the duck spring rolls which were fabulously light and crispy with the mild kimchi to add some zing.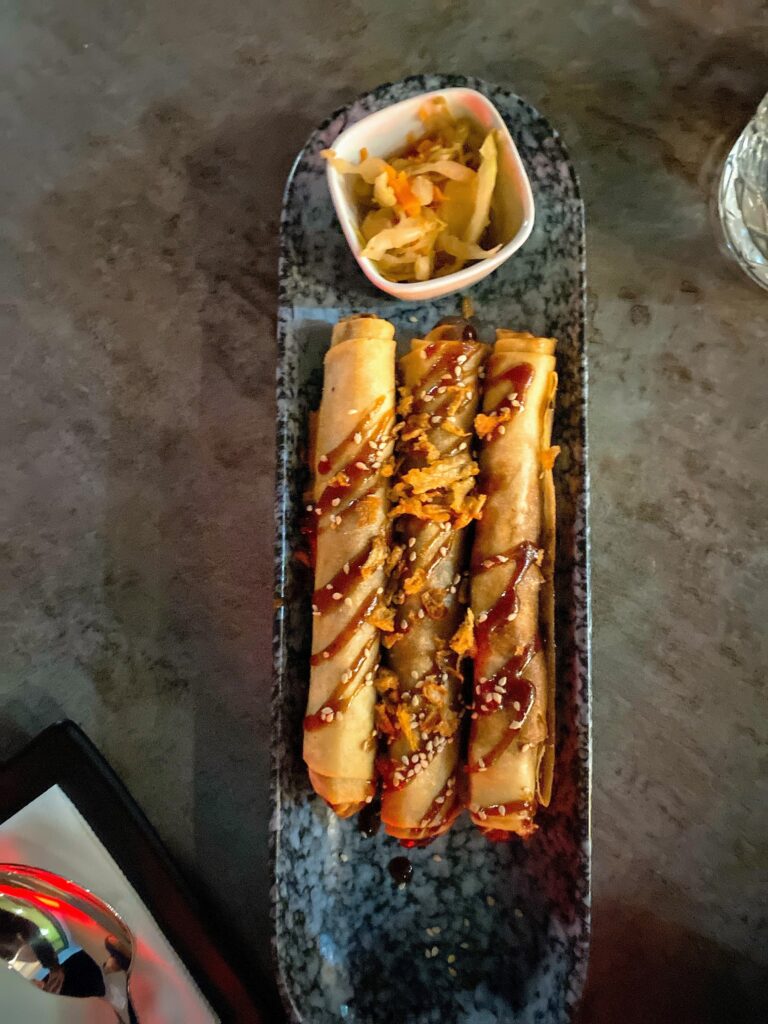 We also shared the buffalo wings which is one of my all-time favourites if not exactly Asian. Marek also loved his hummus which I had enjoyed at lunchtime by the pool.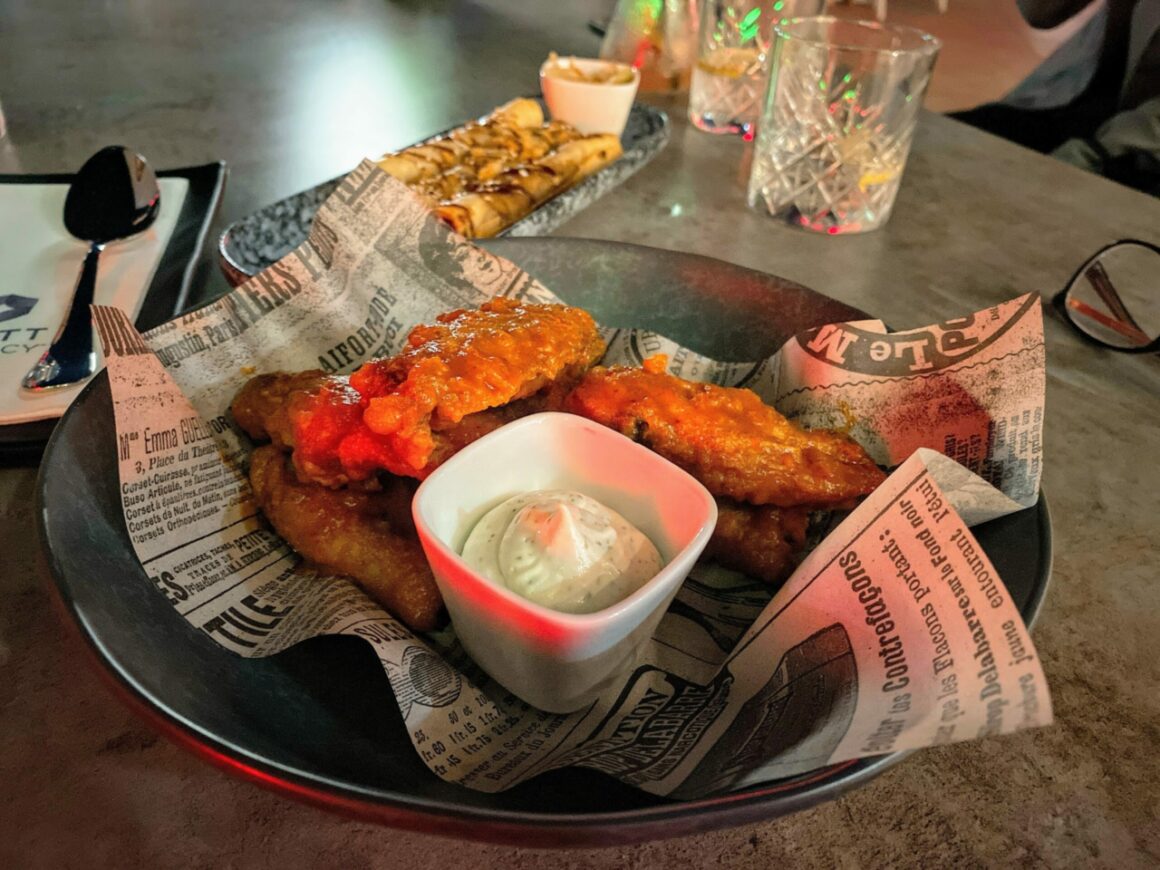 I followed it with the Beef rendang which could have been a lot spicier for me, so if you like it hot it may be worth asking for some extra chilli in it!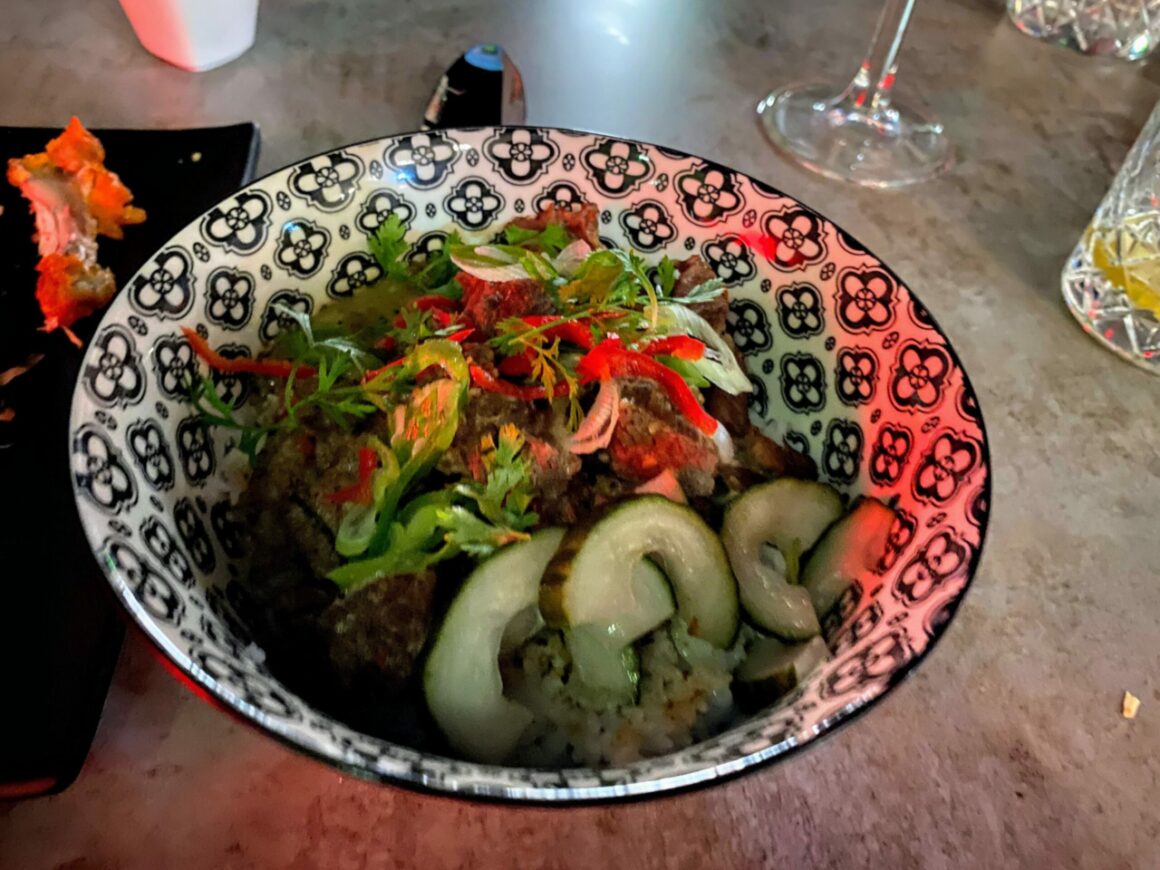 Hyatt Regency Malta Facilities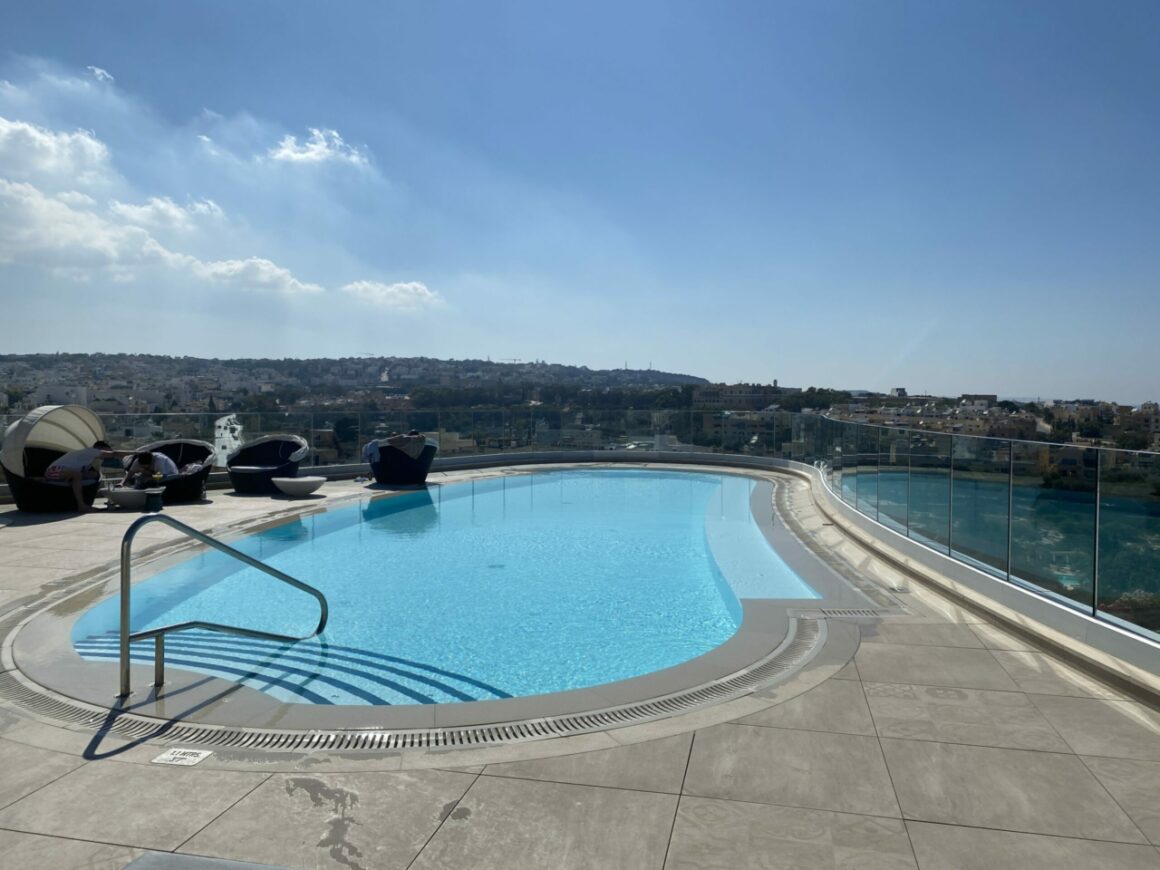 Although the Hyatt does not have a large pool like some of the resorts, the big advantage is that if you want a quiet or adults-only break, the rooftop pool was entirely child-free! The pool is heated (although they only started after I left so I can't comment on temperature) so it would be the perfect hotel for an off-season break. There were plenty of loungers and day beds around the pool with some covered if you needed shade. Food and drinks were available to be brought to your lounger as well.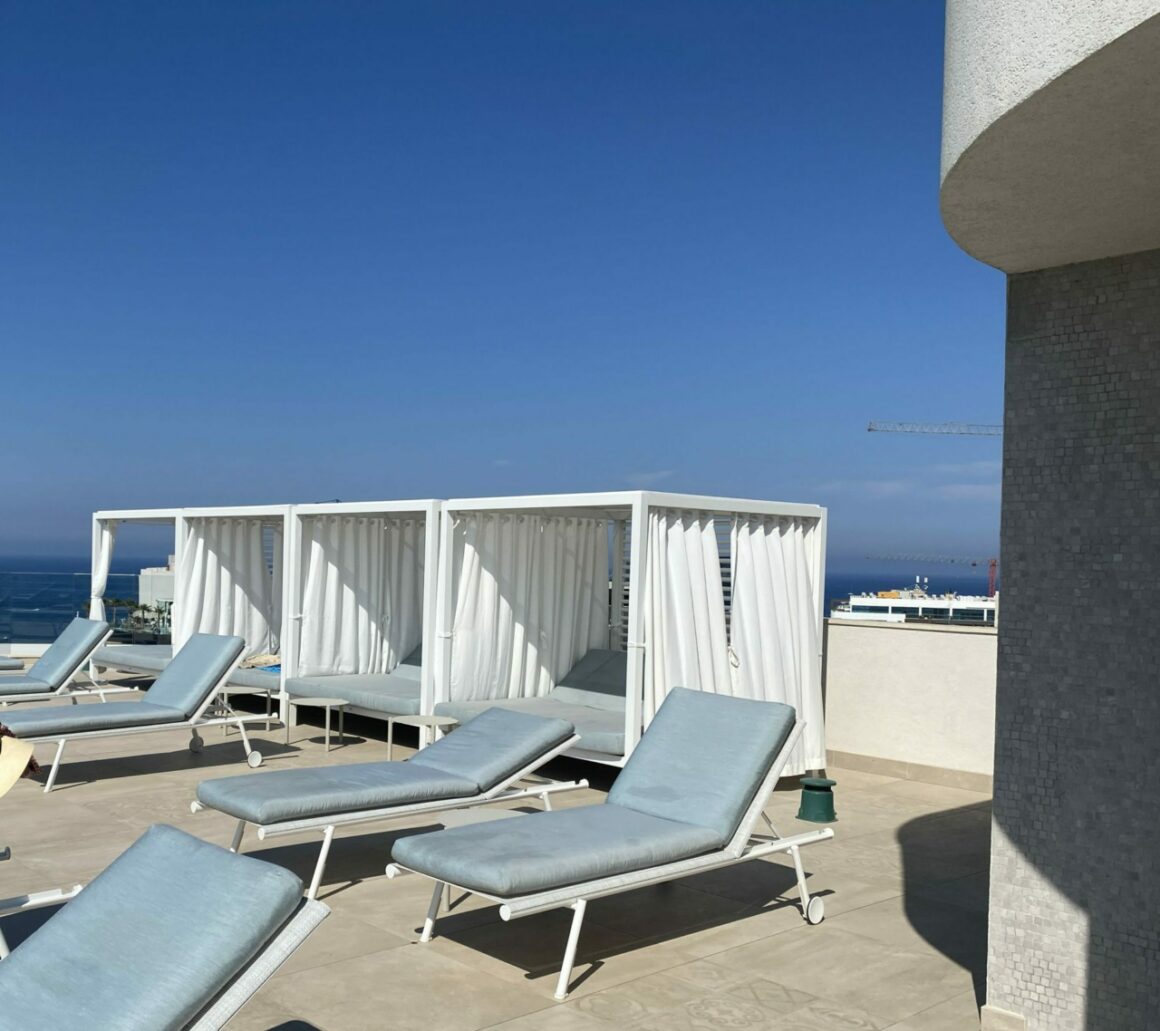 There is also a lovely pool inside as well plus a spa. The spa includes a steam bath, a Finnish sauna, an ice fountain, and the indoor pool has incorporated water jets.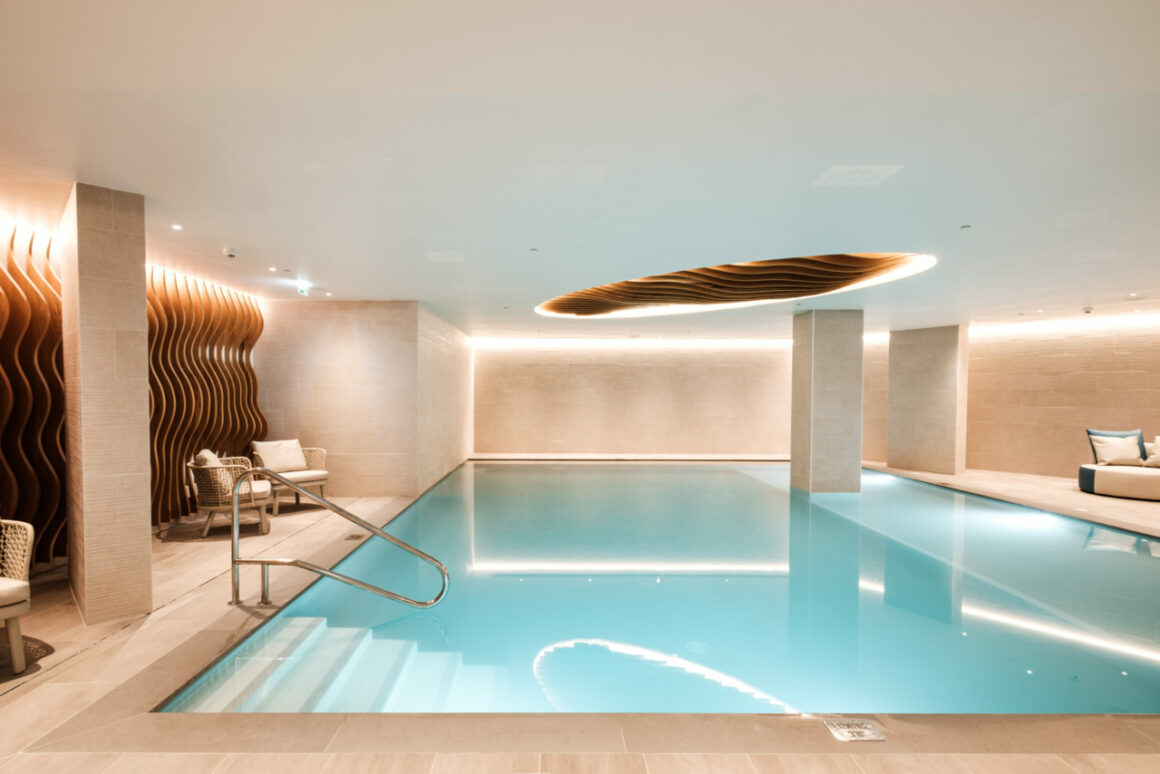 Within the spa, it offers a couples treatment room as well as two further solo treatment rooms. If you want to keep fit, there was a modern gym with the latest TechnoGym machines and it's open 24/7.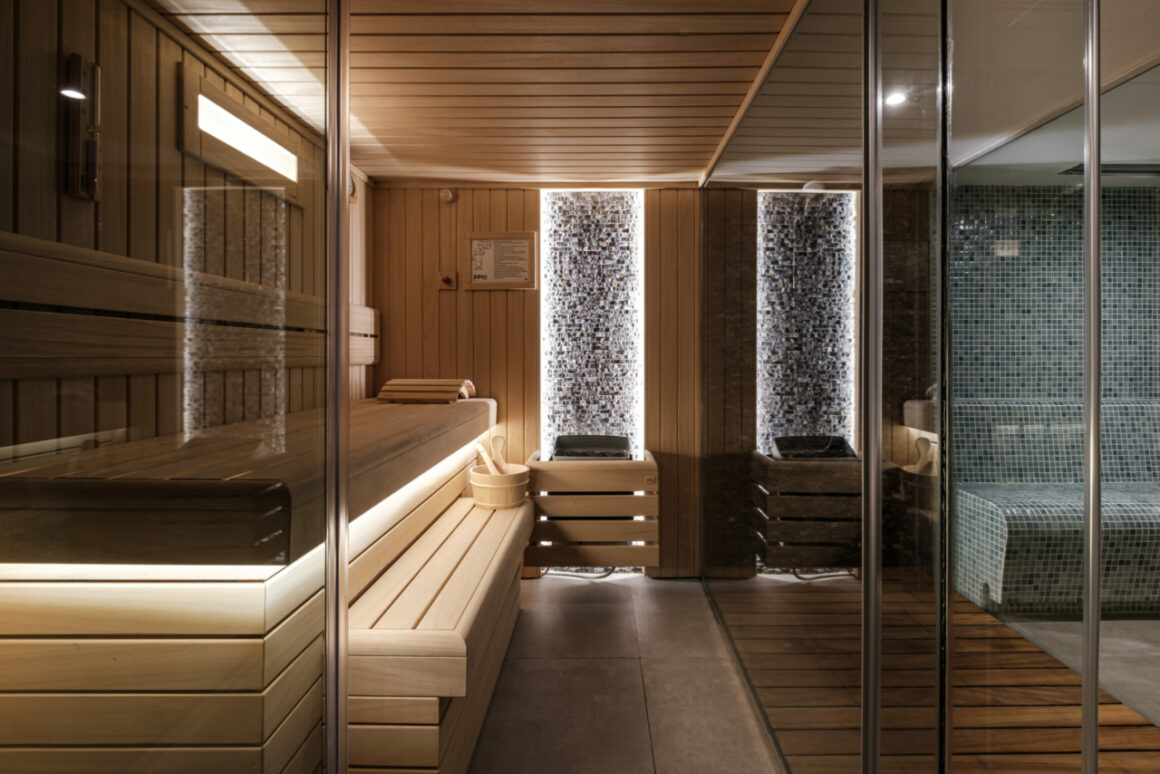 For those that plan to hire a car, there is also a car park.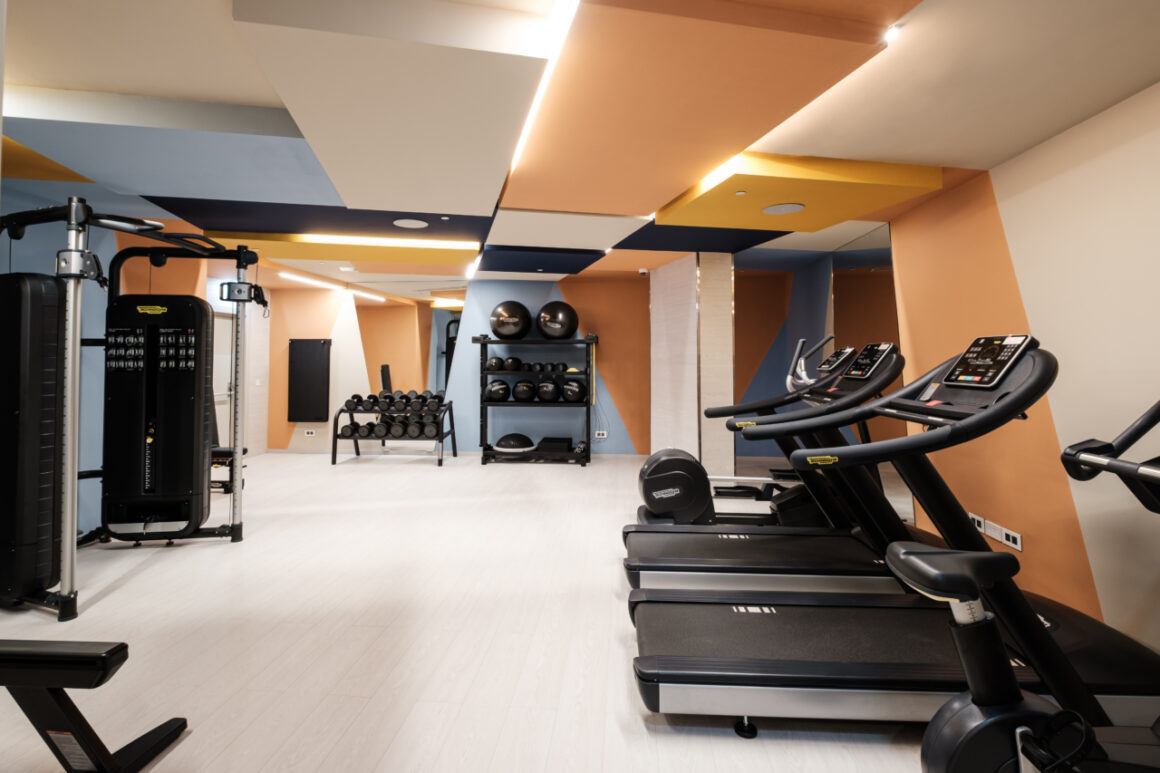 Conclusion and booking
We were both pleasantly surprised by the Hyatt and enjoyed the luxurious touches in the rooms such as the Acqua di Parma toiletries and massive TVs. The hotel is well situated and feels like a boutique hotel even though it's part of a large chain. The personal touch was very much in evidence in the hotel with service in the bar and restaurant being excellent on my visits. Staff in reception always said hello as I passed through.
Prices tend to be slightly cheaper than the waterfront or big resort hotels so you get a lot for your money.
I am planning to return to Malta in the off-season to do a little more exploring and plan to stay at the Hyatt then.
If you want to get some extra benefits when you book, GTC can offer the standard Hyatt Prive benefits which include:
Daily full breakfast for two in the hotel's restaurant
A one-category room upgrade
Hotel Credit per room per stay
Early check-in subject to availability
A welcome gift and letter
You can book the Hyatt Regency Malta on World of Hyatt points from a very reasonable 8,000 points per night up to 16,000 points for a premium suite. Rates start at around €104 for a standard room or €199 for the suite I had in off-season.