easyJet announces cuts to hand baggage for 2021
In the wake of other budget airlines Wizz Air and Ryanair announcing changes to their hand and cabin-baggage policies, easyJet have just announced they will be following suit as of next year. It's a shame as easyJet have always been a cut above the low cost carriers and the only one we would consider flying at TLFL (until now!).
The changes include a reduction of passenger's cabin baggage allowance, meaning that all those who have 'basic' ticket types must store their cabin baggage at their feet, and are not able to make use of the overhead lockers.
Only travellers with more expensive tickets or an easyJet plus membership will be allowed to put their hand luggage in the lockers.
According to a statement from the airline, the move is beneficial for customers.
"We're making some changes to our cabin bag policy to help improve boarding and punctuality and give customers certainty of what they are allowed to bring on board. The new policy will also reduce queue times during boarding and other associated delays which occur due to putting excess cabin bags in the hold and so the move will lead to improved punctuality for all customers".
Starting on the 10th February in 2021, customers will need to pay stricter attention to the seat type they book, as that will determine what your baggage limits will be. Each passenger can still take a small cabin bag on board (max. 45 x 36 x 20cm, including any handles or wheels), however an easyJet Plus membership or more expensive fare or seat will be required if access to the overhead locker is desired.
"That should be enough to bring all the essentials for your journey or for a short trip. There's no weight limit, but we do ask that you are able to lift and carry your bag yourself," the airline said.
Lufthansa premieres Lie-Flat in Economy for only €220

Lufthansa have announced that they will be trialling a – surprisingly affordable – new option for long-haul economy flights called 'Sleeper's Row'.
The concept aims to give Economy passengers a taste of Business Class with a fraction of the price tag, allowing fliers to purchase the entire row of three or four seats for around $360.
Sleeper's Row is first being trialled on the airlines 747-8 planes that fly between Frankfurt and Sao Paulo, and it is possible that the model will be rolled out across the entire long-haul fleet.
Passengers who book 'Sleeper's Row' will be provided with a mattress, pillow and blanket as well as being allowed to board flights earlier than regular economy passengers.
Sleeper's Row must be purchased at the airport during check-in or at the boarding gate; passengers who are interested must enquire with a member of the Lufthansa ground staff, and payment can be made via credit card. The number of Sleeper's Rows offered is limited per flight, so it's first come, first served. I think this is a major drawback for those that are used to business class. I can't see anyone other than someone who would normally travel economy but is prepared to pay a bit extra. This is probably deliberate to stop business class travellers downgrading. At the moment with many routes being quiet, you could find yourself with a row of empty seats for free!
The concept was originally introduced by Air New Zealand with their economy Sky couch. However, theirs was a specially designed seat that extended out to give a larger sleeping area.
In the wake of COVID-19, many airlines are coming up with creative ways to maximise space while maintaining 'social distance', particularly during longer-haul flights. For more info, see Lufthansa's statement here.
Would you consider this on Lufthansa or other airlines if it was as cheap as this? Let us know in the comments below.
Dubai unveil plans for new luxury floating resort with glass-bottomed suites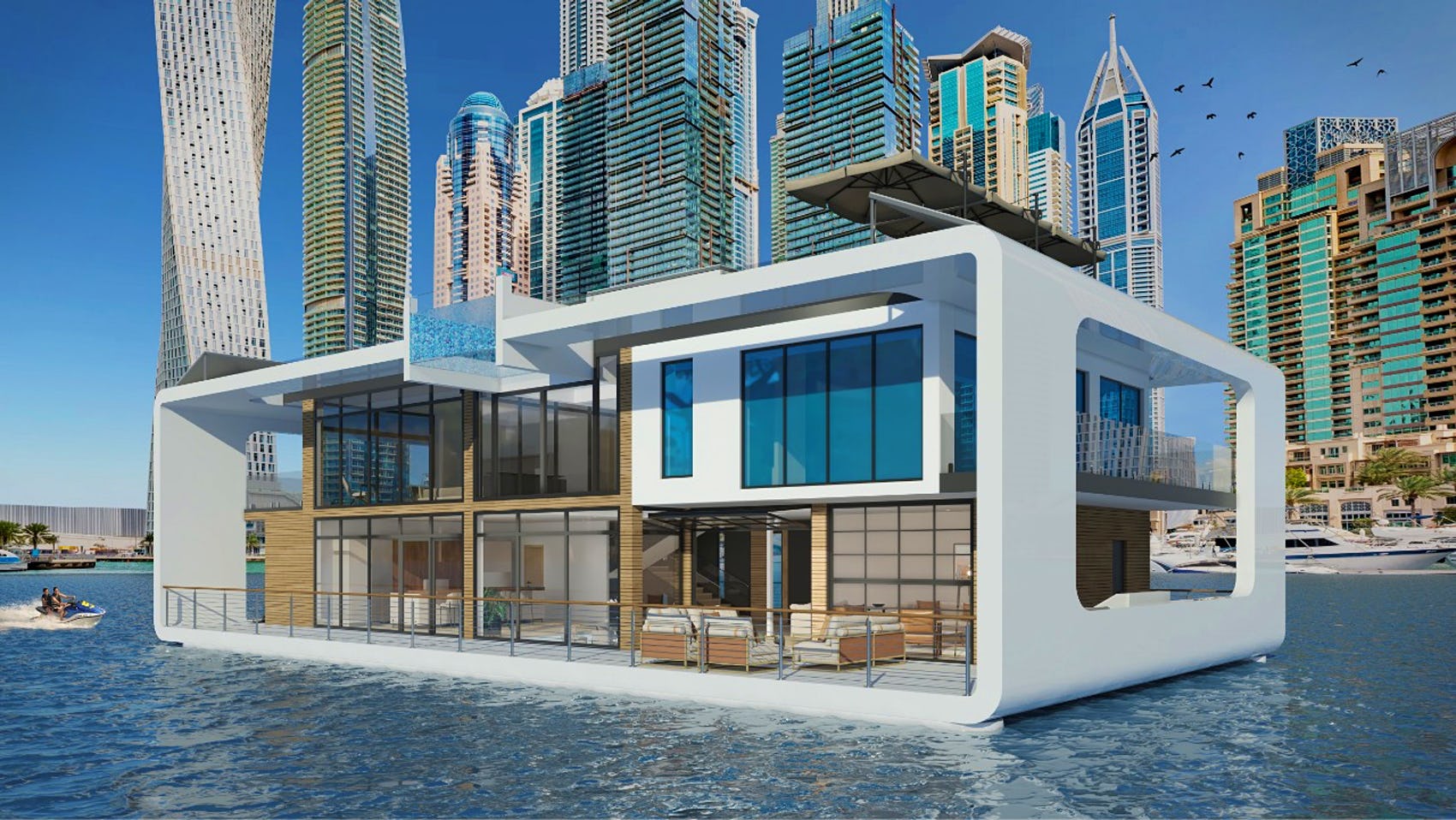 Dubai is known for its fancy resorts and ambitious concepts, and they have recently unveiled another – a new floating resort near the Dubai Marina, which was apparently inspired by glass-bottomed boats.
Called 'the Sea Palace', the resort is being constructed by an Emirati ship-building company named Seagate Shipyard, and is currently around 70% complete. Consisting of a main hotel building, the structure will be surrounded by six luxurious floating houses, all of which can be detached and set sail all on their own.
The 'houses' will have see-through floors and even furniture, designed by automotive design royalty, Aston Martin. Automatic smart systems will help users 'operate' the houses, complete with fancy extras like self-sterilising air filters, solar energy panels and garbage recycling systems. Now just hope there aren't any cheeky divers swimming underneath!
Dubai reopened to travellers in July, and visitors are required to get a PCR test for COVID-19 within 96 hours of their flight's departure or from the UK they can test on arrival. (Not recommended due to what happens if you are positive on arrival!).