You may not have seen the comment yesterday, but it would appear that BA are listening to our complaints about the current sorry state of affair for food and drink on board.
Here is one of the current meals on BA in Club World from Singapore: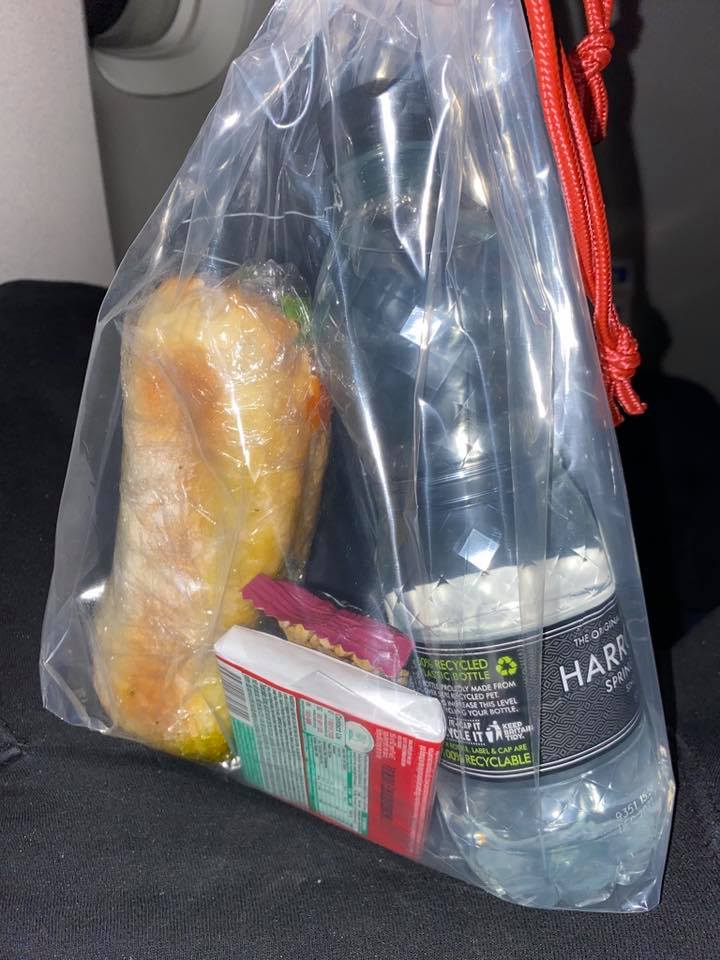 A reader had contacted You First asking about a partial refund on their First trip due to the lack of onboard service, lounges etc. They were firmly told no, but they did receive some encouraging news,
BA are hoping to get back to a 'reasonable level' of service and a 'reasonable normal' by August and the onboard service will be reviewed at the end of June.
Now that the majority of other airlines apart from Turkish are serving pretty much normal food and drink, I think they will have to up their game as soon as people start to travel again. Once the FCO warning is dropped or reduced, then I would expect to see a change.
EU travel may be allowed without quarantine & FC advice could be about to change
This is all speculation as of now, and as we know about 50% of what is rumoured in the papers actually happens. Still, I'll take any good news as far as travel is concerned!
According to The Telegraph And The Sun, government ministers have said that the air bridge concept will apply to the EU first, as in the whole EU!
The source said "The aim is to have the first ones in place by mid-July, and one with the EU will be the first."
The FCO advice is getting somewhat outdated now as countries start to reopen and there is more chance of getting COVID here than in many other countries. Yesterday they updated the advice to say they are reviewing it regularly. It had drawn a lot of criticism due to the lack of an end date which effectively invalidates any insurance, even if you are not travelling for a while and need to cancel.

The Telegraph says there are hopes that this may be updated properly soon. Hopefully, they will go back to a country by country basis which would make far more sense.
Sri Lanka to welcome back tourists – if you can jump through the hoops
Sri Lanka is due to reopen to tourists from all countries. There are a lot of hoops to get through which may put some people off. For me, it actually makes me more inclined to go as it shows they are taking COVID seriously and there is less likely to be an outbreak. The only concern for me is 21 days quarantine if you test positive.
Here is what you need to know:
All travelers will require a valid visa; this will be issued for 30 days and extendable for up to 6 months after arrival. Online visa at http://www.eta.gov.lk/slvisa/ To get the visa costs $100 and you will need to show

Booking details at Certified Accommodation
Itinerary in Sri Lanka
Return ticket
Proof of medical insurance
A minimum 5-night stay in Sri Lanka is required and it must be with Certified Accommodation providers.
A negative PCR COVID-19 test is required prior to boarding your flight and on arrival in Sri Lanka. The test should be no older than 72 hours prior to boarding.
There is no quarantine on arrival unless symptoms are detected
A COVID-19 PCR test would be done on arrival at the airport. No charge.
Currently, it takes 24 hours to receive the test results. They are making changes to have results within 4-6 hours by August. In the event you are required to wait 24 hours for the test results; you will be able to select a hotel for a one-night stay from Certified 4 or 5-star hotels in Colombo or Negombo until the test results are received.
A further test will be done 4-5 days after arrival by a mobile unit in coordination with your Certified Accommodation provider.
Travelers staying for more than 10 days will be required to take a third test during their stay.
In case of a positive PCR result, quarantine in a designated hotel or hospitalisation will take place depending on the details of the case. Quarantine would usually be 14 to 21 days if symptoms are detected.
You can't use public transport
You can find the full details here.
Would you go to Sri Lanka with all these measures in place or is it too much hassle? Let us know in the comments below or on social media