Virgin to test all crew with rapid testing
You may have thought that airlines were testing all their staff already. But in fact, most are not despite the fact that they come into contact with people all day and travel to countries with far higher rates of COVID than the UK. Part of the issue has been having tests rapid enough to make it worthwhile and cost effective. Virgin Atlantic has announced that it is the first UK airline to introduce Covid-19 pre-flight testing at its Heathrow base for its cabin crew and pilots. Launched on the 30th September on flights to Shanghai and Hong Kong, the airline plans to extend the trial to Barbados and select services later in October, before a wider roll out to test every operating crew at least once per month.
In partnership with GeneMe UK, official distributor of the FRANKD test, the airline trial is offering crew and pilots a rapid Point of Care Covid-19 RT LAMP test. In independent laboratory tests, FRANKD is shown to be 100% specific and 97% sensitive to detecting SARS-CoV-2. Through integration with the digital ID platform Yoti, the test process is fast, secure, paperless and does not require a lab. After a swab is taken on site, results are processed and delivered on the Yoti app within 30 minutes.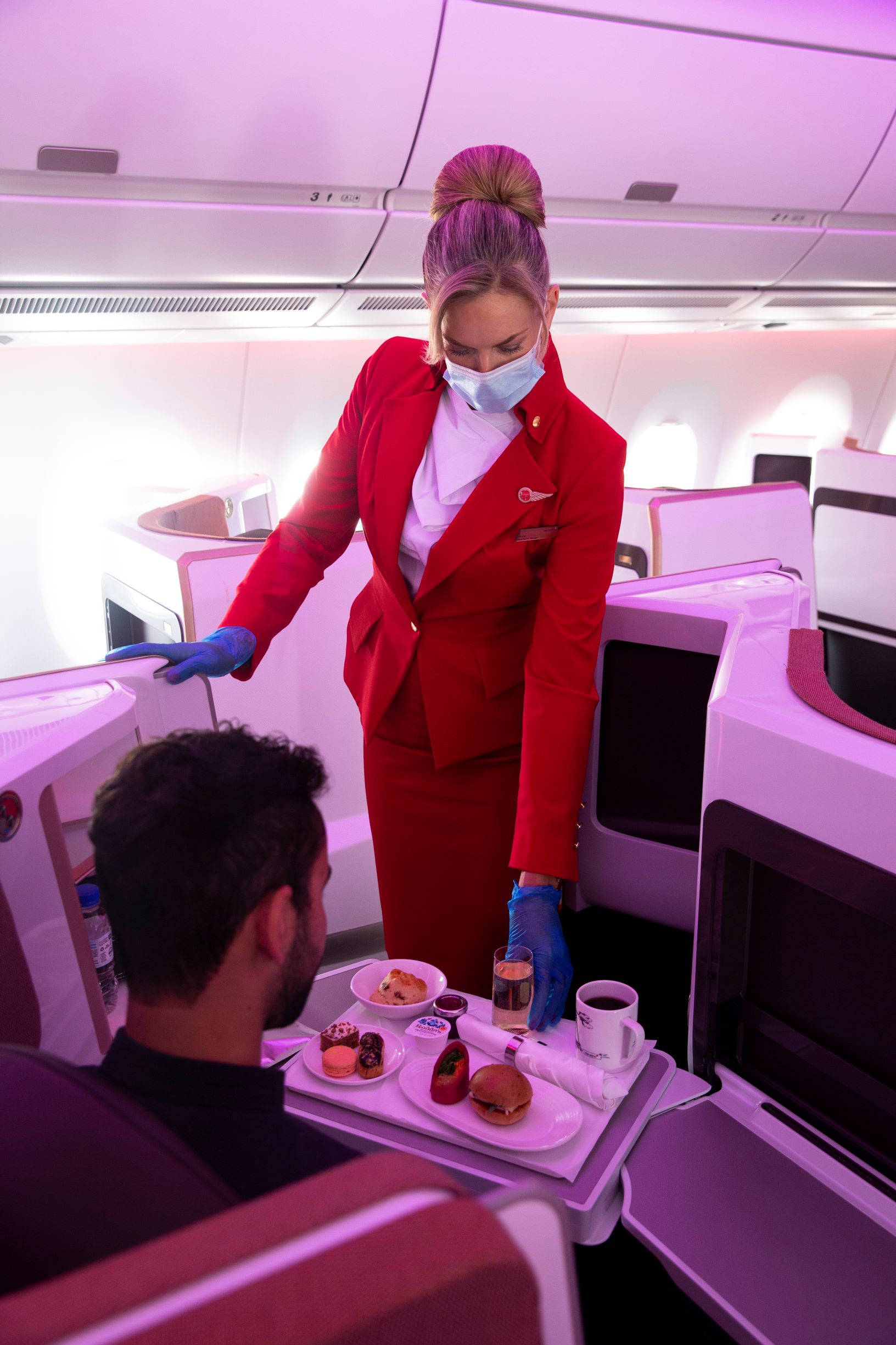 Corneel Koster, Chief Customer and Operating Officer, Virgin Atlantic commented: "The introduction of on site pre-flight Covid-19 testing for our crew and pilots ensures we remain at the forefront of the aviation industry's safe return to the skies. As testing technology and Covid-19 requirements around the world develop, we want to utilise technology that is relevant, accurate and available to keep our teams and customers healthy and safe. While the Covid-19 testing landscape evolves, we continue to be in discussions with multiple providers offering different technologies to guarantee the best solution possible, while absolutely ensuring that we do not compete with the NHS for vital resources.

"This trial is a first step in our phased plan to introduce regular testing for all of our teams in the air and on the ground, in order to instil confidence in flying. However, we continue to call for the swift introduction of a wider coordinated passenger testing regime. We need urgent action from UK and US governments to introduce pre departure testing, to remove the need for quarantine and to minimise travel restrictions, while protecting public health and half a million UK jobs associated with the sector. As long as the UK's 14 day quarantine is in place, demand for travel will not return and the UK's economic recovery, which relies on free flowing trade and tourism, cannot take off."
Qatar plans on 124 destinations by end 2020 – could new UK testing system let us go?
Despite having one of the best onboard services now as well as the safety of QSuites, Qatar has not been of much use to most of us due to having to quarantine if you pass through Doha. With an announcement on airport testing expected this week, could this give us some hope that we will be able to fly Qatar again without 14 days self-isolation? There are not many options long haul but the Maldives is definitely a possibility at the moment.
Qatar Airways has announced its winter schedule in line with passenger and cargo demand and the continued relaxation of entry restrictions around the world. Having become the largest international carrier during this crisis, the airline has applied its knowledge of global passenger flows and booking trends to load a winter schedule that expects to be reliable.
Qatar Airways Group Chief Executive, His Excellency Mr. Akbar Al Baker, said: "We are proud to be the global airline passengers trust to take them where they want to go safely and reliably. This trust begins by offering an honest schedule of flights that is realistic of the current market conditions and entry restrictions around the world. Also we ensure when entry restrictions change forcing us to postpone or cancel flights, we support our passengers with the most flexible and generous options to reschedule their plans.

"While no airline can predict with 100% certainty how the market will recover or future entry restrictions, our unrivalled experience accumulated by becoming the largest international carrier during this crisis uniquely positions us to build a realistic schedule of flights with confidence. Since the onset of the pandemic, we have flown over 175 million kilometres taking home over 2.3 million passengers on over 35,000 flights. We have also operated more than 400 charter flights across the world allowing us to stay up to date with the latest airport and national health procedures and maintain a finger on the pulse of global passenger flows, in particular in markets where we do not operate regular flights.

"Our strategic investment in a variety of fuel efficient twin-engine aircraft, including the largest fleet of Airbus A350 aircraft, has enabled us to continue flying throughout this crisis and perfectly positions us to lead the sustainable recovery of international travel. As we continue to rebuild our global network, we remain focused on providing seamless, safe and reliable connectivity to our millions of passengers and ensuring we continue to earn their trust every time they choose to fly with Qatar Airways."
By the end of 2020, Qatar Airways' plans to rebuild its network to 124 destinations including 21 in Africa, 10 in the Americas, 42 in Asia-Pacific, 38 in Europe and 13 in Middle East. Many cities will be served with a strong schedule with daily or more frequencies.
Qatar Airways destinations operating by end of 2020:
Africa
Accra (ACC), Addis Ababa (ADD), Algiers (ALG), Cape Town (CPT), Casablanca (CMN), Dar Es Salaam (DAR), Djibouti (JIB), Durban (DUR), Entebbe (EBB), Johannesburg (JNB), Kigali (KGL), Kilimanjaro (JRO), Lagos (LOS), Luanda (LAD), Maputo (MPM), Mogadishu (MGQ), Nairobi (NBO), Seychelles (SEZ), Tunis (TUN), Windhoek (WDH), Zanzibar (ZNZ)
Americas
Boston (BOS), Chicago (ORD), Dallas (DFW), Houston (IAH), Los Angeles (LAX), Montreal (YUL), New York (JFK), Philadelphia (PHL), Sao Paulo (GRU), Washington D.C. (IAD)
Asia-Pacific
Ahmedabad (AMD), Adelaide (ADL), Amritsar (ATQ), Auckland (AKL), Bali (DPS), Bangalore (BLR), Bangkok (BKK), Brisbane (BNE), Calicut (CCJ), Cebu (CEB), Chennai (MAA), Clark (CRK), Colombo (CMB), Dhaka (DAC), Guangzhou (CAN), Hanoi (HAN), Hong Kong (HKG), Ho Chi Minh City (SGN), Goa (GOI), Hyderabad (HYD), Islamabad (ISB), Jakarta (CGK), Karachi (KHI), Kathmandu (KTM), Kochi (COK), Kolkata (CCU), Kuala Lumpur (KUL), Lahore (LHE), Male (MLE), Manila (MNL), Melbourne (MEL), Mumbai (BOM), Nagpur (NAG), New Delhi (DEL), Perth (PER), Peshawar (PEW), Phuket (HKT), Seoul (ICN), Singapore (SIN), Sydney (SYD), Tokyo Narita (NRT), Trivandrum (TRV)
Europe
Amsterdam (AMS), Ankara (ESB), Athens (ATH), Baku (GYD), Barcelona (BCN), Belgrade (BEG), Berlin (BER/TXL), Brussels (BRU), Bucharest (OTP), Budapest (BUD), Copenhagen (CPH), Dublin (DUB), Edinburgh (EDI), Frankfurt (FRA), Helsinki (HEL), Istanbul (IST), Istanbul Sabiha (SAW), Kiev (KBP), Larnaca (LCA), London (LHR), London (LGW), Madrid (MAD), Manchester (MAN), Milan (MXP), Moscow (DME), Munich (MUC), Oslo (OSL), Paris (CDG), Prague (PRG), Rome (FCO), Sofia (SOF), Stockholm (ARN), Tbilisi (TBS), Vienna (VIE), Warsaw (WAW), Yerevan (EVN), Zagreb (ZAG), Zurich (ZRH)
Middle East
Amman (AMM), Baghdad (BGW), Basra (BSR), Beirut (BEY), Erbil (EBL), Isfahan (IFN), Kuwait (KWI), Mashhad (MHD), Muscat (MCT), Najaf (NJF), Shiraz (SYZ), Sulaymaniyah (ISU), Tehran (IKA)