Today's article is from TLFL writer Jason.
The trip that Jason did is currently available from £855 return in business class but often goes as low as £550.
Tier point runs 101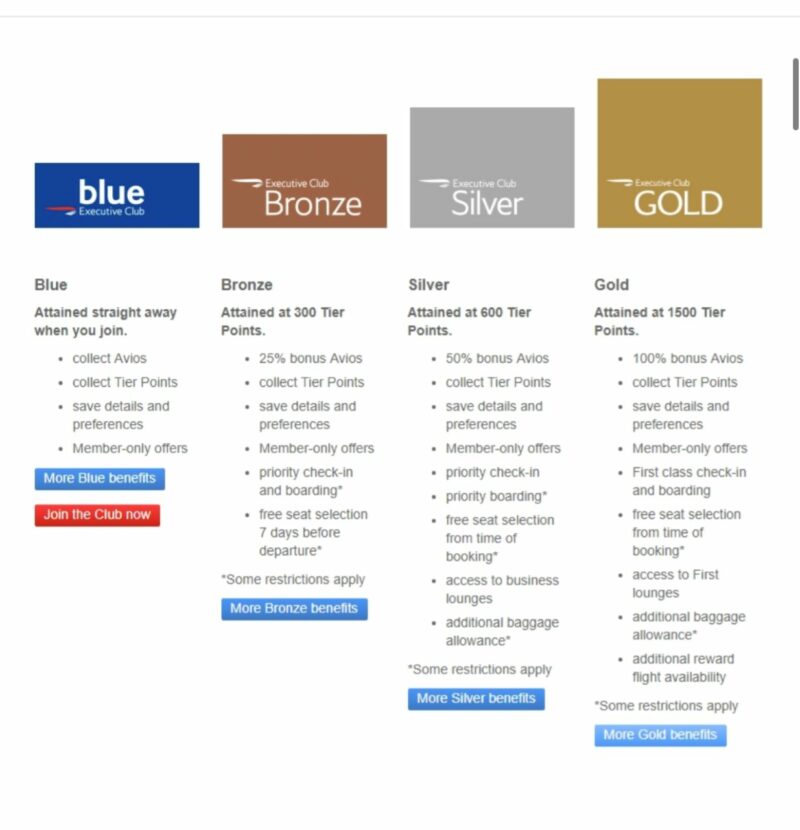 Many people think that the only way to reach top-tier frequent flyer status is by spending a lot of money on high number of premium cabin long-haul flights. But there are more inexpensive ways – enter the 'tier point run'. I will start out by clarifying that I am not familiar with the ins and outs of achieving top-tier status with airlines other than BA.
When you join the BA Executive Club and book a journey, you earn both 'tier points' and Avios. Tier points are what counts when chasing frequent flyer status. Essentially, the number of tier points you collect on a BA or Oneworld-operated flight are calculated by two elements – the cabin you fly in and the distance of the flight.
As long as you travel on four BA-operated sectors over your earning year, your other travels can be on any Oneworld partner airline. The four BA sectors could be as simple as two return flights from London to Manchester on the cheapest economy fare. The best way to maximise your tier points and accelerate your way to silver or gold status is to identify the sweet spots.
As you can see from the Tier Point table, a flight over a distance of 2000 miles will net you 80 Tier Points if you fly Business. But fly just one mile more (roughly a 4.5hr flight), and this will jump to 140 Tier Points. And yet, a near eleven-hour intercontinental schlep from London to LA comes in at JUST under 6,000 miles, so you will still only get 140 tier points for that sector. The obvious way to manipulate this is to find itineraries where instead of a non-stop eleven-hour flight for 140 tier points, you take two connecting sectors and net 280 tier points. Do that again on the return, and that's 560. You only need 600 for Silver, and once you factor in the four BA sectors you will need, you're almost there.
TIER POINTS EARNED PER FLIGHT SECTOR, BRITISH AIRWAYS
Short haul
Medium haul
Long Haul
Ultra long haul
Australia
Up to 2000mm
Up to 2000mm
2000mm-6000mm
6000mm+
From London
ECONOMY
Lowest
5
10
20
20
30
Low
10
20
35
40
60
Flexible
20
40
70
80
120
PREMIUM ECONOMY
30
30
90
100
150
BUSINESS
40
80
140
160
240
FIRST
60
60
210
240
360
So, if you are the type of traveller who likes to get on a plane in one city and get off that same plane at your destination city, Tier Point runs are definitely not for you. My husband pretty much refuses point blank to accompany me on many of my tier point runs as he would rather forgo the frequent flyer status and just have as easy a journey as possible. But if airline status is important to you and you aren't in the market for spending tens of thousands of pounds, read on.
What tier point runs have I done in the past?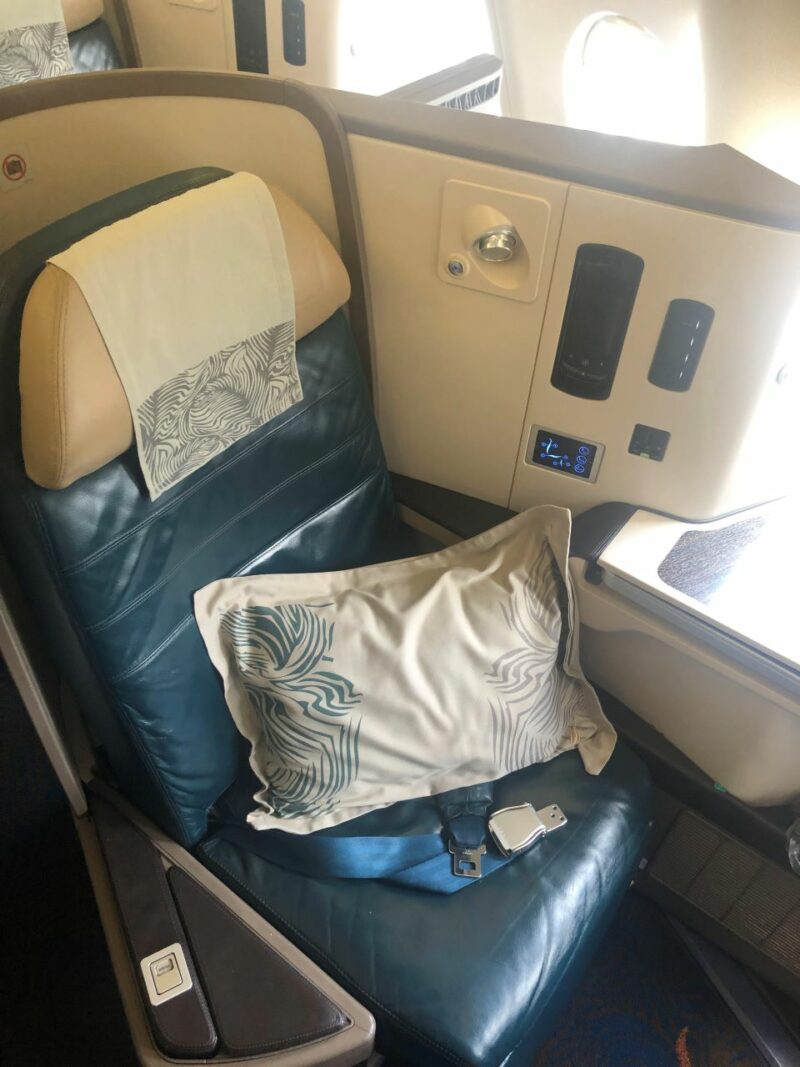 I only have one rule when it comes to Tier Point runs – the flights must be going somewhere I need to or want to go to. My Tier Point runs in the past have mainly involved Qatar, American and Malaysia Airlines. The most lucrative for me was a Malaysia Airlines Delhi to Perth flight where I would start my journey in Delhi and fly from there to Kuala Lumpur, to Sydney, then Qantas on to Perth (and the same on the return). I used to purchase this ticket for £1200 – £1300 round trip, and it was EXHAUSTING but would net 840 tier points for that reasonable sum (140 x 6 sectors). This itinerary was quite tricky to book, and a good knowledge of ITA Matrix software went a long way. This fare is still around, but post-COVID, the fare has increased significantly.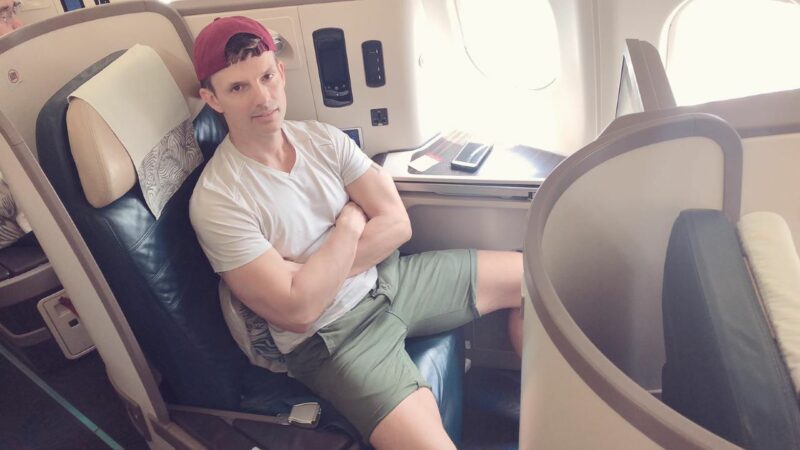 Qatar was one of the easiest, most comfortable and about the only one my husband would accompany me on. They would regularly have fares from Scandinavia to Asia for around £1000 return (560 tier points) or to Australia for £1800 (640 Tier points). Since COVID, these fares haven't reappeared, sadly. Another was the EU – Hawaii trip on BA/AA, which you could often find for around £1300-£1500. Of course, you wouldn't do something as silly as fly Budapest – New York – Honolulu. You'd fly Budapest – London – New York – LA – Honolulu and snare a very generous 920 tier points which is on your way to Gold. These fares DO sometimes come up occasionally, although you must search hard for the maximum tier point earning routes.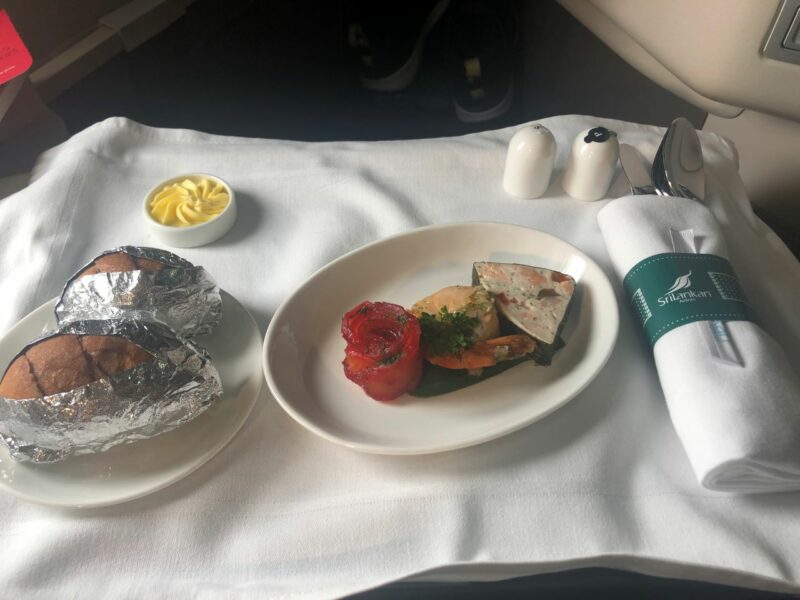 With the Qatar deals still not popping up and the Malaysia itinerary from Delhi significantly more expensive, I decided to try a new routing – from Abu Dhabi to Jakarta via Colombo with Sri Lankan Airlines. These would be four 'sweet spot' sectors of around 4.5hrs just triggering the 140 tier point threshold and adding up to 560 in total.
I had seen this particular TP run discussed on FlyerTalk for years, mainly because it is occasionally on sale for around £500. Some hard-core mile runners sometimes do two or even three trips back-to-back to bag Gold in one 'run'. I couldn't find anything around the £500 mark but paid £802, which I still found pretty good value. I probably would have been hesitant if all four sectors were on their A321s with recliners in business, but two of the sectors were on the A330 with flat seats. There were no crazy long transits in both directions, the wait was under two hours. Of course, I had to get to Abu Dhabi first. Fortunately, I had a load of American Express membership points, which I transferred over to Etihad Guest, which had a huge amount of Business Class availability in Abu Dhabi. It is possible to reach AUH even by loco's these days with Wizz Air flying from several European cities to the Emirate.
Sri Lankan Airlines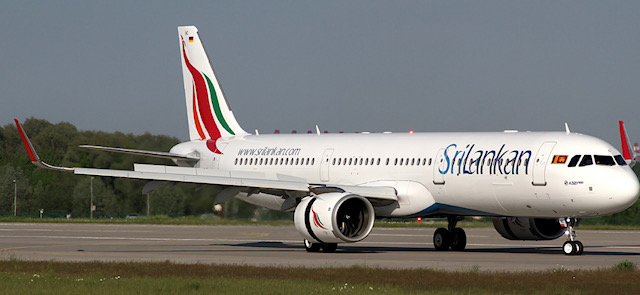 Sri Lankan Airlines, the national airline of Sri Lanka, is a modest-sized airline based in Colombo with flights to Europe, the subcontinent, southeast Asia, Japan, China, and Australia. It has an all-airbus fleet of 24 aircraft comprising A330's, A321's and A320's. Sri Lankan is a OneWorld member airline joining the alliance in 2014, and the airline offers two classes (Business and Economy) on all flights.
I had flown Sri Lankan a few years previously to the UK after visiting Bali and enjoyed the narrowbody experience from Jakarta to Colombo and was seriously impressed with the long-haul product offered from Colombo to Heathrow. Their A330-300 that plies the LHR route has all aisle access and full flat seating in a herringbone configuration, and the food was wonderful with an extensive menu to pre-order from online.
Abu Dhabi Check-in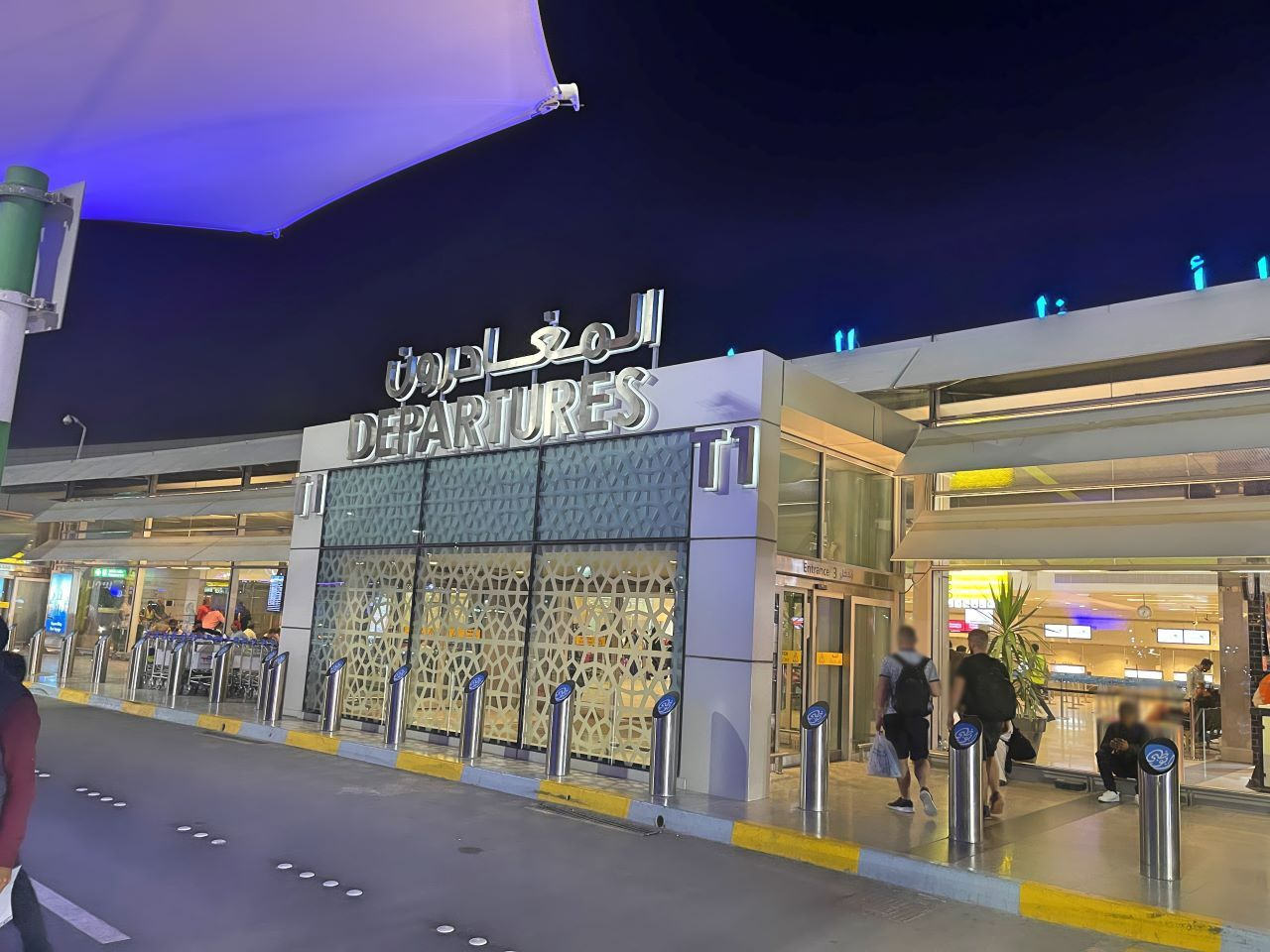 My first leg from Abu Dhabi to Colombo was departing at 11 pm, and being a red eye on a narrow body with cradle seats would be the most challenging sector of the trip. Theoretically, it is possible to arrive from the UK the same day by taking a morning flight on Etihad, which would reach Abu Dhabi around 6:30 p.m., leaving plenty of time to transit.
I could only find points availability in Business Class on Etihad the day before, however, so I spent the night in Abu Dhabi. On reflection, I am glad it worked out this way, as I had a good amount of rest the night prior to the UL flights. My flight was departing from Abu Dhabi Terminal 1, and I reached the airport via taxi three and a half hours before my flight was due to leave. Terminal 1 is the poor relation to terminal 3, which Etihad uses, and was quite chaotic and was not particularly well signposted.
For example, when trying to locate where to check in for my flight, the airport terminal display screen indicated desks 18-23, but the signage in the terminal was lettered zones with no reference to desk numbers. I found the UL check-in area, and there was just a single desk open with no queue. The agent issued me with my boarding passes all the way through to Jakarta and provided me with an invitation to the lounge. Next was passport control, which was automated, so fairly quick and then security. The security lines looked huge, and I was expecting quite a wait, but it was actually fairly swift. This was mainly on account that despite the airport having the old-style x-ray scanners, they didn't ask for any liquids of laptops to be removed from bags, which was interesting. I thought that maybe there would be a further security check at the gate, but nope. (NOTE: Etihad are in the process of moving to the new terminal).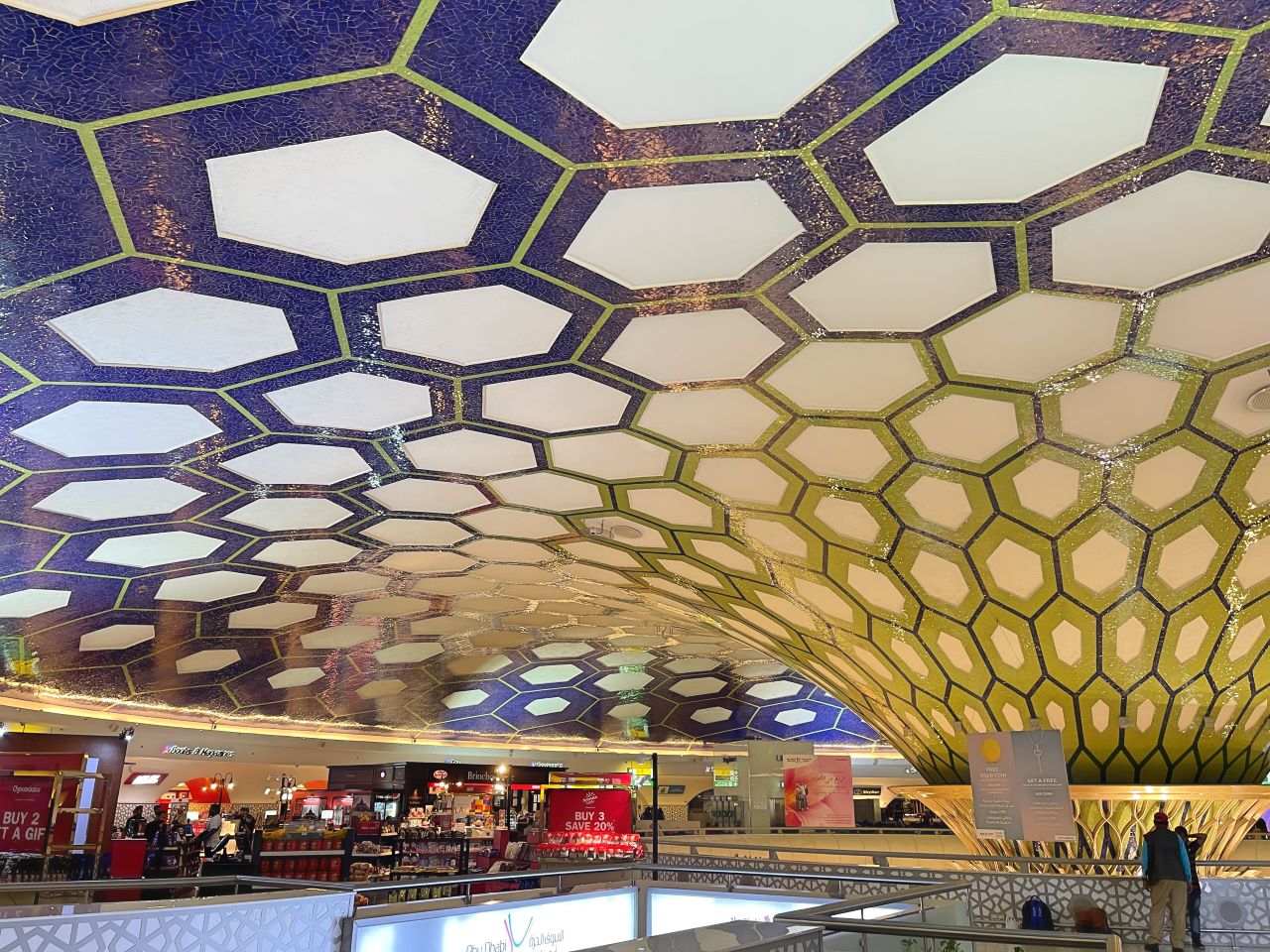 I was aware that WIZZ had launched several routes to AUH from Europe, but I was surprised at how much of a presence they have at the airport. That evening, they had direct flights from AUH to three different Italian cities, including a nonstop AUH – Catania flight as well as several other destinations. They definitely had the largest presence in terminal one of all airlines.
Abu Dhabi Lounge
The Al Dhabi Lounge was located immediately after security, and I made my way in and presented my boarding pass and invitation. The lounge summed up in a word: BAD. For some context, the Al Dhabi Lounge is the only lounge in terminal one and is operated by the airport, so it is very much a case of 'not happy with our lounge – then have no lounge'. The aesthetics of the lounge were fine, but it was just grossly overcrowded.
Not only does it provide access to all the airlines operating out of terminal 1, but it also welcomes Priority Pass, other lounge access passes as well as pay on entry. My main bugbear was that everything that was wrong with the lounge could be fixed overnight. Firstly, despite there literally being standing room only during certain points, there was a large, much nicer section of the lounge towards the back with a sign 'for First/Business class passengers', which was closed. When I asked the staff about it, they said they didn't have enough staff to open that section. Judging by the amount of revenue they were earning from the one-hundred-plus guests in there, that was a bit of a poor excuse.
My other main irritation was the drink situation. There was nowhere to help yourself to drinks. I totally get the idea of having a tended bar for alcoholic beverages, but to not be able to help yourself to a soft drink – or even water – is bonkers. Frustratingly, in line with the lounges 'skeleton staff maximum profit' policy, there was ONE single staff member tending the bar. It took three moves of seats (when I could find one) before I found one that had a working power plug to charge my devices. I often read other reviews where the writers claim, 'I left the lounge because the main terminal was better,' and I think to myself, 'Come on, a tad dramatic,' but that was exactly the situation here. I left the lounge and found a coffee shop in the very pleasant and quiet gate area of terminal one, complete with beautiful Arabian decorations.
Boarding Abu Dhabi – Colombo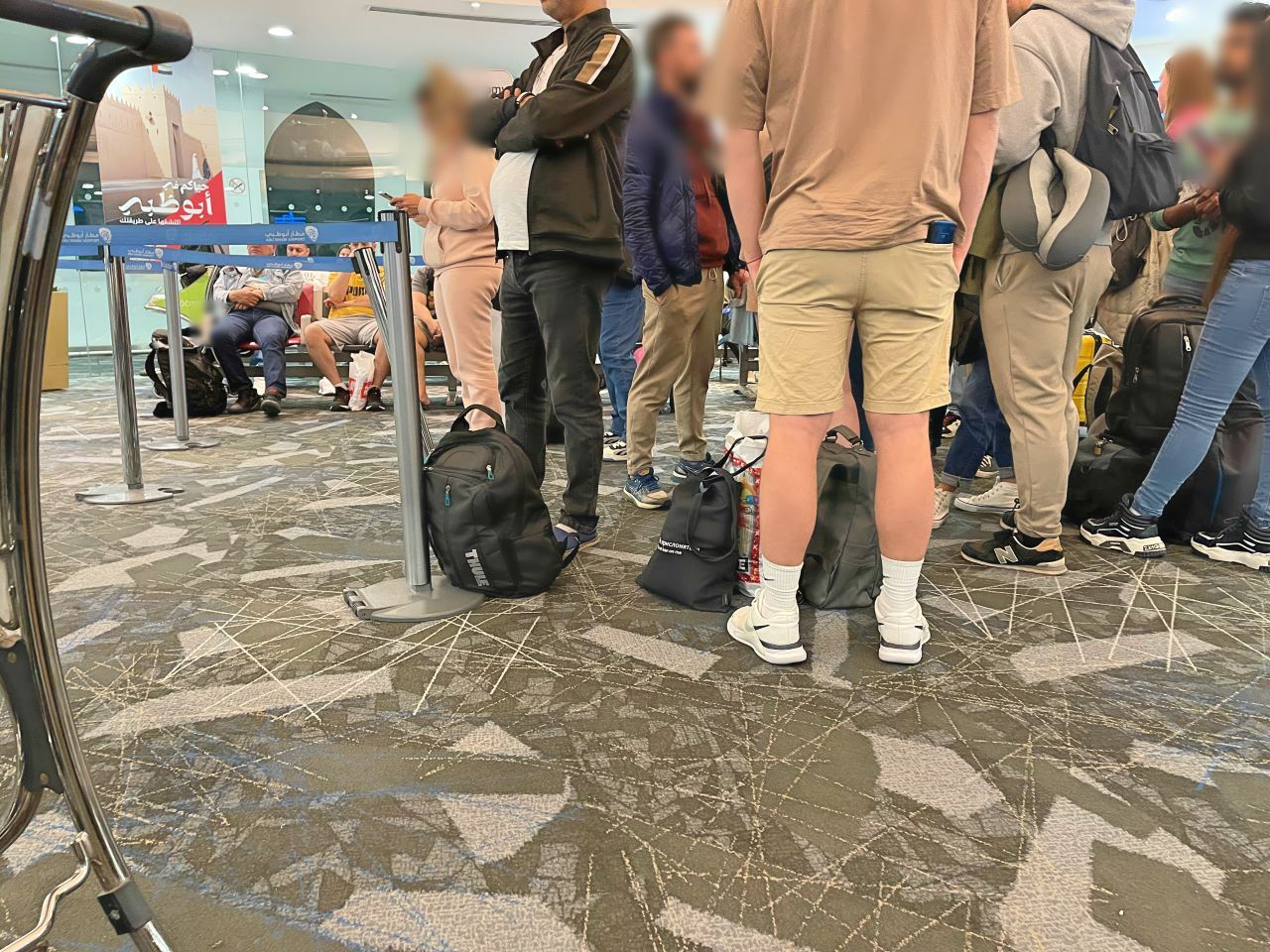 Although nothing was mentioned about a delay during check-in, I could see on the Sri Lankan app that the inbound aircraft was arriving around forty minutes late, so I made my way to the gate at 10:45pm. The gate area was quite full, so it looked like it would be a busy load tonight. There was signage up for Business/priority boarding and economy boarding, but as usual, there were people completely blocking the area, eager to get on the plane.
I have never understood this practice. Firstly, there's no rush to get on. The plane isn't going to go anywhere until everyone at the gate is onboard. Secondly, most people are aware that airlines have a system for boarding. Whether it's via group, or row number or whatever. What I really couldn't get about this crowd, though, was they all had small items of hand baggage.
I can kind of understand if you are travelling with quite a bit of hand baggage and you want to make sure there is room for it onboard, you might want to get on ASAP. Anyway, of course, as happened, boarding started at 11 pm, and both Business Class and rows 30-35 were called to board first and maybe one or two of the forty or so people blocking the boarding area belonged to these groups. So, I weaved my way through the crowd to board the A321.
UL A321 CMB AUH 3A. Actual flight time – 3hr52min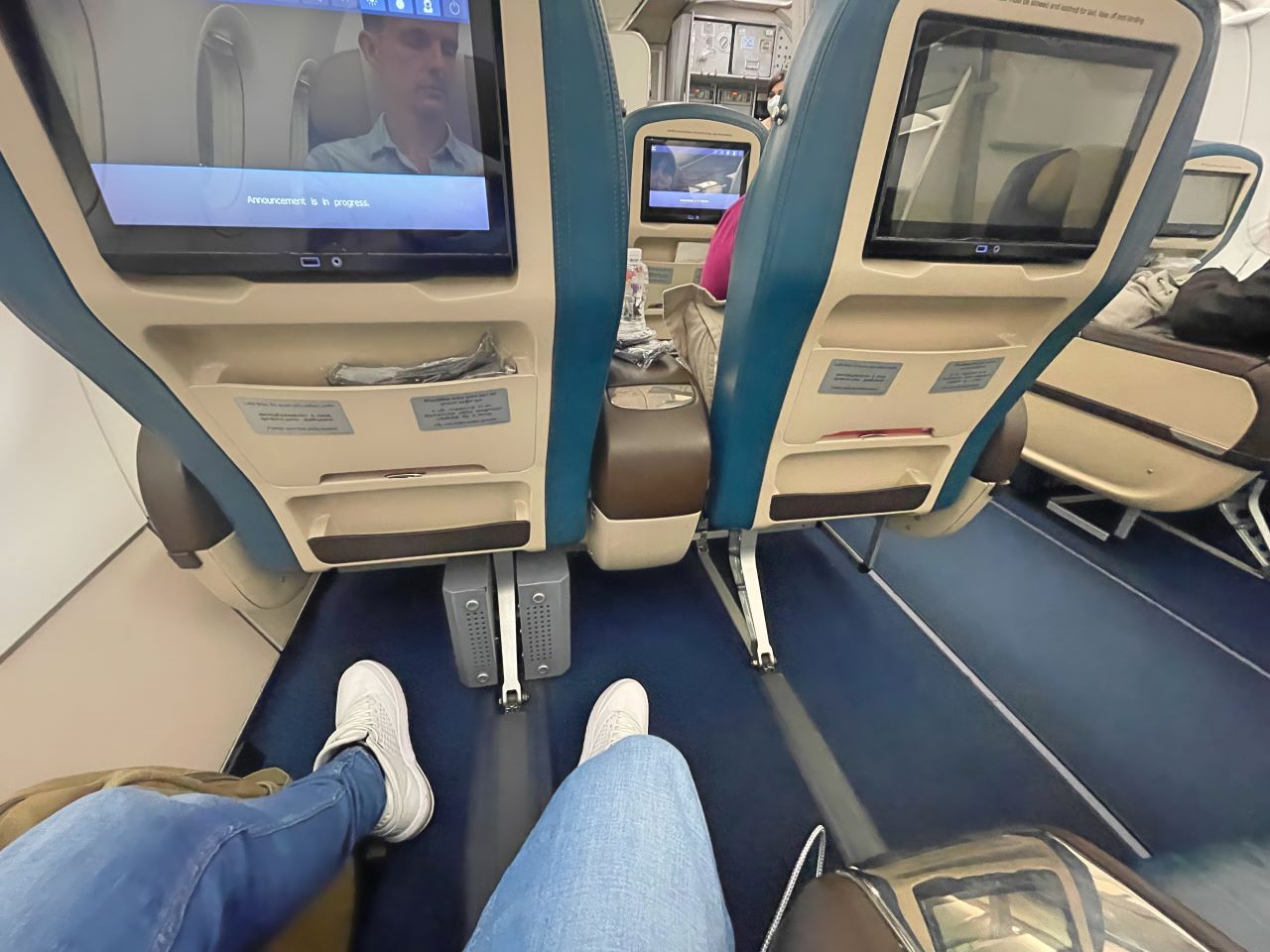 I was welcomed aboard by the friendly crew and took my seat by the window on the last row of business class. I've travelled on UL's A321 before, and for me, it is one of the most stylish narrow-body cabins out there. Sri Lankan's A321's have twelve business class seats in a 2 x 2 configuration.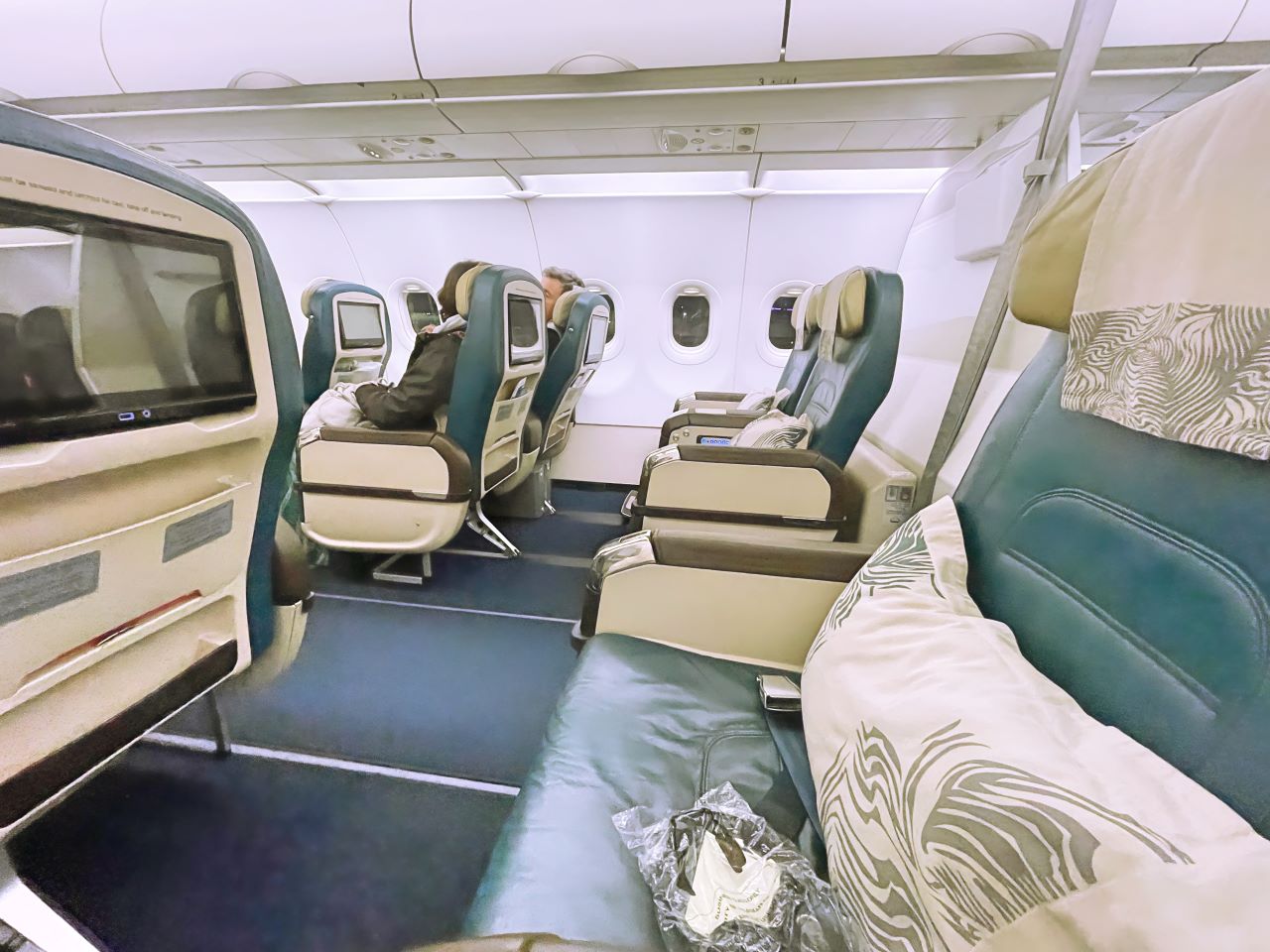 I love the turquoise and cream pallets, and the armrest between the recliners looks like something out of a fancy car. There was a fantastic amount of space for a short haul business class product with a pitch of 49" (10" greater than BA or Virgin's Premium Economy) and a good amount of recline also. The seat also had an extendable leg rest, multi-country power outlets and a USB port. Fortunately, the seat next to me remained empty. A pillow and light blanket were also at each seat, which someone, as they passed, brazenly picked up from the seat next to me and took with them into economy while boarding.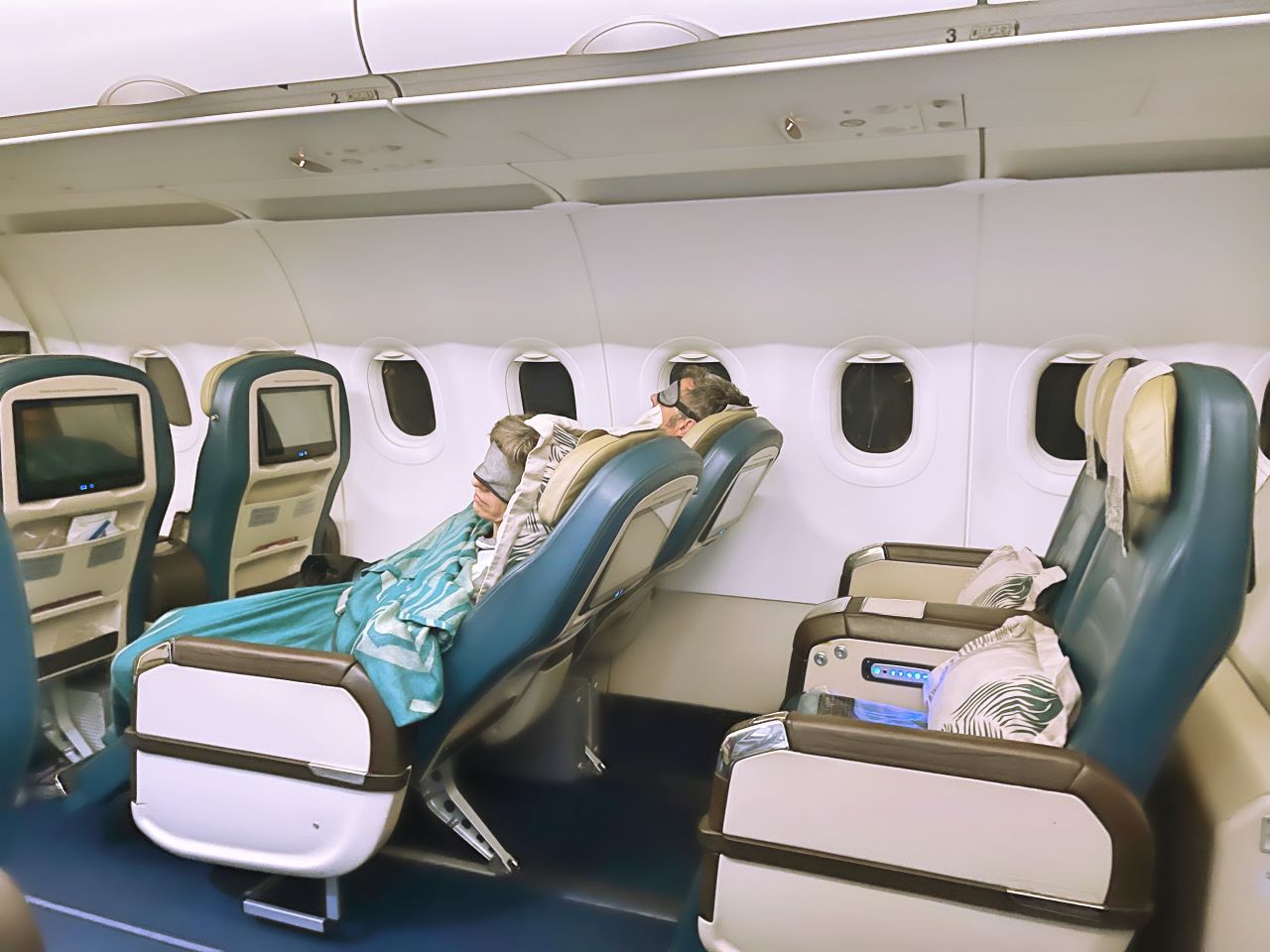 I always like to watch the interactions of the crew with the passengers during boarding as this really gives you a good idea of what kind of crew you have. As has been the case with my other flights in Sri Lankan, this crew were warm, friendly, and genuinely welcoming. As two passengers boarded, the female crew member at the door noticed they were taking pictures (which will often get you yelled at 'no filming'), and the crew member said 'Hey, let's take a selfie' and stood there at the door and posed for a selfie with the two delighted passengers. At that point, I knew I would be well looked after.
The same friendly crew member came by to offer a choice of orange juice, apple juice or champagne before departure and passed out some eyeshades and socks. An old school headcount was then undertaken by a 'clicker' the door was closed at 11:20 pm, and we were rolling down the runway at 11:45pm.
Inflight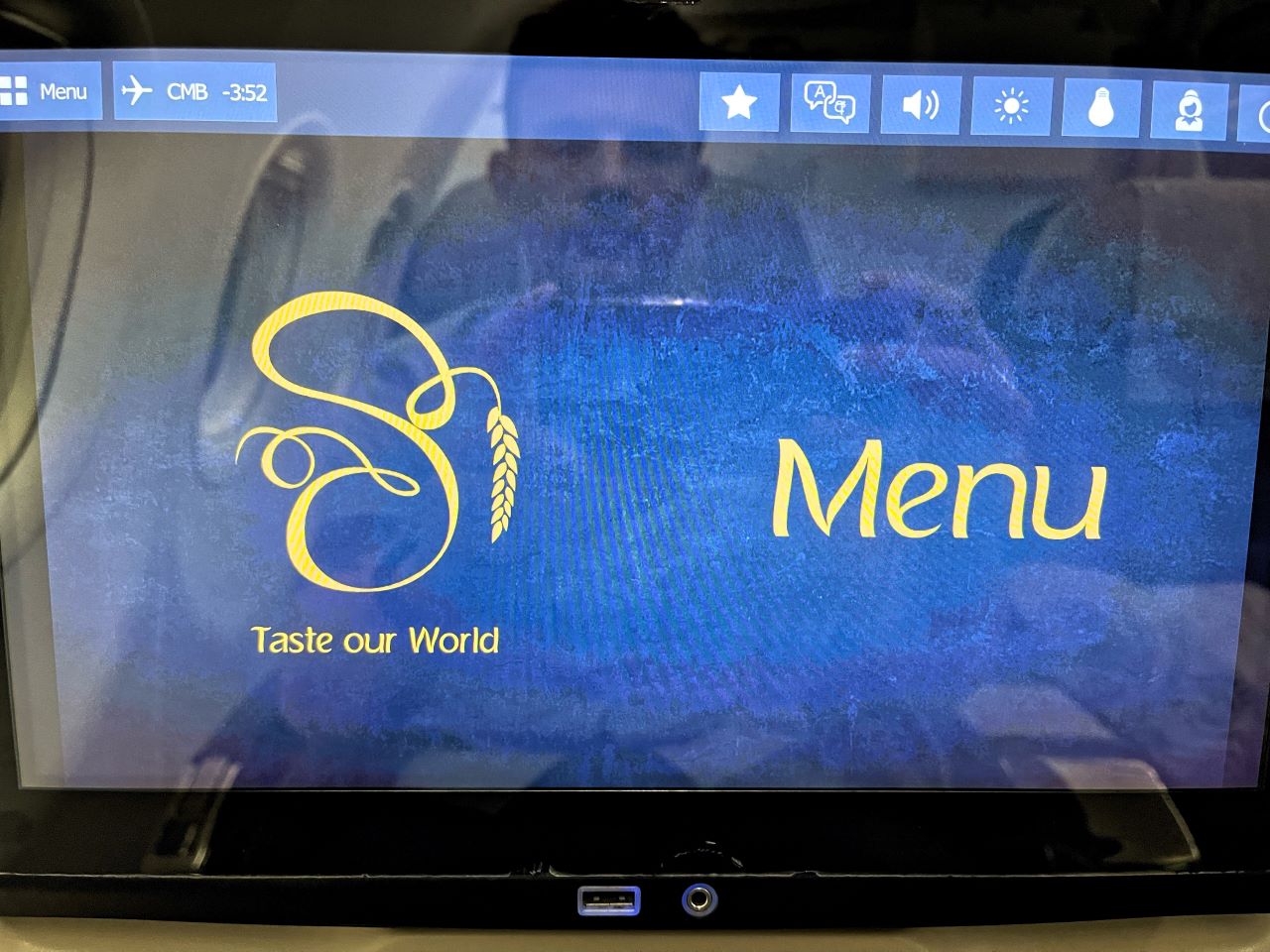 I was curious as to what kind of catering would be provided on the flight, being a relatively short late-night flight. I hadn't planned on sleeping on the flight as I usually find it difficult enough when I am fully flat, let alone sat in a recliner, so when the menus were passed out and I saw dinner was on offer, I went for it.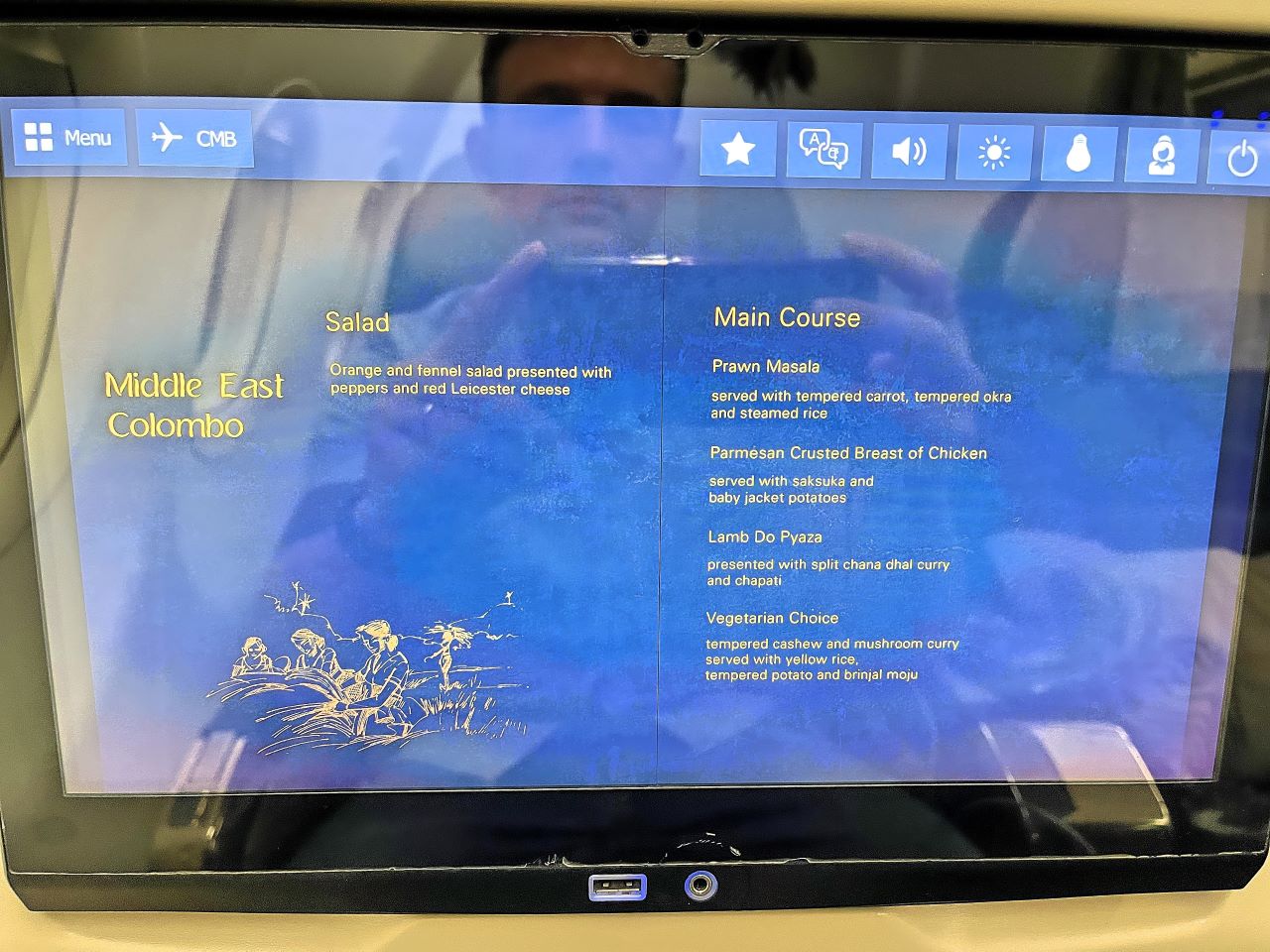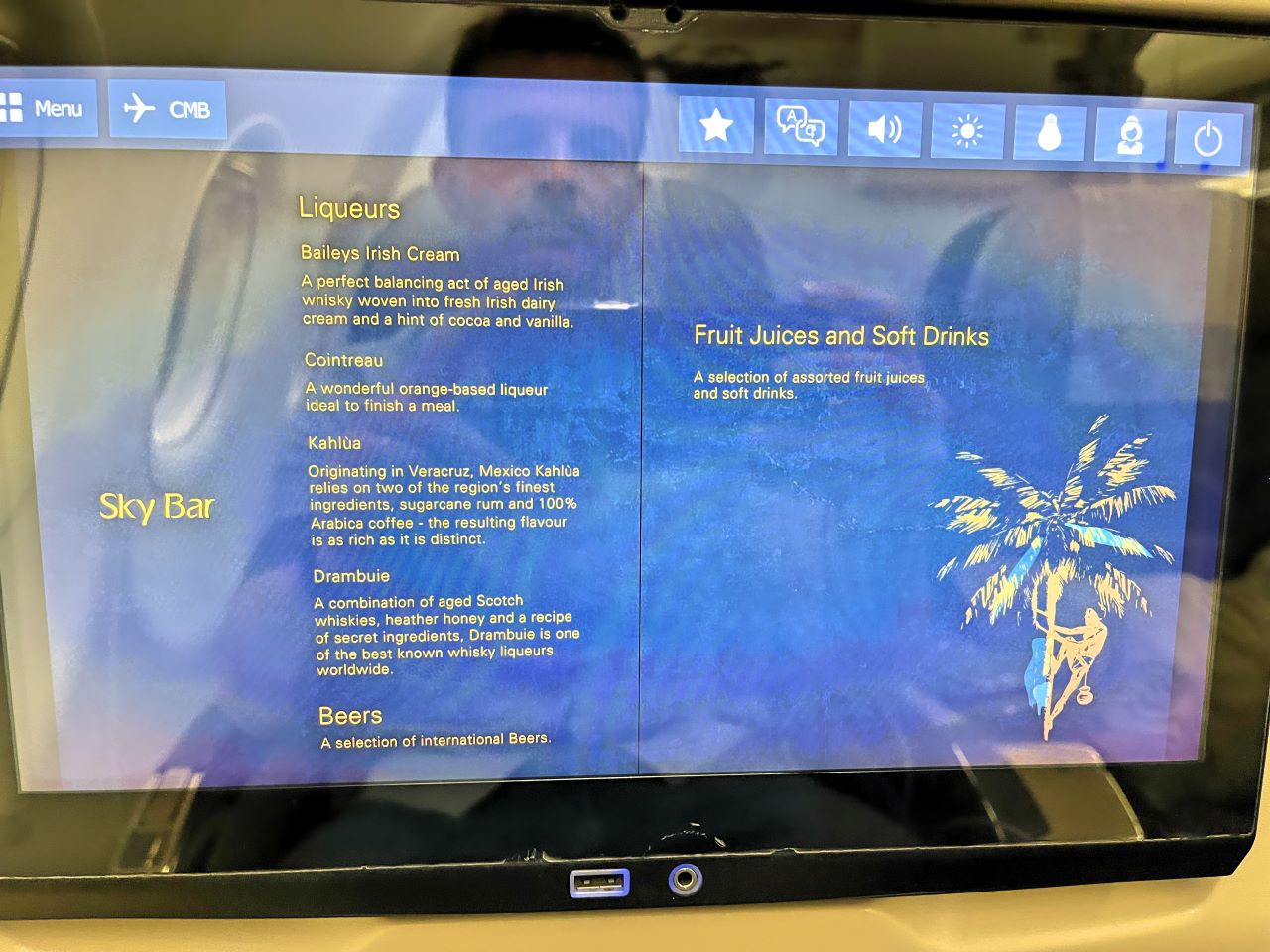 Added bonus, I would get a picture for this review. Another example of UL's crew and their attention to detail was when the crew member handed over the menu. She intuitively switched on my reading light as the lights in the cabin were quite low. Little gestures like this go a long way – they show that the crew are paying attention and they care. I was surprised to see four choices of main course on the menu – prawn masala, parmesan chicken, lamb do pyaza and a vegetarian cashew and mushroom curry.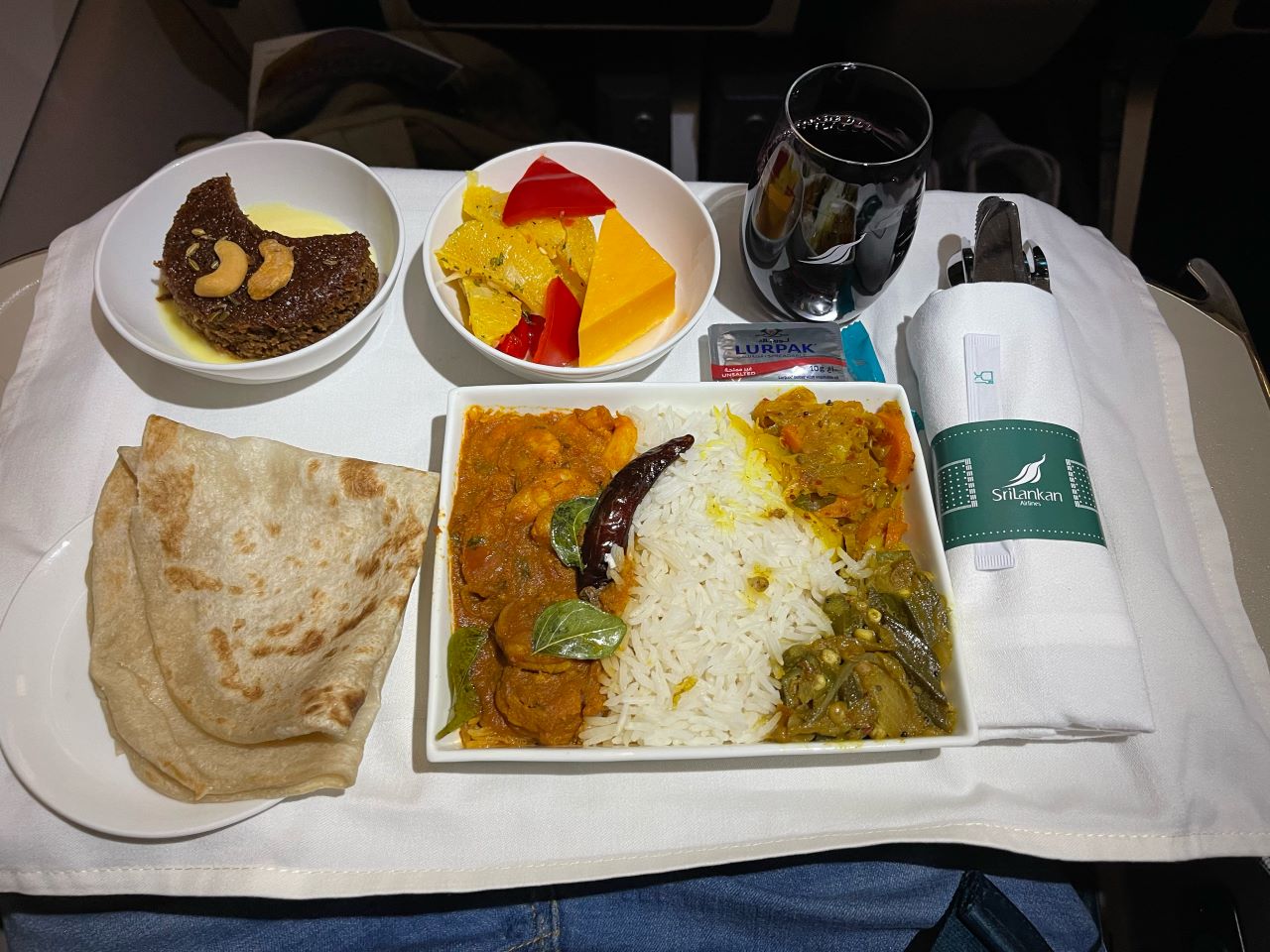 I selected the prawn masala with a glass of red wine and was absolutely amazed that I had the whole meal and my drink in front of me within fifteen minutes of take-off. They had obviously heated the meals on the ground to expedite the service in the air, and the fact there were only five passengers in Business Class, two of whom went straight to sleep, would have helped speed things along. The starter was a little odd, but I have to say I enjoyed it – a chunk of red Leicester cheese with fennel and orange quarters.
And I enjoyed the main course also. The highlight for me, though, was the breadbasket – I went straight for the roti, which I know is always good on Sri Lankan. The cabin crew said she would refuse to move from my seat until I had also accepted a slice of garlic bread – who can say no? I thoroughly enjoyed my late-night curry and glass of wine, although I passed on the dessert. My tray was taken away within 40 minutes of take-off. Impressive.
Entertainment and Wi-Fi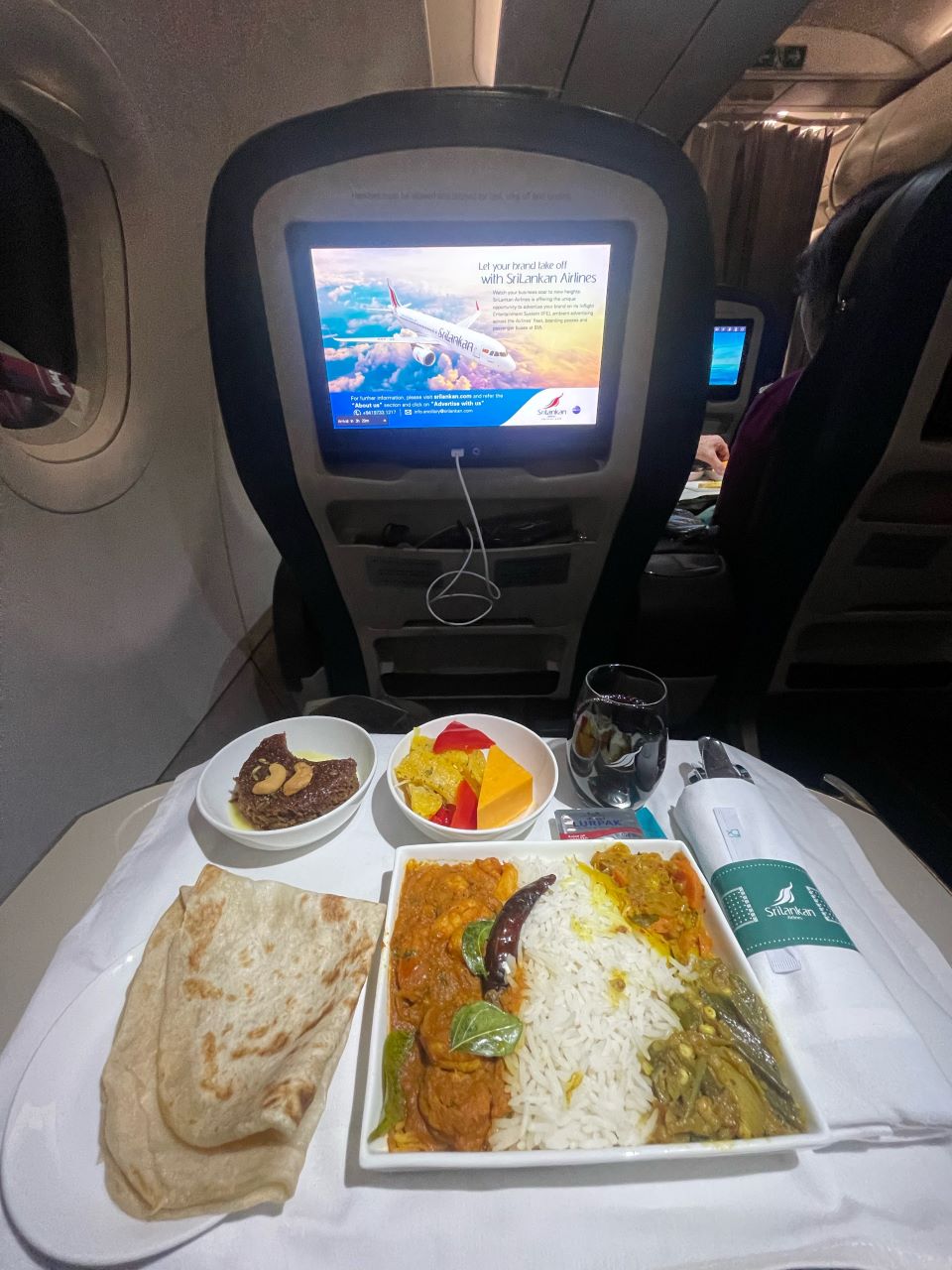 Srilankanairlines.com does say the A321neo which I was flying does provide Wi-Fi. However, there was none functioning on my flight. The A330-300's which are deployed on their longest routes, are also Wi-Fi enabled. There was, however, a good selection of IFE. The screen is large and has great resolution. It featured 192 TV episodes (including 22 of Bob's Burgers, so that's me sorted) and 99 movies.
After dinner, the cabin lights were dimmed. I reclined my seat and watched a couple of episodes of Bob's Burgers. I was feeling tired, so I thought I'd give it a go, closing my eyes. To my surprise, the next thing I knew, I heard an announcement for the cabin crew to prepare for arrival, so I must have napped for around two hours, which is a first.
The crew came through business class offering juices and then prepared the cabin for landing. Interestingly, ALL electronic devices must be completely switched off for both take-off and landing when flying Sri Lankan, which is quite a shock to the system for those of us who have been able to put our devices in flight mode in most parts of the world for the past ten or so years. Before taking their seats, the crew stand in front of the cabin in the aisle, and an announcement is made asking passengers to refresh themselves with the location of the exits as they point them out. The announcement then continues and thanks customers for choosing Sri Lankan whilst the crew clasp their palms together at chest level with a slight nod of the head similar to the Indian namaste.
We landed and parked up at a remote stand at 5:10am and were bussed to the terminal. There was a separate large bus for business class passengers, and as two of the five of us had requested wheelchair assistance, there were only three of us on the short ride to the terminal.
Colombo Airport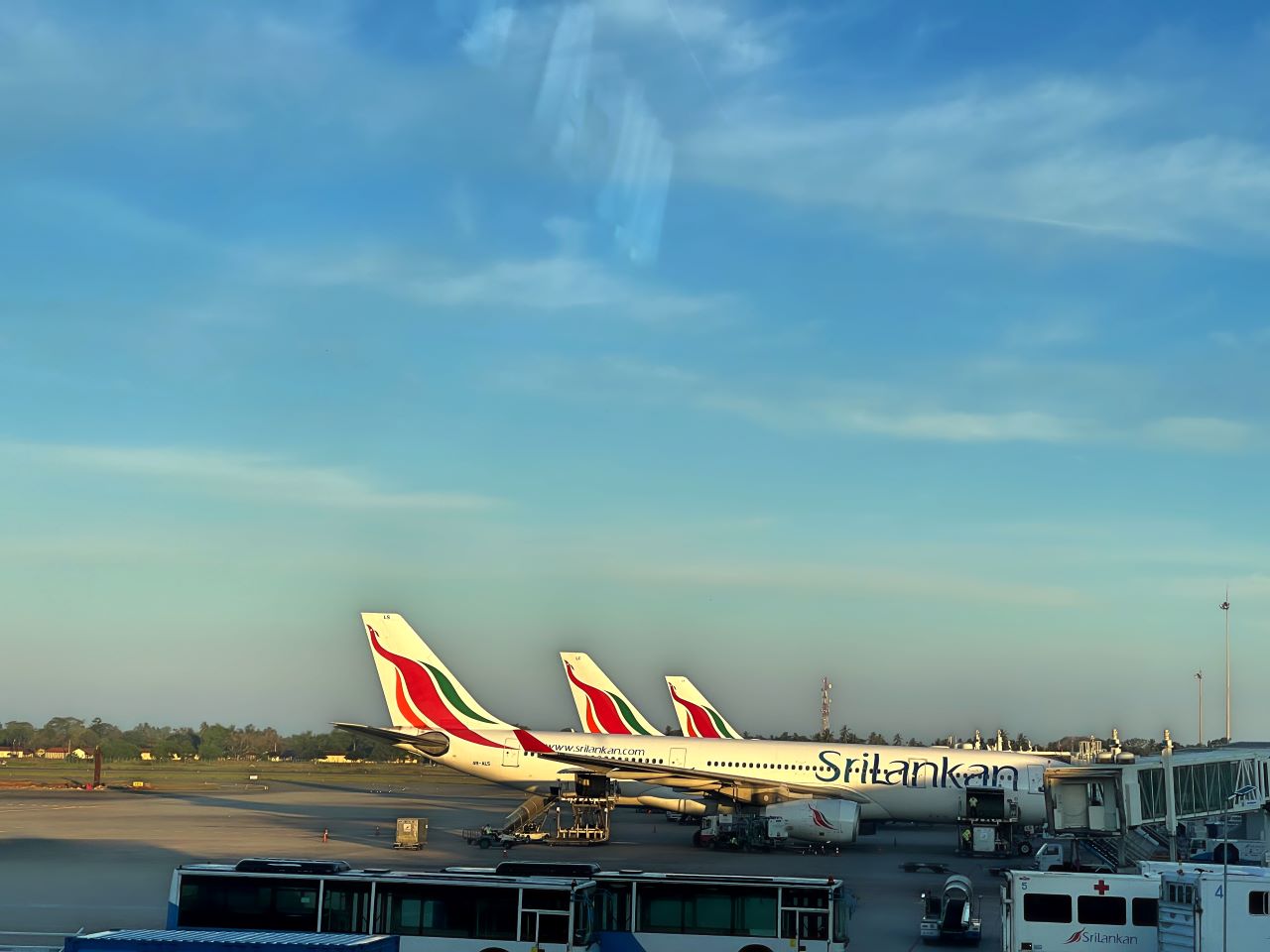 Colombo Bandaranaike International Airport is a fairly small facility, and flights operate from a single old-school terminal. Although hardly a hub, transit was an extremely pain-free experience. I simply got off the bus, followed the signs for transit, showed my boarding pass, and I was back in departures. Security takes place at each gate, so it was an extremely quick process.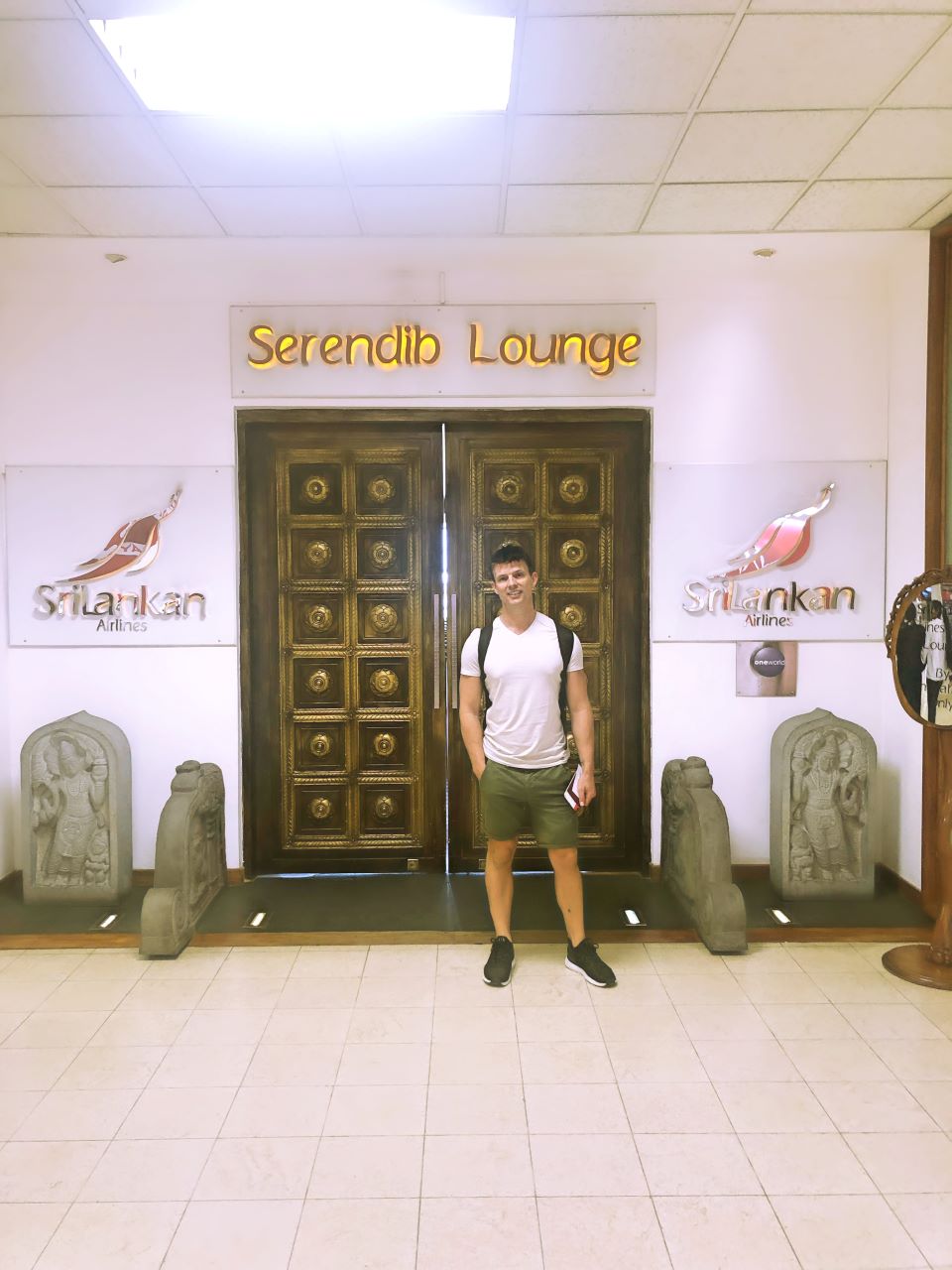 I made my way to the Serendib lounge, which is one of two lounges that Sri Lankan operates at Colombo. The Serendib Lounge is for business-class passengers only. The Serendiva lounge is for economy passengers with access due to Oneworld status. The lounge is fairly small but has absolutely plenty of space for the passengers that have access, and the few times I have visited it has always had plenty of seats available. There is one main room, which has a lounge area with standard sofa chairs, a small, tended bar and food spread along with great views across the tarmac.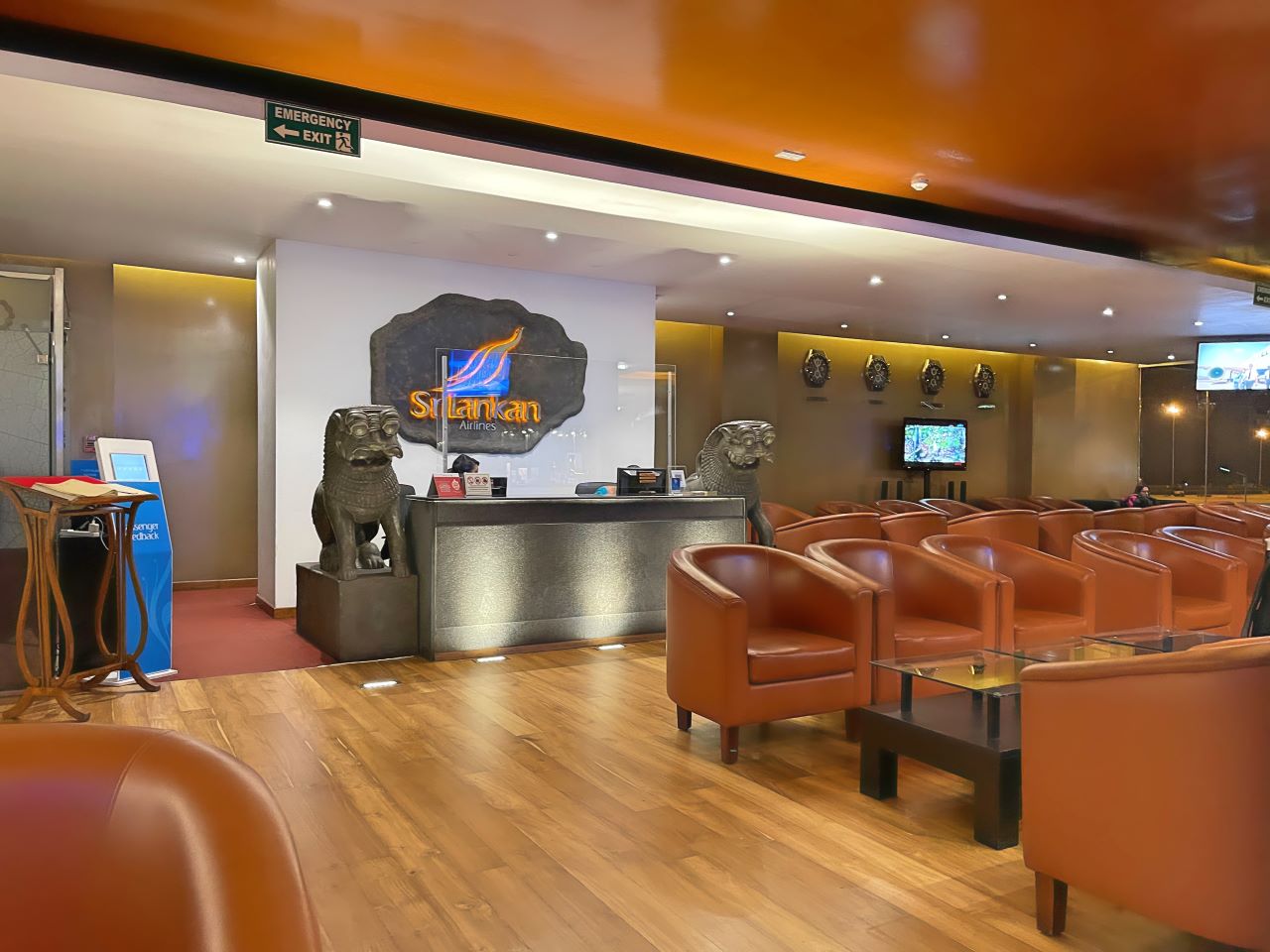 There is also a quiet area with dimmed lights and reclining chairs. I would describe the lounge more as charming and cosy than luxurious. Food options are always quite varied, with a good selection of hot and cold items. And being such a small airport, all the gates are within a maximum of ten minutes' walk.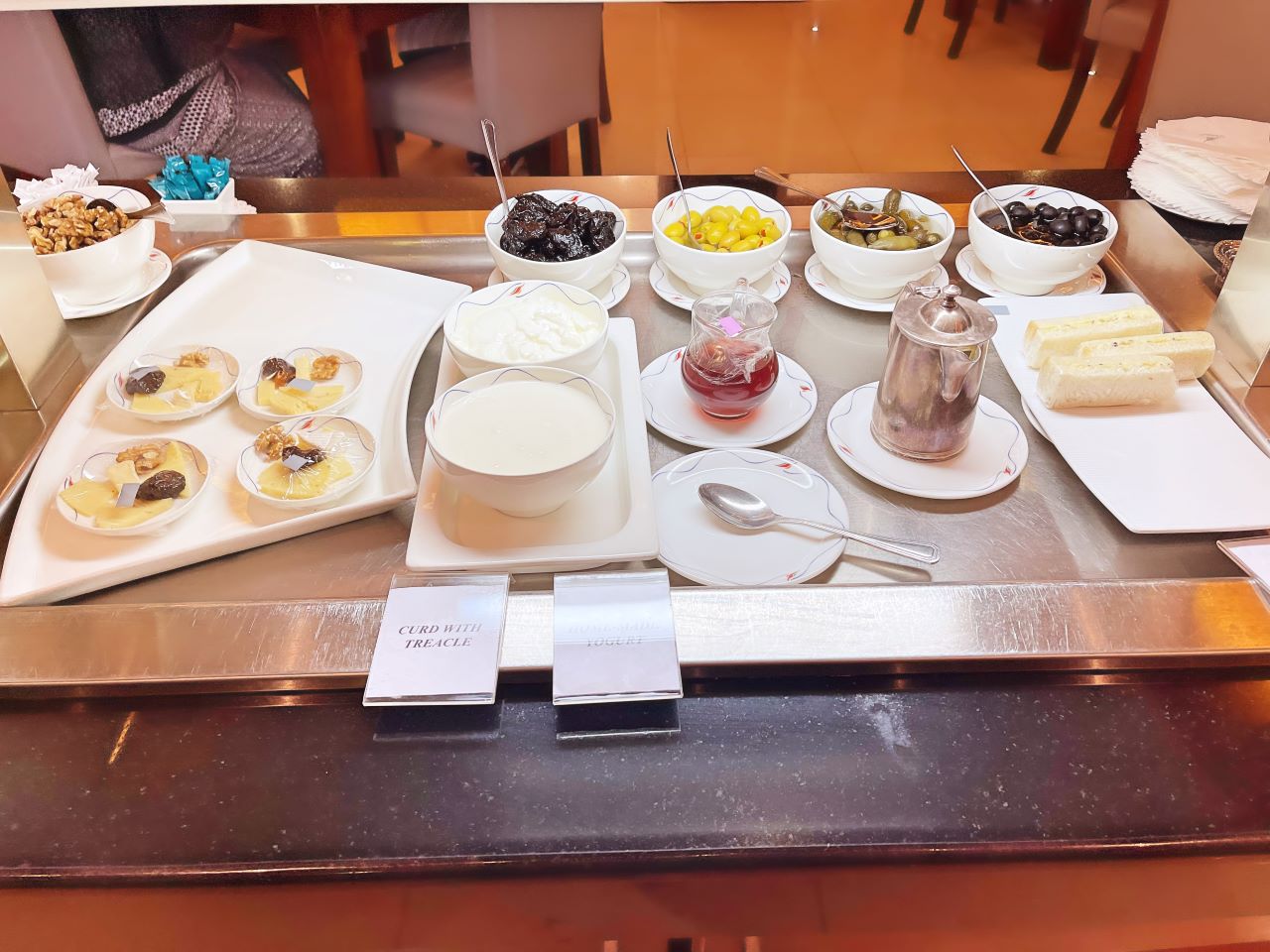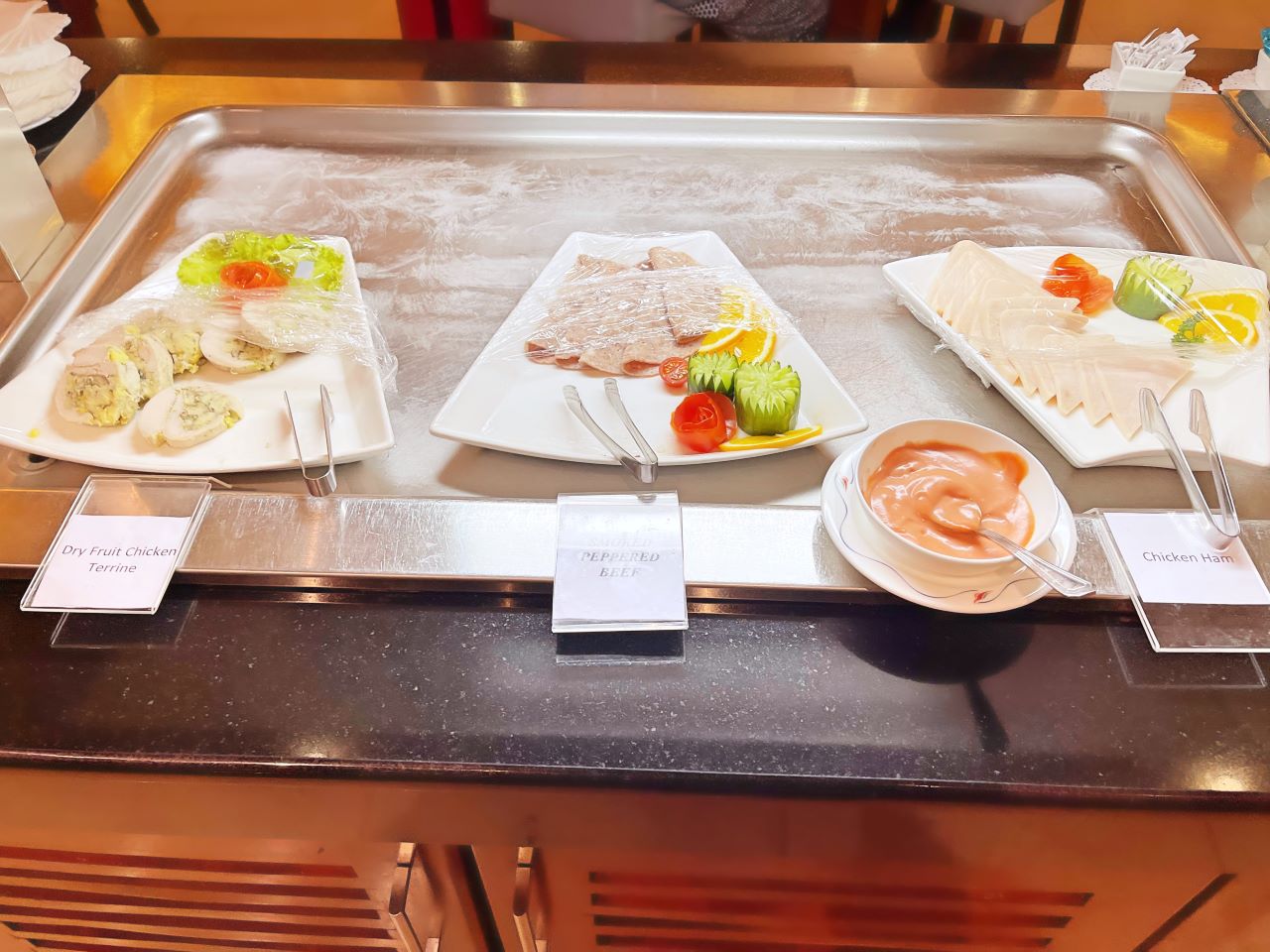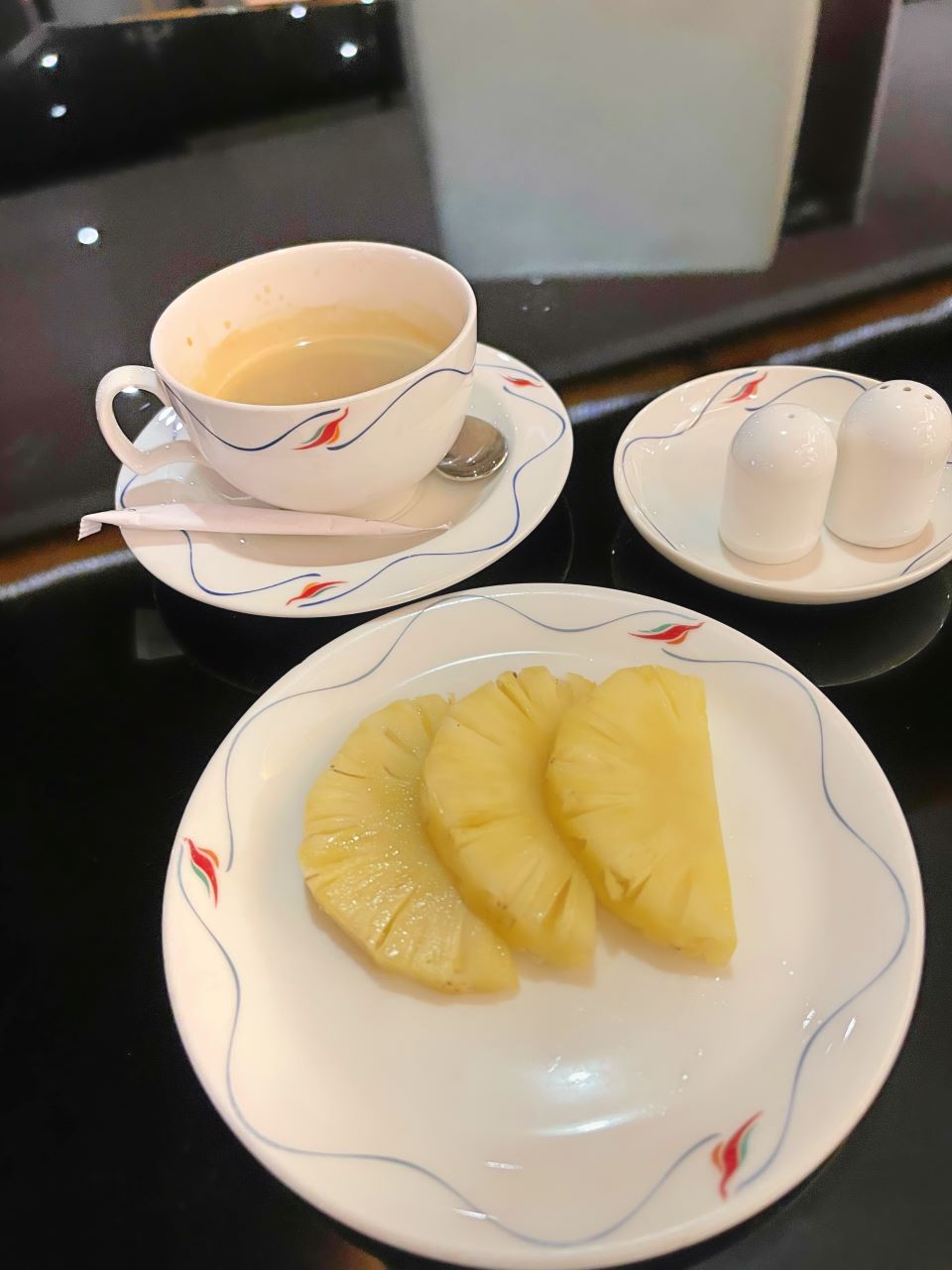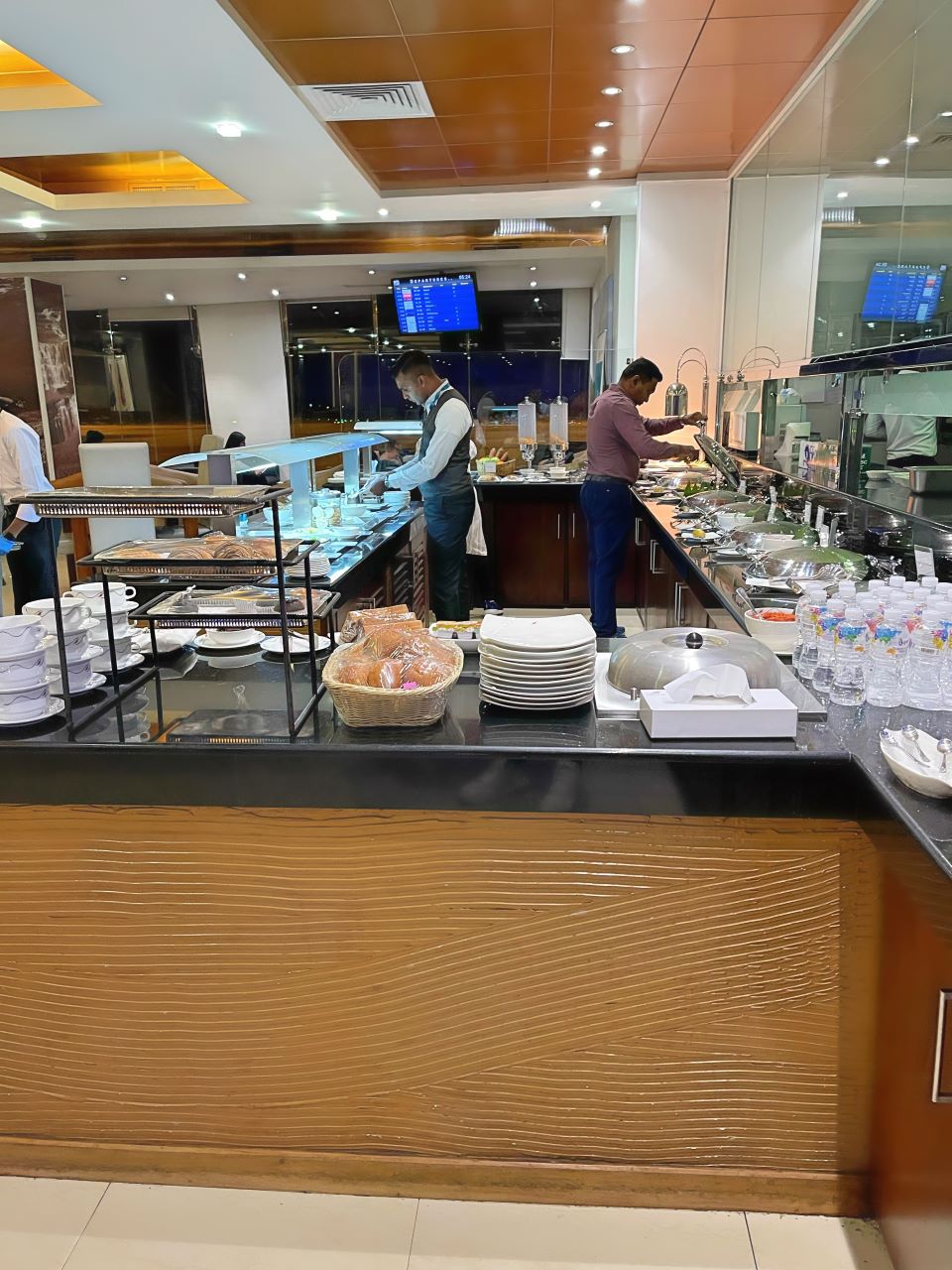 UL364. Colombo – Jakarta. A330-200. Seat 4A. Flight time 4hr2min.
Boarding Colombo – Jakarta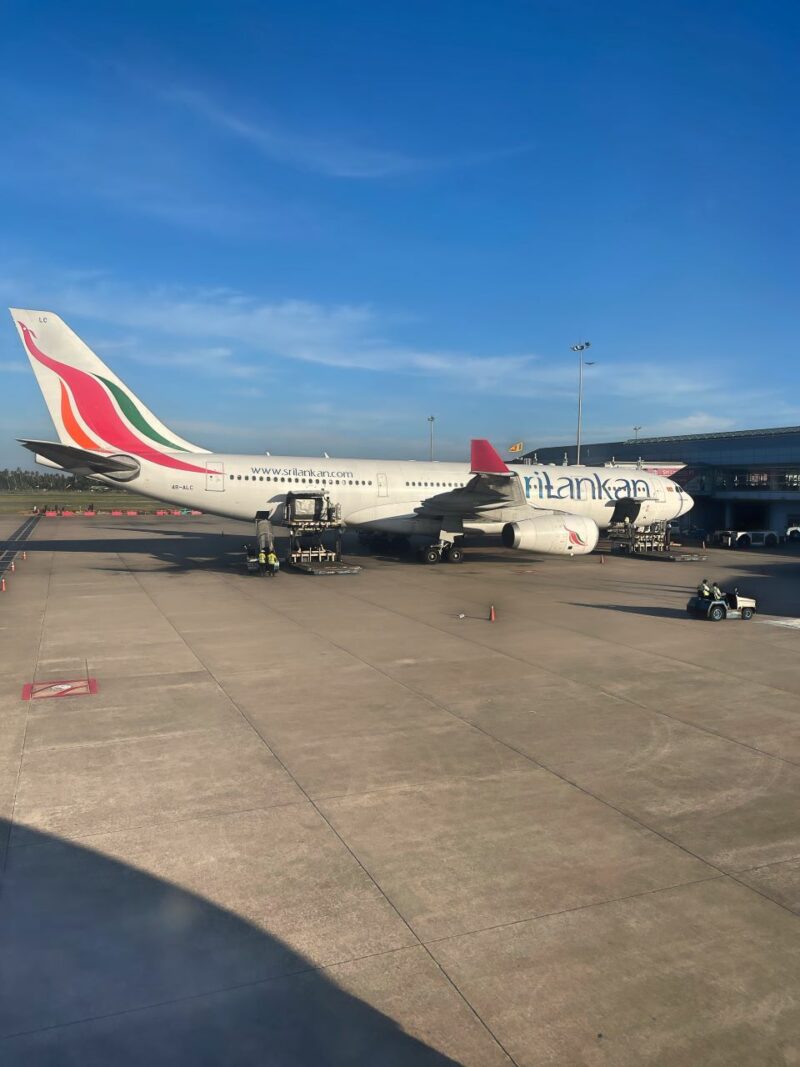 Boarding had just started as I arrived at gate 9, and once again, it was a bit of a scrum. The ground staff tried their best to have some system of boarding in place, but it was abandoned when the people they were calling to board couldn't get to the boarding point because it was blocked with throngs of people, so in the end, it was a bit of a free for all.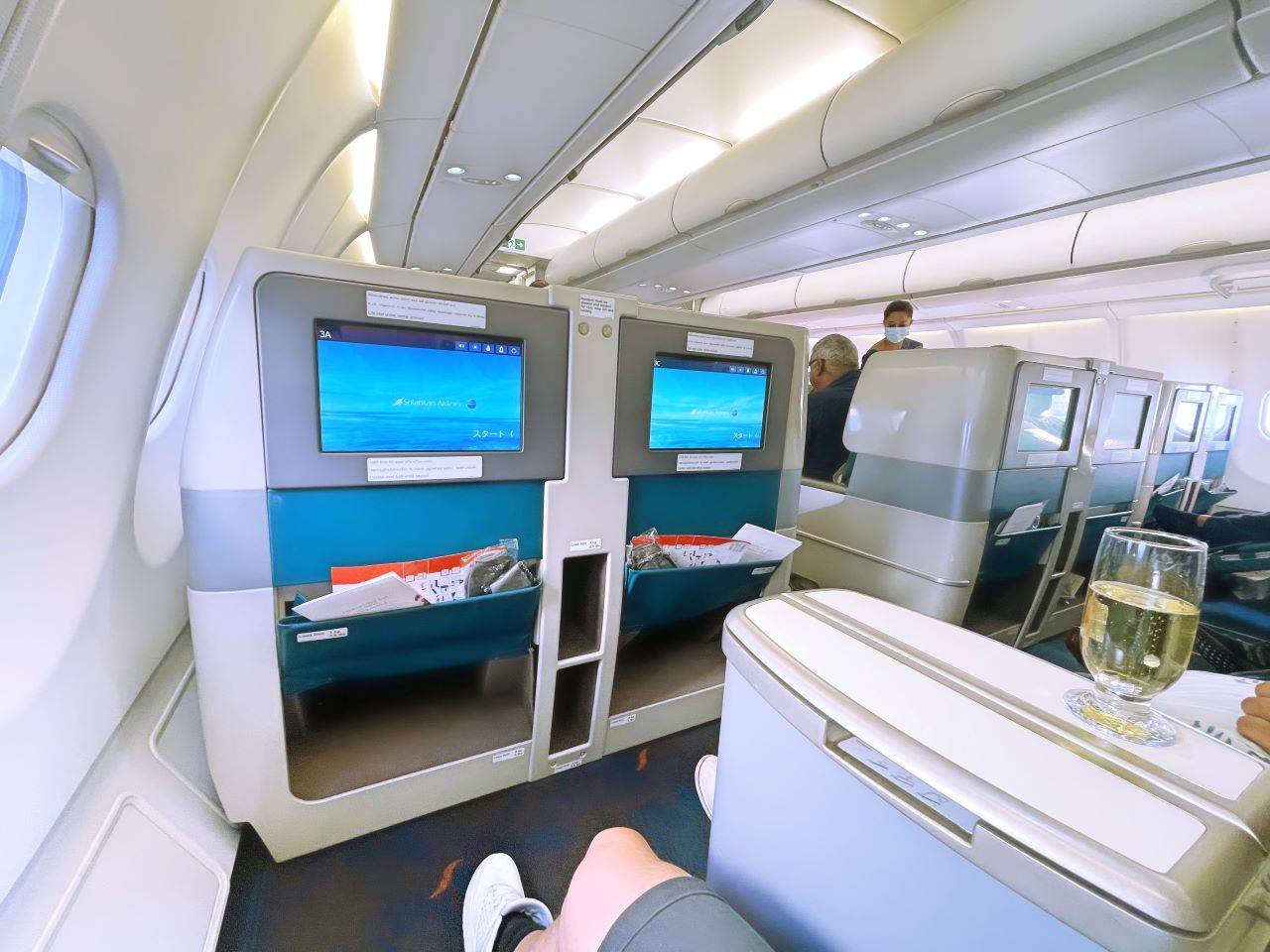 Walking into the cabin of the A330-200 was like being back in the year 2000 with boxy pairs of seats arranged 2x2x2. Saying that the spaciousness of the cabin felt very impressive as these seats were from an era before airlines got really creative with maximising the floor real estate.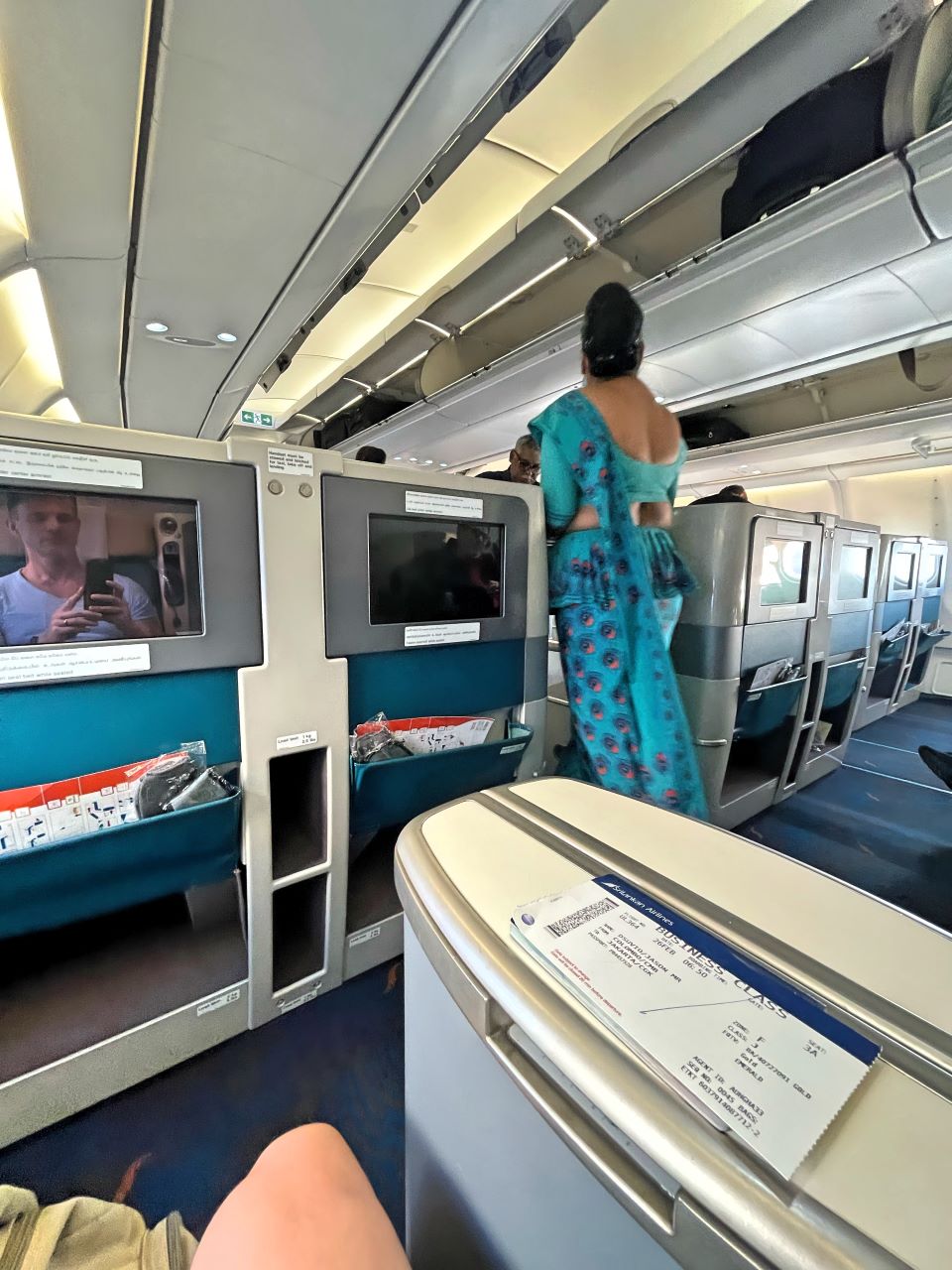 There are 18 seats in total in business class, which occupies the entire forward cabin, so just three rows. I was surprised to see how busy the cabin was when I boarded, as I had checked on Expertflyer the day before, and only three seats were showing as occupied.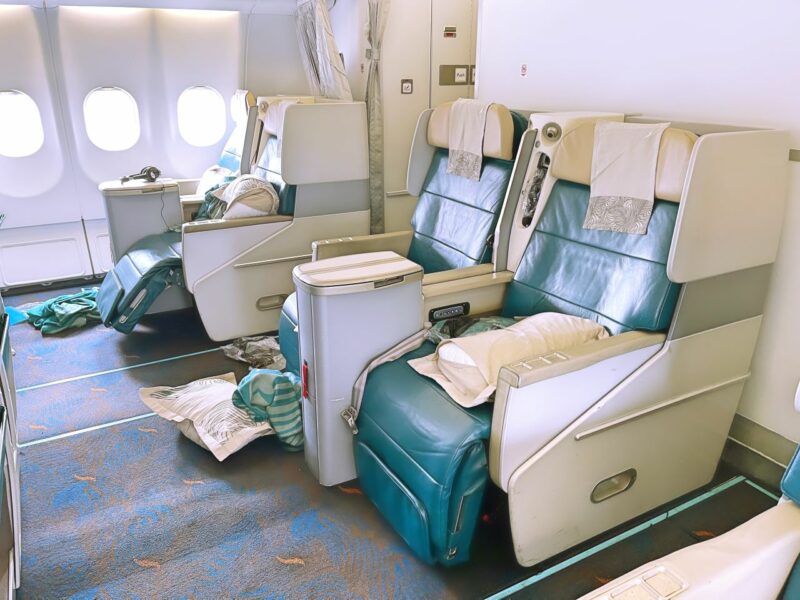 I imagine Sri Lankan release business class seats once check-in opens for upgrade bids, staff travellers, etc. The cabin ended up completely full, and although I had a seatmate, the small sliding partition did offer a small amount of privacy. Like the flight from Abu Dhabi, a pillow and blanket were at each seat and menus, socks and eye shades were handed out before take-off. A variety of juices were available pre-departure, and water bottles were also distributed. The cabin crew also came around, taking meal and drink orders.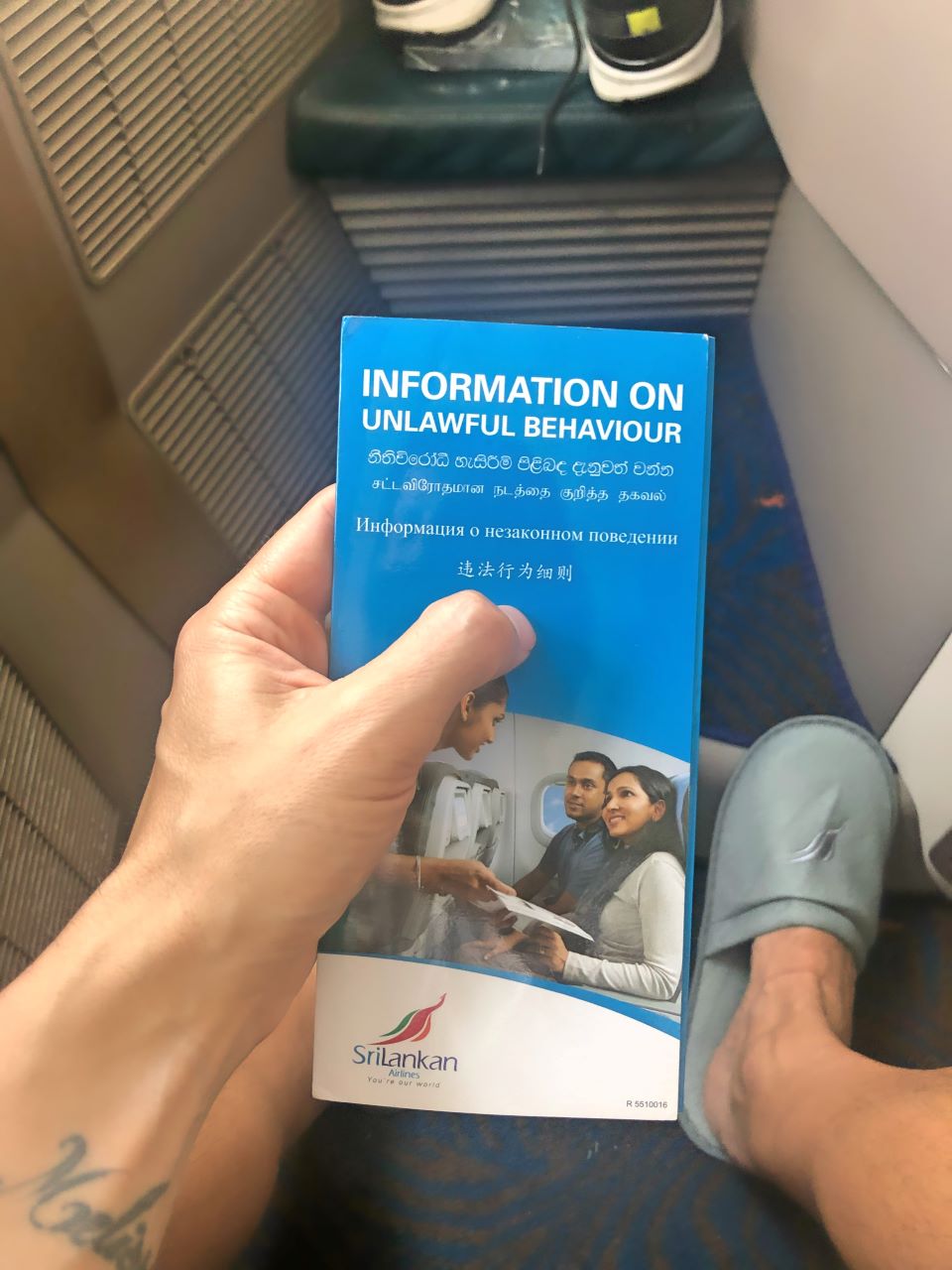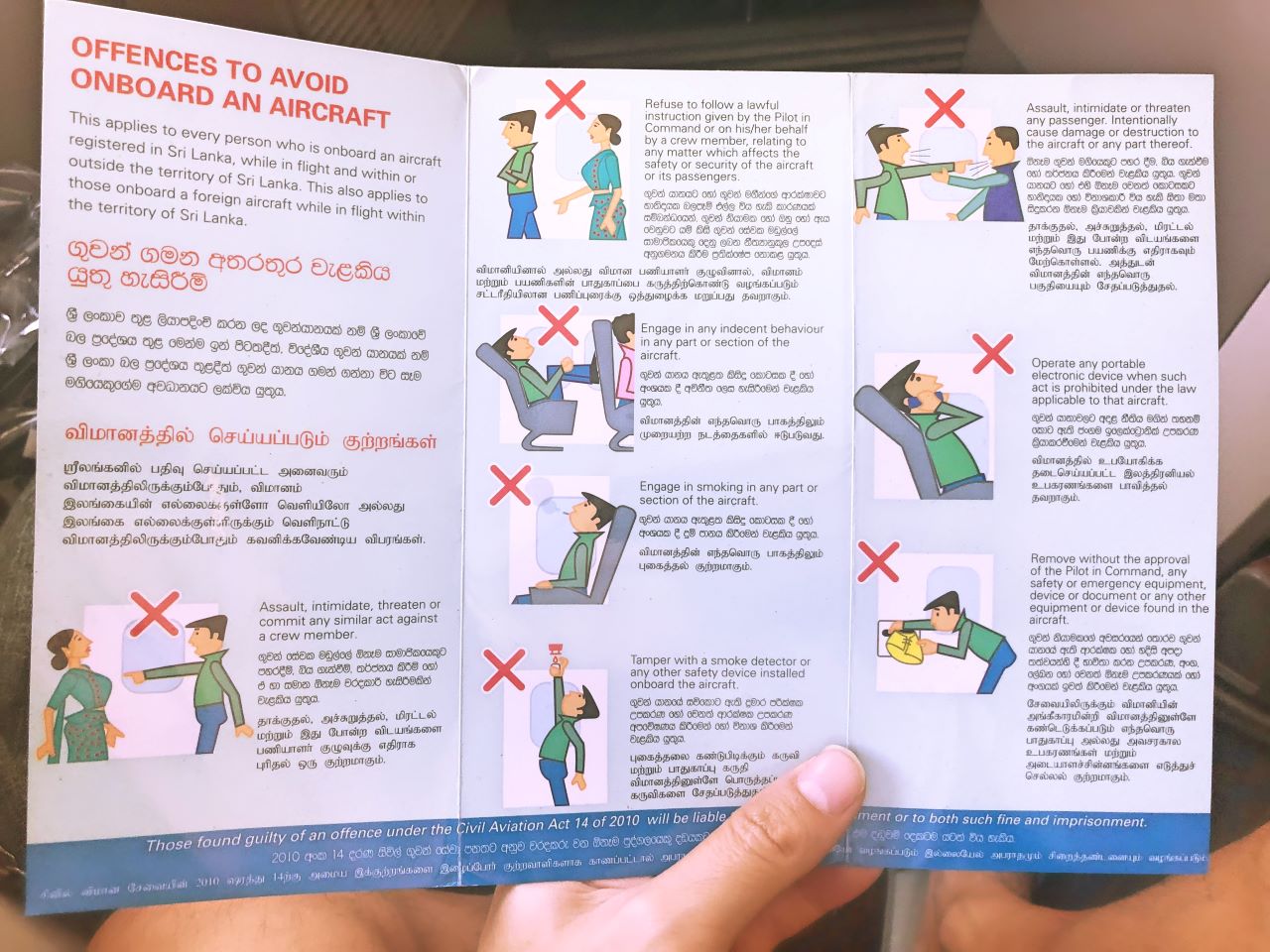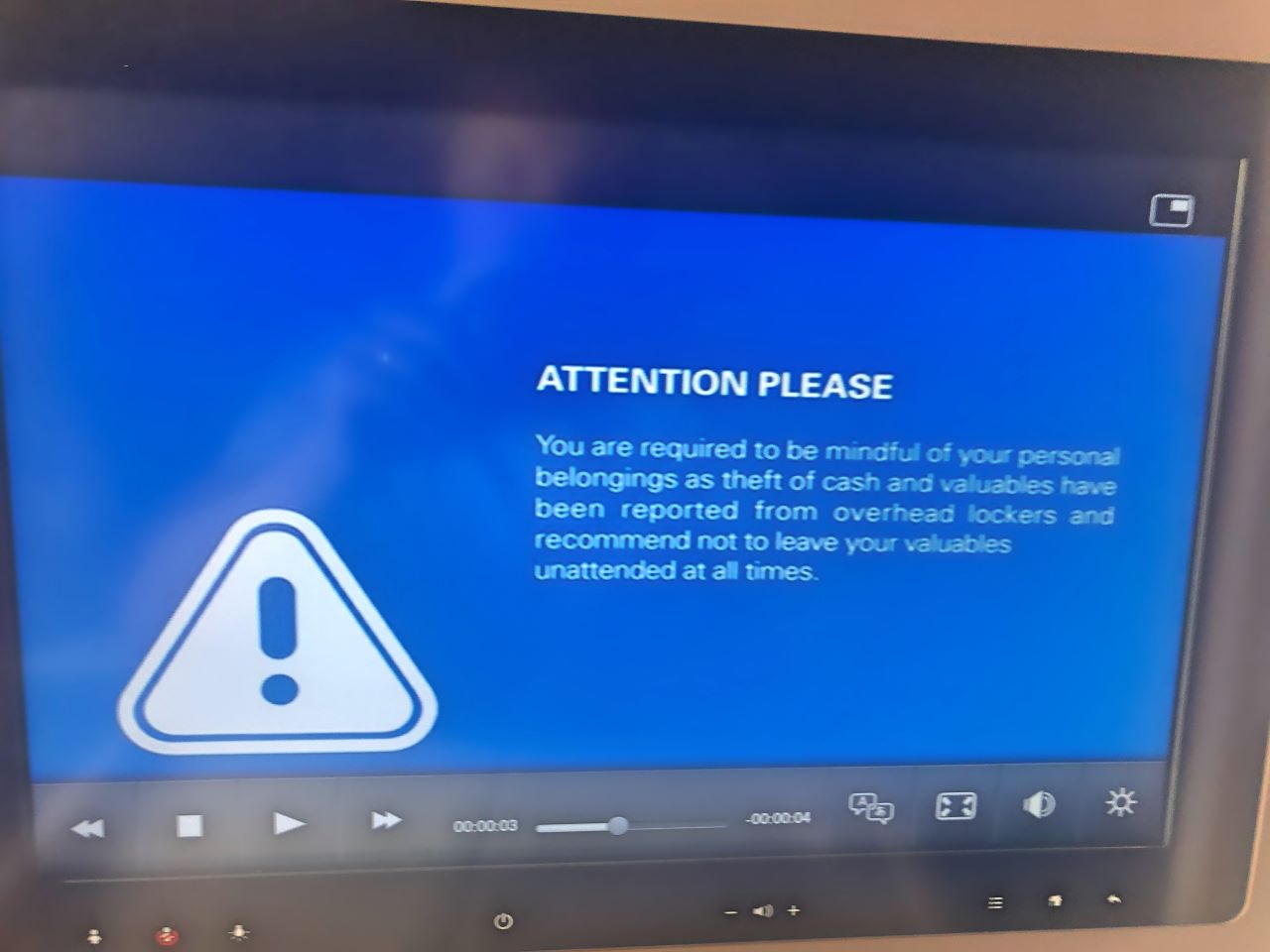 The door was closed, and we pushed back on time to the minute. The safety video was played along with the requirement that all safety devices be completely switched off until fifteen minutes after take-off, continuing with the 2005 vibe of the flight.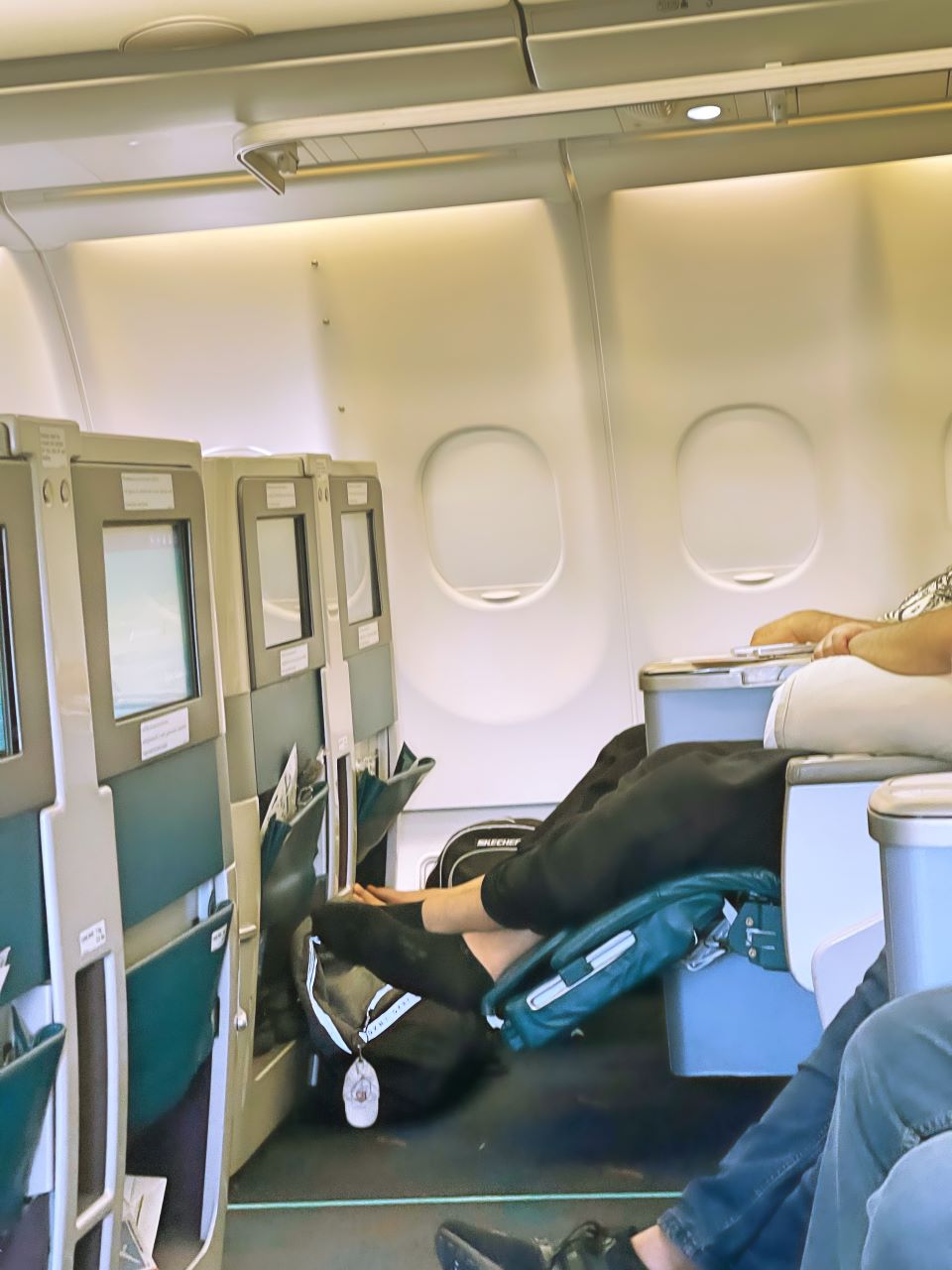 One thing I found concerning was the lack of properly securing the cabin for take-off. On the other side of the aircraft, also at row three were two gents, both with their seats reclined quite far back, all the window shades closed, and large bags on the floor. What was worse is that I witnessed three separate crew members pass, and none of them said a thing. One of them even collected in their empty water bottle without saying a word. I have no idea who these guys were, and that shouldn't matter one iota.
Safety is such a priority not just from the obvious perspective of being able to adopt the correct brace position (which they would not have been able to given the position of their recline) and have an unimpeded exit if necessary (which they wouldn't have due to the large bags by their feet) but also from a public relations perspective. People like me look on and think, 'So if the crew aren't bothered by THAT as a safety issue, what else are they not bothered with'?
Inflight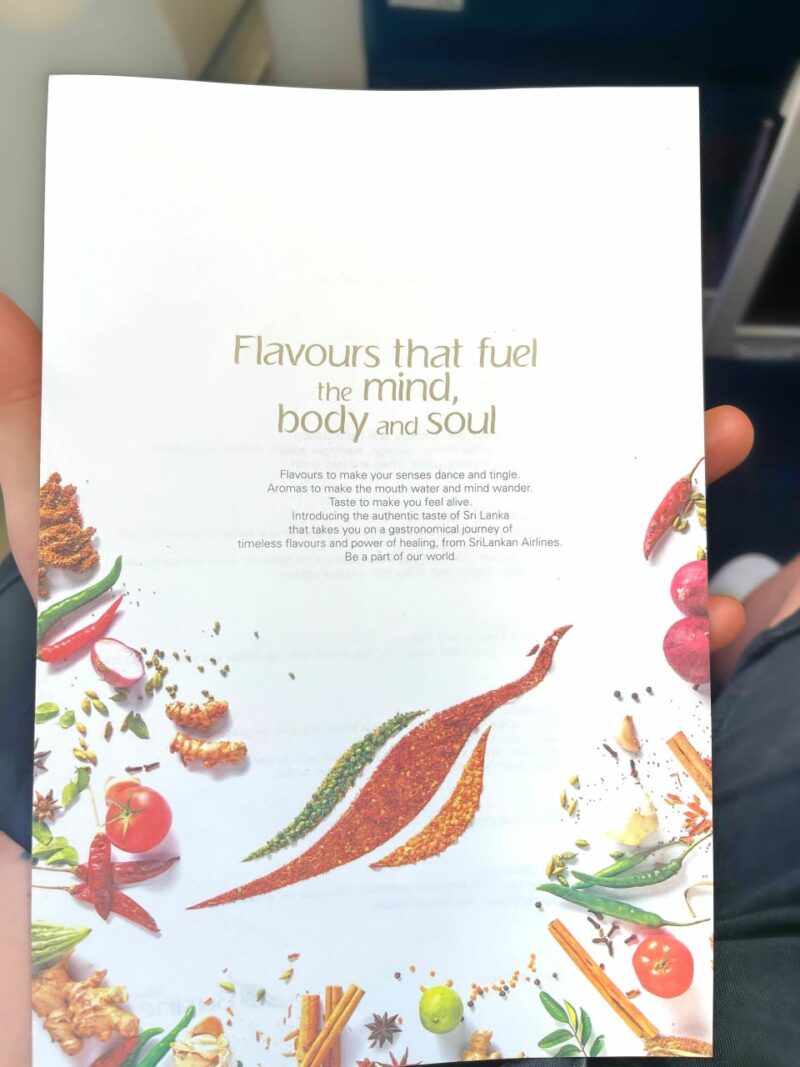 The meal service got started as soon as we had levelled off and was pretty much identical in flow to the sector from Abu Dhabi. Trays were all hand-run and comprised the starter, main and dessert. A side plate of cashew nuts was also served. To be fair, on a near five-hour flight, they could have provided the drink and cashews prior to the meal. I had chosen the chicken, which was delicious. It was spicy, yet the onion chutney provided some sweetness, and I ate every last morsel.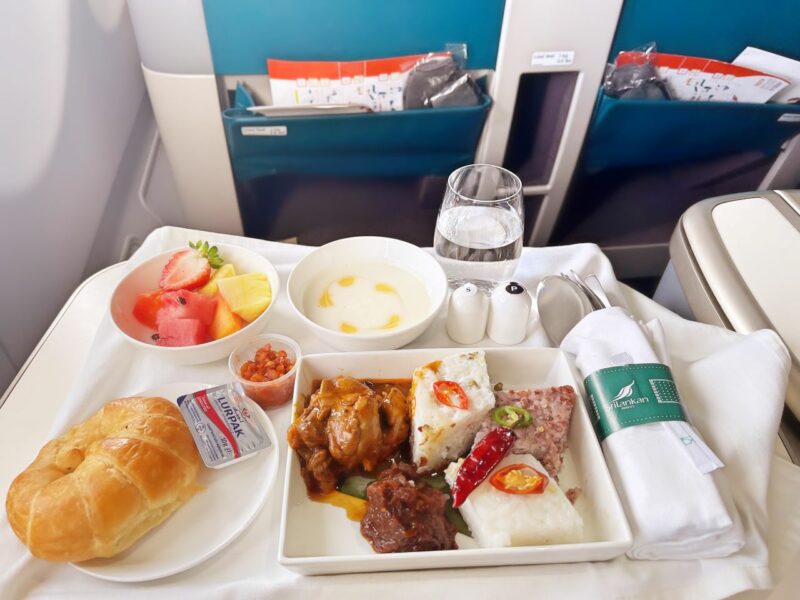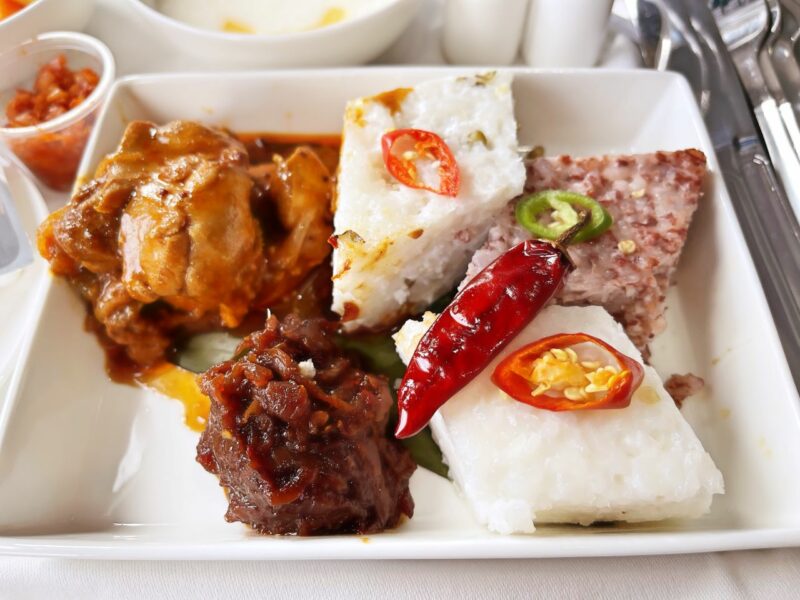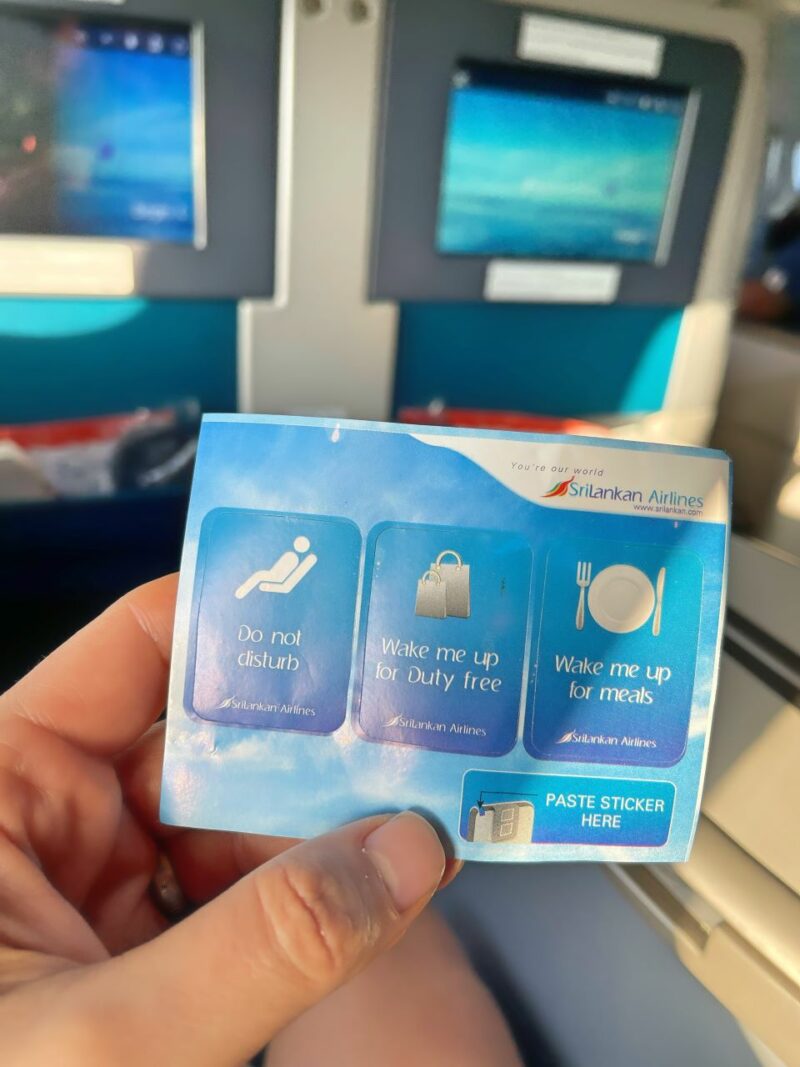 A tea and coffee trolley then rolled down the aisles, which I passed on instead of prioritising a nap. As the crew were clearing in the trays, they asked all passengers to close the window shades, which I know is always a bit contentious on a morning flight. The lights were also switched off, and with a nice dark cabin, I dozed off for a couple of hours.
The Wi-Fi and IFE situation was identical to the A321 flight. There was no Wi-Fi, and the IFE content was exactly the same. The IFE screen is fixed to the back of the seat in front, which is a bit of a distance.
The seats are touted as 'fully flat', which they kind of are – if you count from your head down to your knees. Each seat has a multiplug power adaptor and USB plug, and seat controls are located on the side of the armrest, featuring three pre-set positions. Having been fairly tired from my Abu Dhabi to Colombo flight, I did try the seat out in flatbed mode, and it was quite comfortable. If there had been a few spare pillows, I would have put them on the footrest to prop my lower legs up level with the rest of my body. I eventually nodded off for a couple of hours.
The captain came onto the PA requesting the crew to prepare for the arrival, and I was, of course, interested in what state the gentlemen across from me would be in for landing. What transpired was both frustrating and hilarious. One crew member actually did ask them to open their three closed window shades and put their seats upright. Then, after making the request, she walked off. They begrudgingly opened one window shade and moved the seats an inch or two. The same crew member passed again and made the same request. Indignant faces, they raised a second window shade and moved their seat another couple of inches as the crew member again walked off. Honestly, if I were the crew member on that flight, I would have very politely said, 'Allow me to get you gents prepared for landing,' and pressed that incline button myself until those seats were upright and opened the three window shades.
We touched down smoothly in Jakarta and were on stand fifteen minutes ahead of schedule.
Bottom line
Sri Lankan Airlines offers a fantastic product for mid-haul flights with hard products we could only dream of on a four-hour flight with a European carrier on a narrowbody. I love the hospitality of their crews, who genuinely feel pleased to showcase a little of their nation to the world, including their hospitality, culture, and food.
Colombo is an efficient little transit hub, and the ability to earn Avios and Tier Points is a definite attraction for me. I have flown them on their direct Colombo to Heathrow route, and the aircraft is fitted with direct aisle access, fully flat seats and had wonderful catering with an extensive pre-order menu. The lack of attention to detail in securing the cabin for landing in Jakarta was a bit of an eye-opener, but out of the five or six sectors I have flown on Sri Lankan, it has been an isolated incident.
For more reviews, click here.