This is a review of my visit to British Airways Lounge Glasgow airport in August 2023.
Opening times and location of British Airways Lounge in Glasgow Airport
The British Airways Lounge Glasgow is open every day between 05:30 – 21:00 although according to the oneworld website it opens at 06:00. It is situated near Gate 15, towards the gates that BA use.
Access to British Airways Lounge in Glasgow Airport
This can be accessed by:
Business Class
First Class
Sapphire Tier
Emerald Tier
Airlines
British Airways
Access for eligible customers traveling on any oneworld member airline.
The lounge
I thought the lounge looked modern and stylish compared to some of the other BA lounges in the UK. There was natural light from the windows and views of the apron, although it was partially obscured by blinds.
The staff at the entrance were welcoming, too. We had a slight delay, and the staff were good at keeping us informed and told us they would announce when the gate was ready for us to board.
As you enter, there is a display of High Life magazines, and several dining tables. I wasn't really sure about the wooden display with fishing nets and empty plant pots.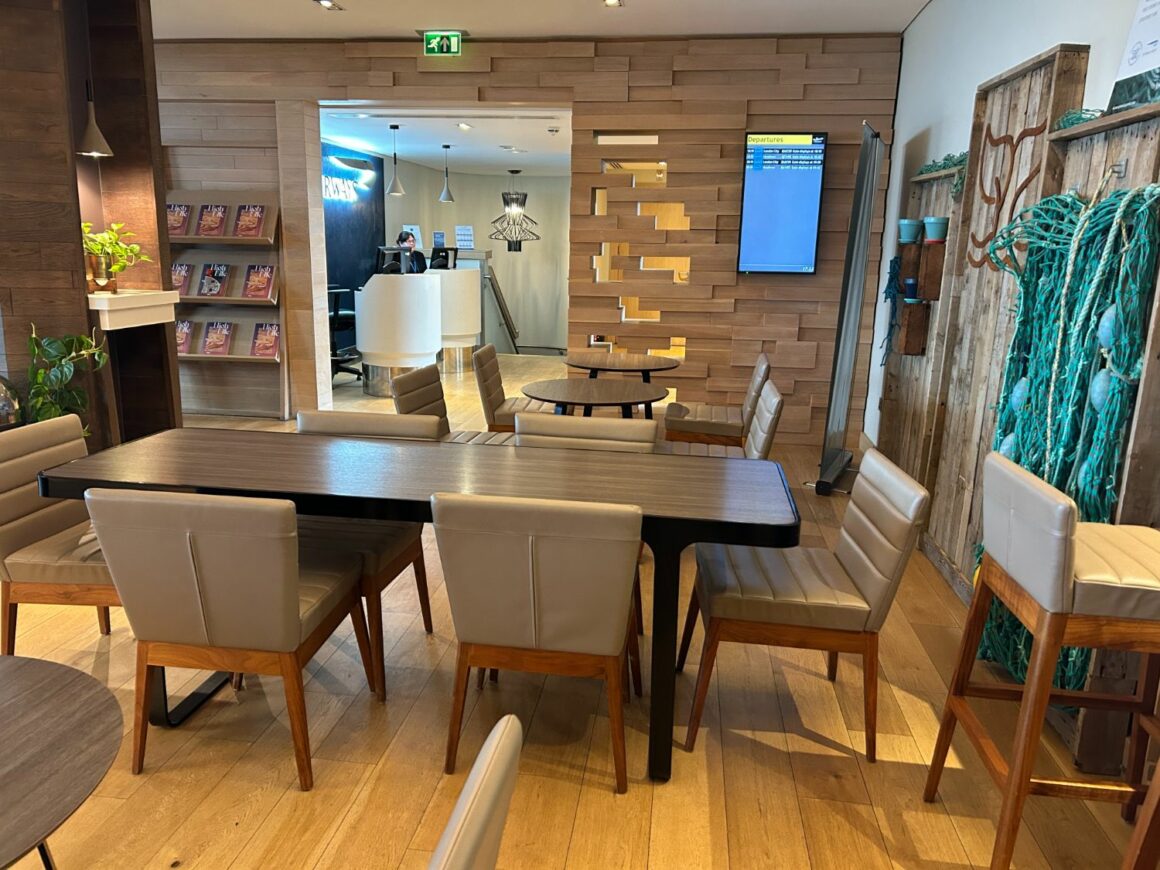 There are different zones within the lounge with a range of seating from comfortable seats to dining tables and high tables.
In the front section of the lounge, there are dining tables and chairs as well as high stools along bars with sockets.
Further down the sides of the lounge were comfy seats with sockets.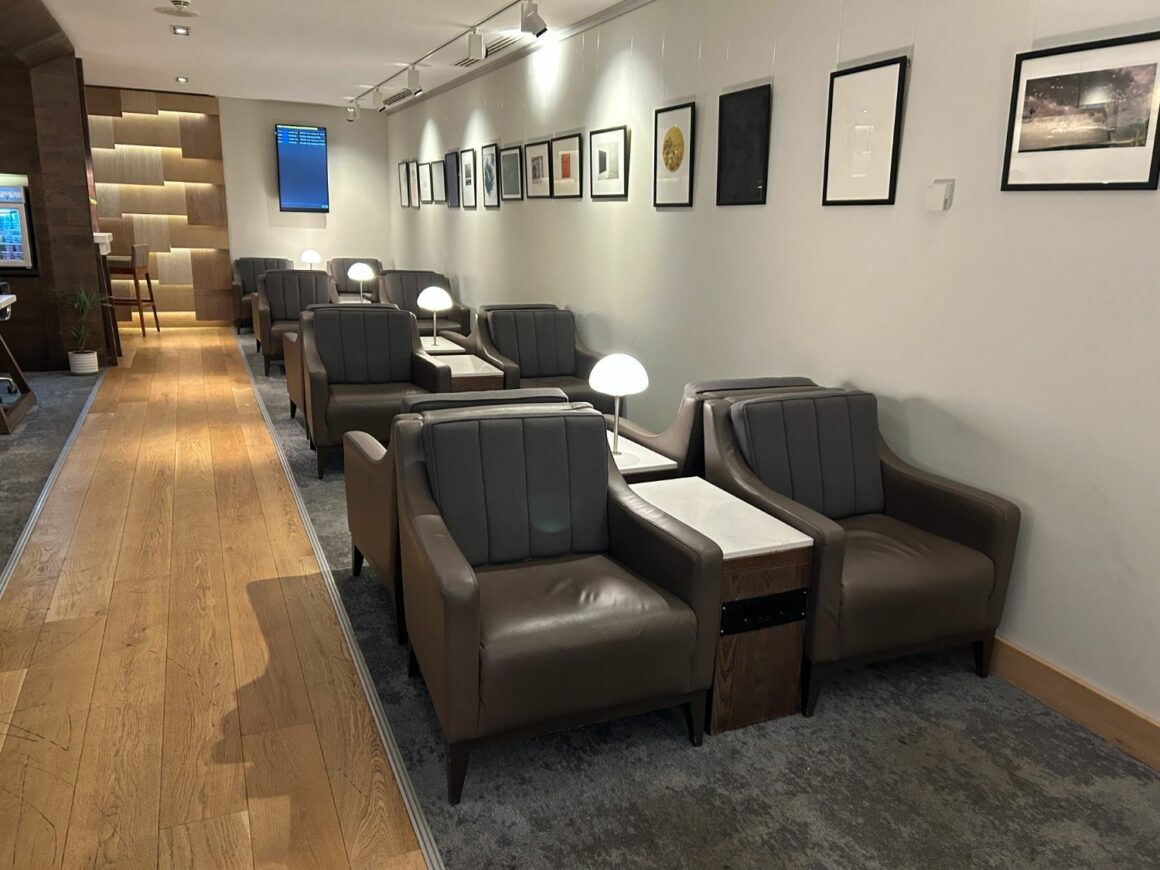 In the centre was the main food and drinks display.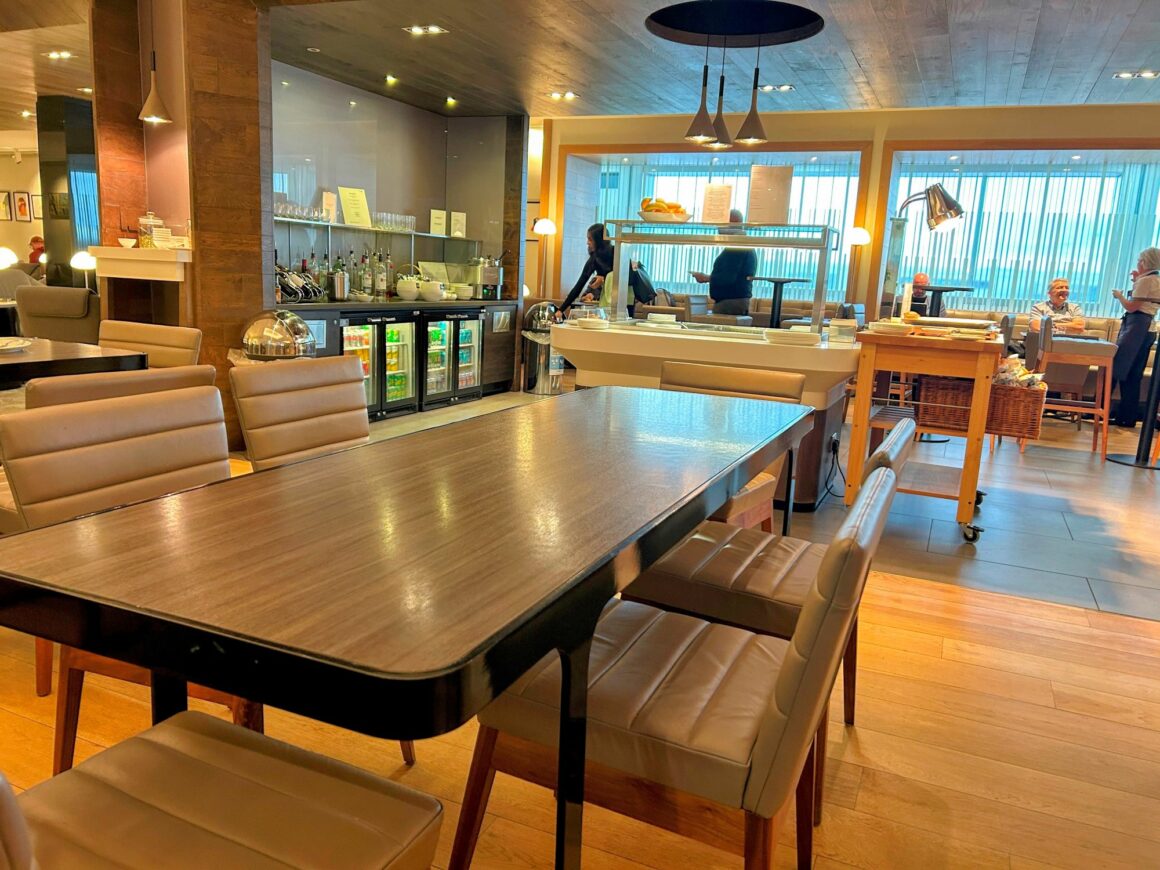 There was both hot and cold food, which I was slightly surprised by as I was expecting it to be mainly sandwiches after my visit to the Edinburgh lounge.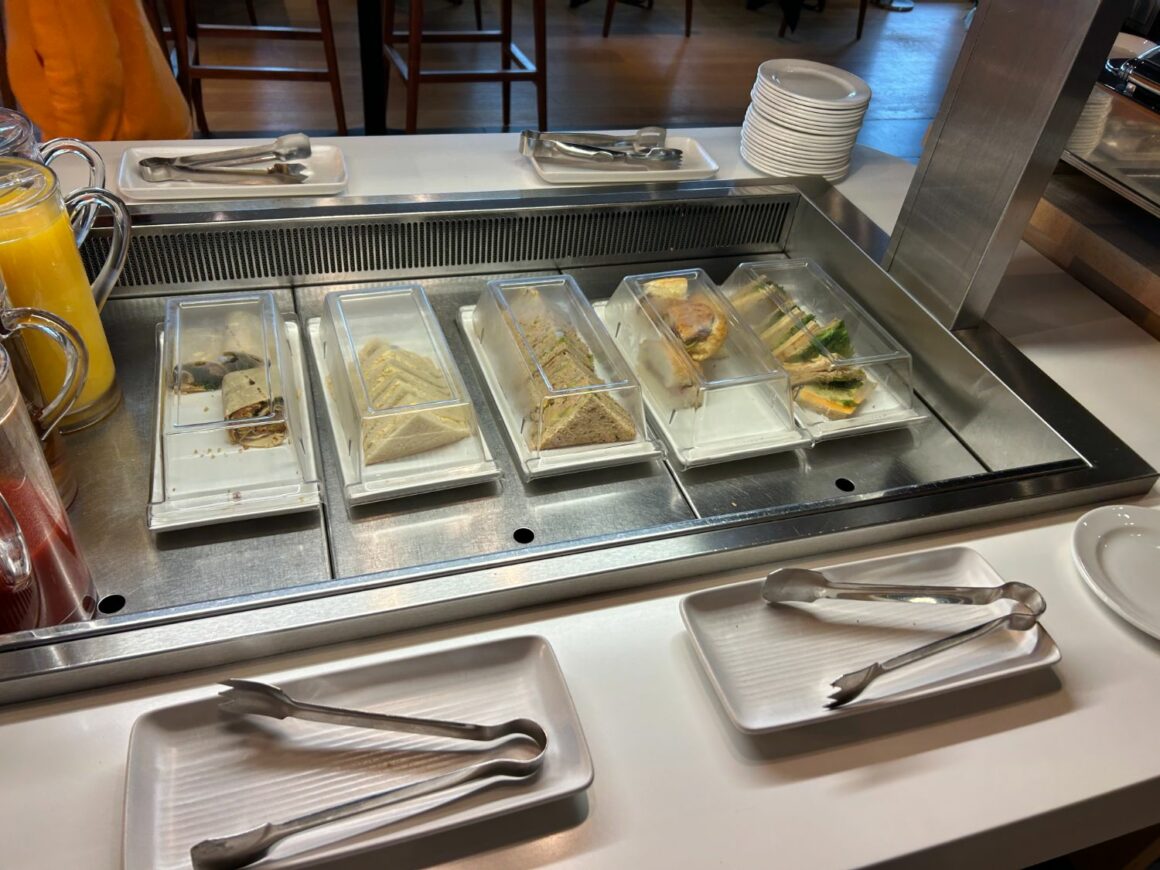 This was the sandwich selection:
The salad selection was a little sparse, but the potato salad was OK, plus there was packaged cheese and oat biscuits. There was a reasonable range with Gloucester, Leicester, Cheddar, Camembert and Port Salut and a bowl of chutney.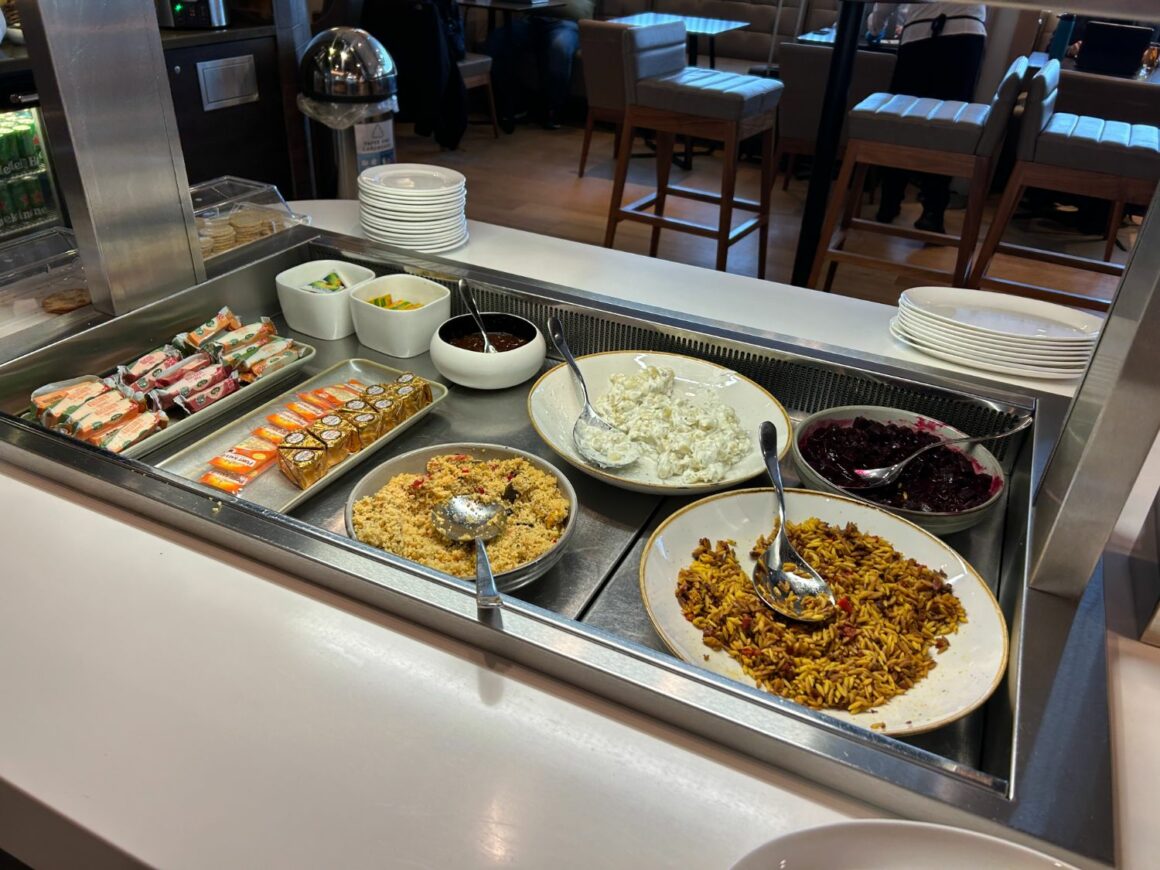 Then, for the hot food, there was soup with a selection of bread and seeds for topping.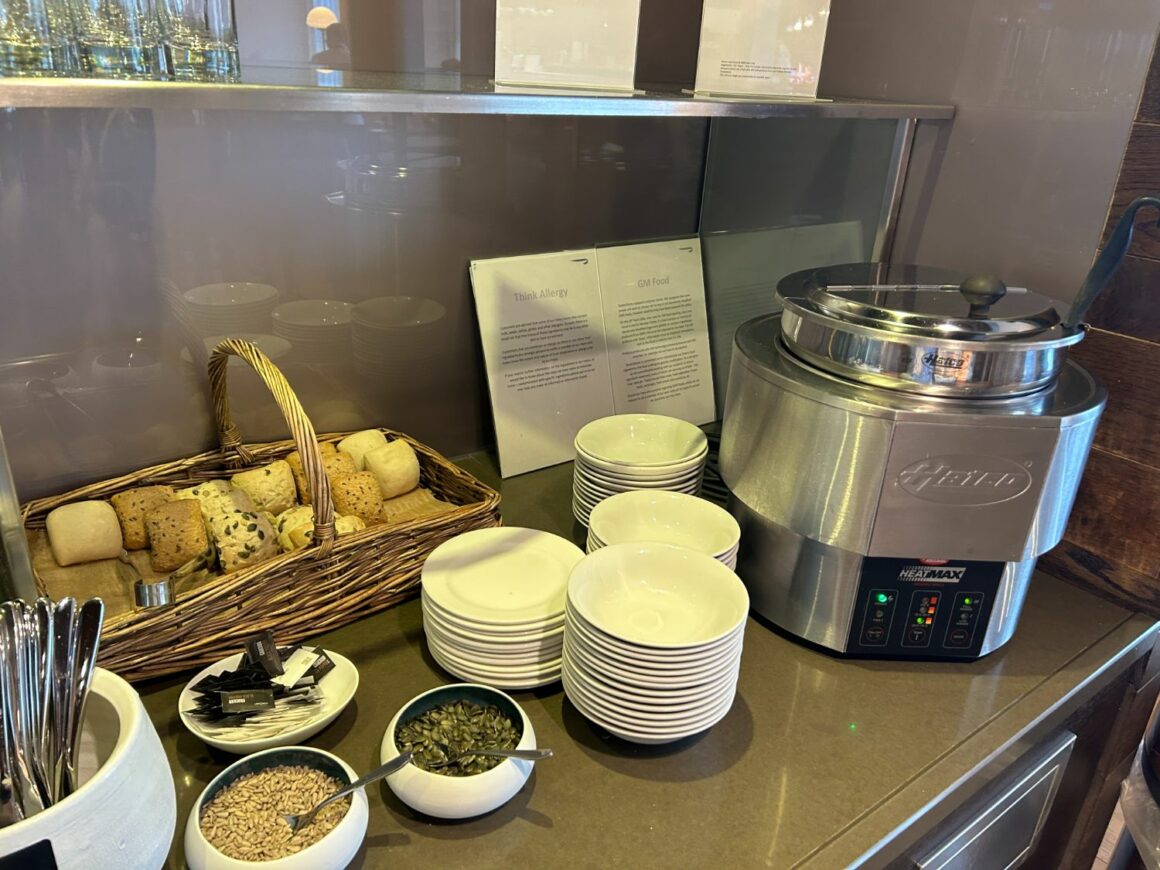 There were also the standard BA pies, which I usually enjoy. One was pork and apple, and the other was spiced cauliflower with spinach and lentils. It could have done with better labelling as there was nothing to indicate which was which. I tried the spiced one, and it was tasty with a mild spice, but maybe it could have had a bit more filling.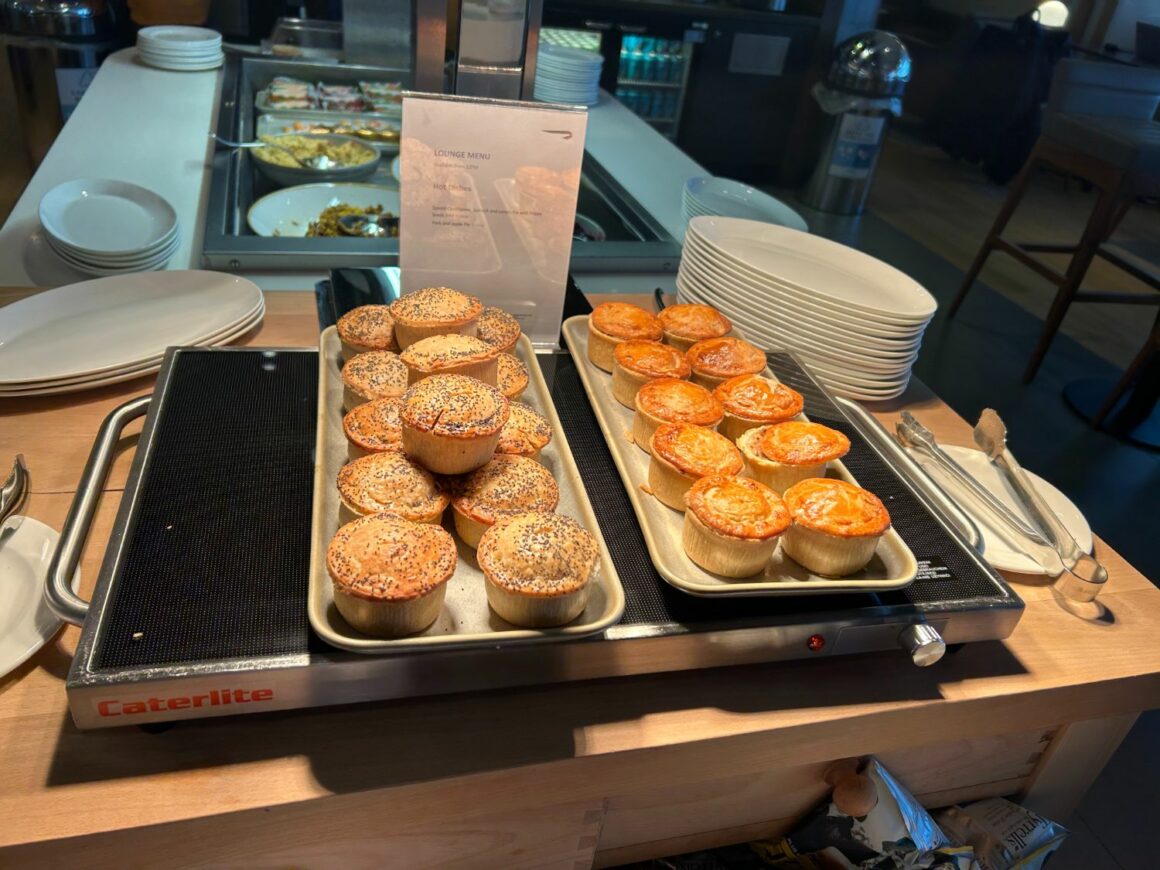 There was also another butcher's block with fairly typical BA fare, which did not look very appealing. But it didn't help that it needed topping up. It was a Sri Lankan chicken curry with rice.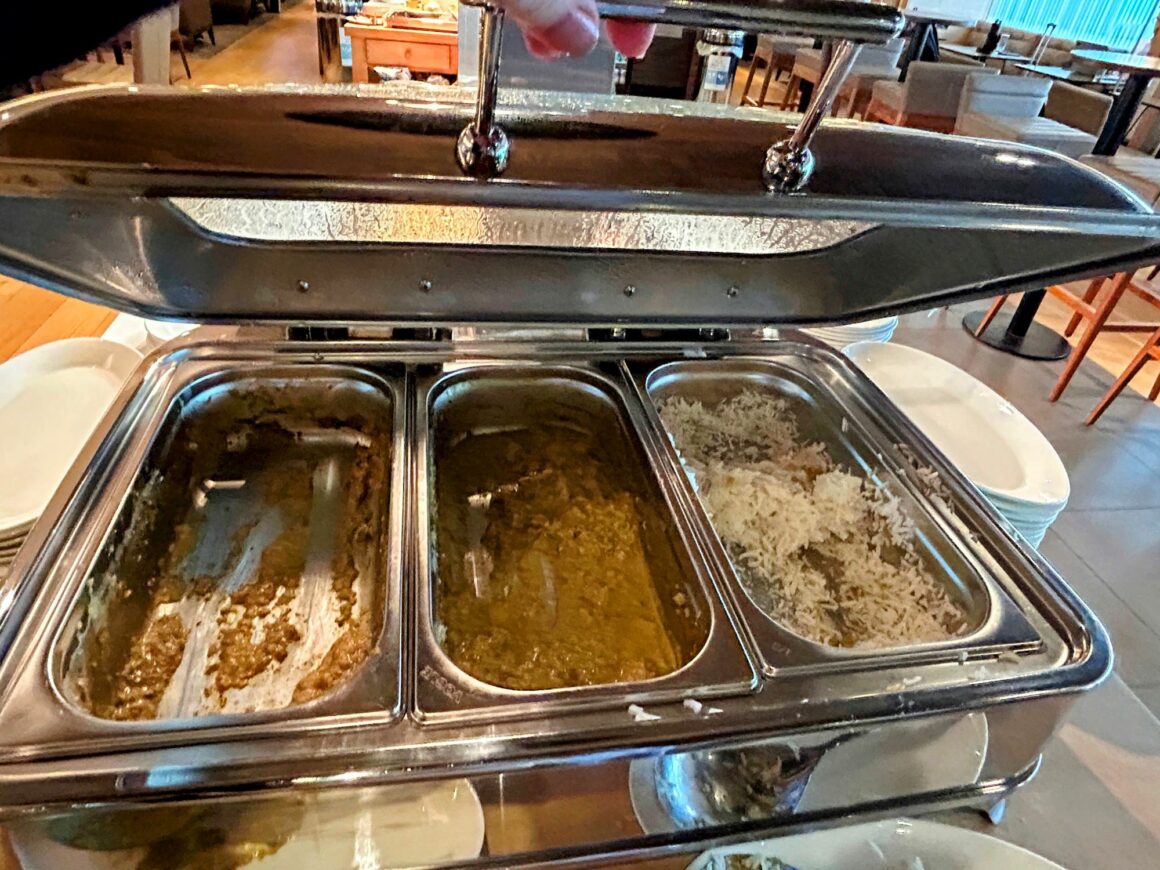 The drinks were spread out a bit, so it required hunting down the white wine and fizz. I thought the selection was very good with some decent quality spirits like Tanqueray 10 and a couple of flavoured Ciroc vodkas. There was also the Zacapa XO rum, which is served in First as well. Other options included Port, Pimms, Tequila and Martini.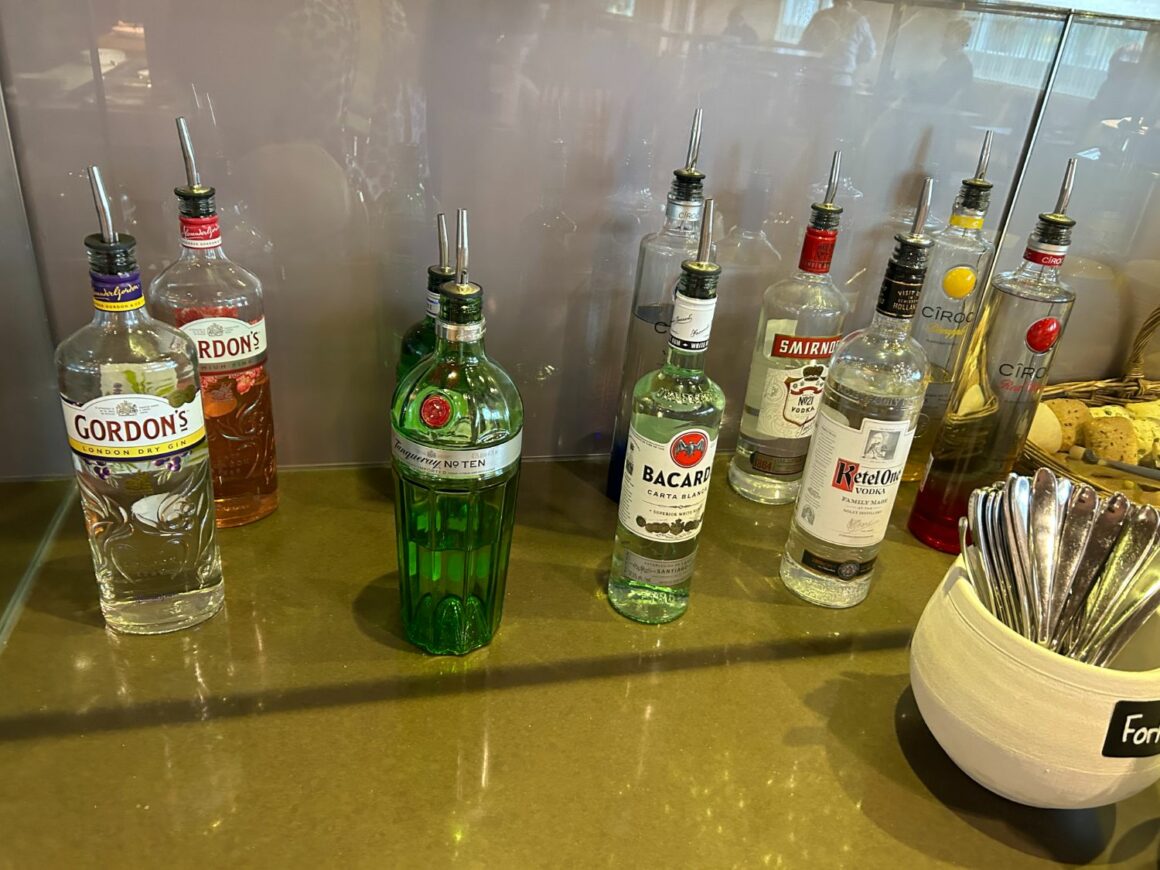 The red wines were displayed in this area, and there was a choice of four, which is not to be sniffed at (unless you are actually checking the wine!).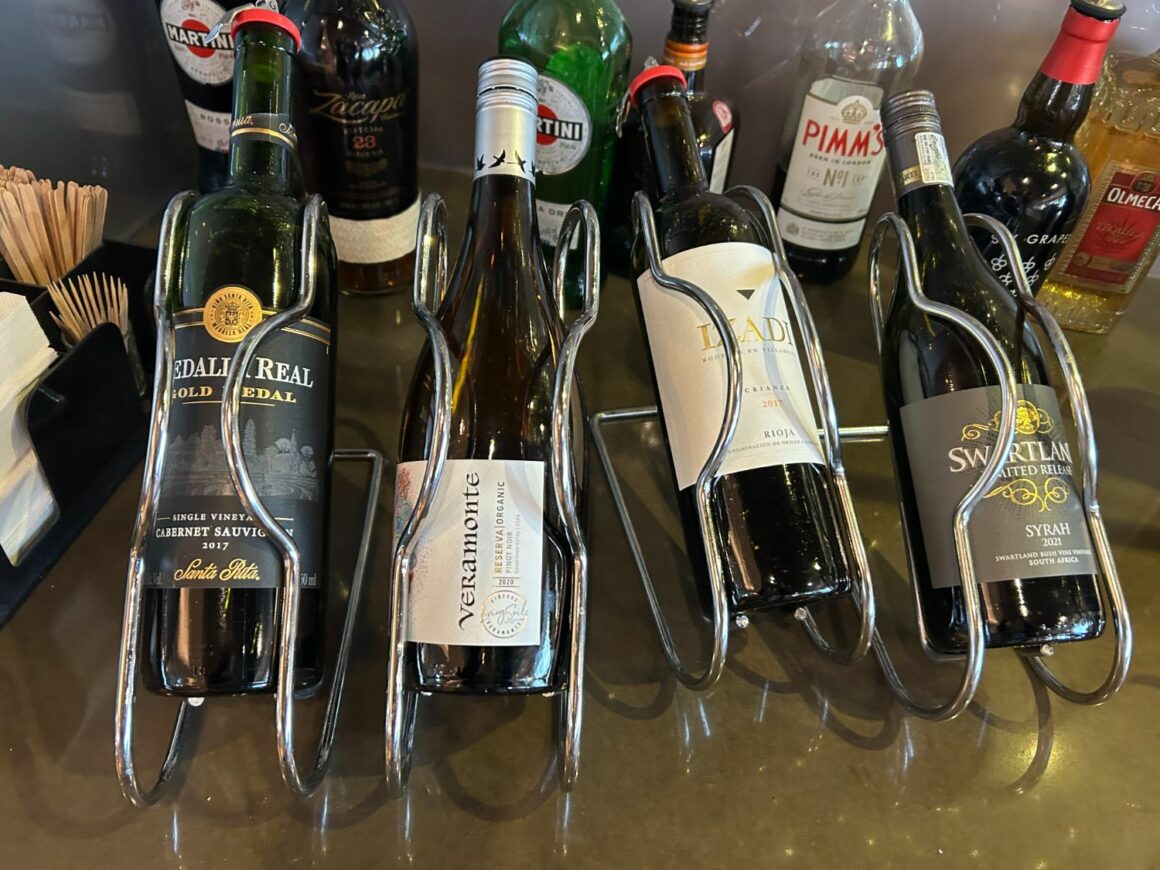 You may notice I have not mentioned whisky, well that's because they have a special area to celebrate whisky, which is called the Bar & Snug.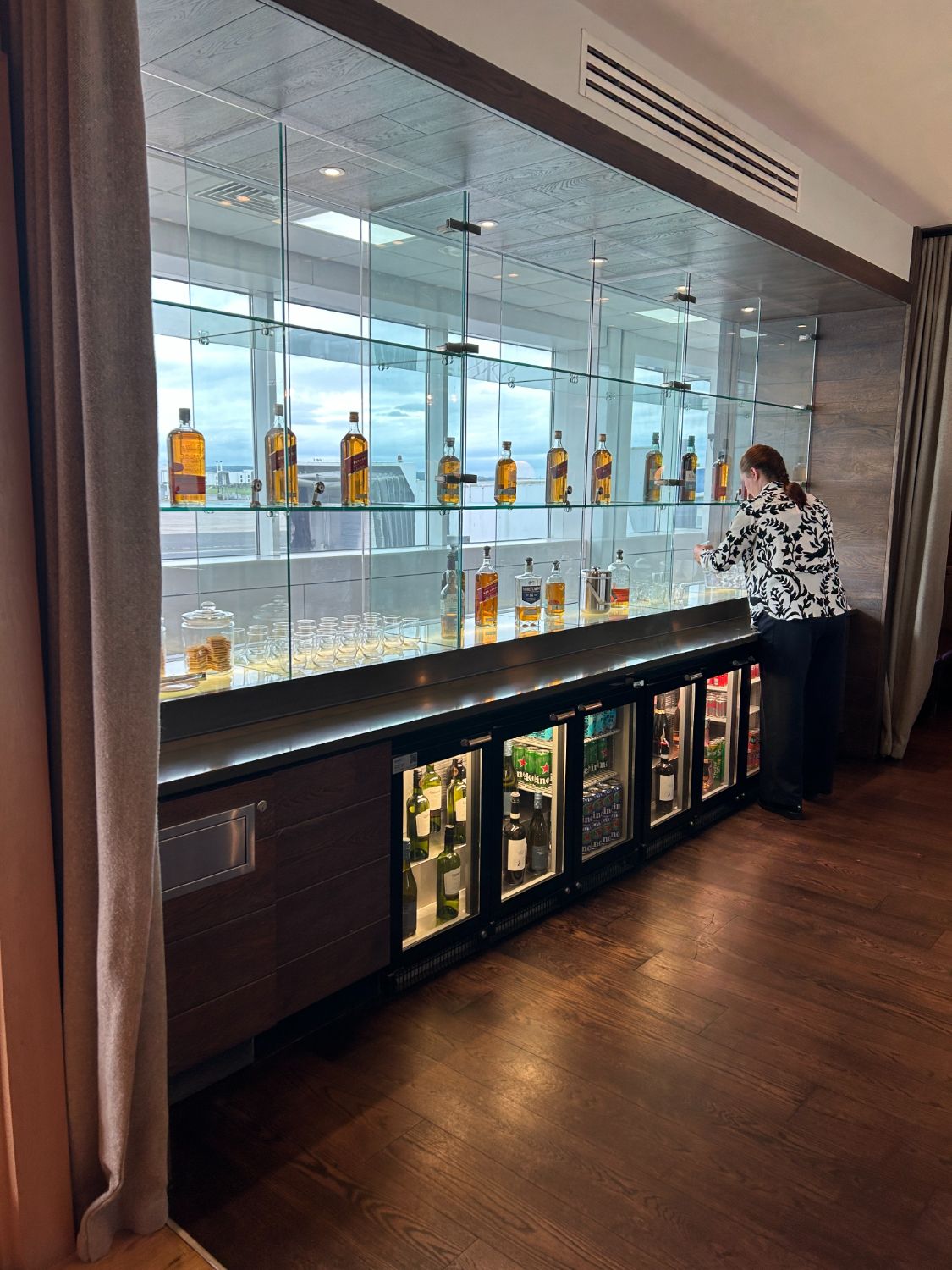 Alongside the crystal-look glasses, there were the following whiskies: Talisker Surge, Mortlach14, Johnnie Walker Red Label, The Singleton, Bulleit Bourbon and Roe & CO Irish Whisky. For some reason, there were also the standard BA biscuits here.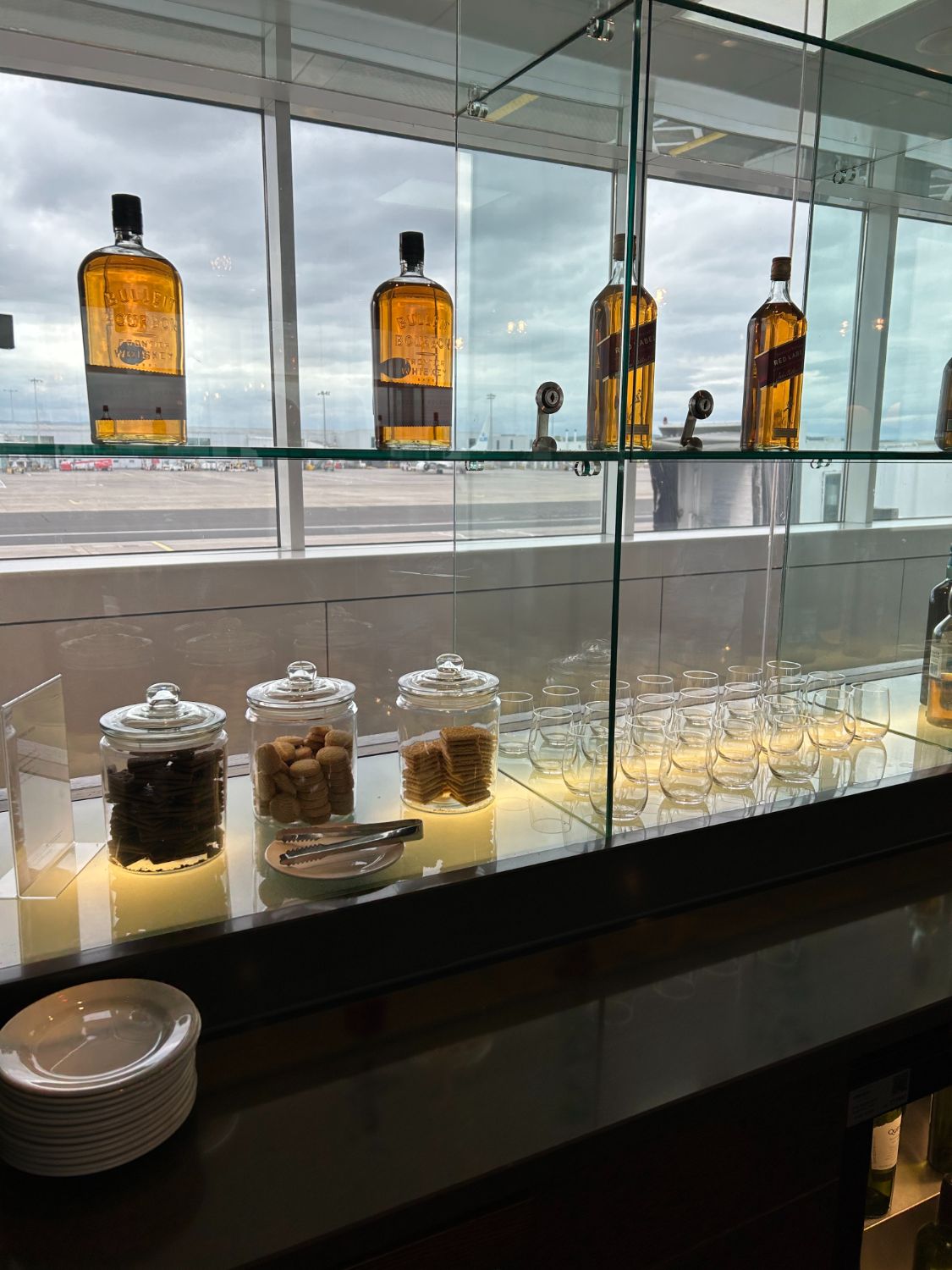 If you wanted to sit in this area (not so far to go for a top up), there were high tables with attractive crystal pendant lights.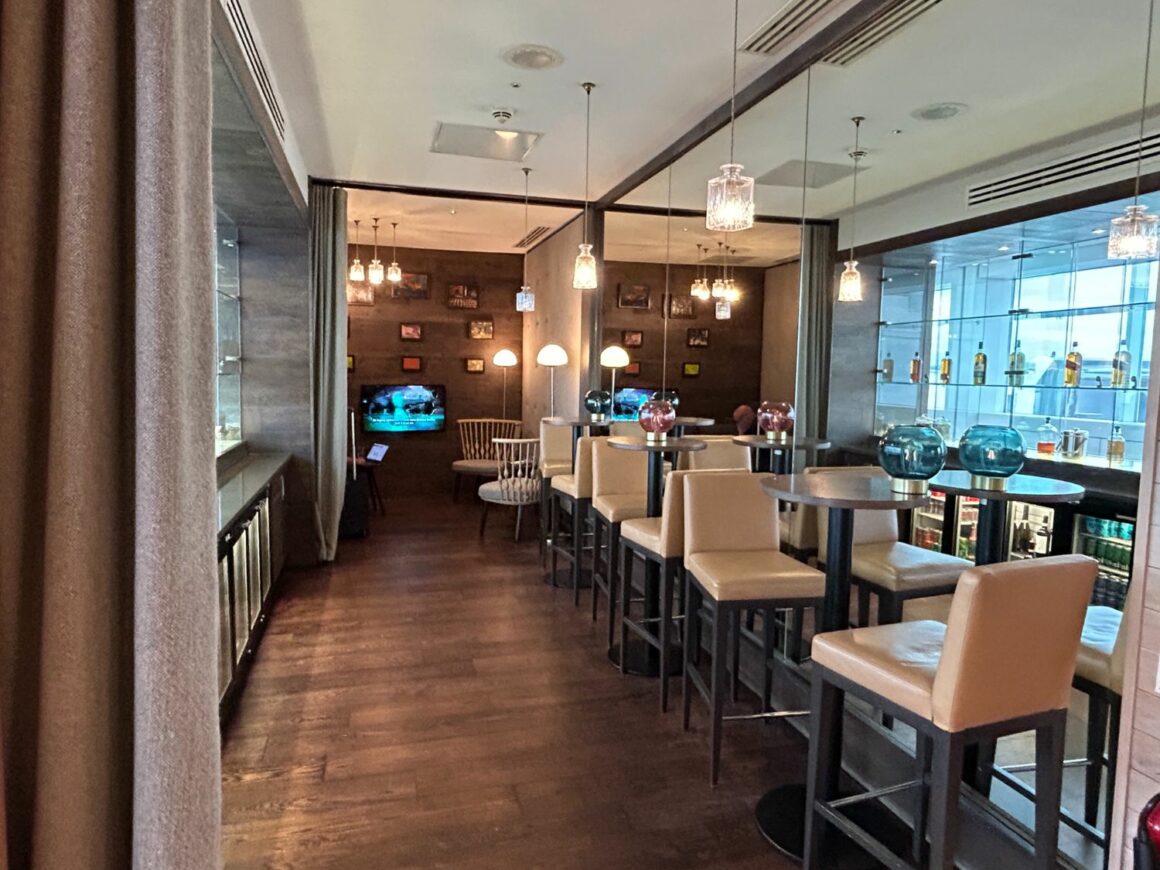 In the back part, there are some rather odd wooden chairs that didn't really seem to match anything. There is also a TV here, which I have seen set to a fireplace scene when I visited before, but this time it was showing proper TV programs. It is a lovely little private area to enjoy your wee dram. Make sure you grab some Scottish tablet on the way to the snug!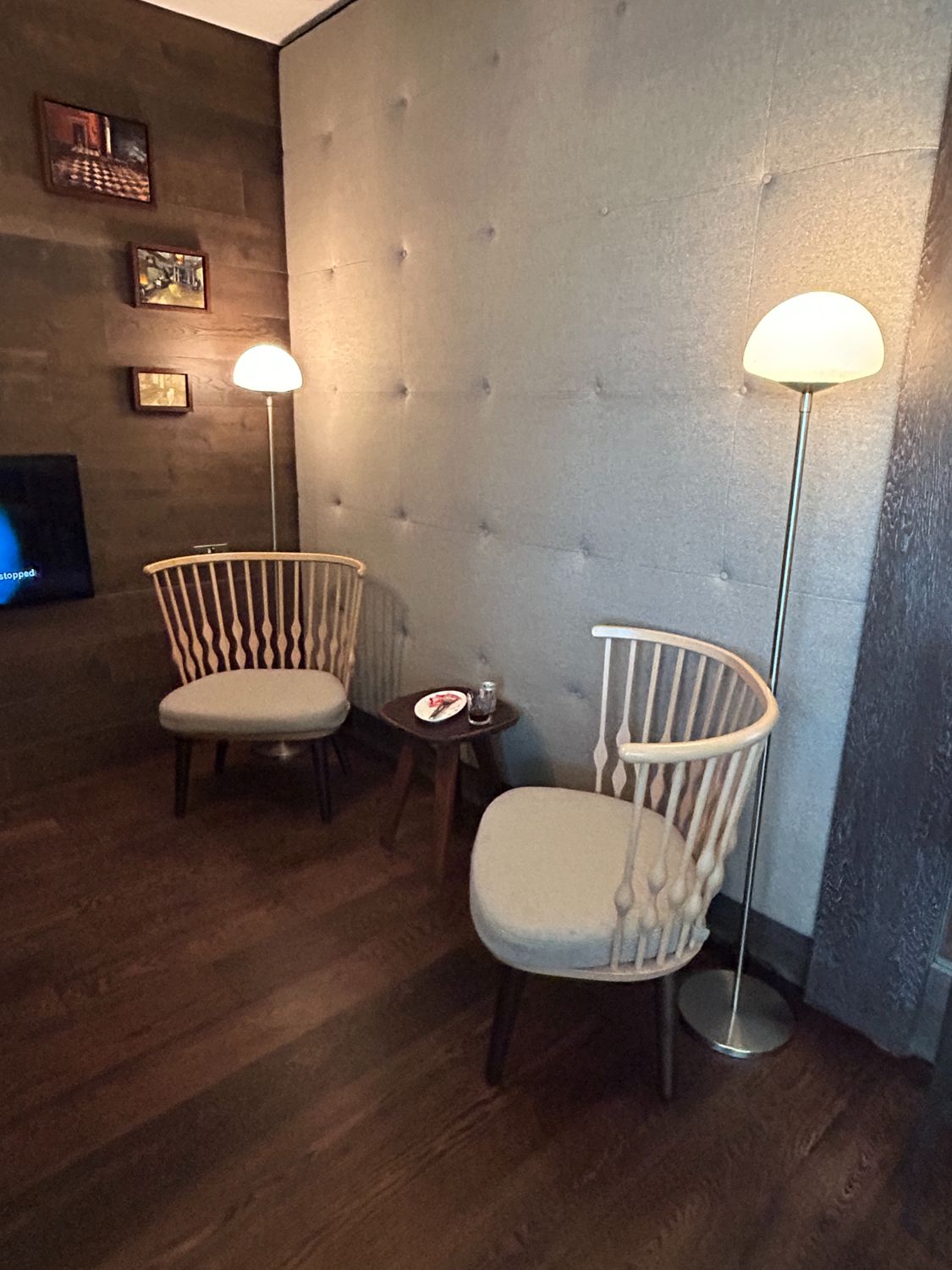 You can also find the white wine and Prosecco here. Champagne is also still available on request, but I didn't try it on this visit. For white wine, there was a Stellenbosch Chardonnay, Greco di Tufo and Marlborough Sauvignon Blanc. There was also a Bottega Prosecco and a rosé version too.
Towards the back of the lounge was the work area with a communal table with lots of charging sockets, including USB and European sockets.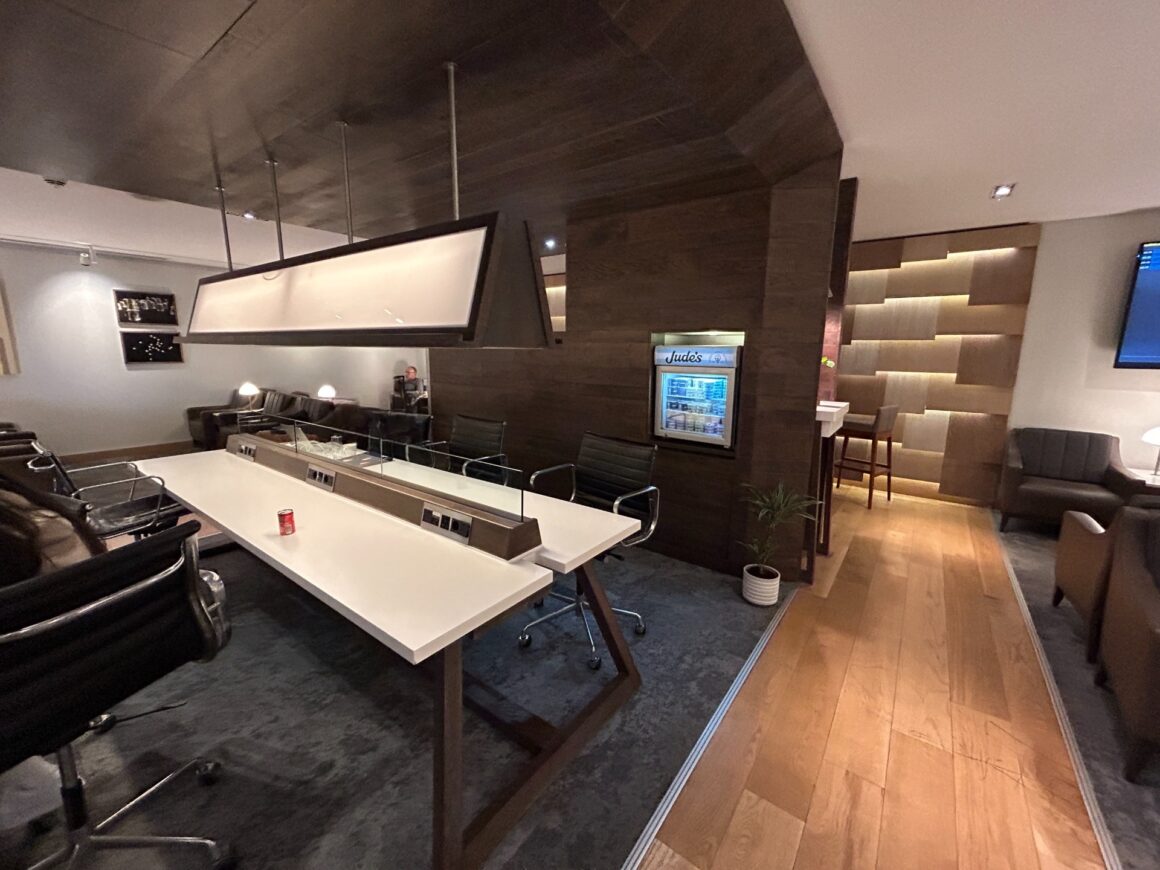 For some reason, the ice cream fridge was randomly here too! This had a dairy-free/vegan option of mango sorbet as well vanilla, chocolate and strawberries and cream.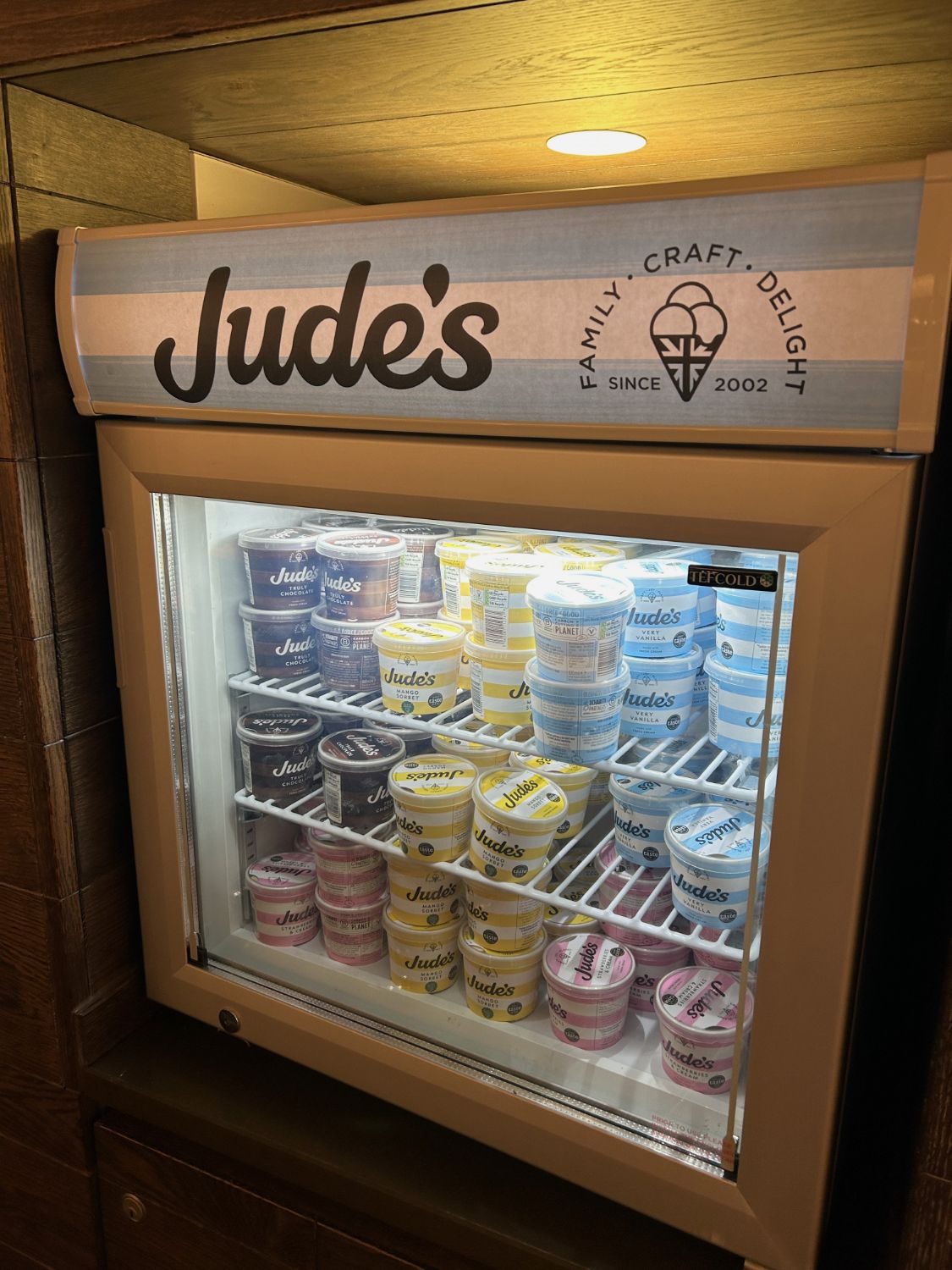 At the very back of the lounge were some high tables hidden away, which would be a good area for a phone call or if you want some peace and quiet.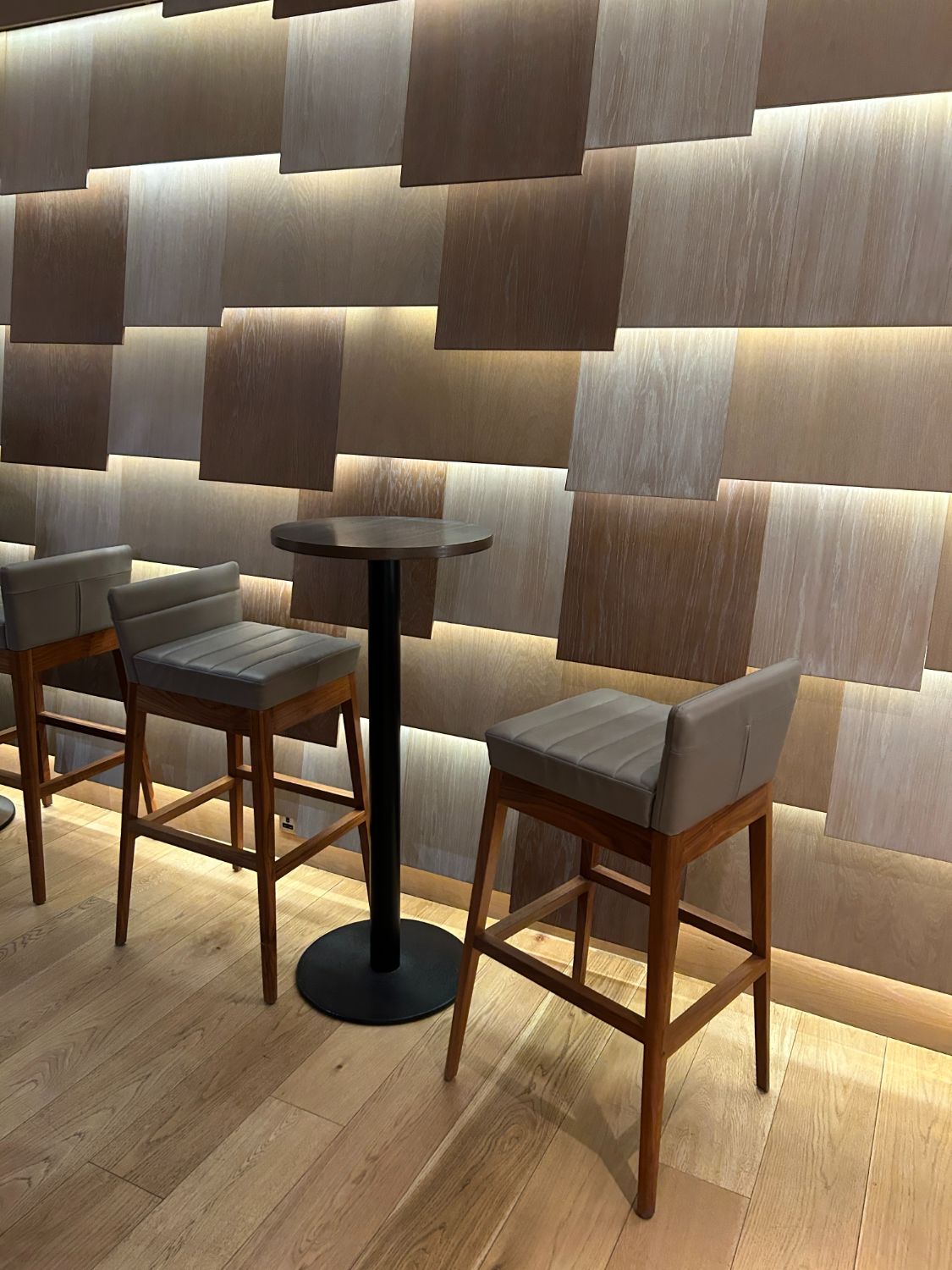 I thought the lighting on the wooden wall panels was very effective, with a look of modern elegance.
There are no showers in the lounge, and the toilets are easy to miss. You need to take the stairs by reception as you come in. The toilets were relatively modern and clean.
All in all, I thought it was a good lounge, and I liked that they have made a feature of the whisky. So I'd say it is worth allowing time to pop into when flying from Glasgow.
Like our review of British Airways Lounge Glasgow? You can read more lounge reviews here.