If you need to get around Scotland or fancy doing the unique Barra beach landing, you will want to use Loganair. The good news is that you can earn Avios and Tier Points on many of Loganair's routes. So what is it like to fly on Loganair's ATR42?
Introduction
Given Scotland's unique geography, there are a significant number of routes to small airports in the Highlands and Islands. Most of these routes are predominantly operated by Loganair, and some of these are public service order routes which are subsidised by the government to ensure connectivity. One of these island airports is Kirkwall in Orkney. Loganair operates service to a variety of destinations from Kirkwall, including a one-stop, via Dundee, to London City that started recently and the famous among avgeeks, inter-island service that includes the shortest flight in the world blocked in at 2 minutes.
Loganair's fleet has predominantly consisted of Saab 340s as well as some small propeller types operating to Barra and the Orkney inter-island service (Twin Otters and Islanders, respectively), but after the failure of sister airline BMI Regional inducted Embraer 145s and the since-retired 135s. The jets are too large to use for these island routes, however, and with the imminent retirement of the Saab 340s, replacement ATRs are joining the fleet. Most of the Scottish flights operating out of Edinburgh now use the ATR, with the Saab 340 only making occasional visits.
Booking Loganair ATR-42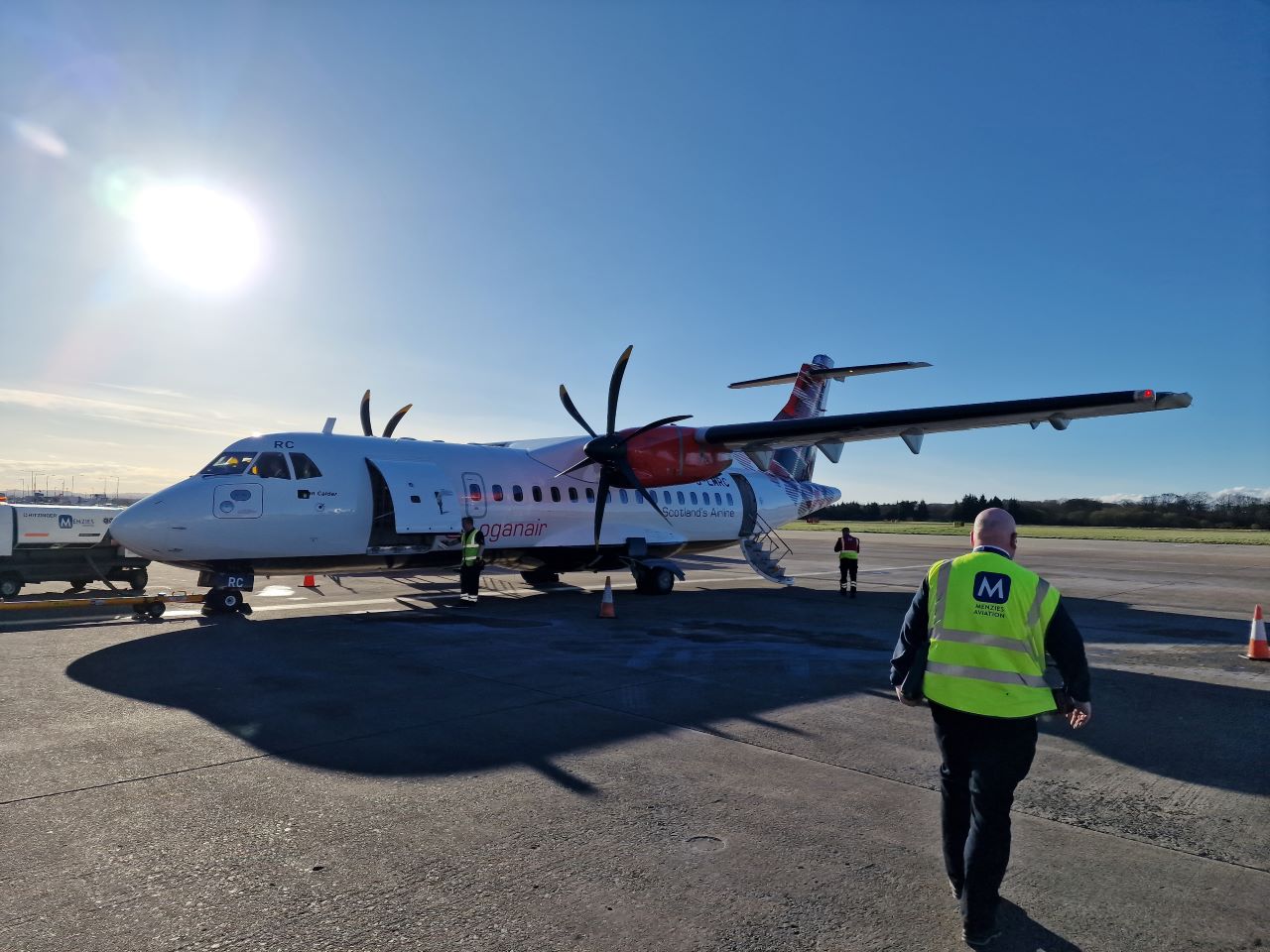 Loganair routinely offers discount codes to be used for booking flights with them. Predominantly they have been 10% though the two most recent codes have been 15% off. The codes are applied after you pick your flight, and the flights don't appear to have been artificially inflated, as I checked the prices again the day after the code ended. My friend and I decided to take advantage of one of these 15% codes and book return flights to Kirkwall, having talked about visiting for a long time.
Loganair only offers economy class seating but does offer three different fare types, Fly, Fly Flex and Fly Flex +. Fly is the most restrictive but does include 15kg hold luggage as standard, as well as two cabin bags and carbon offset. Fly Flex, ups the hold luggage to 23kg, allows changes (with fare difference), standby travel on earlier flights and picks a seat for free. Fly Flex +, increases the luggage further to 30kg, includes fast-track security, appears to allow a third cabin bag and includes rescue fares if you miss your flight, and the ticket is fully flexible. There are no refunds under any of these ticket types.
Most of the fares to the Highlands and Islands tend to be quite expensive, so these discount codes are appreciated. This is the problem with operating small aeroplanes, as the per-passenger costs are high given the fixed costs remain roughly comparable. You still require two pilots, for example, whether carrying 40 passengers or 200.
I will say that Loganair's website does feel a bit dated and is a little clumsy to use but considering the size of the airline, this can be forgiven. Loganair also doesn't specify which type of aircraft will be operating the route though you can make an educated guess if you click through to the seat map as the ATRs are all 2-2 and the Embraers are 1-2. The Saabs are also 1-2 but are smaller and due for retirement soon.
Loganair does also have a loyalty programme called Clan Loganair. It's a very simple programme. The points are not awarded by price or distance. Instead, the points awarded are fixed per fare class per flight. Fly receives 250 points, Fly Flex, 400 and Fly Flex +, 800 points. Flights can be redeemed for flights at a rate of 4000 per flight. Points expire if there is no activity in 12 months and further all points expire after 36 months from earning. Loganair helpfully "recommends using your points rather than letting them expire" though you can only find these expiry dates in the Terms and Conditions and not the FAQs. Unless you regularly fly Loganair, the points are not that useful. My previous set expired due to 12 months with no activity, the expiry date being annoyingly close to these flights taking place, but never mind.
Outbound Ground Experience/Departure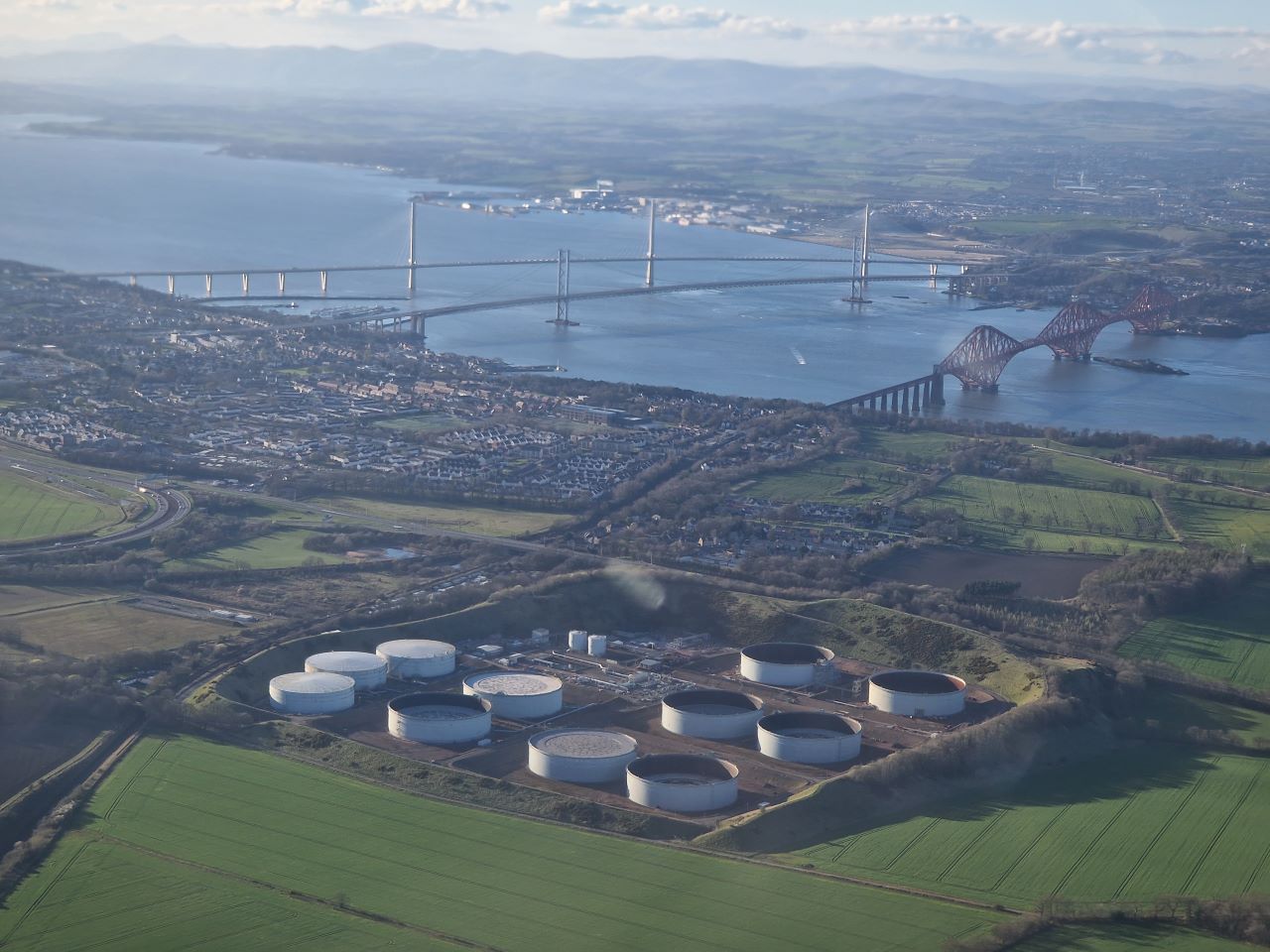 With the Fly fare bracket, you cannot pick your seats for free, even during online check-in. I have found that going to the check-in desk can allow you to change your seat, though, so we left check-in until we arrived at the airport. The agent was very quick and confirmed we were both in Row 12 at the back. Onwards to security, we were swiftly through even though Loganair does not offer fast track, except with the Fly Flex +. You can buy Loganair tickets through British Airways, and if you have status, the flight will have a BA number, so you can use fast-track security. This tends to be more expensive than Fly fares, so compare fares before doing so, but can be cheaper than the Fly Flex + offering. It should be noted that the security personnel may tell you that you can only use your status when flying BA, but if you have a BA flight number, you can use fast-track, politely pointing this out works. Interestingly, you can only use the lounge this way if you are a Gold Card holder, not Silver. The agent initially declined Guest List as not Gold, too, which was an interesting conversation to have. For this trip, though, as we had booked directly with Loganair to use the discount code, no fast track or lounge for us.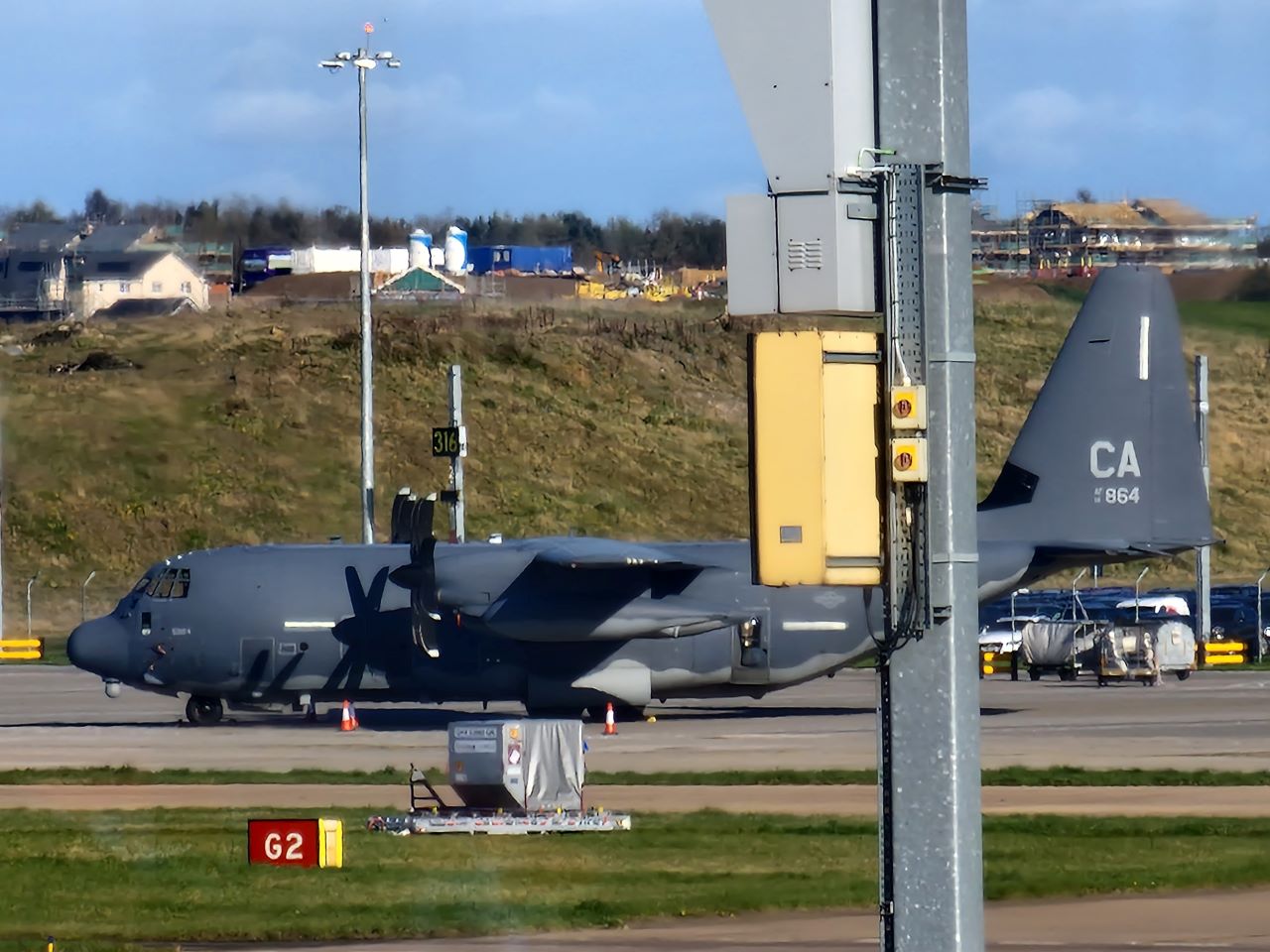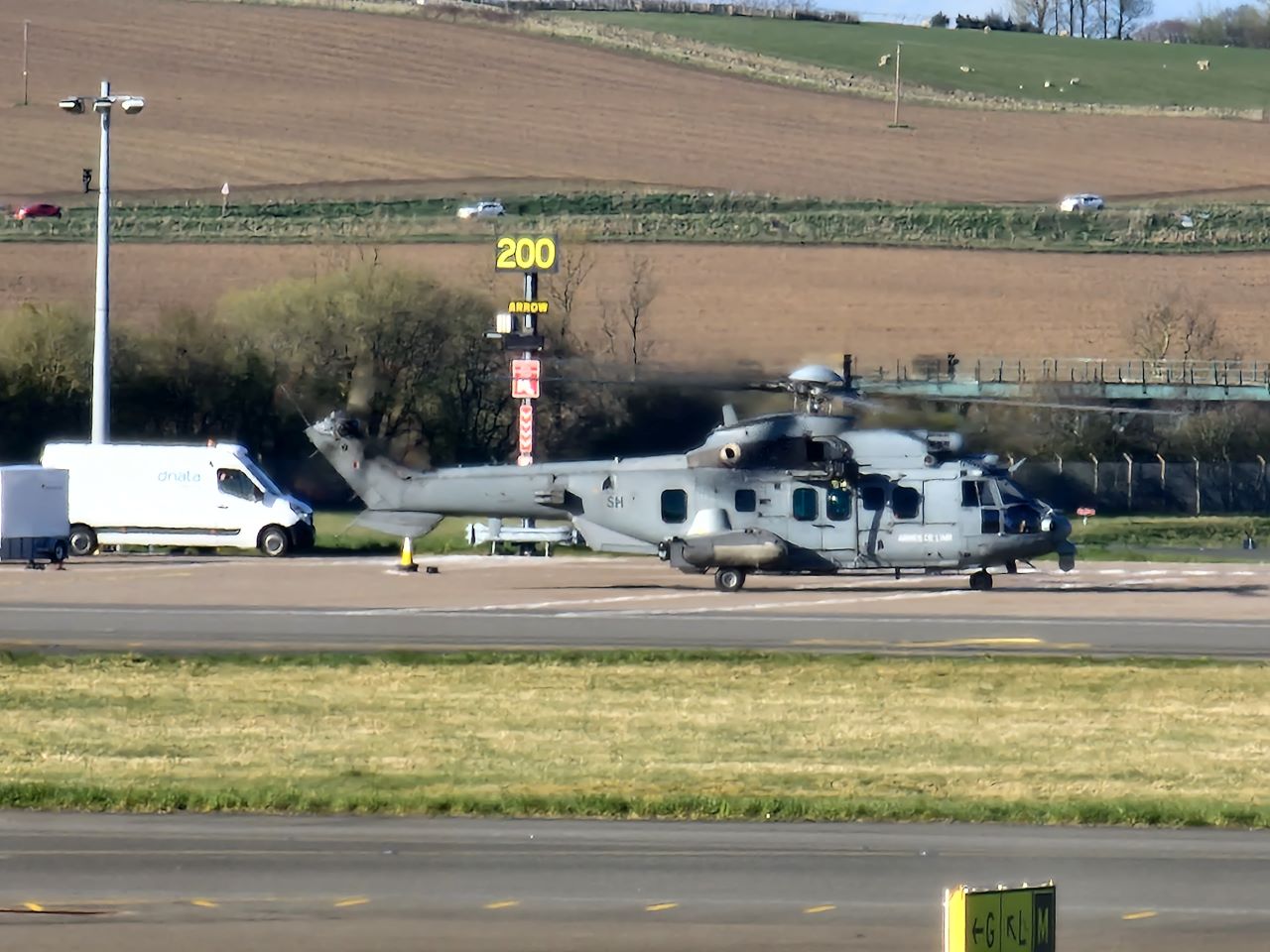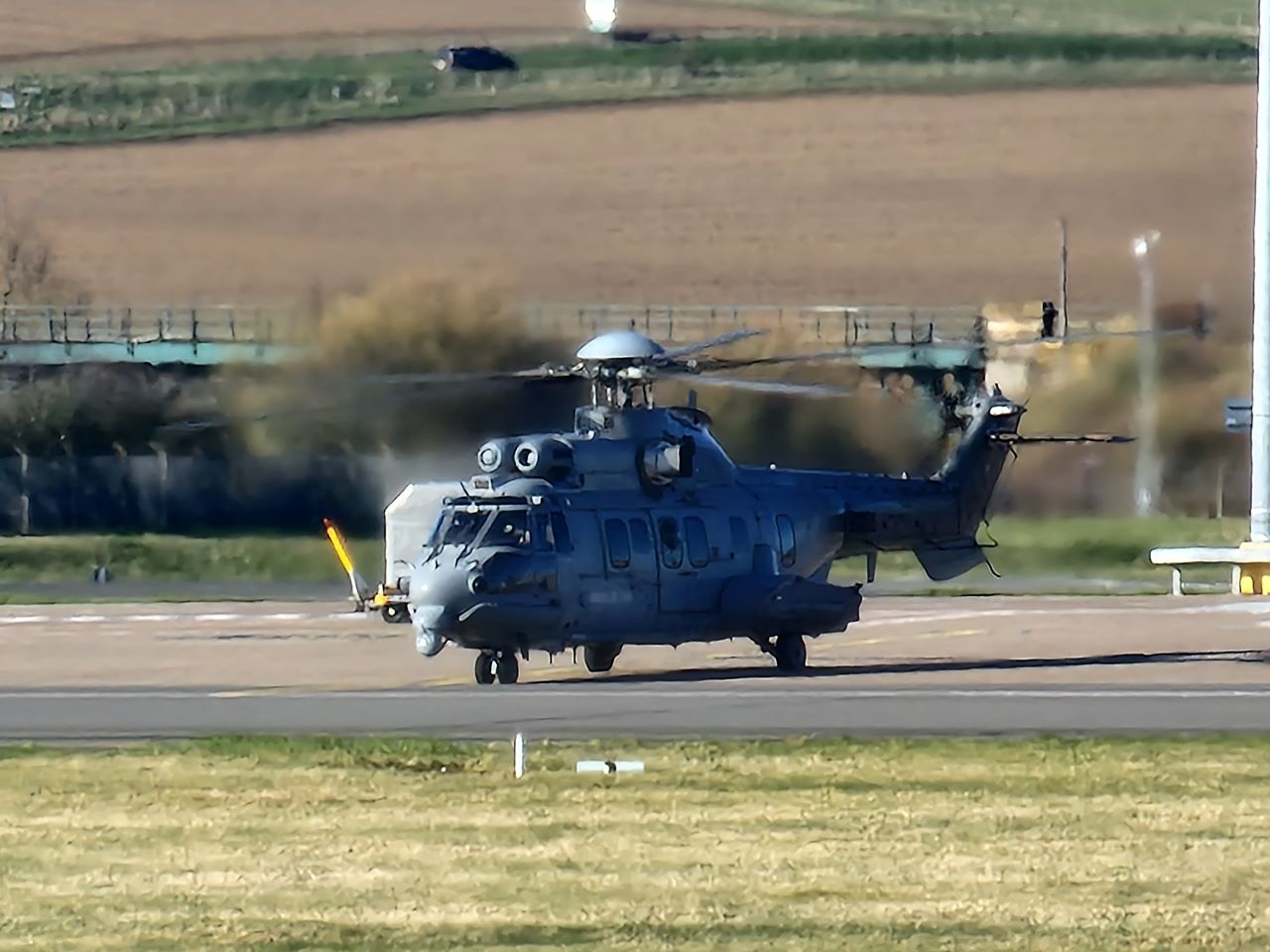 Interestingly, Edinburgh Airport had several military aircraft there that day, including two Pilatus PC-12s, a USAF Hercules and a French Air Force H225.
Loganair predominantly uses the gates at the corner of the terminal near the BA lounge. Initially, we went to the wrong gate due to an error reading the departure boards. Oops. Interestingly, Gate 5, where we went, had people waiting and staff in attendance, but none of the tv screens showed the destination (it turned out to be Exeter), and half of the departure boards in the airport seemed to be broken, which made it tricky to realise we were at the wrong gate. In the end, we worked it out and headed back to Gate 7.
Boarding was called shortly before departure. Interestingly, there was no one at all hanging around the gate in advance of boarding, and despite heading to the wrong gate, and then heading to the windows to take photos, we were still first on the plane! This makes a nice change from the crowds waiting for BA Shuttle flights that you have to fight through to get to the agents and boarding pass scanners.
Gate 7 at Edinburgh, which our flight used, is peculiar in that there is a staircase that splits in half once the boarding card has been scanned. Passengers tend to fill up both sides, and there are doors at the bottom of both staircases. From my repeated experience at this gate, the ground crew only opened the door at the bottom of the nearest staircase, which does make me question why on earth it was designed this way, as the queues then need to merge again. There is then a short walk out to the plane. With the ATR, you have to walk around the wing and board from the rear.
Loganair ATR-42 Cabin/Seat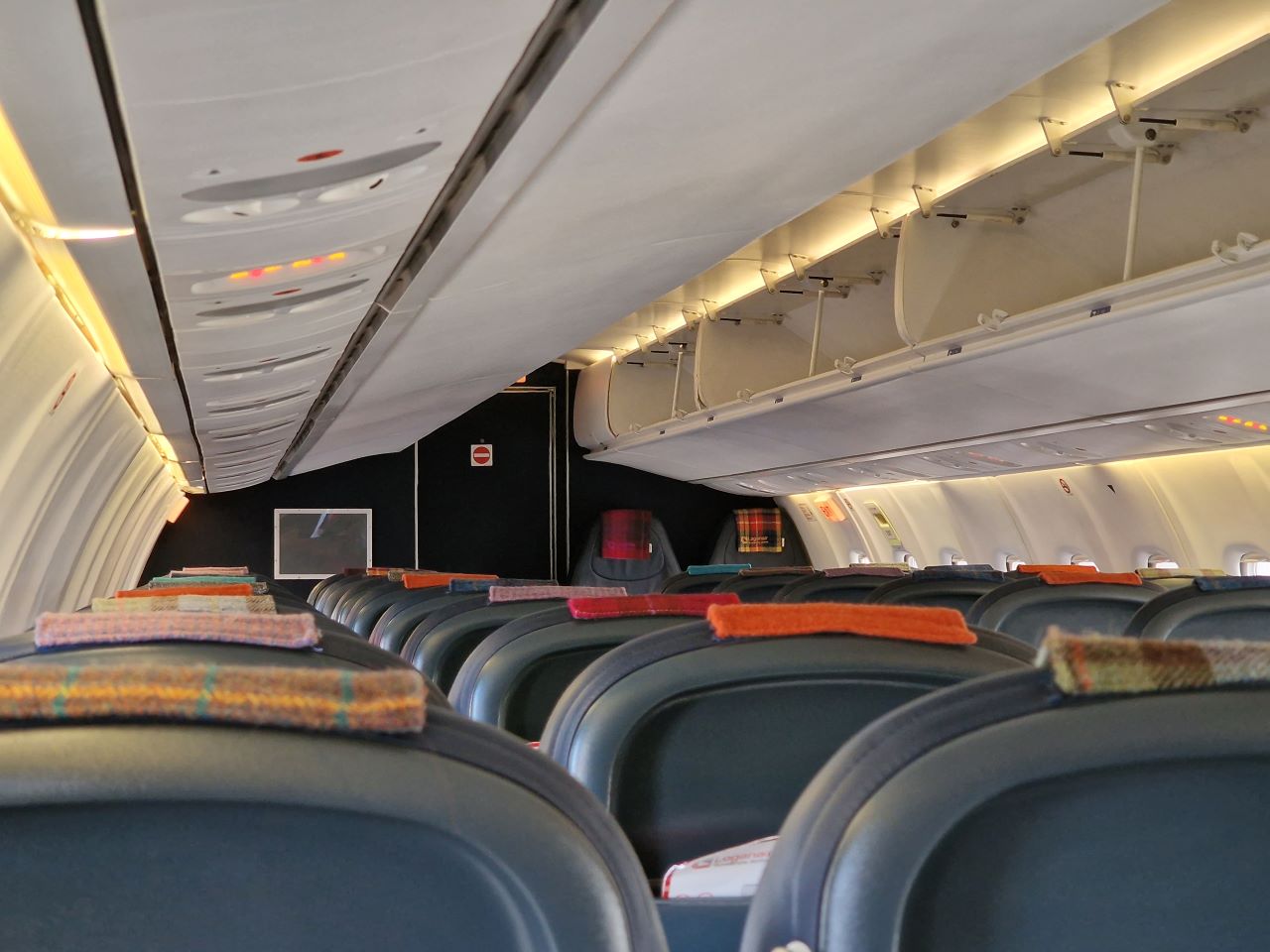 The Loganair ATR-42 cabin consists of 48 seats which are all economy class in a 2-2 configuration. Both rows 1 & 14, there is no 13, only have two seats. The seat pitch is a generous 30 inches, and it feels relatively spacious, particularly for a small turboprop.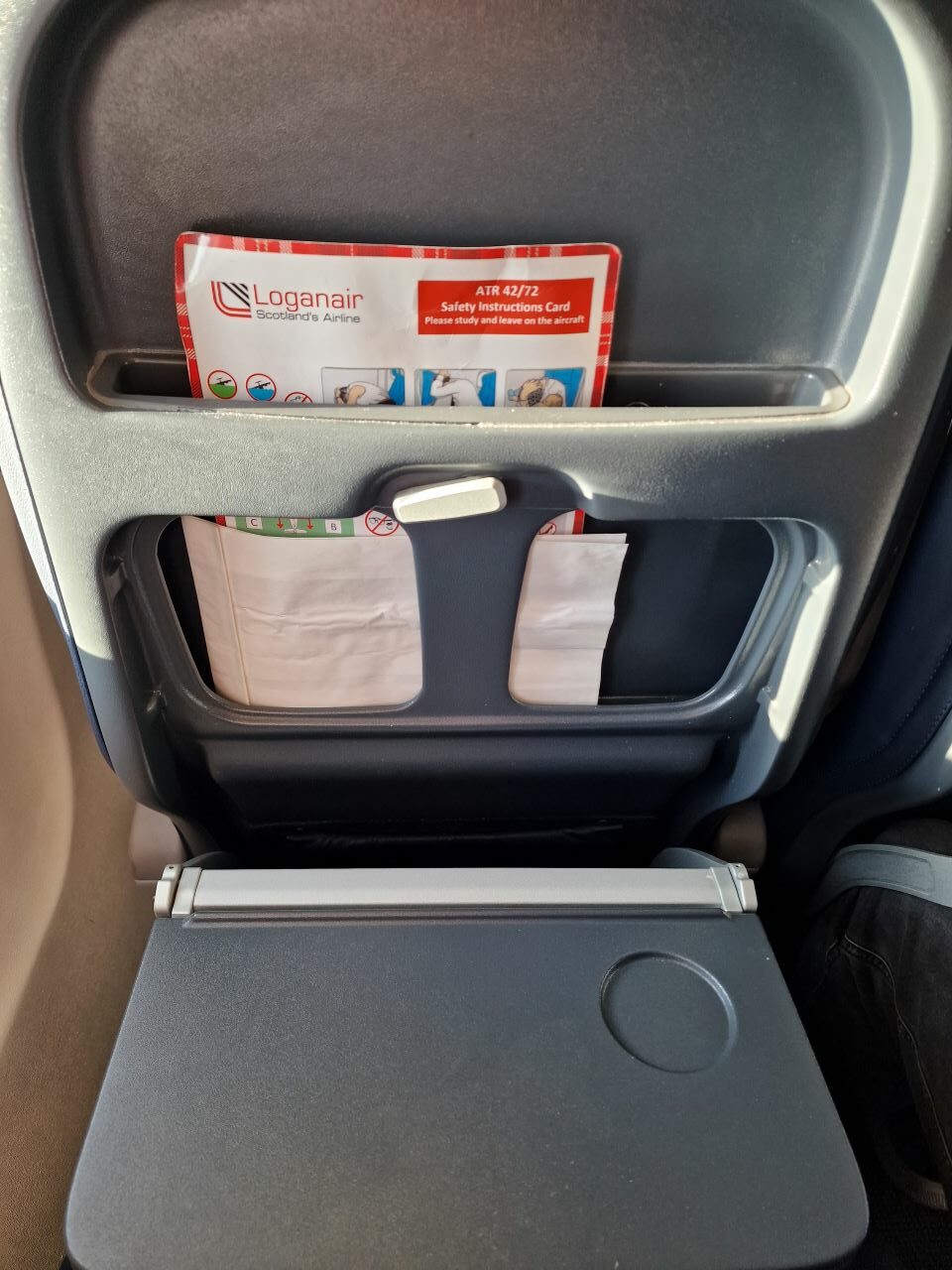 Each Loganair ATR-42 seat now has a tartan headrest leaning into Loganair's Scottish roots, with almost every seat having a different tartan. Interestingly, the two seats in row 1 face backwards, meaning those in row 1 C&D and row 2 C&D end up facing each other. For a family or group of four, this could be quite a nice experience, but for strangers could be a bit off-putting. 1 C&D are also slightly elevated as well so you can look over the cabin.
The plane only has a single cabin crew member as it carries less than fifty passengers, and they sit at the rear of the cabin during departure and arrival by the aircraft doors. This does mean that the best seats for quick egress at the other end are at the rear of the plane, not the front as one traditionally expects. This is due to the ATR having the cargo hold between the flight deck and the cabin at the front. There is also a lavatory at the rear of the cabin.
Loganair ATR-42 Snack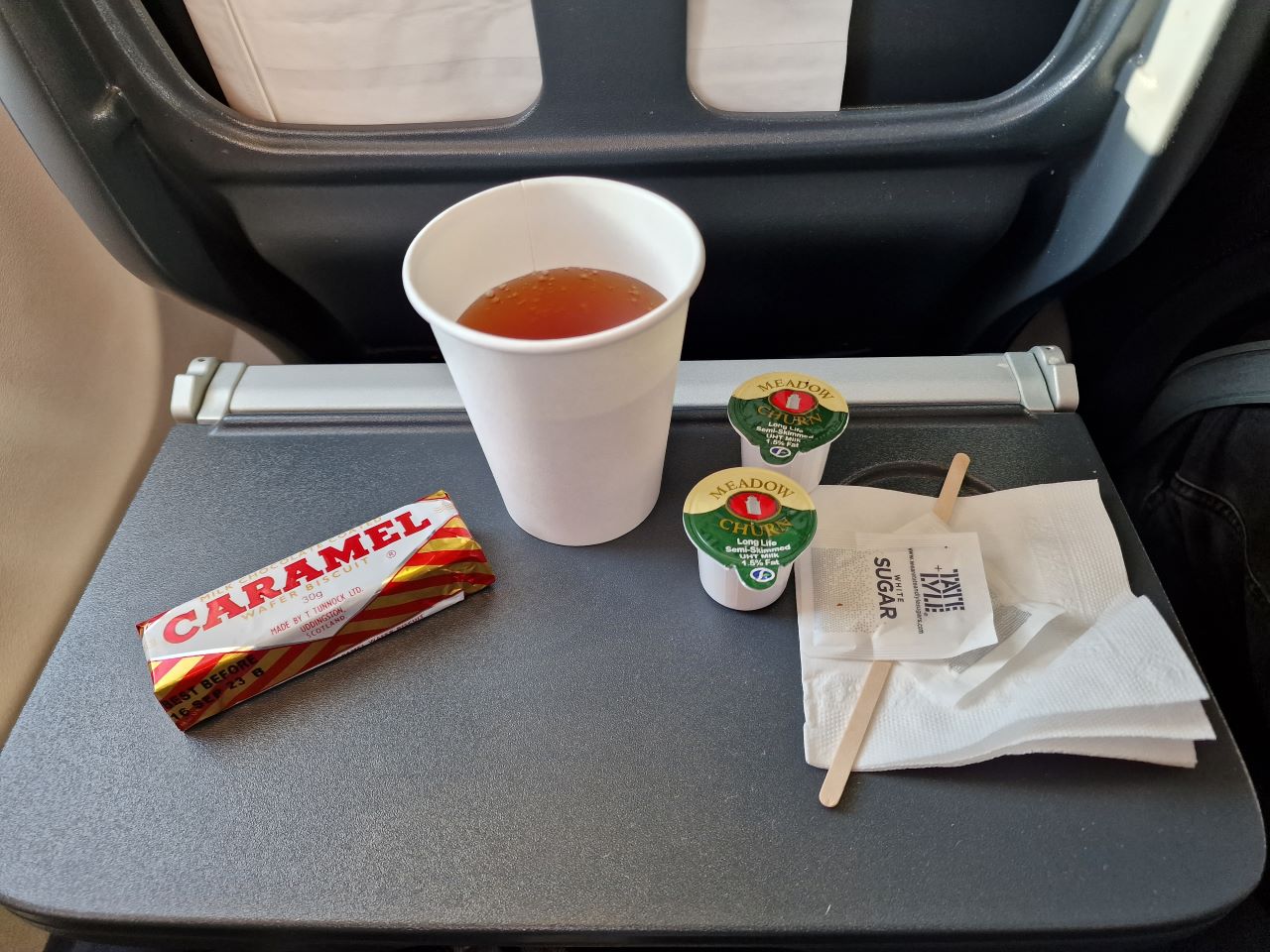 Loganair ATR-42 still offers complimentary drinks and snacks onboard with choices between tea, coffee and water. As well as this, Loganair offers two snacks, shortbread or caramel wafers. On both flights, I chose to have tea with caramel wafers. It's really nice to see Loganair's service come back and that they still offer complimentary food and drinks, and particularly that the caramel wafers still remain. The last time I flew Loganair in 2021, there was no service at all, so the resumption is very positive.
Inflight Entertainment/WiFi of Loganair ATR-42
There is no WiFi or IFE on the Loganair ATR-42 fleet, but the short flight times mean it isn't really necessary. The views out the windows flying into the Highlands and Islands make up for this, in my view.
Outbound Arrival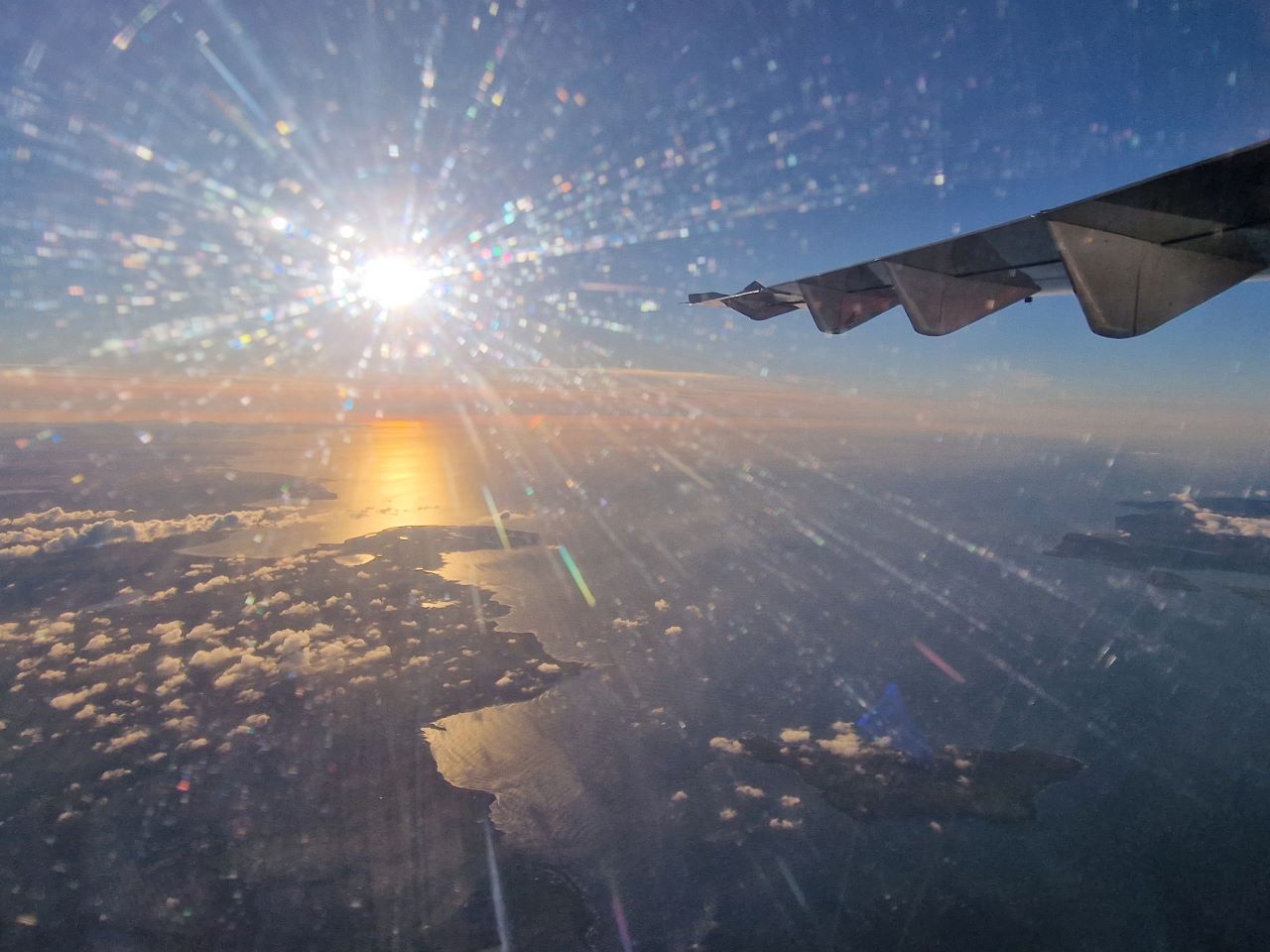 Descent into Orkney involves flying over many of the islands in the area before turning inbound towards Kirkwall. Kirkwall actually has three runways, though one is much shorter than the others. After landing, the plane backtracked along the runway before parking in front of the terminal, next to a Loganair Saab.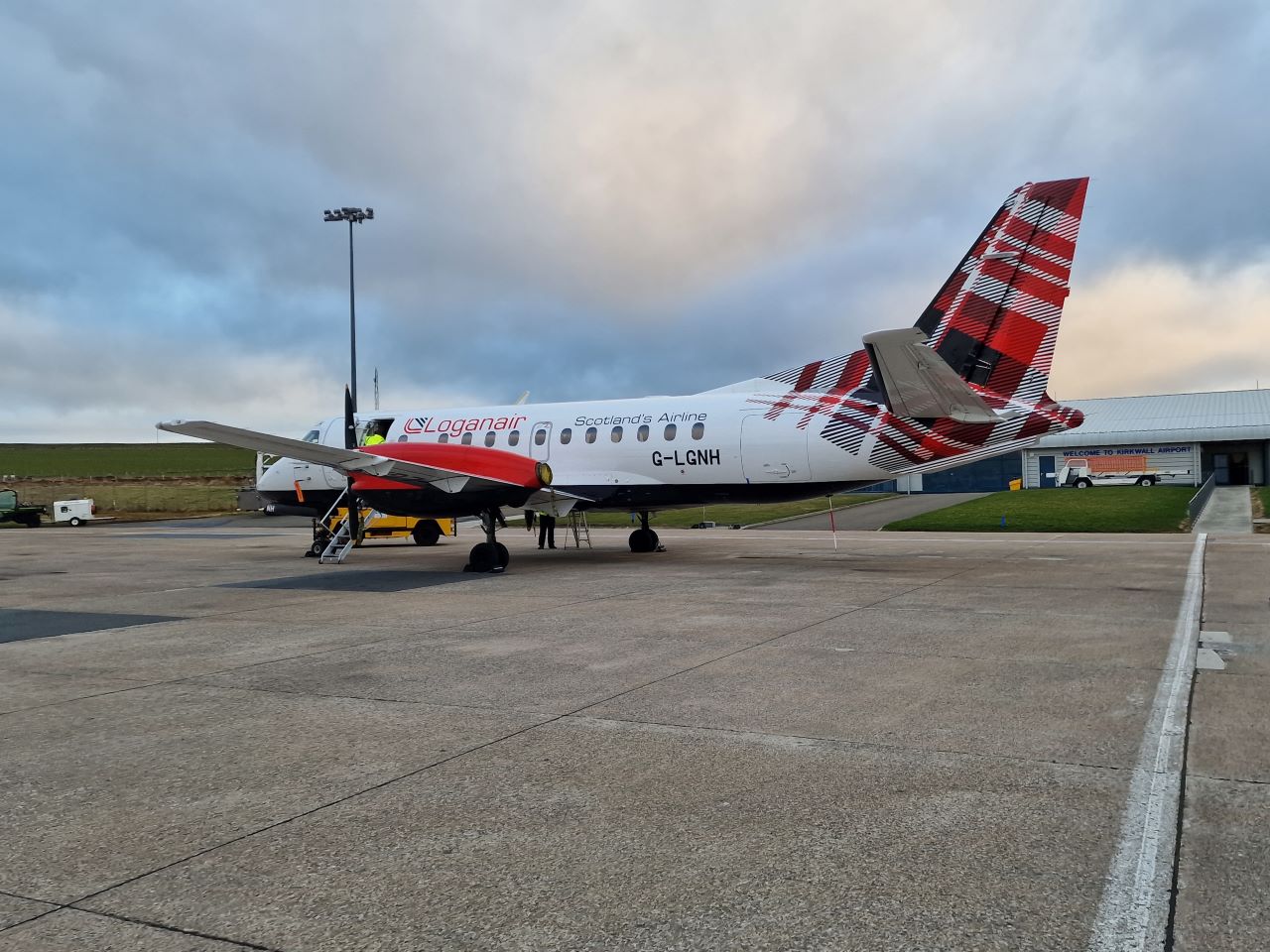 The apron is completely open with no jet bridges or the like, meaning it can be very windy on the short walk into the terminal. Bags are loaded onto the back of a large pick-up-like truck and driven to the terminal to be loaded onto the baggage belt. This belt is in the main room of the terminal.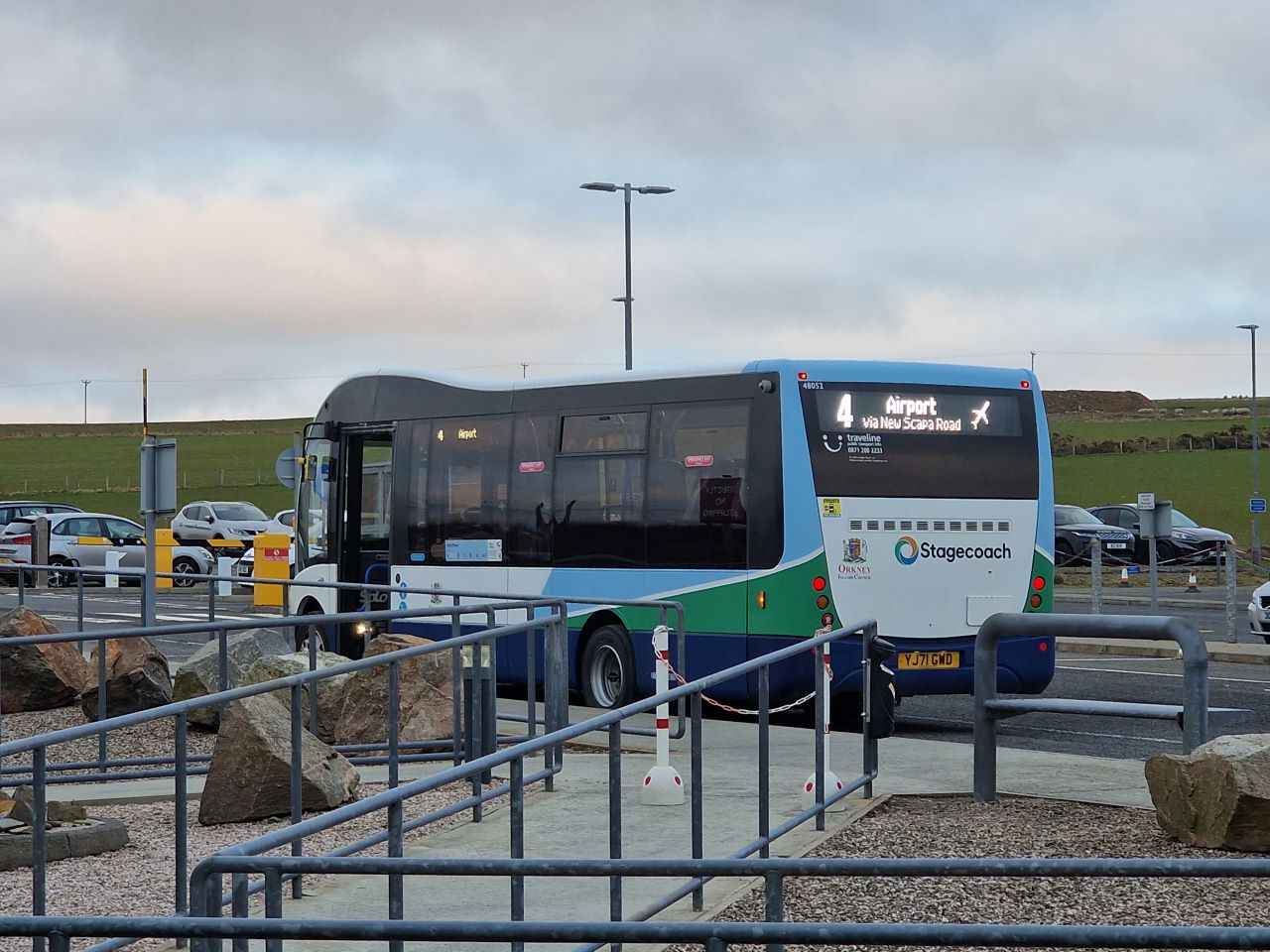 Outside is a bus stop where a shuttle bus runs into town. The schedule of this bus means the last bus will depart 10 minutes after the arrival of the last plane, with up to a 20-minute delay if the flight is delayed. There is a taxi rank, but given the limited number of taxis on the island, it's more likely you will need to phone for one if you want to use one.
There is nominally a rental car facility at the airport which includes Avis, but due to it being an island reserving on the website merely sends a request to the office, and they will let you know later if they have a car. This is the second time I have encountered this, the other time being the Isle of Man and both reservation requests were denied for lack of vehicles.
Return Ground Experience/Departure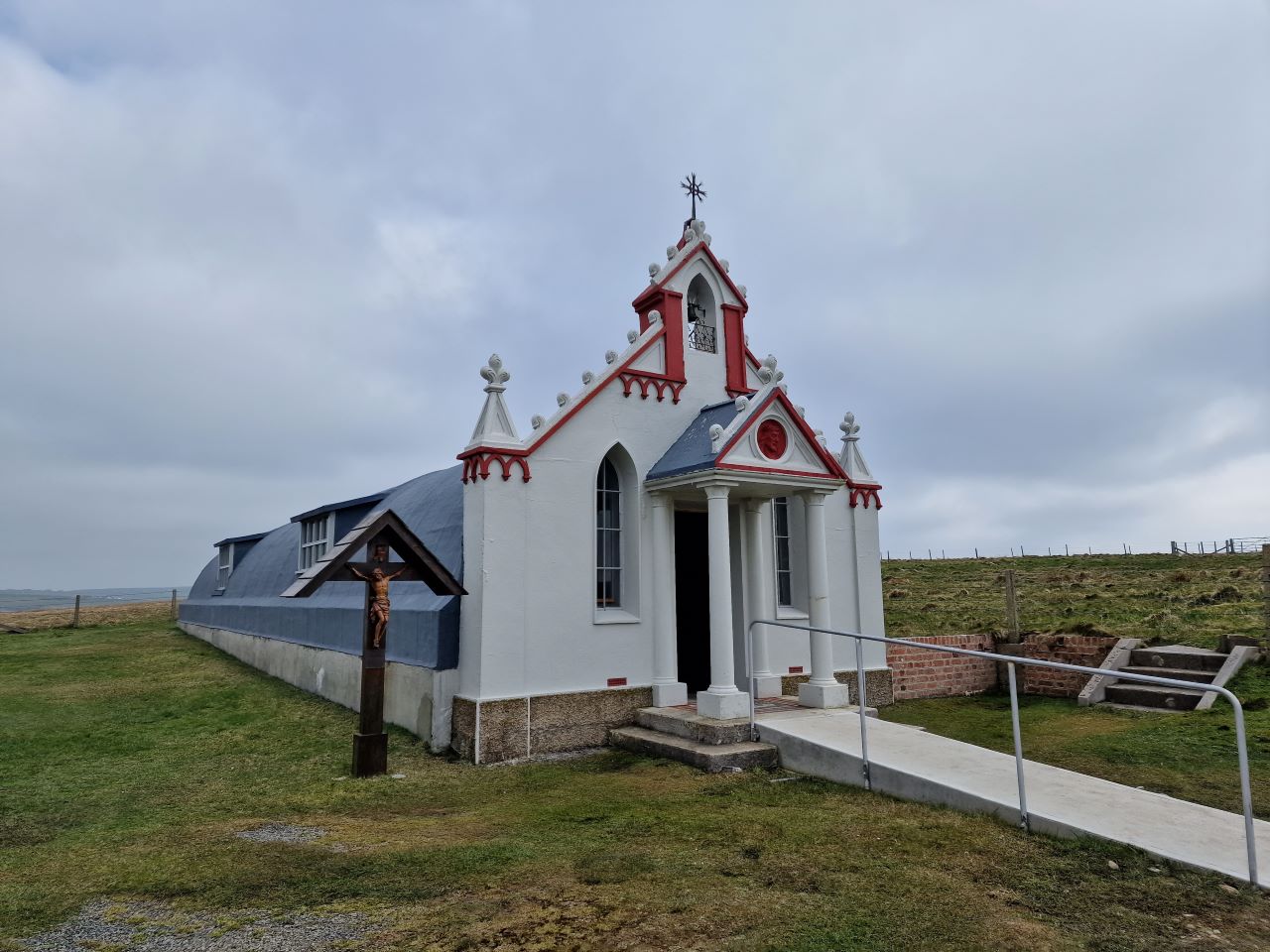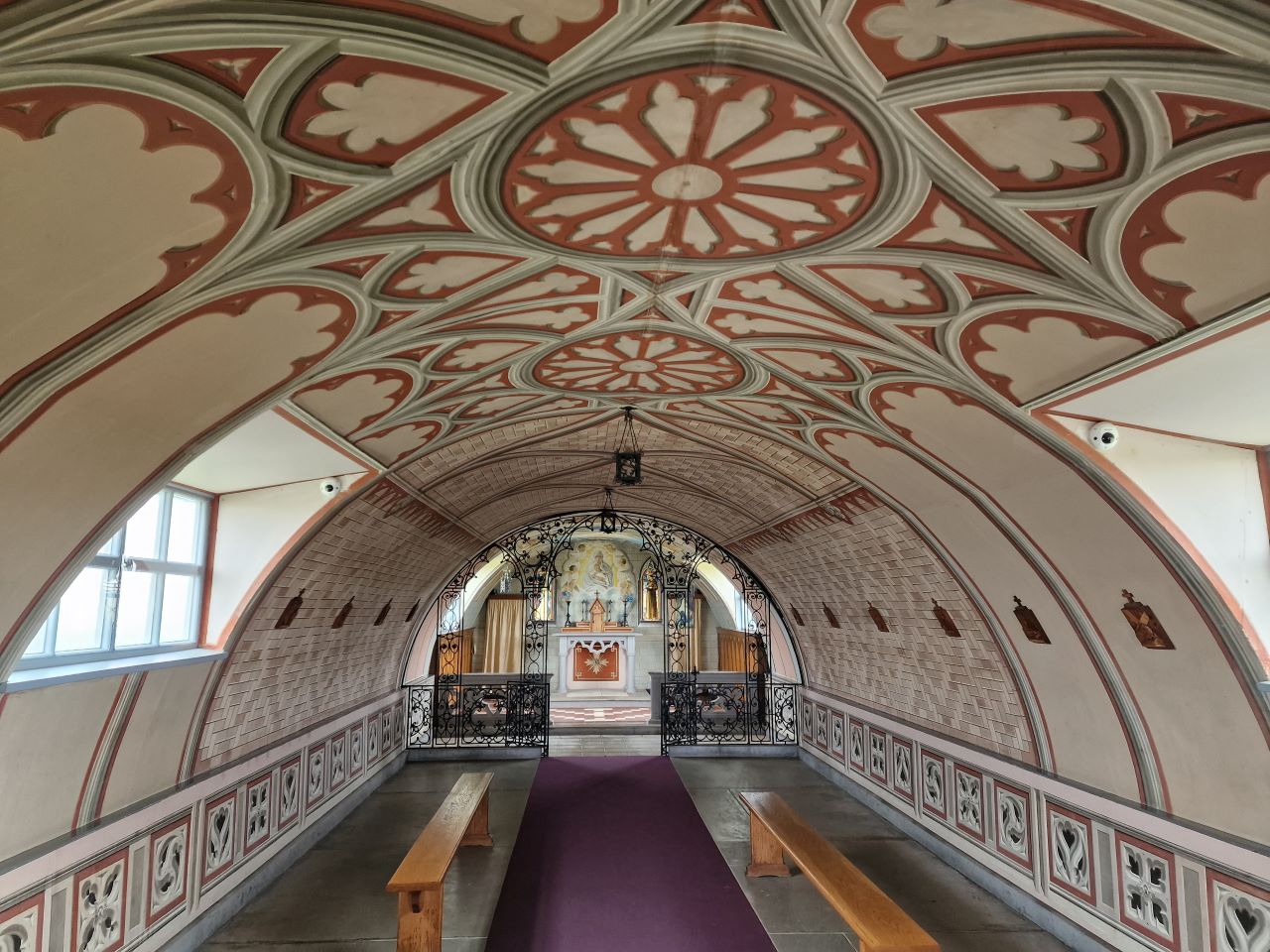 Rather annoyingly, almost everything there is to do in Orkney is shut on a Sunday, and with a 10 am check out time and a 4 pm flight, there was a bit of time to waste. We ended up having a leisurely brunch and a walk before heading to the airport via the Italian Chapel. Neither of the taxis at the taxi rank would take us there as we would then be stuck there (neglecting that we could have phoned for another taxi later) and both insisted on it being a tour so we paid for an hour's worth of taxi time and ended up at the airport about three hours early for our flight…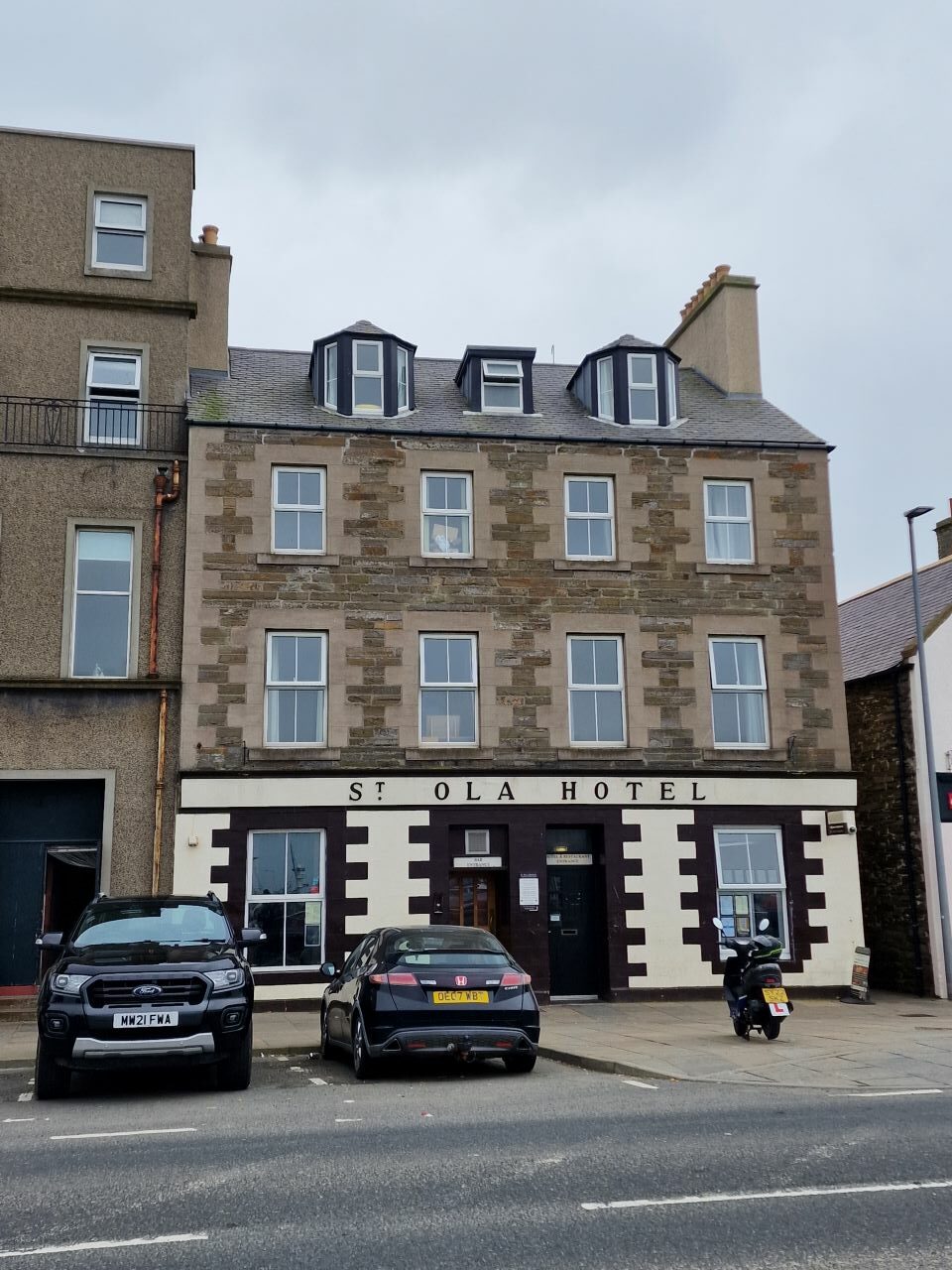 Most of Kirkwall's terminal is landside with a shop and café as well as a decent amount of seating. Typically, being a Sunday, both the shop and the café were shut, but there were a couple of vending machines. When we arrived, there were no planes on the apron, but I noted that the departure board showed a total of four flights in the afternoon, all within 30 minutes of each other. One was an interisland service to North Ronaldsay, which departed from Gate 3, which does not require you to go through security. The other three flights departed from the Gate beyond security. Given there was only one door past security, I am not 100% sure what happened to Gate 2.
Check-in desks are only open 90 minutes before your flight unless you are on the first flight of the day, in which case it is 60 minutes to avoid the staff having to wake up quite as early. The interisland flights check in at a different desk, and they close 20 minutes before departure, though they did let a man on who turned up fifteen minutes before his flight with a warning.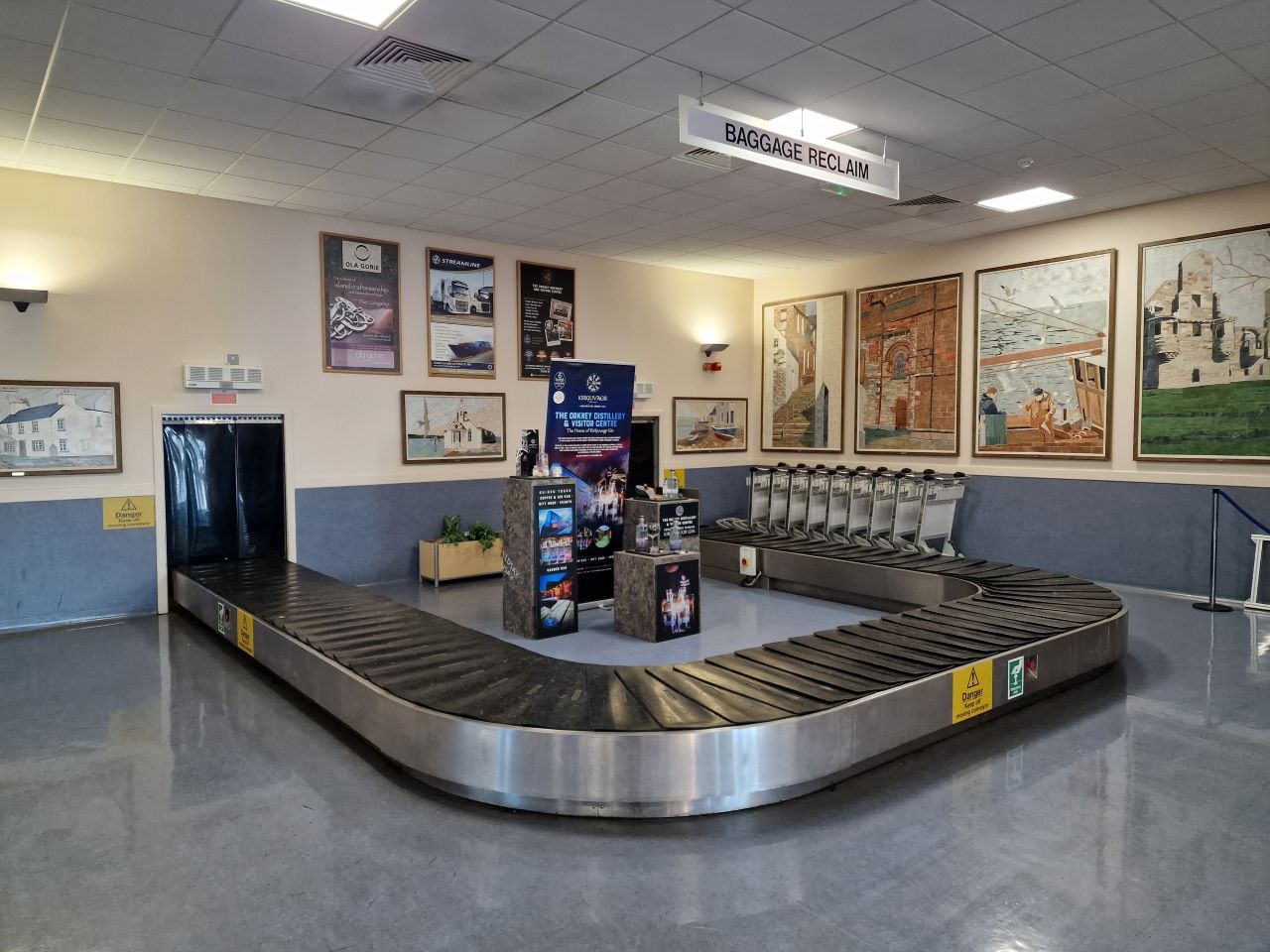 Nearly every person who checked a bag seemed to be called over to the Baggage Reconciliation door at various points. Someone mentioned this was a security check on the bags.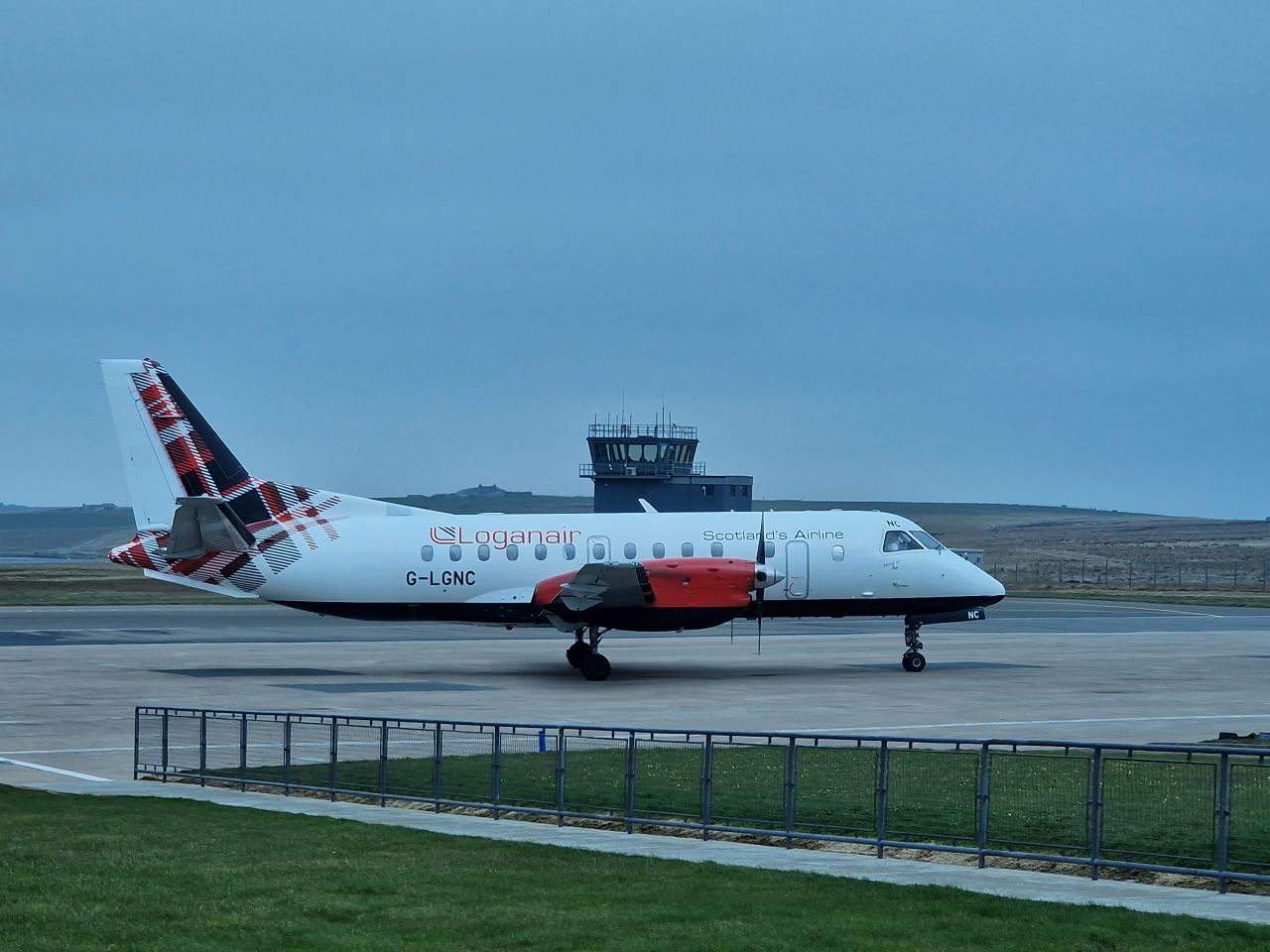 Incredibly, having been completely empty earlier, the apron filled up with four different aircraft, two Saabs, an Islander and our ATR-42, the same one that had brought us up from Edinburgh.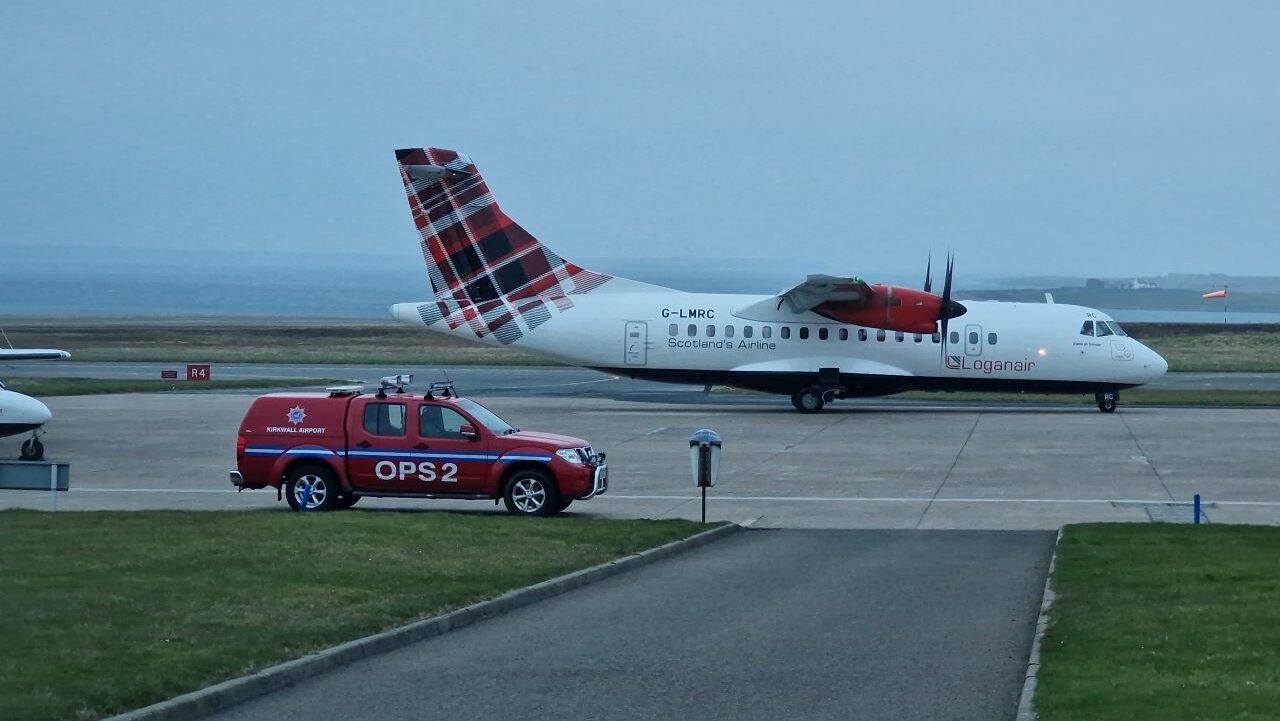 Having explained to my friend the ATR was relatively old when we got on in Edinburgh, it turned out to be the youngest out of the four at 27 compared to two 31-year-old Saabs and an almost 40-year-old Islander! It really was like stepping back in time which was nice for an avgeek like me.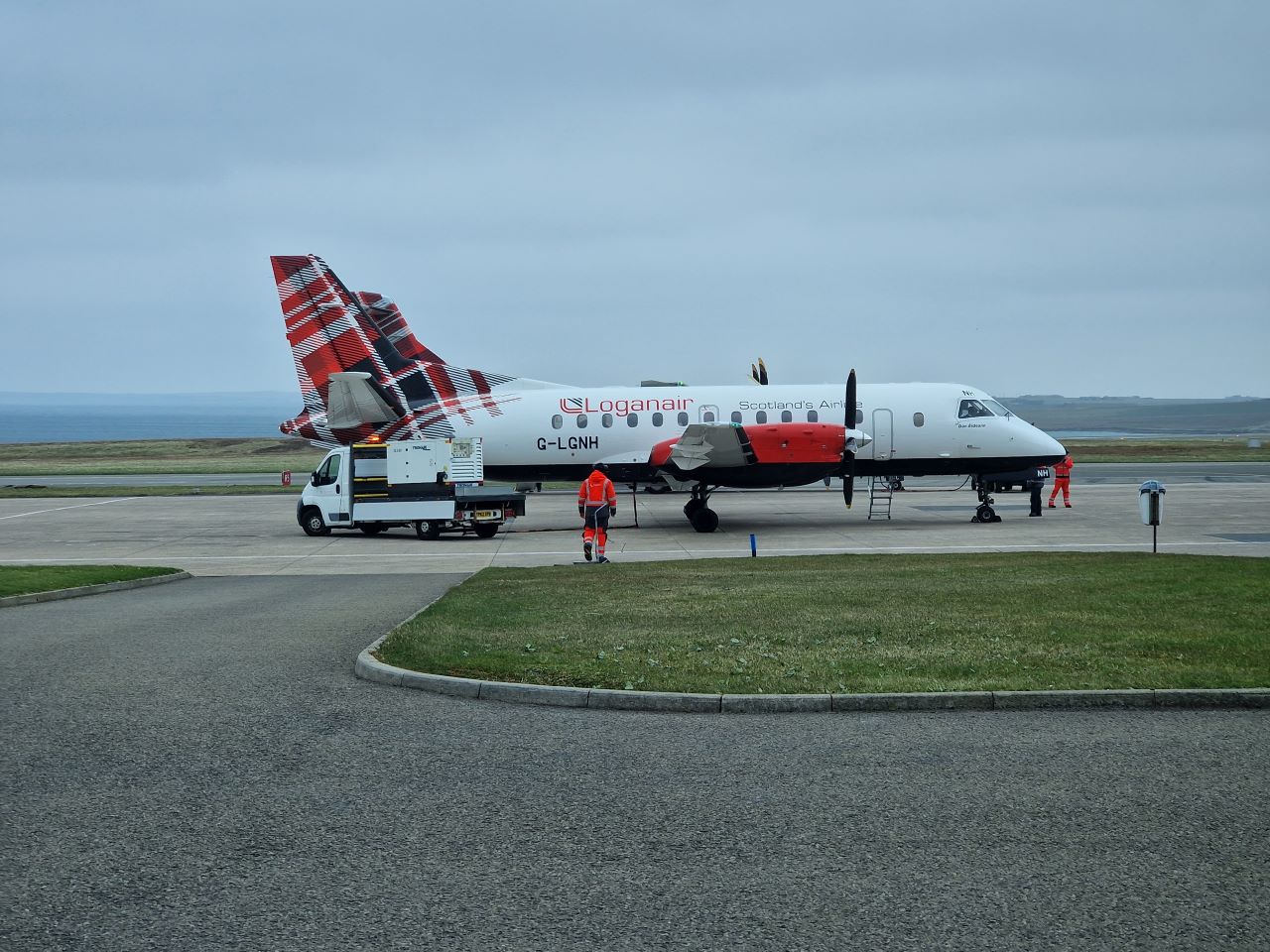 Shortly before departure, each flight is called through security at the Gate. Given the tight timings of all the flights and the fact that the Edinburgh and Aberdeen flights both left at the same time, this led to some organised chaos.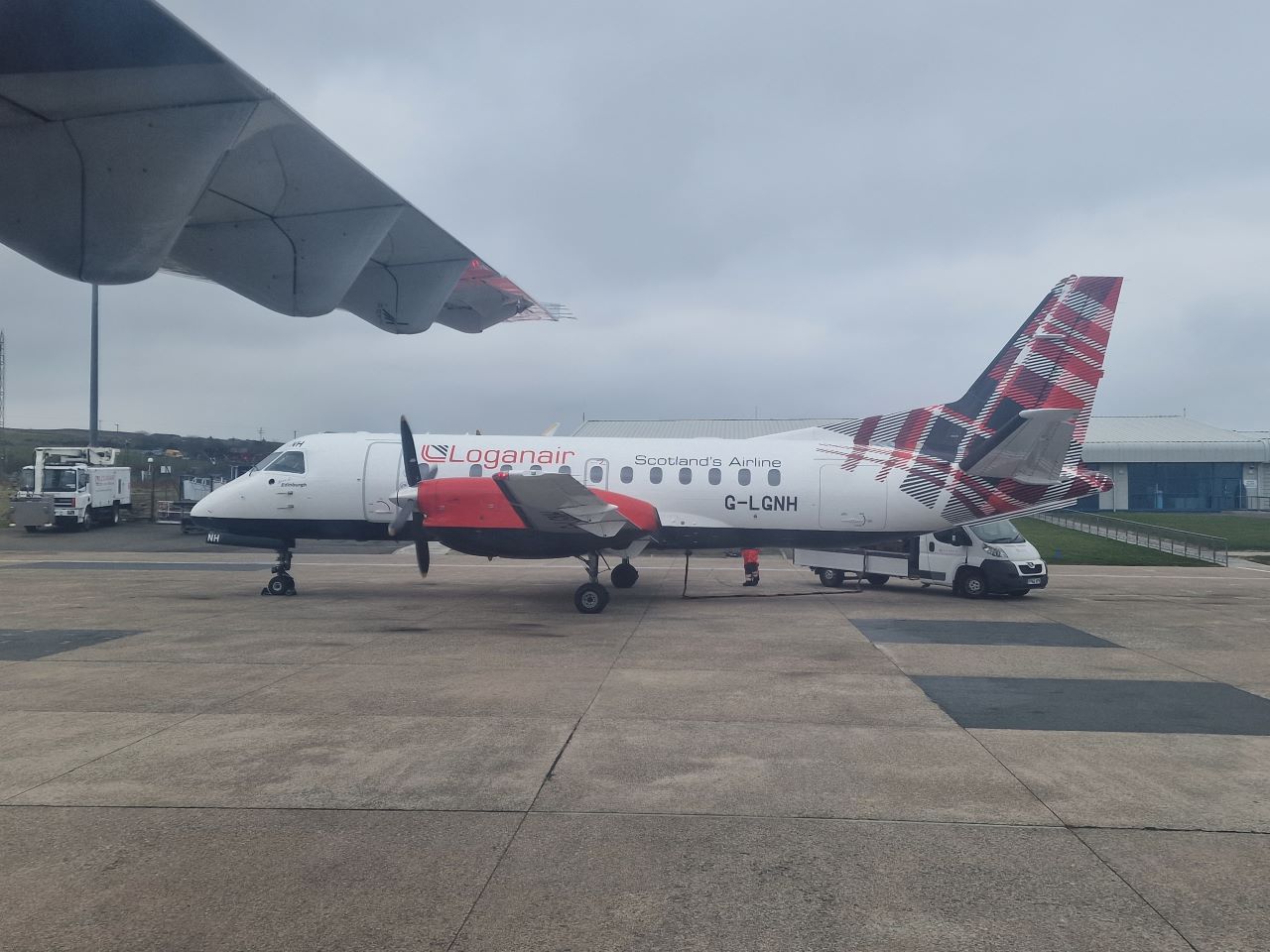 Having joined a surprisingly long queue, any struggling Aberdeen passengers were called forward to skip the line. Security was pragmatic in some senses but seemed to imply you had to keep liquids in their plastic bag for the whole journey. The children behind me tried to bring through too many liquids, but the airport had a unique method for dealing with this and would store them for you until you returned rather than throwing them out.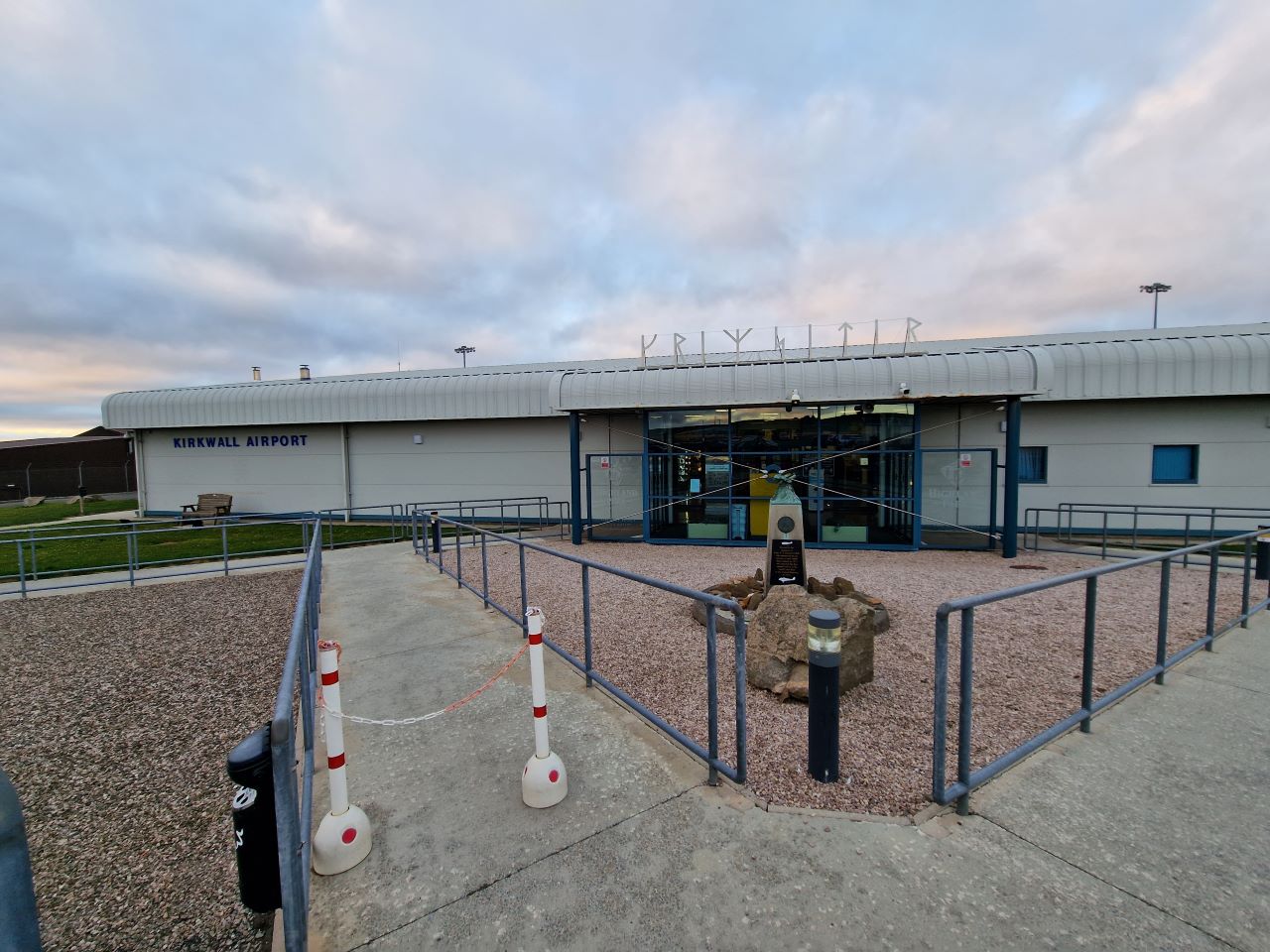 Once we had exited security, we were greeted by a completely empty departure gate. I scanned my boarding card and was told we would need to wait as the Saab to Aberdeen was about to start its engines. Fine by me, as that's the safest thing to do. I'm used to being told to wait when boarding for a variety of reasons, whether a plane is arriving next to your stand at London City, the crew need to walk up or down the aisle, or there are passengers who need extra boarding time. The gentleman, after me and my friend, scanned his boarding card and went to the board but was told to wait. He replied, "Oh, I thought I was late", to which a ground staff member said, "Well, you are because we wanted you out there before the Saab started its engines". It was an interesting thought because a) we had all joined the queue when it was announced that we should, b) it was still more than 15 minutes to departure time for both aircraft, and c) they had rushed the boarding of the Aberdeen aircraft that was nearer the terminal that Edinburgh passengers had to walk past, thereby creating this whole problem.
In the end, the 10 remaining passengers had exited the security checkpoint before the engine started, and we were allowed to walk out before they were started and told to go "as fast as you can" No one on the apron seemed at all concerned as they were still ahead of schedule. Both ground staff seemed slightly annoyed that things hadn't gone completely smoothly, but I would suggest, in the future, boarding the further away plane first and maybe not scheduling an entire day's worth of flights within half an hour of each other if it causes problems. I didn't point out that other airports can handle far more aircraft more efficiently, but there we are. I did also wonder if the plane departing a few minutes late was, in fact, the end of the world that the ground staff seemed to think it might be, given how quiet Orkney is. Just a little bit of unnecessary passive aggression from the ground crew that I refuse to let tar my good experience with Loganair.
In the end, both planes actually departed before their scheduled times.
Return Arrival
Onboard everything was just like the outbound flight, and after a quick flight, we were landing back into Edinburgh. And just like that, back to the hustle and bustle of a big city after a weekend in a very quiet Orkney. The Loganair ATR-42 plane arrived on the same stand that we had departed from, and after climbing the stairs, we were back in the departure hall. After exiting landside, it was onward to the Airlink bus back into the centre of Edinburgh.
Bottom Line
As always, flying with Loganair ATR-42 was a pleasure. It's amazing that a small thing such as offering a caramel wafer (and drinks) can endear you to an airline. It's a good thing that the airline has chosen to provide a high level of service, given that they are really the only option for flying northwards. The airline really has leaned into its Scottish roots with its livery, uniforms, and headrests. I look forward to flying with Loganair again, maybe before this set of Clan Loganair points expires and am already planning how to fly on the two-minute flight from Westray to Papa Westray.
Earning Avios and tier points on Loganair
Loganair and BA codeshare on quite a few routes, so providing you book Loganair as as a BA codeshare on these selected routes through ba.com you can also earn Avios and Tier points as part of British Airways' Executive Club programme.
Routes now available to book include:
Aberdeen to Belfast City, Birmingham, Bristol, Manchester, and Southampton
City of Derry to London and Liverpool
Cornwall Airport Newquay to Manchester
Exeter to Edinburgh, Glasgow and Newcastle
Isle of Man to Birmingham, Edinburgh and Manchester
Inverness to Birmingham
Norwich to Aberdeen and Edinburgh
Teesside to Southampton
Like our Loganair ATR-42 review? You can read more flight reviews here.