There was a big fanfare when BA moved to JFK's T8 to join American Airlines with two new lounges and a new check-in area. I flew through there a couple of times recently and thought it would be worth looking at what all the lounges and check in areas are really like in reality, rather than on the press trip.
Location, Opening hours and entrance restrictions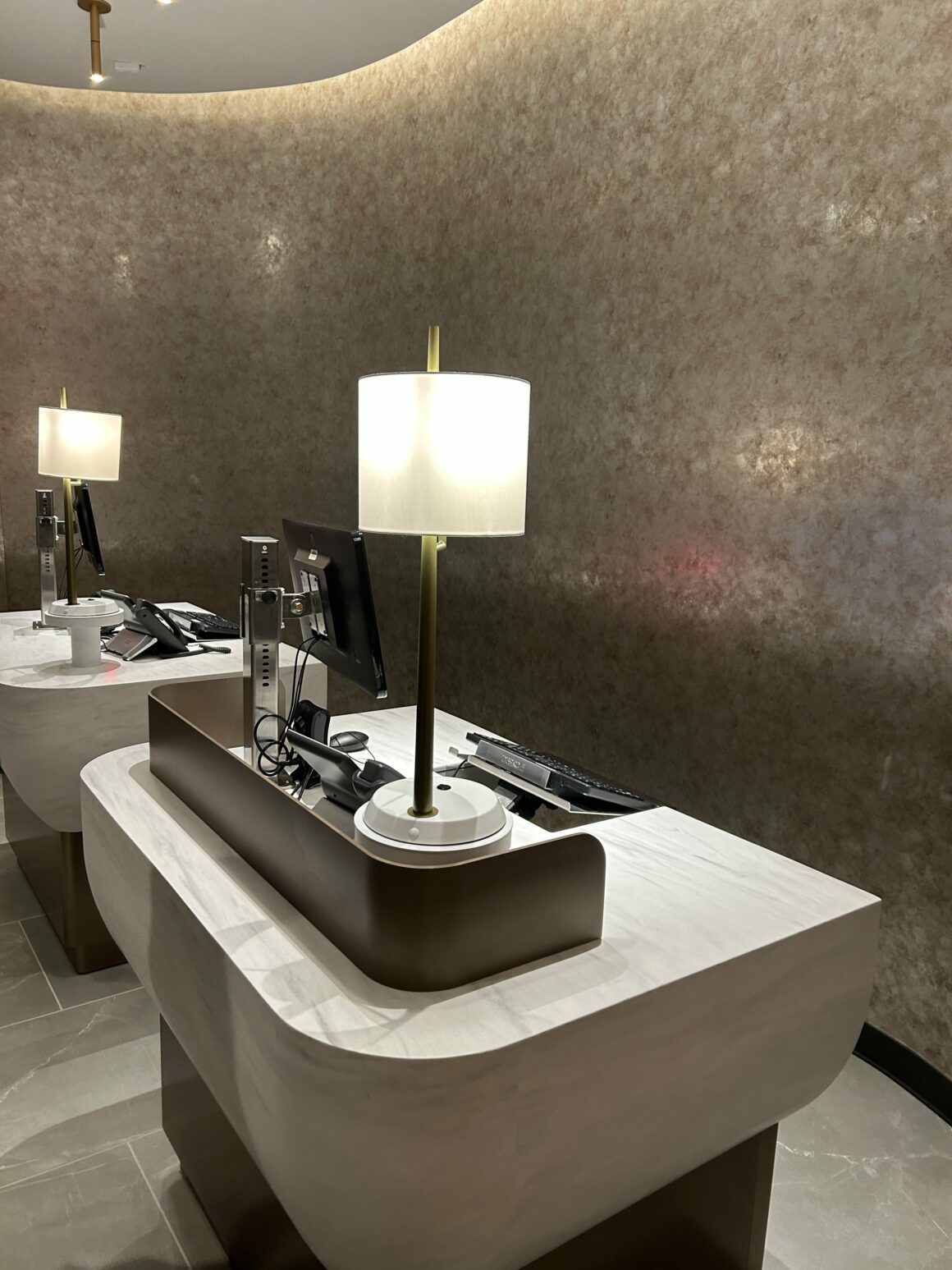 The lounge is very conveniently located close to the gates that BA use and not far from where you come out of security. Just follow round to the side of Bobby Van's restaurant, and you will find the lift to the Soho and Chelsea lounges near gate 16.
American Airlines: Customers who purchase Flagship® Business Plus or travelling in Flagship® First or ConciergeKey® on Flagship® itineraries
British Airways: Customers with access to Concorde Room travelling on a scheduled longhaul or Transcontinental flight with British Airways or American Airlines
First Customers travelling on a scheduled long haul or Transcontinental flight with British Airways or American Airlines
The lounge is open from 04.30 to 00.30
The rules have changed since the lounge originally opened, and now you can't access the lounge as a GGL on a domestic first itinerary unless it is a transcontinental flight. I think this is a little restrictive, and I think that while I appreciate they are managing capacity since the lounge only holds less than 130 people, it is a bit unfair if the lounge is quiet to deny access. They could have a policy that they admit GGL subject to capacity on a domestic flight since if you can't get in, they can simply direct you across the hall to the Soho lounge.
The Lounge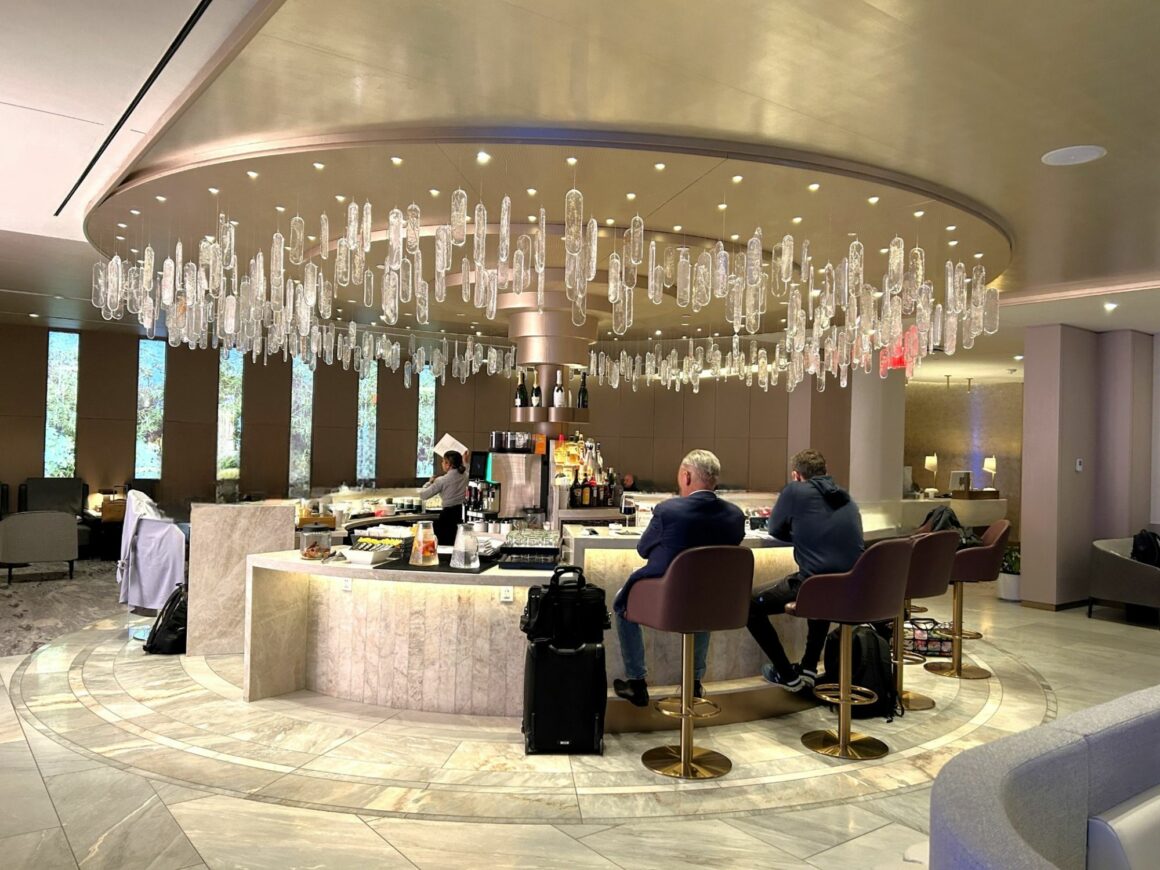 The lounge appears to have divided people, will some calling it dull and lifeless or not liking the fact that it has no natural light. Personally, I really like it as it looks more like a 5-star hotel than an airport lounge. In my opinion, the neutral tones look elegant rather than dull. I particularly like the feature fireplace, which was not there the last time I visited. The bar also provides a glamorous centrepiece for the lounge.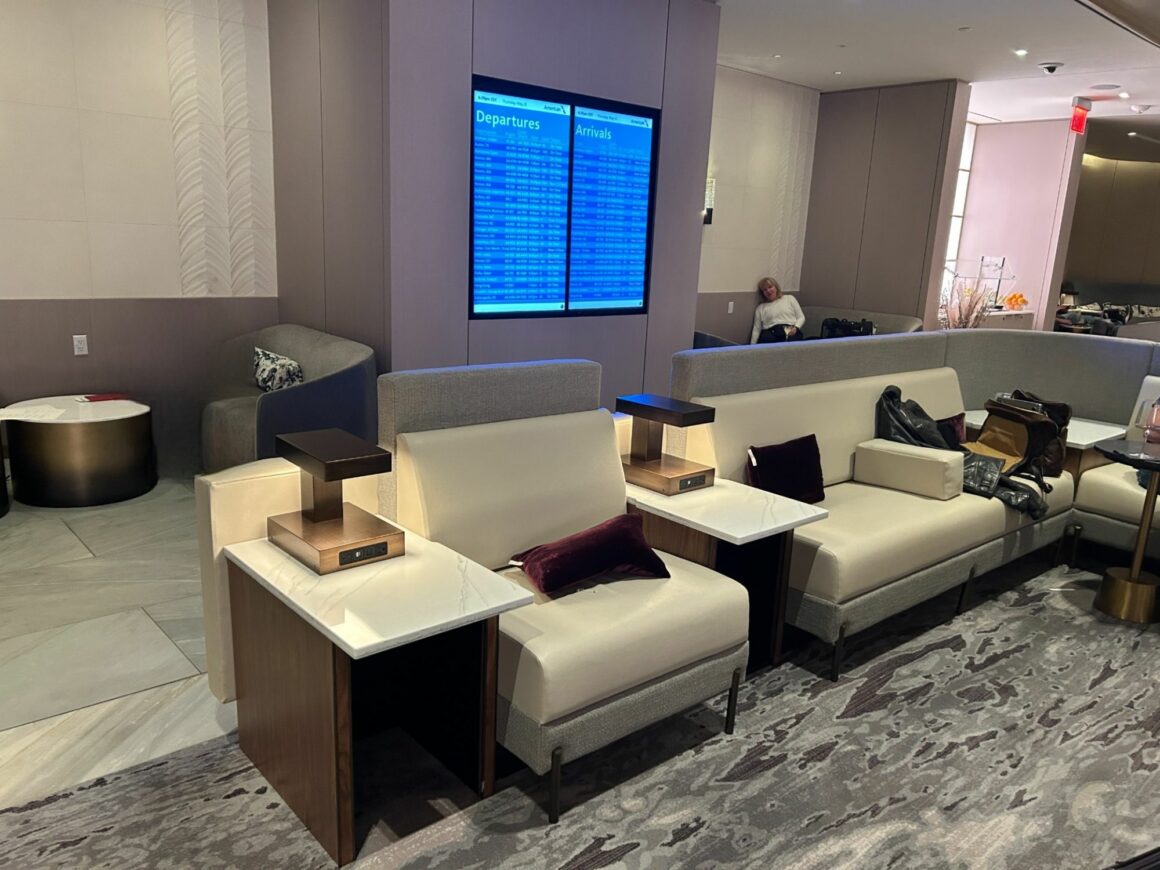 You enter to the right when you get out of the lifts and will find two reception desks and an agent who can help with queries to the right.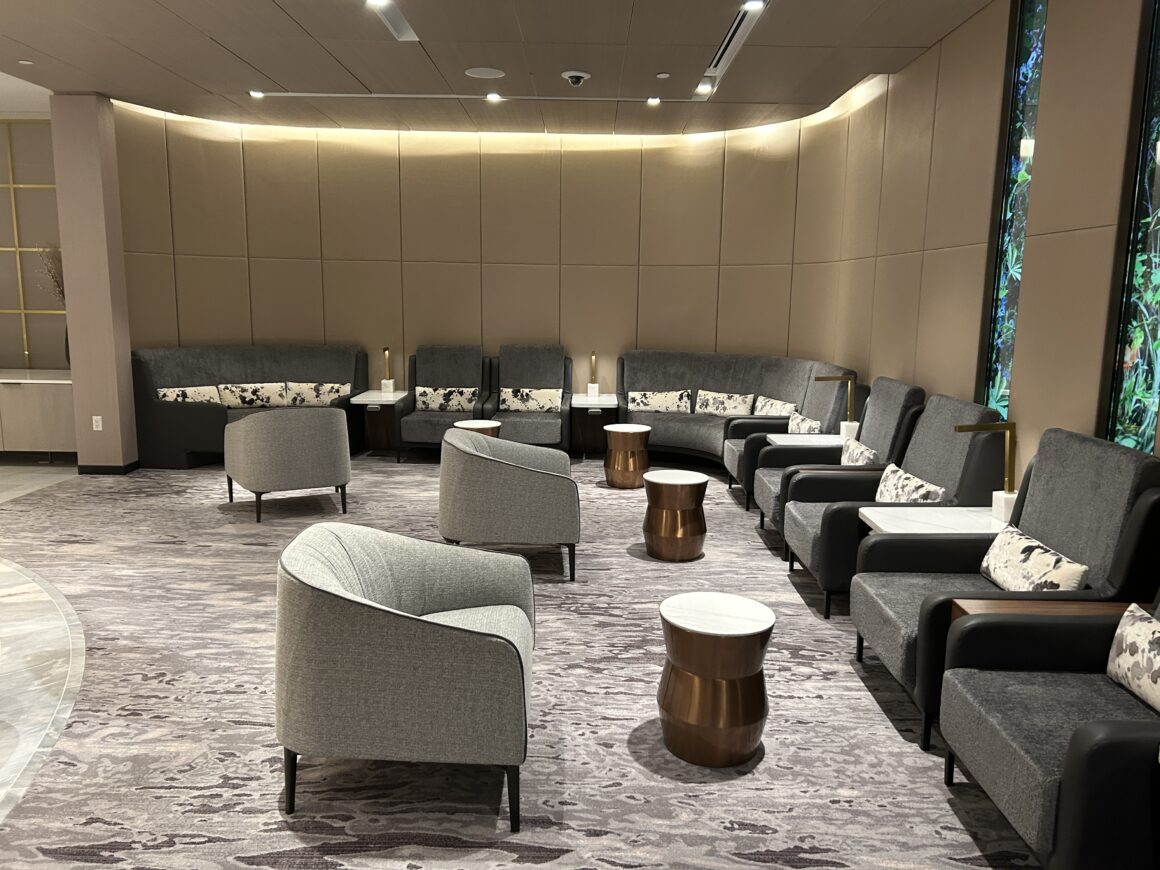 There are plenty of comfortable chairs to sit on, as well as the dining area with proper tables. Unlike the Heathrow Concorde Room, there are plenty of sockets around for charging between most seats.
Food and drink
There is a proper dining area like the Concorde Room, where you are shown to your table, and there is waiter service. Initially, this was very, very slow, and I sat for around 15 minutes before anyone came to even offer a drink (in future, I'll grab one at the bar on the way past!).
Once I did start getting served, the service was pretty good with a friendly and chatty server. Although, there were still some significant gaps in service.
Here is the cocktail list: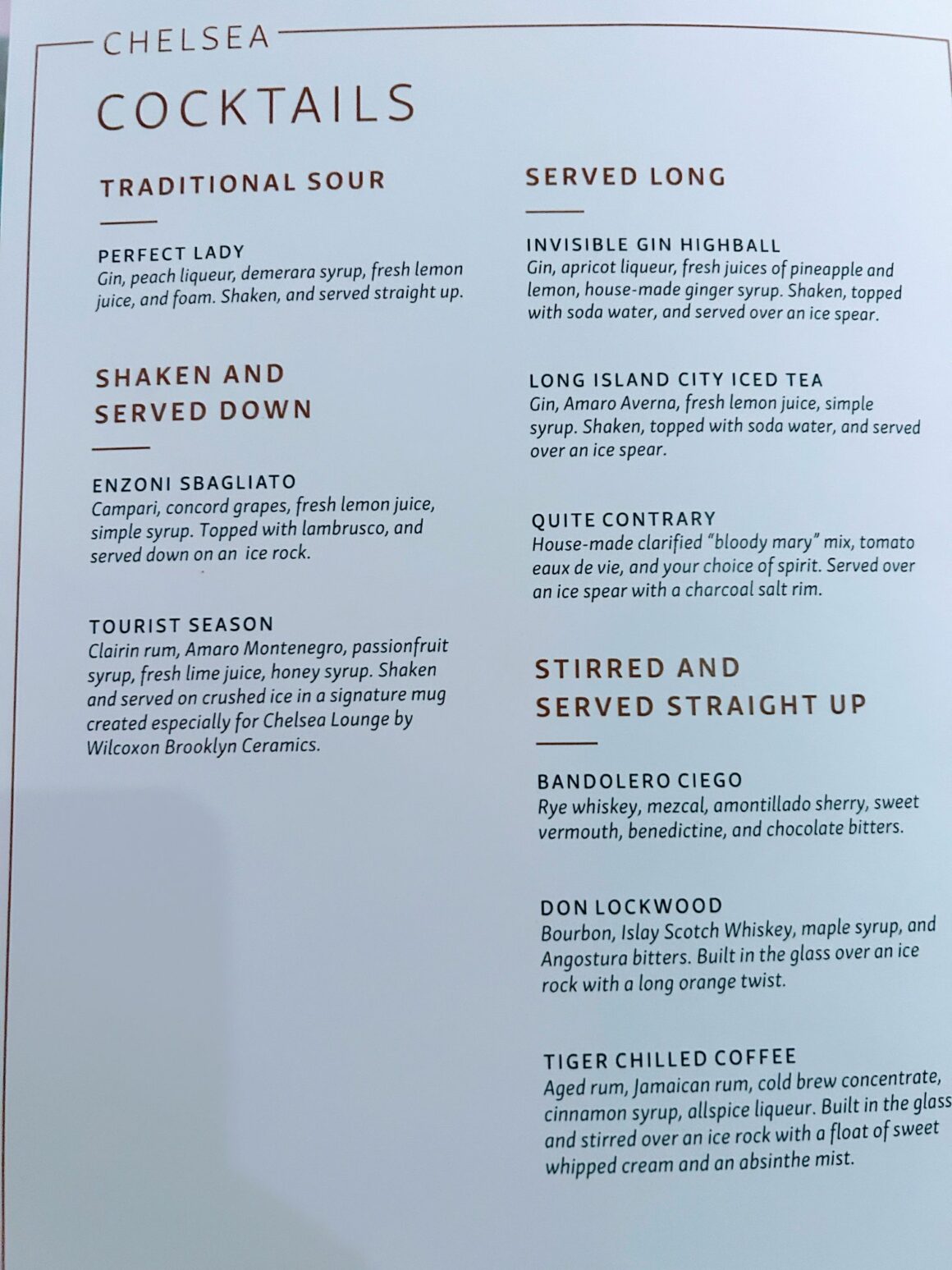 I went for the Tourist Season, mainly to see what the specially-made mug would look like. It reminded me of a Trader Vics cocktail and was rather potent!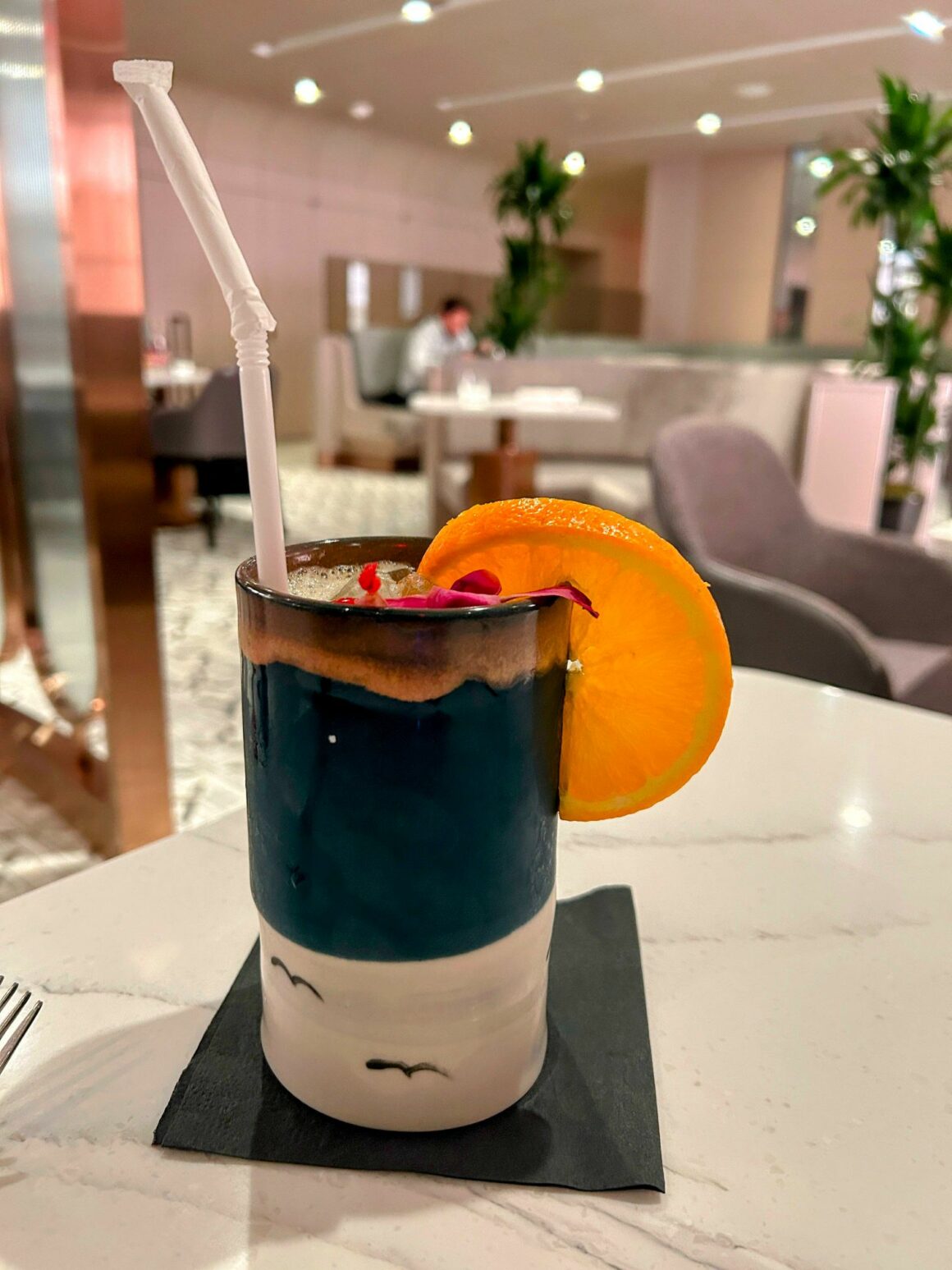 I asked to see the wine list, which took a while, although they do have the Vinoteca dispensers you can have a look at along the wall.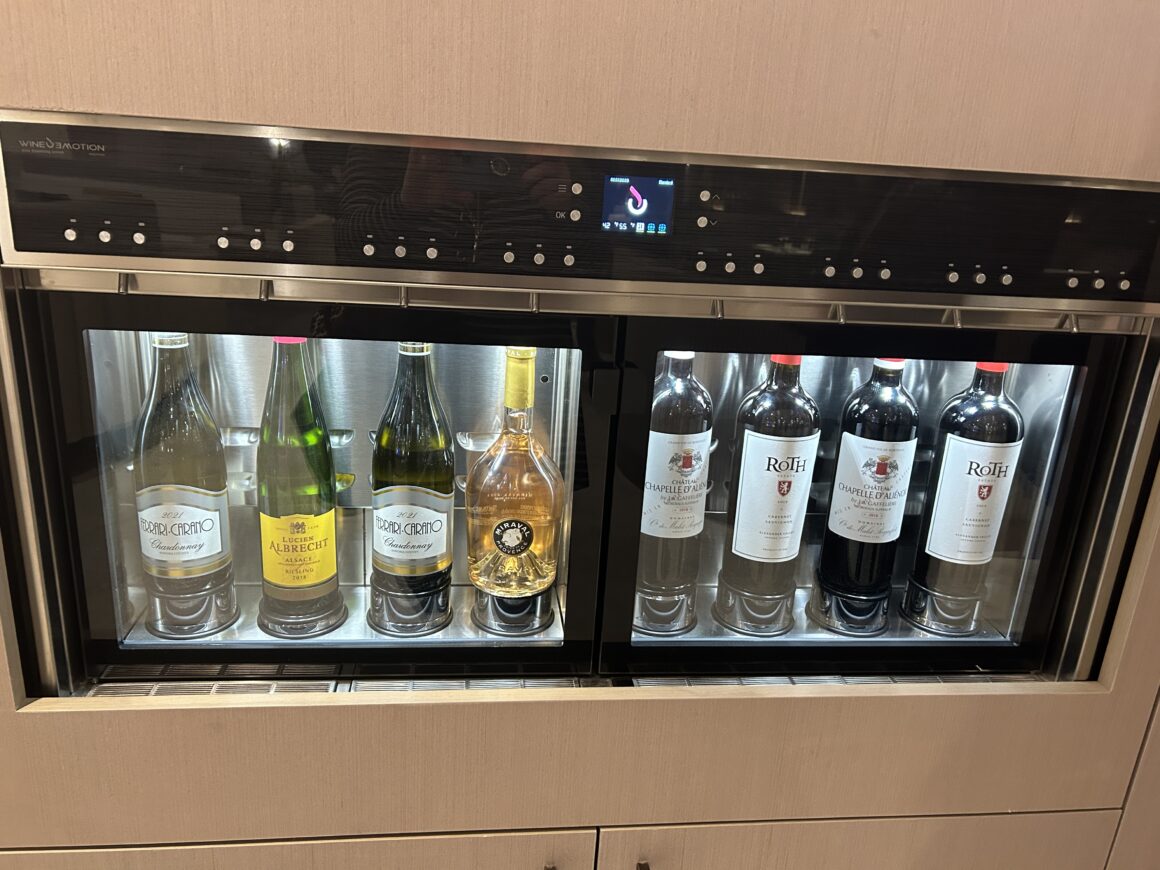 Here is the wine list: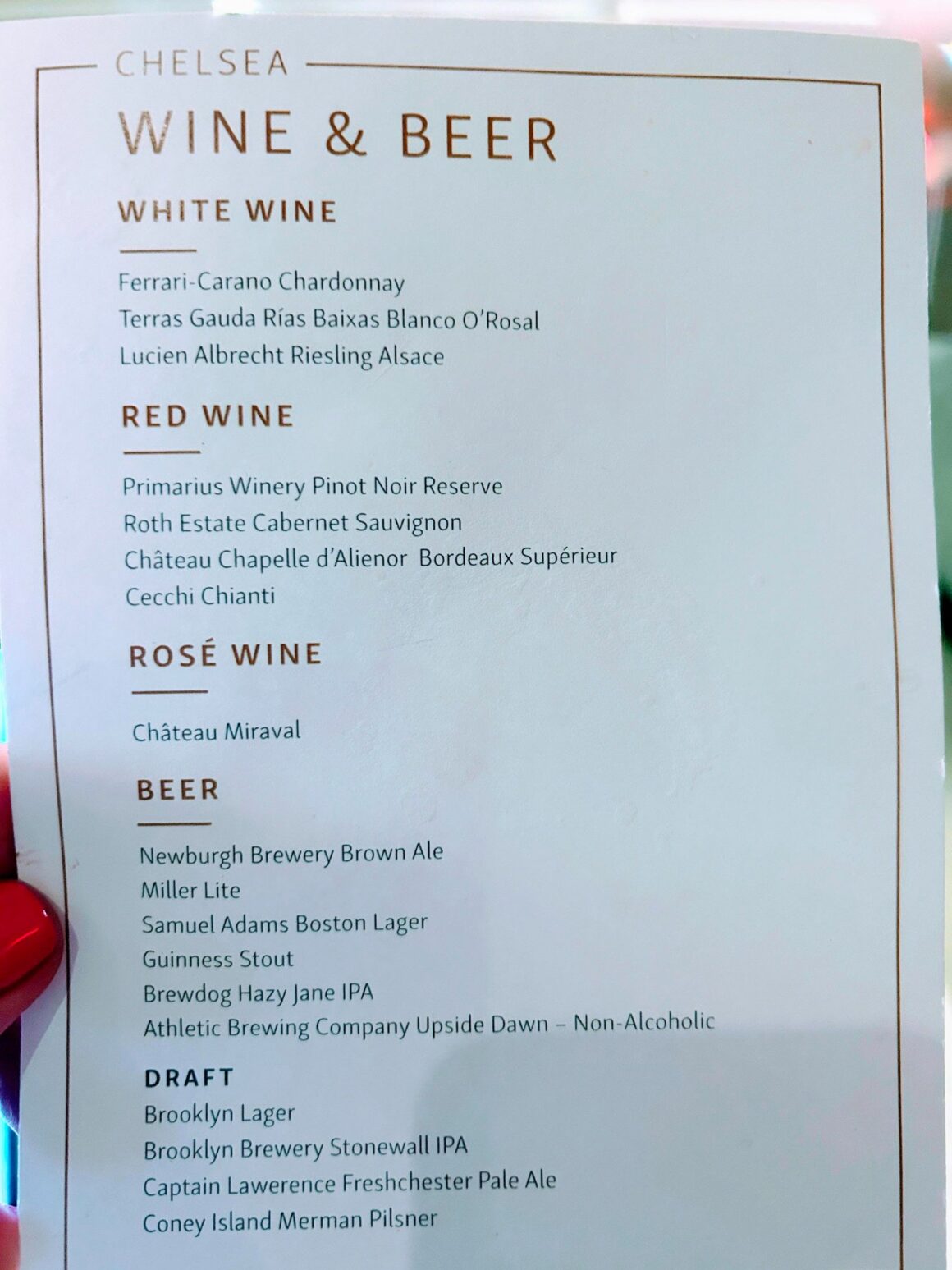 I tried the Roth Cabernet Sauvignon, which was enjoyable.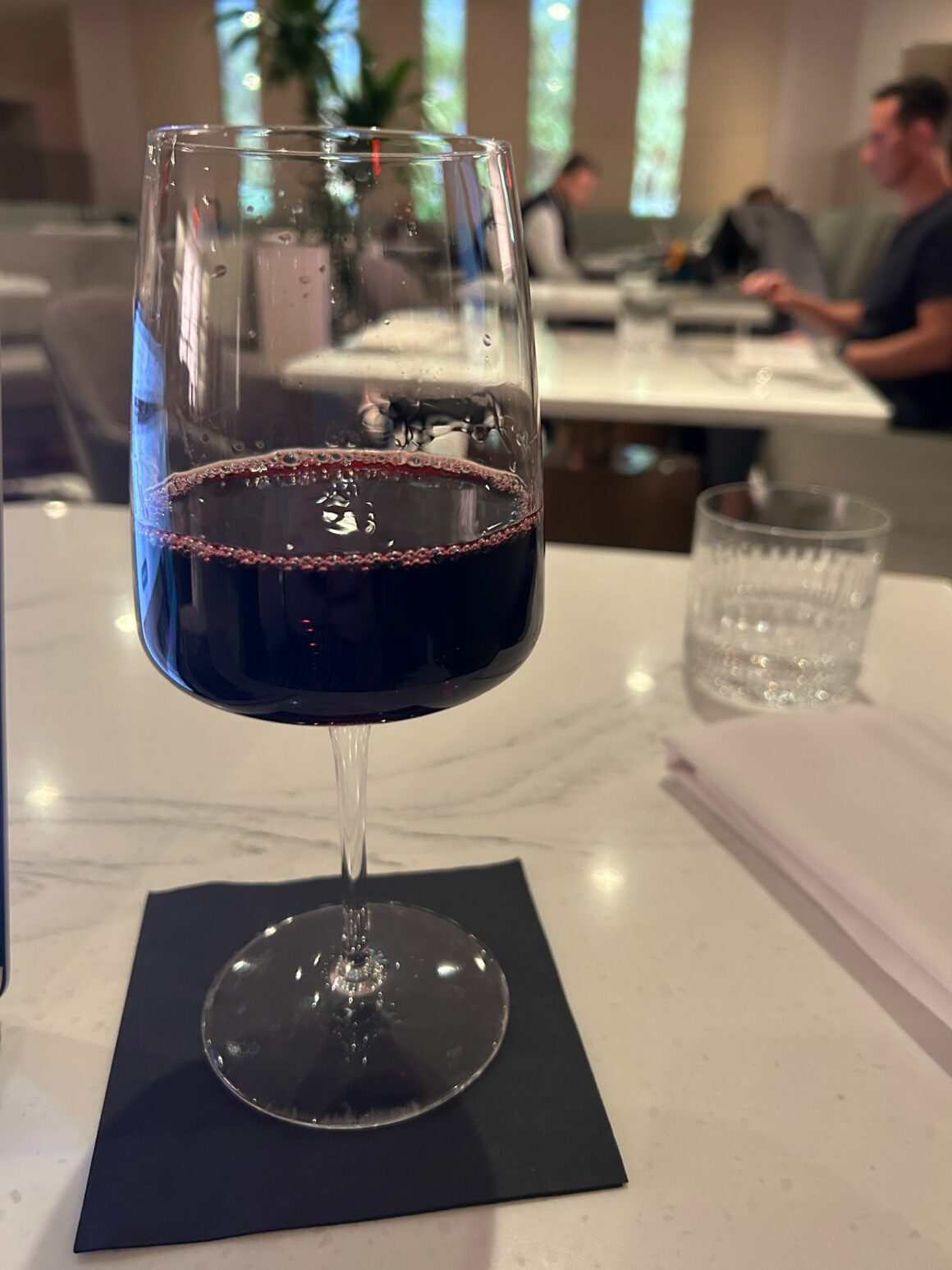 The champagne list is on the main menu: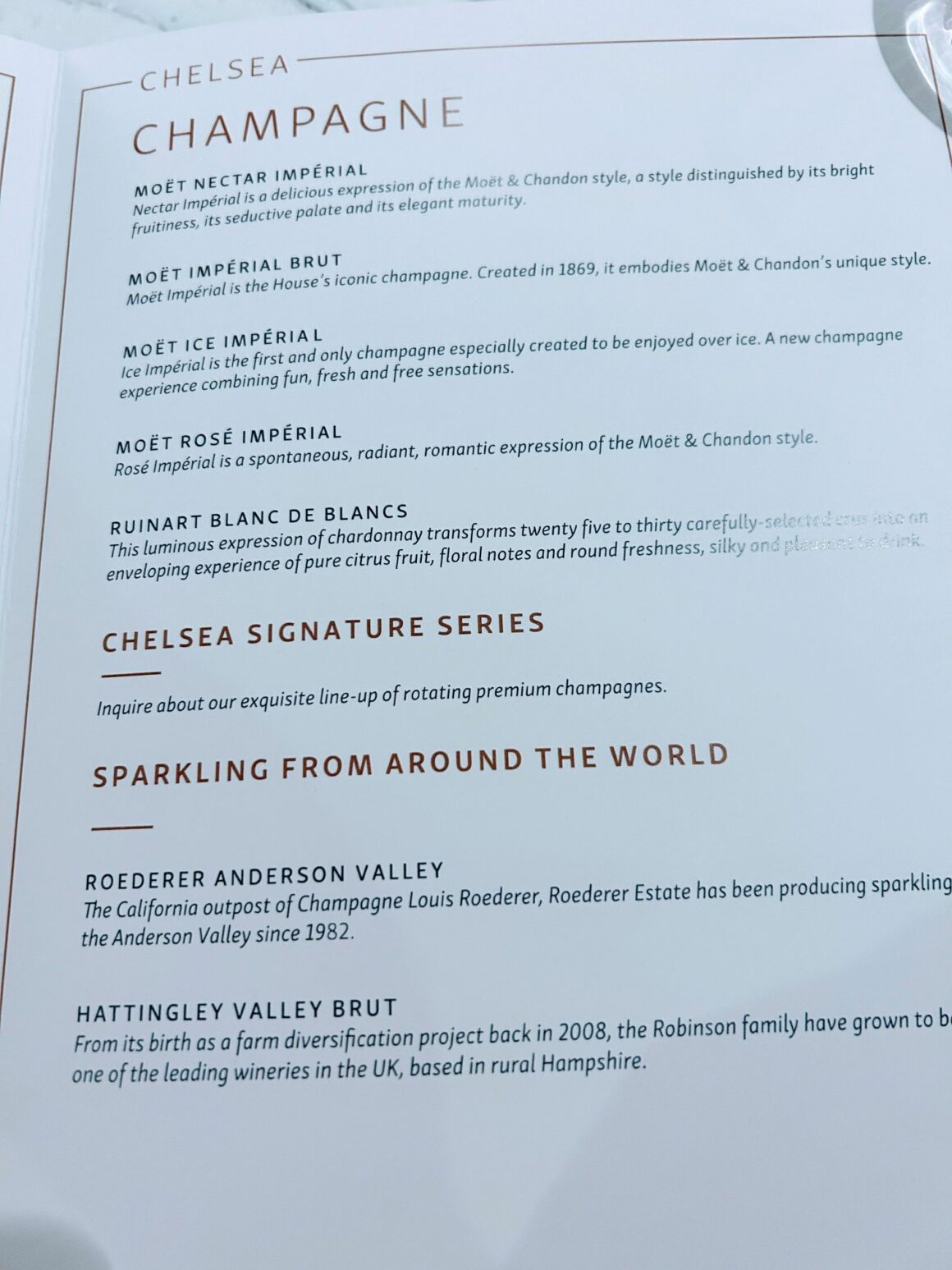 I'm sure we all remember the champagne list from the opening with flights of fizz and Krug. As many predicted, these are no more. However, they do still have a premium champagne; Laurent Perrier Grand Siecle is currently being served. But you will need to ask what the Signature champagne is. I'm not a big Möet fan, but at least there is Ruinart which is a good champagne house and the English Hattingley Valley too.
The food menu looked quite impressive to me compared to the Heathrow Concorde Room, which I find pretty disappointing food-wise at the moment.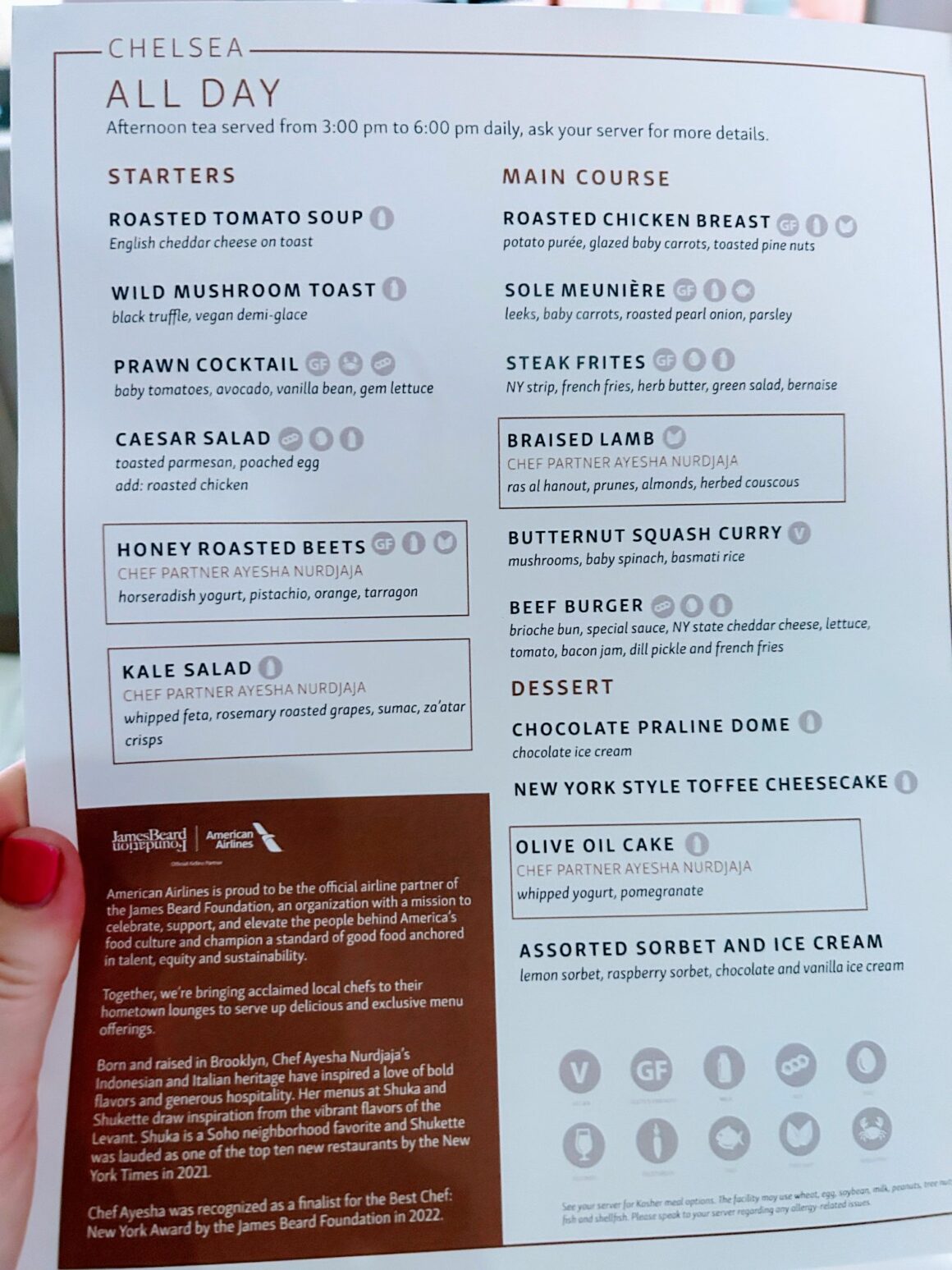 I like the amount of choice and also the fact there are some high end, more modern dishes and some that are classics like a prawn cocktail or Caesar's salad. Vegetarians are well catered for with the starters, but the main courses only have one option. I'm surprised they no longer offer a vegan burger, given how many vegans are around.
The menu is not as good as the old Concorde Room at T7 though, which regularly featured dishes such as scallops and lobster bisque with a whole lobster claw on top!
I went for the mushroom toast to start: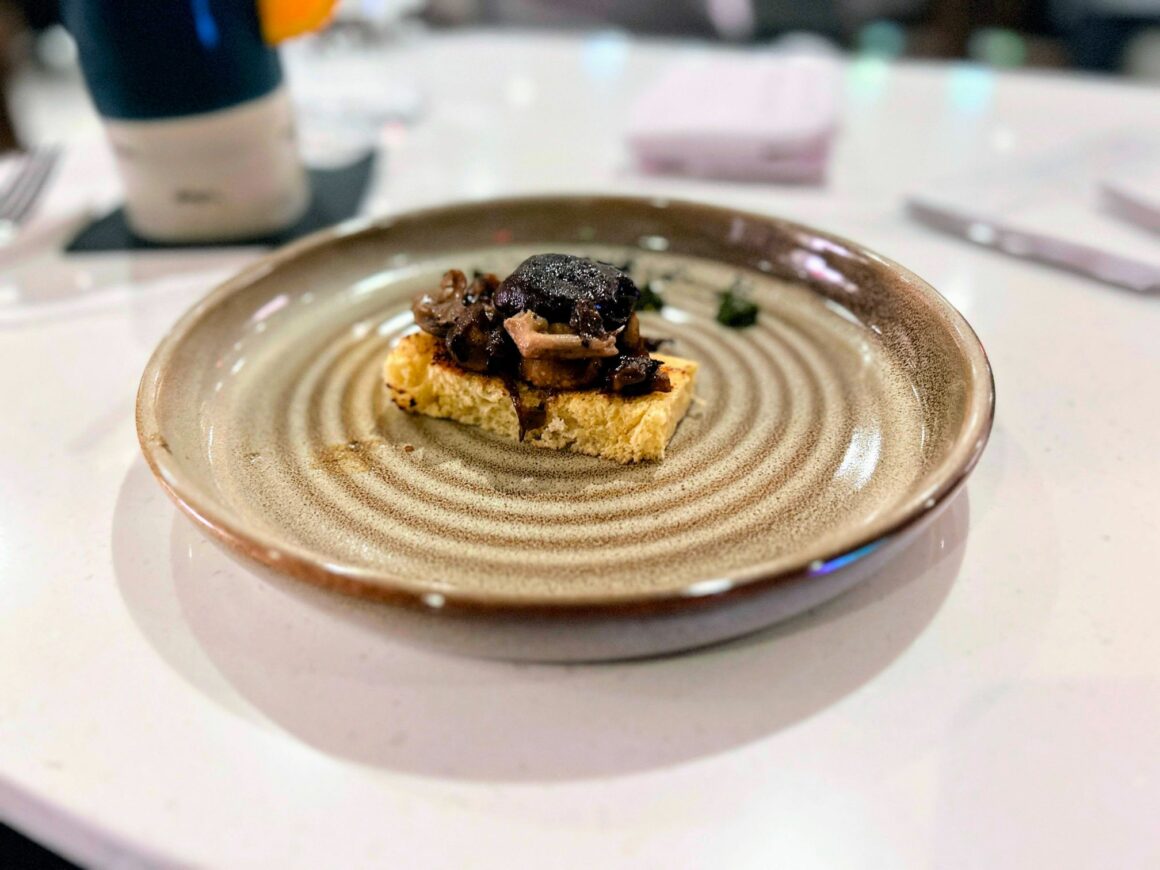 The portion was small, but I don't mind that too much for a starter.
For the main I decided to try one of the Chef Ayesha dishes: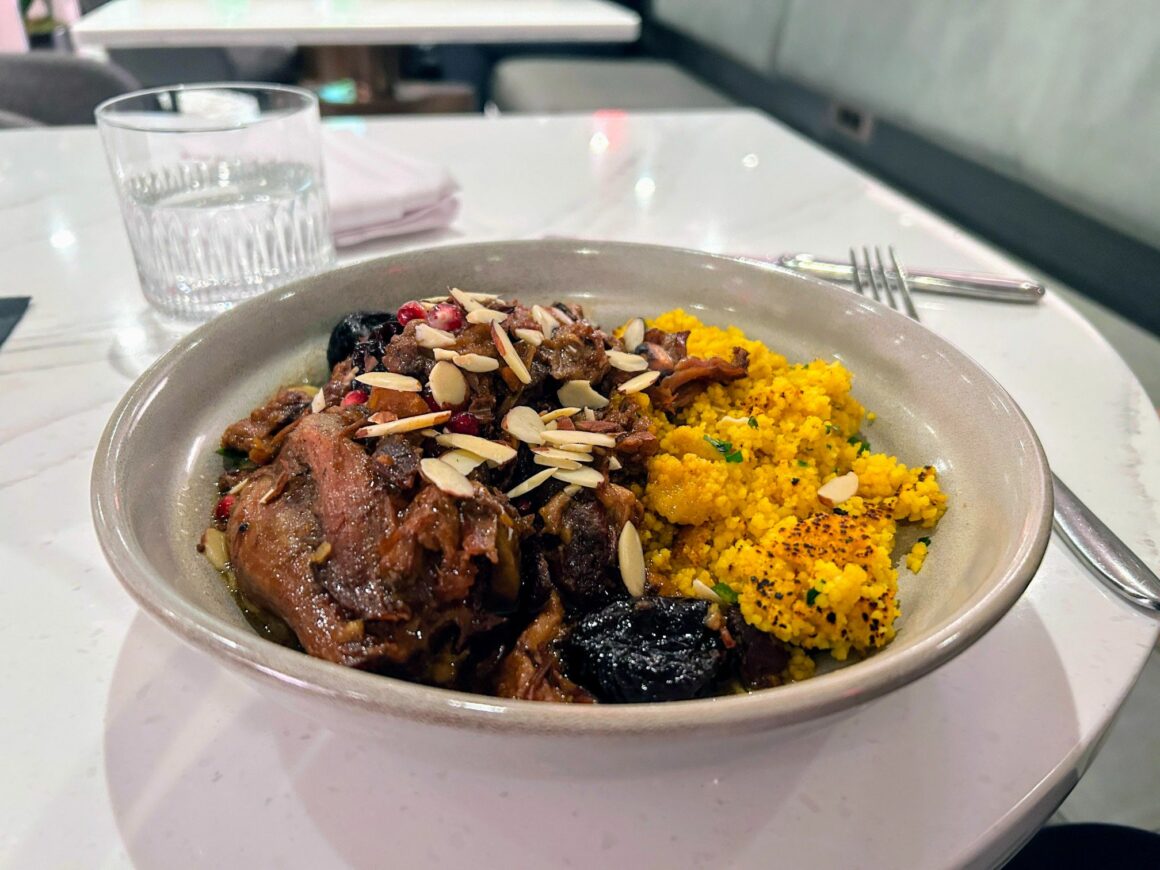 The lamb was absolutely huge, a real American size portion which I thought was probably a bit much just before a long overnight flight! However, I really enjoyed it. The lamb was tender and had plenty of flavour.
Here are a couple of photos from Arvinder of some vegetarian options they managed to rustle up for him:
Facilities
If you want privacy to work or to take a call, there are some private booths along the wall. If you want a booth with a door, you will have to go to the Soho lounge.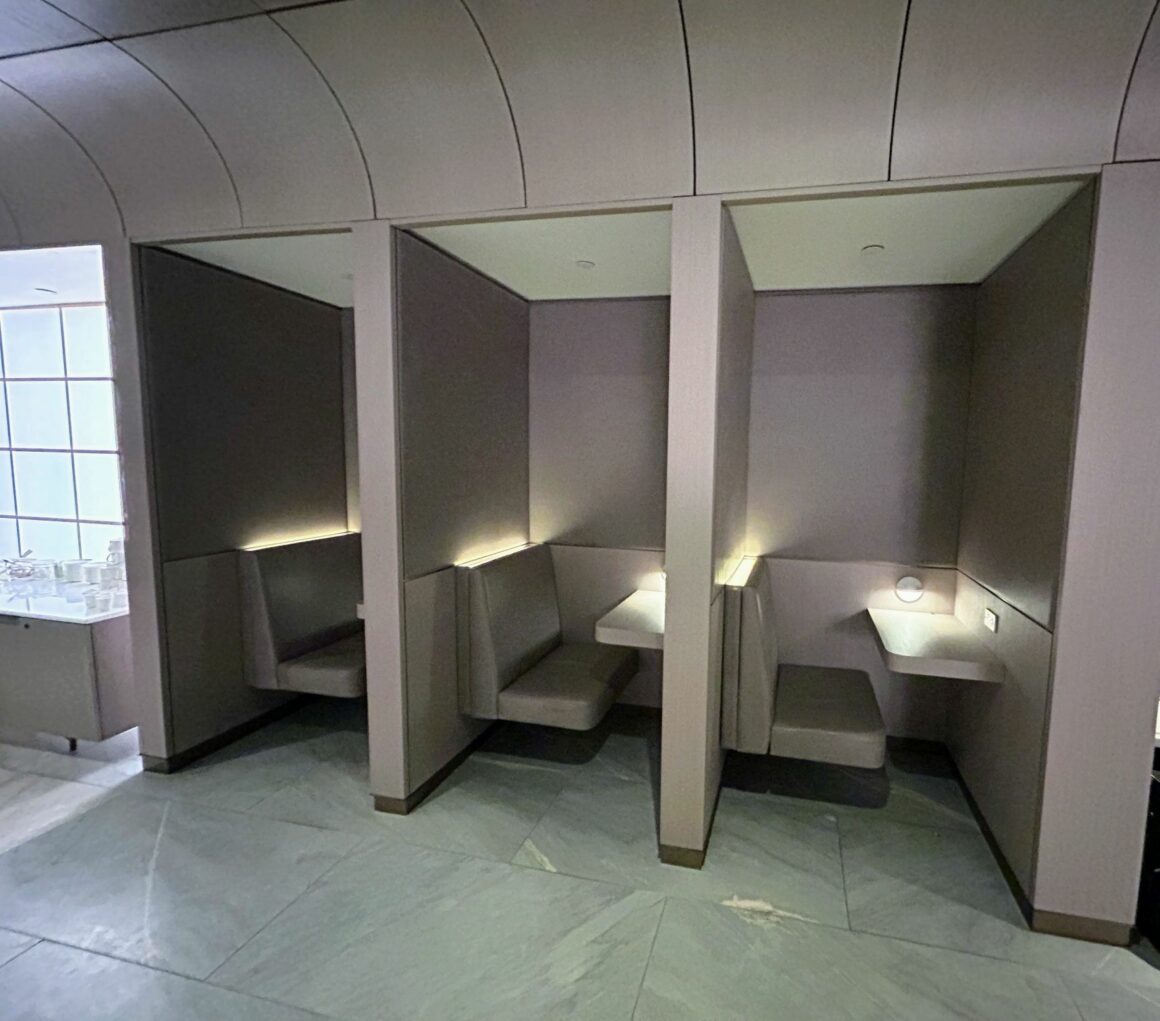 There are showers available that are large and modern. They come with toiletries and a hairdryer.
The main toilets are also modern and smart.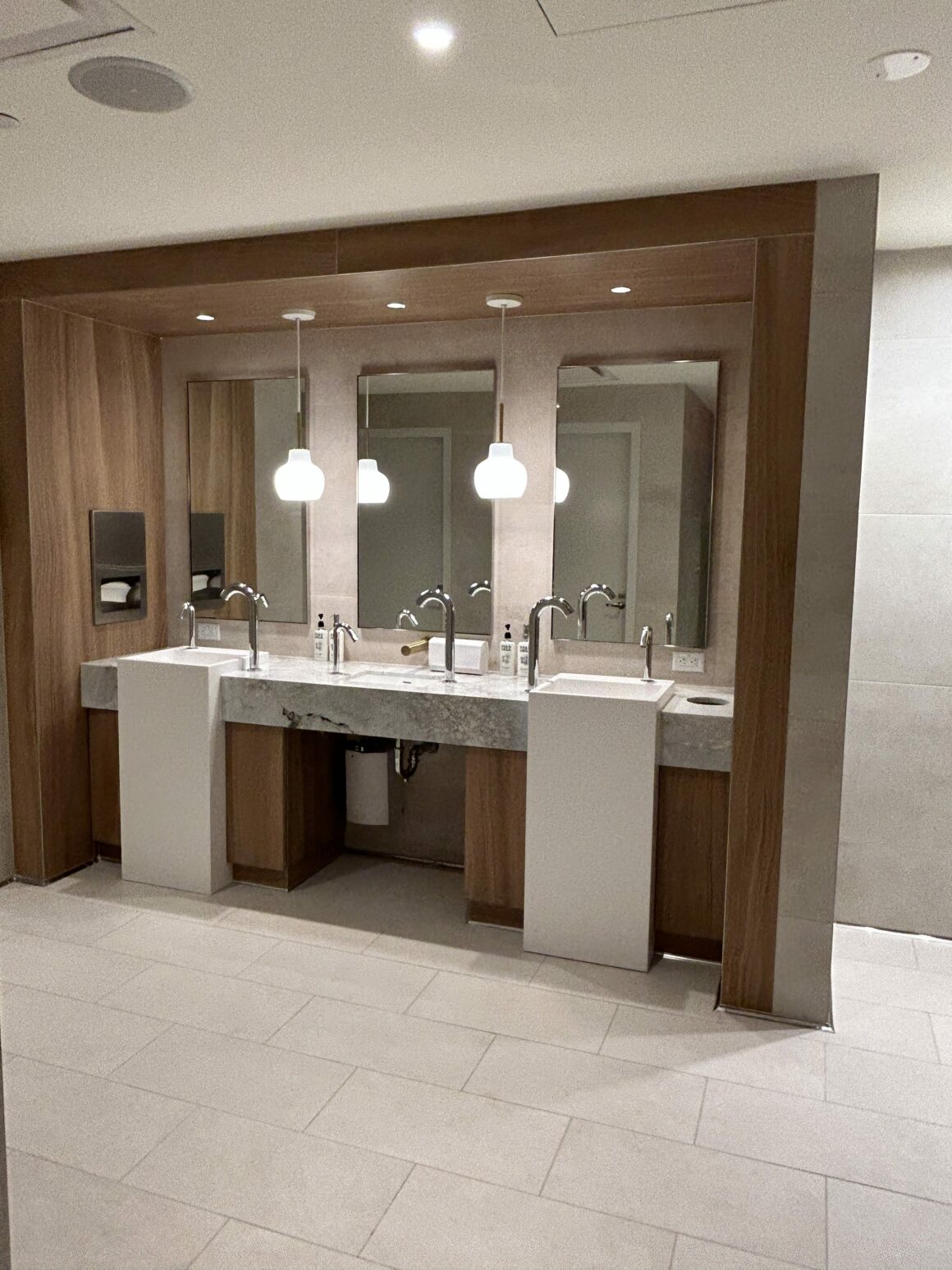 Conclusion
There has been a lot of complaining from the frequent flyer community, and while there were some teething troubles initially, I think the lounge is pretty good now. I like the elegant style of it, which gives a feeling of peace and quiet. The menu has a good range of choices unless you are vegetarian or vegan, but the portion sizes seem a little unbalanced.
It is good to see that the showers are large and well stocked, and when I visited, there was plenty of room to grab a booth to work in.
It is sad to see the concept of the champagne bar has changed, but at least there is a premium champagne available. The range of cocktails is decent, and while the wine list may not be quite as high-end as I would like in every choice, there are enough varieties to suit most palates. There is also a large range of beer.
For me, it is definitely a lounge I would make sure I had plenty of time to enjoy before my flight.