You are probably familiar with Skyscanner or Kayak when searching for cheap flights and you may have used Google Flights too. This article will look in depth at the features of Google Flights and the ITA matrix website. ITA Matrix powers Google Flights but it is a more sophisticated tool when looking for more complex itineraries such as ex EU or tier point runs when you want to include extra connections.
Google Flights
Put simply Google Flights is the easiest way to find the cheapest flight on any given day. It also has a host of other features that you may not be familiar with and can provide useful information when planning a trip.
Destination suggestions
If you are not sure where exactly you want to go you can type in a country or region such as Europe. You will then be shown a map with major airports and the price to fly there. If you zoom in, you can also see small regional airports. This could be useful if you are planning on visiting a few places in one country so you know which airport to fly into to start your trip.
There is also the option to narrow down your search by 'interests' such as beaches, food or honeymoon. I don't think they have quite got this feature quite right yet as when I set 'beaches' it suggested Newcastle and Edinburgh! Not quite what I had in mind in February!
Find the cheapest flights in a period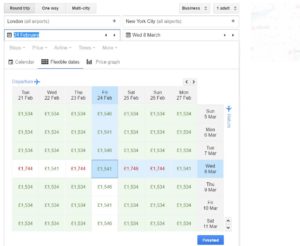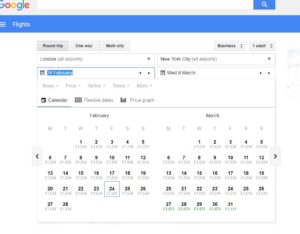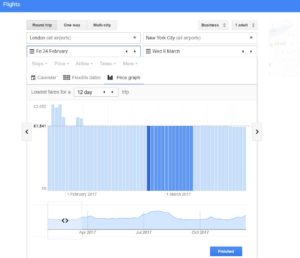 Instead of typing in specific dates, if you have any flexibility, just click on the date box. This will bring up 3 other options – calendar, flexible dates and price graph. If you have very flexible dates, then the price graph is probably the best choice as you can look through the cheapest flights for a considerable period ahead by day. If you have a narrow range, then try flexible dates. This allows you to see a chart of the return prices every day in a grid, with outbound dates down one side, and inbound on the other.
You can filter the flights by a number of ways such as alliance (if you are trying to get tier points or miles), airline or number of stops. Another useful feature is setting a particular airport or airports as options for a stopover if you are happy to do that to save money. Often indirect flights are cheaper as they take longer.
Google will give you a notification at the top of the search results if there is a nearby date with a cheaper price as well.
Track prices
You can now track the price of a particular flight or all flights to your chosen airport with Google. To do this simply perform the search, select your flights and select the "Track" button to start tracking prices. You can also do this with a destination by selecting your destination and dates, then turn the "Track" to "on" to start tracking the cheapest flights.
If you have the Google Now app installed on your phone, you can get alerts there as well if you have done the search on your mobile.
ITA Matrix
You may not have heard of ITA matrix but ITA is the software that powers Google Flights. If you are just doing a simple return flight you may never need it. If you are trying to do a more complex itinerary such as looking for the best ex EU bargains or trying to maximise your miles or tier points, then you will need to become familiar with this tool.
It is not nearly as simple to use as Google Flights as you will need airport 3 letter codes and airline 2 letter codes to enter in. Here is a quick guide on how to use it.
.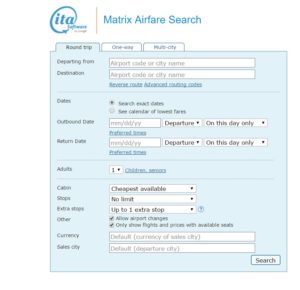 Departing from
You can enter multiple airports here as long as they are separated by ;. If you are looking for an ex EU then you will probably be looking for airports such as
AMS;ARN;BRU;BUD;CPH;DUB;FCO;FRA;HEL;OSL;PRG;TXL;VIE;WAW
If you want to specify a particular airline such as British Airways for example you will need to type the 2 letter code as follows :: airline code then + ;for example  ::BA+
If you are not sure of the code you can start typing the airport and a drop down list will appear. This can only be used with one airport but you could look up a few first and then enter them manually.
Destination
Enter the airport code or codes as before and also remember to specify the airline again if you have a preference.
Sales city
You must enter LON if you live in the UK to ensure that the price is available to UK residents. This means the price will also be in £.
If you are happy to change airports then tick  'Allow airport changes' 
Cabin
The class of travel such as Business which can be selected from the drop down list.
Results filtering
There are a couple of useful filters which you can apply to the results. One is based on warnings for flights that have a particular issue with one of the following:
Terminal changes
Long layover
Preferred class unavailable
Overnight flights
Risky connections
You can click on Advisory and then uncheck any issues you don't want. The timebar feature is also really useful as it shows a timeline of all the flights options with the take off, arrival, connecting airports and airlines all on one bar per flight.
For more advanced information here is the Google help page. You can't book through ITA matrix but once you have found your flights you can then go to the airlines' website or a travel agent to book it.