This is a review of Sheraton Riviera Dubrovnik hotel.
Location
At first, I was slightly concerned about the location having read a few comments about the cost of taxis into town from there. In actual fact, I loved the location. If you want to spend every day in the Old Town or taking ferries to the islands, it may not be for you as it is a good 15 minutes from Dubrovnik old town in traffic. There is a boat service that runs to the old town from just by the hotel as well but off-season it's a little erratic. However, if like me you will do a few other places and relish more of a peaceful resort ambience, then the Sheraton is for you. It is situated right by the sea with a small beach area.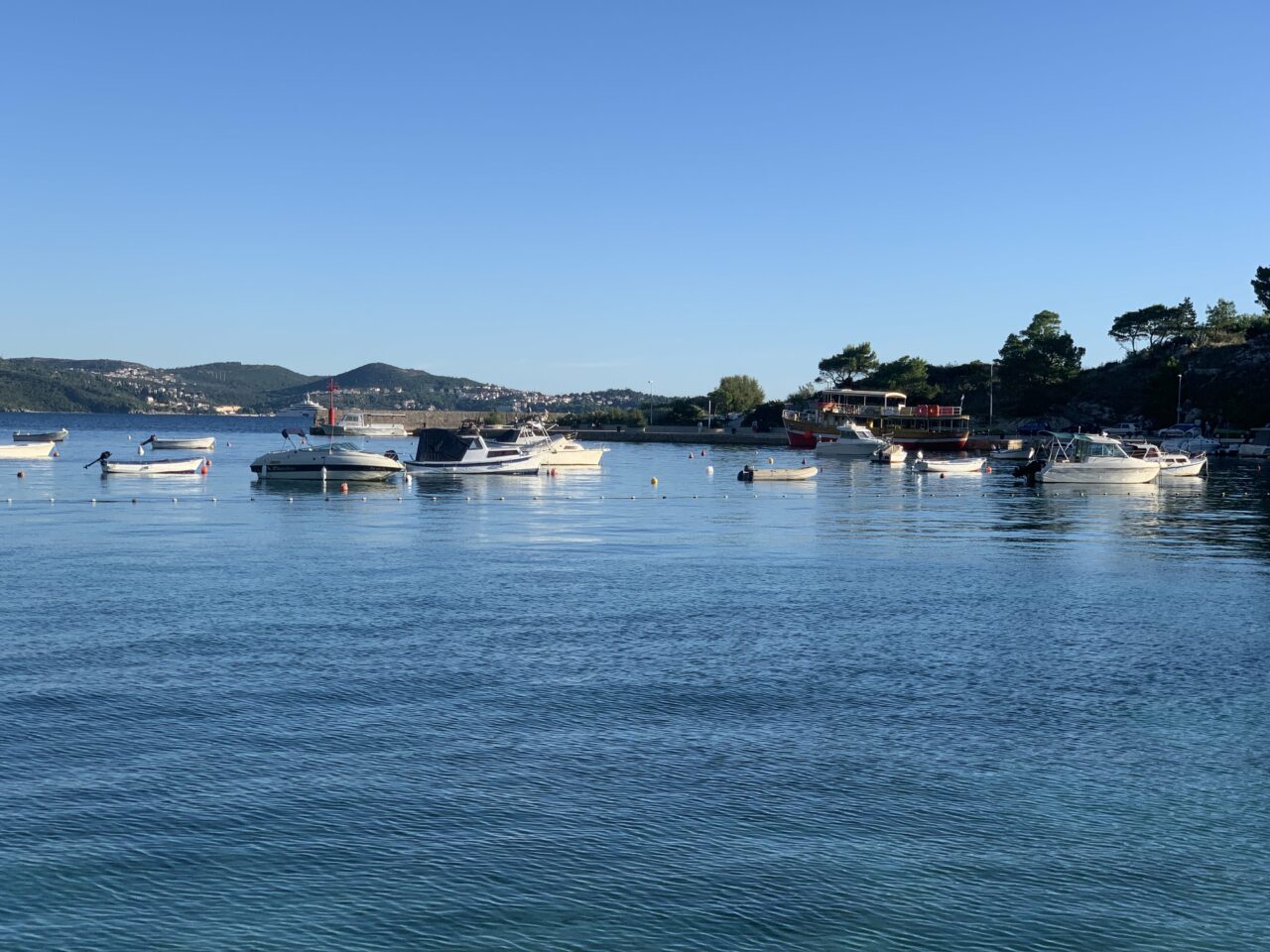 The hotel is only around 10-15 minutes from the airport and also about the same from Cavtat – a great place for an evening drink or meal admiring the very fancy yachts moored up outside.
I got around using Ubers which cost around £10 for the trips I did. There was sometimes a wait of up to 10 minutes to get one but other times it as 2-3 minutes.
Check-in at Sheraton Riviera Dubrovnik hotel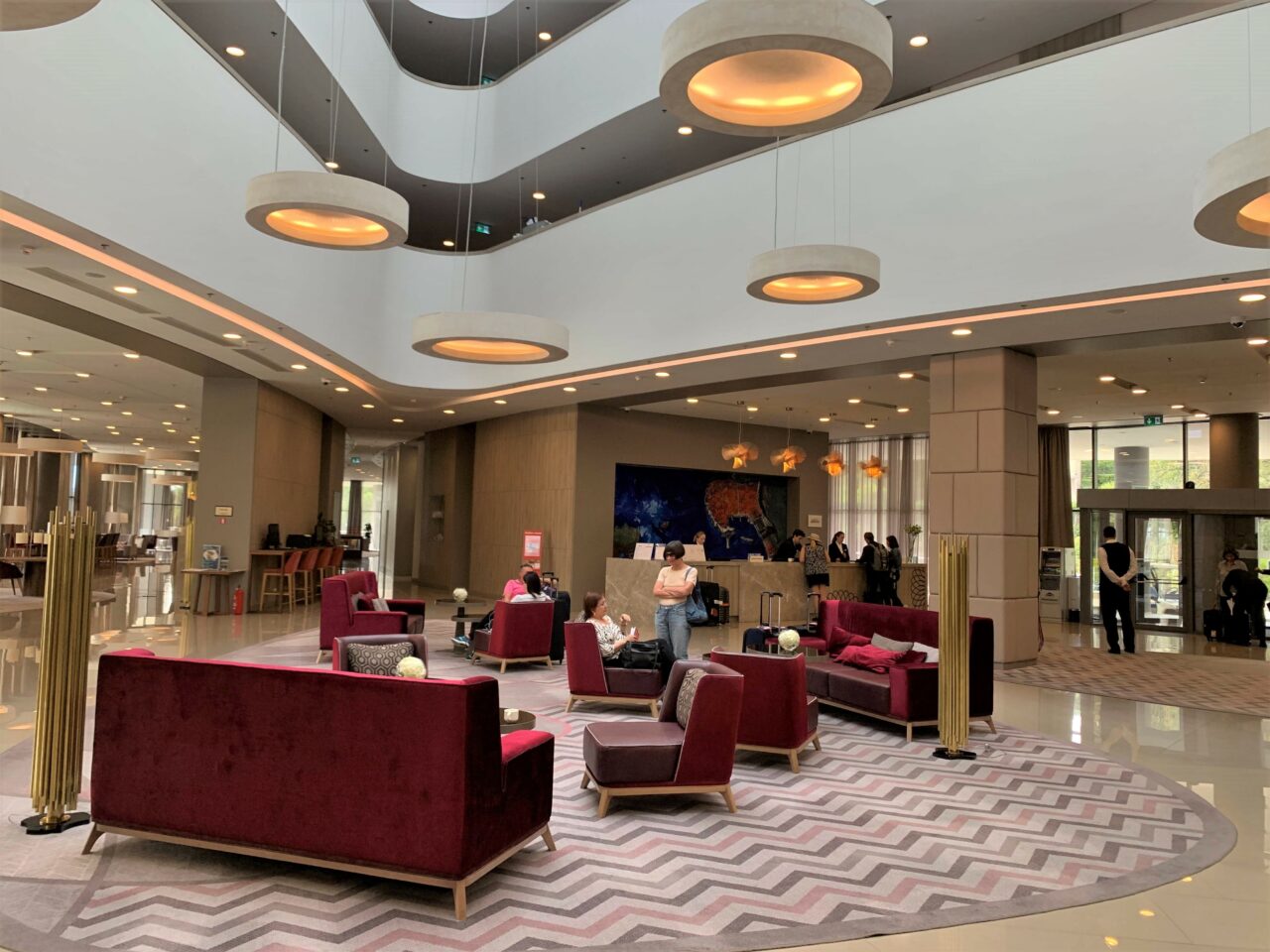 I arrived at the hotel and as I was carrying my case up the steps, a porter arrived to help and carry my case to reception. The check-in staff were always very friendly and helpful throughout my stay. I was upgraded to a Deluxe Sea View King room from my Superior King partial sea view. A letter welcoming me as a Marriott Gold was presented to me but the receptionist also explained where everything was and the opening times.
Sheraton Riviera Dubrovnik hotel Room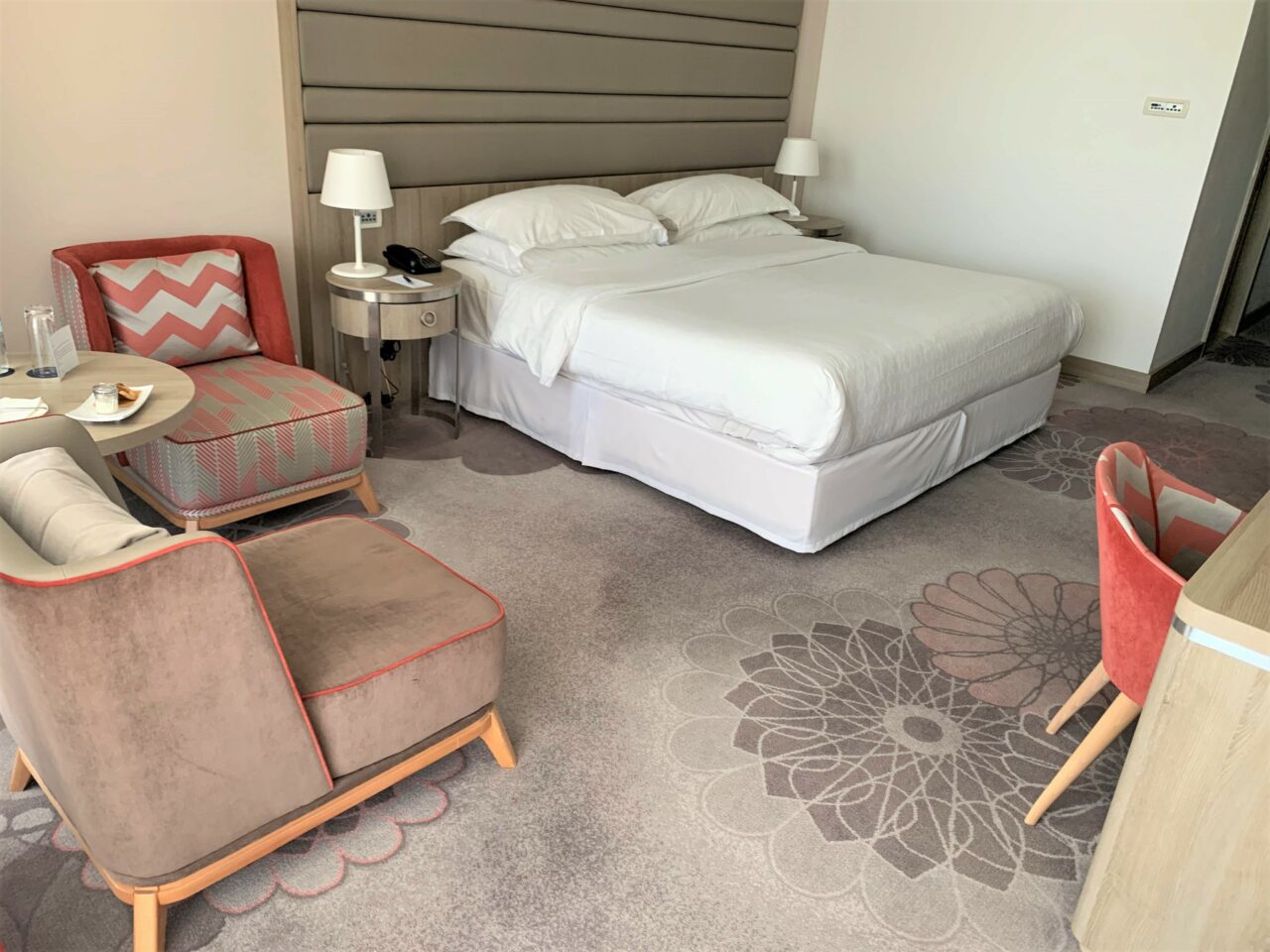 The room was on the second floor. The corridors were not particularly welcoming if eco-friendly. The lights were on a motion sensor which was quite slow to react, so I often found myself walking down the corridor in the dark for a few minutes! Once in the room, I was impressed.
The room looked modern and luxurious with a grey and coral colour palate. The best thing about the room for me was the balcony and view. I liked that there was a table you could work at or have a drink at with 2 chairs as well as a chair to put your feet up. The balcony got the sun for most of the morning until lunchtime in October.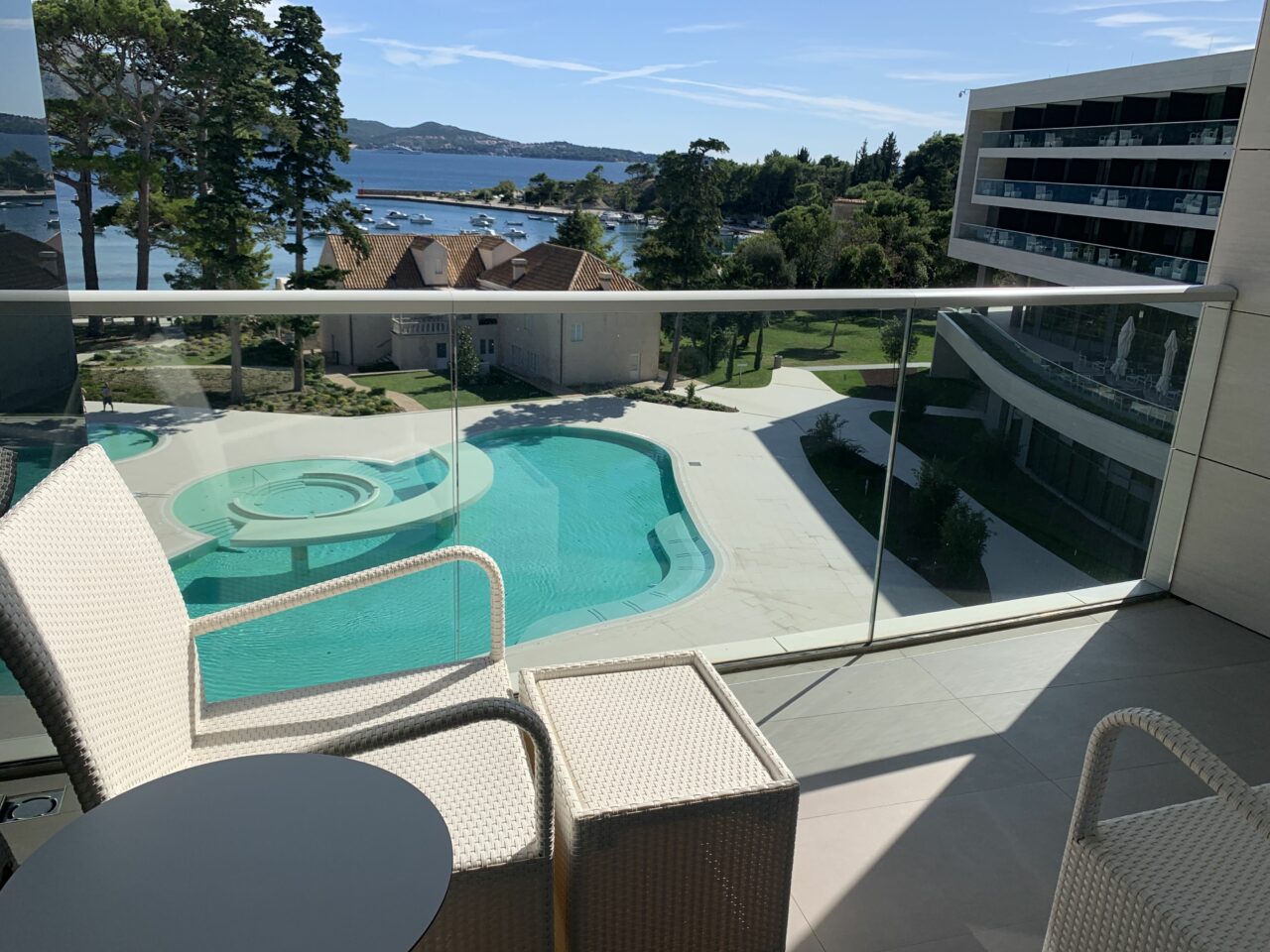 As usual, there was an iron, ironing board, kettle with tea and coffee (though I never found any milk). I would have liked a proper coffee machine at this level of property but it is a minor complaint. The bed was, of course, the Sheraton Signature bed which I find very comfortable. There were two types of pillow, one softer and one larger and firmer pillow which I thought was the perfect combination. I found the room quiet overall and slept well there.
I received two small bottles of water when I arrived and then none the second day. On the third morning, I got them again so I am not entirely sure what the rule is. I also received a very nice welcome gift of a vanilla dessert with local dried figs and a large bottle of mineral water.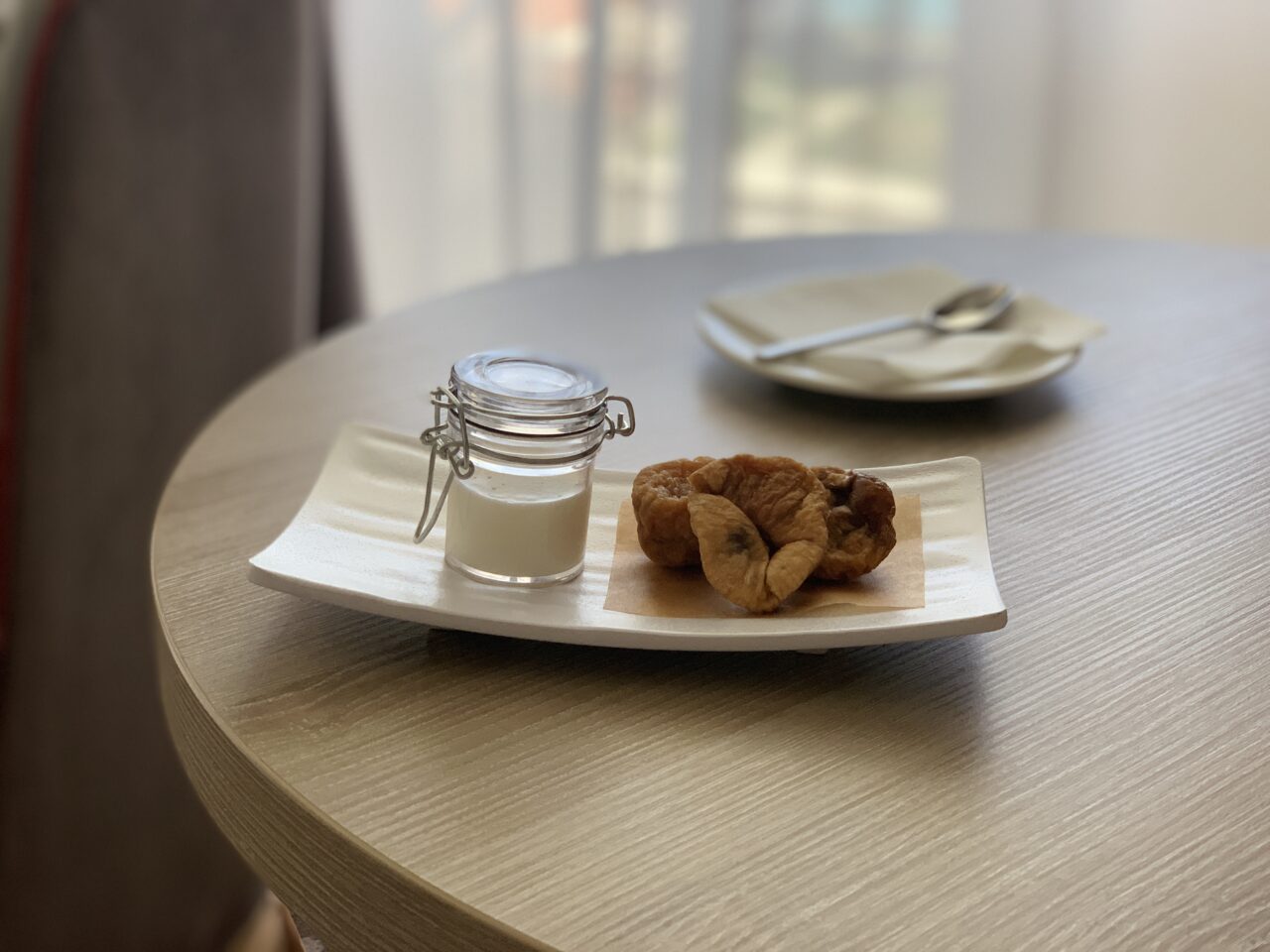 Bathroom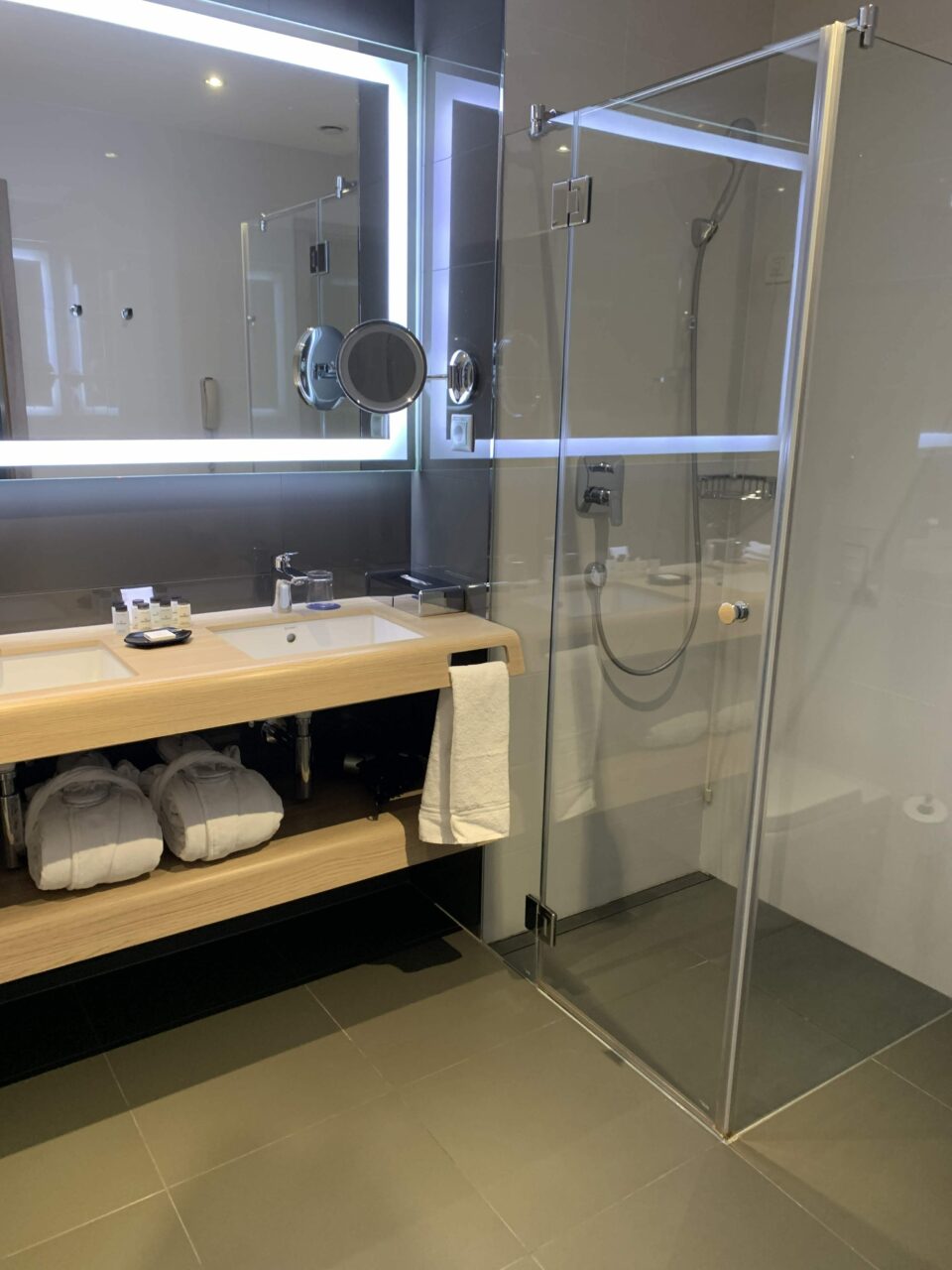 The bathroom was also of a high standard and modern. There was a separate deep bath which was great for a long soak and a large shower. I liked the dual sinks with plenty of places to store your personal items. Bathrobes and slippers were provided along with the standard Sheraton toiletries – Le Grand Bain Citron + Vetiver. I find these high quality with a pleasant but neutral fragrance. I would say the towels could have been higher quality as they felt a little rough and thin. The pool and spa towels were much better – thick and fluffy!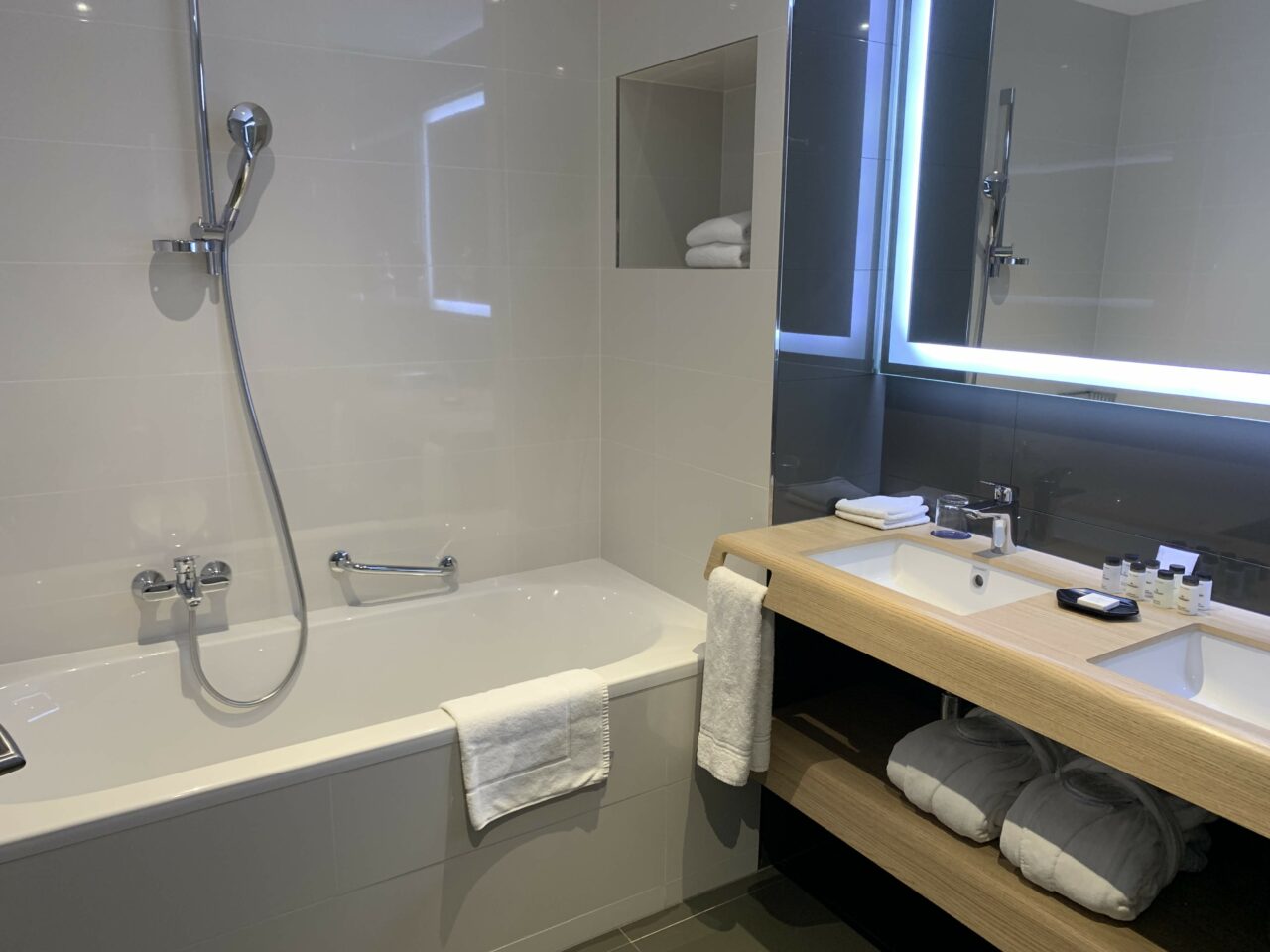 Sheraton Riviera Dubrovnik hotel Food and drink
Breakfast
Breakfast in the hotel's Leut restaurant was impressive in terms of choice, not so much in terms of service. The staff were pleasant, but either ignored you if you wanted coffee, or the minute you got up to get something from the buffet would clear the entire table including my barely-drunk juice and coffee!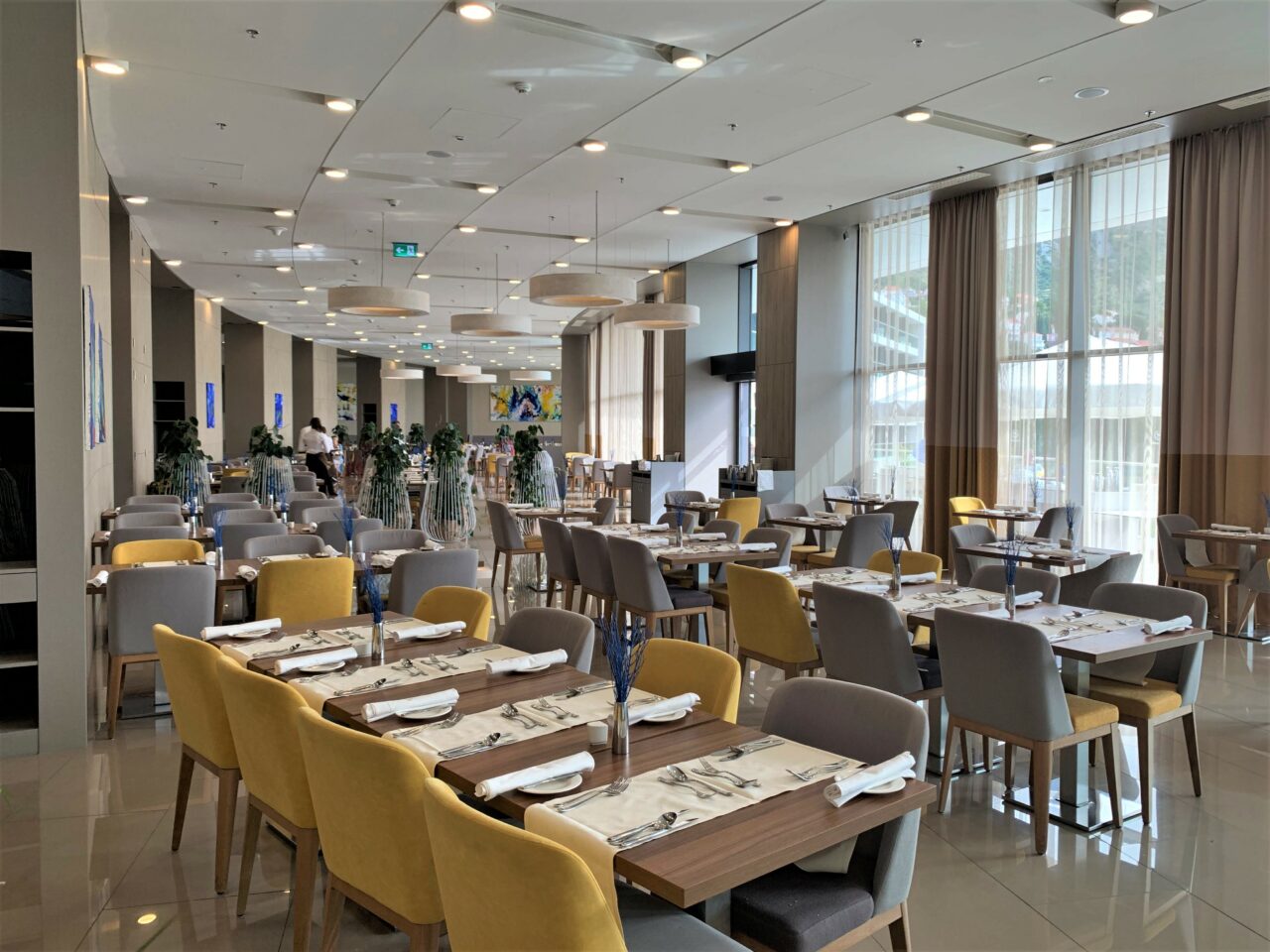 The buffet had a wide choice of local and international dishes. There were at times a bit slow to top things up but overall I can't complain. They had everything from local meat, cheese, salad and smoked salmon to delicious fluffy pancakes and eggs cooked to order. I also though the restaurant was smart – often they feel like a cafeteria. The outside terrace was a particularly nice place to start your day with the view of the sea.
The hotel has a couple of its own restaurants to choose from as well as several within walking distance. The hotel's main restaurant Leut, is open for breakfast, lunch and dinner. In the evening it seemed to be a buffet so I gave it a miss. They also have their more upmarket restaurant, Lungo Mare, which is set by the beach in a cottage-like building.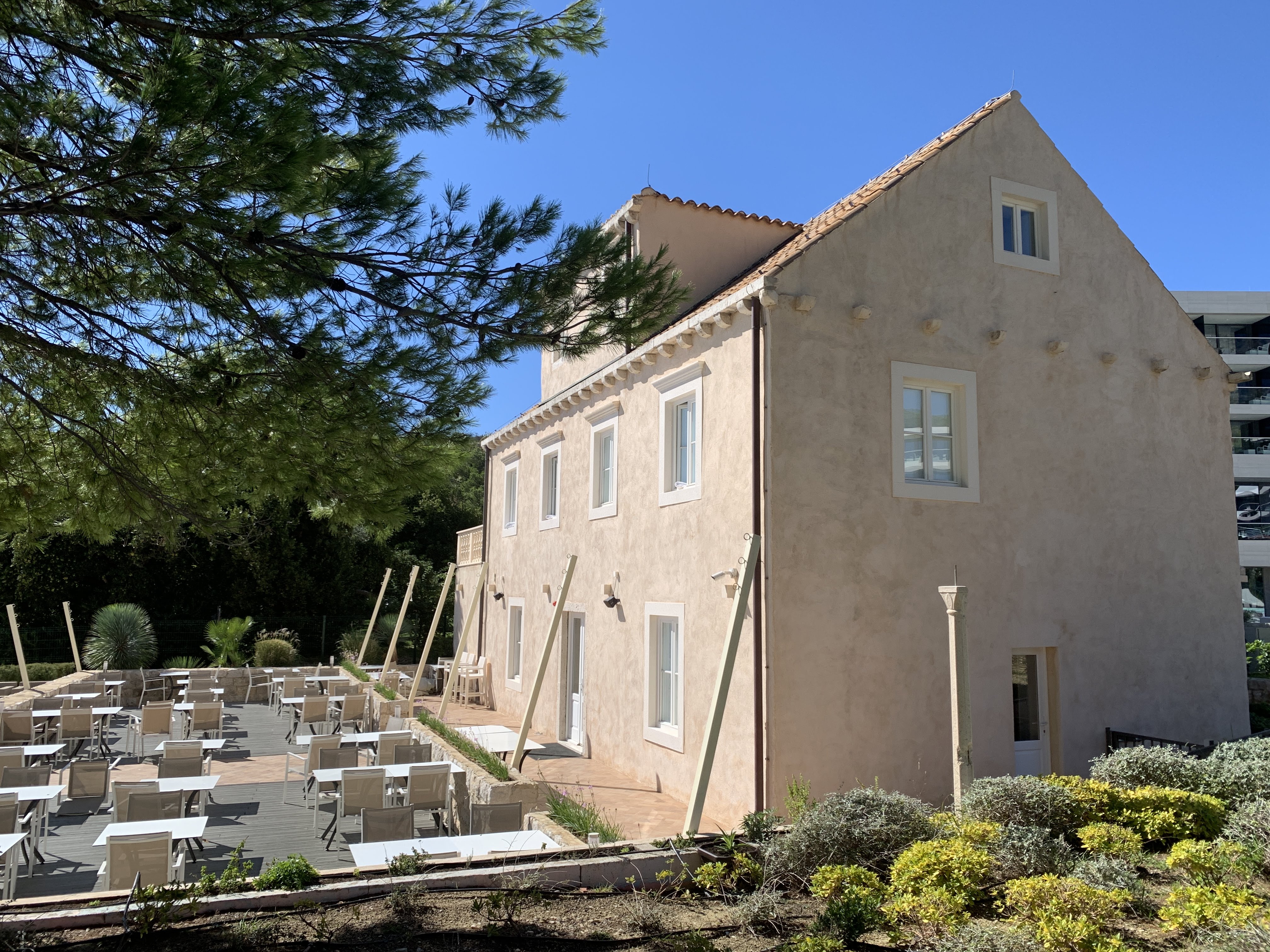 It has a lovely setting and the food was absolutely delicious. But bring your appetite as the portions were absolutely massive!
There is also the pool bar which is actually more like a proper bar.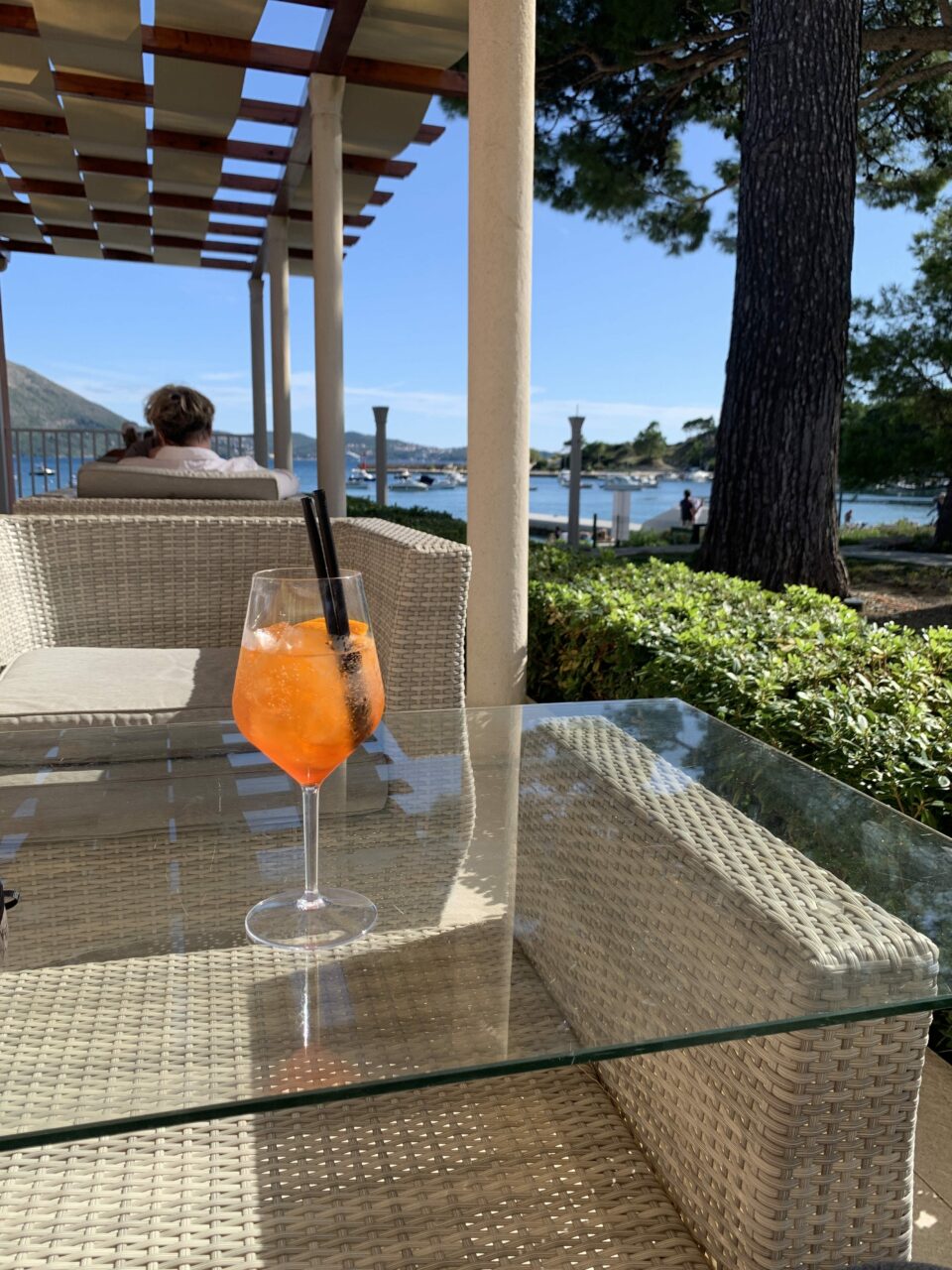 I ate lunch here a couple of times. It was good food and the cocktails were also well made although the service could be a little slow at times.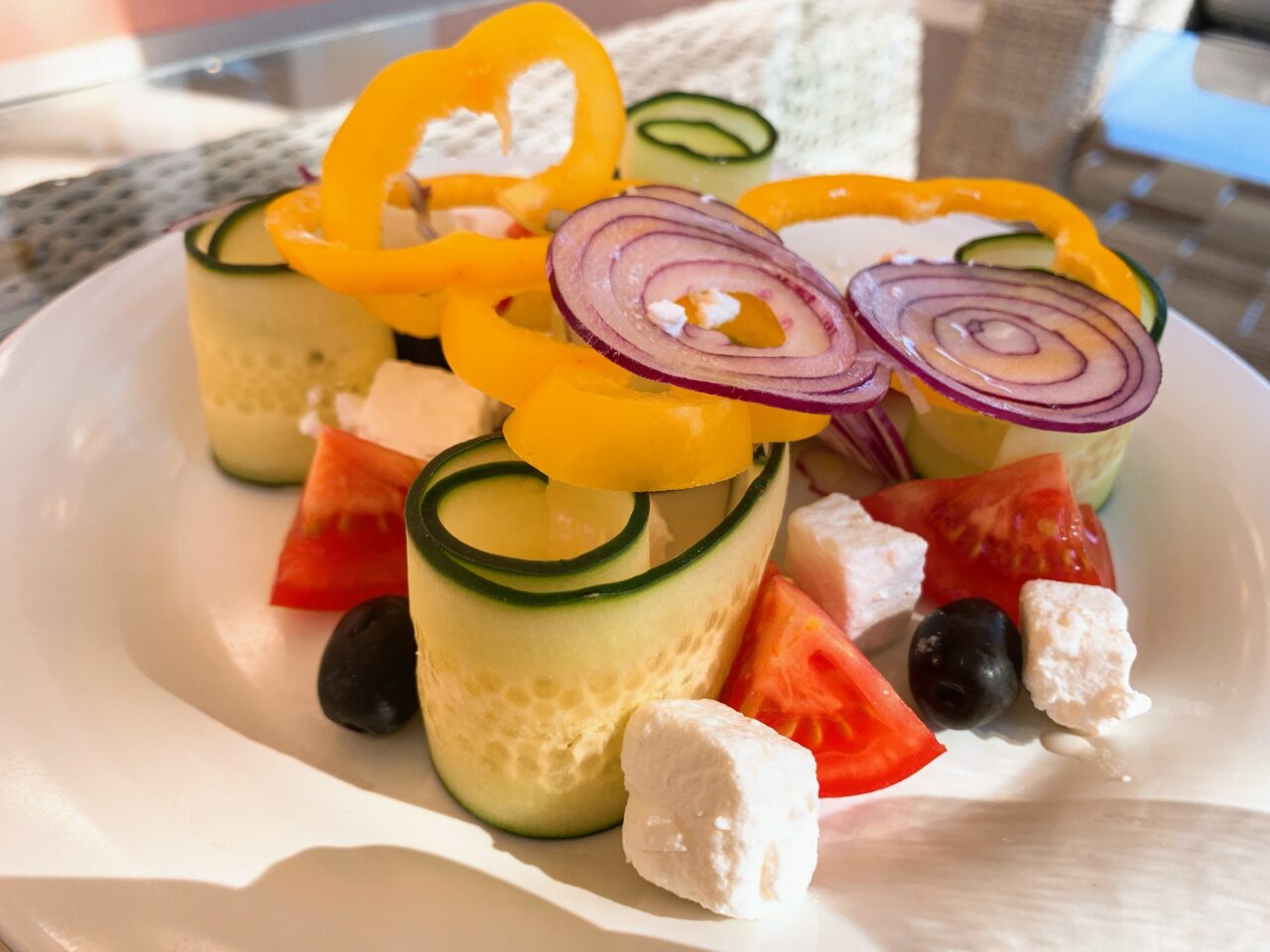 There is another bar, the Piano bar which looked very nice but was very empty whenever I went past it.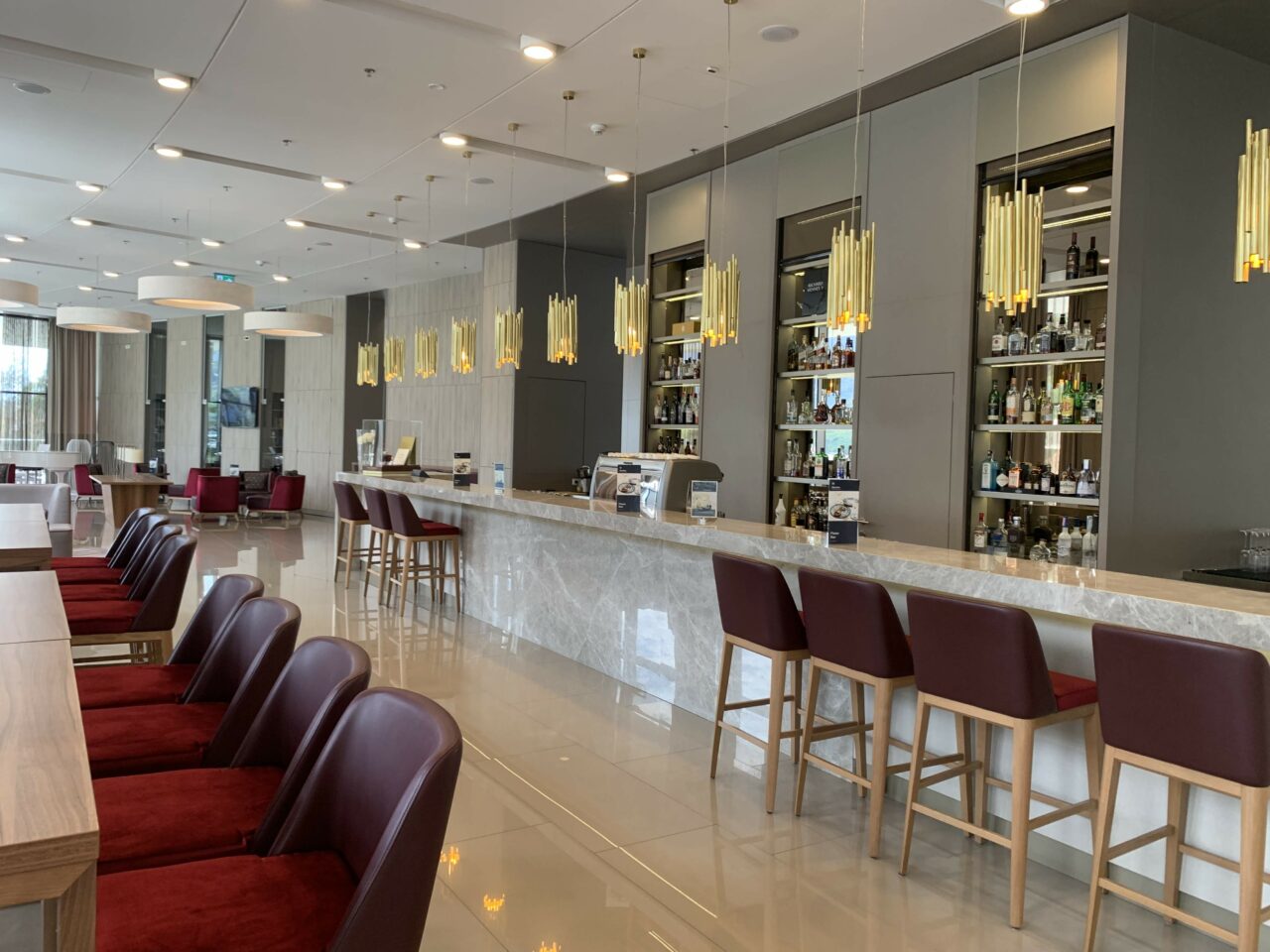 That had a nice outdoor terrace too although it was a little chilly in the evening for sitting outside when I was there.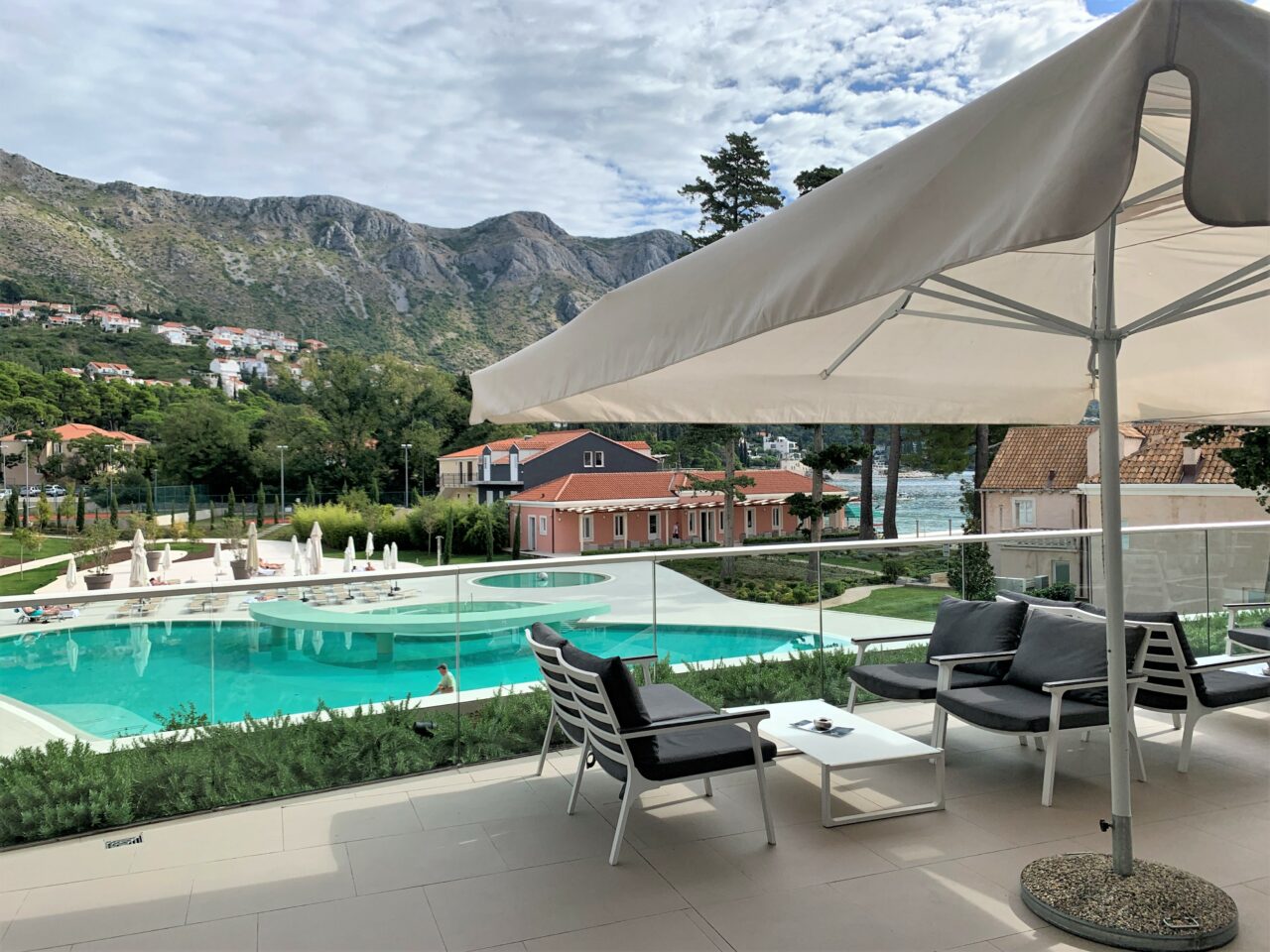 The hotel also own a pizza restaurant "Supertar" which is a few minutes walk along these front by the hotel. It was closed whilst I was there. Also within walking distance is Ruzmarin which is opposite the hotel entrance, and a couple of bars/snack restaurants along the seafront. I would recommend Ruzmarin – the ox cheeks I had were excellent and the service was very attentive. I found all the restaurants that I visited expensive – on a par with London prices.
Sheraton Riviera Dubrovnik hotel Facilities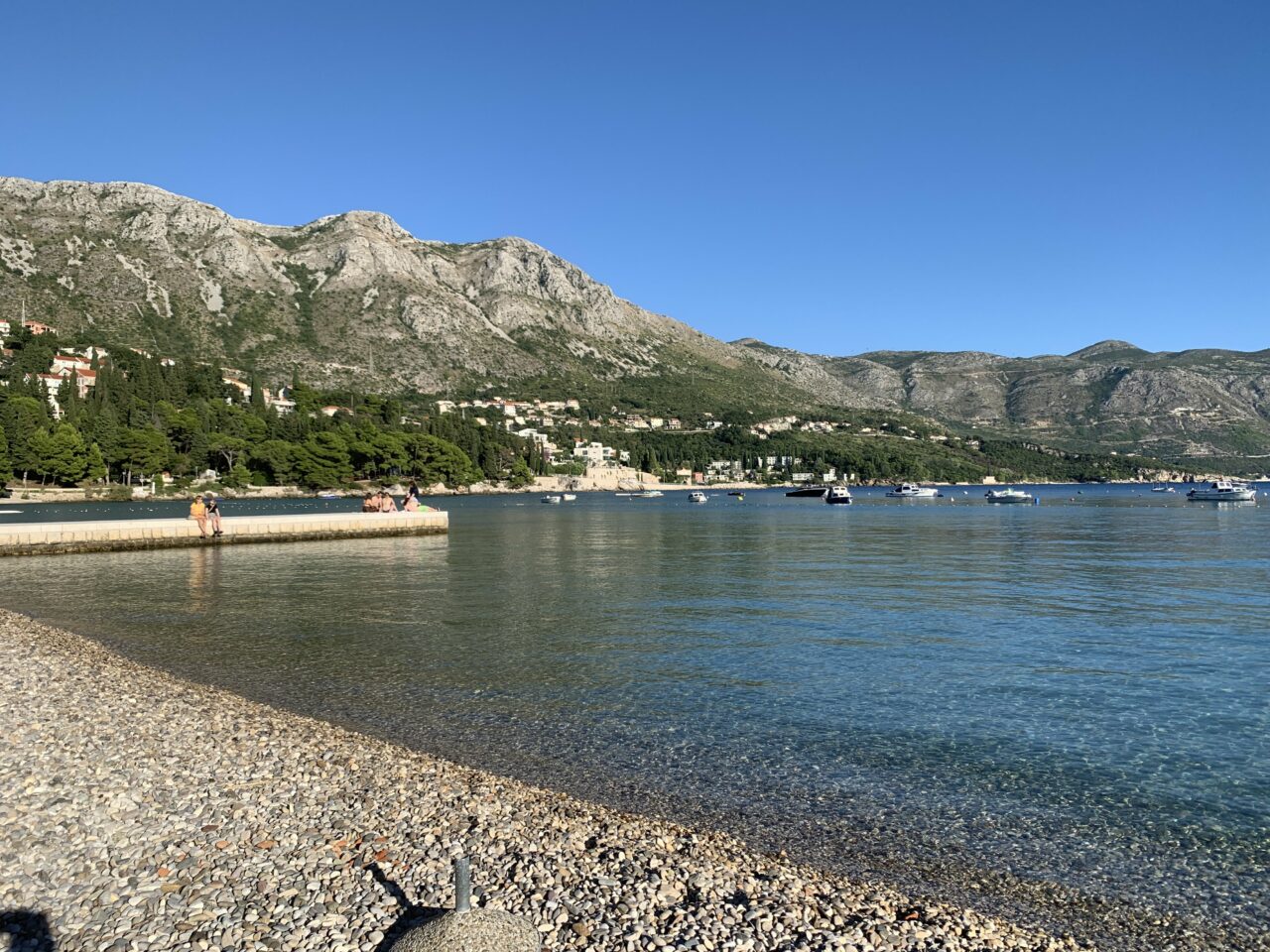 The hotel has plenty of things to do nearby if you don't want to venture out. As well as a large swimming pool, there is a beach with loungers supplied by the hotel. As you can see by the picture, the beach is VERY stony and your feet sink into the pebbles which makes entering the water quite painful. I would definitely recommend bringing water shoes if you have them. The water was beautiful though – crystal clear and even in October not too cold. I do think the hotel should put in a swimming ladder on the pier though – this small investment would make it a much better experience for guests. There seemed to be some kayaks you could rent by the beach but I am not sure if they were part of the hotel.
The other thing they could do is be less restrictive with the towels. You have to collect a towel as you exit the hotel door to the pool as there are none at the beach. They wrote down how many towels you take and you are not allowed to leave them on the loungers – you will get told off and told to return them to the entrance if you do!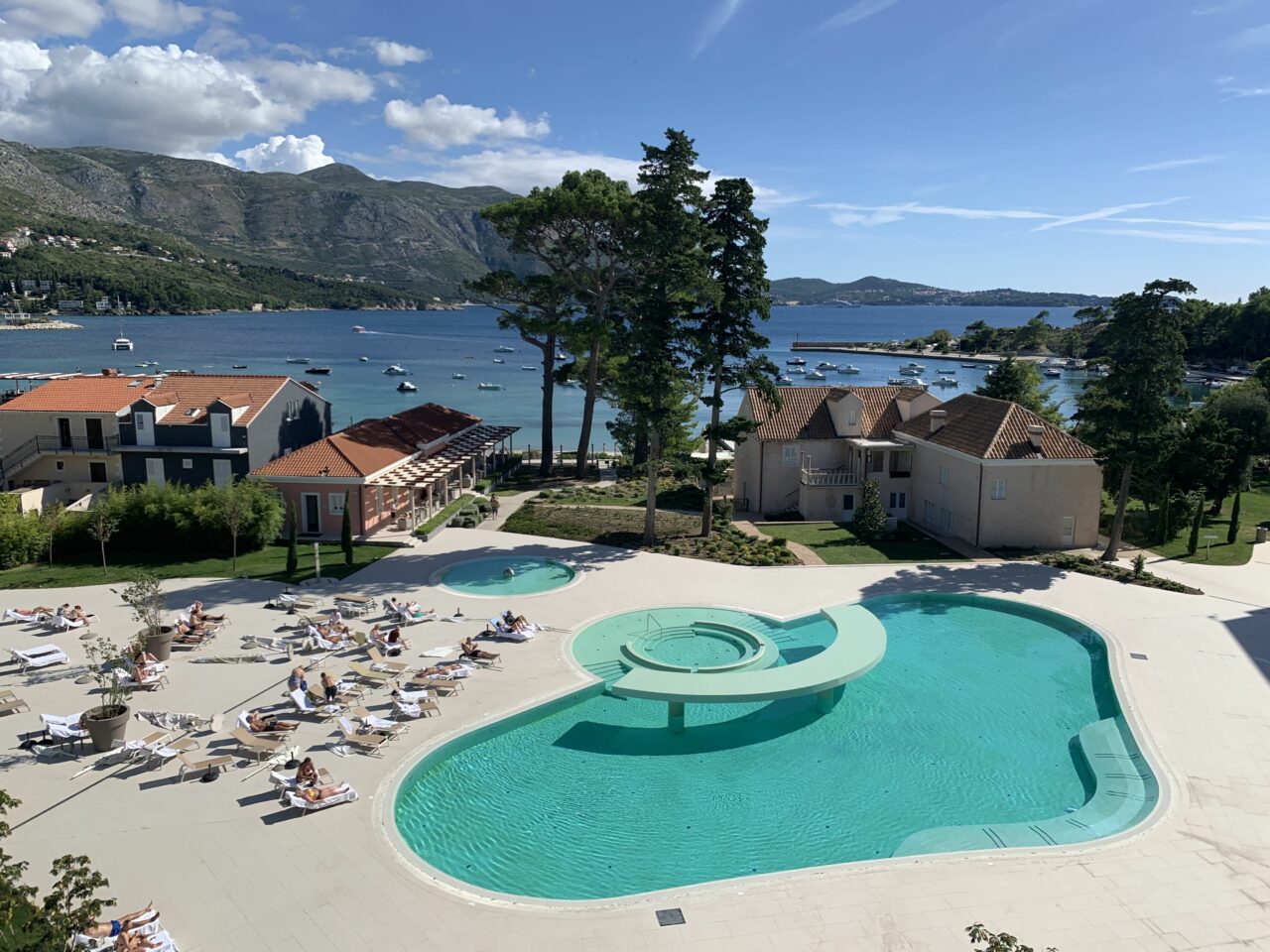 The pool looked lovely, but it was colder than the look I give people if they suggest I fly economy! The issue is that the hotel is closed over the winter so there is no incentive to heat the pool. This was a great shame for me – I will normally brave most pools but this was way too cold for me and 99% of the other guests. I would guess the temperature of the pool was around 18-20c which is pretty cold. The sea felt warmer!
There was also an indoor pool which was handy when the weather was a bit cooler. Sadly although the pool area itself was positively tropical, the pool itself was a bit cold for my liking.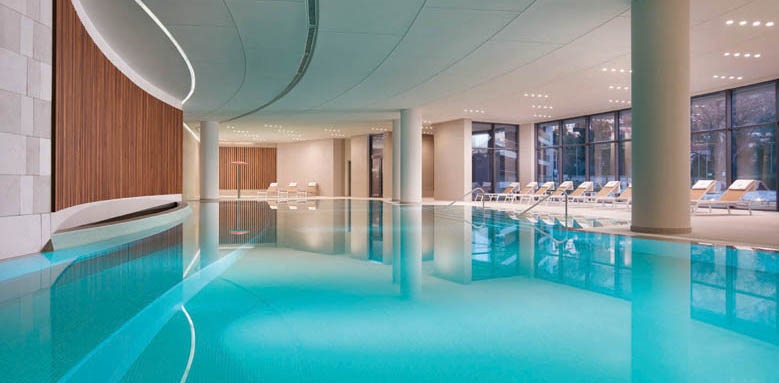 As well as the pools and beach, there was also a small but well-equipped fitness centre and two outdoor tennis courts which are lit for playing at night.
Sheraton Riviera Dubrovnik hotel Spa

I was impressed by the facilities in the spa. As well as moden=rn luxury there were both a Finish and Turkish sauna, a large jacuzzi, steam room and day beds for lounging. There was a wide range of treatments so I decided to try a couple of the more unusual ones – a salt stone massage and a sleep massage. The salt stone massage started with a very through salt scrub followed by a heated salt stone massage. The sleep massage involved being massaged with warm oil with two very soft brushes followed by some more traditional massage strokes. Both treatments were good and the therapist was delightful. Prices were typical for a 5* hotel in Europe.
Things to do nearby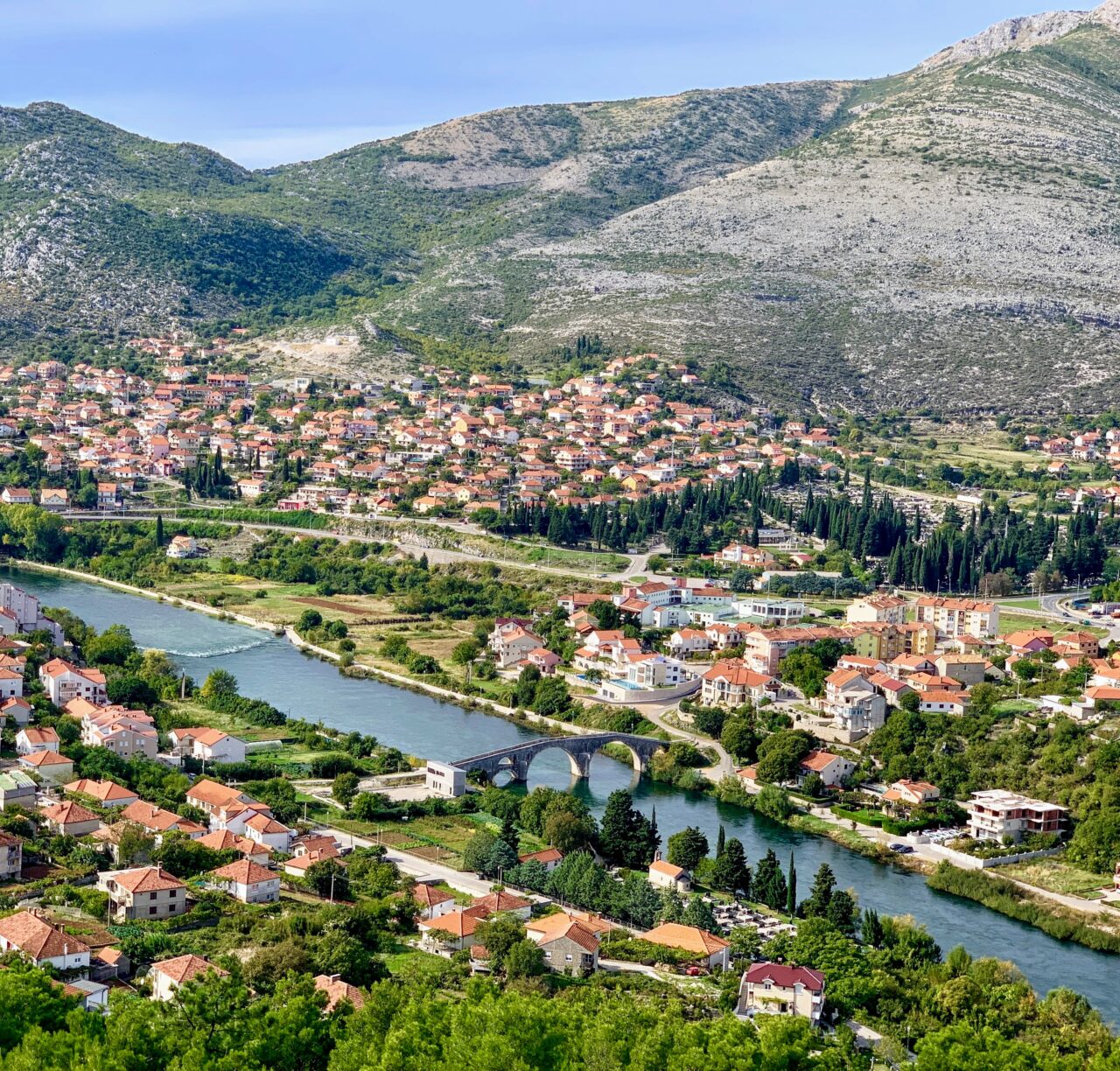 I found the concierge very helpful with planning. I was looking to do a short day trip and she suggested Montenegro, which is a long day at around 10 hours, the Elafiti islands – the hotel can arrange a private speedboat and captain, or Bosnia. I decided on the trip to Bosnia for lunch which was only around 40 minutes from the hotel by car.
The nearest town in Bosnia is Trebinje which is quite pretty with a small walled old town. You probably only need an hour or so there and then head off to lunch at the lovely Studenac restaurant on the river for some local trout. Finally, head up to the monastery for the stunning views and to buy some of the award-winning wine. I recommend the Cabernet.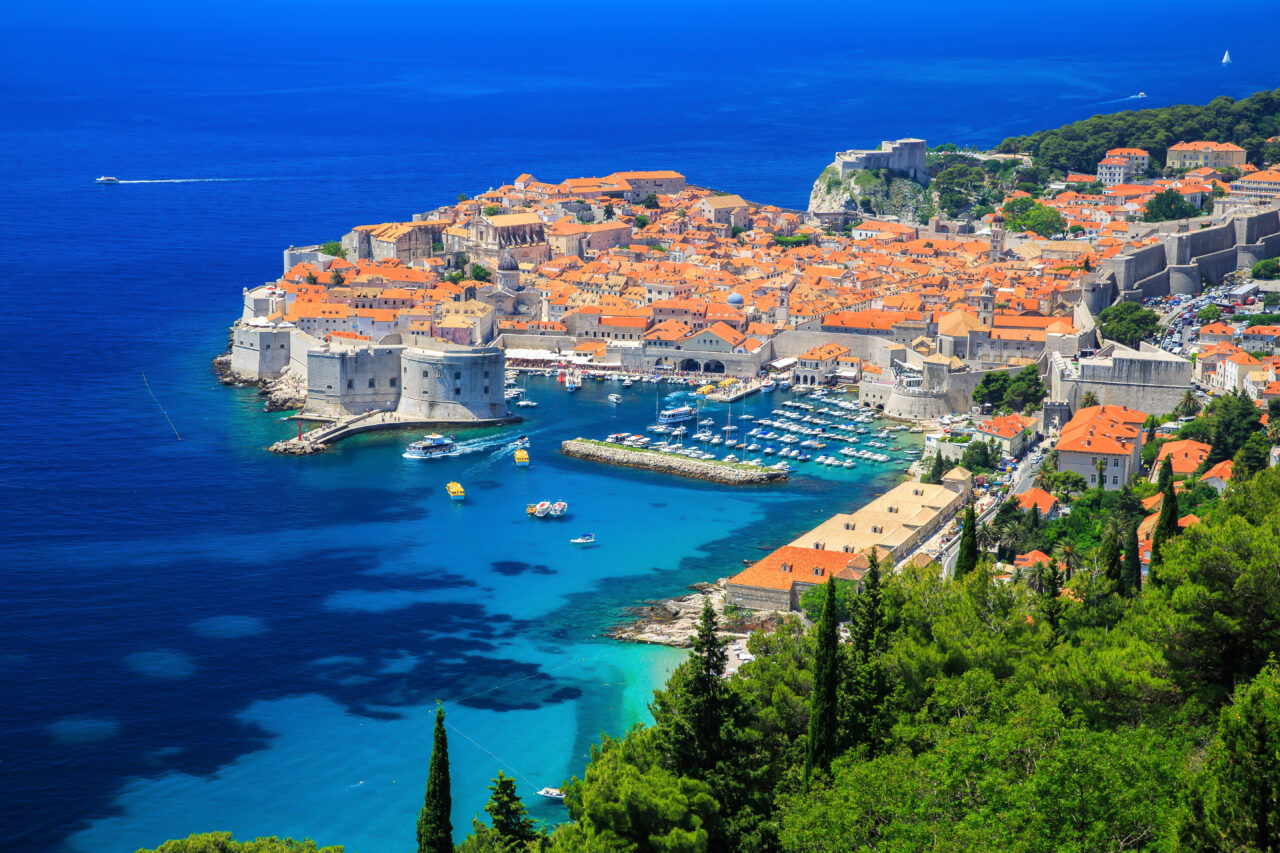 Of course, you must head to the walled city of Dubrovnik but be prepared for the hoards. Ask the concierge for advice on when the cruise ships are in port to avoid the crowds!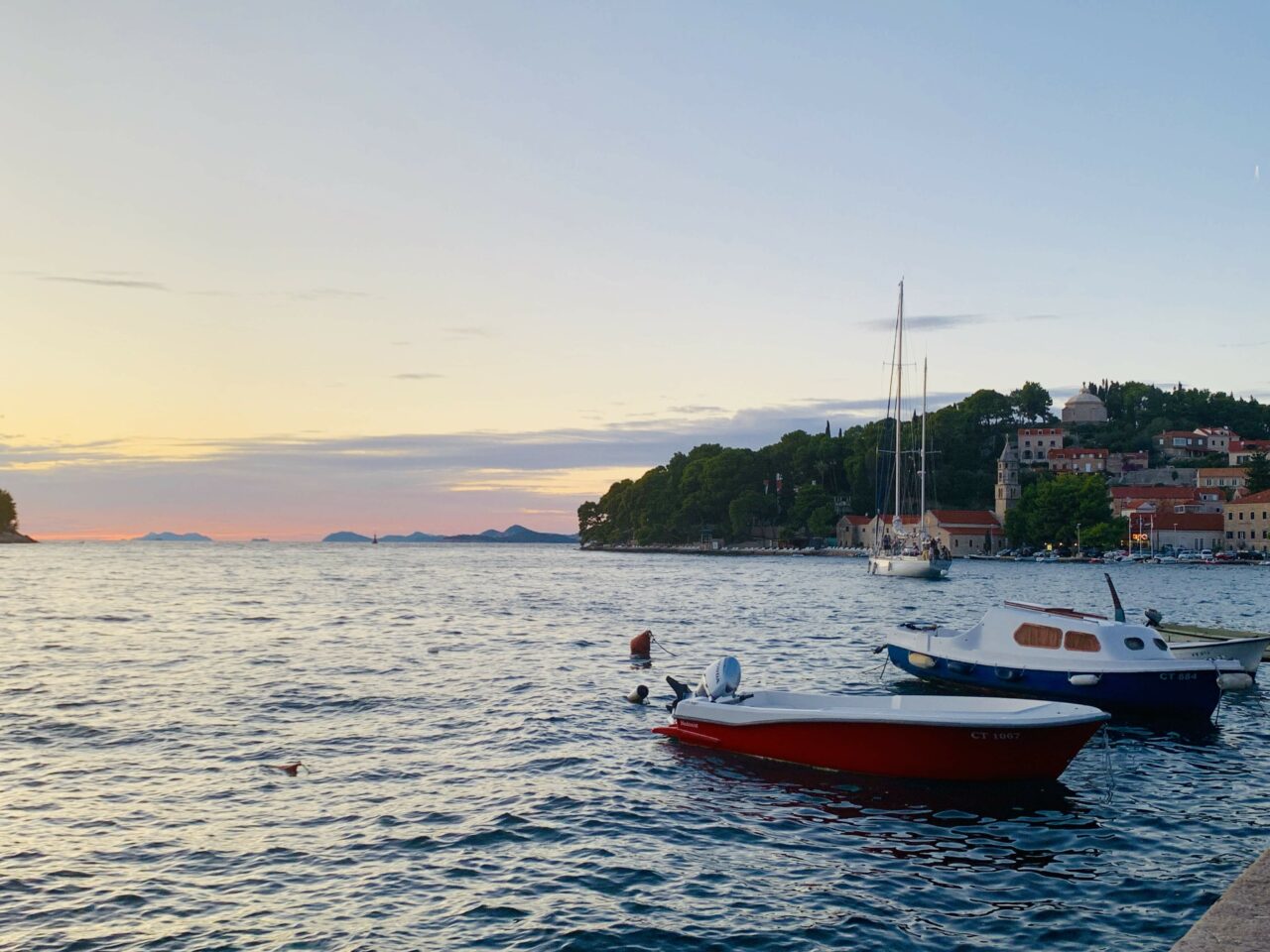 Cavtat is about 10 minutes from the hotel and a good place to visit a restaurant by the waterfront. You can admire all the superyachts that moor up here too. (not the boats in the picture!) I recommend Bugenvila restaurant.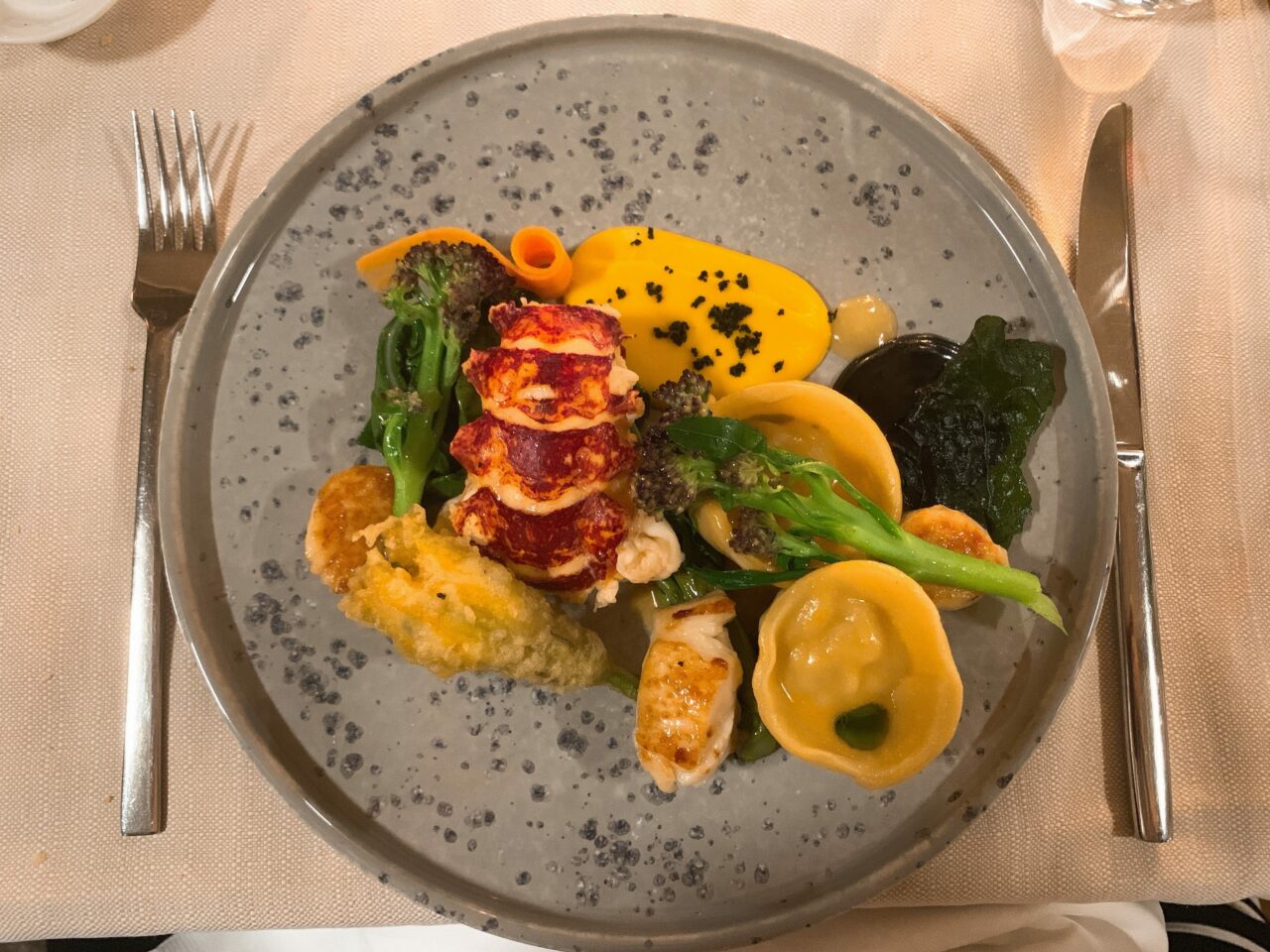 Conclusion
I loved the Sheraton hotel. The setting is simply beautiful and everything in the hotel was a high standard. I liked the location as it was away from the crowds, had restaurants in walking distance as well as shops and was close to Cavtat and the airport. I would have liked the pool to be heated so I don't know if I would rush back off season again. Other than that, it was a lovely hotel with high standards of accommodation, facilities and food.
If you go off-season prices are very reasonable starting at about €125 or 25,000 Marriott Bonvoy points per night. In peak season rooms are around €230 or 30,000 points per room per night.
You can find prices and more details on the Sheraton Riviera Dubrovnik here.
Like our Sheraton Riviera Dubrovnik hotel review? You can read flight reviews here.