Singapore Airlines has revealed its new onboard seats for all their cabins and the results are pretty stunning, particularly in First Class. Unfortunately, they probably won't be onboard when I travel with Singapore in January but I will bring you a full review of the current product.
The new seats will be fitted to their entire Airbus A380 fleet, including retrofitting on 14 aircraft that are already in service. The seats will enter service on 18 December 2017 to Sydney on the first of five new A380s on order. The first retrofitting will start in late 2018 on the 14 existing A380s with a target for completion in 2020.
Singapore Airlines' A380s currently fly to Auckland, Beijing, Frankfurt, Hong Kong, London, Melbourne, Mumbai, New Delhi, New York, Paris, Shanghai, Sydney, and Zurich.  The new Singapore Airlines A380 will have 6 Singapore Airlines Suites and 78 Business Class seats on the upper deck, as well as 44 Premium Economy Class seats and 343 Economy Class seats on the main deck.
The concept for the new cabins is "Space made personal, experience the difference".
Singapore Airlines First Suites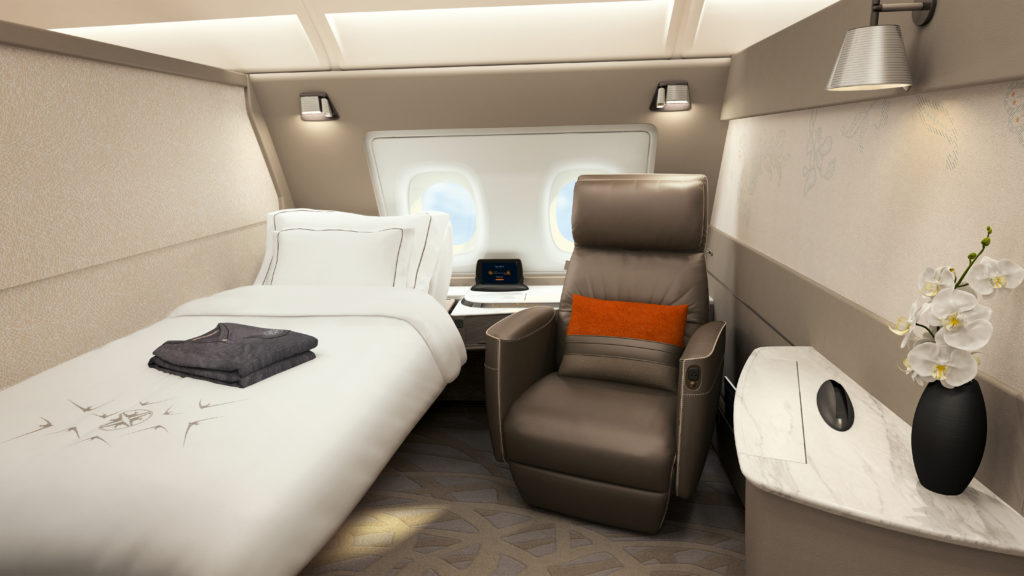 The six suites will be located at the front of the aircraft and look like they will be one of the best first class products on the market, rivalling the First Class Apartments on Etihad.
Each suite is behind a sliding door for privacy. The suites are furnished with a separate fully flat bed with adjustable recline and a leather chair. This is similar to Etihad's First Apartment which enables you to use the bed without the need to convert the bed from a sitting position. I will be travelling in Etihad First next week so look out for my review.
If you are travelling with your partner the beds in the first two Suites of each aisle can be converted to form a double bed. Another novel feature is the ability to stow the bed completely when you are not using it, creating even more space within your Suite.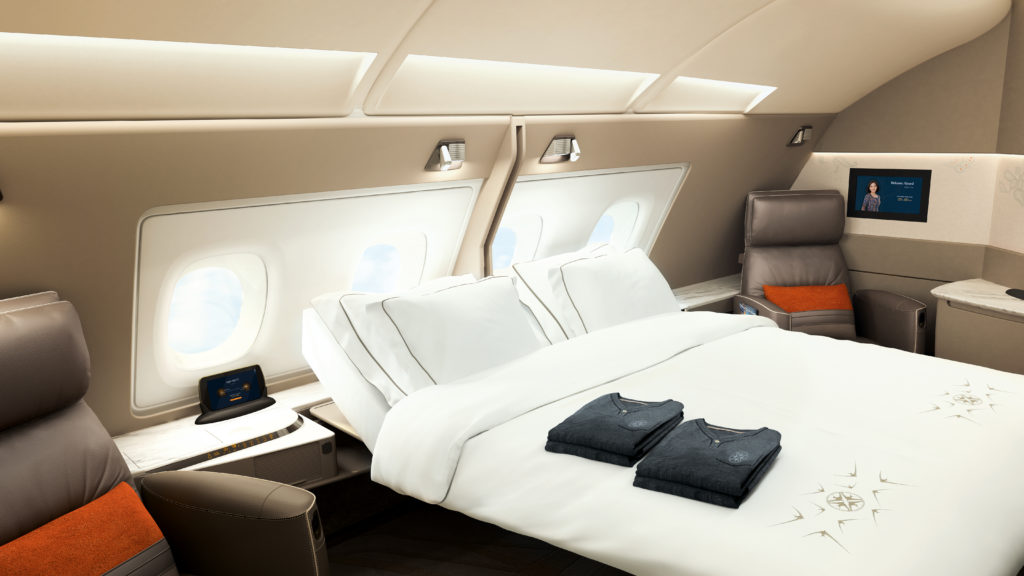 The leather seats are fully adjustable using an electronic control side panel to a variety of sitting and lounging positions and reclines up to 45 degrees. The chair can also swivel to provide flexibility for dining and relaxation.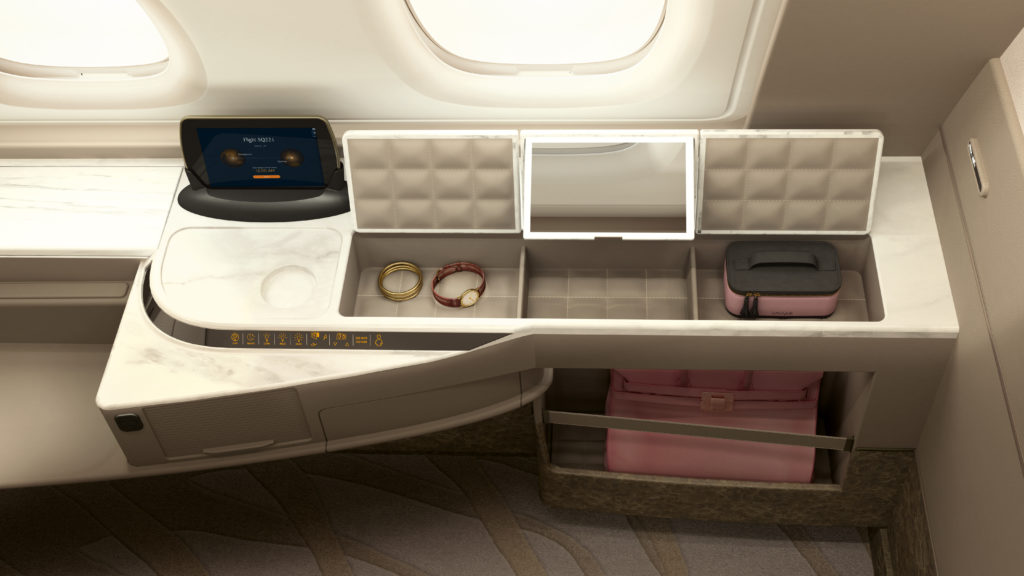 The Suites also have 32-inch HD monitors that can swivel for viewing from both your seat or bed modes. There is plenty of storage space too with a full-sized wardrobe, a special handbag stowage compartment, amenity box lined with soft leather.
The 6 suites share 2 bathrooms, one of which features a sit-down vanity counter. However, there does not appear to be a shower unlike Etihad and Emirates which is a shame.
Business Class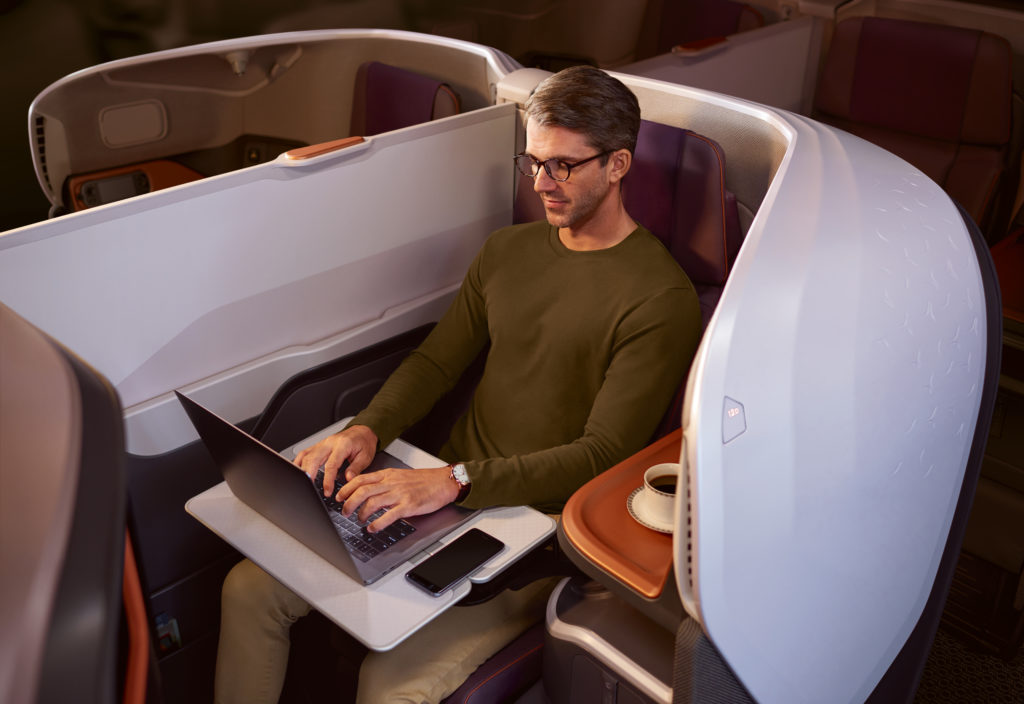 The new business class cabin has a very modern feel with leather seats and a cocoon-like shell surround to the seats which give a much better degree of privacy than the current seats. The seats are all forward-facing with direct aisle access in 1-2-1 configuration.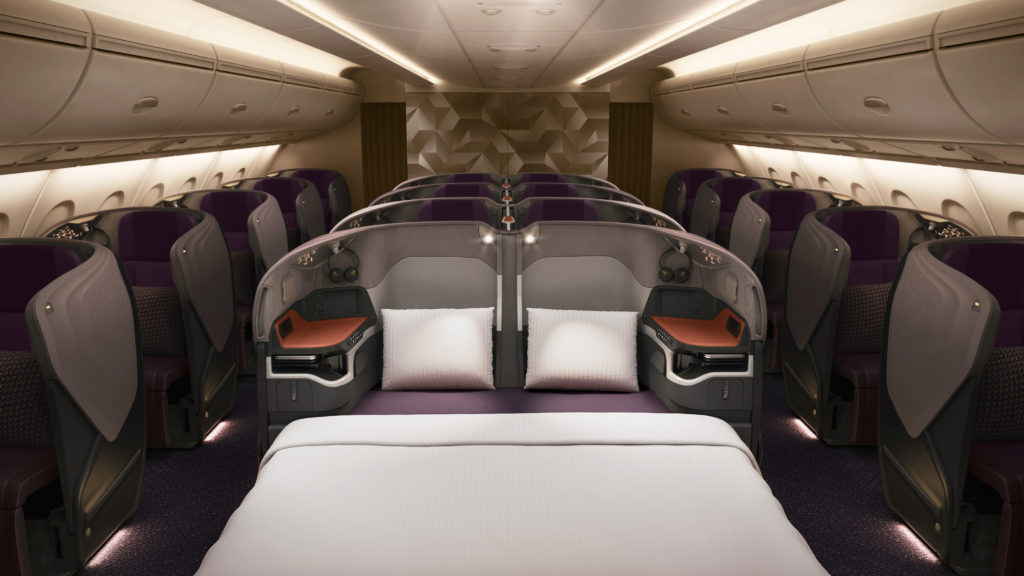 The middle seats have a divider between them which can be lowered if you are travelling with someone. Like Qatar's Qsuite, you can make the centre seats into a double bed if you wish. This used to be the preserve of First class seats, but it is now beginning to be commonplace in business class. BA are due to introduce their new seats in 2019 and they will have to do something spectacular to get back to the top of the game where they were when they introduced the Club World seat in 2000.
The new Business Class seat measures 25" versus BA's at 20". The seat also has two side wings for better back support, reclines directly into a fully-flat bed that's 78" long (BA is 72″). You can also stretch out in what Singapore are calling a 'sun-deck' position to watch movies.
For entertainment, there is an 18" HD touch-screen monitor.  Obviously, there is in-seat power with USB ports and in-seat power plus mood lighting and a larger dining table designed for flexibility in dining positions.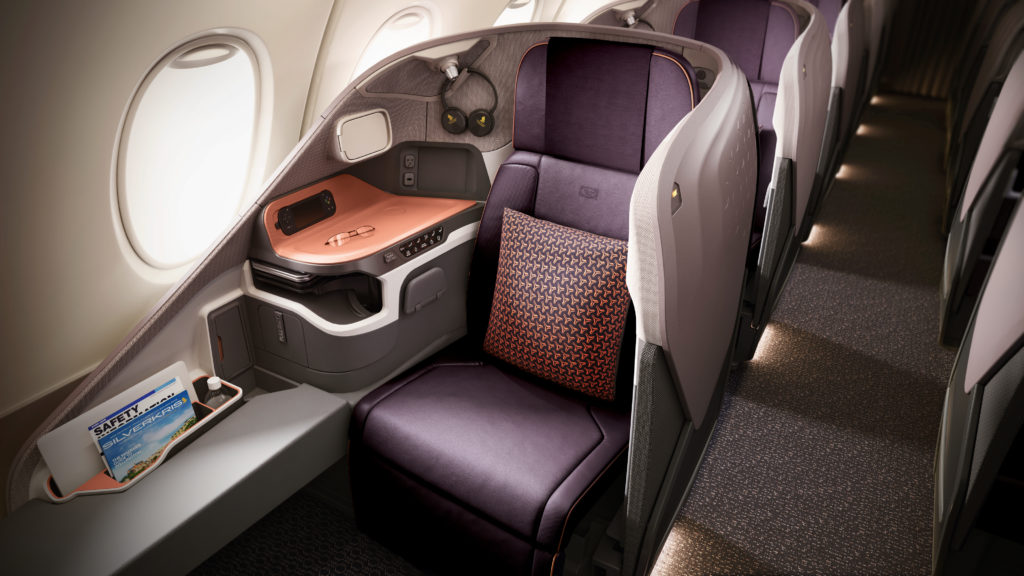 Another unique feature is the extra under-seat stowage space which can accommodate a full-sized cabin bag and laptop bag or handbag. There are plenty of other smaller storage areas to be able to keep everything within handy reaching distance.
Here is a video of the new business and first seats.
Premium Economy Class

The Premium economy cabin is also a cut above the competition with its new features. The Premium Economy Class seats are 19.5" wide (BA currently have 18.5″), with 8° recline and seat pitch of 38" (same as BA). Customers will have an enhanced in-flight entertainment experience with active noise-cancelling headphones and a 13.3" full HD monitor. Other features include full leather finishing, calf-rest and foot-bar , individual in-seat power supply, two USB ports, personal in-seat reading light, cocktail table, and more storage space for personal items.
Here are all the facts you need about all the new seats: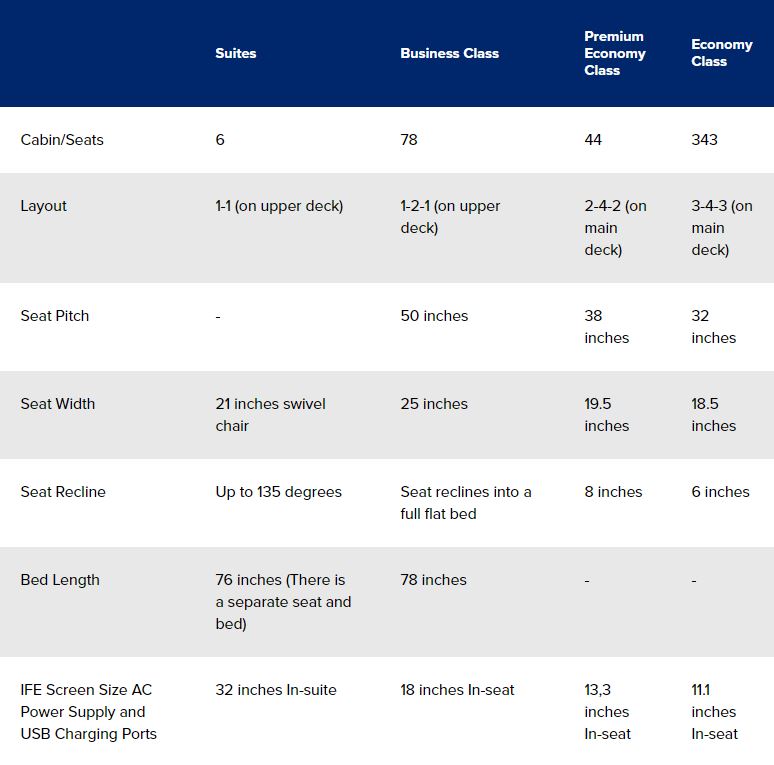 Singapore has a page dedicated to the new product here.