Our anonymous miles and points expert, Mr. Brightside, sometimes buys airline miles and hotel chain points to redeem for flights and luxury hotel stays. But when does it make sense to do so? In the first of two parts, he looks at buying hotel points…
Hotel loyalty programmes can be quite complex, so much so that sometimes you wonder what's happening behind the scenes… A hotel chain might be willing to sell you points that you can immediately redeem for "free" hotel nights… at a lower cost than their regular room rates. You almost certainly will be assigned the same room, regardless of whether you pay cash or use points, and your elite status treatment should also be the same. So you could easily save yourself money with a bit more effort. But you definitely aren't guaranteed to always save money by buying hotel points, so when should you consider doing so?
What is the Best Price for Points?
Firstly, it is important to have a good idea of the standard promotions offered by the major hotel chains. Some hotel chains are known for offering the same promotion over and over, with the briefest of pauses in between promotions. Others vary their pricing from time to time.
Hilton Honors
Hilton Honors will regularly sell you points with a 100% bonus. Because the regular price is 1 US cent per point, you can usually rely on being able to buy Hilton points for 0.5 US cents each. (0.385p)
IHG Rewards Club
IHG discounts its points somewhat less frequently than it used to. It also varies its bonuses occasionally. The best bonus I can recall seeing is 100%. Because the regular price is 1 US cent per point, you should have a couple of opportunities per year to buy IHG points for 0.5 US cents each. (0.385p)
Marriott Bonvoy
Starwood Preferred Guest frequently sold Starpoints at a discount. Marriott Rewards NEVER did. Now that the two have merged into Marriott Bonvoy, the SPG strategy has prevailed. That said, Marriott Bonvoy has yet to decide upon a standard promotion. Back in the spring of 2020, a 60% bonus was available; the current offer is back to 50%. For now, I assume that I will be able to buy Marriott points a few times per year with the 50% bonus, turning the 1.25 US cent regular price into 0.83 cents per Marriott point. (0.64p)
World of Hyatt
World of Hyatt alternates between bonuses and discounts, with the semantics disguising small changes in pricing. Until last year, the "standard bonus" was 40%, but this has yet to be offered in 2020, despite the cashflow pressures of COVID-19. 2020's preferred promotion appears to be a 25% discount, which turns the regular 2.4 US cent price into 1.8 cents per Hyatt point. (1.39p)
Points or Cash?
The next stage is comparing the cash rate with the points cost. If it is cheaper to simply buy the points you might require, then you might be on to something…
A simple, theoretical example
Imagine that a Hilton hotel wants to charge you 50,000 points per night. You can wait until the next 100% bonus offer – there's always one just around the corner – and buy the points for $250 (£192.50).
If the cash rate less than £192, then you know for sure that you don't want to buy Hilton points, at least for this specific hotel. If the cash rate is higher than £192 – make sure to compare against the flexible rate, since a reward booking is almost always flexible – then you might want to consider buying points.
An actual example
Marriott Bonvoy also offers opportunities to buy points and save money. Here's a random weekend night at the University Arms in Cambridge.

The flexible rate is £189 for your one night stay. You could instead pay 25,000 points. If you don't happen to have 25,000 Marriott points, you could buy them in one of Marriott's regular sales. At the 0.64p price I mention above, you would pay 25,000 x 0.64p = £160.
The Likeliest Candidates for Saving Money by Buying Points…
Fifth Night Free
Both Hilton Honors and Marriott Bonvoy offer a nice perk. Marriott offers it to all members and Hilton offers it to members with elite status (including Silver status, which is really easy to obtain). When you make a reward booking of exactly five nights in length, one of your five nights will be free. If you book a ten-night stay, two of your nights will be free.
The mechanics do differ slightly however, due to the fact that both hotel chains have variable award pricing:
With Hilton Honors, the actual fifth night of your stay will be free (even if it is the most expensive night)
With Marriott Bonvoy, the cheapest of your five nights will be free
Very rarely do hotels offer a ~20% discount when booking a paid rate for five nights. So, whenever you can structure your stay into five night blocks, then booking an award stay might be the way forward, even if you need to buy the points…
Low and High Award Categories
Although the concept of award categories is becoming less and less relevant due to peak / off-peak pricing (used by Marriott and eventually by Hyatt) or the full dynamic award pricing being used by Hilton and IHG, you will most regularly find "points bargains" at the extremes.
For example, you shouldn't find it hard to come across low award category hotels that regularly have relatively sky-high room rates, such as the Courtyard hotel in Oxford.

The same applies to the luxury end of the scale. Many bloggers immediately jump to the Maldives to prove their point, but instead I'll stay closer to home, with the Park Hyatt Vendome in Paris. You could buy 30,000 points for £417 or you could simply pay the cash rate, which you'll often find closer to £600-700 per night…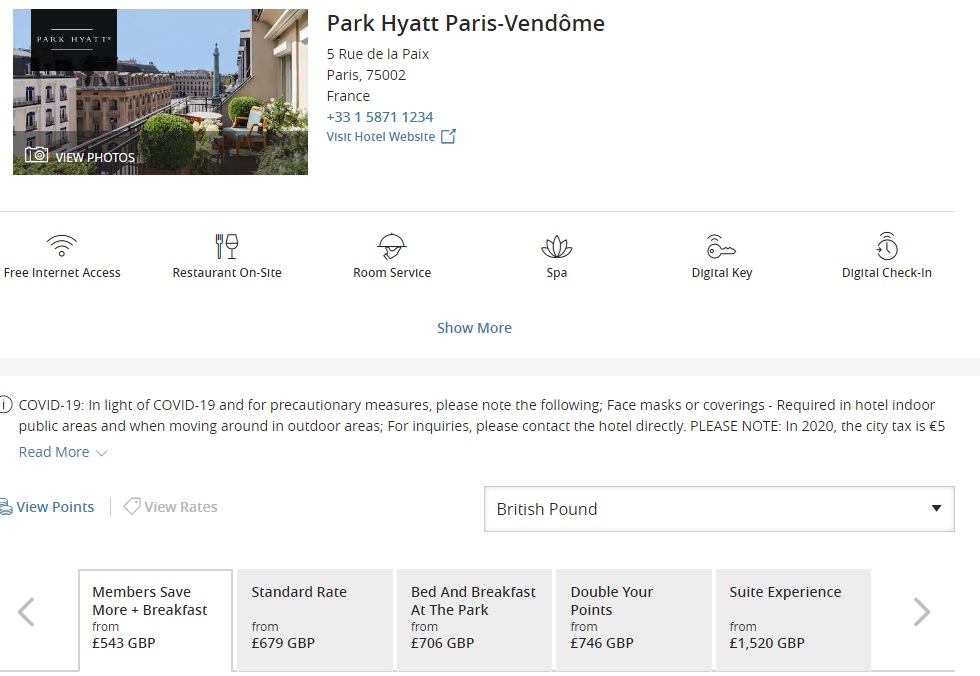 It Can Get a Bit More Complicated…
Once you have a good idea of what it might cost to buy points, and know where to find likely candidates to save money by buying points (instead of just booking a cash rate), you are halfway to some pretty interesting savings on your hotel stays.
But paid stays do have some other advantages, which I'll cover in part two…