I recently flew on Air France's new B787 with the long haul business class seats from London Heathrow to Paris. You can read the review here. The return journey was on a A319 with their normal short haul business class. As I have also recently flown Club Europe on a short flight to Berlin, I thought it was worth a comparison.
Check-in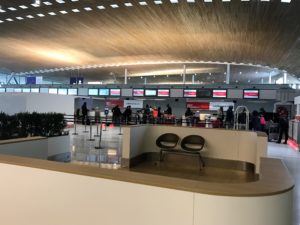 I was impressed by the facilities at Charles de Gaulle for business class check in. There is a completely separate enclosed area for Premium check in, which takes you directly into the fast track security queue. Our hearts initially sank as we entered the business class area and joined a queue of people with trolleys piled high with luggage. However, the staff member who directed us to the queue, magically appeared after a few moments and checked us in at a separate desk. I thought this was very proactive and certainly welcome after a long journey to the airport in traffic.
At Heathrow, BA's Club check-in is just in the main check in hall area, although it is a separate check in queue. You get fast track access as well.
The Lounge

The Air France lounge at Terminal 2E was pretty good overall but nothing spectacular. It was certainly quieter than Galleries Club at Heathrow (which I will be reviewing shortly) and had a really good champagne on offer too. Décor wise, I actually prefer the BA Heathrow lounges, as found the Paris ones quite dull.
The lounge is divided into 2 sections which both have similar facilities. If you turn left from the desk, you will go into the area which has natural light and views of the apron. The wine and food were the same both sides. The right hand area has a business area as well as more alcoves and private areas.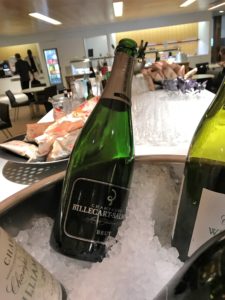 The wine selection was high quality and overall slightly superior to BA, although less variety in terms of origin. The champagne was Billecart-Salmon Brut which is well regarded and was very enjoyable. I liked the way the bottles were displayed in a champagne bucket on ice. I often find that in the BA lounges, the wines are not quite cold enough. The spirits section had a French bias with more unusual choices such as Ricard and Poire William liqueur. I didn't spot any vodka strangely.
Although the food selection mid afternoon was not overly adventurous, it was definitely superior to the BA afternoon Galleries club sandwiches. There was a reasonable selection of simple food. However, all the items we sampled were high quality, full of flavour and delicious. There was a cold selection with mozzarella, basil and tomato mini baguettes ham mini baguettes, fruit salad, cheese and yoghurts. In the hot section were warm cheese gougeres, (like a choux bun filled with cheese) bacon and mushroom clafoutis which were a bit like frittatas, and warm apple pancakes.
Boarding
Boarding was announced quite early, considering we then sat on the tarmac for nearly an hour due to delays at Heathrow. There was the usual priority boarding queue which was not overly long. The process was reasonably quick and efficient.
BA's priority boarding is becoming something of a joke due to the numerous card holders that are given priority boarding. Quite often at least a third of the plane are in priority queue which makes it something of a pointless exercise.
On board
I was impressed with the crew on this leg of our journey as I was on the outbound. They seemed genuinely welcoming and keen to help. Shortly after the delay was announced, they came round with wrapped moist towels and bottles of water for business class. This is something I have not seen happen on BA and I thought this was a good way to keep customers comfortable for the delay.
The seating layout was identical to BA with 3-3 layout with the middle seat blocked. The legroom was slightly more than economy at 33″ versus 32″ (BA is 30″ in Club Europe) but we had the bulkhead seat in 1A and C. I thought this was slightly less room than on BA in the same position and it felt a bit more exposed in 1C. 1 D&F looked a better choice. The seats were overall about the same comfort wise as BA and the aircraft was very clean and smart.
Once we had taken off the crew were very efficient in delivering the meal and drink service. Since the flight was mid-afternoon, we got what I would assume to be Air France's take on afternoon tea. I thought it was definitely a better offering than BA. Although it wasn't huge, it was visually appealing, tasty and high quality. It included an open sandwich, cakes including a macaron, chocolates and fruit. The meal was accompanied with more warm gougeres.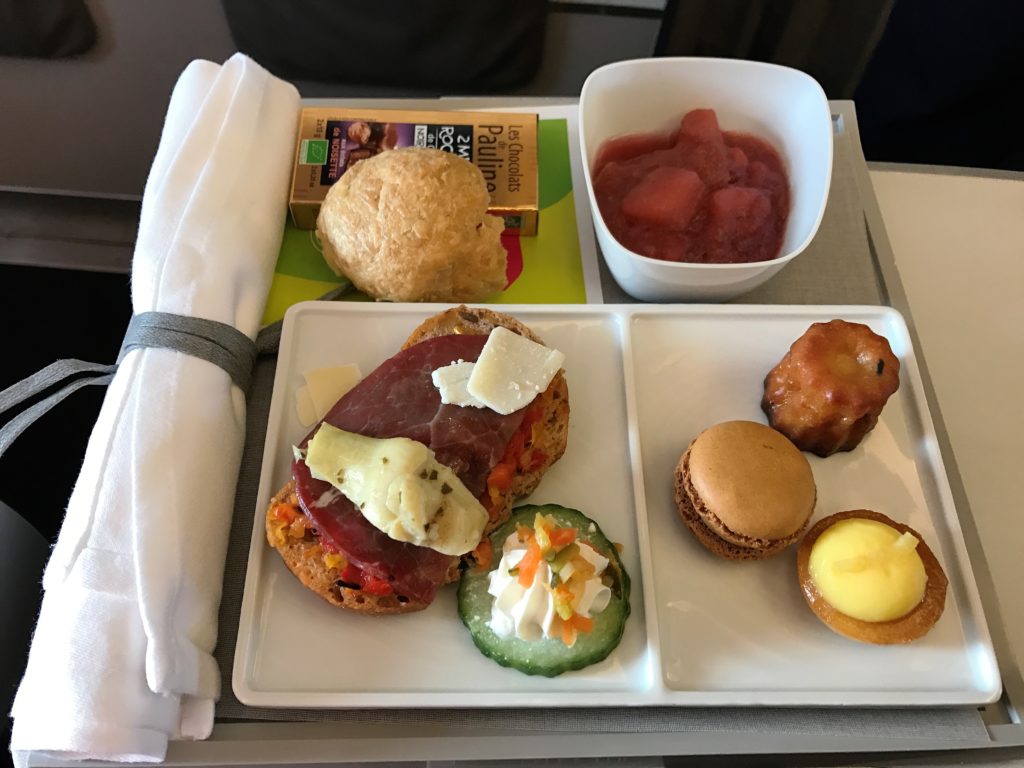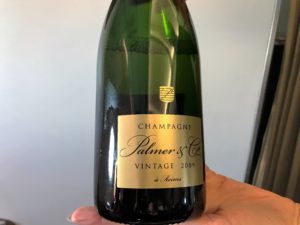 The wine selection was definitely better than British Airways Club Europe by a mile. There was a full sized bottle of 2009 Vintage Palmer and Co Champagne. Champagne expert Tom Stevenson recently included Palmer and Co. in his list of The 5 most underrated Champagne producers. I enjoyed this much more than the miniature bottles of Castelnau on BA. They also had miniature still wines which were Chablis and a French Merlot. Proof indeed that it is possible to get decent wines in small bottles, if you are listening BA?
Conclusion
I would certainly recommend the B787 option which I did on the outbound over BA Club Europe. On this leg, although it was better overall, the tier points and avios would probably still sway me towards BA if I was paying for Club anyway. If you are not worried about tier points (and the avios are so low for this route, it's not really worth worrying about) then I would chose Air France over BA.
You can find more about Air France business class here.