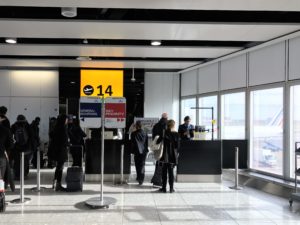 Air France are currently using a B787 Dreamliner on one flight per day to and from Paris. This gives you a chance to try out their new long haul business class seats for a fraction of the usual cost. If you would like to try it, you can find more details here
Check in and boarding
Air France fly out of Terminal 4 at Heathrow. The check in was quick and the staff agent was very welcoming. I used Fast track security which was not particularly fast and surprisingly busy for a Saturday morning. Air France use the Skyteam lounge which I enjoyed but I will review that separately.
Boarding was well organised with the business class and elite Sky team members invited to board first through the priority channel.
The seat and cabin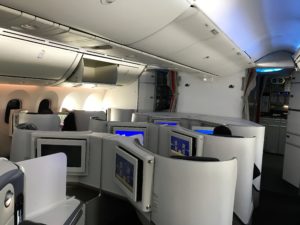 Once on board I was directed to my seat in 5K. I chose this window seat as it was a solo seat and also about half way between the galleys and toilet. The seat was a fairly standard reverse herringbone style in a smart looking black and off white colour scheme. It probably wasn't the best choice, however, when it comes to longevity. There were already marks on the white trim by the seat, despite being almost brand new.
The seats are in a 1-2-1 layout meaning that everyone gets aisle access. They have a 42″ pitch and transform into a fully flat bed which is nearly 2m/6,5ft in length. When you lower the bed, the armrest also lowers to give you more room. I found the seat cushion soft and comfortable which felt like it would give you a good nights sleep. On long haul flights you also get a duvet, large feather pillow and a Clarins amenity kit.
The cabin felt light and spacious with a greater feeling of privacy than I expected. As the seats were slightly staggered I felt very private in my window seat. All I could see of the person across the aisle was their legs. The centre seats had a large divider that could be used if you were travelling solo. The table seemed a bit small and flimsy but it was OK for eating from. The seat was comfortable for relaxing in with a leather ottoman to rest your feet on. The controls were very simple but not in a good position. As they were on the edge of the side shelf, it was very easy to lean on them by mistake and unexpectedly recline your seat.
Storage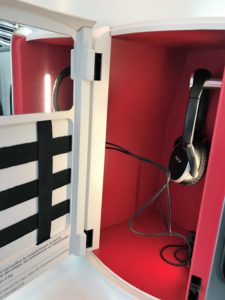 The in-seat storage space wasn't as good as some other airlines with only a side compartment which housed your noise cancelling headphones. I did like the mirror inside it though, which would be handy if you wake up with bed head! The other good part about the storage compartment was the elastic restraints to keep your more delicate items in place such as phone. There was a large side table which I find useful so that you can have a drink or bottle of water without needing to take the table out. Also, there were the usual overhead bins for larger items. I liked that they had a mirror at the top, so you could see if you had left anything behind.
Entertainment
I was impressed by the entertainment system as there was a large 16″ HD touchscreen. The screen is stowed to the side and can be folded out at the touch of a button. The control were like a smart phone which, unlike some other airlines, was easy to use and responsive. There was a wide choice of films, TV box sets and individual episodes as well as games and music. The film selection had plenty of new films as well as a few classics.
There is both an international socket as well as USB port for charging your devices. Wi-Fi was also available on board.
Windows
One of the most innovative features of the B787 is the window dimming. Although I marvel at the technology I think they are a bit of a fail as they don't actually deliver what they were designed to do: cutting out light!
Food and service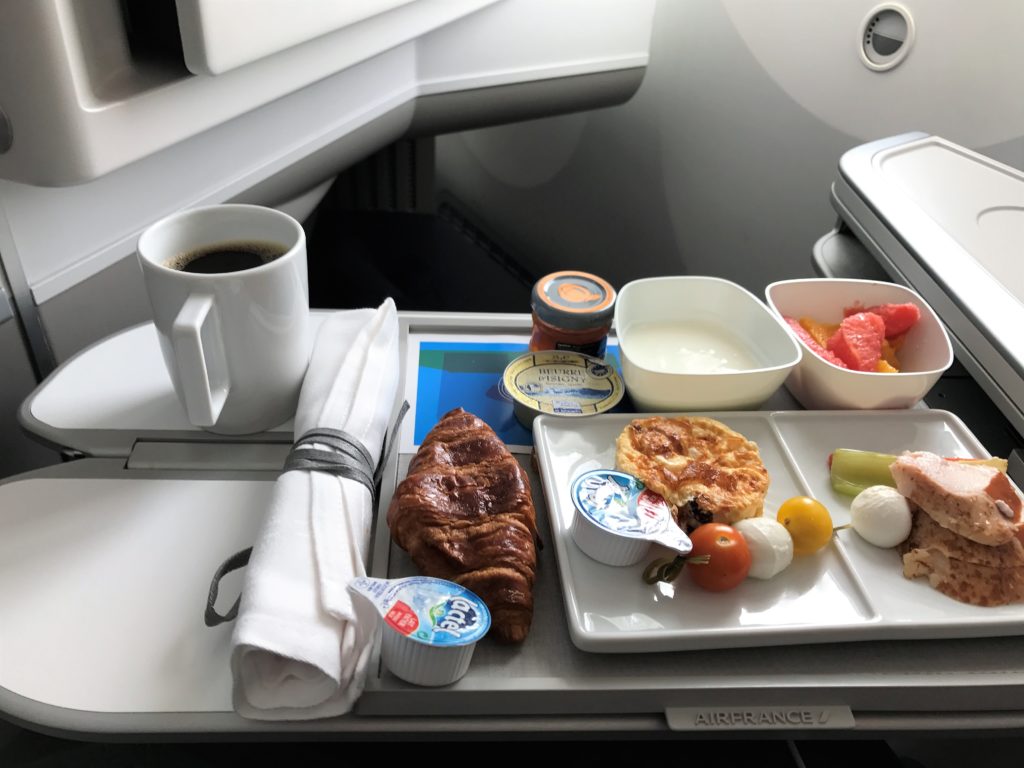 As this was only a short flight I wasn't expecting much, but the crew still managed to serve breakfast with 2 rounds of the bakery basket and drinks. The one disappointment was that there was no Champagne available. I know it was 0940, but I would still expect to be able to get a bucks fizz as you can do on British Airways. I found the crew to be very friendly and helpful. One of them noticed me taking lots of photos and asked if I would like my photo taken. Thankfully for my readers, I graciously declined his offer!
The food was a sort of brunch offering and all of it was simple but delicious. There was also plenty of it. It included a frittata, tomato and mozzarella kebab, smoked chicken and picked vegetables, yoghurt and fruit salad. The butter was a high quality Beurre D'Isigny and the croissants were light and flaky as you would expect from Air France. Proof that it is possible to have a good croissant on a plane! The coffee was also better than usual airline coffee.
Conclusion
Air France has a very good B787 product which would be comfortable for sleeping and relaxing. It is comparable with Qatar in terms of comfort. The crew were also excellent. I would have no hesitation in booking them for a long haul flight if the price was reasonable. As Air France are part of Skyteam you can collect miles to spend on many different airlines such as Delta, KLM and Vietnam Airlines.
You can find more details on the Air France website here.