Air France's relatively new lounge at Montreal's Pierre Elliott Trudeau International Airport (YUL) is a real gem in the combined Franco-Dutch carrier's lounge network. With a fresh design template, this lounge is a great example of how an outstation lounge should be – but there are already signs it is going downhill. Here's why.
Access
Naturally, passengers flying in Business, and First if in operation, on Air France or KLM are admissible to the lounge alongside their respective Flying Blue Gold and Platinum members.
Virgin Atlantic Flying Club Gold, thanks to their SkyTeam Elite Plus status, are able to use this space too. Delta flights are ineligible because these depart from the separate transborder area of YUL.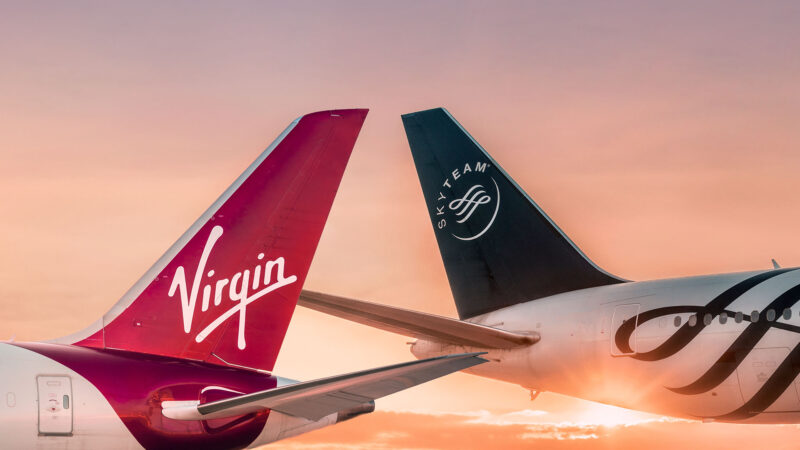 As Air France's new lounge at Montreal Airport is operated by Plaza Premium, passengers travelling internationally, excluding the US, can enter the lounge by pre-booking on their website for around GBP 40. This was how I entered since I was flying on Air Transat.
Using an American Express Platinum card or paying upon arrival is theoretically possible, but on my visit, they were turning away these passengers to limit crowding.
Opening hours are 5 am until 10 pm. Air France and KLM flights depart Montreal between 5 pm and 7 pm, meaning the lounge will be at its quietest before 2 pm and after 7 pm.
Impressions
At the reception, I was quickly admitted into the lounge despite arriving one hour before my entry slot. The reception area is warm and cosy, with stairs leading up to the main space. This is far better set up than the Banque Nationale Lounge a few steps away, where a small reception desk sits on the main floor, leading to overcrowding for people waiting to get in.
Immediately upon arrival, you're greeted by a model of Air France's most iconic aircraft, the Concorde, with two sofas in front of it. This is quite an awkward design, as I would never quite get comfortable with new people consistently streaming in.
The historic Concorde contrasts with the beautiful modern marvel of the Airbus A350 sitting on the apron. Despite the close proximity to Air France's regular boarding gate, they haven't or chose not to implement direct boarding from the lounge.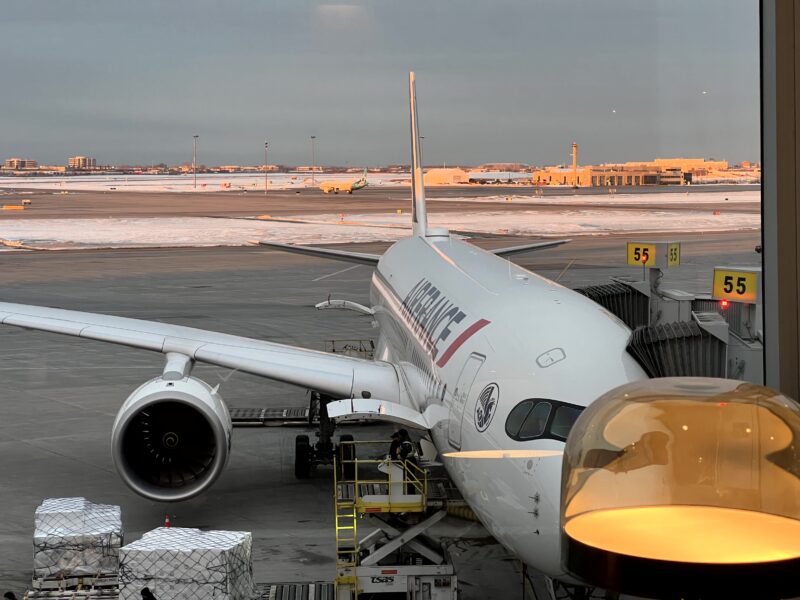 Opposite this model aircraft is locker storage which is useful, particularly in peak hours where a carry-on suitcase may be a bit wieldy.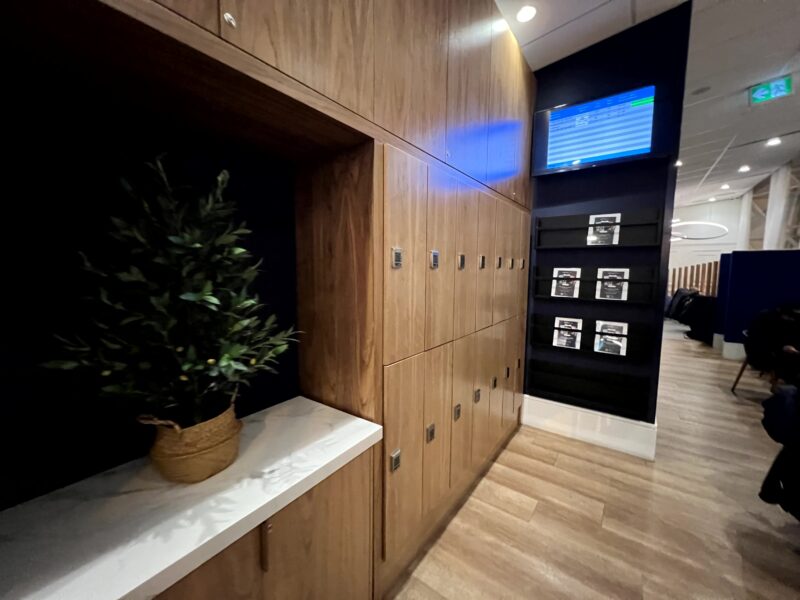 To the left of the entrance is a selection of seating areas. Close to the window are seats and tables suitable for working on a laptop with plentiful 2-pin US-style power outlets. Towards the far end of this area is a range of comfortable solo seats eclectically scattered around the space.
A padded booth without a door can be used to take phone calls. While it is clad in soft materials, I highly doubt it would be able to disperse the noise enough not to disturb other guests.
An area is roped off here, which doesn't appear spectacular, but I believe is reserved for Flying Blue Elites, but not SkyTeam Elites.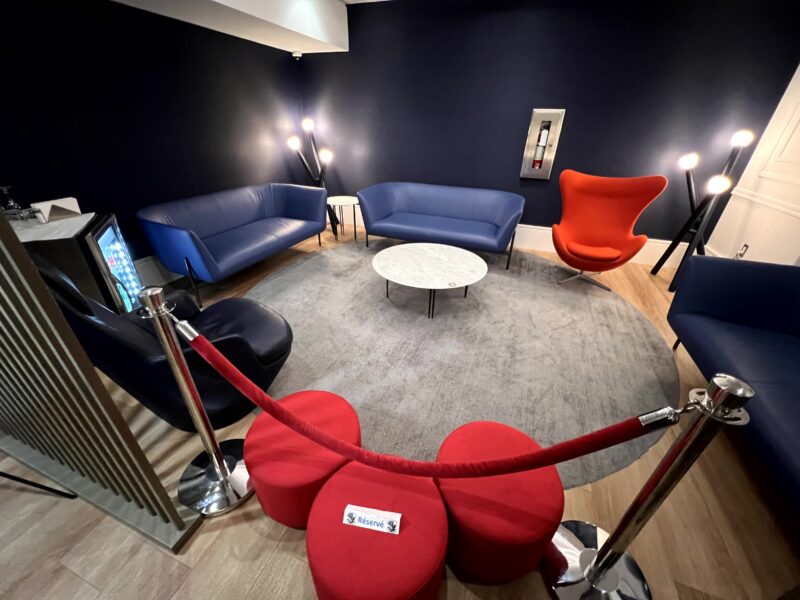 To the right of the entrance is the main part of the lounge, where we see a similar range of seating but deployed more thoughtfully. Here, solo seats are deployed in an arrangement of four with slatted wood to create an illusion of privacy.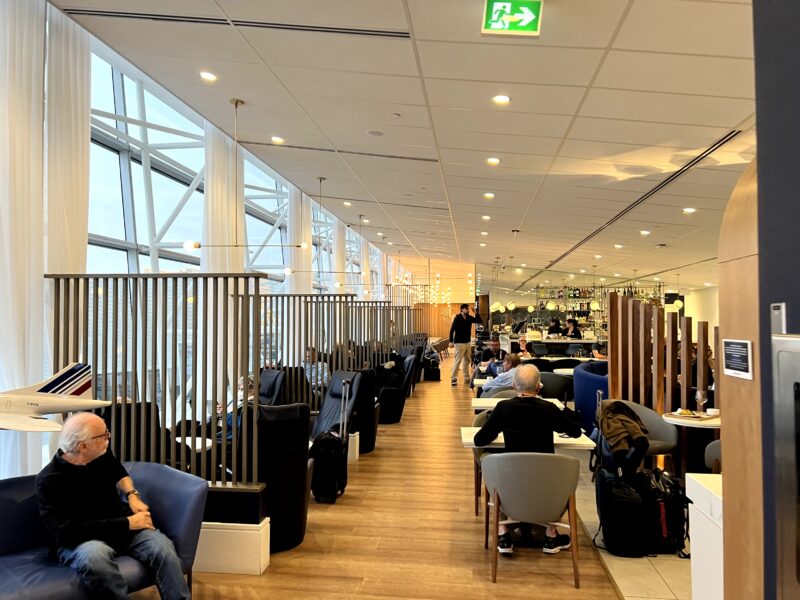 However, the main reason for coming to this part of the lounge is the dining area, which was packed when I first arrived. The designers of the lounge have been able to deploy a sufficient variation of seating types to suit couples, groups and solo travellers. I particularly liked this long table with the inclusion of lamps for ambient lighting and wireless charging pads for convenient connectivity.
Another reserved area, this time for dining, can be found in this part of the lounge too. This is exclusively for Air France KLM passengers in Business Class, although nobody was using it despite being here in peak hours for those travellers.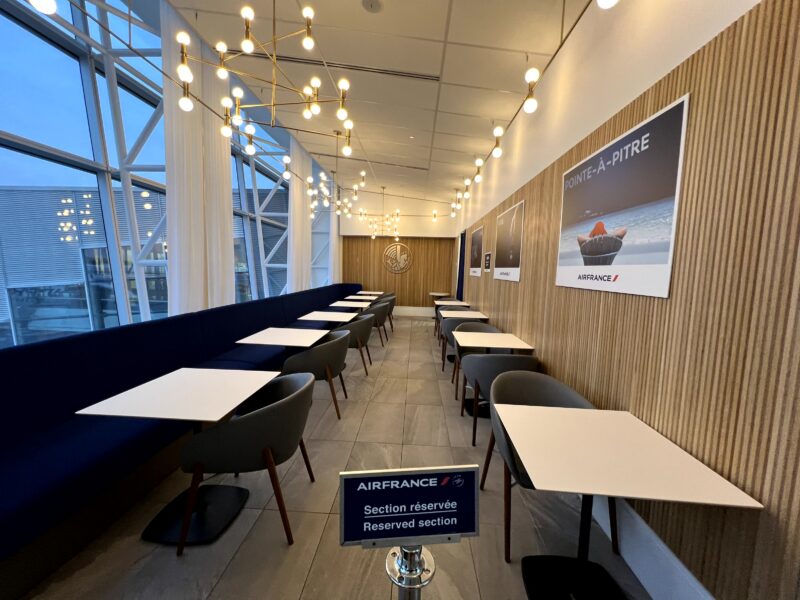 Food, beverages and amenities
Dining options in this lounge were okay. On a par with British Airways lounges but worse than Air France and KLM in their hub airports. The food was a combination of self-serve hot and cold dishes at the buffet as well as hot sandwiches and desserts that were requested at the bar.
Soft drinks and hot drinks are self-serve.
While I liked the toasted sandwich, the white chicken dish and rice failed to impress, instead resembling dated canteen fare. The Basa fish fillet was surprisingly decent, though. Desserts consisted of two small pieces of cakes that were pretty dry and unappetising.
Speaking of the bar area, a decent selection of alcohol can be found if you wish to consume it from staff who were quite chirpy. I didn't have any, but the Air France website suggests a selection of French wines, and champagne is available.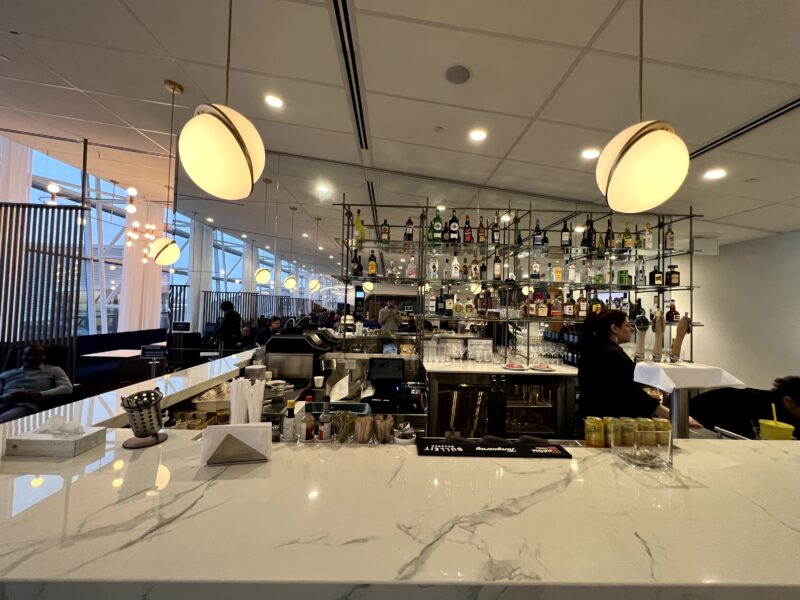 Onto the shower rooms, which on the surface look good despite the narrow proportions. On the positive side, the shower was hot and had plenty of pressure, meaning I took off to London feeling refreshed and clean.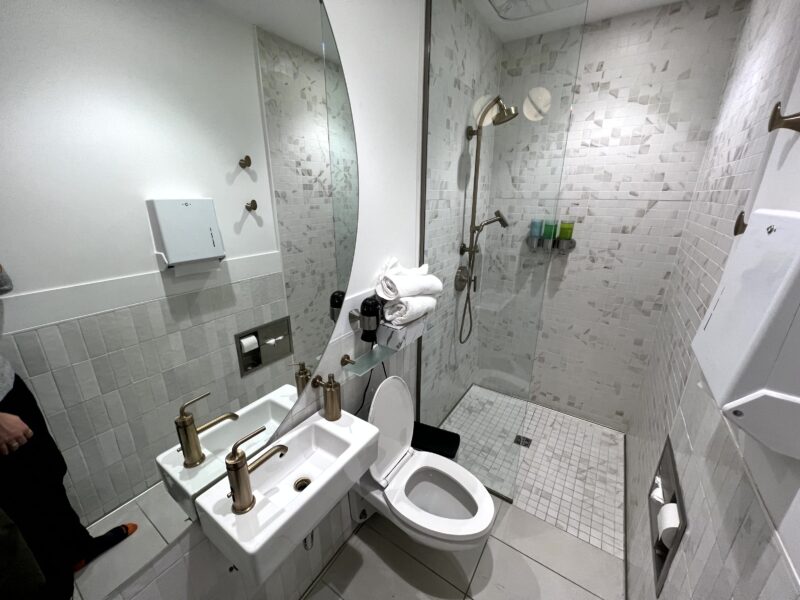 Maintenance, on the other hand, seems subpar. To start with were the lidless containers for shower gel, shampoo and conditioner – not to mention the generic brand scratchy feel when applied to your skin. I don't have a problem with large containers over the awkward mini versions, but the lack of lids seemed a bit unhygienic.
Equally, it would be nice to see Air France's partnership with Clarins carry over to this part of the lounge. While I get the lounge is managed by Plaza Premium, the contract is stipulated by Air France KLM, who should really have a better standard here.
Finally, there seemed to be a random cut-out in the ceiling, which had been temporarily filled with a piece of plasterboard. Did it cause me problems? Of course not. It's worth noting this lounge is quite new and already appears to be having maintenance problems which shouldn't really be there.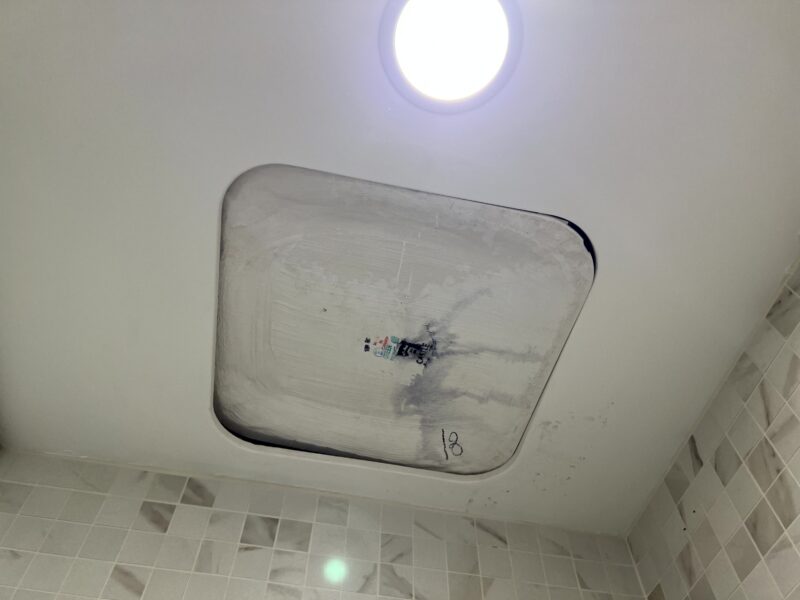 Back in the main lounge area after my shower, I spent a fair amount of time typing away at my laptop to work on some articles. Lounge WiFi was speedy, and I was able to stay charged up throughout my three-hour stay.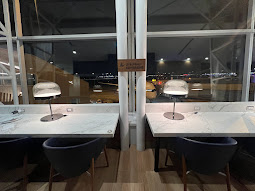 Conclusion
I'm in two minds about Air France's new lounge. On the surface, Air France's design language is beautiful, and I love what they have done with the space; however, the implementation feels like they are working with a constrained budget. From the average food to the shoddy amenities in the bathroom, it just feels like they need to spend a bit more to elevate the experience further.
Would I pay to enter again? No. It's overpriced. I would use it if I could enter as part of my ticket, airline status or with an eligible credit card, particularly in off-peak hours.
Like our review of Air France's new lounge at Montreal Airport? You can read more Airline Lounge reviews here.