Today's reader review, American Express Centurion Club New York, is by my friend, M. You can follow him on @alwaysturnleft on Instagram.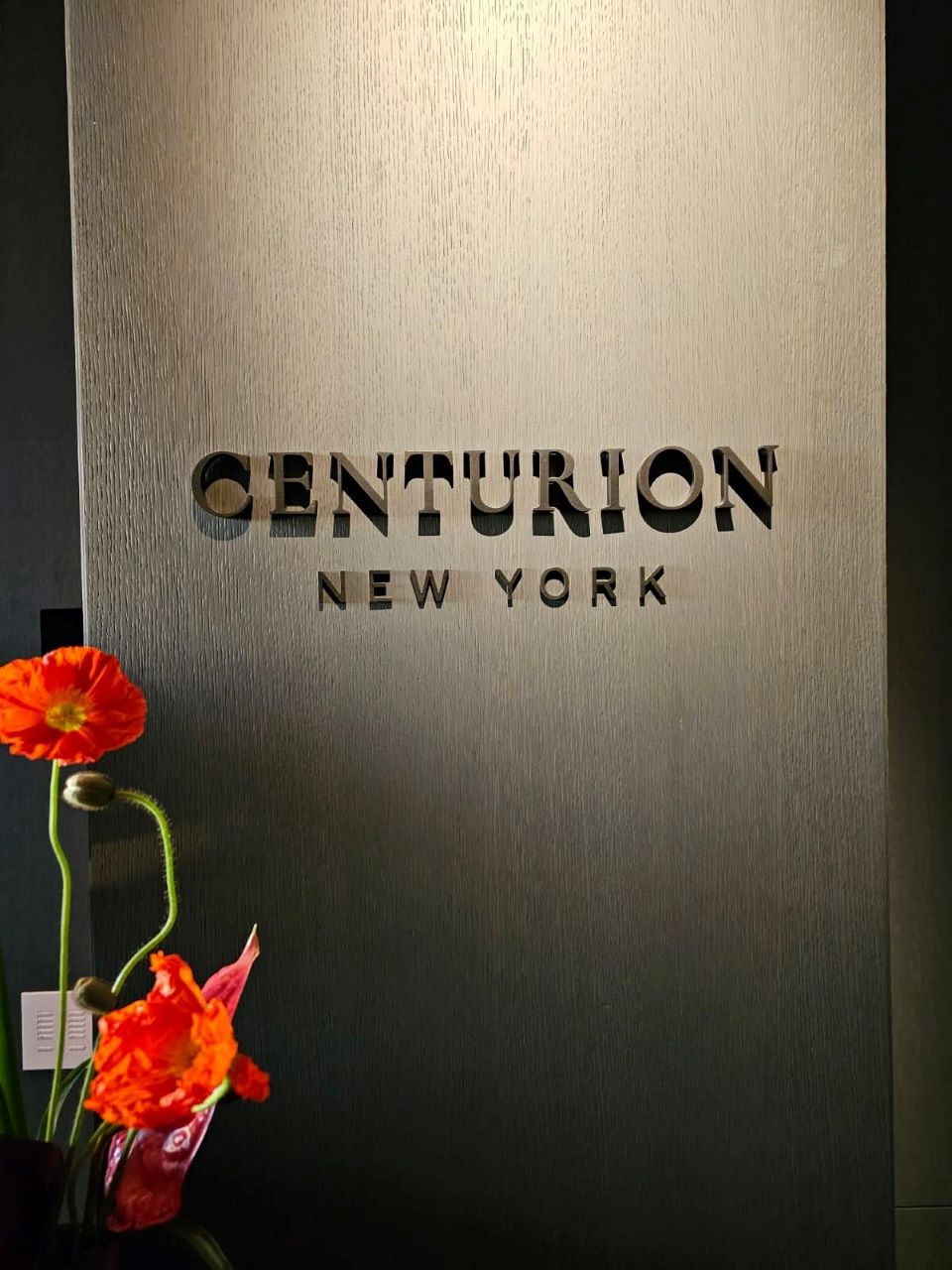 The Centurion Club in Manhattan is located in the heart of New York City at 1 Vanderbilt. This exclusive lounge offers its members a wide range of luxury services and amenities. The Centurion Club in Manhattan has personalized service, private meeting rooms, and a luxurious atmosphere. The lounge also features a curated selection of food and beverages, including premium wines and spirits, as well as access to private showers and restrooms. The Club is open daily from 11 a.m. to 10 p.m.
Centurion Card holders have access to priority dining reservations, private dining and lounges, an onsite concierge, and member-only events. Centurion Card holders are welcome to walk in and can bring guests, subject to capacity, but reservations are recommended. You'll need to bring your government-issued photo ID to enter the building and complete registration.
But if you are not a Centurion Cardholder you can still visit by booking a table via Resy (at this link), or by calling 212-597-9070 between 10 a.m. and 12 p.m. New York time on weekdays. You can only book a month in advance online. You do not even need to be an Amex cardholder.
Visiting the Centurion Club
There is a welcome sign on 55th floor of 1 Vanderbilt. The entrance is through Madison Avenue, and you're then given an ID badge (to check you're actually the cardholder), before being escorted to a lift & greeted once the doors open
The space is split into 2 bars (one more informal and loud), and 2 restaurants – along with 2 private spaces.
Bars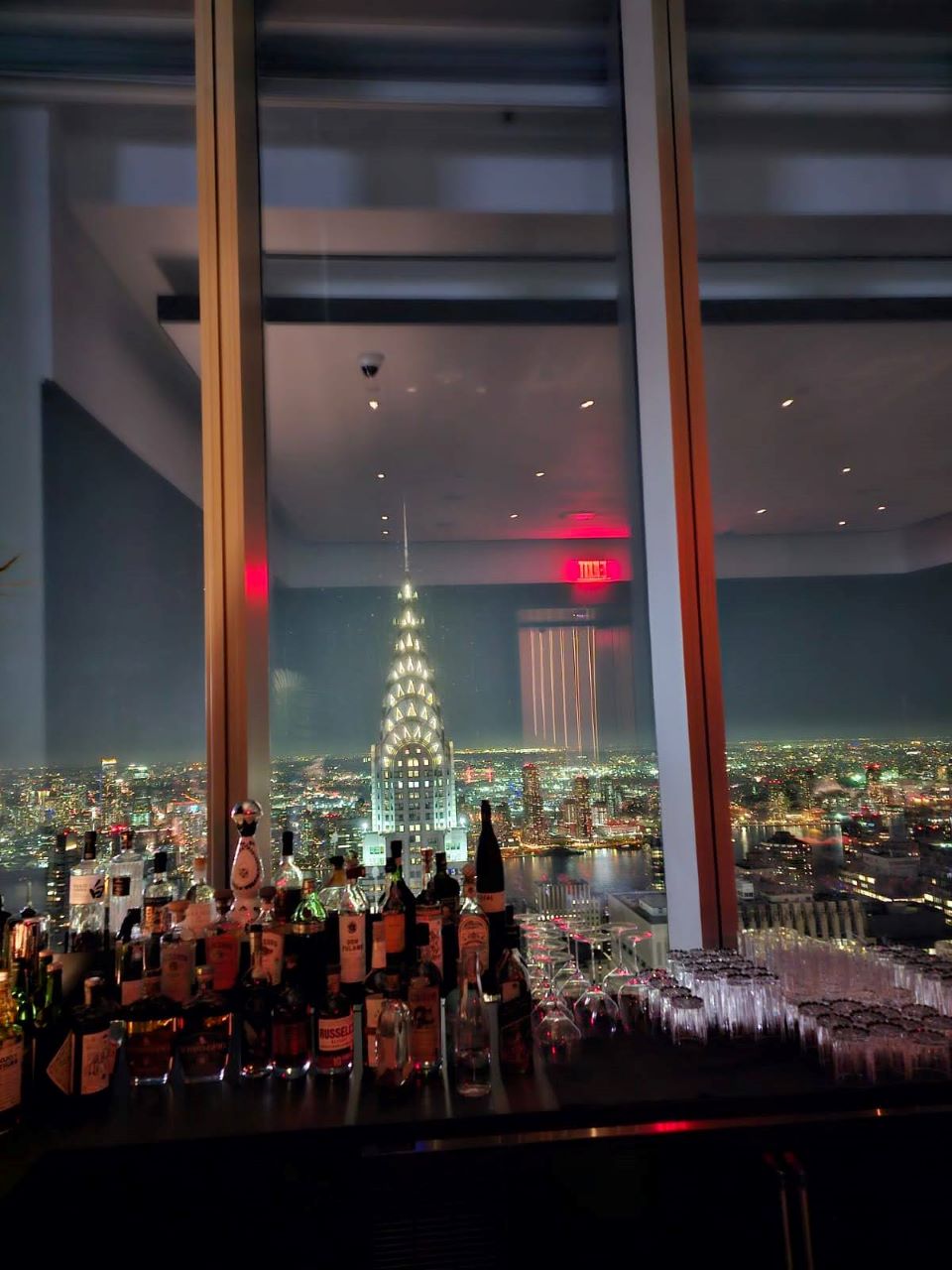 This is the view from the formal bar, which is small and quiet. You look out over the Chrysler building. The spirits are reasonably priced, but not a massive selection of gins.
The more informal bar (below) has nice views too. It's a bit of a thoroughfare though, because it leads into the restaurant spaces.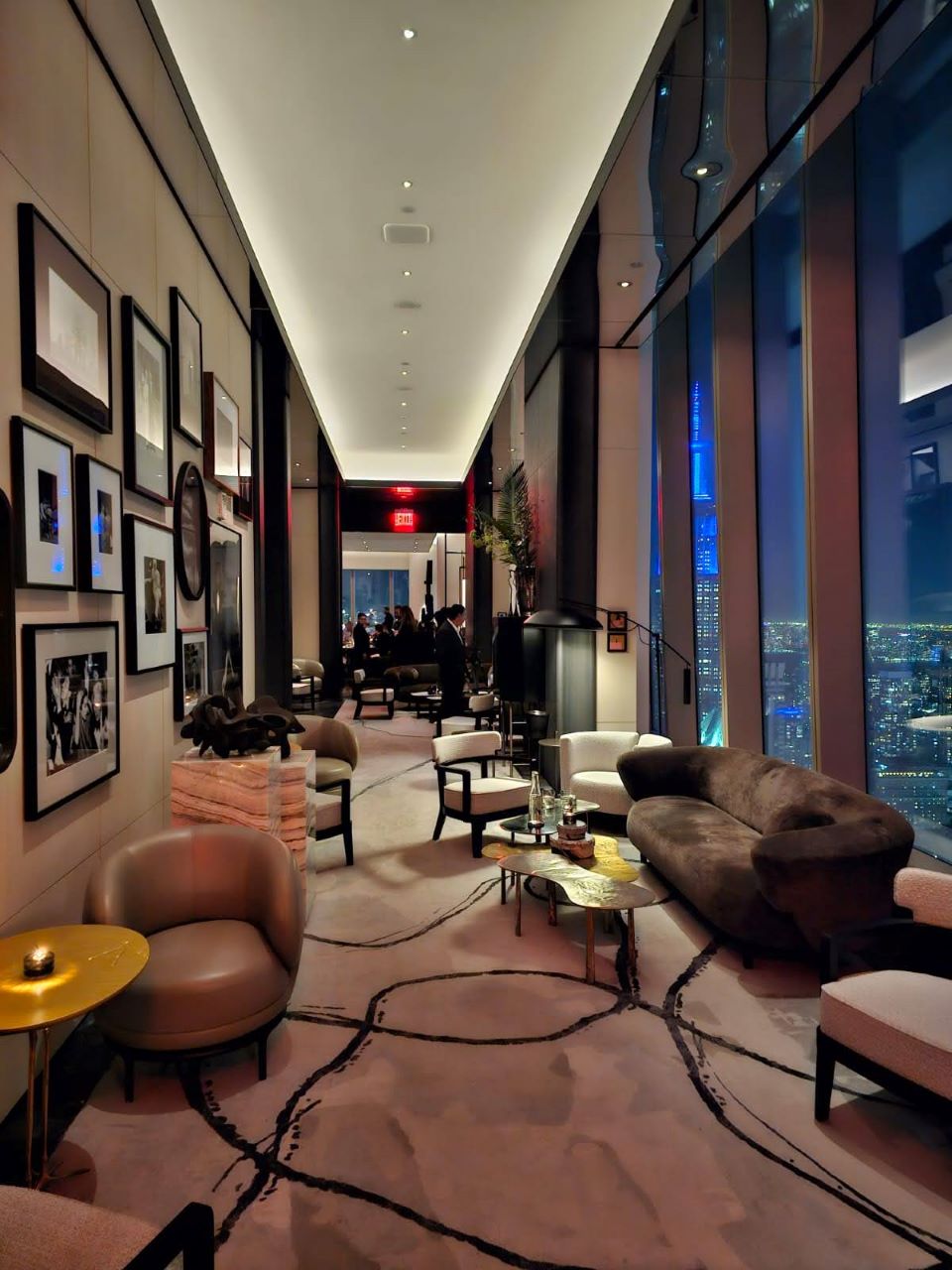 Dining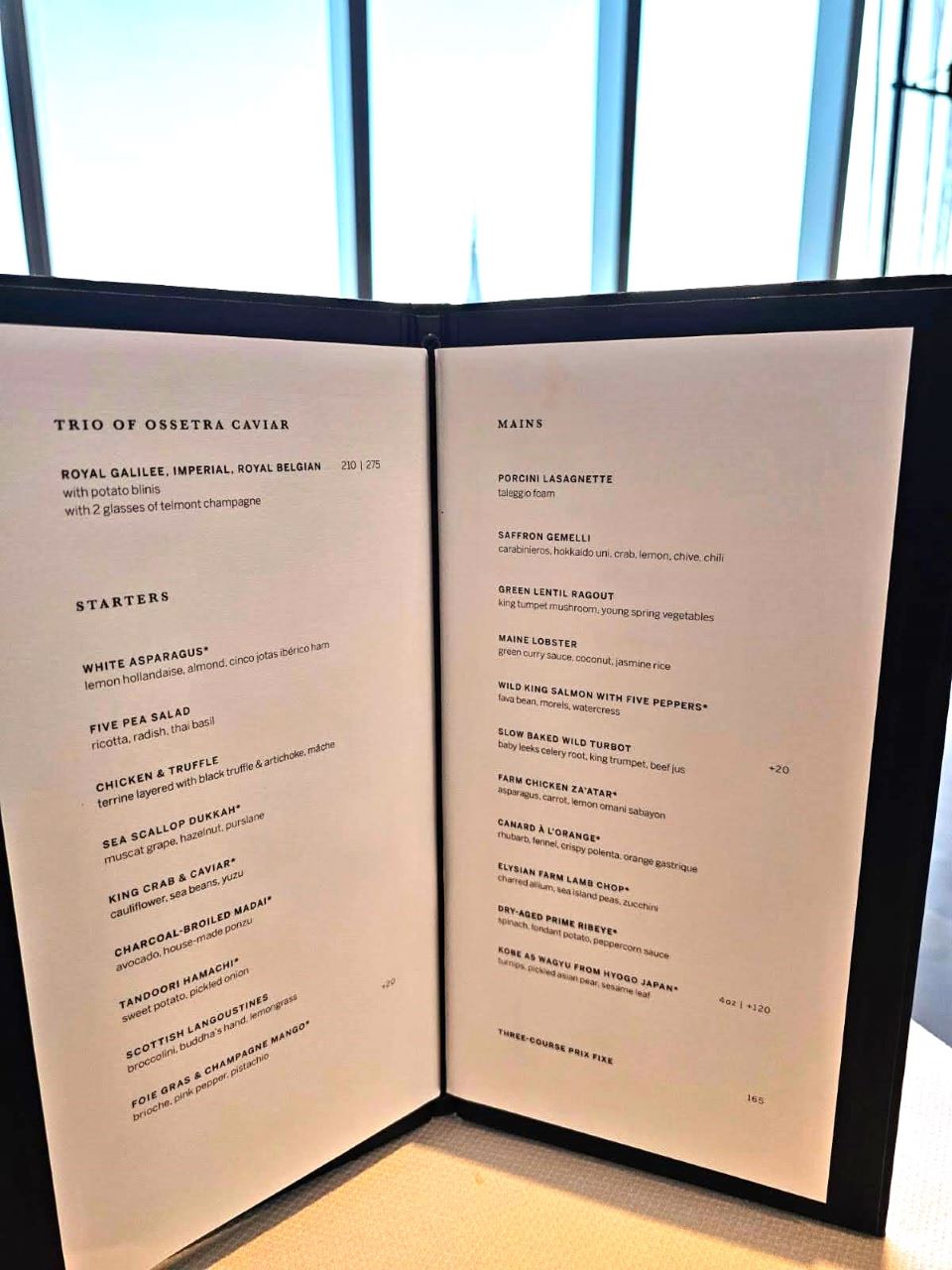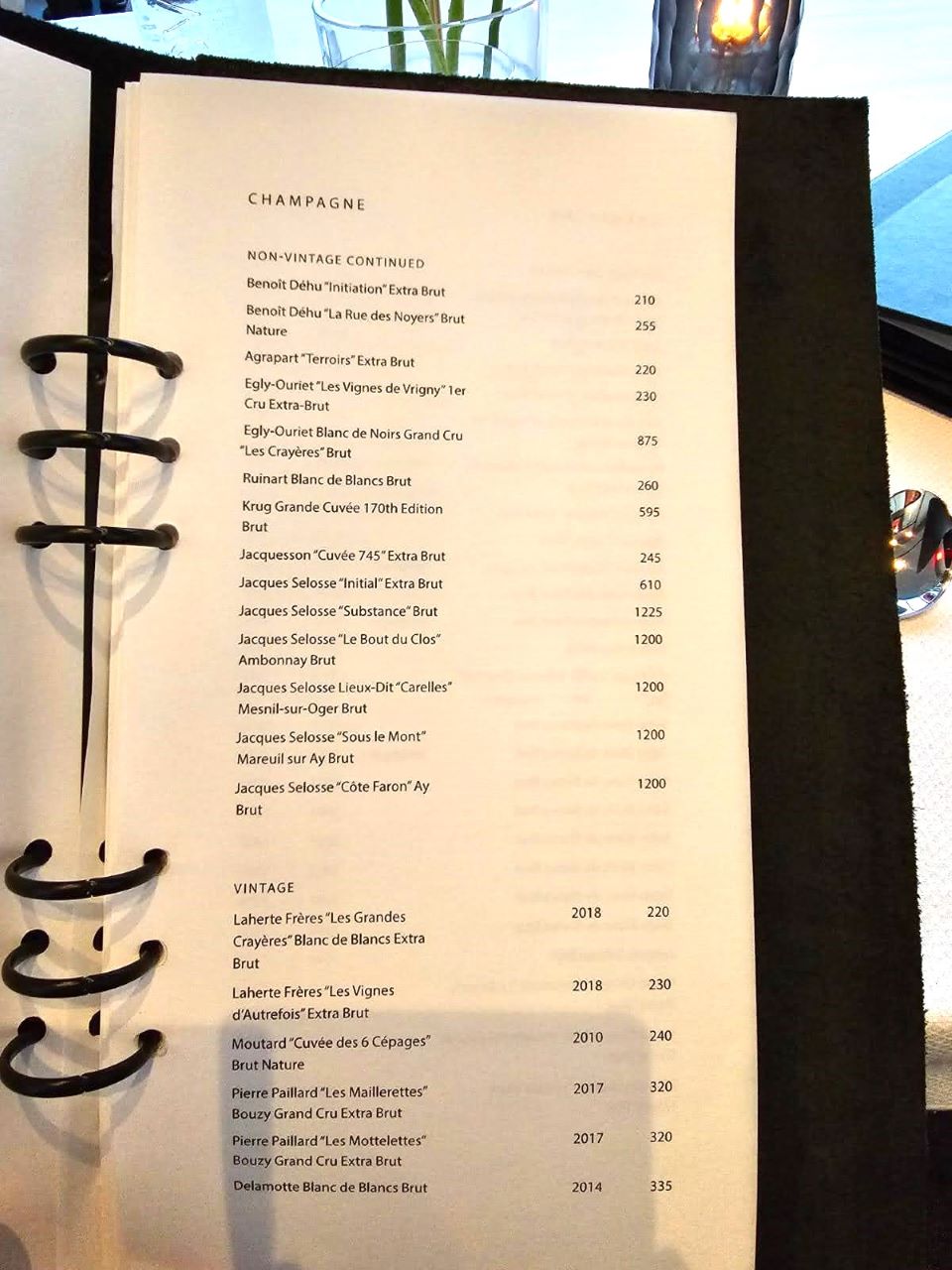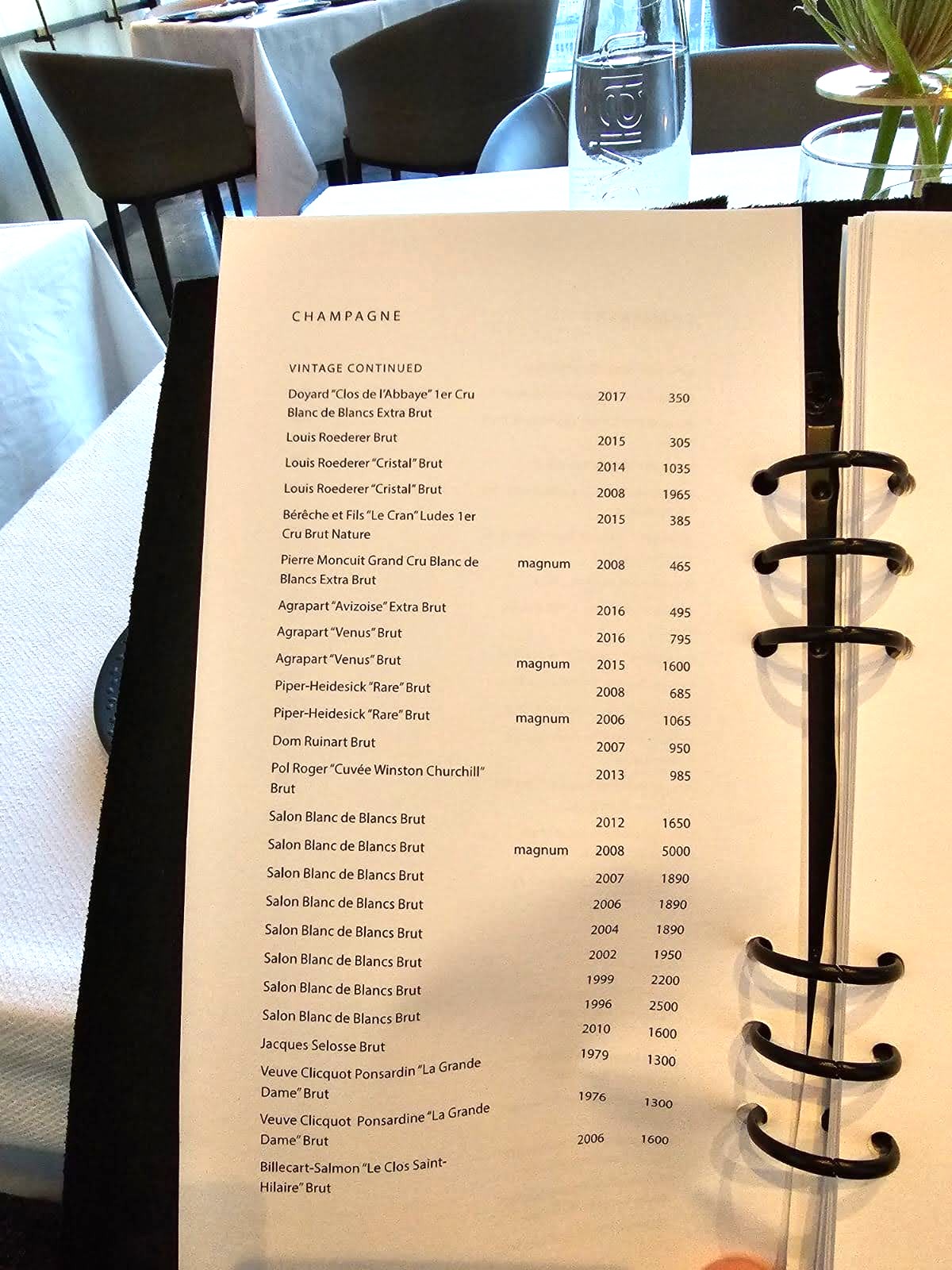 There is then a large restaurant space which felt very Amex Airport lounge – I didn't take photos due to the number of people. The views are amazing though, especially at sunset.
The formal dining room, The Gallery, is chefed by Daniel Boulud. It's a very pretty space with staff galore.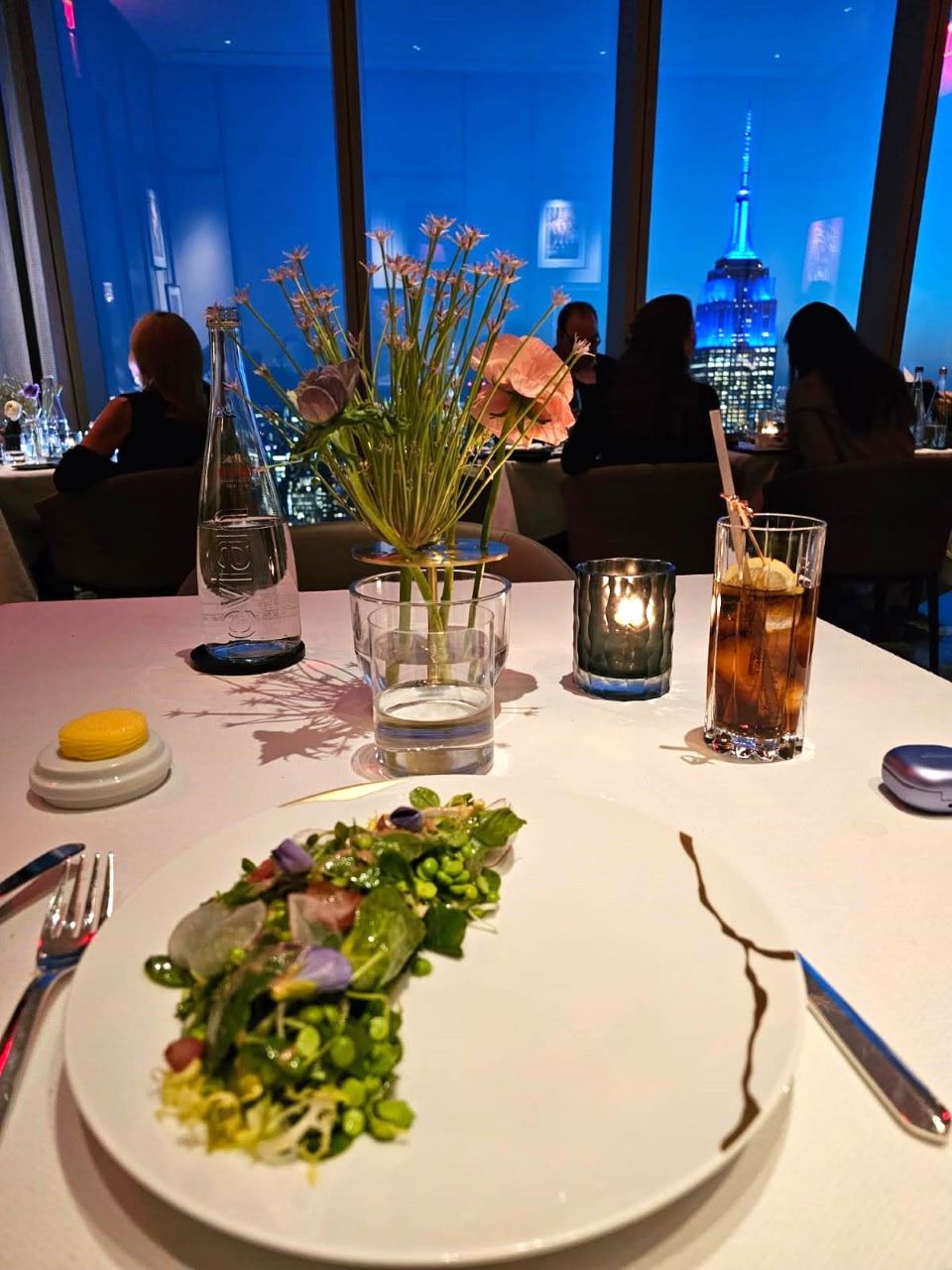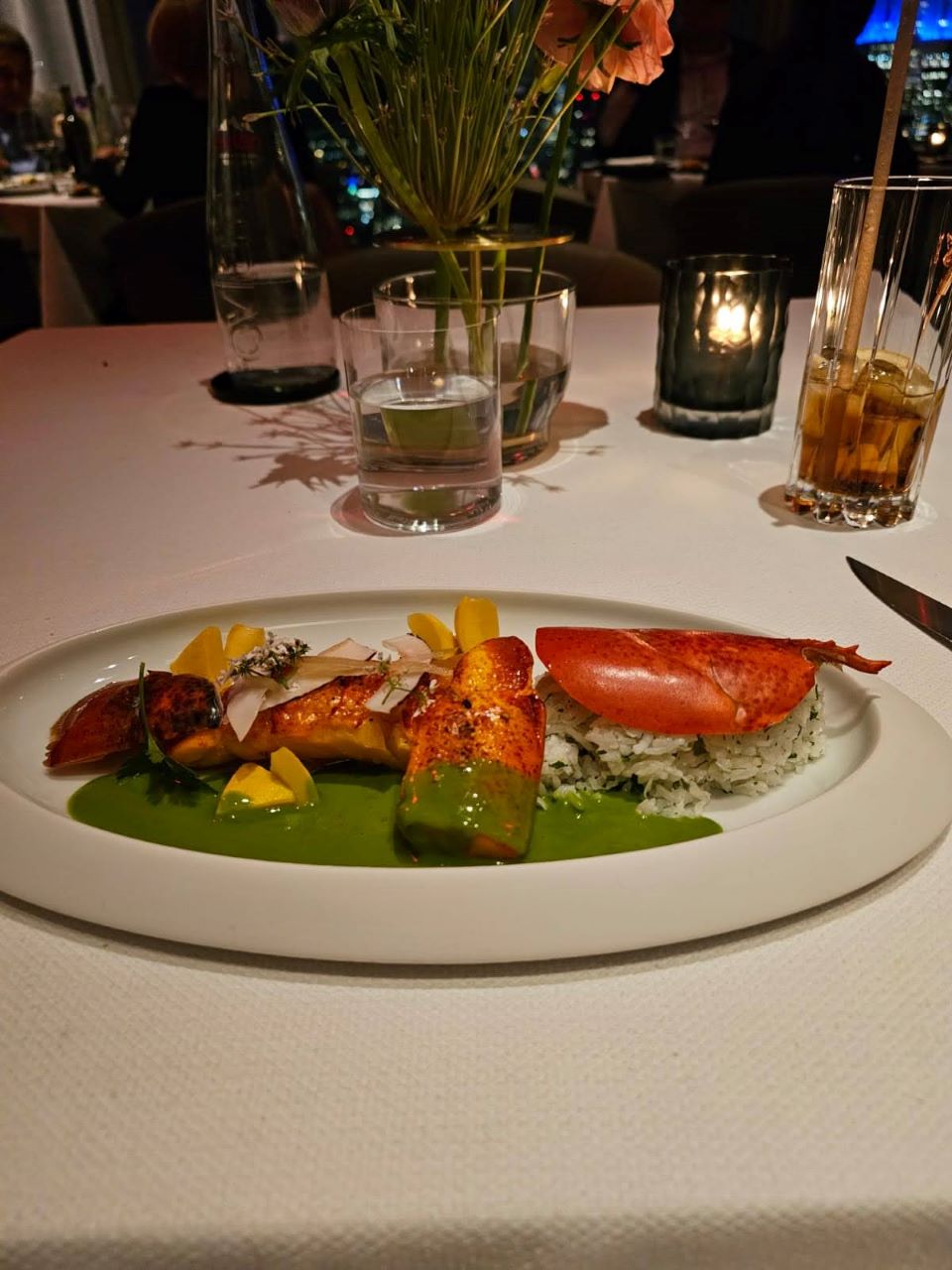 I had the pea salad, the midai, and the lobster. The flavour was good, the portions very European (which I was pleased about!), and the service was pretty smooth.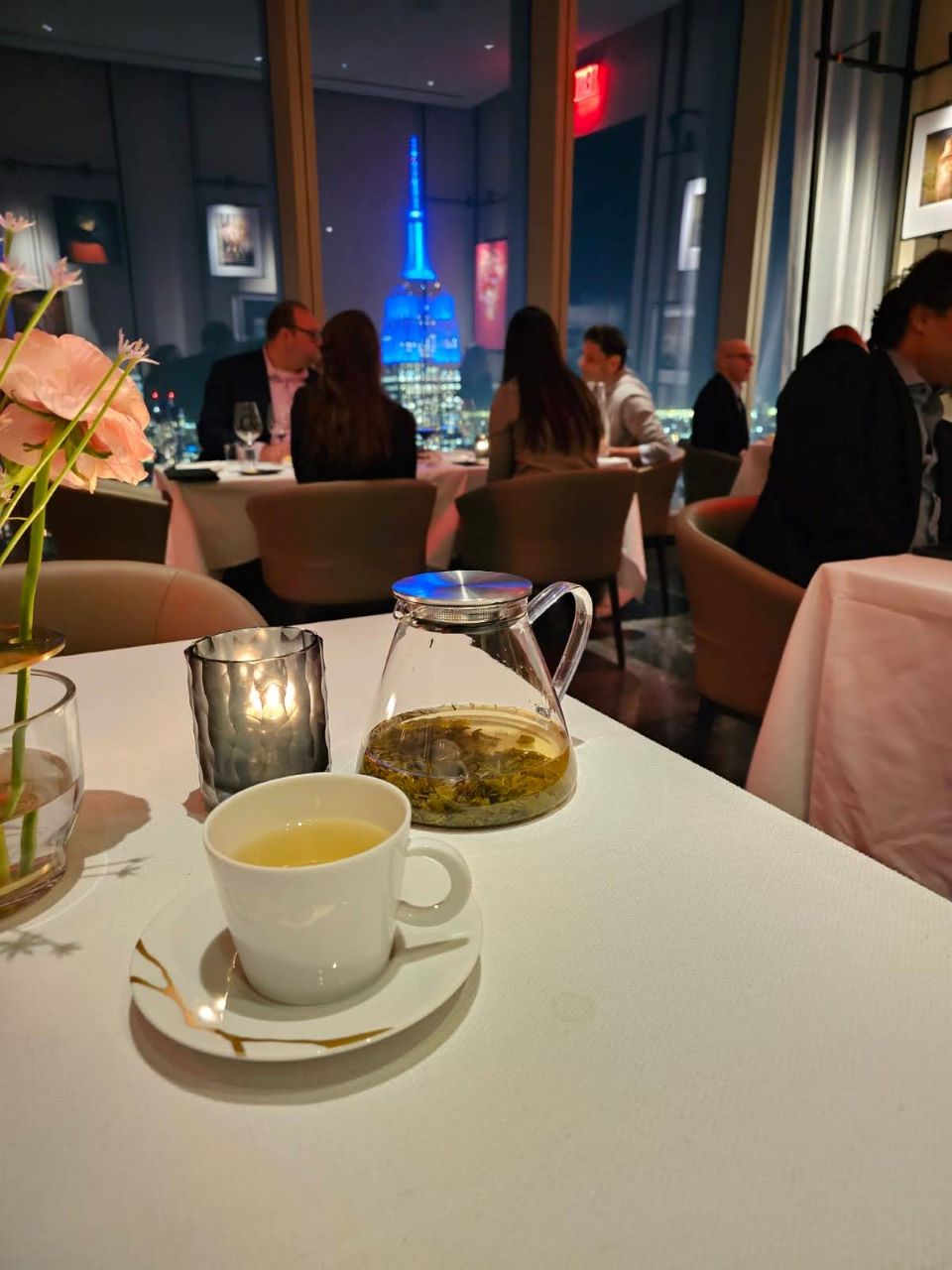 My green tea served as dessert for me, and came with a spectacular view
The smaller of the private rooms is The Wine Cellar with views of Central Park in the distance.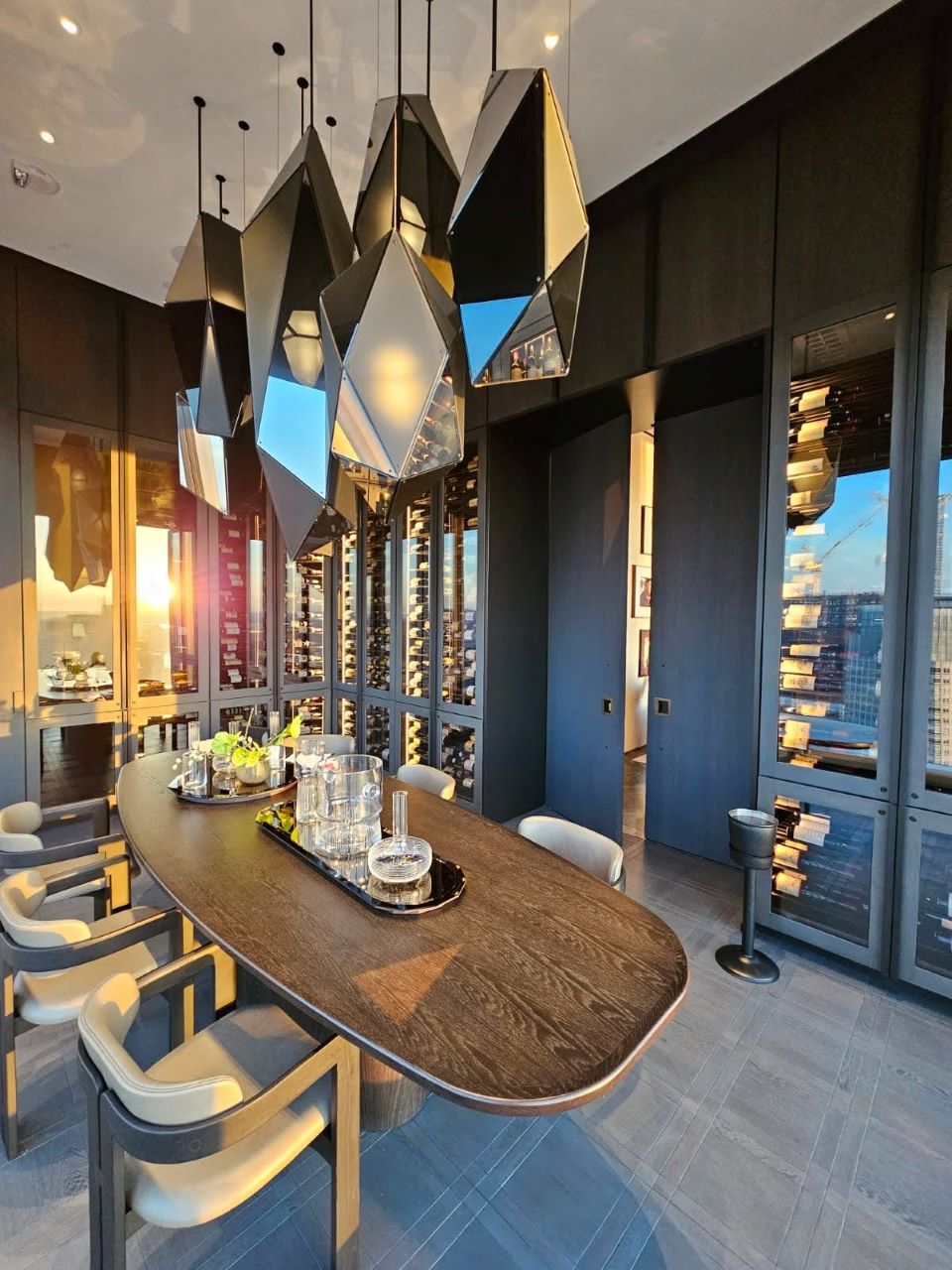 The larger room, Carbon, is adjacent to the Chrysler bar, and because someone was in there I didn't take a photo of the room. However, it's a big rectangle and can host around 20-25 for a table dinner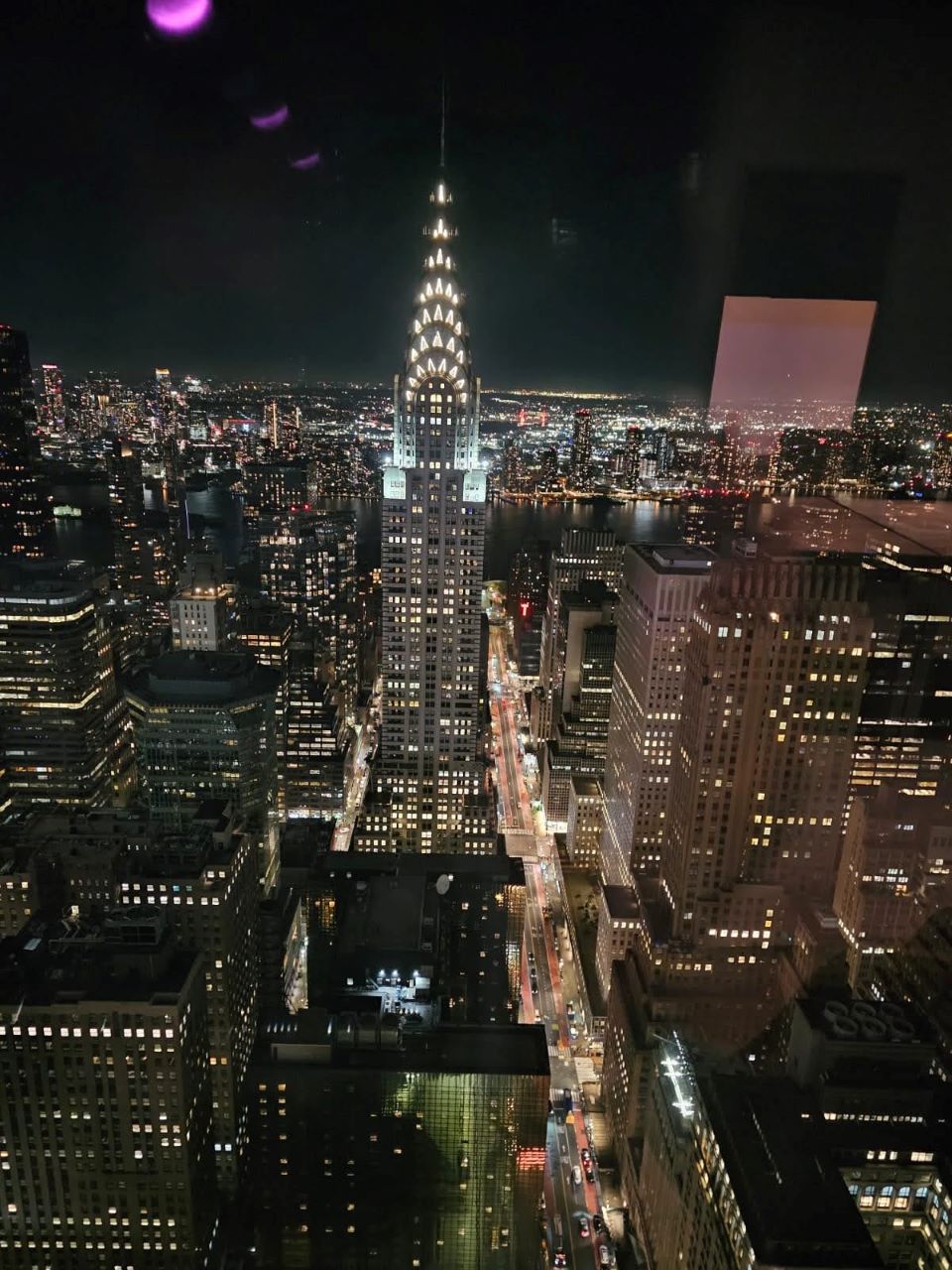 The views are of the Chrysler building and at night, very nice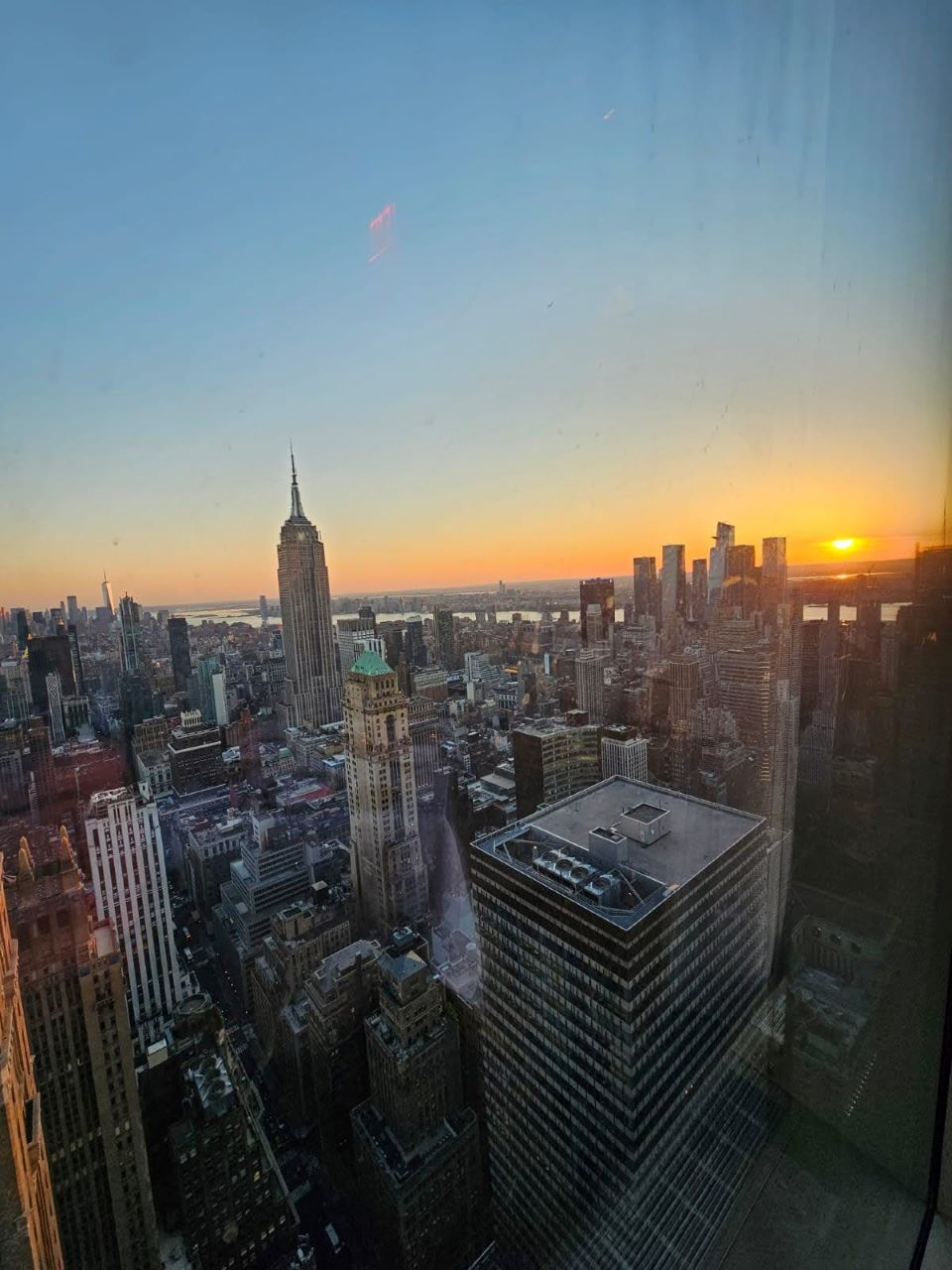 I'd use the space regularly if I lived in NYC. The midtown location of American Express Centurion Club New York is excellent, and the staff very engaging.
There's a team of concierge staff who helped me find a birthday cake at 10pm, and I was grateful!
Interested to read more about lounges? You can read more lounge reviews here.