If you are like me, you may not know much about Airbnb and assume it is just about bed and breakfast type accommodation. In fact Airbnb now does everything from a single room in a house to a city apartment or plush holiday villa. In January I tried Airbnb for the first time and this is my review of the experience and the accommodation itself.
Airbnb – the basics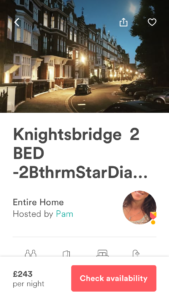 Airbnb began in 2008 when two designers who had space to share hosted three travellers looking for a place to stay. To use Airbnb you can either go to their website or download the app. You will then need to sign up for an account before you book anything. If you sign up using this referral link you can get £25 credit (1 year expiry) when you complete your first booking. Once you have set up your profile you will need to also verify it by uploading some ID such as a photo of your driving license. You only need to do this before you arrive for your booking.You can also get a £35 credit for signing up as a business customer too.
You search by location and then can narrow down your criteria to things such as a whole home or room and then features such as a pool or numbers of bedrooms etc. This is pretty standard as per a hotel booking site. I wanted a 2 bedroom London apartment close to Chelsea/Knightsbridge area. When I searched using my requested dates there was only a small selection. Some places do have a minimum stay requirement but these are generally much less restrictive than booking through a traditional rental company.
Booking
To book with Airbnb you have to pay a fee to Airbnb and also the cost to the host. Some places offer instant booking which is indicated on the listing and some you have to contact the host and wait for a response.
Hosts charge additional cleaning charges as well on top of the basic cost. I personally would rather see a final price when I initially look since the fees are not optional. What started as £250 a night on my booking ended up costing £339 per night when you added in the initial costs.
How do you choose your room or apartment?
One of the things I looked for when chosing was somewhere, was a proven track record and plenty of reviews. There were other places that looked better but with no reviews, it seemed pretty risky. Airbnb do have a guest refund policy so your money is pretty safe. However I would rather not risk it. The place I chose was hosted by Pam who had 2 Airbnb homes and was a Superhost. She was also fully verified which is worth looking for as well. Superhost status is a pretty good way to ensure that your stay will be what you expect. They have to :
have completed at least 10 bookings,
80% of their reviews are 5 star or higher
90% response rate,
rarely cancel bookings
Superhosts are checked 4 times a year.
Pam was very helpful in advance and you could tell she was checking us out as well by asking us what our plans were and who was in the group. When I contacted her to ask if they had a cocktail shaker in the flat, she kindly offered to buy one if I sent her the Amazon link. Sure enough when we arrived there was a brand new cocktail shaker.
How safe is your money?