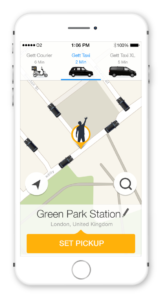 I have always been a big fan of Uber and had virtually stopped using London taxis. When one of my friends urged me to try Gett taxi and mentioned that they have a £50 joining offer, I thought it would be worth giving it ago. This review looks at how Gett taxi works, how to get £50 credit and how it compares with Uber and mytaxi.
Gett
Gett is an app (android and iPhone) just like Uber, although it does have much more limited coverage than Uber. It is currently available in the following UK cities:
Birmingham
Coventry
Edinburgh
Glasgow
Leeds
Liverpool
London
Manchester
Newcastle
It is also available in New York, Russia and Israel.
How does it work?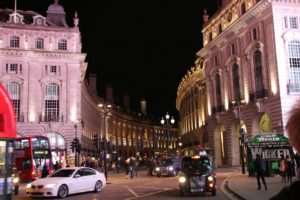 There are variations in how the app works in different locations so this review will focus on London.
The app works in a very similar way to Uber other than you have the option to pay the driver or pay via the app. If you choose to pay via the app you simply add your credit card details to the app and then chose how much tip you want to add by % with the option to leave it at 0%. The advantage compared to Uber is that you can choose to pay a fixed price or pay the meter fare. I chose to have a fixed price and only once did the meter come to less than the fixed fare out of about 8 journeys.  Uber gives you an estimated range of the fare but you have to pay whatever it comes to, even if it is more.
Using the app is as simple as Uber. The app generally knows your location and enters it automatically but you can change it if you wish. You then can enter your destination and the type of taxi you want with a choice of a normal or XL. One advantage is you can order one instantly or book for later in advance. You can see a map of where all the Gett drivers are and request a taxi just the same as Uber. Like Uber you will get the registration number of the taxi in advance and can track the taxi.
I found it was generally much quicker than Uber with our wait time no more than 2-3 minutes, several times there was a taxi actually in the rank nearby that responded.
Drivers are all licensed taxis drivers unlike Uber's private drivers.
Other features
Gett also offers XL taxis in London which accommodate up t0 6 people. Splitting fares is available via the app as well as a delivery and courier service within London.
You can also rate your driver and in return they rate you, like Uber. This is a welcome addition as one of the reasons I stopped using taxis was some of the unpleasant characters I came across in London. Yes, I could have complained but who is actually going to bother to do that unless you are overcharged?
mytaxi
mytaxi was formerly known as Hailo which you may have used. mytaxi works in a very similar way to Gett in that it uses licensed black taxis in London but it doesn't do fixed fares. The app is available for iOS and Android in the UK.
Like Uber and Gett you can see your cab's progress on a live map, see the registration and you can also call your driver. With mytaxi, drivers will wait for you for 2 and a half minutes at no charge. There are also some interesting features with mytaxi:
Favourite Driver: You can favourite a driver at the end of your journey which makes it more likely they will pick you up again in the future.
Share Location: You can let friends & family know your whereabouts and ETA by sharing your journey details with them.
Prebook: You can now prebook your trip with as little as 15 minutes notice.
Pay with mytaxi: This allows you to hop into any black cab with the mytaxi logo and use the app to pay for the cab.
Preferences: You can select multi seat taxi, wheelchair accessible or put a message for the driver
I tried have mytaxi in the last couple of months and apart from the lack of fixed fares, had a better experience than with Gett.  You can still get an estimate of the fare with the app and I didn't experience the same issues as with Gett when trying to get a taxi during busy periods. The drivers were all very pleasant and professional. The other good thing about mytaxi as well as the additional features is that vouchers last much longer, unlike Gett where they usually expire in 2 weeks. With mytaxi, the signup credit below lasts for 3 months, great if you are only an occasional London taxi user. Whilst Gett sign ups are often more, you have to use them in a short time.
£10 credit and 50% discount
If you want to try mytaxi you can get £10 credit if you sign up using code michele.rob1 
UPDATE: In response to the Uber issue, mytaxi have extended their current offer and you can get up to 50% off your fare automatically discounted from trips that start anytime after 12:00 on Friday 22nd September 2017 and finish before 23:59 on Sunday 1st October 2017. In order to receive your discount, you must hail with the mytaxi app, ensuring that you're paying in-app card payment only.
You find more about mytaxi here.
Uber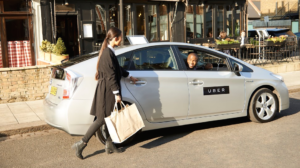 Uber works in a very similar way via an app.
Uber hires a private driver to pick you up & take you to your destination using the app on your phone.  The drivers normally arrive within about 4-8 minutes but you will get an estimate of the average times before you request a car. Once you have requested a driver you will get the model of the car, the registration plus a picture and name of the driver. You can see exactly where the driver is as they come to pick you up on the map. This way you can feel safe getting into the right car. Uber cars usually have a Uber logo somewhere as well.
For those that enjoy travelling in style, Uber have a range of luxury vehicles depending on the location known as Uber Exec, Uber black and Uber lux and Uber select. These cost a bit more than the standard Uber X.
You can only pay by credit card on the app and will only get an estimated fare prior to the trip. I have never had a trip substantially more than the estimate though. I find wait times are normally 4-6 minutes in London.  Splitting fares is available the same as for Gett.
You can get your first ride free (subject to a maximum cost, varies by location) using the code micheler61 when you sign up.
Which is the best service?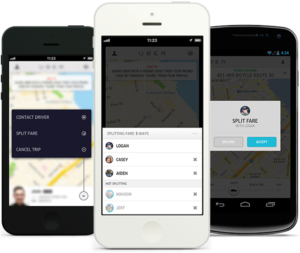 In London I would say there is not much to choose between mytaxi, Gett and Uber. If you want more luxury then Uber Exec is the way to go with Uber Exec offering premium cars, suited drivers and a chauffeur driven experience for a reasonable price. If you just want to get from a to b then Gett has the advantage of fixed prices, quick response times and knowing what sort of car you will get. I have found that Uber X cars are variable in type and quality, although most frequently a Toyota Prius. I expect I will probably use both services depending on the type of car I want and the wait times.
The negative point with Gett is also a positive in some ways. There is no surge pricing as with Uber. This brings its own issues though. When demand is high such as during tube strikes or bad weather for example, Uber's surge price gets more drivers on the road. There is no incentive for Gett drivers to use the app when it's busy, however, as they make more money just picking people up off the street. I haven't found the same issue with mytaxi though. I will be mainly using mytaxi but will use Gett at off-peak times for a cheaper price.
Outside London I will generally stick with Uber. The big advantage of Uber is the coverage. Uber works in 450 cities across the world and I find it a vital app when travelling.
How to save up to £50 on your first rides with Gett
If you join using this link you can get up to £50 credit. This can be used £5 at a time for 10 rides and must be used within a set time, normally a couple of weeks. If you won't use them in this time you may be better with mytaxi that gives you 3 months.