I have often recommended the MyFlights app on this blog. It was a frequent flyer's best friend in alerting you to changes and issues with your flight bookings. As you probably know by now, MyFlights will disappear after 31 December 2017. This is due to being MyFlights no longer being able to get the data from the Amadeus system which holds all the booking information.
You will be able to access the app and your existing bookings until 30 June 2018 but will no longer get any change alerts or be able to add new bookings after 31 December. So is there any credible alternative?
Well, the short answer is not really. There are apps and websites that go part of the way but none where you can keep all your bookings and get change alerts exactly like MyFlights. Let's have a look at what there is and what features you can get.
checkmytrip
checkmytrip is Amadeus' own inferior version of MyFlights which has been around for many years. This means it only works with airlines that use Amadeus such as British Airways. There are 2 options either the app which is available for Android and iOS, or the online version which is here.
The online version will only give you a quick snapshot at the time if you wanted to double-check a ticket or seating assignment. If you want to get alerts then you will need the app. Be warned it's not great and has annoying pop-up adverts that cover the screen.
So what can the app do?
Some updates
Travellers get updates about their flights (delays, cancellations, terminal changes, connection times etc.) in the flight itinerary display and through push and e-mail notifications. It will not notify you of seat changes like MyFlights though. It did have the new times for my flights though unlike the other apps.
View and organise your trips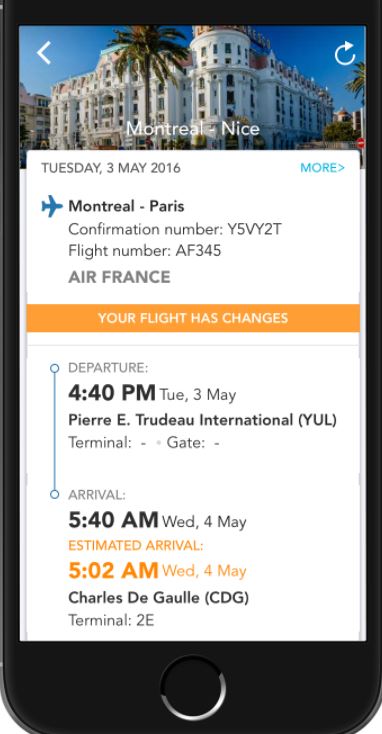 The app is a bit like Tripit as you can organise lots of elements of your trip in one place. The app will store Flight, hotel, car, rail, meeting, dining, tour & activity details organized into one itinerary view.
There are 3 ways to add & organize your itinerary details: forward the booking confirmation e-mails to [email protected]; enter your booking reference with first and last name, or manually enter the trip information through a form.
Additional features
A handy feature is the search and reserve taxi and parking options for 40 countries. There is also a 5 day weather forecast for all the cities on your itinerary. Finally, there is integration with several other sites to help plan and book your trip. Foursquare can show you what is nearby. Viator can be used to book tours worldwide and OpenTable is also integrated for your restaurant bookings.
Check-in
If like me you travel with a number of airlines, you may not always want to download all the various apps and enter your bookings. With checkmytrip you can check in and view seat maps on the app for supported airlines. It will also show you your current booked seats.
Tripit
I have used Tripit for many years which is available for iOS and Android. This is mainly because I am very organised when I travel – I even have a spreadsheet (just ask Roving Reporter!). I, therefore, tend to pre-book lots of stuff like restaurants, spas, tours etc in multiple places on a trip.
There are 2 versions of the app, a free one and a paid one. The basic features work the same in both. To get all your bookings into the app you can either allow trip it access to your email where it will scan them and add any bookings automatically or you can forward your confirmation to the Tripit email address.
It works with most major airlines, hotels and online travel websites as well as the open table restaurant booking site. As it is not tied to Amadeus it is compatible with more airlines. The full list of compatible websites is here. The information stored for each reservation is detailed with reservation numbers, addresses, phone numbers etc. This is really useful when you need to access information quickly and don't have wi-fi or mobile data (like filling in immigration forms on the plane). It also continues to store all your past trips which is great if you want to look something up.
Additionally, you get directions, maps and weather for your destinations. You can sync Tripit with your calendar to add trips automatically and you can share your itineraries with people from the app.
Tripit pro
Tripit Pro costs $49 for a year and gives far more functionality than the basic app which does not alert you of changes. You can also try it for free for 30 days. The features are:
Reminders and real-time flight alerts throughout your trip, and help finding another flight if you need to. This is by SMS and push message on your phone. It included delays, cancellations and gate numbers. However, this only works from 72 hours before the flight.
Keep track of your airline, hotel and loyalty points in one place with 150+ programs supported including alerts when points are due to expire
You can set it up to share alerts with people so if you are late or disrupted they will get an alert.
You can set seat alerts. You can't set one for a specific seat but you can set a type such as window, exit row, aisle, a seat in a specific cabin, or even whether you prefer the front of the plane. You can also set a number of seats if you need your party to be seated together. When a better seat becomes available, you will get a notification to your mobile and email.
You also get VIP benefits including a one-time LoungeBuddy benefit of $25 credit (unless you have redeemed credit with Loungebuddy before). LoungeBuddy is a great app that shows you all the lounges for an airport, not just those you can buy and also how to access them.
App in the air
App in the air is a relatively new app. You can get the information into the app in 3 ways: use it in conjunction with the Tripit app and it will import data from there, automatically from your emails or it can be added manually. It is available for iOS, Android, and Windows.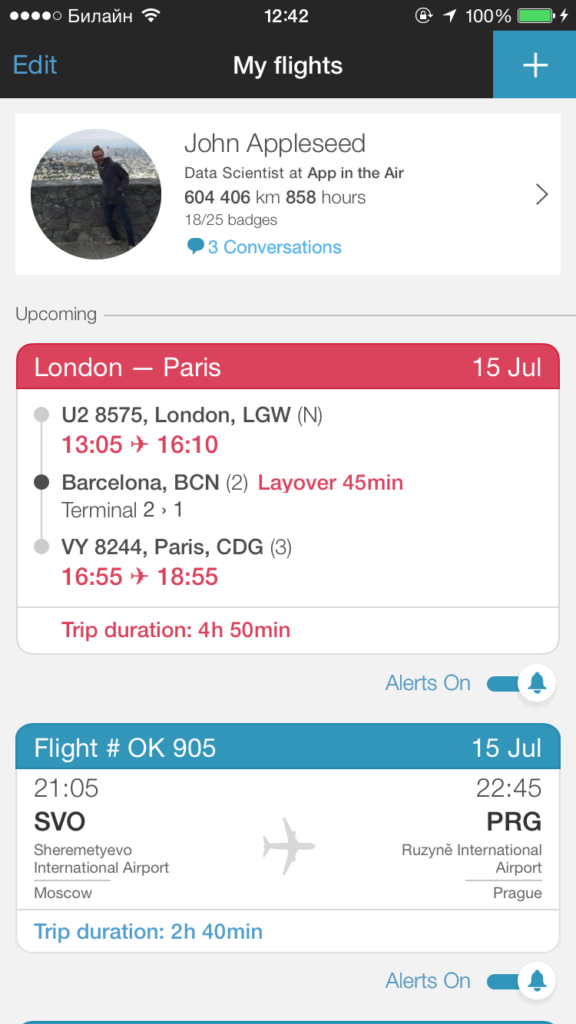 The "My flights" section shows you all your flights in the past, present and future. If you fly a lot and like to keep track it is a great app for this feature. It shows all sorts of information such as what countries you have visited, what aircraft you have flown on, how many miles and even your ranking among its travellers for the competitive people! It awards badges on how many things you have achieved in these categories. When I gave it access to my emails it managed to get flights from as far back as 2012 which gave me some nice reminders of previous trips!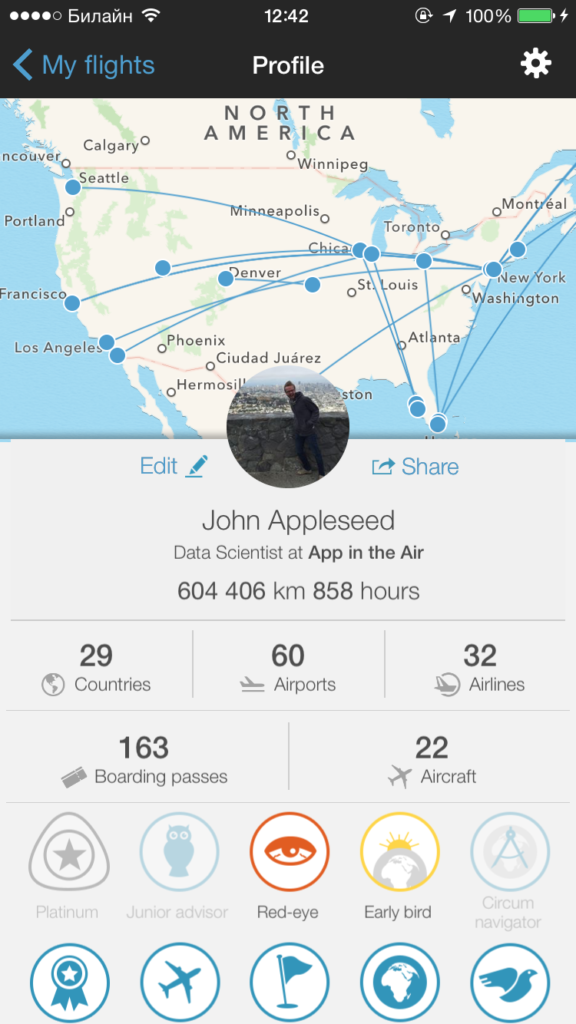 There are a number of other features some of which are only available in the premium version. The basic version also gives you: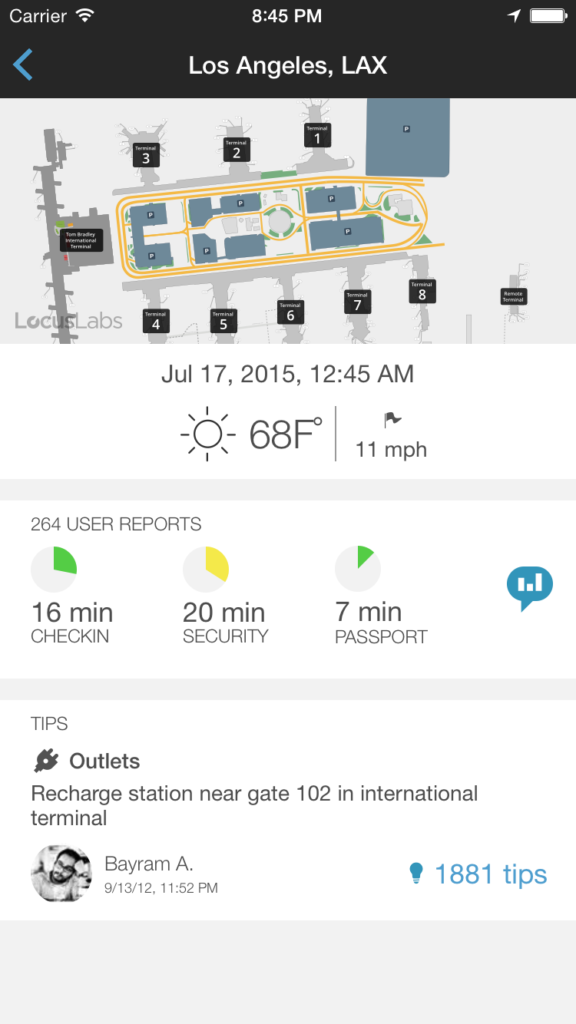 Weather, delays and currency info available for all major airports all over the world.
how long the wait is for customs, security, check-in, baggage and immigration
flight maps
a timeline with alerts for check-in,
lounge purchase and car hire options
tips from other travellers for your airport
The premium version of App in the air costs £29.99 for 12 months or £48.99 for lifetime. The premium version gives you:
Real-time flight status alerts with gates, times and terminal changes
Offline access with SMS alerts
Notification to friends and family about flight status changes
Auto check-in where you set your seat preferences and get automatically checked in when the flight opens
Conclusion
None of these really give me everything I want. I tested the free versions of all 3 apps with some upcoming Qatar flights. Only checkmytrip showed the correct flight times for the flights (along with my BA app) due to not starting the monitoring until 72 hours before. You can update it by forwarding on the email of the flight change but it's a bit of a hassle. Even after trying the Tripit pro it was still showing the wrong time. checkmytrip was also the only one that correctly displayed my seat information despite having pre booked them.
Tripit is probably the most comprehensive out of the apps but also the most expensive to get all the features. I certainly wouldn't recommend getting both Tripit pro and App in the air Premium as there is too much overlap. I like the fun aspect of App in the air and if you get the lifetime package it works out cheaper overall than Tripit pro. Both offer very similar flight monitoring.
I will probably use checkmytrip in conjunction with Tripit. The Tripit interface is much better but the information prior to the flight is definitely better in checkmytrip.
Is it just me that uses spreadsheets and apps to organise a trip? Should I just go with the flow? Have you found a really good alternative to myflights? Let me know how you plan your trips in the comments below or on social media.