As I wrote about previously in this article, British Airways recently unveiled their refurbished Concorde Room at Heathrow's T5. I had seen the pictures but what was it like in the flesh (and did I fit a duck feet lamp into my hand luggage….?)
Access to the Concorde Room
You can access the Concorde room in the following circumstances:
You are flying BA First Class (including Avios bookings)
You are a Gold Guest List member of the BA Executive Club with CCR key
You are with a member of the BA Executive Club who is silver or above and they are flying in First class (assuming they want to guest you in!)
You are connecting to or from a same day BA First class flight and in possession of the First boarding pass
Access is either through the First Wing check-in area which is available for Gold Card Holders and those travelling in First or through the 'secret door'. This door was reinstated again after the initial First Wing opening when it was unmanned for a few weeks. The secret door is located as you exit South Security to the right. It is secret as there is no sign, just a podium with a member of staff.
On this occasion, I was flying in Club World but BA generously gave me access to the Concorde Room to see the refurbishment and complete all the lounges in my series of reviews of BA lounges at Heathrow and Gatwick.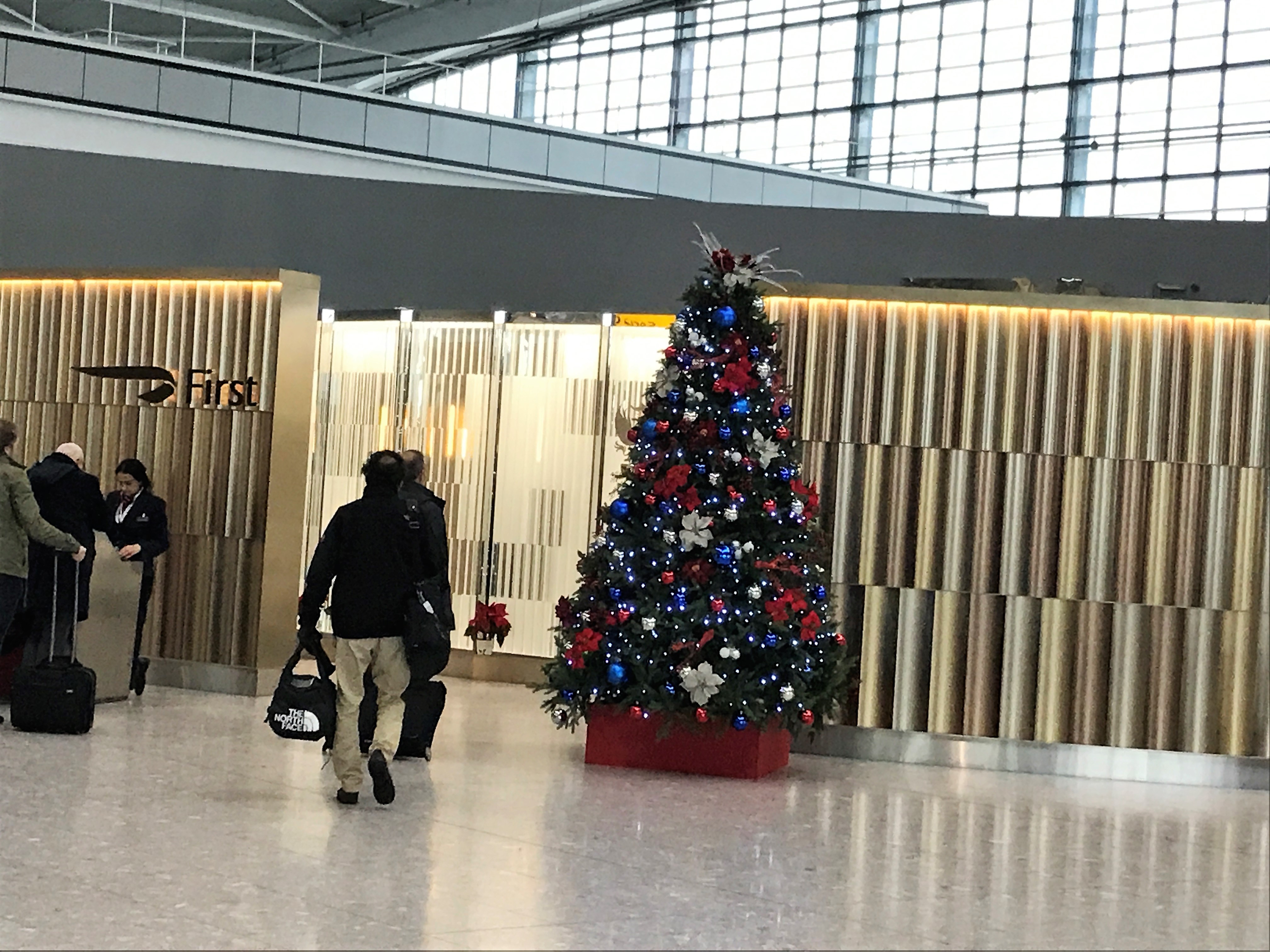 I usually find the First Wing super fast with my record being about 4 minutes from arriving at the terminal to reaching the lounge. On this occasion, it was particularly busy probably due to all the disruption the day before with snow. I also had a couple in front of me that took the longest time ever to unpack everything for security into about 6 trays which didn't help! It took over 10 minutes this time but by the time Roving Reporter arrived it was back to usual with no queue and he only took about 5 minutes.
The lounge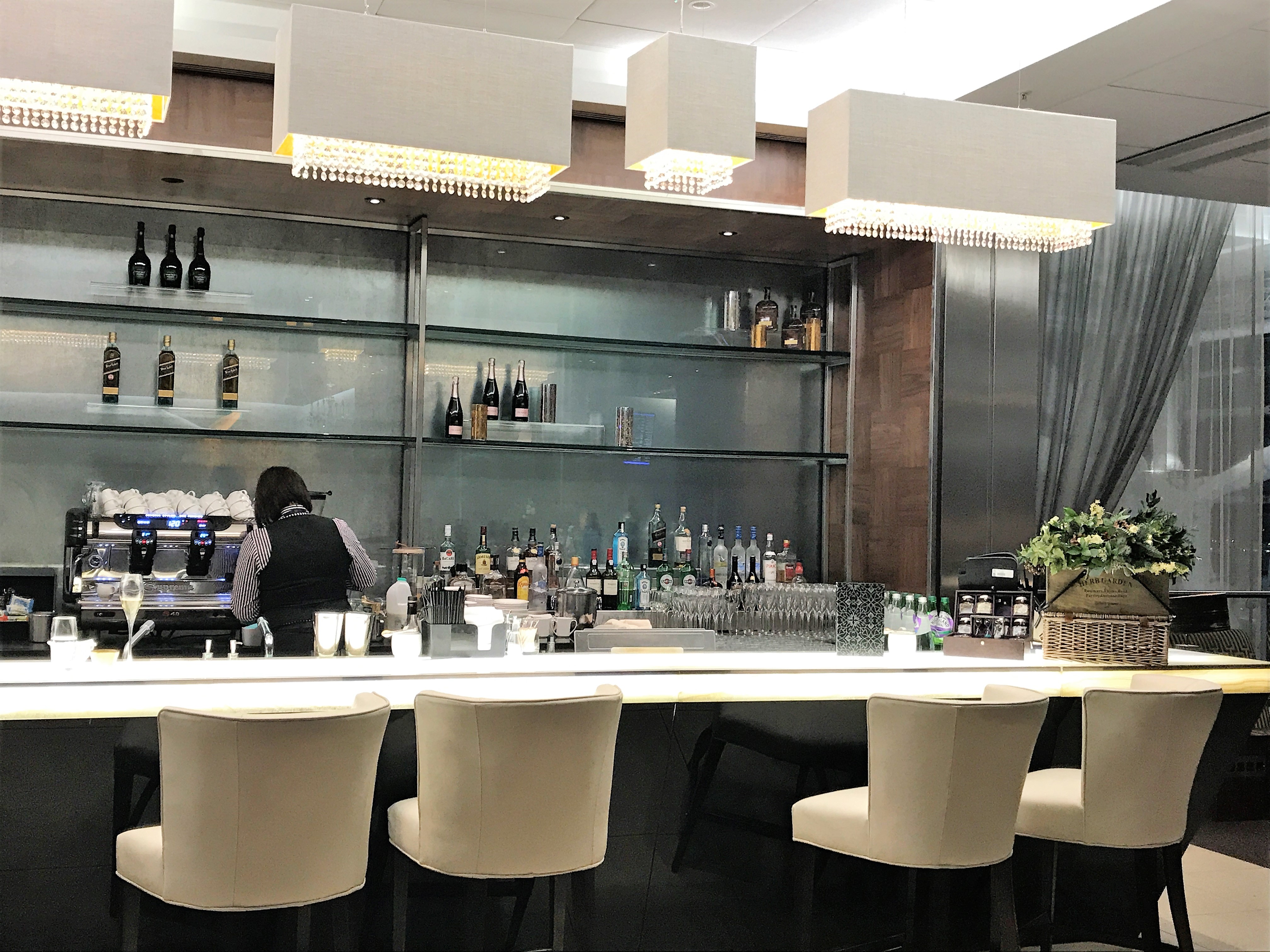 You enter the lounge initially via the Galleries First lounge and past the Elemis Spa to the Concorde Room. I always advise making your Elemis appointment as soon as you arrive to get a treatment in time. Once you are in the Concorde Room you enter into the main bar and lounge area. To the left are the cabanas which I would recommend you book in advance with YouFirst. You can also ask on the day but they were full when I was there so it is best to prebook.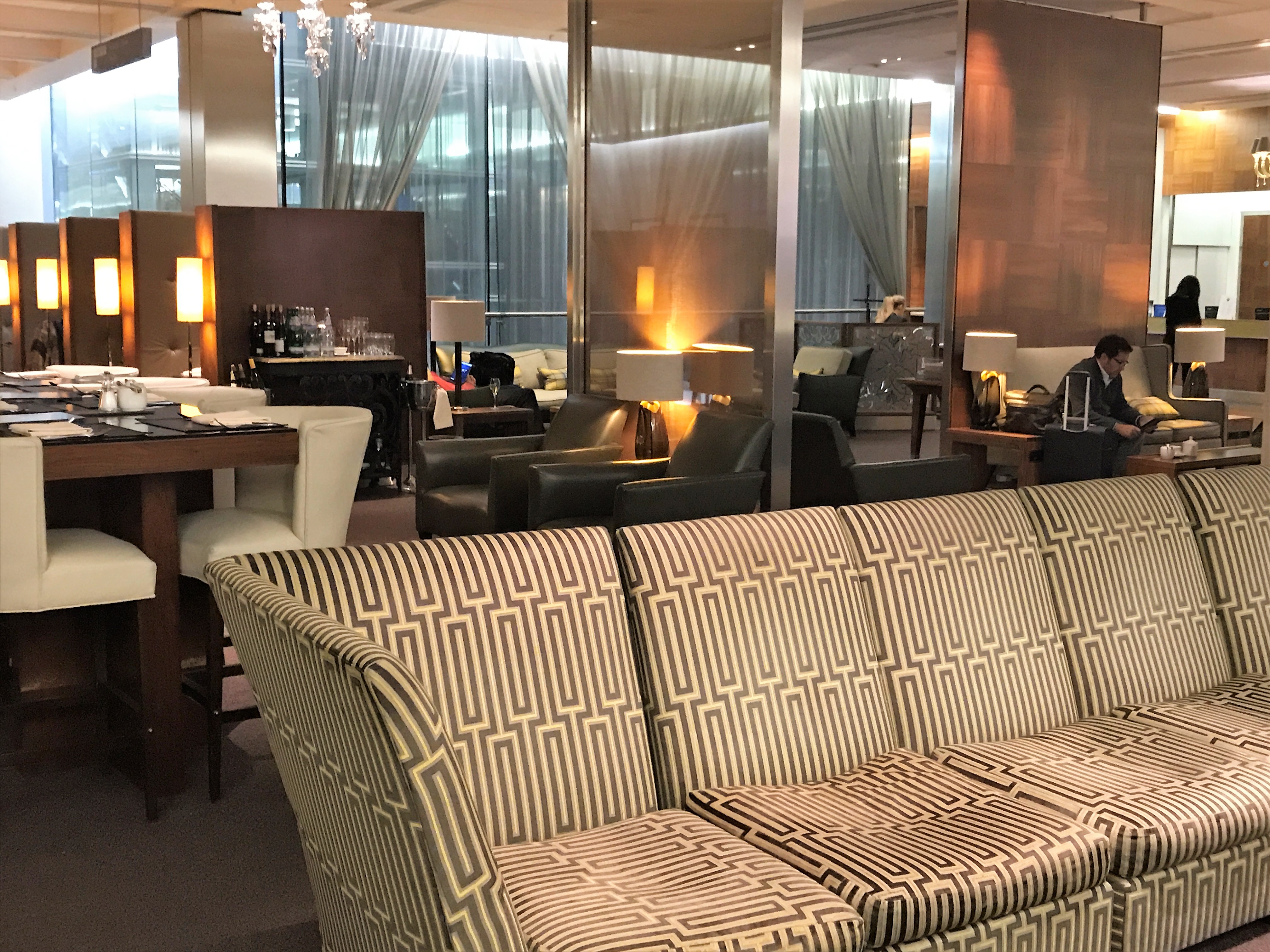 In the lounge is a separate restaurant-style dining area, a boardroom, the bar area and the terrace. The boardroom is a good place to do some work with printers and PCs. This was included in the refurbishment and sadly the Concorde chairs have gone now. It does look very smart though.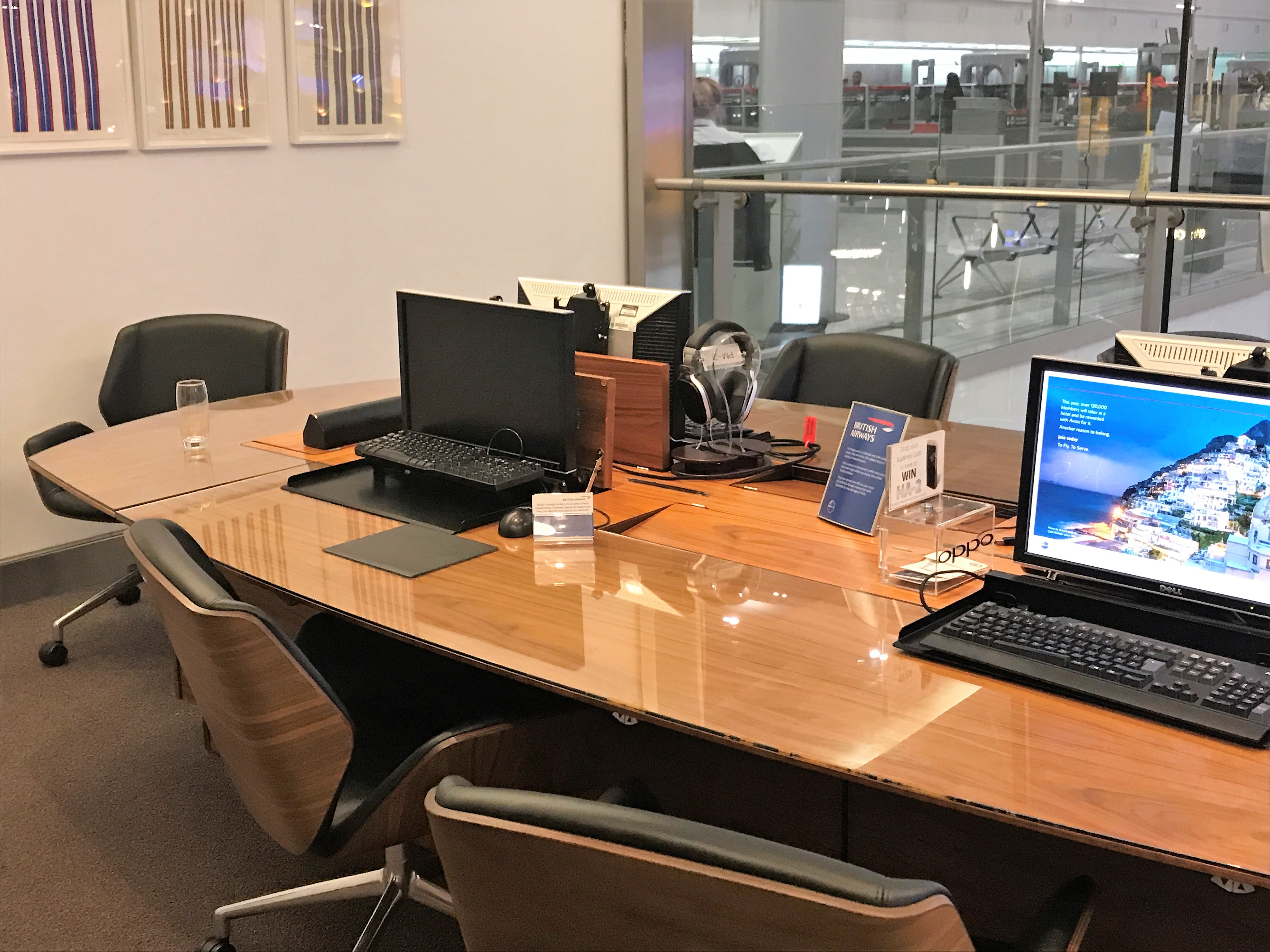 The lounge did definitely look better than the last time I had visited and the decor all looked good in the flesh. I was pleased to see the new quirky duck feet lamps!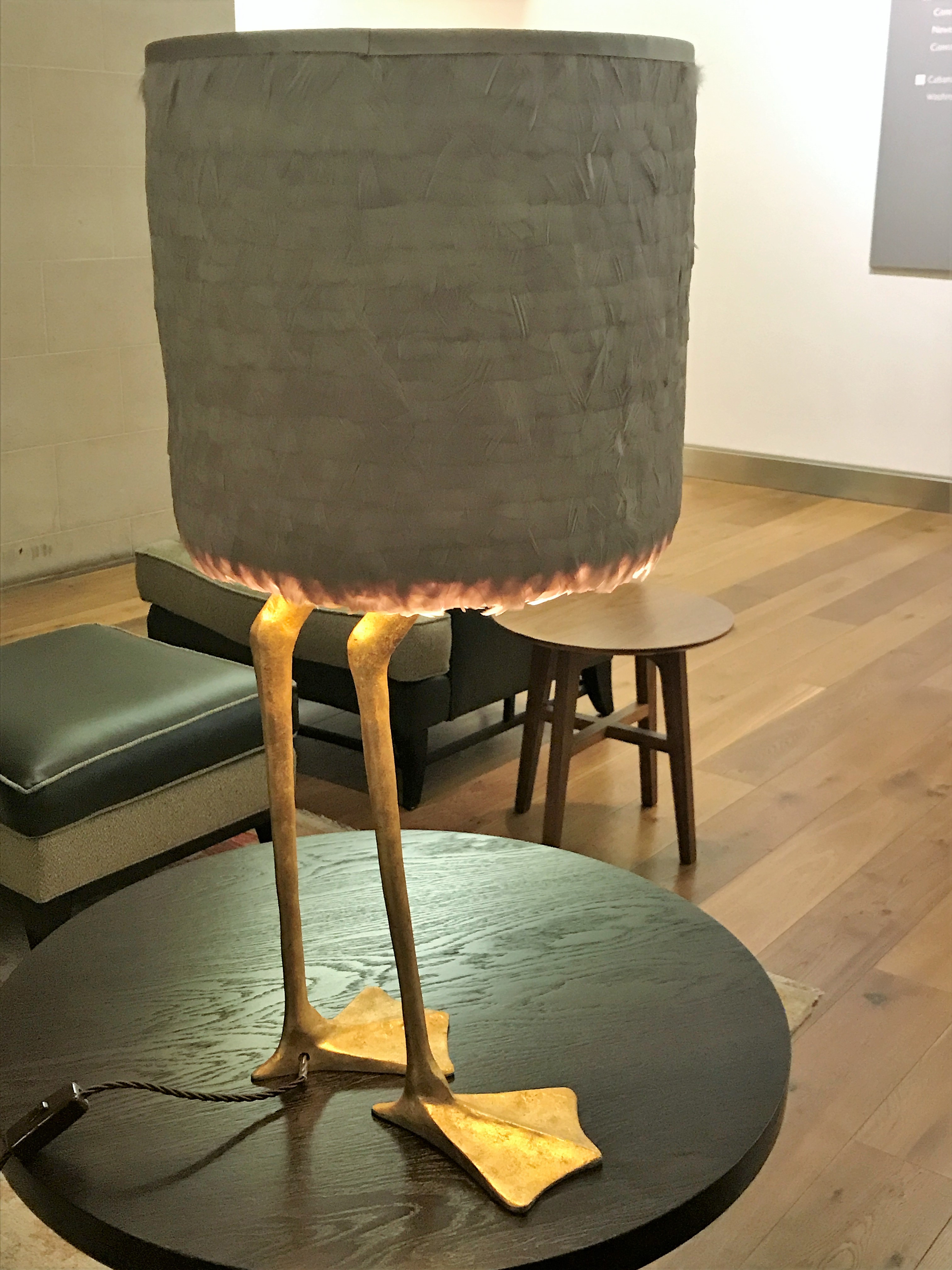 If I am travelling solo I will usually sit at the bar but my other favourite place to sit is the terrace. It looks great after the refurbishment with the little 'room' setups for a bit more privacy and I loved the candle effect in the evening.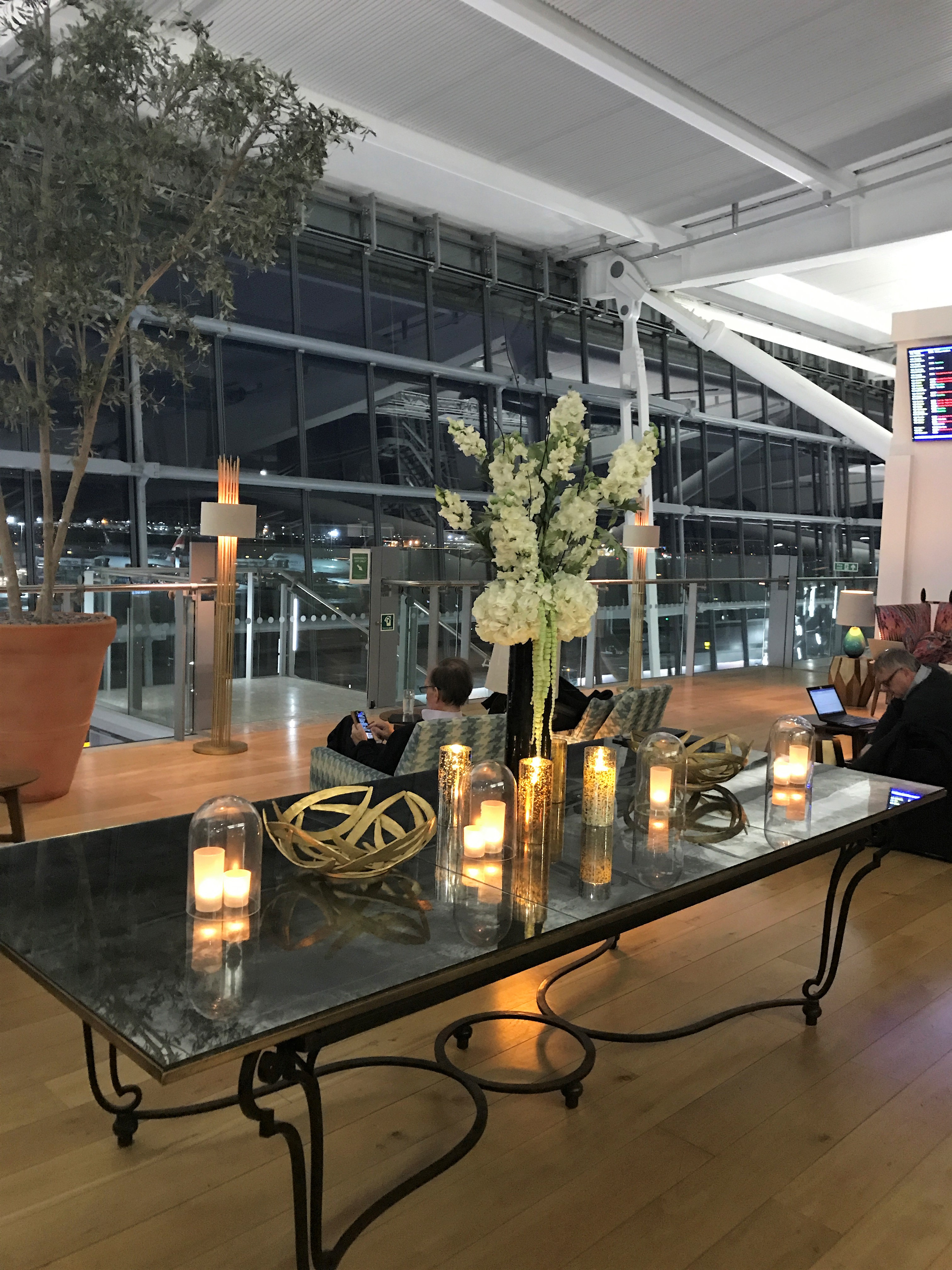 There were only 2 bits of the refurbishment I wasn't sure about: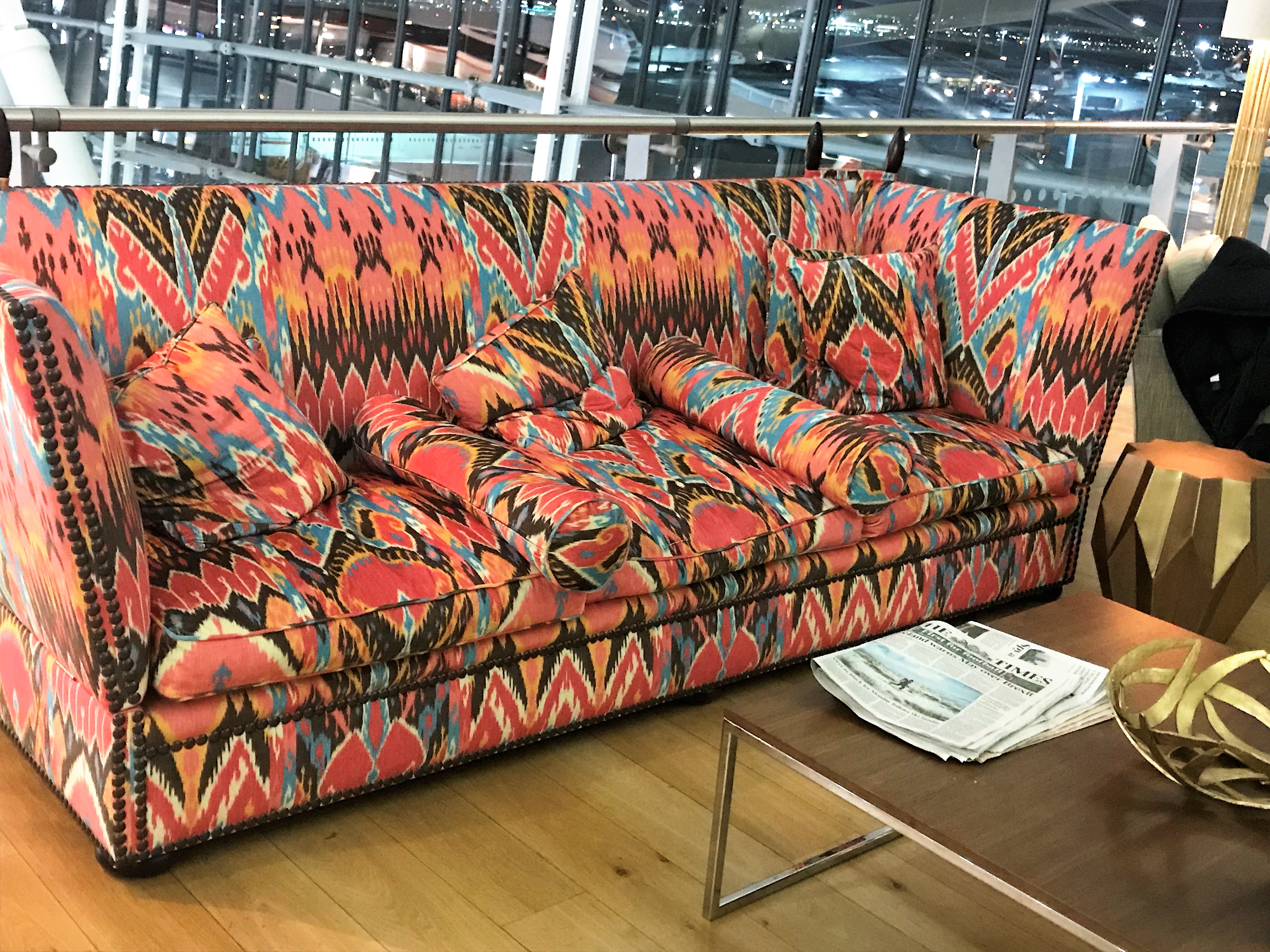 The first one was the fabric on the sofa above. The same fabric is also used as an accent cushion which I thought worked well but I wasn't really sure about a whole sofa in it. It is quite bright and reminds me of a pair of early 90's curtains! Since there is only one I think BA get away with it.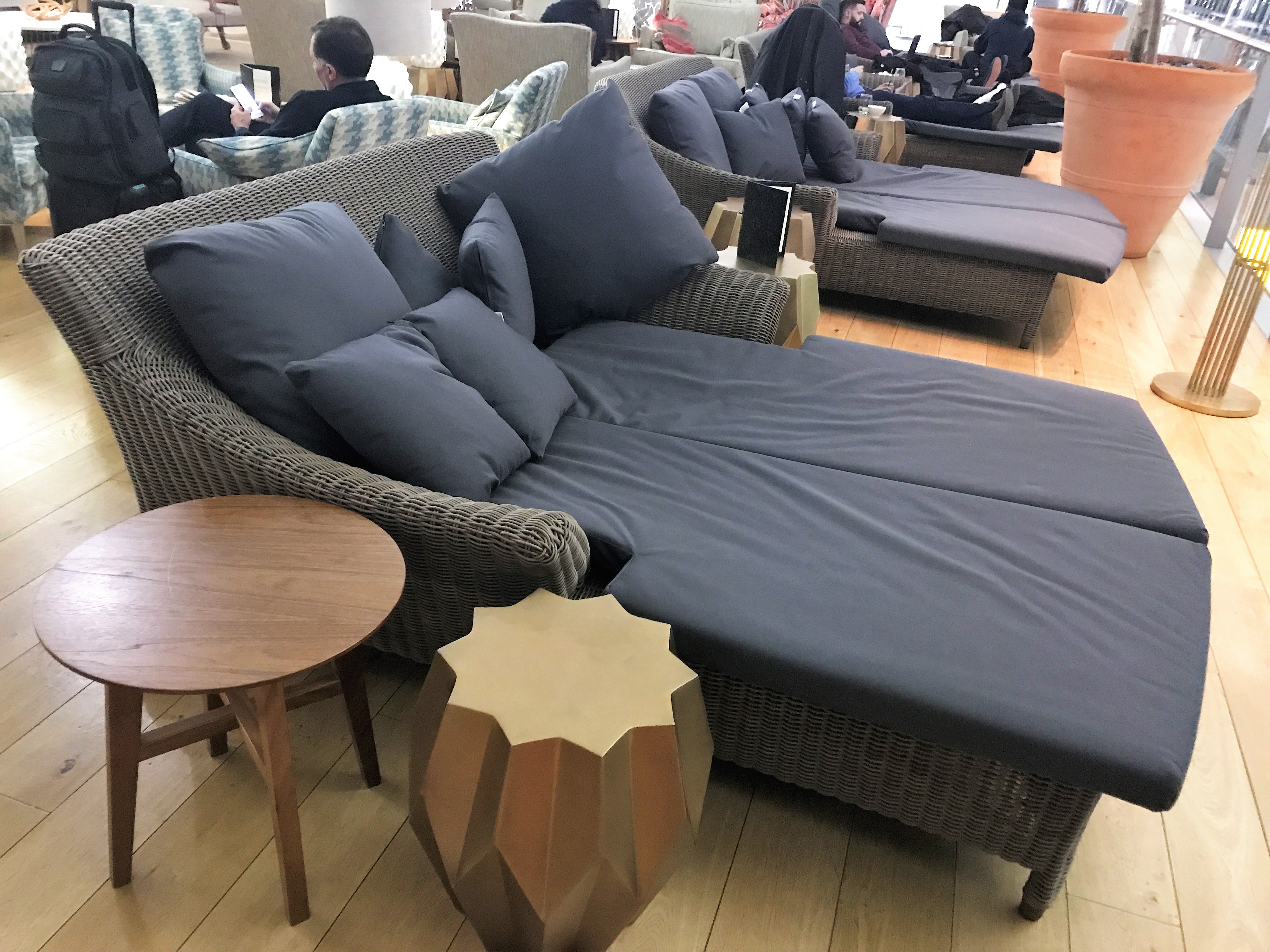 The other chairs I wasn't sure about was the rattan double loungers. These were nice for relaxing but I wasn't sure how they would stay clean with people putting their feet up on them but time will tell. They looked very clean when I visited.
The Spa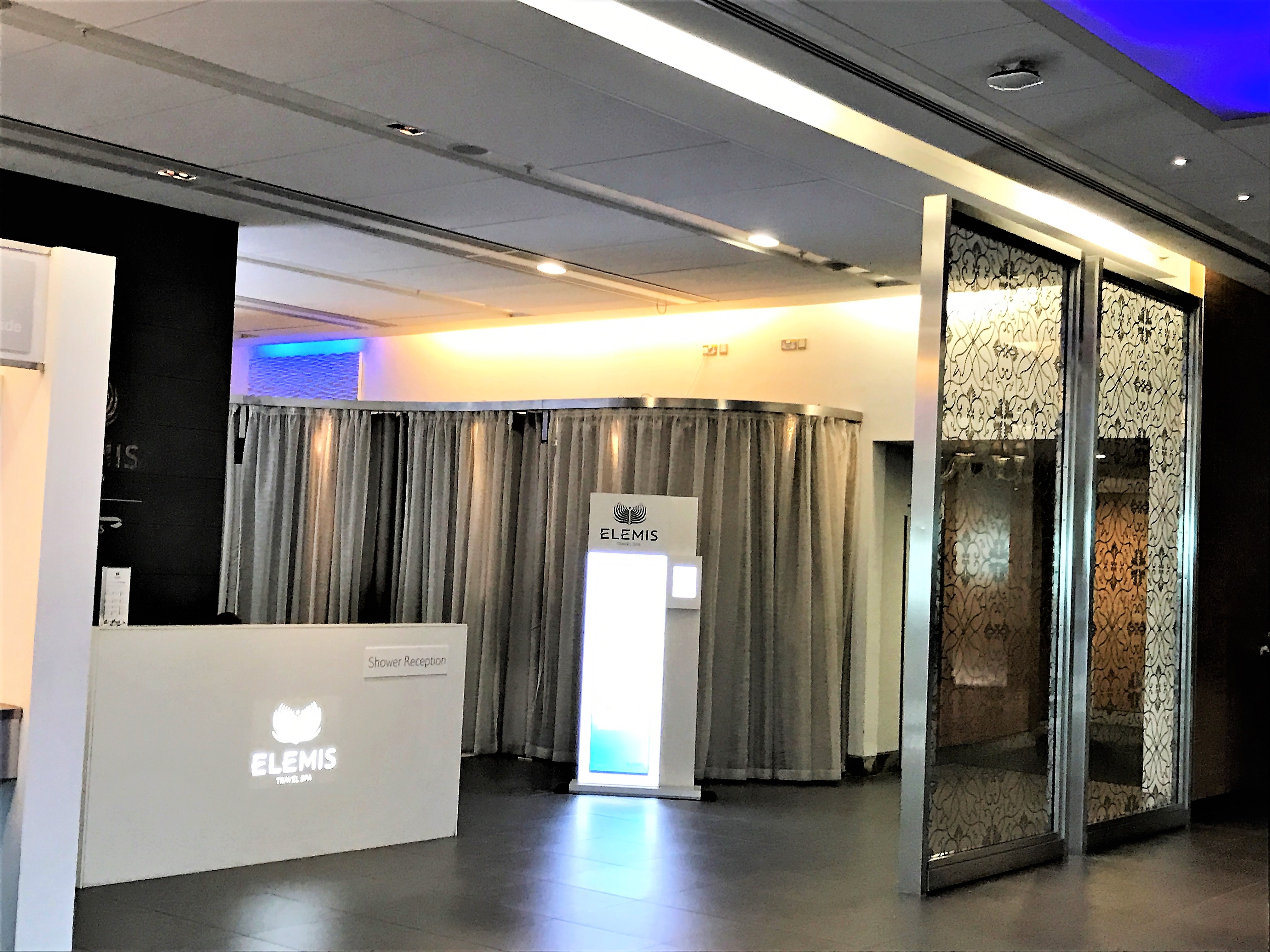 I was at the airport very early (5 hours before) for my flight as I had been racing Roving Reporter to the airport using the Heathrow Express versus the Tube from Piccadilly Circus (I won). This meant that there was actually a choice of treatments and appointments available. I decided to go for the back massage and booked my treatment for about 2 hours before the flight.
All passengers travelling in First and long haul Club can have a treatment as well as BA Gold card holders on long haul. First passengers can prebook their treatments 28 days in advance via YouFirst.
The treatment was very good and the therapist was friendly and gave me some samples too unlike my other recent visits. Overall I was very happy with my spa experience.
If you want a shower you have 2 options; the Elemis spa or a cabana. The cabanas have not been part of the refurbishment but they are due to be done in the future according to the lounge manager I spoke to.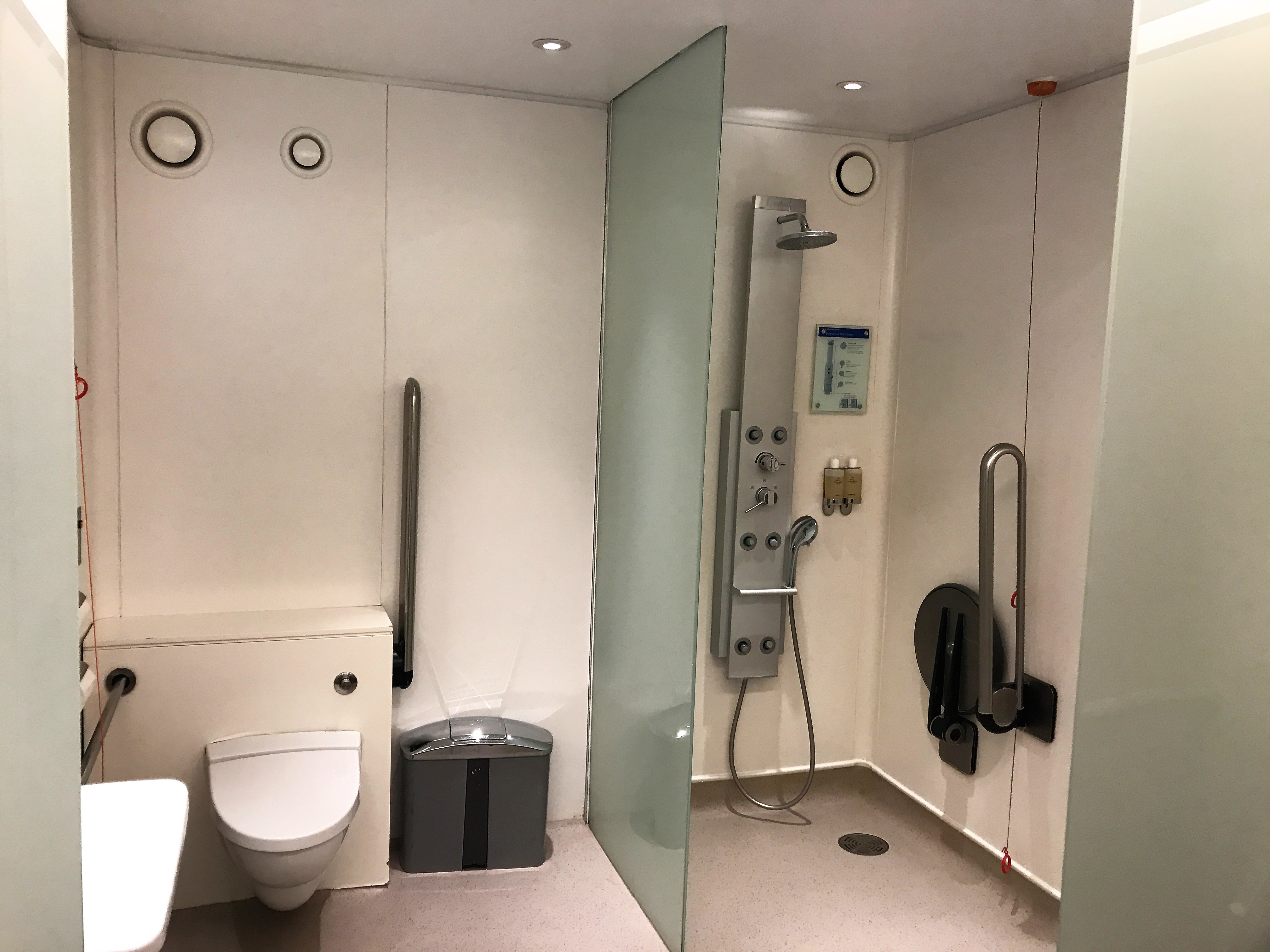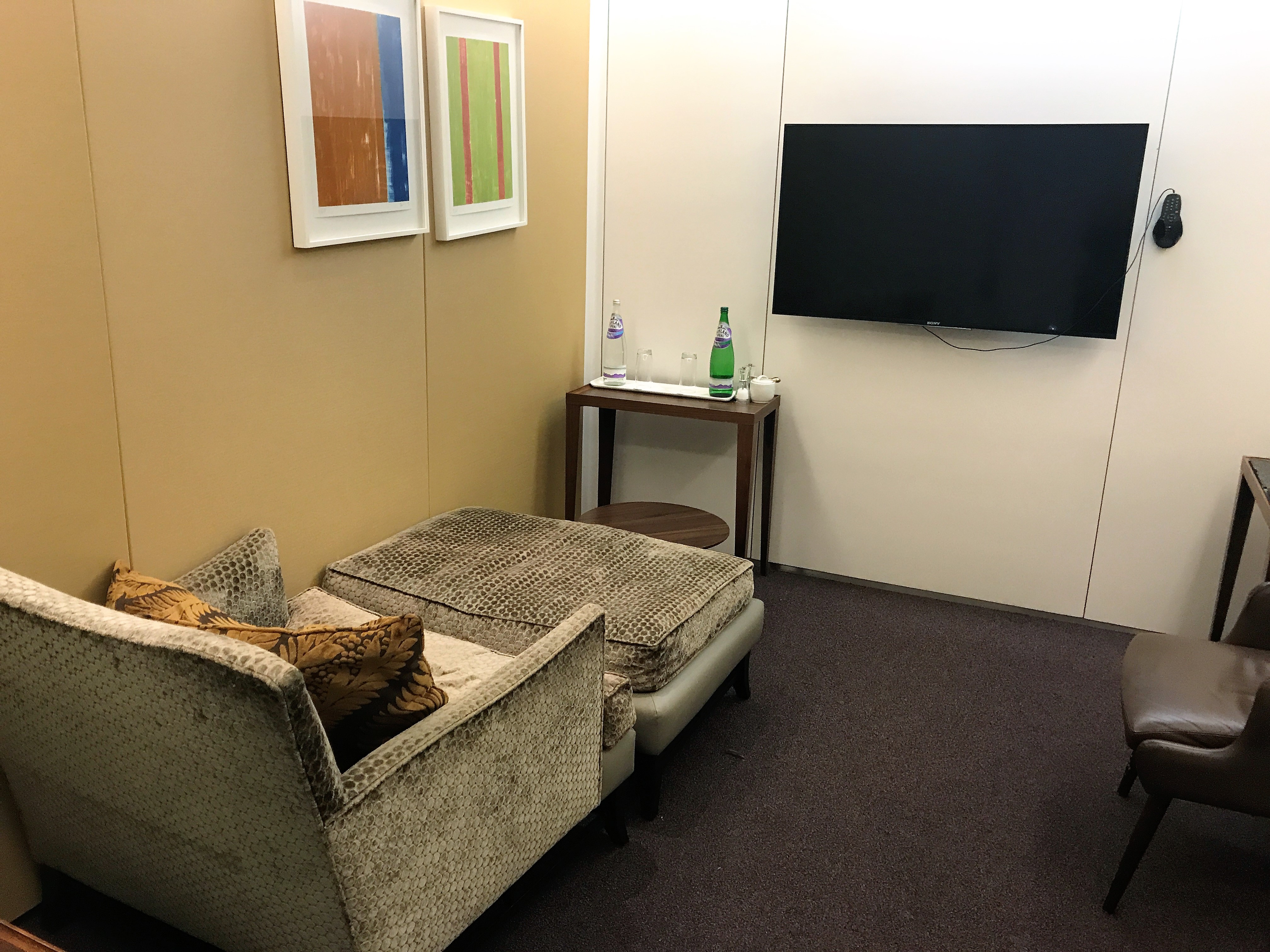 Food and drink

There is no help yourself food or drink in the Concorde Room, so if you want a quick snack you may be better off going next door to the First Lounge where it is all help-yourself.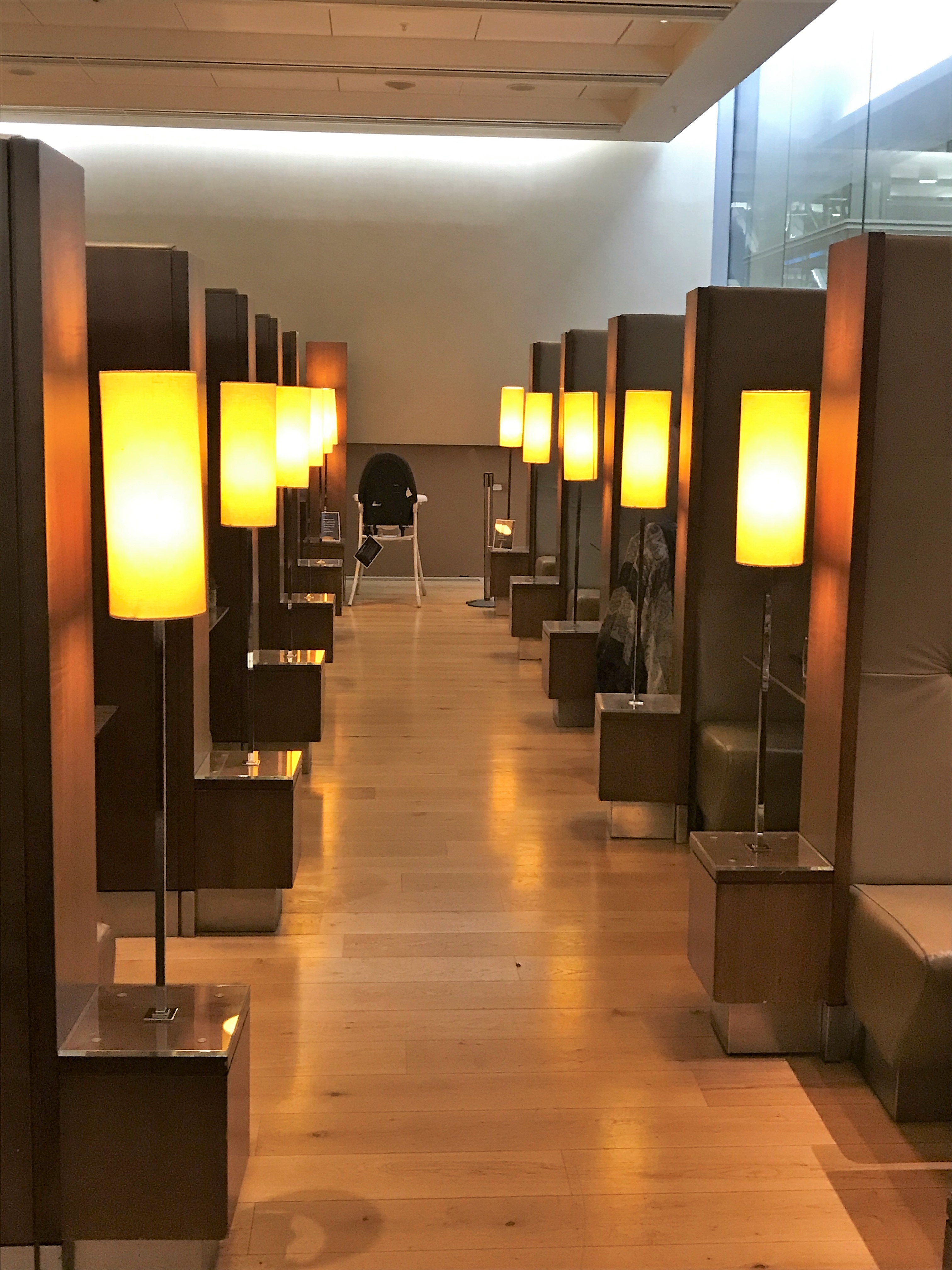 The menu in the restaurant changes monthly so although the selection is fairly small you wouldn't get bored if you were a regular visitor.
We were shown to a table straight away and naturally decided to start with a glass of Laurent Perrier Grand Siecle. This is a fantastic Champagne that retails at over £100 a bottle.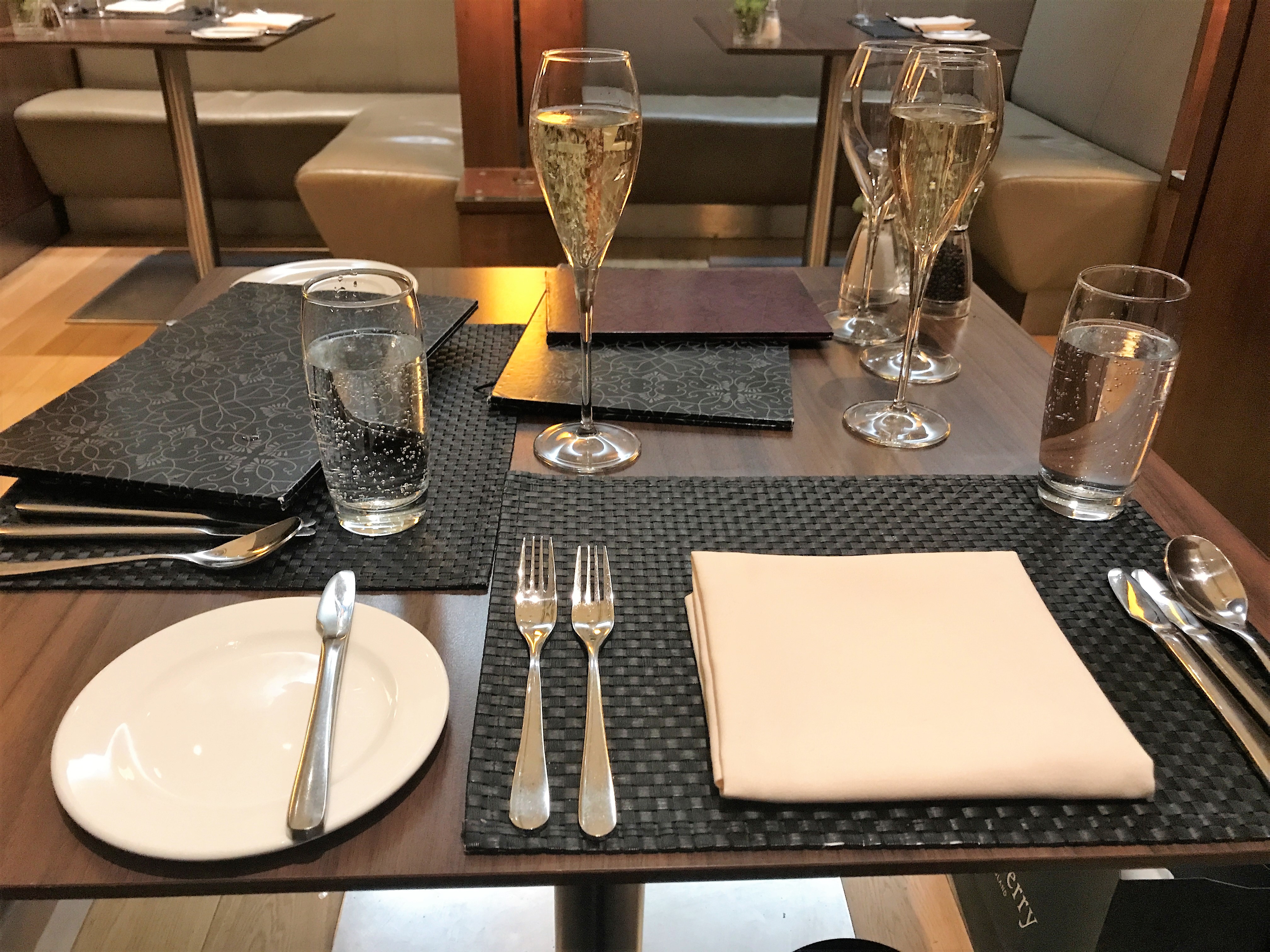 I chose the mushroom tartlet to start and Roving Reporter had the rather strange sounding smoked mutton. The service was a little perfunctory at first but she soon warmed up when RR's charm offensive worked on her! The food came very quickly which is good if you have a flight to catch like RR who was a bit short of time.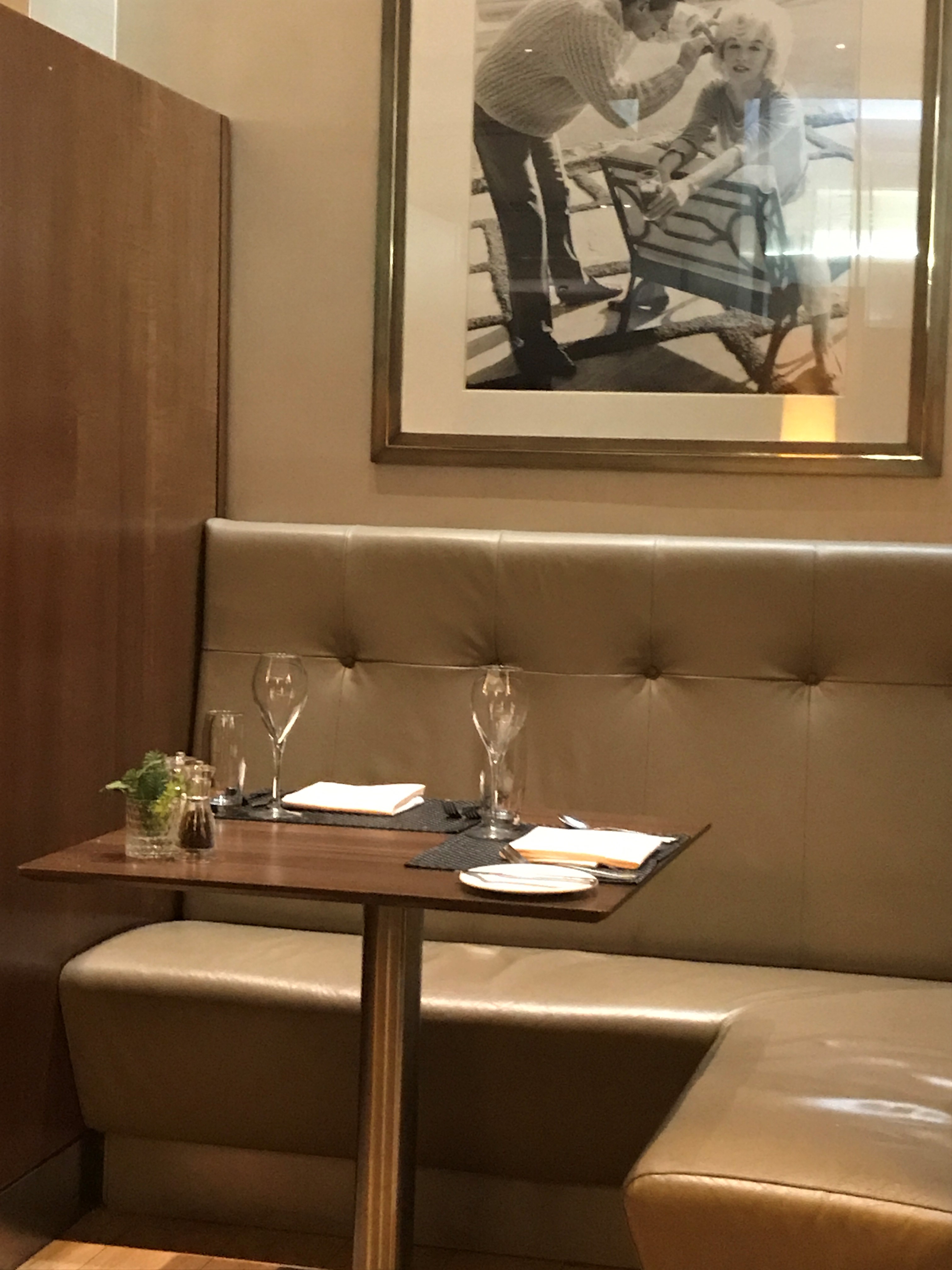 My tartlet was delicious with a light flaky pastry, creamy filling and just a hint of truffle oil.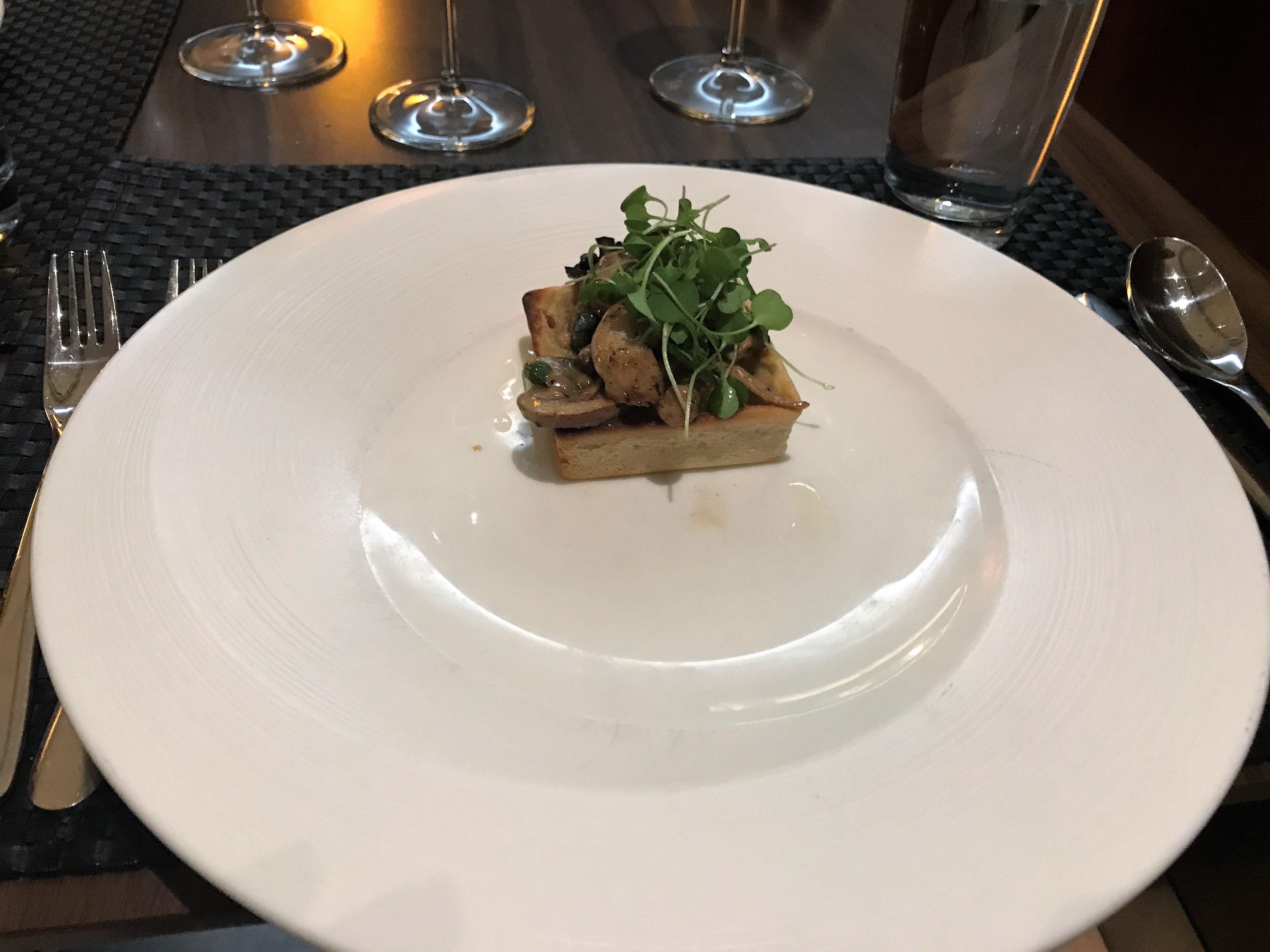 The mutton was not what we expected as it didn't have too strong a flavour. The salty cheese and sweet nuts were a nice balance for the mutton.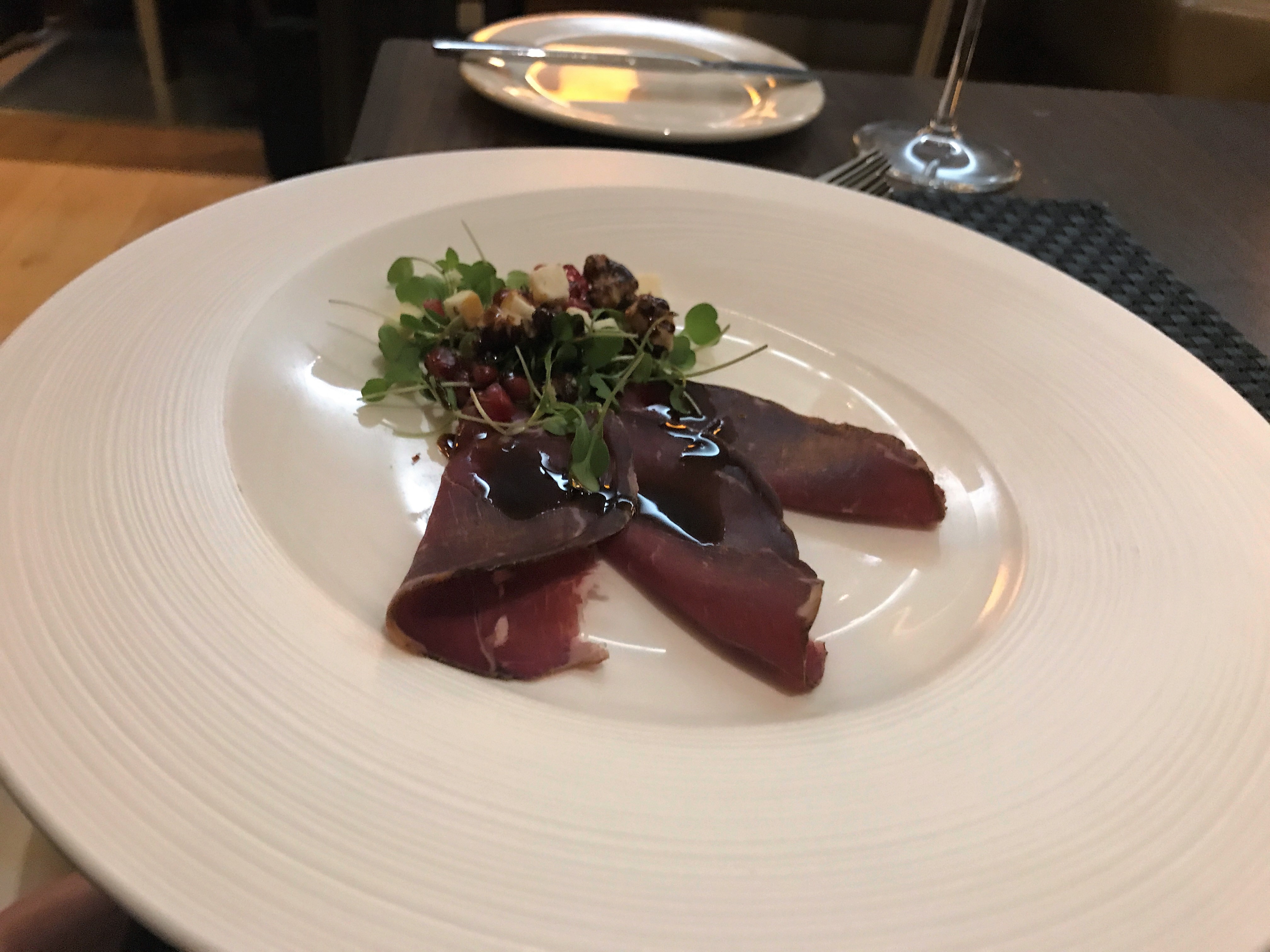 For main course, I had the ox cheek and RR had the seabass. My ox cheek was OK and very tender but I found it a little salty for my liking.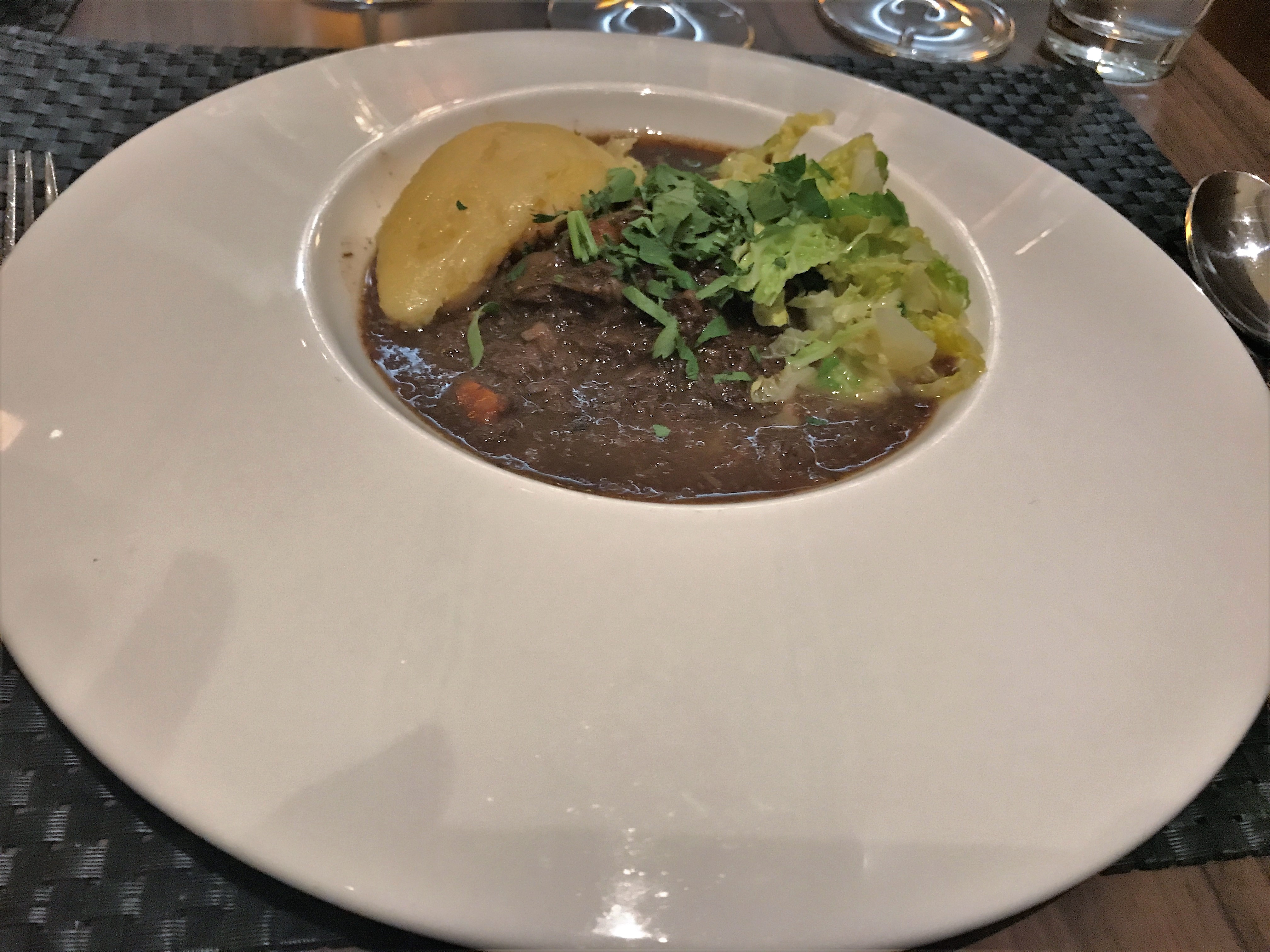 RR thoroughly enjoyed his bass which was a generous portion and perfectly cooked.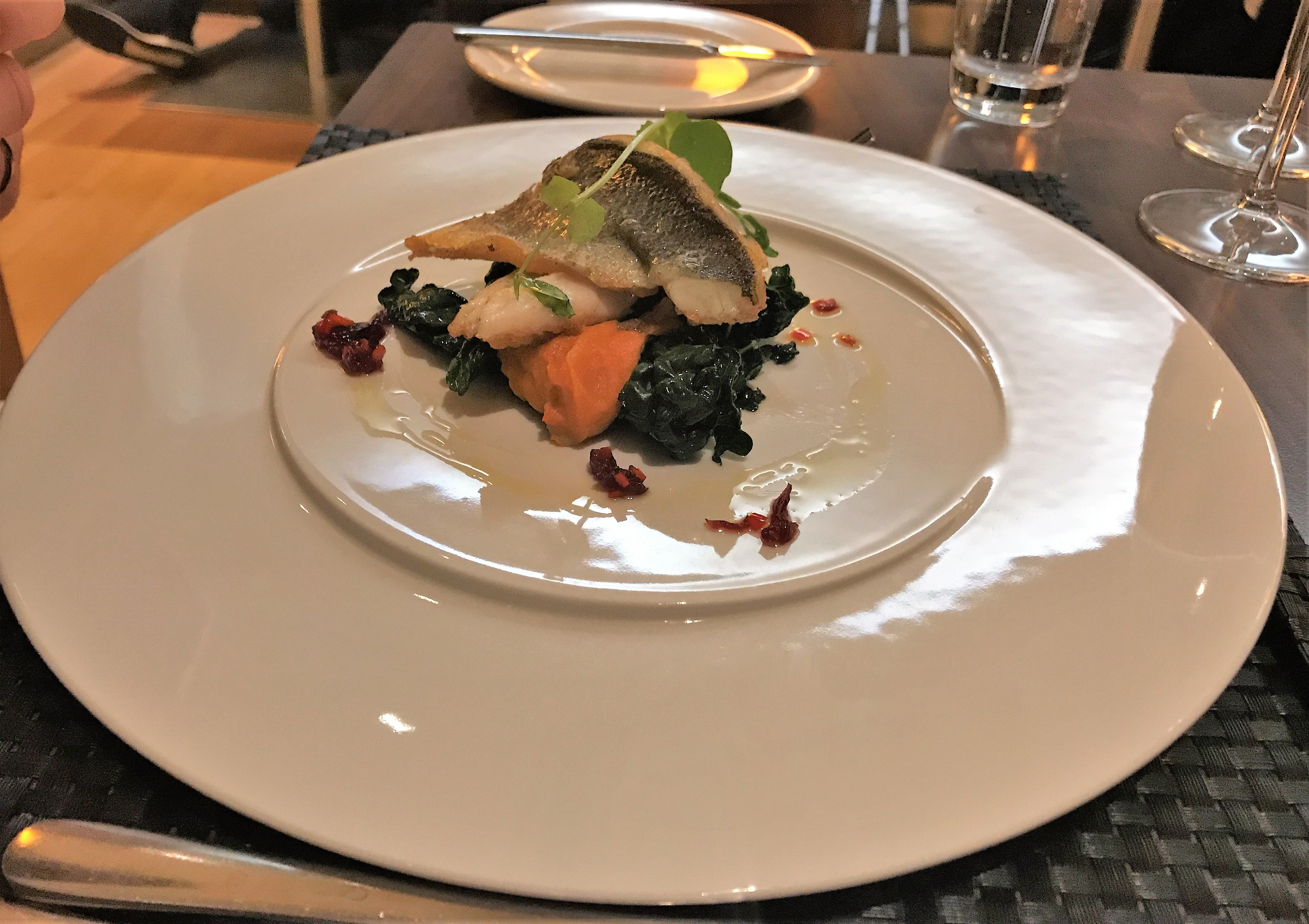 We accompanied these with a glass of the Bordeaux Grand Cru and Chassagne Montrachet which we really enjoyed.
Despite now being rather full we decided to force down some cheese. The cheese plate had a nice mix of English cheese styles with a generous helping of chutney and some tasty fruit/nut crackers.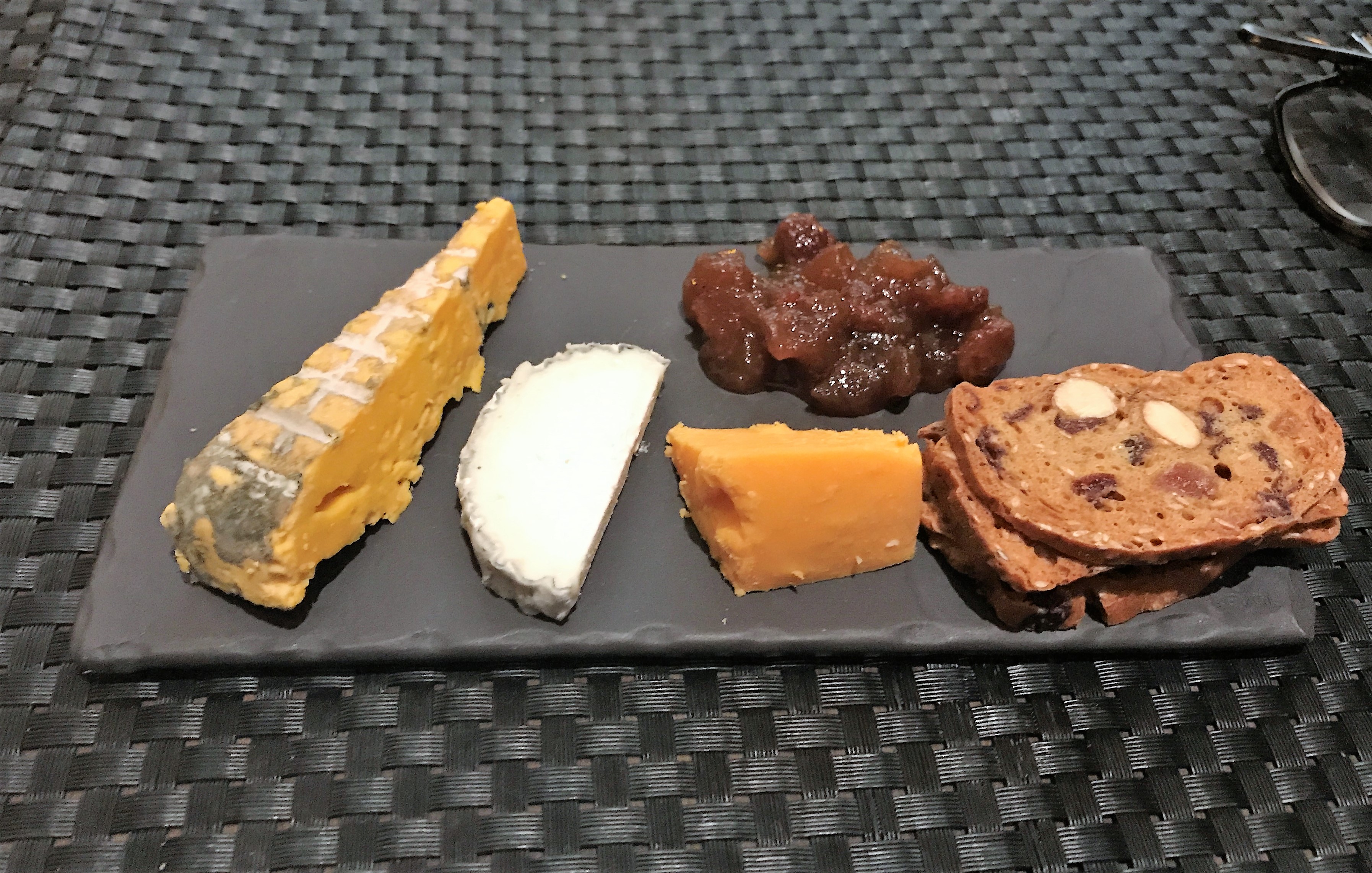 If you wanted something more casual there is another menu available in the bar/lounge and terrace areas. It has the same items to order as the main Galleries First lounge.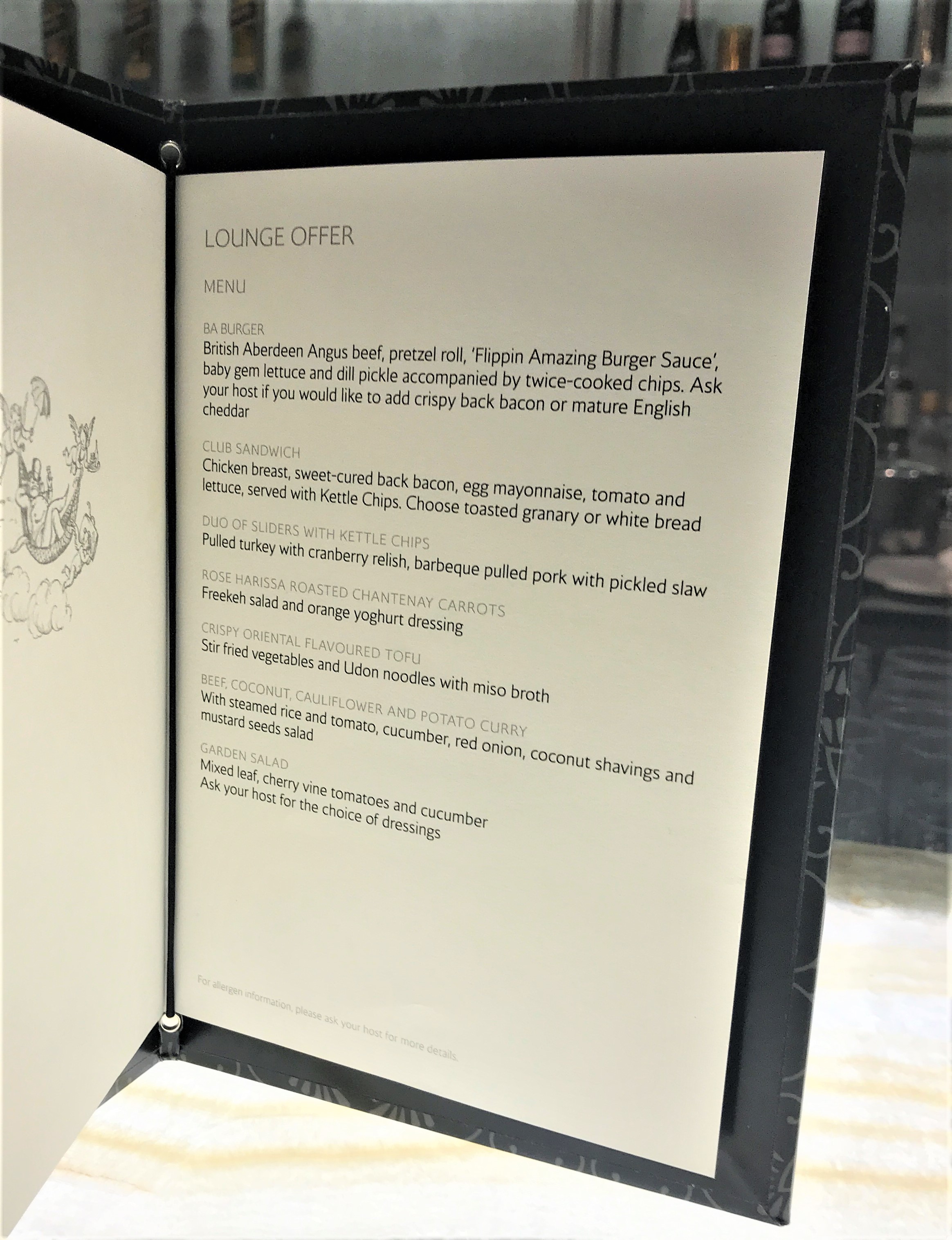 There is also a casual eating area by the bar if you want a proper table.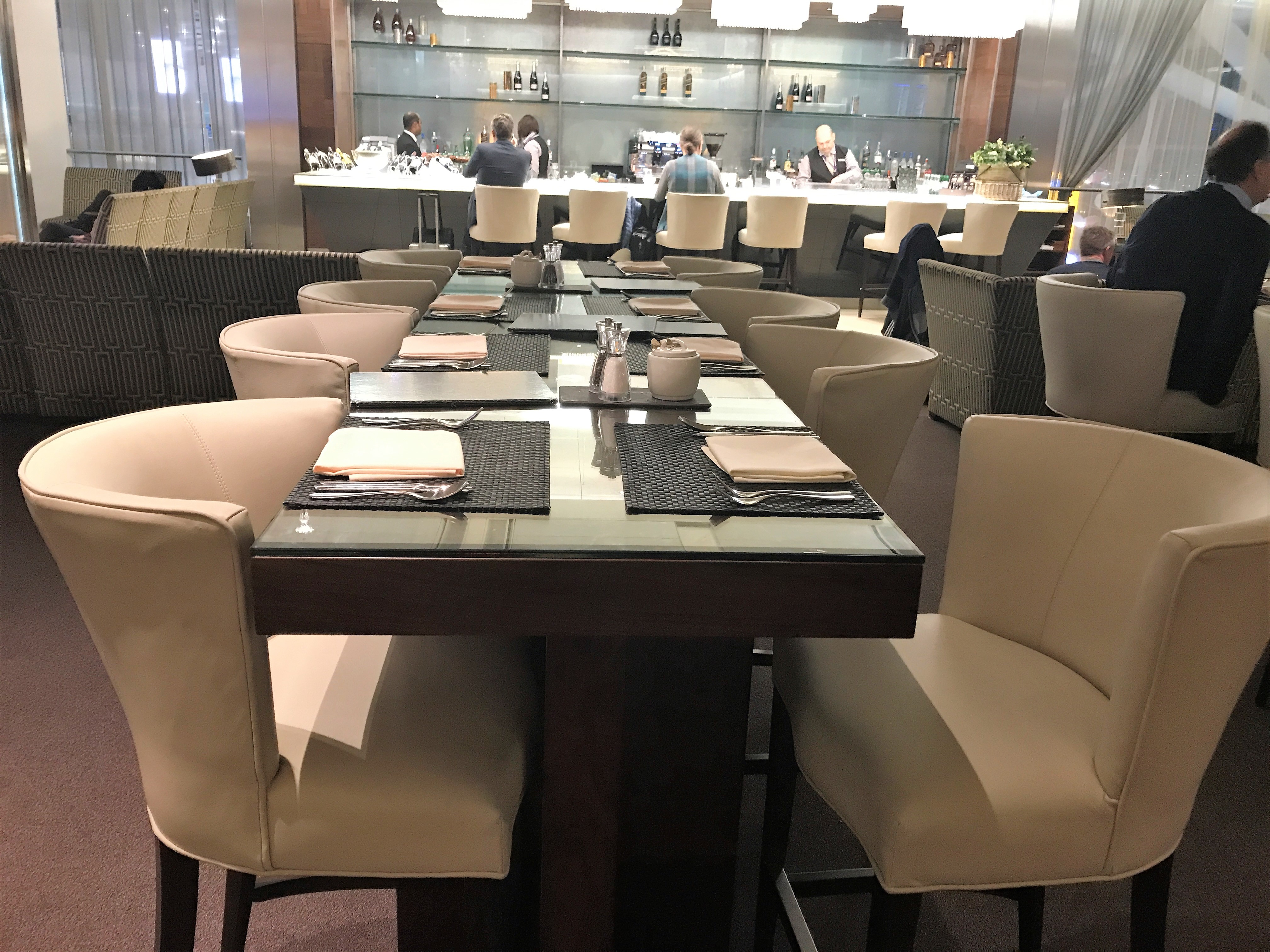 After my lunch, I sat at the bar for a drink. Unfortunately, I am no longer allowed to have grapefruit juice, so couldn't have my favourite BA175 cocktail. I decided to try the Fusion Fizz cocktail which I enjoyed but not as much as the BA175.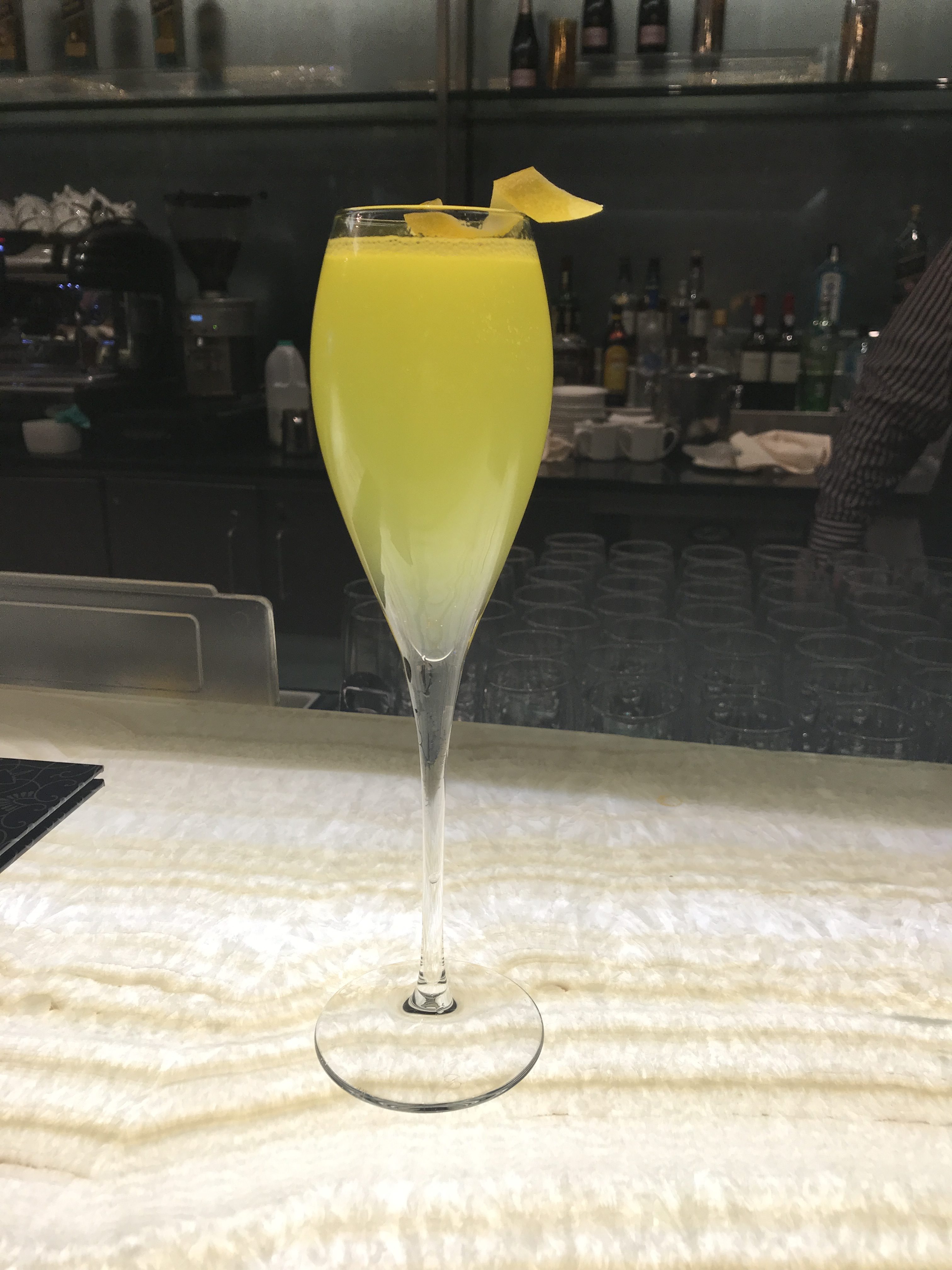 I was impressed with the bar staff, especially Boris who knew all the regulars. As soon as I was nearing the end of my cocktail I was offered another. I only had about 10 minutes before I had to head off so I said no. I was then given about a third of a glass of Laurent Perrier Champagne as I had '10 minutes to drink it' which I thought was great service.
There is a nice selection of bar snacks that you can order to go with your drinks. As well as the same wines as on offer in the restaurant there are also lots of cocktails to choose from and a good range of premium spirits.
Conclusion
I always enjoy a visit to the Concorde room and after the refurbishment it looks much better than before. I particularly liked the terrace area which was a great place to sit and relax in the evening. The food was restaurant quality and I thought the bar staff were fantastic. All that is needed now is the toilets and cabanas to be refurbished sooner rather than later.
If it your first time travelling in First with British Airways, I recommend reading my guide to your first BA First experience. There is also more information on the British Airways website about the Concorde Room.