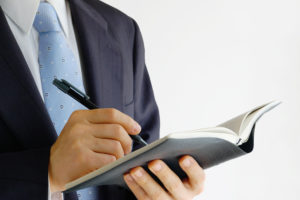 If you are travelling with AA or BA back to Heathrow Terminal 3 on a long haul flight, you may be entitled to use the Arrivals lounge. Many people don't bother to use the arrivals lounge unless they are travelling on business. Having used them a few times recently, it is worth popping in if you have time. If I am getting collected at the airport I usually build in time with my pick up to use the lounge. After all, I have paid for it! It is a useful way to maximise your sleep on shorter flights as you can eat breakfast in the lounge. Having a shower straight after a flight always makes me feel better too!
My intrepid Roving Reporter has been on his travels yet again and tried out the T3 American Arrivals lounge. The lounge was recently refurbished and re-opened in summer 2016.
Opening hours and access

The Arrivals lounge is outside security and customs, a quick walk to the right of the main arrivals gate and up in the lift to level 2. The lounge is open daily, from 5a.m. – 2:30p.m. during the winter, and until 3:30pm during the summer months. It is not a typical American Airlines lounge like an Admirals Club. Heathrow is the only airport that has an AA Arrivals lounge. RR visited at about 1pm.
Qualifying passengers from British Airways, Qantas and Cathay Pacific can also use it, since they operate into T3 at Heathrow. Access is available for passengers arriving on a same day flight as follows:
Customers travelling in First or Club World on BA,
Executive Club Gold Members arriving on a British Airways long haul flight,
AAdvantage® Executive Platinum/oneworld® Emerald SM members
Customers travelling in first or business class on an American Airlines, Cathay Pacific or Qantas operated flight.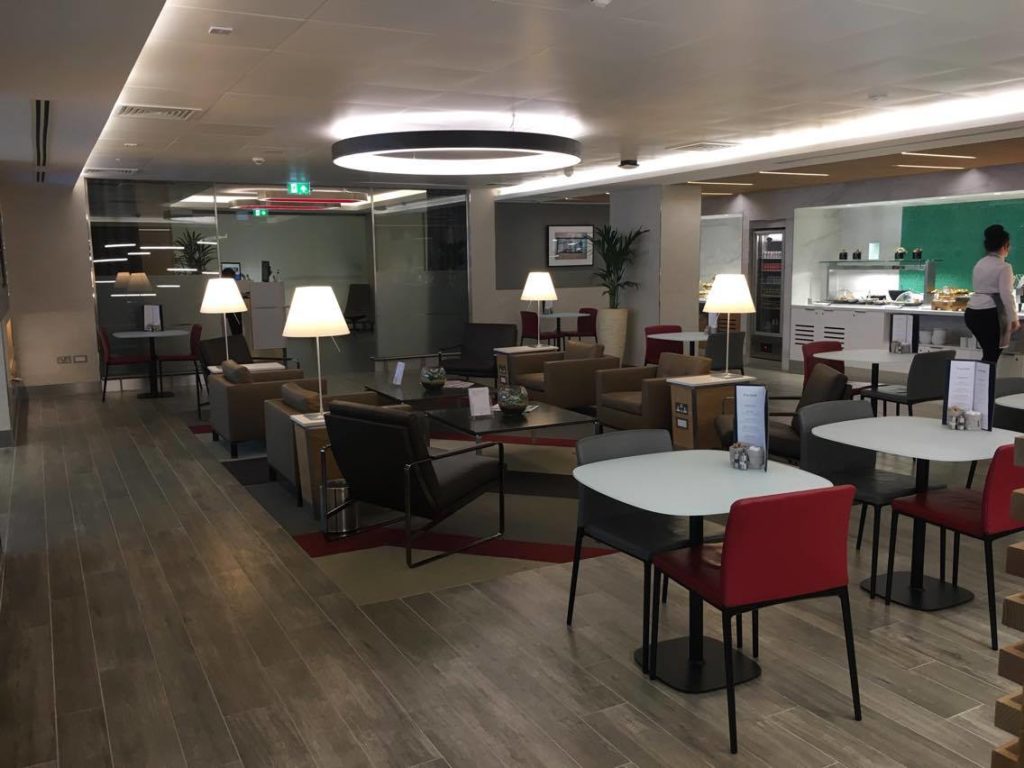 Food and drink
You will almost certainly get a better breakfast in the lounge than you will on board. At the time of day that RR visited there was a mixture of lunch and breakfast items. For breakfast there was a hot selection including scrambled eggs, pastries, fruit and cereals. You could also order a number of items such as eggs benedict, pancakes or porridge.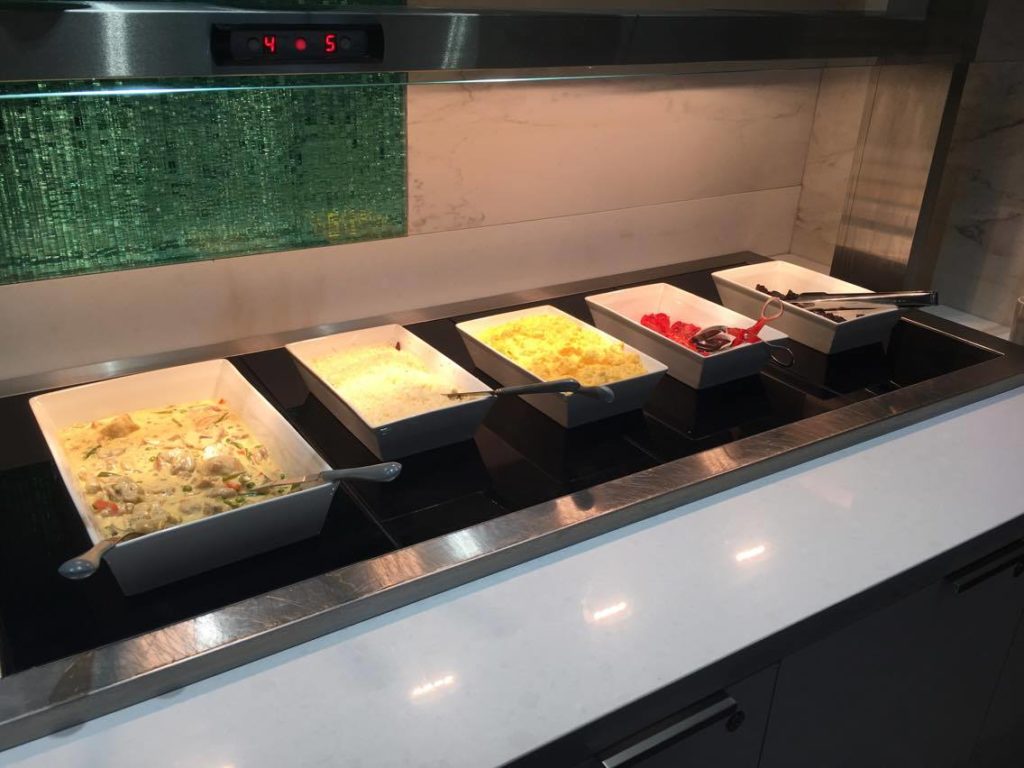 For lunch they also had chicken in a creamy sauce with rice, sandwiches and salads.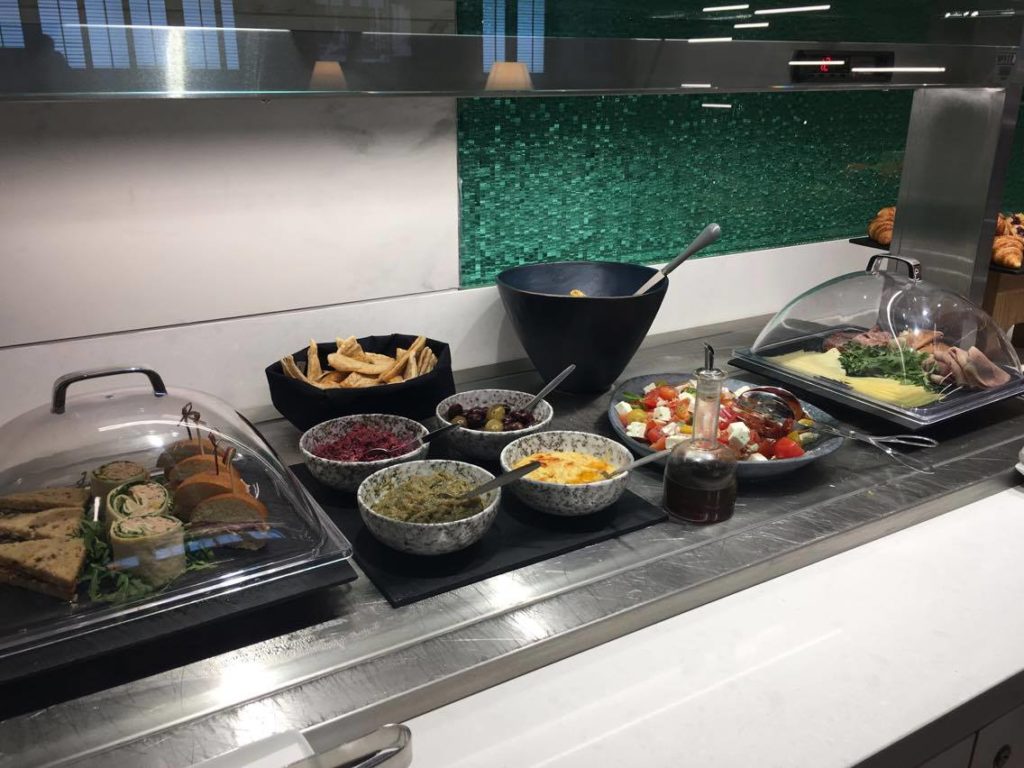 If you weren't dehydrated enough after your long haul flight and fancied carrying on your holiday a bit longer, they also have alcohol. There are Bloody Marys that are made to order with your choice of extras such as celery, olives or bacon (?). If you fancy some fizz there are self-service bottles of Moet which you could make into a bucks fizz (or should that be Mimosa in the AA lounge?) with the orange juice provided. Finally, there is also a small wine selection, espresso coffee machine and of course a variety of soft drinks.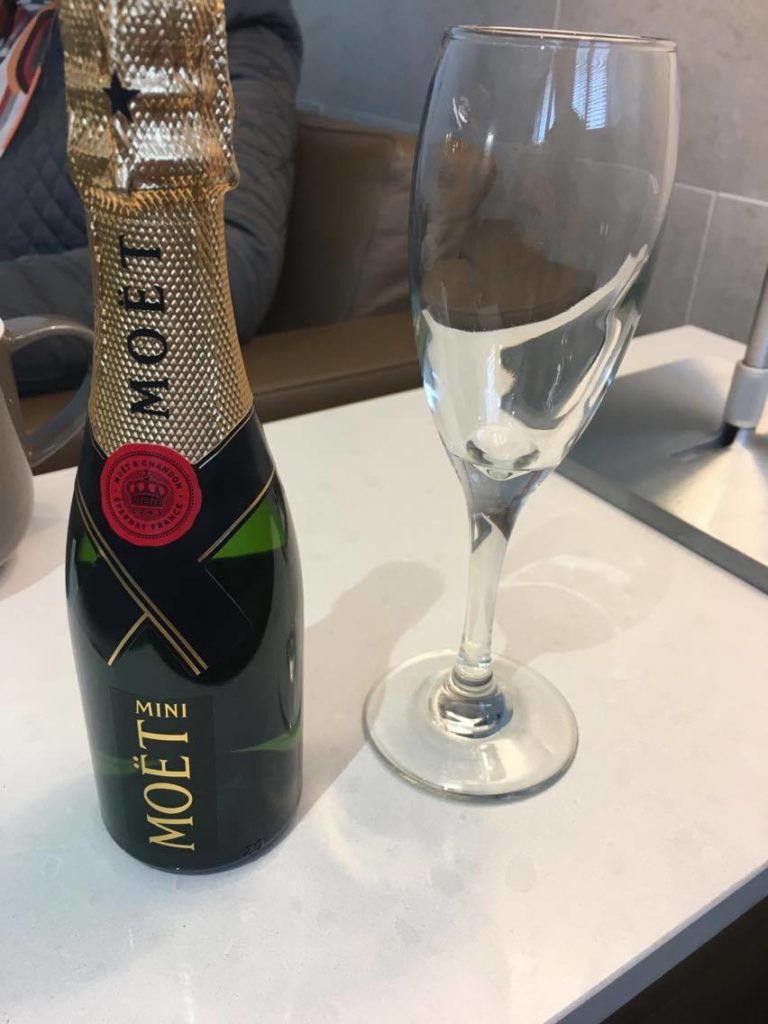 Showers

When you arrive it is worth booking a shower, in case there is a wait. There are 29 shower rooms with C.O. Bigelow toiletries, towels and hair dryers. The hair dryers aren't great as they are the 1970s style wall mounted ones, but better than nothing. The actual rooms though, are modern and stylish. In the shower is shampoo, conditioner and shower gel. You can also request shaving and dental kits. There is even a luggage rack for your suitcase. Valet ironing services are available too.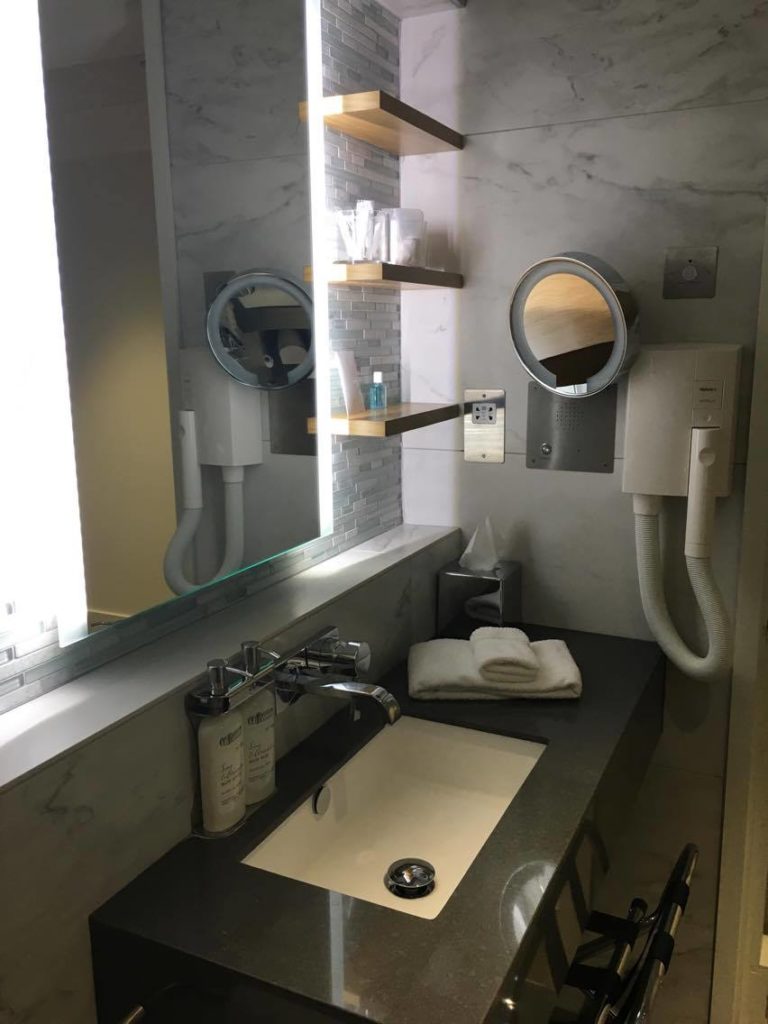 The lounge was almost empty during our visit, but there is plenty of comfortable seating with charging points and a selection of newspapers and magazines. For eating, there are café style tables and chairs.
There is also a business section with a PCs and a printer.
Conclusion
This is a lovely place to relax, have some food or a shower after a long flight. Having champagne available is a nice touch, particularly if you were celebrating a special occasion on your trip. Overall I think it is better than the BA T5 Arrivals lounge, especially if you are in business class. All passengers can get food to order instead of just First and Concorde room card holders. The only drawback is the lack of spa treatments which both BA and Virgin have in their arrivals lounges at Heathrow. It is worth noting that if you are arriving on BA you could also use the T5 BA Arrivals lounge, but obviously it is quite a trek to get there.
The official American Airlines lounge page is here.