This is a condensed report of my latest trip including all the flights. The full route was Manchester – London – Doha – Penang, and then the next day the same in reverse! It got me 640TP and cost a little under £800 in a very short-lived sale a few months ago. Three of us were travelling together and had picked a good mixture of Qatar aircraft.
We would be flying on the Qatar A380, a B787 and lastly an almost brand new Airbus A350-900 with QSuites. I have flown Qatar before, but only on the 777 with the old 2-2-2 config, so this would be an experience!
I won't bore you with the 30 minute flight from Manchester, but just a heads up – I don't recommend a Back-to-Back at Manchester due to the lack of airside transit, and AWFUL security – more on that later.
London – Doha QR004 – Airbus A380-800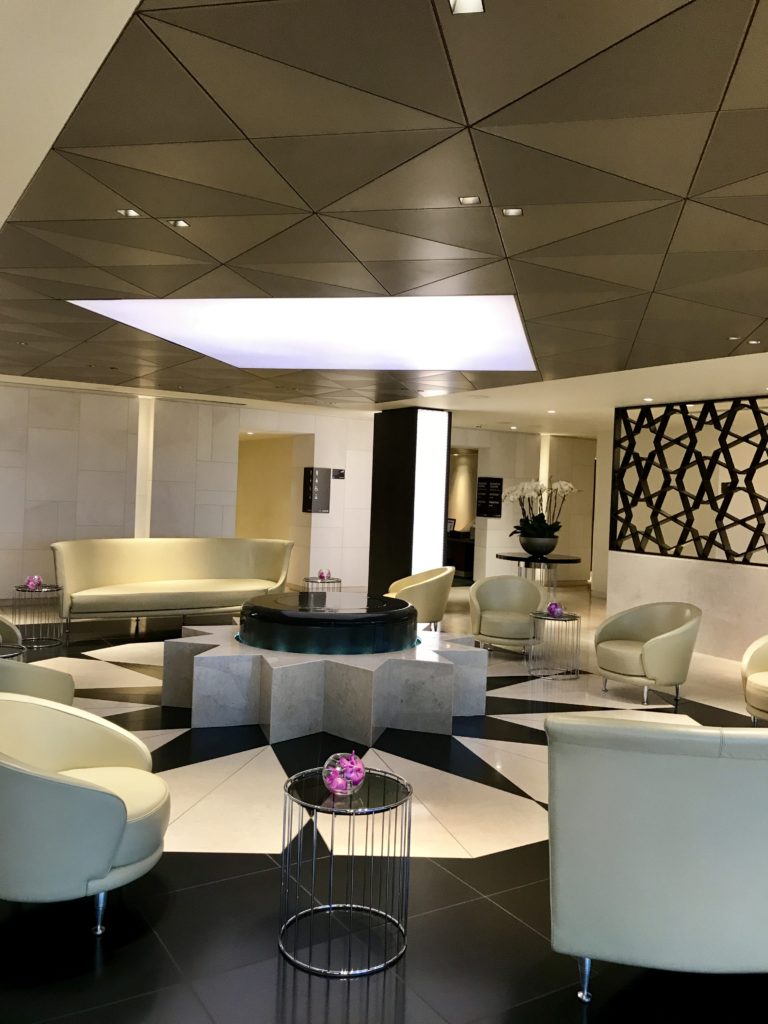 So the day arrived and off to Heathrow I went (again!) It was the first time I had been to Terminal 4 in many years and as the Heathrow Express (HEX) transfer is poorly timed I thought the Tube would be quicker – never again. It took what seemed like hours and kept stopping in the stations – give me the HEX next time no matter what the connection!
Anyway, I got to check in, all boarding passes issued all the way to Penang in the neat little business class pouches and to the lounge I went.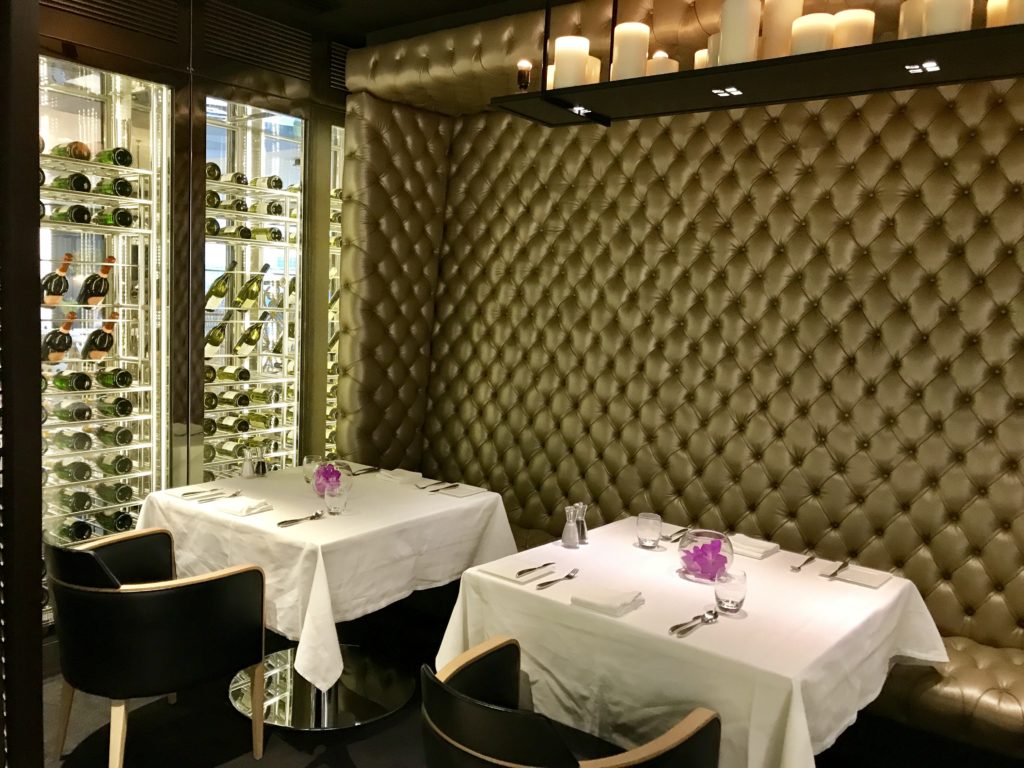 It's a neat very modern space and the perfect way to start a trip – the service was also impeccable.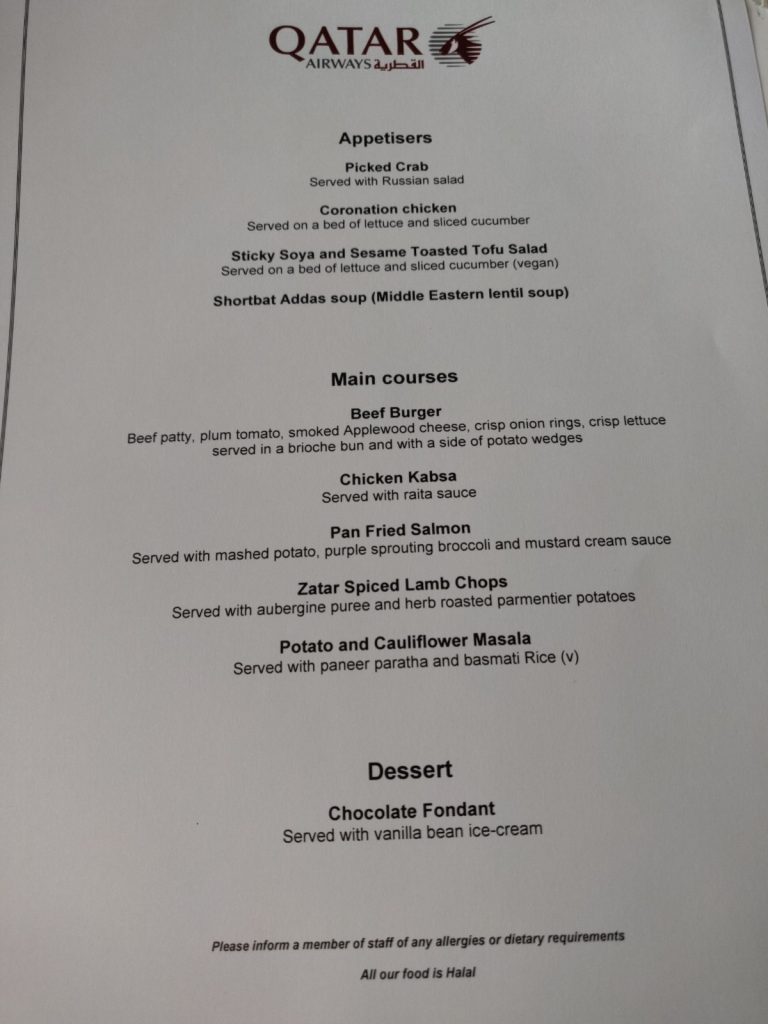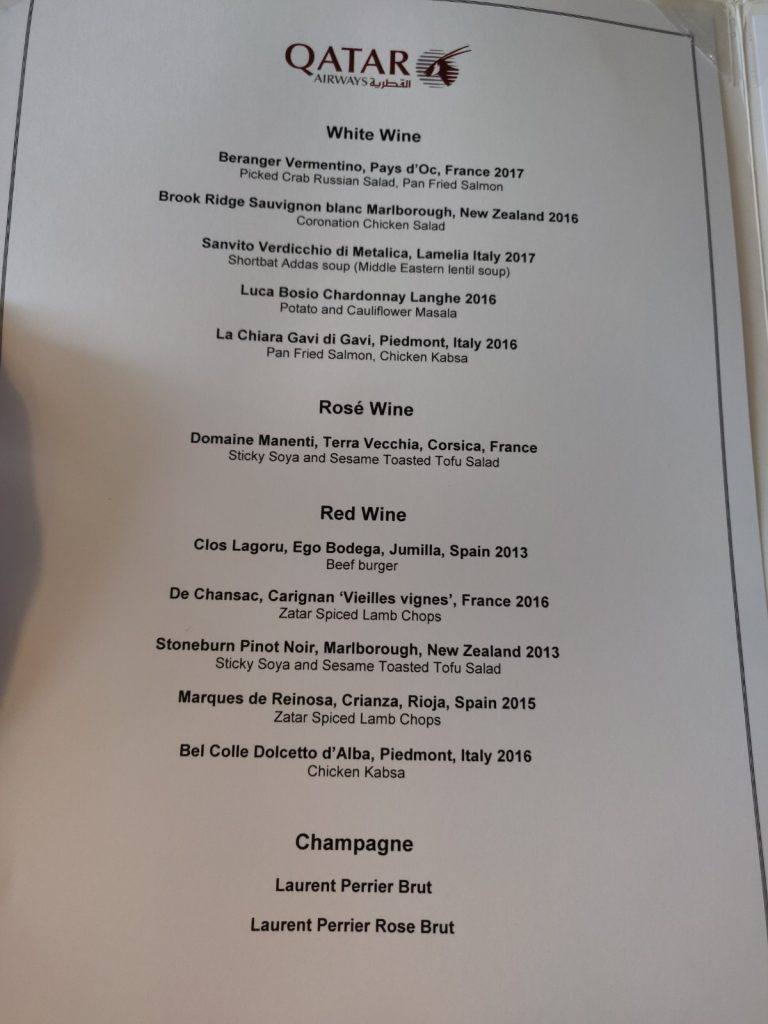 Whilst the menu might not be the most extensive, the champagne choice for a business lounge was good and the food very tasty.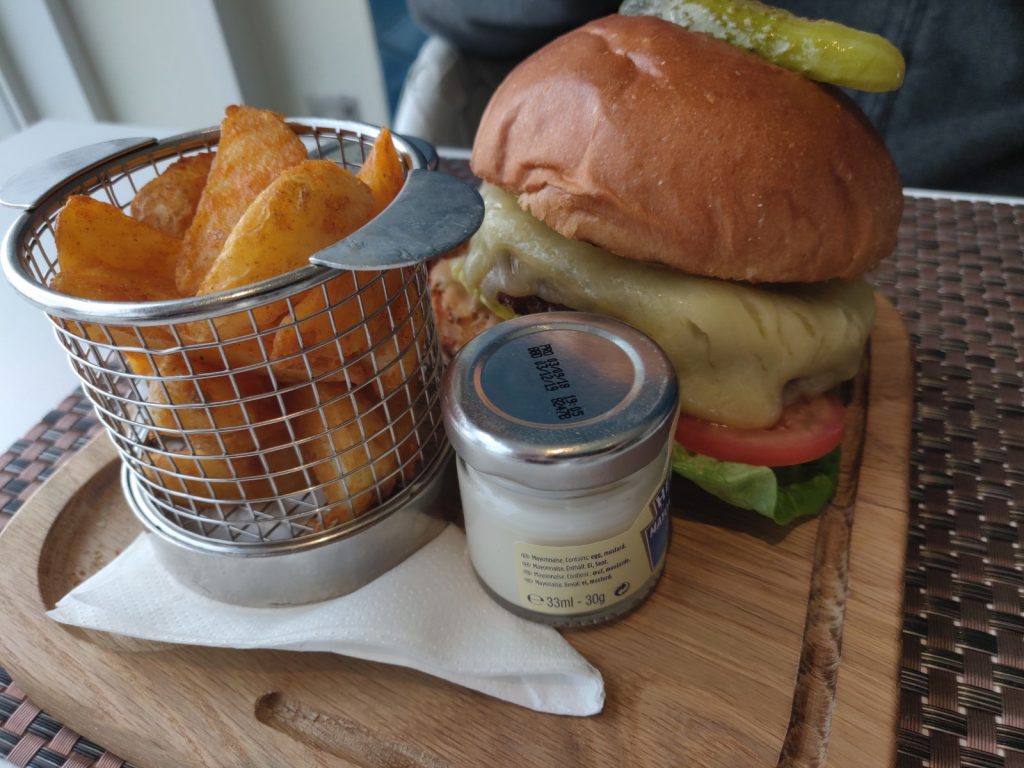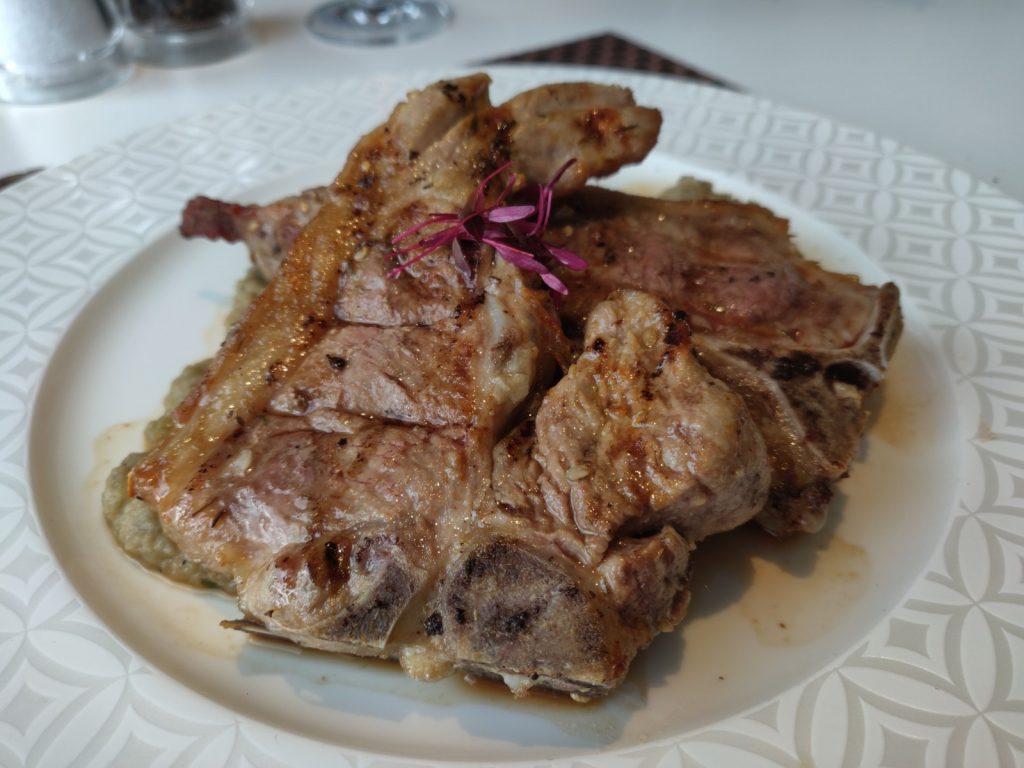 Shortly we headed to the gate which was DIRECTLY opposite the lounge exit, with separate gates, so Business boarded from one gate and economy the other.
I headed to my seat (12A) and made myself comfortable.
Champagne was promptly delivered in a lovely flute (take note AA) and along came the menu –
I went for the soup, the signature meze followed by the chicken. If it's one thing Qatar do well in my experience it's the food and presentation offered. I couldn't fault any of the food – except maybe there was rather a lot of it!
After the meal the three of us retired to the "Bar" – what a lovely social space! The crew on board were exceptional and even went off menu making cocktails such as Espresso Martinis. They were more than happy for us to take pictures on both sides of the bar and were keen to know more about our trip.
Before we knew it we were landing into Doha for our 2 hour transit before flying onwards to Penang – well done Qatar on a superb flight! And yes I got my first meal choice…..
Doha – Penang QR850 – Boeing 787-8
Now I have to admit that due to the time of day, and possible slight over indulgence I didn't eat or do much but sleep on this flight!
BUT – the crew. Suresh and Ahmed were amazing. Two of the best I have ever meet and they would be flying back from Penang with us too!
Here is the Dreamliner seat – a very comfy place to spend 7 hours.
And before I knew it we are on approach into Penang!
Penang Arrivals
A quick note – don't be slow off the plane – immigration is horrendous. It took 40 minutes, and was a complete free for all. A friend had the same the next day so it wasn't isolated.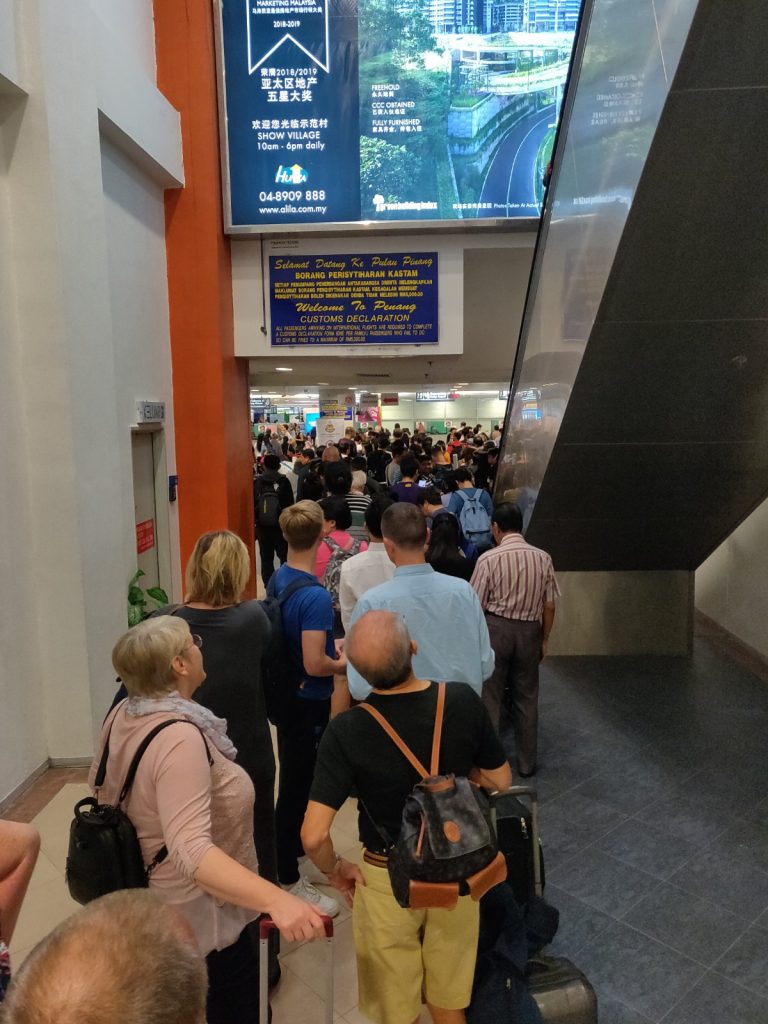 The cab from arrivals to the DoubleTree near Batu Ferringhi on the north of the island was simple enough and cost under £10 – it takes around 45 minutes to an hour.
The DoubleTree Penang
I had booked a simple queen room and upon check-in was upgraded into a Sea-View suite (Hilton Diamond member). The personal welcome was a nice touch too.
The Pool was a great size with plenty of beds around. There was also a private walkway from the pool area over the road to the beach area –
The next day arrived and after a nice few hours in and around the pool we headed back to the airport.
Penang – Doha QR851 – Boeing 787-8
Before I talk about the flight the airport – it's tiny, security is quick as they are barely watching the monitors (!) and duty-free is minimal. Don't expect much from the Premium Plaza Lounge either!
We boarded the flight greeted by the wonderful Ahmed again who was as charming as the day before. The soup and lamb were very good this time and we had a good chat with Suresh in the "bar" area in between business and economy on the 787 – a faultless flight.
A dark night as we landed into Doha late before heading for the DoubleTree Doha before the main attraction tomorrow… The brand new Airbus A350 with QSuites!
Doha – London QR001- Airbus A350-900
Now, after the last 3 flights I won't lie. I had very high hopes for this one – a seat I had never seen in person on my favourite plane by what should have been a polished Business Class crew. I got the plane and seat. Sadly not the crew.
Premium check-in at Doha is a breeze and we were airside in no time with a few hours till kill before our midday departure.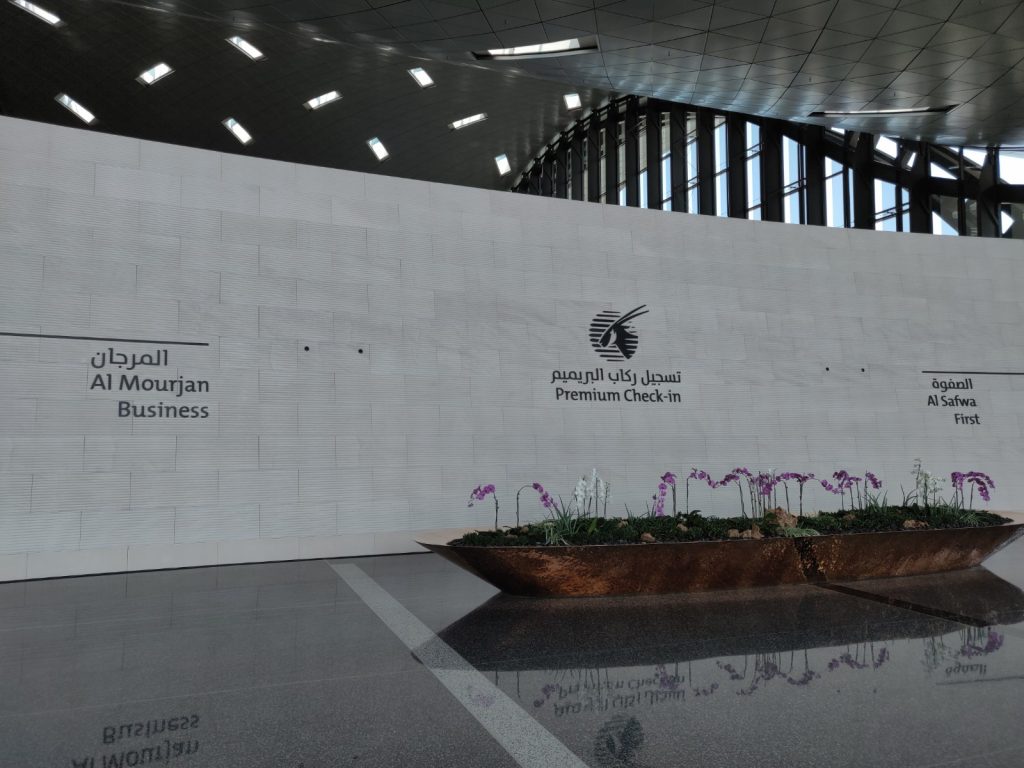 So the time had come – I was in 2J and very excited! I love flying new airlines and seats and this one was no different.
Here it is –
First impression? WOW.
The space.
The Quality.
The finish.
The size of that IFE screen! WOW!
NFC phone pairing?! (Didn't work on my flight FYI)
Oh and Qatar duvet….. so soft!
This was amazing! So far….
The FA introduced herself and asked if I would like a PDB (pre-departure beverage) and offered me the menus.
She then disappeared to the Galley.
Now bear in mind we had the first 3 window seats on the right-hand side we could hear and talk to each other. After what seemed like an eternity she returned. To offer me the menus. Again. I thanked her and said she already had passed them round and could I get that Champagne when she was free? Maybe ten minutes later, not long before pushback it promptly (not really) arrived.
The plane took to the sky and we got a great view of the Pearl below –
I had decided on the Soup, meze and Chicken – spot the theme here?!
The FA returned around the cabin and took all the orders and wrote them all down – drink choices, timings etc. You can choose exactly when to eat on Qatar, much like British Airways First Class. I choose to eat straight away but my friend in front wanted to wait about 90 minutes.
Service was slow. I mean snail-like SLOW!
Drinks took ages – and when she came round she had my drink order wrong. The soup was delivered….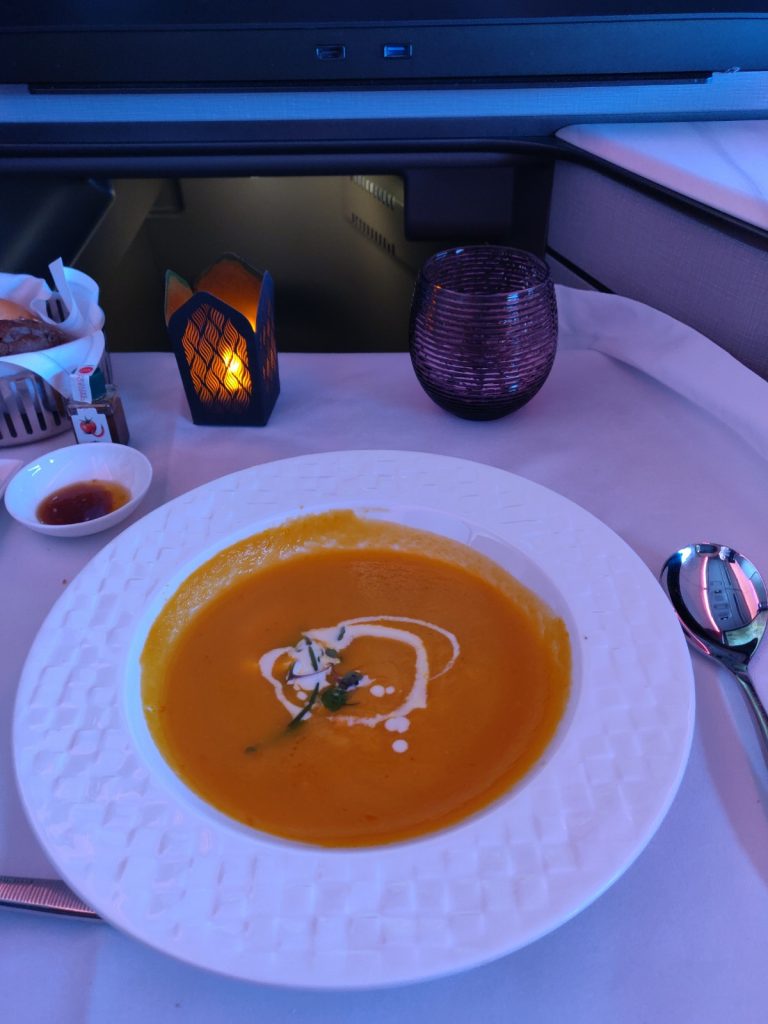 Again very tasty and no complaints – until this was still in front of me 40 minutes later.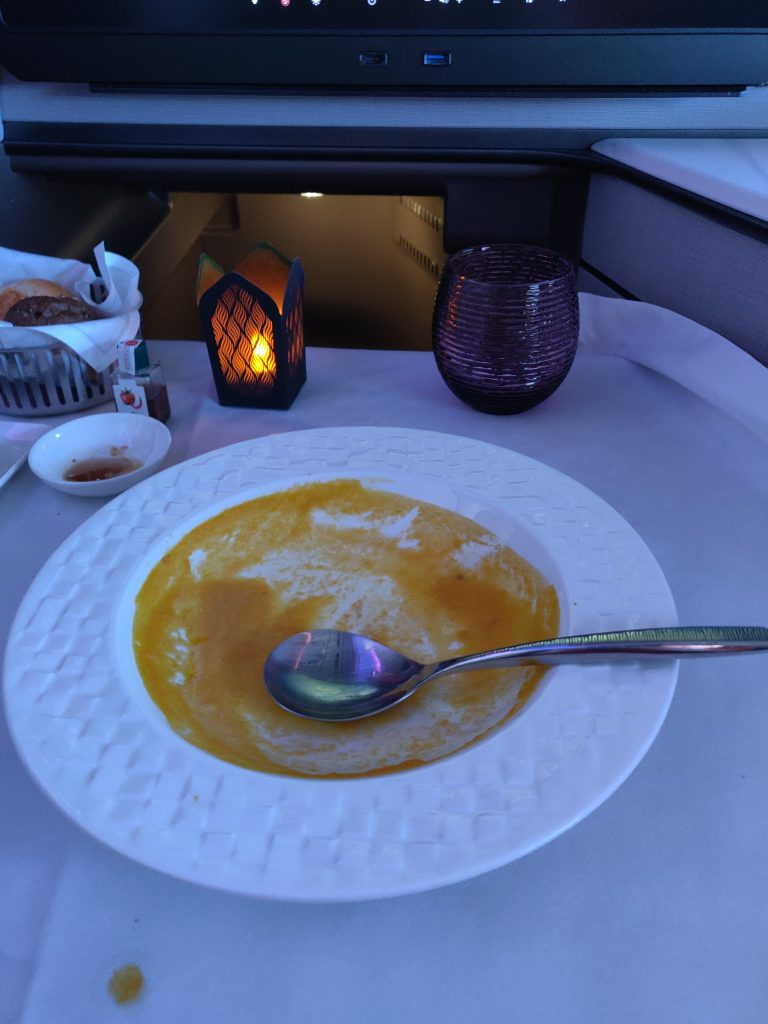 Finally, she came round and cleared it away and disappeared – no drinks refill. Yes, the seat was amazing, but frankly the service was making me bored of the whole thing!
Next came the…..chicken. Yes, the wrong course. I politely asked if I could have the meze I ordered and it was taken away.
Five minutes later it was put in front of me again in a hurry with a muffled apology that the meze had run out and off she went. I wasn't in the mood to have another starter, so ate it. And yes, it was tasty.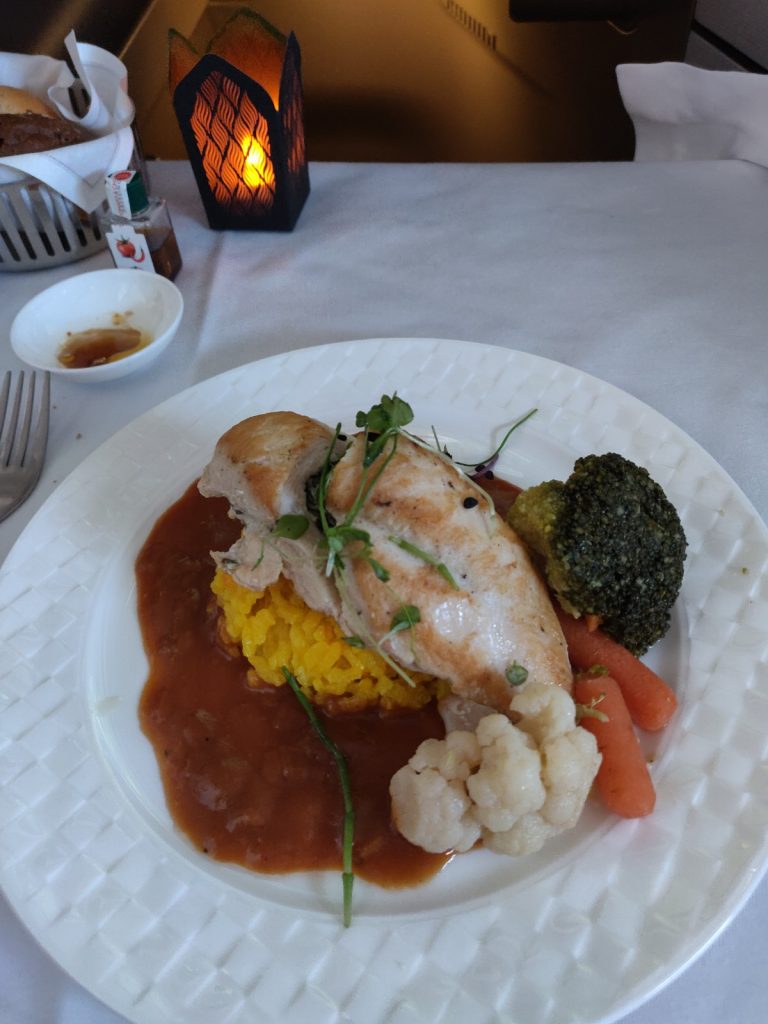 The experience for both my friends was almost identical – missed courses, slow service, even wrong service. It wasn't going well.
The CSM finally appeared with a worried look on his face. He then offered me the wrong champagne. When he returned with the right bottle he asked if everything was ok? – as if he couldn't tell from my face.
I explained my displeasure of a frankly shocking service off the back of 3 amazing Qatar flights. He explained the FA was new out of training. Well, perhaps he should have stepped in and helped more? We hardly saw him. He asked what he could do to make it better? It's Qatar so it's not like service recovery even comes into it (they don't usually do much for it) He made me a cocktail and I sipped it slowly not expecting it to be topped up anytime soon. I stepped off that flight frankly gutted. It should have been amazing. It wasn't.
Such a shame.
I transferred over to Terminal 5 and flew up to Manchester to complete my flight before the flight back home the next day…..
Manchester Airport…..Security…..
Now ask anyone who flies a relative amount what they think of security at Manchester Airport – I challenge you to find someone that enjoys it! And now due to my contact frustration, I feel like I need to vent!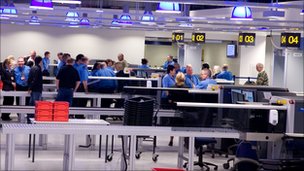 So what's the issue? TRAYS! THEY LOVE TRAYS! Big one, small ones, empty ones. It doesn't matter. But if you don't have as many as possible you will get told off! It's utter madness.
I travel a lot. All over the world. 95% of airports I need two trays. One for my case, and one for the rest.
Now, this obviously depends on tray size but Manchester uses large ones – the same as Heathrow.
So at Heathrow I can put my
Wallet
Phone
Passport and Boarding Pass
Sunglasses if wearing
Belt if wearing
TSA approved liquids bag.
Laptop in its protective sleeve.
and even a light coat!
all into one tray – nothing overlaps and it scans in an X-RAY machine fine – I have watched it on screen many times.
My case then comes through and I am done in under a minute.
Manchester?
Try the same at Manchester and feel the wrath!
I had….
One tray for my liquids bag
One tray for my coat
One tray for my laptop (no pouch allowed)
One tray for my wallet, phone etc.
And finally one more for my case!
FIVE TRAYS!!
Check the picture above…. now bear in mind whilst this game of "count the trays" is going on your trays are getting mixed into the conveyor not in a line.
The rollers post X-RAY probably have space for six trays. Even if by some miracle you get five in a line, good luck carrying them away whilst being barked at to "please move out the way". I wouldn't need to move so fast if I only had two trays…..
And if you have 5 and one goes to secondary – good luck!! The repacking "area" – which is more a window ledge is also tiny when they insist on this game of tray bingo. It slows everyone down and leads to fractious travellers. I am not alone and have heard some worse stories than mine.
Thanks for reading and watch out for the next one soon…. Next up will be my review of Malaysian First class.
Some useful links: