So right off I must confess that I never had any intention of staying at this hotel. I have been to Langkawi 9 times before and always stayed at my No. 1 hotel in the world, The DATAI. For me there really was no alternative. I had booked a 6 night stay in mid September (planned for 2 months after the Datai was scheduled to re-open after a 10 month closure for a full renovation). Unfortunately for me the re-opening was postponed and postponed again; result no Datai stay for me.
I did have the option of cancelling the whole trip but due to a combination of a self enforced summer in the UK due to work commitments and a planned stay in Singapore around the Grand Prix I forced my other half to continue to Langkawi. We'd just have to slum it somewhere else. You can tell I was feeling quite sorry for myself at this point!
There are of course lots of lovely hotels in Langkawi and I took some time deciding on where we'd try. I didn't fancy the Four Seasons as I had been there for lunch before and the view of the cement factory didn't thrill me. The St Regis looks smart but just a bit bland so I opted for the 12 month old Ritz Carlton. The location was fine (10 minutes from the airport) and there was a nice looking beach, some rainforest elements and it looked architecturally interesting. It wasn't the Datai but then nowhere is (for me).
So how was it?
Spoiler Alert: It was absolutely superb!
Arrival
We arrived at Langkawi airport to be greeted by our host who introduced himself and asked us "How May I address you?" (This was very charming but more on this later), took our luggage and showed us to the swankiest LimoVan I've ever been in. It had fully reclinable electric seats with footstools, Wi-Fi, complimentary water and cold towels. Out driver was very polite, explained that the resort was very quiet at 30% occupancy and that it was rainy season in Langkawi (on the latter point he was not wrong!).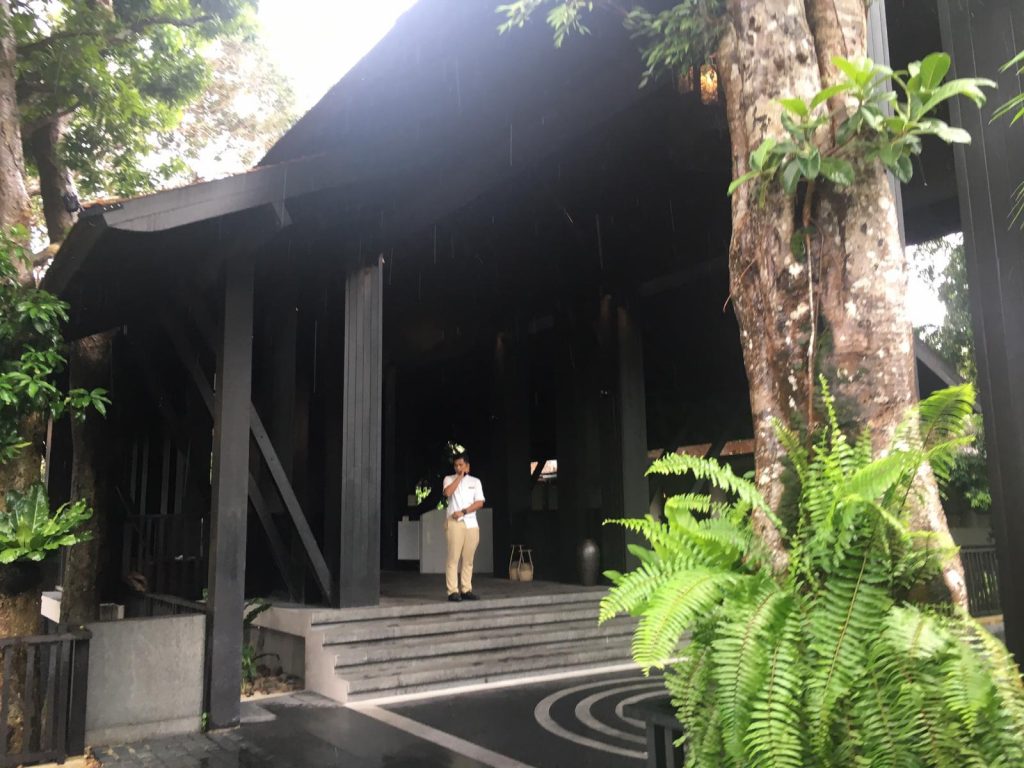 10 minutes later we arrived at the Welcome lodge of the hotel. It was raining. The entrance walkway is really striking but quite stark and didn't feel particularly welcoming. We met the Receptionist who asked "How May I address you", offered some fresh tea and then completed check-in in a bland office type room. Check-in took longer than it should and I learned later that this space was being used as the hotel was quite quiet and the normal open sided check-in area was exposed to the elements. As I am a Marriott Rewards Gold I already knew (via the App) that we had been upgraded from a Rainforest Junior Suite to a Rainforest Pool Villa. I had booked a promotional rate that included airport transfers, 3 dinners (or lunches) and a 90 minute spa treatment for 2. We were given a map of the resort and explained where the restaurants, bars and gym were located.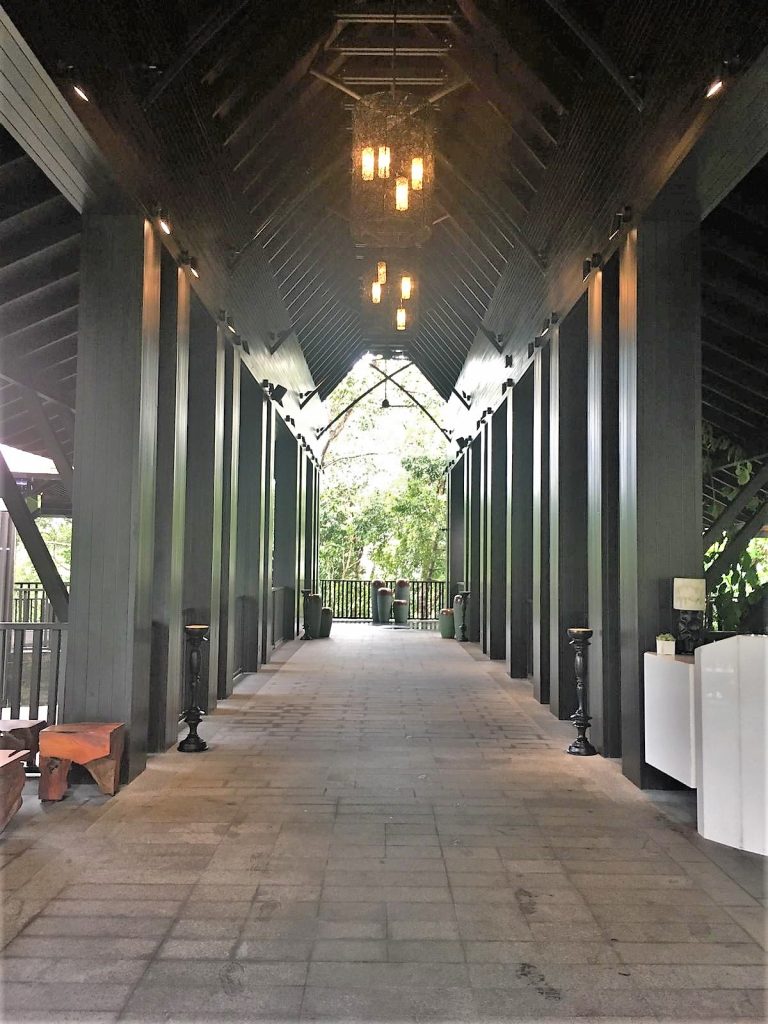 The Villa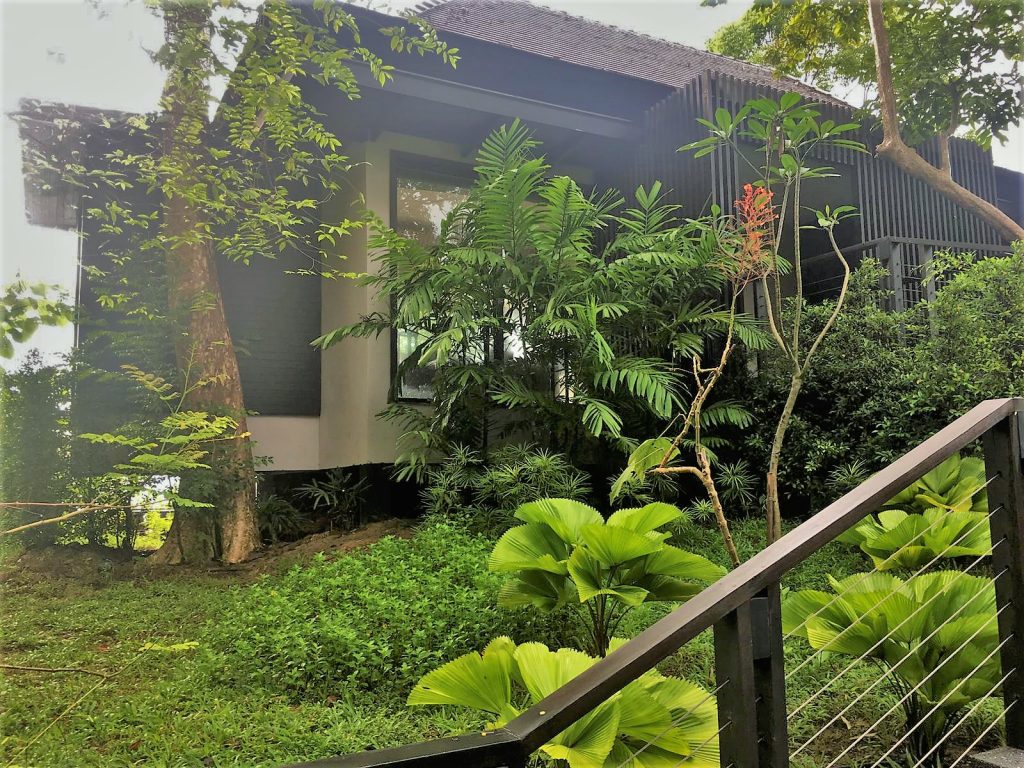 We were then shown to our Villa. Wow! It was really lovely. Spacious, modern, pretty private and as we had Villa No.15 we had both a rainforest setting but a view of the ocean. On reflection it really was in the best location of the whole resort. It was close to the Spa, Horizon Bar, Main Restaurant and Gym. We had absolutely lucked out. We were subsequently offered an upgrade to an ocean front villa which I did look at but as it was at the extreme far end of the resort and wasn't so private we declined.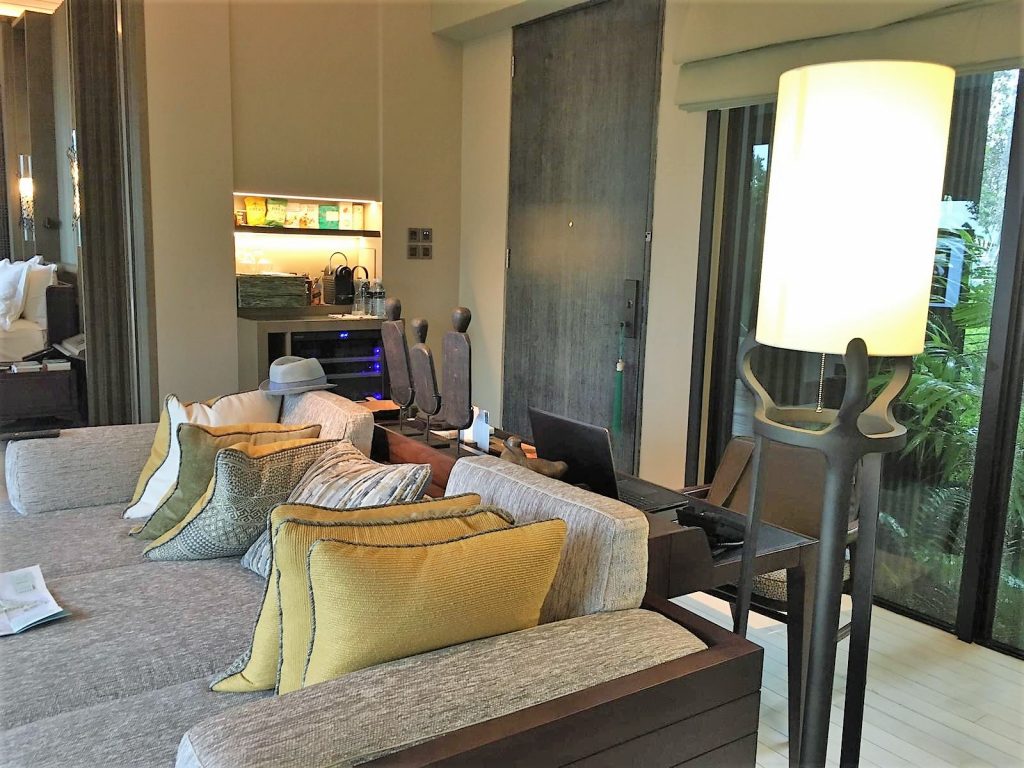 There was a welcome note from the General Manager though my name was misspelt. Our cases arrived 30 minutes later and were absolutely soaked. I have no idea how long they were languishing in the rain. Luckily they were Samsonite hard shells so no harm was done.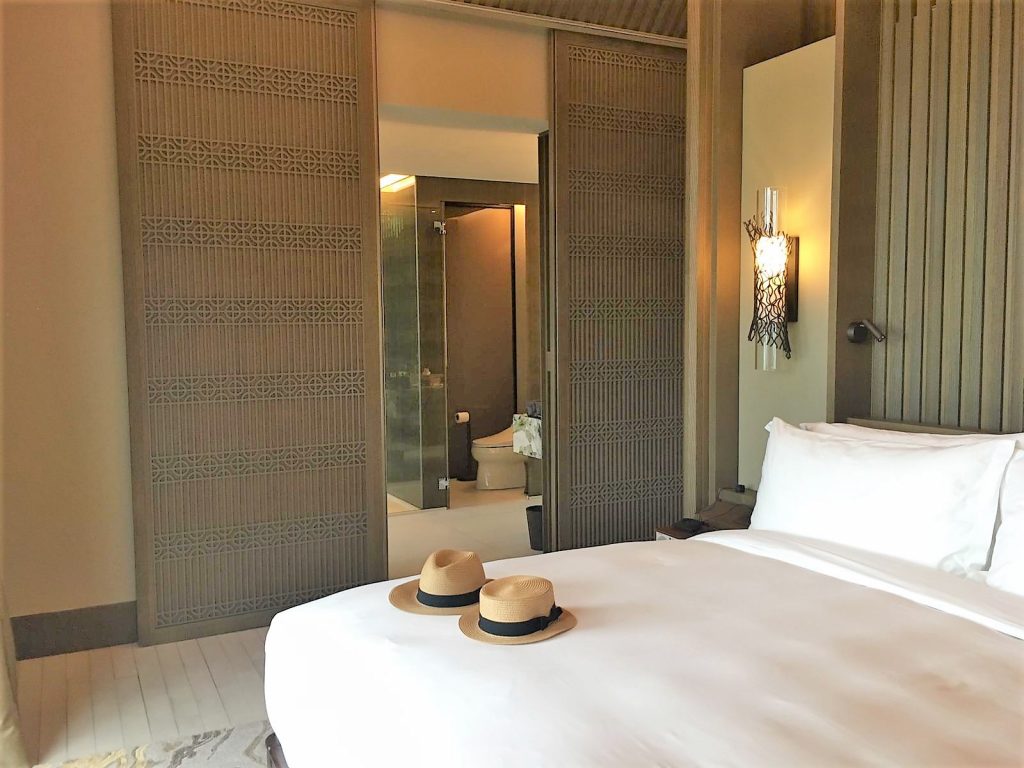 The Villa was accessed by a small landscaped garden and consisted of a sitting room with dining area to the side, bedroom with patio doors leading to a private plunge pool (though there were glimpses through to the villas either side), with spacious bathroom which then joined up with a lovely dressing area. The dressing area had beach bags, slippers and his 'n' hers sun hats.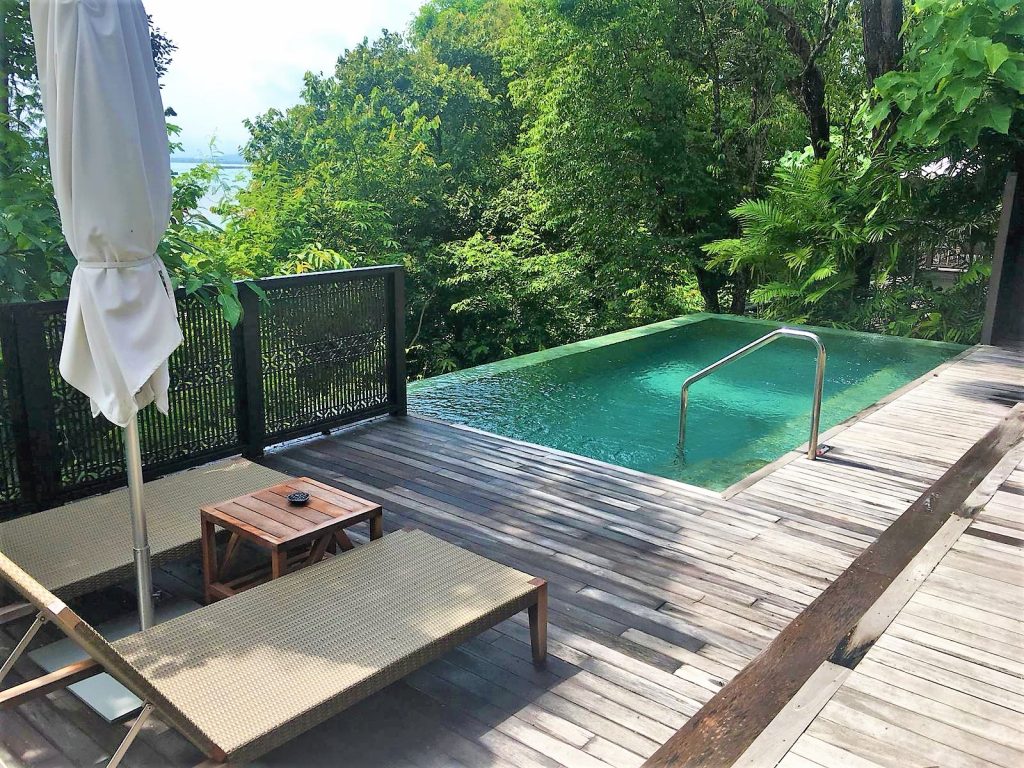 There was a large wine fridge which contained several bottles of mid range wines, a minibar and a Nespresso coffee machine and electric teapot with a good selection of TWG Teas. We asked for extra coffee pods on turndown and had to request fresh milk. These were supplied every AM and PM throughout our stay.
The toiletries were Purple Water by Asprey and they were ridiculously ubiquitous (by the bath, the shower and 2 full sized vanity kits). There was a sliding door on one side of the shower which led to a small deck so you could gain access to the pool area without entering the bedroom. There was a Japanese toilet too. The room was beautifully appointed in muted tones (though there were signs of wear and tear in both the walls and some woodwork). Also there were no hooks to hang towels in the bathroom. It was still raining.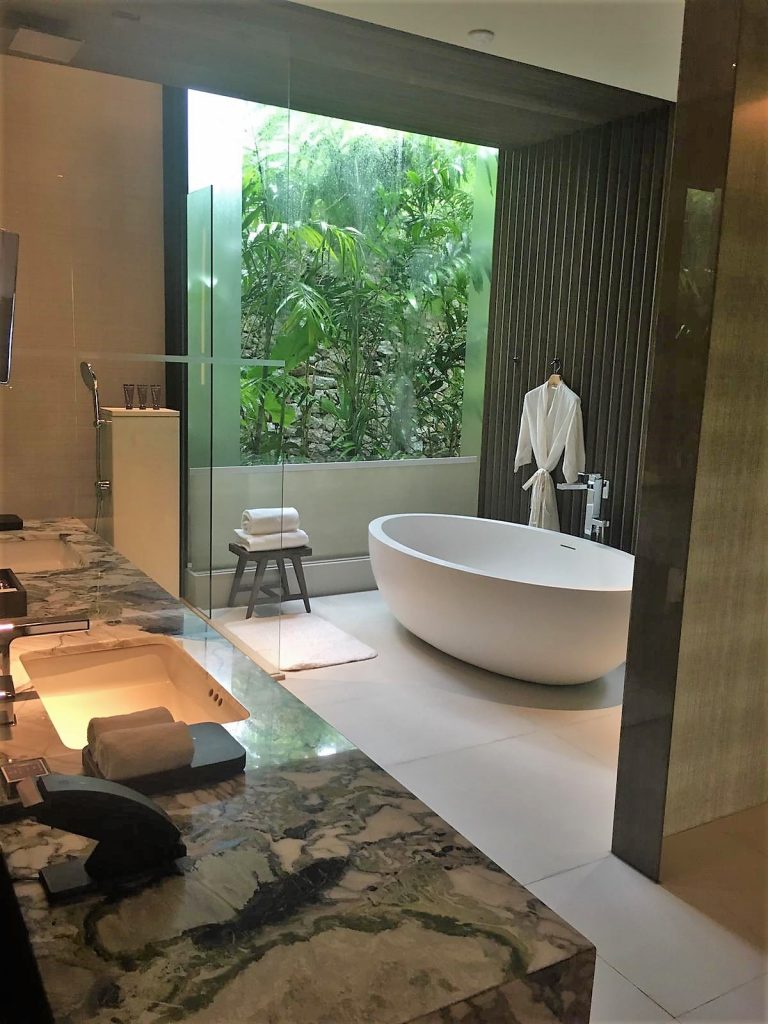 The air conditioning was separate in the two main rooms which was quite difficult to manage. We spent quite some time trying to get to the optimum configuration. Both rooms also had large ceiling fans.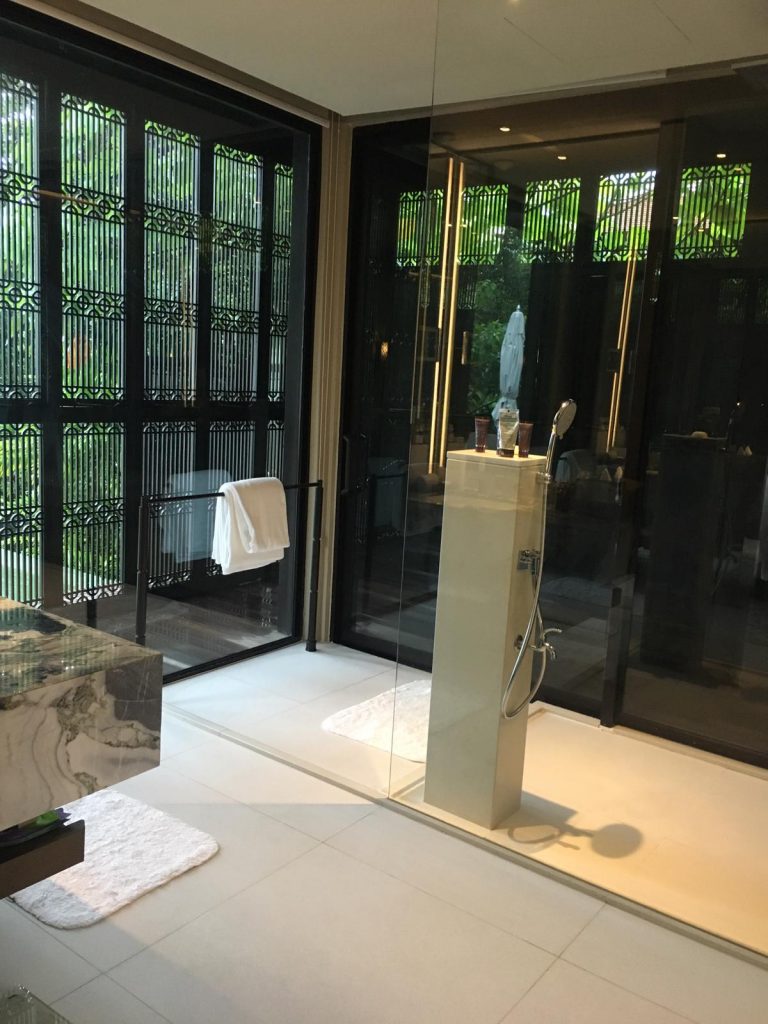 The bed was the best bed I have ever slept in ANYWHERE! It was like sleeping on a cashmere cloud. OK it was only 11 months old but Ritz Carlton do have a policy of changing beds every 5 years. We did sleep terribly on the first night though it was purely down to the amorous frogs in our garden. It reminded me of the braying penguins at Boulders Beach in South Africa. The Director Of Operations did offer to have them removed for us. I thought it too much to ask for staff to lurk in our garden to deal with frisky frogs. Though interestingly we never heard them again.
Other Room Categories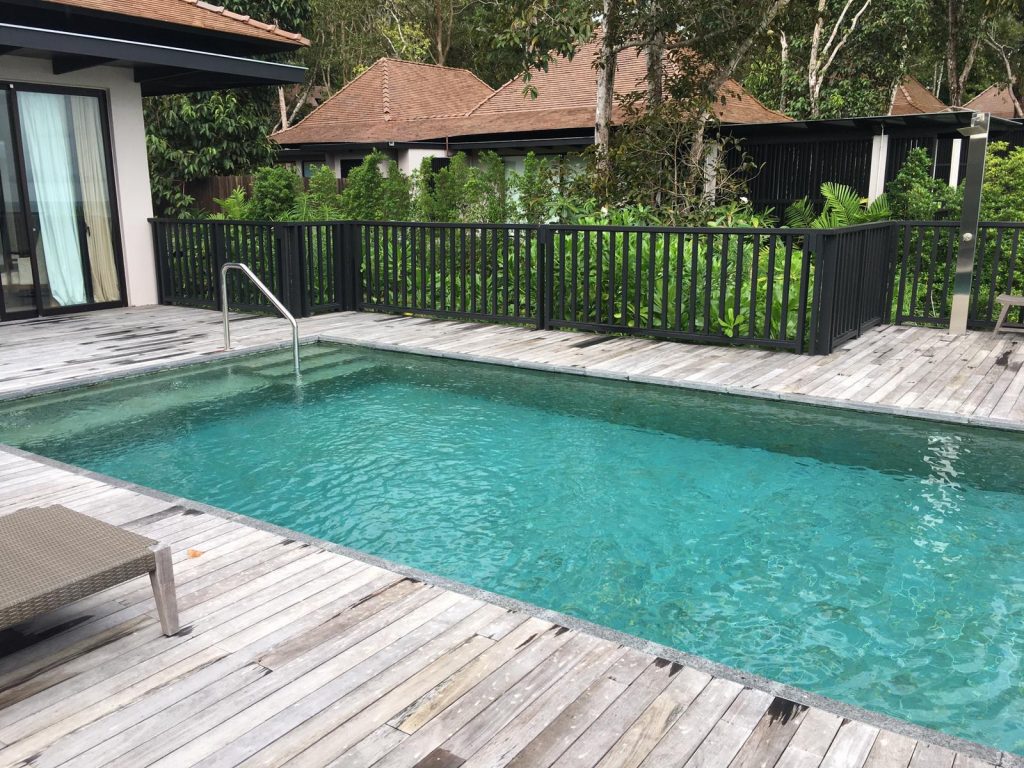 I was afforded the opportunity to look at the other room types. There are 90 Rainforest Deluxe and Rainforest Junior Suites located in 10 blocks skirting the entrance. Both of these had wonderfully spacious bathrooms in similar configurations to the Rainforest Pool Villa. The junior suite had a larger balcony and a small sitting room to the side.
The Deluxe Rooms felt smaller in comparison.
The Ocean Villa was exactly the same as the Rainforest in layout and the Beach Villa was much more spacious though I felt it had a lot of dead space and the private decked pool area was immediately above the beach so if the beach were crowded it wouldn't feel at all private. You can judge for yourselves by looking at the photos. My choice would be the Rainforest Pool Villa.
Dining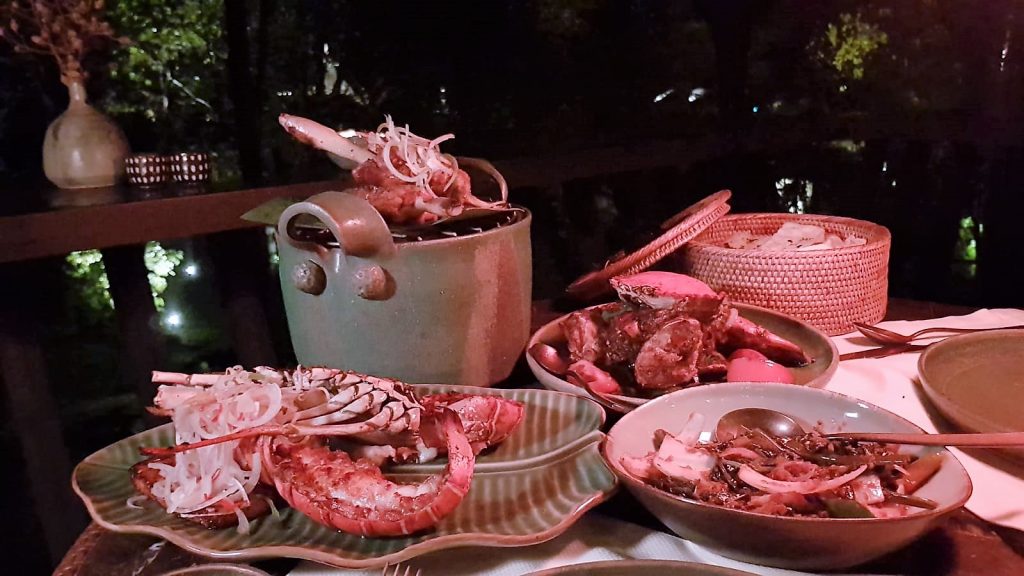 There are 4 dining options here. The Langkawi Kitchen is situated in a large elevated building based on a traditional longhouse which is very striking. Breakfast is served here. In the evening it's Malaysian fare. The Hai Yan Gourmet Chinese restaurant is located near the spa in what looks like a boathouse. We didn't test this one out. The Horizon Bar/ Restaurant located next to the beautiful Infinity Pool is more of a bar with small plates and finally there is the Beach Grill situated near the Beach Bar. The latter three are all situated to make the most of the sunsets. Not all restaurants are open every day so it is worthwhile checking on arrival.
We were on a dinner inclusive rate for three nights and generally the food at each restaurant was fine. On the first, we ate at Langkawi Kitchen and were told we could order as much from the menu as we liked. On the second evening, we planned to eat at the Horizon Bar but we changed to the Beach Grill when we learned that it really wasn't a restaurant at all and for some reason we could only order a subset of the already very small menu. We then enjoyed a couple of nights in our Villa with In Room dining which was surprisingly very inexpensive. On the last night, we had an included dinner at The Beach Grill as part of a spa package.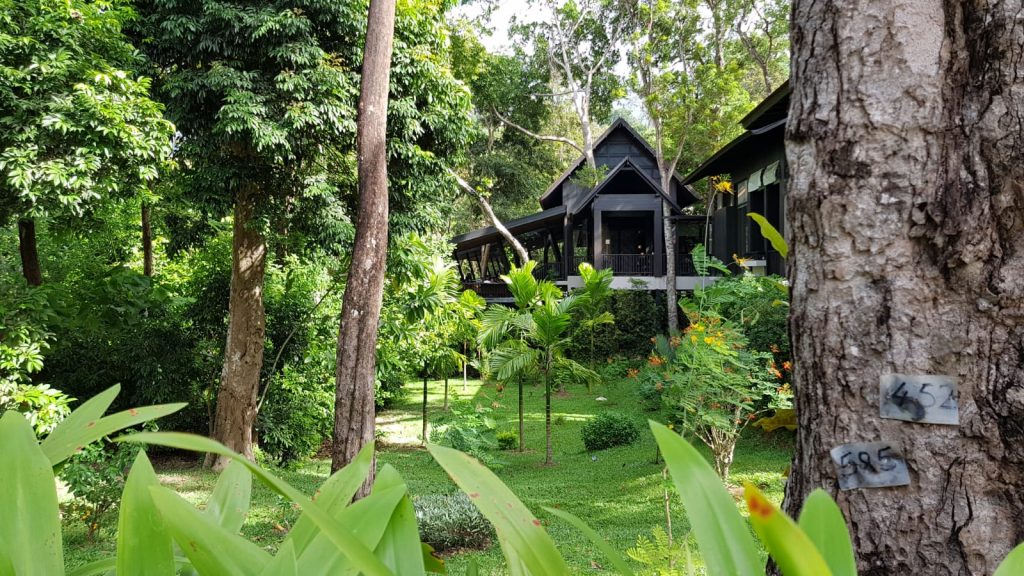 Breakfast
Breakfast was outstanding. There was a vast buffet (think of it and they probably had it) and a small a' la carte selection including lobster omelette, waffles, eggs Royale etc. Barons de Rothschild Champagne and a decent Prosecco were readily available (given that a glass of the same champagne is about £20 in any of the bars that was a lovely benefit). On the first morning, I was surprised to see the Director of Operations Ellen Franke serving and mixing with guests. She was delightful, as were all of the rest of the staff throughout the whole resort. We were remembered and warmly greeted by name every AM and staff also remembered our drink preferences.
Happy Hour
Each day between 1700-1900 there is a happy hour 2-4-1 special on some cocktails, wine and beer and soft drinks. We only learnt of this when we went to watch the sunset on the first evening (which we didn't see because IT WAS STILL RAINING AND STORMY!). This really was super value (e.g. 2-4-1 on Botanist G&T) for about £7. The menus across the Horizon Bar and Beach Bar were inconsistent though. Wine in Malaysia is expensive so this offer was particularly good value. As a Gold Marriott Rewards member, I also received 15% discount on all food and beverage.
Spa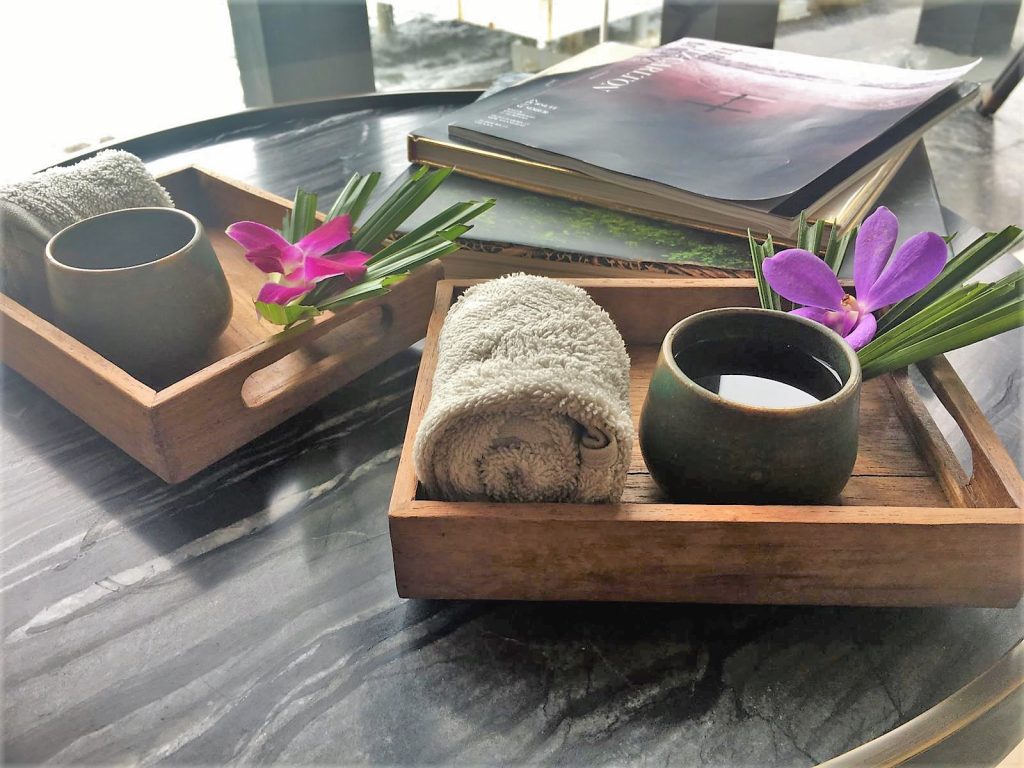 Spa staff called daily to reconfirmed our appointments. The Spa viewed from afar is initially quite striking. Located near the Chinese Restaurant, the entrance is rather underwhelming. The spa itself consists of a deck (lethal in the rain!) which connects separate male and female changing areas, each with a very small steam room (out of action for us), sauna, ice fountain, relaxation area and experience pool).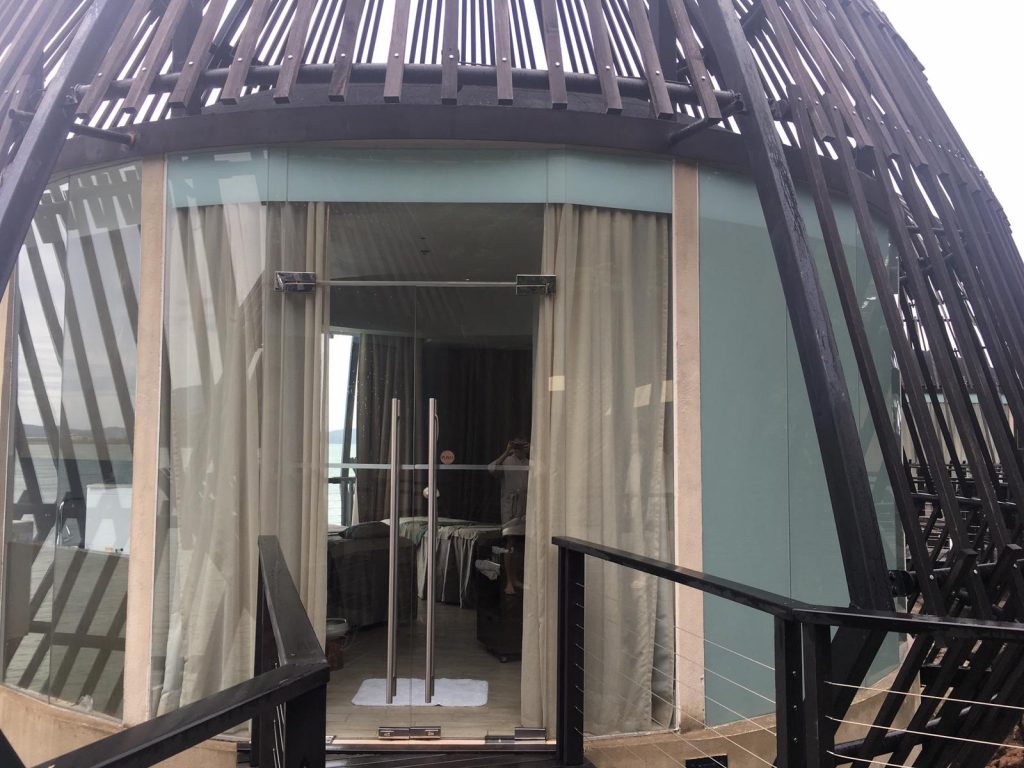 I went to the Spa 4 times (well it was still raining; what else was there to do?) and I never saw another guest. More than 3 people in this area would be a crowd though. The treatment rooms are in pods which are based on traditional Malay Structures but once inside you really could have been anywhere.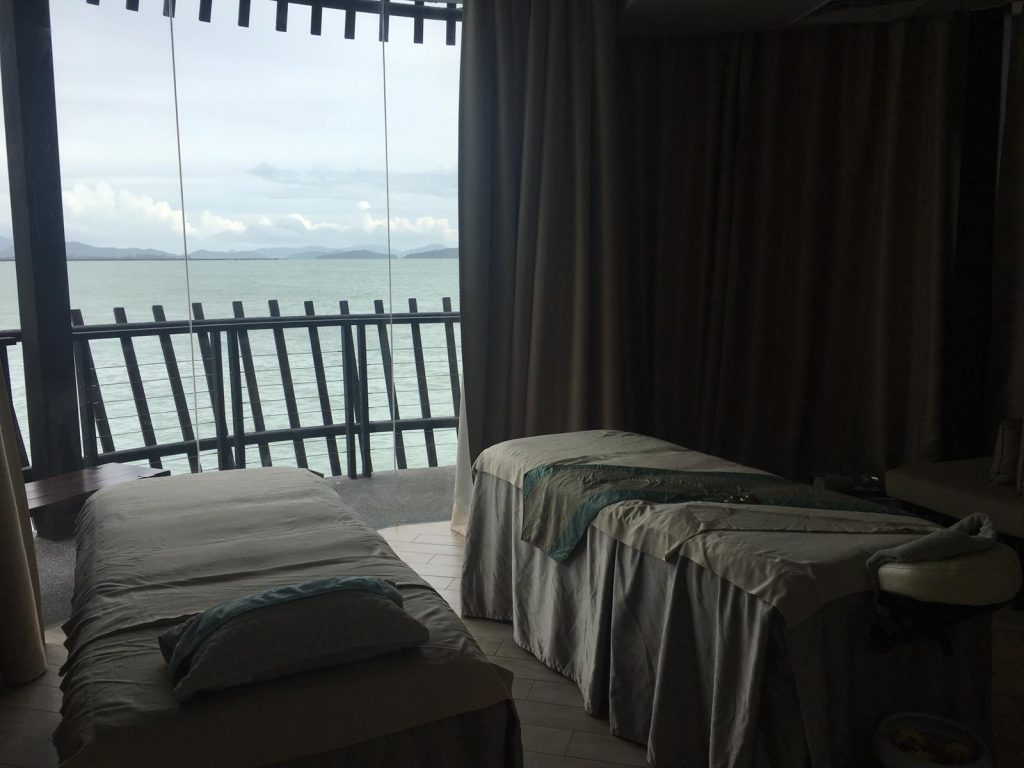 All of my spa treatments were excellent though and the staff were all superb. I must have been customer of the week as I was given a gift bag after my last appointment.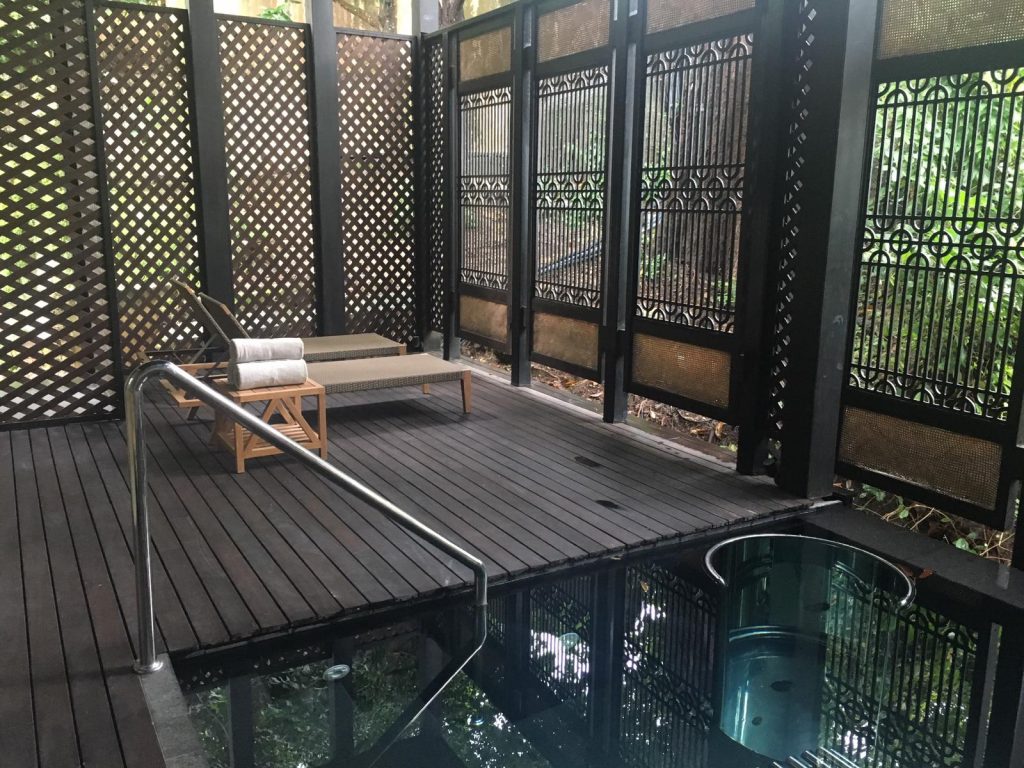 Social Areas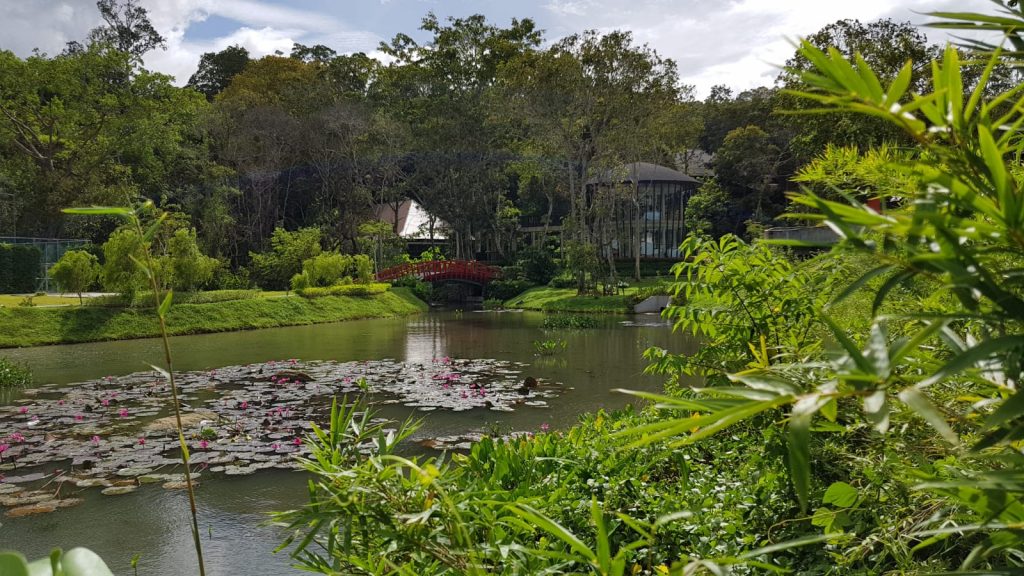 This is the main problem I had with this wonderful resort. There were no spaces where you could just hang out that wasn't a bar or restaurant. We were lucky in that we had significant space in our room to watch the downpours but I may have gone crazy if I had a Deluxe Room without a decent sized sitting area.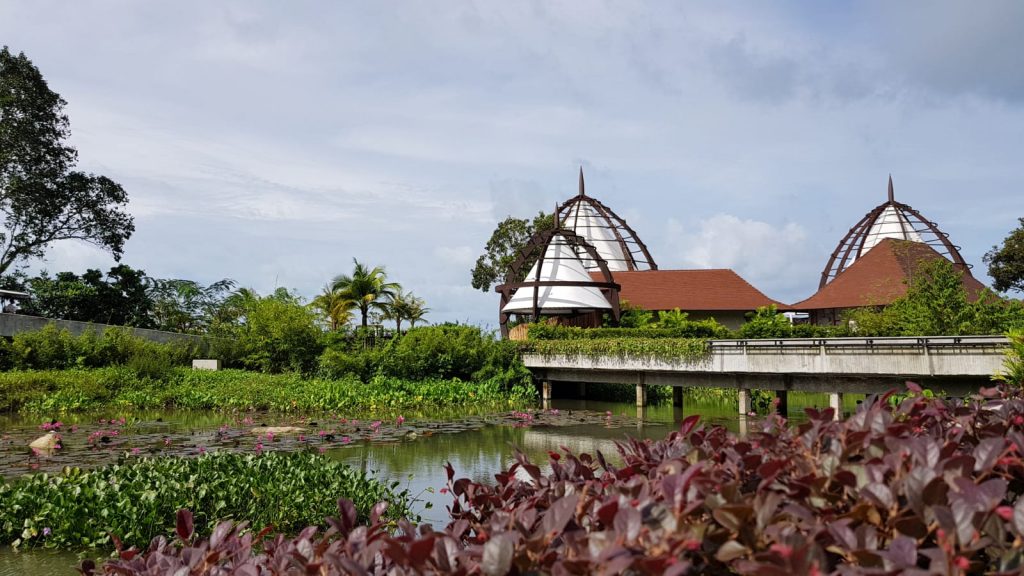 You are probably aware by now that it rained and rained for 5 days solid with a couple of hours glorious sunshine on the last day. This resort is designed for good weather. The Horizon Bar and Beach Bar are practically rendered useless in the rain as they are so exposed (they do have plastic coverings but these don't keep the rain out of the perimeter seating areas and it feels like you are sitting in a chrysalis. September is rainy in Langkawi. We did already know this and were unlucky as my previous experiences were that of a couple of daily thunderstorms which then cleared up.
Pools and activities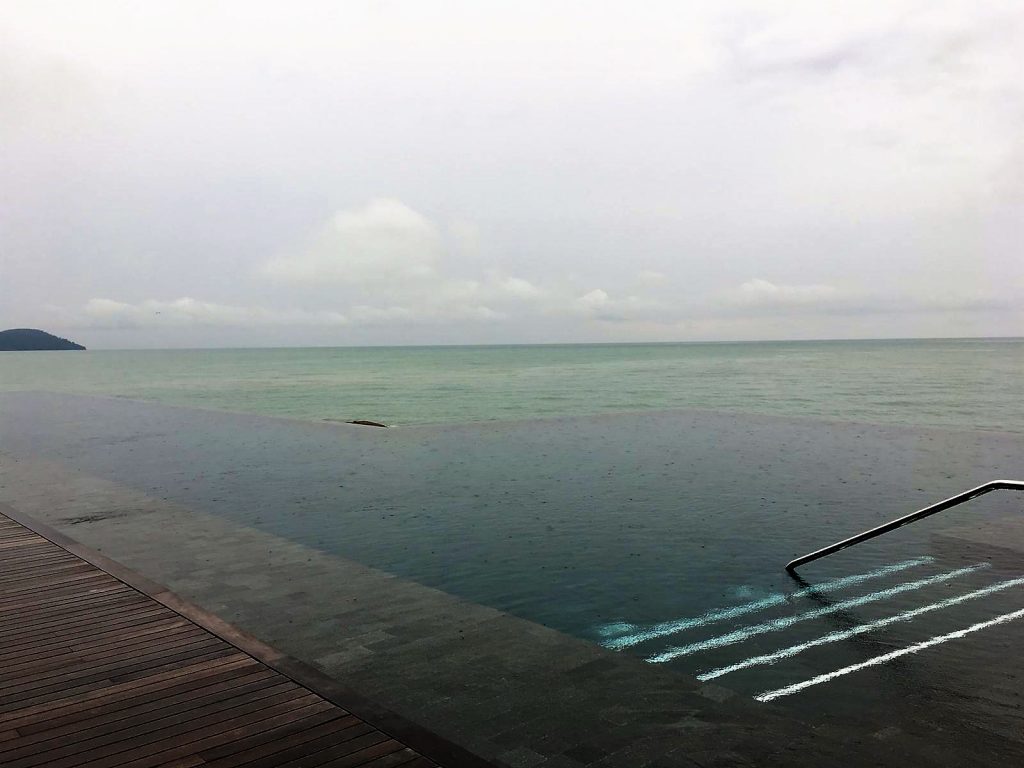 The Infinity Pool is lovely though when busy would only cater for maybe 24 people maximum. The beach is pretty but it is really quite small. At full occupancy, it would feel really crowded. There are a couple of paths that do meander down to the gym, yoga studio and the tennis courts but there really isn't anywhere to go if you just wanted to stroll.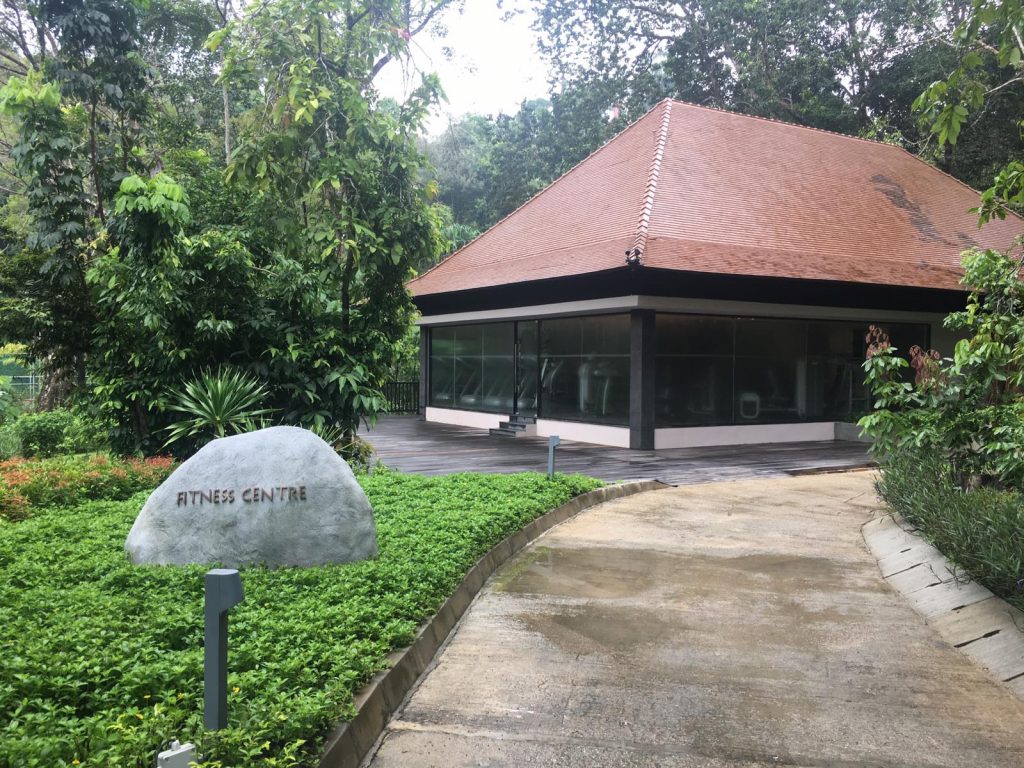 Staff
Without exception, the staff were all very enthusiastic. They really do want you to have the best possible experience and also want to know if there are any issues. It did begin to irritate me when upon meeting a new person we were greeted with "How May I address you"? This must have happened about 20 times. I suggest the hotel email a questionnaire of preferences pre-arrival. Also, some junior members, though bursting with hospitality, do need some further training in the nuances of great customer service. Enthusiasm is great but practical skills need to improve too and some things were easily lost in translation. I did struggle a few times to communicate with junior members of staff.
Checkout was very pleasant though there were some billing inaccuracies. These were dealt with swiftly and we were waived off by the Director Operations who also very kindly offered to help out with some restaurant bookings in Shanghai for me (she previously spent several years at the Ritz Carlton there).
Concrete!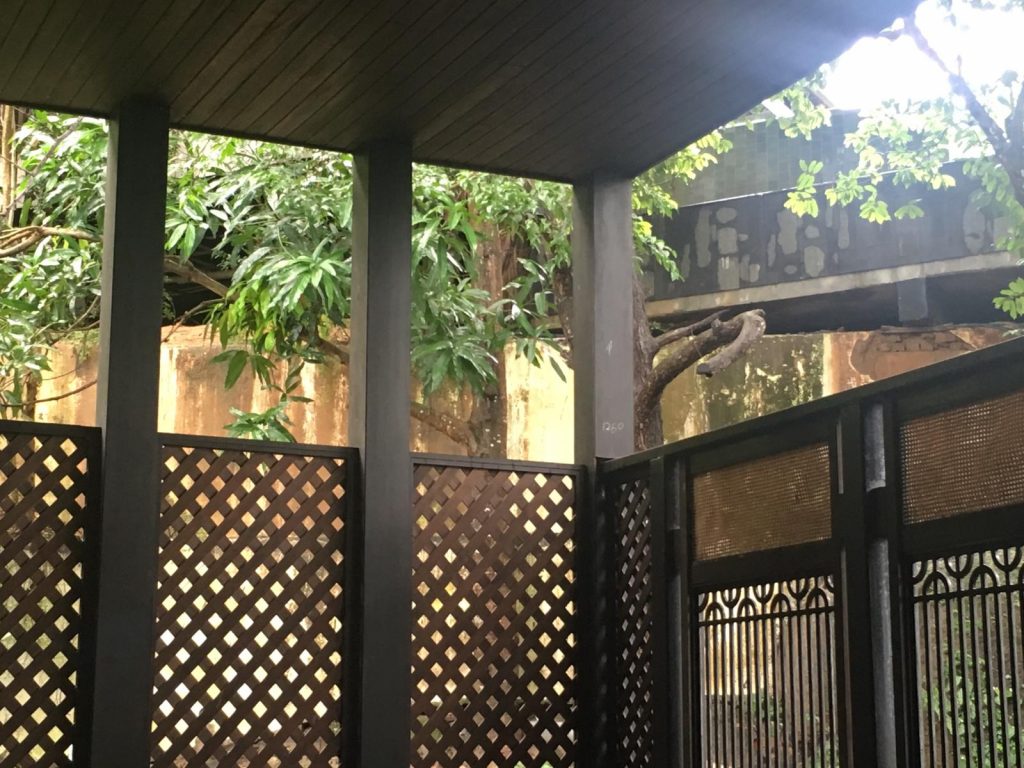 Initially, the resort looks beautiful. The grounds are immaculate. There is an army of gardeners constantly sweeping and tidying. The buildings are stunning. However, at the moment there is far too much unsightly concrete supporting them. It's everywhere. You don't notice at first but once you do it is at the base of the Langkawi Kitchen, of the Spa, of the Pool Villas, on the beach looking up to Horizon, in the Spa Vitality pool. The jungle has been stripped to make way for the building work and I am sure in 3 or 4 years growth will have returned. Though it did make my other half say "They Paved Paradise and Put Up a Parking Lot". Of course, this is disingenuous and is a ridiculously minor point. If this is all I can find to complain about then this resort is doing very well.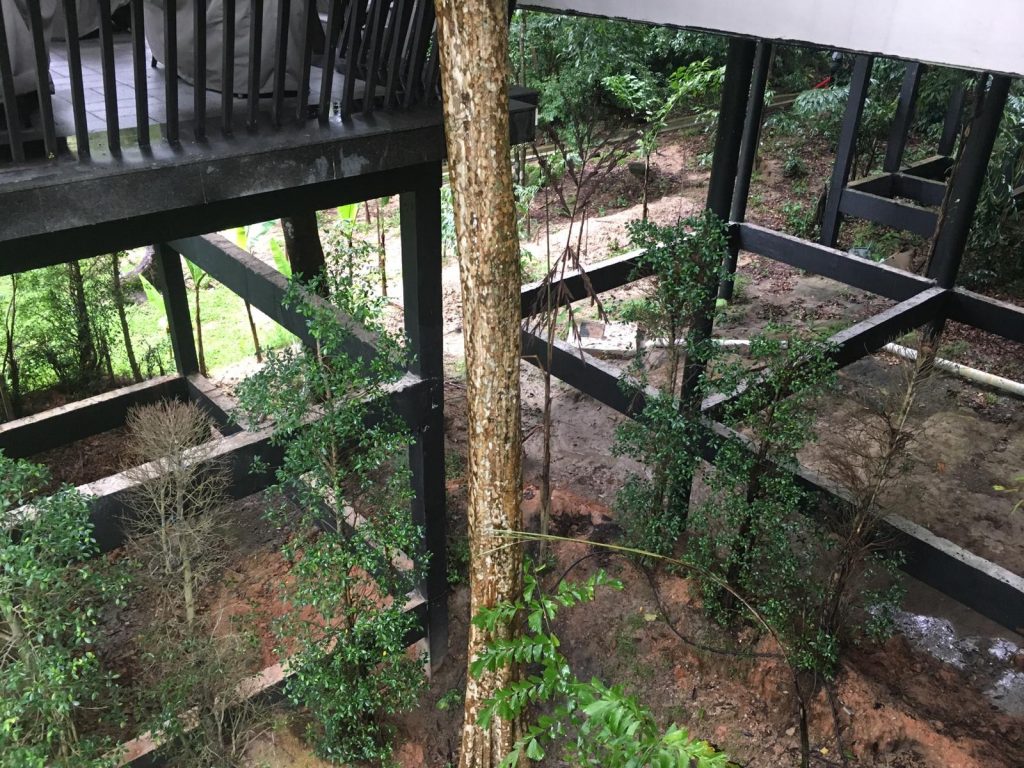 Conclusion
This really is a superb resort. Although the weather wasn't in our favour, we still had a lovely relaxing stay. It is clear to see that it is managed very well and Senior Managers were actively present. Staff were delightful and nothing was too much trouble. I highly recommend this hotel.
The hotel cost me £1575 for 3 nights but I got £97 back from Topcashback.
You can find more information on the Ritz Carlton Langkawi here.
P.S. I am looking forward to reporting back on the Datai when I stay with Michele later this week. Who knows, I might just have a new favourite in Langkawi?