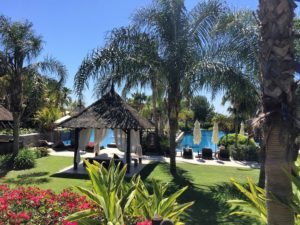 In this article I will review the Asia Gardens Hotel and Spa and show how I managed to save £80 a night compared with the on-line booking agents such as Hotels.com.
I love going to hotels in places in South East Asia like Thailand. The food, the lush gardens, the spa treatments and the excellent service all add up to a great holiday. It's not, however, somewhere you can just go to for a weekend break. Flights are expensive and long, not to mention the jet lag. So I was intrigued when I saw the Barcelo Asia Gardens advertised at Alicante airport and last year I finally got round to trying it for myself. Since then I have already been back once and have just booked again for this year.
The hotel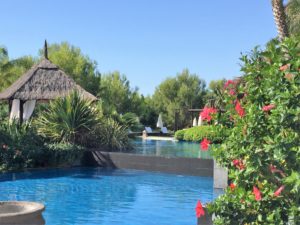 Asia Gardens Hotel and Spa is a 5 star Leading Hotel of the World managed by Barcelo hotels. It is situated about 10 minutes from Benidorm but feels like a world away, apart from the odd glimpse of hideous tower block in the distance! Many famous people have stayed at the hotel including Bruce Springsteen, Bruce Willis and Wayne Rooney.
The nearest airport is Alicante and from there it takes about 40 minutes to the hotel. You could also use Valencia which is about 1 hour 20 minutes drive. If you chose to hire a car there is either valet or self-parking. I have also used the transfer company Costa Blanca Private Transfers which cost €128 return. Security is high when you enter the hotel and you are stopped at the barrier for your name. This is then radioed ahead so you are greeted by name when you pull up at the door.
When you enter the main building and reception area you are instantly transported to Thailand with the huge vaulted ceiling and Asian style uniformed staff. The whole hotel has an aura of tranquillity with relaxing Asian spa music playing. At reception we were greeted with a cold drink (non alcoholic) and chilled towel.
We had booked the lowest category of room which was the Deluxe room but this was more than adequate. Having stayed twice now it is interesting to note that rooms do vary by wardrobe size. On my first stay my wardrobe was tiny but in exactly the same category room the next time it was much larger. I personally think it is not worth paying for a Seaview Deluxe and the views I had on both visits were over the gardens with a glimpse of the sea in the distance. They also do a range of suites which have access to a suites only swimming pool.
The room
The rooms are well equipped with satellite TV, a balcony overlooking the gardens with table and chairs, free mineral water,stereo/DVD player with iPod connection (although there was some confusion about paying a deposit for this on my second visit) and fridge/minibar. There is a library of DVDs if you want to watch a film.
The bed was large and very comfortable with 300 thread count sheets whilst the room was generally very quiet for a restful sleep.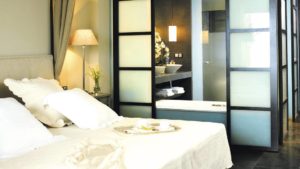 I particularly liked the bathroom in a smart dark slate coloured tile. It had double sinks and a soaking bath with shutters that opened up into the bedroom if you wished. The provided toiletries were good quality and plentiful with a lovely refreshing fragrance. There was also a separate enclosed toilet and shower.
As with most Spanish hotels there was no coffee makers provided but you could request a kettle and cups. If you have hired a car and wanted to buy your own supplies such as ice there is a hypermarket a few minutes away.
The only criticisms I have of the room are the lack of iron and ironing board, although you can request these (don't be fobbed off it they try to tell you have to get the ironing service – you don't – insist on an iron and ironing board as I did) and the fact that if you want ice you have to pay a frankly ridiculous €6 charge for room service.
Swimming Pools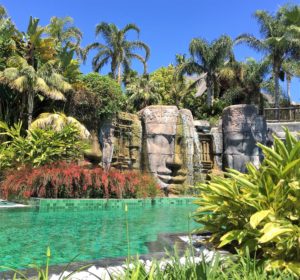 The main feature of the hotel is the stunning tropical gardens and pool area. The main large pool is not heated, so not really useable out of season unless you are brave but it was a lovely temperature in September. There are 2 other pools, an adults only with a waterfall and the Zen pool which also has a built-in whirpool. Children are welcome at the hotel and there were quite a few on our first visit which coincided with a bank holiday weekend.
The Zen and adult pools are heated to a lovely 30°c all year round and have a unique winter feature I have never seen anywhere before. At the Zen pool each lounger had a heater above it which you could choose to have on or off. At the Adult pool there was a heater just by the steps leading out of the pool which came on automatically as you got out. Now that is luxury!
There was pool side service for drinks although there were no complimentary items such as water unlike many 5 star hotels. In the winter the service was a little slow but it had improved the next time I went, depending on where you sat. The bar was also just a few steps away if you wanted to go and get a drink. There was never any hassle getting a sun lounger on either visit.
Food and drink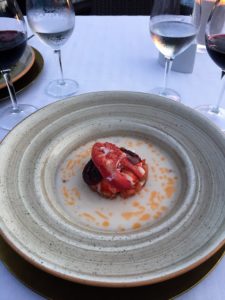 There is a large choice of restaurants in the hotel although the opening days vary for each restaurant. If you chose half board you will be eating in the main Udaipur buffet restaurant which I did not sample outside of breakfast. More restaurants are open in the summer months. In the winter the Asian restaurant Koh Samui and fine dining In Black were open. Both were excellent with good service but my favourite was the Asian restaurant. Having been to Asia I couldn't say that it was 100% authentic but it wasn't far off and it was absolutely delicious. The food was from mainly Thailand and Malaysian. I particularly recommend the Asian lobster curry with coconut milk and the banana leaf fish roll.
During our summer visit we also visited the Island grill and the Italian, Lombocci. I really enjoyed the grill which is set on a deck by the main pool and had a delicious gazpacho blanco with lobster which was creamy but refreshing. They do a good range of grilled steak and fish and I can recommend the fillet steak which was enormous. The Italian was less successful but in a lovely setting by the Zen pool (pictured below). The food was OK but not very authentically Italian but that may have been our choice of dishes.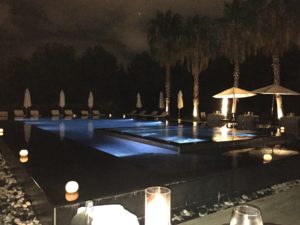 Breakfast
Breakfast was a real highlight and the best buffet I have seen in mainland Europe. Cava and a wide variety of juices were available. You could either request coffee or use one of the Nespresso machines to make your own. There was a huge choice of international hot and cold items as well as local Spanish food such as tortilla and pan con tomato. You could quite easily eat enough to see you through until dinner. You can choose either to sit inside or on lovely deck overlooking the gardens and ponds.
Food prices were high in general for Spain but alcohol was reasonable compared to what you would pay in a 5 star hotel in the UK. Cocktails were around €9, beer €4-5 and wine €25 a bottle.
Spa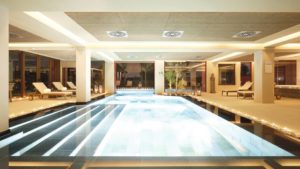 The Spa has limited facilities but is authentically Thai and the treatments were excellent. They specialise in Thai massage and all the therapists that I saw were actually Thai. You can also have Balinese massage, Lomi Lomi and foot massage as well as more traditional treatments such as facials. They have several private outdoor stilted huts for massage as well as indoor rooms.
After the treatment you are invited to relax with a herbal tea or water. The prices were a similar price to what I would expect to pay in a 5* hotel elsewhere in Europe. In the spa there is a lovely pool which is exclusively for those receiving treatments. It is half indoor and half outdoor making it perfect for winter use. There is also a sun deck and a steam room.
Other activities
There is a daily schedule of activities mainly focusing on relation such as yoga, meditation and Tai Chi but other activities such as cocktail making and Asian cookery are also offered. Children are well catered for with a separate play area and a children's pool. There is a full kids club with a wide range of daily activities too.
How to stay there for less
It is always worth comparing with the cashback on offer for sites such as Expedia and Hotels.com but on this occasion it was a much better deal to book direct. Breakfast is included in the hotel rates. To get the best price here is what you need to do:
Join my Barcelo here. It is free to join and gets you a discount which for us was 10% off.
Go to the Barcelo website from Top Cashback. This will currently get you 6.66% cashback. If you are not a Top cashback member it is free to join here.
Log in as a my Barcelo member and book through Barcelo hotels and this also then gets you a 5% voucher to spend in the hotel which will be attached to your booking.
For more information the hotel website is here.