You may have recently read other blogs talking about proposed BA Club World changes this year. This stems from an email sent to BA cabin crew regarding their upcoming training. Some of what has been reported is not correct and some is just supposition. This article explains what the facts are and what we think BA may be about to introduce.
BA Club World changes – the facts
Cabin Crew training
BA Unite cabin crew have been asked to accept a pay deal that includes various conditions about their training for a new Club World service this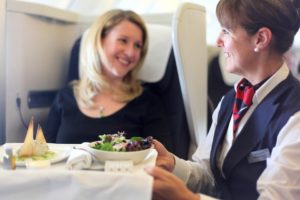 year. The Unite union members have yet to formally accept this deal so none of the following is actually confirmed but merely what is being proposed:
BA long haul cabin crew will undergo 2 days training for the new Club World service with the training due to be completed by early 2018.
There is no known firm date for the training to start but realistically it is unlikely to be before April 2017. This would obviously take some time until they had enough people trained to start the service so probably a summer time introduction date.
The Club World upgraded service is due to be introduced in stages with North America starting first.
This will mean that only crew trained on the new service can operate certain flights. It has been reported that the 2 long haul crews Mixed Fleet (new) and World Wide (legacy) will be operating on the same flights. This is incorrect – they will operating on the same routes where there are multiple flights per day such as New York. They will not serve on the same actual flight.
The crews who have been trained up will have to potentially work harder during the training period with the amount of 'back to backs' increased from 1 a month to a maximum of 3 every 56 days. A back to back is where a cabin crew member does 2 return trips to east coast America and Canada without the usual rest days in between. This suggests that the East Coast will be the primary focus of the early routes for the introduction.
BA Club World changes – new food and drink service
What has actually been promised?
Last November it was revealed that BA had major Club World changes planned after they had just spent the previous year cutting everything!  CEO Alex Cruz stated that "We are going to dedicate £400 million to try to make this product much more aligned and much more competitive. We aspire to actually make it better than all of our competitors." This is interesting given how far behind BA has fallen compared to even the American airlines in terms of new seats and service improvements.
He also said that BA would "transform the way in which we serve the food, the amount of food, the type of food, and the quality of the food that we will be presenting in Club class. This is a major investment and this will begin next year. We are also going to do a step-change in service, not just for training but to a new service routine inside of the Club class experience on board." You can see the full transcript and presentation here.
He specifically promised:
Premium service training
Complete re-design of the Club World service
Radical improvement in quality and presentation of food
Increase choice through pre-order of food
What is the rumour about what this means in practise?
The rumour is that BA are going to introduce a dine on demand, hand delivered service. Nothing has been officially announced about this so it's pretty much guess work at this point. This all sounds good doesn't it? Except when you realise that BA are not introducing any more crew to do this. Although this works well on airlines such as Qatar, it is a different story when you have 70 people to serve individually instead of Qatar's much smaller cabins. Currently only some bar service rounds on certain aircraft and flights are delivered by hand. Imagine trying to do that for 70 people including the table set up if they get rid of the trays.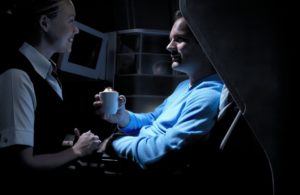 I do wonder who BA are listening to. I suspect they have a case of selective listening and hear the things that are easiest and cheapest to solve. Much as I appreciate the convenience of being able to eat when I want, 9 times out of 10 I want to eat at the start the flight particularly on a night flight. Unfortunately your neighbour may not. Picture the scenario where you are fast asleep in your aisle Club World seat and the person besides you decides he wants to eat despite it being the middle of the night. Cue multiple conversations with crew including the privacy divider being raised and lowered repeatedly, crew leaning over you, lights on and the clink of cutlery. Sounds like fun doesn't it?
As for the hand delivery, I fear all this means is that you will have to wait for ages to get anything, particularly if you are the last rows to be served. Personally I don't care if you want to bring me my meal and drinks on the back of a donkey as long as I'm not waiting around for ages! I understand that trolleys are not seen as 'premium' and BA are trying to keep up with the competition but have they really thought it through?
BA Club World changes – new seats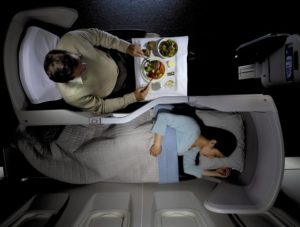 Plans for new seats were revealed to investors last November but only scant details are known. The current layout appears to be staying, with seats facing forwards and backwards. This is a real disappointment as if you travel on your own it still leaves that awkward time before take off where you have to sit trying to avoid eye contact with a total stranger! They do however say that every seat will have direct aisle access which is a big improvement rather than trying to hurdle over people's legs when they are asleep. The question is though how will they actually keep the high density layout and achieve the aisle access for all? Sounds like a compromise somewhere to me…..
This is likely to be a long way off introduction given that no dates have been announced yet. There will however be better bedding and a "new ambience to maximise sleep". This is a welcome enhancement for me, particularly if the pillow size increases from the current offering.
What do I think should be improved?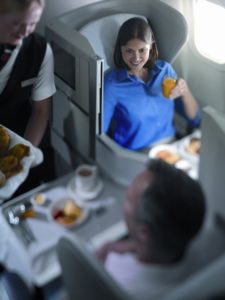 When I look for a business class flight, the delivery of food and drink rarely even enter my thinking. It does, however, enter into the whole perception I have of an airline.
I generally consider:
Price
Seat
Safety and reputation of airline
Avios and tier point earning
Times and directness of flights
The things I would like to see BA improve in Club World:
Seats – something similar to Qatar or American Airlines latest seats or better
Better screens in size and definition for entertainment
Bedding – better pillows and blankets/duvets
Quality and variety of food – why must they always have overcooked beef on every Club World menu?
Pre ordering more like Singapore's Book the cook with its wide choice and premium foods such as lobster
Better choice in the club kitchen – undo the previous cutbacks
Innovative drinks such as the choice of cocktails Virgin Atlantic offer
What would you like BA to improve?
What is important to you when you are chosing an airline for business class? What would you like to see other changes in Club World or do you like what you have heard?  Let me know on the comments below or my Facebook and Twitter feeds.