For many of us there will be a time when we are just a few Avios shy of a redemption with the -355 days deadline looming for booking. This article will look at what you can do to get extra Avios without setting foot on a plane. There are very few instant Avios except transferring and buying Avios but there are some other speedy options available. For the sake of this article we will assume you need 2000 Avios so we can compare the options.
Quick solutions to get Avios
Buying Avios
I would never recommend buying Avios unless there is no other option or there is a decent offer from BA. At present 2000 Avios would cost £45. Recently BA were offering a 50% bonus which would have meant 3000 Avios for £45 which is slightly more reasonable. The purchase is instant so may be your only option if you need them now.
Transferring Avios
You could get someone to transfer Avios to you but unless they are a Gold BAEC member then it is pointless. They will have to pay the same as buying the Avios so unless you have already purchased your full limit of Avios for the year (not recommended) then there is nothing to be gained. If however, you are lucky enough to know someone who is a Gold member, then they can transfer 27,000 Avios per year to people that they add to their Friends and Family list. This of course would be a great solution, being quick and free but how you would repay them is another matter!
Part pay
You could consider part pay which is available via BA and Avios.com. This is where BA will offer you multiple options to pay with less Avios for an increased cash contribution. Again this is an instant solution and is sometimes at a more preferable rate to buying Avios. Let's take a flight to Alicante for example in Club Europe return. Off peak this costs 25500 Avios +£48.28 on BA,com. If you only had 23500 you could get the flight for an additional £30 using only 23,000 Avios. So you have in effect bought 2500 Avios for £30 which is better than purchasing Avios unless there is an offer on.
Share with a Household Account
I will look at this in more detail on Tuesday as it is not as simple as you may think. In principle you can pool miles with up to 6 other BAEC members in your household including children. It is free to join and there are no fees for sharing miles.
Top Cashback
If you have a Top Cashback account this is probably the quickest and most cost effective solution with the current bonus. You can withdraw funds as Avios via BAEC with a 5% bonus. Make sure you have checked that the cashback is eligible before you rely on this. Many companies do not allow you to withdraw their cashback as Avios. You can find out by trying to withdraw and if the BAEC symbol is greyed out then click 'part payout' and it will show which merchants allow BAEC transfers. You would get 2000 for £19.05 of cashback and since it is in effect free money, I think that' s a pretty good deal. Transfers normally only take a few days. You can join Top Cashback for free here.
American Express Membership Rewards
This is another 'free' option. If you have certain types of American Express card such as the Gold or Platinum cards then you should have a Membership Rewards account. You can easily transfer these over to Avios at a rate of 1:1 and transfers only take a short time. The official timeframe is 3 days but it is normally quicker.
Slower ways to get Avios
These other ways may need a combination of methods and take a bit longer. The good news is that most of them require no outlay of cash except your normal spending.
Tesco Clubcard
Obviously you need to actually have the Clubcard vouchers in your account to spend them but this could be a fairly quick solution if you do. Although the website says it will take up to 28 days, it is often quicker. Every £2.50 of vouchers gets you 600 Avios.
Gate 365 (BA) and Avios eStore
These are where you use a gateway website to go through to other companies to make your usual purchase and receive Avios depending on how much you spend. This is a slow way to get Avios as most post after 35 days but many travel companies are much slower. Let's compare with Top Cashback how much you would have to spend to get the 2000 Avios. We'll assume it is all purchases you would have made anyway. A lot depends on what  you get the cashback on. Most travel companies such as Expedia pay around 10% cashback whereas shops are normally more around 3-6%. Avios rates vary between 1-10 Avios per £1 spend. If we take an average of 5% cashback and 5 Avios per £1 then for 2000 Avios you would need to spend £400 on eStore/Gate 365 or £380 on Top Cashback.
Shell
If you could use a Shell petrol station then you will get 50 bonus Avios when you register your Shell Drivers' Club card and up to 20 Avios for every 20 litres of fuel. They regularly do bonus promotions as well.
Refer a friend
If you already have an Avios or BA credit card then you could use the 'refer a friend' option. This will get you some Avios if you know someone wants to get the same card. I have recently referred people to the Lloyds Avios credit cards and received the 4500 Avios bonus within a couple of weeks of the person signing up. Your friend will also receive 4500 Avios as well.
Heathrow Rewards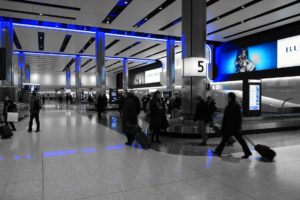 If you have a Heathrow Rewards card you can transfer 250 points to 250 Avios. If you are not a member you can currently get 100 points for signing up which is free. You will then get 1 point for every £1 spent on shopping, dining  and official Heathrow parking. You do however need to transfer points in 250 blocks. You can join here.
Fill in some surveys
If you are a member of Avios.com there are 2 options to fill on surveys and get Avios. If you have time on your hands, it is one solution that requires no spending whatsoever.
For e-Rewards® online surveys you get 750 Avios once you've completed your first survey. Then you earn points that can be converted into Avios for each survey.  This is not a quick solution as Avios take 35 days to post. The page is to sign up is here.
With Rewards for Thoughts you sign up and collect 600 Avios after you've qualified for and completed your first survey. You'll receive survey invitations via e-mail or you can access surveys via your Account page on the Rewards for Thoughts website. You will then receive Avios for each survey you complete – 25 Avios for short surveys or 50 Avios for long surveys. The Avios post in 5 days. The sign up page is here. You can also get the same through BA.
Avios or BA Cash Passport
This is a way you can carry several different currencies on a card that you pre-load and then use like a debit card. I would not encourage this as a solution given that it takes 35 days for the Avios to post and all £ top ups carry a 2% fee. Foreign currencies incur a 5.57% comission fee which is frankly ridiculous compared to most credit companies at around 3%. Avios are awarded for every whole £1 loaded or re-loaded onto your card. That would mean that 2000 Avios would cost you £40 so not really much better than buying at the full cost.
Credit card sign up bonus
There are many credit cards that have a sign up bonus of Avios or Membership rewards that can be converted into Avios. This would probably be a length process unless you had a major spending spree planned as the spending targets for the bonus are normally fairly steep.