Azul A350 Maiden Flight Review
Introduction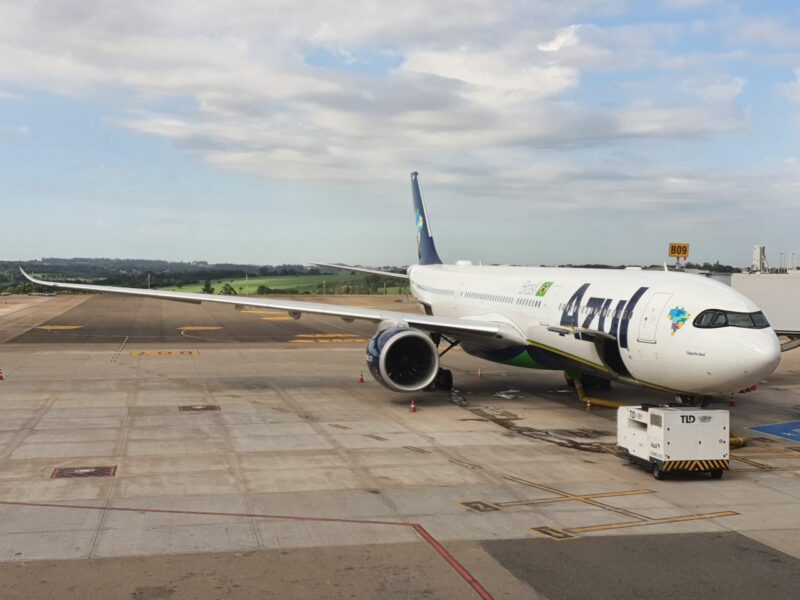 This is a review of the Azul A350 Business Class Maiden Flight. Azul Brazilian Airlines is a low-cost hybrid airline based in Sao Paulo, Brazil. Set up in 2008 by aviation legend David Neeleman (and following his blue theming in both name and livery) the carrier is now the third-largest domestic carrier in Brazil and the second-largest international carrier there.
The carrier started with Embraer 195s but over the past decade has expanded to include ATRs, A320 family, A330s, and now A350s. A cargo division uses Boeing 737 freighters, and Azul Conecta operates Cessna Caravans domestically. The airline also operates branded coach feeder services from regional towns.
The airline regularly paints planes in special liveries, and I was lucky to see Azul's first Embraer E195-E2 in a livery espousing their corporate values, an A320 in Donald Duck livery and A330s in Brazil and Azul Viagens liveries. Avgeek Heaven!
Nearly all of Azul's flights are within South America, with only a few flights to Portugal and Florida, until this point, solely operated by A330s. This changed with the introduction of the A350. The story of these planes is convoluted as they were originally due five years previous. Chinese carrier Hainan's parent company, HNA, was invested in the Azul. Azul delayed delivery, and the A350s were instead delivered to Hainan. During the pandemic, these planes found their way back to the original operator, as HNA withdrew their investment during their bankruptcy reorganisation and Hainan removed the A350 fleet from service, so these planes now sport Azul's sleek livery.
Booking
And so began the most convoluted booking process of Azul A350 Business Class I have ever experienced. This airline seemed incapable of taking my money in exchange for a ticket, which was incredibly frustrating.
The website is available initially in Portuguese, which is expected given the airline is Brazilian but it can be changed to English or Spanish. The problem is that you must pick a currency at the same time, English and Spanish are both sub-divided into US Dollars or Euros. As it turns out, neither of these is at all reliable and going through the booking process multiple times would get all the way to the end and issue a booking reference with no payment taken. A slightly threatening email would then come through saying you must pay within the next few hours but if you didn't and didn't actively cancel with them, cancellation charges would apply.
The website was next to useless, as buttons to manage the booking and cancel it did not work, either redirecting to the home page or just being dead links. I tried to use the live chat, but incredibly, in order to use that, you need the Brazilian equivalent of a national insurance number!!! I even attempted to phone the airline on international numbers, which did not pick up in a timely manner, so I hung up. The bookings cancel themselves after several hours of non-payment, it turned out, and each attempted failed payment shortened that time.
An agent contacted me via email several days later and said they would be able to book it over the phone as the website doesn't like payments in Euros and that Dollars work better, neglecting the fact I had tried bookings in both Dollars and Euros. In my view, if it is known that the website doesn't accept Euro payments, don't offer that option!
United Airlines offers codeshares with Azul, but the price was double what Azul was offering (I was tempted to book for the Lufthansa points) the specific flight I wanted sold out in codeshare form and I would have been stuck on a later A330, rather defeating the point of being on the first A350 flight!
In the end, I was lucky to be reading another website describing a very similar credit card problem with Air Algerie and managing to bypass this by using an American online travel agency Priceline. This worked with Azul A350 Business Class too. It even worked out to be cheaper than booking directly by several hundred dollars. The one issue was that I couldn't select seats during the booking process, so I emailed the booking agent who contacted me previously and asked for 1C to be assigned; the agent begrudgingly did so (I suspect as there was no commission forthcoming) and said he would only help me next time if I booked through him. Considering I had, in fact, tried many different ways of booking direct through different currency permutations and languages, I thought this was relatively poor customer service, as in the 2020s, one shouldn't need to be on the phone incurring international fees for a considerable period of time in order to purchase a simple ticket.
Ground Experience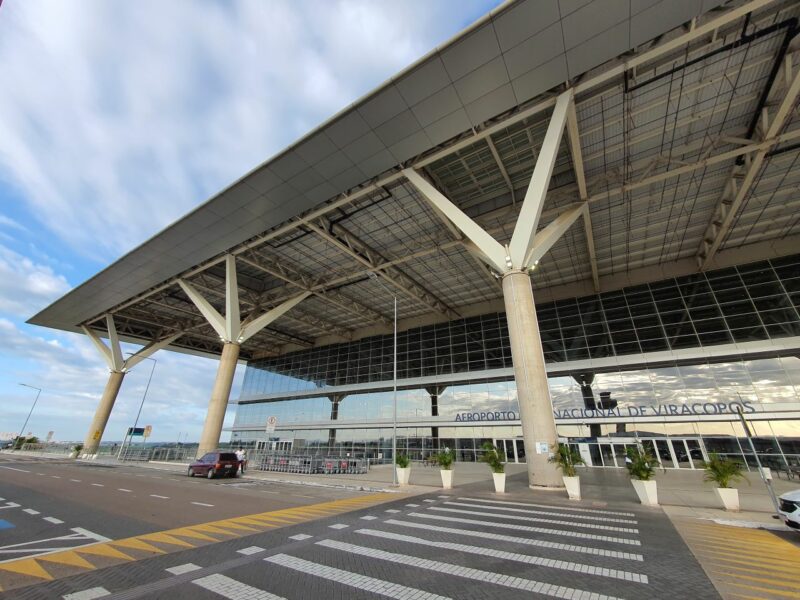 The flight departed from Sao Paulo's low-cost airport, Viracopos. With this in mind, I was not expecting a particularly impressive airport, but when I arrived, I was pleasantly surprised. The airport had been expanded and modernised for the World Cup in 2014, which meant that the airport was wide, open, and airy, with huge glass windows letting in a lot of natural light.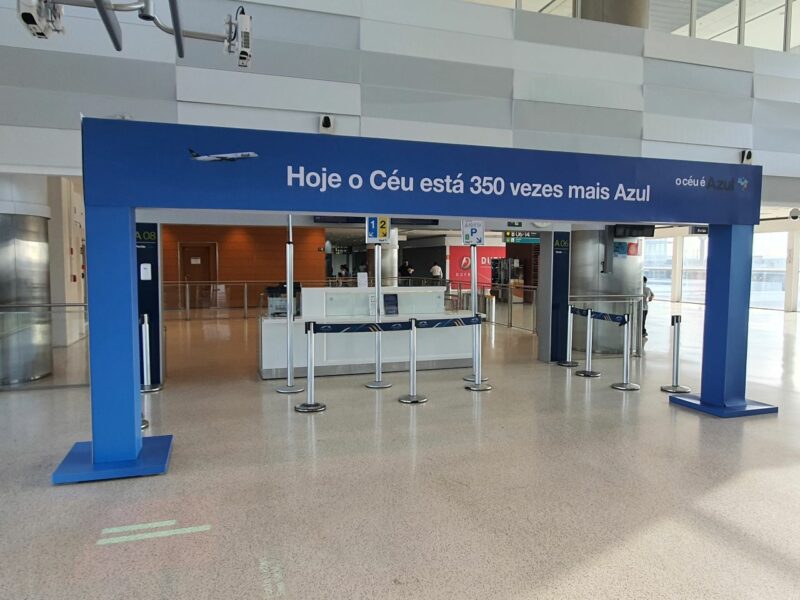 In the check-in hall, though, signage was appalling, and I couldn't use the kiosks for a US-bound departure, I needed to end up asking a member of the ground staff where the Business Class check-in was. He was very helpful and took me round to the desk. The queue ended up taking quite a while despite there only being a couple of groups in front. One was redistributing the contents of their hand luggage to bring them under the weight limit, the other was a group of around 9 passengers with around two bags each.
Then there was a first for me, I was asked to produce a paper copy of my ESTA, I had printed just about every document I could think of for this trip but not the ESTA. It turns out I was something of an abnormality, as Brazilians can't get ESTAs. I was finally able to log into the ESTA website to prove I had one.
Then through security and passport control which were very small dark rooms and the complete opposite of the rest of the well-designed terminal. Security is very poorly designed as there was no way for agents to pull aside bags for checking, so it ground to a halt each time they needed to. Passing the entrance to the lounge, I was onwards to my gate.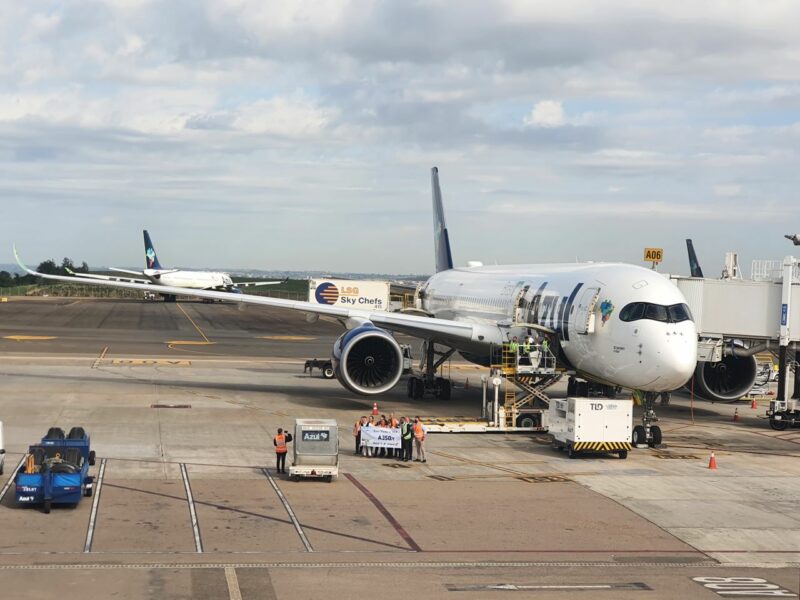 It was clear which was mine as they had set up A350 branding and outside, the new plane was already on stand with ground staff proudly posing for photos.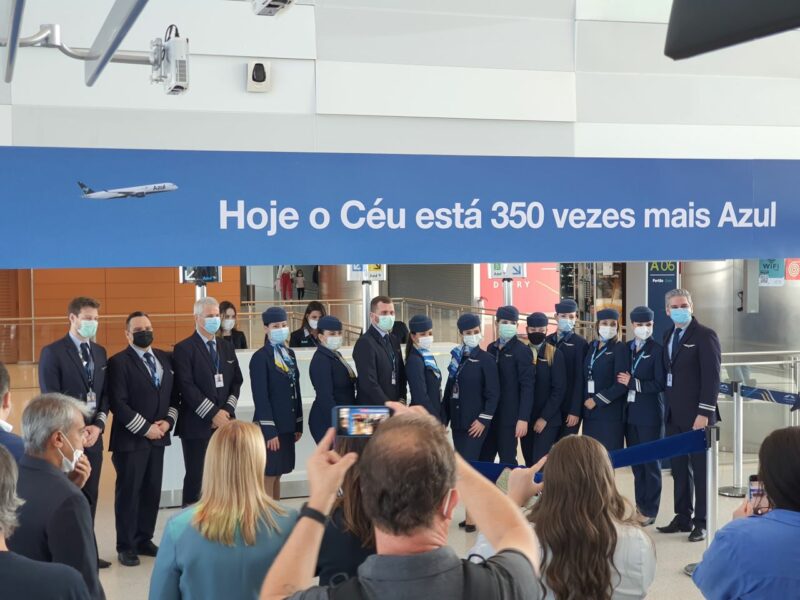 Just before boarding, the crew cut a ribbon and posed for photos at the gate, and the CEO of Azul gave a speech before handing out branded cupcakes whilst talking to the passengers.
He asked me where I was from and when I replied the UK, he commented how few Brits they have on board normally. During boarding, I was once again asked to produce my ESTA before the lady who checked me in leaned over and mentioned she had already checked it.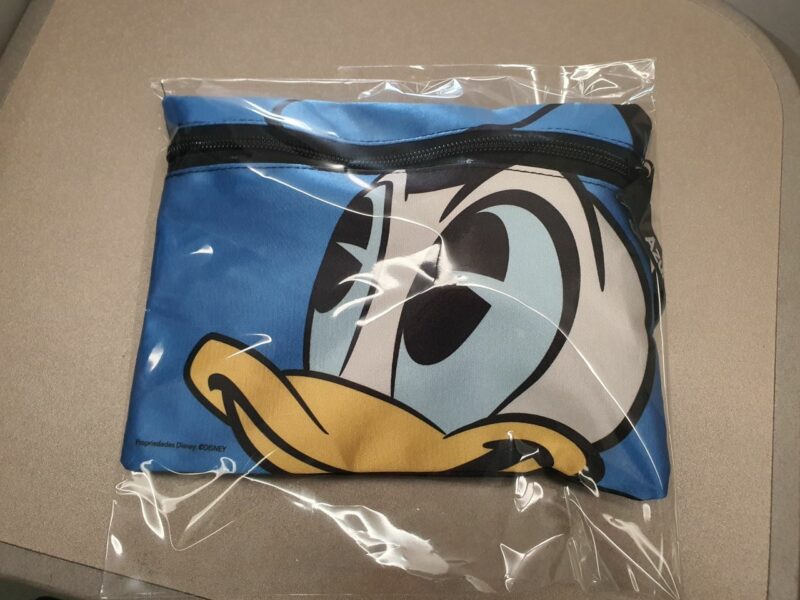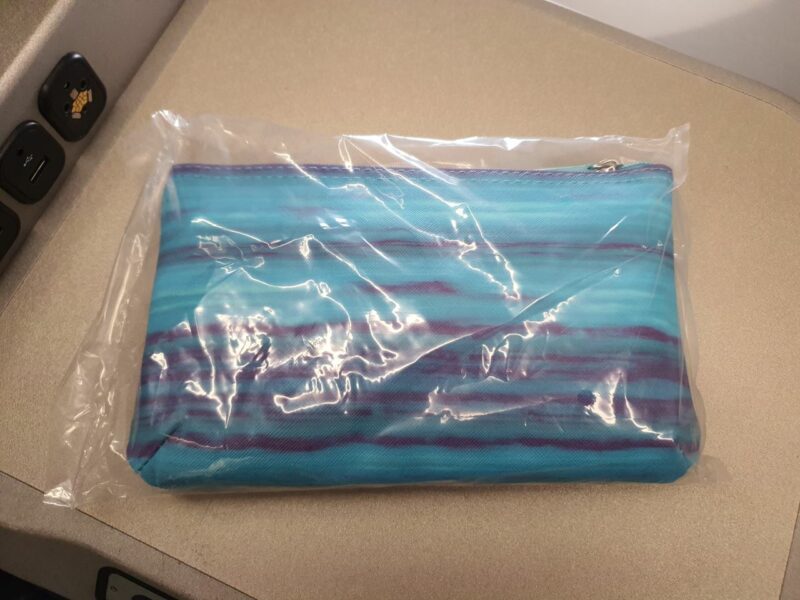 As we boarded the plane, we were handed Donald Duck-branded amenity kits, though I am unsure if this was because of the first flight or because we were flying to Orlando and Disney World.
Cabin
Onboard, Azul A350 Business Class has two cabins on their A350, Business and Economy. Forward of Doors 2 are nine rows of Business in a 1-2-1 configuration, though there are no window seats in Row 9 and only three seats in Row 1.
The seats are staggered with the odd rows farther away from the windows and the middle seats next to each other. The cabin is the same as when the plane operated for Hainan Airlines before they were brought over to Azul. Whilst the seat map had looked relatively empty online, the cabin was completely full with families travelling to Disney, making for a slightly louder-than-average flight.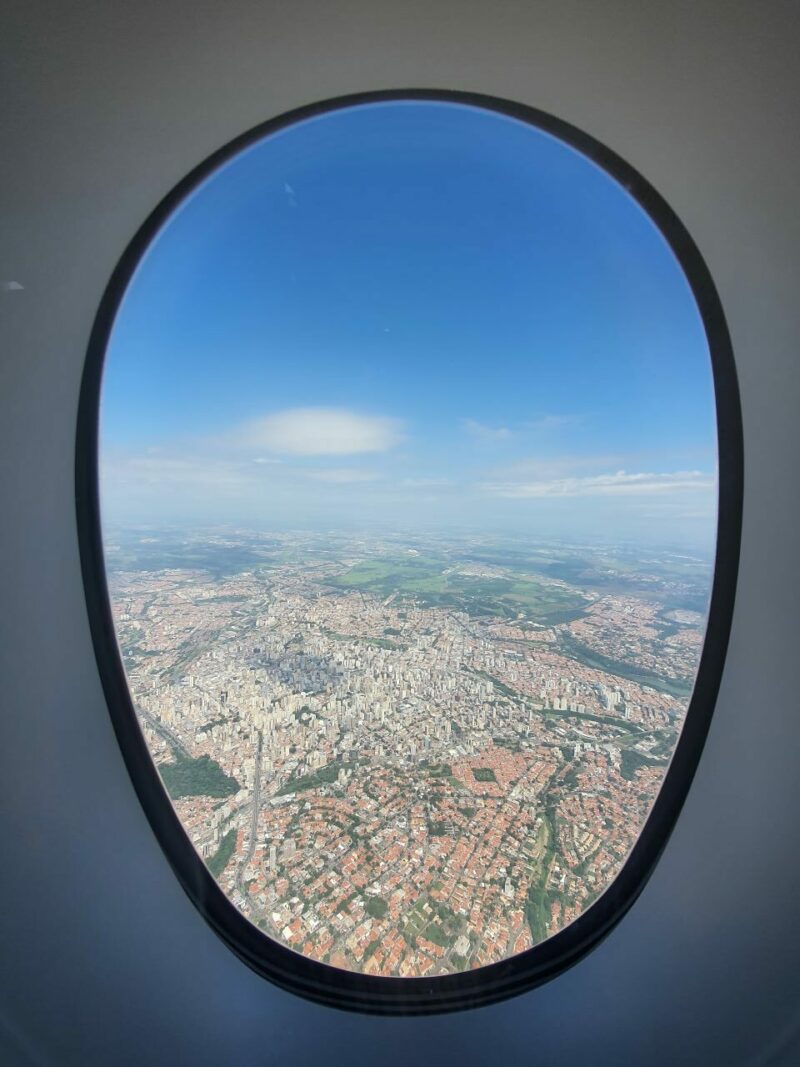 I was glad I had asked to be given a window seat in advance as by check-in time I doubt any would have been left available.
Economy is the standard nine across in the two rear cabins. The first of the cabins is marketed as Economy Xtra due to having three extra inches of seat pitch, other than that, the cabins are the same.
Departure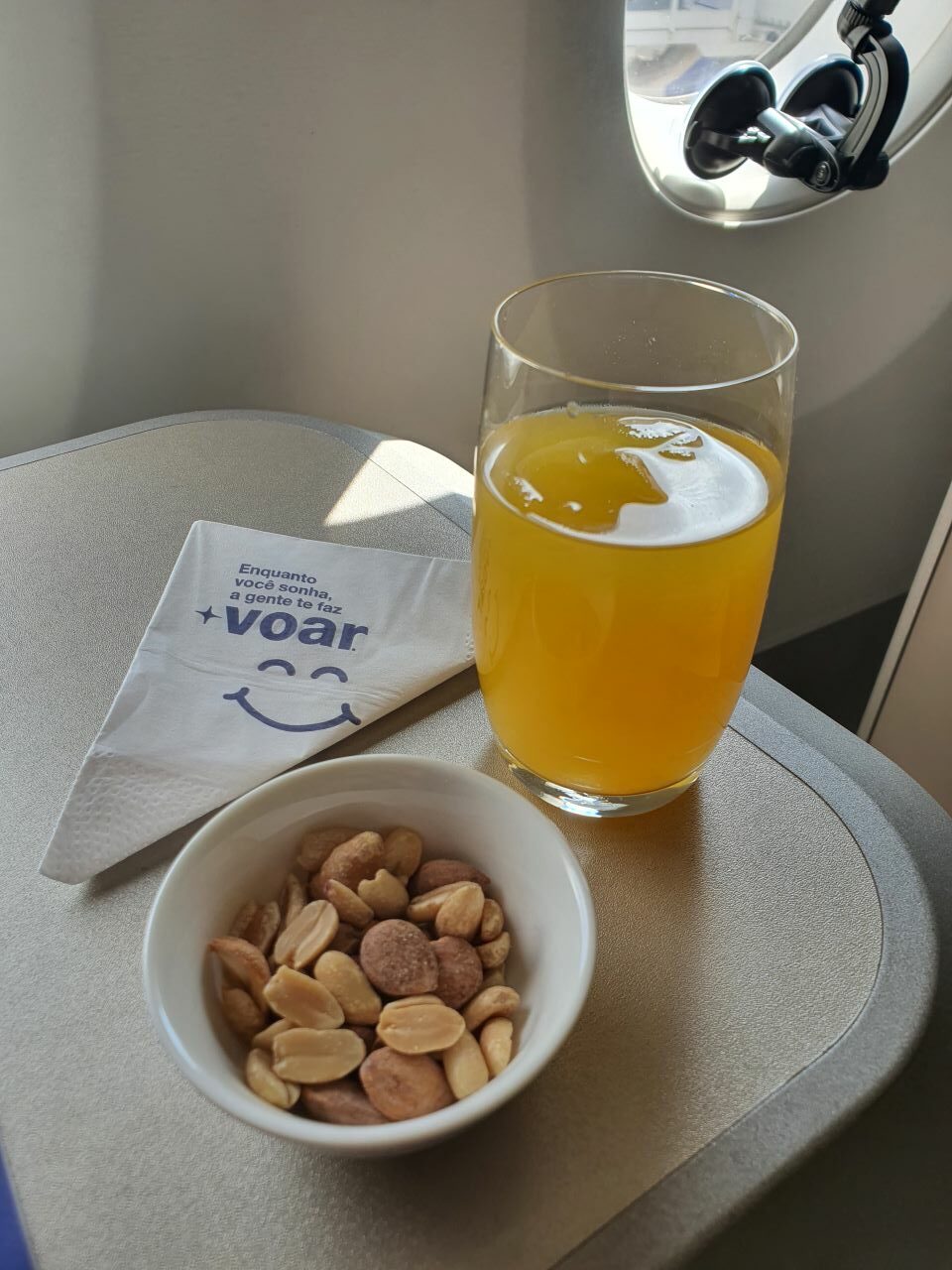 During boarding, the crew came around offering a choice of drinks from mango juice, water or champagne, along with cold nuts.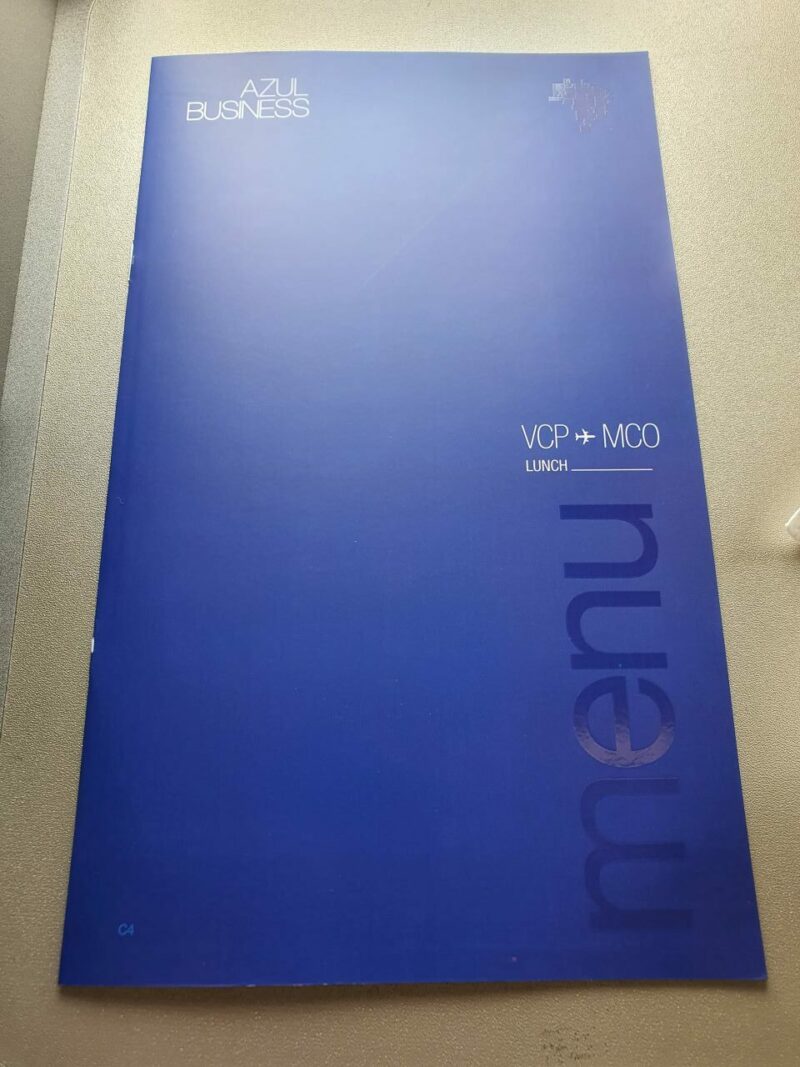 The menus for lunch were also handed out. I was impressed as the menu had the route printed on it. The cabin crew seemed to struggle a bit with English, but this improved later in the flight, so it may have been nerves, or it may be that the more proficient flight attendant dealt with me for the rest of the flight.
The flight crew made an announcement welcoming us onboard and noted that this was not only a celebratory flight for the A350 but also for the company in general, as the flight took place 14 years to the day since Azul's first flight.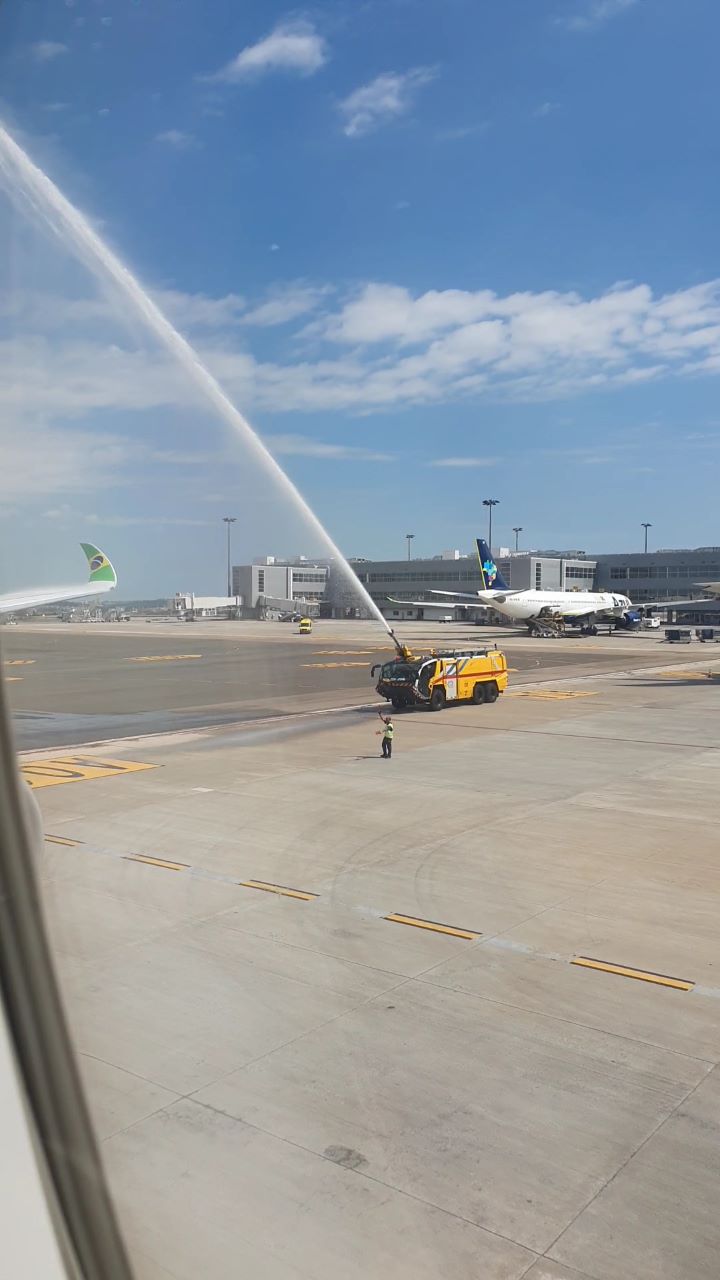 On pushback, there was a water cannon salute by the airport fire brigade, which is always exciting. We then headed for the departure runway before taking off to the South East and staying relatively low as we turned North with good views of the city below before climbing away on our route.
Dinner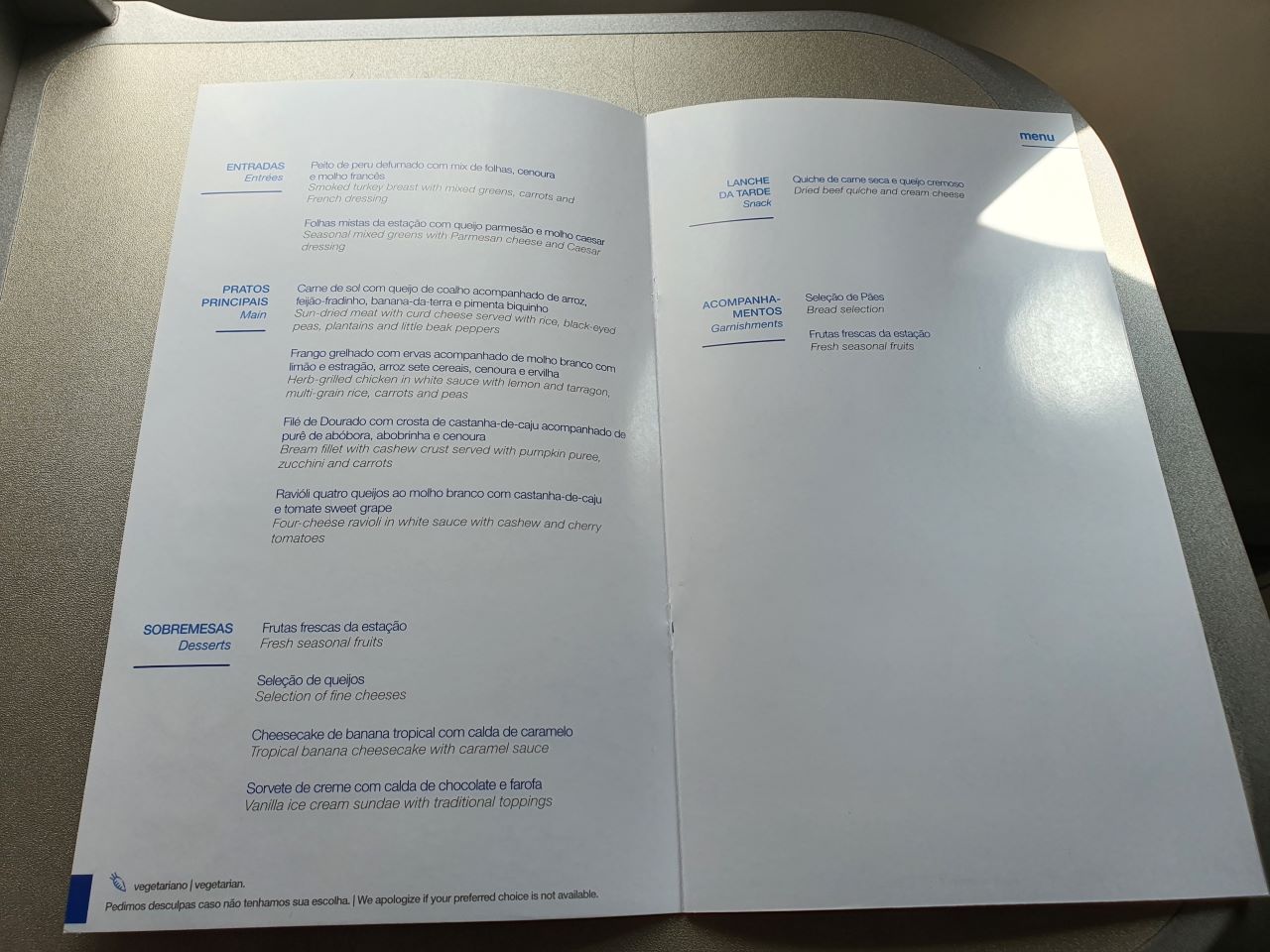 Given Azul A350 Business Class is a hybrid carrier, the menu for lunch was not extensive. There was a choice of two starters smoked turkey breast or Caesar salad. I will say, whilst tasty, the starter was slightly misleading. The turkey breast was of the cube chunk types you get in American snack packs, and there weren't that many of them in the salad.
The main courses were more varied, with four options. I went for the sun-dried meat with curd cheese as it was the most Brazilian option in my view. The meal was very tasty, chunks of steak with cheese that was very similar to halloumi, plantains and rice. I am very glad I picked this option as I hadn't had much time to enjoy in Brazil whilst I was there due to weather delays in the UK altering my travel plans.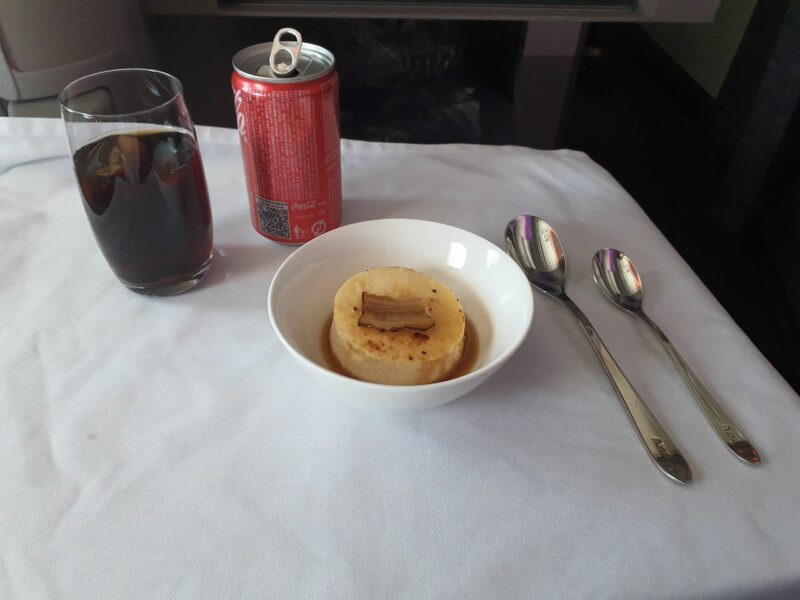 Pudding again had four choices, fruit, cheese, cheesecake or ice cream. I went for the cheesecake, and it was again delicious. The meal was all served on one tray except for the pudding, which was brought separately at the end.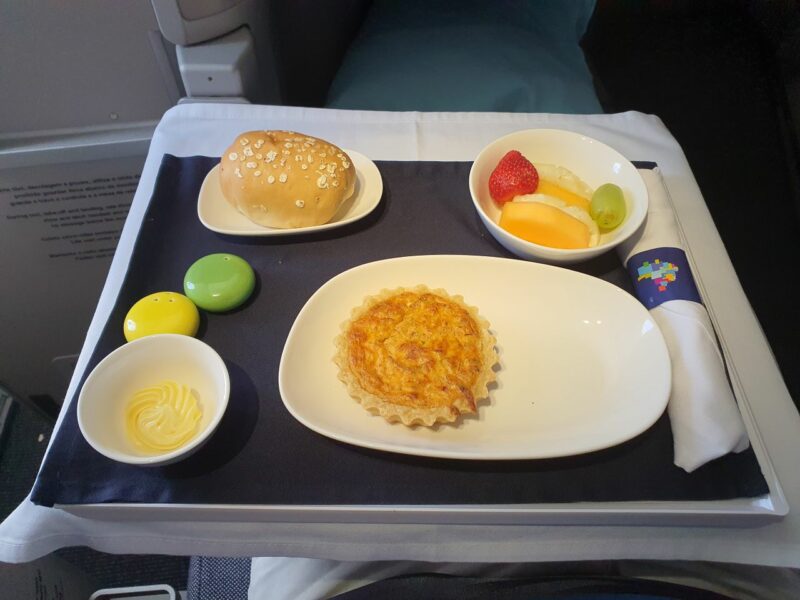 The tray also had a bread roll with butter and lovely little ceramic salt and pepper shakers. I asked for a coke and a glass of water with the meal which was provided, along with a giant ice cube that took up a quarter of the glass of water. I ordered a tea and a huge variety of teabag options arrived for me to select from. I would note that although the food was very good, the meal was not particularly large for a long-haul flight, and I was still slightly hungry at the end, luckily, I had snacks. After the meal service, a small bottle of water was passed out for when passengers were sleeping.
Seat/Bed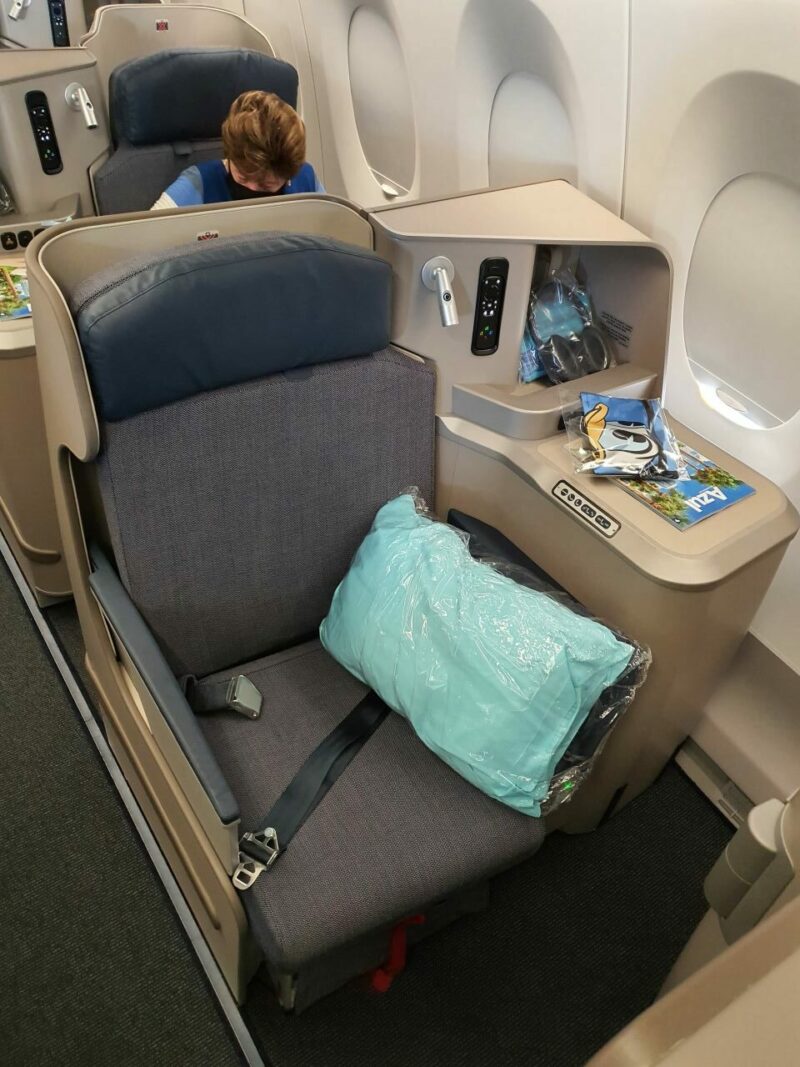 Like Lufthansa's 787s, the seats installed were done so for another airline. It was clear that the seat itself had been used before as the seats were a bit worn with wear and tear damage which is a bit of a shame for a first flight. It was clear, though, some parts of the seat had been refitted or replaced, but overall, the seat didn't quite feel brand new.
The wear and tear of the seats will not be helped by some of the children onboard. The child opposite kept putting her feet up on and around the IFE screen and a child started clambering over the section just behind my IFE screen whilst their family member was waiting with them to use the lavatory.
I should note as well, I have never seen such a constant stream of passengers waiting to use the lavatories, there were nearly always passengers waiting to use them. It appeared though that most were waiting to do their teeth after lunch, none of them had water bottles meaning they used the aircraft water, which is not something I want to think about putting in my mouth…
The bed mode itself was comfortable enough, but I tended to use it in Z bed mode as it was better to watch the IFE screen. The table is folded down from the side of the seat in front and locked in place using a slide at the top. Once extended, it could be pivoted forward to allow you to exit the seat whilst it had service items on it.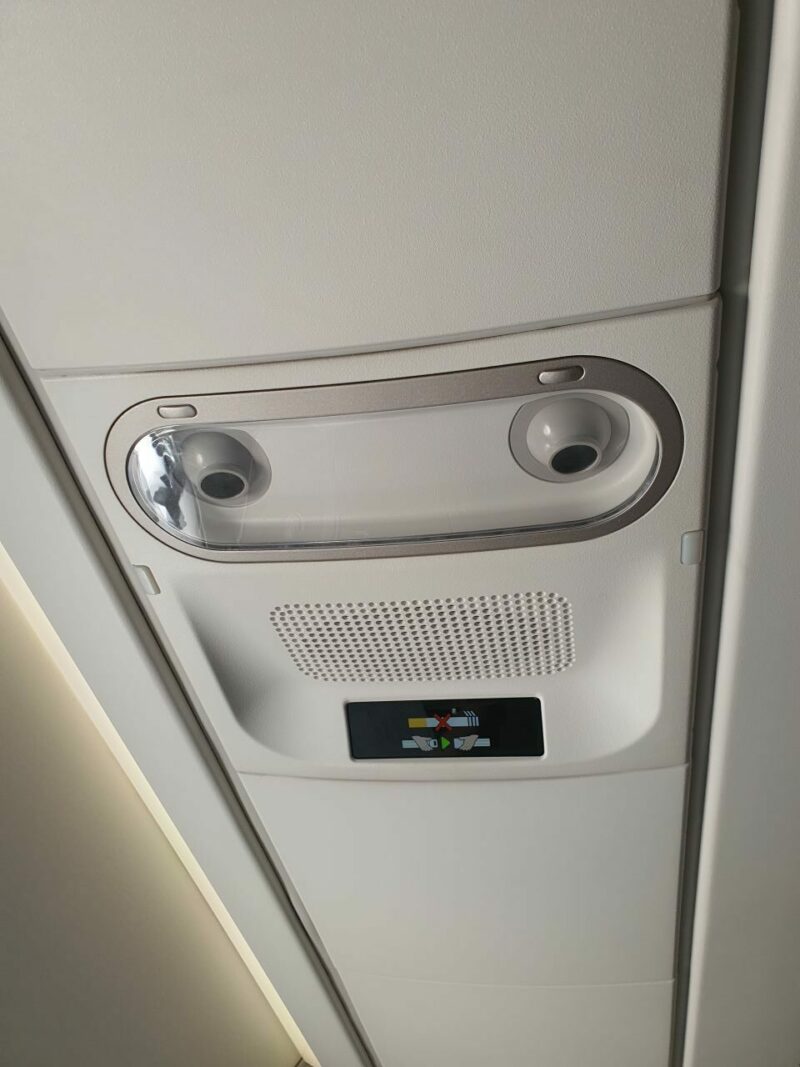 Overhead there were two lights and a small screen showing the no smoking and seatbelt signs. Sadly, no overhead vents onboard. The thing I found most lacking about the seat was there was no enclosed storage anywhere. Even the old Club World managed a drawer. Here, there was a cubby hole where a lot of airlines place a little cupboard. Inside were the headphones to use with the IFE, they had seen better days and were quite battered, though they worked well enough.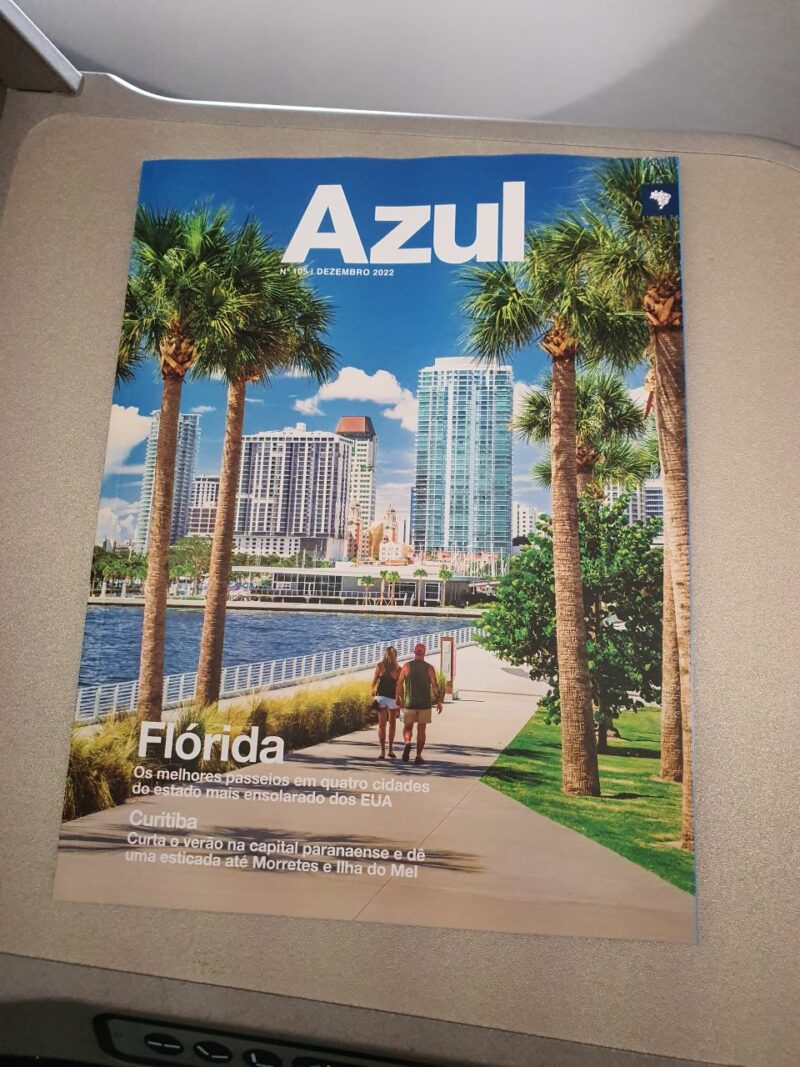 Also, at the seat when I arrived was a standard business class amenity kit (in addition to the Donald Duck one from the jet-bridge), a blanket, a pillow and Azul's inflight magazine, which was a lovely addition given how few airlines carry them now.
The crew came around partway through the flight and started shutting the window blinds. I had been keeping mine open for my GoPro and to look out, but I shut one of them. I found this somewhat surprising as the flight was pretty much North-South with minimal time change, a morning departure and an afternoon arrival. I was slightly surprised by how many people seemed to sleep for almost the entire flight, given this.
Inflight Entertainment/WiFi
Despite having a WiFi dome installed, there was no WiFi available onboard, some Azul planes have offered WiFi since the middle of 2021, and this is spreading throughout the fleet, but it was not available on my flight.
The inflight entertainment system had a wide selection of movies, but none that I would say are new releases. Most, if not all, were at least three years old at this point. One thing I really liked, though, was the airline included trailers for the movies so you could see if you wanted to watch them. Not all the movies had been adapted for widescreen viewing either, so Love Actually only used part of the screen. Humorously, the films had been edited to allow them to be more family-friendly, with swearing and nudity edited out. Two of the characters from the film are completely written out, considering their storyline. Strangely, an illicit drug use reference was left in. Some of these edits made little sense as, in a second movie, the Break Up, "Richard kicked your ass" was replaced with "Richard cleaned your clock"… Even funnier, however, was that the edits had not been made to the trailer for the film, so the original line was included there. Jennifer Anniston's swearing in the movie was also voiced over by a completely different actress with the original scene playing, whereas Love Actually at least had re-filmed segments, Natalie kisses the PM on the cheek rather than swearing at him, for example.
The inflight map was great and customisable, which meant you could change the distance units, different views of the route and which items you wanted to be shown, like cities, water features and terrain along the route.
Slightly annoyingly, and not the fault of the airline, but part of my IFE was provided by the child across the aisle playing children's programmes on an iPad at full volume with no headset in.
Towards the end of the flight, the IFE system seemed to crash and stop mid-movie, which meant it was unusable for about the last hour of the flight.
Second Meal
There was no choice for the second meal, you got dried beef quiche, some fruit, and a bread roll. Again, the meal tasted good but was on the small side. A recurring theme with Azul A350 Business Class seemed to be continuing to use items that other airlines would have retired, as one of the pepper pots had clearly been broken and then stuck back together with super glue, which is normally a big no-no for food items.
The cabin crew were wonderful during the meal services and remembered previous drinks orders and asked if you wanted more. I had another tea and some grape juice.
Arrival/Entry Experience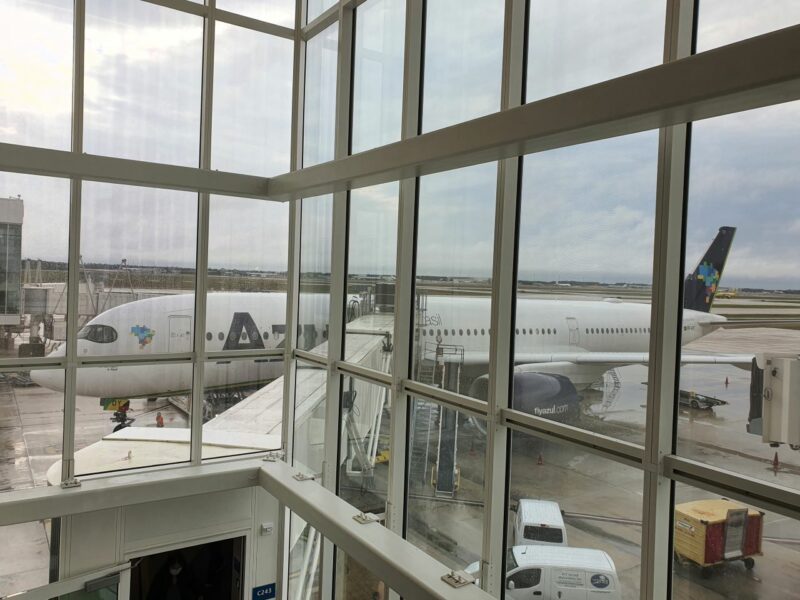 During the descent, the weather closed in, and the flight was a little more turbulent.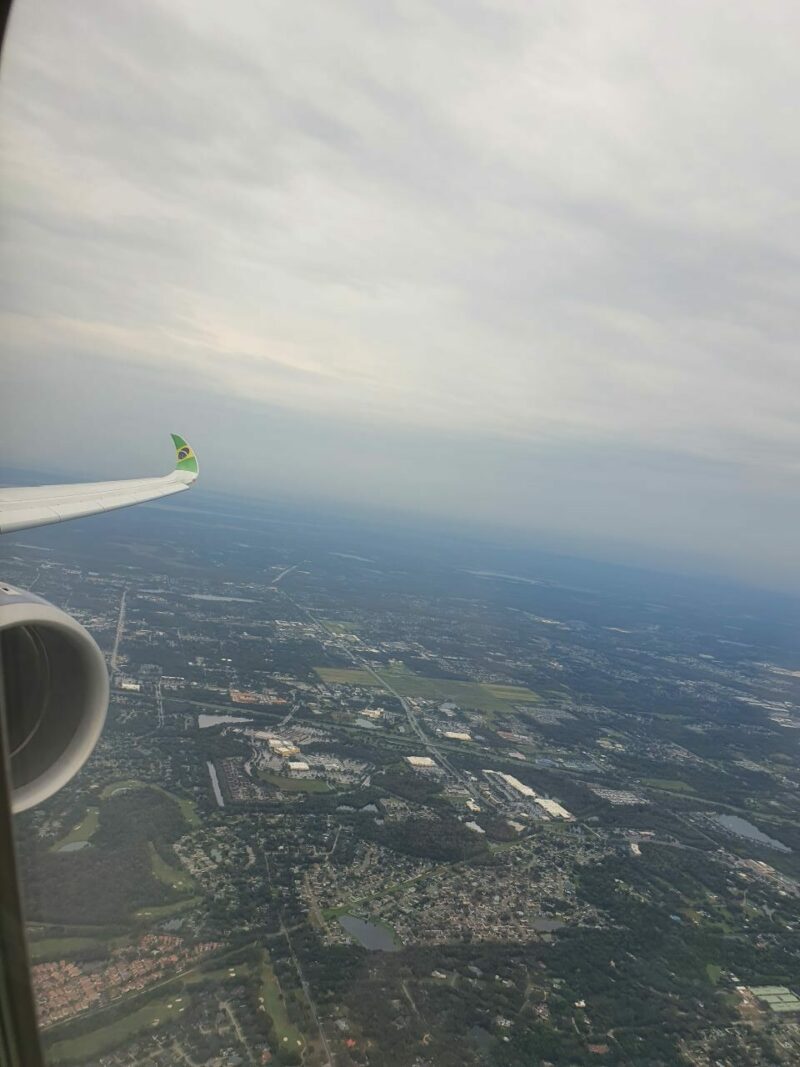 The plane spent quite a bit of time in a cloud layer, but we emerged just as we crossed the Florida coastline. Once on the ground, we had a long taxi to arrive at Orlando's Terminal C, which had only been open for a couple of months, and I had just finished reading about it in Airways magazine onboard.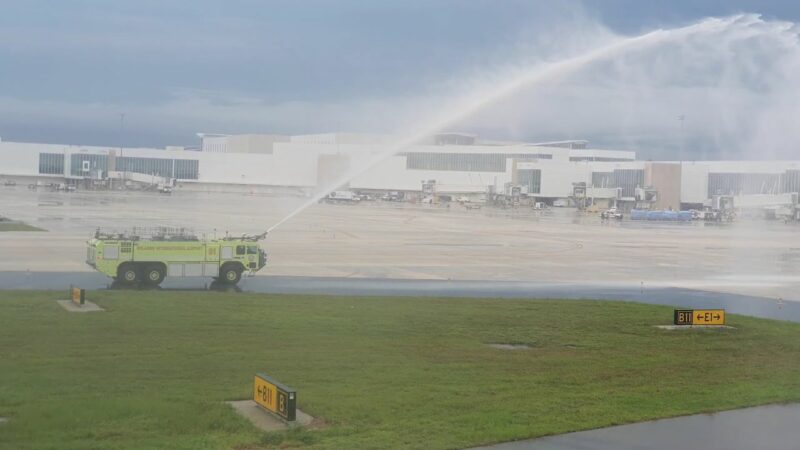 We were again greeted by a water cannon salute as we turned into the apron, marking the first time I have been on a flight to have water cannon salutes at both ends of the journey. Once on the stand ground, staffers on the jet bridge could be seen taking selfies with the plane in the background.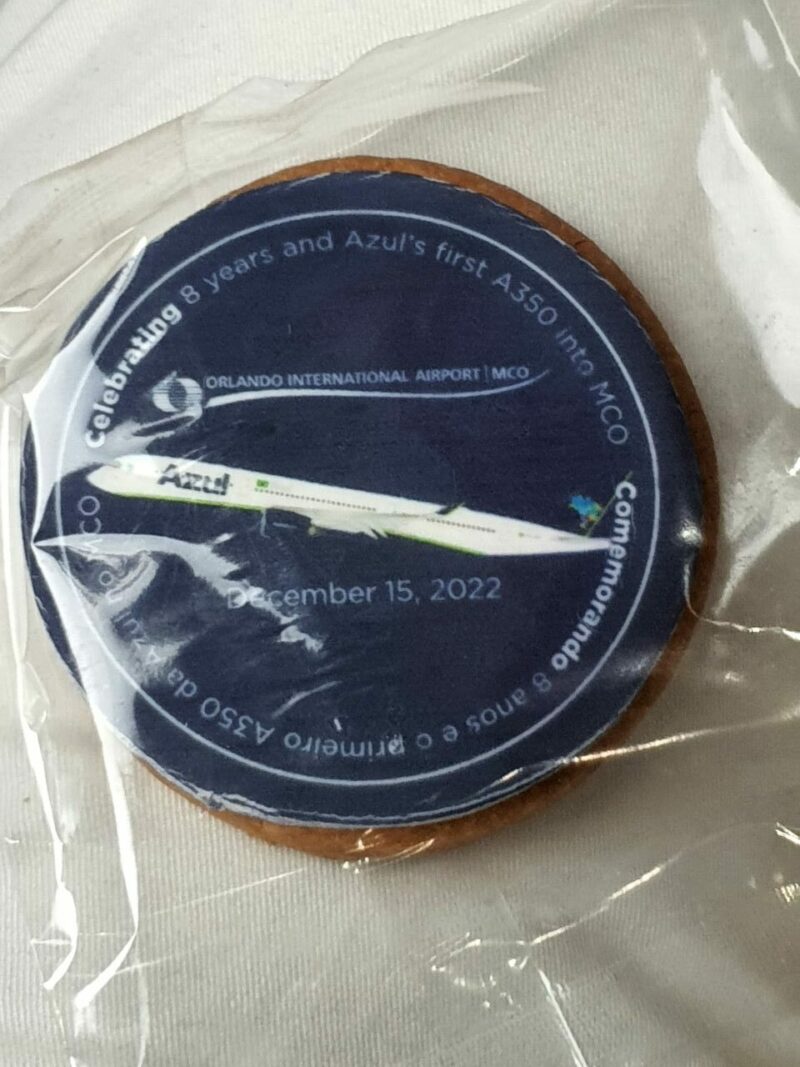 Once off the plane, we were offered biscuits with pictures of the Azul A350 Business Class on them before we made our way up to immigration. The terminal is much more open and airier than the others, with lots of glass and white décor. Upstairs in immigration, the desks are more spread out than in normal US airports and feel slightly more casual and intimidating than those I have previously experienced. Unusually, you pick up your checked-in luggage before heading through immigration, hence the increased spacing of the booths. I had been steeling myself for the conversation with the border guard, given I had transited through JFK just under 48 hours previous and then flown to Brazil and back, which is a potentially suspicious routing. That being said, the border guard was relatively friendly and determined that this avgeek was not a threat. Several rental car agencies have desks as you exit from immigration, but the cars are stored at the original terminal complex, so getting a shuttle bus is required. Enterprise was not well organised at the garage, and I was left to pick a car myself, somewhat defeating the point of reserving a specific category of car.
Bottom Line
I enjoyed my flight with Azul A350 Business Class, the A350 was a pleasant experience with good service, a nice hard product and a decent, if older, IFE selection. It is clear the carrier is a hybrid one, though, where food options are somewhat limited, and the size of servings is small. I would say their booking engine, website and app need a lot of work as they were almost next to useless. Several times I gave up trying to plan this trip because of them before returning via an online travel agent. If I hadn't been deliberately trying to book onto the first A350 flight, then I would have used competing airlines as they can actually take payment. Conversely, booking with Priceline was a breeze and got me a discount, and I will keep them in mind for future trips with carriers with difficult booking processes.
Like our Azul A350 Business Class Maiden flight review? You can read more flight reviews here.