I have wanted to go on BA1 for a long time. So when the recent American Airlines fare came up from Dublin, it gave me the perfect opportunity. The deal involved starting in Dublin and then flying to London City for an overnight stay before the flight the next morning at 0940. You can read my review of the Club Europe flight to London City here. I started my trip in Heathrow to fly the positioning leg to Dublin.
BA1 was, of course, previously the flight number of Concorde. When BA introduced the service they wanted to give it an air of prestige so they chose to reuse the callsign BA1. BA1 is an all business class service from London City to New York that is aimed at business travellers. It only operates Monday to Friday.
How much did it cost?
I paid roughly £1350 (will depend on the exchange rate) for a return Club World flight from Dublin via London City, returning to Heathrow. I then had to pay around £220 for an economy return to Dublin, as it was booked fairly last minute. The overnight at the Hampton by Hilton costs £80. Therefore the total cost was around £1650, a saving of £1330 on the full price of £2980. If I had booked the Dublin part earlier I probably could have saved another £100. The ticket was booked on American Airlines' Irish website. There is still a good offer on but the price has gone up to about £1500. You must stay a Saturday night to get the price.
Check in and Lounge
The minimum check in times are very short, 15 minutes without luggage and 20 minutes with. I arrived quite early as I was planning to go down to the Private Jet Terminal to review the lounges there. I waited very briefly as there was only one desk serving the JFK flight and they were already serving someone. Check in was straight forward and I was finished in less than 5 minutes from when I arrived. I thought they were particularly helpful, as when I enquired as to whether the seat next to me was still empty, they volunteered to block it off for me.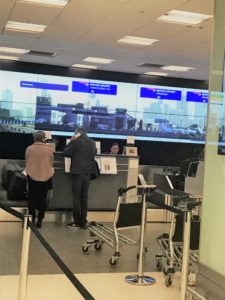 Once I had returned from my lounge reviews, I headed straight to security. This was an absolute breeze, I walked straight up to an empty loading position and was through in a couple of minutes. I then headed to the BA1 gate lounge . As I explained there is no lounge as such at London City, but BA do provide a gate lounge for BA1.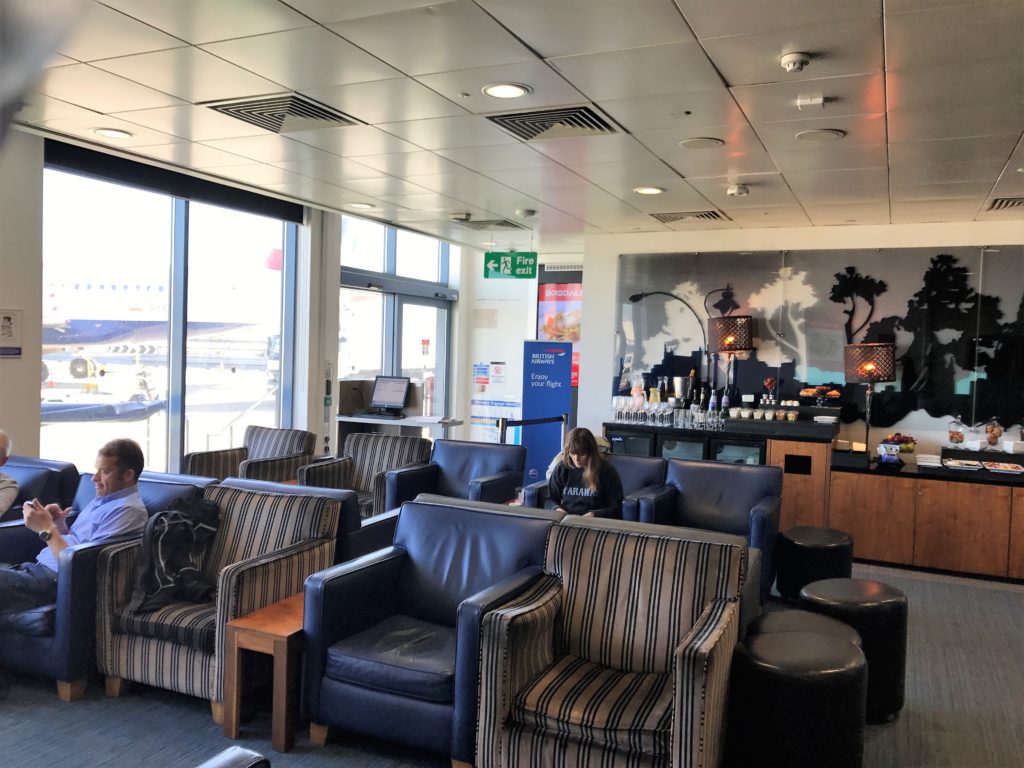 The lounge was fairly quiet as I expected, as it was not showing as a full flight. Despite the fact that it was a small gate lounge, the food and drink selection was pretty good. There was a selection of cold meat and smoked fish, fruit, yoghurt and pastries. Unfortunately most of the meat and fish had gone by the time I got there at around 0850, so it would have been nice to see it topped up. To drink there were smoothies, red and white wine, Castelnau champagne and a Nespresso machine.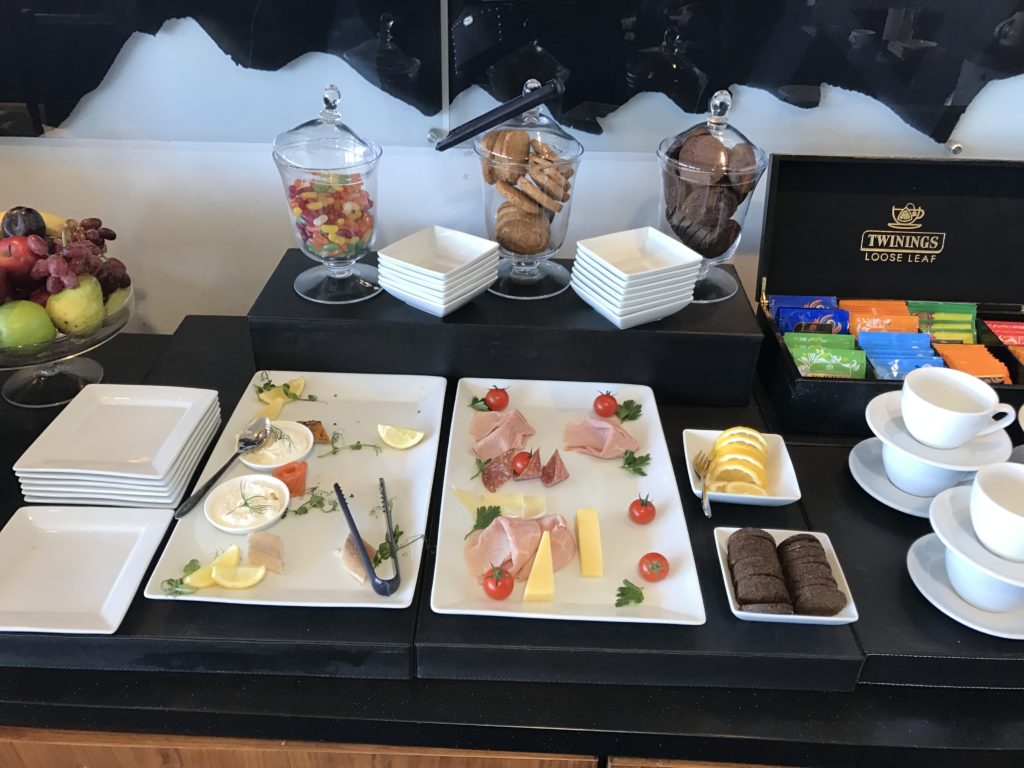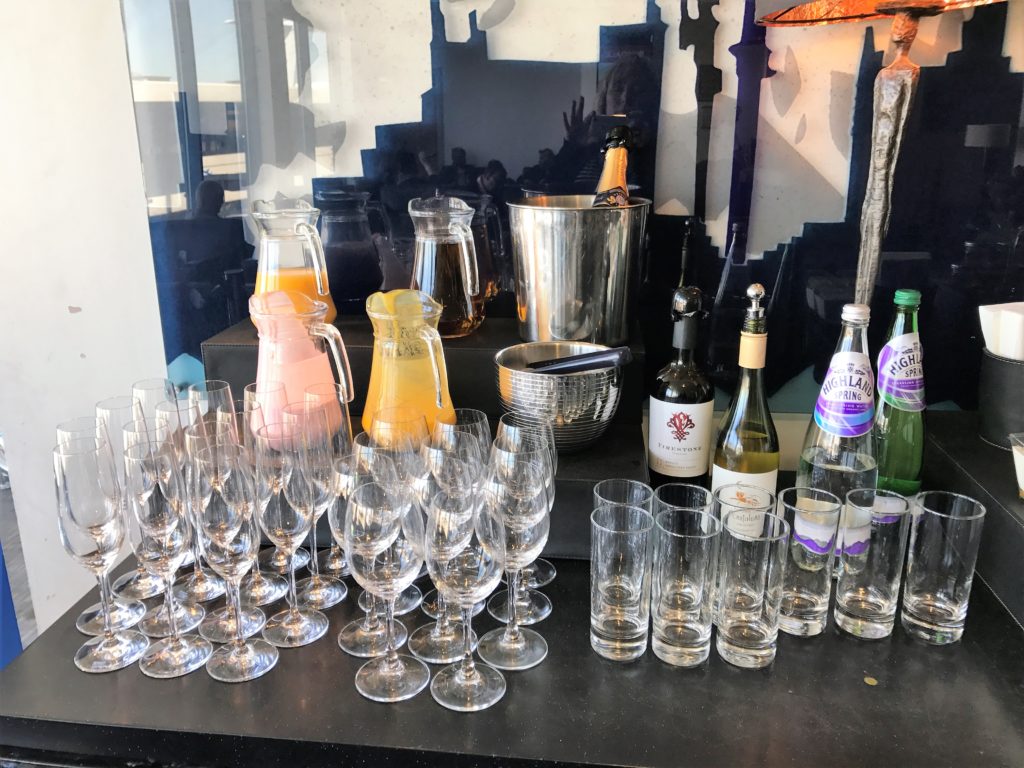 I had been told we would board at 0910 but in fact we were a bit later than that, perhaps due to the light load. We simply walked from the gate straight to the aircraft steps, as it was parked right outside the lounge. London City is definitely a much more relaxing experience than Heathrow! Obviously there was no priority boarding with all Club World and such a small number of passengers.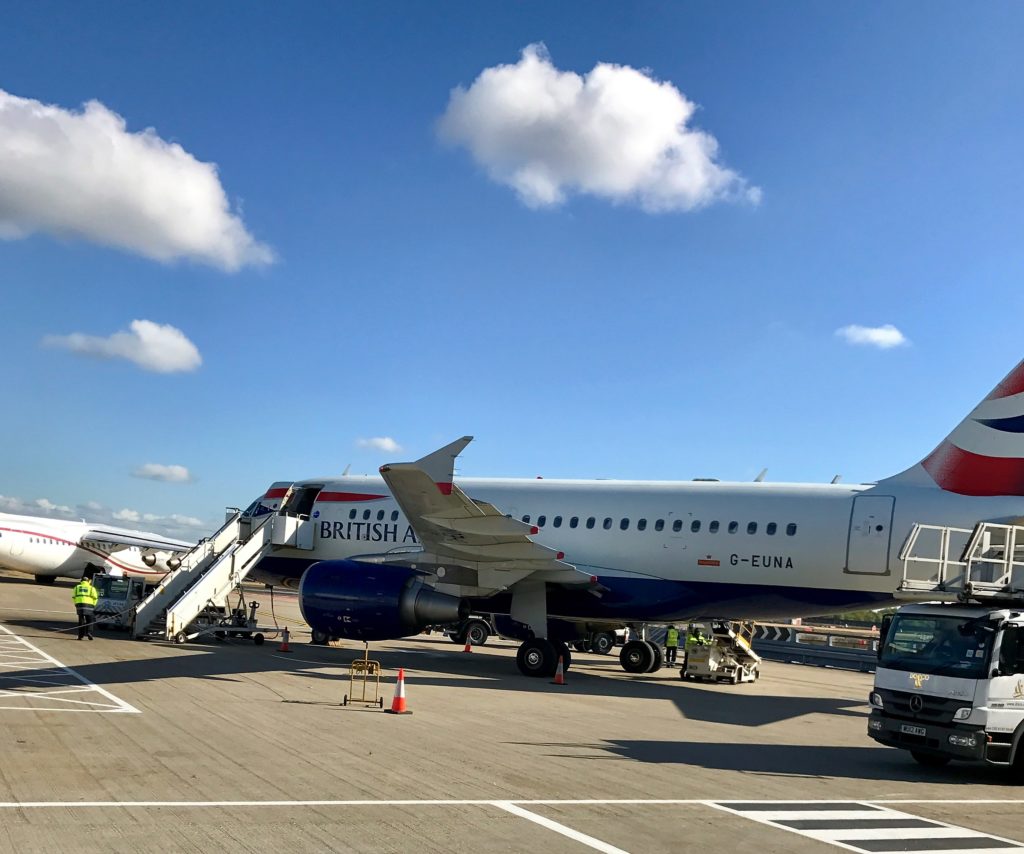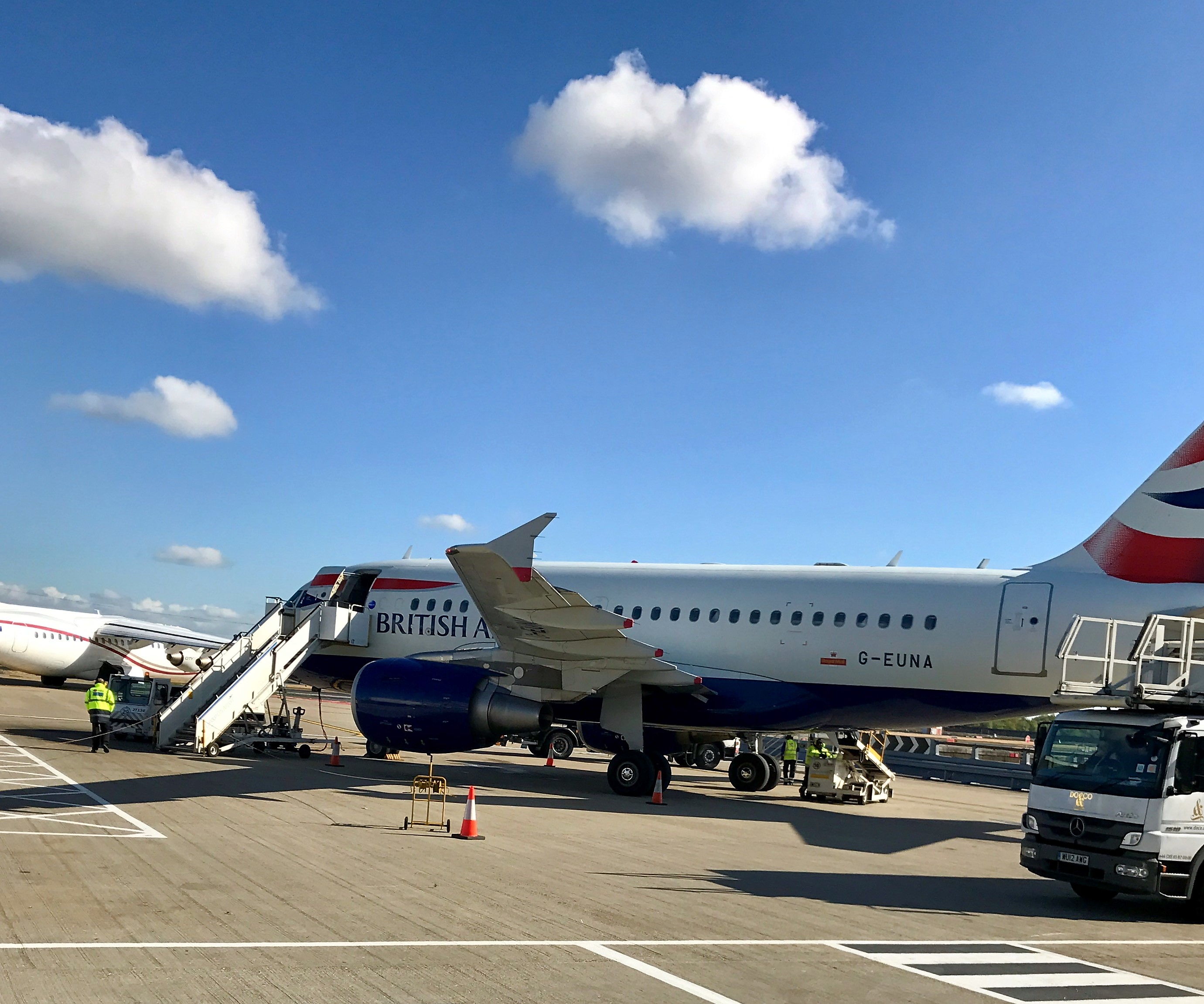 The Seat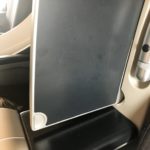 There are 32 flat bed seats arranged in a 2-2 layout. The flight was no more than about half full so I had no one next to me and only one person across the aisle. I chose to sit in 7A to get decent views from the window clear of the wing. This was the second to last row. The seat was very different from the Club World seat. If you were travelling alone and had someone next to you, it definitely would not be as private as the normal Club World seats. It only has a small divider at head level.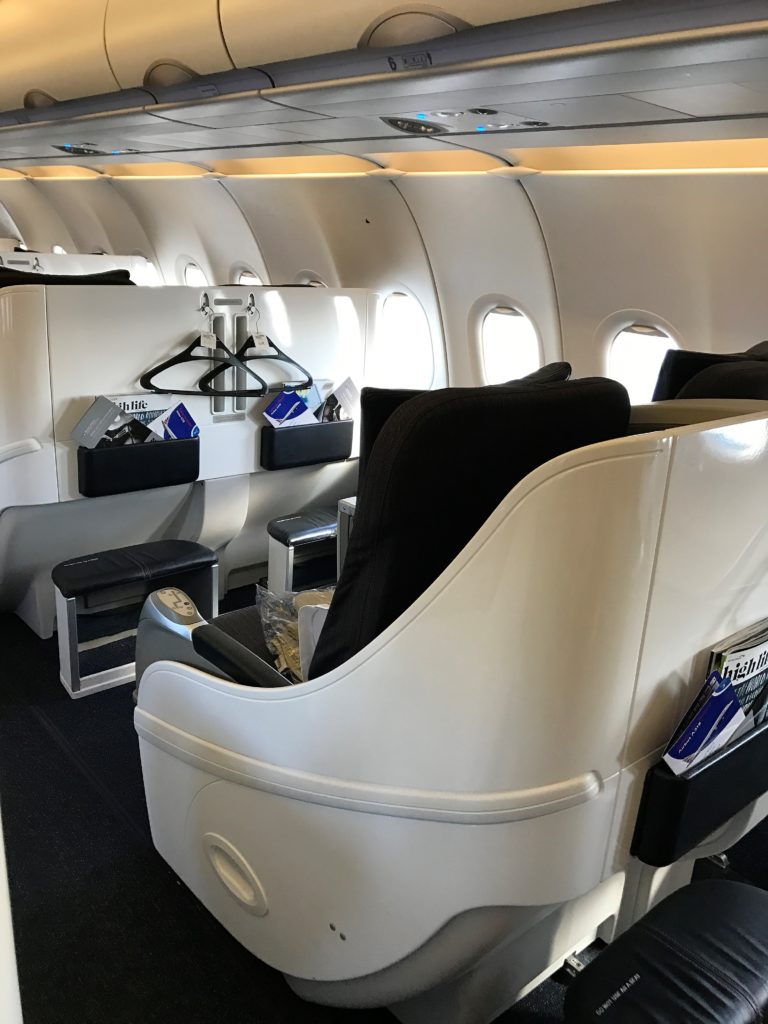 In terms of dimensions, the seat is identical to the normal seat, but for some reason it felt more spacious. There were pluses and minuses in terms of comfort when seated. There was a leg rest that came up to support your legs, but unless you are pretty tall you won't be able to reach the foot rest until almost fully reclined. There was more storage space in this seat for when you were in bed mode, with a cocktail table between the two seats. There was also a small storage area to the side designed for glasses but you could fit a water bottle in there. However it did not have the drawer like normal Club World.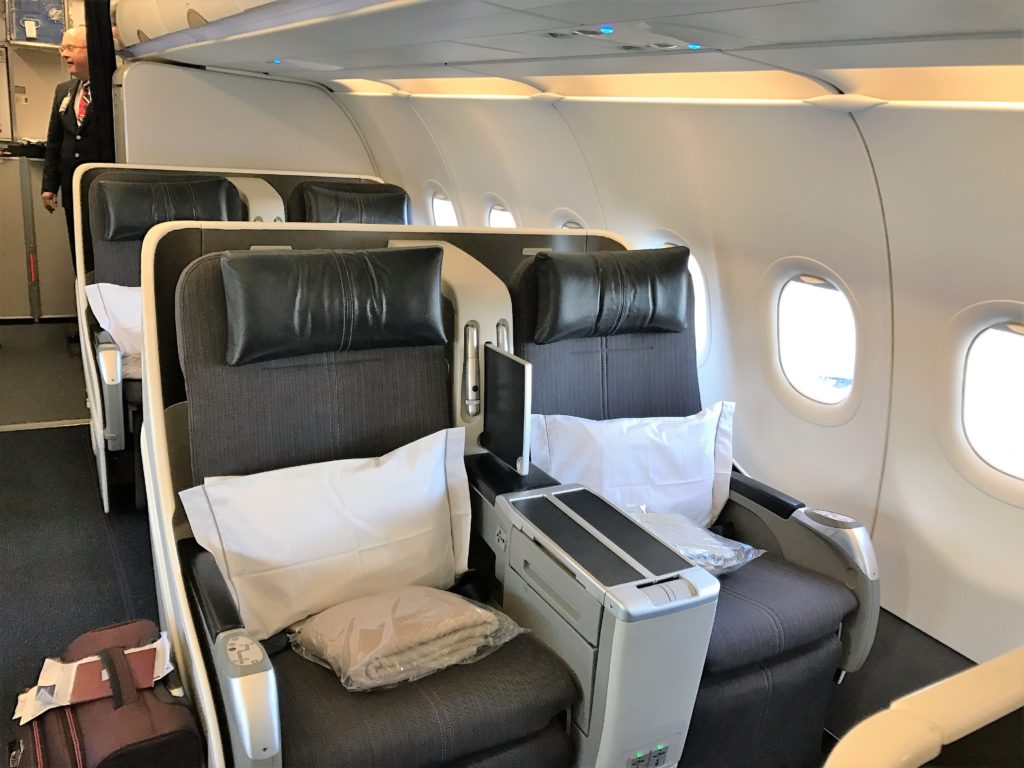 I found the seat more comfortable for sleeping than the usual Club World seat. The bed extends to a 6ft flat bed, connecting with the fixed footrest. I think it was better because the whole seat feels a lot more sturdy and a bit softer too. The pillow provided seemed bigger than the usual Club pillow but the blanket was the same. I slept for a couple of hours after lunch very comfortably, as did most passengers.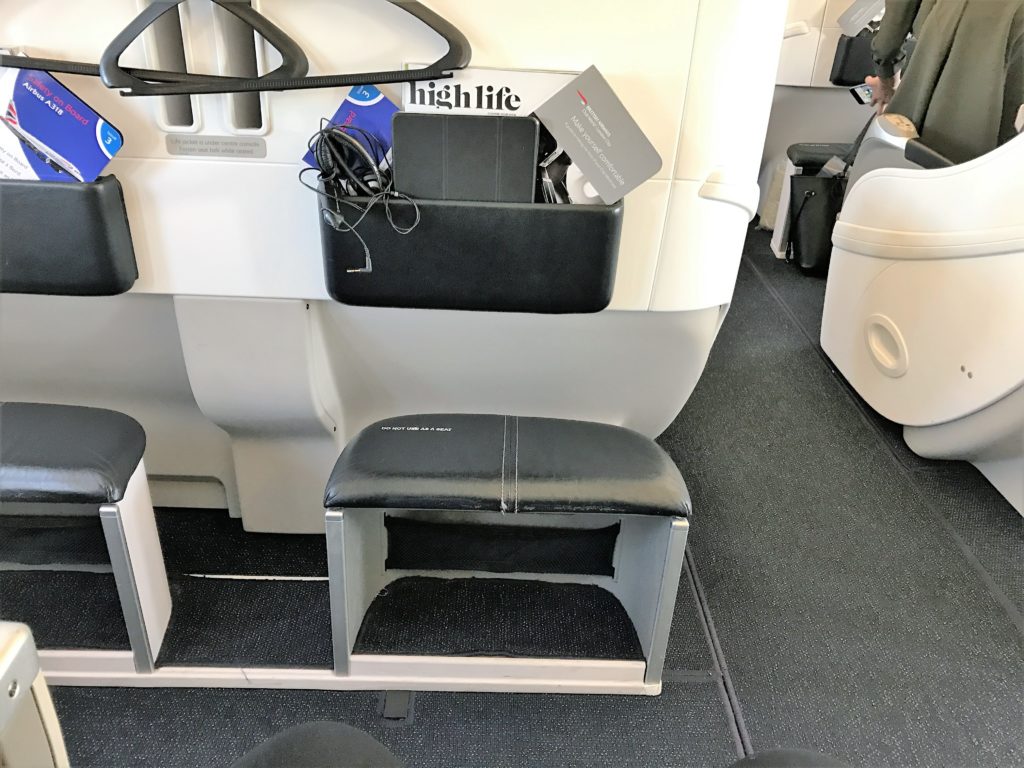 Connectivity and entertainment
There was no Wi-Fi on board but instead you can use your phone or tablet as usual using your own mobile service. Obviously there are charges with your provider for this depending on your roaming charges. I did not bother to test this but it was a useful feature if you wanted it. There was no charge from BA for the service. Voice calls and Voice Over IP services such as Skype and FaceTime are not available, thankfully!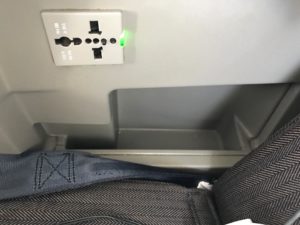 The seat had two personal power points that can accept UK, EU and US plugs without the need for an adaptor. This was really useful to be able to charge my phone whilst working on my laptop.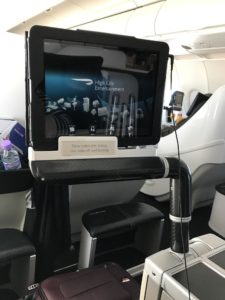 There was no built-in entertainment. Instead iPads were handed round on the flight from Shannon with noise cancelling headphones from Sennheiser. There was a small range of recent films and TV programs but not as extensive as usual. The picture quality wasn't great as the iPad appeared quite old, but it was no worse than BA's normal Club World screen. There was a holder built into the seat that you could raise to make the iPad easier to use. I watched ' A streetcat named Bob' which I would recommend even if you are not a cat lover.
Flight to Shannon and pre clearance
The first part of the flight is more like a Club Europe flight as the main service did not start until after Shannon. There were no welcome drinks, which I thought was a little odd. Menus were given out before take off. Once the seat belt signs were off, hot towels then drinks were offered. It was interesting to see that there were 4 champagnes offered which I thought was probably a little over the top. There was Castelnau Brut, Reserve and Rose plus Henriot Brut.I had a glass of Castelnau Rose which I had not tried before and was OK but nothing special. Two packets of nuts were also given out.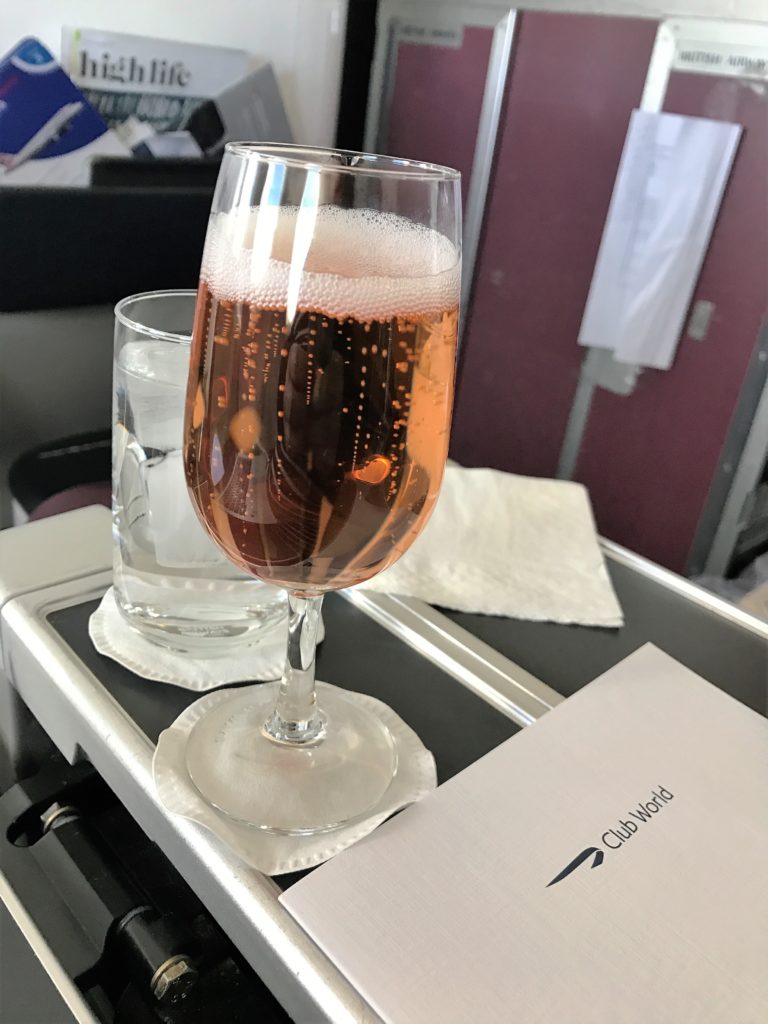 I chatted with the crew who confirmed that they were based at Gatwick and around 100 crew from Gatwick also operated the London City service. There were only 3 staff serving the cabin including the Cabin Service Manager. However with the low numbers of guests this was adequate.
Next the cabin crew took the meal orders both for the starter and also the main course that would served after Shannon.
The menu was:
To start:
Fruit brochette
Vegetarian sushi
Main courses:
Heritage beef with wasabi butter, pommes Ana and baby turnips
Cod on balsamic lentils with parsley potatoes and saffron cream sauce
Caprese Tortellini with tomato and pine nut sauce with rocket
Main course salad of yoghurt and curry marinated warm chicken with miso aubergine.
I chose the vegetarian sushi which was nicely presented but a little bland. Chopsticks were offered which was a nice touch.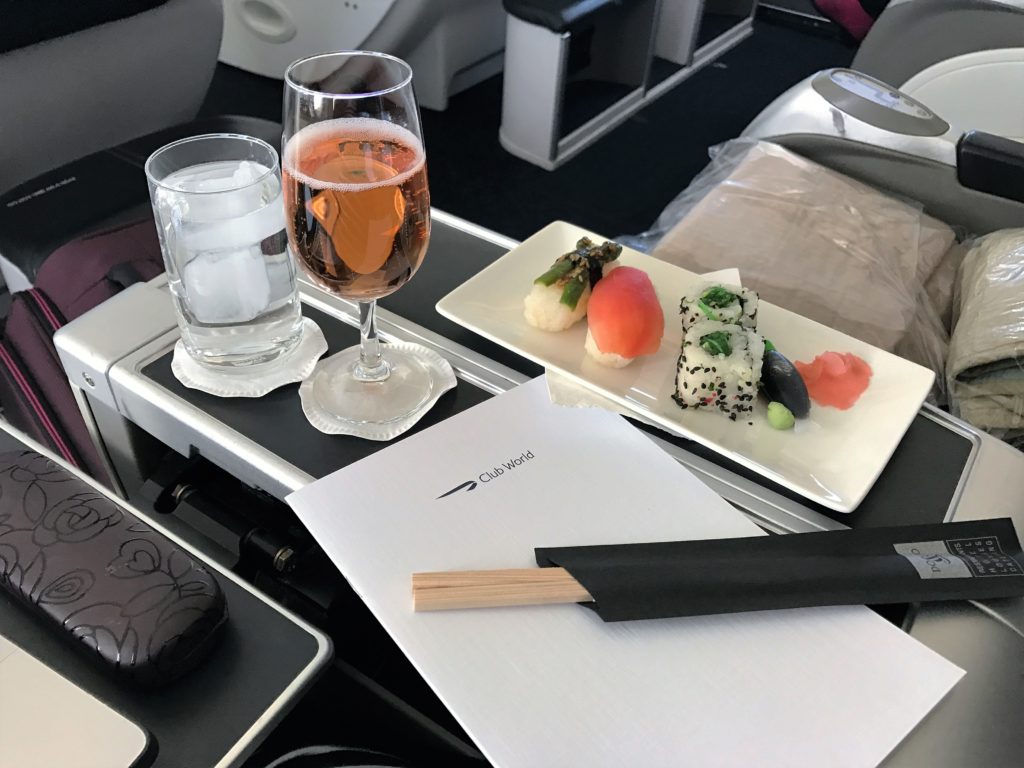 Shortly after finishing the starter it was time to land at Shannon. No entertainment is offered on the first part of the flight.
Once we landed at Shannon we were connected to an air bridge and were soon in the terminal. BA staff were on hand to point us in the direction of US immigration pre-clearance. For me, having preclearance was a big bonus even though it meant landing in Shannon. There was no one in front of me and after the usual finger printing, I was shown a picture of my suitcase. I had to confirm that it was mine and then that was it. No questions were asked and the whole process took about 2 or 3 minutes. We returned to the gate where we had to wait for a while but this turned out to be due to an audit from the Irish Civil Aviation Authority, rather than a normal occurrence.
Flight to New York JFK
Once back on board, the pilot informed us that the flight would take around 6 hour 50 minutes to JFK. Prior to the main course, another round of drinks were offered and bottles of water handed out. Again I stuck with the rose champagne. The trays were then given out with the usual salad and I was asked what I wanted to drink with my meal. I decided to try the Malbec which caused some confusion as the cabin crew member had been telling everyone it was Rioja! As you can see they were pretty generous with their measures.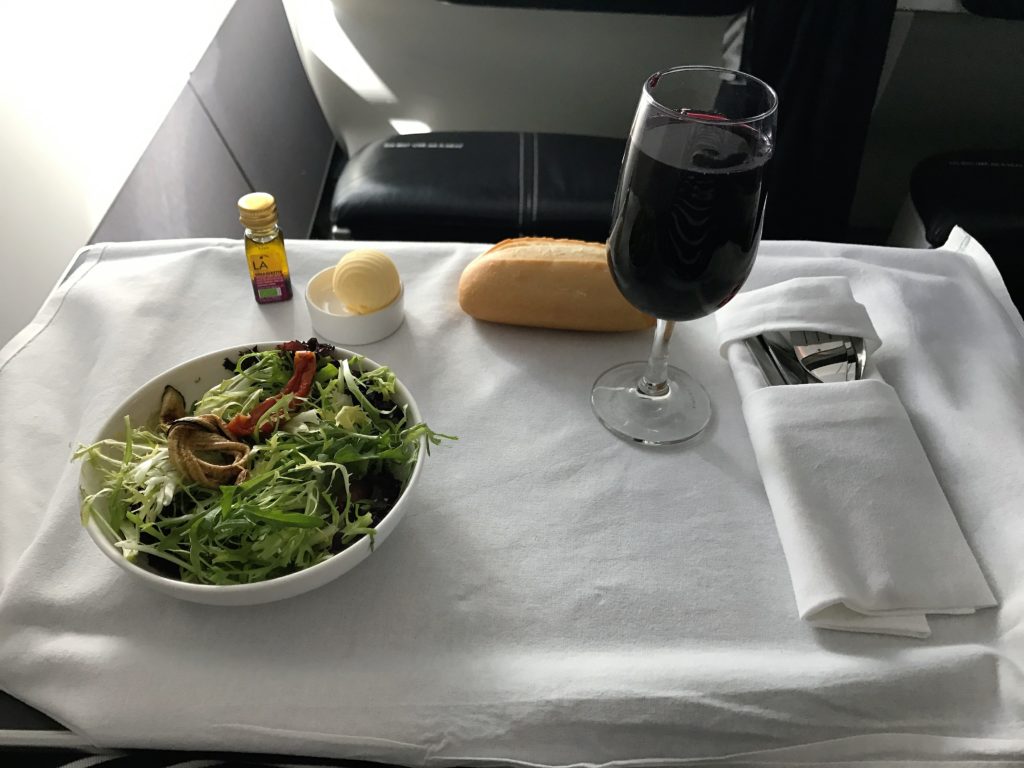 The other wine options were an Albarino, Kendall Jackson Chardonnay and another red from Catalunya which was a blend of Grenache and Syrah.
I had asked for my steak to be cooked a bit less than usual and the crew tried their best. The CSM did send his apologies that he had tried but not been very successful as the steak comes partially cooked already. Despite this, it was actually very tasty, if a little well done. The steak was still tender and I really liked the wasabi butter which had just the right amount of kick to it. I shall be trying that at home with steak!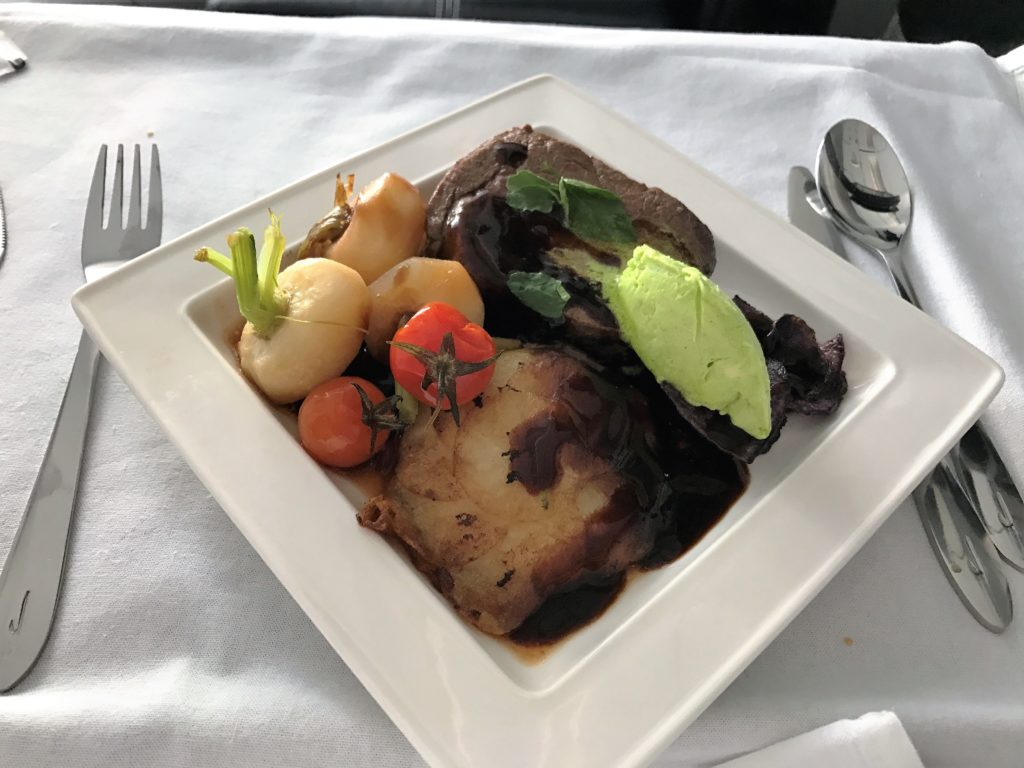 As the portion was fairly small  I decided to have dessert which was a sticky toffee pudding. It was fairly light and not too sweet. The other choices were the usual cheese or fresh fruit.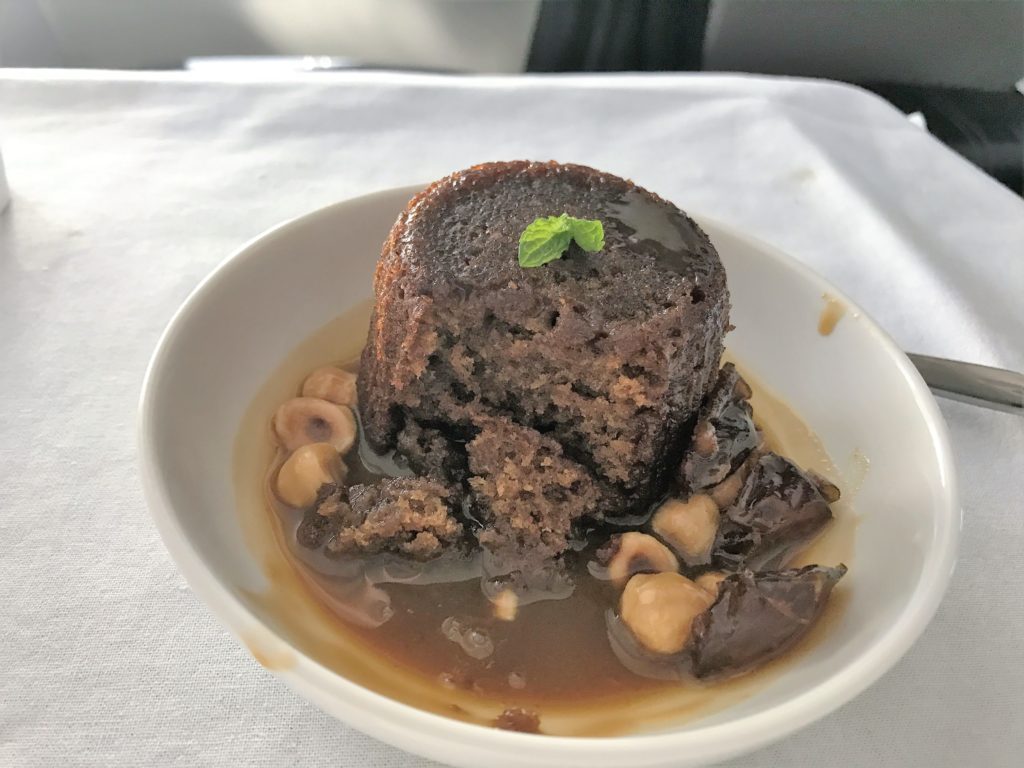 A small box containing 2 chocolates was also given out.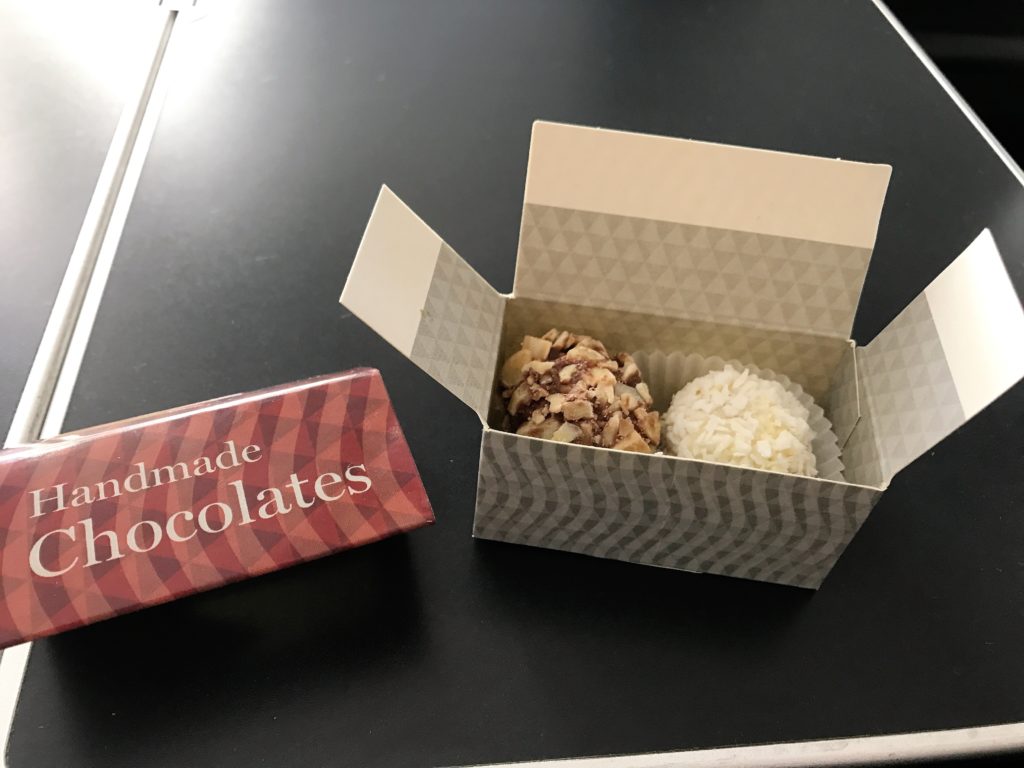 The weather was very clear on the flight and we enjoyed some spectacular views as we flew over Greenland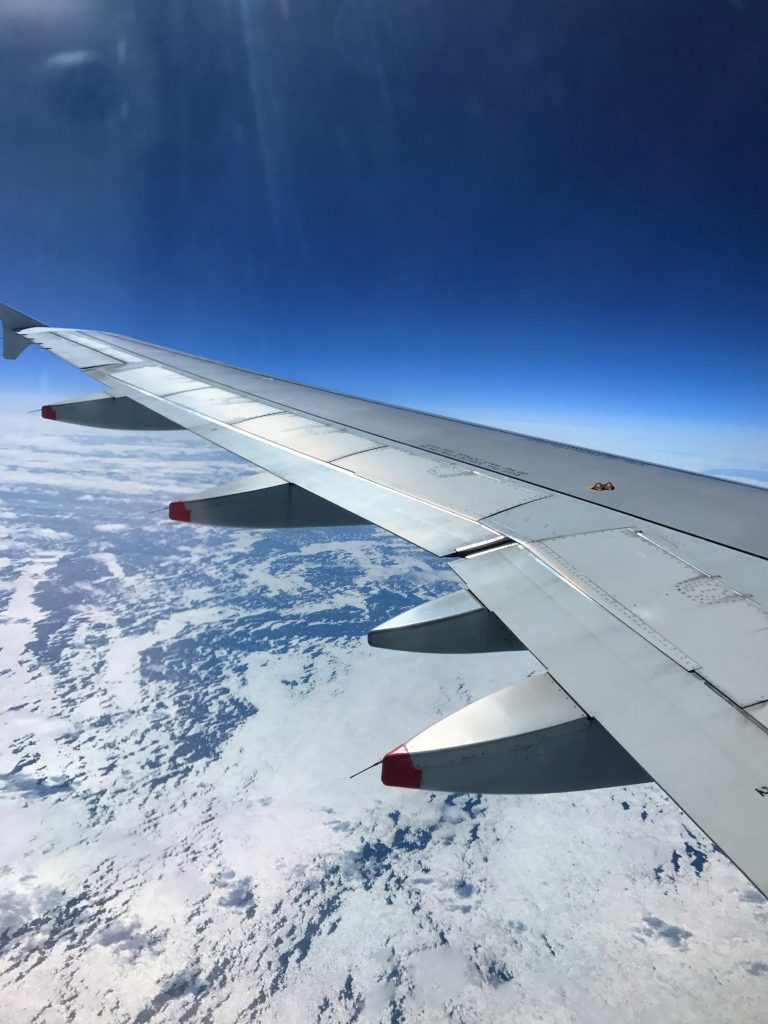 About 90 minutes before landing, afternoon tea was offered. They had run out of the antipasti plate so I had the rather bland sandwiches and a scone. I always enjoy the BA scones, but I know not everyone is a fan of the afternoon tea. You could also have a selection of cakes if you wanted, but I was still full from lunch.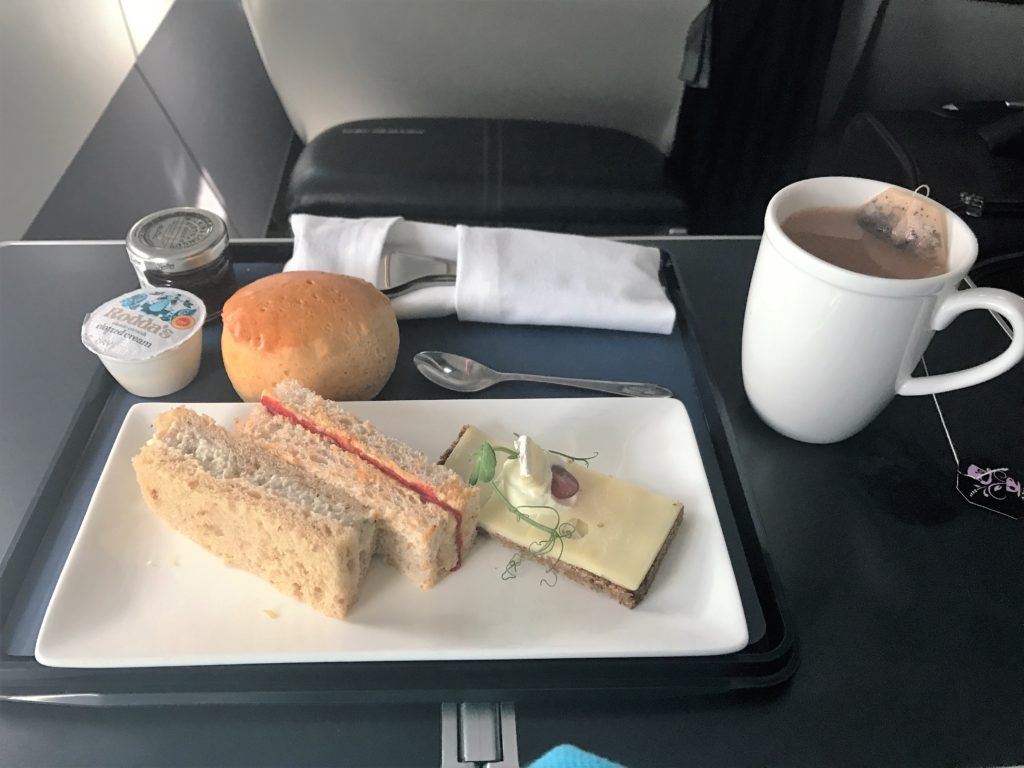 Once we landed about 20 minutes ahead of schedule, it took a few minutes to get on the stand. I disembarked and then proceeded as a domestic passenger. I waited no more than a couple of minutes for my suitcase to arrive. Within 10 minutes from getting to the gate, I was in my car heading away from the airport.
Conclusion
Although the service is only marginally better than Club World, I really enjoyed my BA1 flight. It certainly felt very exclusive and as close to a private jet as I will probably ever get. The extra time taken to get to New York was worth it to have such a hassle free immigration process and quick exit from JFK. I would certainly consider this service again when going to JFK.
There is more information on the service on BA's website here.