I am currently on an ex EU to New York, trying out the BA1 service from London City. My positioning flight flew from Heathrow to Dublin and then I started my trip with Dublin to London City in Club Europe. I had factored in an overnight stay in London City at the new Hampton by Hilton, as the connection flight the same day was too tight for my liking. This is a review of the flight from Dublin to London City.
I had arrived on British Airways and had no luggage, so I didn't need to check in again for the flight to London City. Dublin Airport is not my favourite place to fly out of on British Airways, as the terminal is a bit dated and the lounge is not great either. It's a shame I spend so much time there on ex EUs! One alternative is to use Aer Lingus as they use the newer terminal, but I can't say I was that impressed with their low budget model.
The lounge
BA uses the DAA Executive lounge which is very much a 'bog standard' 3rd party lounge. When I arrived late afternoon on Monday it was very crowded and I struggled to find somewhere to sit. I found space in the business centre area which consists of a long desk with some PCs and some empty spaces to use your own laptop. There were plenty of power points here, but I struggled to find one elsewhere in the lounge.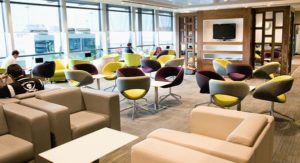 The choice of food was OK, but I was a bit concerned that the sandwiches were not refrigerated or covered in any way, so I gave them a miss. They had a selection of vegetarian and non-vegetarian sandwiches, crisps and cheese. Being afternoon, there was also a selection of cakes including flapjacks, brownies and lemon drizzle cake. They had a few alcoholic drinks with non-premium brands of gin, vodka etc., red and white wine (which was drinkable) and beer. If you weren't that bothered about working or power points, I think there are nicer places to sit in the terminal, as it was very noisy in the lounge.
Seats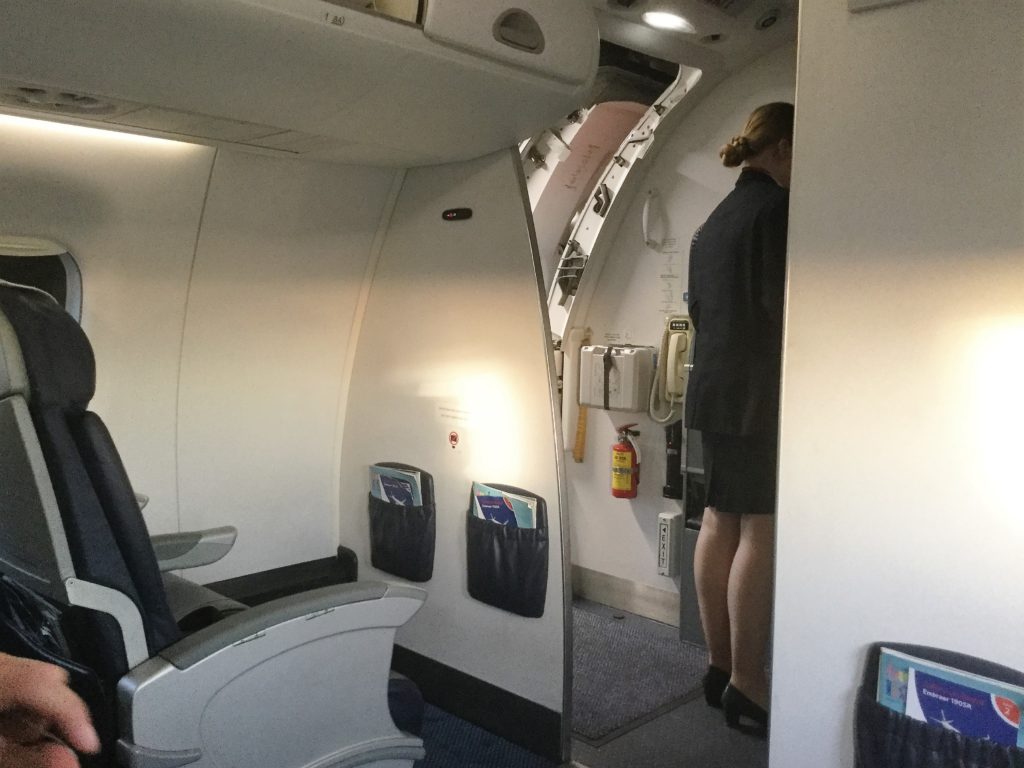 The flight boarded a few minutes late, but seeing as it was a light load, we took off and landed pretty much on time. I had seat 2D which has to be one of the best Club Europe seats in the BA fleet in terms of leg room. There was no way I could have got anywhere close to the bulkhead with my feet, even if I was 6 foot 6"! Unfortunately, someone had managed to book themselves next to me despite the other bulkhead being empty. I can never understand why people do this, or perhaps they just don't look?  With BA's new system, Fly, Gold Executive club members are meant to have the seat next to them blocked if the flight isn't full. So far this has never worked for me but my Roving Reporter has had a 100% success rate.
If you can't get the front row, the other seats have 30 seat pitch and are 18 wide. The 18″ felt quite roomy and indeed, it is up to an inch wider than some other BA short haul aircraft.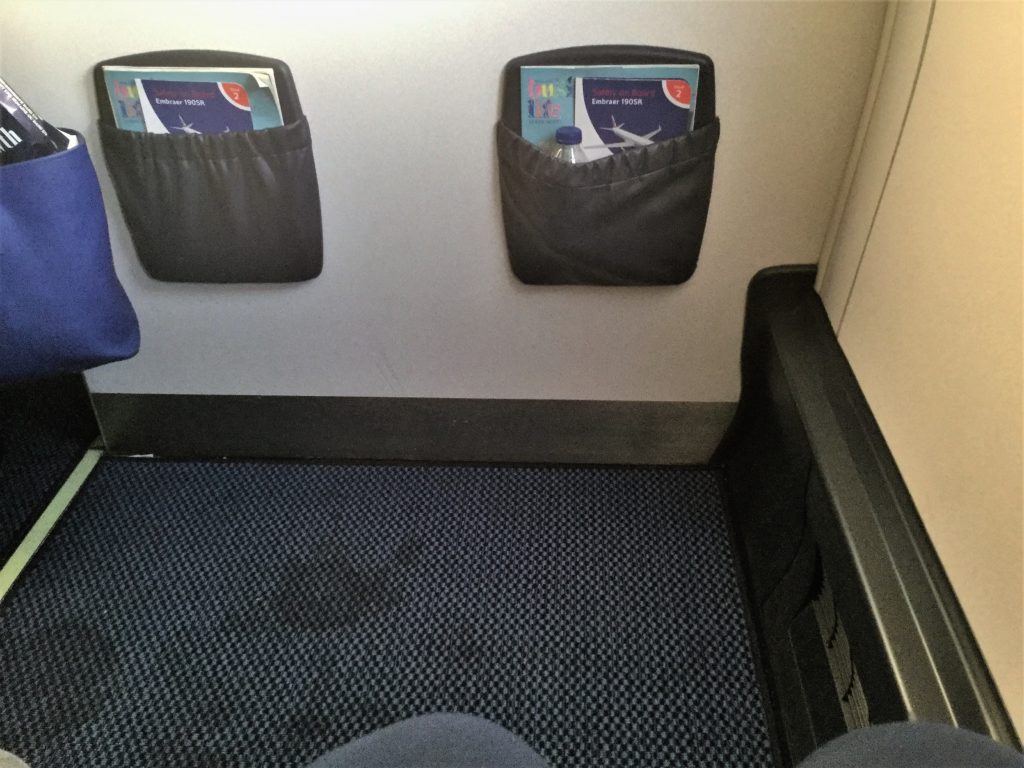 Row 1 is shown as being an amber seat on Seatguru but in fact it had plenty of leg room and if 2C and D were full, this would be my next choice. The only real disadvantage of Club Europe on these aircraft is the fact that the layout is 2-2, which means you may have someone next to you.
In-flight service
I was impressed with the cabin crew on this flight. They were attentive, friendly and checked back whether I needed anything several times. Prior to take off we were handed menus. I was slightly surprised to get one on such a short flight, but it is a nice touch. Previously, it has sometimes been a bit of a mystery as to what you were getting, thanks to the crew's rather brief descriptions of the food. There was a choice of: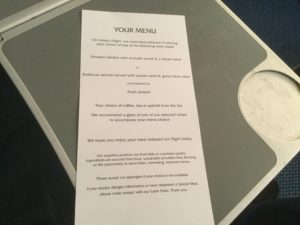 barbecue salmon with potato salad, green bean salad or
Smoked chicken with avocado puree and mixed salad.
"Dessert"
Shortly after take-off they came round with the usual hot rags, I mean towels!
As it was a short flight, there was no bar service before dinner. This was a 'short' route but being London City, the food was slightly different to a normal Club Europe route. As per usual short routes, there were no large bottles of champagne or wine but that was fine. I had the usual Castelnau champagne as the gin still appeared to be Gordon's (Tanqueray is due to be available on Club Europe when they sort out the supply issues). The wines served in Club Europe are economy wines generally in plastic bottles, so I normally give them a miss. If you are not too fussy about wine, most of them are drinkable.
The salad arrived and was bigger than I expected from the recent photos of Club Europe salads. I really enjoyed my meal overall. The salmon was packed full of flavour without the barbecue sauce taking. The accompaniments were tasty as well, although I would have liked some dressing for the bean salad. There was bread already on the tray which I would guess at being sun-dried tomato. It tasted a little stale, probably due to being refrigerated on the tray. I would have preferred the usual bread basket but it wasn't a major problem as it was fine with a bit of butter.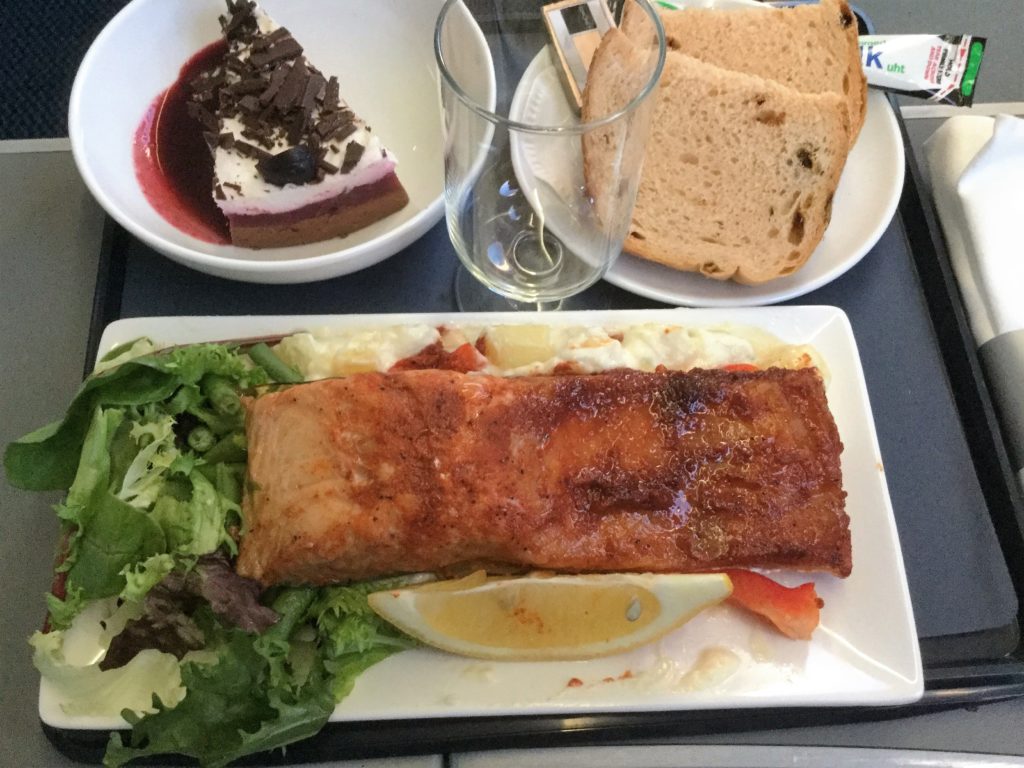 The "dessert" turned out to be black forest cake, which despite being rather 1970s, I actually really enjoyed. It was quite light and came with a cherry coulis. The crew then disappeared to help down the back but asked if they could get anything else before they went. They also asked again as they cleared in the trays. I was impressed that my fellow passenger managed to sink another bottle of champagne in the 15 minutes before landing!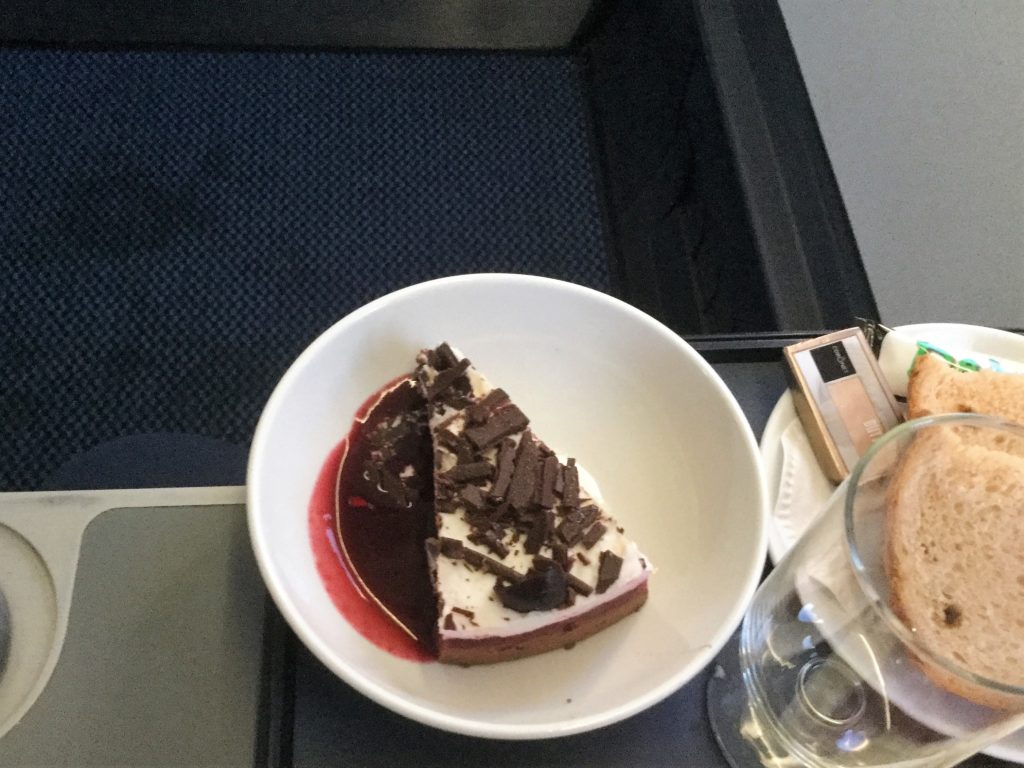 I had no luggage, thanks to Airportr which you can read about here. Once we had landed, I was out of the airport and in a taxi less than 10 minutes from touchdown which you couldn't say ever happens at Heathrow!
Conclusion
For a short flight I was pretty impressed, as I only just had time to eat the meal. The London City flights are quite often cheaper than Heathrow, so if it suited me I would definitely consider London City again. London City is great airport to fly into or from due to the small size. This trip could also be worth considering as a way to get extra Avios at a reasonable price with a return trip netting you 80 Avios in Club Europe.
You can read about my BA1 experience later this week.