This is a review of both the Bournemouth Hilton and Marriott hotels from our regular contributor, Gus.
A good old-fashioned Hilton-Marriott 'suite-off' in sunny Bournemouth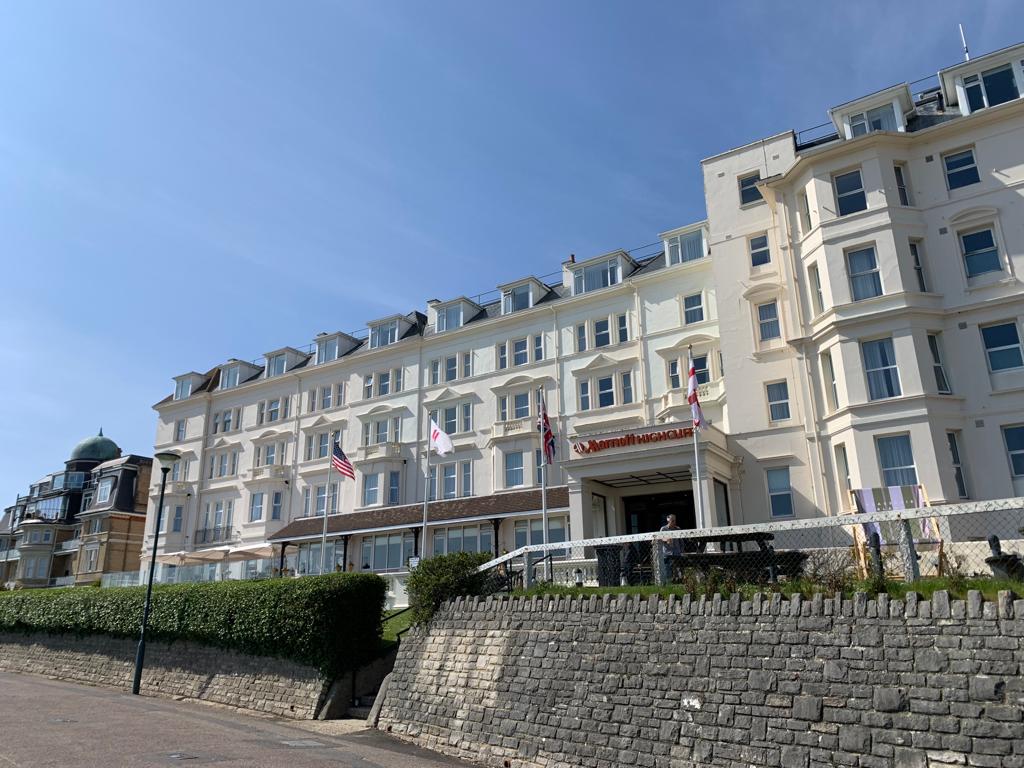 It doesn't happen that often, but I recently had cause to visit Bournemouth twice in as many weeks, so I arranged to stay at both the Hilton and the Marriott to make a comparison. As a gold member of both, I find that I often have to toss up which to stay in, so I'm hoping this review will resonate with others out there who also have moments of indecisiveness!
Thanks to being able to book fairly early and being off-season – and thanks to having an AmEx moneyback offer on one of the stays – I decided to splurge more than I normally would and secure a suite in both hotels. Each suite costs north of £275, but entry-level rooms come in at a very reasonable £75-110 per night (or in the case of the Hilton sister hotel, the Hampton – more on that later – £80 upwards).
More different than they are alike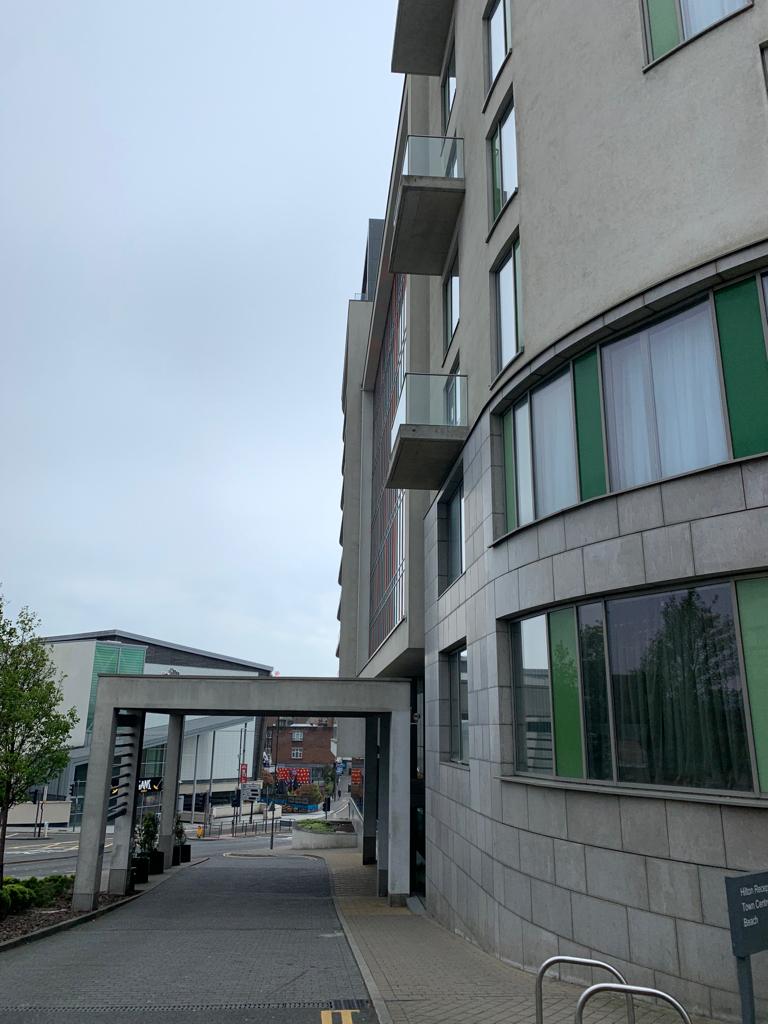 Spoiler alert; both hotels were actually really great in their own way. And they were surprisingly different. I went in thinking that they were going to be vying for the same customers and out-gunning one another in the rooms and amenities on offer etc., but my experience suggested that they knew they were cosying up to one another geographically, so they seemed to go out of their way to 'feel' different enough from one another to appeal to different crowds.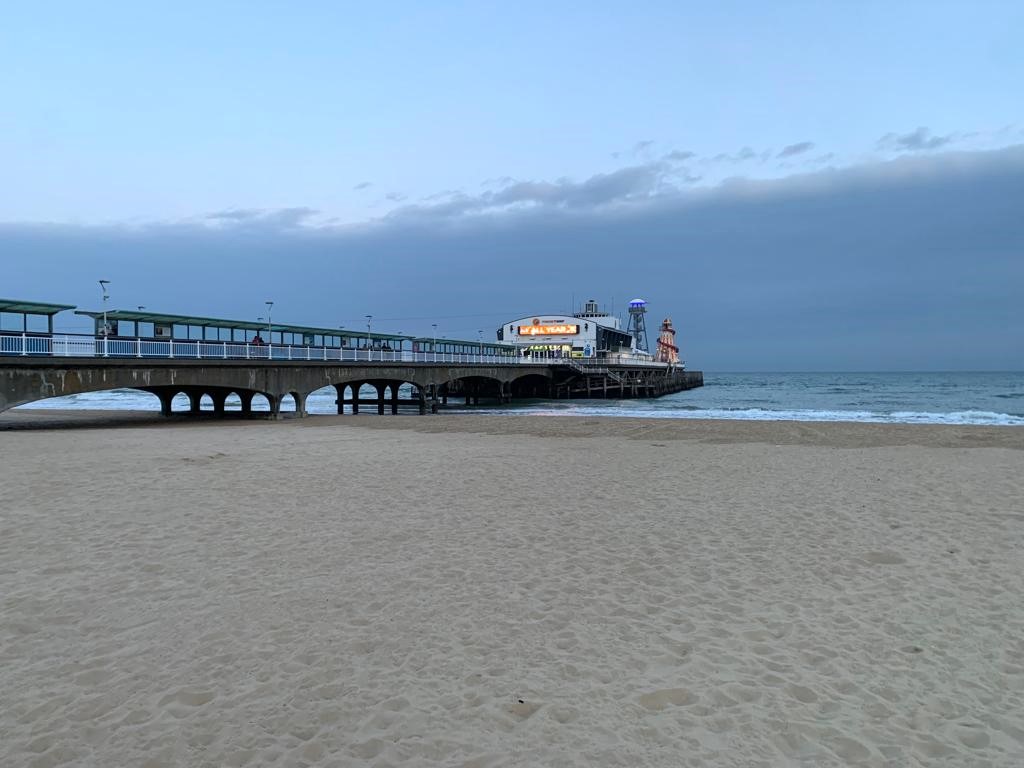 My first stay was at the Bournemouth Hilton. It's set back from the beautiful beach and sea a few hundred yards (meaning a 5 minute walk down or up a hill depending on your direction), and the building is quite imposing and slick looking. There's a garage for guests (£13 a day, I think slightly less than the general public cost) underneath the Hampton, which is literally the building next door.
Check-in at Hilton Bournemouth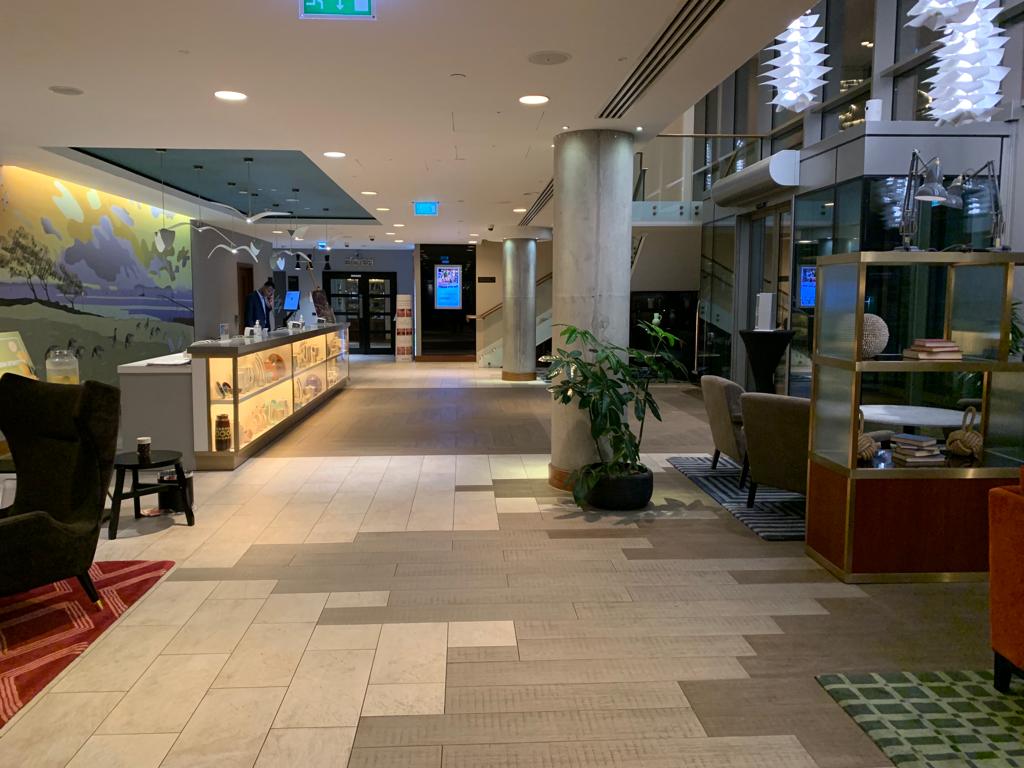 I arrived early, so reception was very quiet. Having said that, the agent who checked me in was pretty robotic, and it wasn't a warm encounter. I needed to work, so I asked whether guests in suites had access to a lounge. Interestingly, she said they did have a lounge, but it was hired out for a few hours, so I made myself comfortable in the general bar area. It's also worth saying that I seemed to do something right, as despite being a lowly gold, later on, I was given a card to allow me to access the lounge that evening as a one-off. This was a nice gesture, as it turns out that normally the lounge is 'for Diamonds only' (which explains the lack of information about a lounge on the website).
Food at Bournemouth Hilton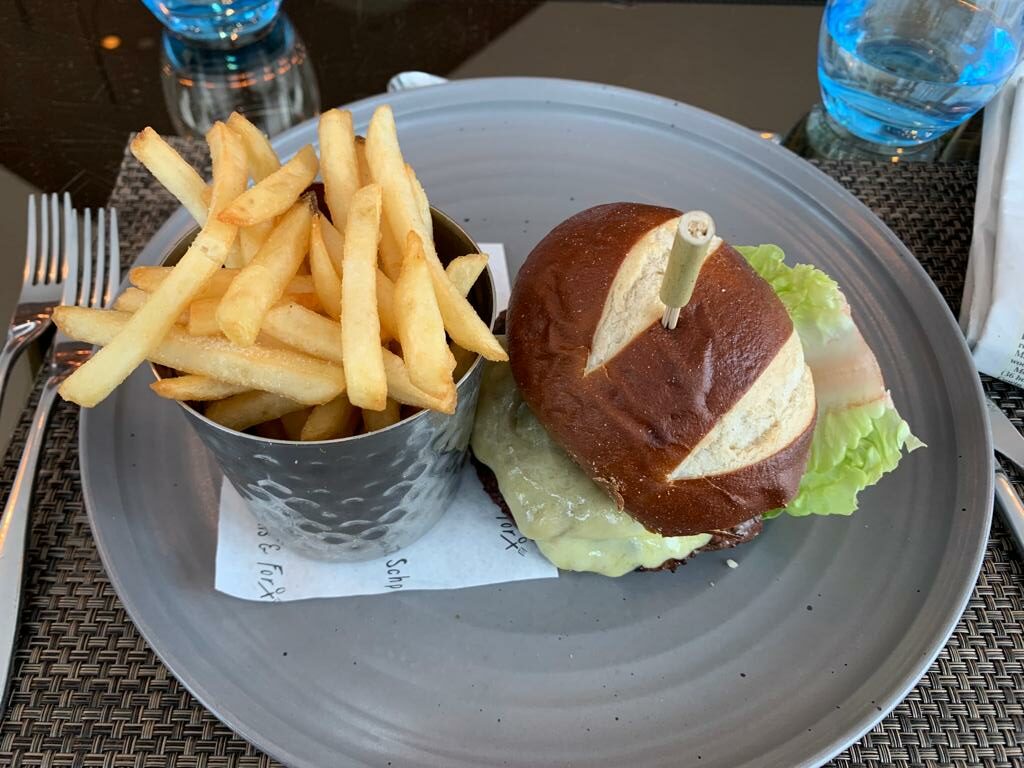 Before settling into my Bournemouth Hilton room, I had lunch in the ground floor restaurant 'Schpoons & Forx'. I had the house burger, which was fairly standard but tasty and filling nonetheless. Service was a hit when it was quiet but became more of a miss when a couple of corporate groups emerged from whichever conference they'd been in and flooded in for their buffet.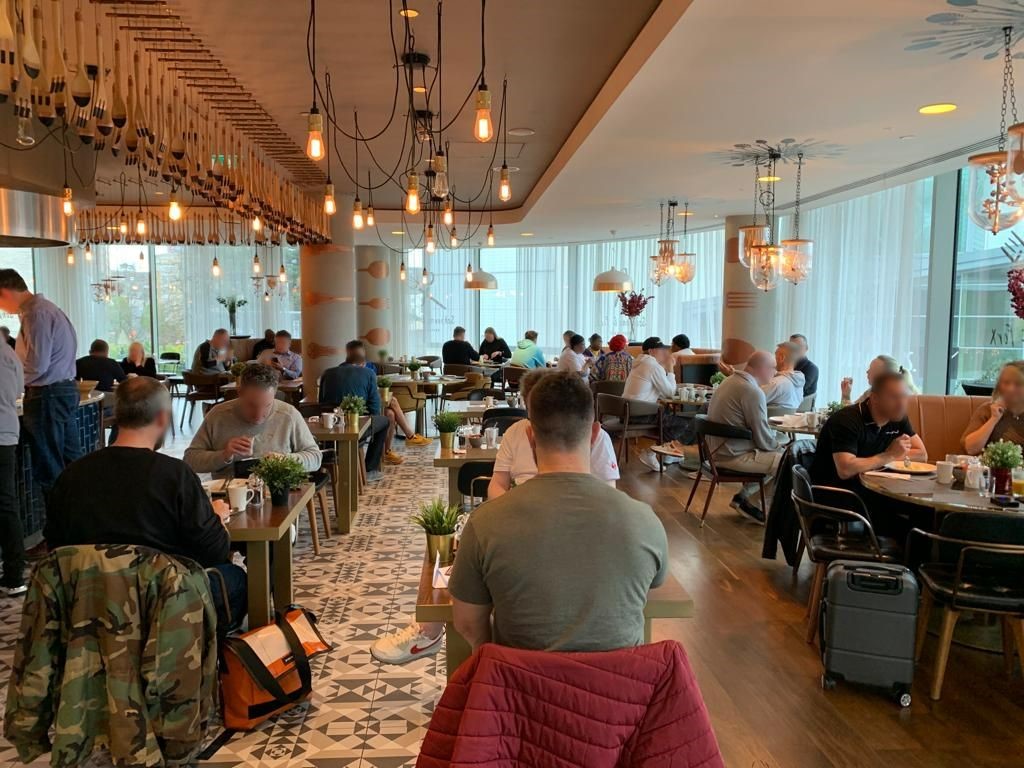 While on the theme of food, I should report that breakfast was in the same place (though they do have a rooftop bar that wasn't open when I was on site), and that it was exactly as you'd expect and perfectly fine No special touches, but for the business guests and couples there, that wasn't really expected.
Hilton Bournemouth Watery relaxation (away from the sea)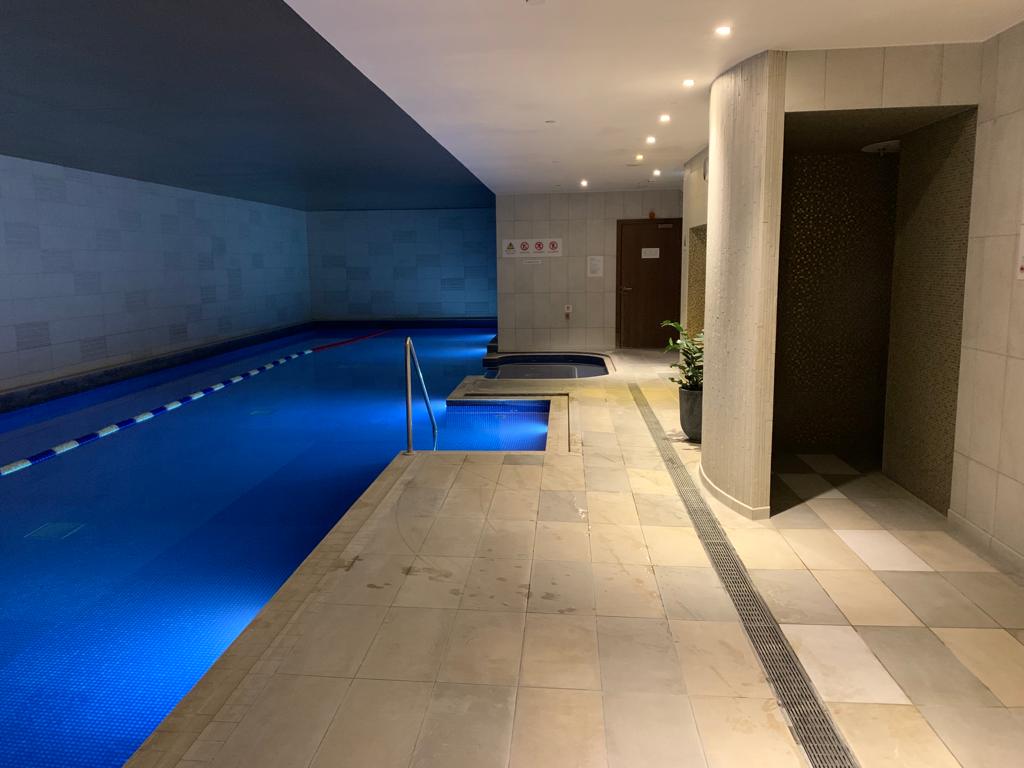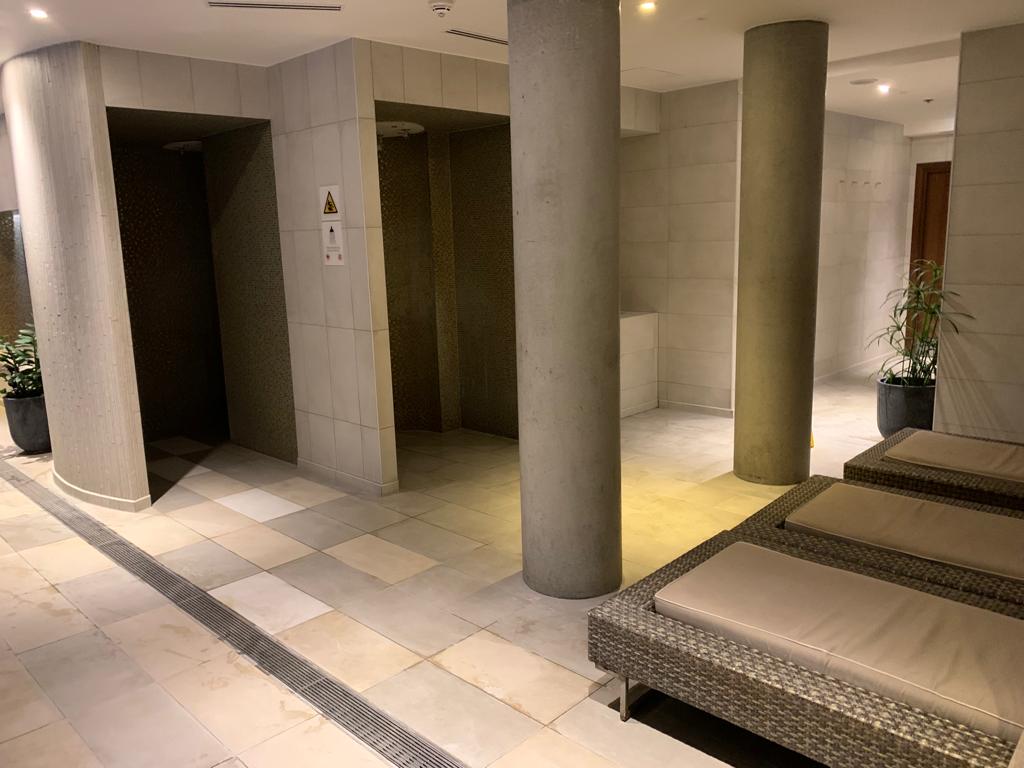 I will get on to the room, but before I do, I should say that the thing which did help to stick the hotel in the memory was its basement pool and spa. It wasn't at all a big space, but the design and layout of the pool itself were very smart and relaxing, with an in-built jacuzzi, steam room and sauna. Actually, if anything, it reminded me of the Hilton Bankside underground pool, as opposed to the Hilton Deansgate/Manchester 'floating' pool.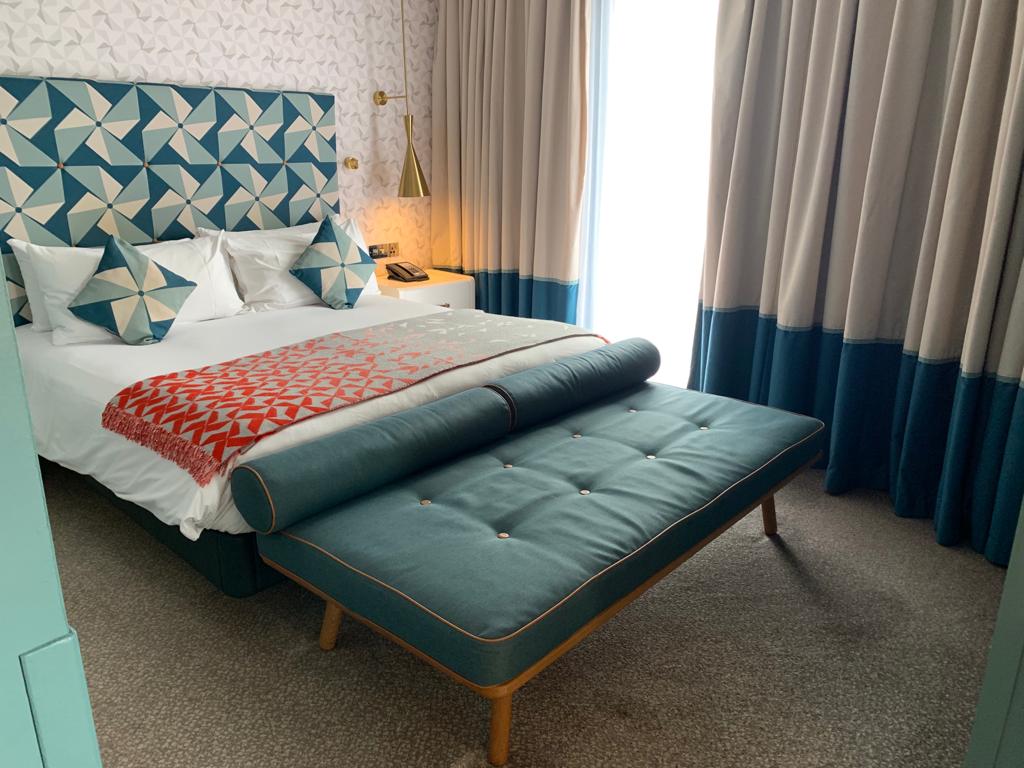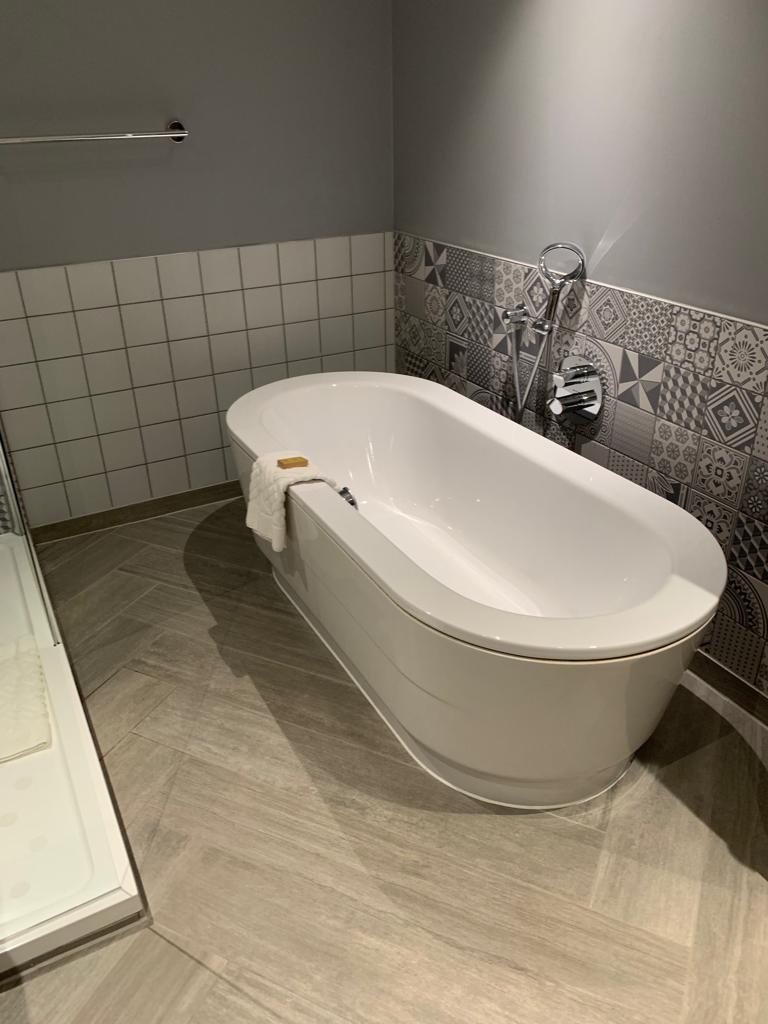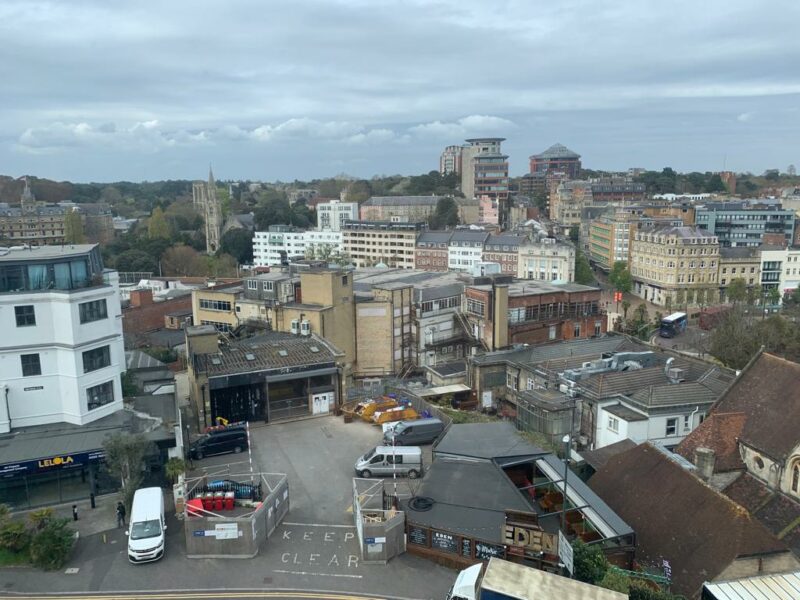 So, on to the Bournemouth Hilton room. Well, the suite. It was really well appointed, with a generous lounge area and a killer bathtub (am always a sucker for a standalone tub…). The regular toiletries and robes etc. were all present and correct. The bed was large, comfortable and well-positioned.
The downer was that due to the general architecture of the building, the window sizes were pretty limited, and if anything, it felt a touch claustrophobic.
Hilton Bournemouth Diamond mini-lounge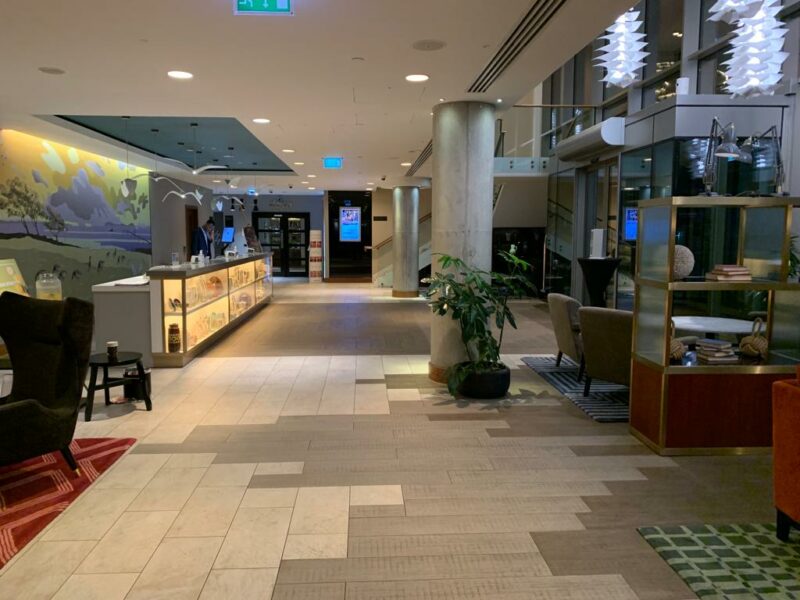 For the Bournemouth Hilton, I should also describe my foray into the lounge. As mentioned, it's for Diamonds only and was very small – with space probably only for around 10 people. There was a staff member at a small desk inside, taking guests' room numbers and clearing them up from time to time. I was there when they had snacks and booze out, so I did sample it, and it was nicely prepared. But the atmosphere itself (despite the presence of some subdued US pilots discussing various trips they'd done) was a little too quiet and static, so I didn't hang around too long.
The final thing to mention was the fact that one of the two main lifts was out of order for the duration of my stay. I'd read about this in another online review from a few weeks back, so it seems to have been an issue for a while. This meant that most waits for a lift were about 4 or 5 minutes. I know this isn't the end of the world, but little things like this make a difference, especially if you're on one of the high floors and in a hurry!
Stays on points start from 27,000 for an entry level room per night.
You can check prices and availability for the Hilton Bournemouth here.
Moving on to the competition… Bournemouth Marriott Highcliff Hotel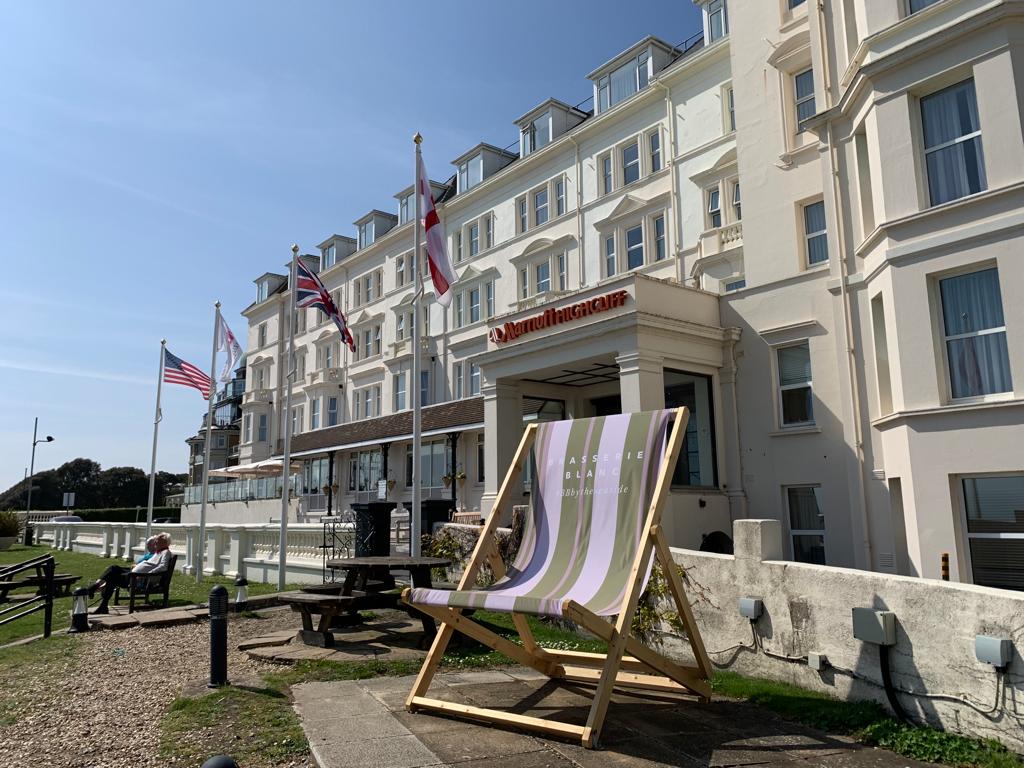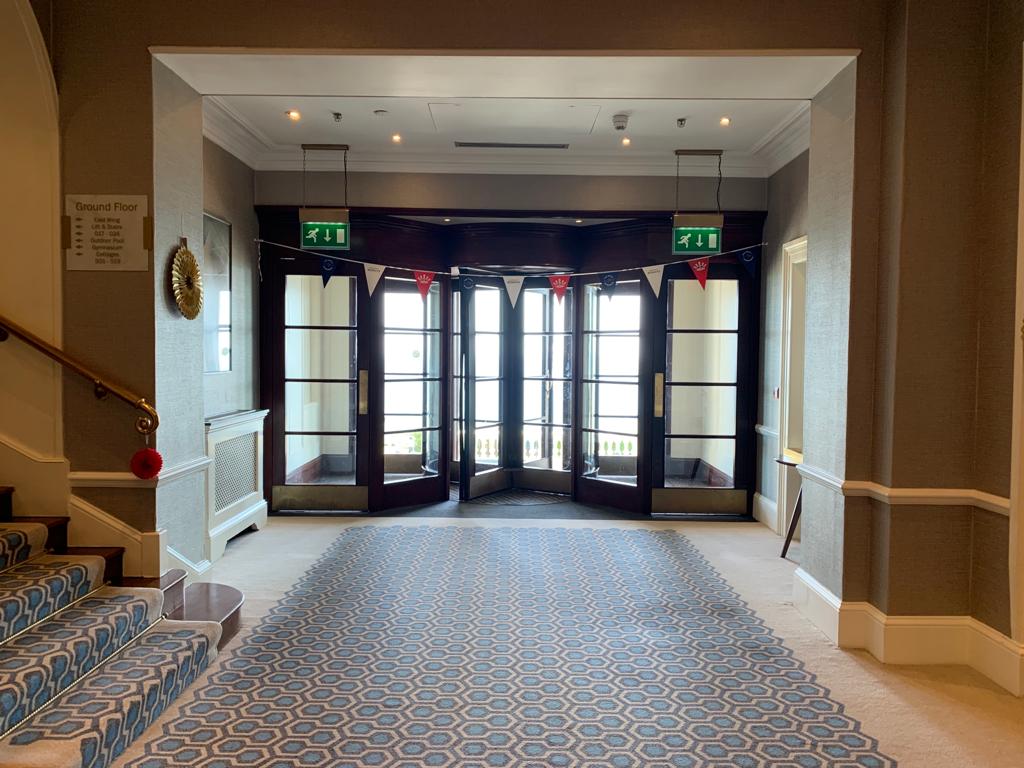 A mere 3 min drive or 9 min walk away from the Bournemouth Hilton is the Bournemouth Marriott. Or the Marriott Highcliffe, to give it its full name. And you can tell why this matters; it is a much older but imposing and attractive building, sat right on top of a cliff overlooking the sparking sea.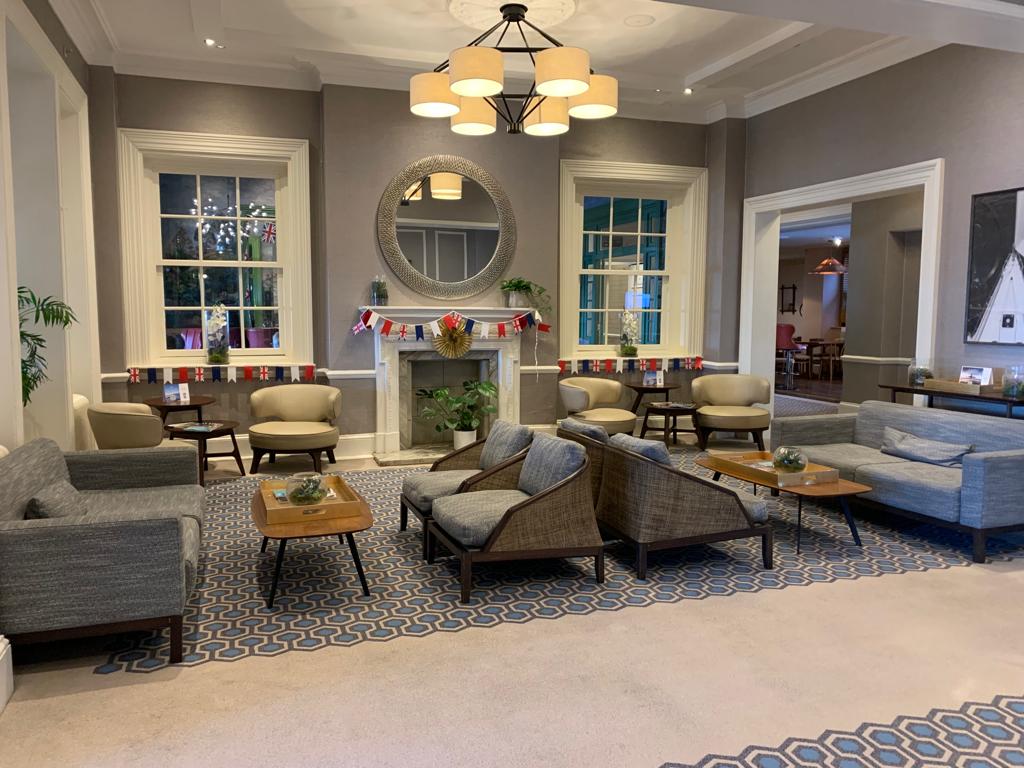 While the building walls (and even the Marriott sign itself) outside looked blanched from the sunshine that I enjoyed on my trip, and no doubt from many a past storm too, inside, this was forgotten, as it was like stepping into a holiday zone. The big driver of this tonal shift was clearly that many of the guests were actually on holiday, so the vibe was more relaxed.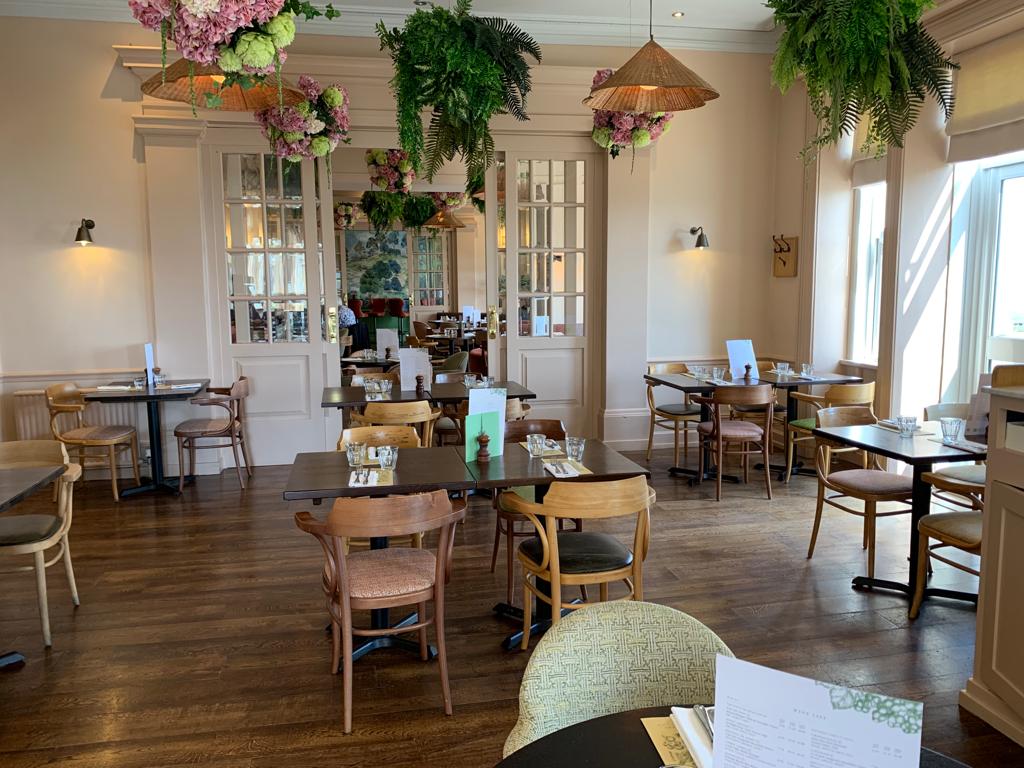 It helped that the receptionist (and I don't think it was just me getting lucky) was full of smiles and suitably balanced chat and small talk. The staff at the restaurant and bar were also always very friendly, and there was a nice sense of team from their own interactions.
Wonky room, but wonderful views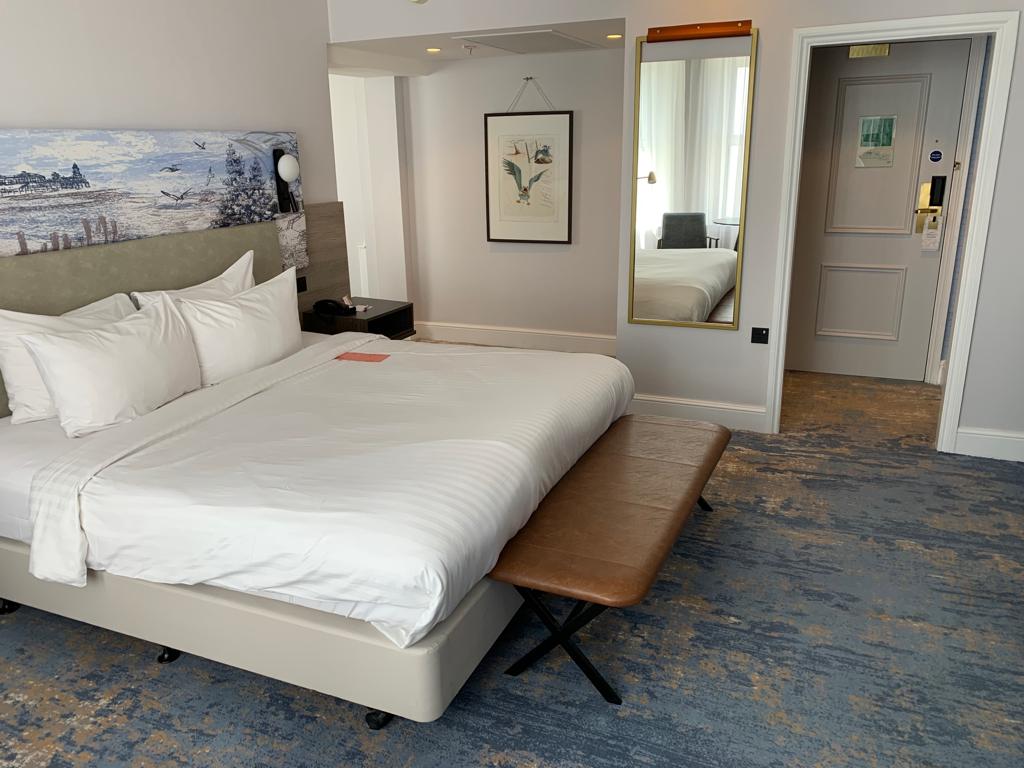 The room itself was a bit mixed. It was clearly one of the recently refurbished rooms and was clean, inviting and super comfortable. And the view of the sea – with big windows beckoning you over to stare through them for as long as you wanted to – was absolutely stellar. This is clearly the biggest selling point of the hotel, and they play to this strength with all the communal spaces, including an outdoor terrace and those big and inviting windows in the bar too.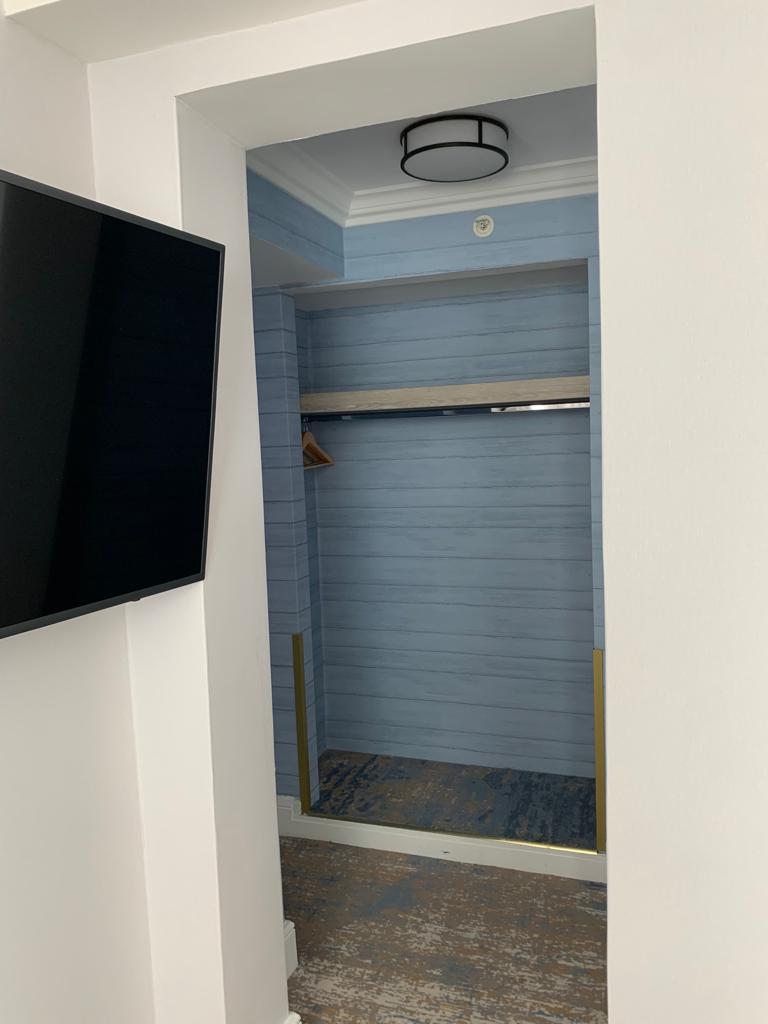 The downside of the suite was that it was essentially a normal (albeit large-ish) room, with a slightly odd extra bit bolted on beyond an unexpected internal wall that felt almost like an afterthought. This separated the spaces, but not in a particularly pleasant way. Plus, there was an even odder cupboard space that felt a little like the cupboard in the Narnia stories(!) In Marriott's defence, the age of the building meant there was probably only so much the designers could do as they mapped the rooms out, but it did feel odd when staying there.
Food throughout the day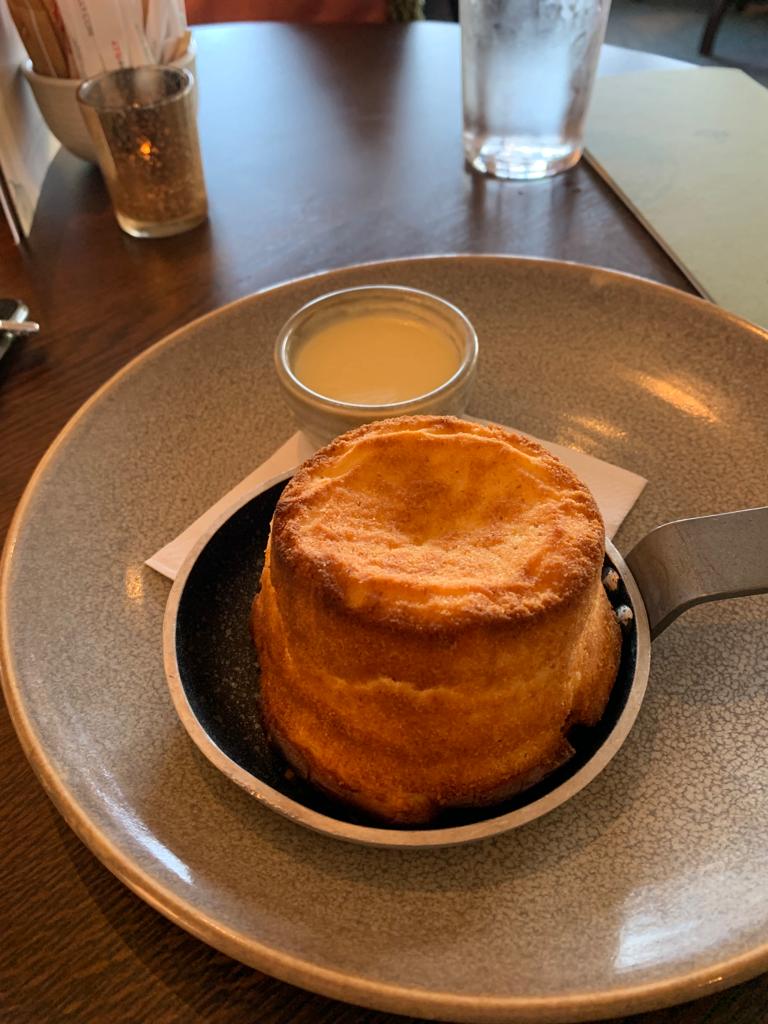 Moving on. Downstairs I enjoyed both lunch and dinner in the hotel. The food was very good on both occasions – I had a lamb roulade with cheese soufflé and (don't judge) a burger. Breakfast was standard in terms of buffet options, but they did offer a couple of a la carte options, including eggs benedict. That said, they did charge extra for a 'proper' (non-machine) coffee, which always feels a bit tight when that's the only thing you have to sign for before you leave your table.
Rooms on points start from 30,000 per night but you can get a room from £75 a night, so it doesn't seem worth it.
You can check prices and availability here, as well as find out more about the Marriott Bournemouth Hotel.
Final thought..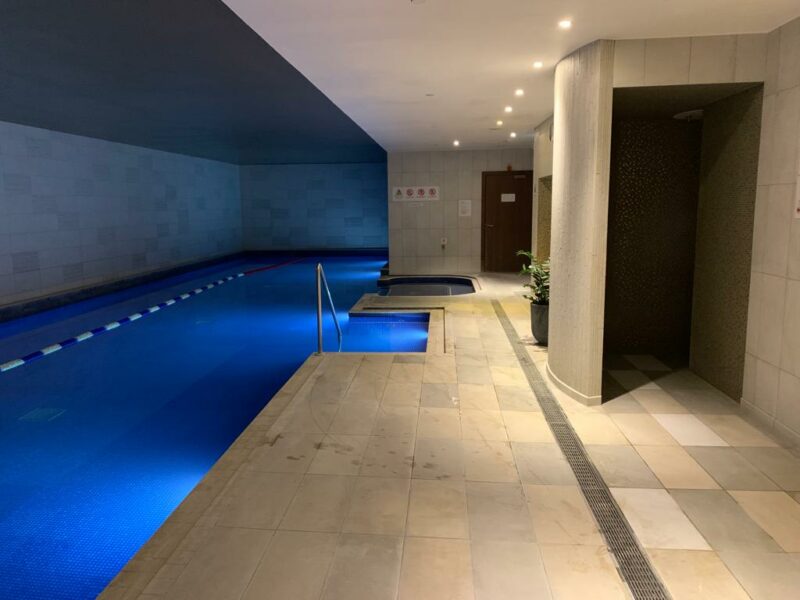 If I had to go back to Bournemouth, I'd base my decision on how important a pool is versus a true sea view and what sort of mood and other guests I want to be around.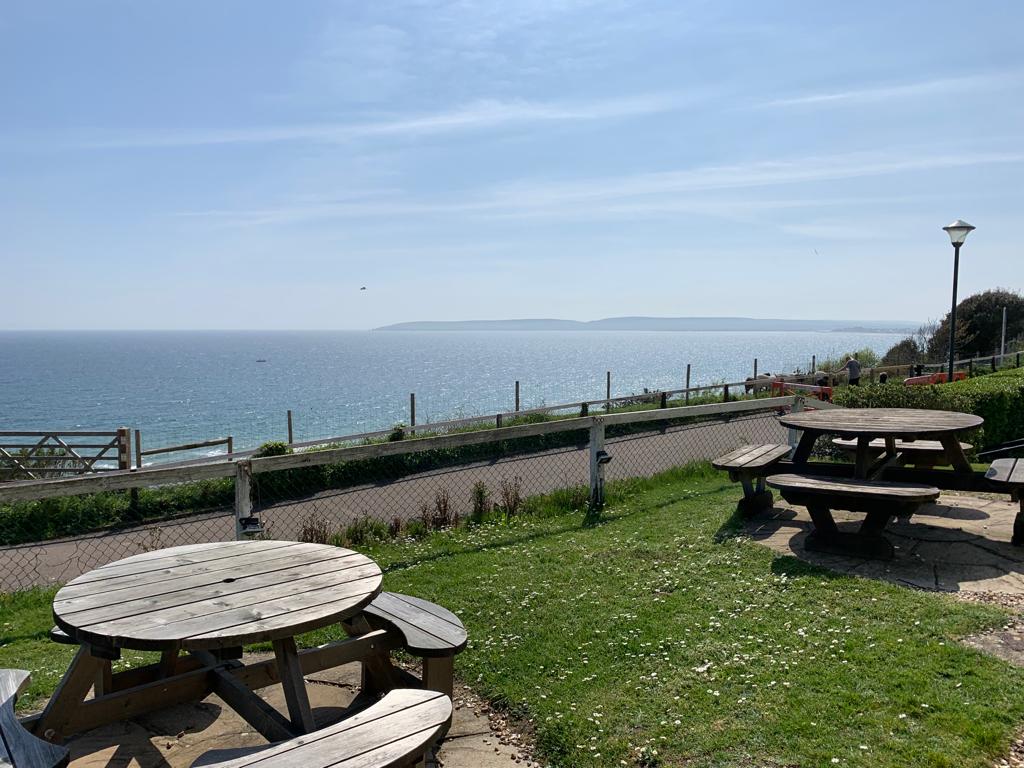 In short, the Hilton has some of that business gloss and slickness if that's why you're in town, but the Marriott is softer around the edges and will invite you to stay a while longer while you sip a G&T and gaze out to sea…
Like our review of Bournemouth Hilton and Marriott hotels? We have more hotel reviews that you might like here.