Exactly 1200 days since the start of the Covid-19 pandemic, Qatar Airways has finally returned to Birmingham Airport, offering daily service to Doha with connections to 160 destinations worldwide. It should be noted that on Monday, Wednesday, Friday and Sunday, the flight will depart Doha at 08:05 arriving at 13:15 before returning at 14:45 landing back into Doha at 23:40 whereas on Tuesday, Thursday and Saturday, the plane will leave Doha at 02:20 arriving at 07:30 with the return leg leaving the UK at 09:00 landing at 17:55. Thanks to the airline, I was able to witness the plane touch down for the first time since 2020.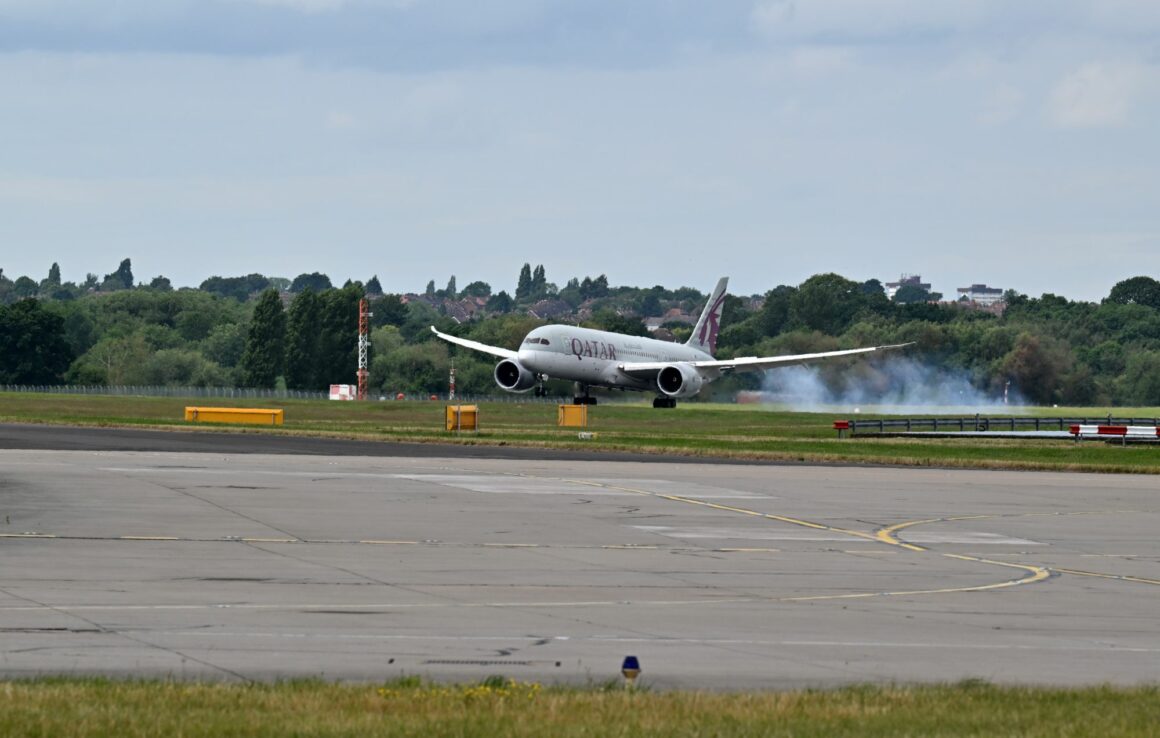 The Doha to Birmingham service is operated by Qatar's 787-8 fleet with 254 seats onboard, 22 in Business and 232 in Economy. Onboard the first returning flight, Qatar served a variety of British-themed meals, including shepherd's pie, roasts with Yorkshire puddings, chicken tikka masala, beef wellington and Eton mess. Passengers were also given mementoes of the flight.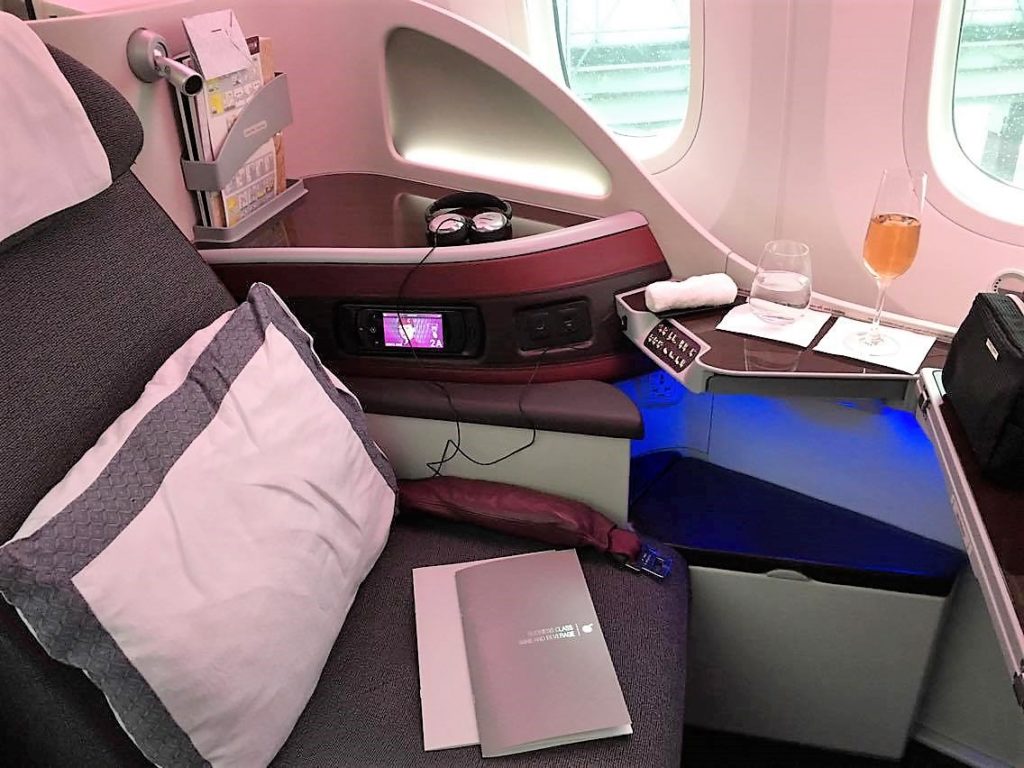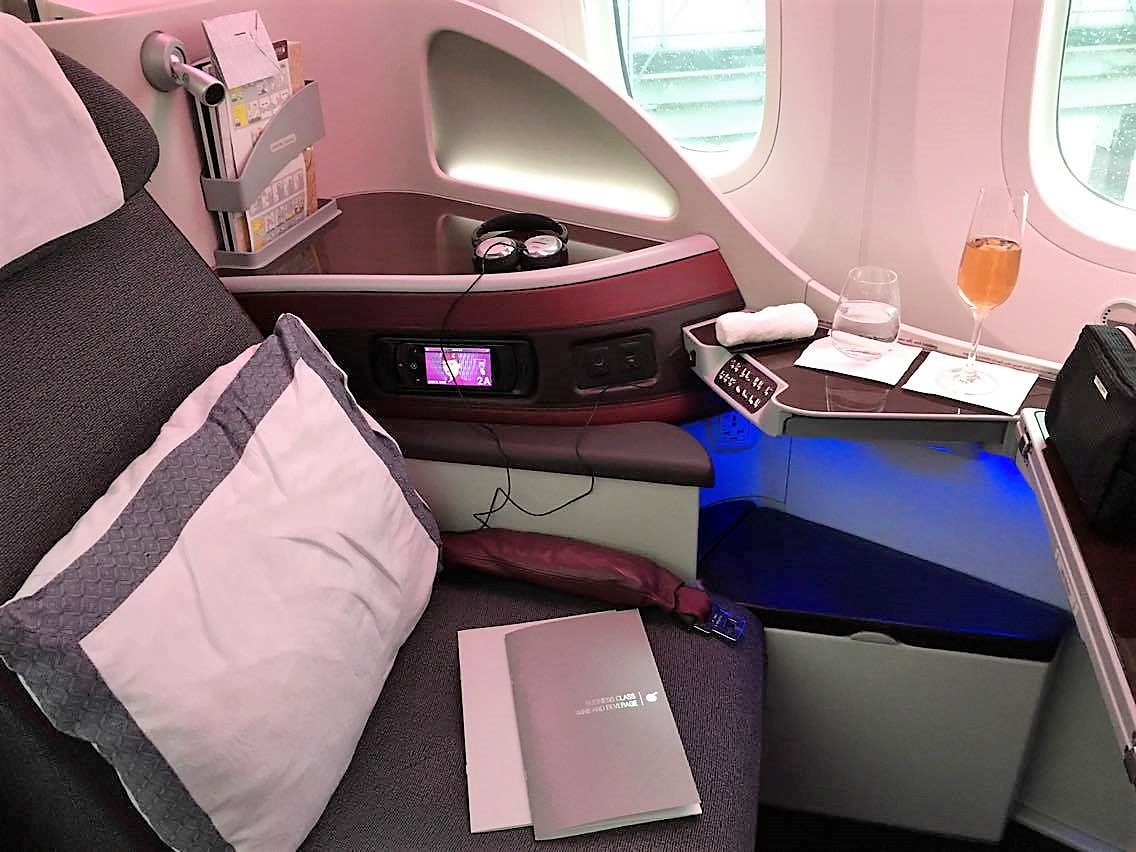 During his speech to mark the arrival, Birmingham Airport CEO, Nick Barton pointed out that with Qatar's return the airport has now returned service to all the airlines that served the airport pre-pandemic.
Qatar were keen to emphasise their latest Skytrax Award for the World's Best Business Class which they have won ten times. It should be noted though that the 787-8s have an older form of Business Class on board and do not feature the carrier's famous Q-Suite product, although a variant, the Premium Suite, has been introduced onto the incoming 787-9 fleet. You can read reviews of the B787-8 Qatar seats here.
To celebrate the airline's partnership with Formula 1, David Coulthard was invited as a guest of honour to pose with the aircraft and answer questions about Formula 1. This coincides with the British GP being held at Silverstone this weekend circa 50 miles away. Qatar Airways and their Holidays subsidiary are offering travel packages to the Qatar Grand Prix in October, starting from £854 for three nights. This follows on from a successful 2022 for the airline that included the Fifa World Cup being held in Qatar. The airline secured record revenue and record yield but interestingly, not record profit, which it had achieved the previous year. This suggests that the airline may not be immune from rising costs and potentially that the cargo division didn't have as good as a year.
Once the flight had landed and passengers disembarked, we returned to the Club Rooms Lounge for speeches by Birmingham Airport's CEO, the Mayor of the West Midlands Andy Street and the UK Country Manager for Qatar Airways Gary Kershaw, followed by a Q&A with David Coulthard.
The Clubrooms are Qatar's designated lounge which is a step up from the No 1 lounge it used before. Clubrooms are generally better than any of the other third party lounges with elegant decor and a good choice of food.
After the speeches, I was able to have a chat with Gary Kershaw about Qatar's fleet plans and where the UK fits into Qatar's ambitions.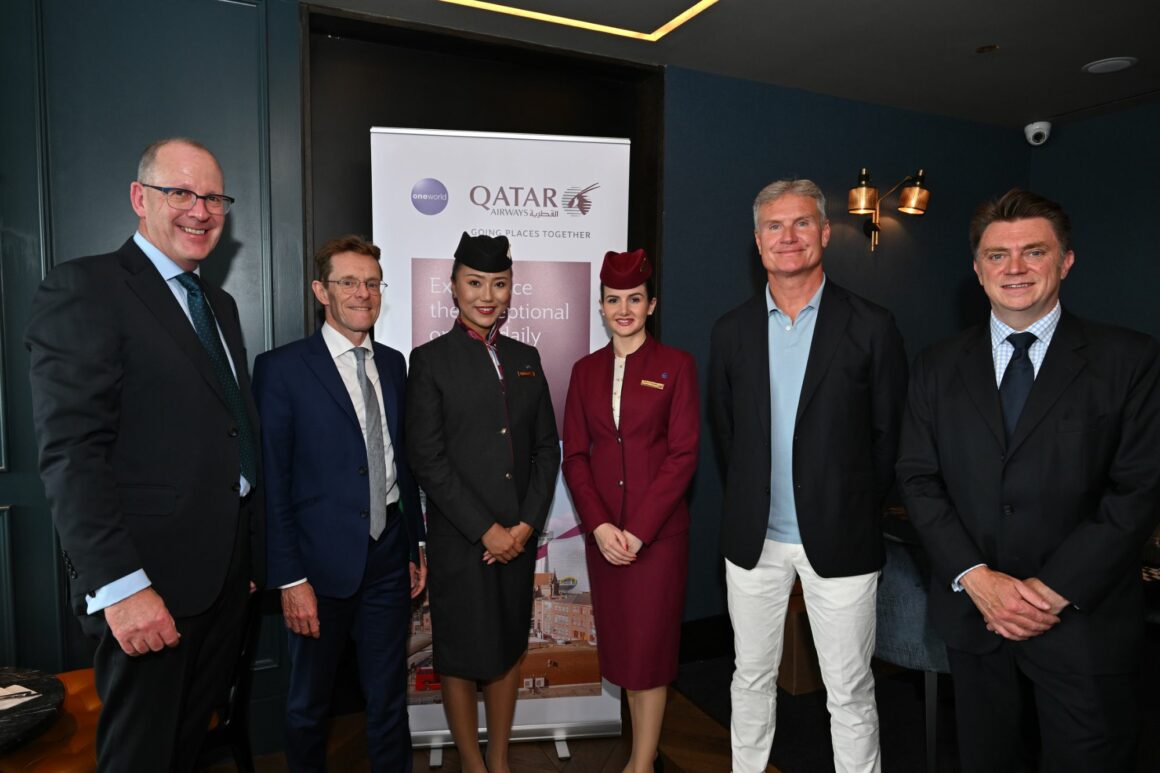 Unfortunately, despite the airline previously saying that a return to Cardiff was on the cards for 2023, there are no updates on a launch date which makes it seem unlikely that service will resume this year. Further, when asked about other UK destinations, Mr Kershaw said that the airline was not looking at any other UK destinations at the moment as the airline wants to add depth to their offering by flying multiple services a day to their current UK airports rather than adding more. This allows for better connections with Doha's banked departure patterns. In his speech, he had mentioned wanting to get Birmingham to double daily as soon as was reasonably possible. He was also keen to reiterate how key the UK market was to Qatar's overall plans.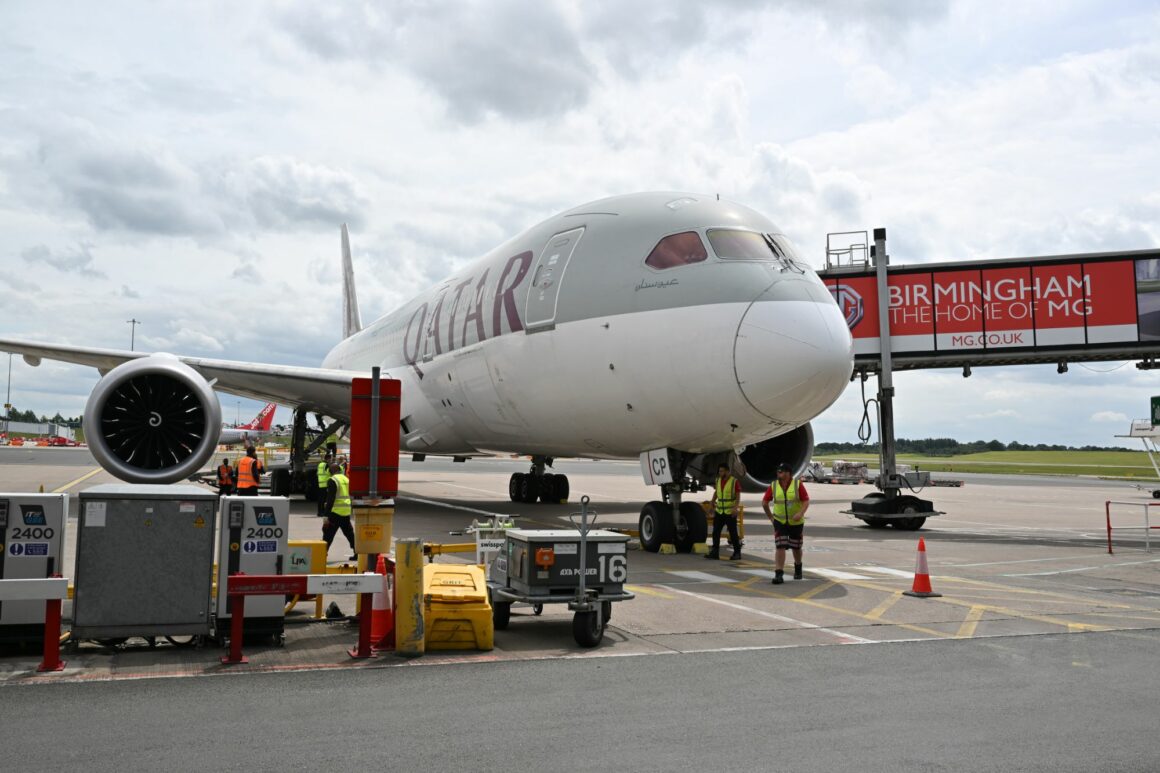 Qatar's issues recently have been a lack of aircraft for operating its previous schedule, but having made peace with Airbus over the paint issues, there is now a certain amount of spare capacity that was not available even a few months ago. That being said, Mr Kershaw did say that the airline was still pretty maxed out capacity wise, and because of this, there are no current plans to retrofit the B777s that have a 2-2-2 configuration in Business Class.
Whilst Airbus has resolved it's manufacturing issues with Qatar, problems are starting to emerge at Boeing with regards to the B787 line. Mr Kershaw stated that Qatar had yet to feel any real impact from this, and whilst some aircraft deliveries might be slightly behind and that they haven't taken as many airframes as they may have wanted by this point, the airline was still managing to cope.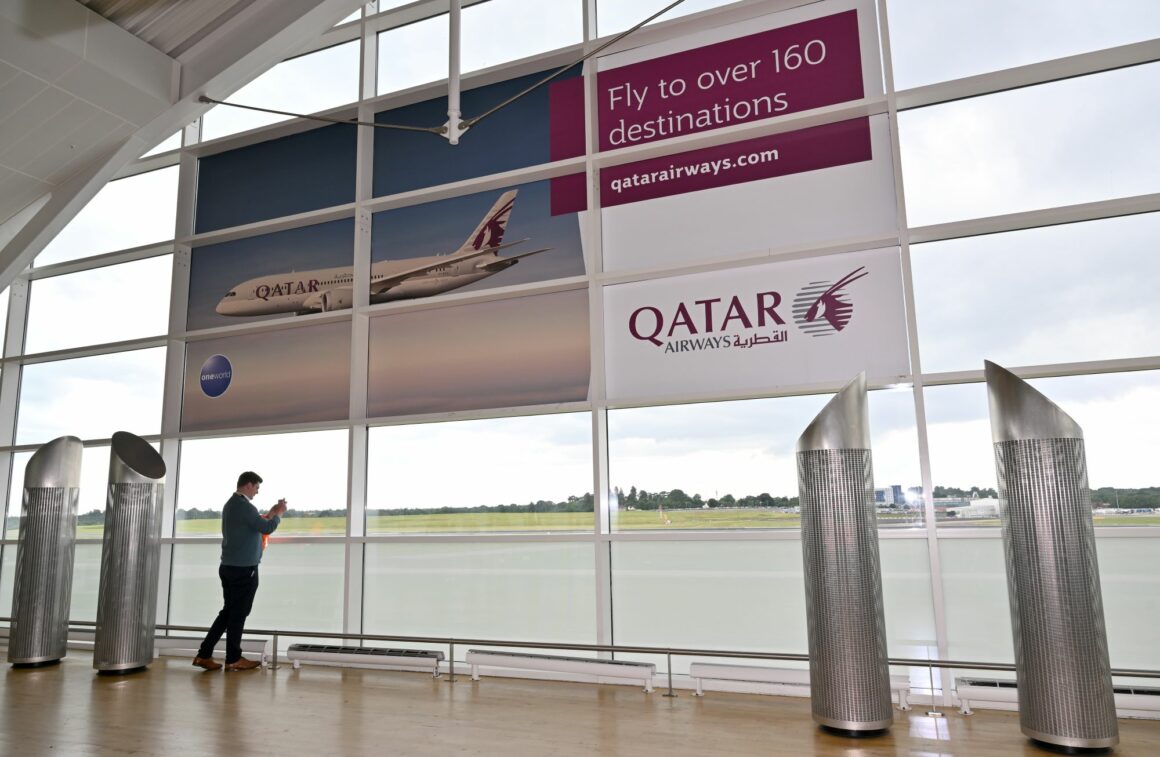 Another of Boeing's products is causing headaches for the airline, however, as the 777X entry into service keeps slipping. This provides some reprieve for A380 fans, such as myself, as the B777X is really the only aircraft that can replace the whale jet. But the A380 is still definitely on the out, and this means that the current cabins will be the last the A380 sees with no plans to retrofit any Q Suite-like product into Business.
Qatar's CEO, Mr Al Baker, recently said that they were planning to ditch first class when the A380s are retired. Gary believes that the removal of long haul First Class won't have much impact as the removal of the higher class of service is offset by the increased flexibility that the airline can offer, whereas previously, very few connecting routes would have First Class available on both legs leading to customer expectation management problems.
The airline continues to believe that the Q-Suite is as good as First Class, and so will not lead to material loss of passengers. Whilst I think the product is potentially competitive against American Airlines and possibly British Airways First, I don't think it is quite comparable to Emirates, ANA or Air France's First cabins.
During the pandemic, Qatar managed to maintain its operations more successfully than a lot of other airlines, with a significant portion of its network operating throughout. The airline is still focused on growing back to where it was before the pandemic and beyond (with 10 destinations returning in 2023 and four new routes added too). Currently, UK-wise Qatar has a large presence with 47 weekly flights to Heathrow, between 7 and 14 weekly to Gatwick, 18 to Manchester, 14 to Edinburgh and now seven to Birmingham.
Birmingham Airport has also been having a remarkably good July so far, so much so that the airport is referring to it as "Giant July" with Emirates upgrading one of their flights to an A380, Saudia returning, and then Qatar following. All of this happened in the period of the last week.
Overall, this is an exciting time for the West Midlands Airport, with Qatar Airways once again connecting the millions of people that use the airport each year to 160 destinations across the globe after an absence of over three years!
I would like to thank Joss for organising the event and Jessica for successfully managing to shepherd me through the day without getting lost or to distracted by other planes.
The author's flights to Birmingham were paid for by Qatar Airways.