Hilton – it's all good news on status!
Hilton have been pretty quiet regarding status compared with other brands. Today they finally have announced a great package of extensions. Marriott recently downgraded members who did not make their status in 2019. Although there was no coronavirus then, it is still a kick in the teeth for most travellers who don't know when they will be able to stay again. Although as someone said, if you are not travelling status is pointless anyway!
Hilton are giving two concessions on status. Firstly all members whose 2019 status was scheduled to be downgraded on 31 March 31, 2020 at any level of status will automatically receive an extension until 31 March 2021.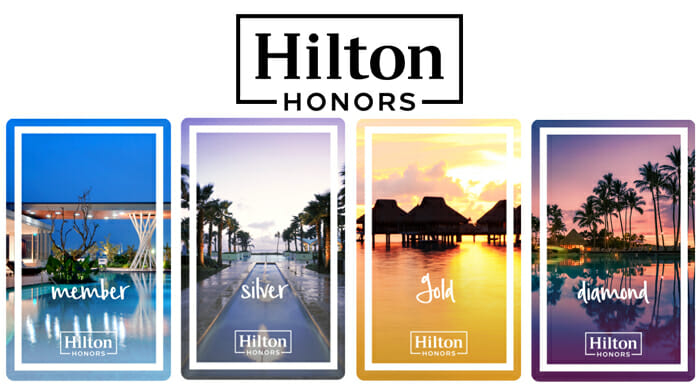 Secondly, they are extending 2020 member status until 31 March 2022. This means you will continue to get all the Diamond, Gold or Silver benefits you have access to today for the next 24 months.
Hilton will also pause the expiration of all Points scheduled to expire between now and 31 December 31, 2020.
Hilton buy points offer with 100% bonus – should you buy?
Hilton Honors has launched a new points sale with a 100% bonus when you buy a minimum of 10,000 points. The offer is available until 27 May 2020.
You can buy a maximum of 160,000 points plus the 160,000 bonus for $1600 (£1348). Normally you are only allowed to buy 80,000 per year.
When there is a 100% bonus it is often worth buying points if you are looking at hotels over around £250-£300 a night, depending on the points redemption cost. This can often work out cheaper than buying a room, but then you need to balance that out with not earning points. However, I would NOT recommend buying the points this time for two reasons. Firstly hotel prices are likely to be low when they start to get back to normal business as tourism will take a long time to recover in many places. Secondly, you have to make the purchase in dollars and the exchange rate is the worst it has been for a very, very long time.
Given that hotels are trying to get cash into the business, it is very likely there will be plenty more of these type of offers in the coming months. I would not buy unless you have a very specific reason that means you need to top up now.
You can find the buying points page here.