Porto airport is around 25 minutes from the city centre but only costs around £12 in an Uber or Bolt, which is great value. It is a modern but relatively small airport, so we arrived around 90 minutes from departure.
Check-in
When we arrived, it was pretty much deserted, so we walked up to the counter to check in straight away. The check-in staff told us which gate it was and where the lounge was.
We were able to use Fast Track for security which we were glad of as it looked like there was a reasonable size queue for regular security.
Porto ANA lounge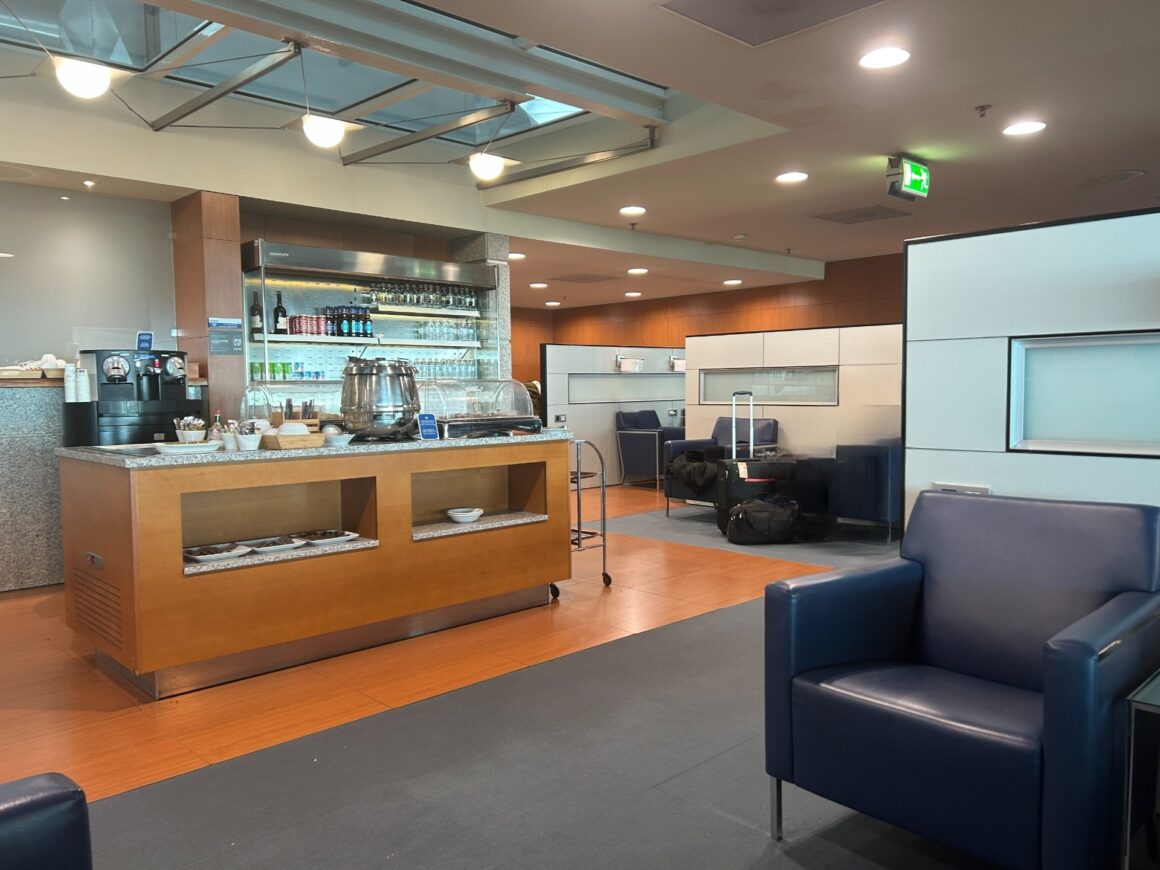 The lounge is just after security. If you turn left and then head up the escalator or in the lift, you will find the ANA lounge, which is nothing to do with ANA airline. It is a fairly typical, slightly depressing European lounge with old-fashioned furniture and a limited selection of food and drinks. It was at least better than the dire Faro lounge with its "marmalade" sandwiches.
It is subtitled "the lounge you never want to leave" which it definitely wasn't!
If you have a lounge pass they also accept:
– Dragon Pass
– Priority Pass
– Dinner Club International
The lounge was around two-thirds full when we were there, and as you enter, the toilets are just before you go into the lounge. It feels pretty old-fashioned and not particularly luxurious. However, it was clean, with helpful staff who cleared the tables very regularly.
I didn't spot anywhere to work, and there were not that many seats with sockets. There was a small selection of magazines as you entered. The terrace area felt a bit more airy and overlooked the terminal where you could catch glimpses of the airfield.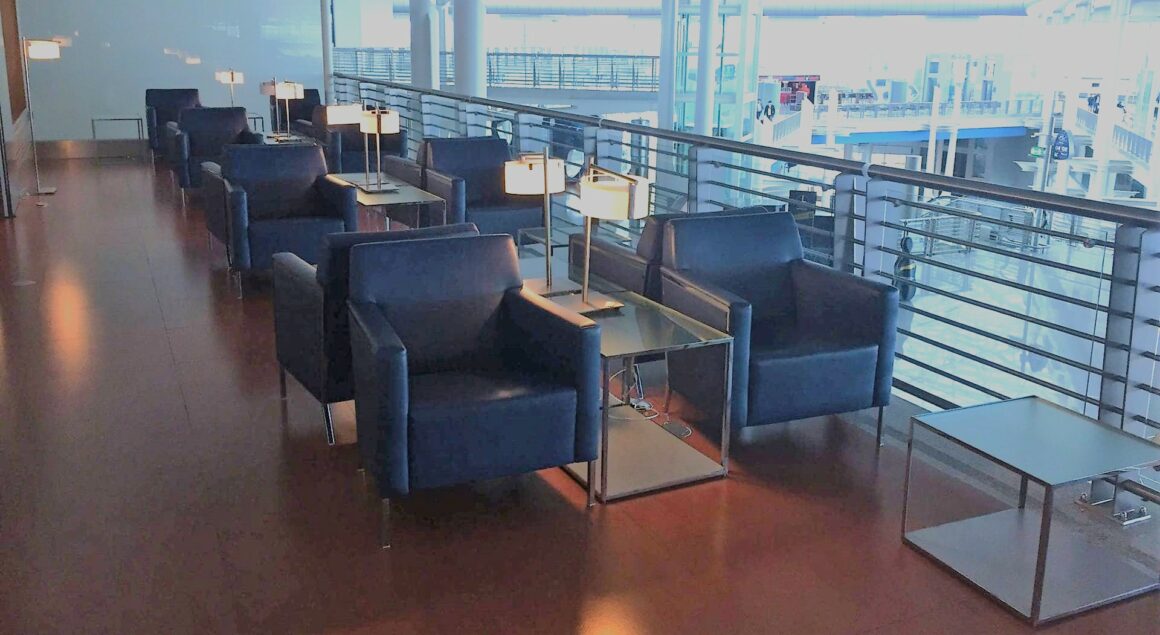 There was a large fridge mainly filled with soft drinks plus some local wine. The drinks selection seemed very basic. There was Superbock beer and white wine in the fridge, along with water, juices and soda, plus milk and yoghurt.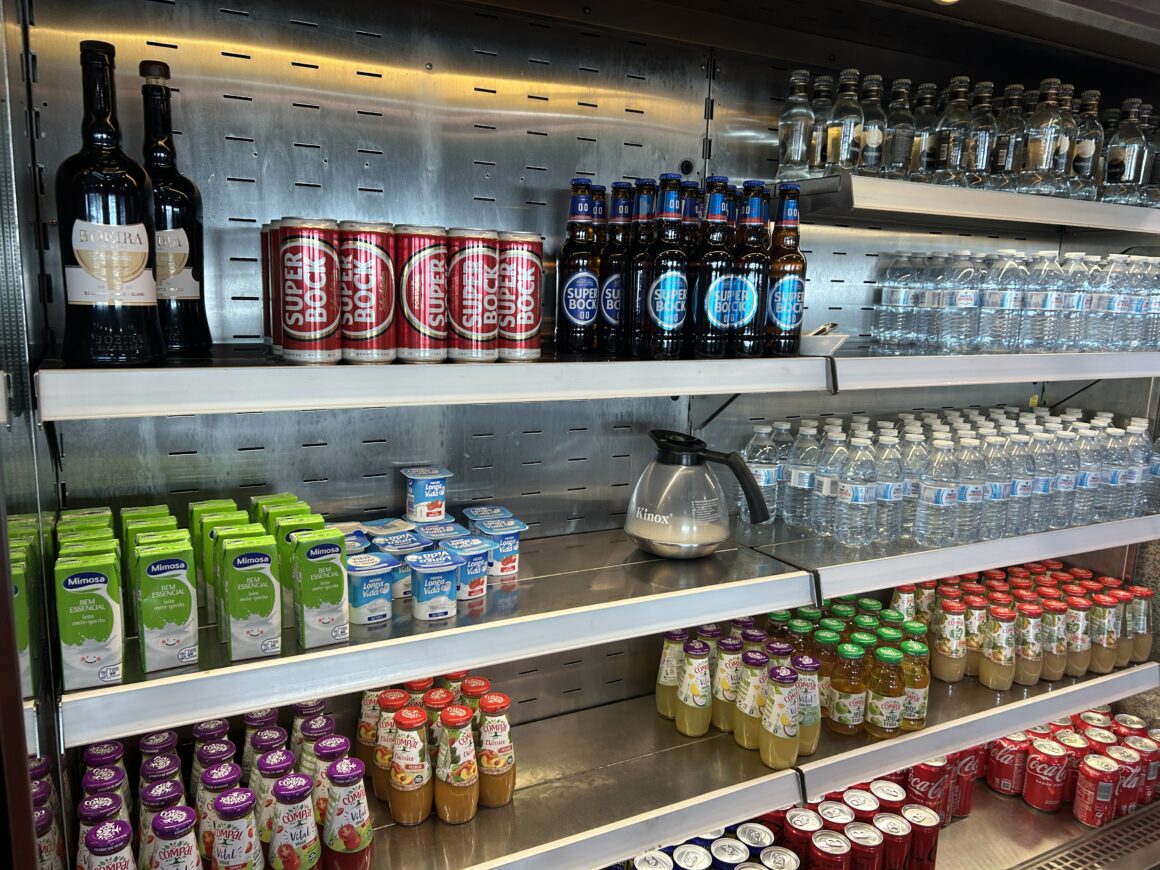 If you want a coffee, there is a fancy Nespresso machine.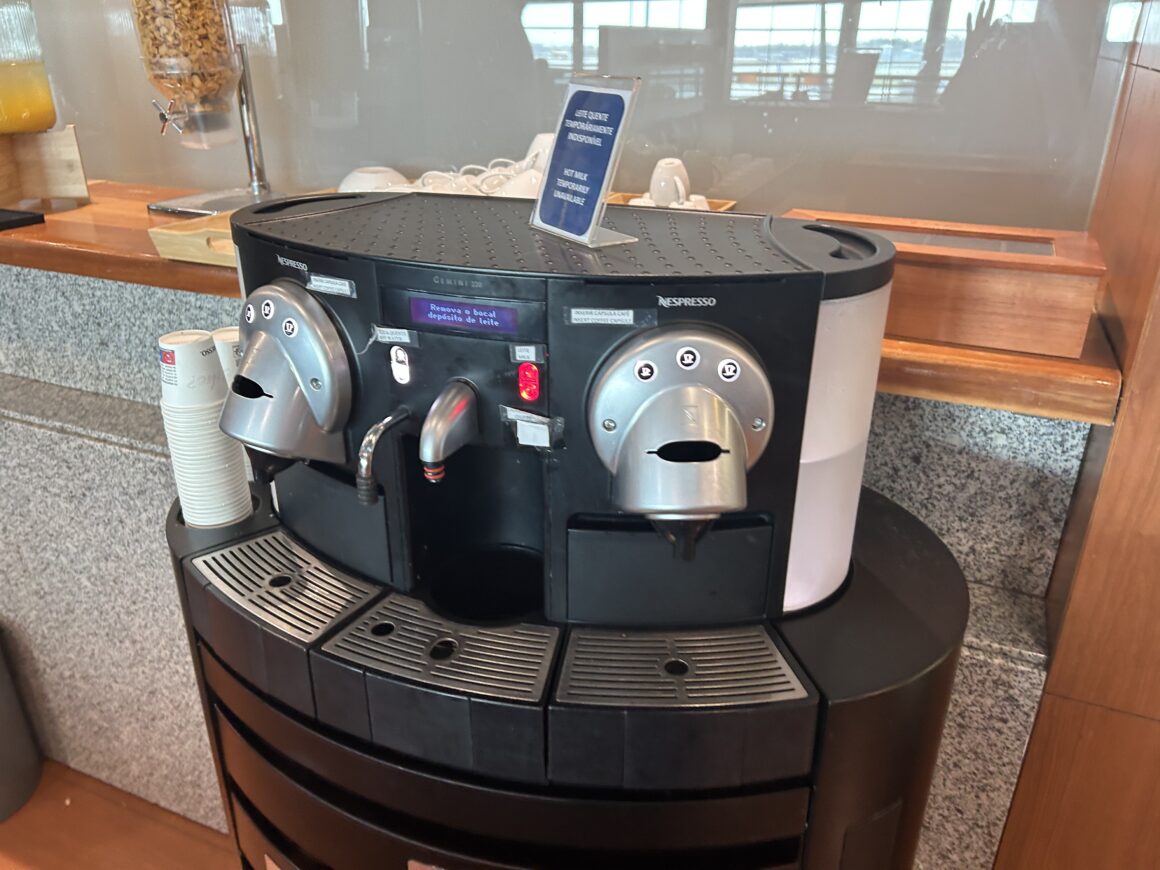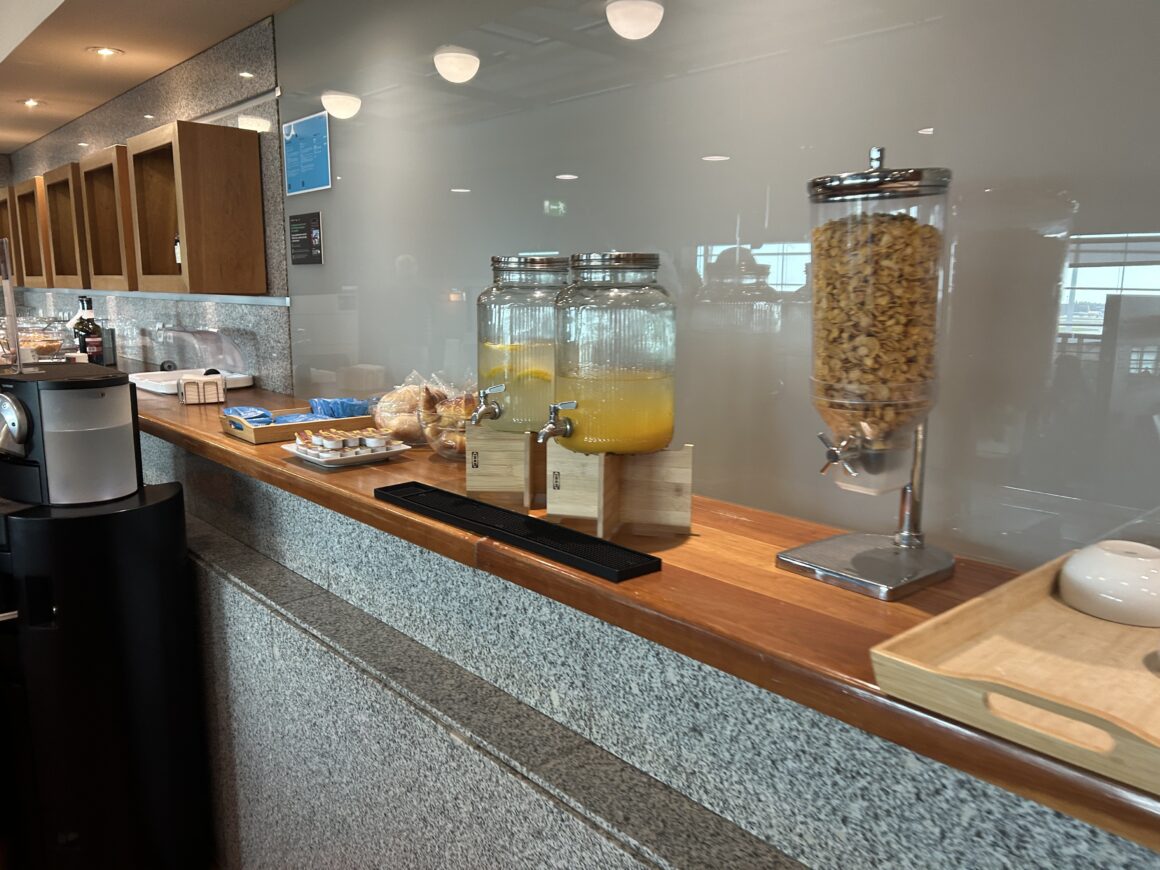 Then there were two blended whiskies, a Baileys-type drink, Martini, red wine, Gordon's gin and Eristoff vodka.
The food selection was small, but there was enough for snacks with nuts, sandwiches, soup, cakes, cereal, bread and various types of croquettes.
It was adequate but definitely, not a lounge I would bother to get to the airport early for.
Boarding British Airways A320 Club Europe
If you are heading to Porto you will get the full low-cost airline experience with British Airways both ways as they do not use the jet bridges, presumably as they refuse to pay for them. (On the way out we had a bus to Heathrow T3 as well for the aircraft, just to complete the full Easyjet-style experience.) I always find it very frustrating watching half the jet bridges standing empty while they drive everyone in buses across the airfield.
Fortunately, this was only a short drive across the airfield, and I had deliberately not brought heavy hand luggage as I was prepared for steps.
British Airways A320 Club Europe Flight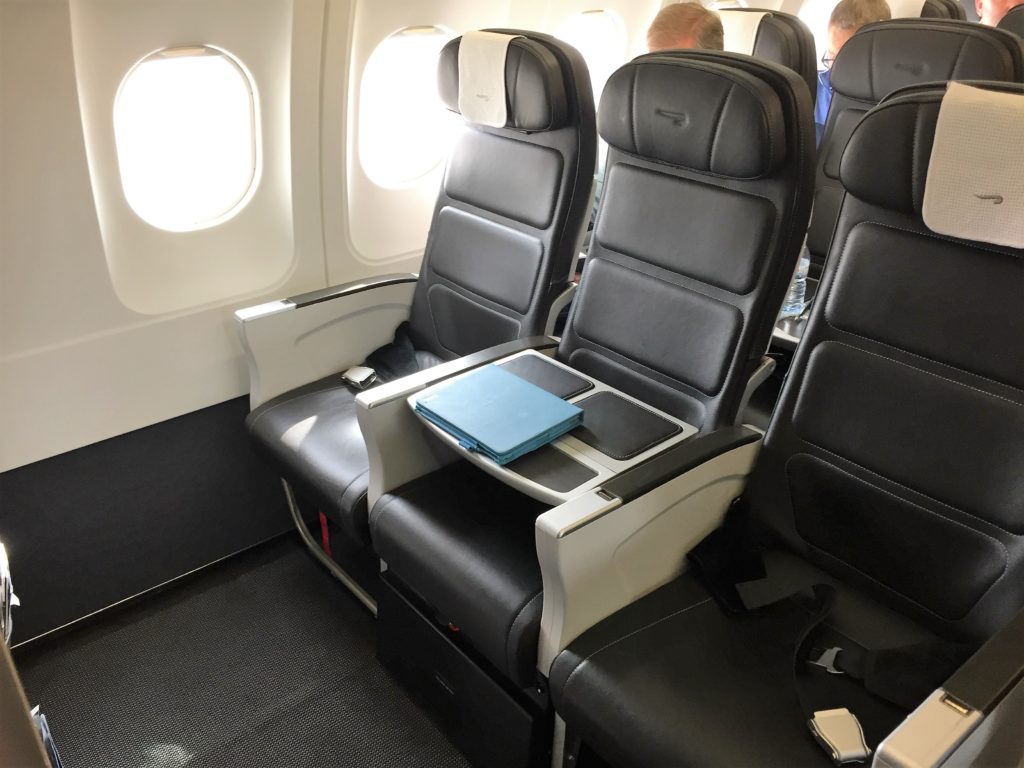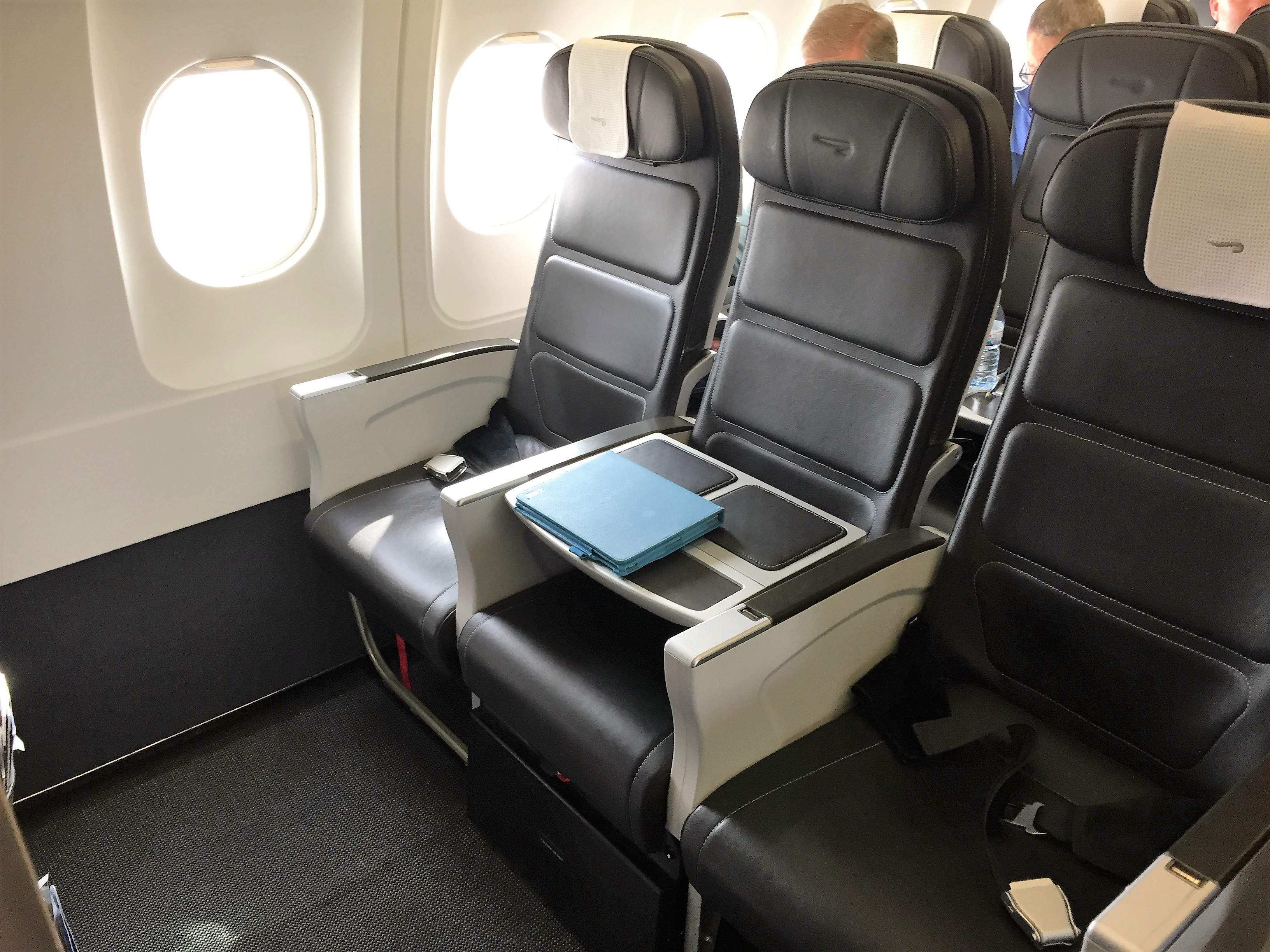 This flight was unusual as it had two In Flight Leads serving in the Club cabin. I'm not sure if one of them got called off standby or if it was because it was a large Club Cabin with around eight rows.
Unlike the way out, which was an A320neo, on this leg we had an older A320 which still has the middle trays which I prefer in Club Europe. We were sitting in the front row in 1D and F. The good thing about the row is the extra leg room, the negative is the lack of overhead storage space since you are not allowed anything on the floor. However, we both only had a small rucksack so it wasn't an issue on this flight. The normal legroom in Club Europe is 30″, so only an inch bigger than the standard economy seats.
British Airways A320 Club Europe Food and Drink
The flight was under two hours, and we were offered a drink before dinner. The crew were extremely good with the IFL serving us, being particularly chatty and friendly, asking about our trip. There were no menus which now are only available on UK domestic flights as they are required by law. I did much prefer having the menu, and it would be good if they could start putting it on the free wifi front page.
I went for my usual Club Europe tipple, the Primitivo red wine, which is very inoffensive. Not sure why but perhaps it was down to my status, or I looked like I enjoyed a drink! Or perhaps it was a cunning plan in that they did not have to do top-ups. Either way, I was happy.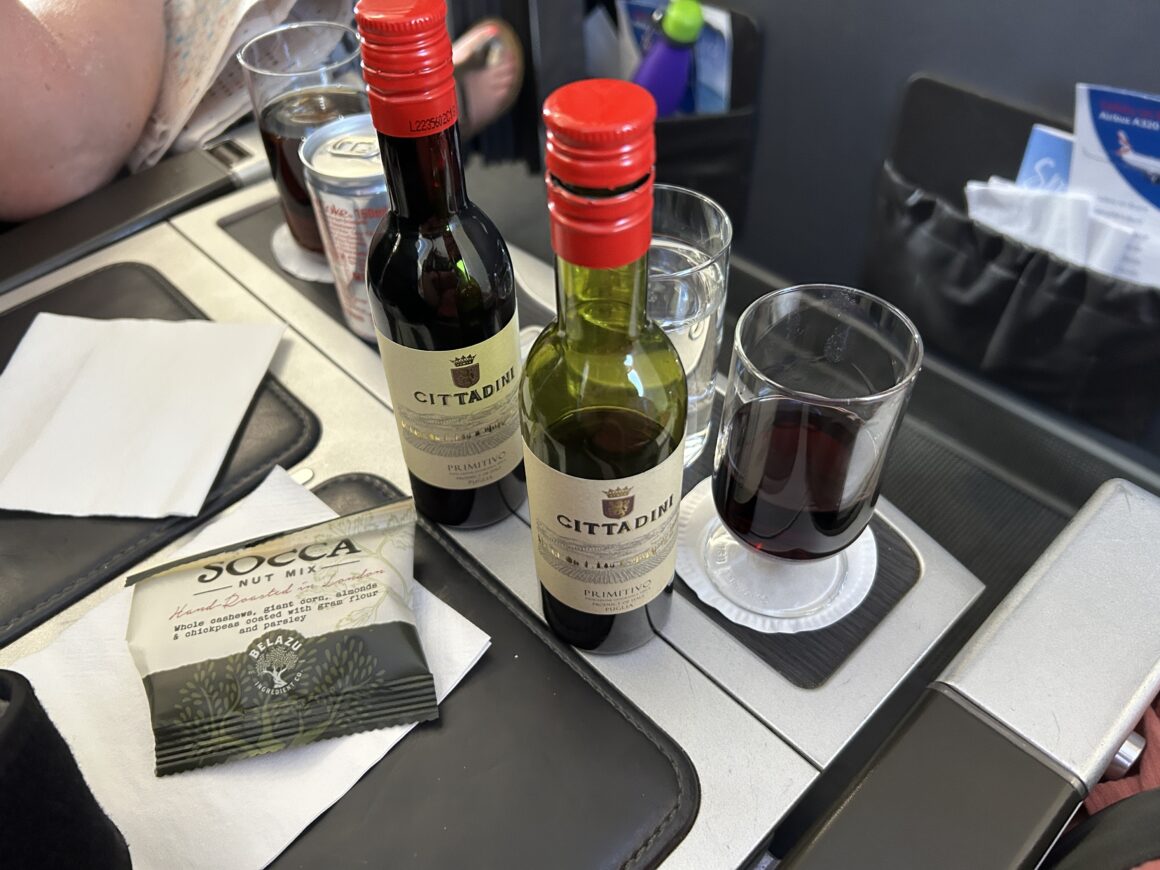 For dinner, there was a choice of the ubiquitous beef cheeks, gnocchi with a creamy sauce and peas or a caesar salad. Although I find the BA salads tasty, they are usually rather small and missing much in the way of actual salad. So we both went for the gnocchi. I had asked the crew what sauce the pasta was in and was pleased that she was able to give a description of it.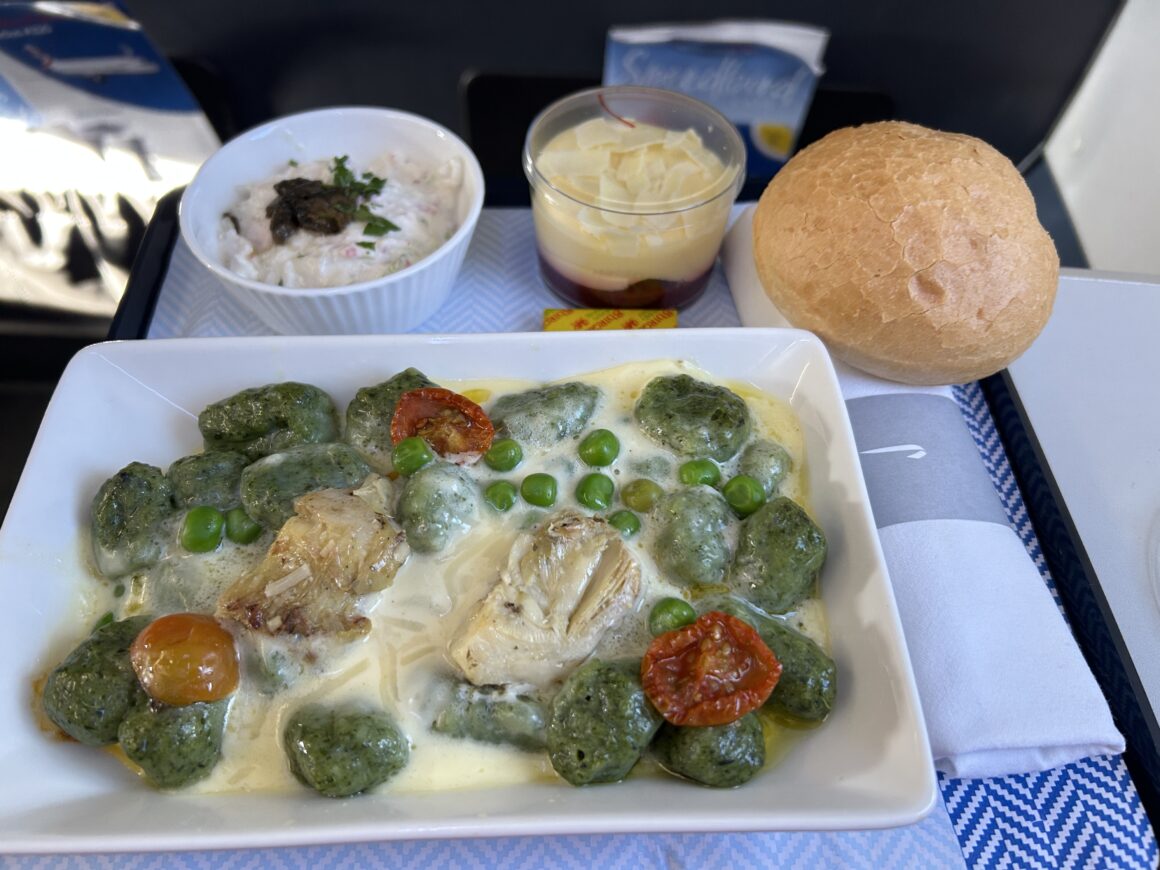 The starter was some sort of coleslaw which was tasty if a slightly odd starter. The bread came on the tray already rather than being offered from a basket. More drinks were offered with the food.
The gnocchi was a little heavy, but overall, the dish was decent, if a little bland. It could have been done with a few more tomatoes or artichokes to give it a bit more contrast to the cream sauce, which was plentiful if lacking a bit of flavour. The dessert was a bit like a trifle but with a layer of fruit puree on the bottom which was quite tart. It needed the white chocolate curls to balance it out, but overall it was enjoyable.
The crew were proactive at offering me more wine or drinks, but two bottles were enough after three days of wine tasting in Porto and the Duoro Valley!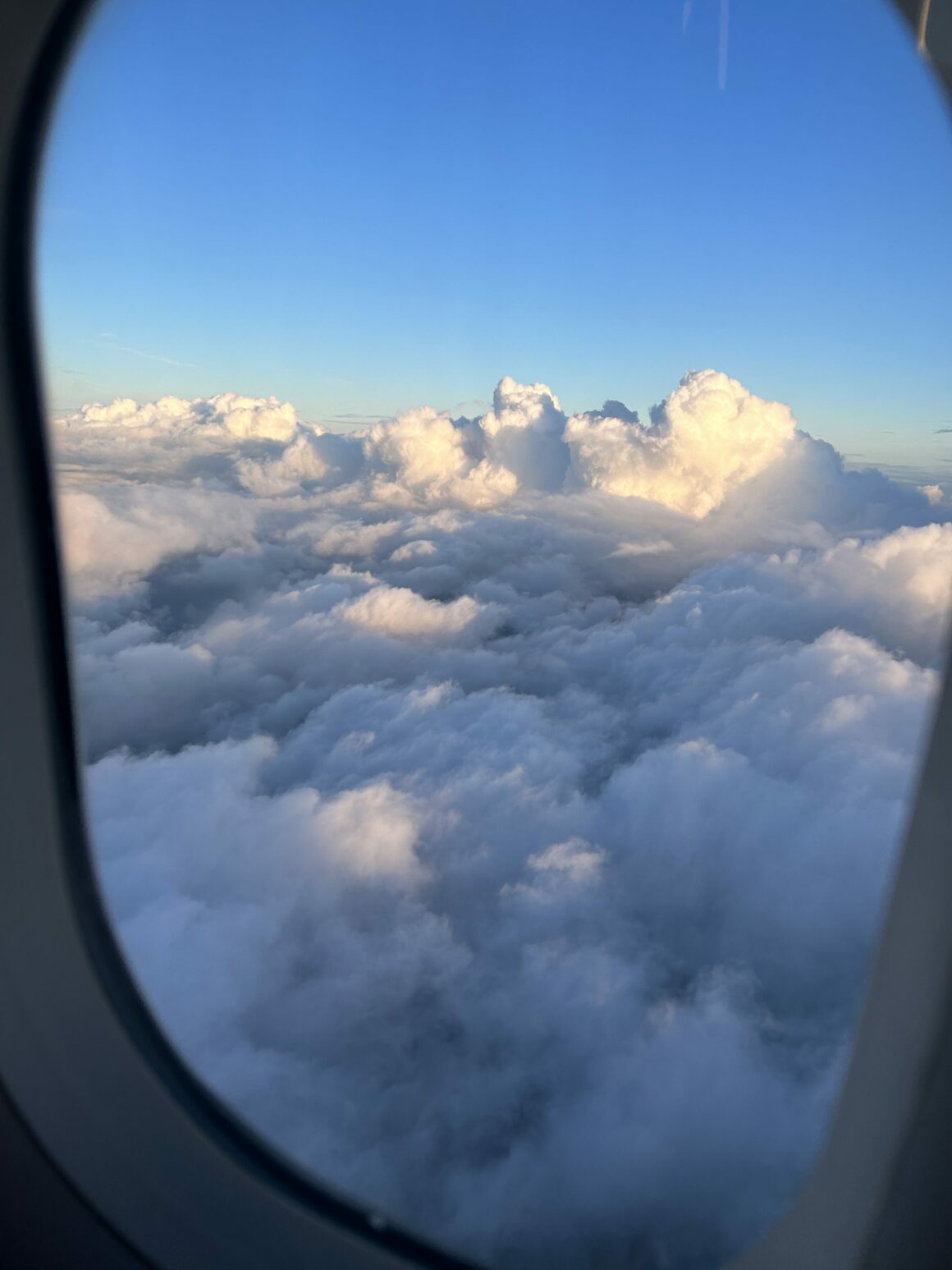 Wifi was available, but for this length of flight, it did not seem worth paying. Prices on short-haul vary by the duration of the flight:
| Package | Price (depends on flight duration) |
| --- | --- |
| Messaging | £1.99 – £2.99 |
| Browse and Stream | £4.99 – £11.99 |
We landed pretty much on time at Heathrow, and for once, there was no wait for a stand or stand guidance. We had parked almost right by the entrance to immigration which I think is a first for me in all my years of flying through T5. It was all going well until I managed to get an e-gate that wasn't working and had to queue for an officer.
However, the luggage hadn't come out by the time I reached the belt, so it didn't delay me. There was a short 5-minute wait for the baggage. I have to say this was one of the best arrival experiences I have had recently at Heathrow. Let's hope it means they are turning a corner and things are improving, not that it was a one-off fluke!
Conclusion for British Airways A320 Club Europe
Overall I thought this was an enjoyable flight. The lounge was a bit basic, but it was fine for a short-haul flight from a small airport. The service on board was one of the better short-haul flights I've had with BA recently, and the food was tasty, if a bit repetitive over the last year. It was great to have such an easy arrival experience at Heathrow for once, long may it continue!
Like our British Airways A320 Club Europe review? You can read more British Airways flight reviews here.