Turkish Airlines already has a fantastic food offering, but new plans have been unveiled to renew the onboard food for business and economy class for short-haul and long-haul routes. Having already won Europe's Best Food and Beverage Award from APEX in 2022, the food offerings will now be improved even more with a focus on sustainability and healthy eating!
Turkish Airlines currently serves 340 routes, with more exciting routes planned. With this comes feeding around 70 different nationalities aboard a single aircraft. The new menus will feature over 300 different flavours from all over the world and enable passengers to Savor the Flavors of Türkiye and will be prepared daily by expert chefs. I, for one, am excited about it.
Turkish Airlines Chairman of the Board and Executive Committee, Prof. Dr. Ahmet Bolat, explained – "As the flag carrier that offers the world's finest flavours to its guests through privileged concepts, we have prepared a menu that features traces of both traditional Turkish cuisine and world cuisines in our renewed menus".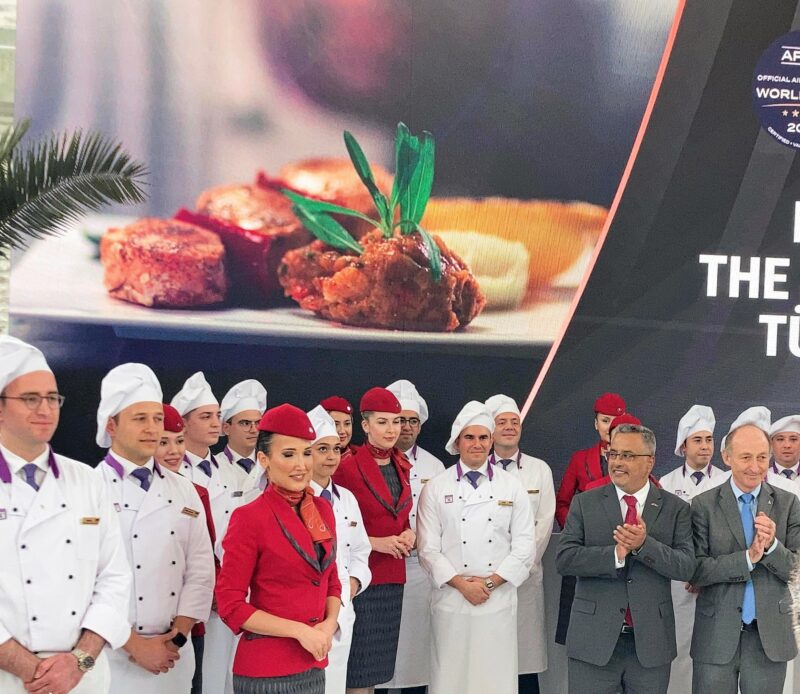 Healthier Food Offerings

Keeping up with healthy nutrition trends, expert chefs produce the menus daily using low carbohydrate, more protein, and fruit and vegetable-based dishes.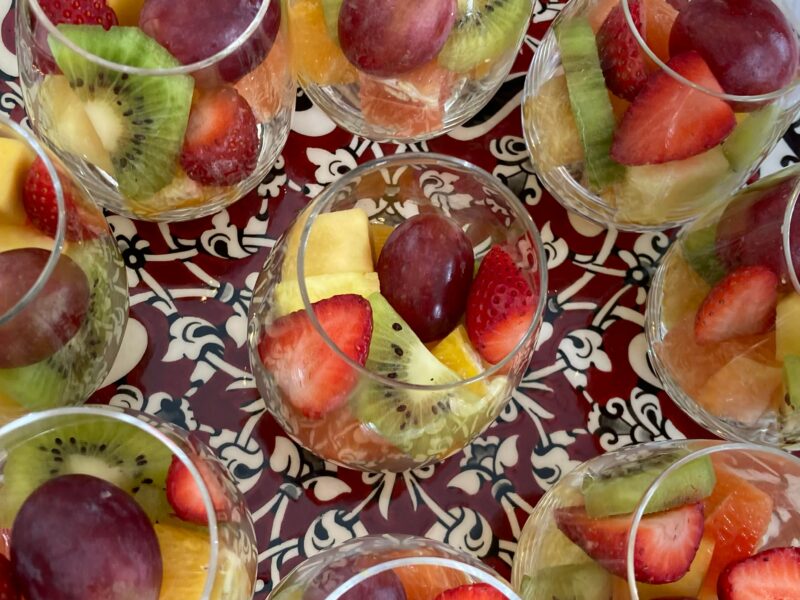 Enhanced Sustainability
The menu revamp focuses on sustainability, with 80% of the menu being sourced from local producers. Some of the delicious regional products include Rize tea and Erzincan Honeycomb.
The airline also aims to reduce plastic and packing waste. Paper menu cards will now be available digitally.
Turkish Airlines Chairman of the Board and Executive Committee Prof. Dr. Ahmet Bolat noted – "With this new concept, we have also initiated practices aimed at reducing plastic use and packaging waste within the scope of Turkish Airlines' Sustainability principle".
The New Business Class Menus
The new business-class menus are a real treat! Previously, there have been two main course options, and while they were delightful, the introduction of a third option provides even more variety. Grilled fish, pasta dumplings and spaghetti options will now be served, such as Turkish Adana Kebab cooked over charcoal. New breakfast offerings include delicious pancakes, toast and French crepes.
This new menu, coupled with a selection of homemade non-alcoholic cocktails, feels more refined and contemporary compared to the previous one. I tasted the mojito mocktail, and it was delicious!
Following the new healthy eating focus, several detox drinks and traditional Turkish tea and coffee will also be available.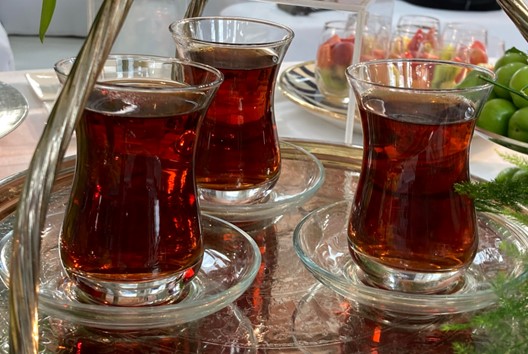 Business Domestic
Even when flying domestically, there will still be delicious food on offer.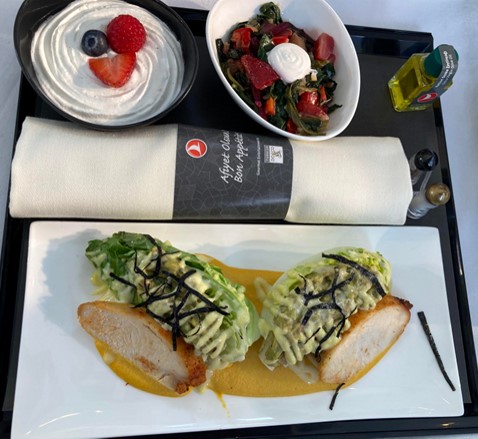 I tried this meringue dish at the event, and it was melt-in-your-mouth amazing. I have never tasted a meringue so good!
Hungry yet?
Business Class Short Haul
The business short-haul menu also looks delicious! If you are considering flying short-haul with Turkish Airlines, I will soon post reviews of the route on two different aircraft.
Business Class Long Haul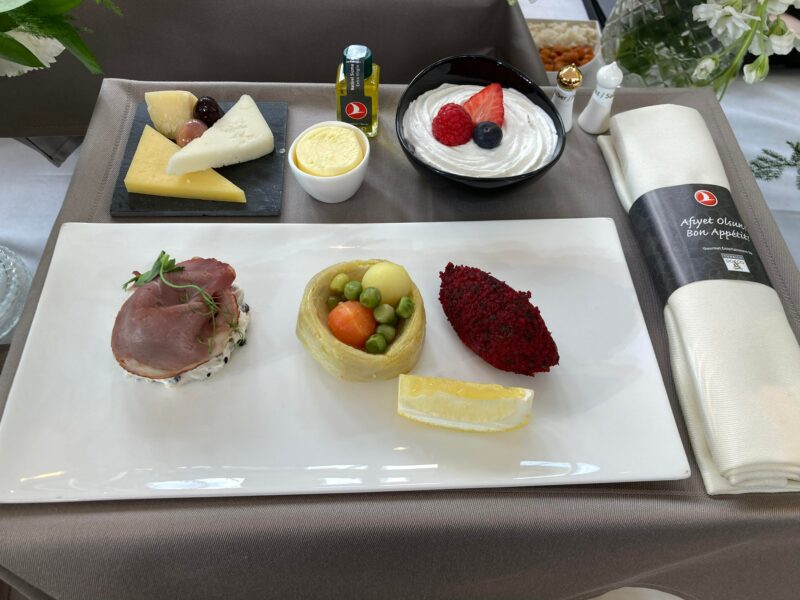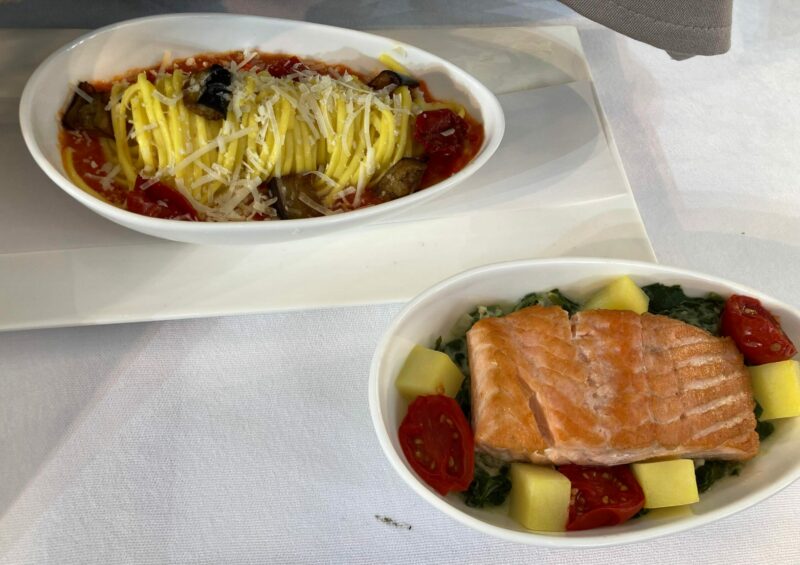 The New Turkish Airlines Economy Menu
Economy class isn't left behind, either. New editions for breakfast include egg dishes, muesli and cheese varieties that were not previously available in economy class.
Economy Domestic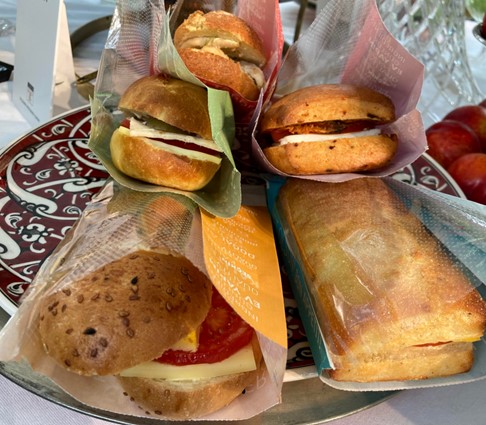 Economy Short Haul
What fantastic dishes for the short-haul economy!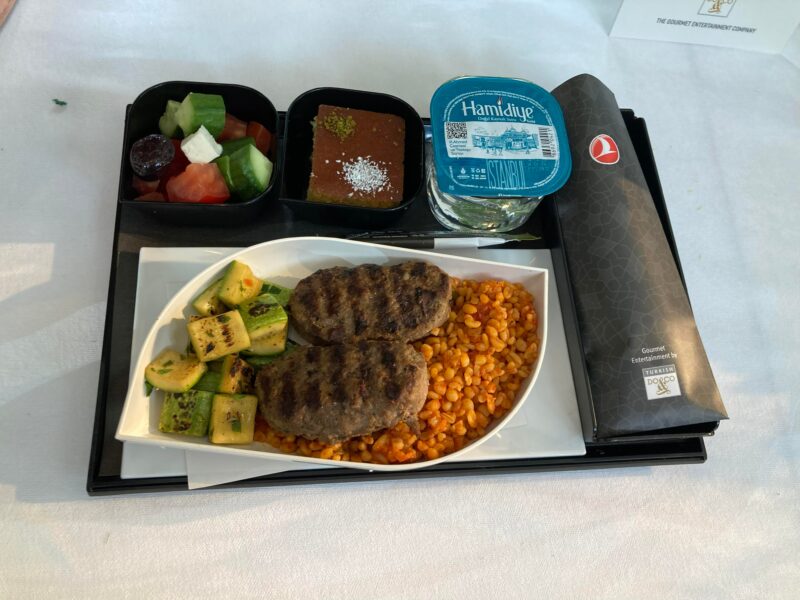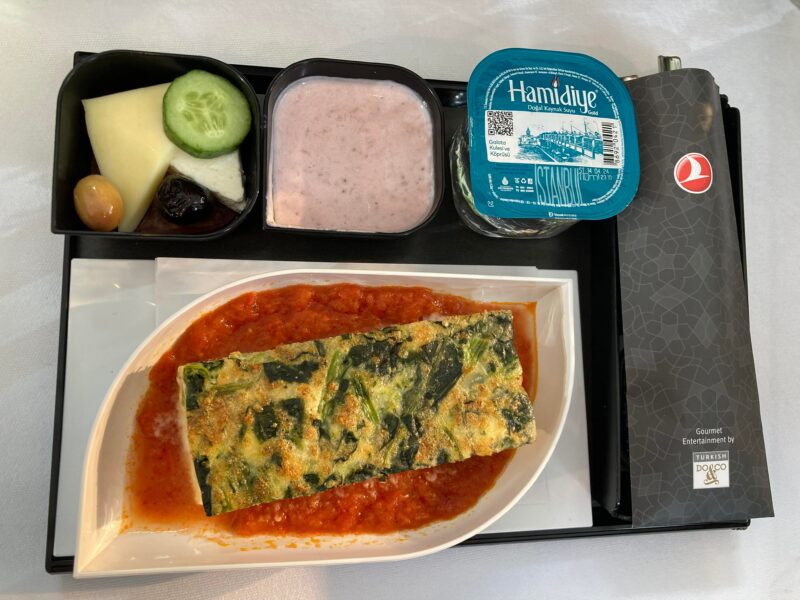 Economy Long Haul
This long-haul economy menu looks better than any dishes I have previously had on economy class long-haul! It looks so enticing it could give business-class menus from other airlines a run for their money!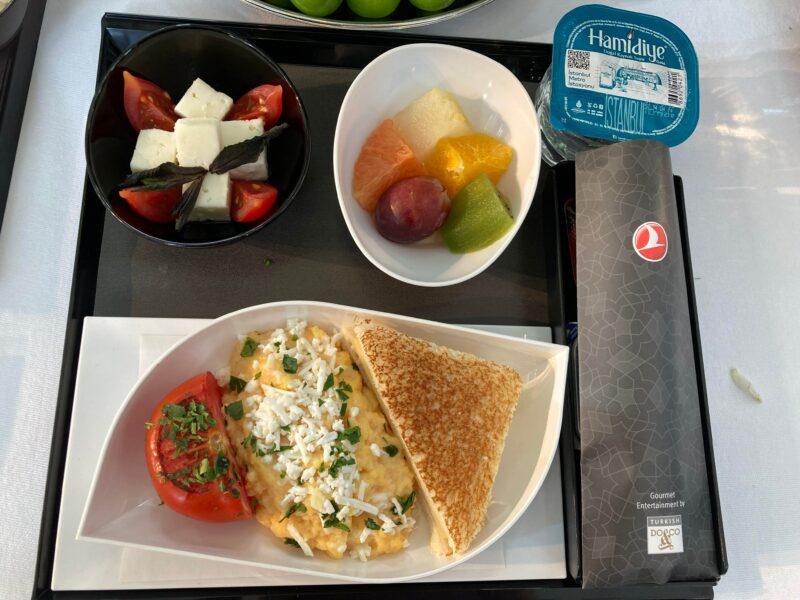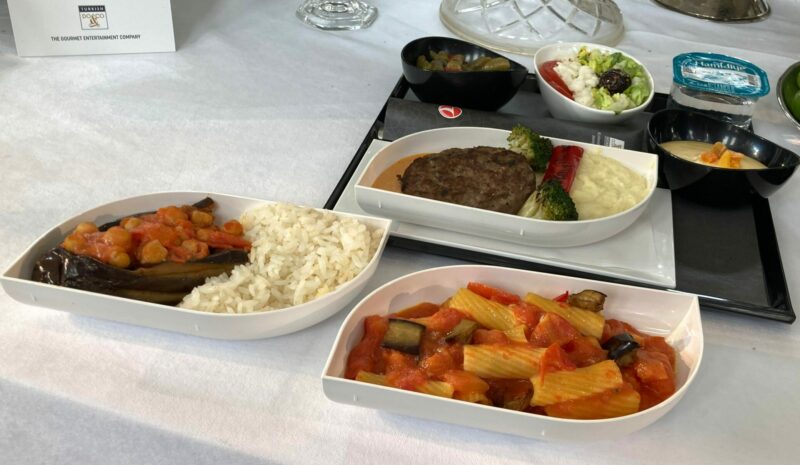 The Turkish Airlines Menu Launch Event – A Food Fashion Show
The new menu was launched in style with a food fashion show comprised of Turkish Airlines cabin crew and staff presenting the new dishes on a catwalk.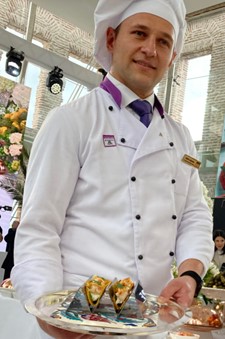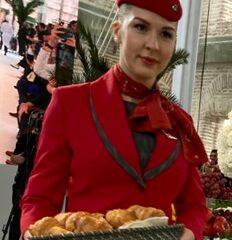 Trying the New Menu Onboard
The new menu was secretly rolled out onboard on Wednesday. I flew in short-haul business class and got to try the new menu!
Heathrow to Istanbul
I was very impressed with the food on this flight! It was unlike any food I have had on a plane before – including in business class, and you could tell an expert chef had prepared it!
On the main menu, you can see how Turkish Airlines have given international and Turkish cuisine choices. You can see the new healthy editions of wellness tea and the new Rize tea offering on the menu. There is now a choice of both Turkish and international wines. Try the traditional 'Islim Kebab' or go for the Italian option – Mezzelune or a British favourite – Grilled salmon fillet. You can view one of the old menus in this Turkish Airlines reader review.
One issue is the limited wine choices. There are two red and two white choices. I tried a different white wine on the way there and back, but if I flew again, I would have to have the same one again. There is also a notable lack of Rose wine. At least champagne was available – although the menu doesn't explain which champagne is on offer.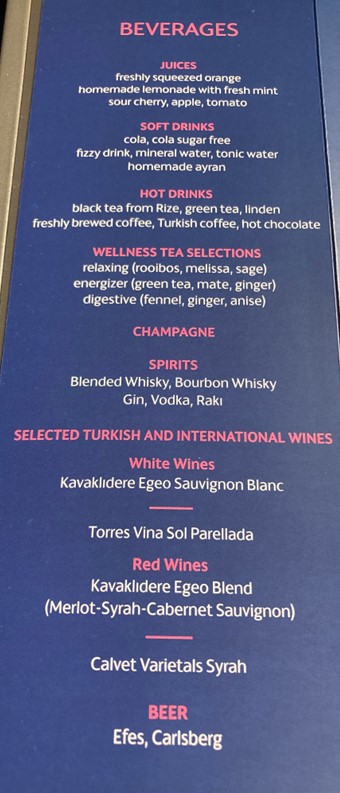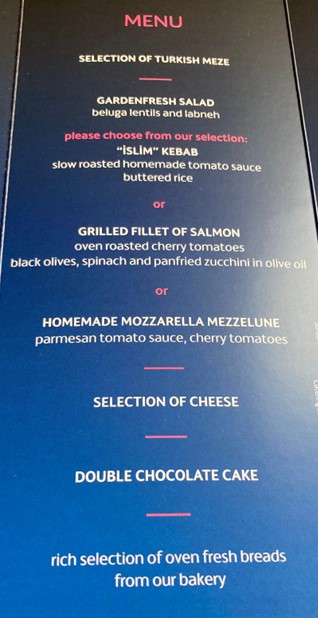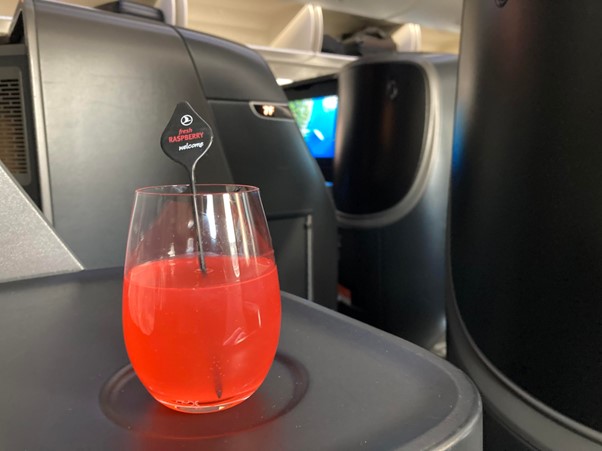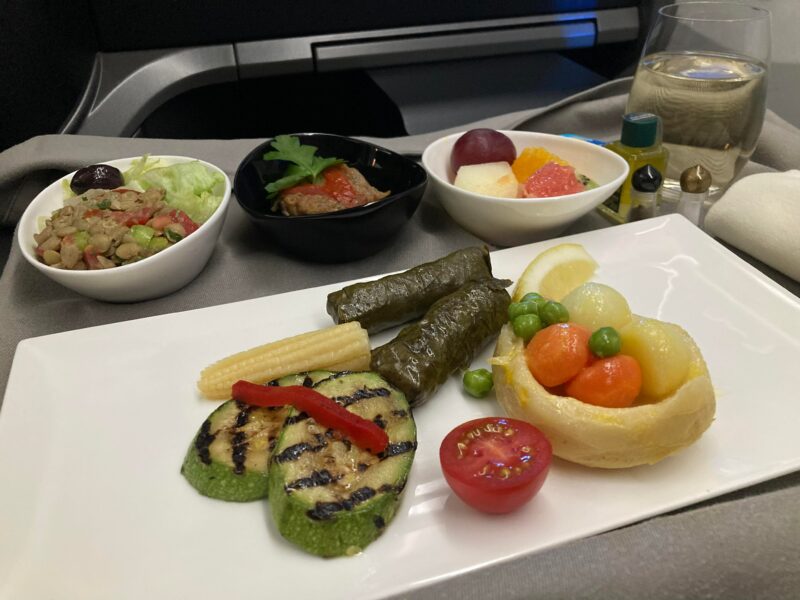 I opted for the vegetarian meal option, which was not on the menu. However, it was still delicious, although it would have been nice to read about what I had beforehand. The sides consisted of a delicious lentil salad with roasted aubergine. The cold dish was also delicious.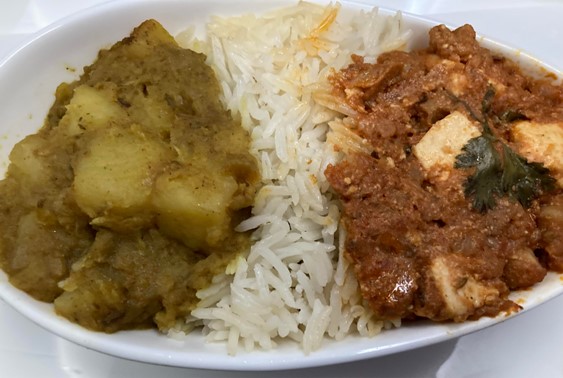 For the hot dish, I was served Indian-style potatoes with paneer curry. It was again delicious and just the right spice level.
Istanbul to Heathrow
Although the drinks menu was the same, I was excited to see a different food menu. It included American favourites such as Veal and Prawn Salad. I was pleased to be able to try the new menu for a second time.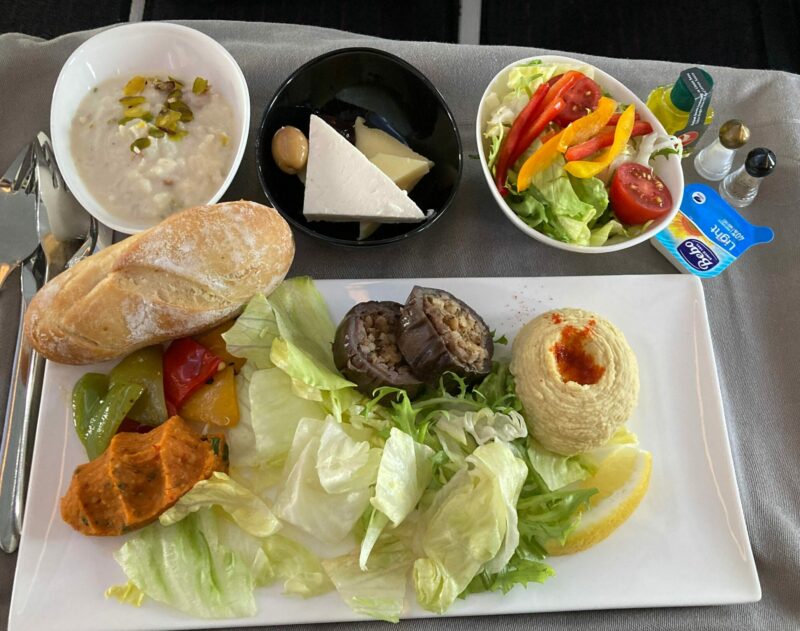 I enjoyed the cold dish – although not as much as the previous flight. All the fruit and vegetables were very fresh, and the lemon made the perfect addition to the dish. The Turkish Airlines olive oil is also lovely – like the nice varieties you can buy in Greece! I love the mini salt and pepper dispensers.
For the main, I was given the same as the previous day. I had opted for a vegetarian special meal, so I'm hoping it was just bad luck rather than a limited choice for vegetarians. The flights were one day apart, which could have also played a part.
The Verdict
All in all, this revamp is not merely a change but a significant upgrade, a step towards redefining in-flight dining. It shows a commitment to quality and customer satisfaction from Turkish Airlines. I thought the new menus were delicious; my only comment is the lack of wine choices.
What do you think of the new menus? Let us know in the comments below!