Although we have recently reviewed BA's B777 First product, we have not done an early morning daytime flight review in First before. I was curious to see what the offering would be with the 0850 departure time and also interested to see the Haneda JAL First lounge. This was the return flight of our Avios redemption to Tokyo. Paul's review of JAL first will be published next week.
Check-in and security
As we were travelling hand baggage only and had our boarding passes on the app, we went straight to the fast track security. As you would expect, security was quick, efficient and polite. We were able to use the automated immigration gates which worked well.
The lounge

I had been looking forward to visiting the lounge as I had not been to the JAL First lounge, which BA uses at Haneda before. As you enter, there are signs for the showers and a luggage storage area. Next, you come to the business area with its semi-private seating, desks, PCs and a printer. The area was deserted when we were there.
This then leads into the main lounge area. The first lounge felt very large but not particularly busy at 6.30am. It was probably because it was a Sunday morning.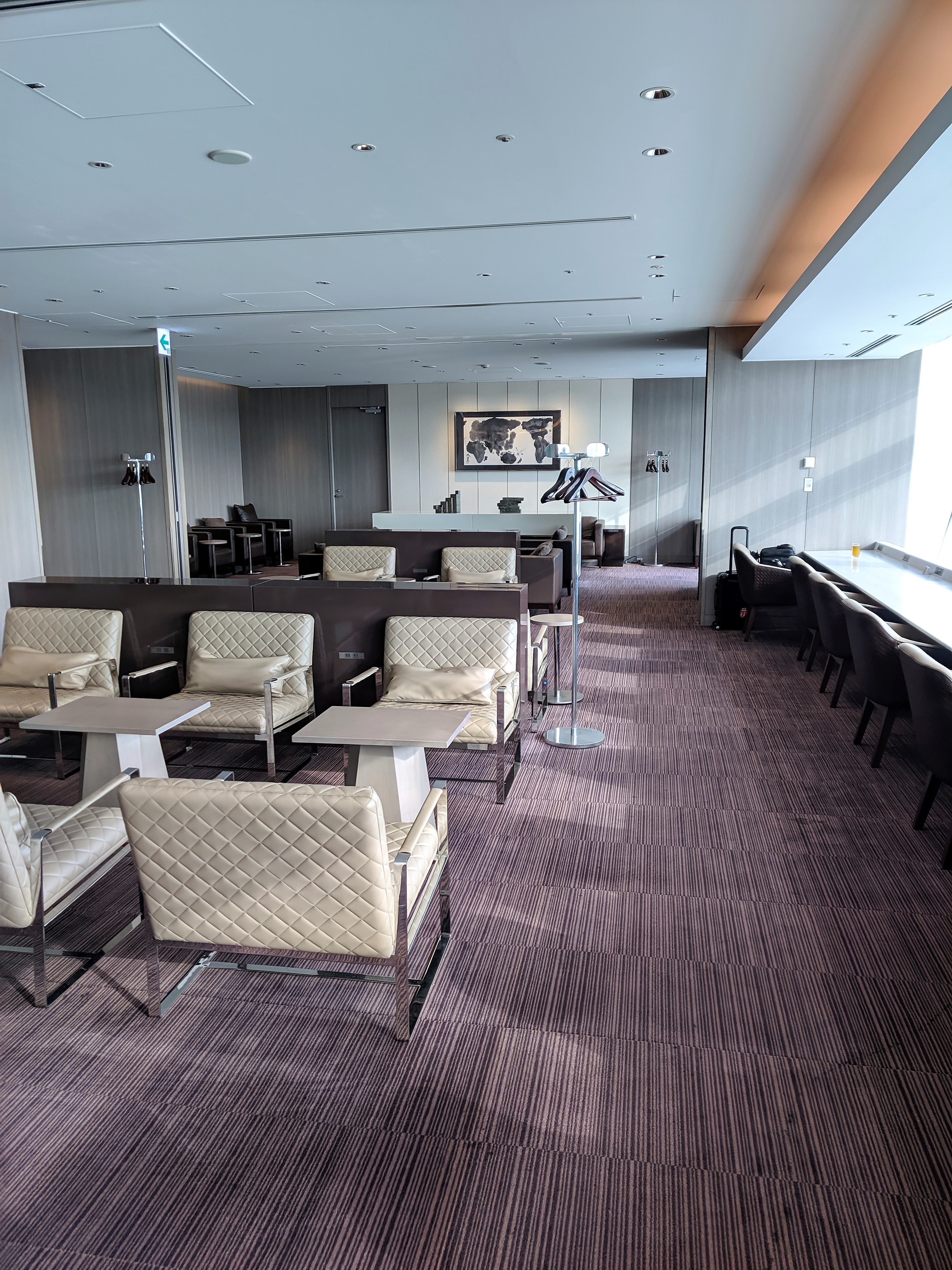 There was a great row of seats with footstools by the floor to ceiling windows which gave a fantastic view of the airfield.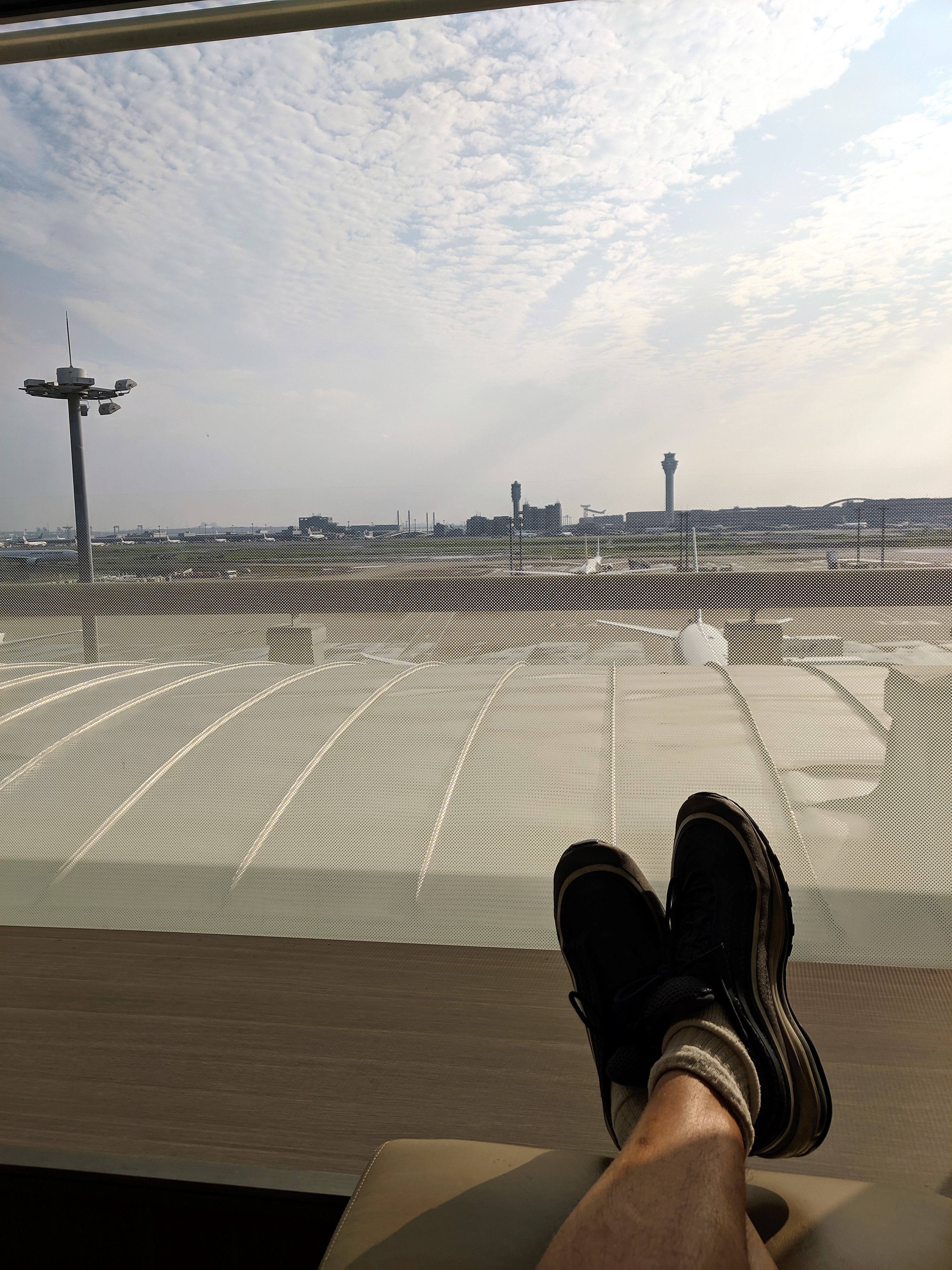 We watched out inbound aircraft landing, reassured we should be departing on time.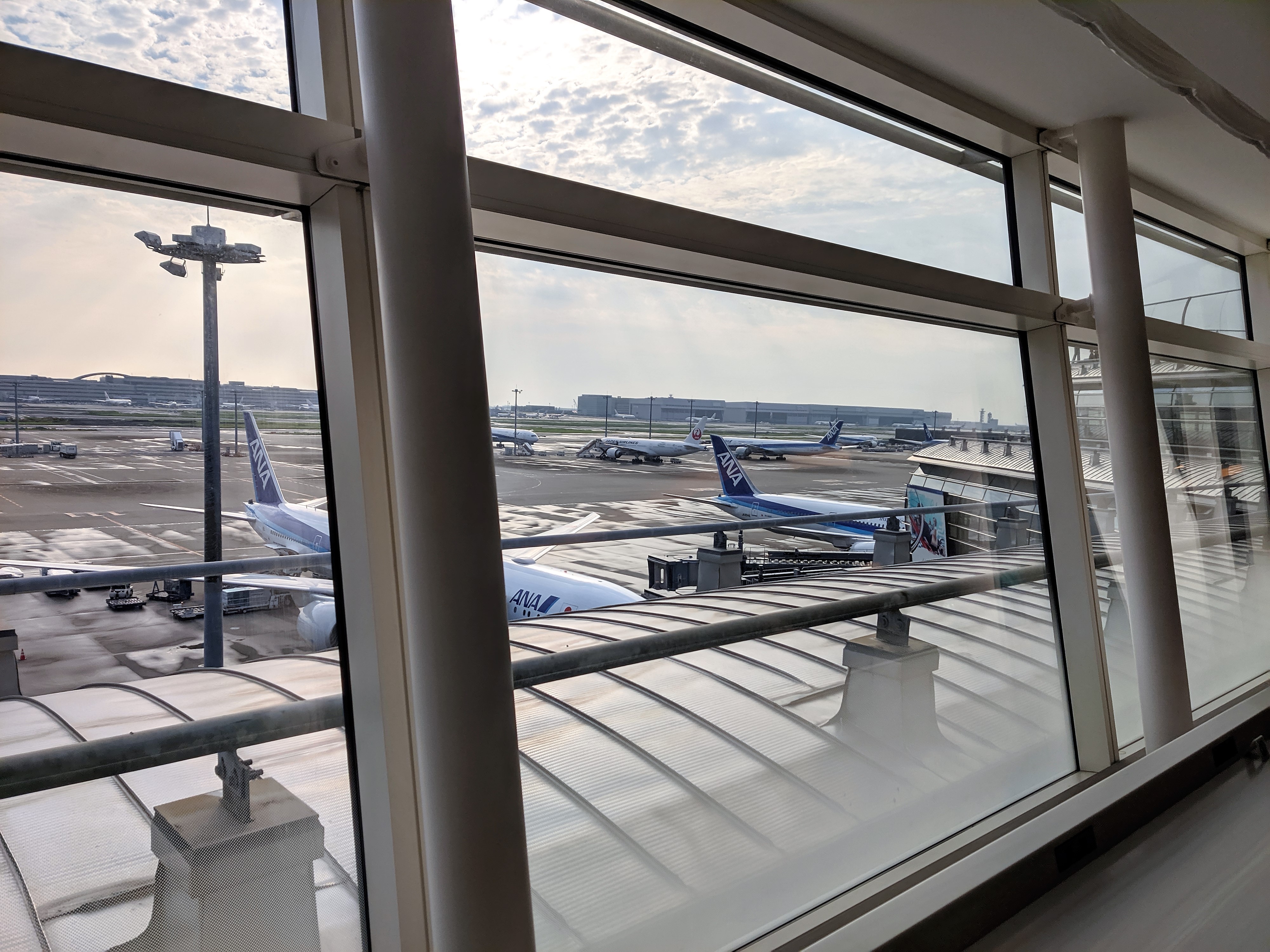 There was a self-service food area with a chef preparing a few dishes, such as pancakes to order. I thought it was a reasonable choice of options for breakfast, although some items such as the salad and sandwiches were more like lunch. I tried the scrambled eggs and sausages, followed by a delicious little bowl of beef curry!
This slideshow requires JavaScript.
The champagne was Tattinger, but I was saving myself for the onboard Laurent Perrier Grand Siecle, so I gave it a miss. There was a relatively mediocre range of spirits apart from the bottle of XO cognac. This was interesting as onboard JAL only have a VSOP which seems a little cheap.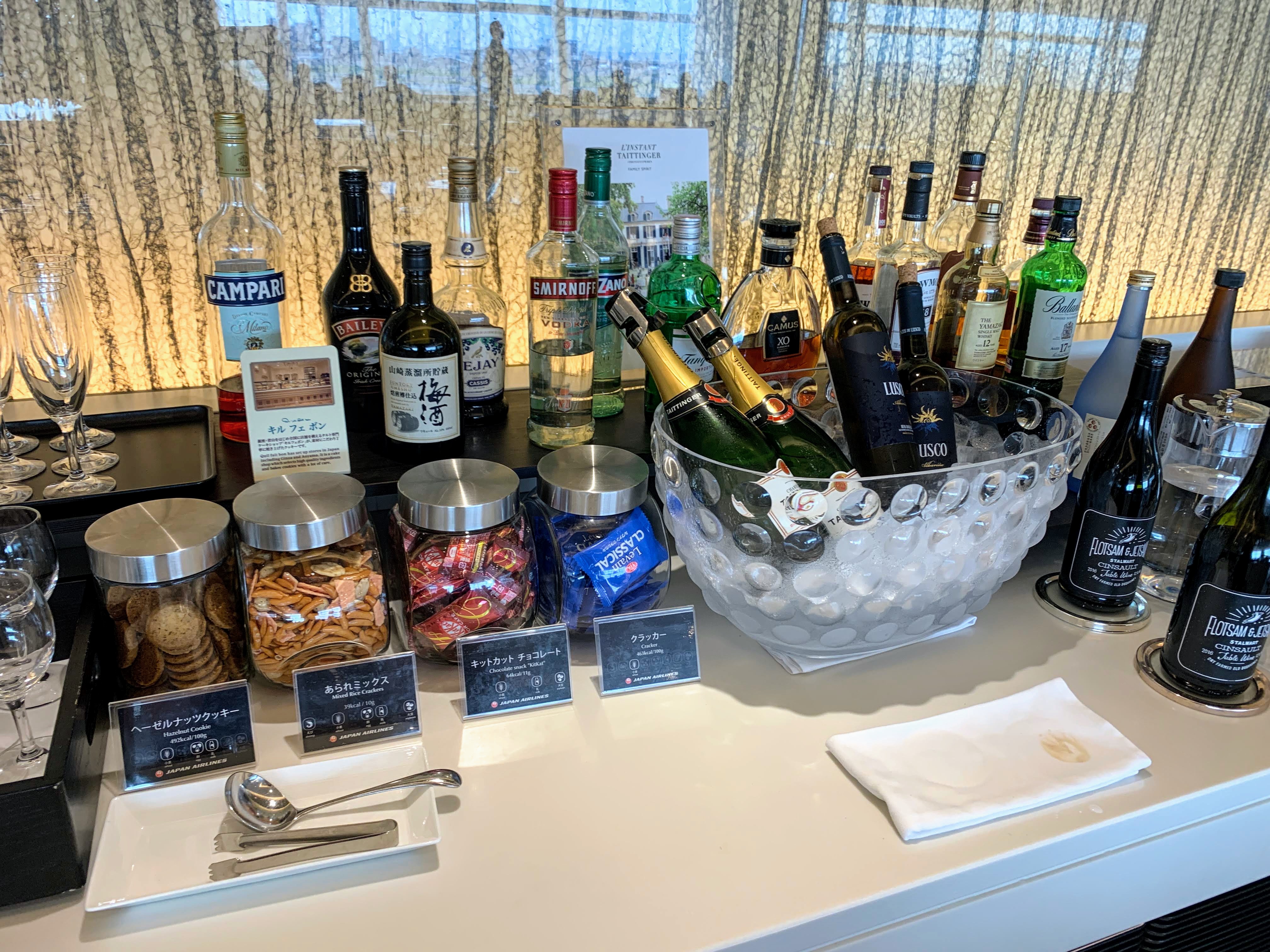 At the back of the lounge is a lovely area called The Red Suite. This houses a lot of exhibits from the past and has a beautiful old school gentleman's club feel to it.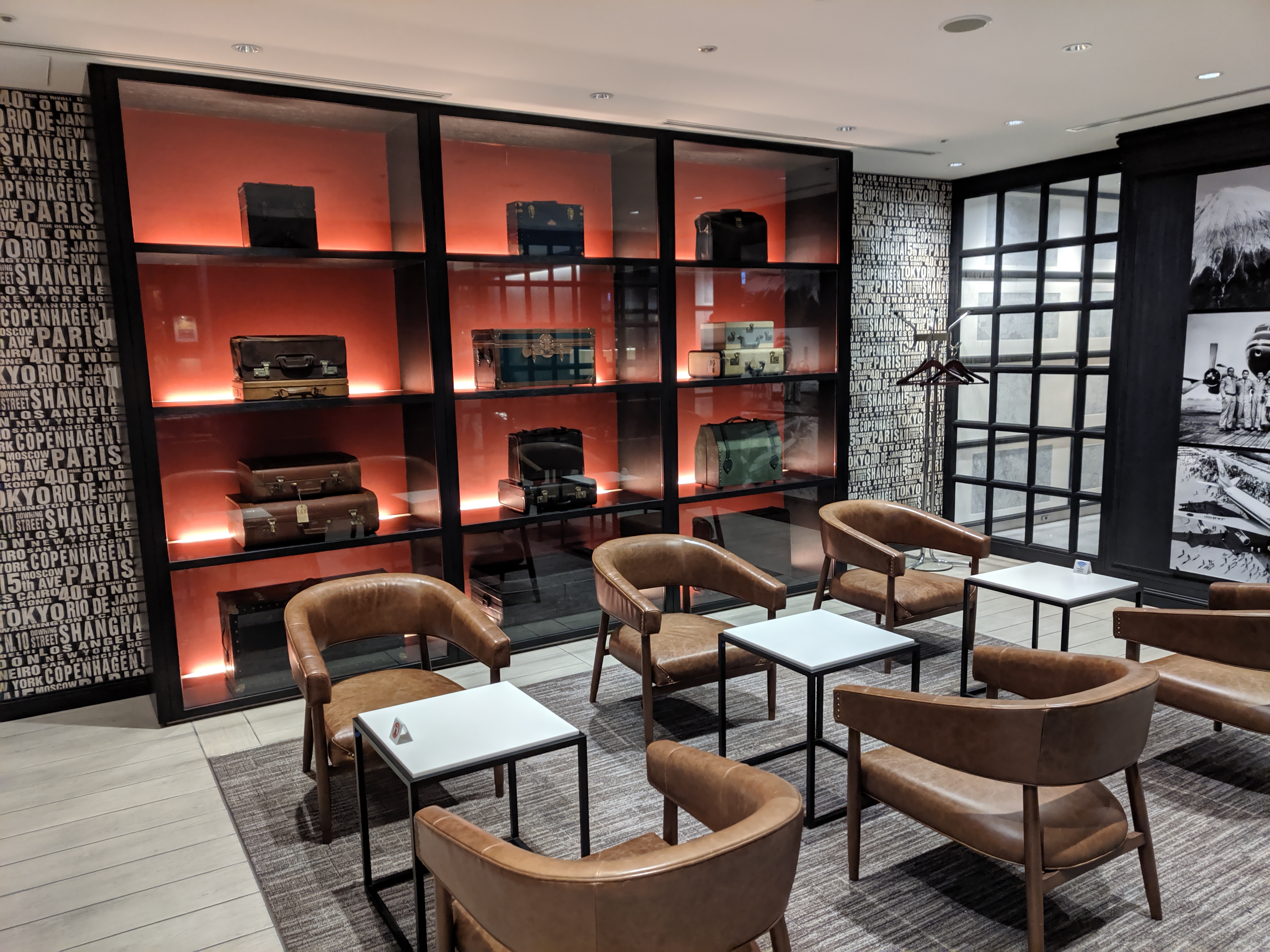 In this area, you could also get your shoes shined.
This slideshow requires JavaScript.
After my breakfast, I found a massage chair area and took one for a spin. Each one was in a sizeable semi-private area, and the chairs were pretty good. One Roving Reporter and I tried recently in Vietnam was more like an instrument of torture and had me screaming for mercy! Fortunately, this one was a lot more sedate and quiet relaxing before a long flight.
Boarding

Boarding was well organised with a separate area and gate for each of the boarding groups. We were quite late boarding, but the gate staff were good at keeping everyone informed of what was happening.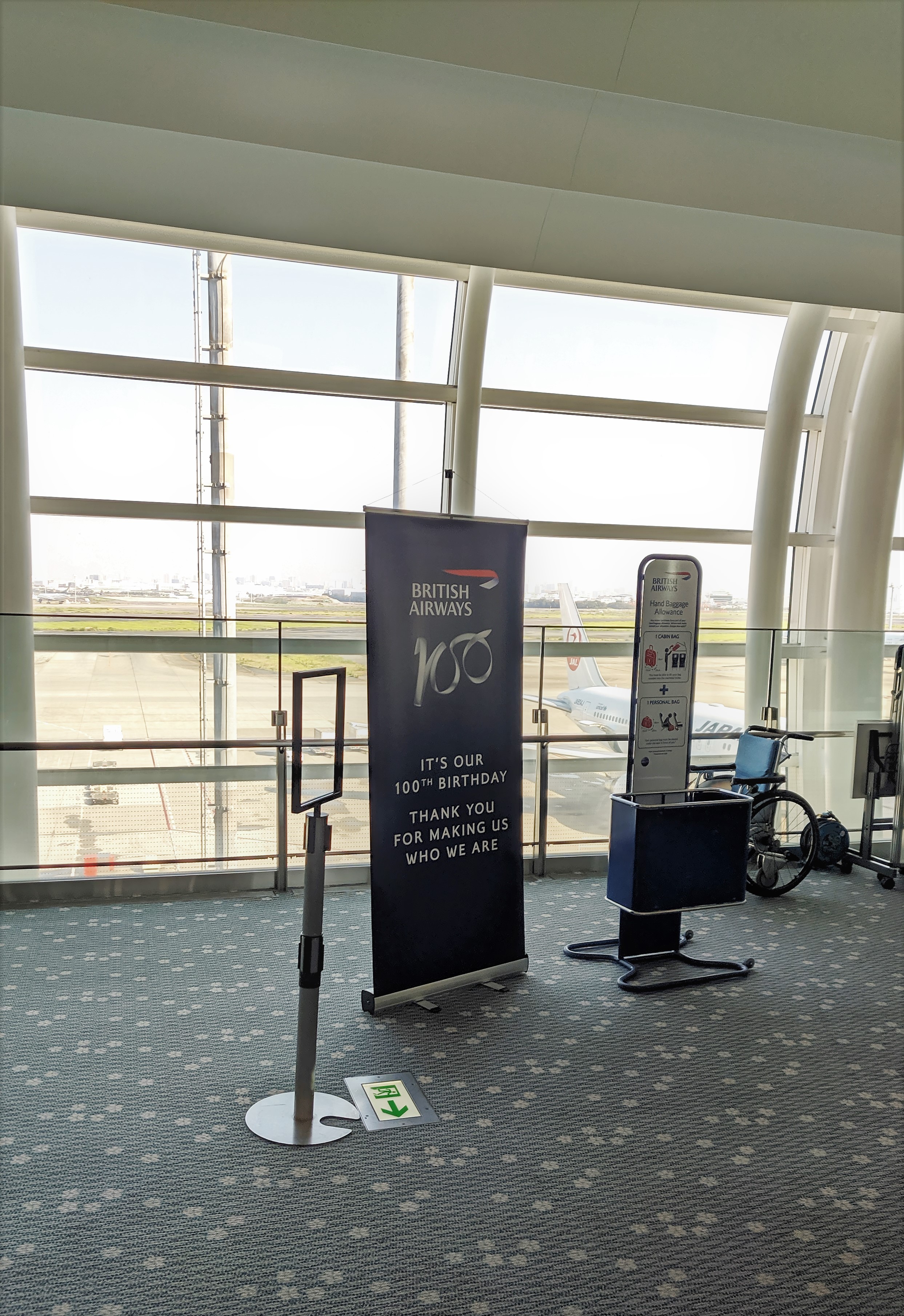 As it was the weekend of BA's centenary they had a banner and a bit of bunting up, but that was pretty much the end of the festivities for us after this point!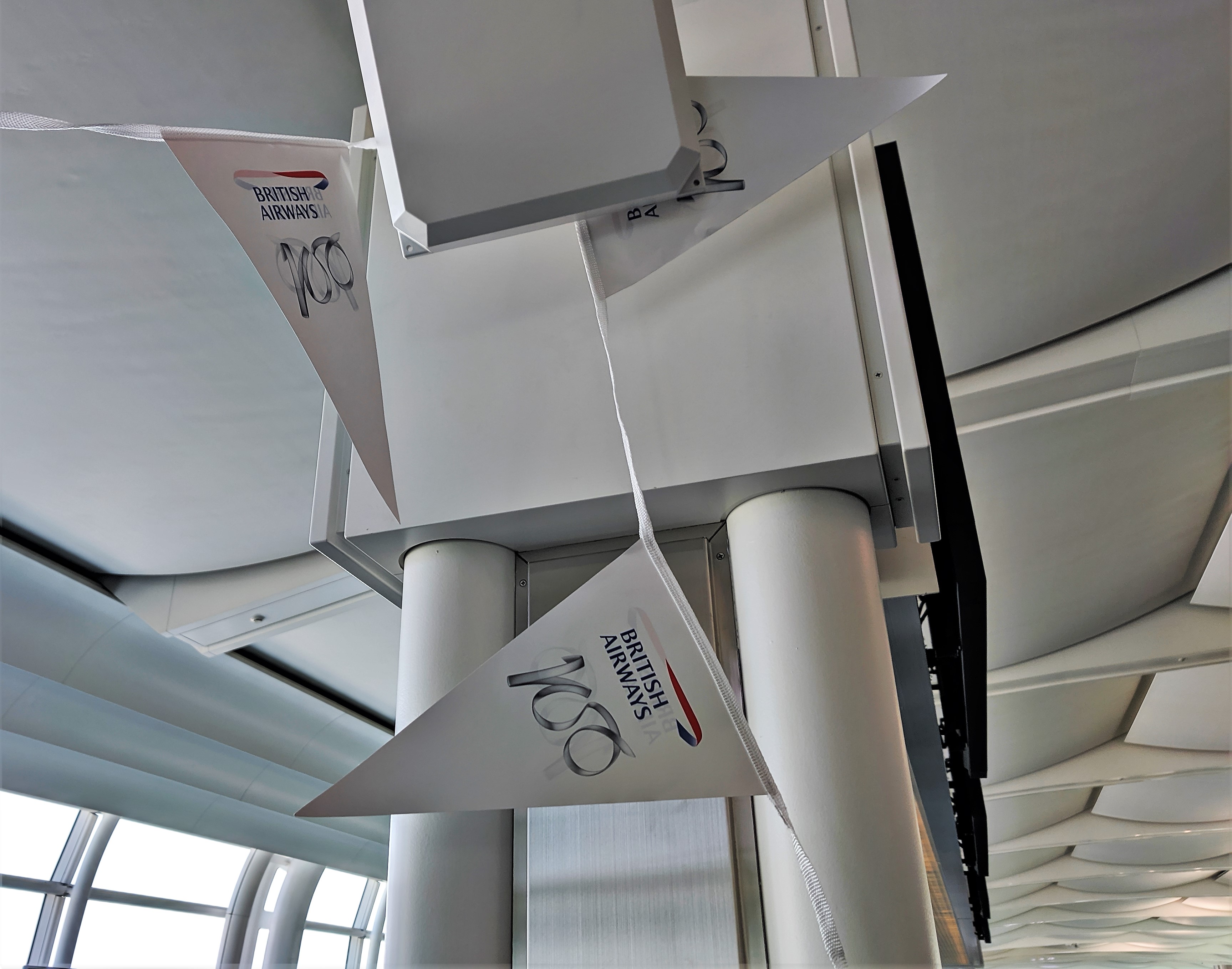 We were greeted at the door and shown to our seats. I was in 3K and Paul was in 2A. This flight was booked quite last minute, so that was all that was left apart from the last row and a middle seat. So don't be surprised if you see photos from both sides of the aircraft.
At the seat were a day blanket, day pillow and headphones. Shortly afterwards, one of the cabin crew came to greet me and offered me a washbag. This was one of the centenary washbags which we will be giving away shortly. The contents are the same as before. I really liked the smart 100 design, and suede feel to the red bag. There was also a blue bag for men with the usual contents.
Female amenity bags contain:
Cleansing micellar facial wipe
Soothing apricot facial wipe
Pro-collagen rose mist
Ultra smart pro-collagen matrix moisturiser
Ultra smart pro-collagen eye cream
Hydra-nourish lip balm
Sea lavender and samphire hand cream
Fortitude deodorant
Male amenity bags contain:
Ultra smart pro-collagen eye cream
Ultra smart pro-collagen matrix moisturiser
Cleansing micellar facial wipe
Skin soothe shave gel
Fortitude deodorant
Hydra-nourish lip balm
The Elemis products are very high quality in the Ultra smart rang,e and I love the fragrance of them too. I am not keen on the eyemasks – I preferred the previous iteration as these feel like the press down on your eyes more. Fortunately, I always carry my own eye mask.
I was offered a welcome drink, and even though it was barely 9 am I figured it would be rude not to have a glass of Laurent Perrier Grand Siecle champagne. Shortly after I got the glass of fizz, I was brought some warm coated nuts as well and a warm towel.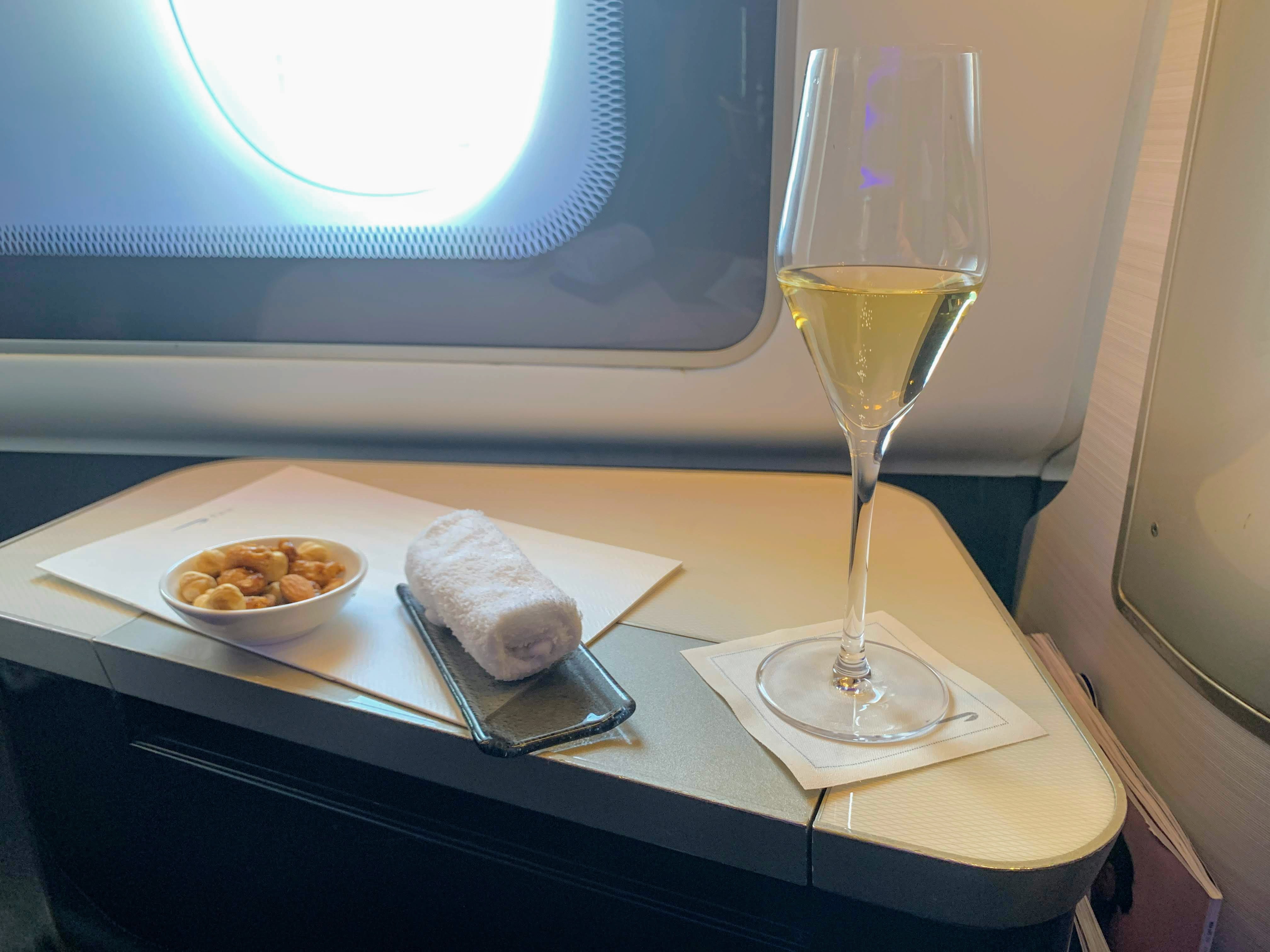 I was given a pair of the ladies pyjamas in their chosen size for me. I do wish they would ask which size you want as often I want to take them for someone else!
I am a big fan of the new very elegant black pyjamas by Alice Temperly for women. I am not so convinced by the men's that look a little odd with the low neckline.
The cabin and seat

The cabin is laid out 1-2-1 with the middle seats having a divider that you can move across for privacy. I generally try to avoid the back row as it is close to the galley and can be noisy. My preferred choice is usually row 2 or 3.

We both had window seats as usual.
The B777 is probably both of our least favourite BA First cabins. There is nothing wrong with it, but there is less space per seat than the A380, the B787 has a better seat design and TV screen and the B747 just feels more exclusive in the nose of the plane. Compared to the A380 & B787, it definitely lacked a bit of storage space. There was the usual personal wardrobe.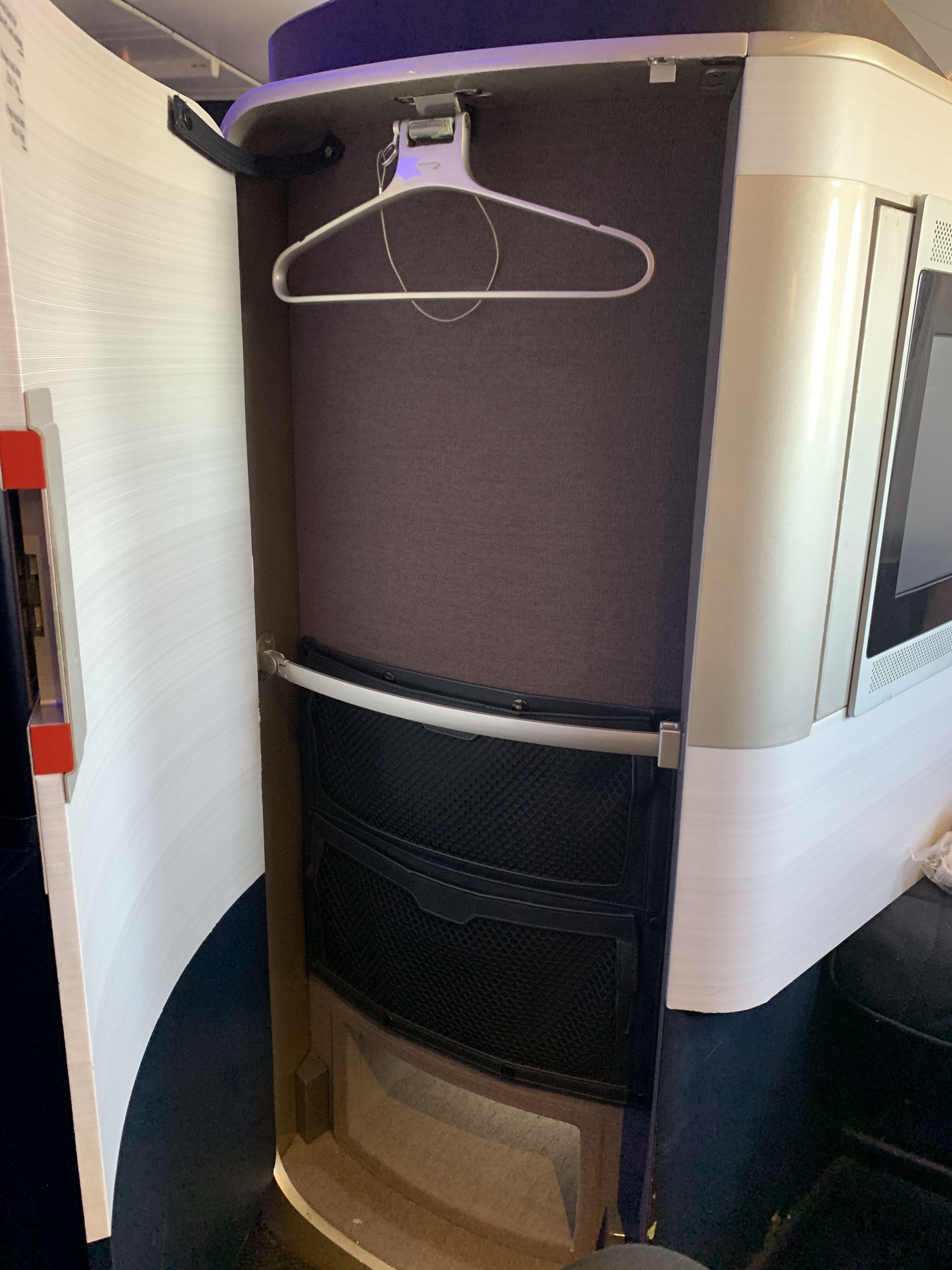 This lacked the space of the A380 where you can fit a wheeled carry on bag in the wardrobe quite happily. In this one, I could just about squeeze my shoes and tiny handbag. The net pockets were handy for smaller items, though.
The seat is controlled with a single dial. I do find the seat comfortable for sitting upright and for sleeping, but for me, it lacks another position. As you can't control elements of the seat independently, you can't have the seat slightly reclined with the leg rest fully raised. I am not tall enough to reach the footstool unless I lower it into the other position, which brings it forward slightly. But again your legs are not raised enough for my liking. Perhaps I am just fussy?!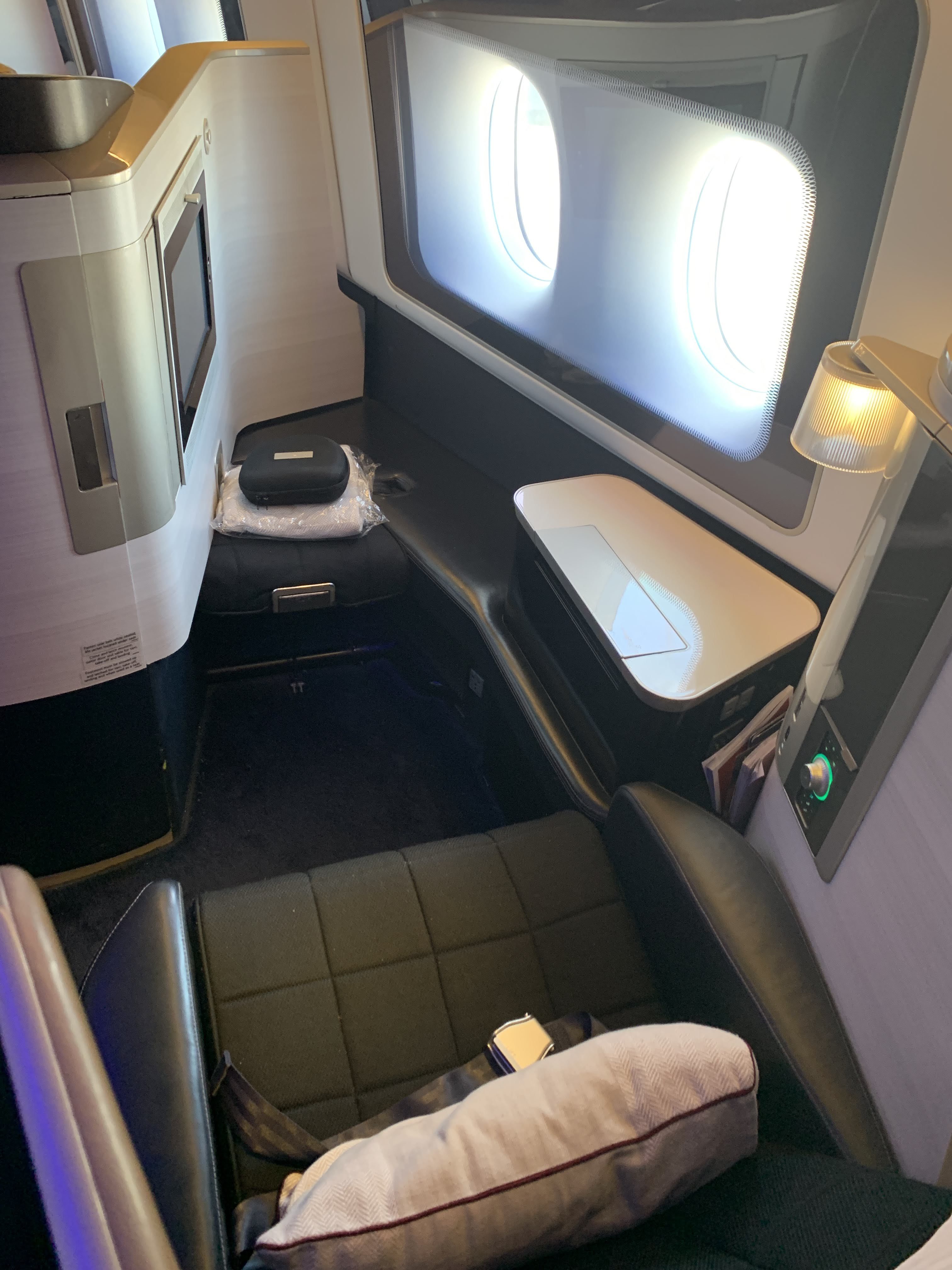 Once we took off, I decided to go for a snooze after our very early start. The cabins crew were very proactive in making up the bed with a mattress topper. I really love the new First bedding. The sheets are lovely soft cotton, and the pillow is one of the nicest I have seen in First. I do prefer the Emirates memory foam mattress topper to the BA one, but it is definitely better than the previous thinner one.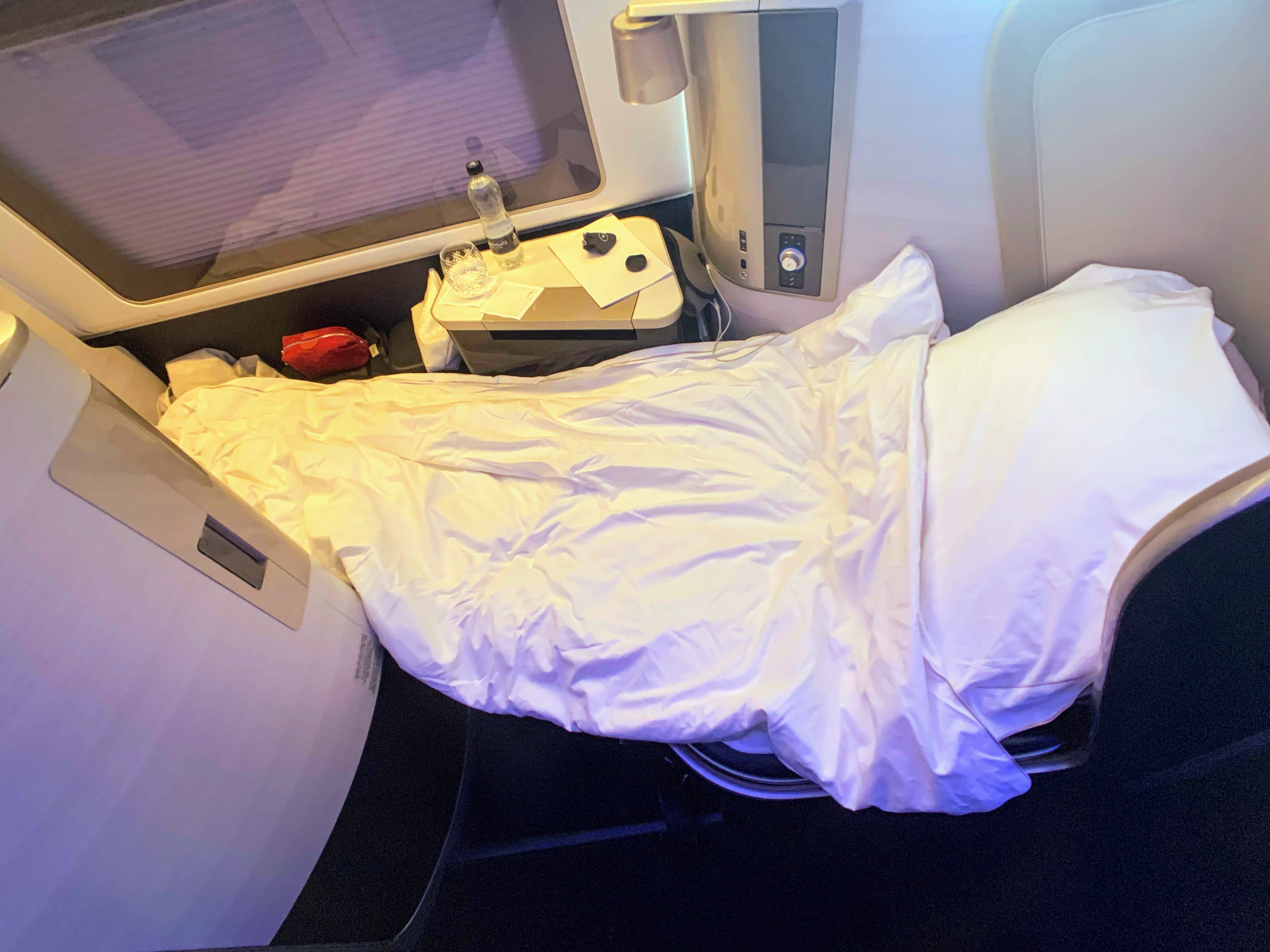 Food and drink
I decided to test the dine on demand concept as I had just had breakfast in the lounge and did not want to eat lunch at 10.30am! I had a quick glass of fizz with the canapes before I went to sleep.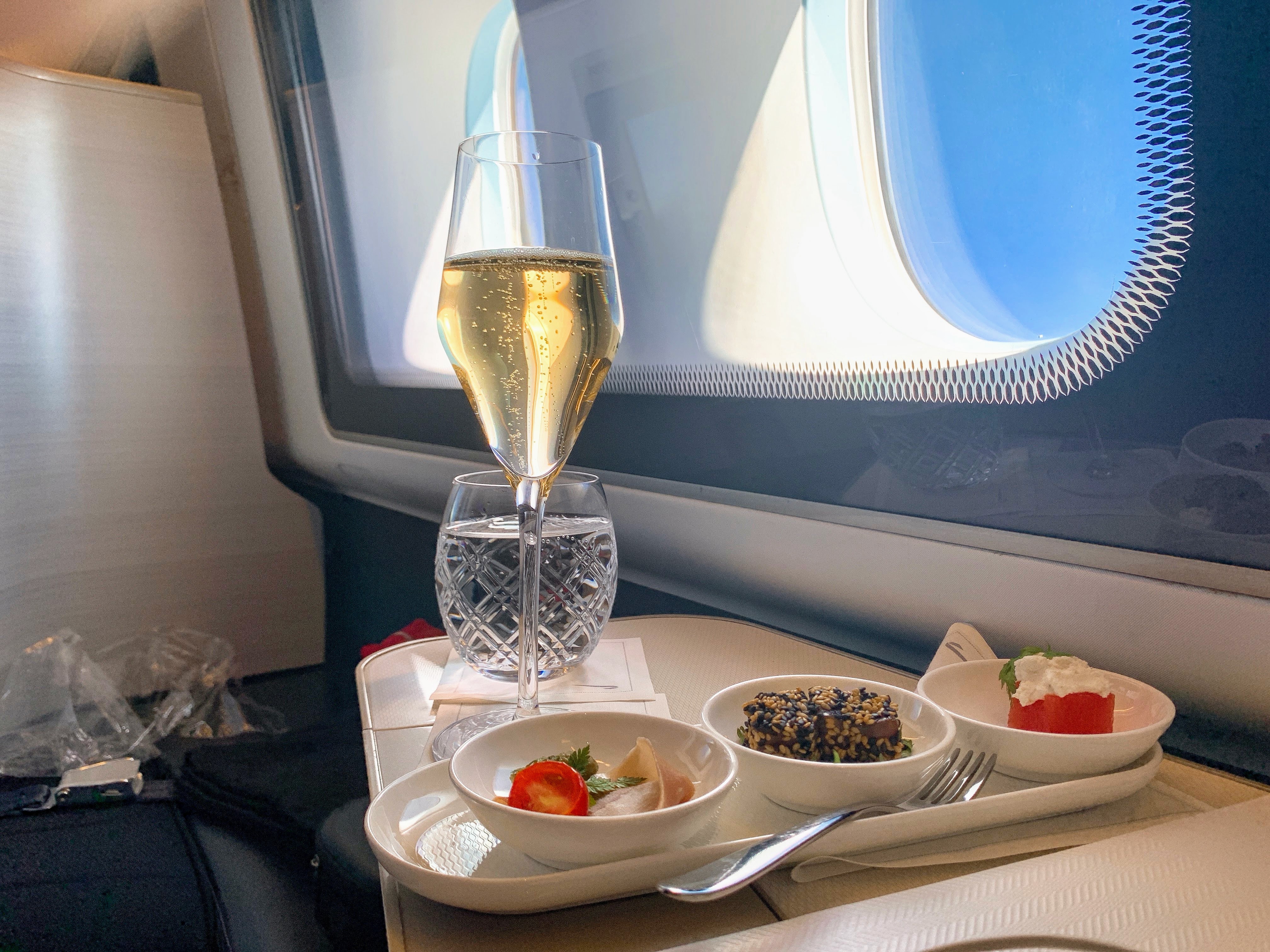 Paul also delayed eating for a little while. Here is our menu:
This slideshow requires JavaScript.
The eagle-eyed readers will notice that the menu says dinner! When in fact it was more like breakfast time when we took off!
Paul started with the Japanese appetiser, which was beautifully presented and delicious.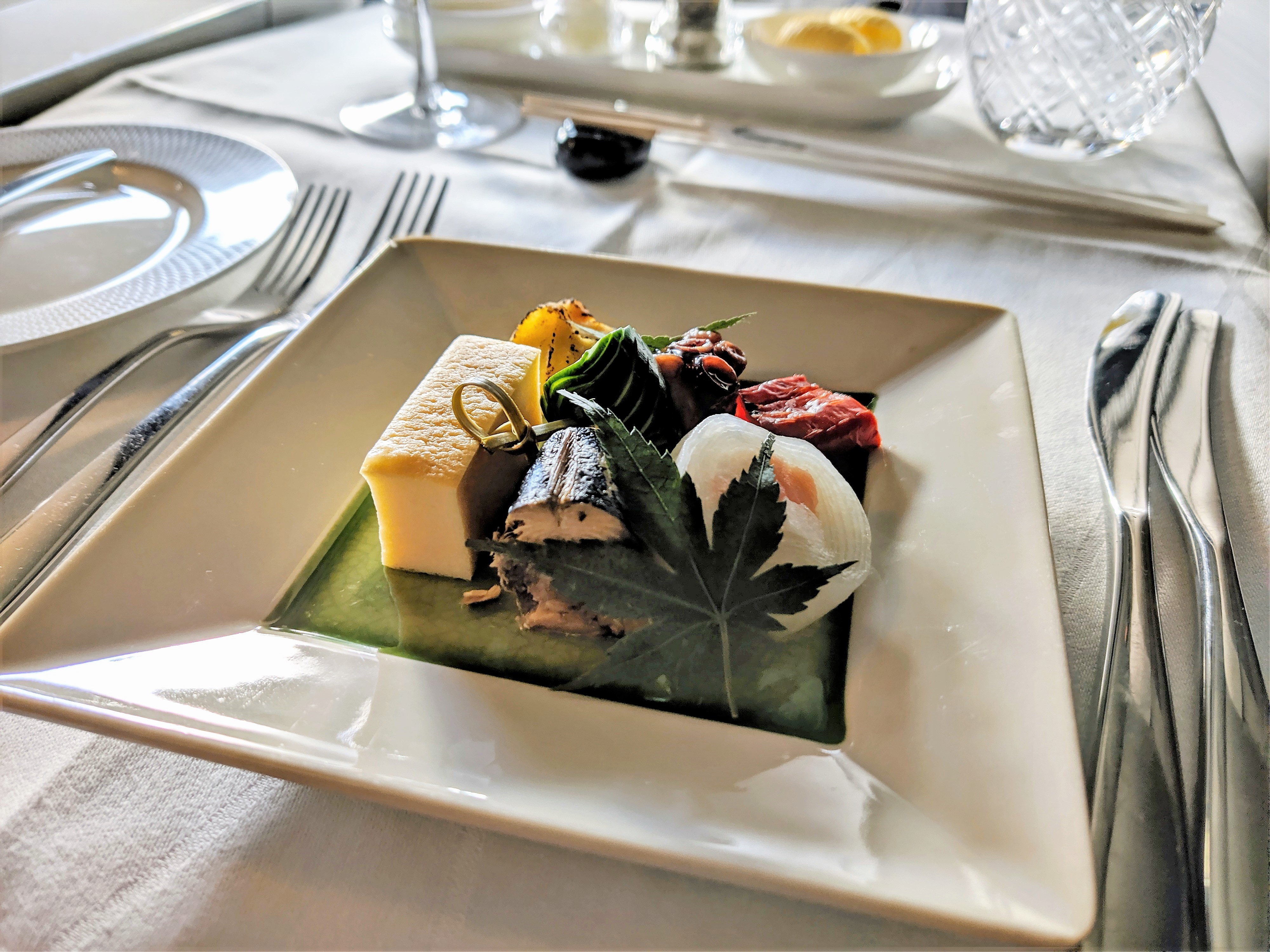 I did not eat until around 4 hours into the 11-hour flight. Therefore I got my own little breadbasket, whereas usually you would just be offered from the basket. Good quality olive oil was placed on the table as well as butter.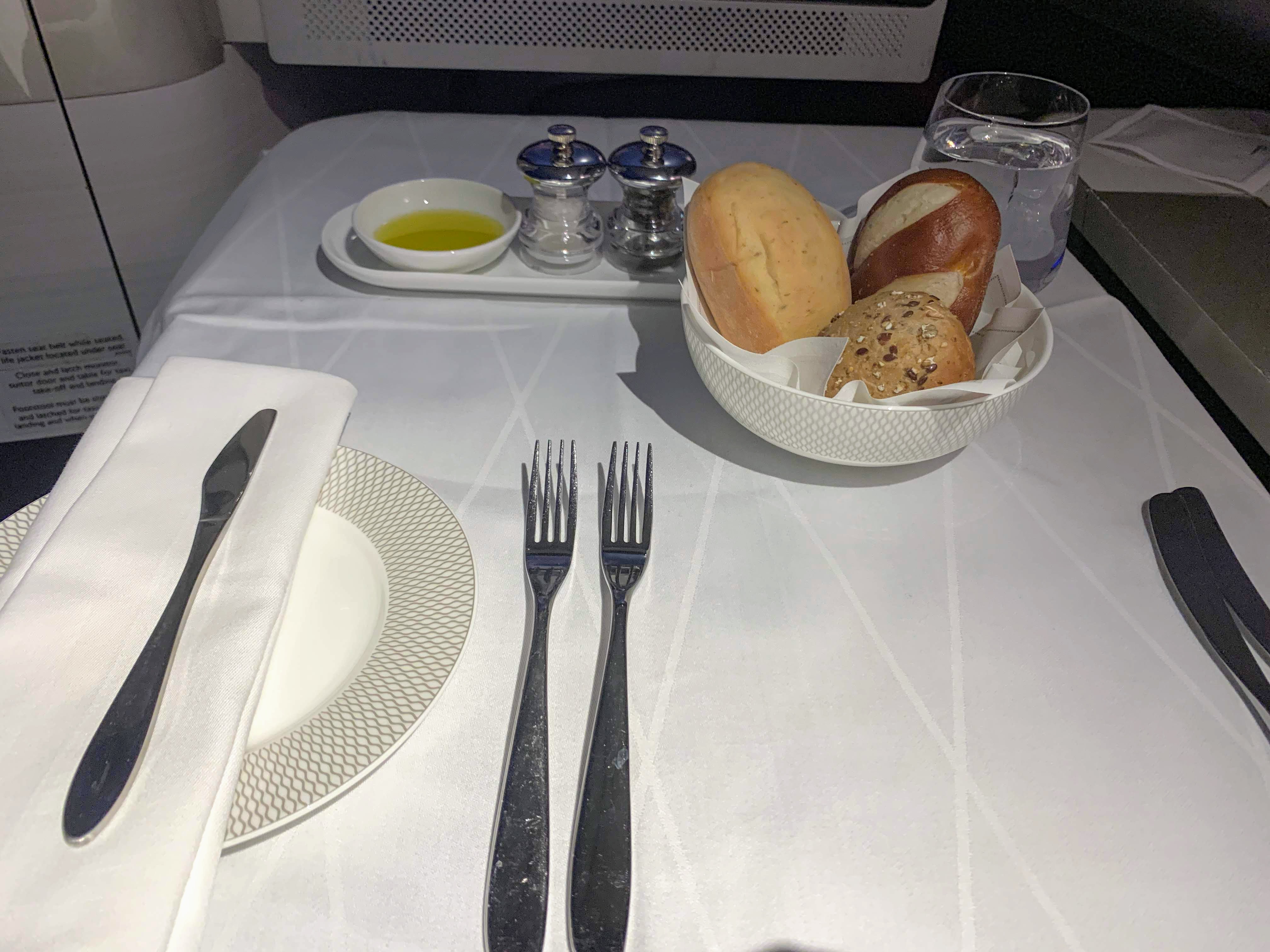 For my starter, I had the cheese tart. This had a lovely thin and crisp pastry which is not easy to do on an aircraft. The filling could have been a little more generous, though.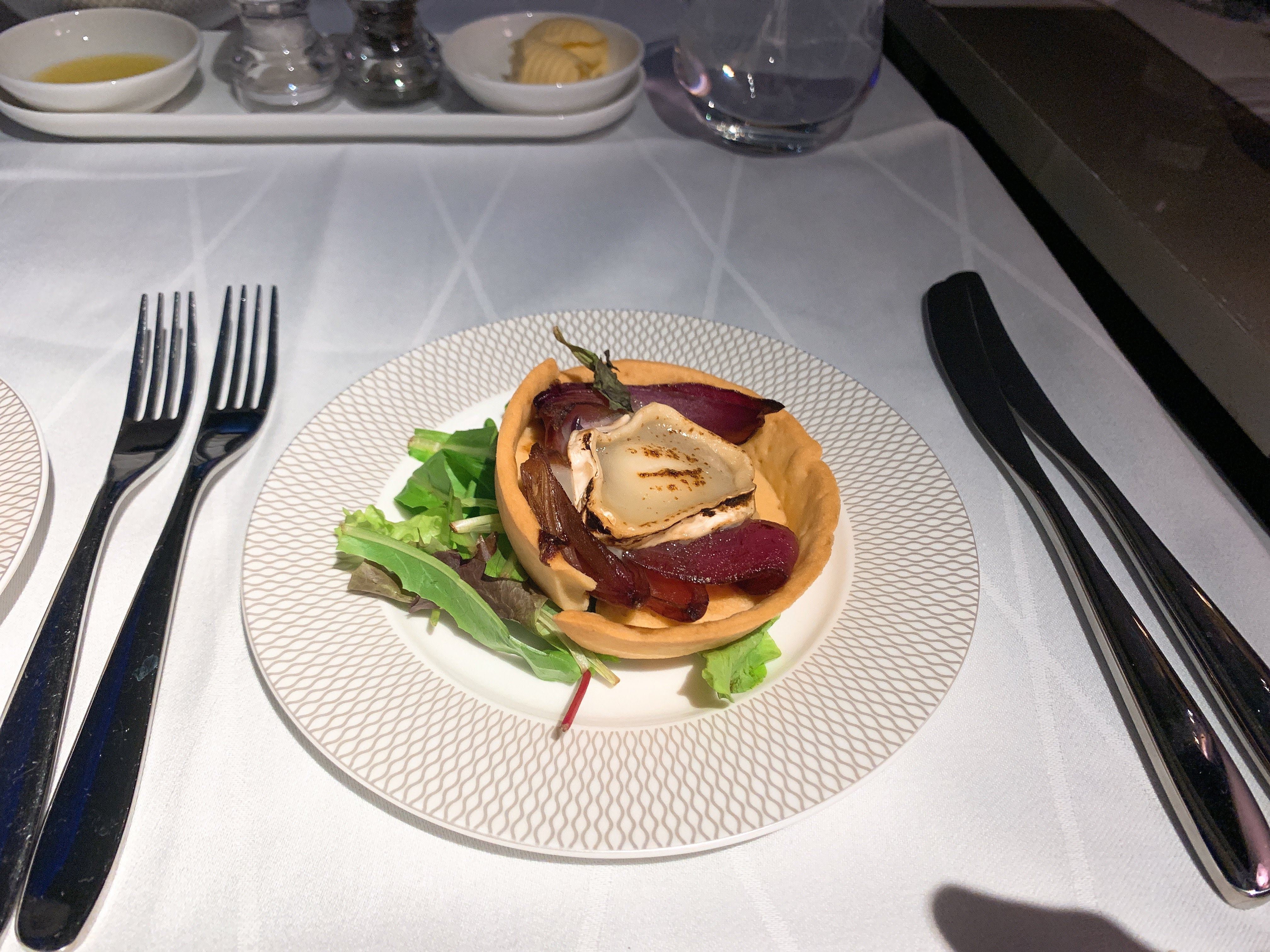 While I was waiting for my meal to arrive I had been sipping on a glass of the LPGS fizz – so no worries about it running out on this flight. That may have been to do with the early departure time or the fact that Paul was not drinking much! I then switched to the Chassagne Montrachet. It is interesting to see that BA is still putting wines on the menu without any real producer details. Unfortunately, I forgot to have a look at the bottle, but I will check if it is still there for my trip this coming week. It was a very average example of a Chassagne Montrachet.
Before my main course, I had a lovely fresh-tasting salad with honey mustard dressing. Paul went for the minestrone soup.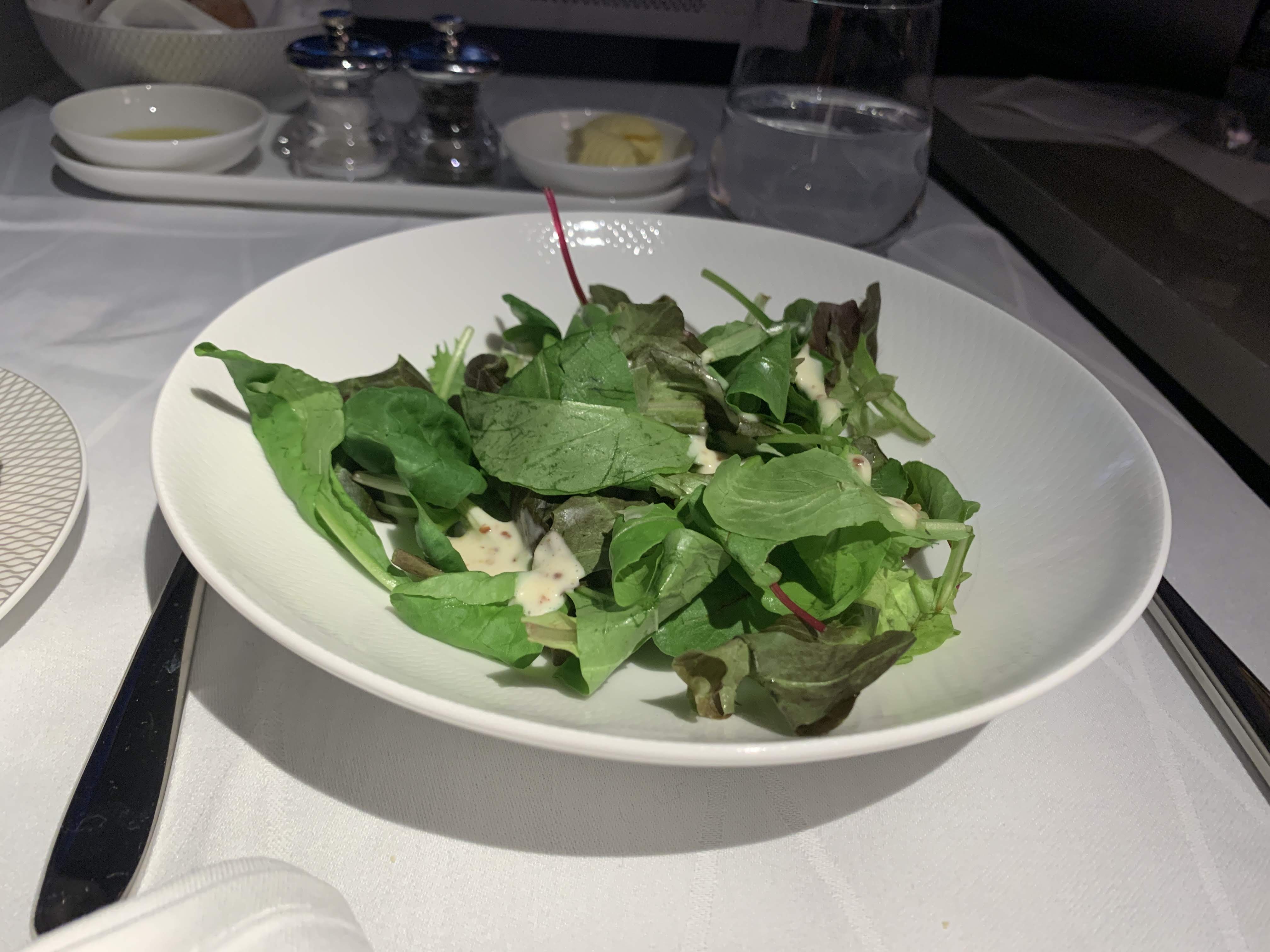 For our main courses, Paul had the beef, and I had the Japanese style sea bass. Both were extremely good, and my sea bass was perfectly cooked and still moist. Mine came with all the side dishes as I had not specified a preference.
Paul had the mango ice cream for dessert, which was quite a generous portion. It came in very perfectly round scoops!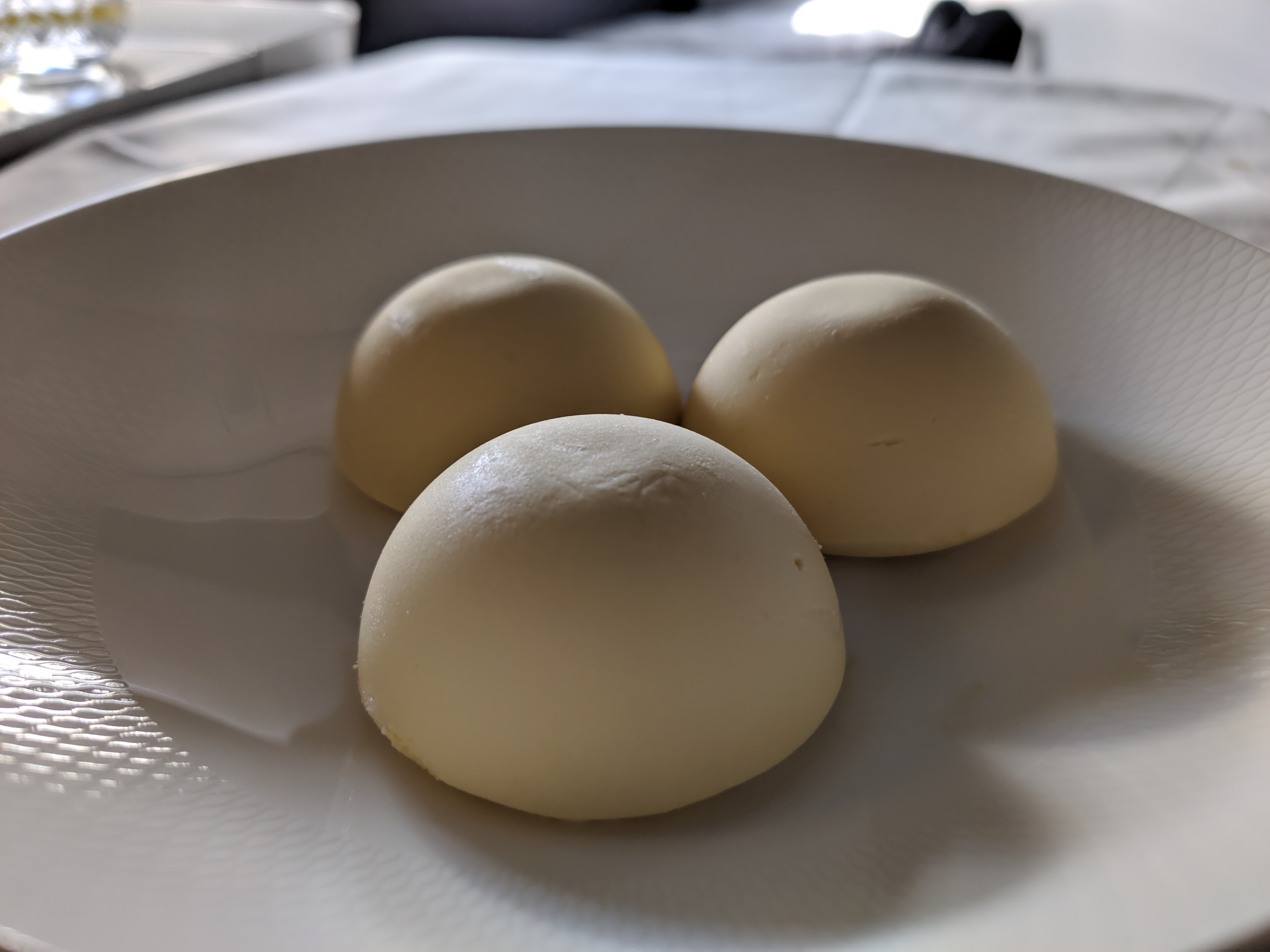 Given my obsession with yuzu (its a citrus fruit a bit like a mandarin crossed with lime), I went for the yuzu cake with a glass of the dessert wine.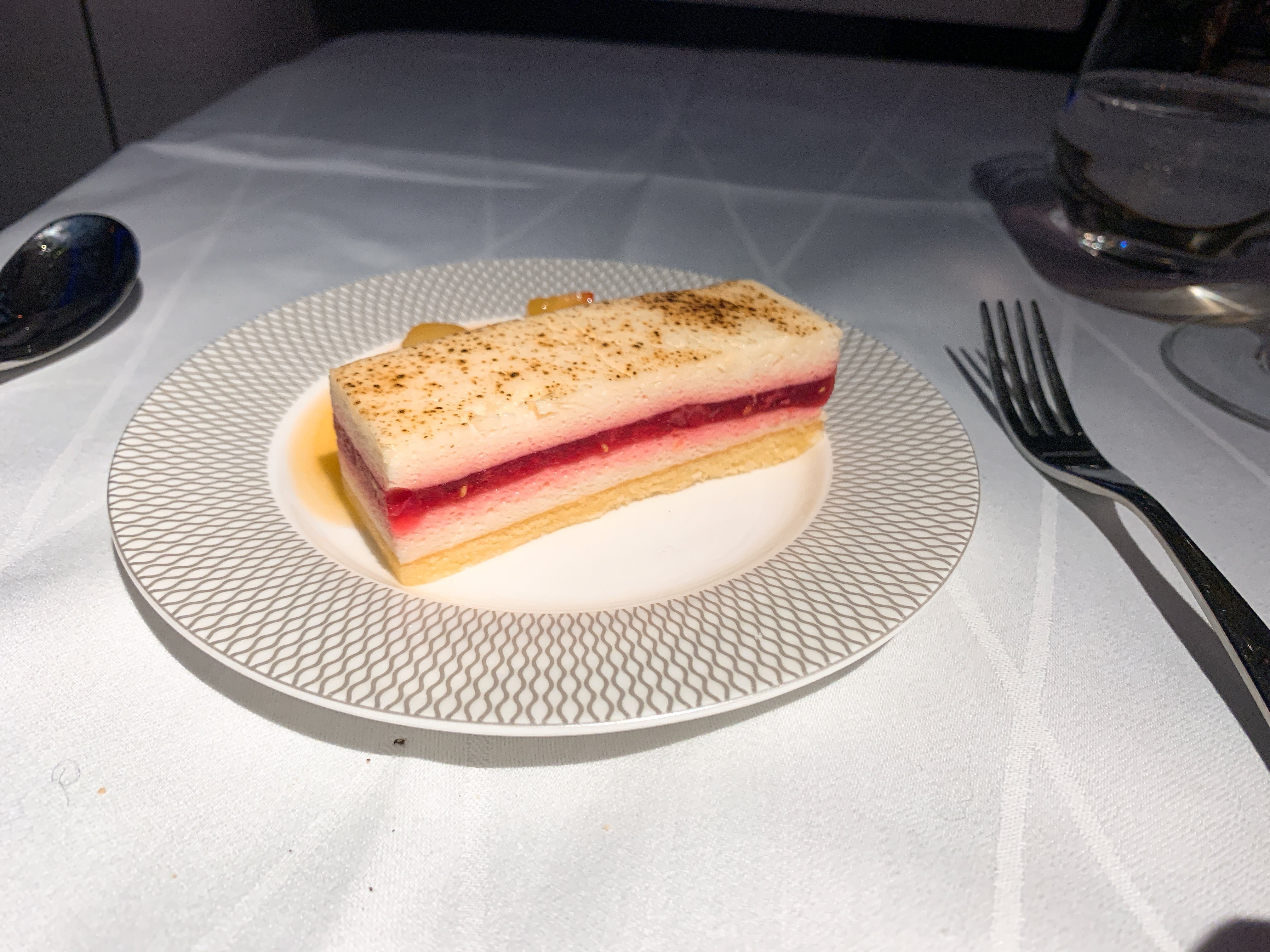 I finished with a glass of the XO cognac. The crew were rather too generous with this and kept topping me up!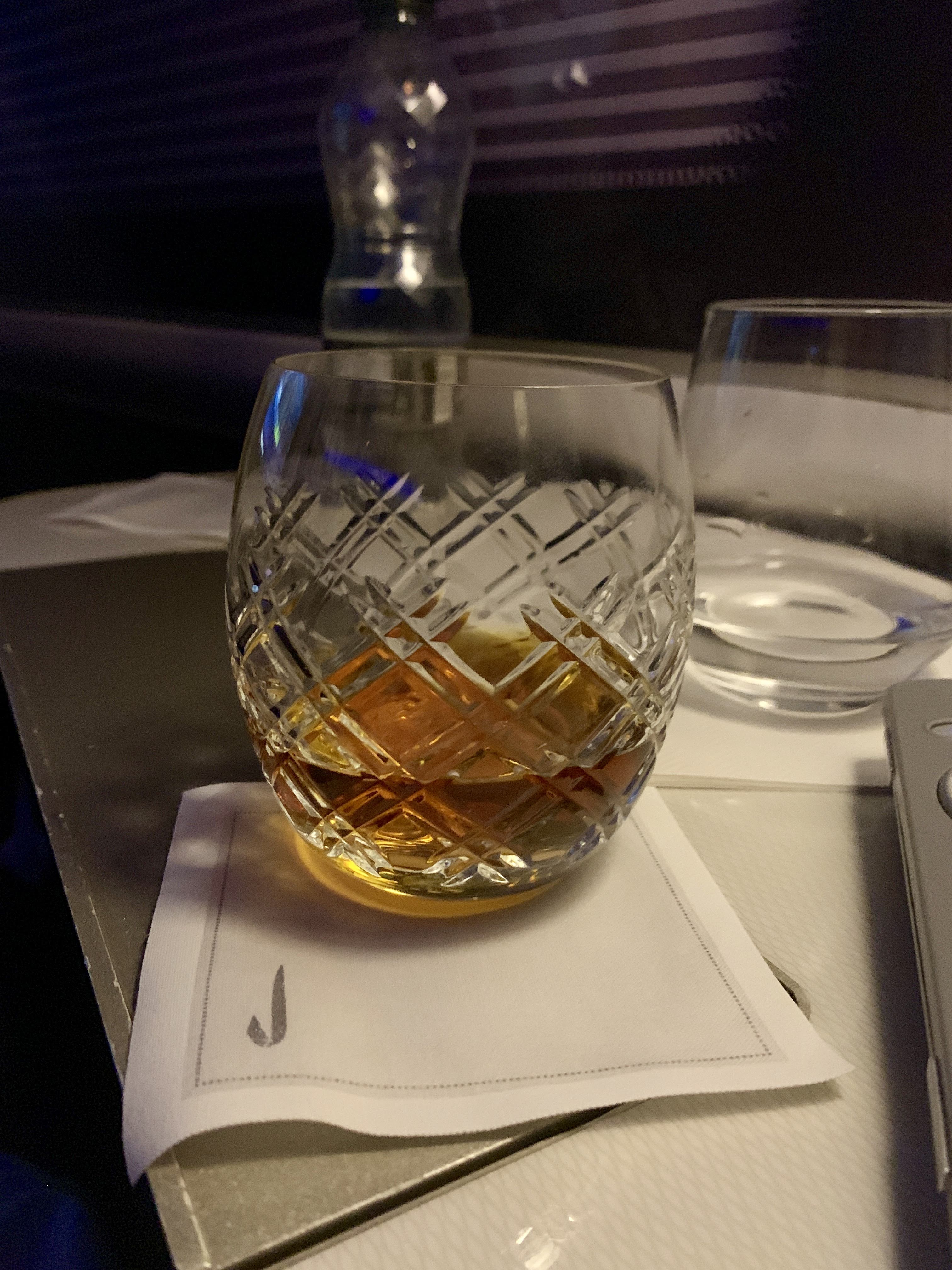 A second meal was served around 2 hours before landing. I usually don't bother, but since my first meal was quite light, I had a couple of courses.
We both started with the sweet potato and blue cheese salad. It sounded a bit odd, but actually the sweetness of the potato went well with the salty blue cheese.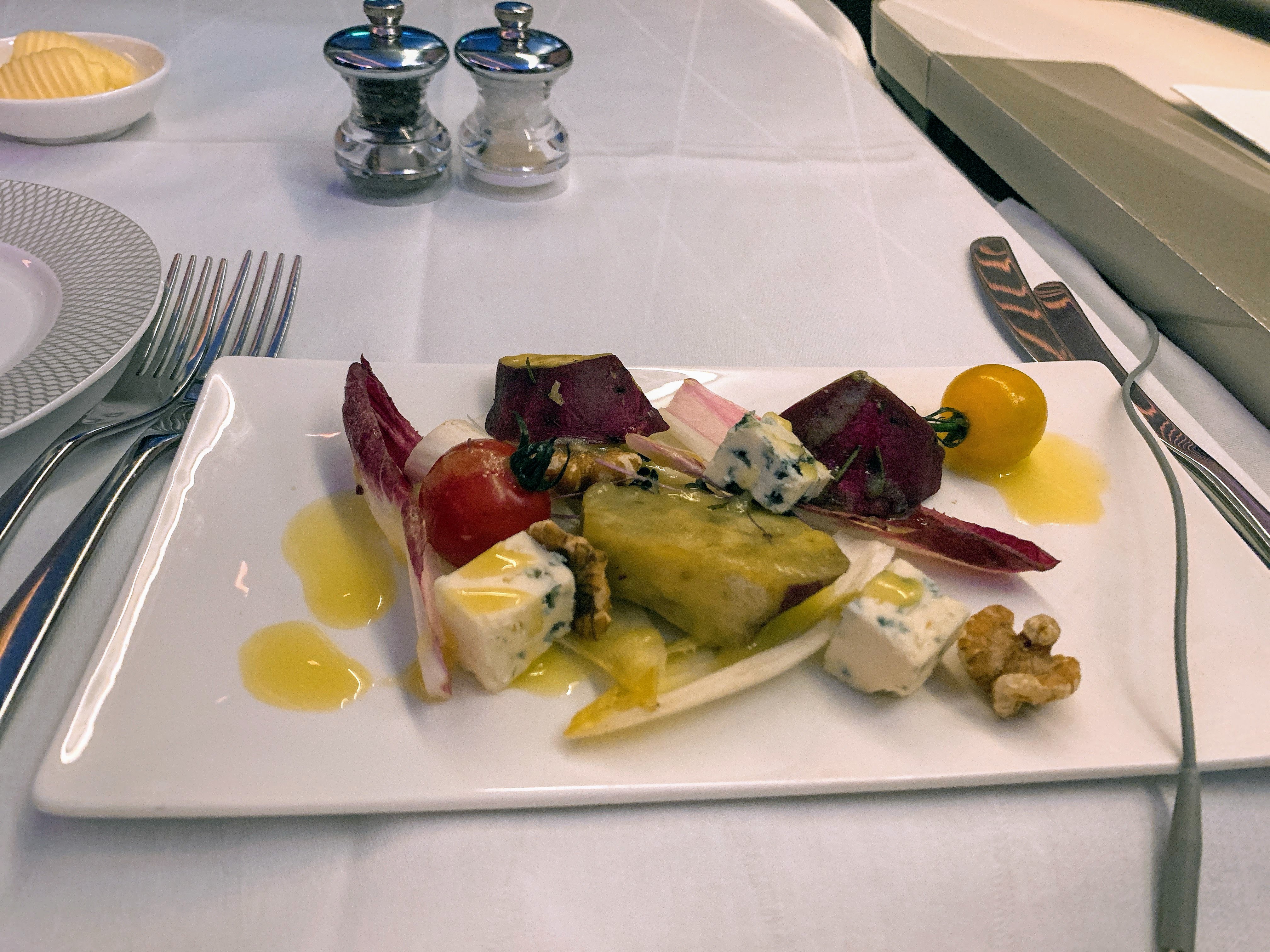 Then we also both went for the chicken, which was very tasty.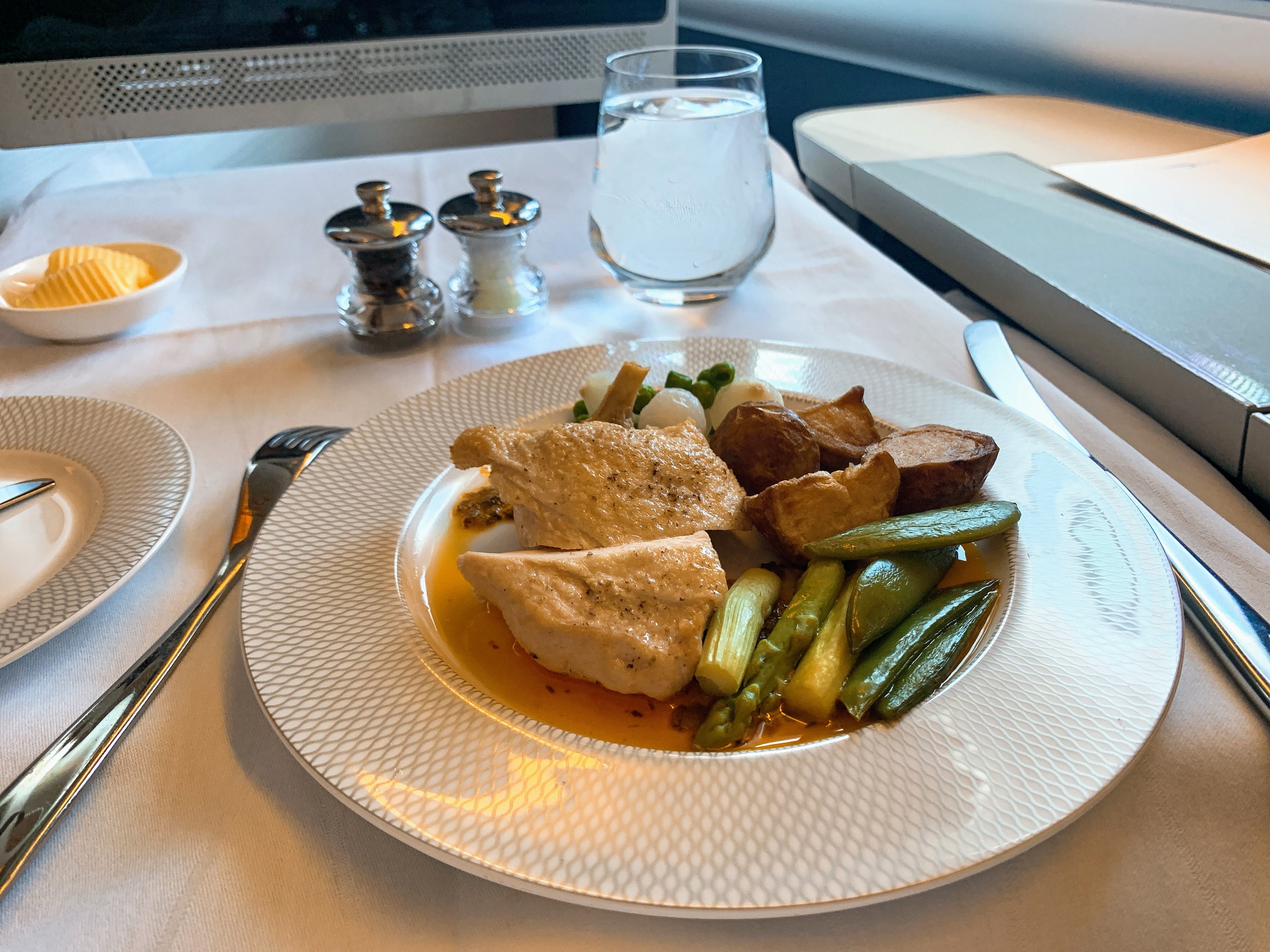 I was too full for dessert, but Paul had the opera cake.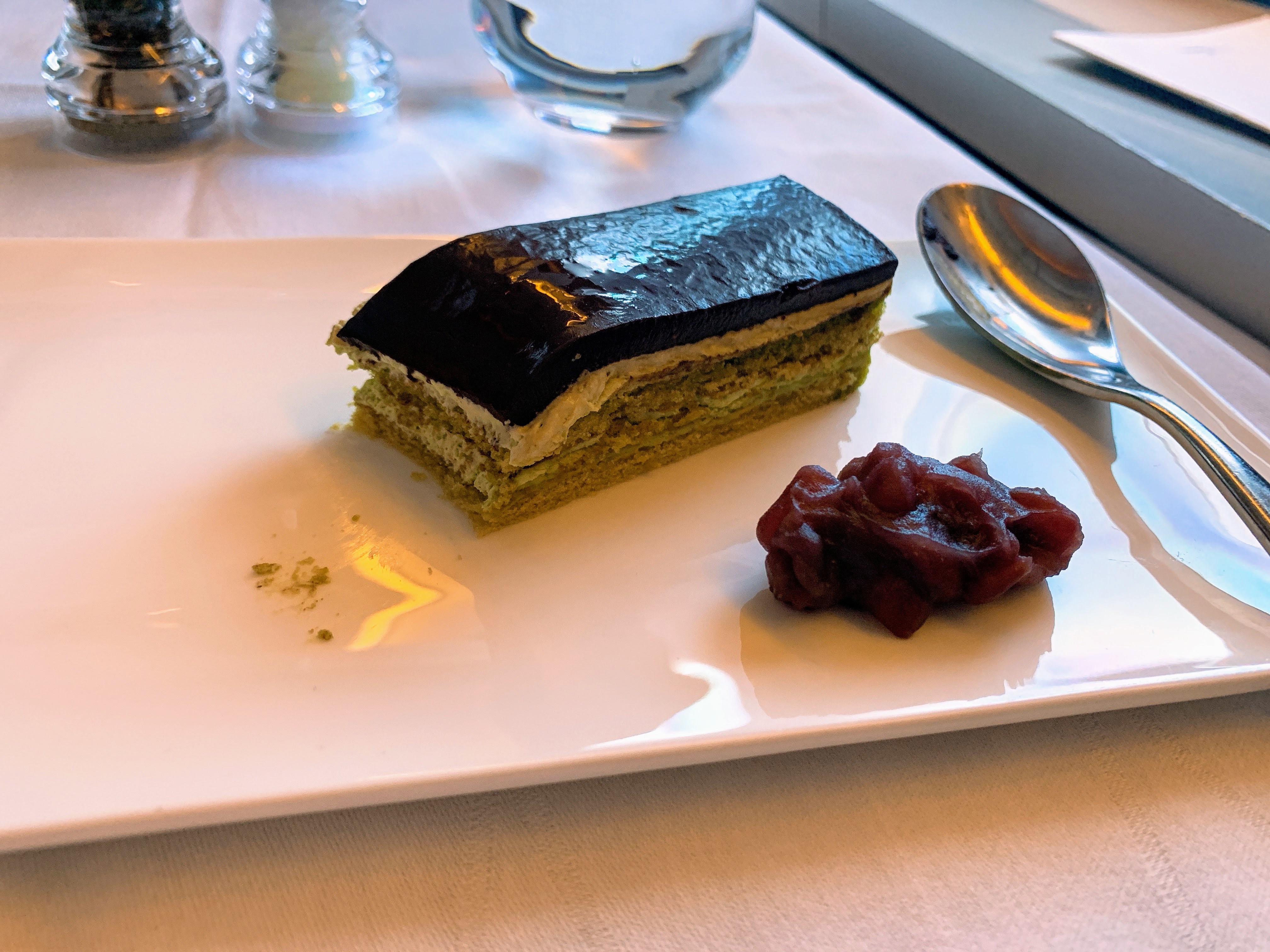 The crew serving us were fantastic. They were the type of BA crew I love, a little bit older and experienced (Worldwide fleet crew) who understand what First customers want. Friendly with a bit of banter, but very professional too. I really could not fault any of the First team that day. Nothing was too much trouble, and they anticipated all my needs.
Entertainment and connectivity
The headphones provided are the Bowers and Wilkins which look a little retro. I find them decent quality and reasonably comfortable, but I still prefer my own Bose QC35s.
The TV screens are a decent size, but the quality is not particularly great in terms of definition.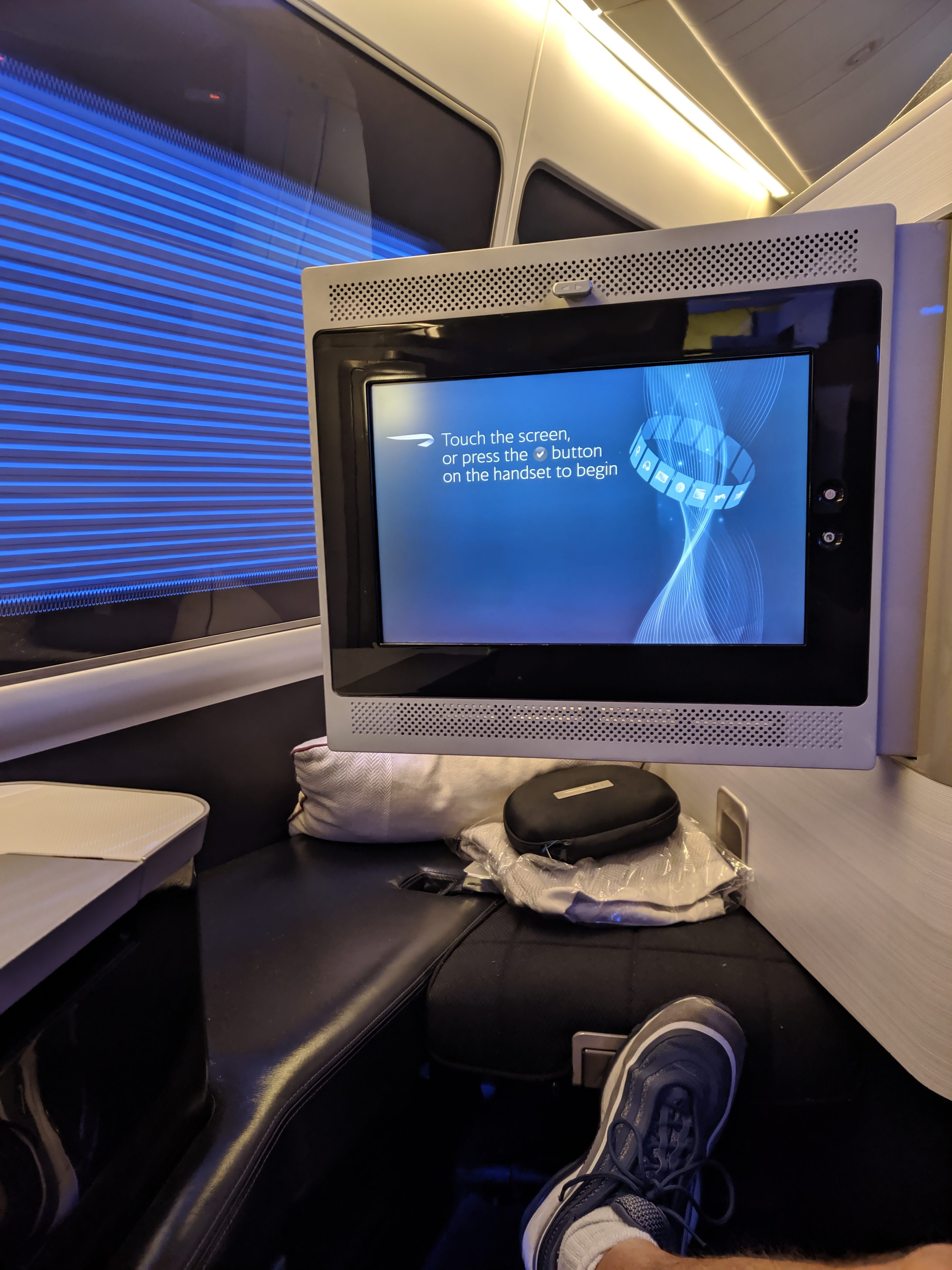 You can control the screen by touching it or with the slightly old fashioned remote. Though to be honest usually these work better than the newer touchscreens!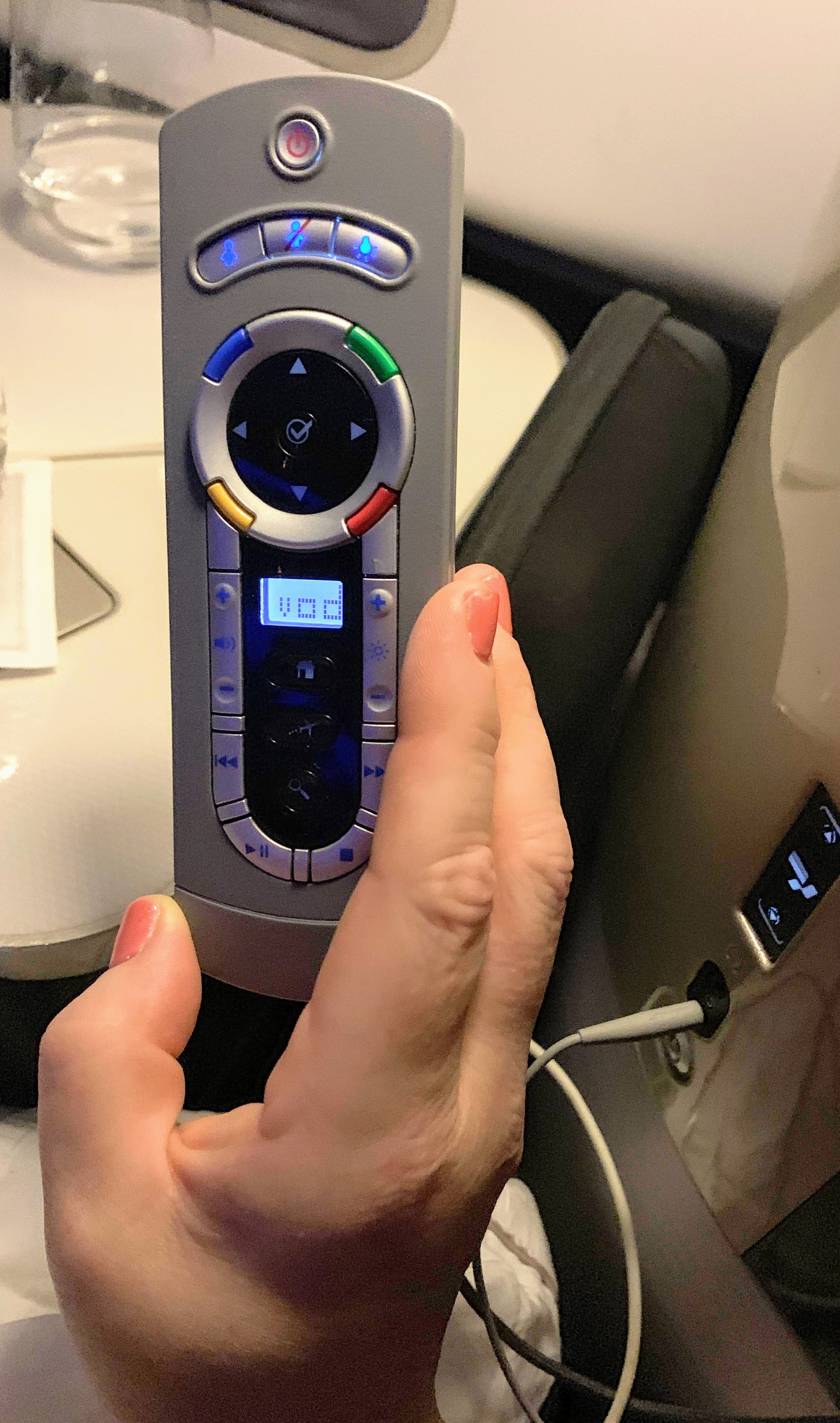 There was Wifi which offers two speeds. The faster one should be good enough for streaming. I purchased a whole flight package of the faster one for £23.99, but I found it quite slow. Picture messages on what's app would not download, and I struggled with some social media too. It was fine for text messages and emails, though.
There was a fairly average selection of films with some new releases. There was nothing I wanted to watch that I hadn't already seen, so I had a look at the TV selection. This had a really good choice with plenty of box sets, so I caught up on Catastrophe and the wonderful Handmaid's Tale.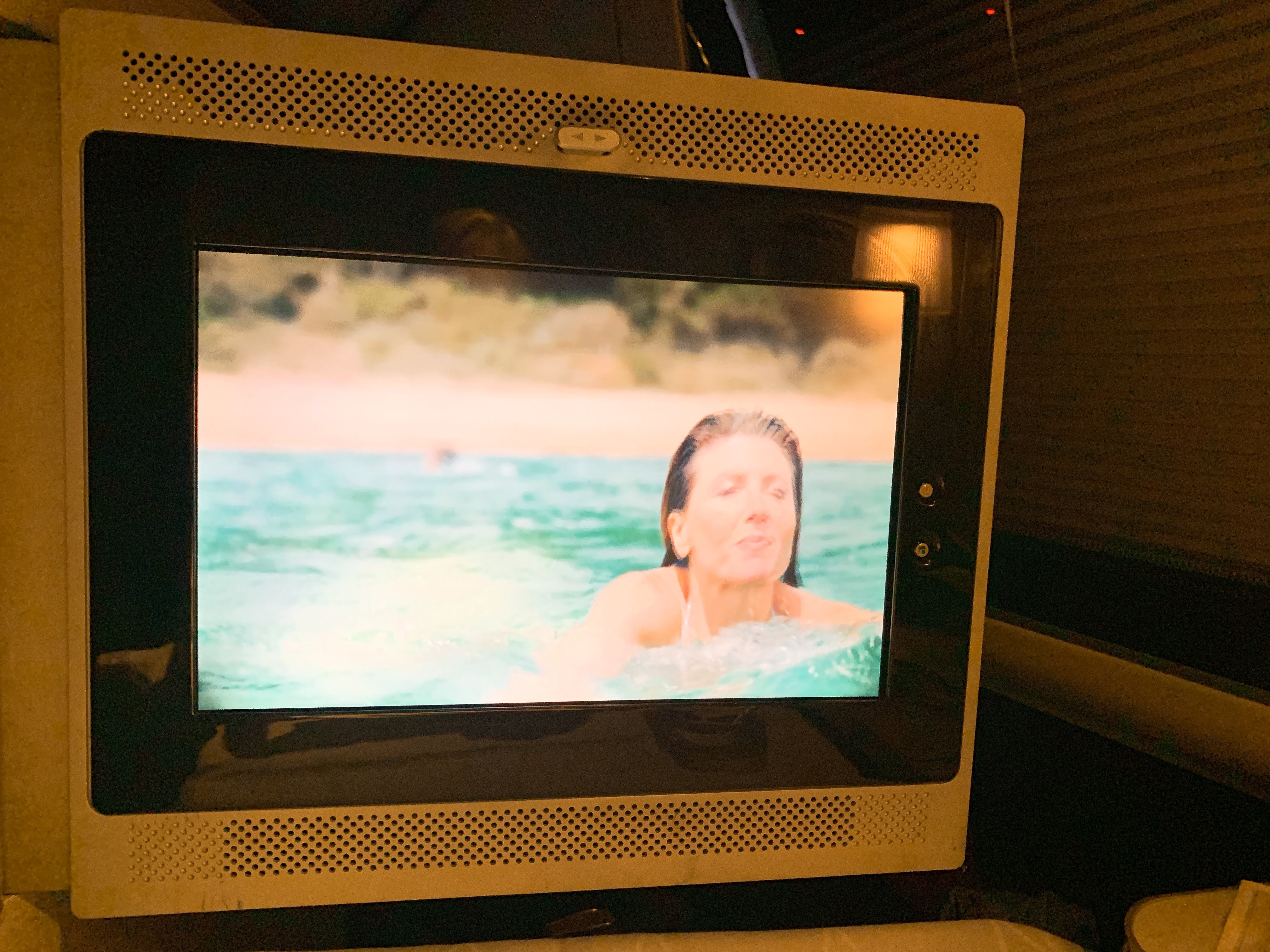 There was both a multi-country socket and USB ports for charging so I was able to charge all my devices quite happily.
Conclusion
Although the B777 is my least favourite BA aircraft in general as well as for First, this was a great flight. The TV screen quality wasn't great, and there could have been more storage but other than that there was little to fault. The crew really made it a great flight, and the food was excellent. I really enjoy the new First with the improved bedding, amenities and food. If BA could just improve their wine offering and have some caviar, they would be on par with other top carriers soft product in First.