This is a review of British Airways lounge at Johannesburg airport. British Airways is currently refurbishing a number of their lounges worldwide and in November last year, their latest lounge was revealed. I visited when I was actually flying on Qatar (review coming tomorrow). You can visit any oneworld lounge when flying in business class, you don't have to stick to the airline's own lounge.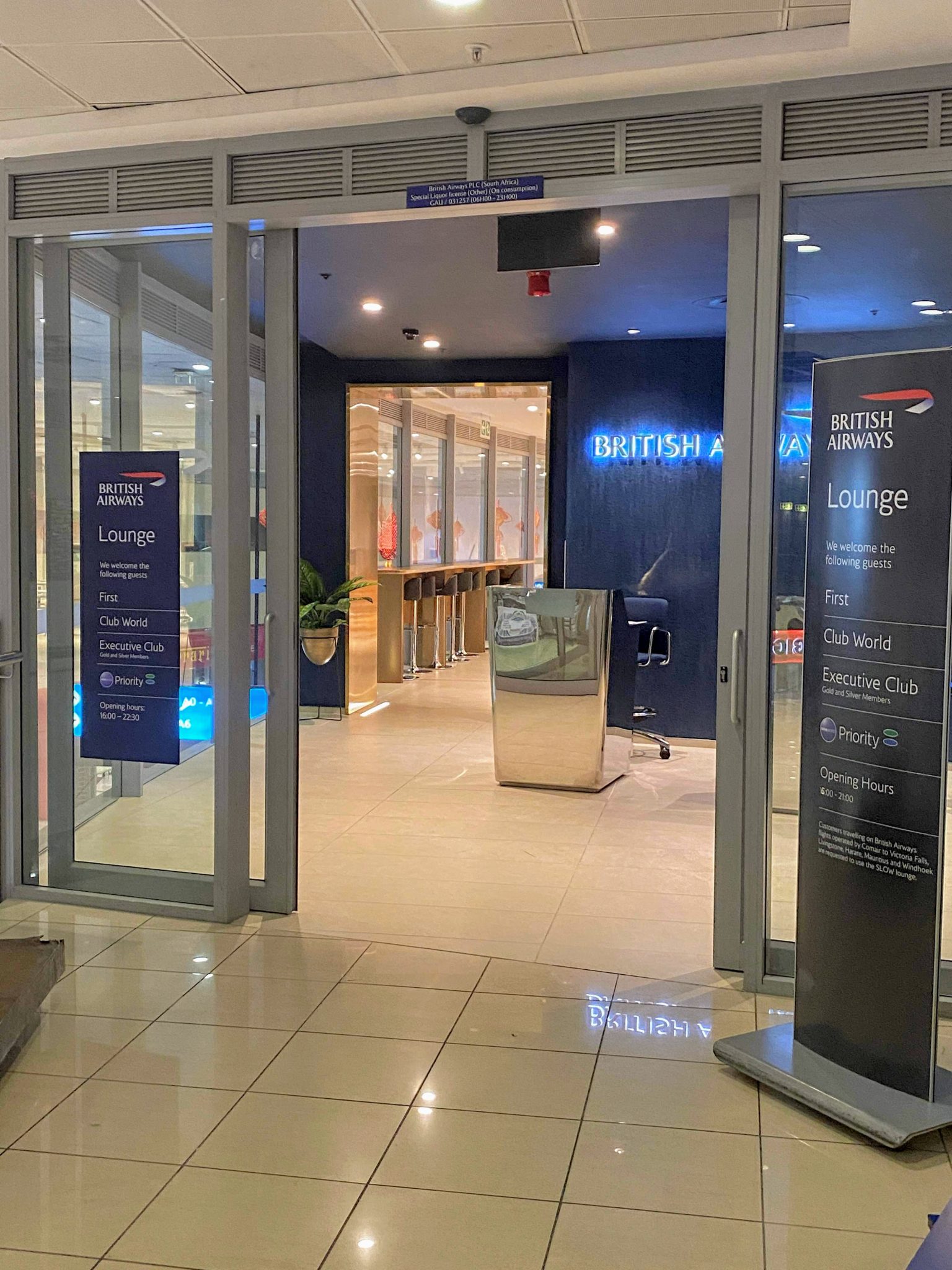 As you enter the British Airways lounge Johannesburg, there is a selection of newspapers and magazines including UK newspapers.
British Airways lounge Johannesburg Food and drink
As you enter into the lounge you come into the main bar area with BA's signature marble bar like many of their other new lounges. This area has a range of seating options from more comfortable low tables and chairs to bar stools and a dining area.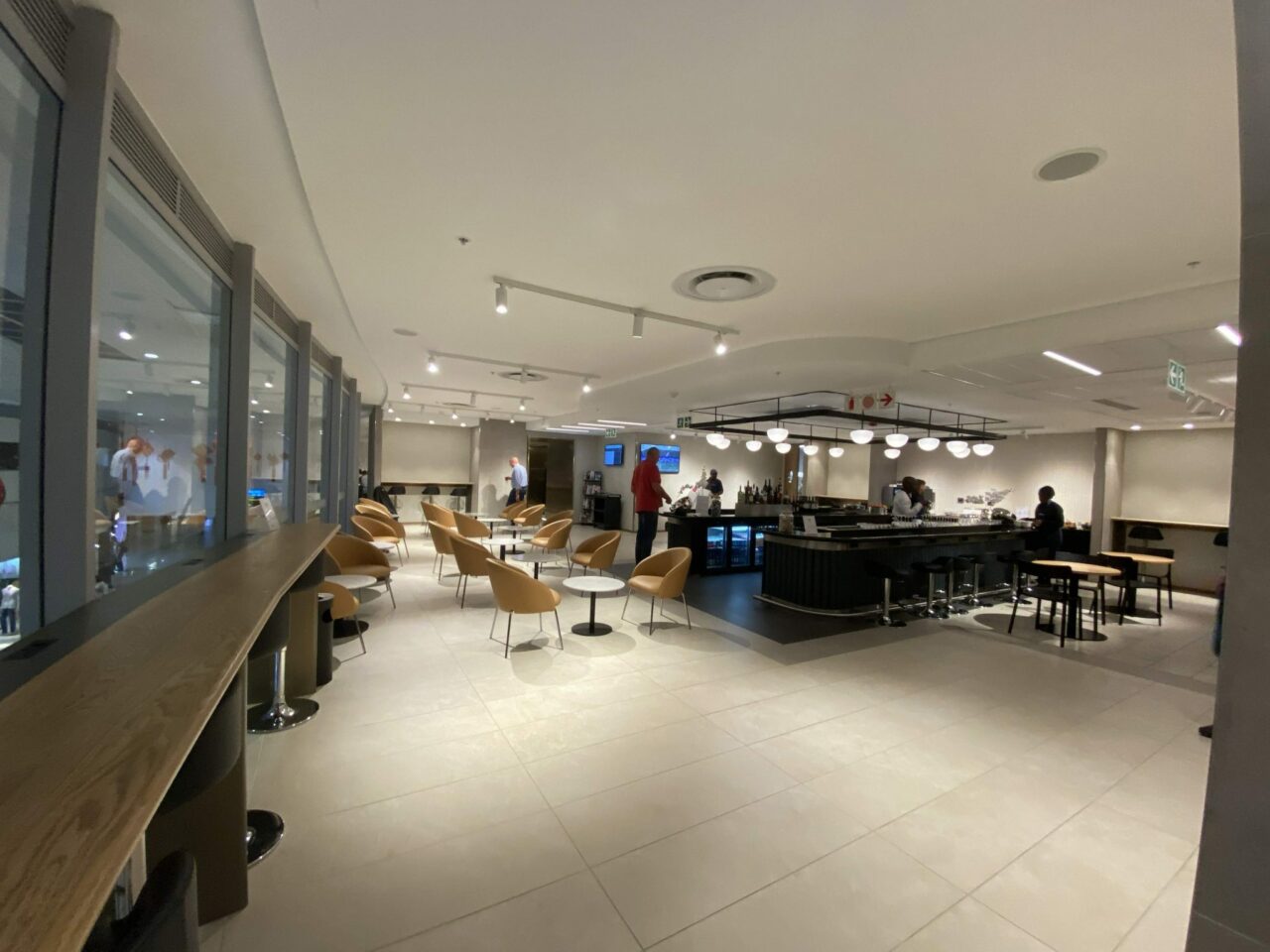 The bar area had a couple of staff who were happy to mix you a cocktail or pour you a drink.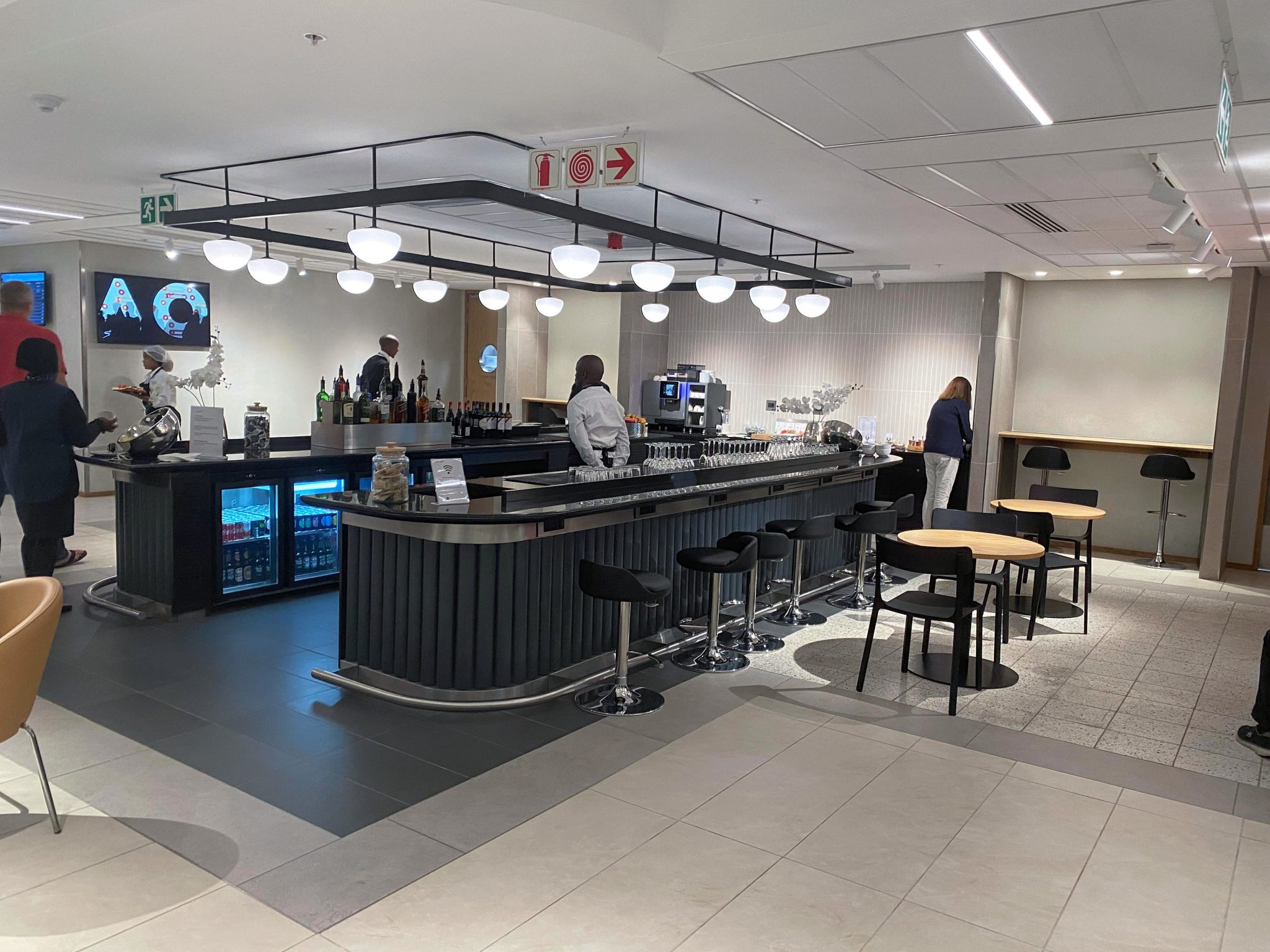 There is no champagne on display but then again, when in South Africa, drink South African wine! There was a Simonsig Estate – Kaapse Vonkel Brut which is a decent sparkling wine made in the traditional champagne style. There was also a choice of two white wines but I found it funny they had a nice champagne display bowk but didn't use it!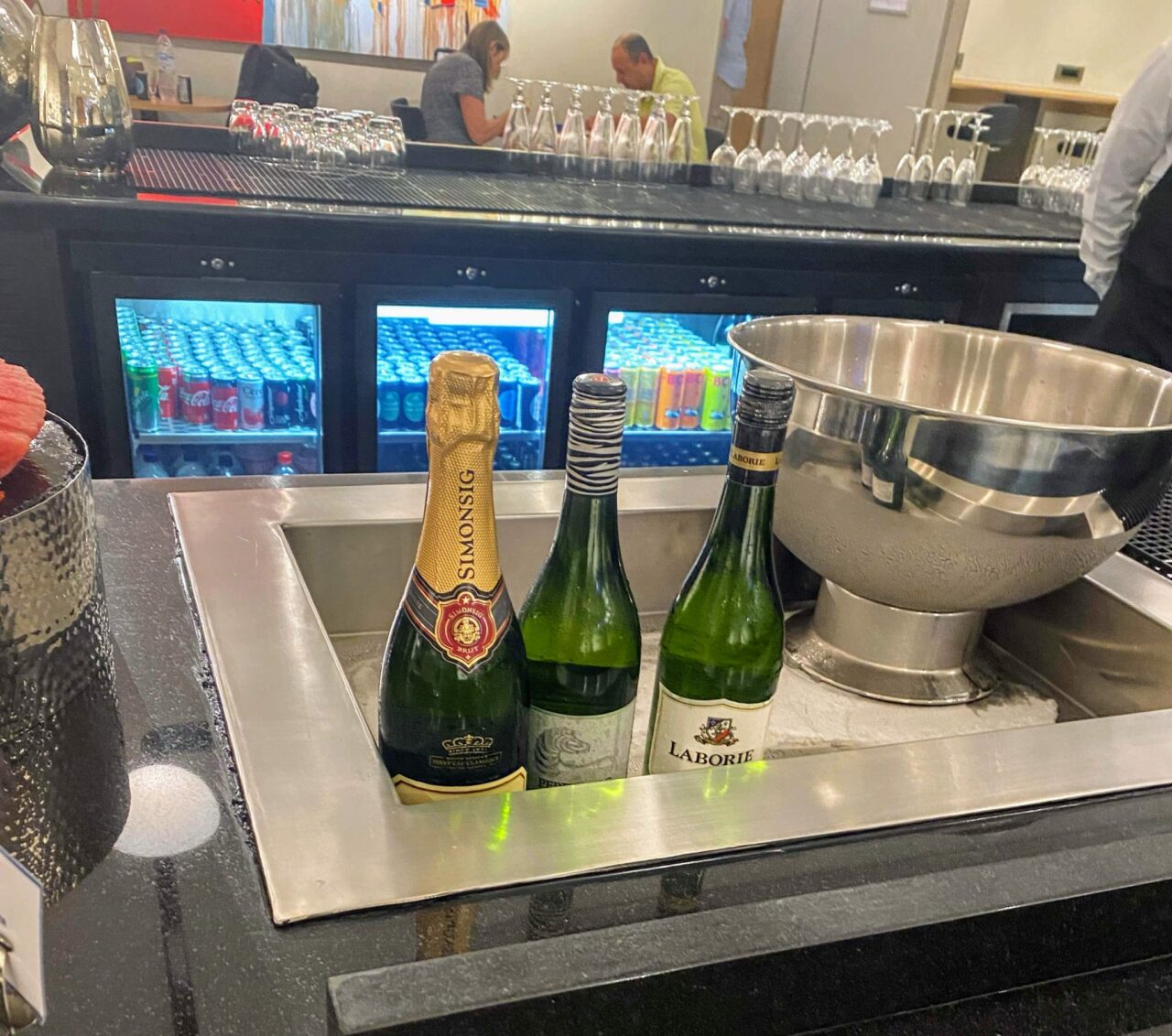 If you fancied red there was a choice of three but I thought it was a little silly two have two different Pinotages plus the Merlot.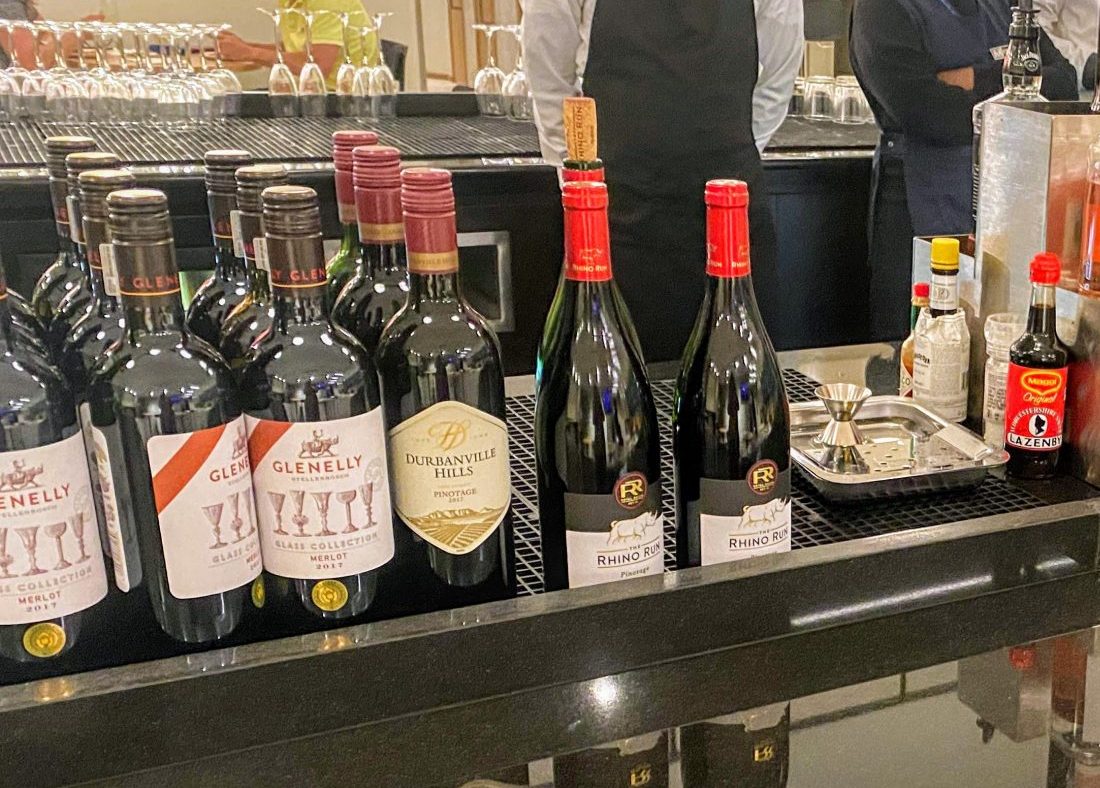 There was a good range of spirits, particularly if you are into gin. As well as the more standard Tanquaeray there was also the local Finery Gin in Pink Grapefruit or Cucumber flavours. If you like Baileys, you would probably enjoy the similar local spirit Amarula which was available.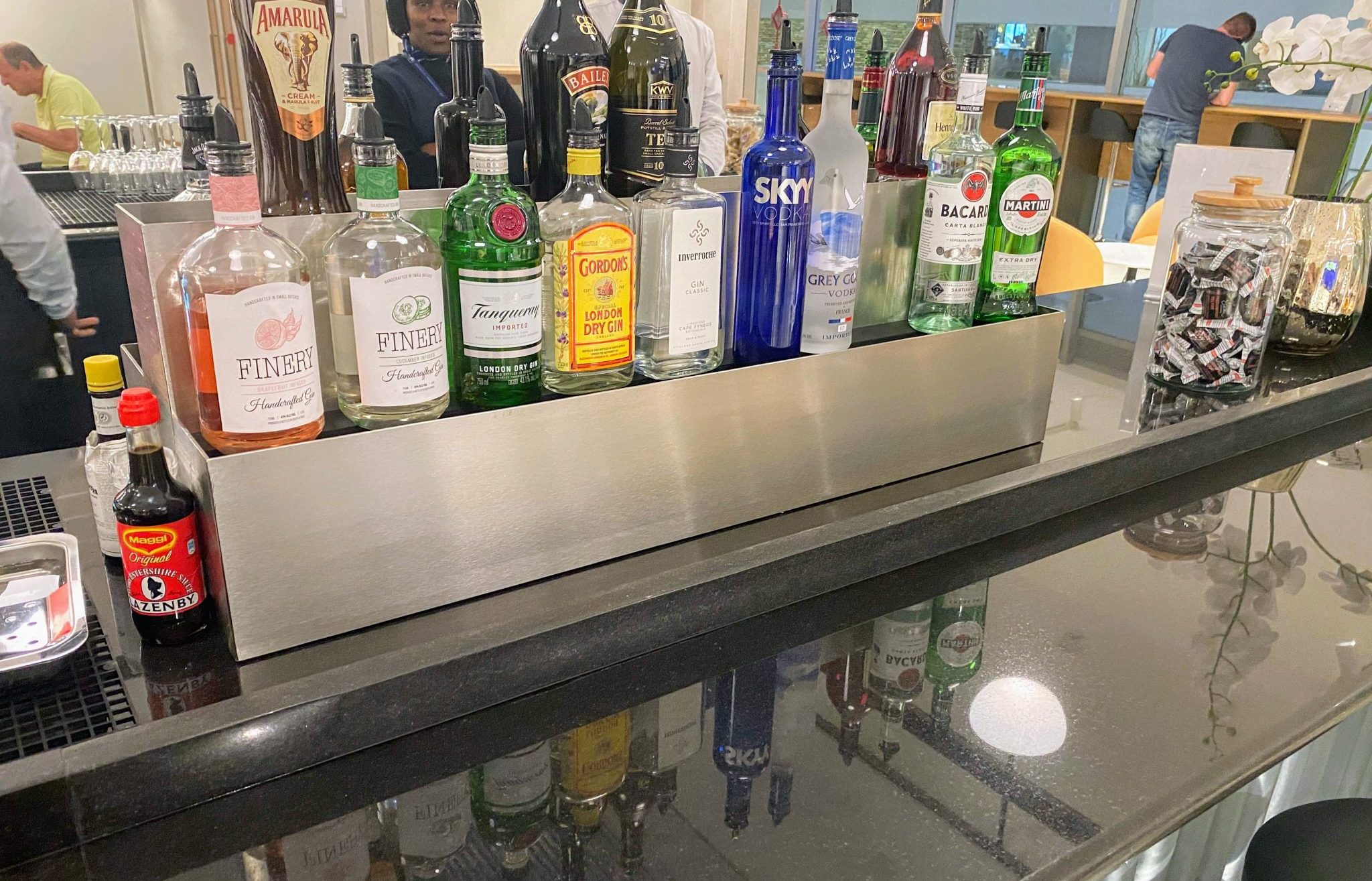 The food in this area was more of the snack variety which I really like. Often I don't want a full meal as I want to eat onboard on a long flight. As well as meats and sandwiches there were dips and nibbles such as crisps and olives. Everything was well labelled including allergen information.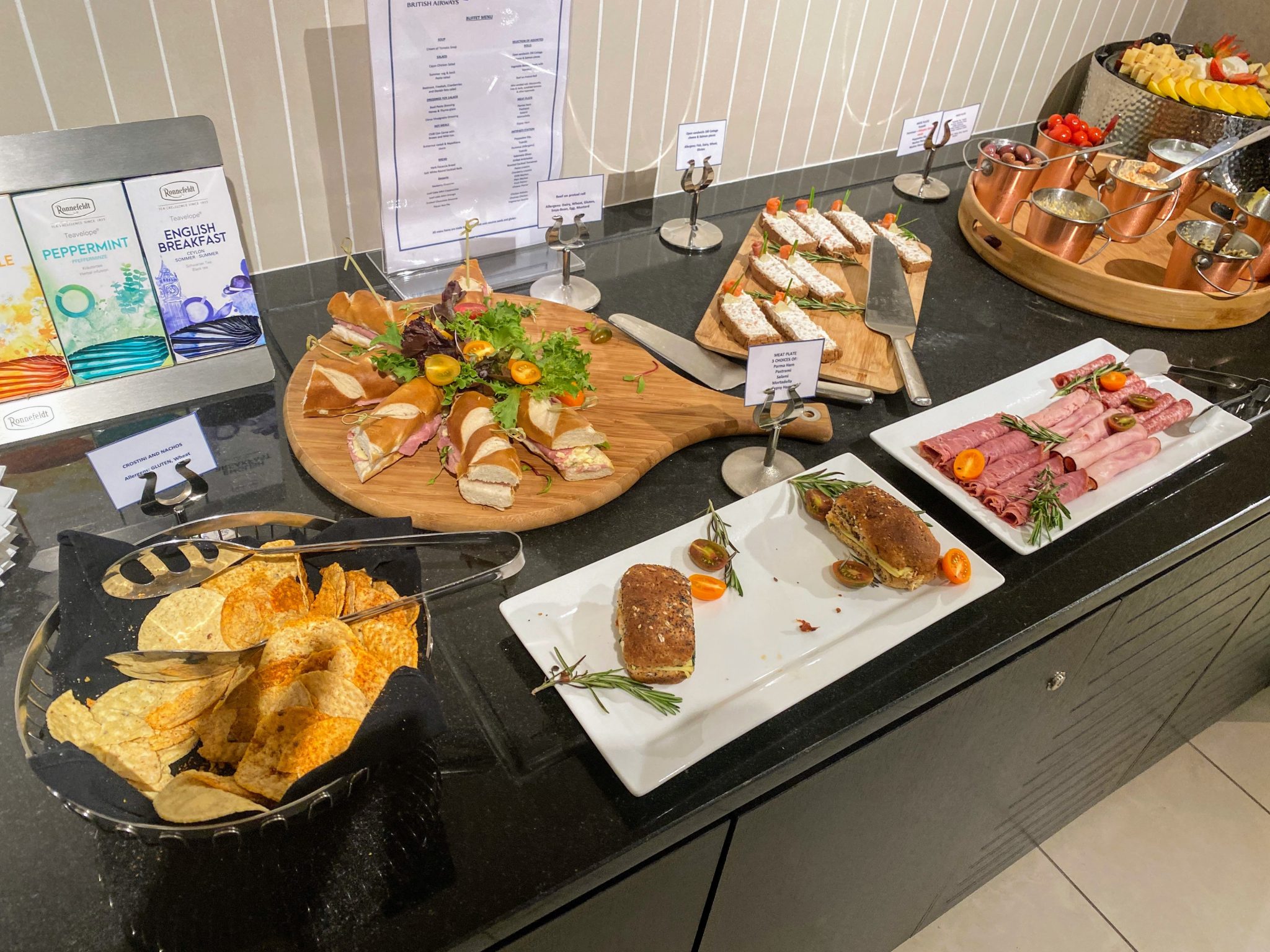 I also liked the way the food was displayed nicely. If you are a fan of the Slow lounges, then you will be pleased to know apparently they cater for this lounge as well.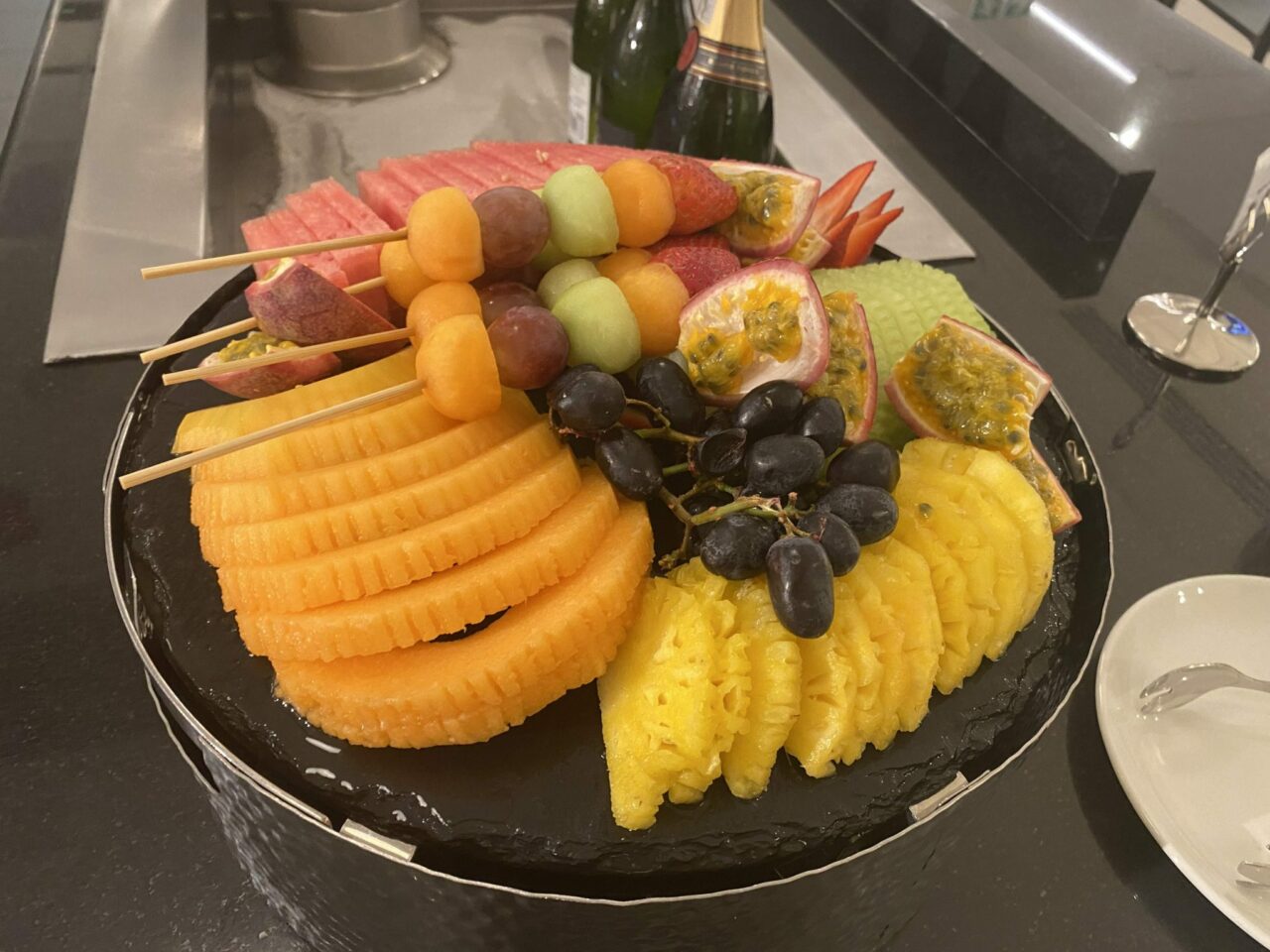 As well as the food there was also a fancy coffee machine and a good selection of teas.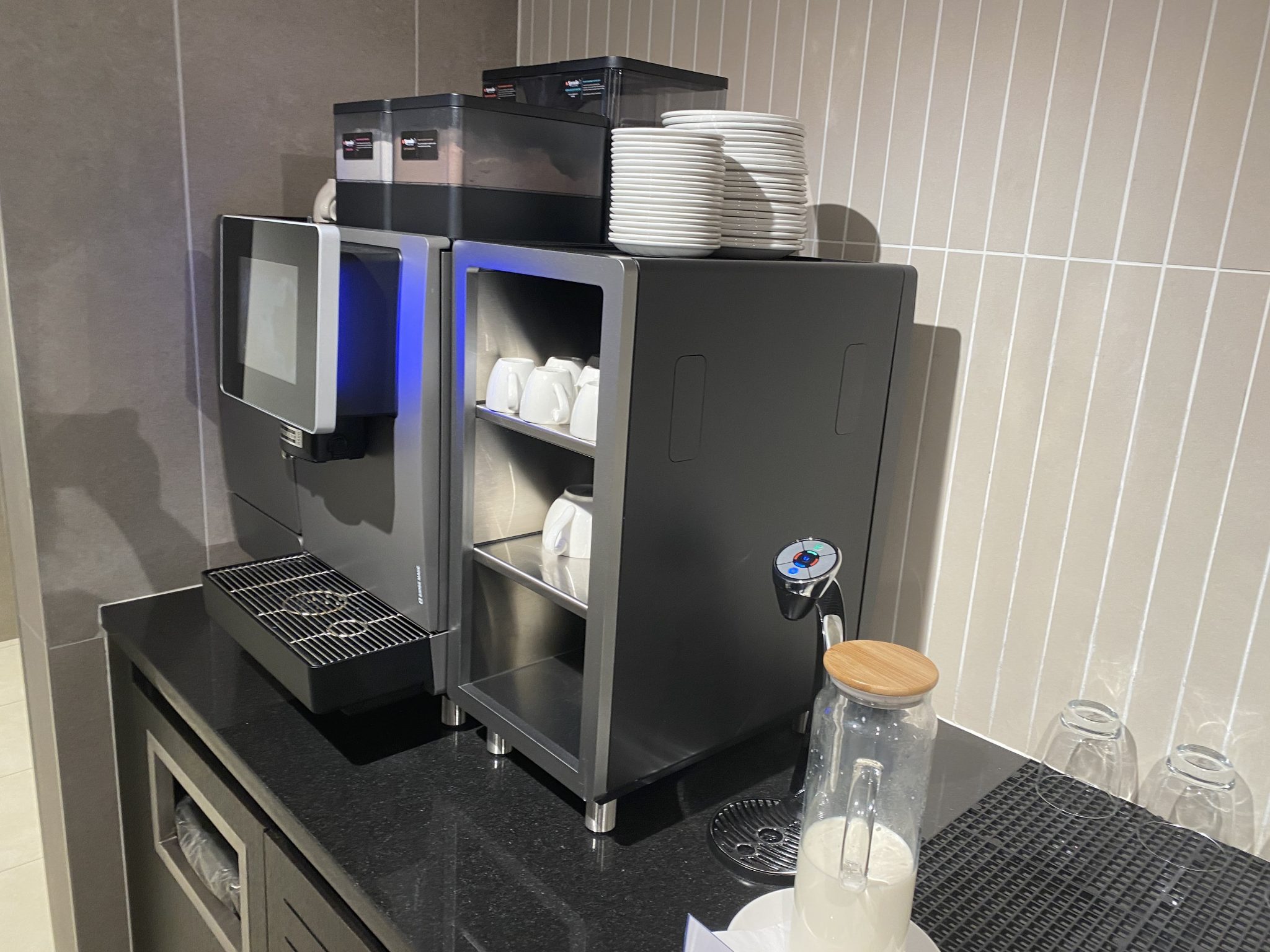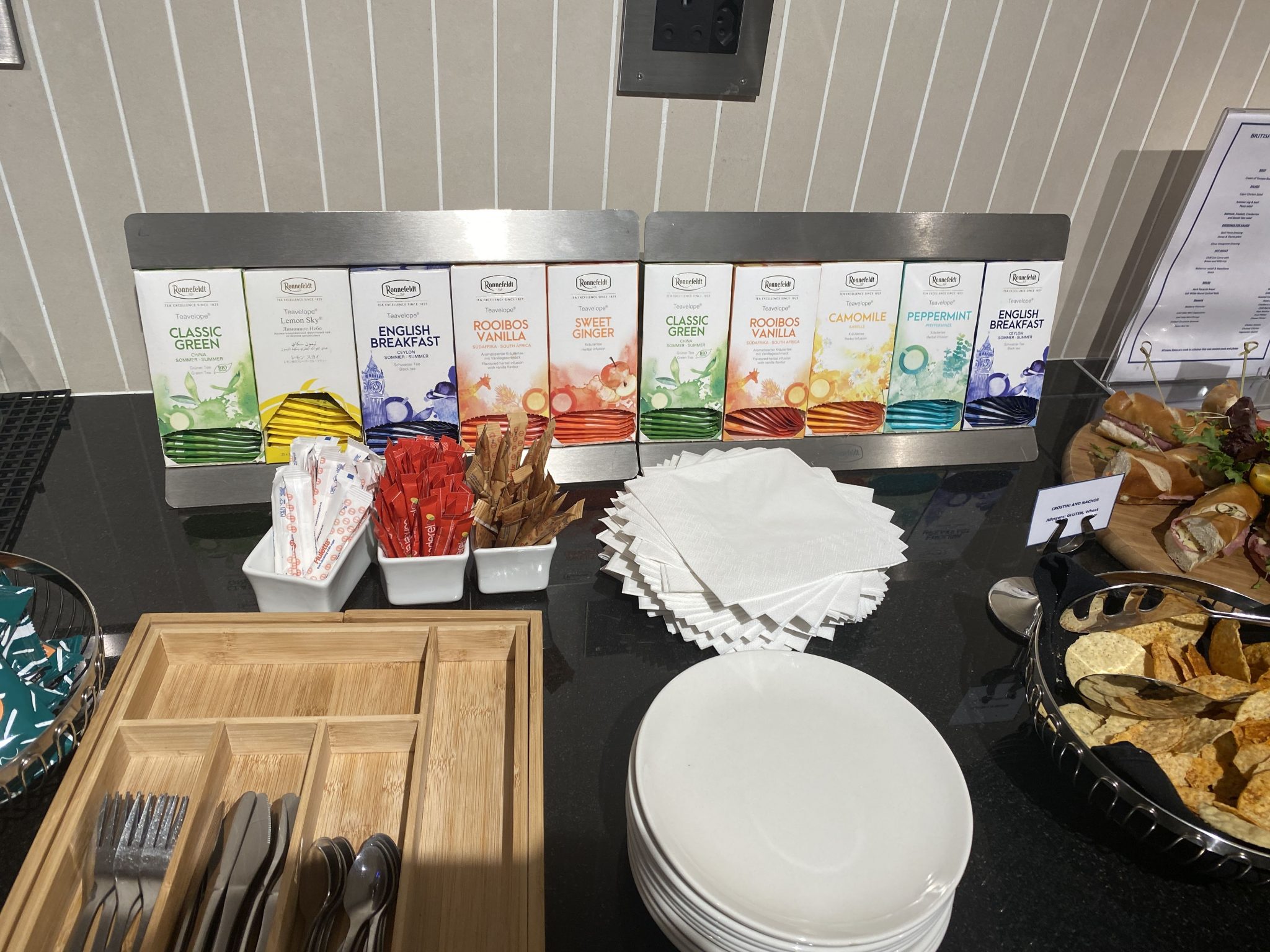 If you carry on from the bar area it leads you into the main dining area.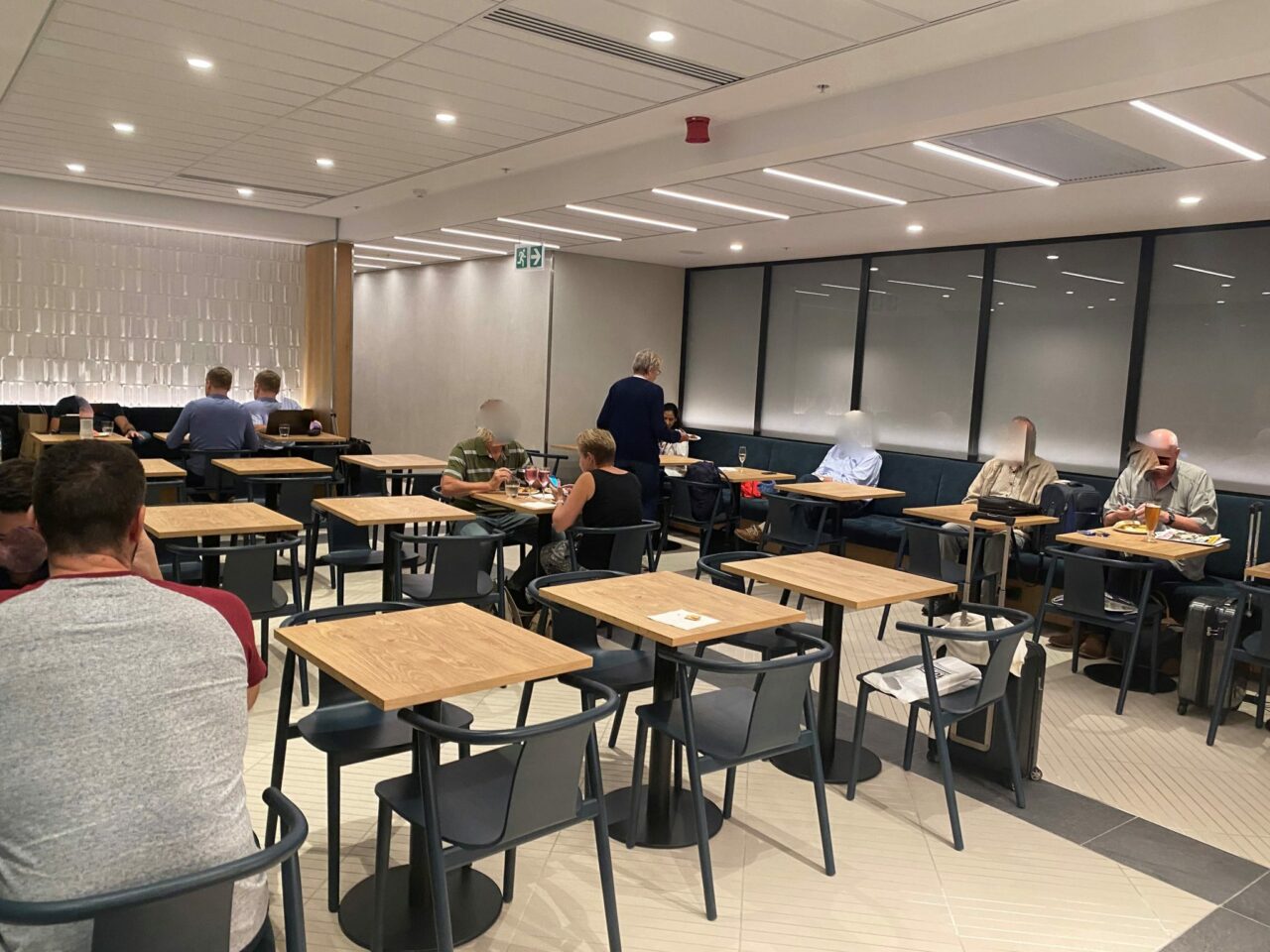 When BA redid the lounge they added new kitchen facilities and now offer an enhanced dining menu of hot and cold options including Cape Malay curry, fresh seasonal salads, mezze, local charcuterie and Indezi river cheeses. Again, I thought the food looked tempting and I wish they could do the same at Heathrow!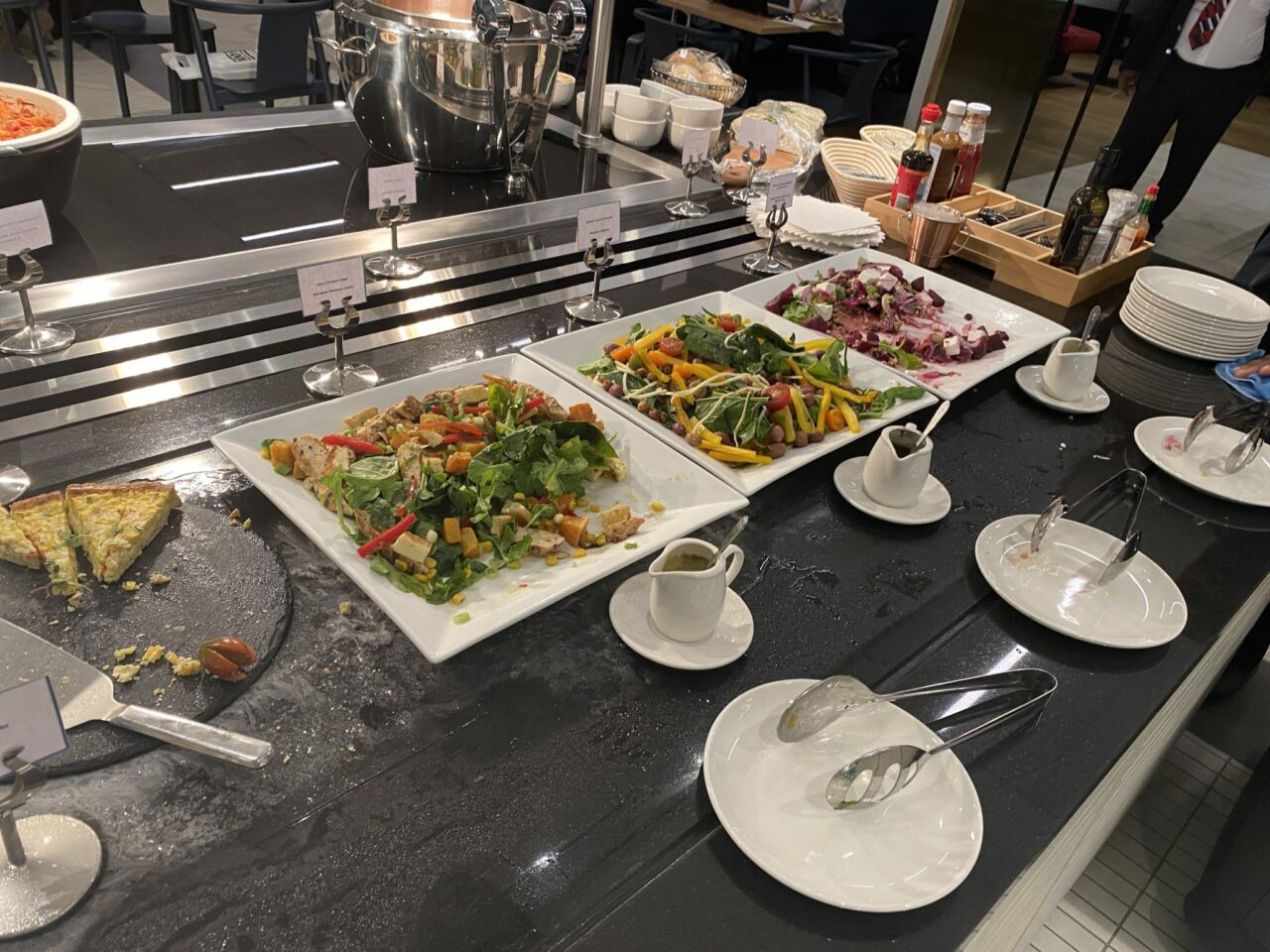 As well as the salad bar, there was a hot selection. It looked a little bare and very tomato-based when I was there! There was a tomato soup, pasta with tomato sauce and a chicken dish which was missing.
The cakes and cheese looked very good, though: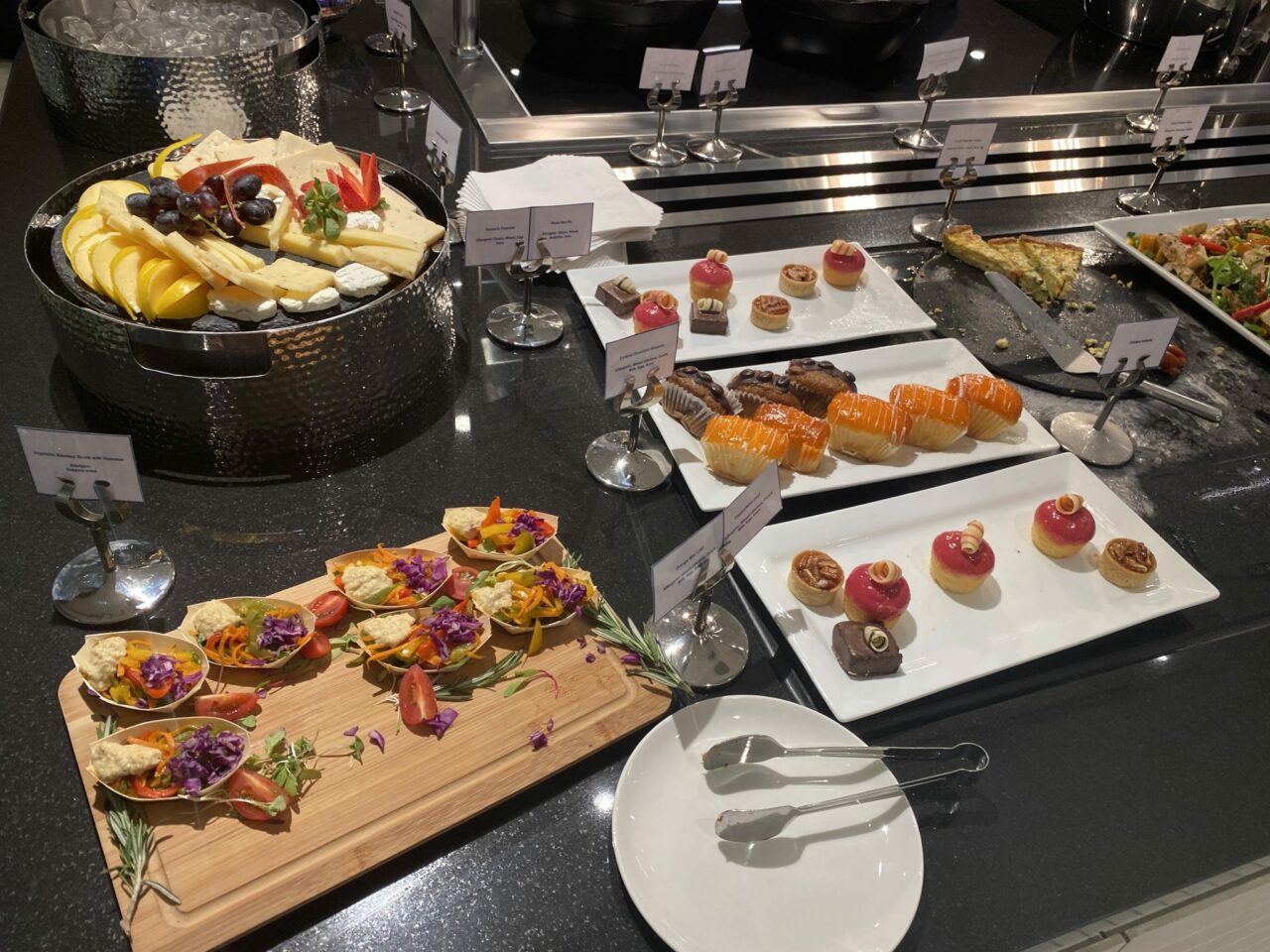 Wine, beer and soft drinks were available in this area too. I liked that they had a good range of soft drinks other than just cheap fizzy drinks.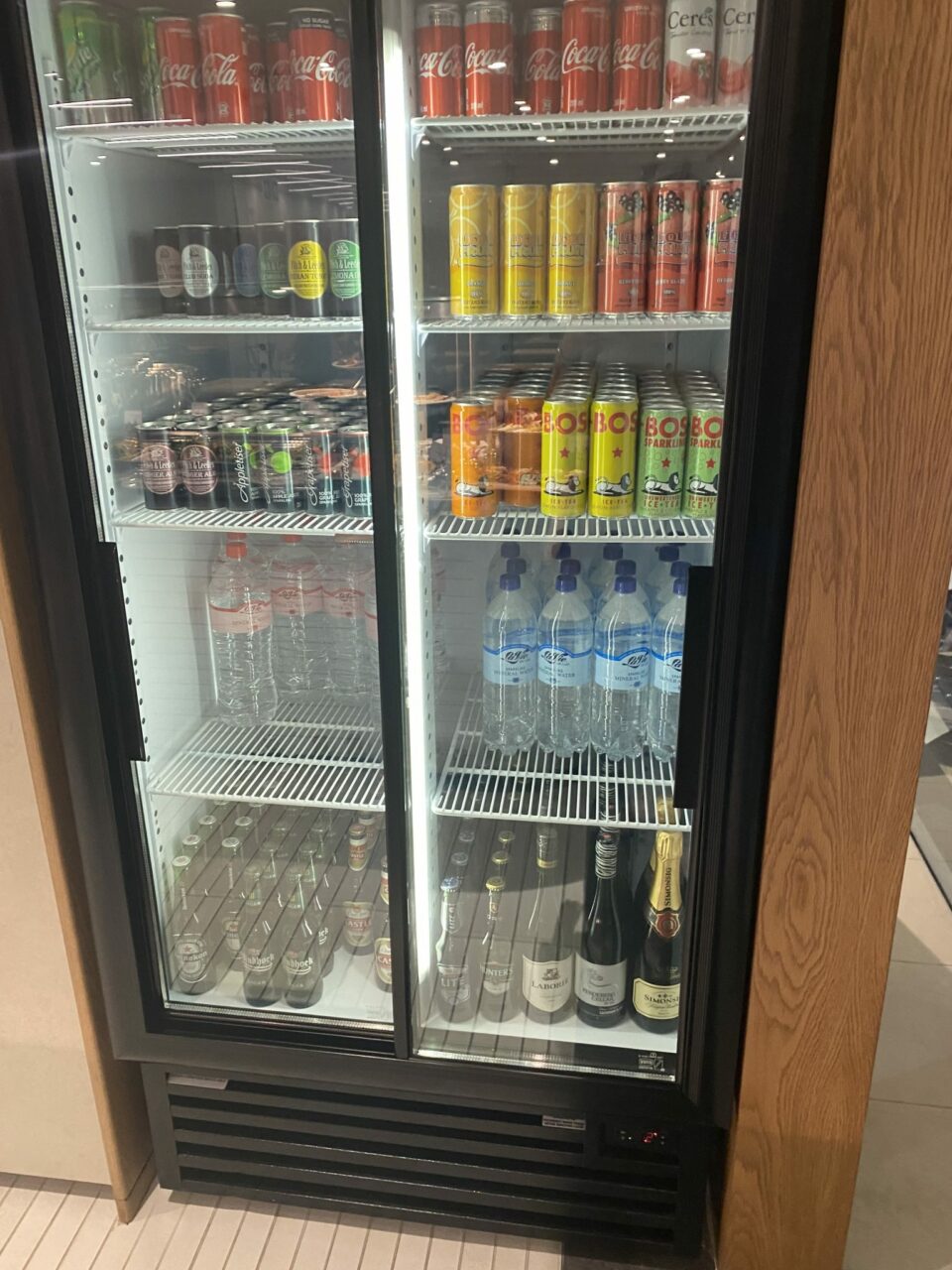 If you are travelling in First, the Boutique Dining offers a pre-flight a-la-carte menu with an extensive wine list. I thought the area looked very classy, a bit like a restaurant.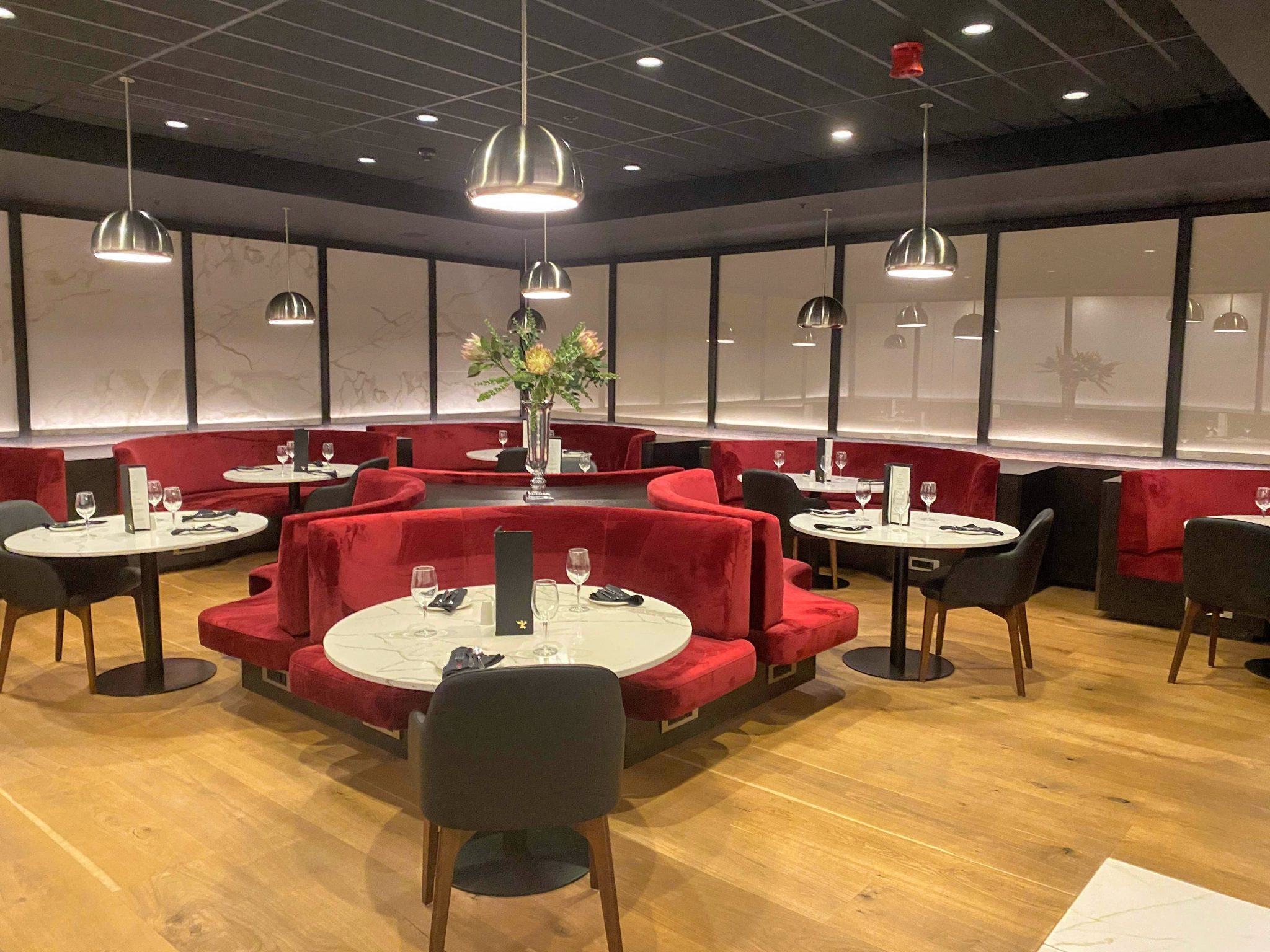 Other facilities and seating at British Airways lounge Johannesburg
If you want to work there is a dedicated room with a large shared marble table with plenty of multi-country power points in the middle. Sadly because the lounge was so busy (see below), people were going into there to eat and play stuff out loud on their phones which was highly irritating to those trying to work. There is a printer in this area too. I found the WiFi pretty slow.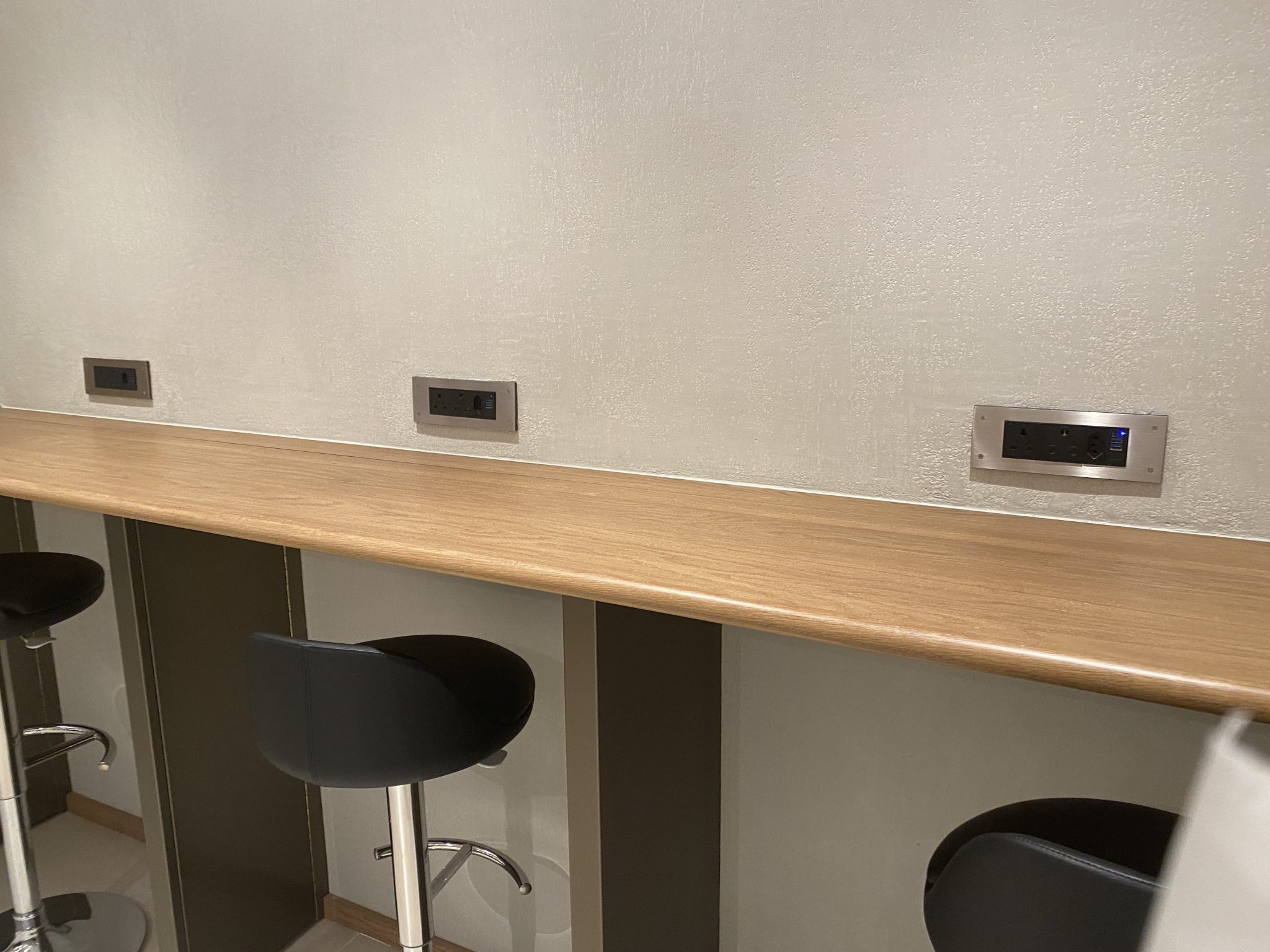 There were also some bench seats near the bar which had powerpoints.
Opposite the main business area is a large seating area. This was very busy when we visited. Given that there are two A380 flights within 2 hours of each other, the lounge gets very full and Roving Reporter gave up and headed to the Aspire lounge for Qatar. The lounge seats 247 but there are 113 business and first seats per flight plus those with status and from other airlines.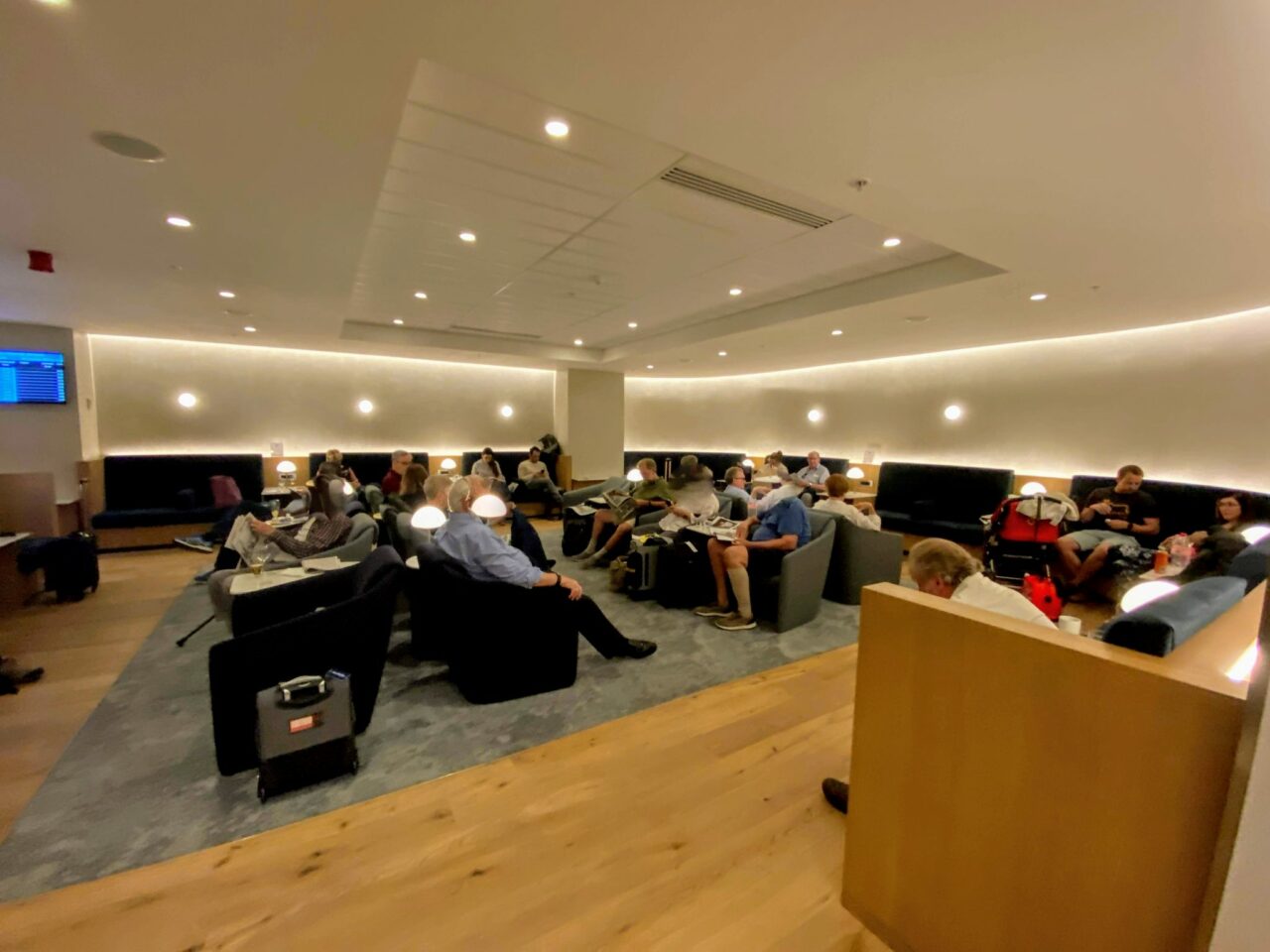 There are plenty of power points in this area at least, and some rather nice banquet seating along the sides.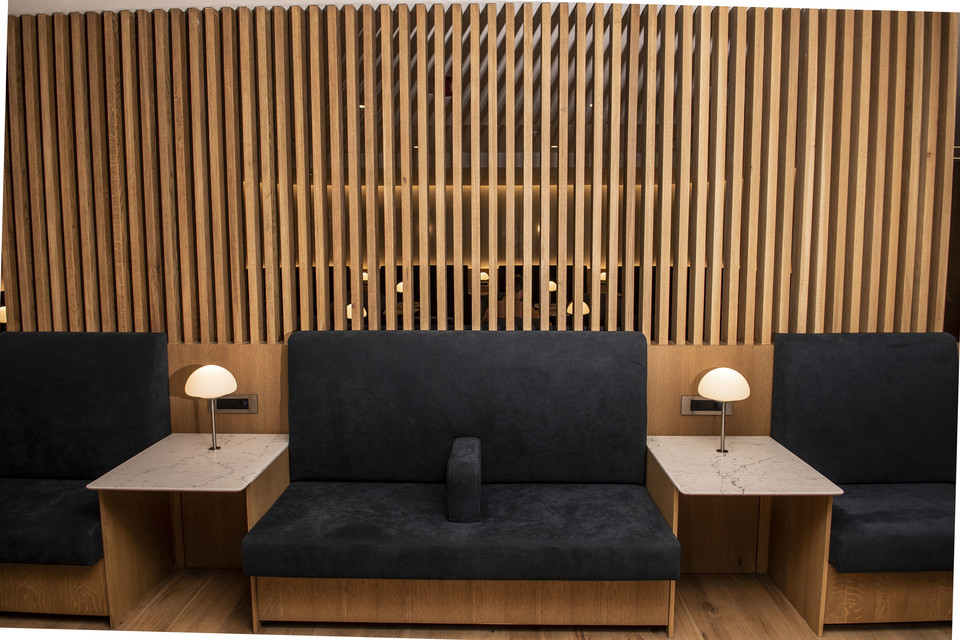 If you want to have a shower there are a number of private cubicles on the right as you enter the lounge along with the toilets. We were greeted with a cheery "Welcome to my office" from the friendly shower attendant. I had to wait about 5 minutes for one to become available at around 5 pm but he came to fetch me from the bar area.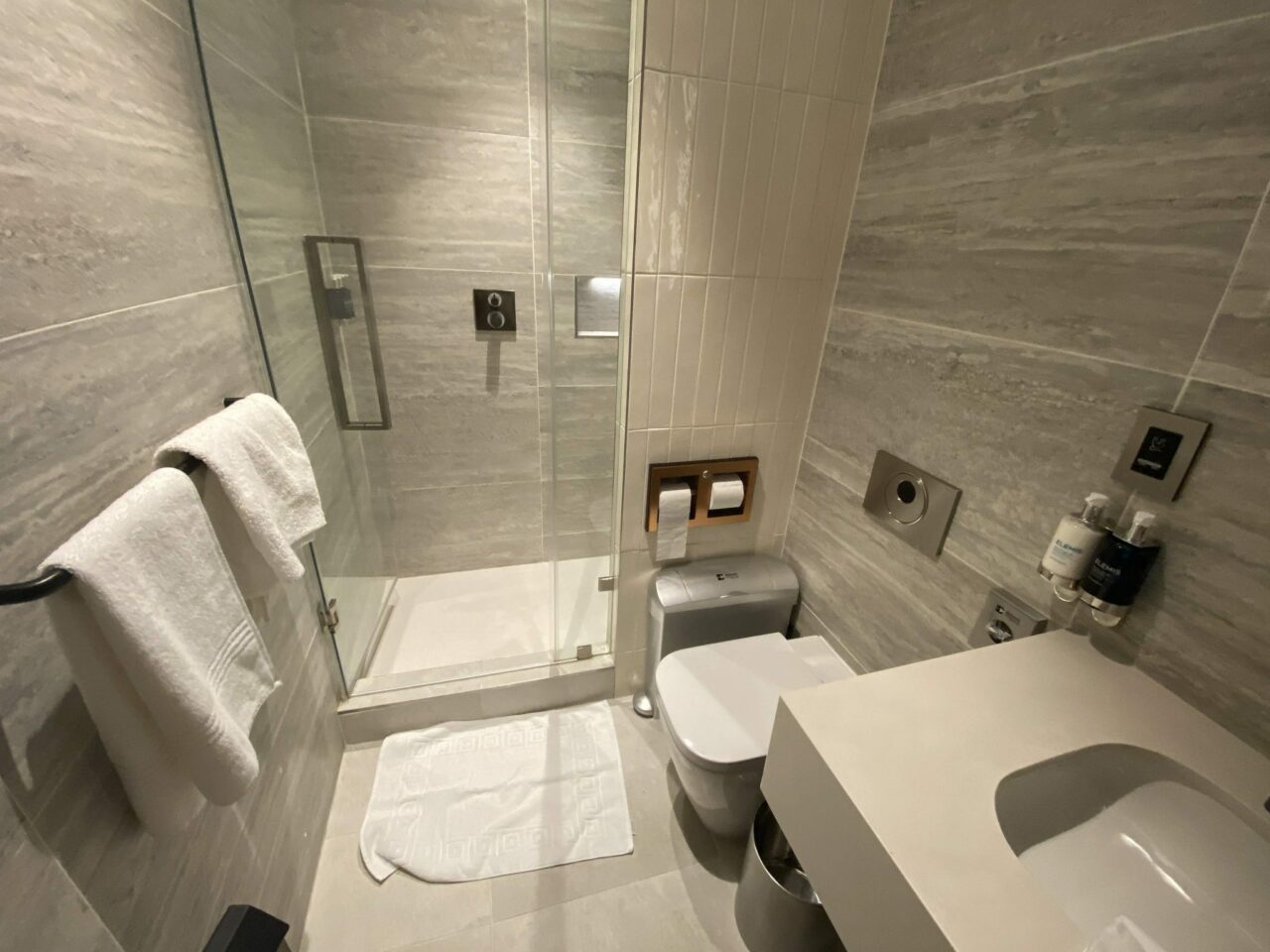 Inside the shower suites, they looked lovely and had a nice range of Elemis toiletries and a hairdryer.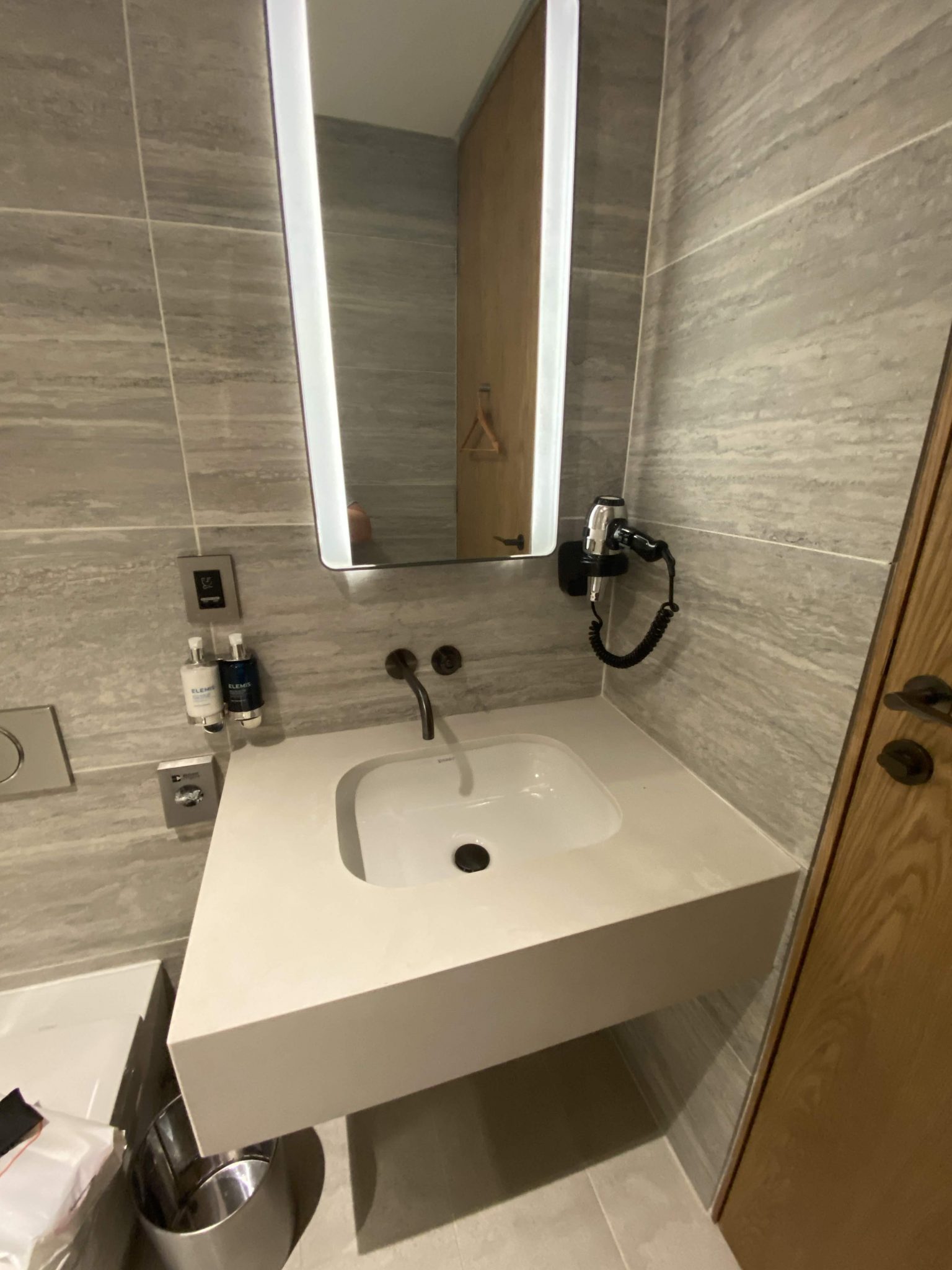 My only complaint was there was nowhere to put luggage and only one hanger on the back of the door. Some hooks on the wall would have been useful.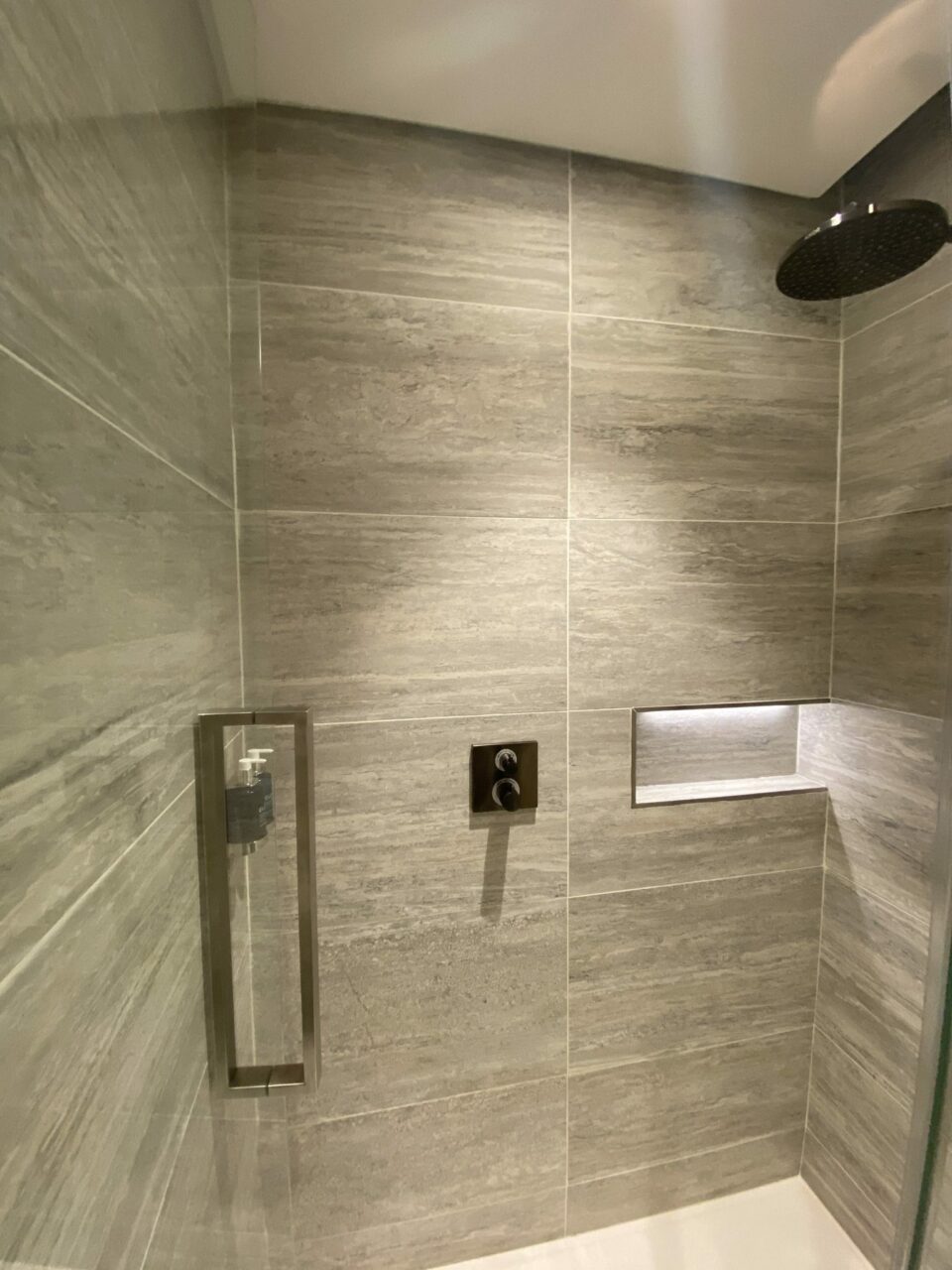 The shower had a big rain head and very easy to use controls – unlike many where you spend 5 minutes trying to avoid freezing water whilst you work out the controls!
Conclusion
I thought BA had done a good job overall, although its shame it gets so crowded in the seating area. I think they could have put more relaxed seating in the bar area as a compromise rather than so many benches The food was pretty good and nicely presented although the hot food was a little dull. I couldn't really fault the selection of drinks either apart from having two of the same types of red.
The showers were a highlight which was perfect for us as we were connecting from Cape Town on BA and onto Qatar.
British Airways lounge Johannesburg Access and opening hours
The new lounge is open to British Airways first and business class passengers, Executive Club Gold and Silver members, and oneworld Emerald and Sapphire members. The lounge is open from 16.00-21.00 with the BA flights leaving around 20.00 and 22.00.
You can find more information about British Airways lounges here.
Like our review of British Airways lounge Johannesburg? You can more Airline Lounge reviews here.