I have done quite a few reviews of Qatar's QSuites but this was my first time on the A350-1000. We flew on the QSuites on the flights to and from Doha from London so I have included a few photos and comments from the return. In general, this is based on my outbound flight from Heathrow T4.
Check-in

Qatar fly from T4 at Heathrow which is good if you want to stay the night before. There is a choice of the Hilton, Holiday Inn Express, Premier Inn and Crowne Plaza all attached to the terminal. I had driven and parked at Long Term parking. Normally I hate this but at T4 it was surprisingly good. It is only a few minutes from the terminal and the bus came almost immediately.
We (Roving Reporter and I) were flying to Johannesburg with Qatar via Doha and then onto Cape Town on BA's Comair. We asked about checking the bags through but due to customs restrictions in South Africa, they were unable to do this. For those interested, on arrival at Johannesburg, there is a rechecking area before you leave the international terminal.
Check-in had someone checking your boarding pass before you are allowed into the First and business area which has a red carpet as the only thing making it seem more premium. I have always found the staff very helpful here, helping with bags when I have been travelling solo for example. Our check-in agent was friendly and helpful although she initially struggled to understand our request that we were travelling on another flight. She explained where to go to find the lounge.
The lounge
You can find a comprehensive review of the Qatar lounge at Heathrow here but I will talk about our specific experience on the day we flew. Qatar's lounge is near gate 6 and they usually depart from one if the stands close by which is very useful.

The walkway into the lounge is less than glamorous, but once you get into the lounge it feels luxurious.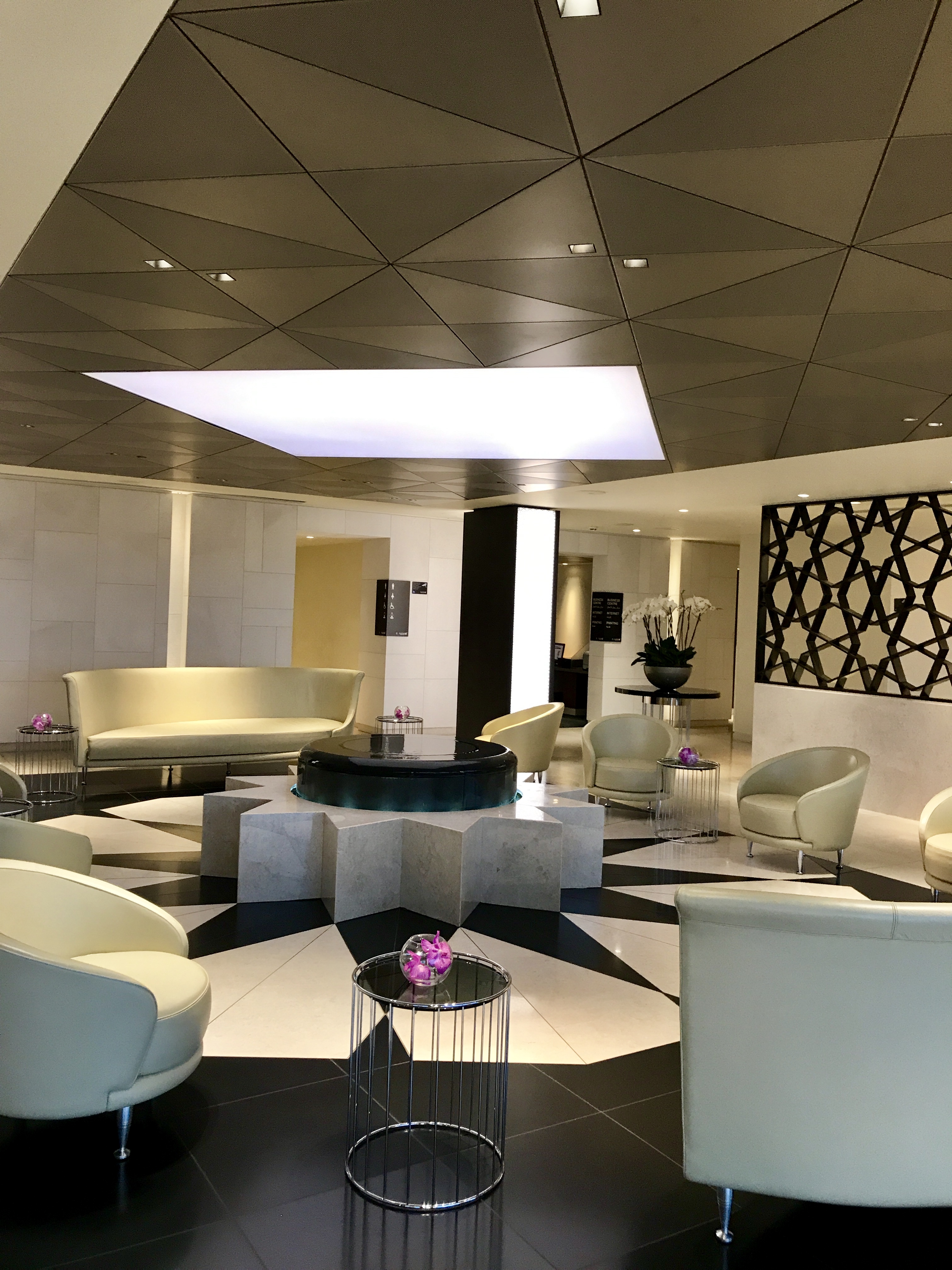 As you enter into the lounge there is a long seating area by the window after the fountain area. You then enter into the deli bar area which has table seating and a couple of banquets at the back. We headed straight for the formal restaurant as we were not due to take off until 3 pm so planned to have a light lunch first.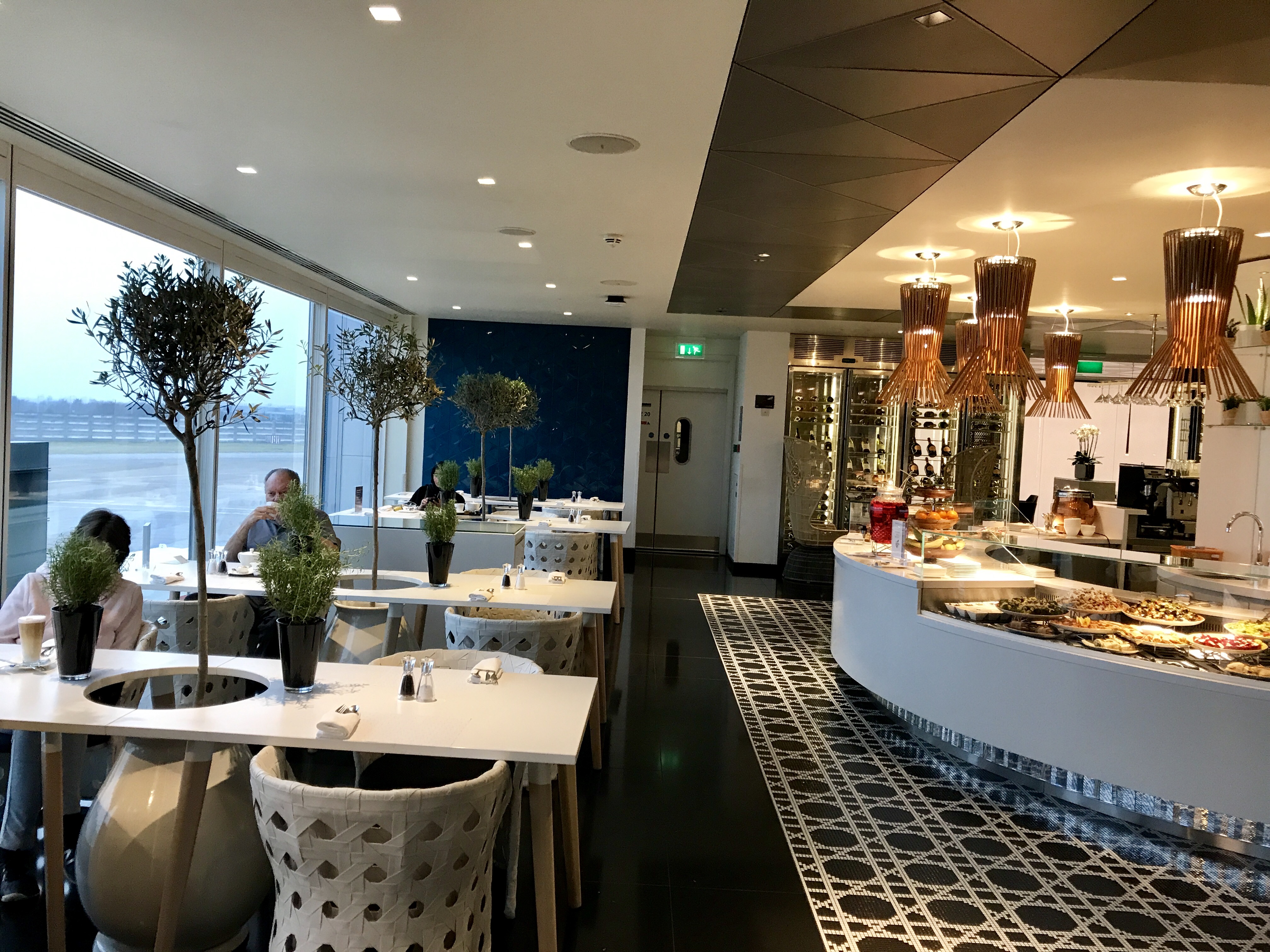 The Brasserie restaurant at the back is elegant and classy.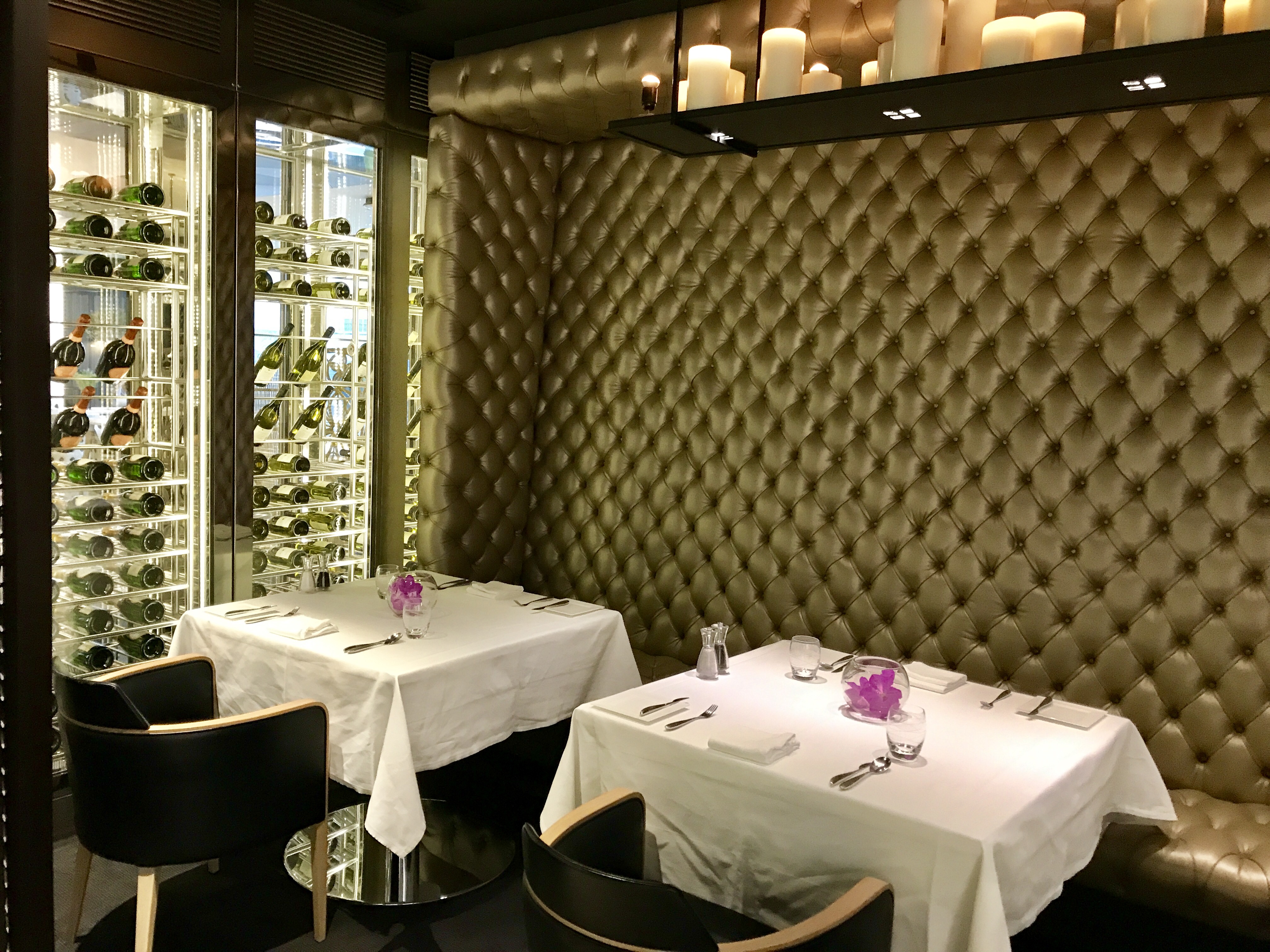 Roving Reporter's eye lit up when he spied the free chocolates! (He can't ever resist a freebie!)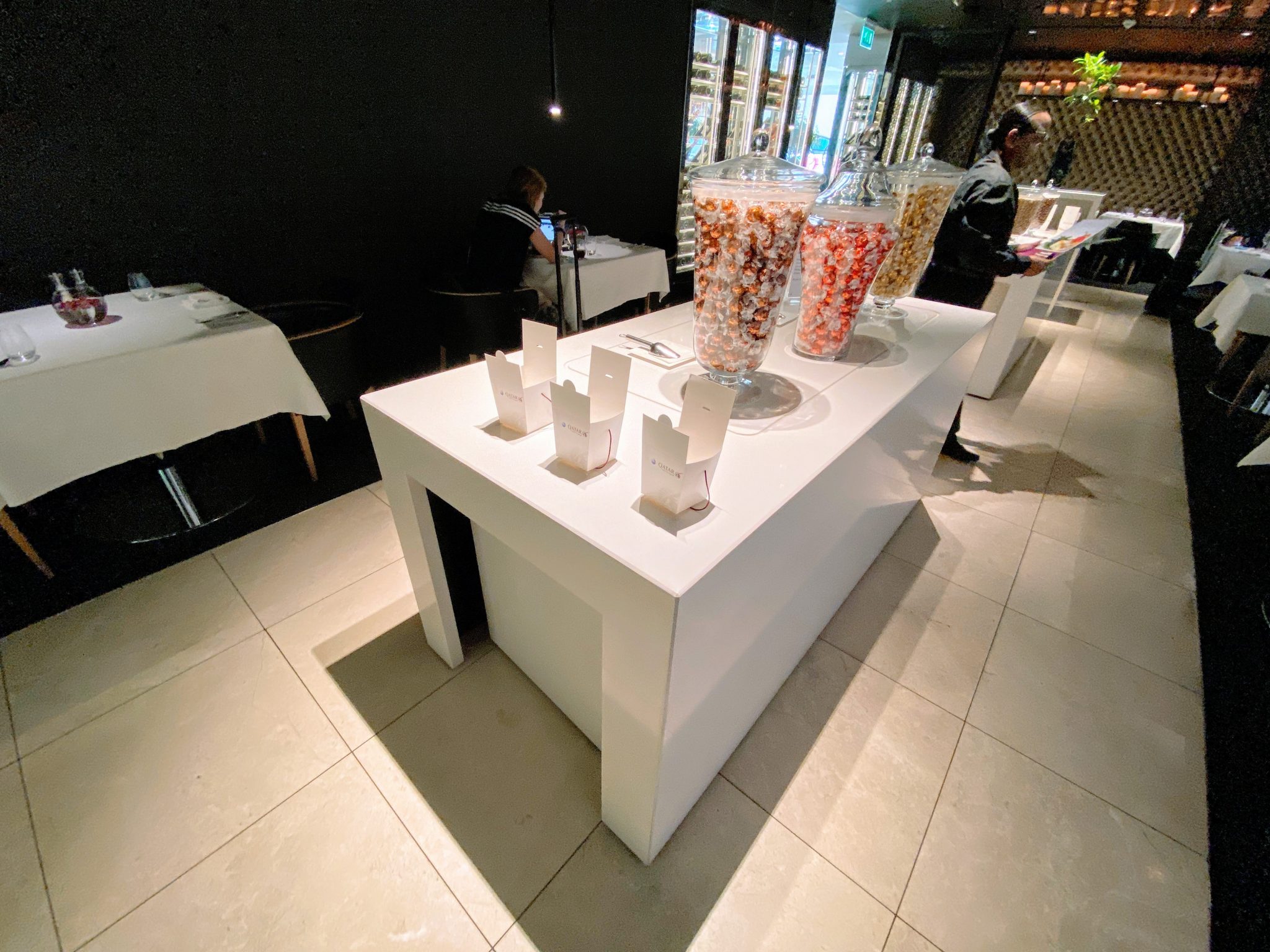 We started with a glass of the Rose champagne which was Tattinger and very drinkable. They also had a Deutz champagne which is also one of my favourites at the lower end. So far so good! They had a decent looking Chablis which we both tried and loved…. a little too much….three glasses later – hic!
The wine list had some plenty of choices:
The menu for food also looked good for the main choice options.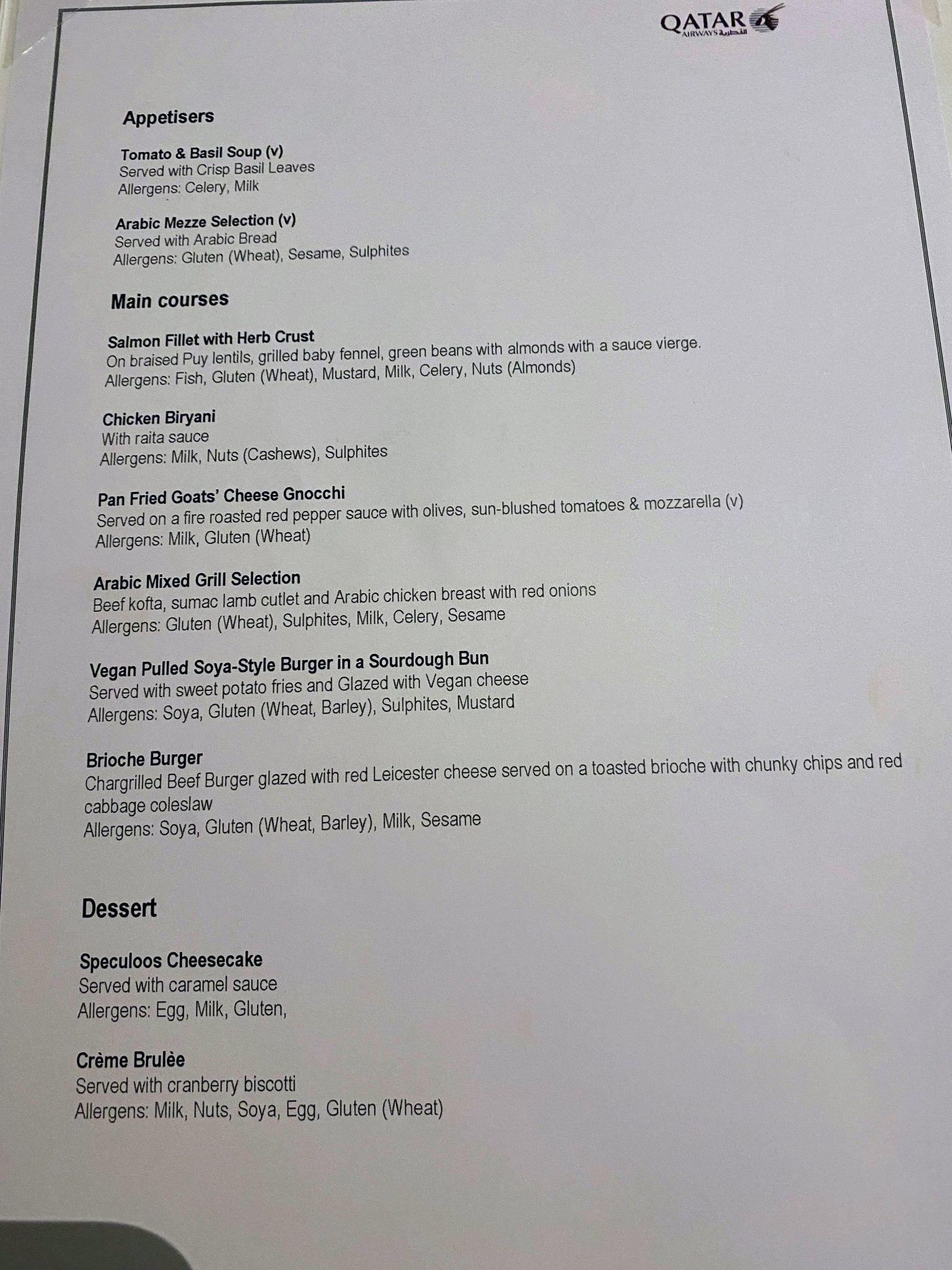 For the starter, we decided to go to the very beautiful looking salad bar as the choice was a bit limited on the menu.
This is what I ended up with and it was all very tasty. I love a good fattoush salad and some moutabel dip.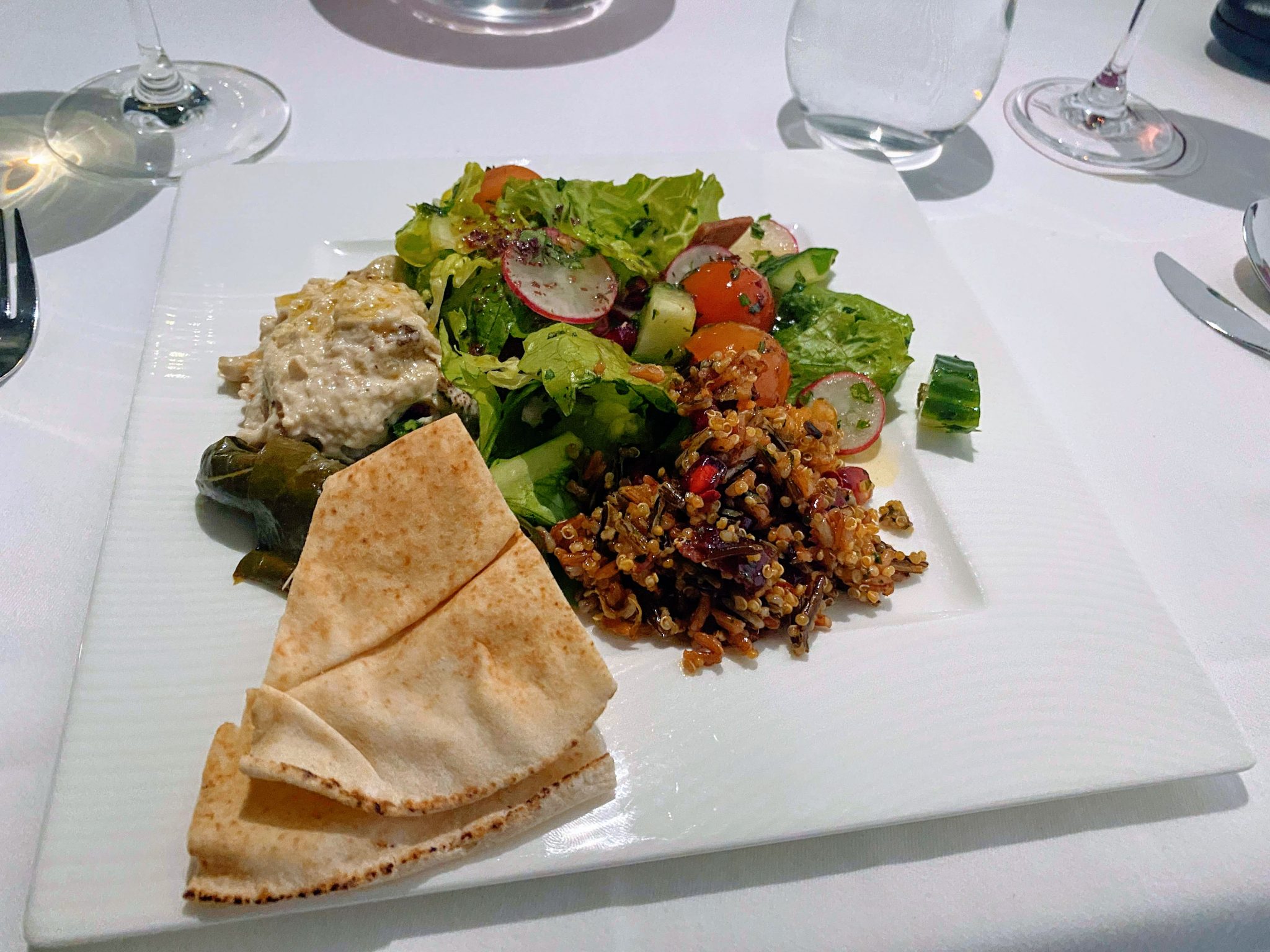 I was torn with the main courses but in the end, went for the mixed grill. It was a little dry and would have been better if it had come with the traditional garlic and chilli sauce.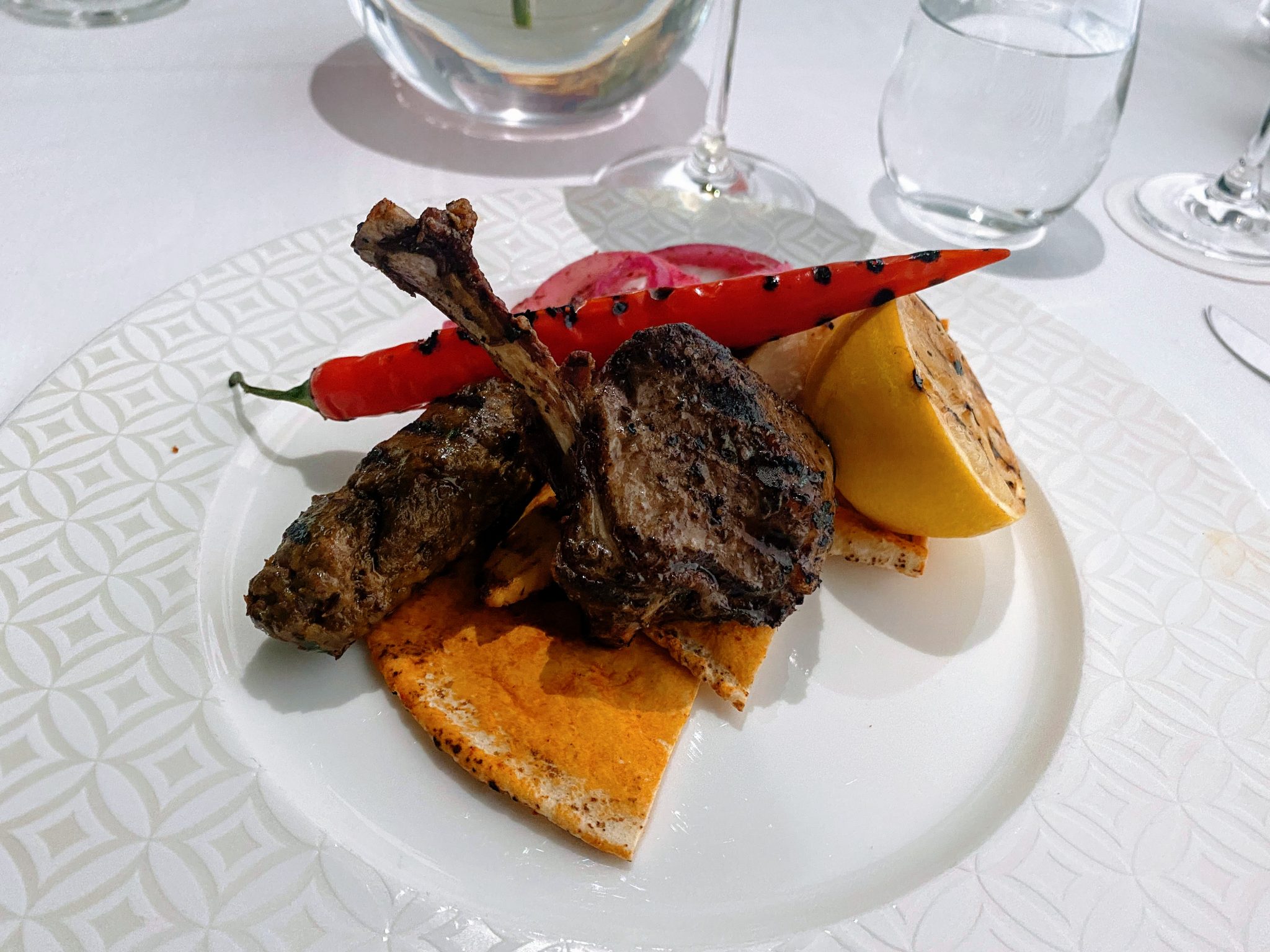 RR went for the salmon and declared it delicious, giving me a serious case of food envy.
Boarding
All too soon it was time to board and we made our way to the gate for the start of boarding so I could get some decent pictures. As usual, the boarding process was well organised and done quite early. There was a separate channel for priority boarding with a carpet no less!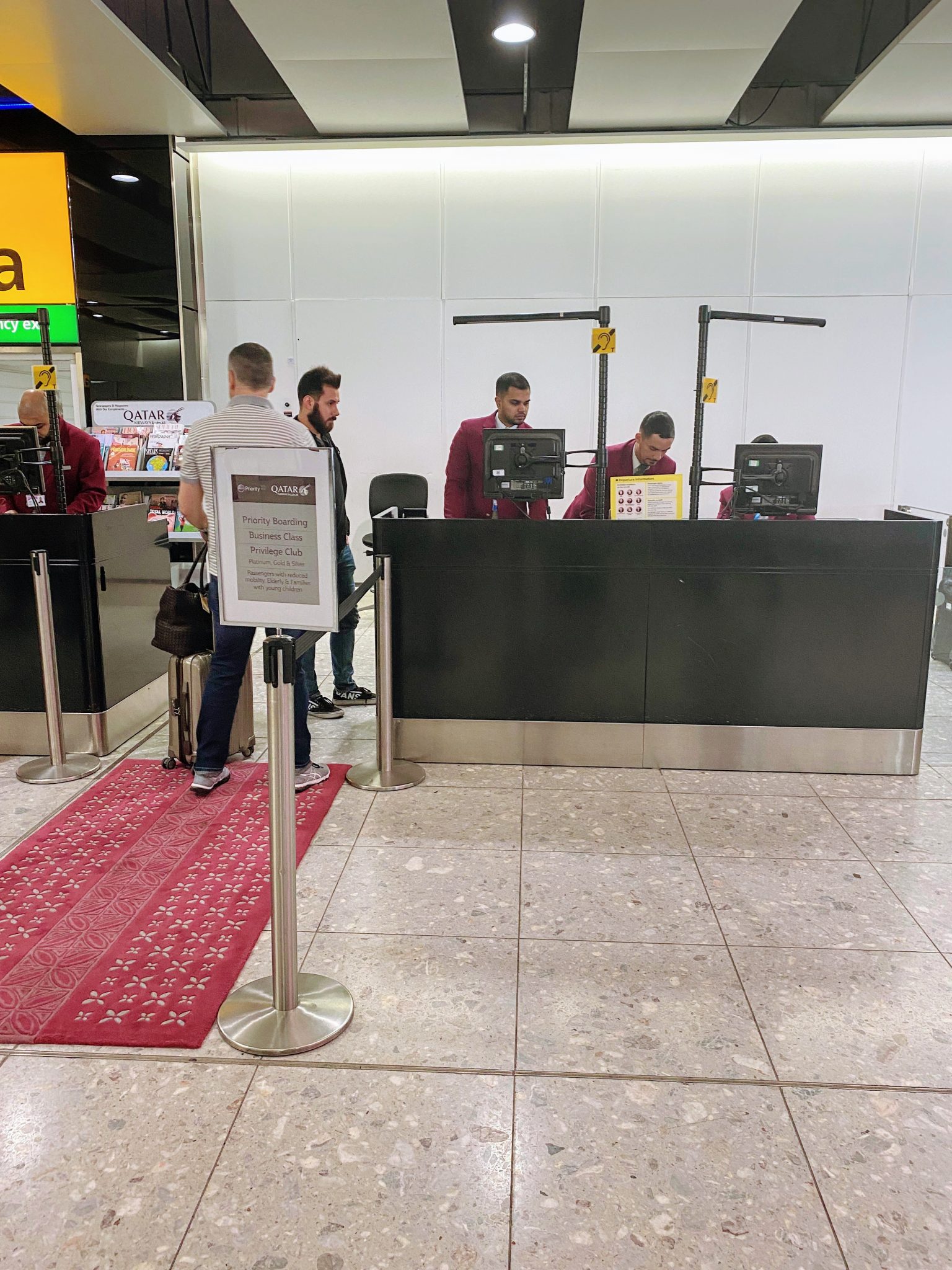 Once onboard I was directed to my seat and almost immediately the crew were asking if I needed a hand with the baggage. Then the cabin crew member looking after me introduced herself and offered me a welcome drink and a hot or cold towel.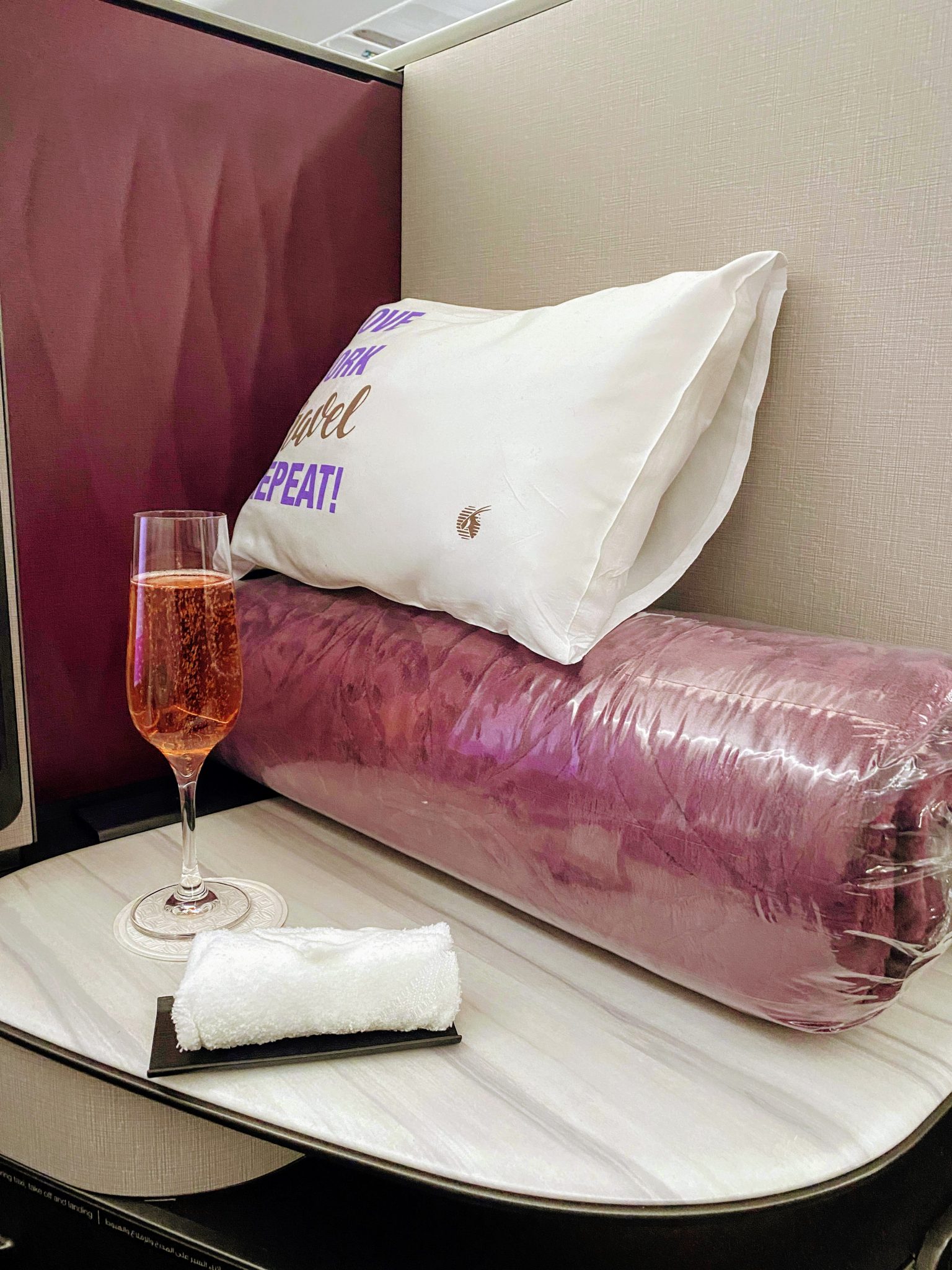 After the last god awful fizz that passed as Rose champagne, I was slightly reluctant to risk it again, but since they change every two months I thought I would be bold. I took a hesitant sip, and wow – it was delicious! Once I had the menu I could see why I liked it – it was Gosset Champagne, one I have willing paid good money for.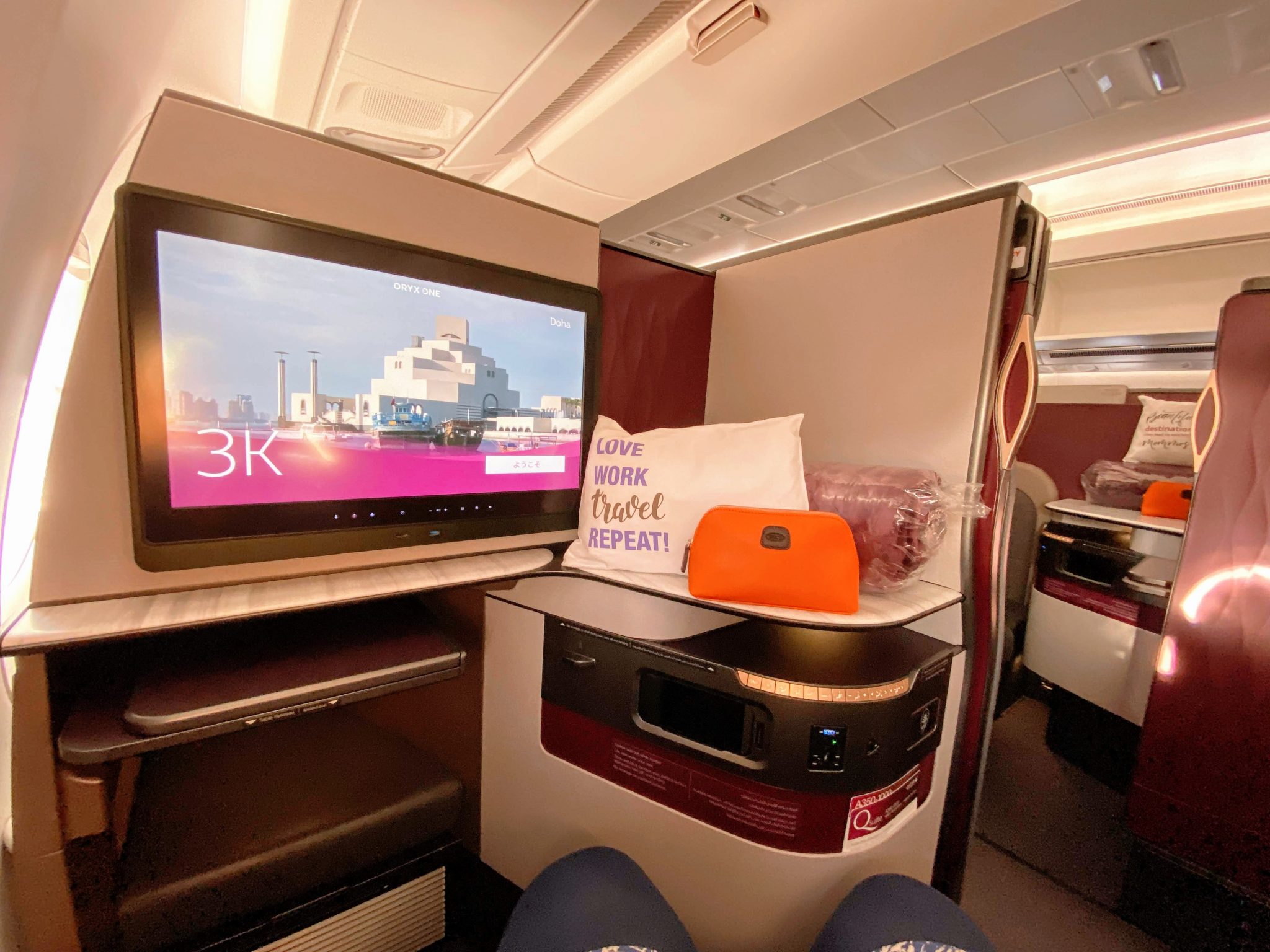 At the seat was already a cushion/pillow, a small day pillow (which you can take) and a BRICS amenity kit. I was not at all keen on the rather lurid orange colour which I got almost every flight. The men's colours were nicer in more muted tones I thought.
This shows the content of a kit from a previous flight – the contents have been the same for around 3 years now.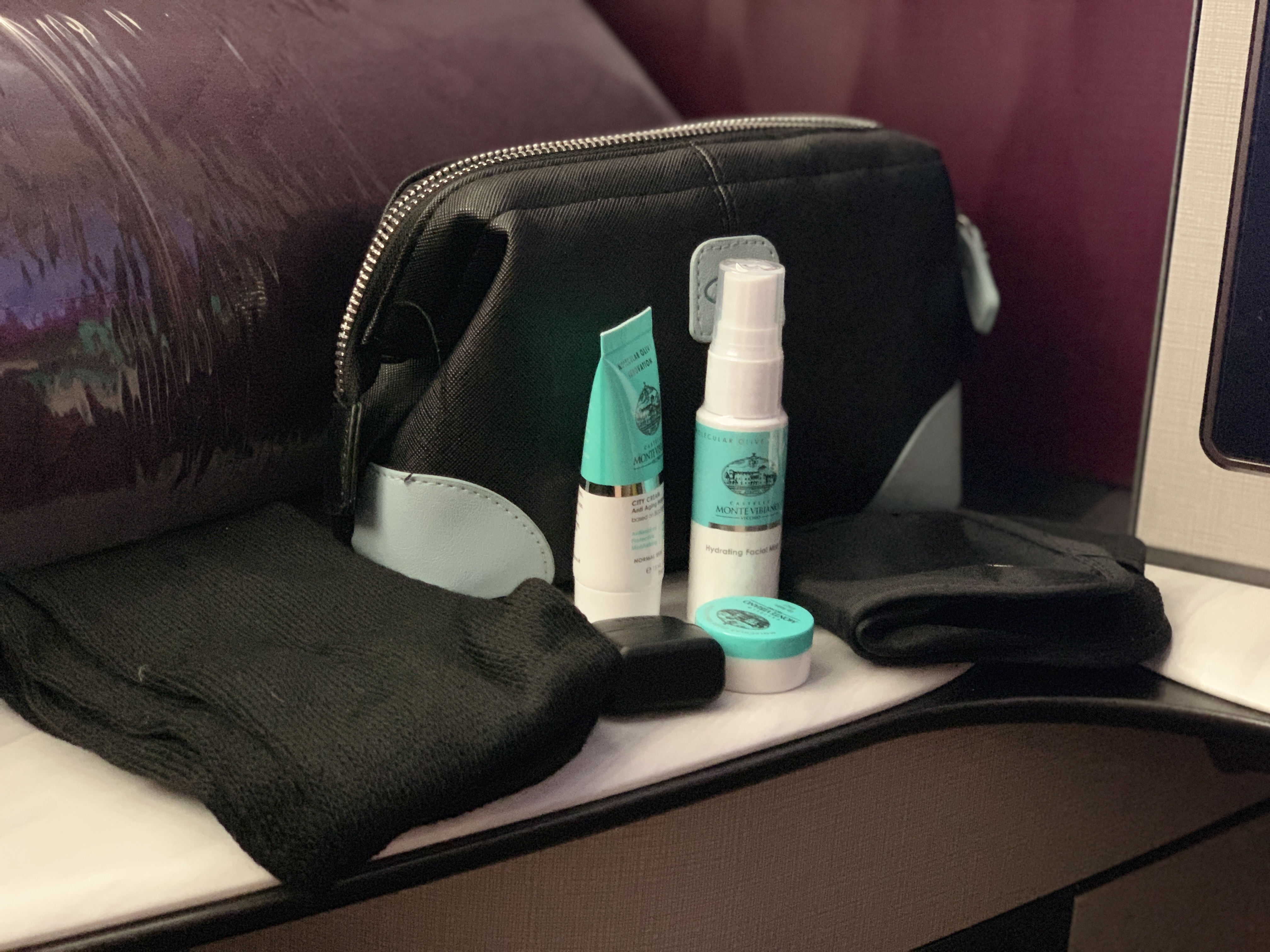 The kit has:
socks
eyeshades
earplugs
lip balm
moisturiser
face spray
Also at the seat was a bottle of Evian and Bose noise-cancelling headphones in the ottoman.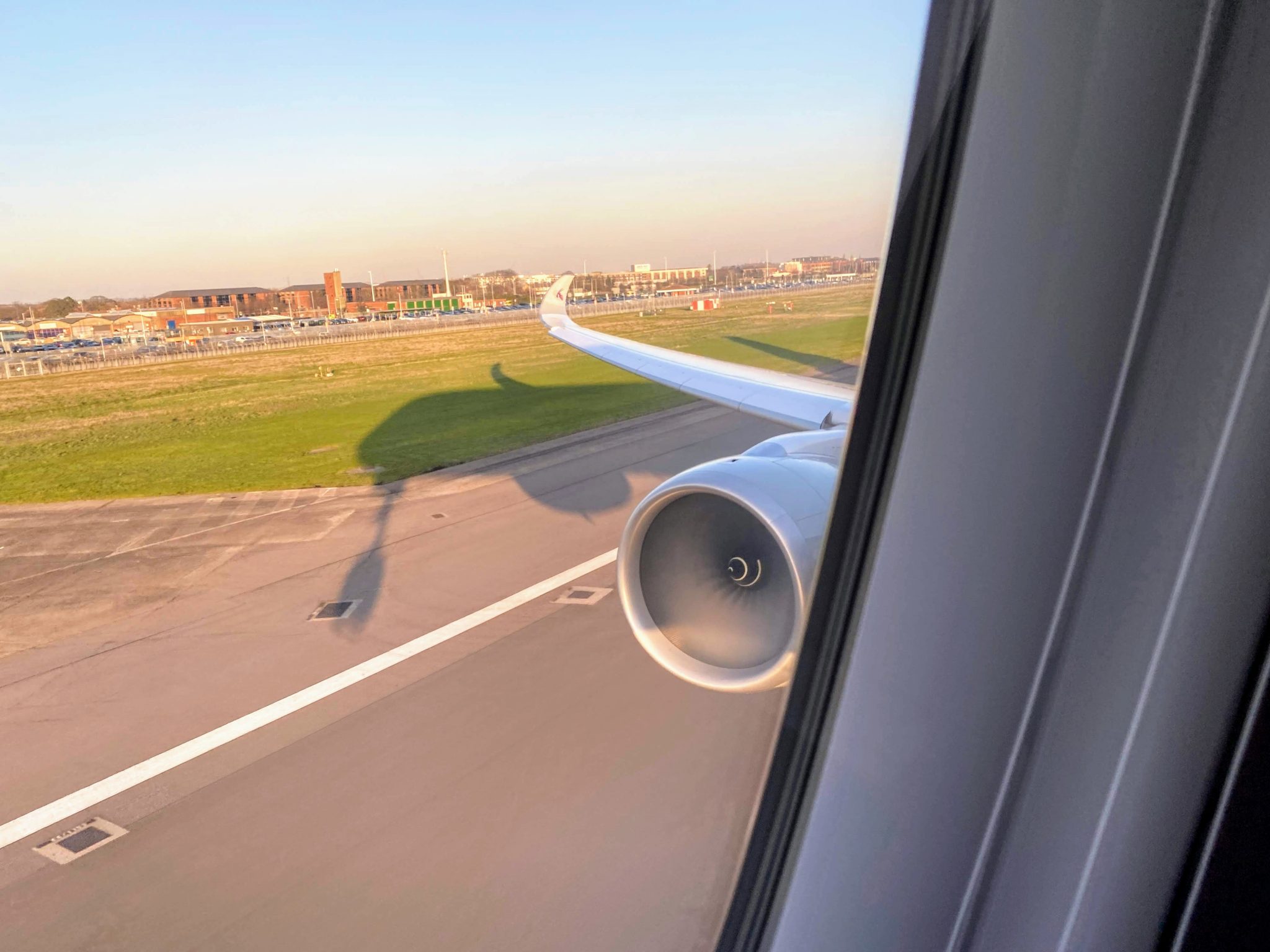 It was a beautiful day for flying!
Seat and cabin
Being the slightly larger A350-1000 model, the business class cabin is made up of two parts: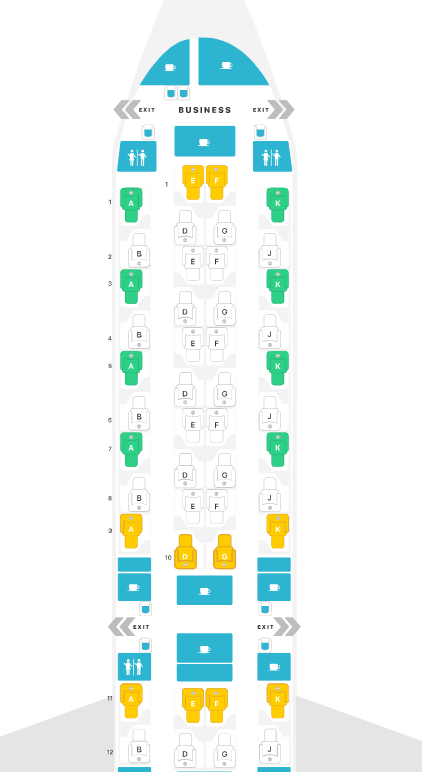 I debated the mini-cabin but being close to the galley and toilets I decided against it and went with 3K. RR was in 3A.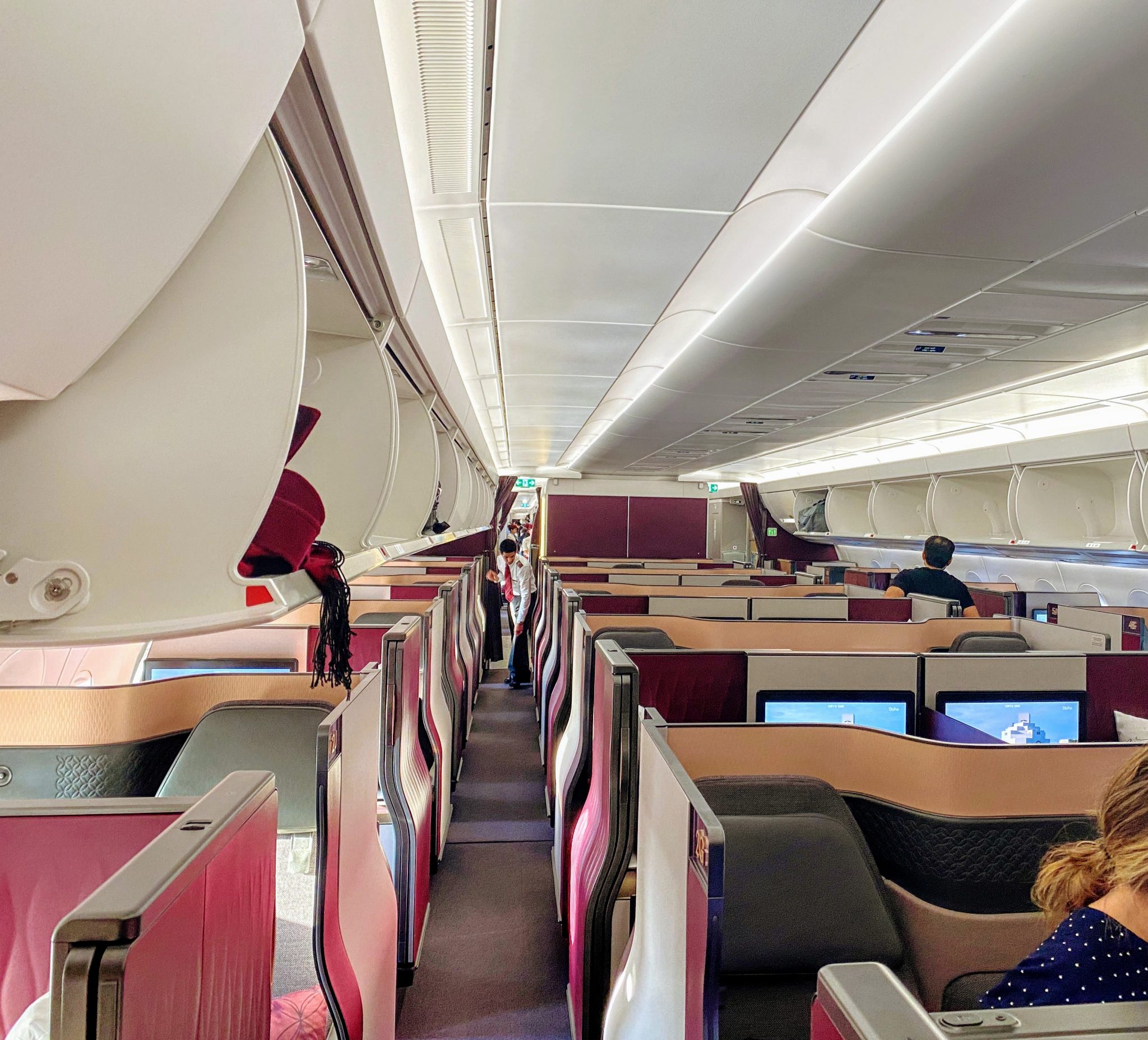 I generally recommend the backwards-facing window seats. This is because they are closer to the window and further from the aisle, so quieter.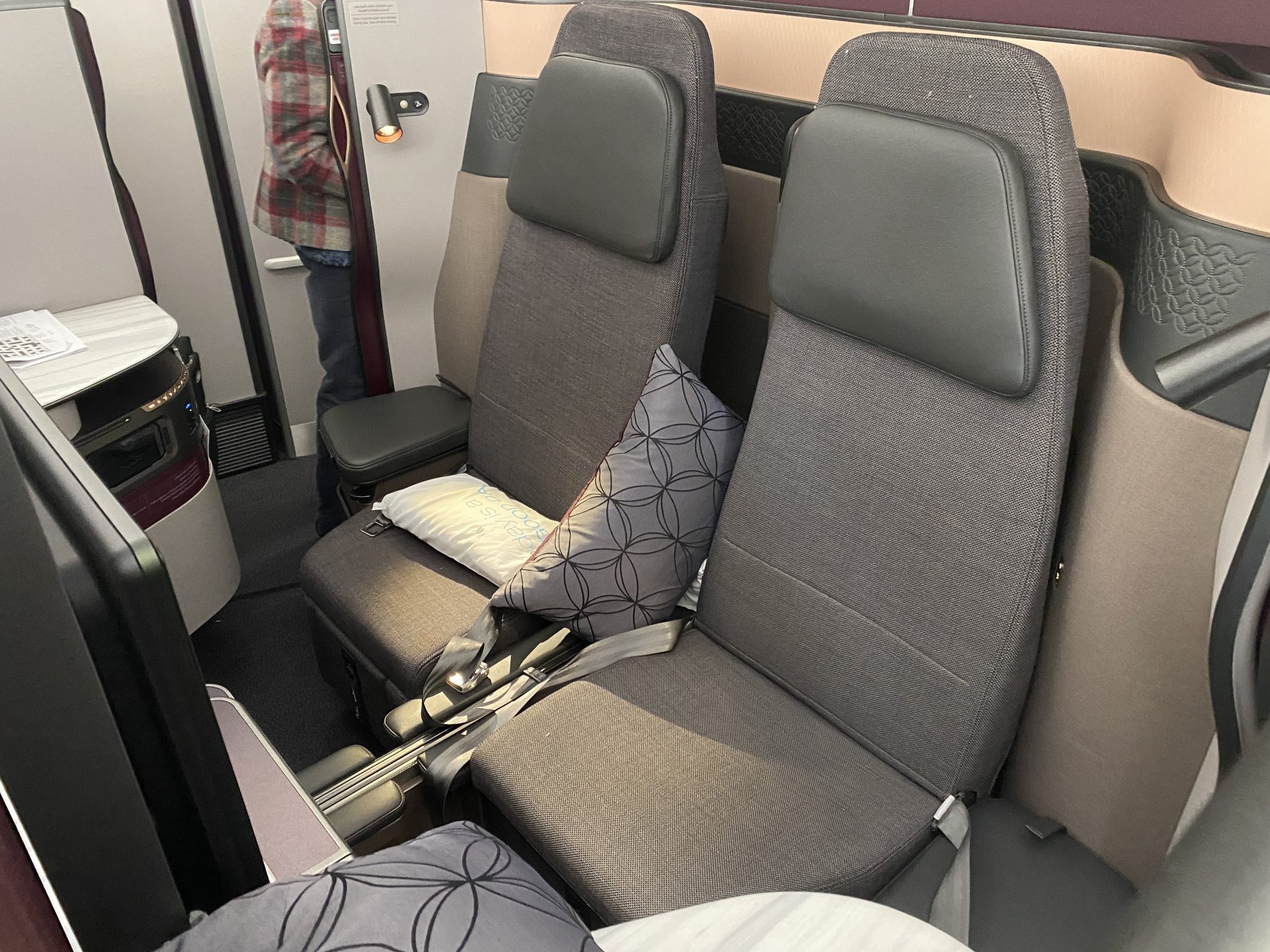 In the middle, you have a choice of being in a double QSuite where they can make it into a double bed or the seats with the ottomans in the middle. They can put up a privacy screen between them if you are travelling solo.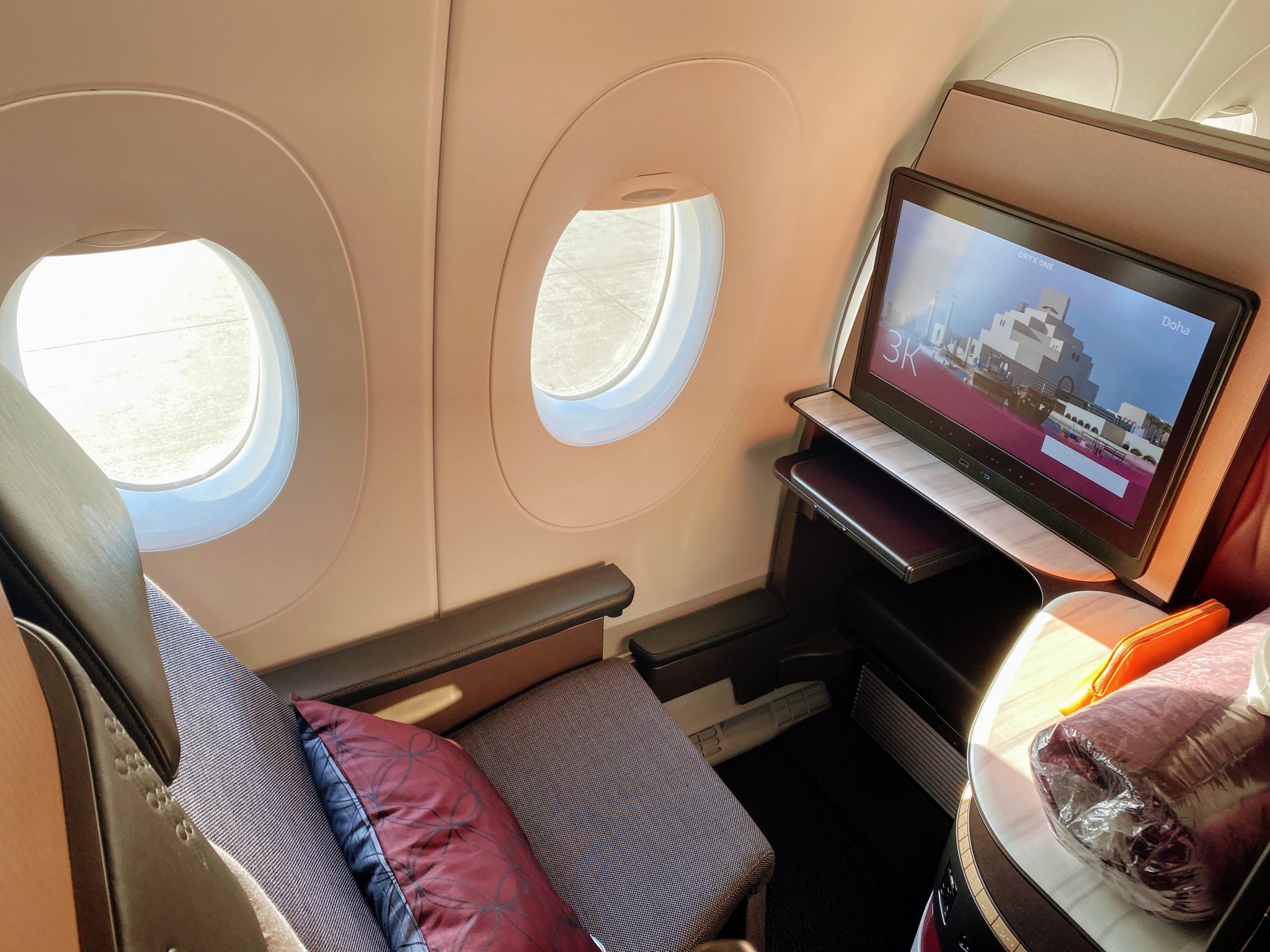 Next to the seat is an ottoman with a padded top which effectively extends the width of the seat. In the ottoman, there is a reasonable amount of storage space too.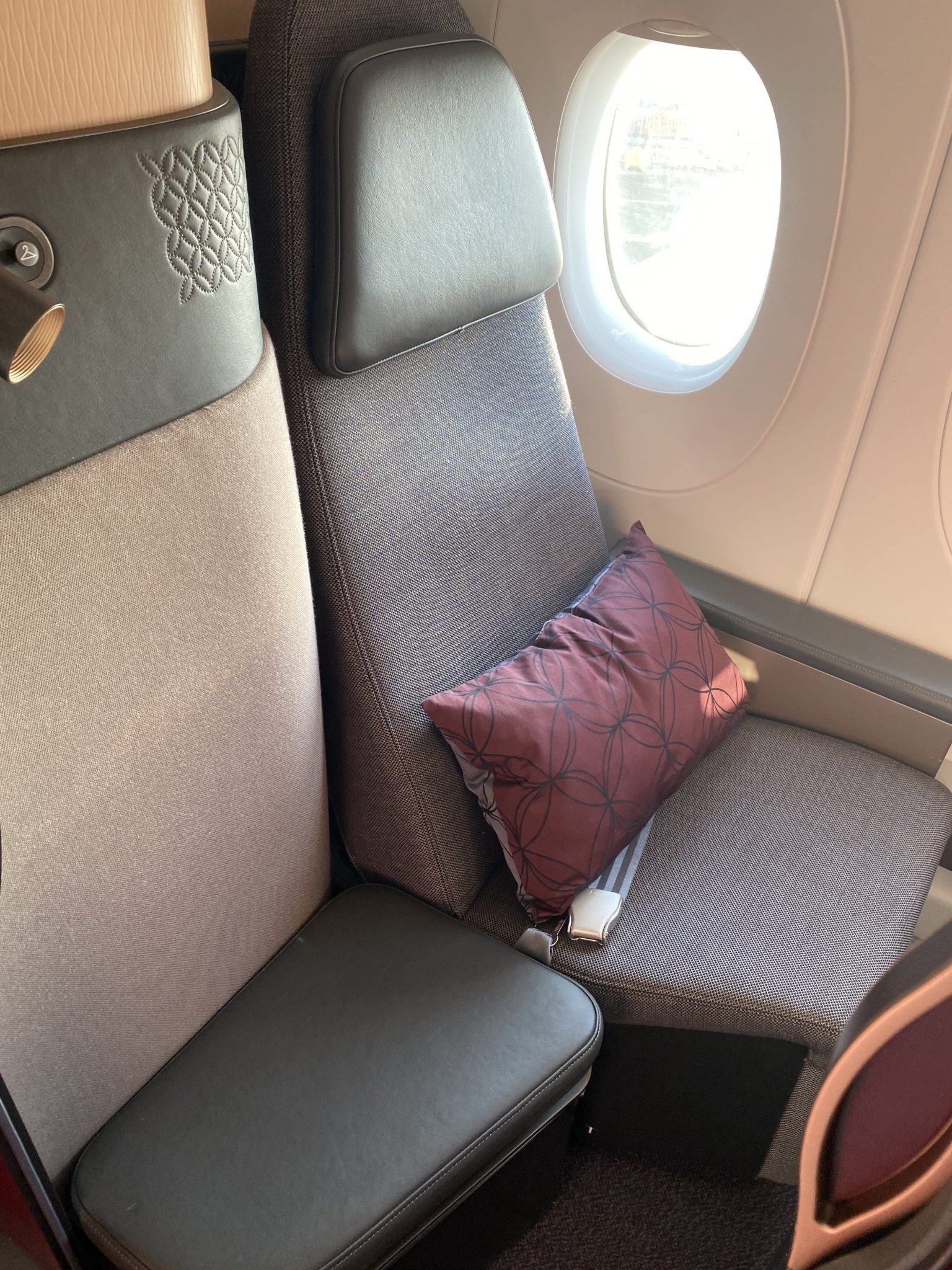 I don't find the QSuites at all claustrophobic even with the door closed, but even with it open it is pretty private.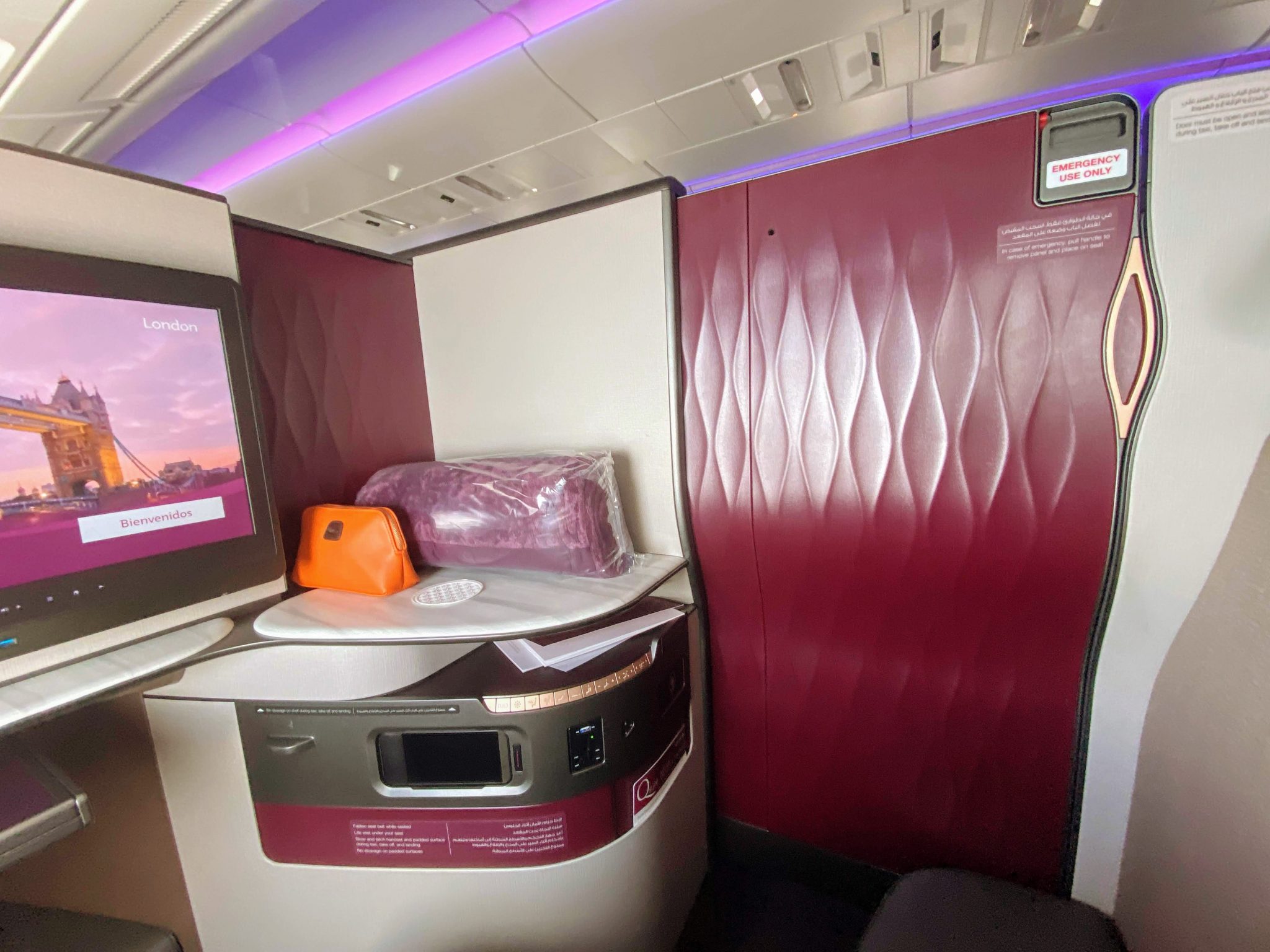 There are lots of seat controls but I don't like that there is no separate footrest that you can control.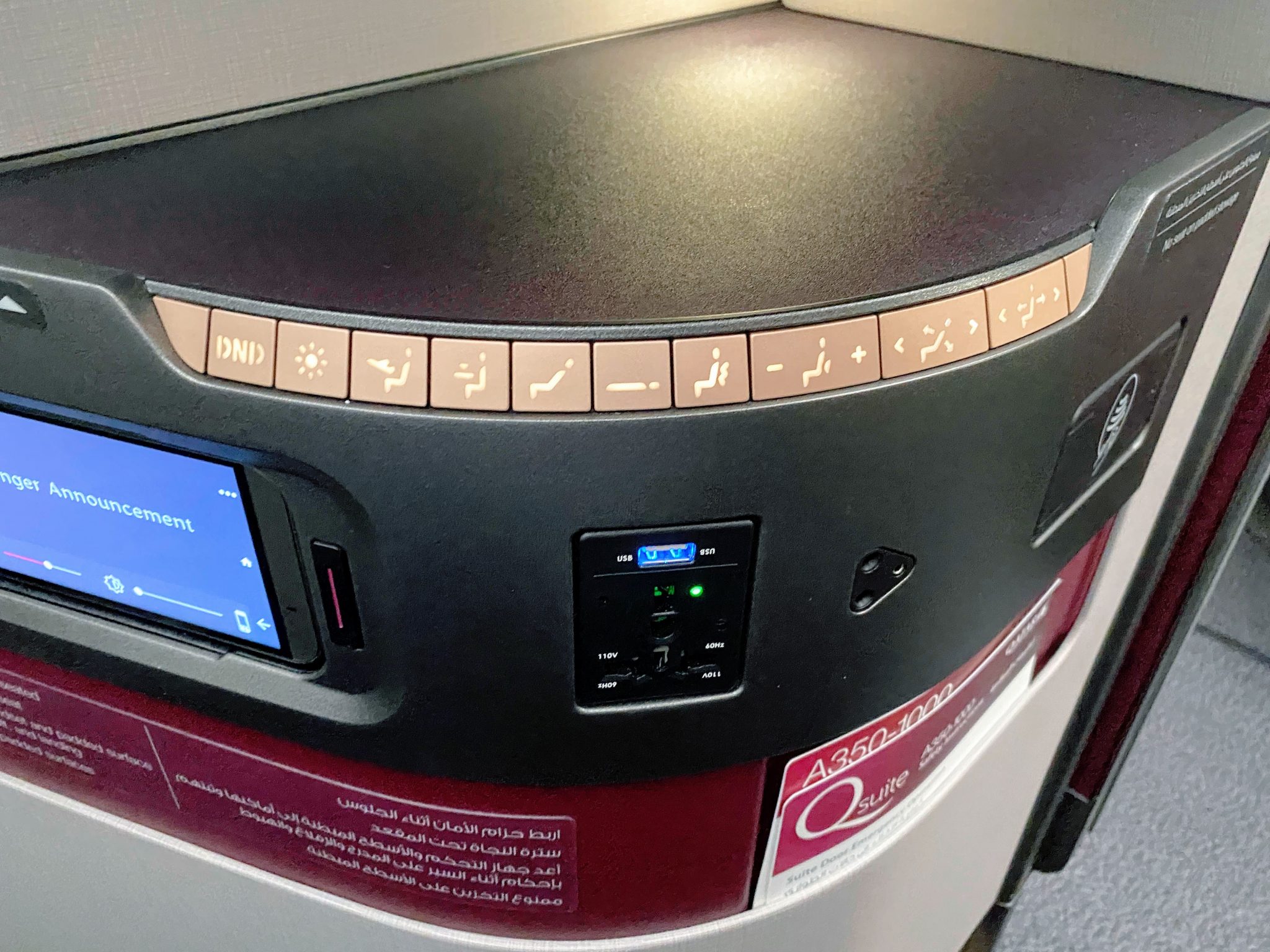 I can just about reach the footstool with it slightly reclined (I'm 5ft 6). I do like the fact there's a Do not disturb though!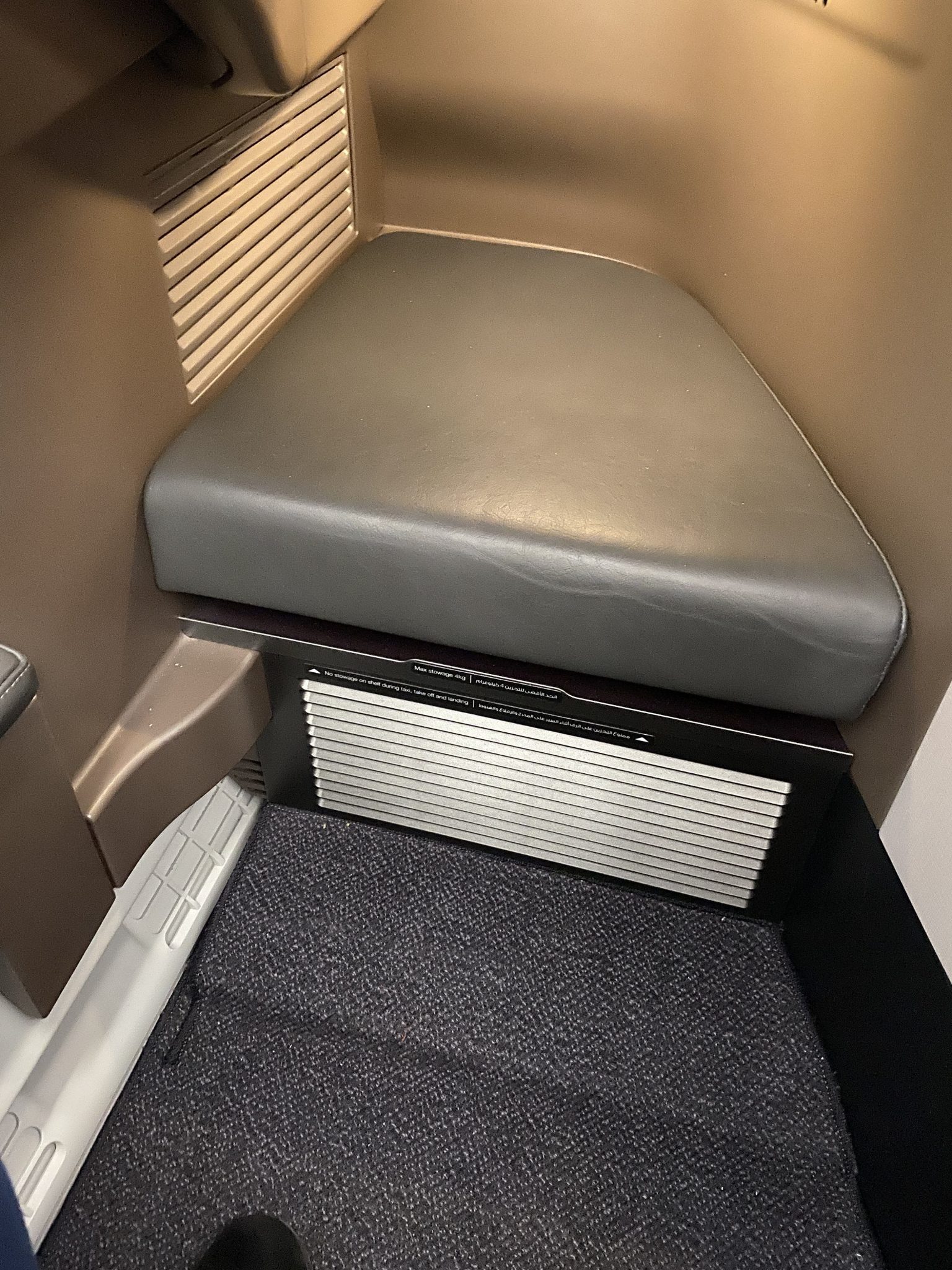 Overall I find the seat comfortable for eating, lounging and working. I still struggle with it for sleeping as even with the mattress pad (very thin) it is still too hard. On night flights they carry mattress pads and pillowcases for everyone, on daytime flights it just if they have any at all!
Here is the bed made up: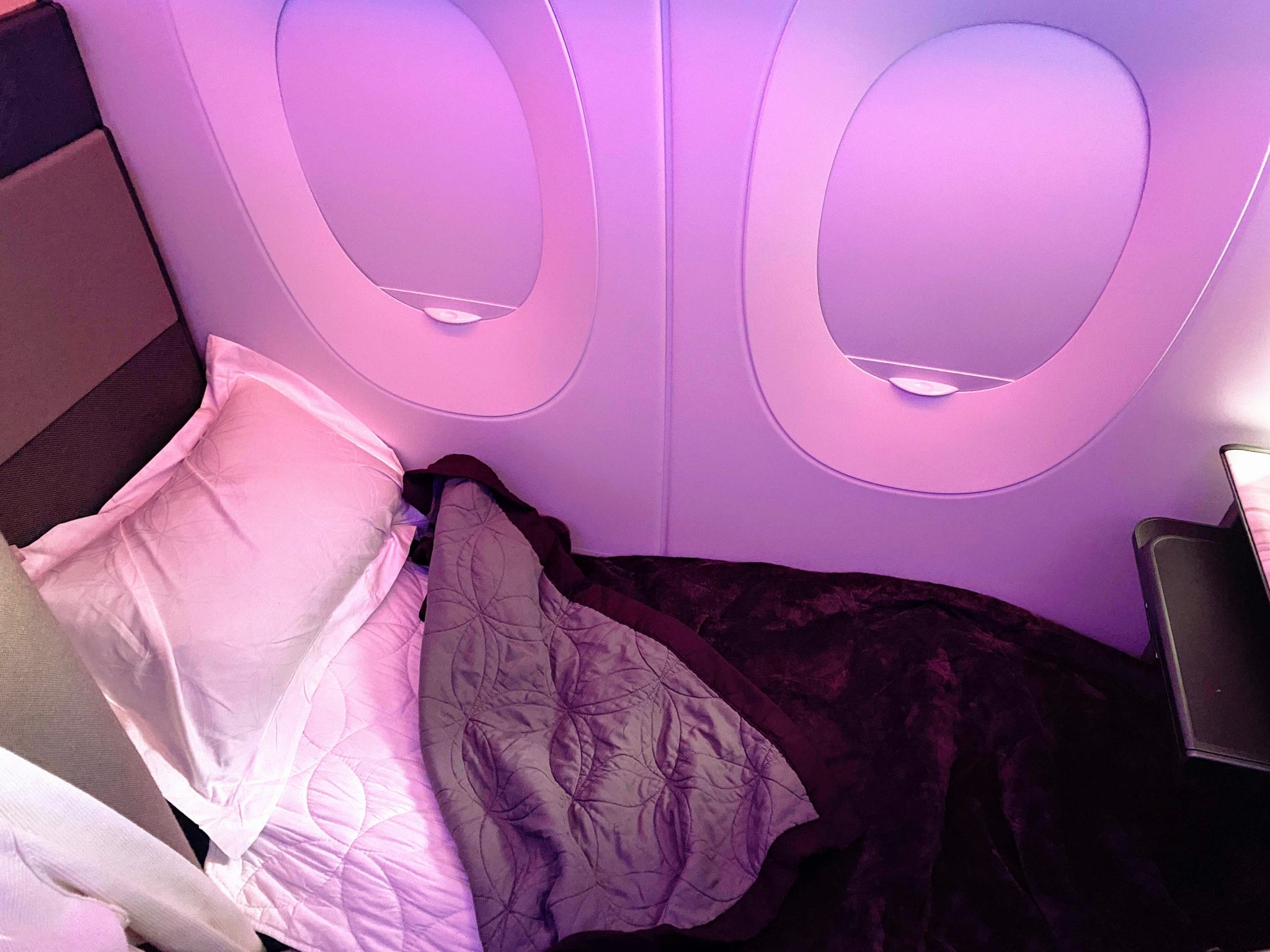 Although it may look like there is not much room for your feet, I find it better than the old A350 seats where I often knock my leg if I turn over.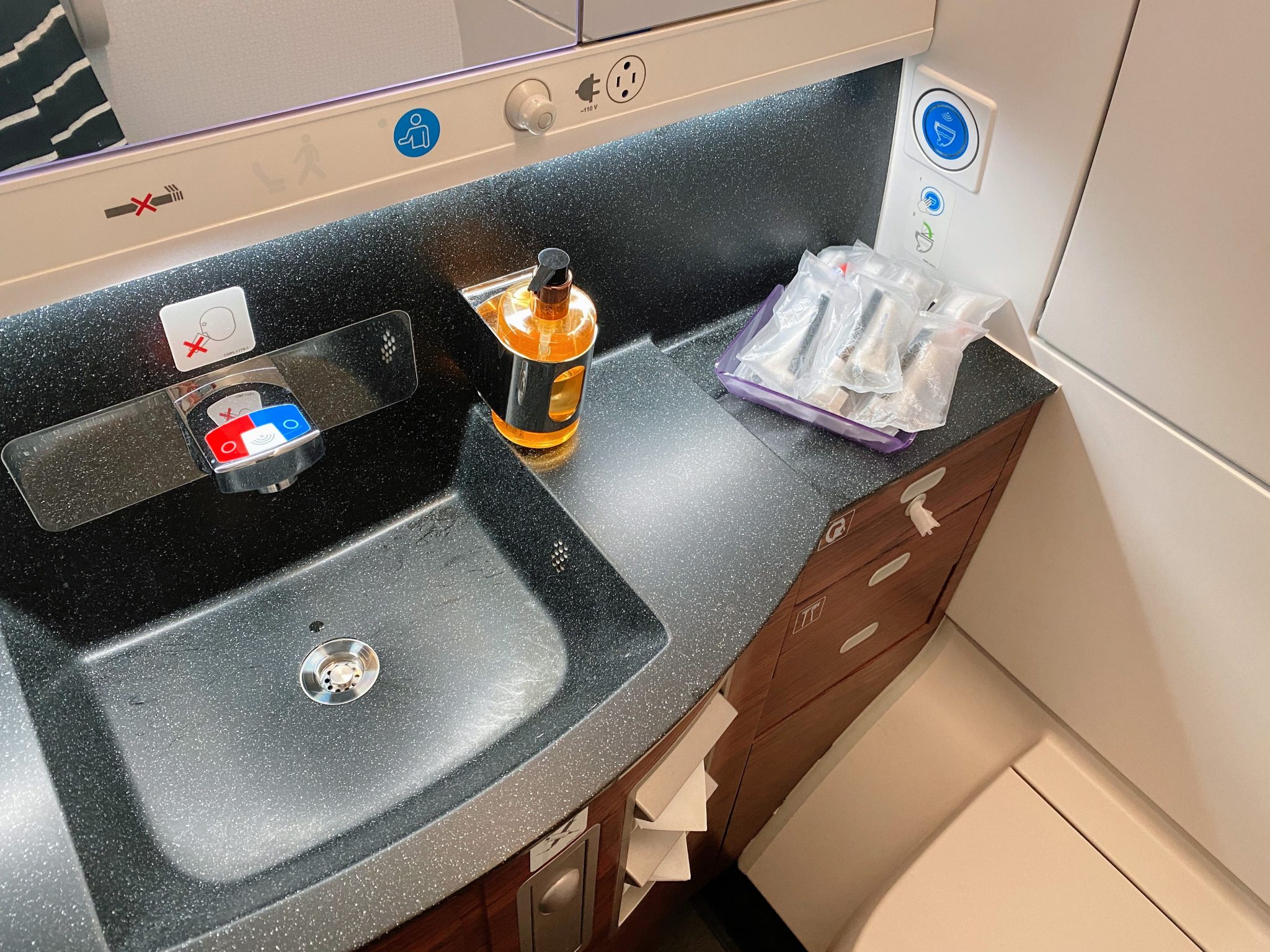 The toilets had toothbrush packs and shaving equipment too along with Rituals toiletries. They were always immaculate when I visited.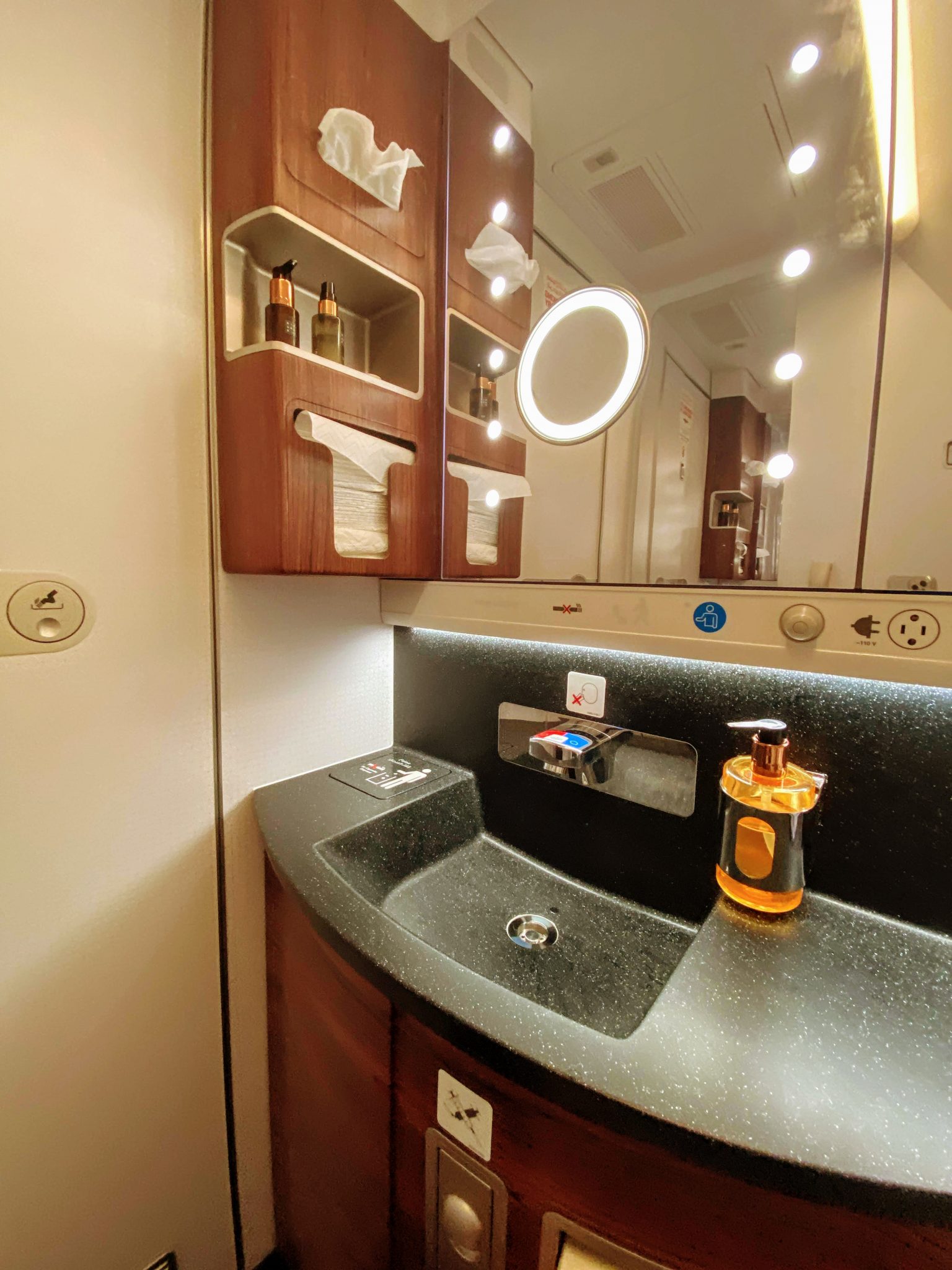 Food and drink
Before take-off we were handed the menu and wine list:
There was a new selection of cocktails for the QSuites which were a step up on the older rather dull options:
The wine list was impressive with:
Lallier Brut
Gosset Rose champagne
Stag's Leap Chardonnay
Errazuriz Max Reserva 2018 Sauvignion Blanc
Château de Riquewihr Riesling Grand Cru Schoenenbourg
Chateau Batailley 2011 Grand Cru Classe Pauillac
Abras Malbec 2017
Erasmuth Shiraz
Furore IDA Noble Reserve
Graham's Tawny Port
Orders for food were taken for the first few rows before take off.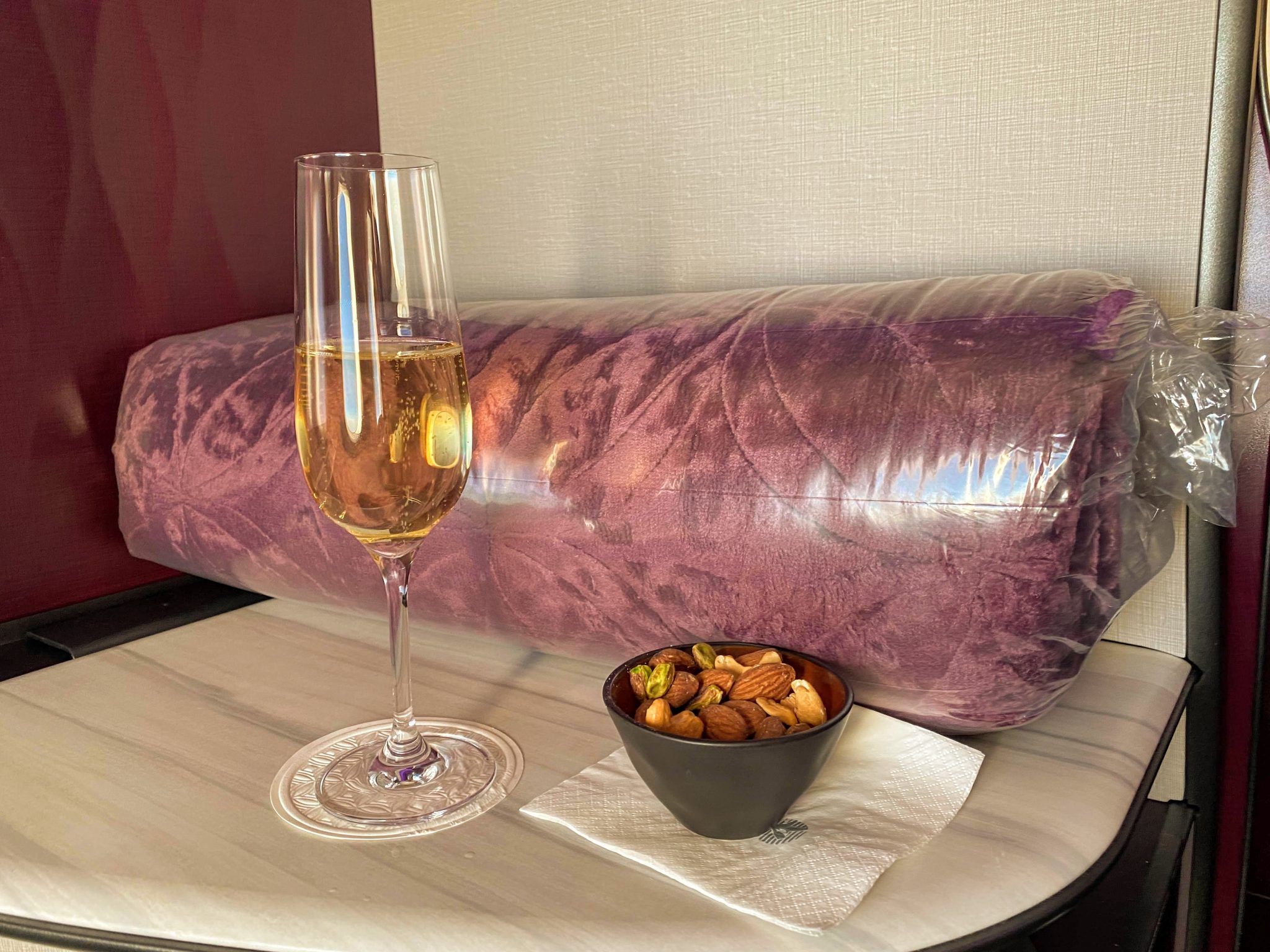 I started with a glass of the Lallier and some warm nuts after take off. I was not a fan of the champagne at all and quickly reverted to the Rose. I had asked to dine an hour or so after take off as you can eat at any time.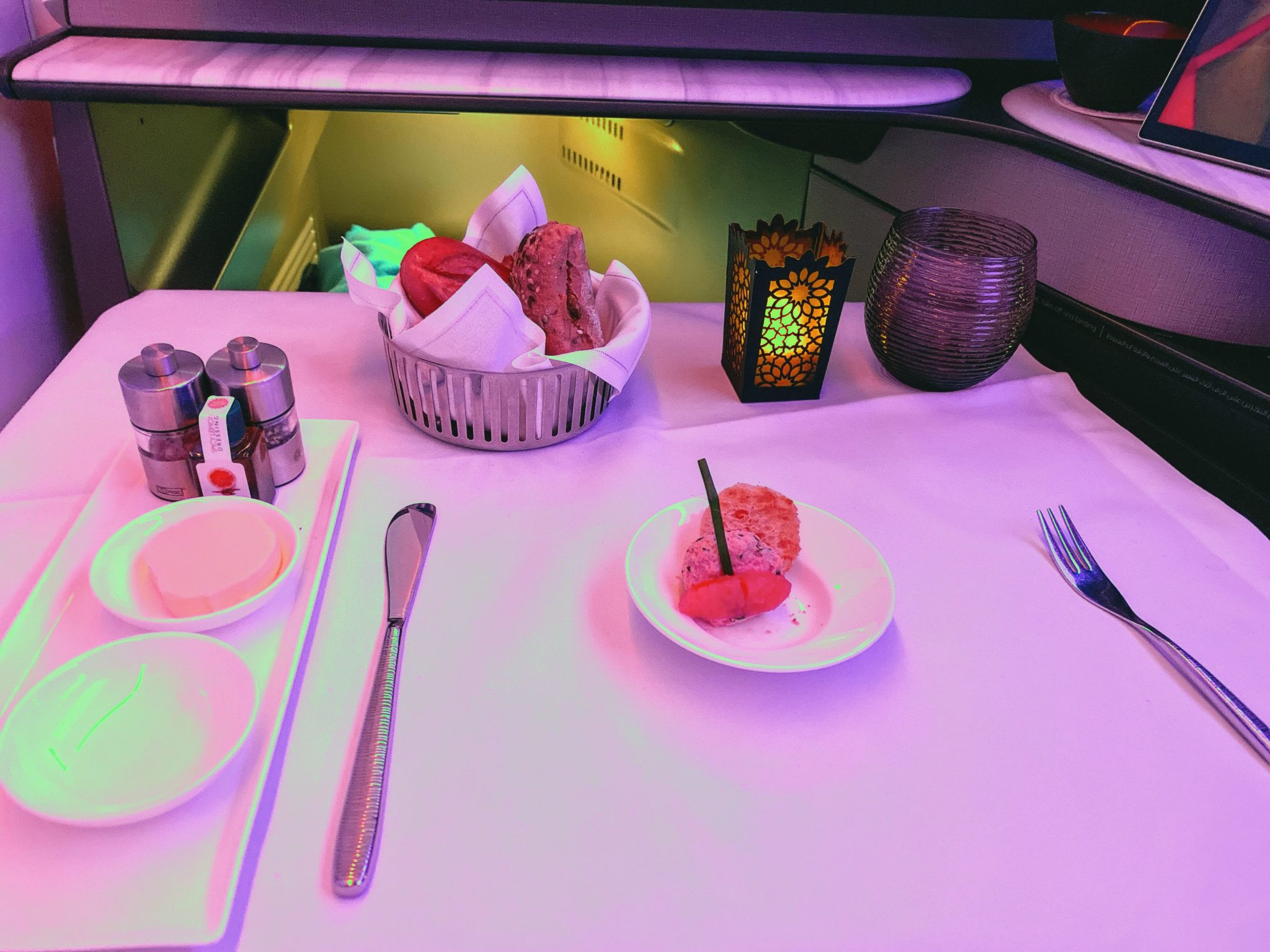 Next, an amuse bouche was served which was lovely with a mix of salmon pate, smoked salmon and chives. I didn't think it needed the rather stodgy cake-like unknown object that it came with. I was given a basket of warm bread and offered a selection of plain or flavoured olive oil. I went for the spicy lemon. I also recommend the tomato chilli! Butter is on the condiments tray along with a proper salt and pepper shaker and a dish for pouring the oil into. Those little touches along with the lovely flickering candle make this one of the nicest business class dining experiences in the sky.
Can you guess what I went for as the starter readers? Yes, I went for the mezze – I perhaps should start trying something new for reviews! This was very substantial with three fluffy, warm Arabic breads for dipping. I njoyed mine though RR found his a little dull.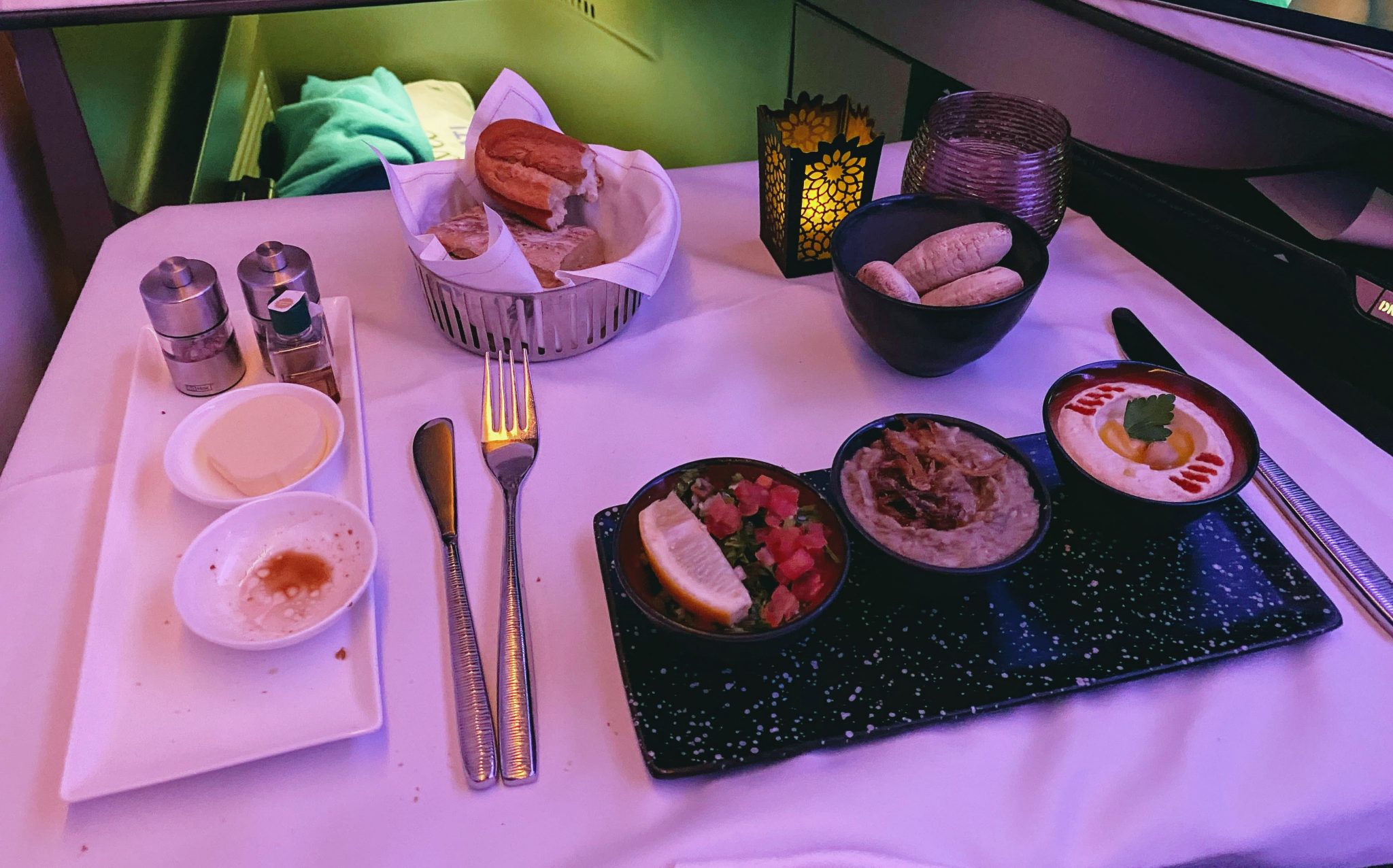 Here is where the trouble began. Can you see what is wrong with this picture? Yes, I had no wine. I had given my order for a glass of the Chardonnay before take-off to have the with the food. I expected to get it with the amuse bouche but it didn't arrive. I sat for a while waiting to eat my starter, but still nothing. Eventually, I asked for it but it still it took quite a while to arrive. I had pretty much finished my starter by the time it arrived – very disappointing. I asked as she cleared away to get a glass of the Pauillac. Again it took a long time, this was the theme for the whole flight. No tops ups or proactive drink orders were taken during the meal. Water was topped up once though. Both wines were extremely good.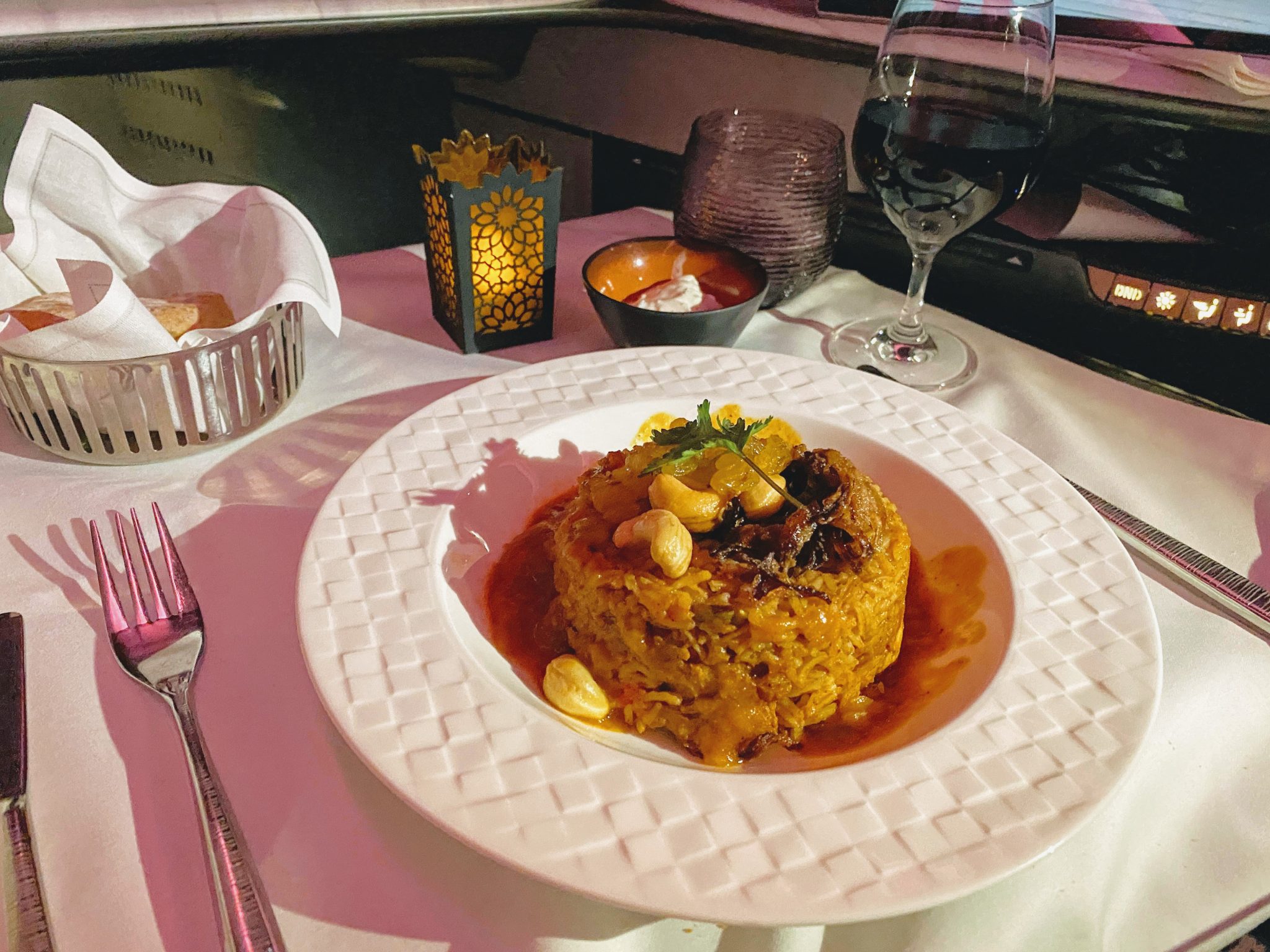 For the main course, I went for another sure bet on Qatar, the Chicken Machboos. As usual, it was just the right level of heat and not dry at all. The nuts gave a lovely crunch to rice and the raita help cool down the spiciness.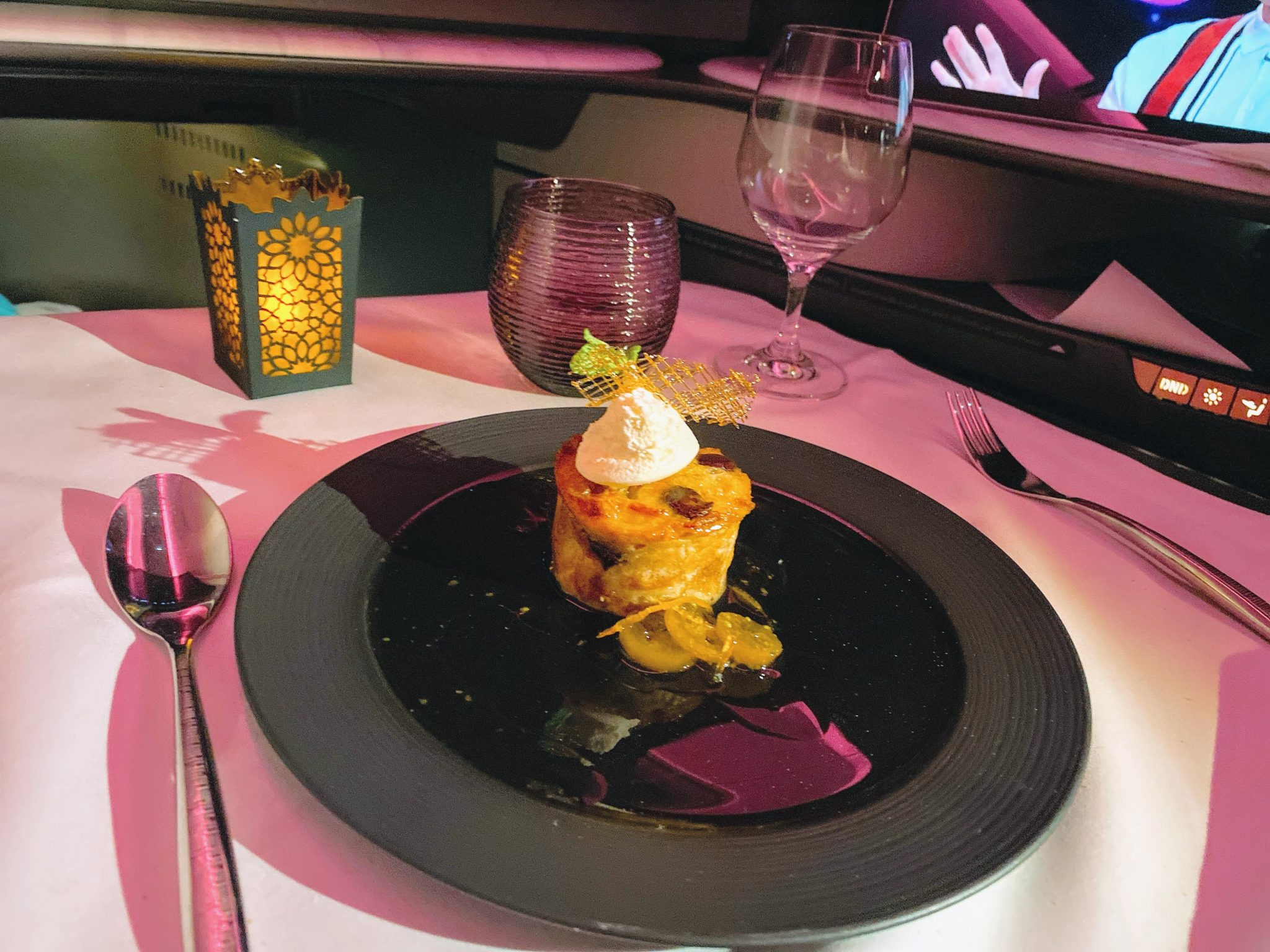 Normally I would go for cheese or no dessert but I liked the sound of the warm chocolate and orange pudding. I was expecting some sort of fondant type affair but it looked more like bread and butter pudding! It was actually very tasty and not too rich with the kumquats adding a nice touch of tartness. After a wait, I managed to have a glass of the dessert wine which was well balanced between sweetness and a light acidic finish.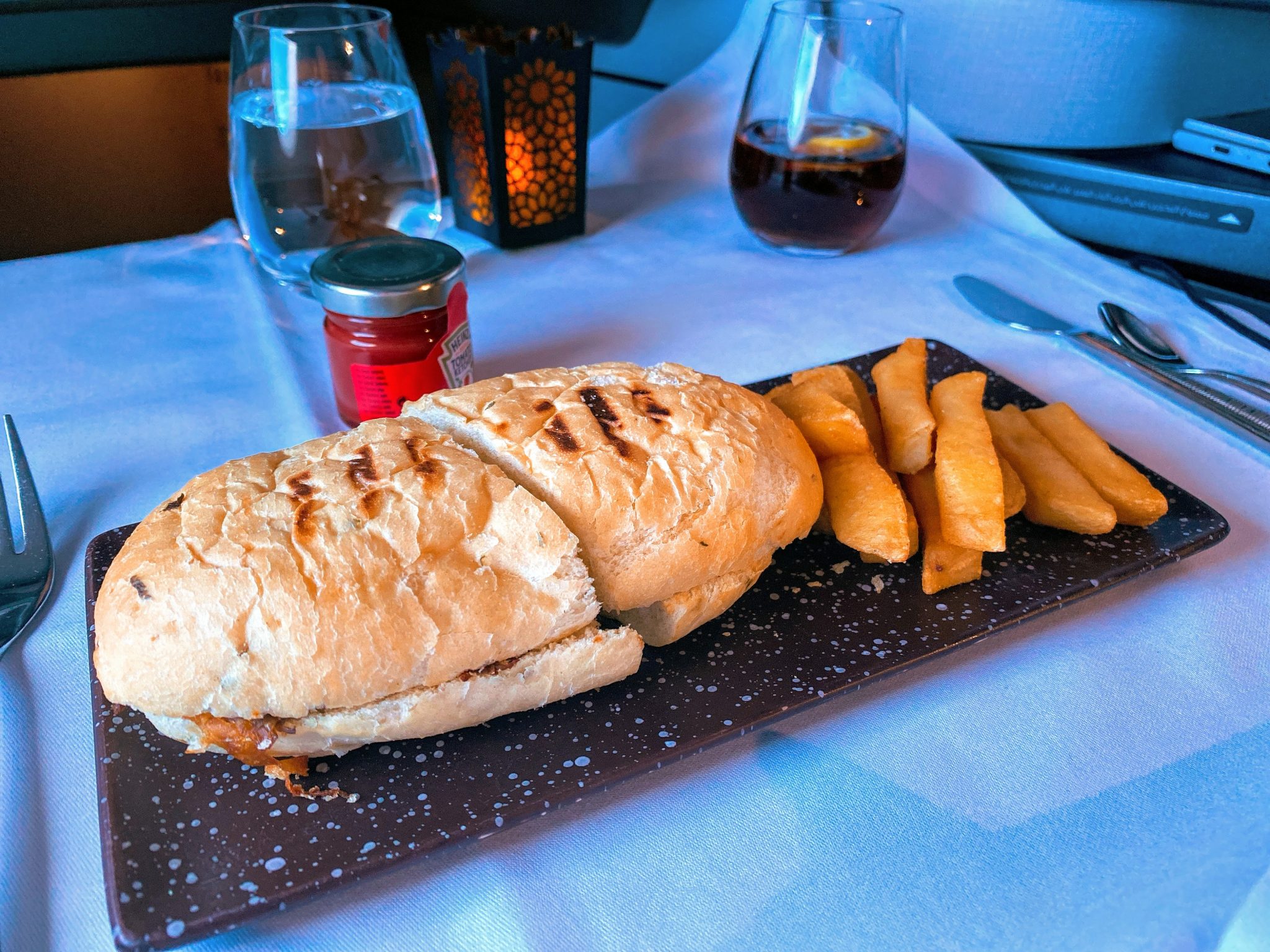 By now, I had cottoned on to the lack of refills and long waits so I asked for a very large glass of cognac. I found this very average but a standard level for business class. On the flight home, I tried the flat white cocktail which was quite creamy and not that alcoholic tasting.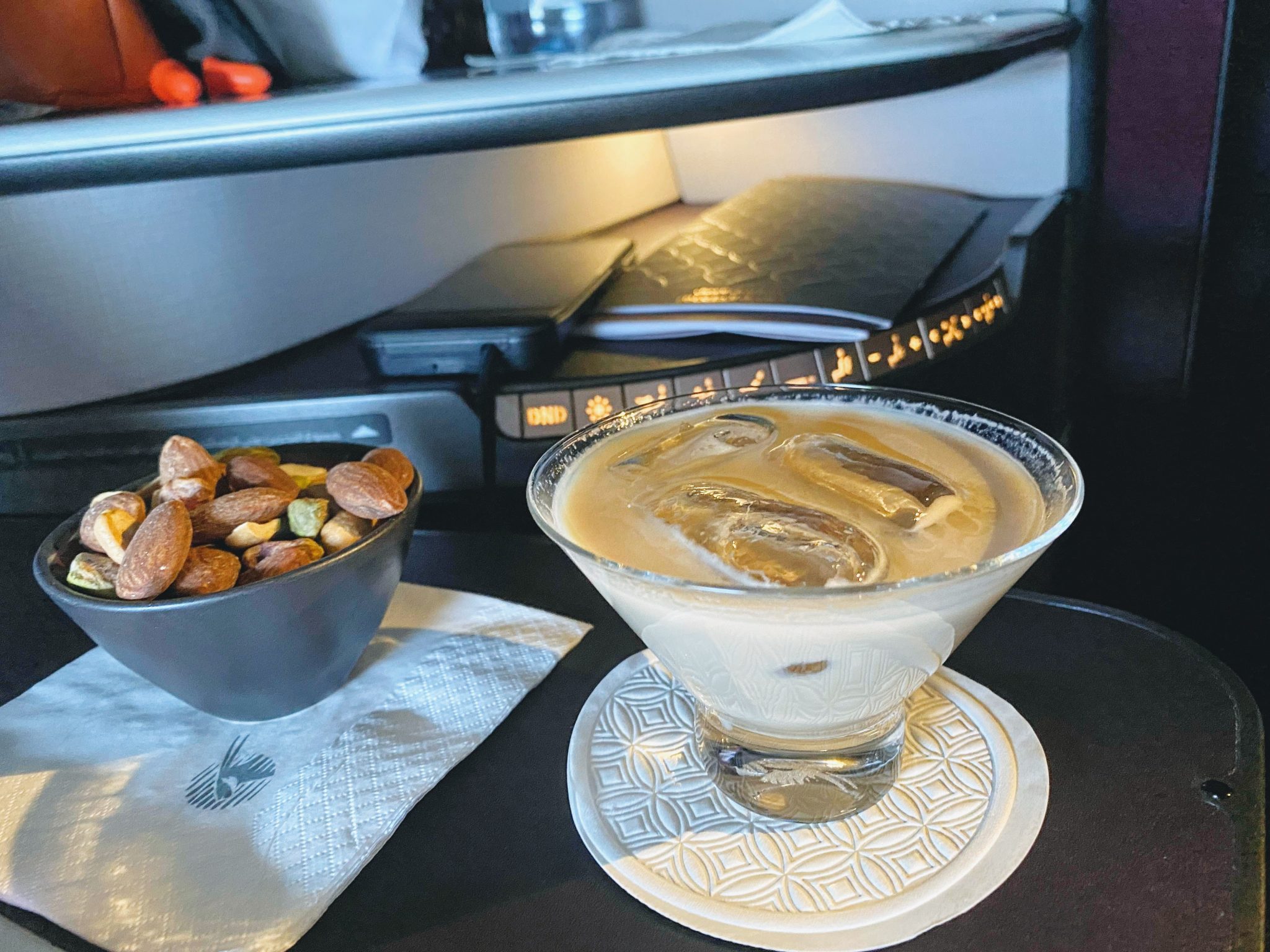 I didn't bother with the second meal on this flight. On the way home I tried a steak sandwich which was very tasty with some very good chips for a plane!
On the Qsuites as well as the main menu and light meals, you get a choice of small bites called the snack platters. You can choose as many or as little as you want and then come with a range of dipping sauces.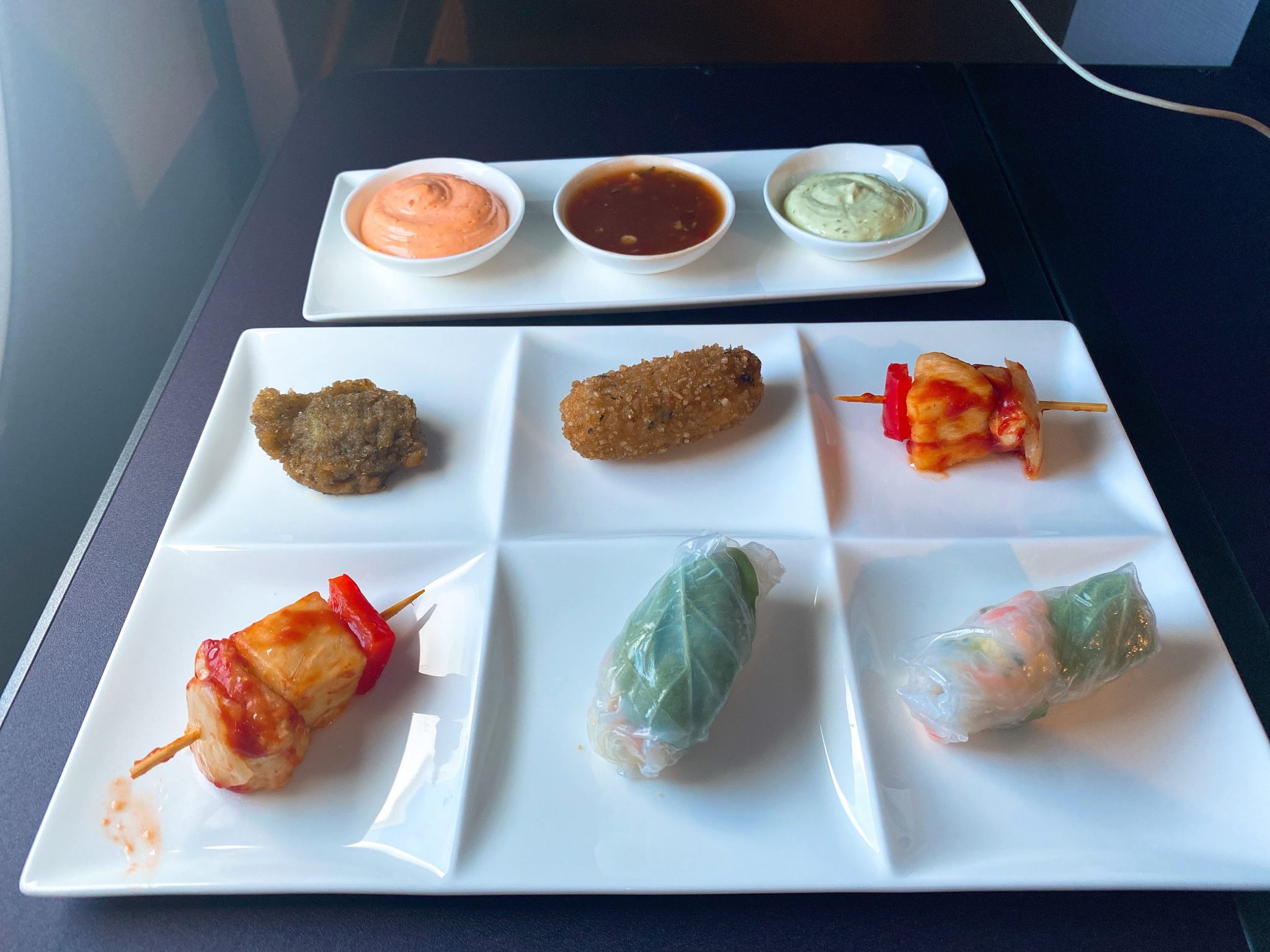 I really enjoyed these – they were very moreish, and I love having a selection with the different sauces to try. Well done to Qatar for this!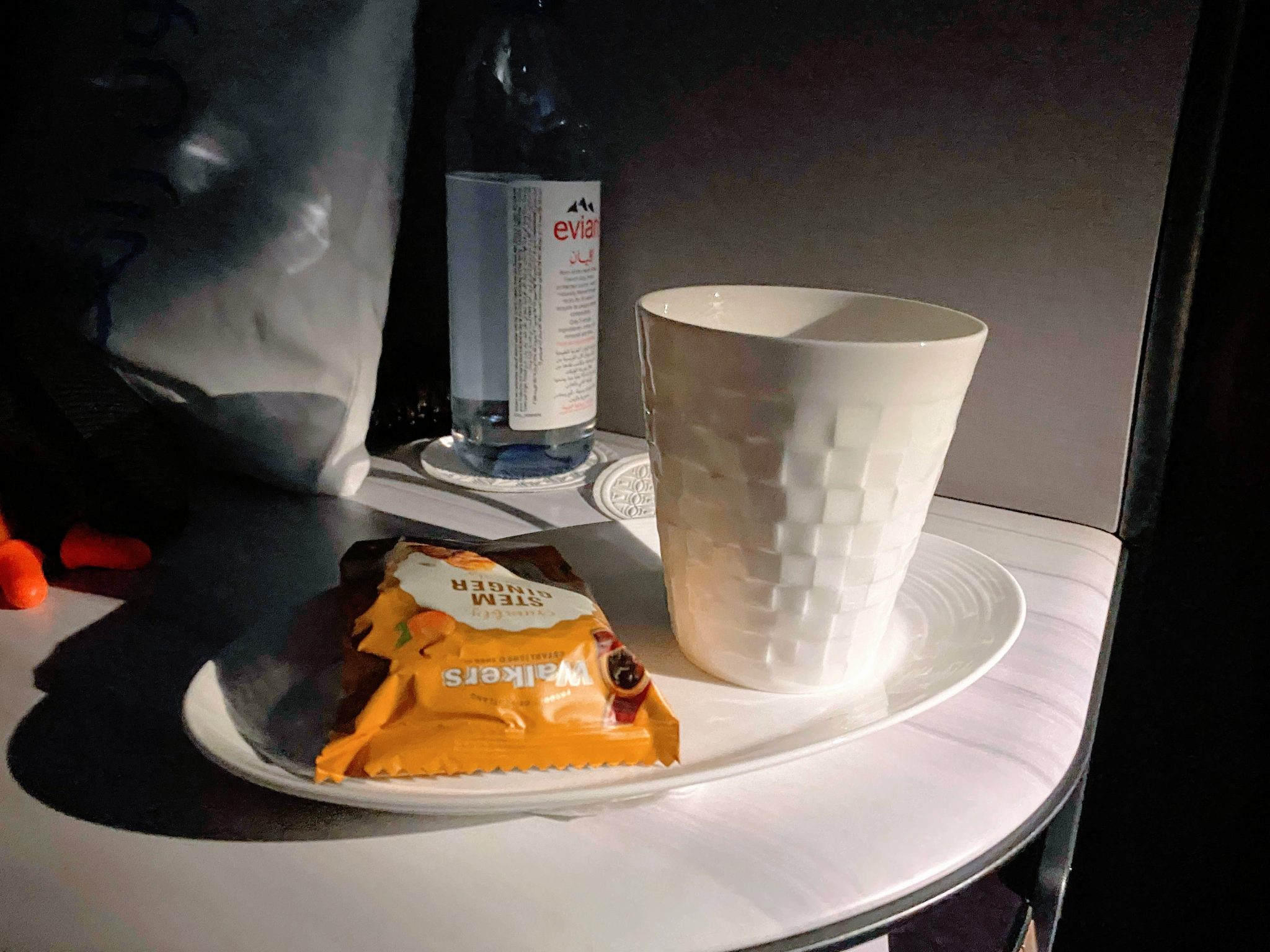 I also had a couple of my favourite Karak Chai drinks – if you like Chai Latte you will love these and the crunch ginger cookies you can get with them!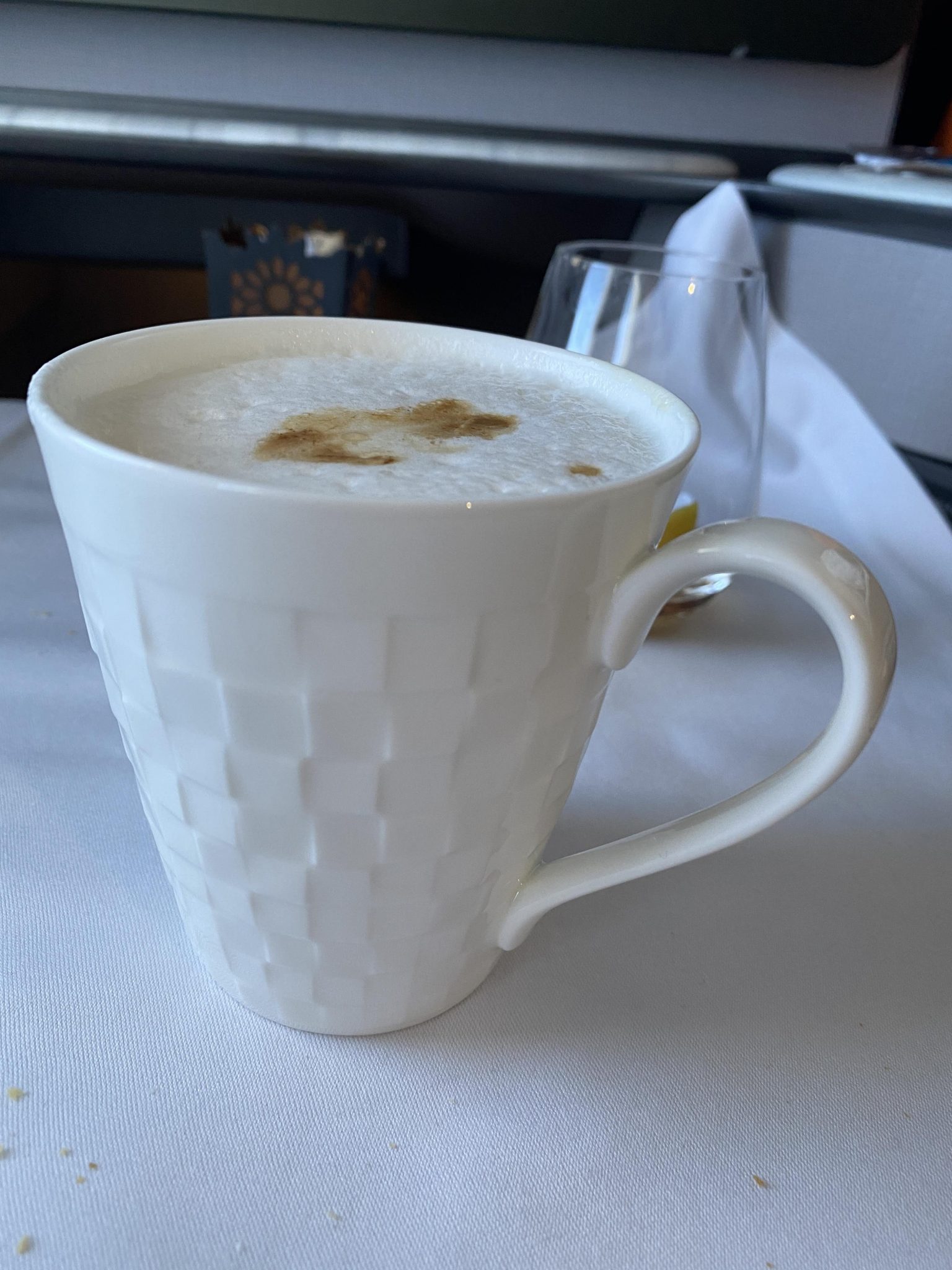 The cappuccino was not a great success and tasted like it was out of a packet! The foam was very watery rather than the velvety smooth one you would normally get on the ground.
Entertainment and connectivity

I really like the large HD screens on the QSuites and I was looking forward to using the HDMI connection as I had lots of stuff downloaded from Netflix to watch. Sadly every time I tried it crashed my TV. Having subsequently used the same lead and laptop successfully, I am sure it was a fault with their system. RR and I were a little disappointed with the selection of new films as there was little that took our fancy.
Sadly for fans of "Blow Boy" on the safety video, I can confirm they are now showing the new video featuring FC Bayern München's prolific goalscorer Robert Lewandowski, Brazil and PSG star Neymar Jr. and Brazil and AS Roma legend Cafu. After 4 views of it on this trip, it was really, really getting on my nerves! (you can watch it here)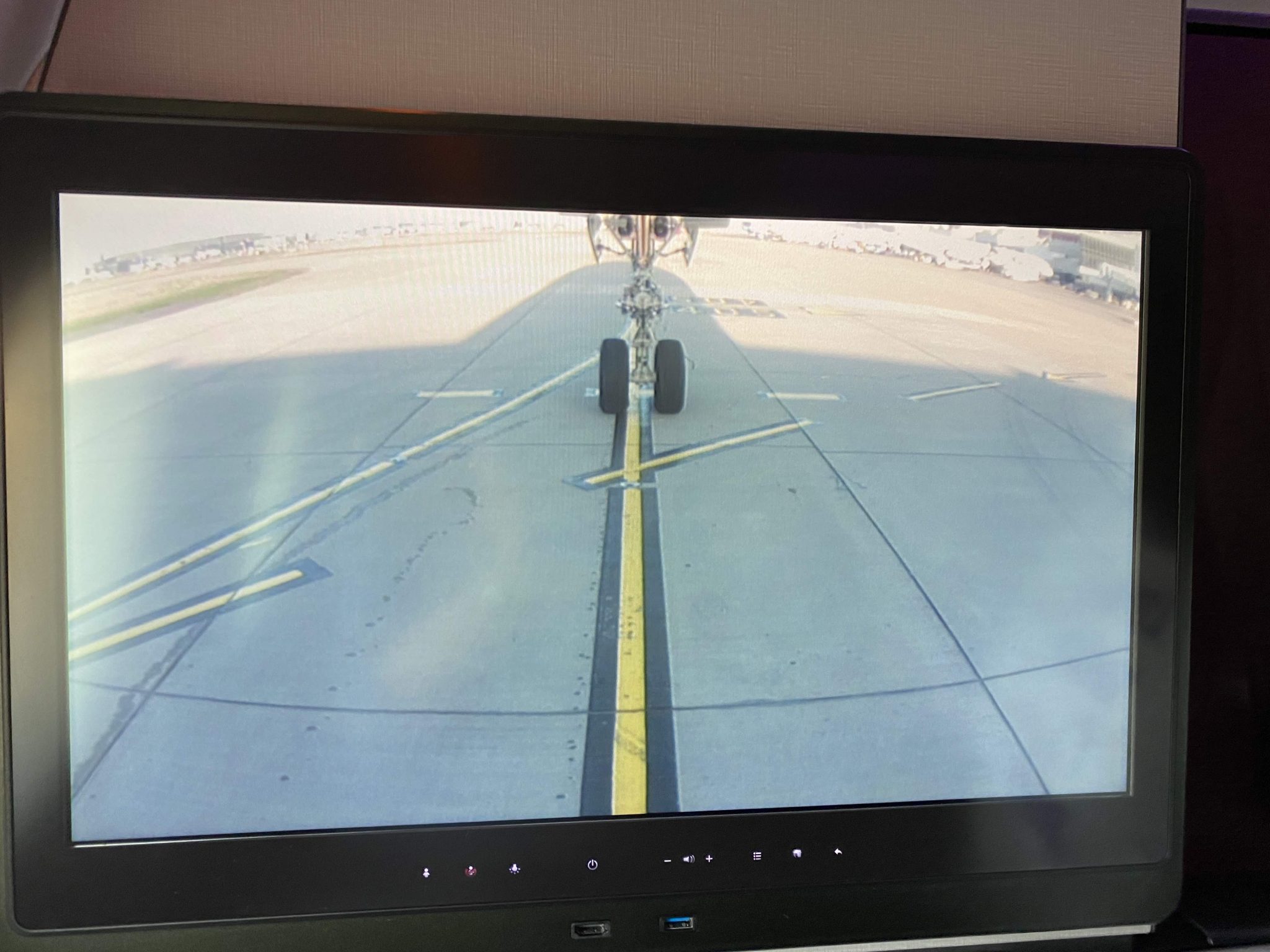 I did really enjoy the cameras outside the aircraft though and I think it was a big mistake for BA not to take this option on their A350. The system can be controlled with the handheld remote that can be used separately from the main screen to play films or any other entertainment. It is pretty responsive compared to many other systems that lag.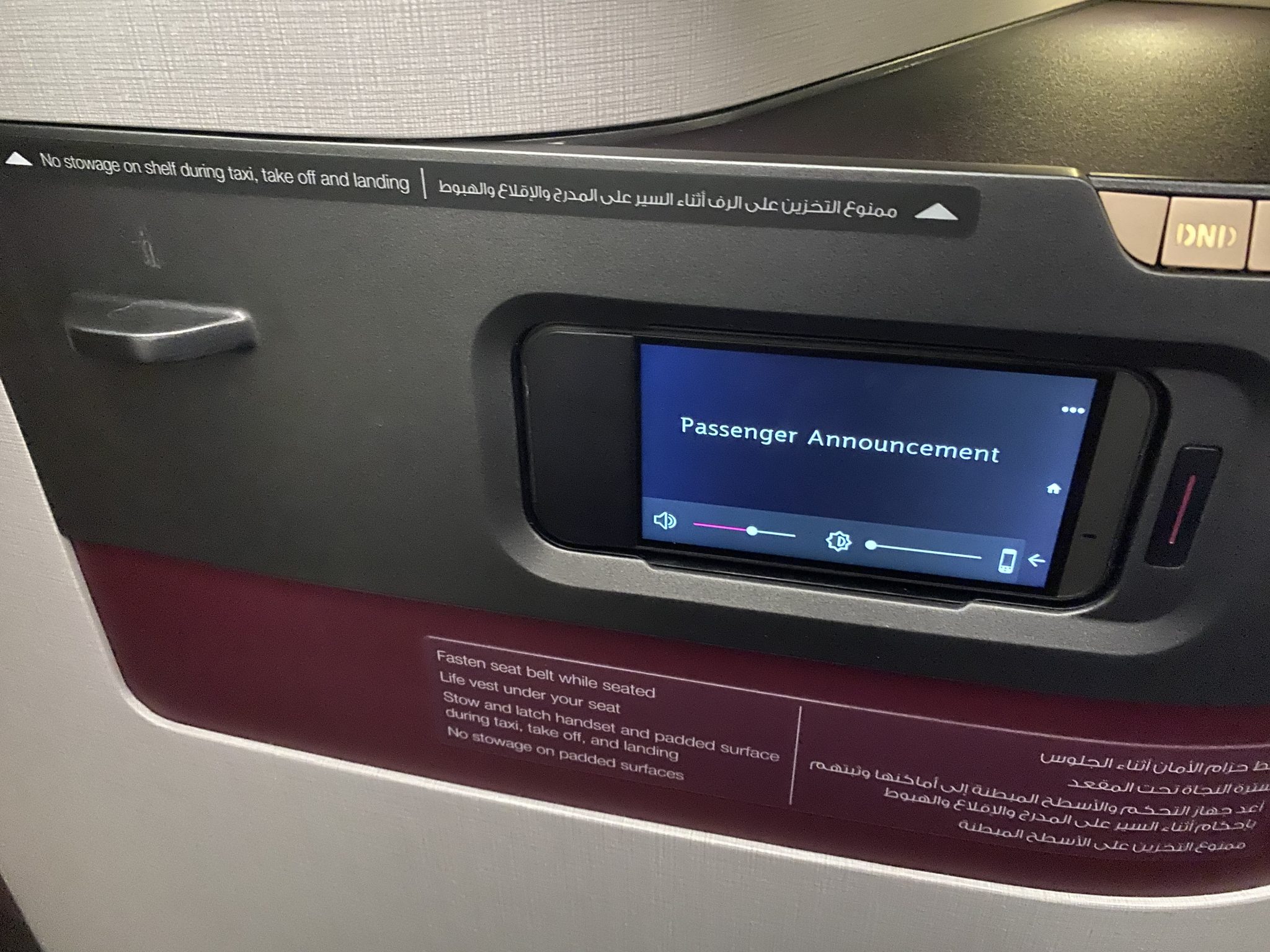 I like Qatar headphones more than most as they are comfortable to wear and the sound quality is OK.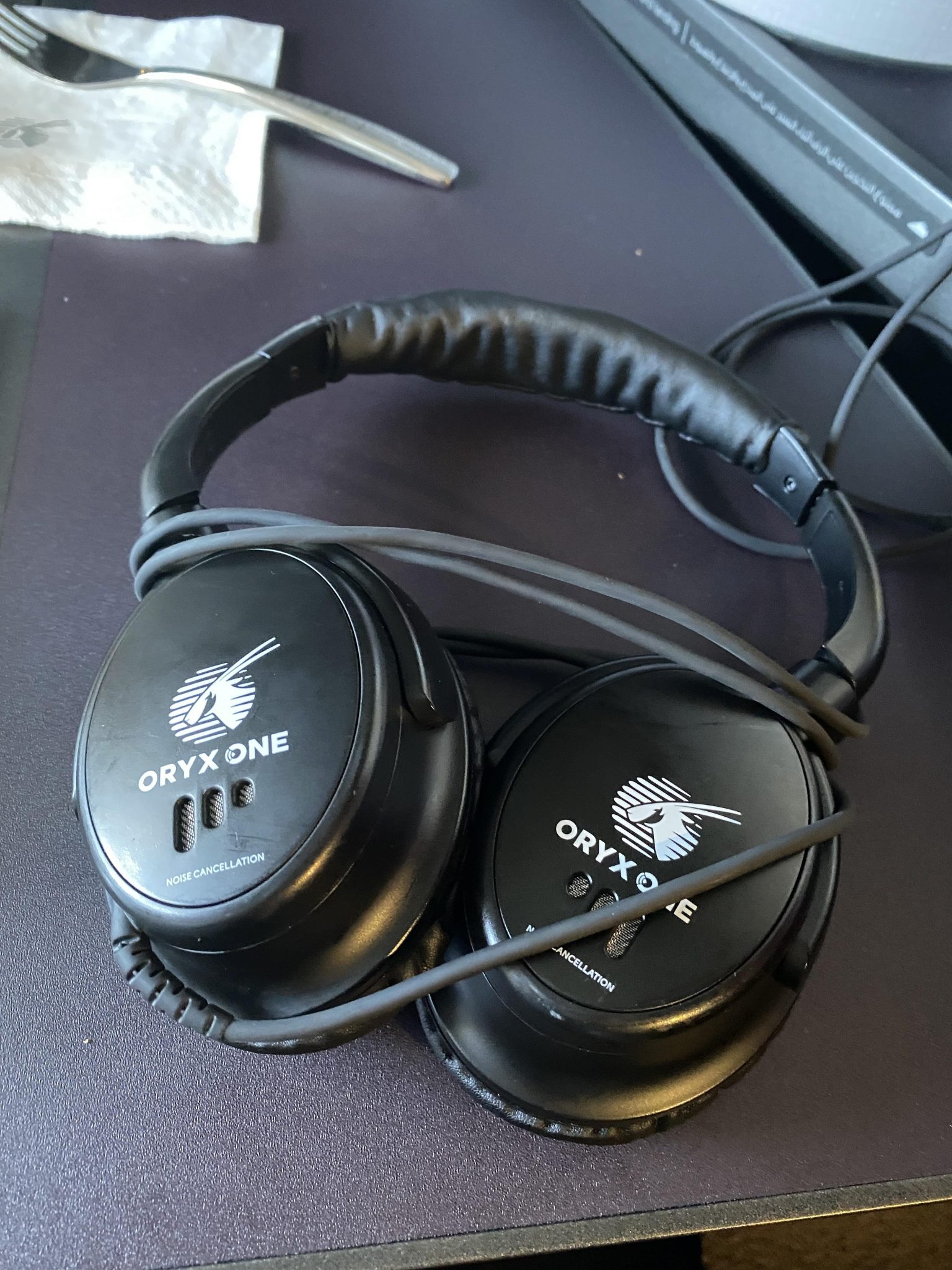 They are one of the few where often I won't bother using my own headphones if I am just watching something for a short time.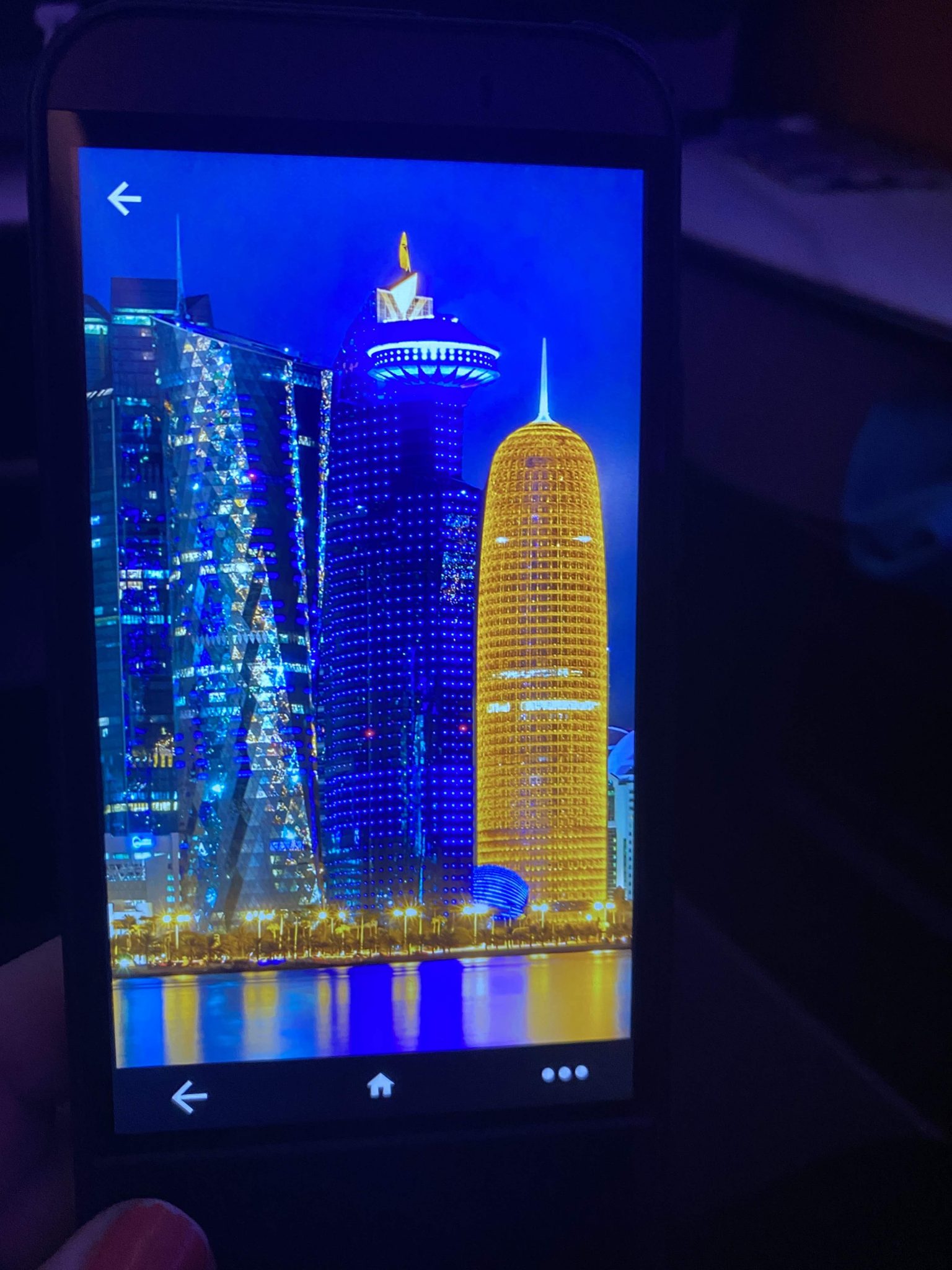 If you needed to charge your items then there was a multi-country socket as well as two separate USB ports.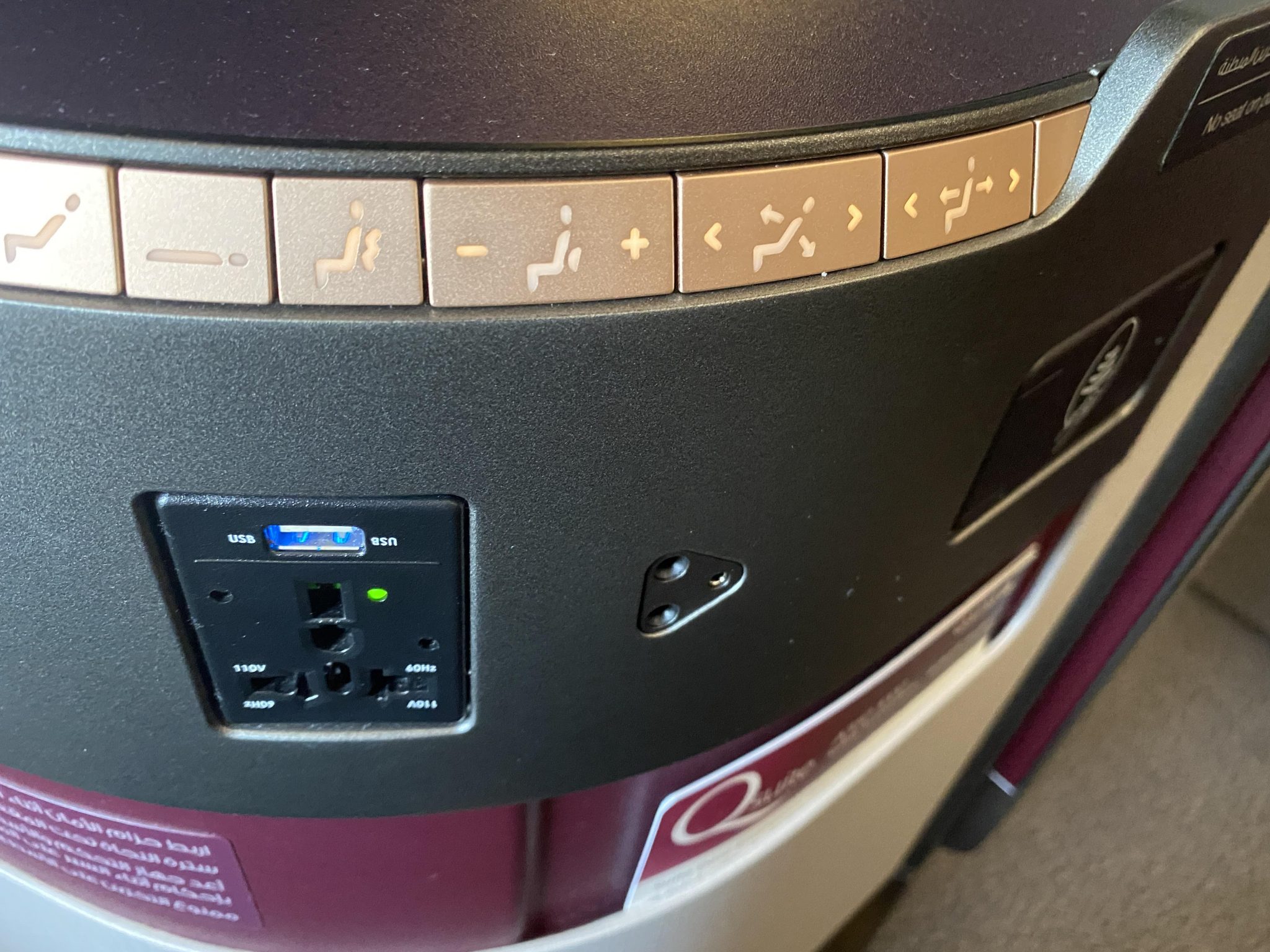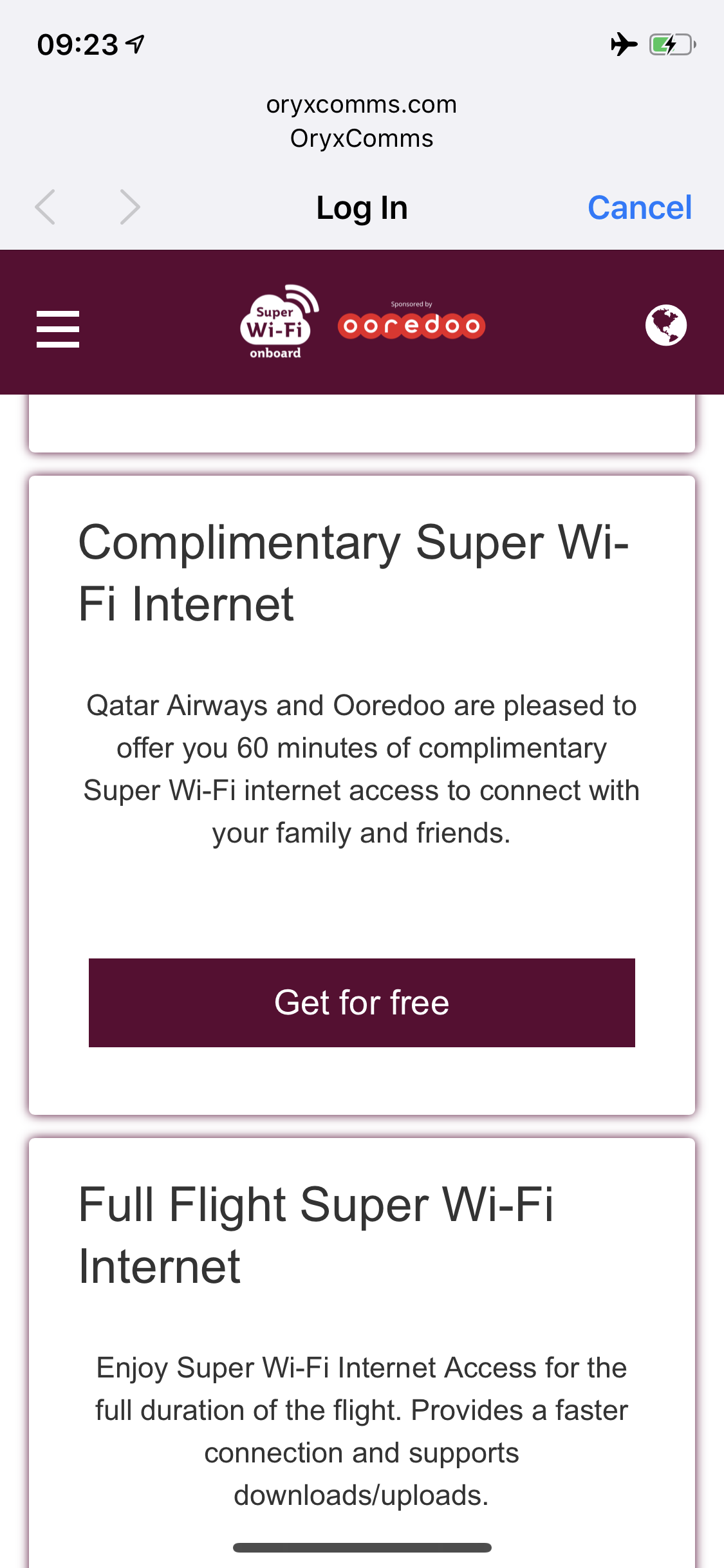 Qatar have a new type of Wi-Fi called super WiFi which is meant to be much faster. At $10 for a full flight, it is also great value. I didn't find it super fast but it was adequate for basic uses and cheap!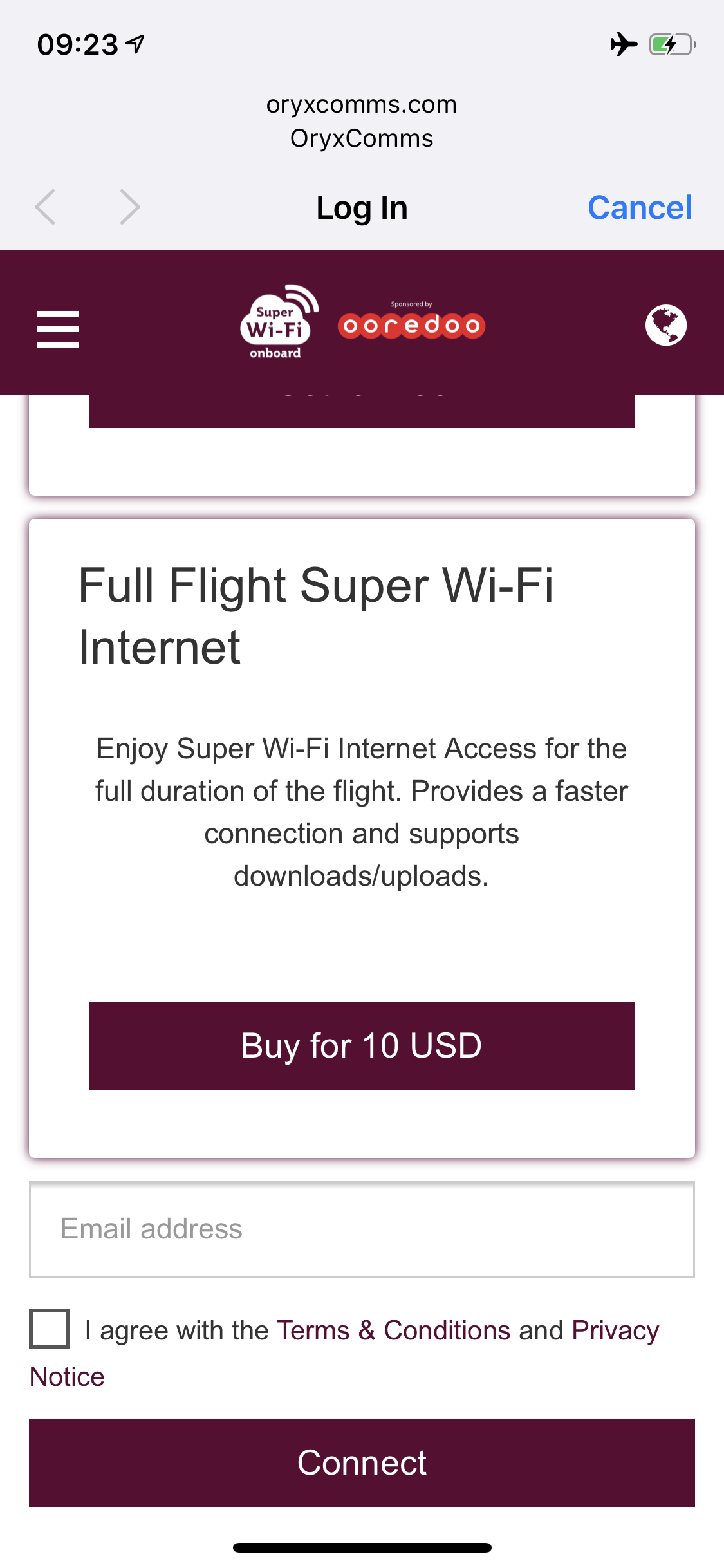 Conclusion
In general, the service was OK, the cabin crew were friendly and the CSM was very good – introducing themselves and chatting. The wine service with the meal let it down and the lack of top-ups. The food was all good quality and tasty, plus it was great to finally have a really good champagne on board! All the other wines I had were also very enjoyable.
I still love the QSuites but I do hope when they have the next generation ones on the B787 which will launch soon, that they are much softer as this is the one design flaw. I have taken to sleeping on a folded blanket to try to make it softer.
RR and I paid around £1600 return from Heathrow to Johannesburg which is a very good price from the UK for Qatar and I thought it was well worth it.