British Airways kindly offered to send me to New York to have a look at their new British Airways lounge JFK terminal 7, The Club lounge. BA supplied my flights but all other expenses were paid for by TLFL.
I hadn't been to New York since the First lounge reopened either so I will have a look at both lounges. Today we will concentrate on the Club lounge. I am a BA Gold cardholder which means I can access the First lounge even when flying in other classes. If you haven't been there, both lounges were in need of updating. The decor was pretty dire before.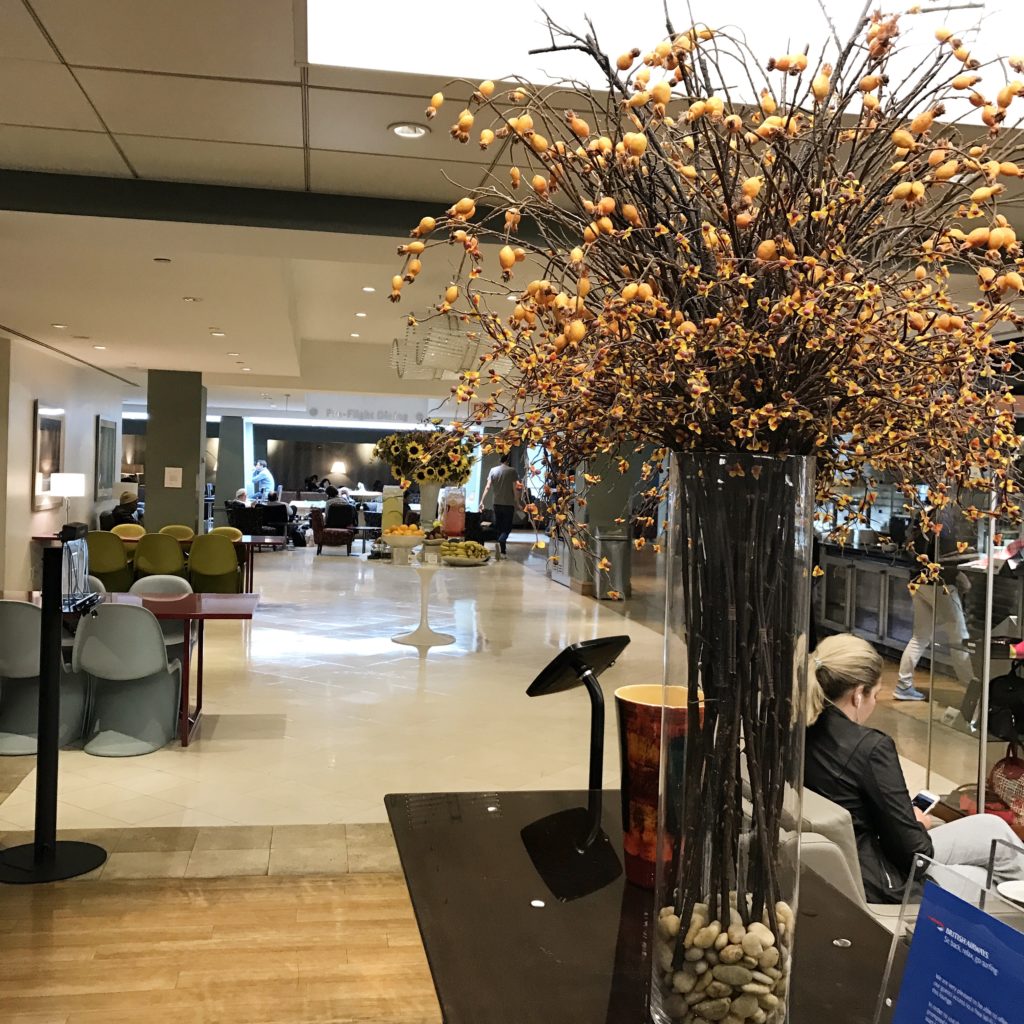 Check-in and security at British Airways lounge JFK terminal 7

Club and First and BA status holders can use the new check-in area at JFK with a new security procedure as well. Before there was a separate security area entirely. Now they have a walkway that leads you into a fast track area of the main security area. It's worth noting that if you are a TA precheck you don't need to take off your shoes if you keep your boarding pass in your hand and show them as you got to walk through the scanner.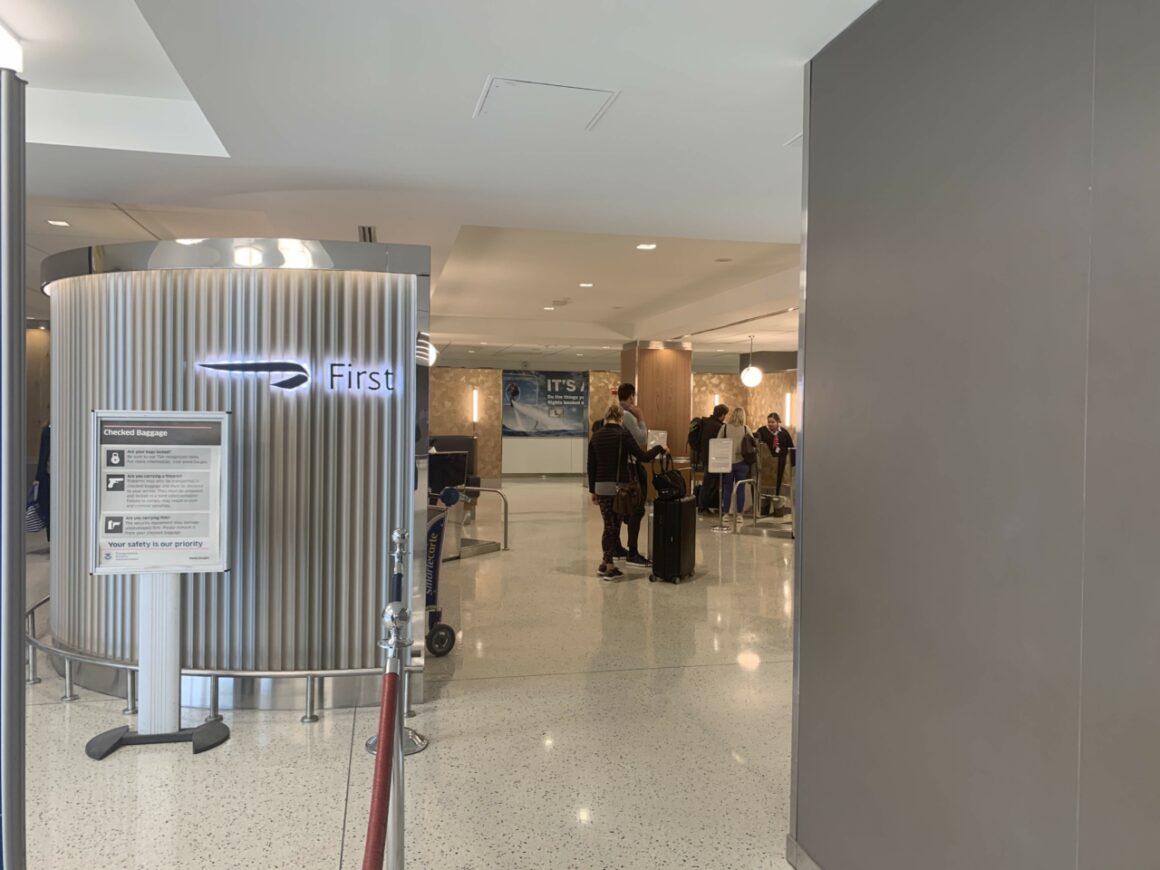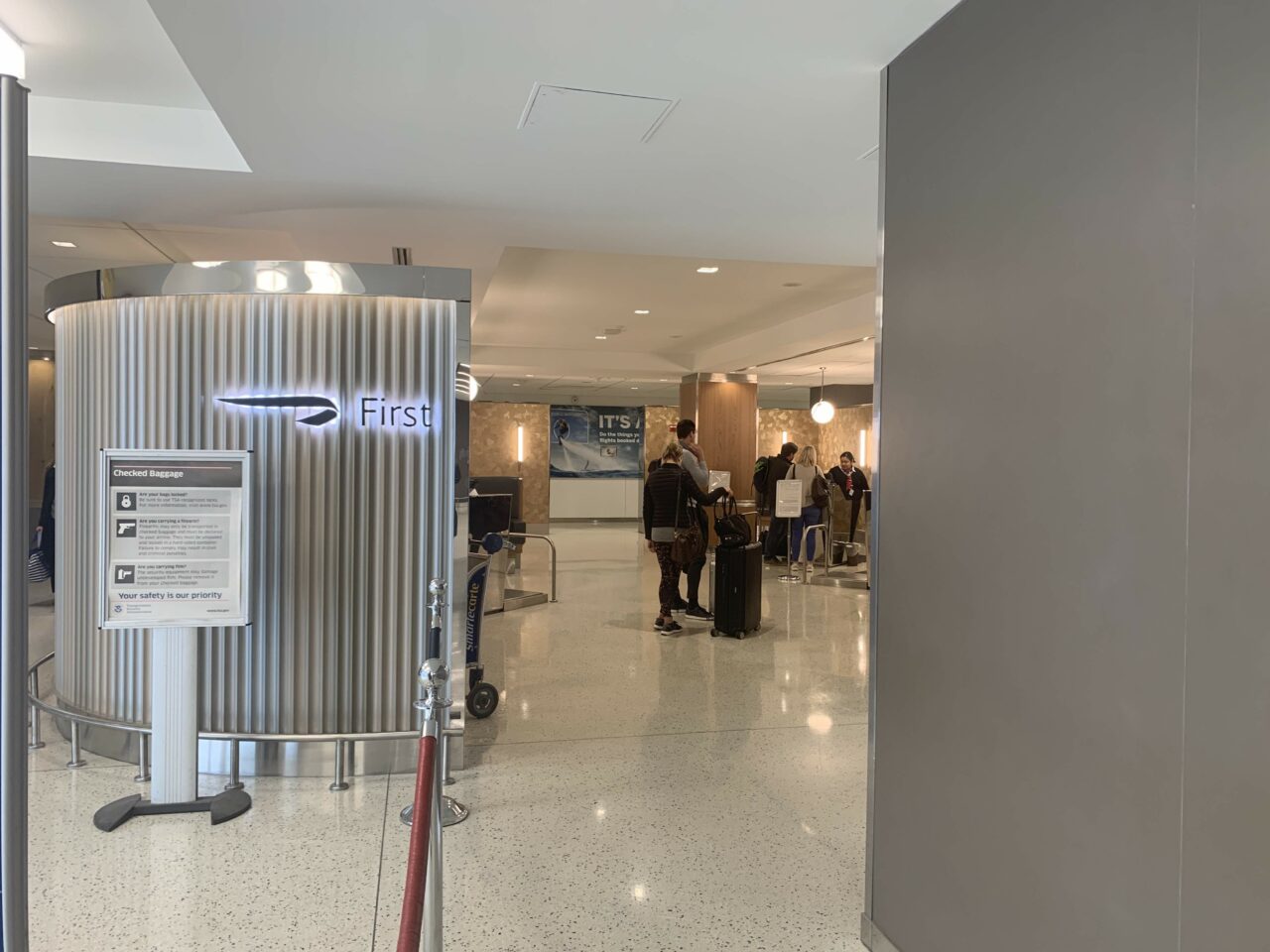 The new check-in area for First is very nicely done with podium check-in desks and a seating area. It's great not having to lift your bags up very much to put them on the belt which you can do with them upright.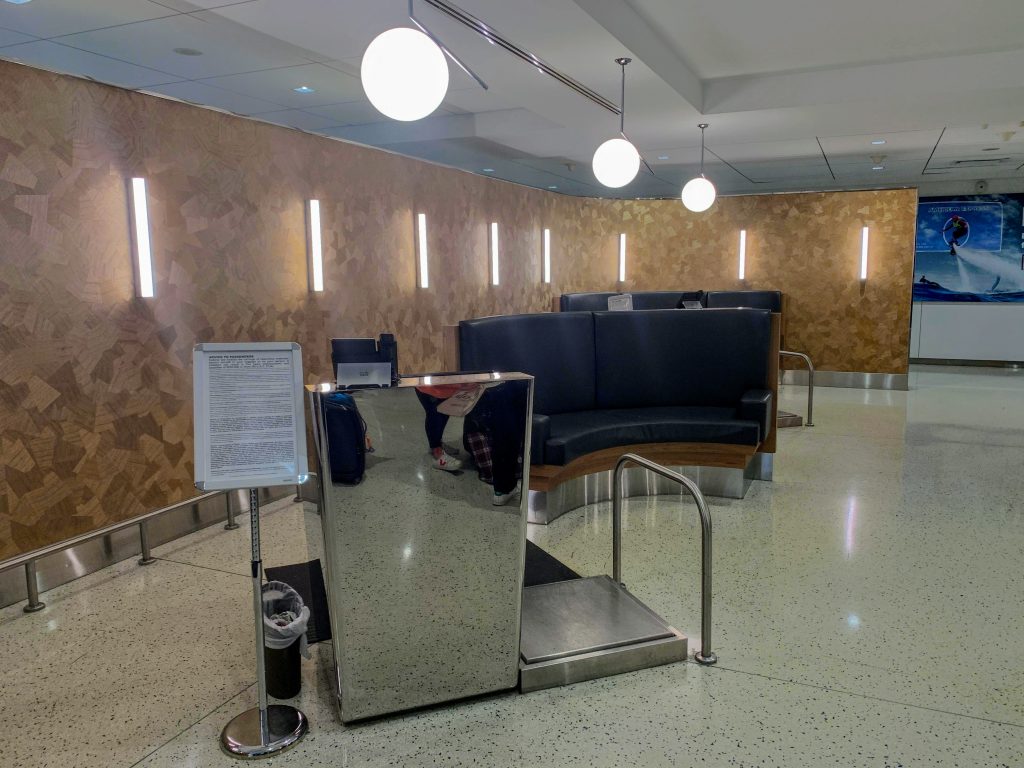 Galleries Club lounge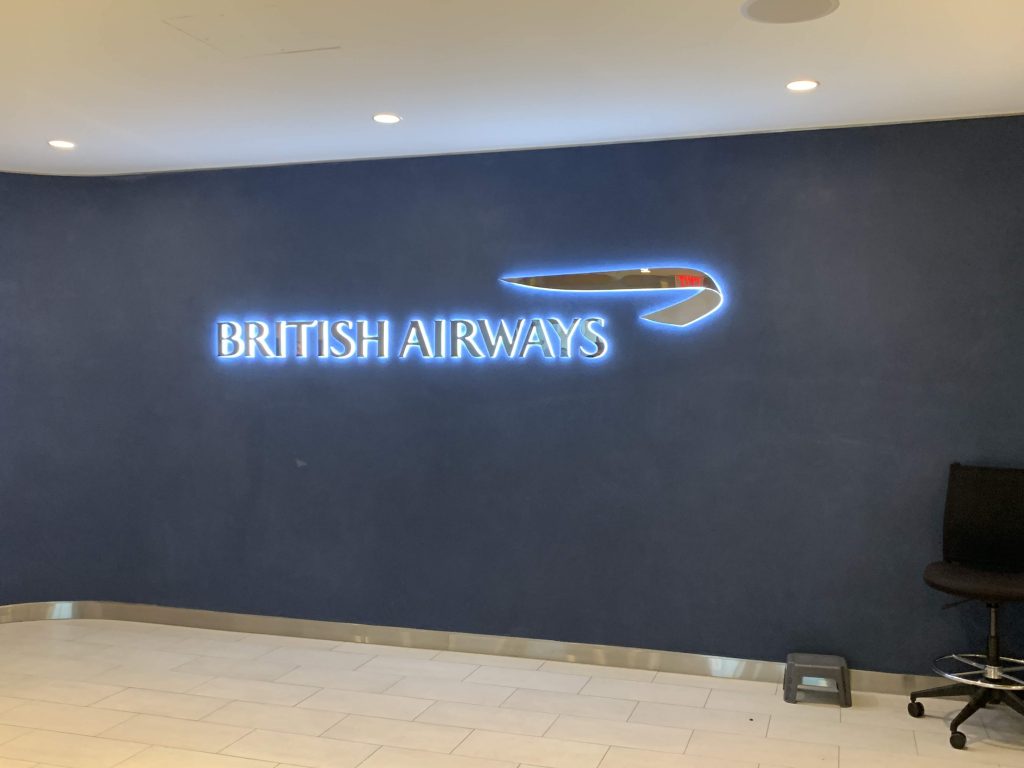 The entrance for both the First and Club lounges are common. There is also a Concorde Room situated elsewhere for First passengers and Concorde Room cardholders only. To find the lounge you go up the escalators from security and then turn left almost back on yourself. Then take the escalator or lift to the next level. The lounge is open 05:00 – 22:00.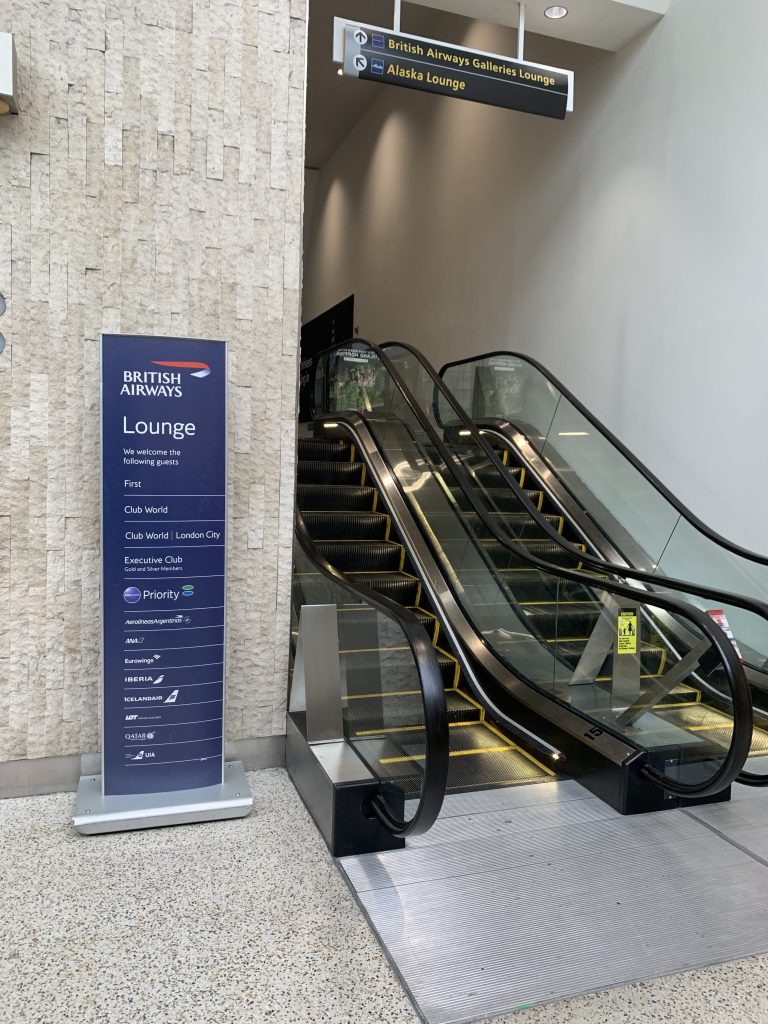 I was greeted at the entrance and directed to the First lounge due to my status but I headed into the Club lounge.
The lounge space at British Airways lounge JFK terminal 7

One thing to note is that the lounge is huge (half an acre!) but being divided into smaller areas makes it feel a bit less sprawling. The colour scheme is similar to Rome with clean lines and a modern feel with touches of BA blue and silver. I also liked the double seats along the wall which were ideal for couples.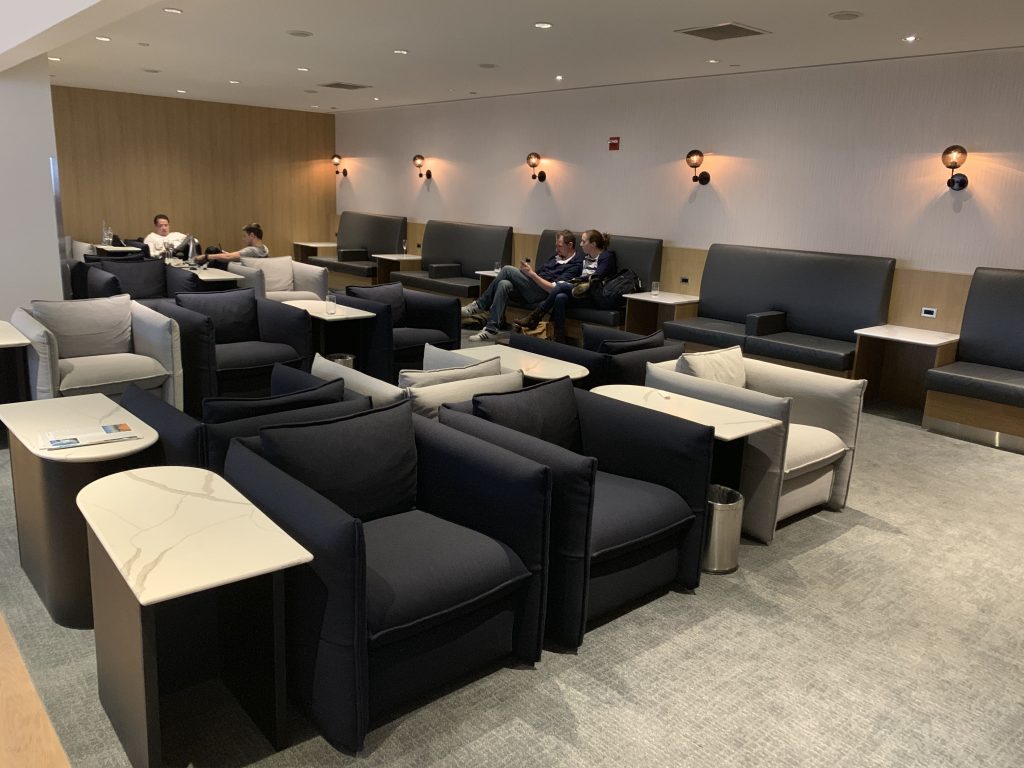 Despite being peak flight time whilst I was there the lounge still had plenty of seating free.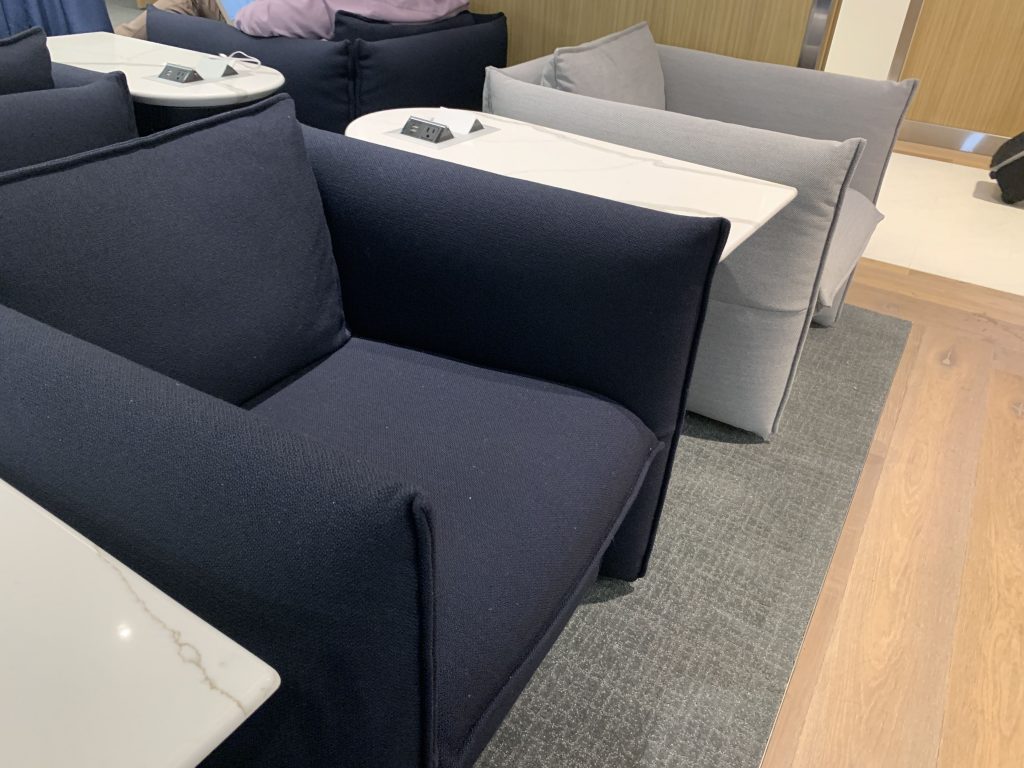 It was good to see power points in almost every seat. The design was cleaver with ports that flipped open to reveal two USBs and a plug socket per chair – no more quibbling with your neighbour about who gets to use the power!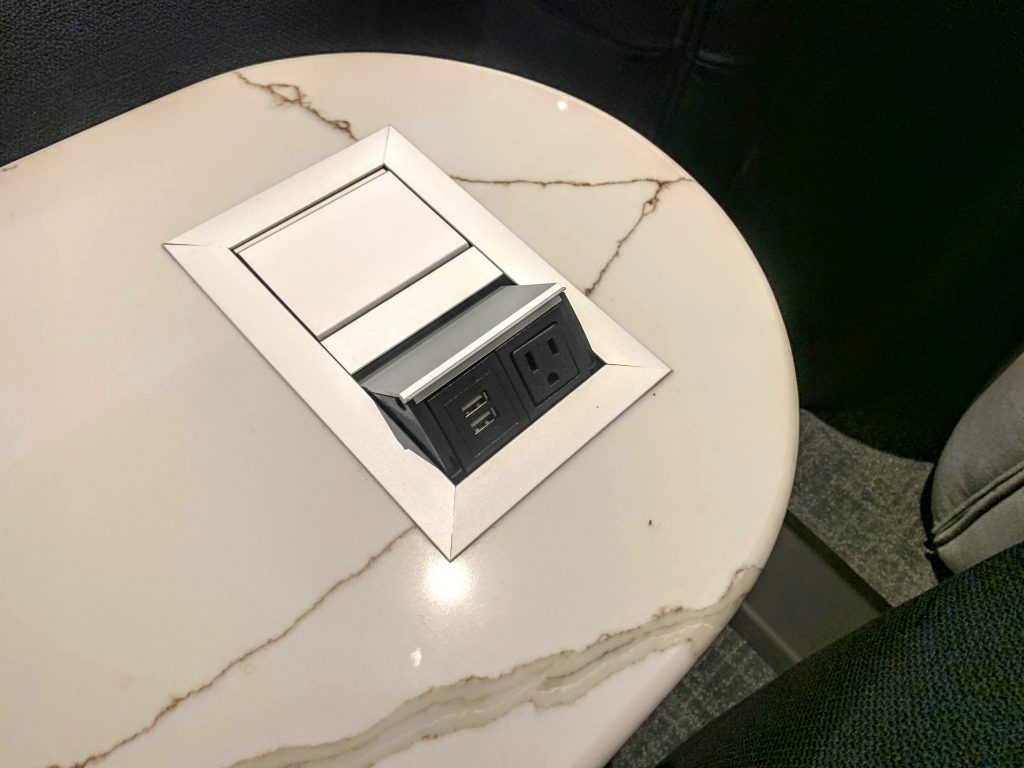 If you wanted to work there was a large communal marble table in a quiet area with power points. There was also a printer.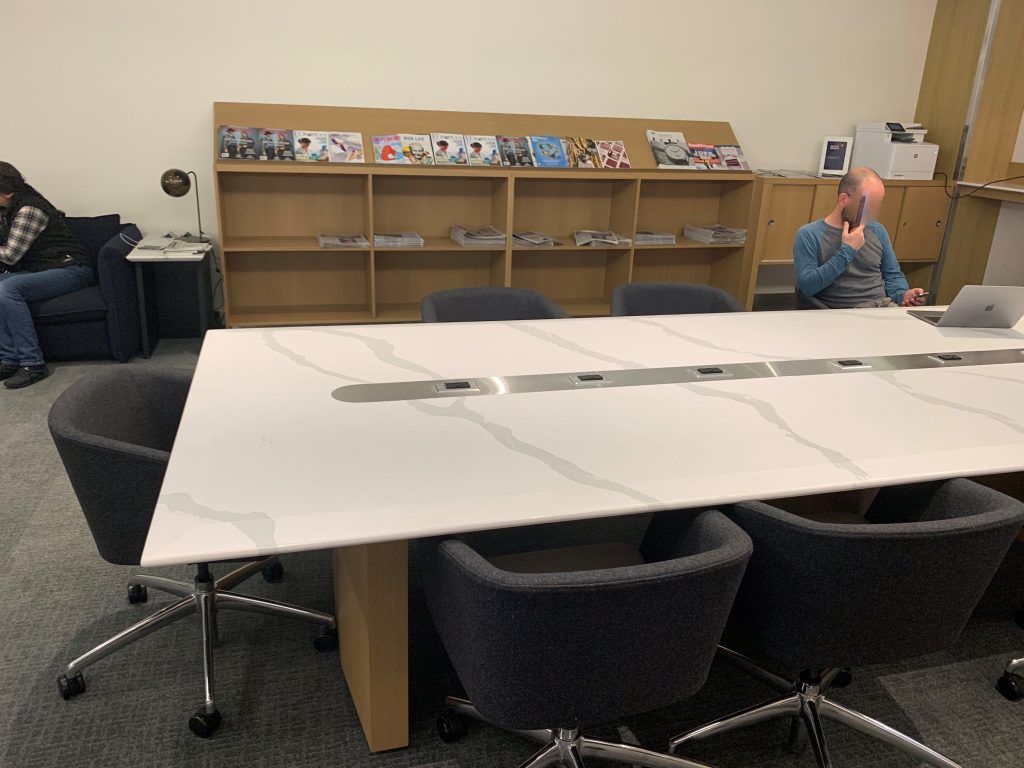 In this area and near the entrance were a wide range of US and UK papers as well as some magazines on stylish light wood racks.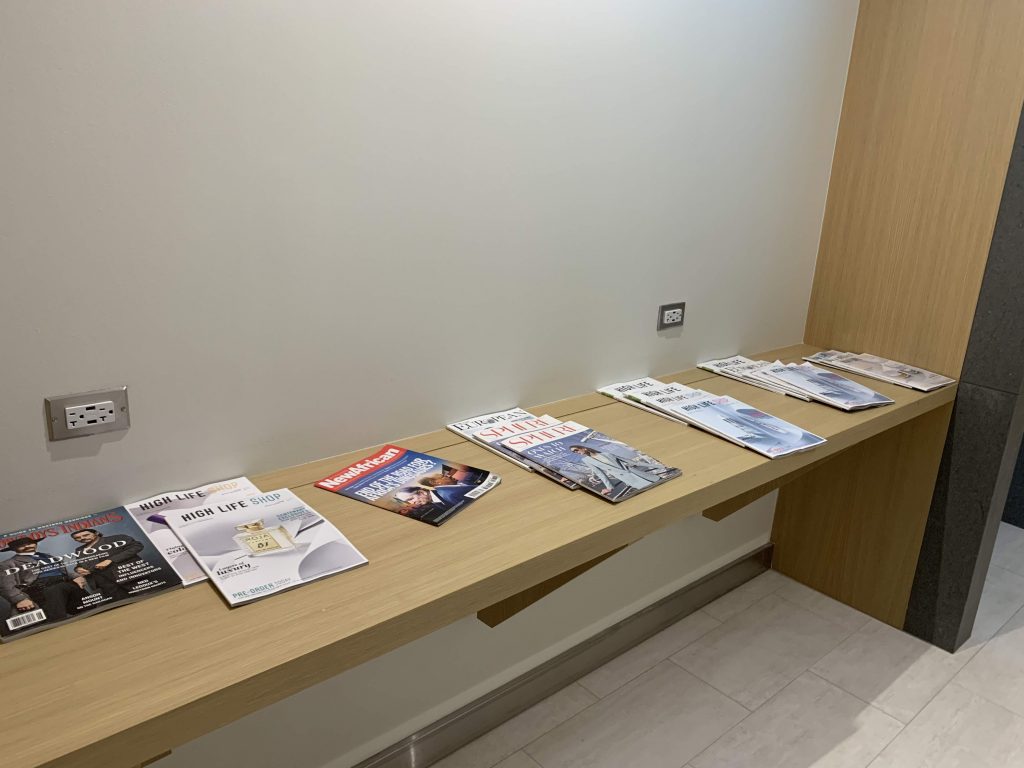 Drinks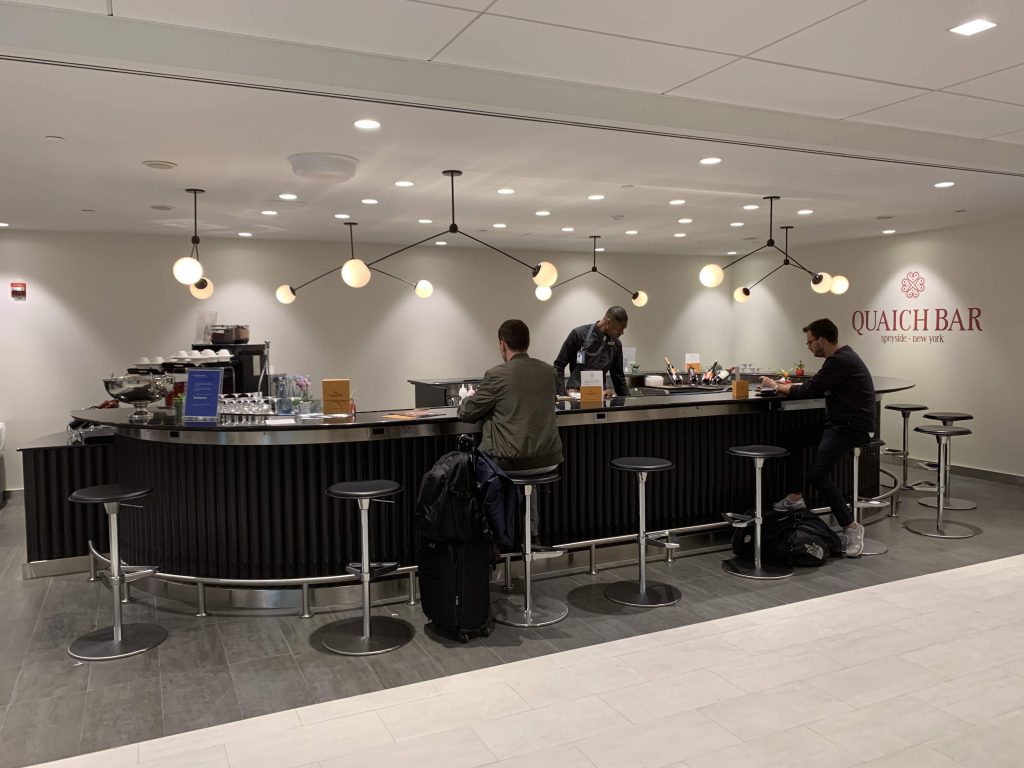 As you enter the lounge you are faced with the new Quaich bar, created in partnership with the Quaich bar at the Craigellachie Hotel in Speyside, Scotland. I liked the bar which was staffed by a very amiable bartender. As it felt like you are sitting at a 'real' bar it led to quite a convivial atmosphere with people chatting to the bartender. It reminded me of BA's Rome lounge in decor which is not surprising as that was meant to be the blueprint for future lounges. The style is clean and modern.
The bar has a range of cocktails as well as wine, beer and champagne. The champagne is not advertised or available elsewhere in Galleries Club. The champagne on offer was Pommery. I decided it would be rude not to try one of the cocktails so I went for one of the spring G &Ts with Rosemary and Grapefruit. The drink was very refreshing and nicely garnished.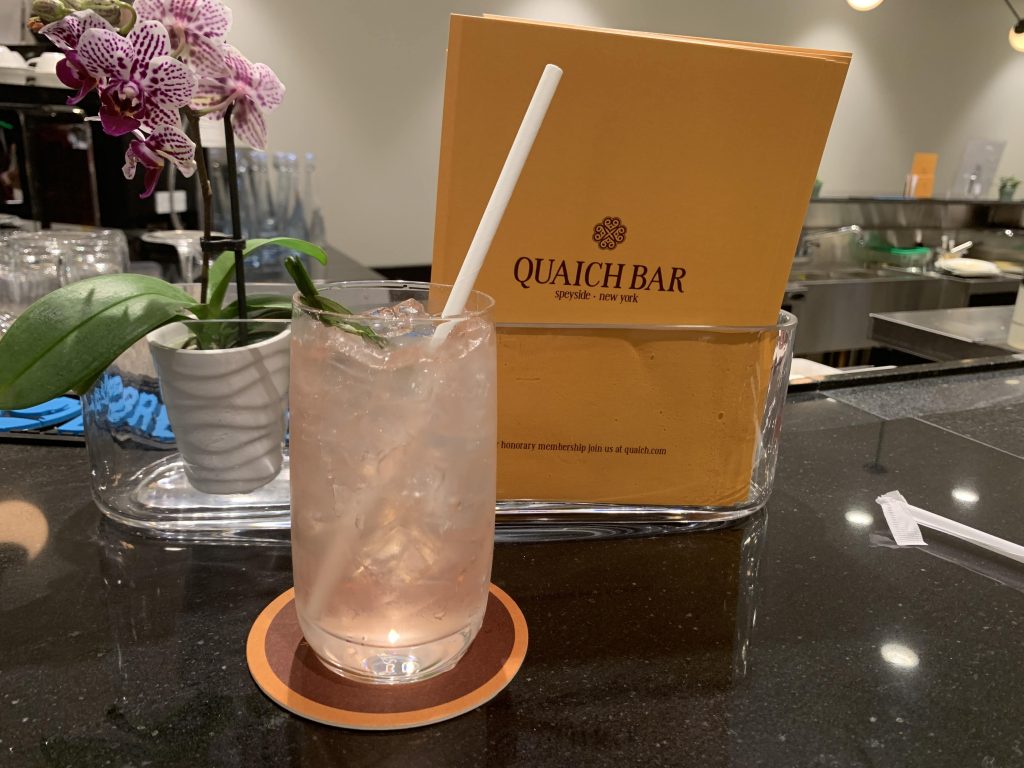 Here is the list of the cocktails: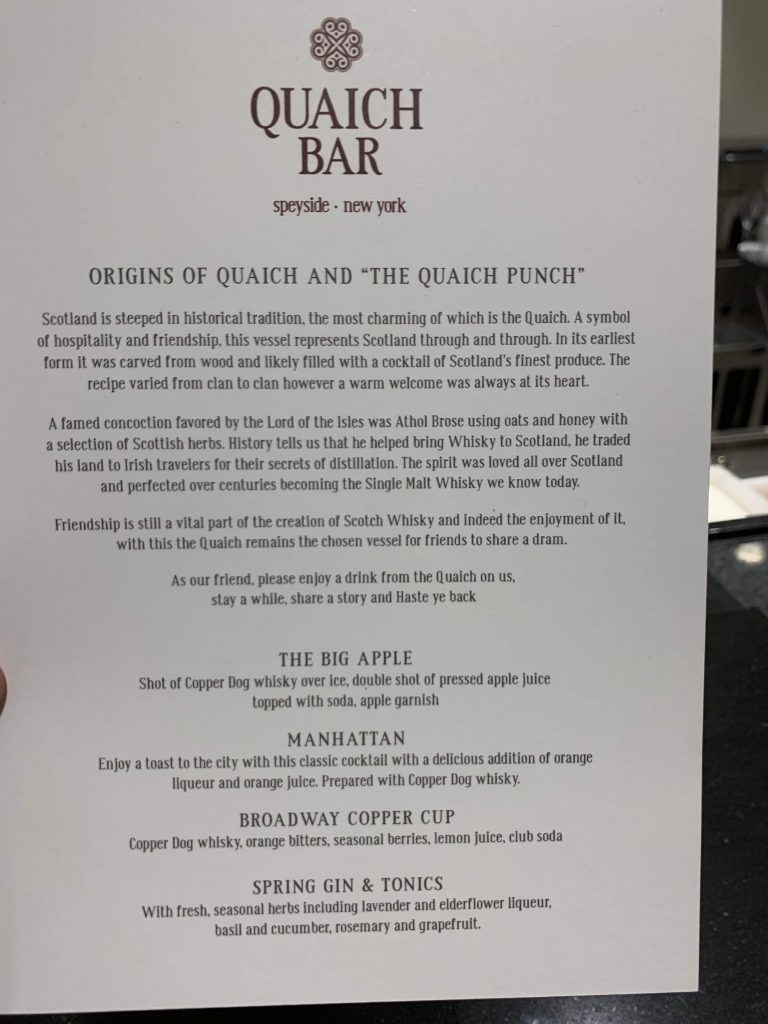 There were also a couple of other options for drinks. BA recently announced a partnership with Brewdog, the Scottish craft beer company. Although I am more of a Champagne girl, I quite like a craft beer so I manned up and went to the Brewdog craft beer room to sample them. I am not sure I quite got the hang of the pumps though!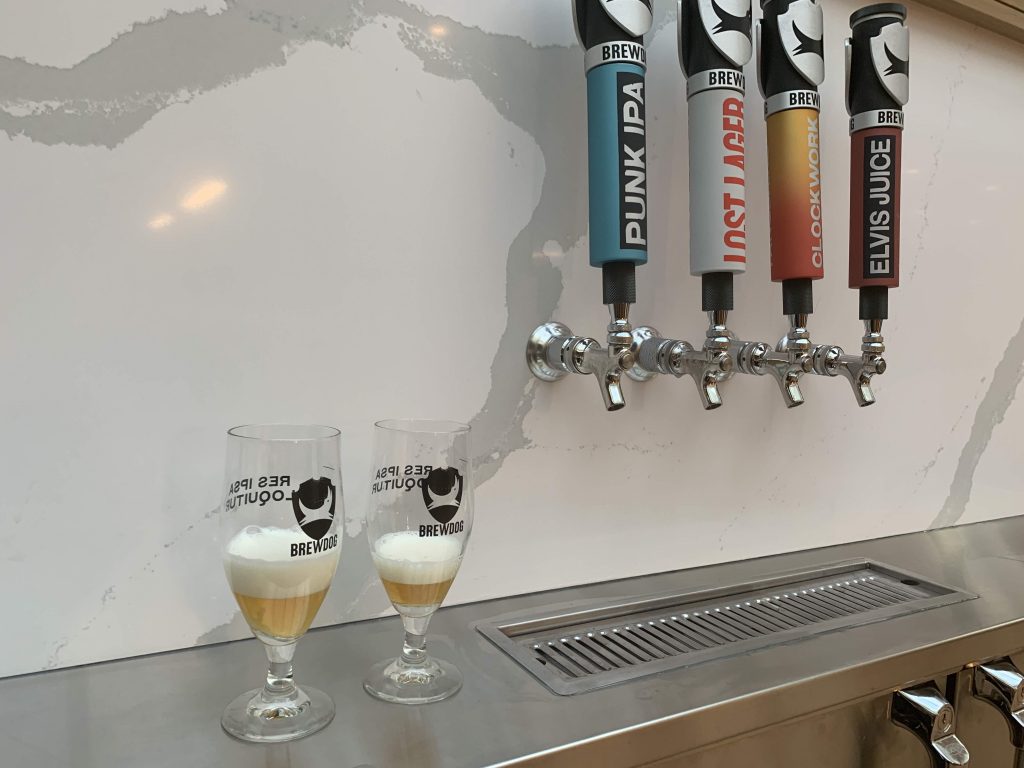 There were 4 draft beers to choose from and different sizes of branded glasses to use. My favourite was the Elvis Juice which had a grapefruit flavour to it.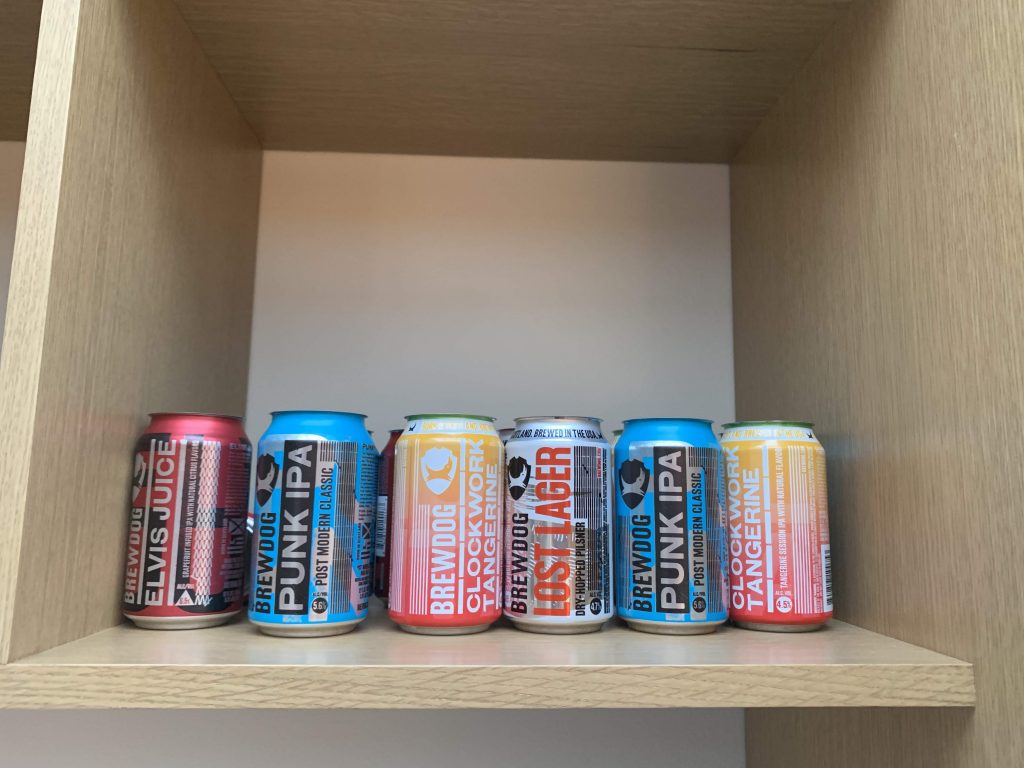 In this area was bench seating with sockets – the ideal place to work with a pint. It had a sort of loft feel to it with the skylight.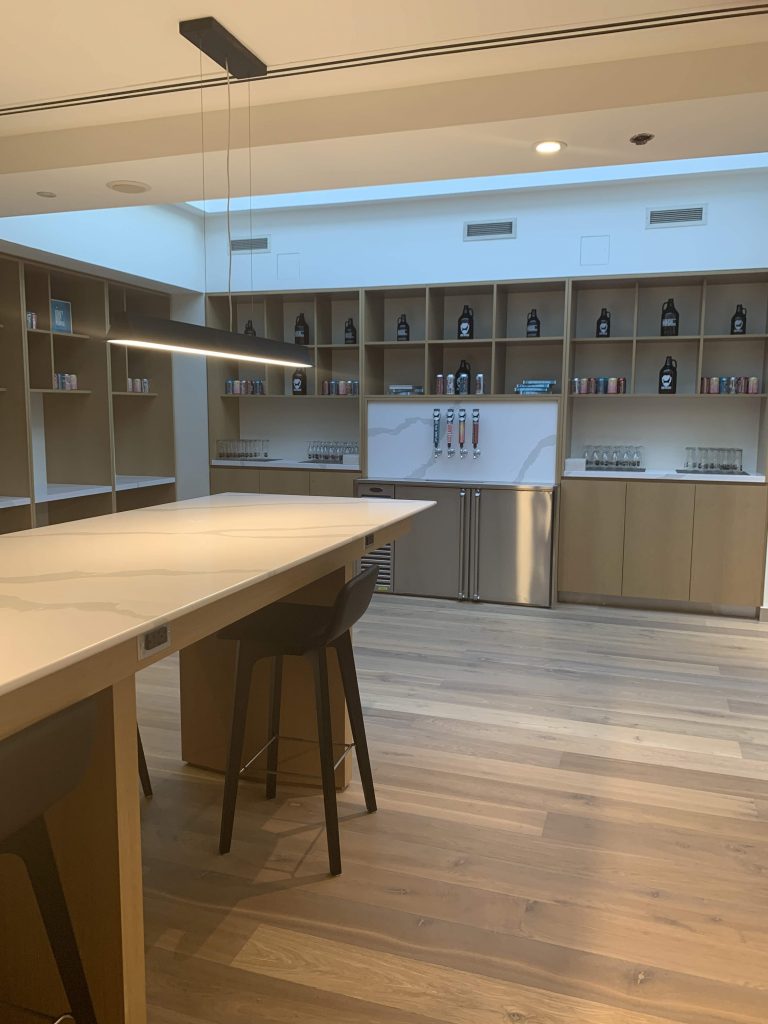 Finally, there was also a large help yourself bar area for drinks. This was readily stocked up by the helpful staff. I was surprised to be asked several times by staff in the lounge if there was anything they could help me with as I was passing through!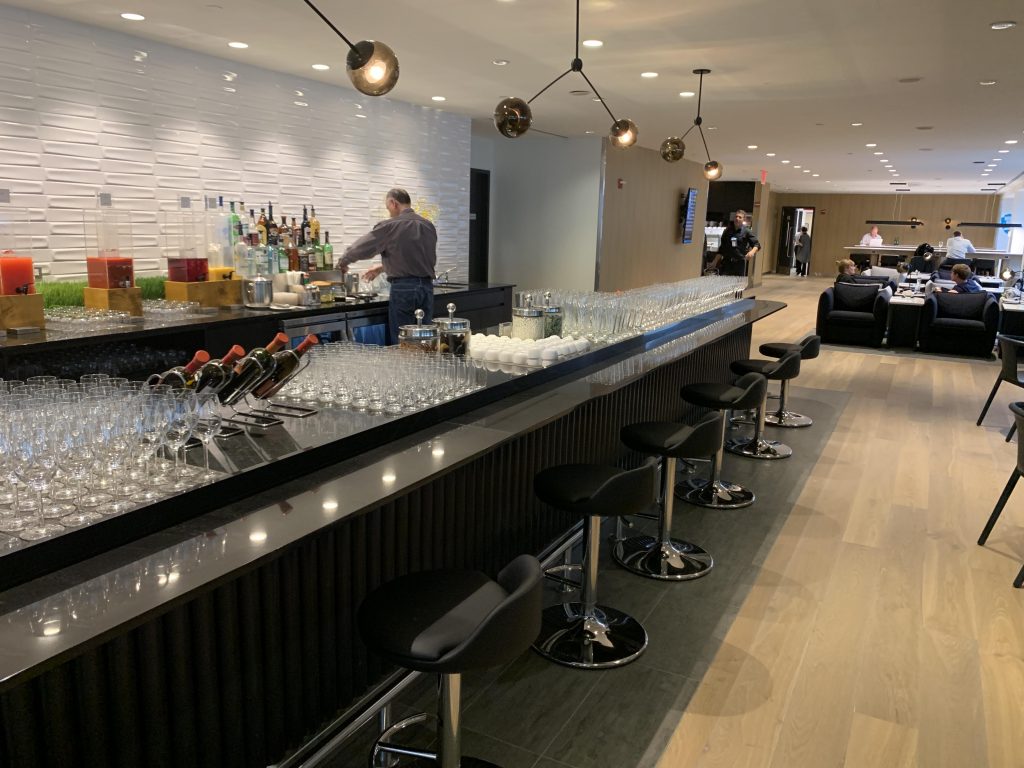 There was a good range of spirits: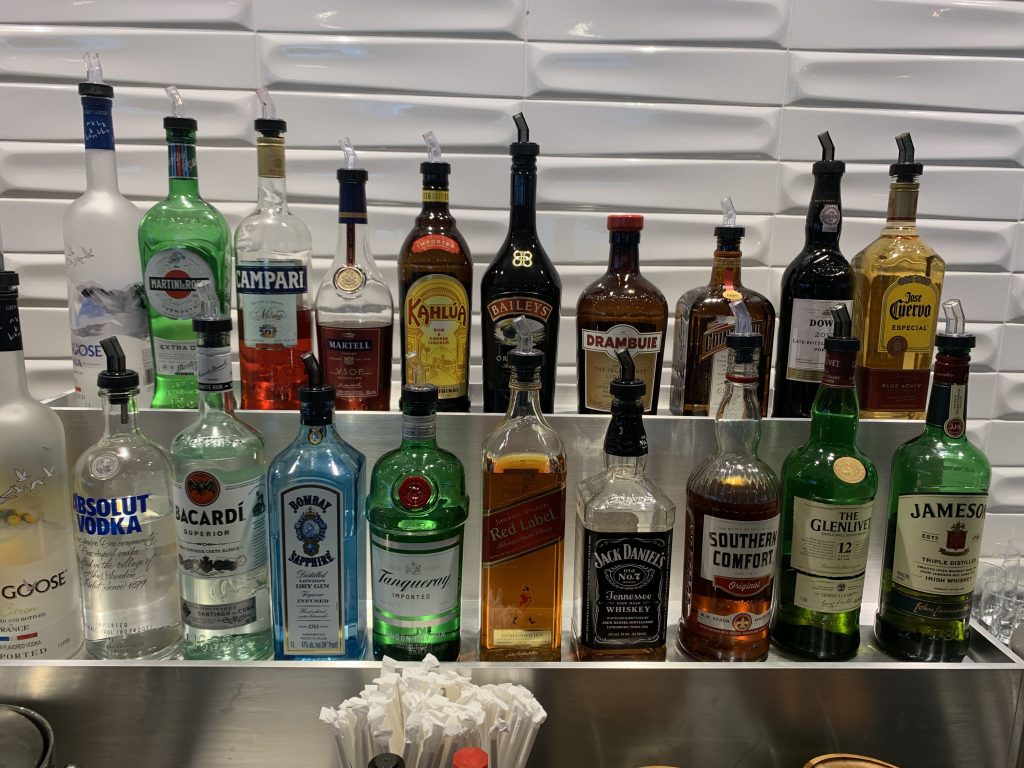 4 types of beer – O'Douls, Newcastle Brown Ale, Brooklyn lager, Coors and Heineken. The wines surprised me – there was a really good range with some excellent choices.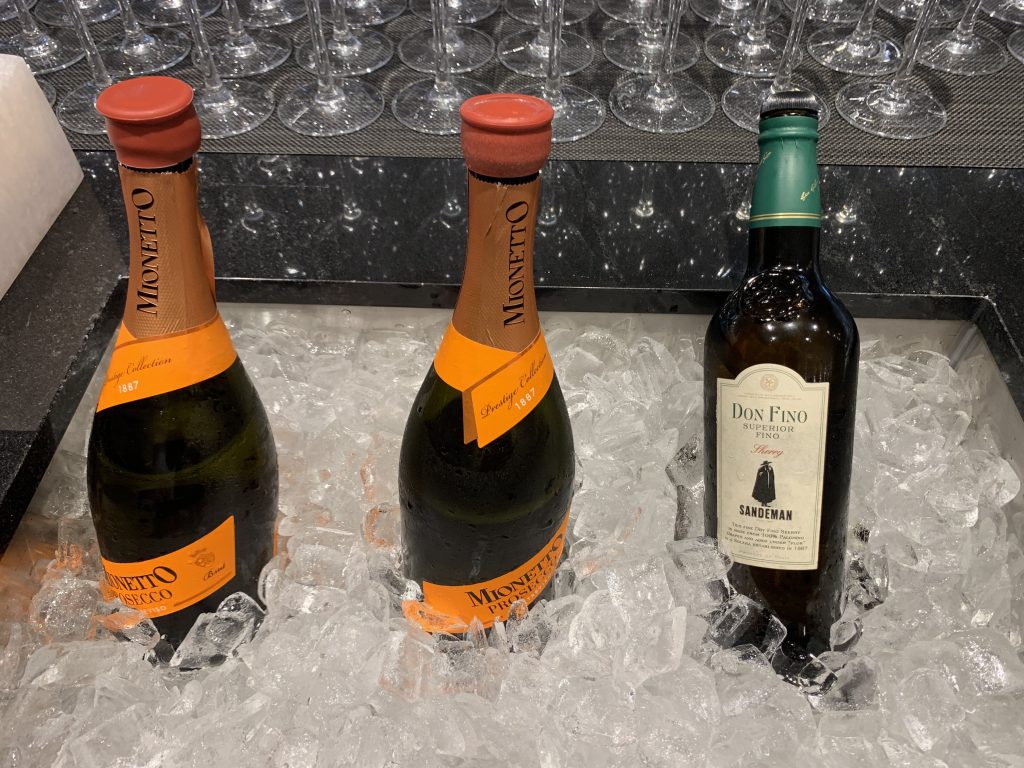 I sample a tiny bit of most of them. I liked the Long Island local Rose – very like a Provence style rose and nice to see a local wine. I liked the way they presented and with all that ice they were nicely chilled for a change!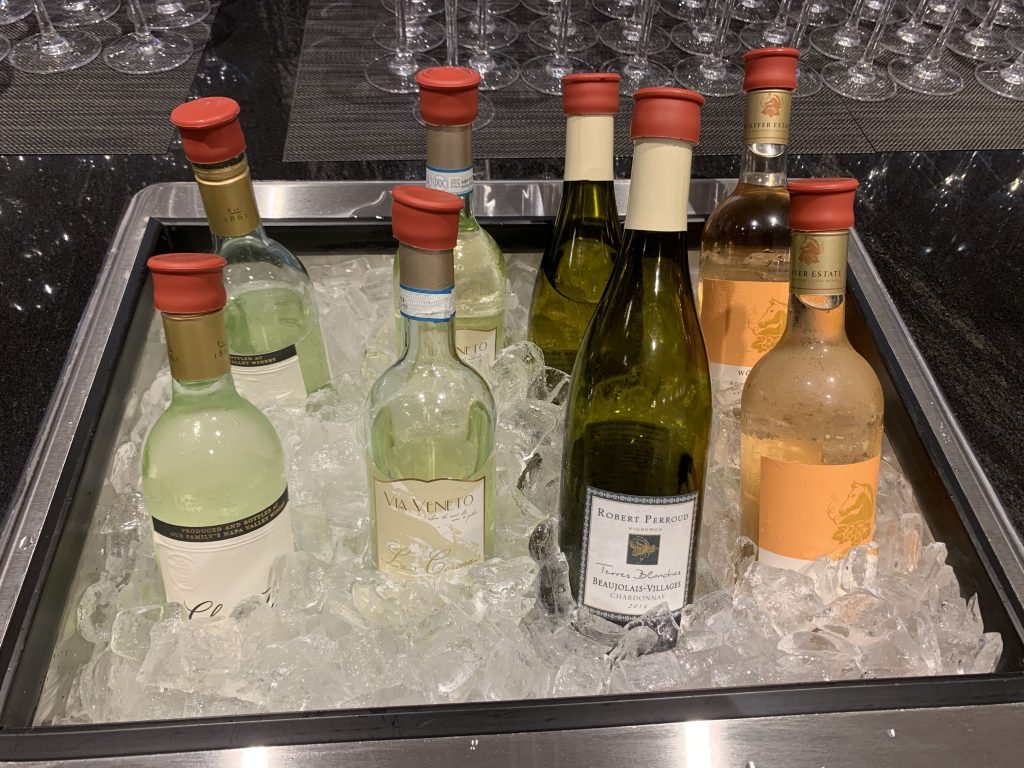 The other standouts were the Pinot Noir, Malbec and Bordeaux reds.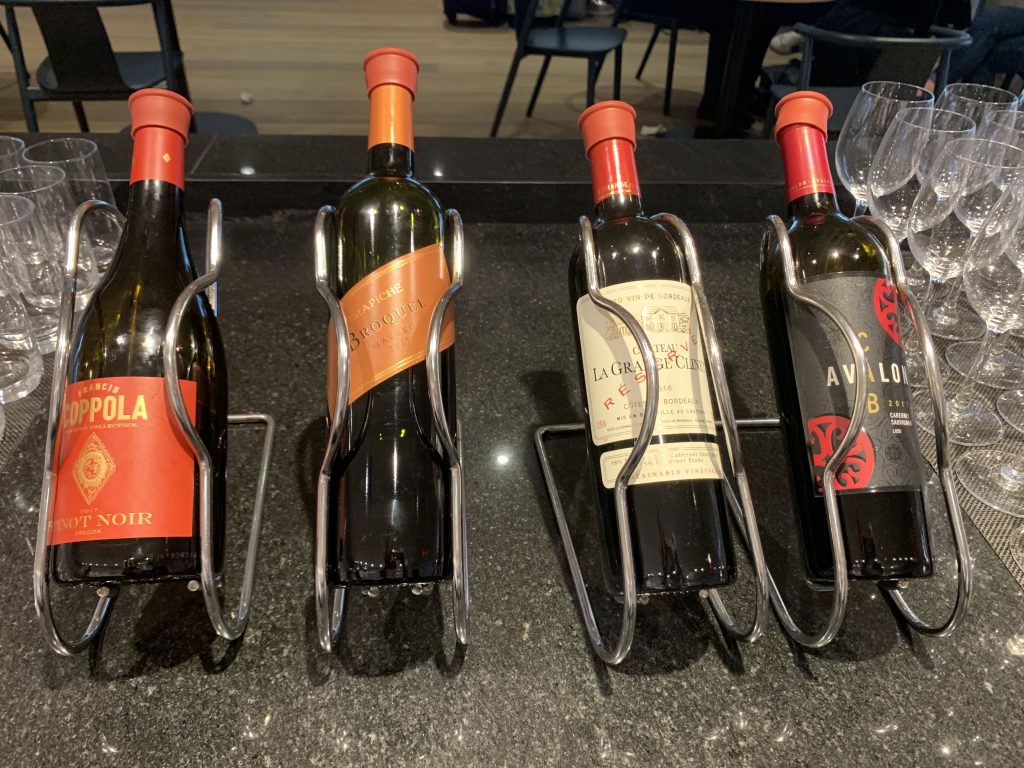 If you wanted a soft drink there were fruit juices, the usual sodas and mixer plus plenty of water. Another station had fresh fruit and flavoured waters.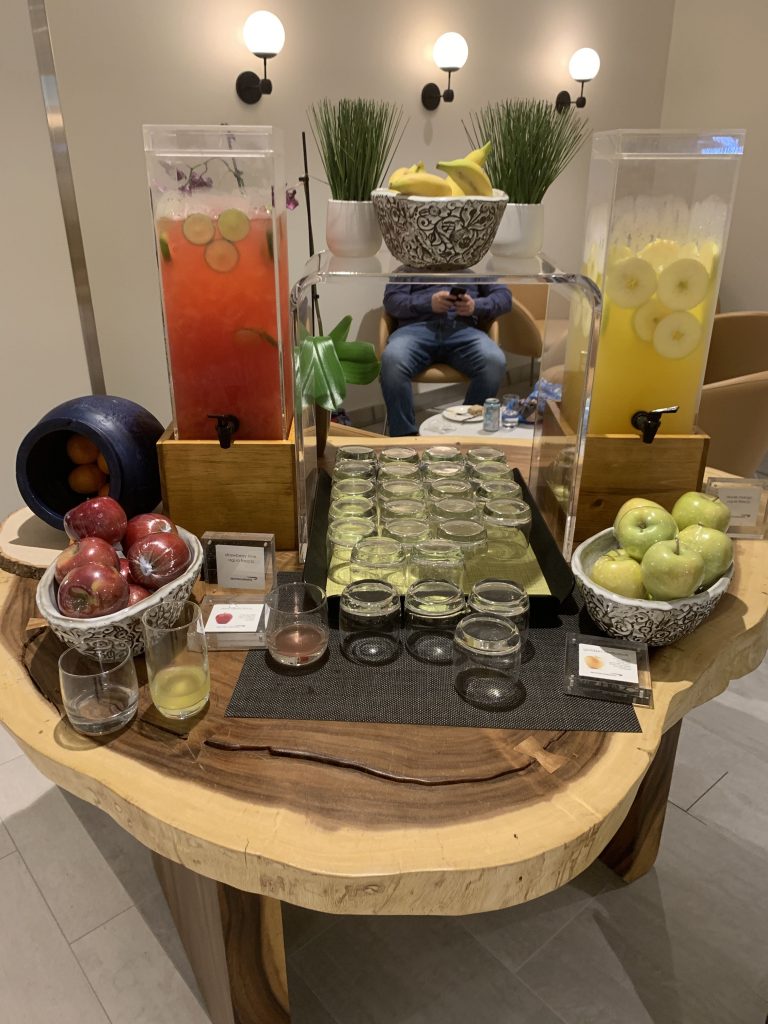 British Airways lounge JFK terminal 7 Food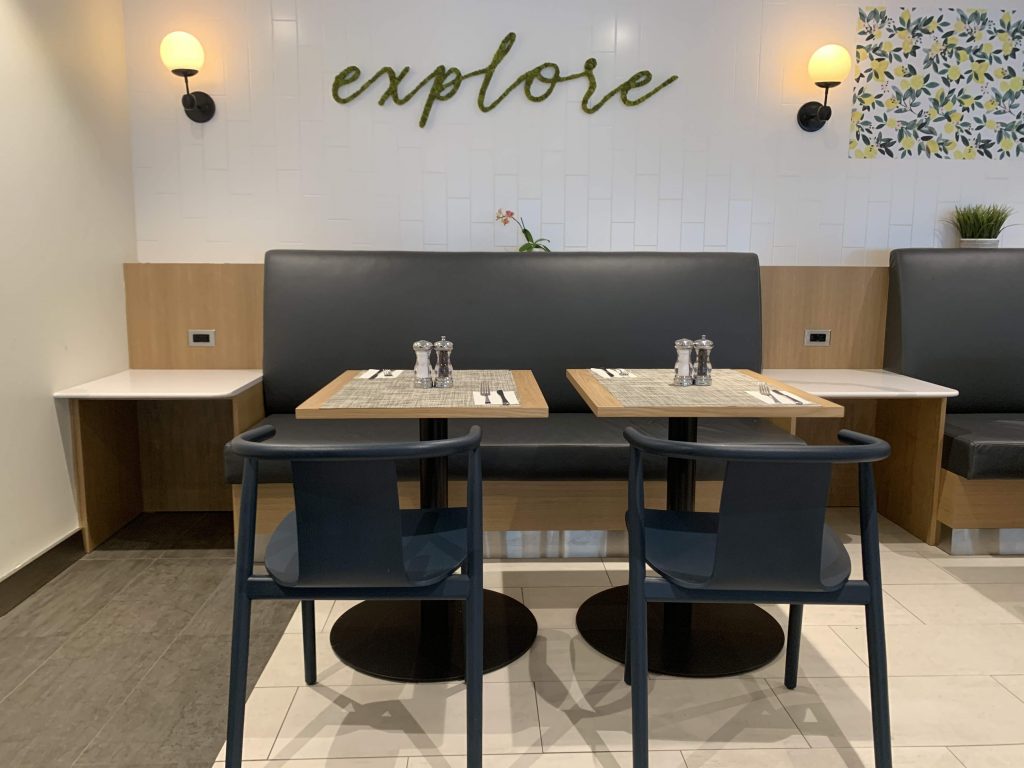 There are quite a few options for eating depending on what time you are there. Pre-flight dining is available for Club World and First passengers which offers a fairly substantial meal so that you can get on board and maximise your sleep (that's what I did – nothing more than pre-departure champagne and a cup of tea crossed my lips during the flight!)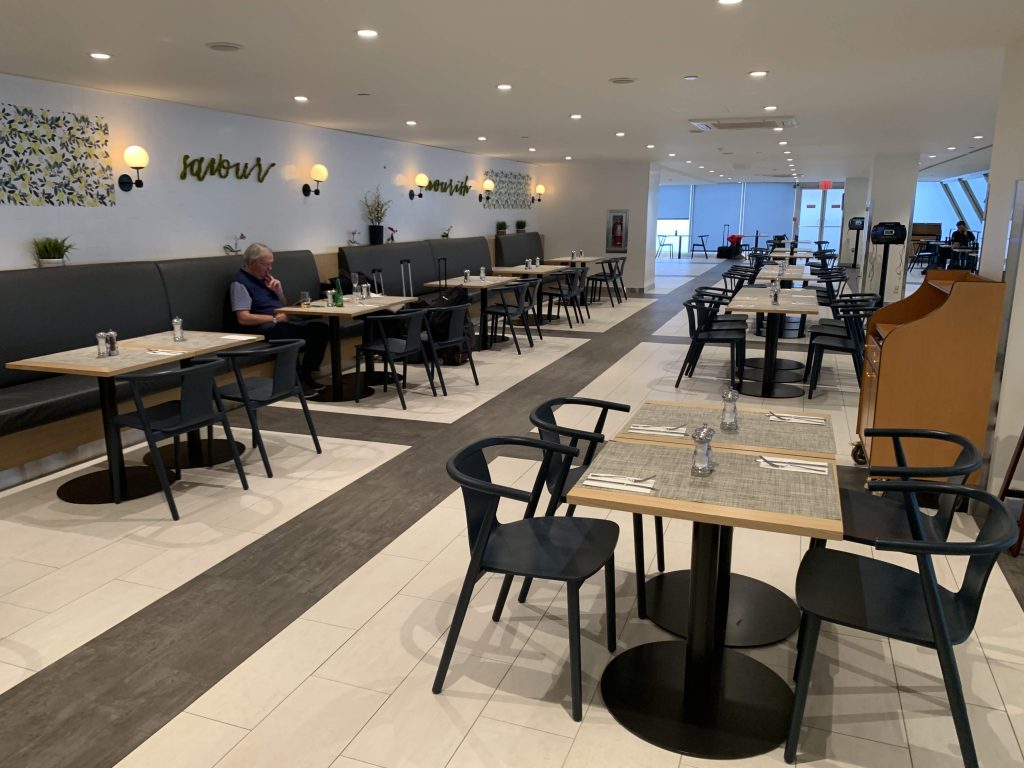 I liked the dining room – it felt modern and like a hotel restaurant or brasserie rather than the canteen feel some lounges have.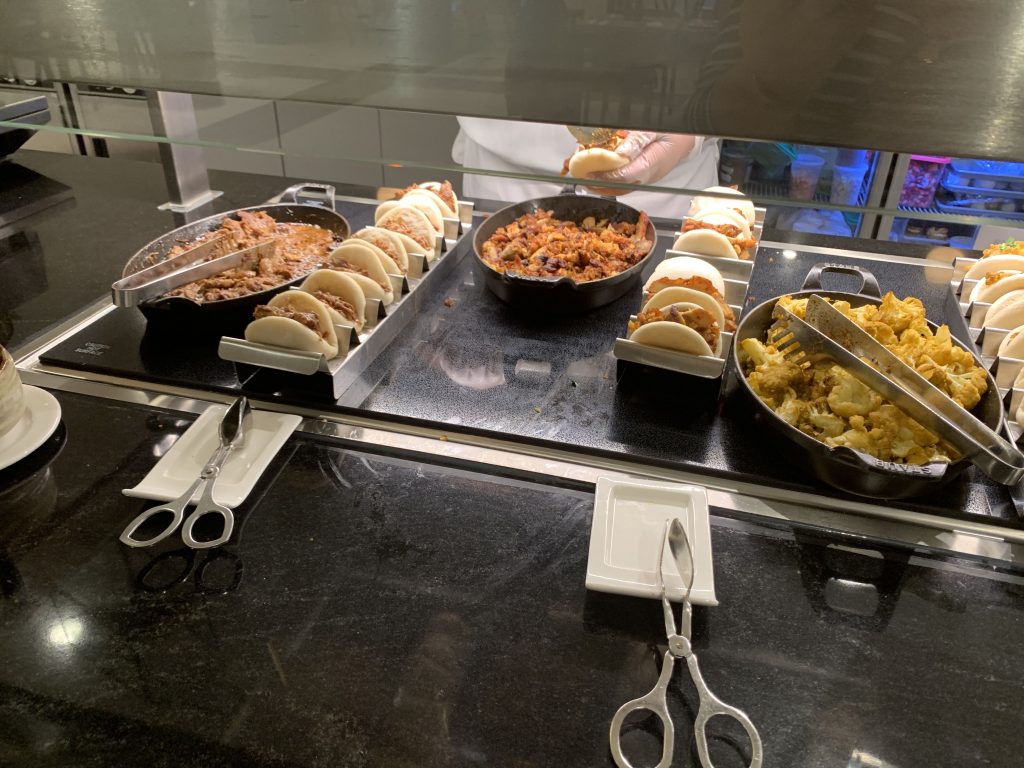 There was either a buffet or a couple of items to order: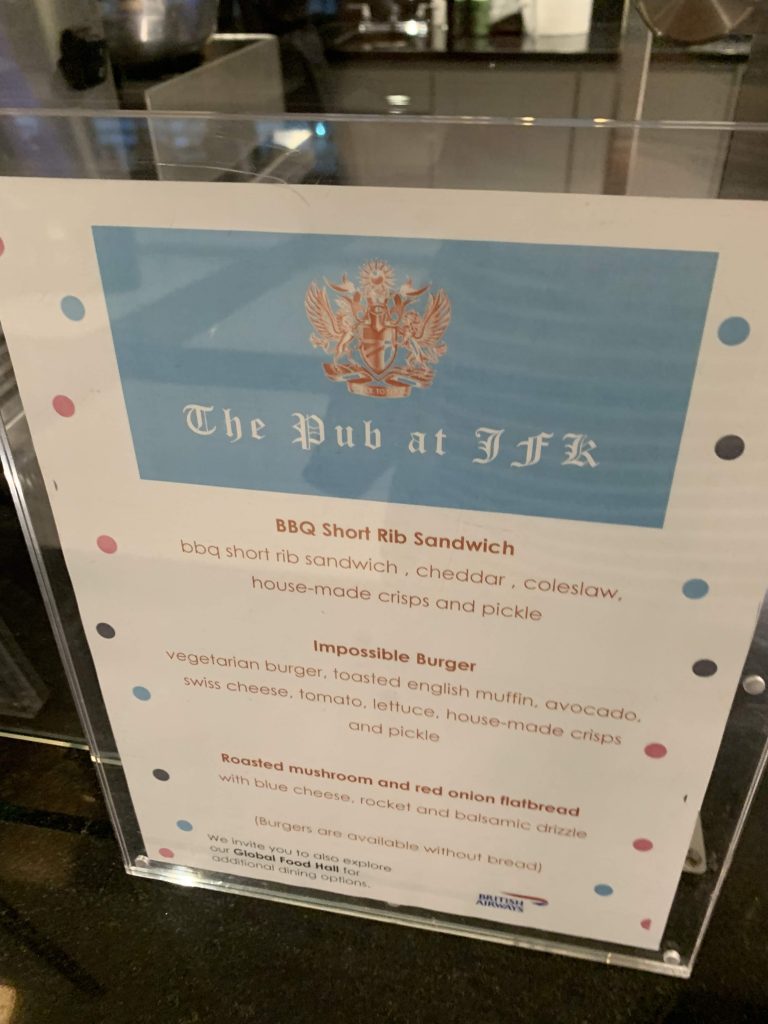 I tried quite a few items from the buffet. The bao buns were great, especially with the spicy sauce. There was quite a lot of spicy food with chicken curry, bao buns with chicken or pork, tandoori cauliflower, fish, a salad bar, soup, cheese and desserts. I have heard reports from two friends that the Impossible burger is very good too with the muffin working really well instead of the bun. Here is what it looks like: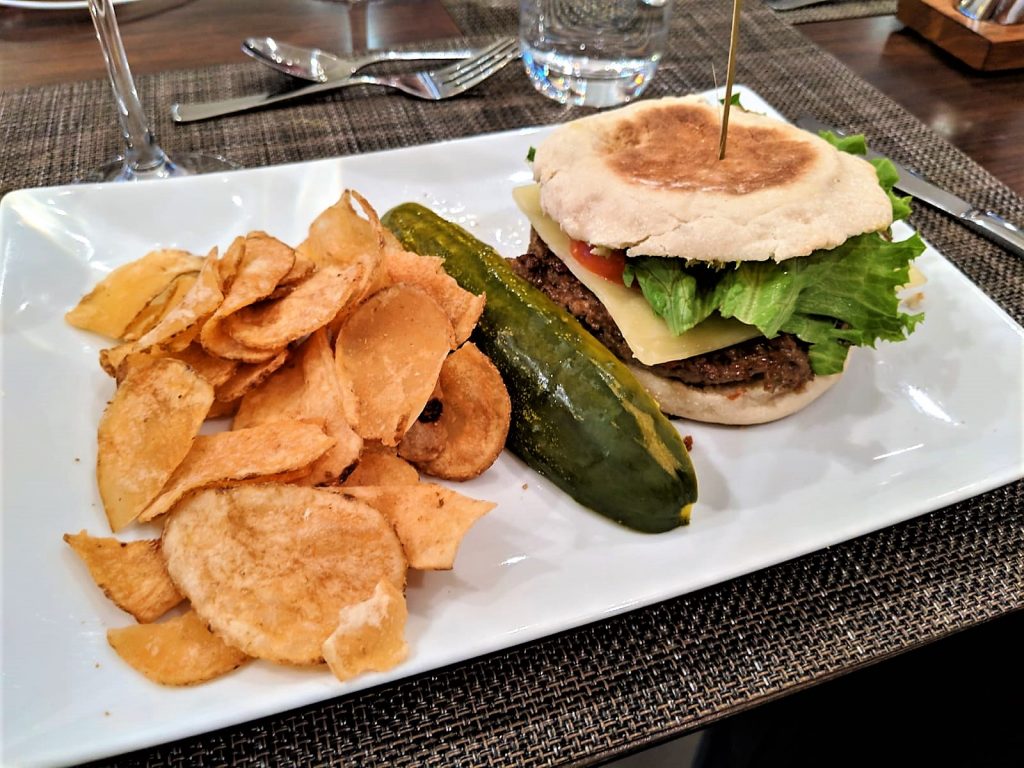 Elsewhere in the lounge, there were two other areas with food. By the Brewdog area, there was a selection of fresh looking salads and cheese as well as a coffee machine.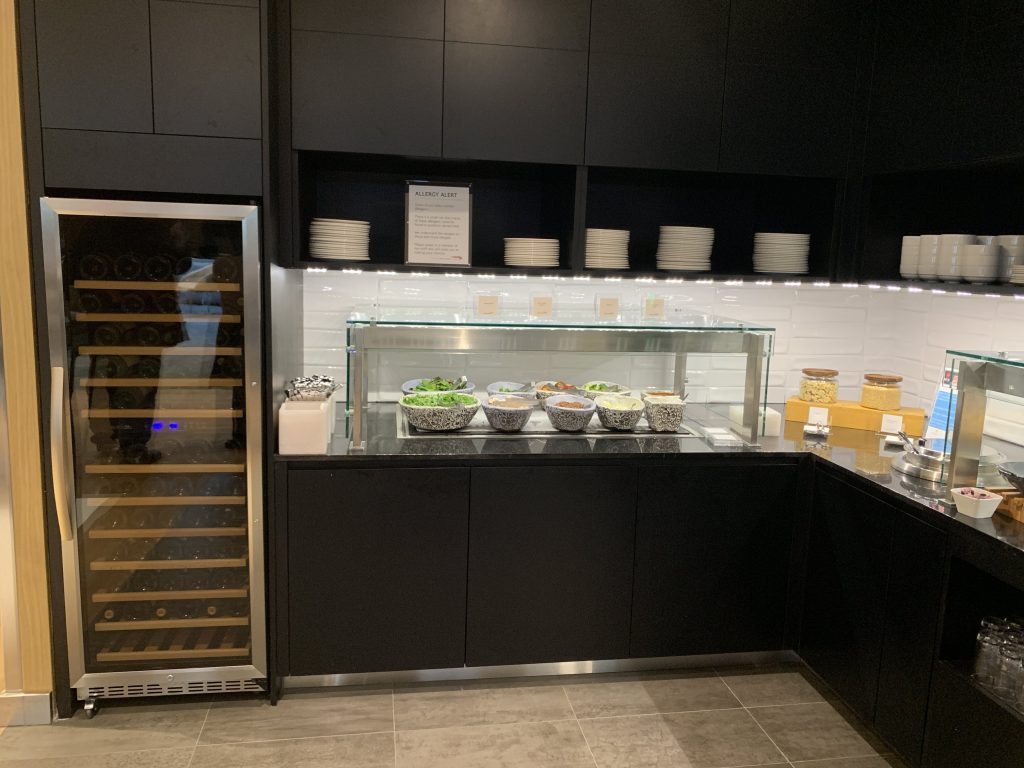 By the Quaich bar there was a second small food selection with buffalo or BBQ wings, soup and sandwiches. At about 8pm the chicken disappeared and was replaced with sandwiches. There were dining tables and chairs by this area too.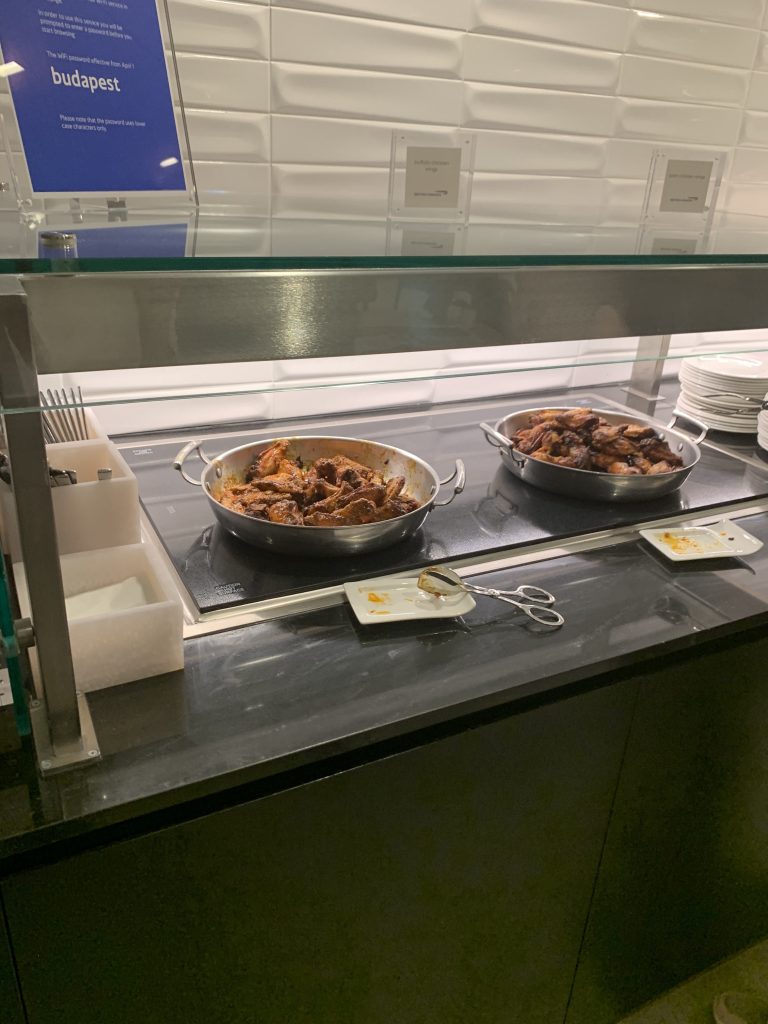 I tried a couple of wings and they were tasty if a little mild for my spicy tastes!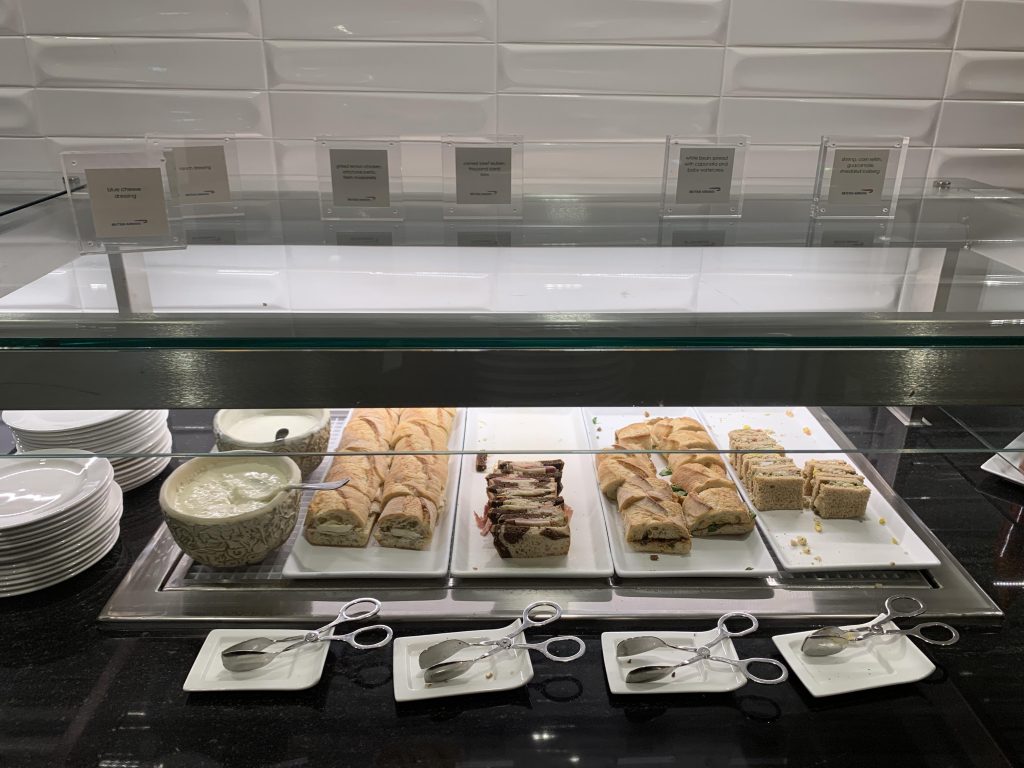 Spa and shower suites
The spa is open in Terminal 7 from 16:00-22:00. I had only been to the spa a couple of times and had always preferred it to the Heathrow one. They did seem a little disorganised as they had no list of treatments and the receptionist seemed a bit harassed. They were only offering a couple of massage treatments as they were newly reopened or a chair massage. However, they will be offering a full range of treatments such as facials, eye treatments and my favourite foot and leg massage (I wish Heathrow would bring it back). I opted for a back massage and managed to get an appointment before my flight. You can find the full list of treatments here.
The therapist was very welcoming and I was led to a quiet room at the back of the spa. The massage was seated on a special chair and was just the right firmness. I was asked if there were any special areas of tension and a warm neck towel placed on me at the start of the treatment. At the end, I was offered some Elemis muscle ease to be applied on my neck and shoulders.
I thought this was a lovely treatment and the therapist was very professional. I wasn't offered samples as they do at Heathrow but I do like the fact that you can buy lots of different Elemis travel sizes in the spa there which are very handy.
If you want to refreshen up there are also showers which you request with an attendant. I had a quick look at one which had Elemis toiletries supplied:
Conclusion for British Airways lounge JFK terminal 7
Having been in the lounge in its previous iteration, this was a huge improvement. Having the areas divided up helped make the lounge seem less cavernous and more inviting. The new seating was comfortable and there was a plethora of power points available which is usually one of my primary concerned. The spa hadn't changed much as it was pretty good before although I look forward to trying the foot massage next time!
My other prime concern at JFK is usually eating before I get on board and I thought they did well here. There were plenty of different options and it was good to see some items to order in the pre-flight dining. I think my only comment here would be if you didn't like fish or Asian food your options in the pre-flight dining were a little limited but happily I do!
The bar was great, it looked stylish and had a great bartender. I was also impressed with the quality of some of the wines. Had I not been rushing round sampling everything, I could have happily sat working my way through a few glasses of the reds!
Like our British Airways lounge JFK terminal 7 review? You can read more Airline lounge reviews here.