Today's review, British Airways A350 Club Suites, will be slightly different from usual as I was on a very special flight this morning. After over 600 days the US finally reopened to Brits and many other countries. To celebrate BA put on an extra A350 flight to New York, BA001, which used to be Concorde's callsign and then the all business class service from London City.
The flight took off in parallel with the Virgin Atlantic A350 also headed to New York.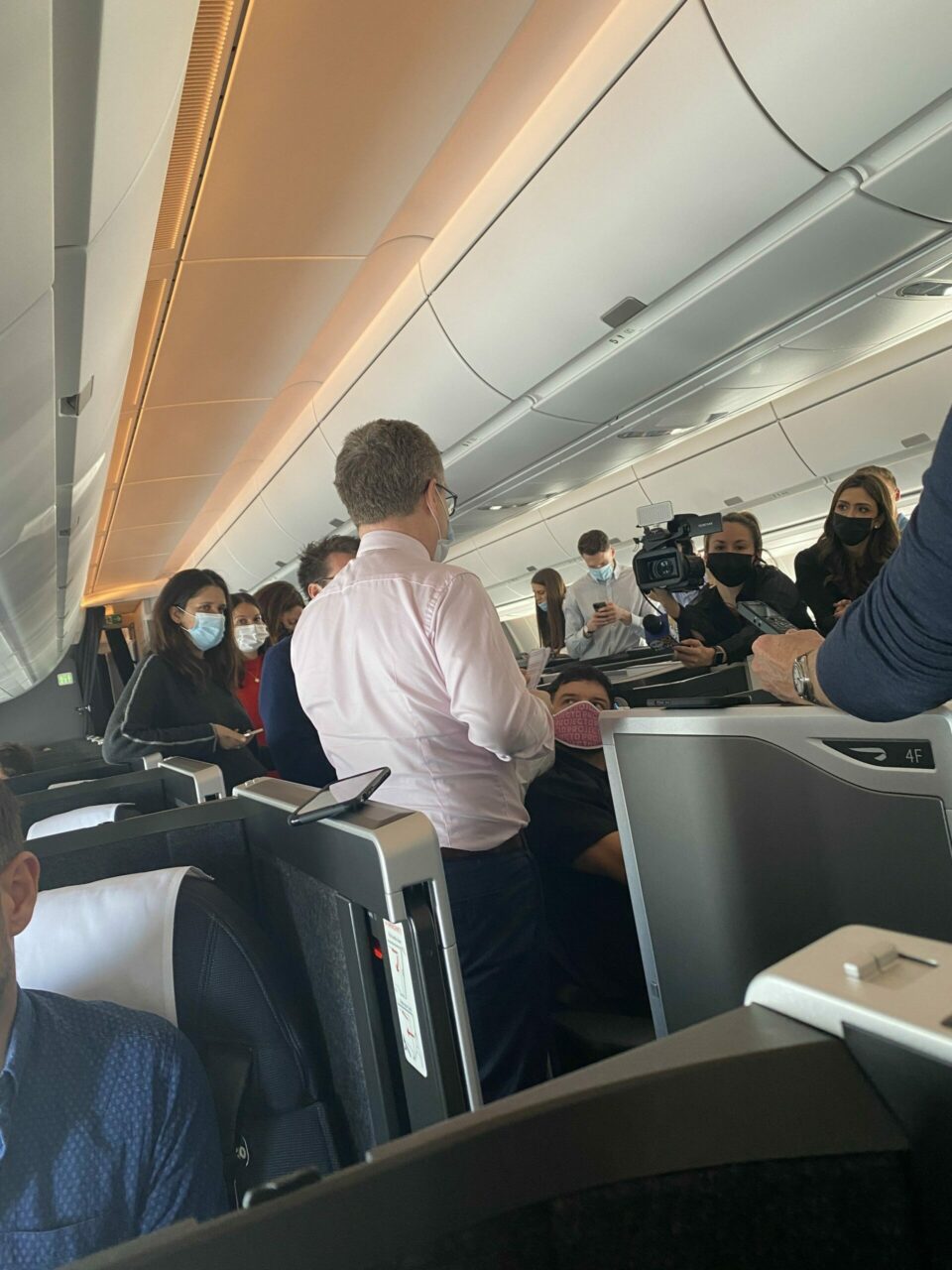 Sean Doyle made a speech on board to the press. I still think of him as the new boy but he has been CEO since October 2020. He viewed today as an important turning point in BA's recovery. BA used to have the largest range of routes to the US from the UK. They now plan to ramp up more transatlantic routes. Today they are flying to 17 cities in US with 26 departures. The airline is set to extend its services to 23 US airports this winter, with up to 246 flights a week, more than any other transatlantic carrier. Flights to New York will increase from five to eight per day in December. There will also be double-daily services to Boston, Chicago, Los Angeles, San Francisco, Washington, Dallas, Miami and Toronto, as well as daily services to Philadelphia, Phoenix, Seattle, Atlanta, Denver, Houston and Vancouver.
Sustainability was a hot topic with the A350 being 40% more efficient than the B747 due to the larger aircraft having to carry 40% more fuel on a B747. This flight had 35% sustainable fuel (SAF). The flight's carbon was also offset. You can now even offset the emissions on BA's entertainment system.
Check-in

I checked in at the First Wing. Being the first day that the US opened and with nan extra flight I thought it would be busy but it was pretty much what I would expect on a normal Monday at 6am. Busy but only a minor wait. To enter the US you must be fully vaccinated and have had a negative PCR or antigen test in the last 3 days. I used Breathe Assured to do a home test supervised by video which I will review later.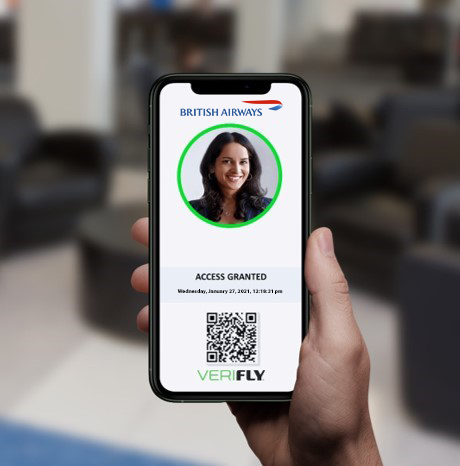 I also used the Verifly app though I had a lot of issues with error messages. I did contact them and got a reply in around an hour which I thought was good on a Sunday. It's interesting the app does not ask to see your vaccine certificate and if you have the green tick on Verifly, nor do check-in. I did not need to produce any paperwork other than my passport and the Verifly app. You need to complete a US declaration but you can do that on the app too.

Both security channels were open so I only waited around 3 or 4 minutes before I got to go through.
Lounge
As I was on a press trip it was not the usual lounge experience, but there were a few things of note in the First and Concorde Room lounges. Those that know Charlie, the Concorde Room bartender who is a fantastic member of the BA lounge team with his friendly banter and lethal cocktails, he will be back on cocktail making duty shortly after his injury, but he did manage to pour me a glass of LPGS champagne!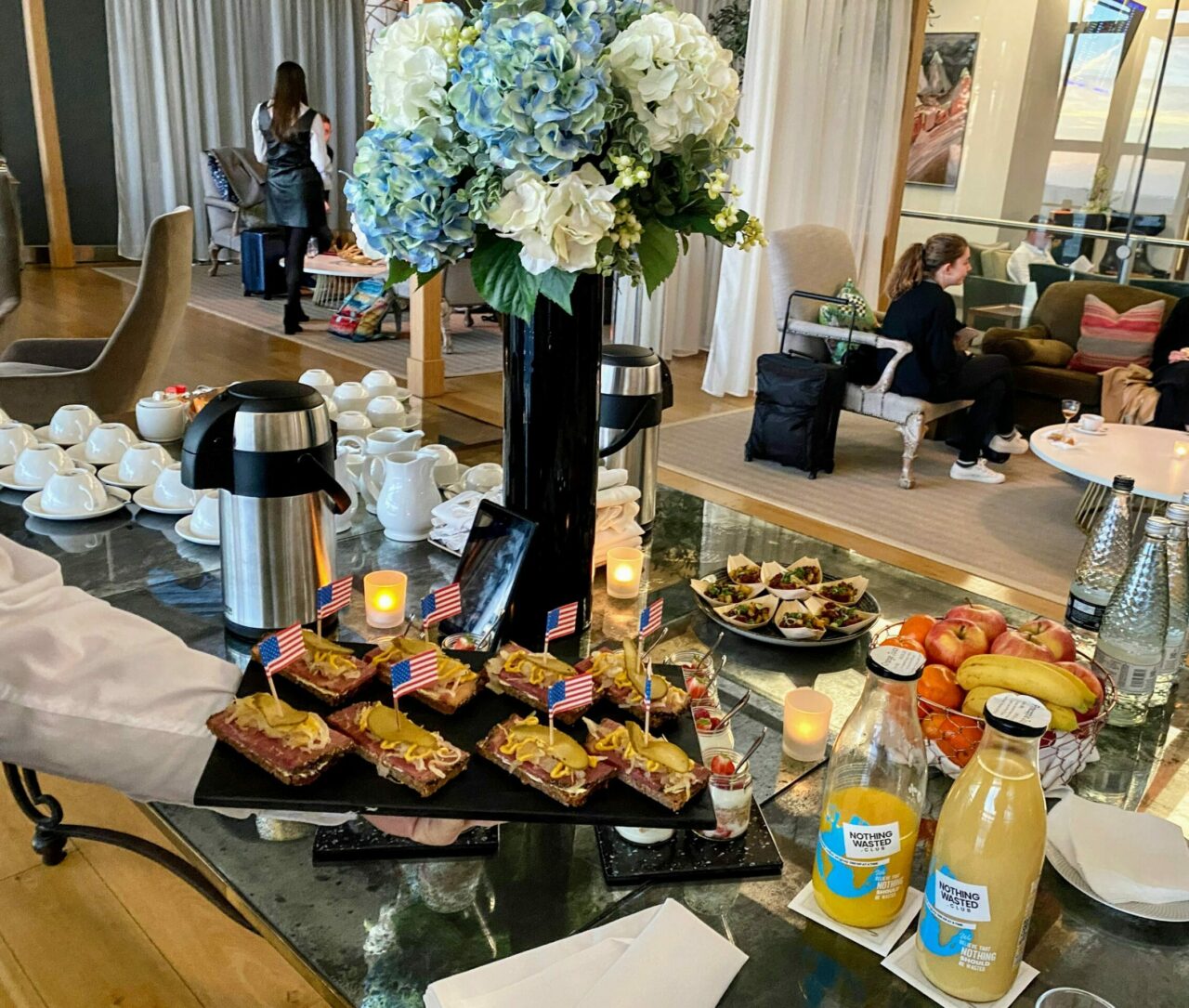 In the First Lounge you can now do order shopping to the lounge which I think is a great idea. It can be quite disruptive going out to the shops, especially if it's busy. I think it's only the main pre-order duty-free but wouldn't it be great if they do all the shops? Time to drink more champagne!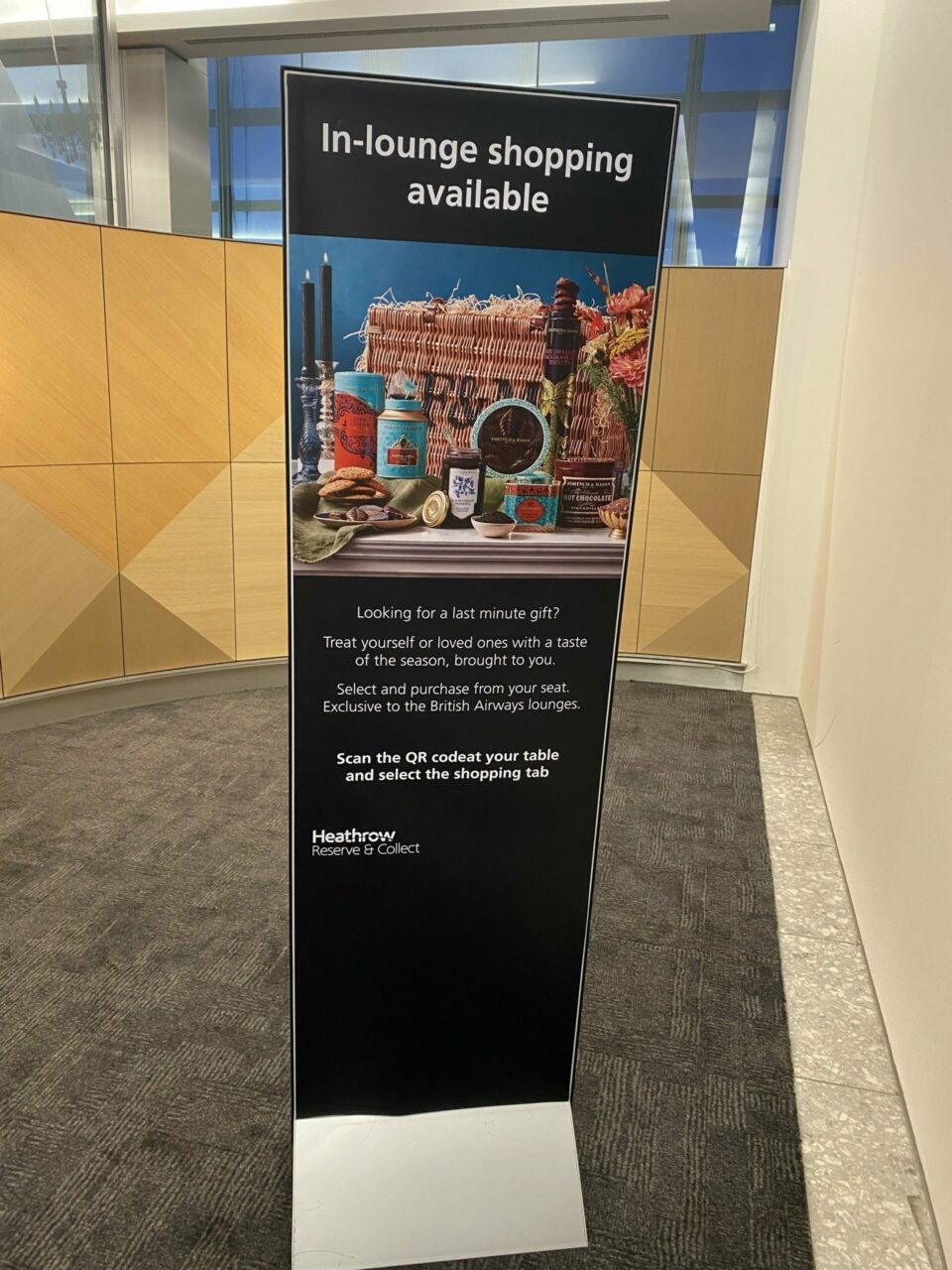 There was still an online menu which you could order to your seat, but now there is a coffee station where the machines are to the left of the entrance as you enter into the lounge from the First Wing.
I also noted that there are free donuts today in the main lounge entrance area from Project D.
Boarding the British Airways A350 Club Suites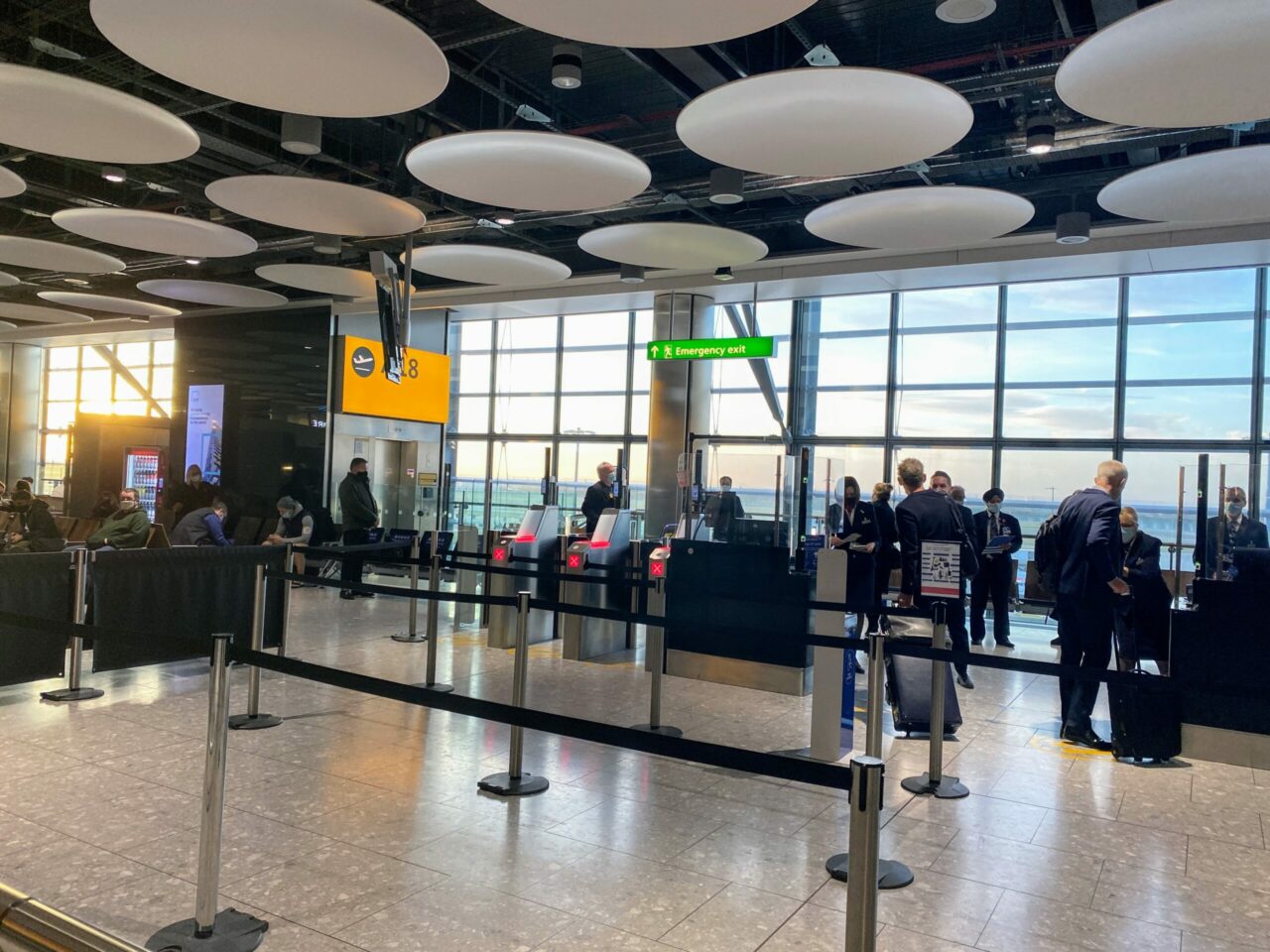 By the time I got to the gate, they were already calling off group 4 even though I was there nearly an hour before the flight. It was good to have a special gate for the flight A18 when normally it would depart from the B or C gates. Gate 18 is literally just where you come off the escalator from the lounge. There was no real queue and after a quick check of my passport (I had to remove my mask right below my chin which was fairly strict) then I was on board. Apparently, they boarded early as obviously, they could not miss their take-off slot if they were taking off in tandem with Virgin!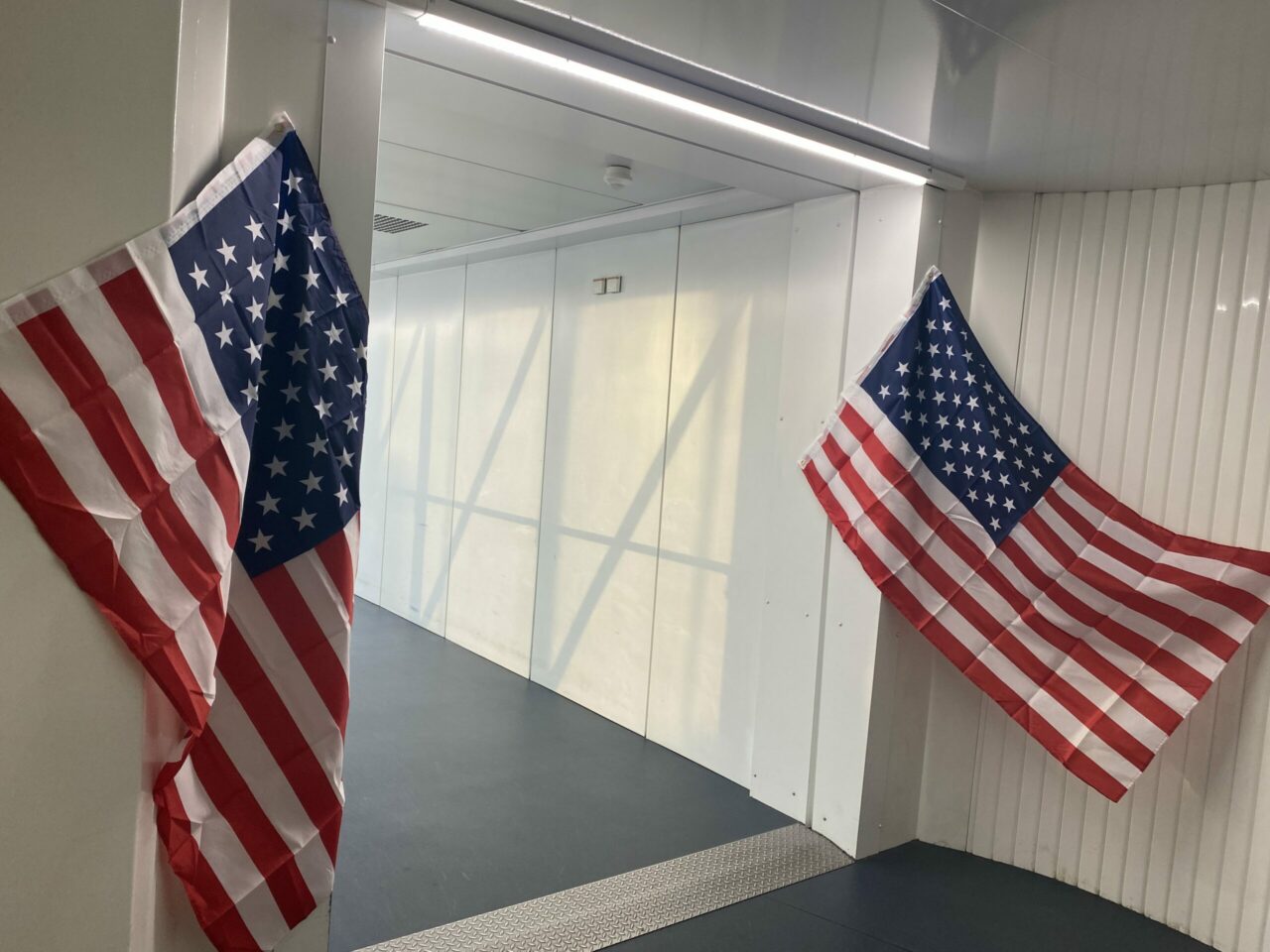 The aircraft had been specially decorated for the occasion with US flags and we all got a free donut from Project D which are the hottest brand in donuts right now.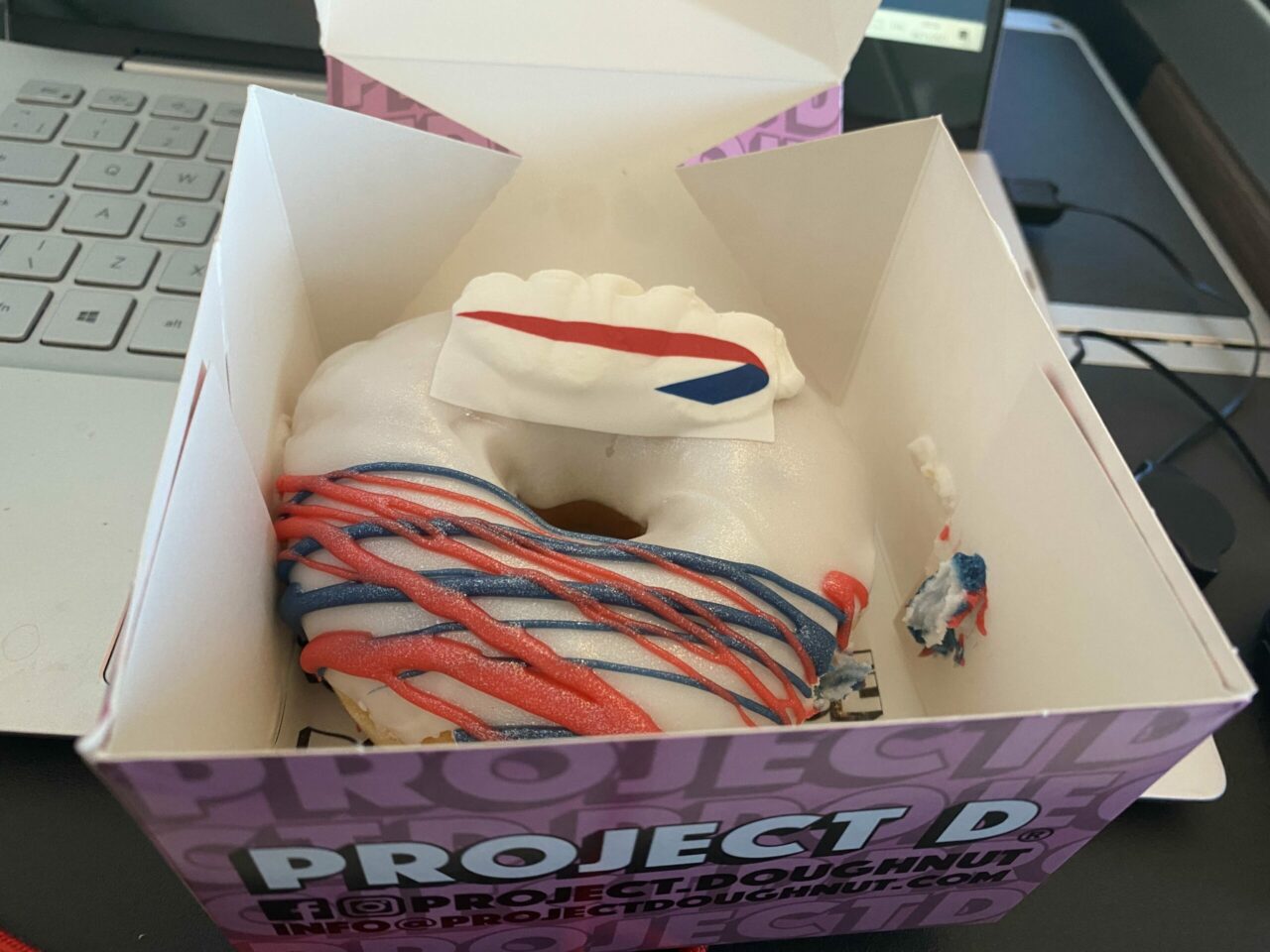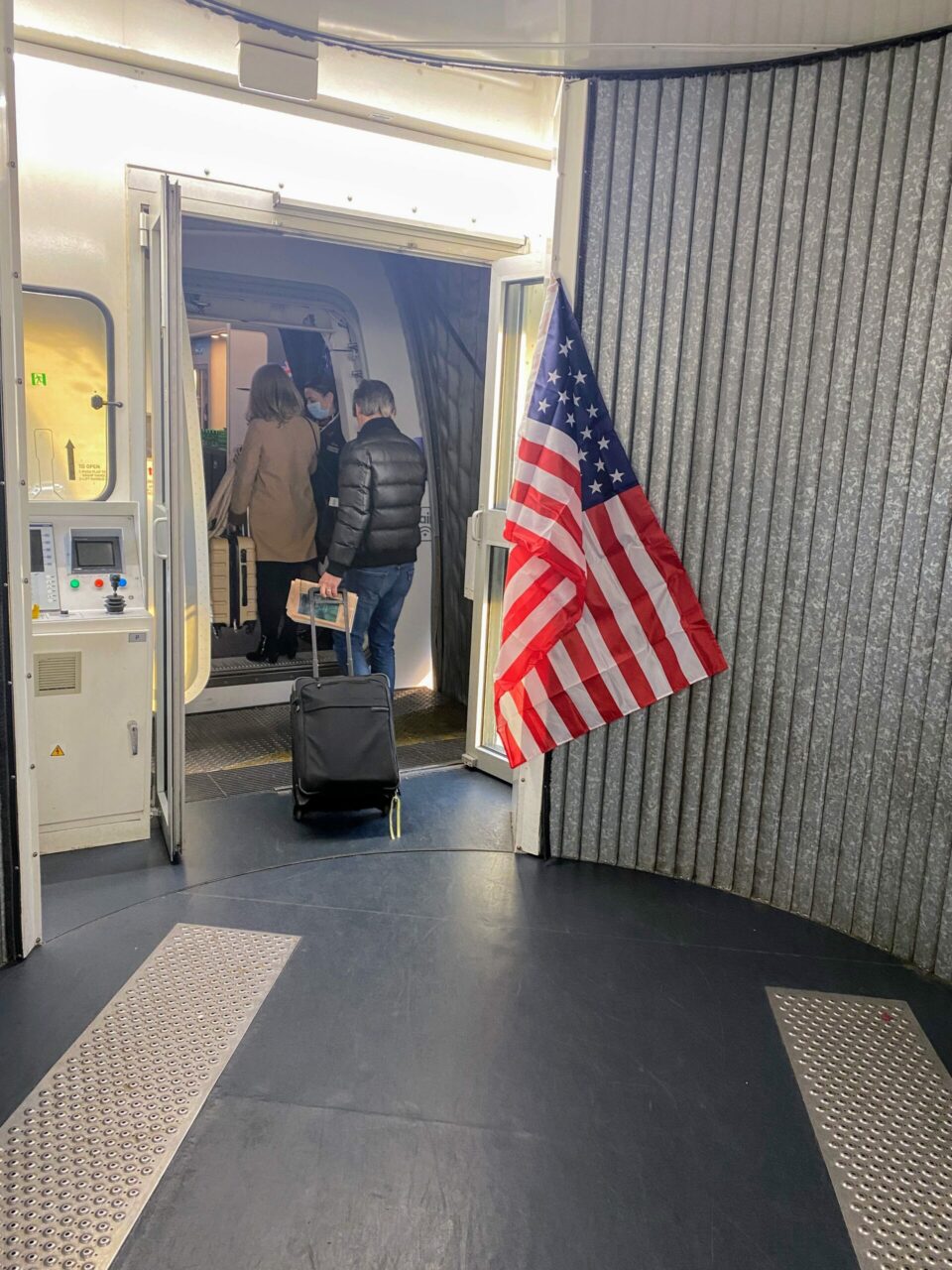 It was great to see that pre-departure drinks were back in Club (although I understand in World Traveller Plus it's just water still). Of course, I had to test the champagne to make sure it still tastes the same! It was hard work at 8.30am but someone has to do it!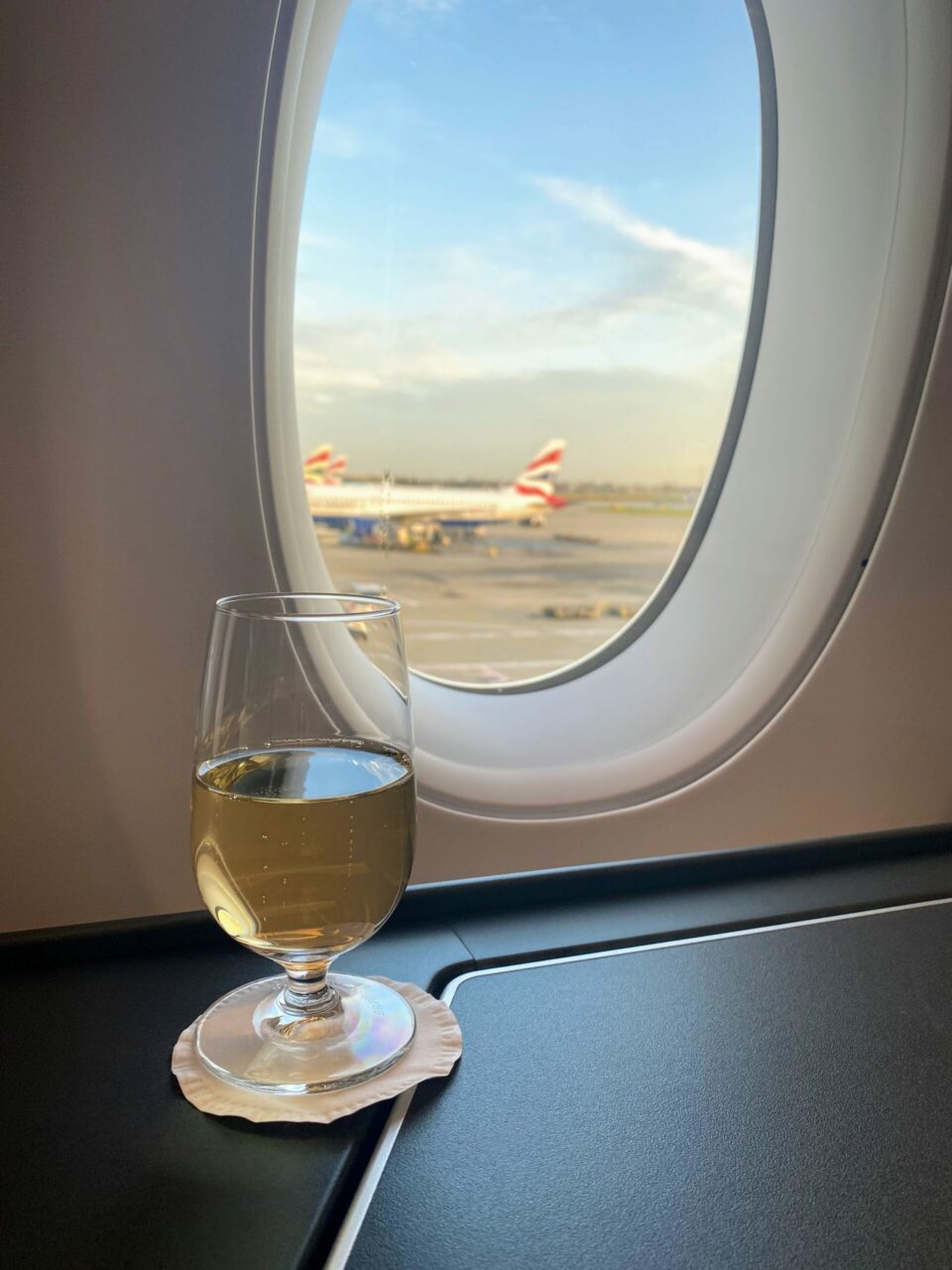 At the British Airways A350 Club Suites seat was the normal bag of White Company bedding although now it just contains the mattress topper and quilt, there is no longer a day blanket but I rarely ever used it.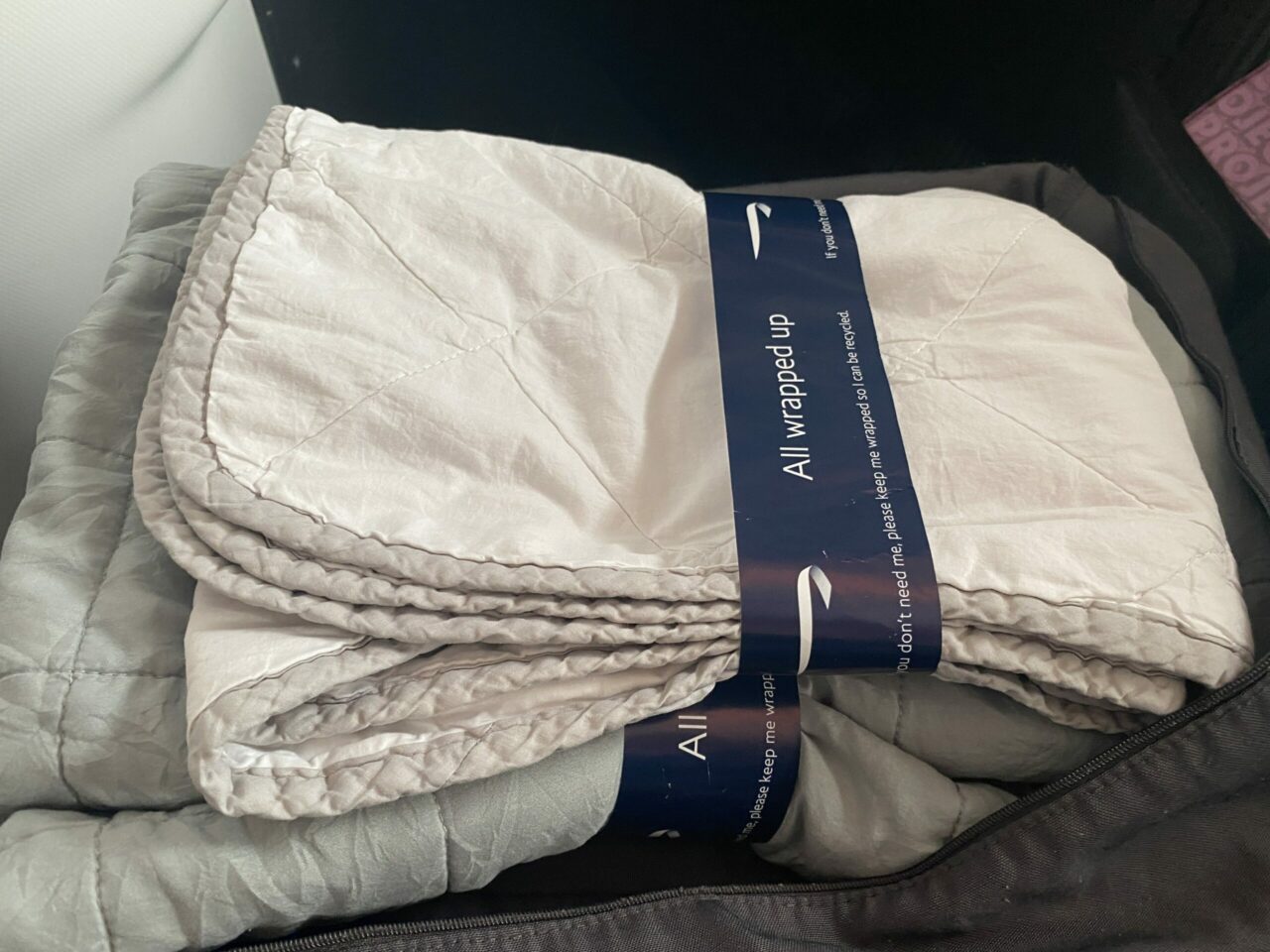 I was also given the usual White Company wash bag (watch out for our next giveaway when I will be giving away one plus many others).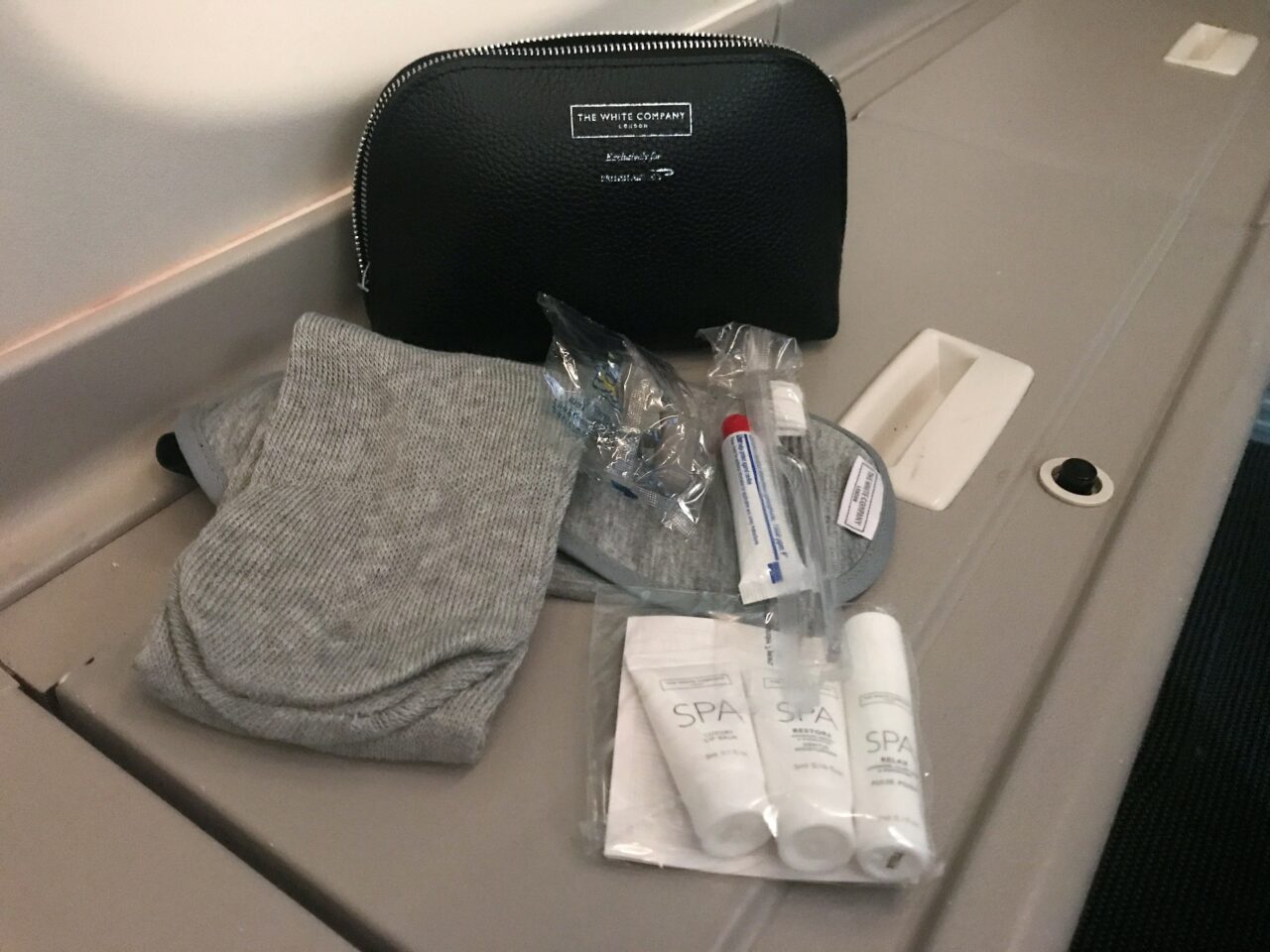 British Airways A350 Club Suites Seat

This is the first long haul flight I have done on BA's A350. The A350 is my favourite long haul aircraft to fly on as you get the better humidity and cabin pressure but I prefer the blinds rather than the window dimming on the B787.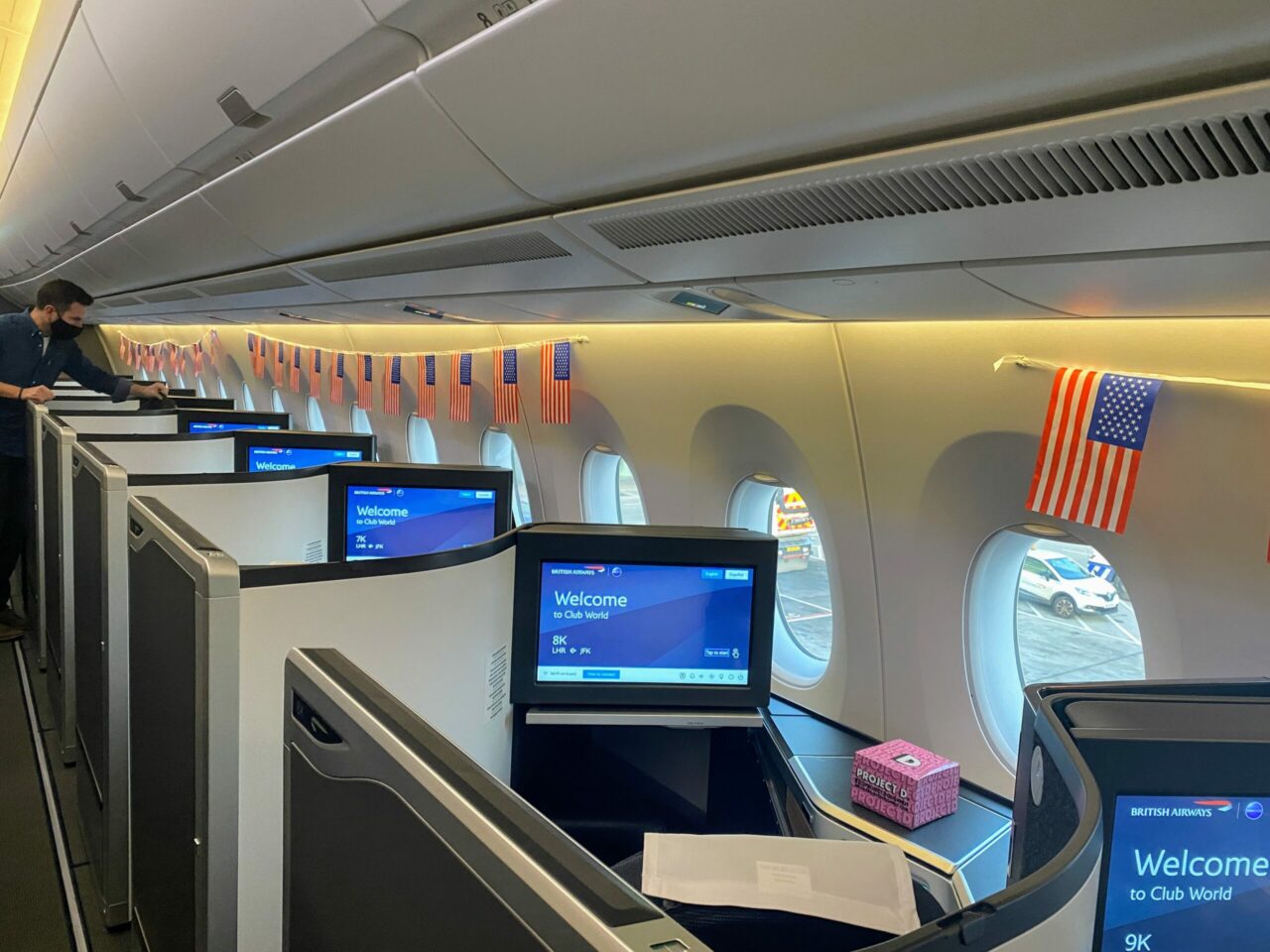 The A350-1000 is laid out in 1-2-1 configurations over two cabins. The front one is much larger. There are no bad seats but in row 1 you do get two windows instead of one. The second mini cabin is best for a more intimate atmosphere and quieter.

I was in 3K which is a decent choice as you are close to the front for being served first. If you are travelling with someone you may prefer the middle seats that have a divider you can keep down so you can chat to your companion.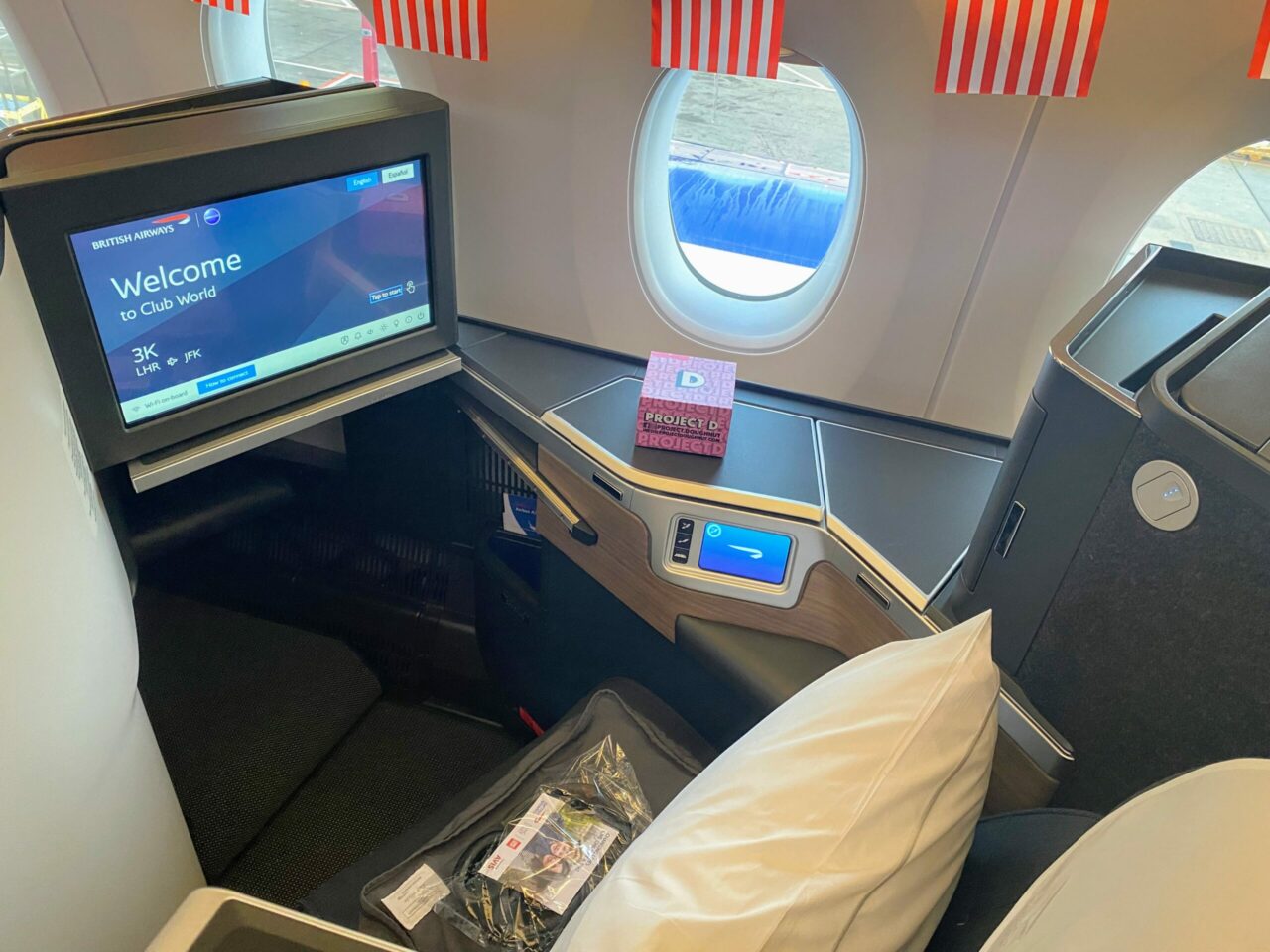 The seat looks quite small from the outside but once in it, I felt I had lots of space. The gap to get into the suite is a little narrow so it was a bit of a squeeze to get my cabin bag through to unpack it on the seat.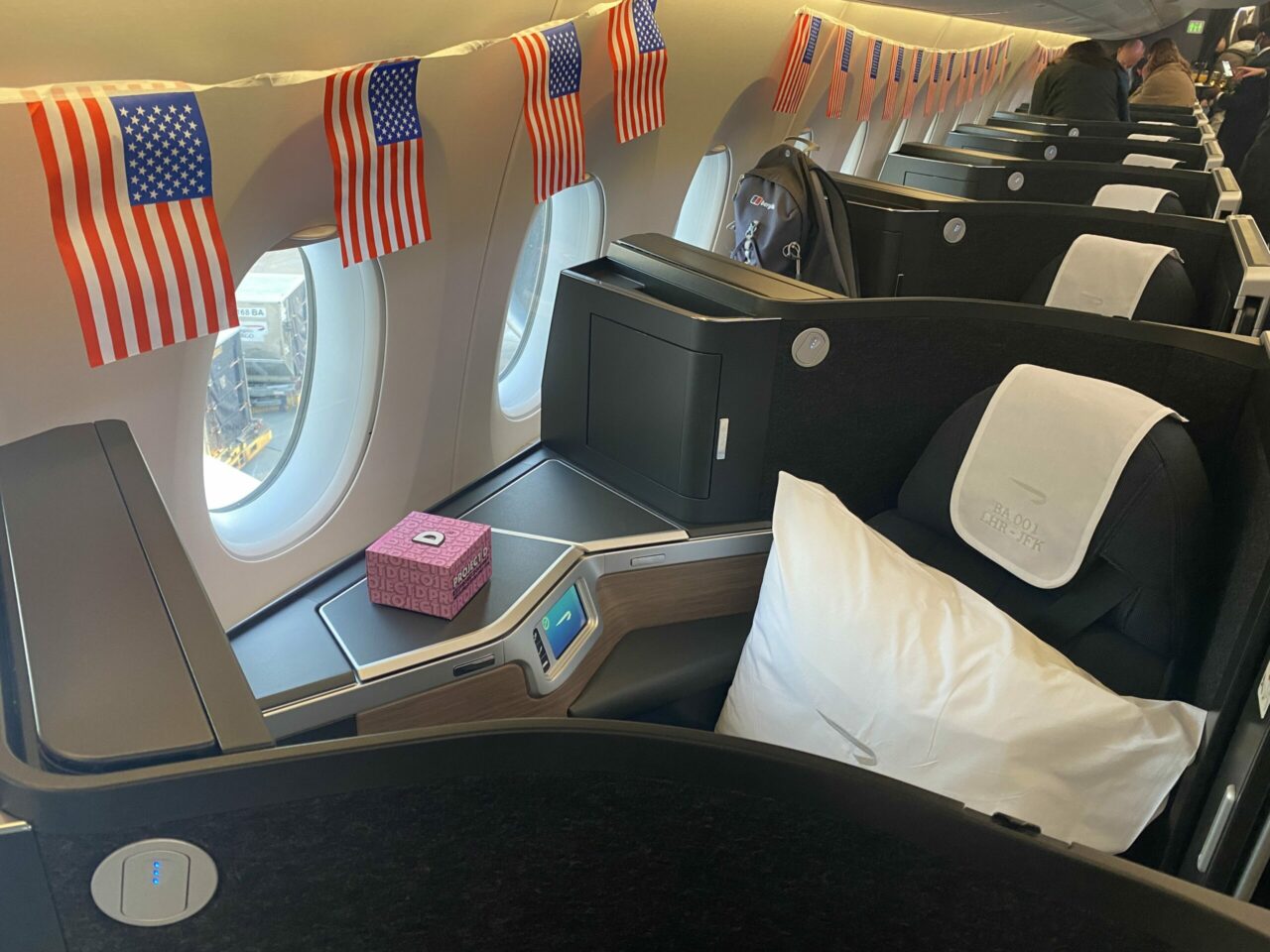 I love that it has so many different storage spaces, most of which are in easy reach even with the table out. This was one big flaw with the old yin-yang seats. There's a headset storage cupboard that fitted my own Bose headphones perfectly and also has a handy mirror to check you don't scare the cabin crew when you first wake up!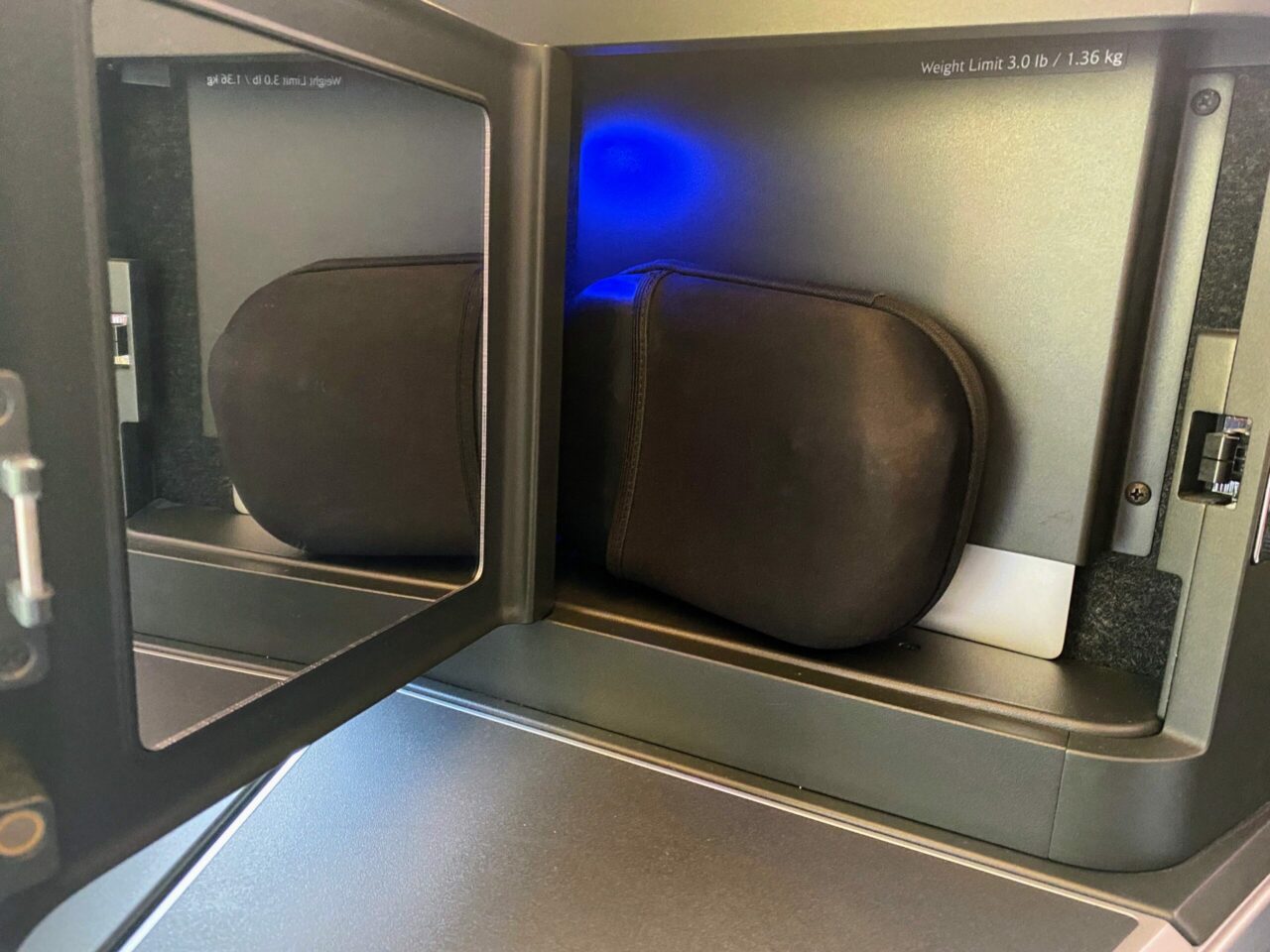 Then there's a small shallow compartment which I used for my electricals such as leads, plugs, and phone.
The large compartment next to it is great for wash bags or bulkier items. This contains your remote for the entertainment and the charging options. There are 2 USB points and then a multi-country socket which has a major flaw. Many larger plugs will not fit here. My own trusty Inatek one did not fit so I had to fudge it by using a US adaptor and then sticking my own plug into that where it just about fitted. Much as it looks neater in the compartment, I can't believe they didn't test it with a range of plugs. Next time I will have to bring my bulky original lead if I want to use my laptop.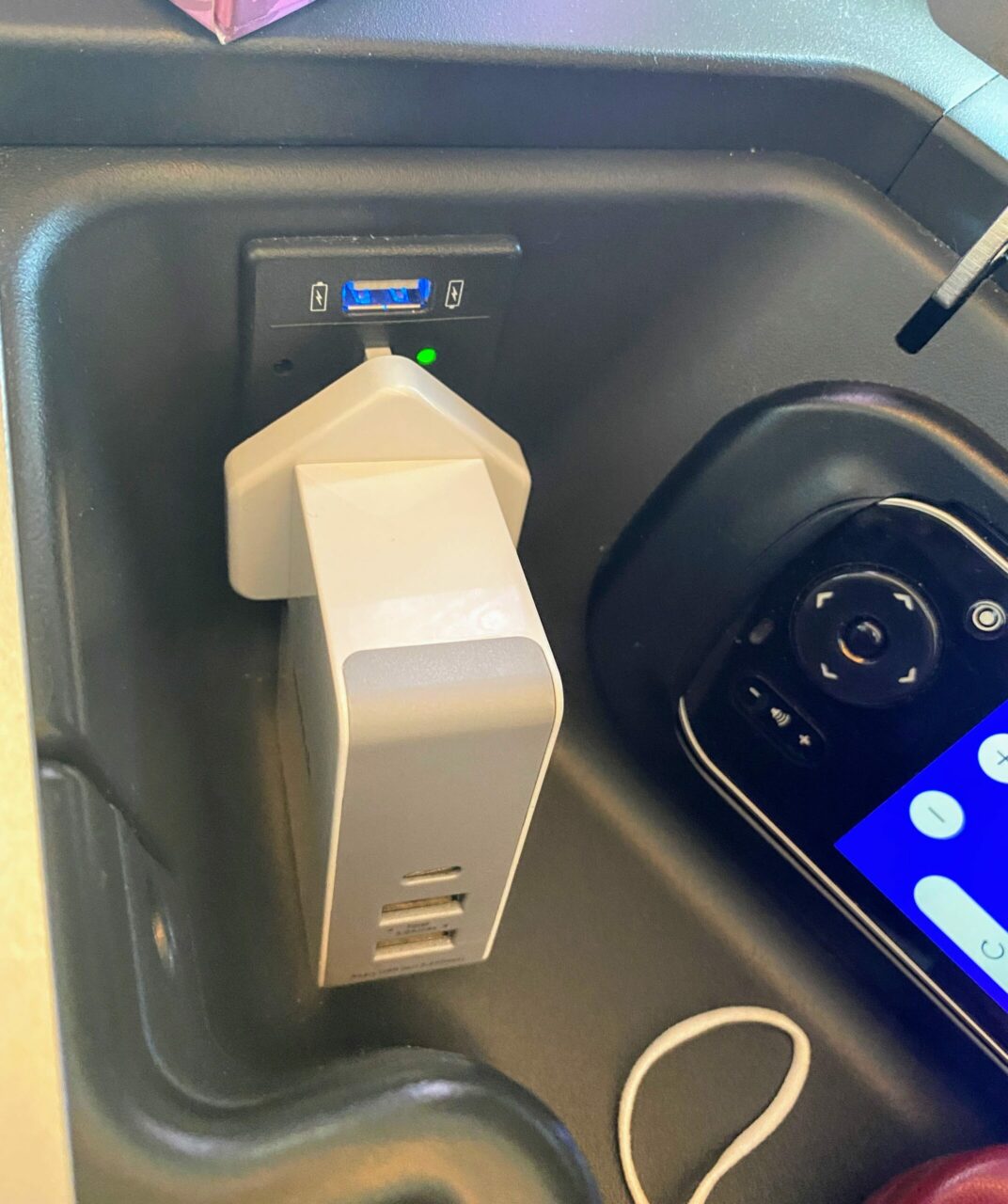 Finally, there is an open shelf area under the others at ankle level which is reasonably big. Unlike the old Club seats you can also store items underneath the footstool which is really handy. For once I could have everything I needed within reach instead of needing to keep going to my bag.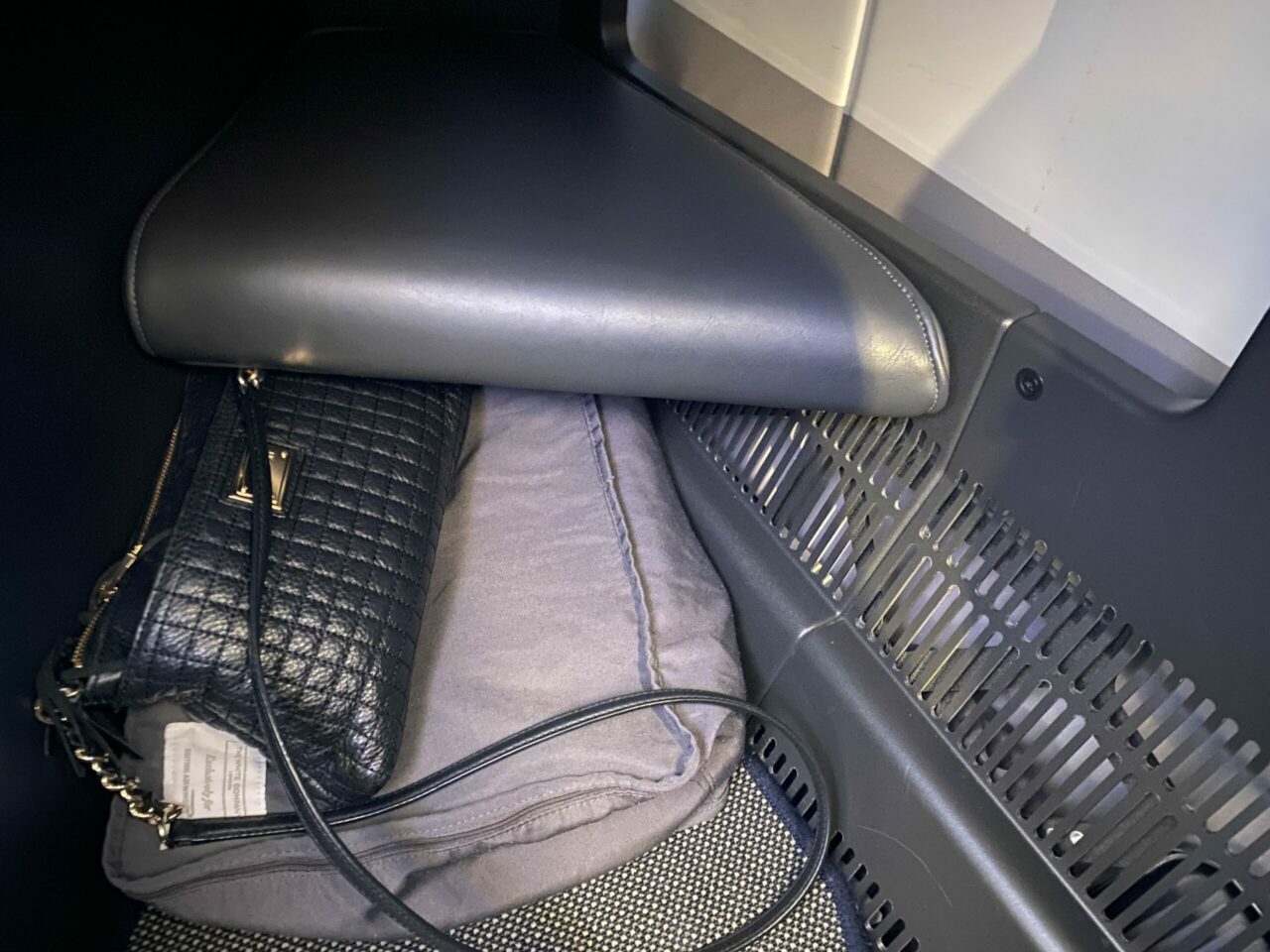 In terms of comfort, at 5ft 6″ I found that I can't reach the footstool when in a semi-reclined position which was slightly irritating but it was great that there was a leg rest I could control individually. The seat is controlled with a simple to use touchscreen where you can change the leg rest and back separately. The seat felt very padded and supportive and I easily found positions to work, relax and eat comfortably. I won't really be sleeping in this one but I am flying back on the A350 so I will bring a report on what they are like for sleeping then.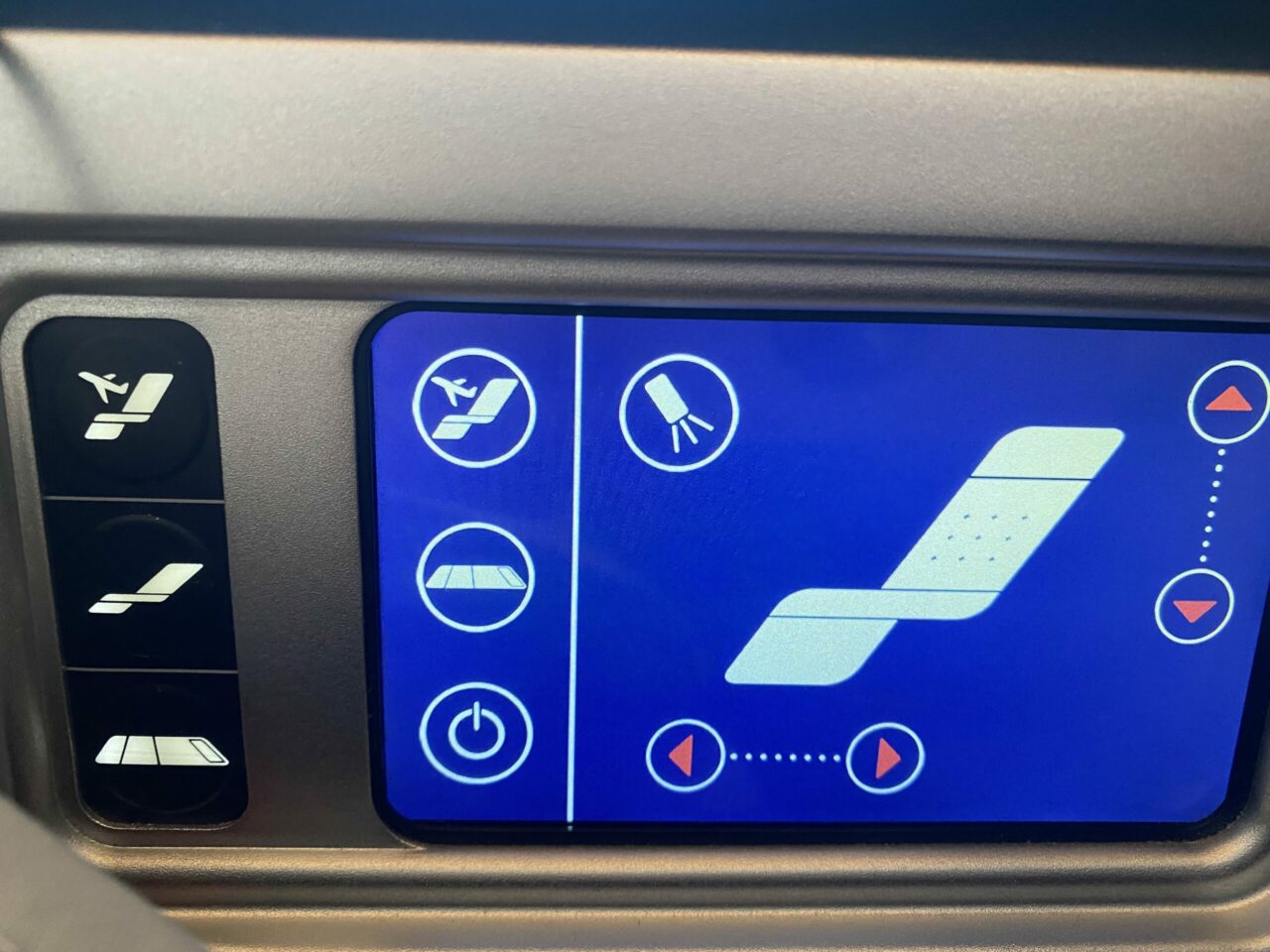 The tray table was large and steady, so perfect for working as well as eating. You could have it in several positions so it was easy to slide out of the seat while working or having your meal.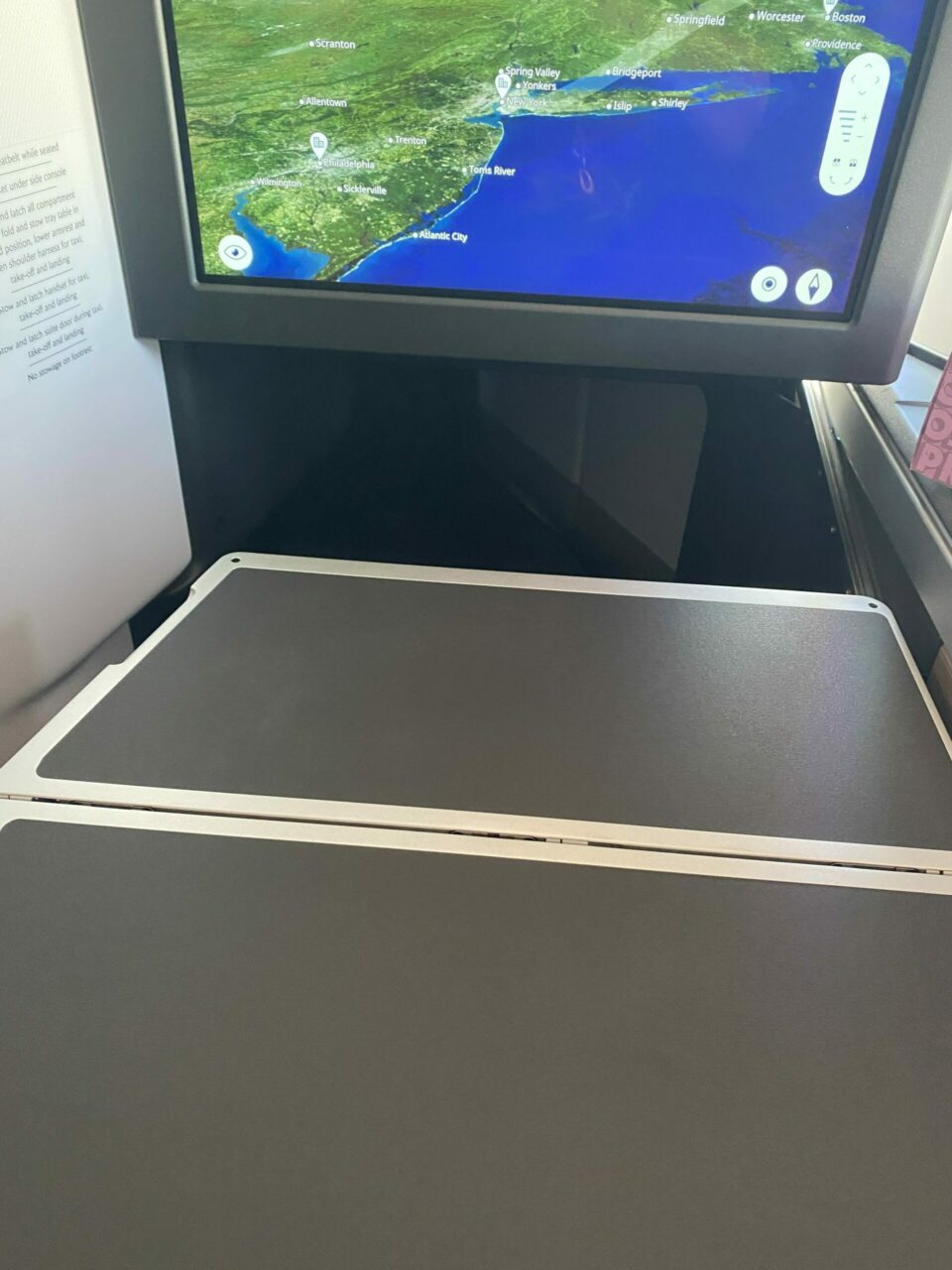 I had the door shut for a while and I know some people think it may be claustrophobic but it didn't real at all like that to me.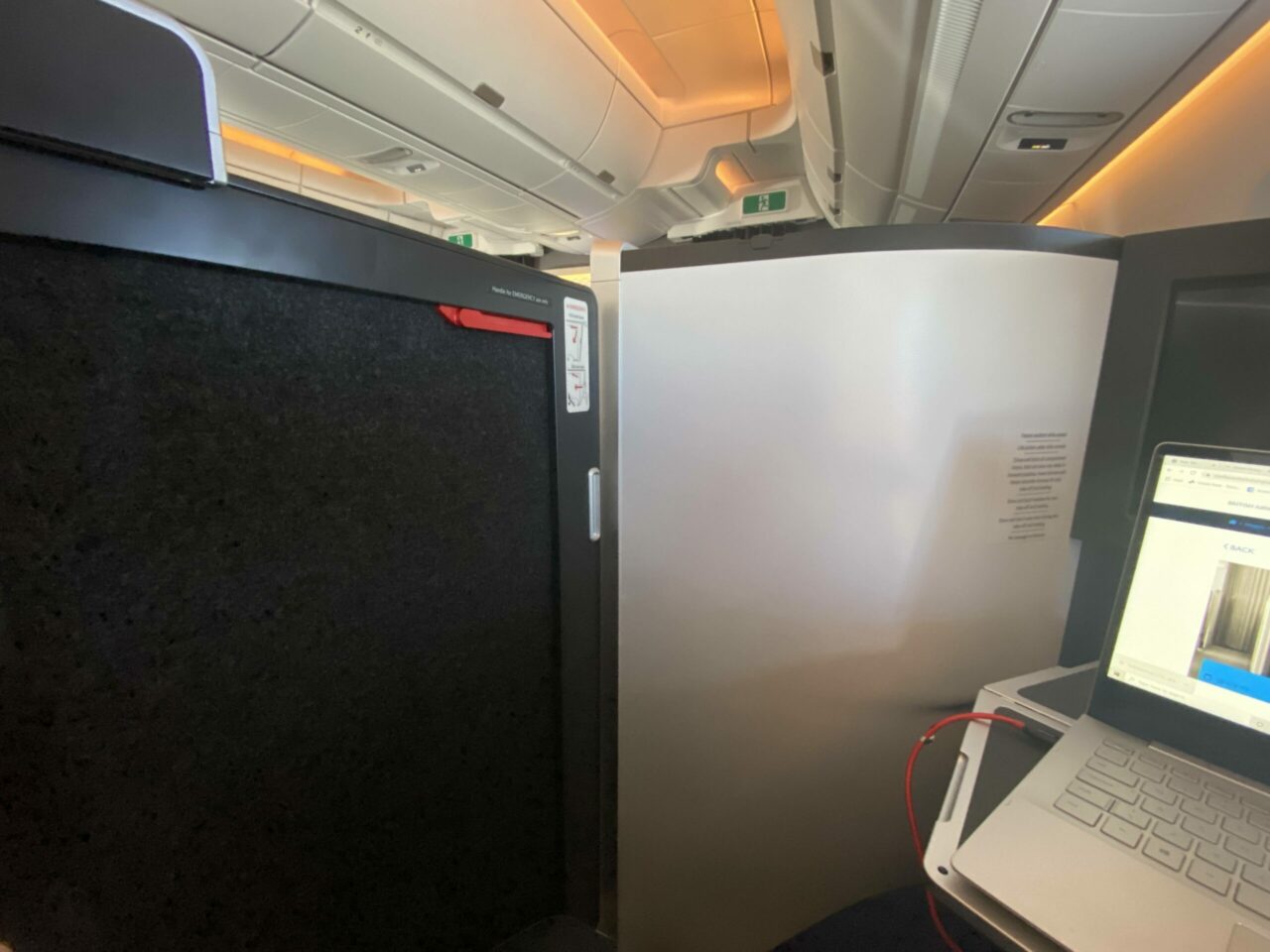 British Airways A350 Club Suites Food and drink

This was an 8.30 departure so the first meal was breakfast. Menu cards were handed out and then orders taken. A bottle of eater was also handed out. Unlike some flights, there was a choice of starter, but being breakfast there was no dessert choice. Prior to the meal drinks were served. I had a tea and a bucks fizz – well it was a special occasion (so if none of this makes sense you know why!).
Here is the menu:
It's worth noting that I think both the whites are decent choices with wines I know and enjoy. I actually thought this was a good menu and I was torn between the options. Since we had been given a free donut from Project D anyway, I thought that I would try the beef rather than going for the bog-standard BA breakfast. Service is back to pretty much normal now with a choice of starters and courses served individually rather than on one tray as it was until very recently. In fact, the only difference I found onboard was the lack of day blanket and having to wear a mask!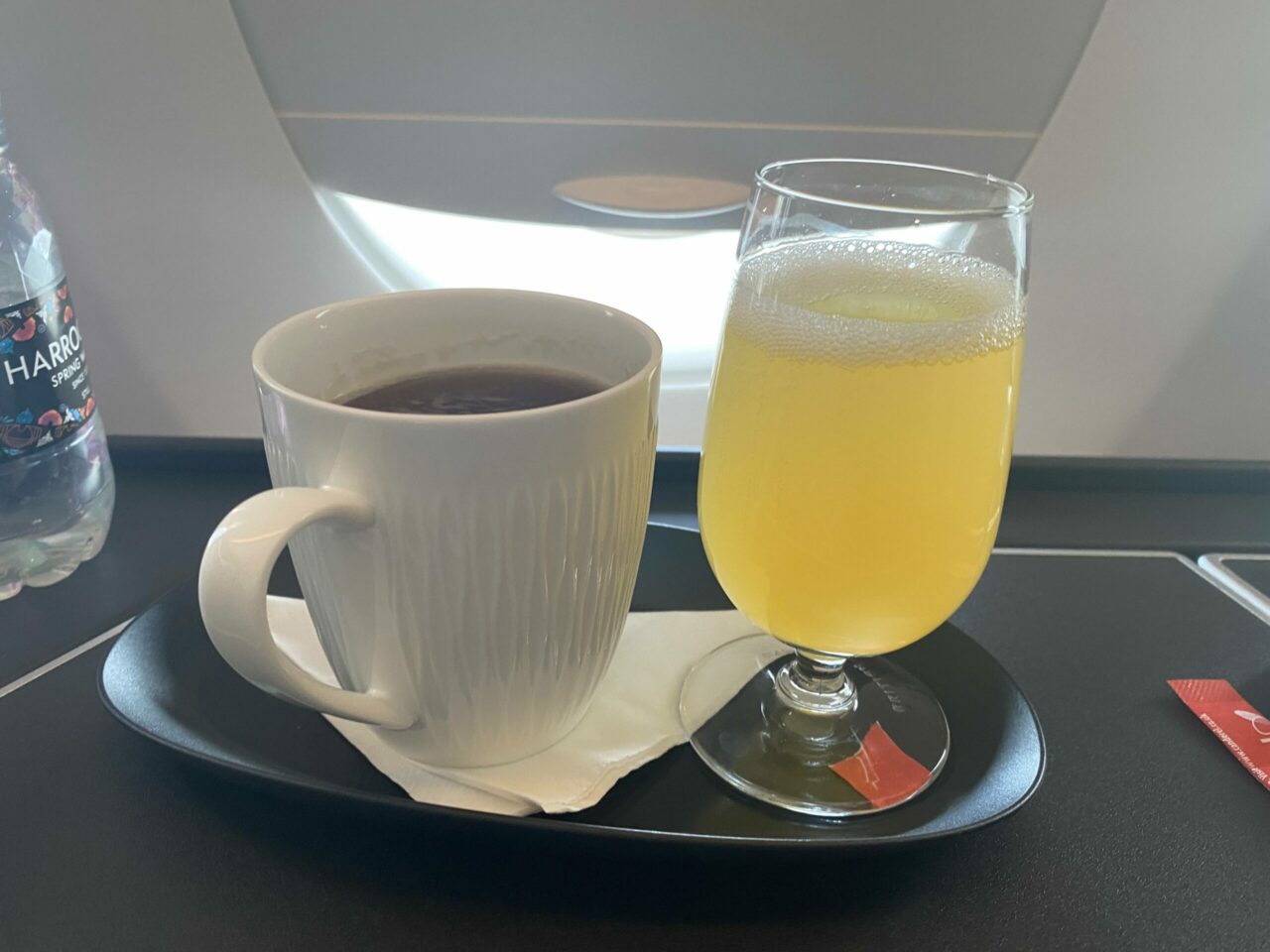 I chose the salmon starter which came on the same tray with the yogurt and a Cruffin. It was supposed to be a toasted crumpet for the starter but it just tasted like a normal one. I found it a bit heavy for the delicate salmon and I think something like rye bread would have been better. Overfall this was a very generous portion. The cream cheese mixture with chives and dill and a smattering of pink peppercorns was delicious. The salmon was also great quality and not too smoky. Pastries were served including something called a "Cruffin" which I would guess is a cross between a croissant and a muffin! All I can say is that the person that created a Cruffin needs trying for crimes against baking. It's basically a light flaky croissant made all stodgy!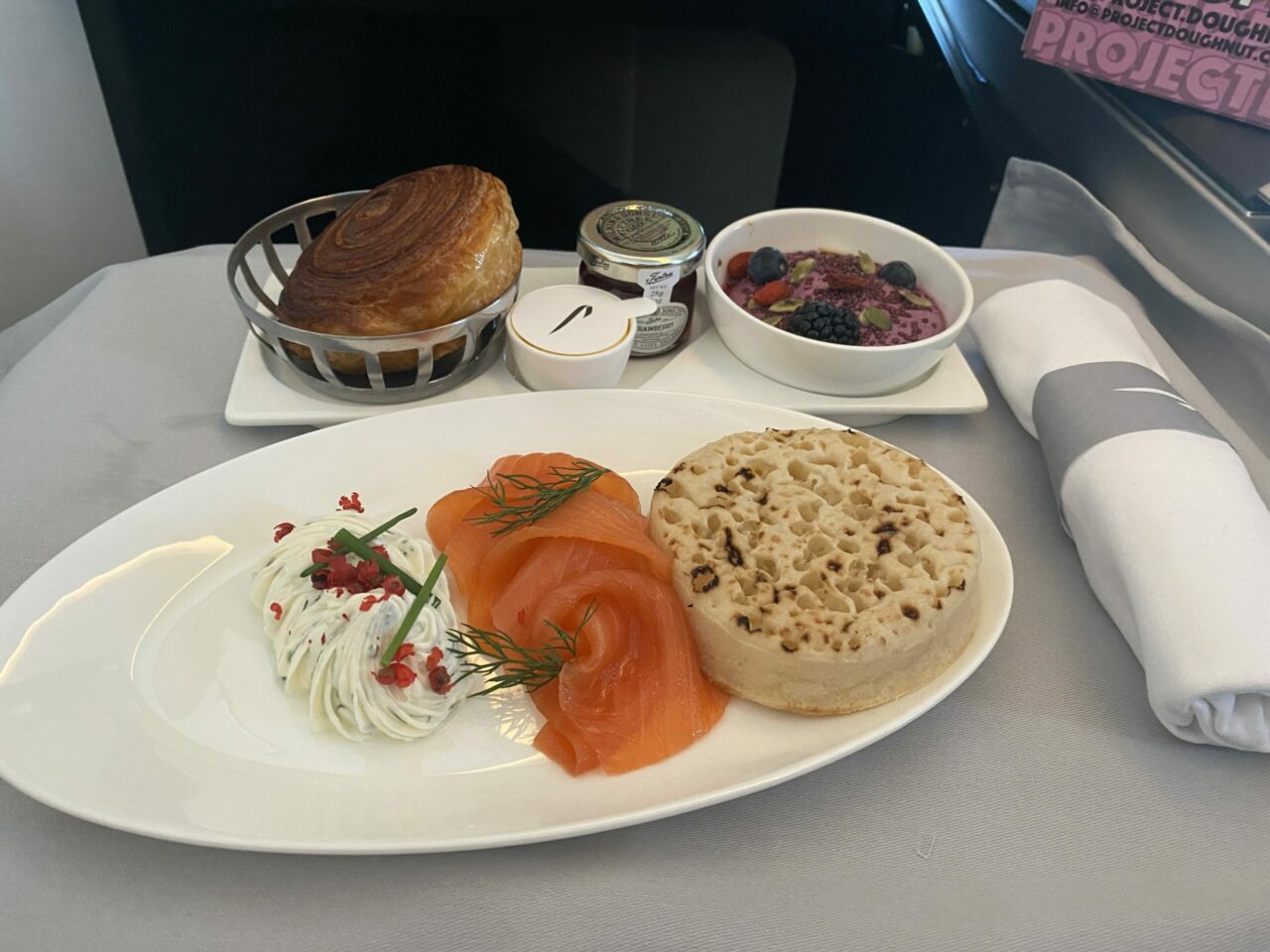 Beef on a plane is a dangerous option – will it be shoe leather or will it be edible? I'd say it was somewhere half between. It was definitely a bit overcooked but it wasn't chewy and the chimichurri gave it a nice spicy kick. The hashbrowns were a little limp but it's virtually impossible to get them crisp when you are baking under foil in an oven. The eggs were good – not at all clumpy or dry.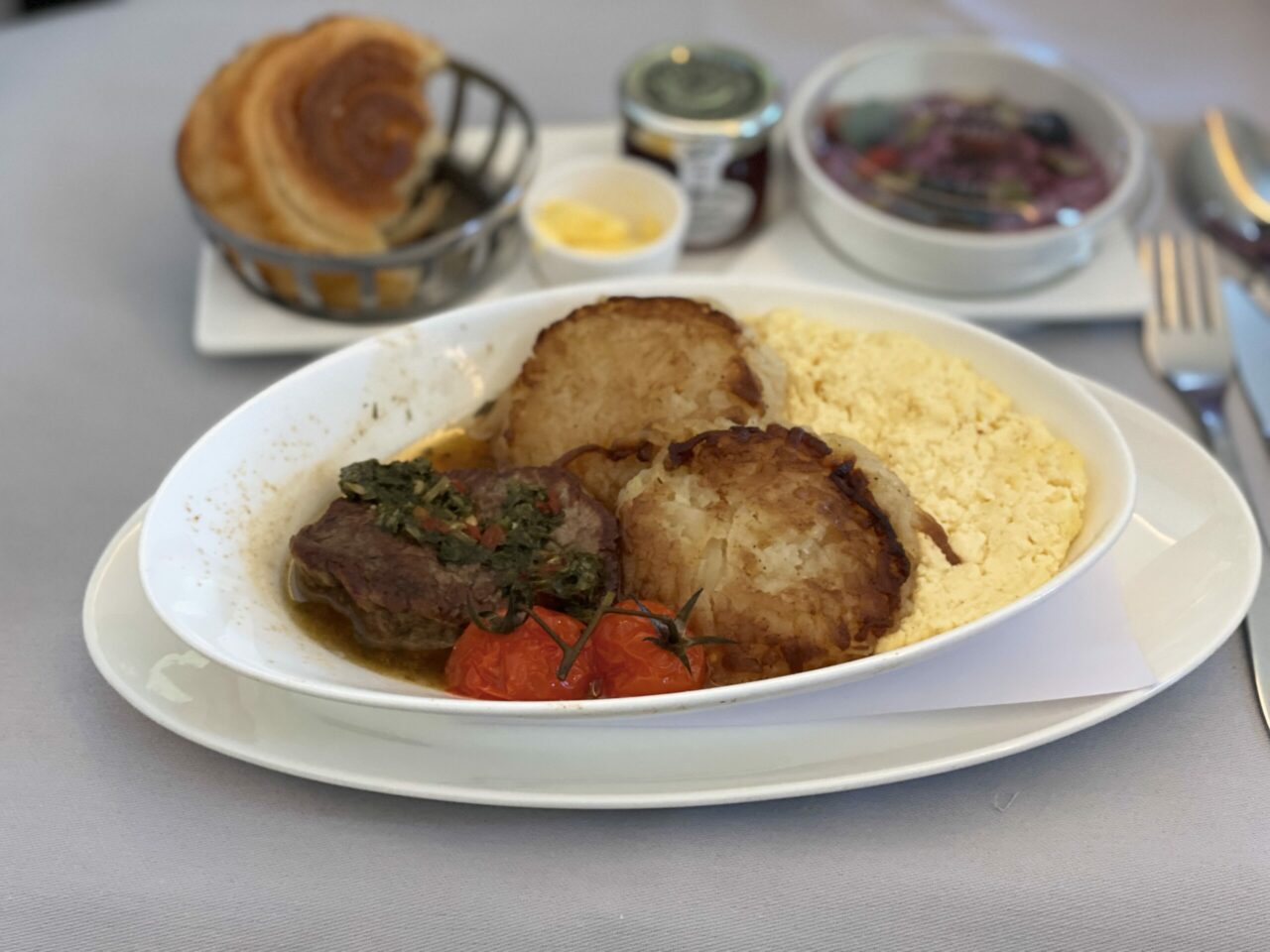 There was a yogurt as well which was super healthy with goji berries fruit and chia seeds. It was rich and creamy which was nicely offset by the tart fruit.
Overall this was a good meal. Plenty of food and generally full of flavour. A special mention to the cabin crew. They definitely had their hands full with a bunch of journalists filming and generally getting in the way plus the pressure of having your CEO on board. These crew were the perfect BA cabin crew, friendly, efficient and with loads of banter – just how we love them!
To drink I tried one of the cocktails which was a Flying Manhattan, obviously very appropriate! It was rather strong but quite delicious. Hic! It was only after drinking this I found that the mixologist, Mr Lyan, was actually on board! I wondered who the person I squeezed past in the galley was, fiddling about with the glace cherries!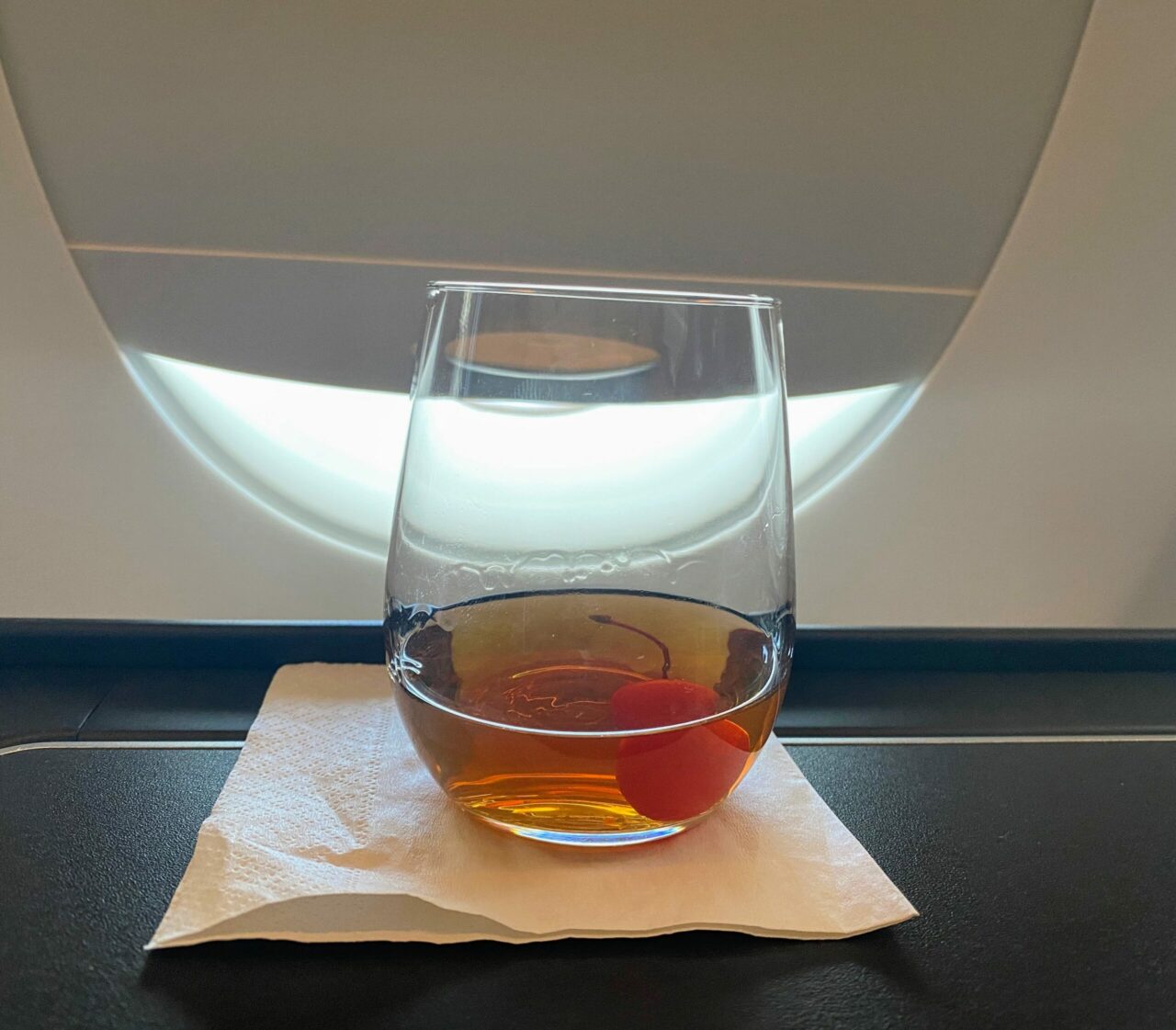 The second meal was afternoon tea which consisted of sandwiches, cakes, and of course BA's lovely warm fluffy scones. I was impressed with most of these and the cheesecake was particularly good. Sadly the clotted cream was long life from a jar which just seemed wrong. Once you had the jam with it you couldn't really tell, but my head was telling me no!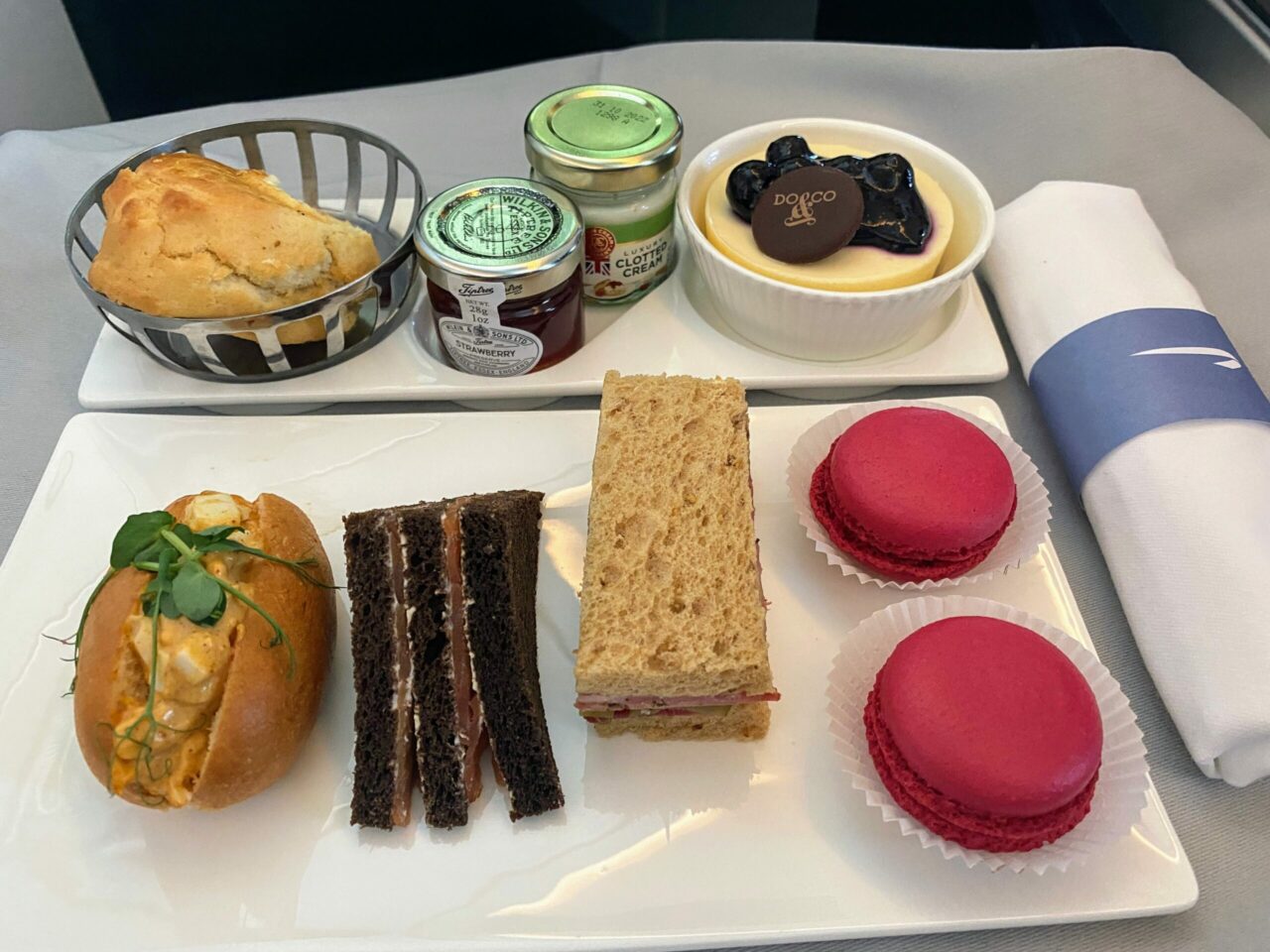 If you got peckish, there is still the Club Kitchen with a selection of snacks and drinks.
British Airways A350 Club Suites Entertainment and Wi-Fi

The Wifi has changed from the original issues with the A350 wi-fi where it was much more expensive and more limited. The wi-fi was the same as the rest of the long haul fleet with two options – one for messaging and one for streaming. I thought prices were reasonable and comparable with other airlines.
There were quite a few issues getting onto to the Wi-Fi but this was most likely because you had most of a cabin of journalists all trying to log on at the same time and it did work after a short while. I found it pretty quick and reliable.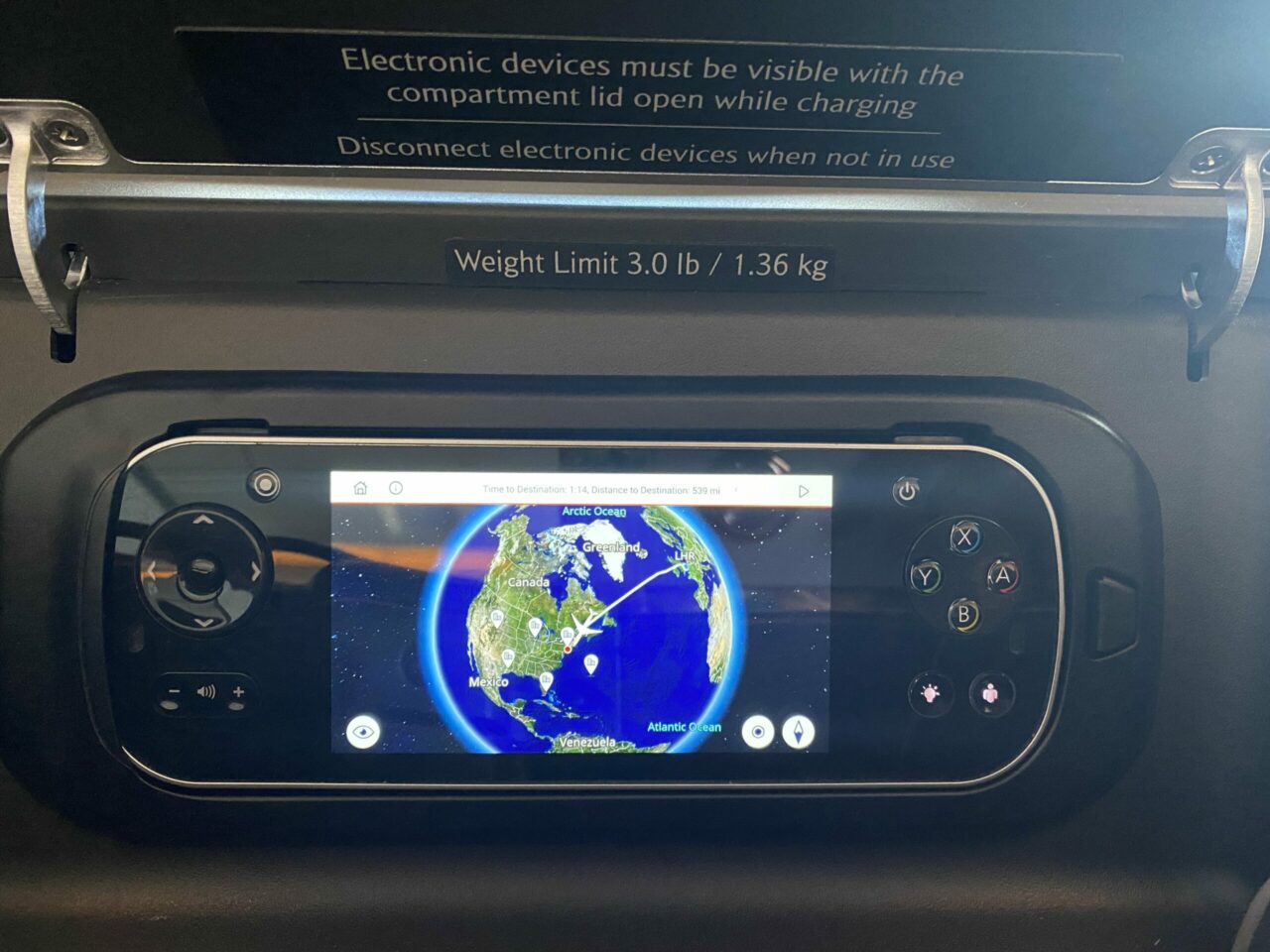 The TV screen is huge compared to the old ones and of course, has great definition. There was a good choice of fairly new films but I had work to do and there wasn't much that took my fancy. However, I did see they had a box set of the Prodigal son starring Martin Sheen and Lou Diamond Phillips so I started on that. I really enjoyed the first episode as long as you enjoy programs about serial killers!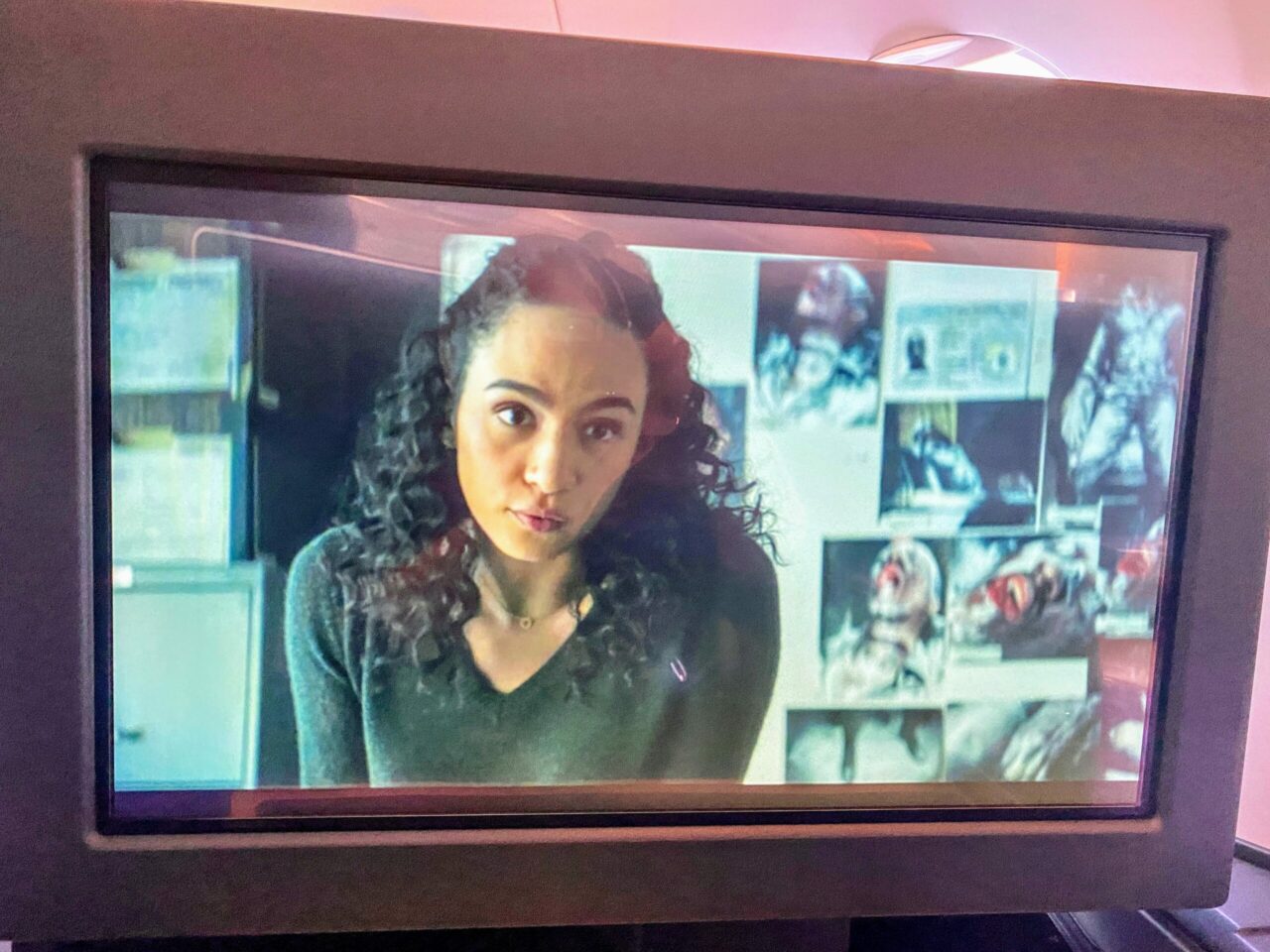 You can control the screen by touch or by using the touch remote. The remote had a large screen so you can use it to watch the map while you look at something different on the big screen. This is was easy to use although it did lag a little when scrolling through titles but was fine when controlling a program.
If you love the moving map you can change the angle of it in lots of ways including zooming out to look at the entire world.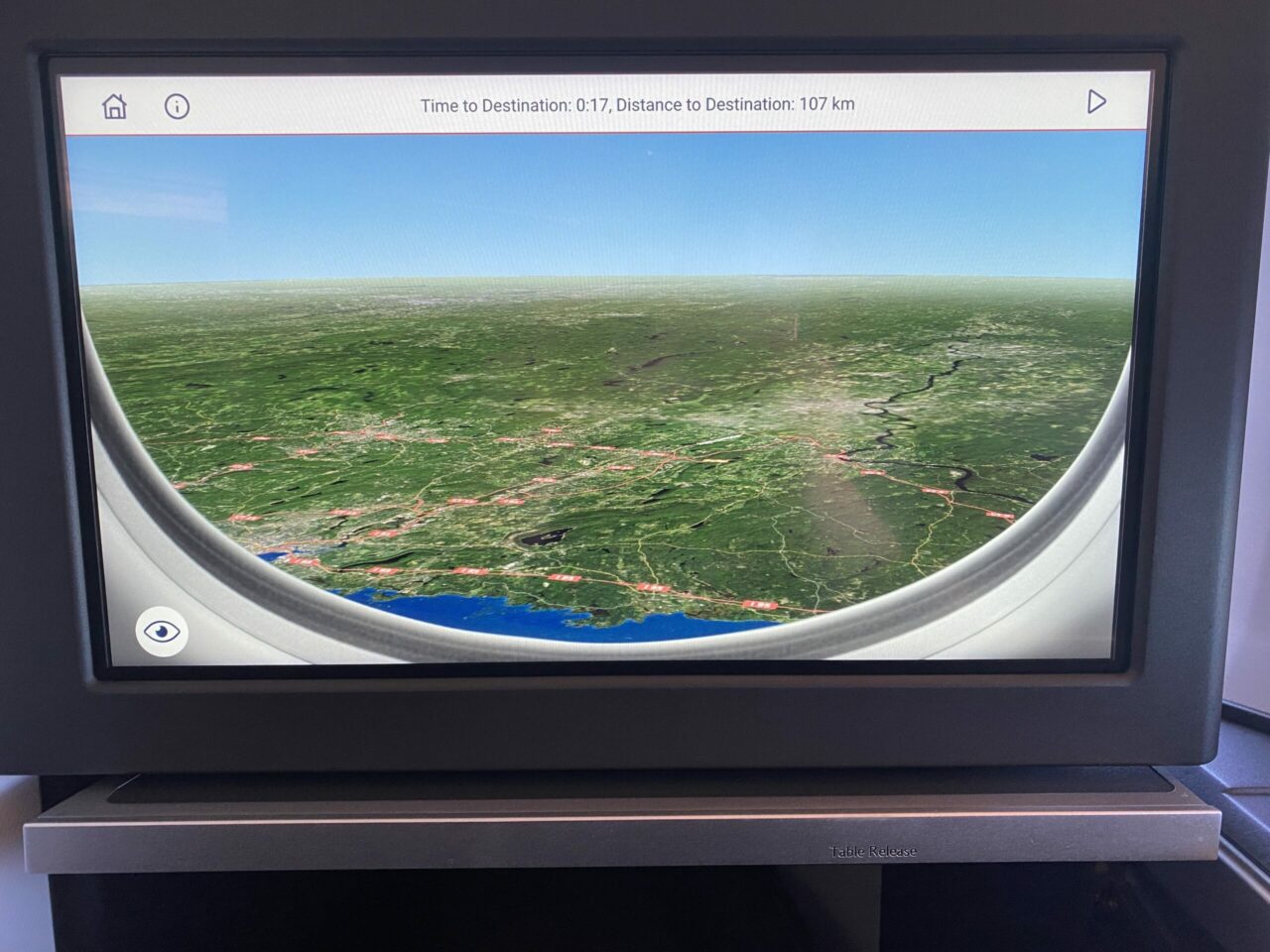 Arrival

I was at the front of Club so I was off quickly although it would have made more sense deplaning from the back of Club forwards since we were using door 2. I have Global Entry so I went to a kiosk and was processed biometrically in around 15 seconds. The officer asked if I had anything to declare and why I was in New York and that was it. No need to show tests or vaccine certificates. Others were also similarly quick even without Global Entry.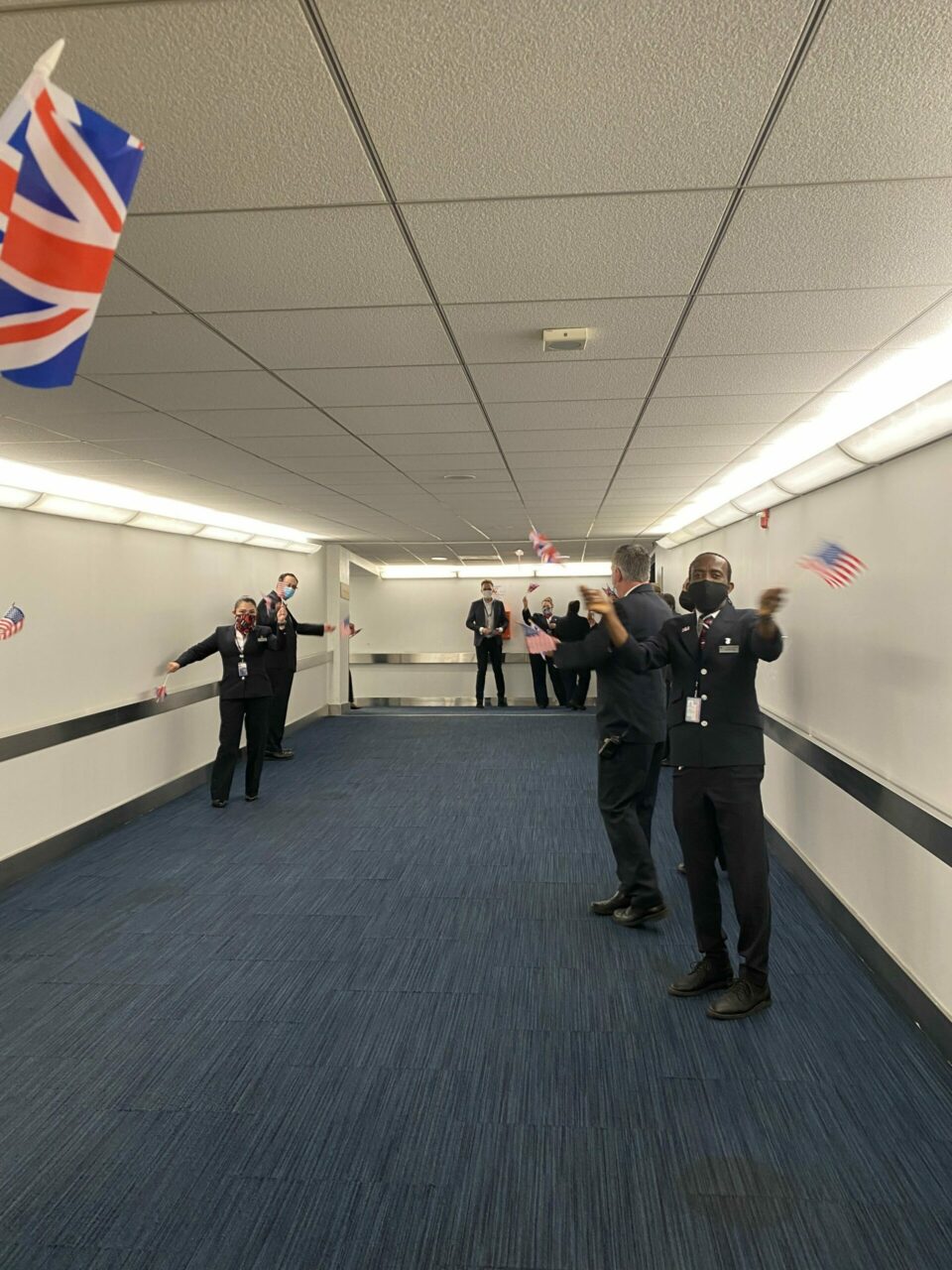 We received an amazing welcome with a large amount of BA staff all cheering and waving flags. We all felt pretty emotional especially when we saw all the family reunions with all the local TV stations interviewing them. It makes you realise how much travel brings people together.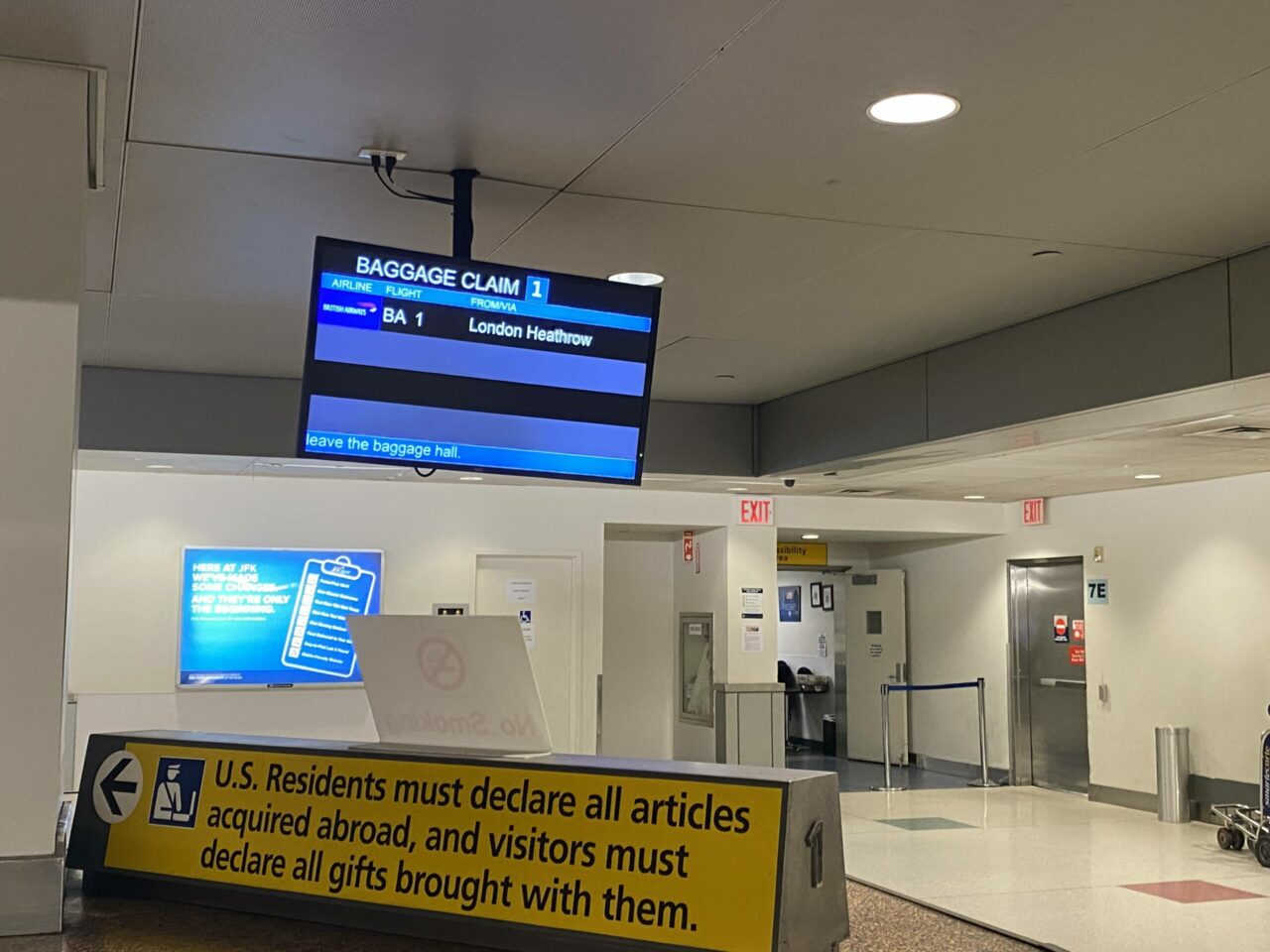 Baggage was a bit slow but I received a very warm welcome from the Concorde Team as it was my first visit to the US as a Gold Guest List member. When they paged me I thought they were going to tell me they had lost my bag!!
Conclusion for British Airways A350 Club Suites
This was a historic flight in several ways and the whole experience was great fun. This was the first time I had flown the Club Suites long haul and I have to say I am a fan. The difference between these and the old seats is huge. The suites are private, comfortable and well equipped for every modern-day need with plenty of storage. The only design flaw was putting the charging into the compartment which doesn't fit some plugs. The food was decent and the crew were fantastic – you can't really ask for more.
I will be staying at the Conrad MidTown which I think is the best Hilton property in New York. I will update my previous review later as last time it had only just opened and there were a few teething issues but I still loved it.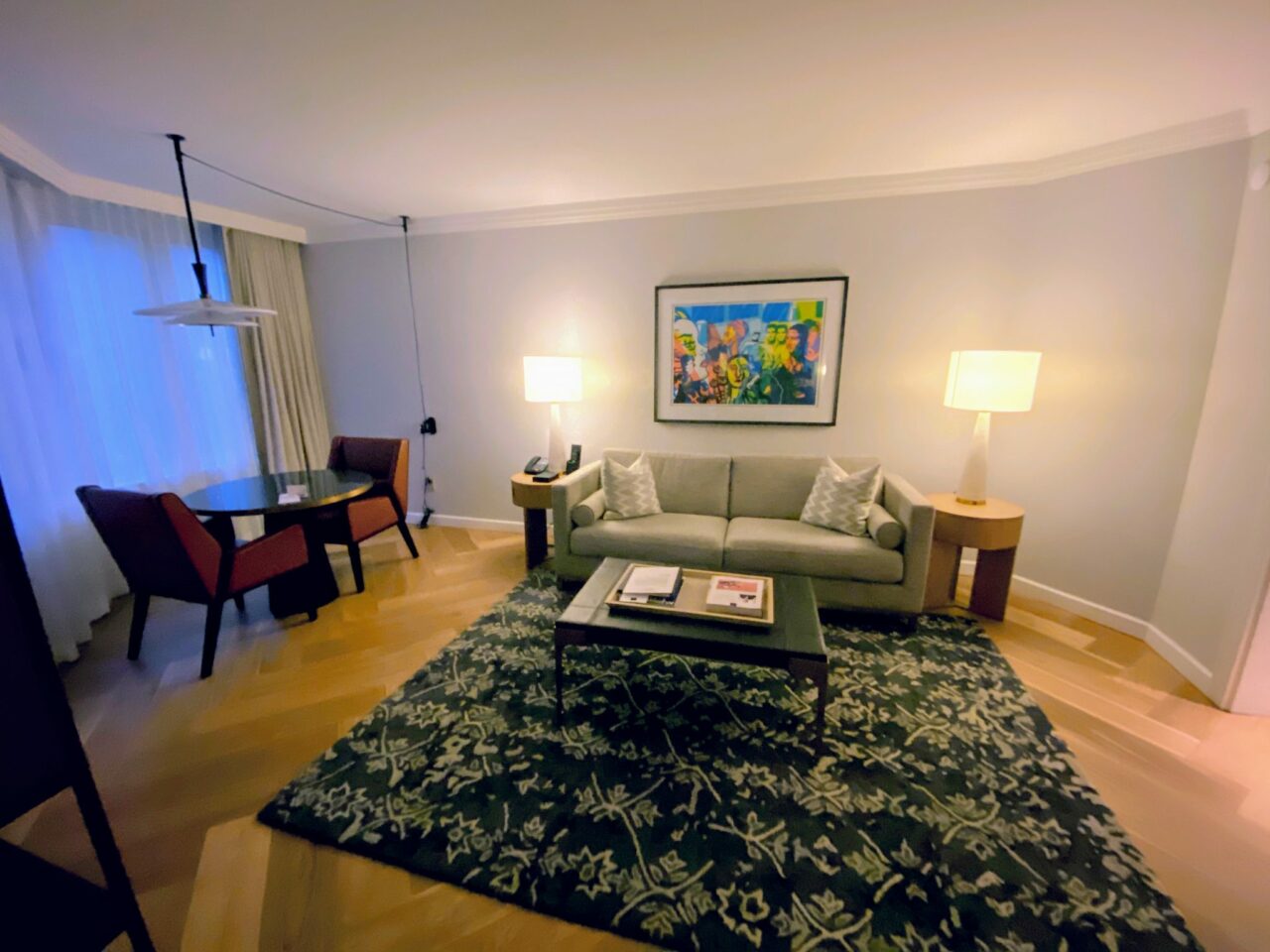 If you fancy visiting yourself, British Airways Holidays offers three nights at the 5* Conrad New York Midtown from £969pp, travelling on selected dates between 1 February – 14 February 2022 inclusive (subject to availability). Includes economy (World Traveller) return flights from London Heathrow Airport, 23kg luggage allowance and accommodation. Book by 30 November 2021. For reservations visit
www.britishairways.com/new-york.
Like our British Airways A350 Club Suites? You can read more flight reviews here.