As I mentioned earlier this week, if you are flying on a oneworld airline such a BA from Heathrow's Terminal 3, you have a choice of 3 lounges. The best of these in my opinion is the Cathay Pacific lounge which was refurbished late in 2016. I will publish the review of the business class lounge shortly.
Cathay Pacific First Class Lounge T3
The Cathay Pacific lounge has a small First Class section which you can access if flying First Class on a oneworld airline or have a BA Gold card/oneworld emerald and are travelling on a oneworld flight.
The lounge
The lounge has a subdued but sophisticated Far Eastern feel with lots of wood. It has lots of natural light with floor to ceiling windows throughout the First lounge. The lounge is on a corner adding to the natural light as well as giving excellent views of the airfield. The only slightly darker area was the restaurant. There was a large rack of magazines as well as a good choice of newspapers.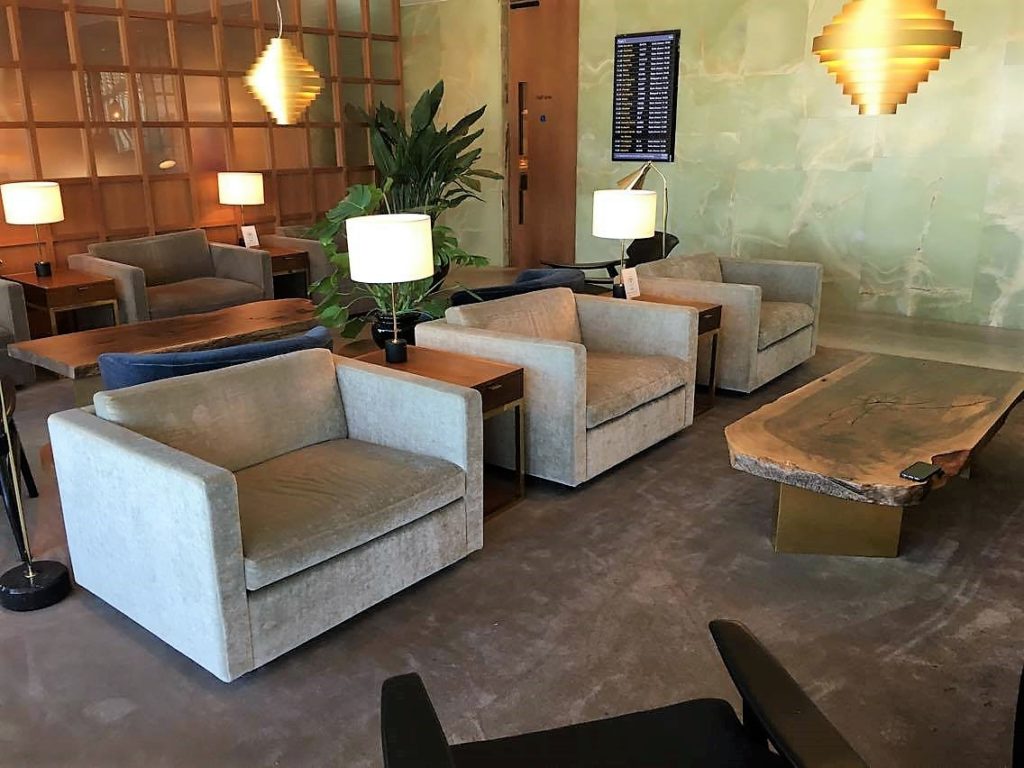 The toilets were shared with business class and were very stylish with the excellent Aesop toiletries. There are also shower suites in a similar style with the same Aesop toiletries. It was definitely a far cry from the often smelly BA T5 First toilets with their utilitarian feel. Cathay Pacific have a large number of items you can request for your shower, such as shaving kits, to help you refresh between flights.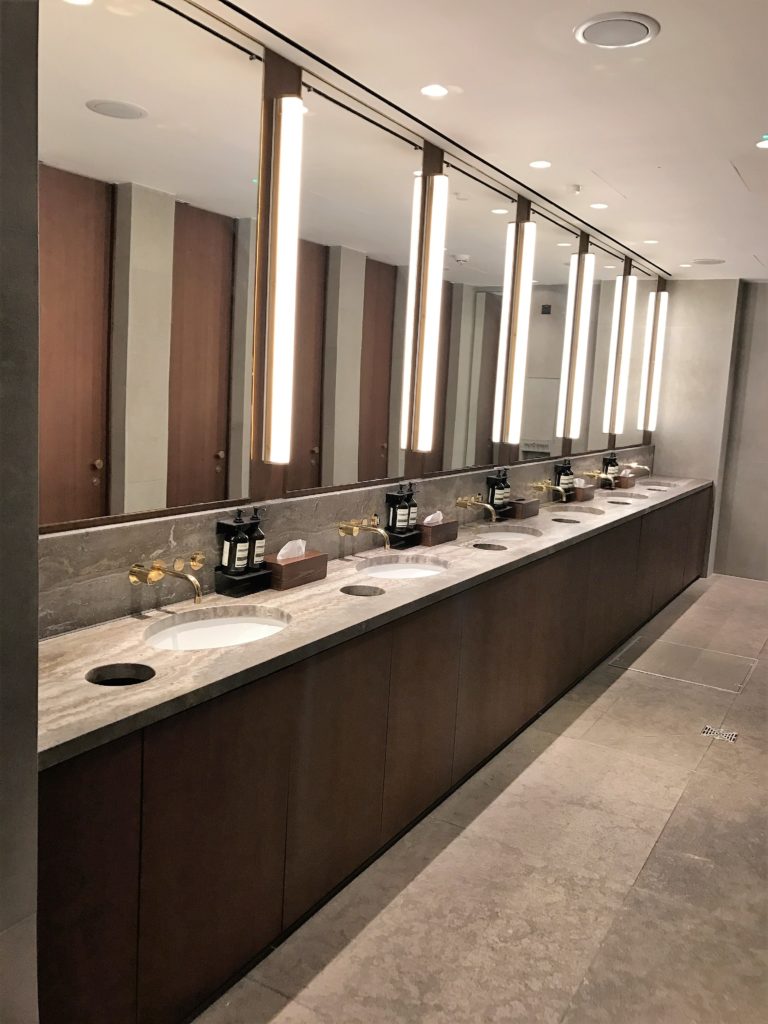 Food and drink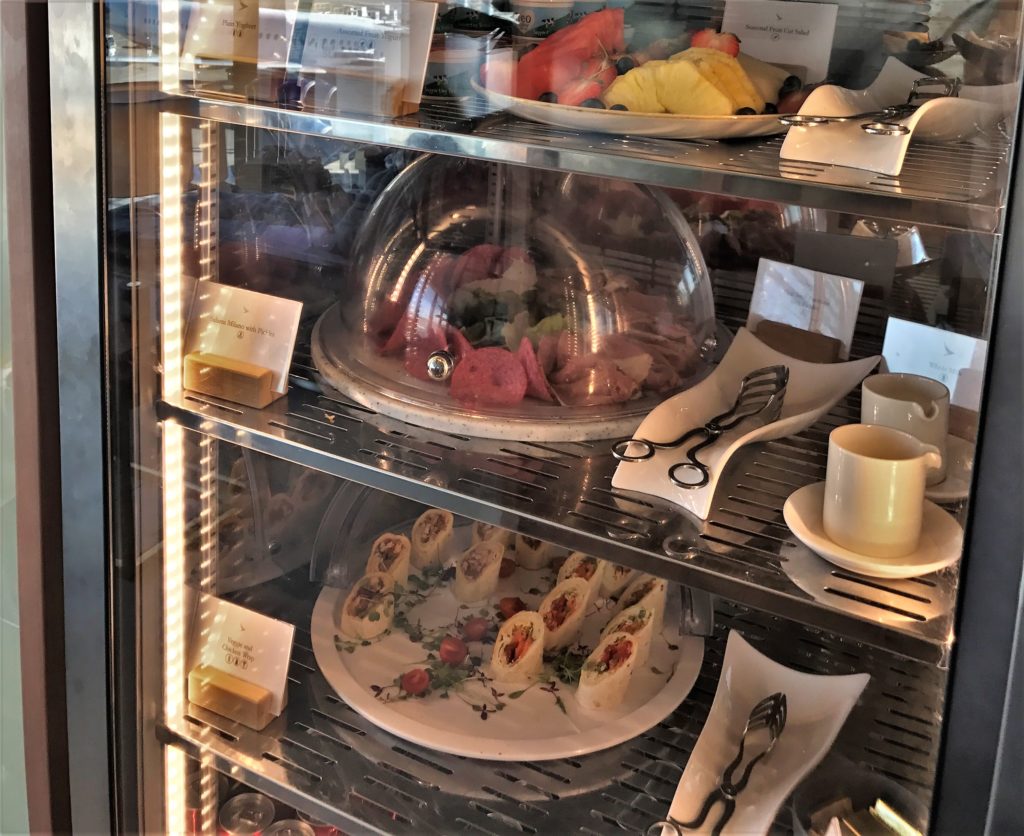 As you enter the lounge there is a small selection of self service food if you just wanted to grab something quickly rather than a sit down meal. It was morning when we were there so most items were breakfast. There was a good bean to cup coffee machine, a collection of jade teas and a few breakfast pastries plus a bowl of fruit. There was also a large fridge with yoghurts, bircher muesli, quinoa salad, wraps, continental meat platter, fruit salad. and a small selection of soft drinks.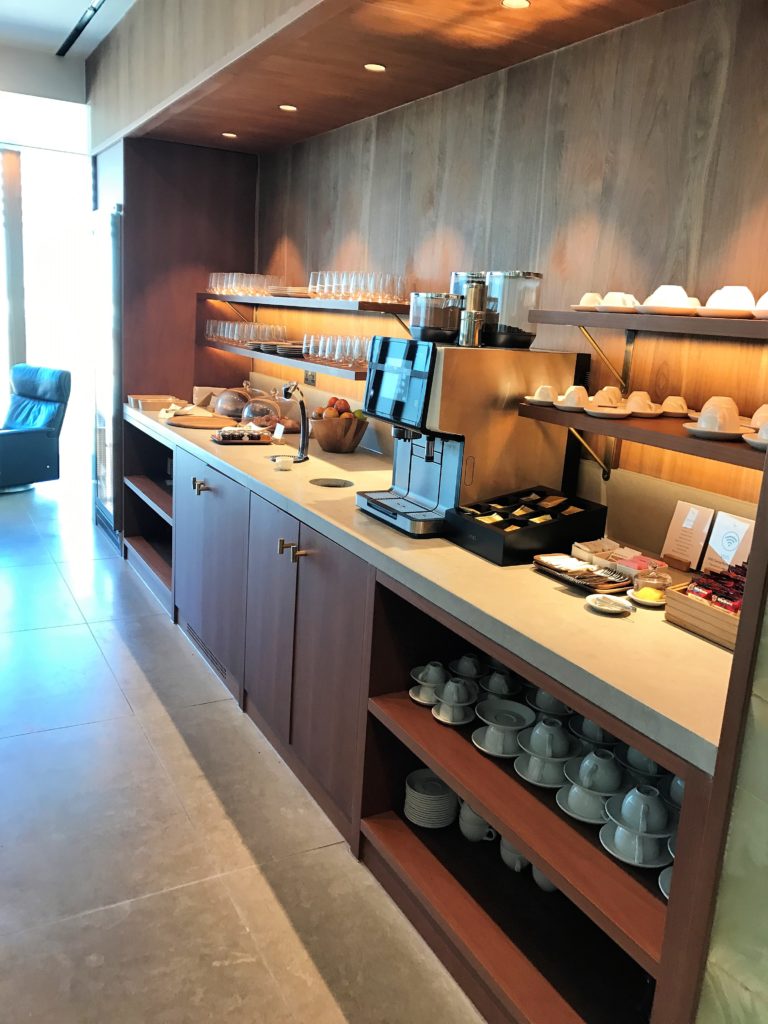 There was also a bar area if you just wanted to grab a drink, though this was also used by the staff serving in the restaurant. There were 2 champagnes, a Baron de Rothschild champagne which we tried and Moet et Chandon. Neither of us were overly keen on the Baron de Rothschild but it was perfectly acceptable and is a decent quality champagne retailing at about £45. There were 3 red wines, a McClaren Vale Australian Shiraz, a 2011 Graves and a Montepulciano D'Abruzzo. For the whites there were several choices including a Waipara Hills Sauvignon Blanc and a Bourgogne Chardonnay. I actually thought the BA lounge came out tops in T3 for the wine and champagne selection (review coming soon). Part of the problem with this lounge was that the white wine, juices and champagnes were a bit warm which didn't help.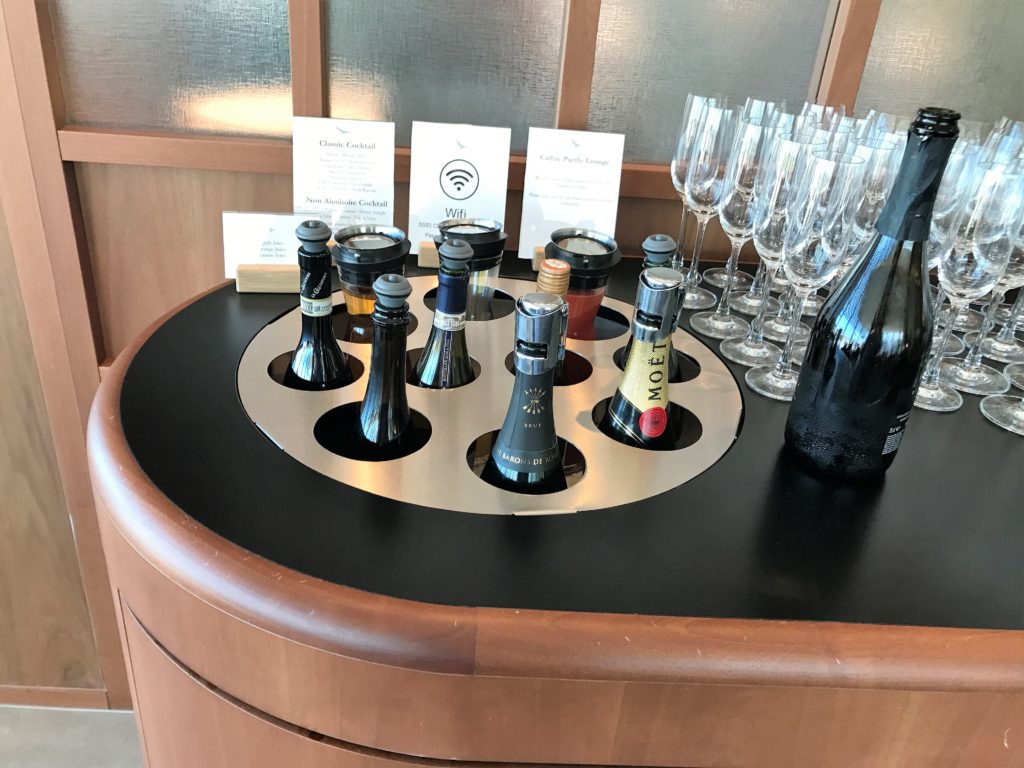 The spirits selection was not as good as the BA lounge, particularly if you were a vodka drinker with only Smirnoff red label and Tito's. Gin drinkers would fare better with Sipsmiths and Bombay Sapphire. Overall it was an ample selection, plenty of scope for the #loungecocktailchallenge ! However they do a wide range of cocktails that can be mixed for you including Mojito, Mai Tai and Pina Coladas. Beer drinkers will be happy with a selection of 8 different beers including Meantime.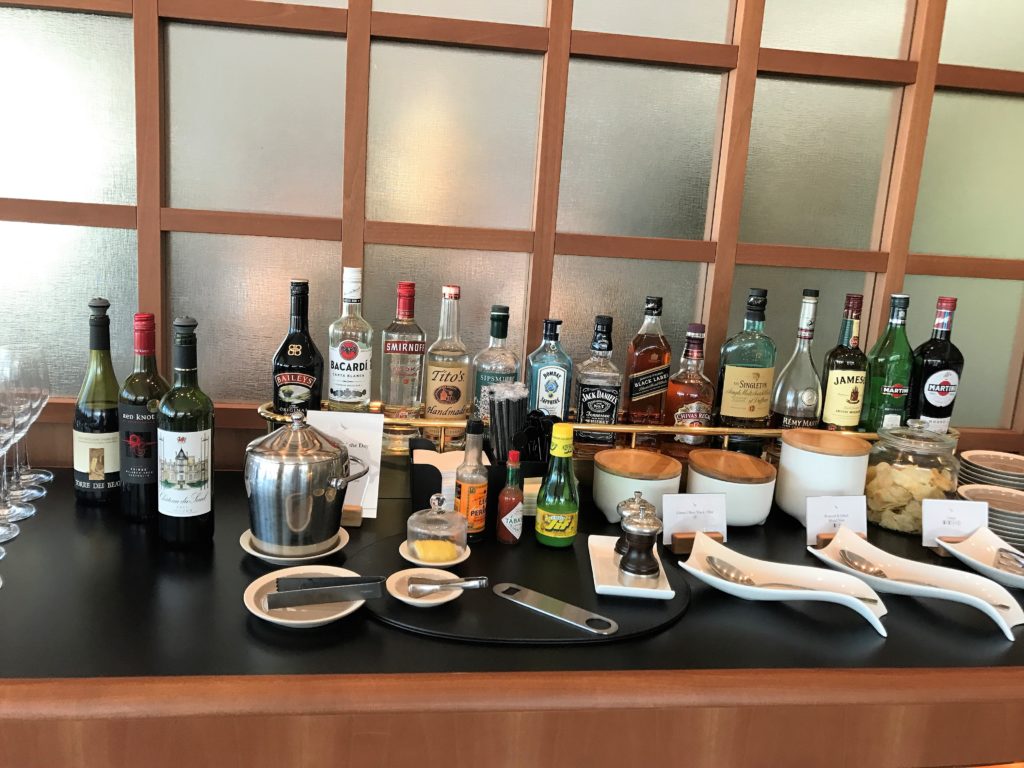 As we had plenty of time, we opted to go to the restaurant area for breakfast. There are only 8 tables, so it probably pays to do this first if there is a free table. This is definitely one of the best à la carte lounge breakfast menus I have seen with maybe the exception of the Virgin Clubhouse.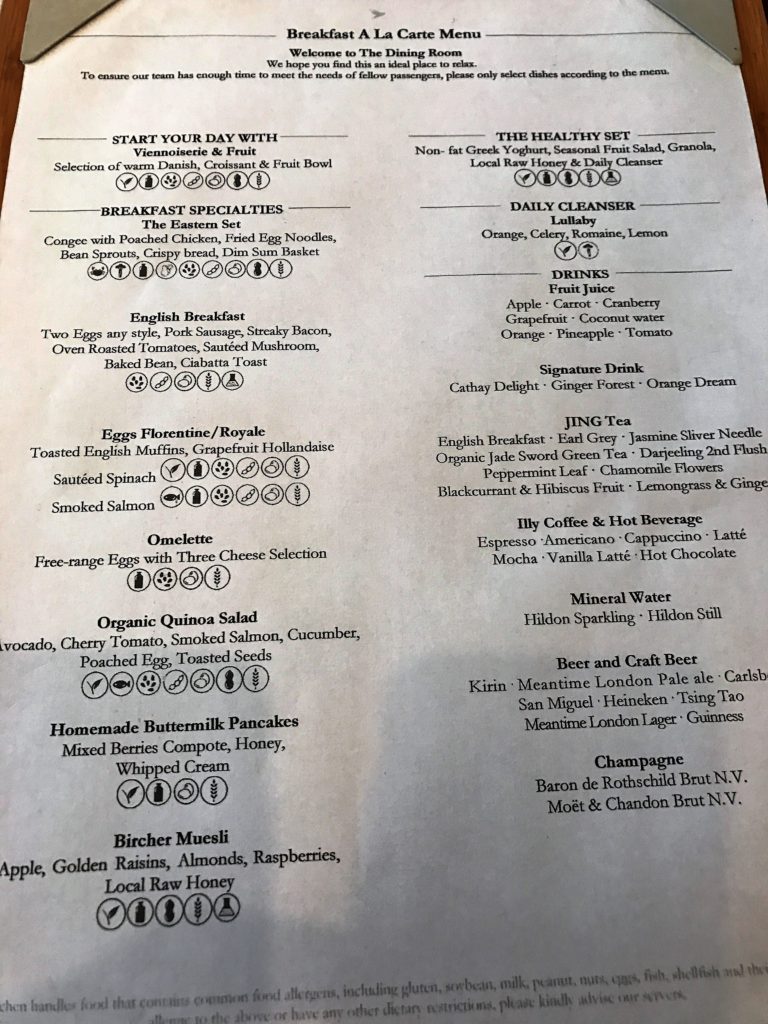 I decided to go for the eastern selection minus the congee. This included vegetarian noodles with peanuts, prawn har gow (transparent wrapped prawns) and bbq pork bao bun. I loved the mini dim sum baskets and all the food was totally delicious.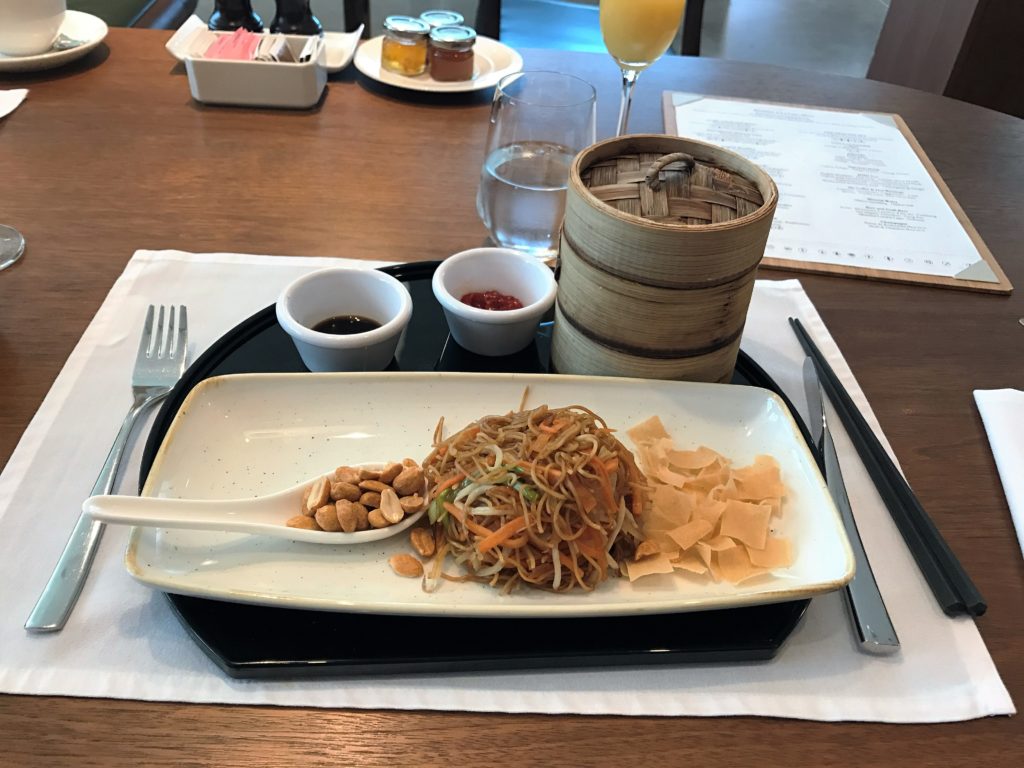 Roving reporter had an omelette with smoked salmon and a side dish of the dim sum. He also enjoyed his breakfast.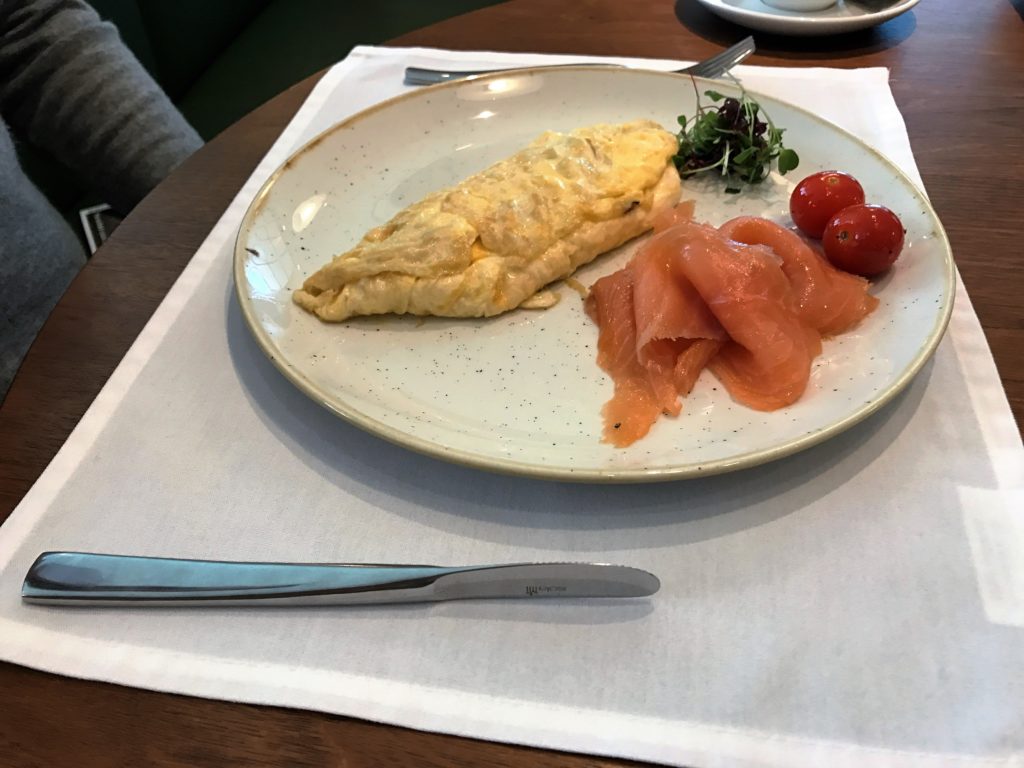 If you are travelling on BA from T3 and can access this lounge, I would recommend it as being far superior, both in ambience and food with the alcohol being a tie overall due to the better selection in BA's lounge but the cocktails in Cathay Pacific lounge.
You can read all my airport lounge reviews including the Cathay Pacific Business lounge at T3 in my lounge reviews section.