This was my second visit to Bali, having previously stayed in Seminyak. On this visit, Paul and I were doing a tier point run and had initially planned to fly from Jakarta to Dubai and back again. However, the cheaper Sri Lankan fare disappeared before we had a chance to book it, so we decided to head to Bali for some R&R instead.
(You can also have a fun game of 'Where's Paul?' with the photos, as seemed to keep popping up in them!)
Location
The Conrad Bali hotel is only a short drive from Bali airport at around 15-20 minutes. It is in the Nusa Dua area of Kuta and mainly surrounded by other premium hotels. If you want to get out and about you will probably want to use Grab or taxis, unlike Seminyak where there are lots of nice restaurants within walking distance.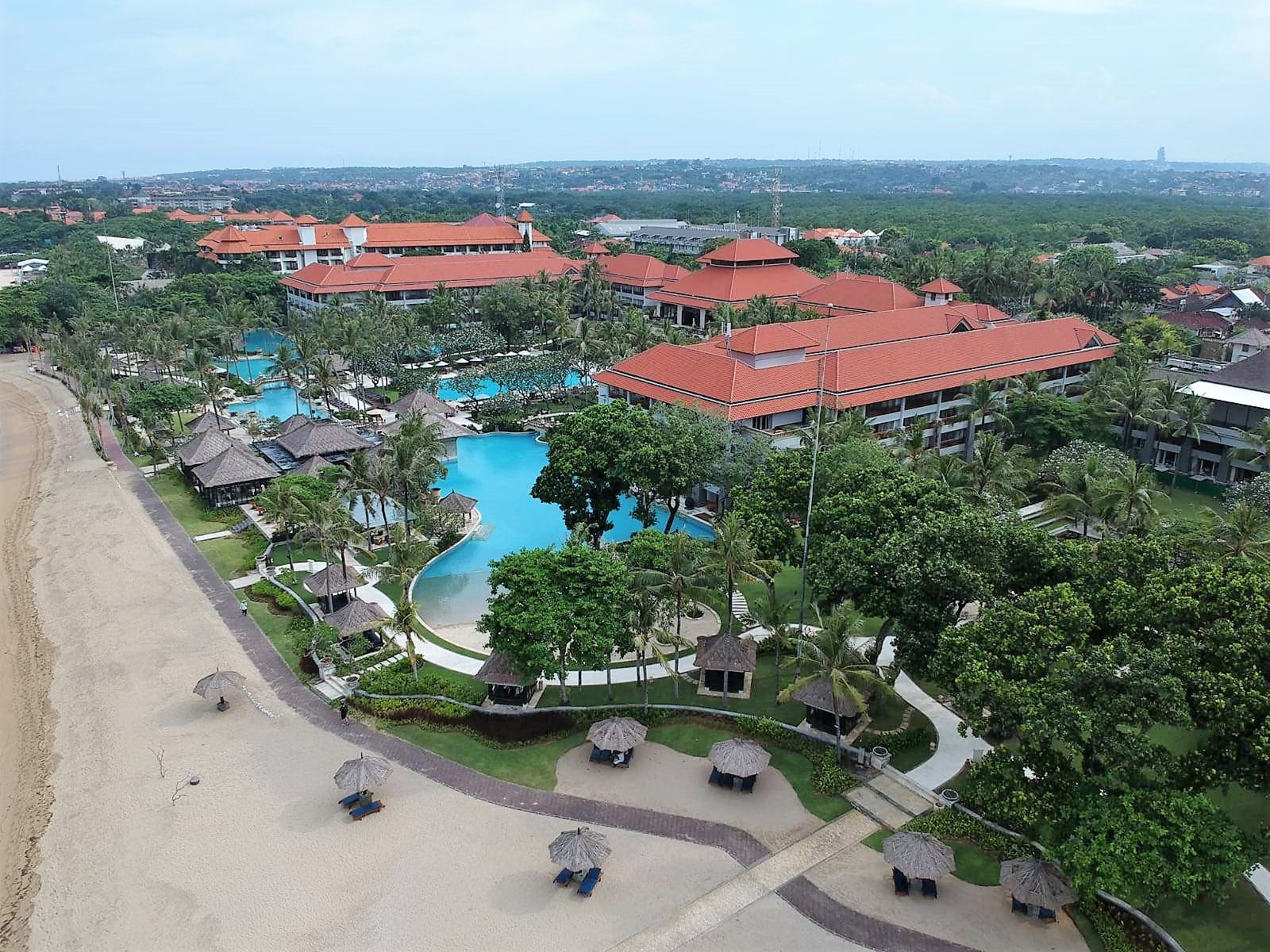 Check-in

Both Paul and I are Diamond members with a similar number of stays but for some reason, he got an upgrade to a suite, and I didn't even though I had booked a higher category of room to start with. I did enquire with reception as to why this was the case, but they said it was because he had paid more for his room (he hadn't). The hotel was full with a big conference, which was the reason for the lack of upgrades available.
Check-in was friendly, and I was offered a drink and a cold towel. They explained where everything was on a map and the benefits available to Diamond members.
I was then escorted to my room, which to be honest you need as this is a massive resort and it is pretty hard to find things.
The room
I had a Deluxe ocean front king room which had been refurbished very recently. The location was good if you wanted to be by the main pool as it was only a few steps from the pools and beach. It was also very close to the Suku restaurant where breakfast is served.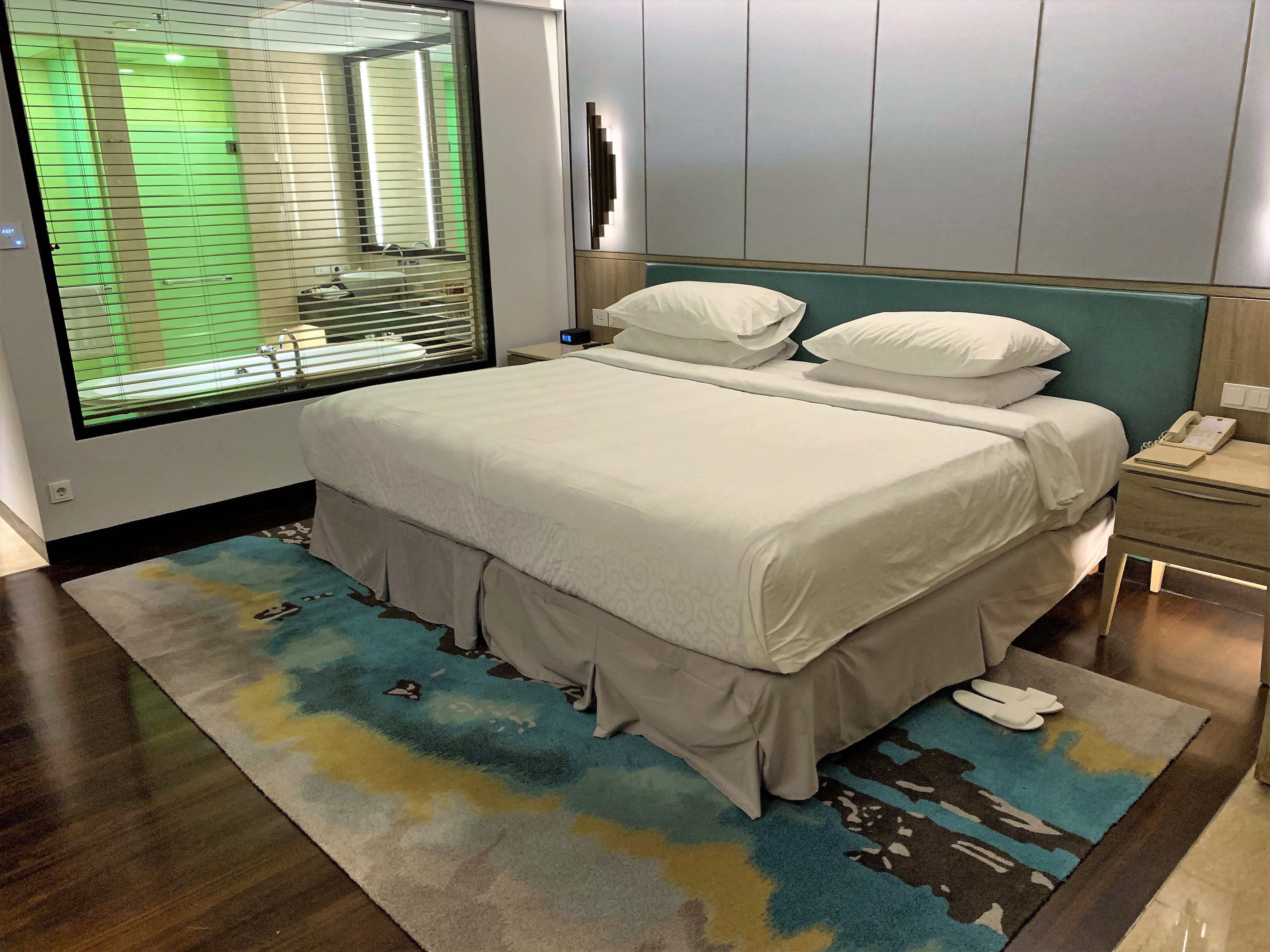 The room had an international style more than being Balinese and reflected the colours of the ocean and pool in turquoise. It felt light and airy, although the pale colours meant that the furniture already looked quite stained. It also felt a little soulless. In the room were some welcome fruit and a note welcoming me back to the Conrad Bali. This was odd as I have never been before!!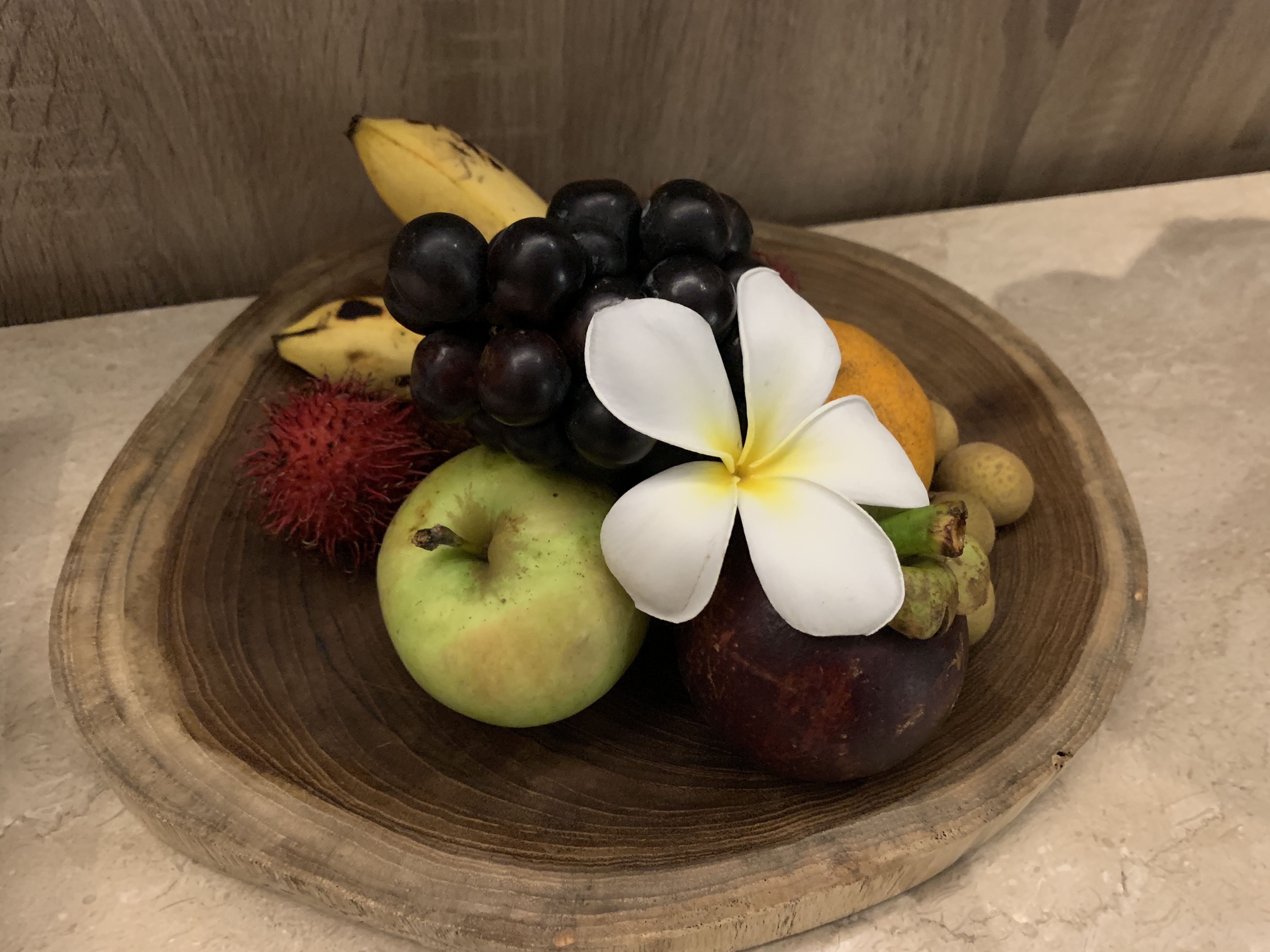 The room had plenty of sitting areas with a sofa as well as a table and chairs. There was a kettle for coffee and tea plus bottled water was provided. The Wi-Fi worked fine in the room but was a bit patchy around the pool. All the usual 5-star amenities were provided such as dressing gown, slippers, iron, ironing board, safe and mini bar. Instead of the usual Conrad teddy, there was a Conrad monkey dressed in a traditional Balinese outfit which was a nice touch.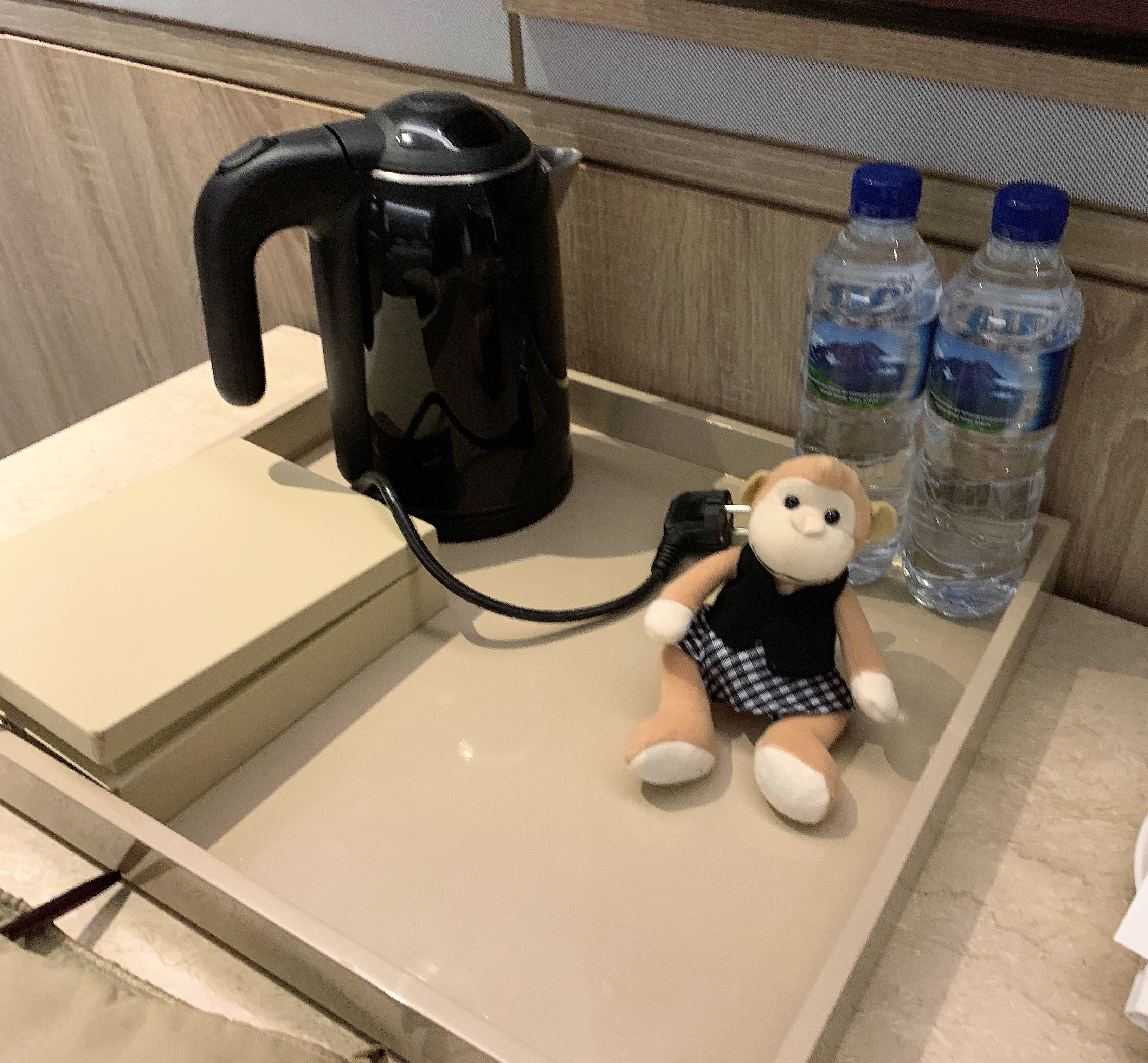 The view was beautiful as I overlooked one of the lagoon style pools with the sea in the distance.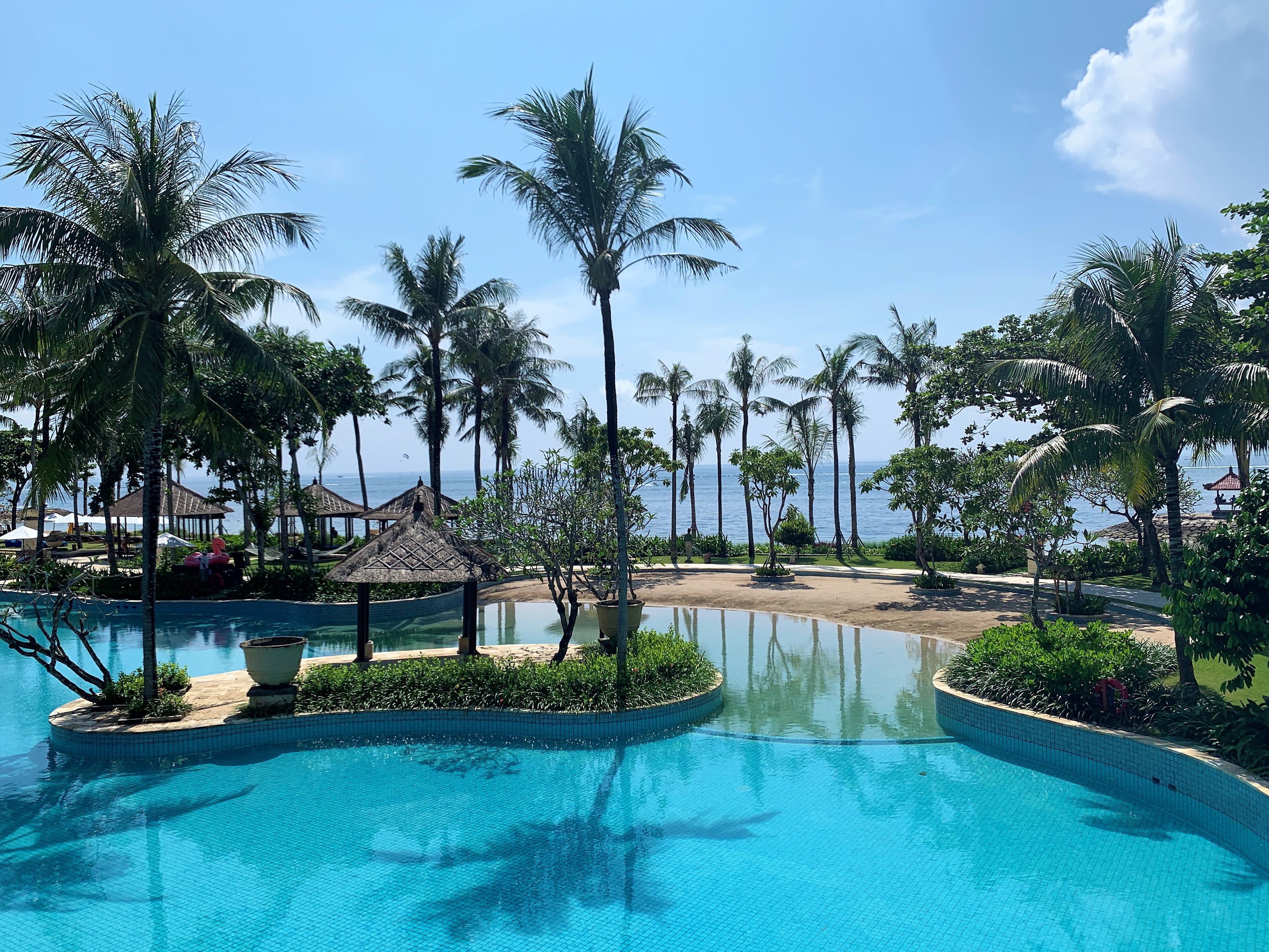 I particularly liked the bathroom as there was a lovely big bath, and you could have the blind into the room open or closed. There was only one sink and a very large vanity area, so storage wasn't an issue.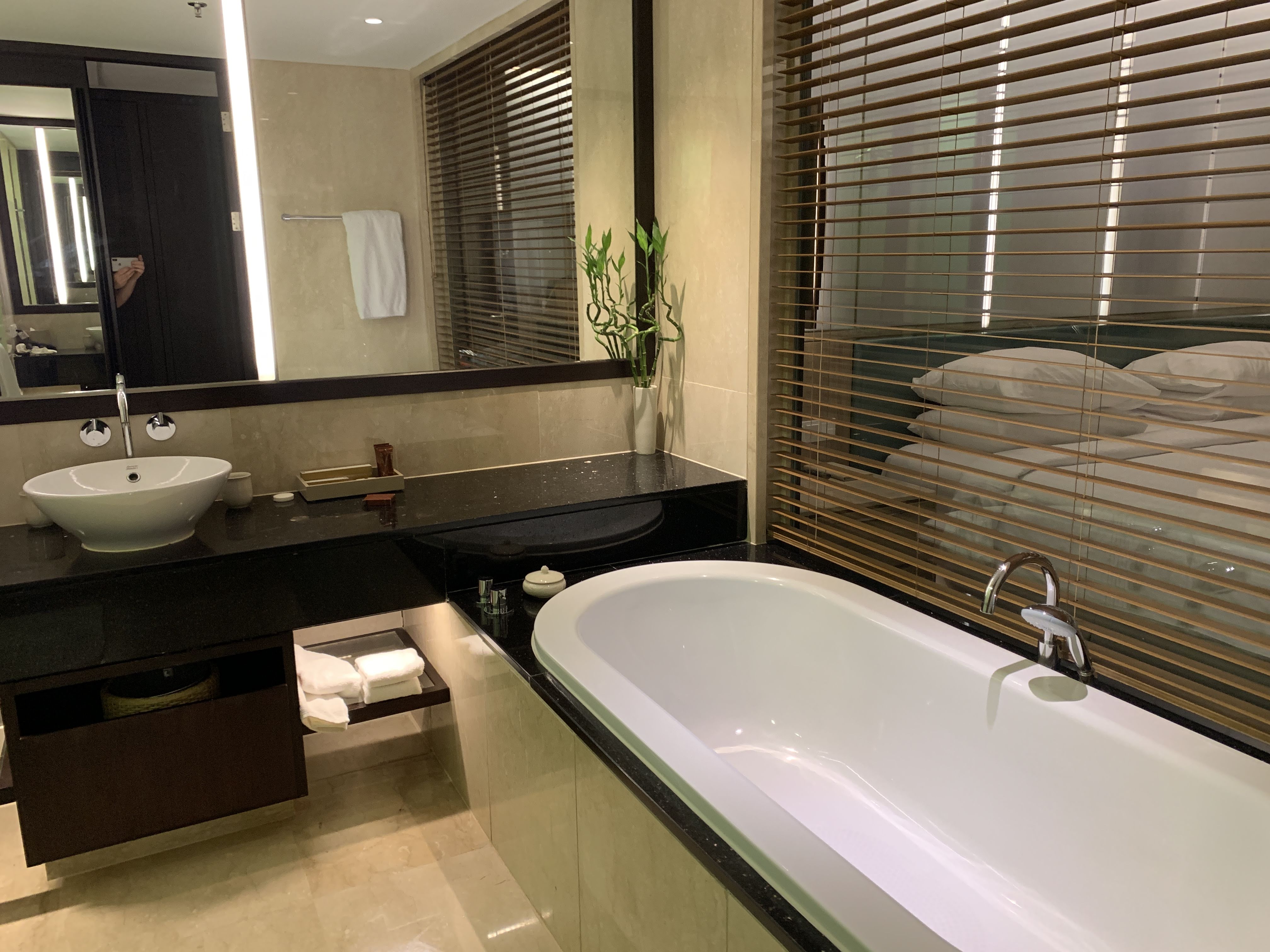 As per most Asian Conrads, the toiletries were Shanghai Tang Mandarin which I like and come in a decent size tube. The shower was powerful but seemed a little old fashioned compared to the more modern rain showers.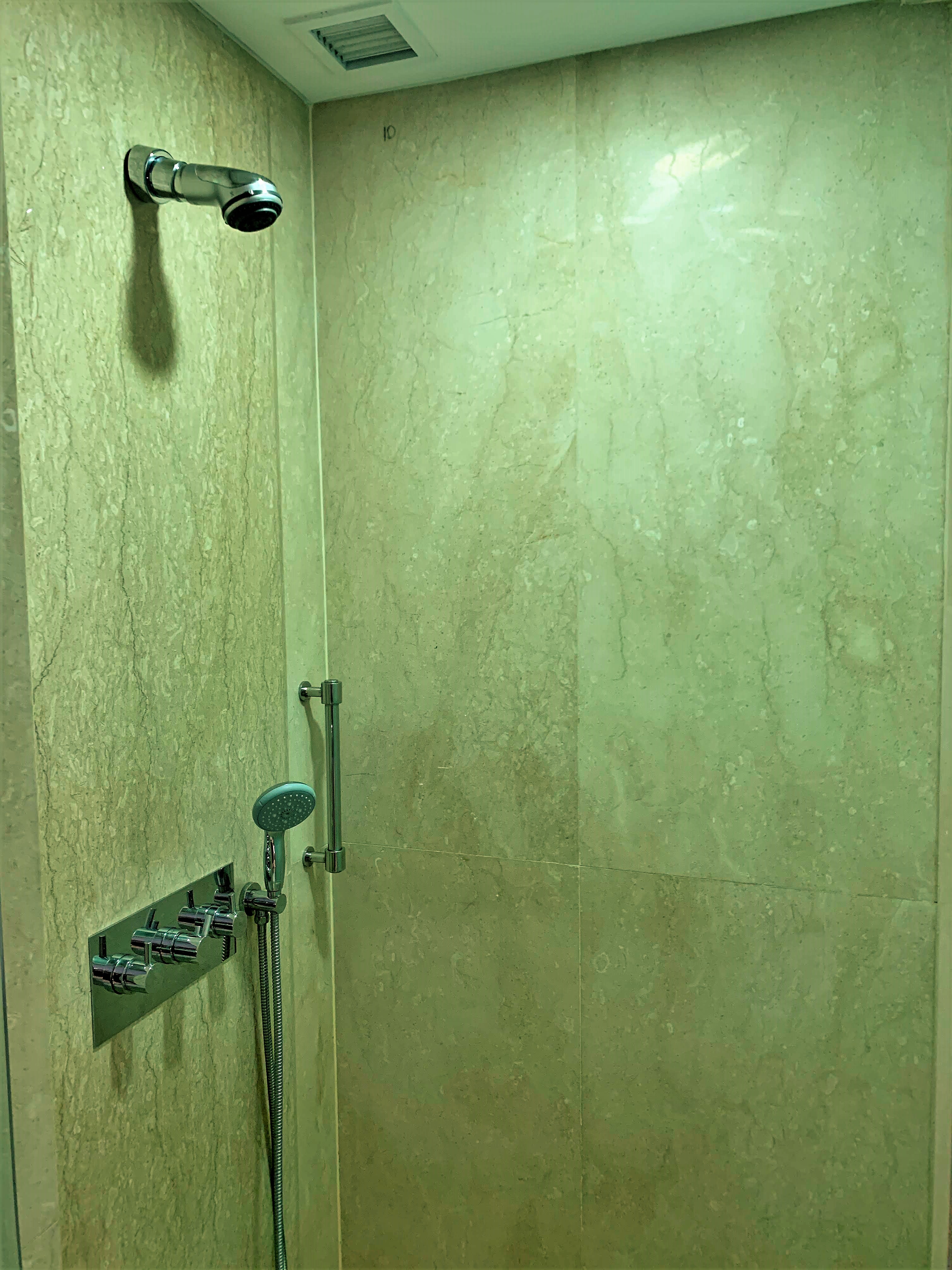 The room was a little noisy due to the open corridors as there was quite a lot of noise from outside and through the connecting door. I was surprised by this at a Conrad. It probably didn't help that there was a conference on which meant there was perhaps more noise than usual. However, I did find the bed very comfortable, and the air con worked well.
You can also get similar rooms that have direct access to the lagoon pools.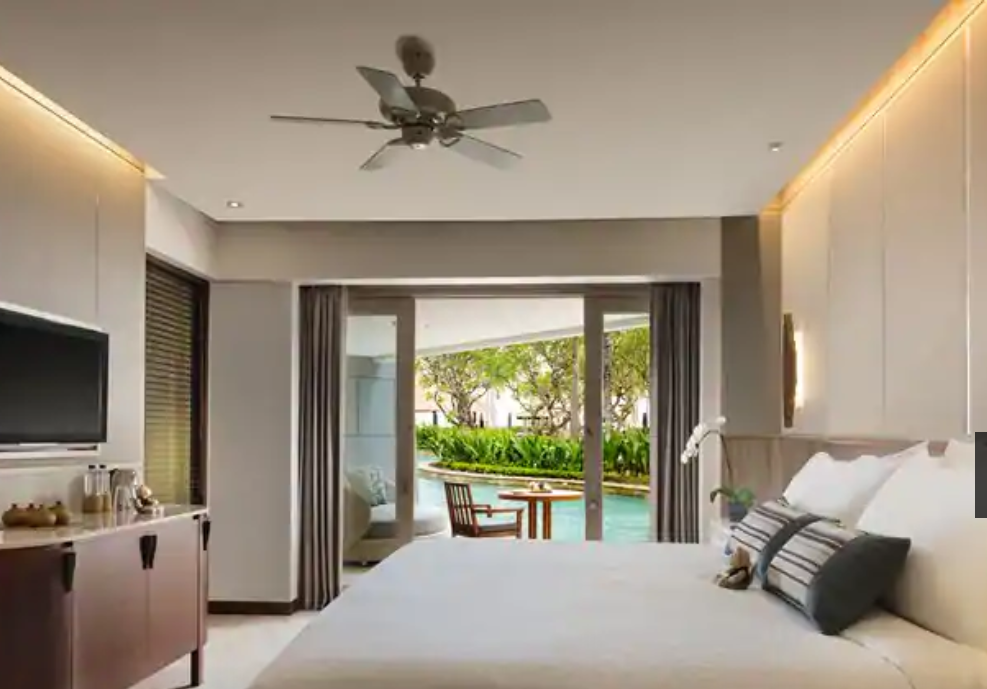 The Conrad suite
Paul had a Conrad twin suite. Other types such as lagoon view are also available. The Conrad Suite had a separate dining area with private bar, dressing room with walk-in wardrobe and two queen-sized beds.
The suites have a separate pool for their private use, which is open 24 hours a day.
The suites pool was also by the Rin Japanese restaurant above which the Suites lounge is located abive and where the evening drinks and canapés are served.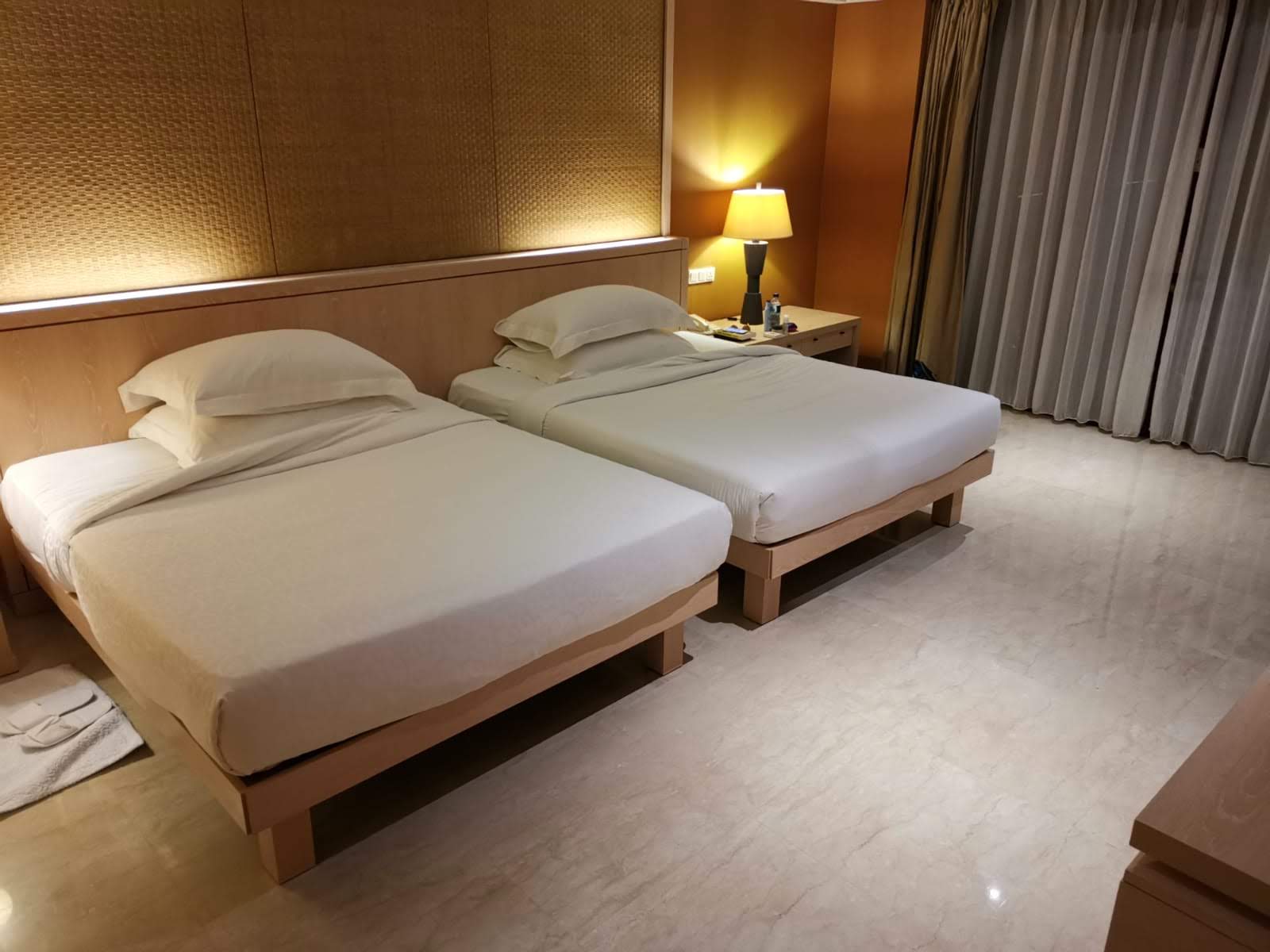 Conrad Suites and Diamond benefits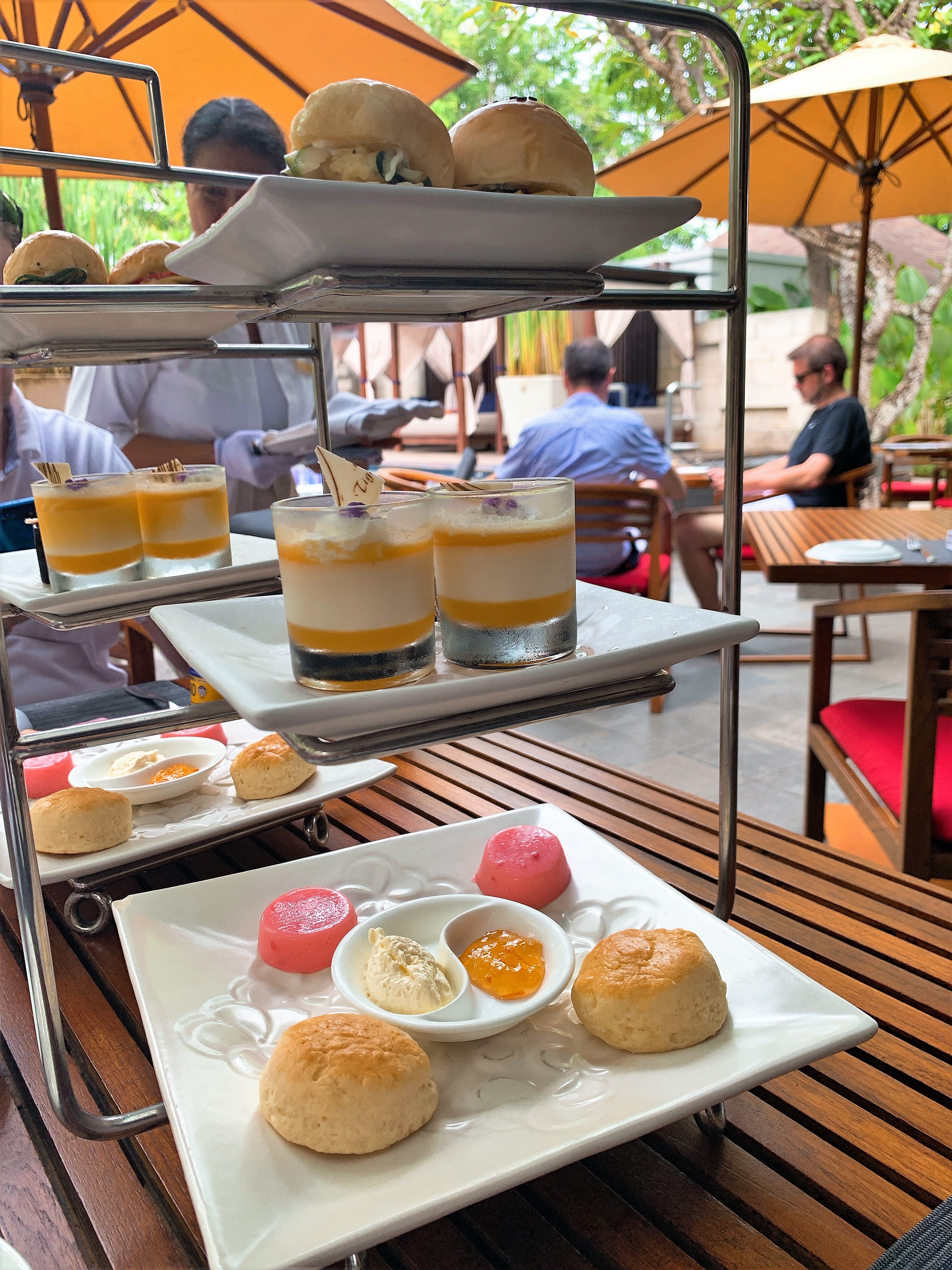 The benefits were very good for Diamond members or if you had a suite. In the afternoon, traditional afternoon tea is served at Rin or the main lobby lounge. This was quite a feast with mini sandwiches/wraps, scones, cakes and pastries. You could ask for more of anything if you wanted. As well as tea and coffee you could order soft drinks with some lovely fresh juices and smoothies (banana smoothie was a favourite).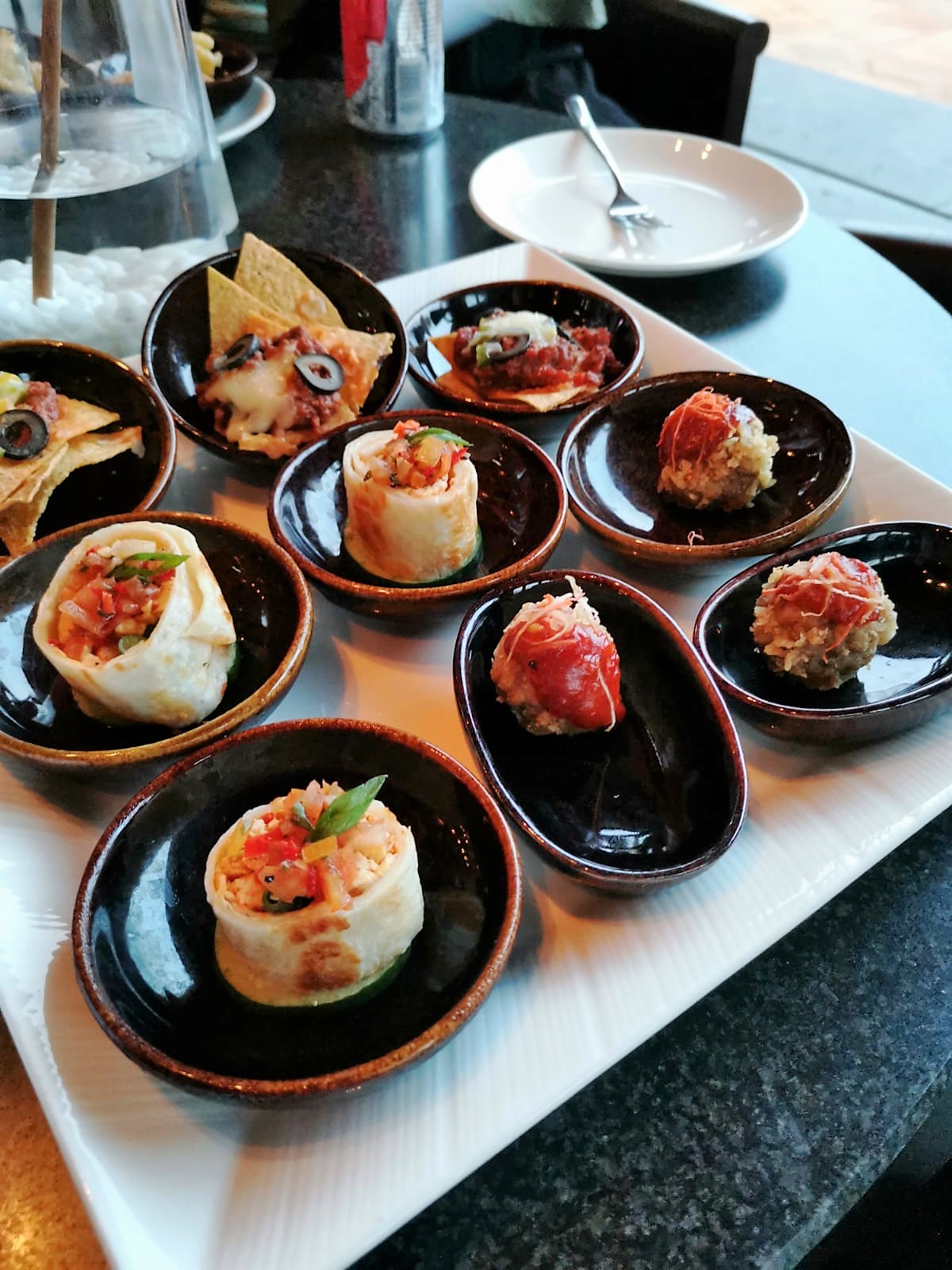 The evening cocktails and canapes were also very impressive. You could have these in the Suites lounge (recommended as air conditioned but a hike from my room) or the East Lobby lounge. There was a great choice of drinks, including cocktails, beers, wine and spirits. Alongside this, a selection of canapes was brought to your table. These were generally very good although some were definitely on the spicy side. You could ask for more, but it was hit and miss if they had any of that particular one left.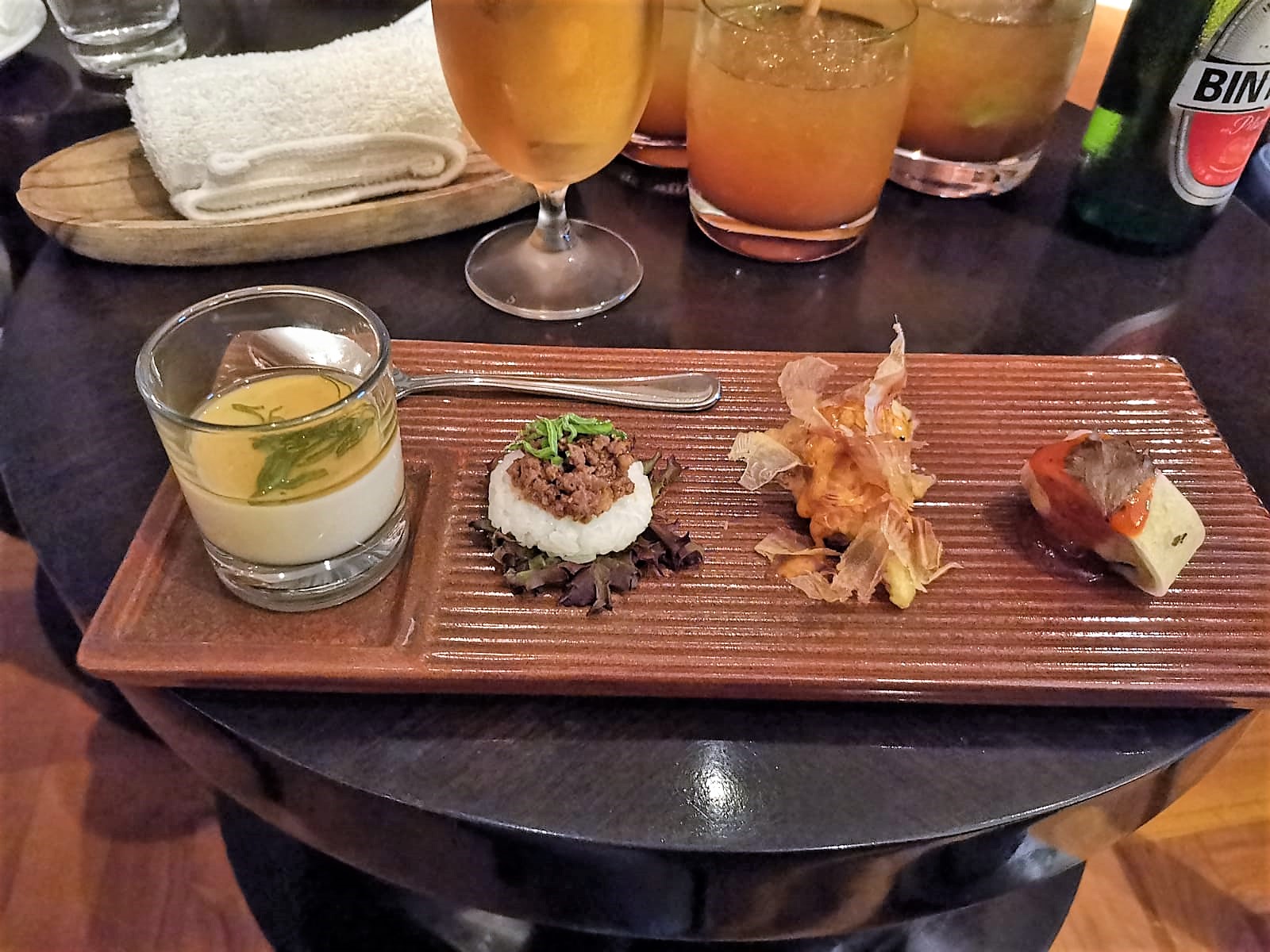 You could also get free six pieces of laundry per day in a suite.
Food and drink
Breakfast
Breakfast was quite a feast and served at Suku, the all-day dining restaurant. You could sit inside and enjoy the aircon (which we did as it was seriously hot when we were there) or enjoy the heat outside on the patio.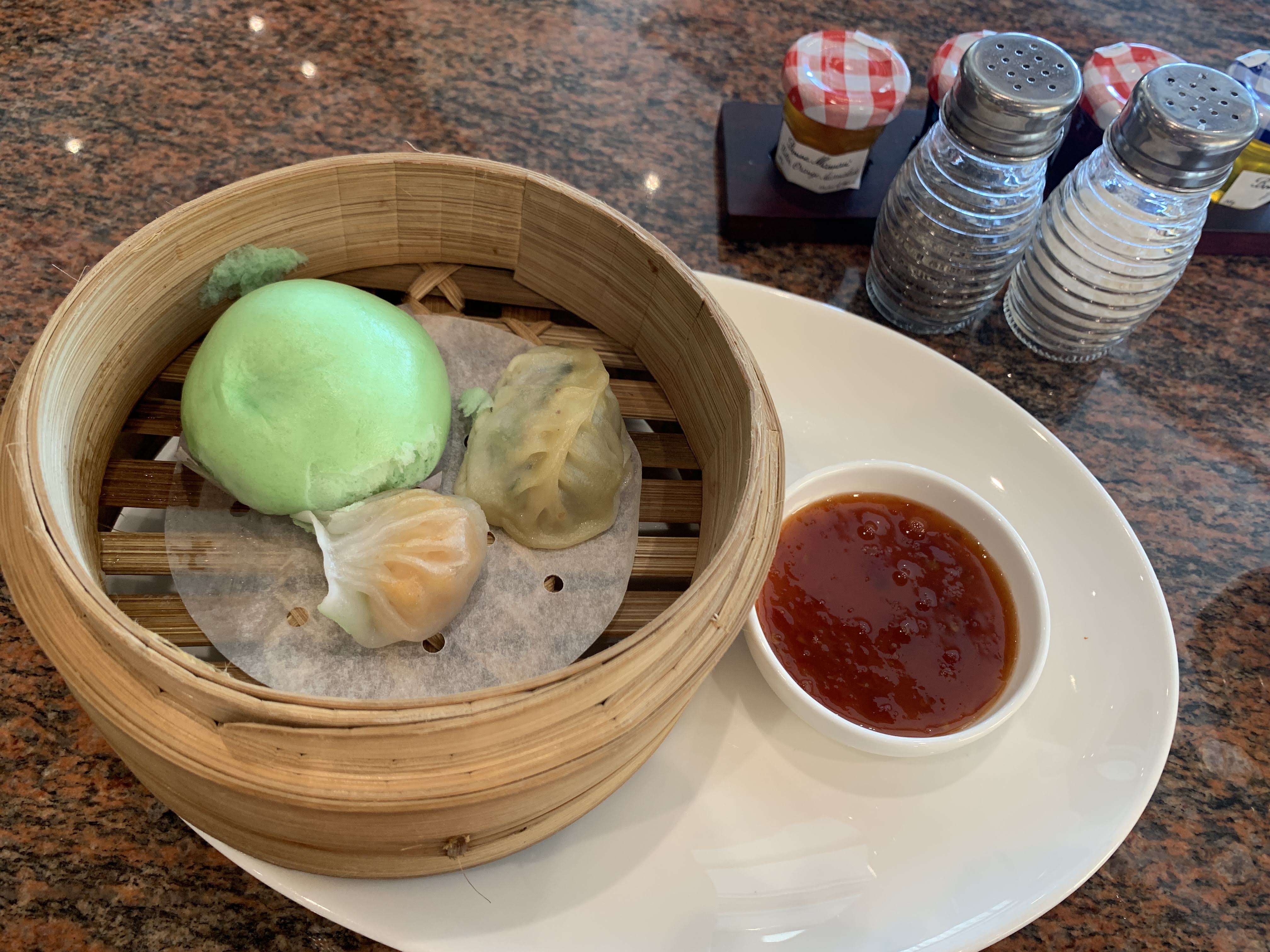 There was an extensive buffet as well as an a la carte menu. I tried the dim sum, and although the portion was quite small, they were all delicious. The coffee was particularly good here and came with a lovely design on top of my flat white.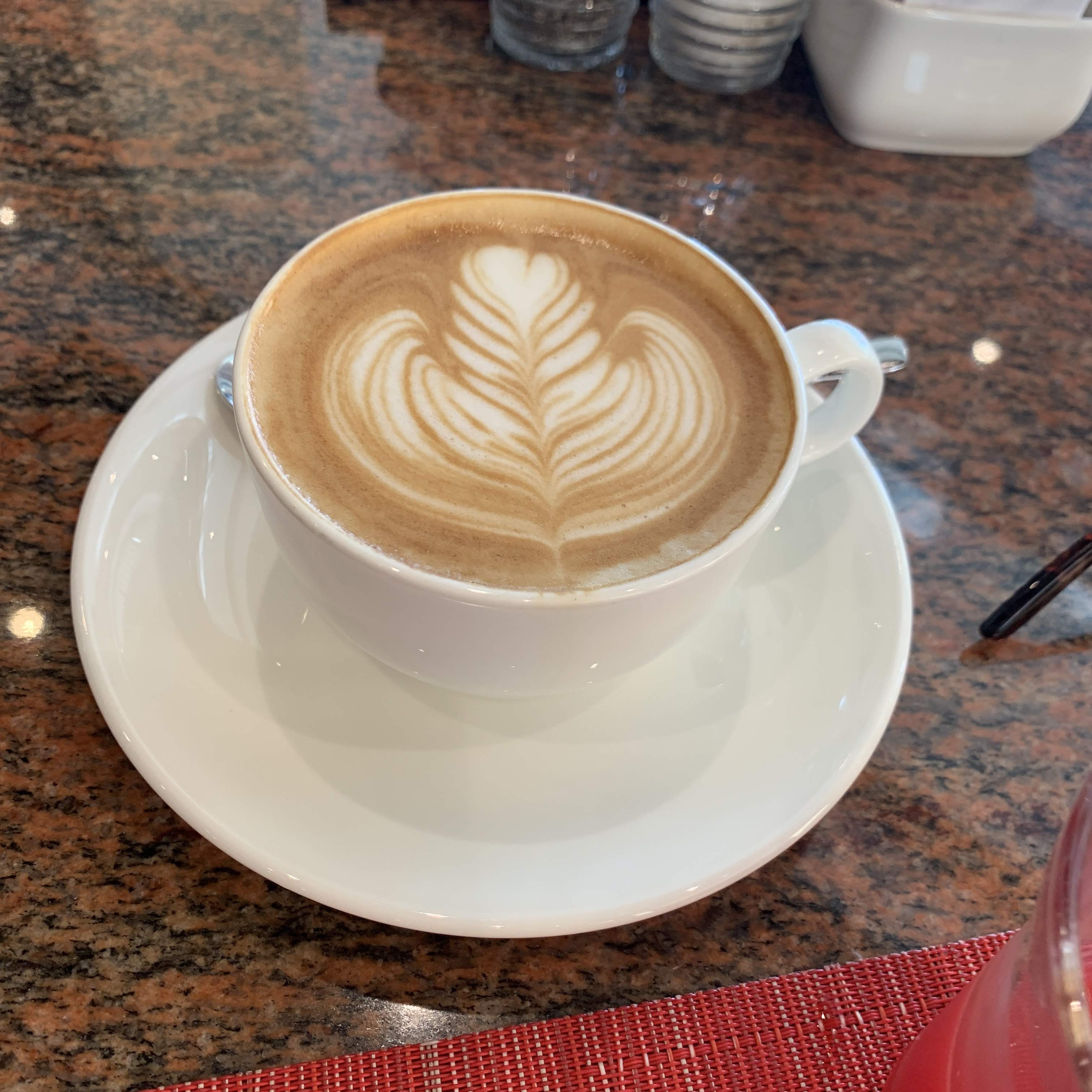 The buffet had pretty much everything you could want from Asian specialities to traditional English breakfast. There were several live stations offering pancakes to order, omelettes and eggs or local noodles.
Here are a few photos of the vast selection for breakfast:
Other restaurants
There was also the Rin Japanese restaurant which was quite formal and serves modern Japanese food. We didn't eat at any of the restaurants although we did have some snacks in the bar which were good. The service everywhere in the hotel was generally excellent. All the staff were charming and efficient. There was a poolside restaurant as well serving casual food.
If you wanted something romantic Eight Degrees south was by the beach and served seafood and steak.
Bars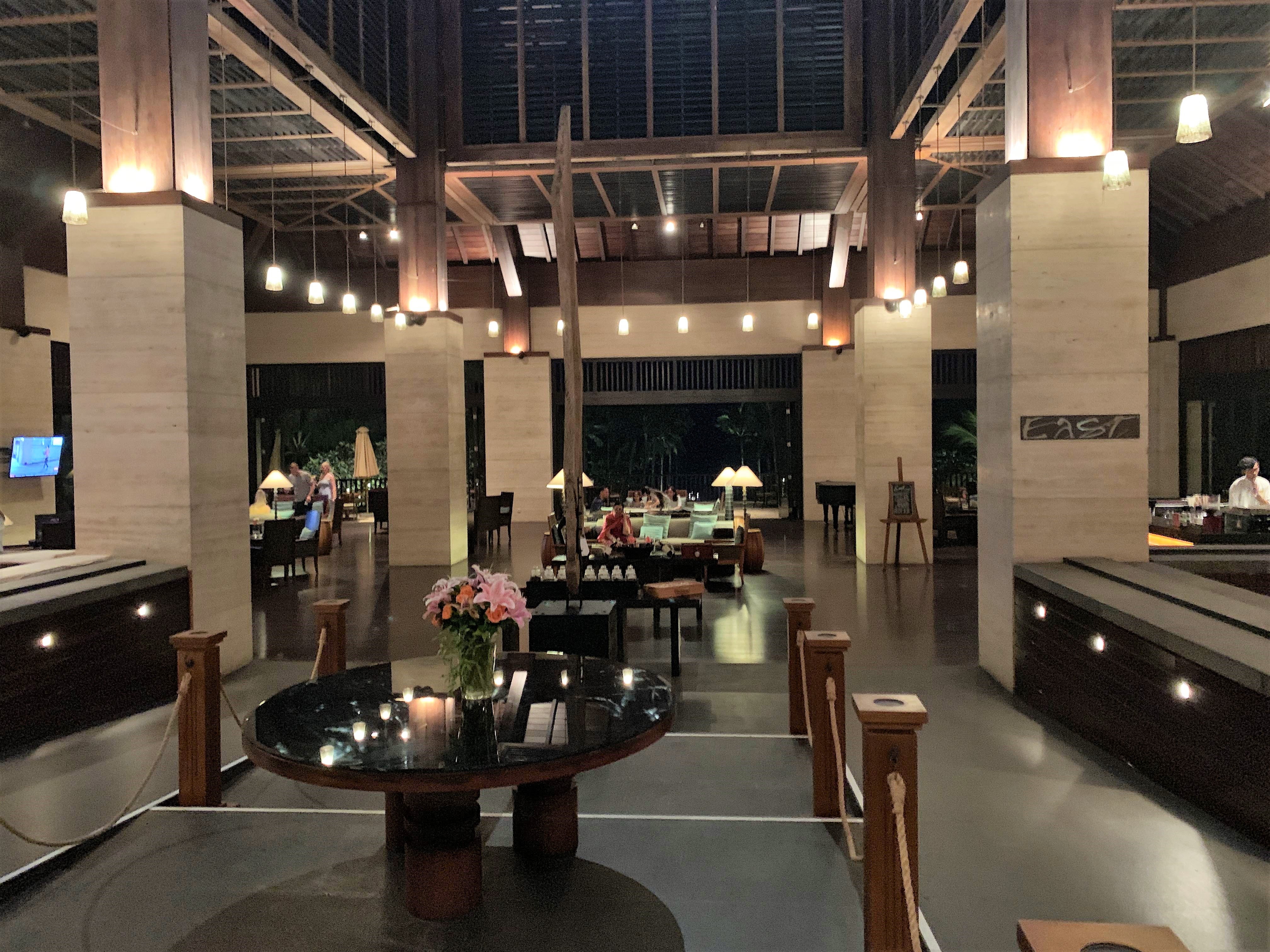 This one area I felt could have been improved. If you wanted somewhere to have a drink in the evening, the only option was the Lobby bar which was open sided. While the staff were delightful here, the mosquitos were pretty bad, particularly if you ventured out onto the terrace. The hotel did provide coils though and bottles of insect repellant but apparently not strong enough! It was also unbelievably hot and humid when we were there so it would have been nice to have somewhere with air con to escape to cool off for a drink.
Prices were a little high, but they did have two happy hours every evening, which helped keep the costs down providing you had one of the selected cocktails or beers.
Pool and facilities

Other than the suite's pool, there were two main pools plus two lagoon pools that did not seem to be used much. On arrival at the pool, you were given a tray with iced water, cold towels and a water spray. The service at the pool was very attentive. I particularly liked the swimming waiter (sadly this was Paul bringing me a beer in the pool, not an actual waiter!!).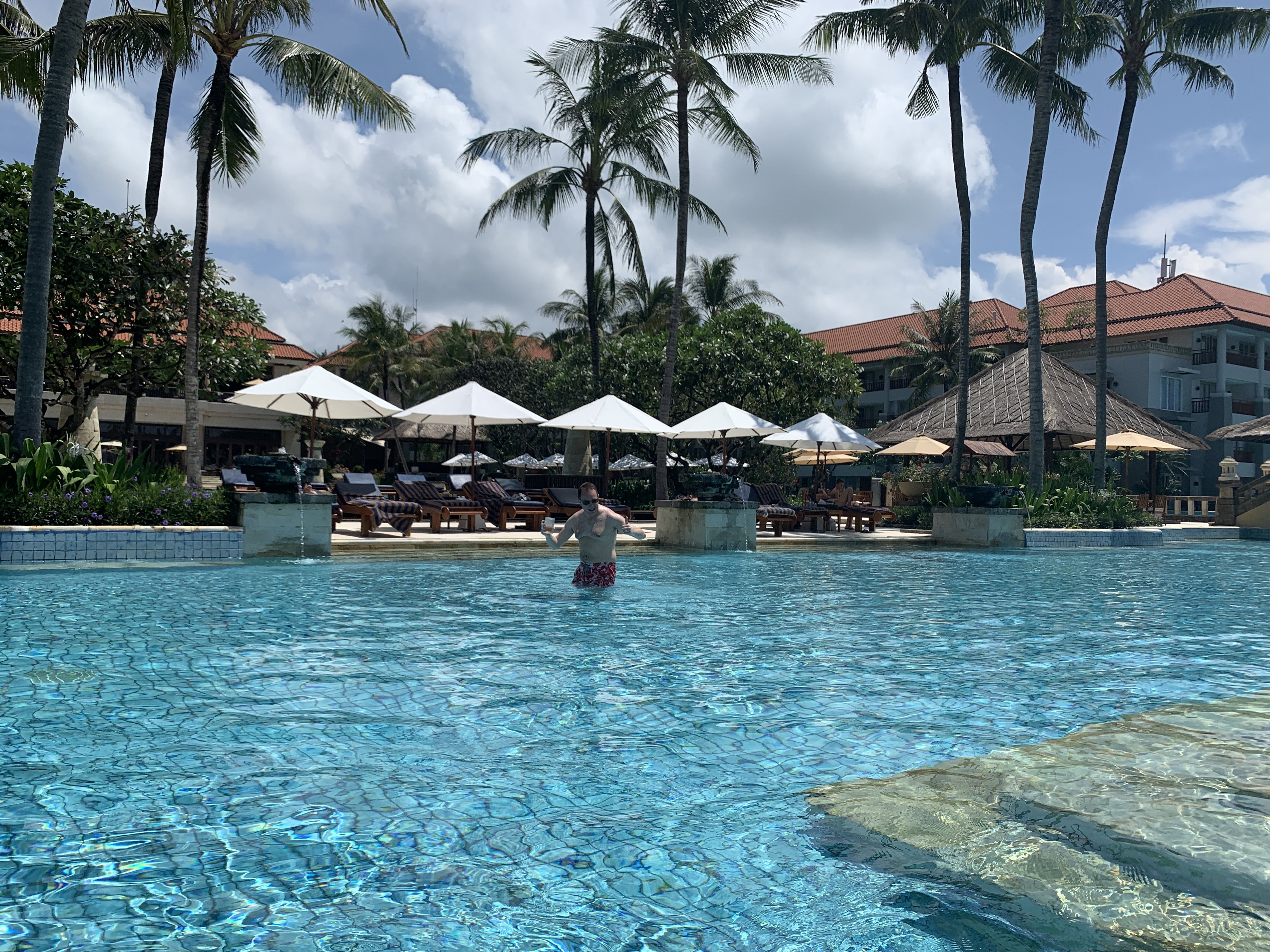 The pool water was extremely warm and bath like! There were some handy benches in the water with jets at the beach pool for lazing about in the heat.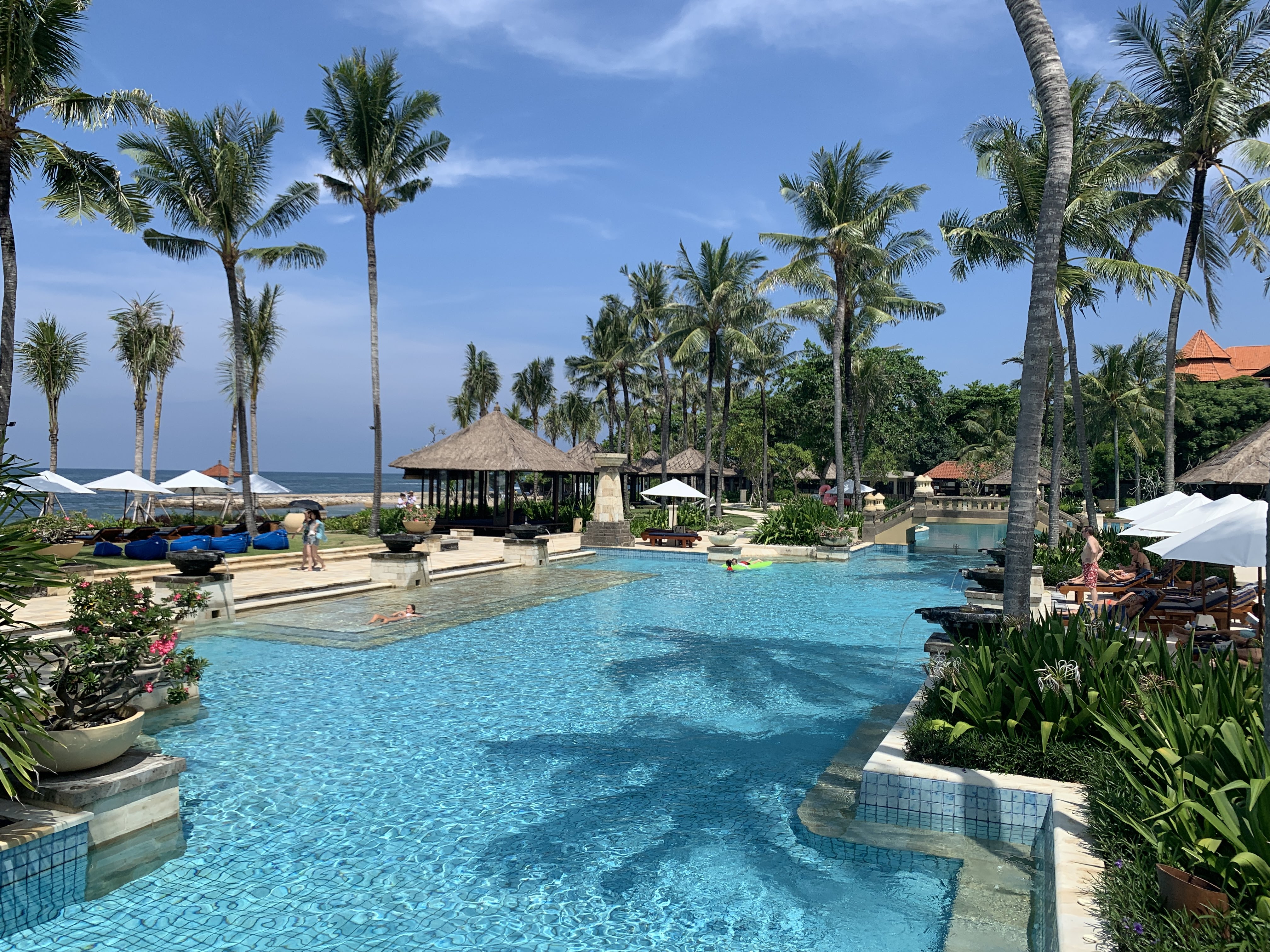 You can explore the pool area with Google maps:
The beach was a disappointment, but then most of the beaches in this area of Bali aren't great.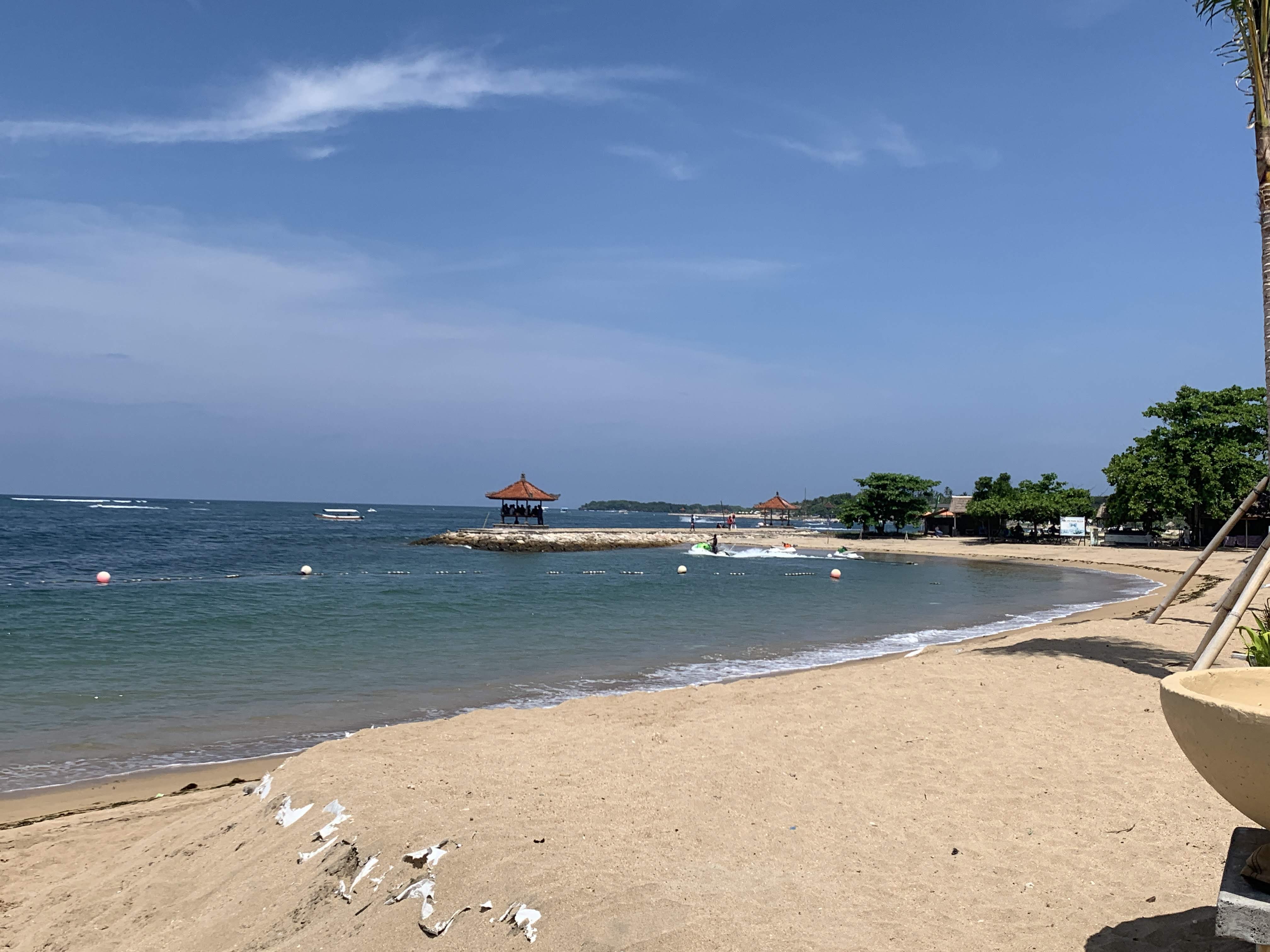 If you wanted watersports, an outside company was offering things such as jet skis on the beach by the hotel.
Gym
There was a large well-equipped gym and air conned gym :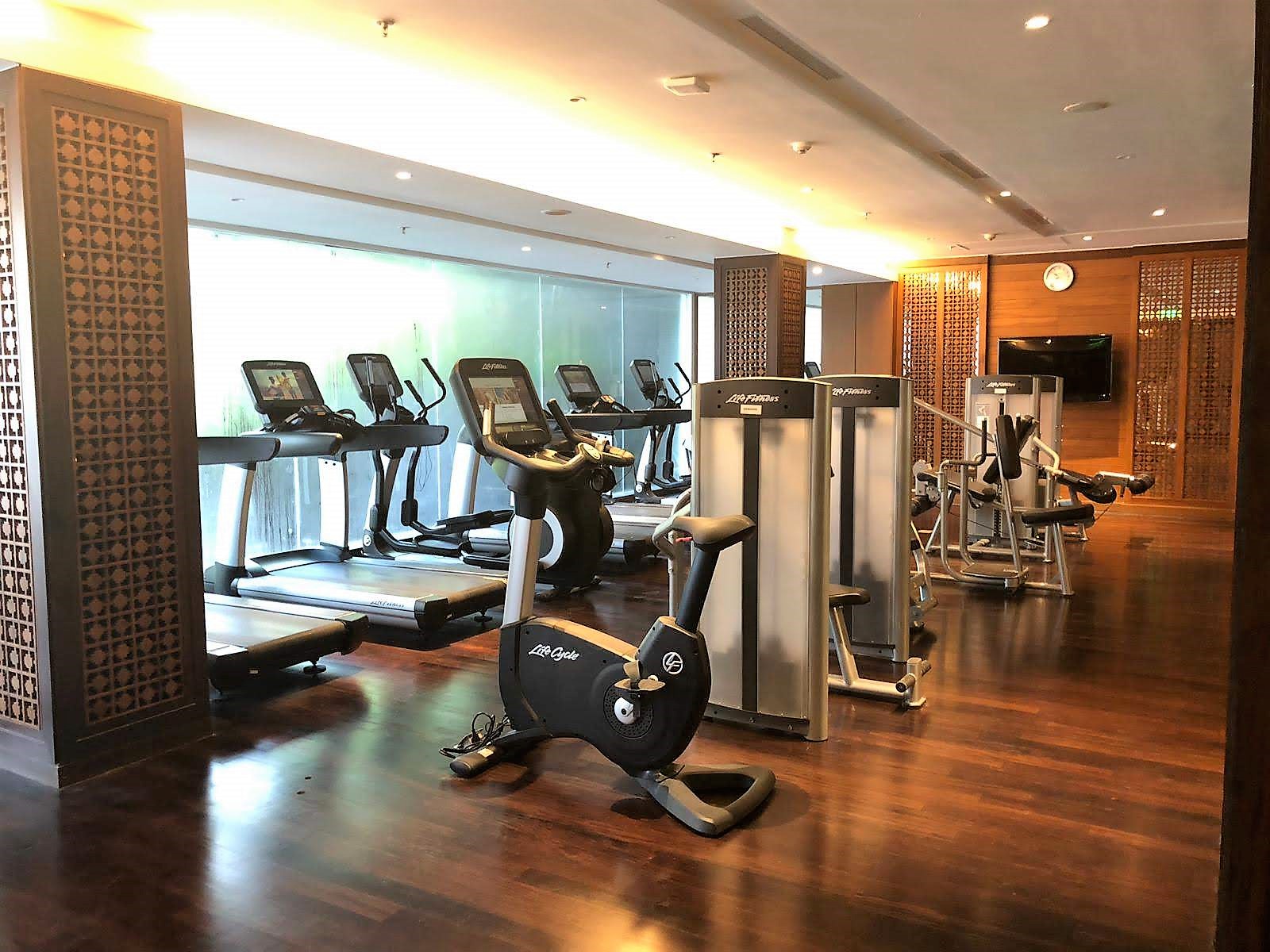 Spa
I tried out the spa as they had a special offer for a Balinese massage if you booked in advance. This is well worth doing as it worked out around £45, which is very reasonable for a 5* hotel. The spa was lovely, with a relaxation area and zen-like rooms. There was a relaxation area where tea and a cold towel were offered before the treatment.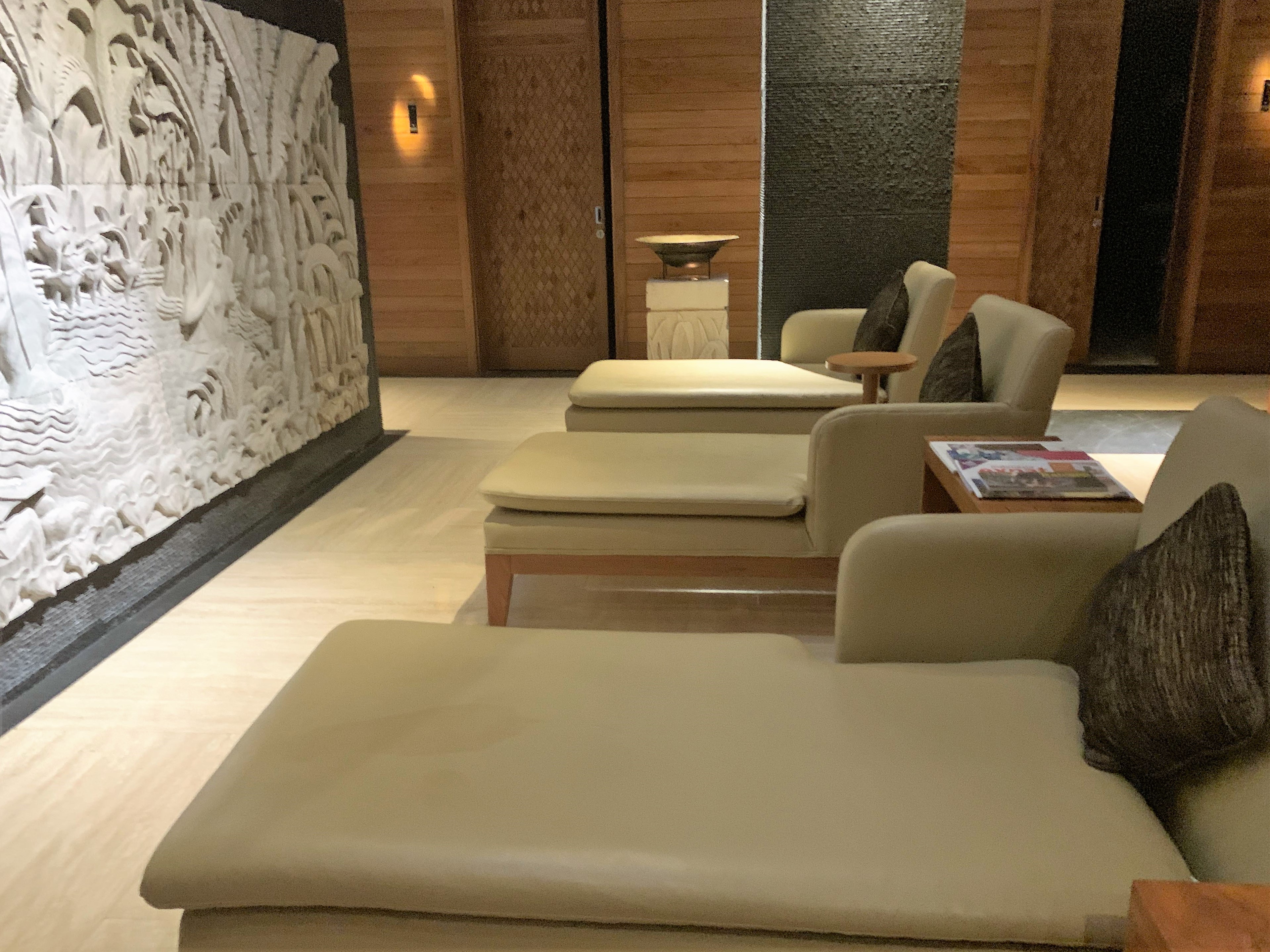 I was also offered a choice of three oils for my treatment.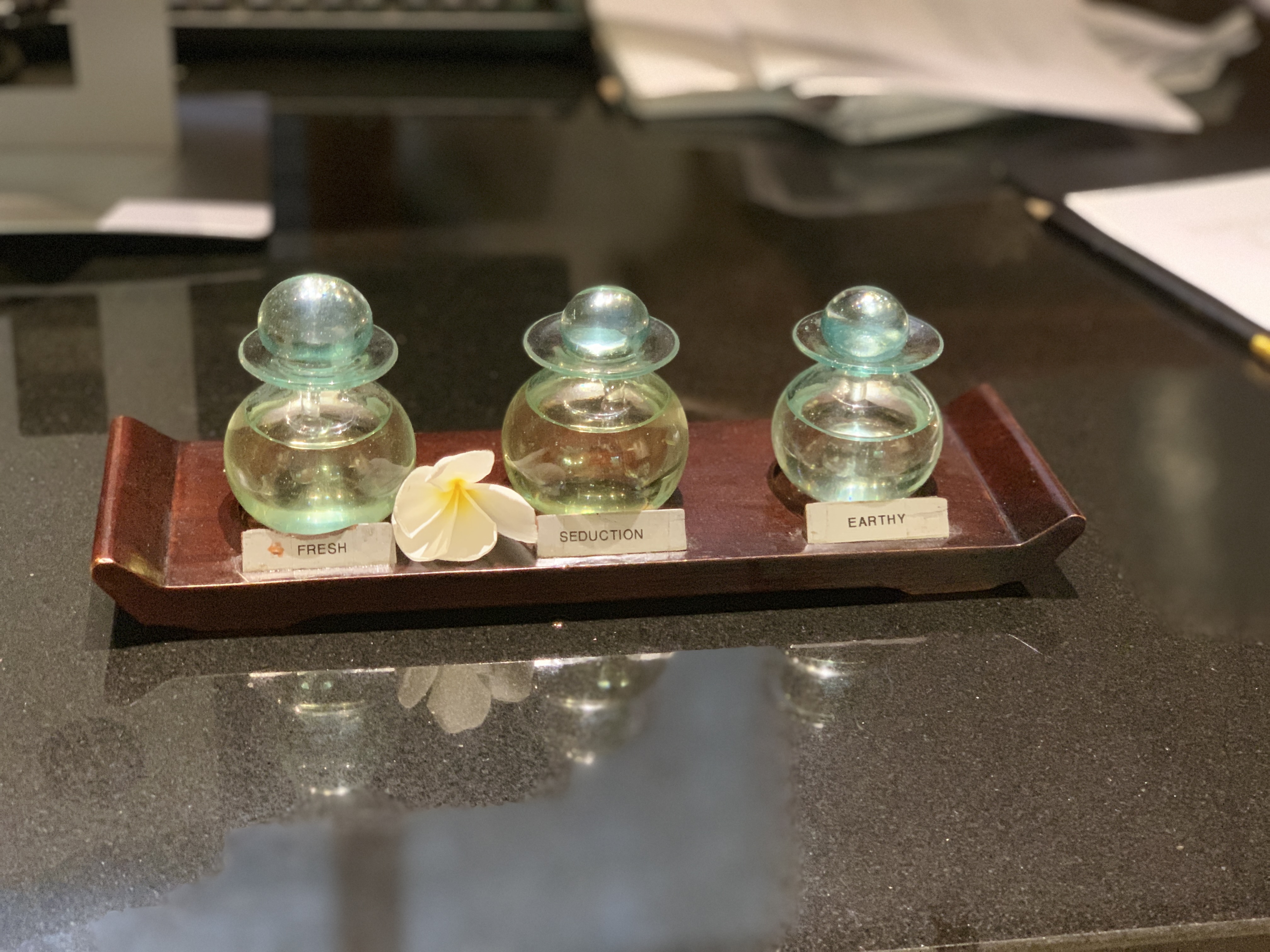 I found the therapist and treatment excellent and would highly recommend pre-booking if you can get the same deal. The massage was a traditional Balinese style one which is very relaxing with medium pressure and flowing movements.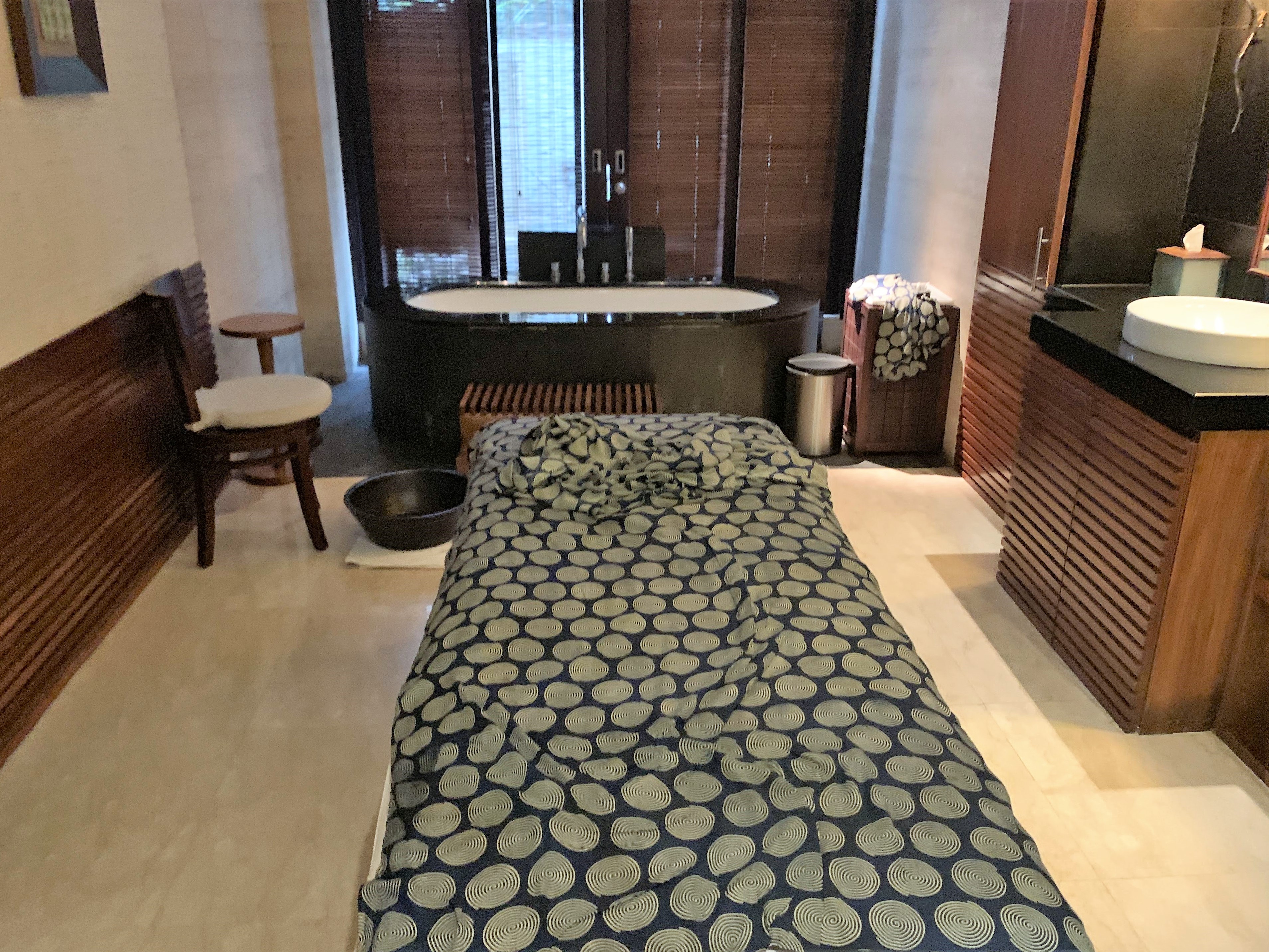 Conclusion
We both enjoyed our stay at the Conrad Bali. It was slightly unfortunate that we were there during a massive conference when the hotel was very busy. However, the perks for Diamond Club and the Suites were pretty impressive and above the standard of the typical lounge offerings. The pools were fantastic, and it was never an issue getting four sunbeds together in our favourite spot. The staff were all lovely, although a little slow on the odd occasion. The room was comfortable and well equipped but other than the view it lacked a little wow factor for me.
Despite a few minor details we would both return to stay at this hotel again.
You can find the latest prices and more information on the Conrad Bali website.