This review of Club World on a BA B777-200 is courtesy of British Airways who supplied TLFL flights to go and see their new Club and First lounges at JFK airport. I won't review the return trip as all I had was a cup of tea!
Check-in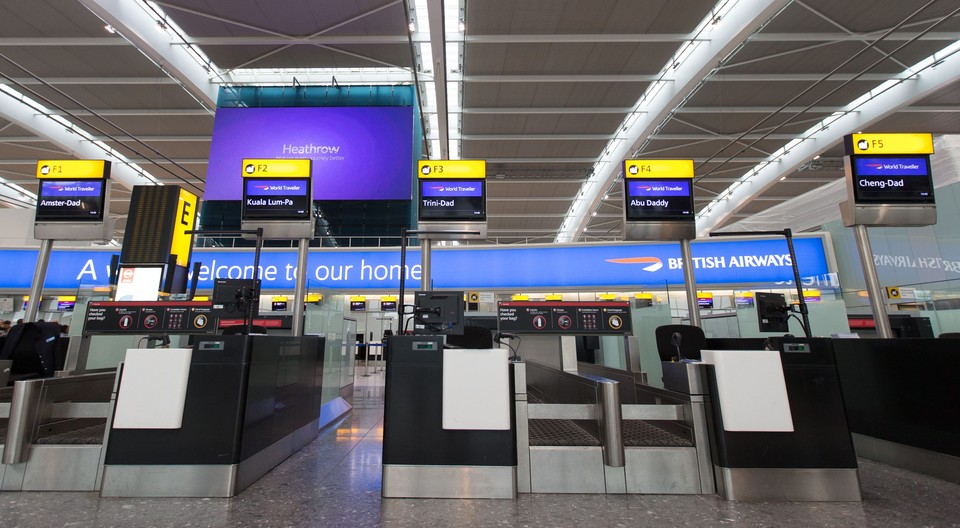 As I am a Gold cardholder I can use the First wing to check in at Heathrow's T5. This has its own security and leads directly into the lounge. However, this time I was arriving from the Heathrow Express at the far end of the terminal and I also needed to go to get my new Samsonite suitcase from Rolling Luggage which was at the south end of the terminal. So rather than walk all the way down and then back I decided to use the self-bag drop check-in which is close to south security.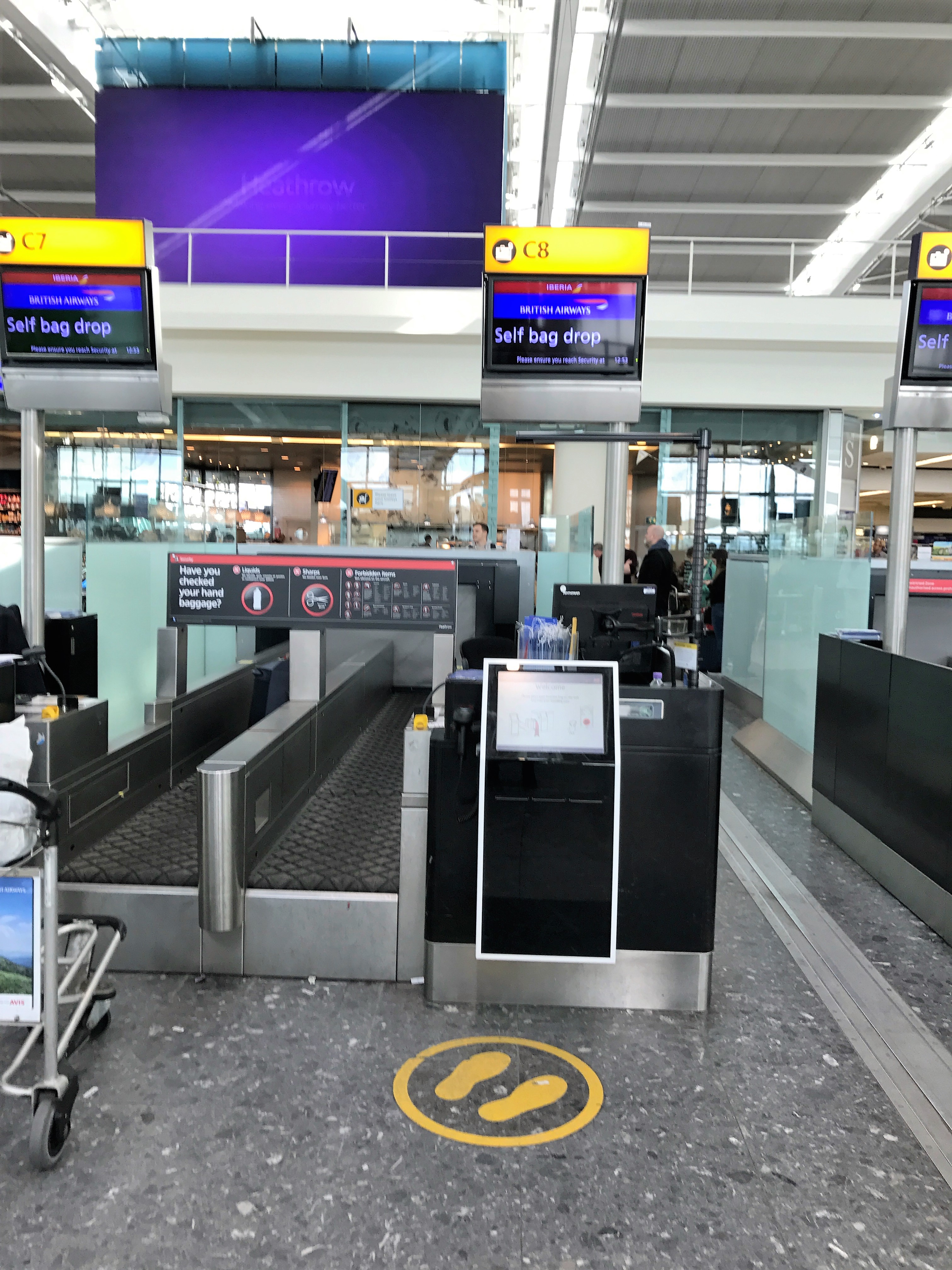 Unfortunately, as I was going to the US they needed to do a Passport check which meant I couldn't use them. I was very impressed by BA on this occasion. The agent in the area offered to open a desk especially for me so that I didn't have to queue up elsewhere. There was no queue at the self bag drop check-in, so if you are coming from the Tube or Heathrow Express and not Gold this is often quicker than the Club check-in. You can read about the self serve check-in in this article.
I was then able to use Fast track security which was definitely a less pleasant and quick experience than the First Wing but better than the normal queue. I only waited about 5 minutes before I got to the scanner.
The lounge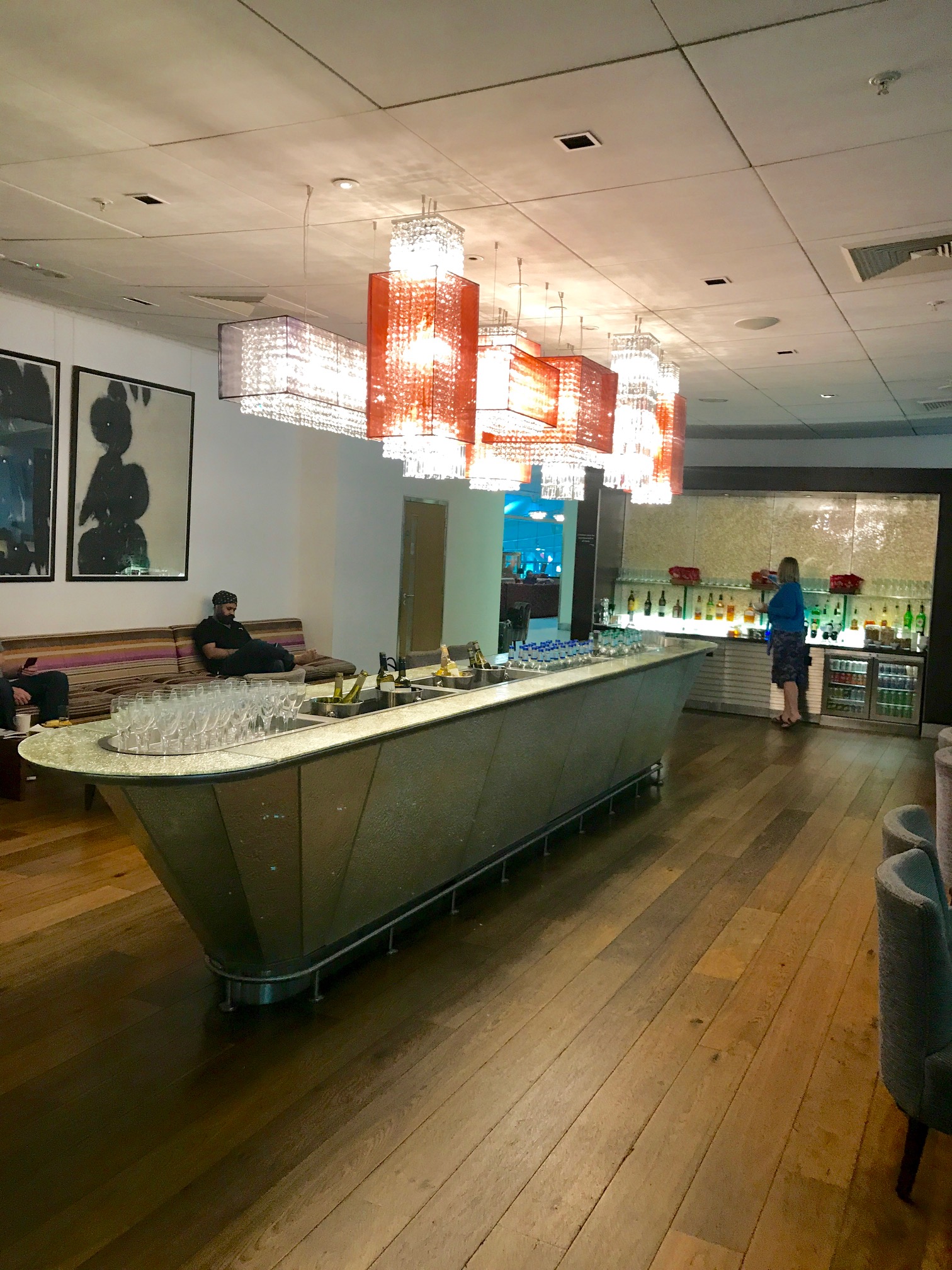 As a Gold card holder, I get access to the First lounge but normally if flying in Club World you would have access to Galleries Club. There are three at Terminal 5. As I was flying long haul I would be departing from the B gates (or also C gates). In this case, I would usually recommend the B gates lounge which is much quieter. It also has a spa which is usually less busy than the main Galleries South lounge spa. If you are flying long haul in Club or First you can get a free spa treatment before your flight. You can find my latest review of the new T5 spa here.
In the Galleries Club lounges, there are a wide selection of drinks including champagne, wine, spirits and beers (including the current Brewdog Speedbird 100 exclusive beer if you can find any). You can read my guide to all three T5 Club lounges here.
Boarding

Boarding is done by group on BA flights. As I am a Gold cardholder I can board in group 1, normally in Club World, you would be group 2. I find the groups boarding process a bit hit and miss depending on the airport. On this occasion, it worked well and I was able to get on a group 1 before they started to call the next group.
Once on board, I was offered a washbag, a bottle of water and a welcome drink. As usual, I opted for the champagne. For once it was actually a decent size glassful. I am a big fan of the new elegant stemless glasses. I know some people view it as sacrilege not to have a proper glass but on a plane where it is easy to knock stuff over (especially if you are as clumsy as me) then I think they are practical and look good.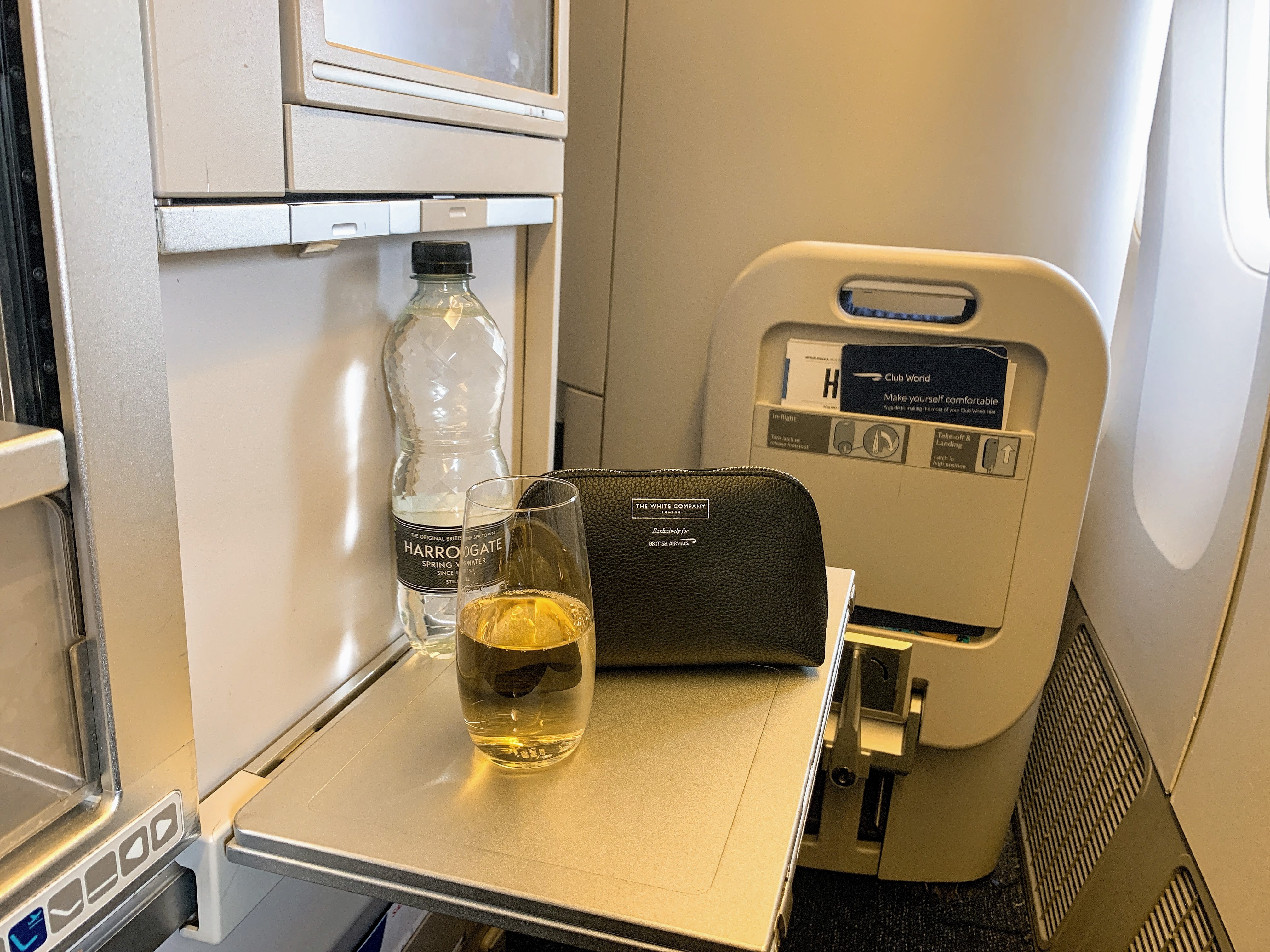 The amenity kit is by the White Company and I do actually like the contents. I am not a huge fan of the bag as they are quite small and not as handy as the old shoe bags which I still use today for my suitcase. The contents definitely have a spa feel and the eye mask is large and comfortable. The kit also contains a toothbrush, ear plugs, socks lip balm, moisturiser and a pulse point relaxing oil.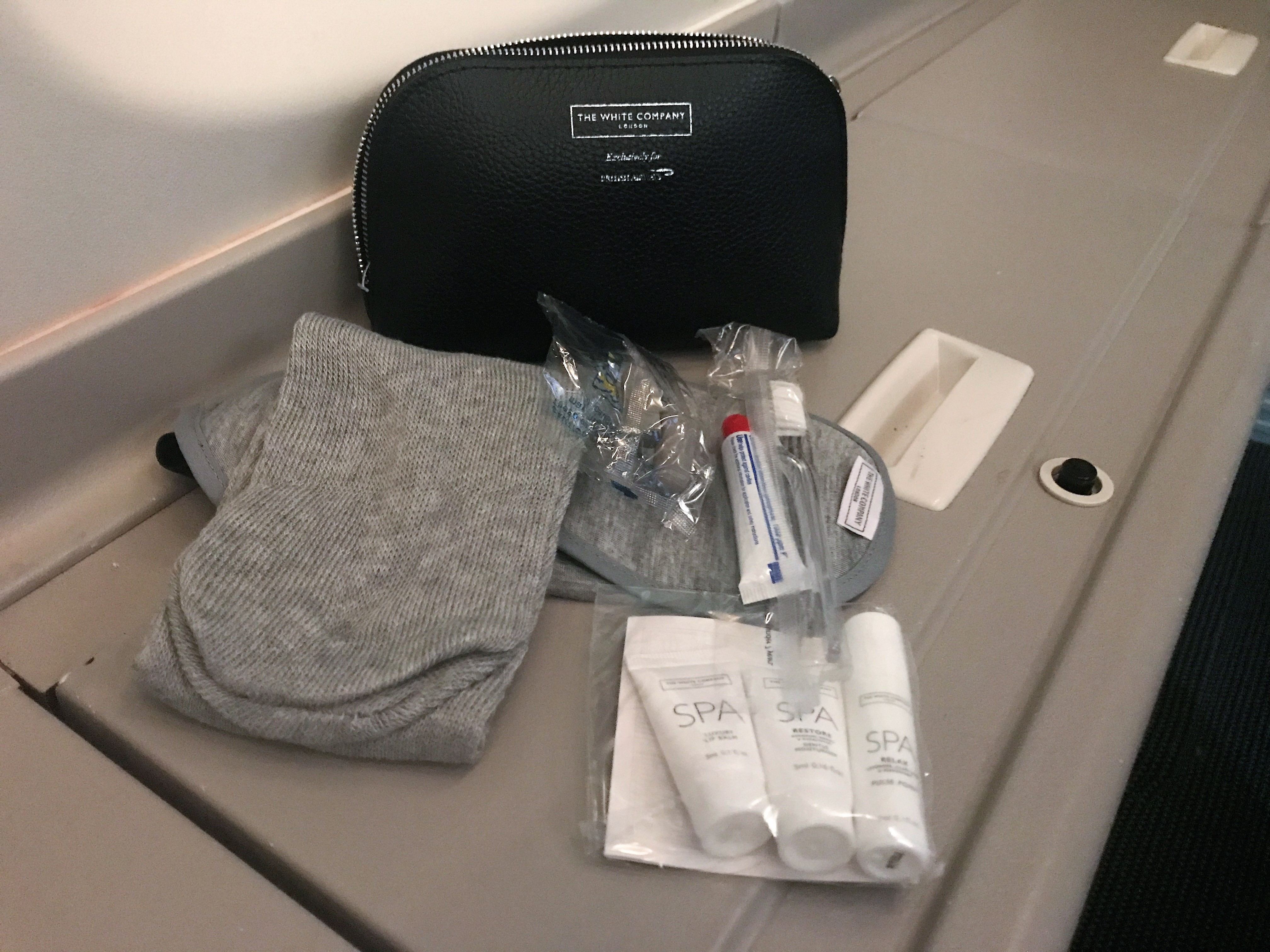 I could tell this was going to be another good flight as the crew member serving me was friendly and efficient from the outset.
The cabin and seat
I will admit that the B777 is my least favourite of the BA fleet. Many have nicknamed the cabin the flying dormitory as it is a large space with little to break up the monotony of the rows of Club World seats. I would have normally selected the bassinet seats once they are released at online check-in but the BA IT was having a moment (or several as it happened on the way back too). Even though the seats were showing as selectable I couldn't select them! It kept saying I could not have one due to the infant on my booking. Very odd! The benefit of the bassinets in row 15 is that the window seats have direct aisle access which I always prefer. Instead, I settled for 14A which is a rear facing window seat.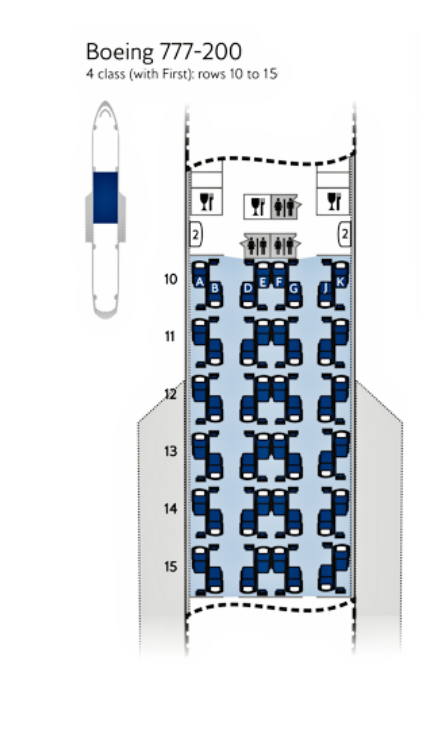 The cabin was pretty full and as usual, I studiously avoided eye contact with the person in 14B who was facing me due to the BA yin and yang configuration until I put the screen up!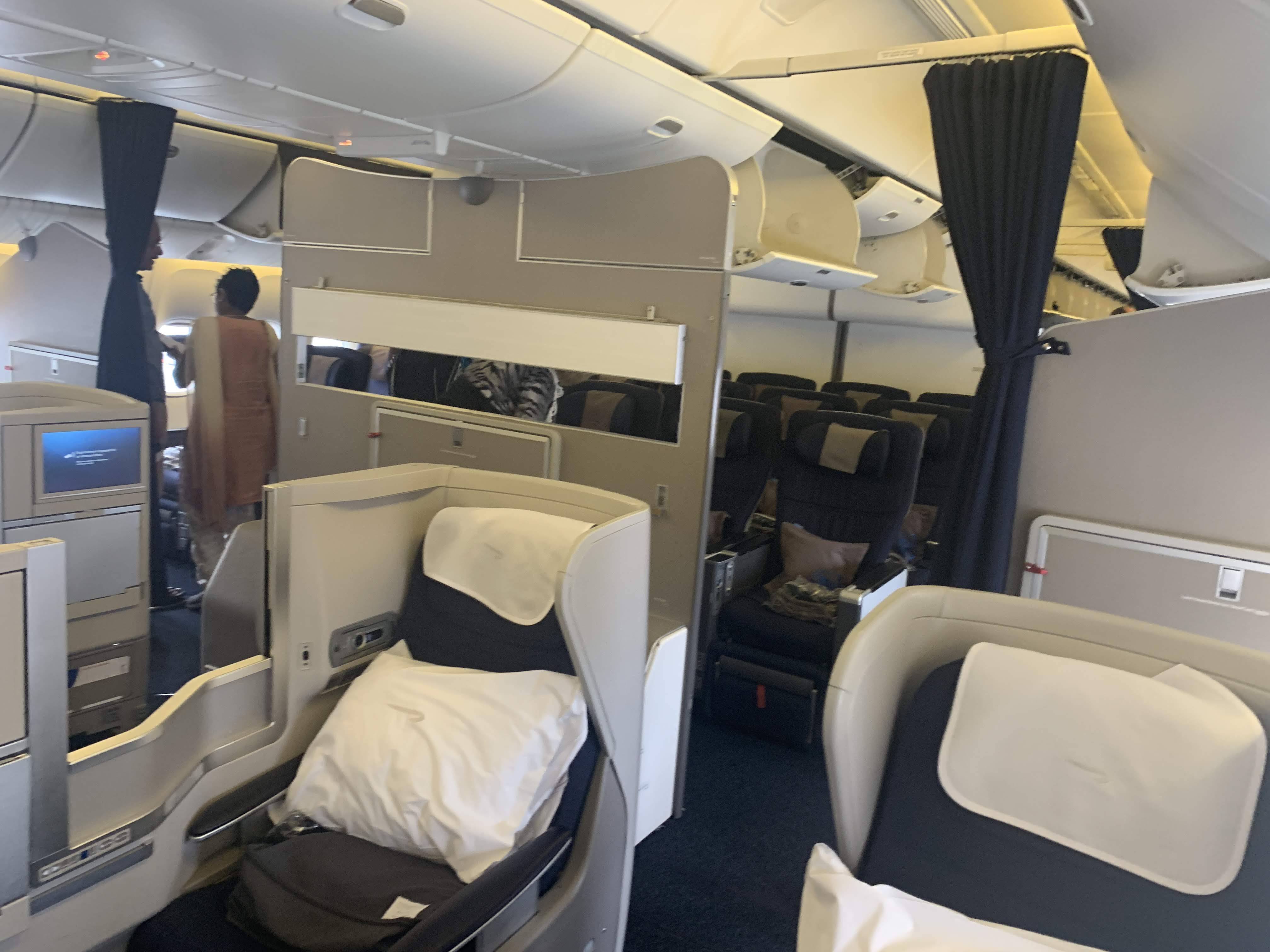 The cabin looked a lot better than many of the older B777s that BA has, though they are gradually being refurbished or retired. Two B777s will get the new Club Suites later this year. The current seats are in a 2-4-2 configuration with the "honeymoon" seats side by side in the middle being best for couples.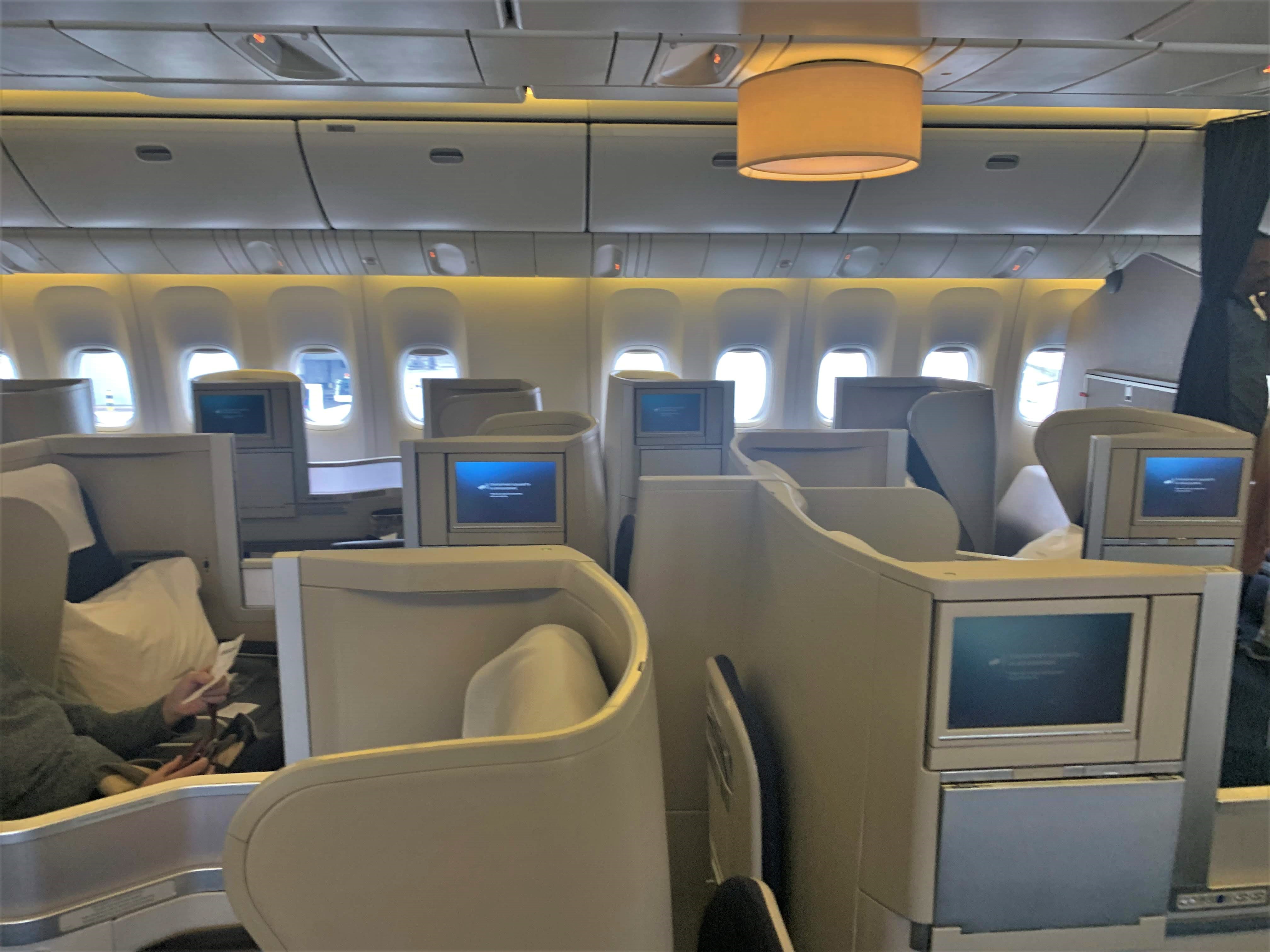 Apart from the last row and the front aisle seats, you will either have to step over or be stepped over if your neighbour has their feet up on the footstools. This is fine if you are tall but I find it quite a challenge at 5ft 6! All this will be solved with the new Club Suites that have 100% aisle access.
The seat was a standard Club World seat with a drawer for storing items at floor level. I find that I can just about get everything I need in there for the flight but I would like some sort of a shelf to store some inflight without having to have the table down.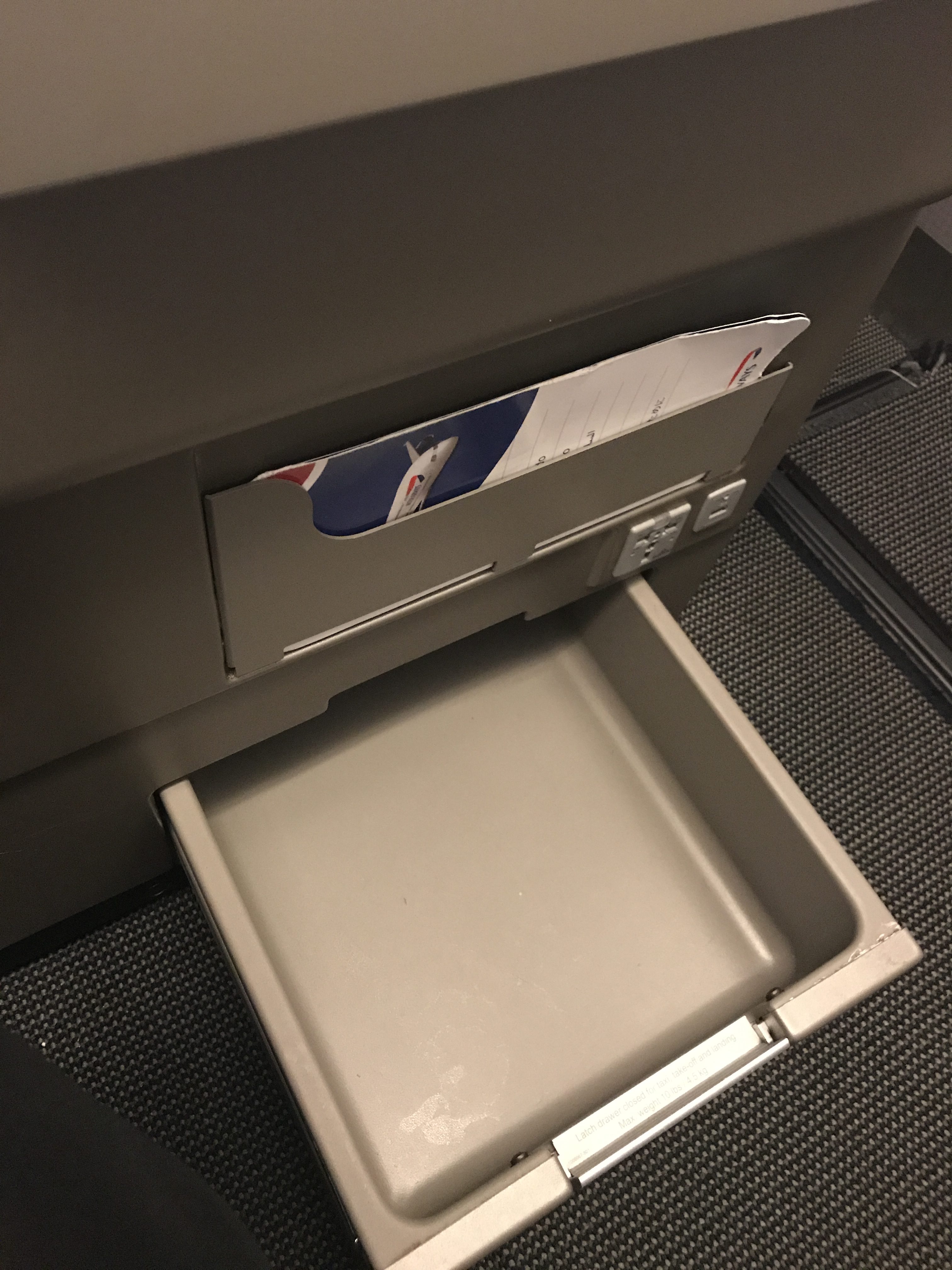 I find the Club World seats pretty comfortable for both sitting and working since the footstool is at a good position for most people and the seat will go from upright to flat with any position in between very easily.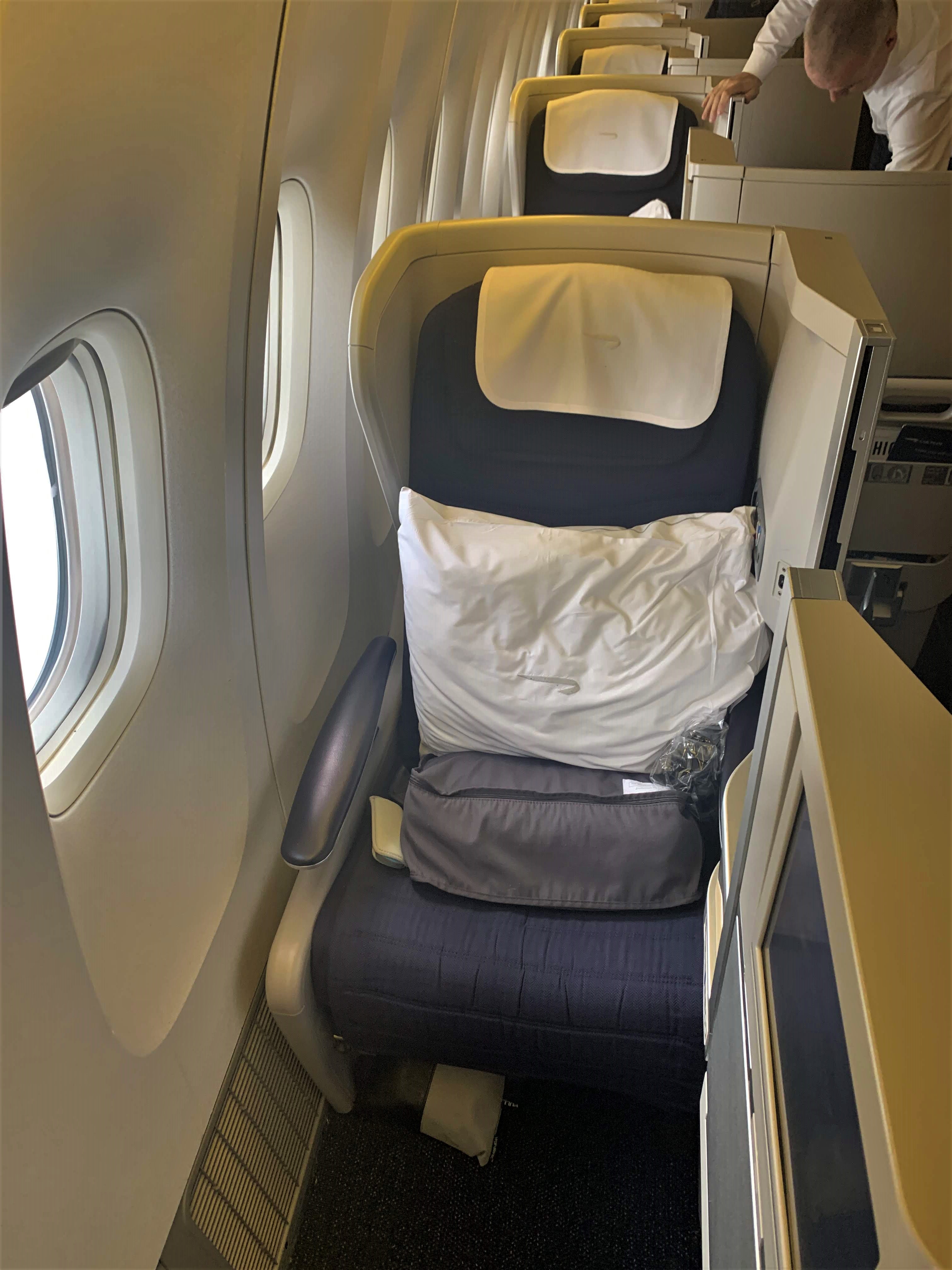 On the seat was the White Company bedding which I am a big fan of and is much better than the previous bedding.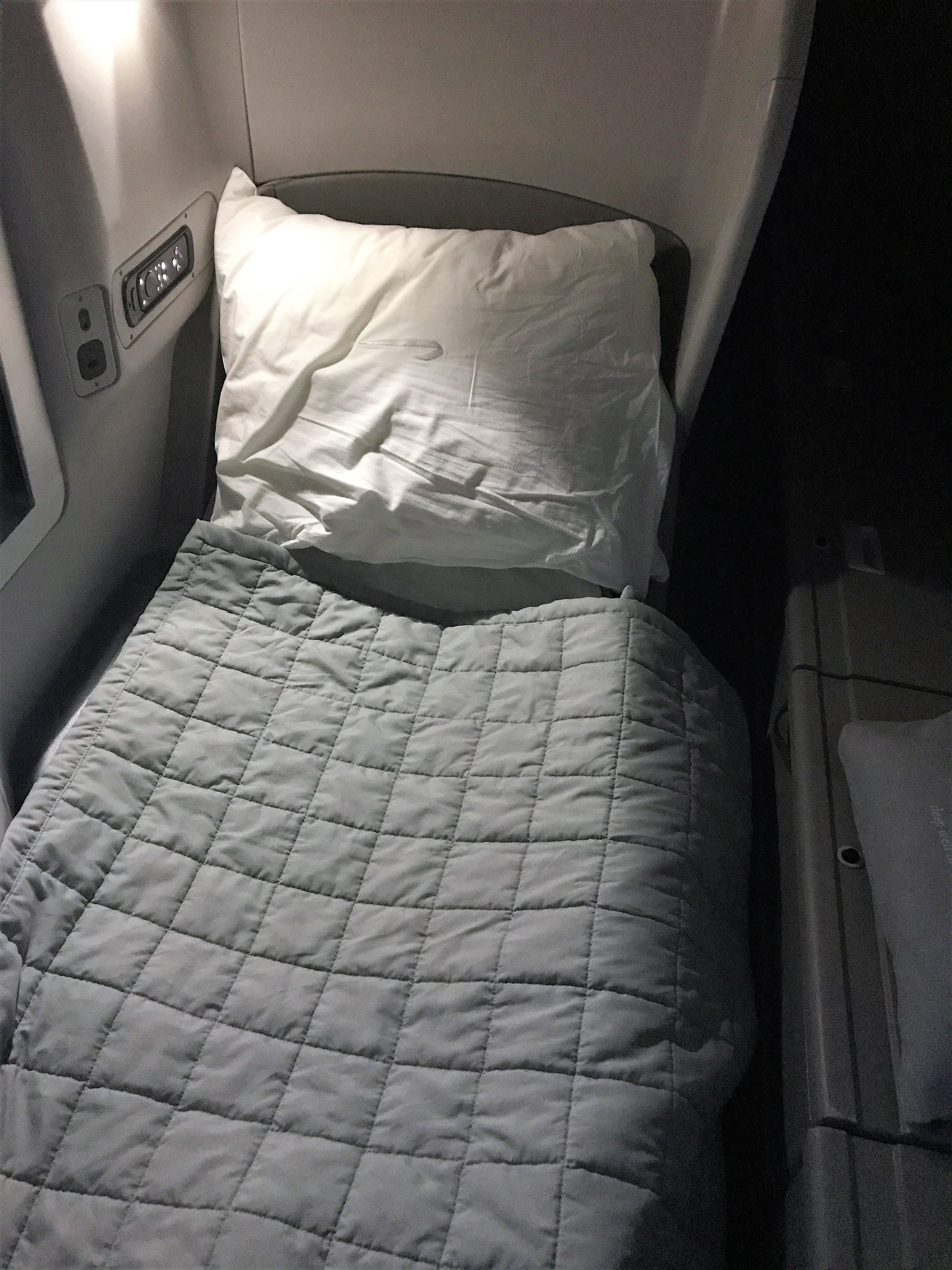 The pillow is particularly good when I compare it to the terrible one on Iberia when I flew with them recently. The BA ones' are large, with the right level of firmness and a crisp cotton cover.
Food and drink
The service started with the offer of a hot towel. The menu had been given out before take off (apologies for one slightly blurry photo!):
Drinks were offered first and I decided to go with a Kir Royale. This was served with some flavoured warm nuts.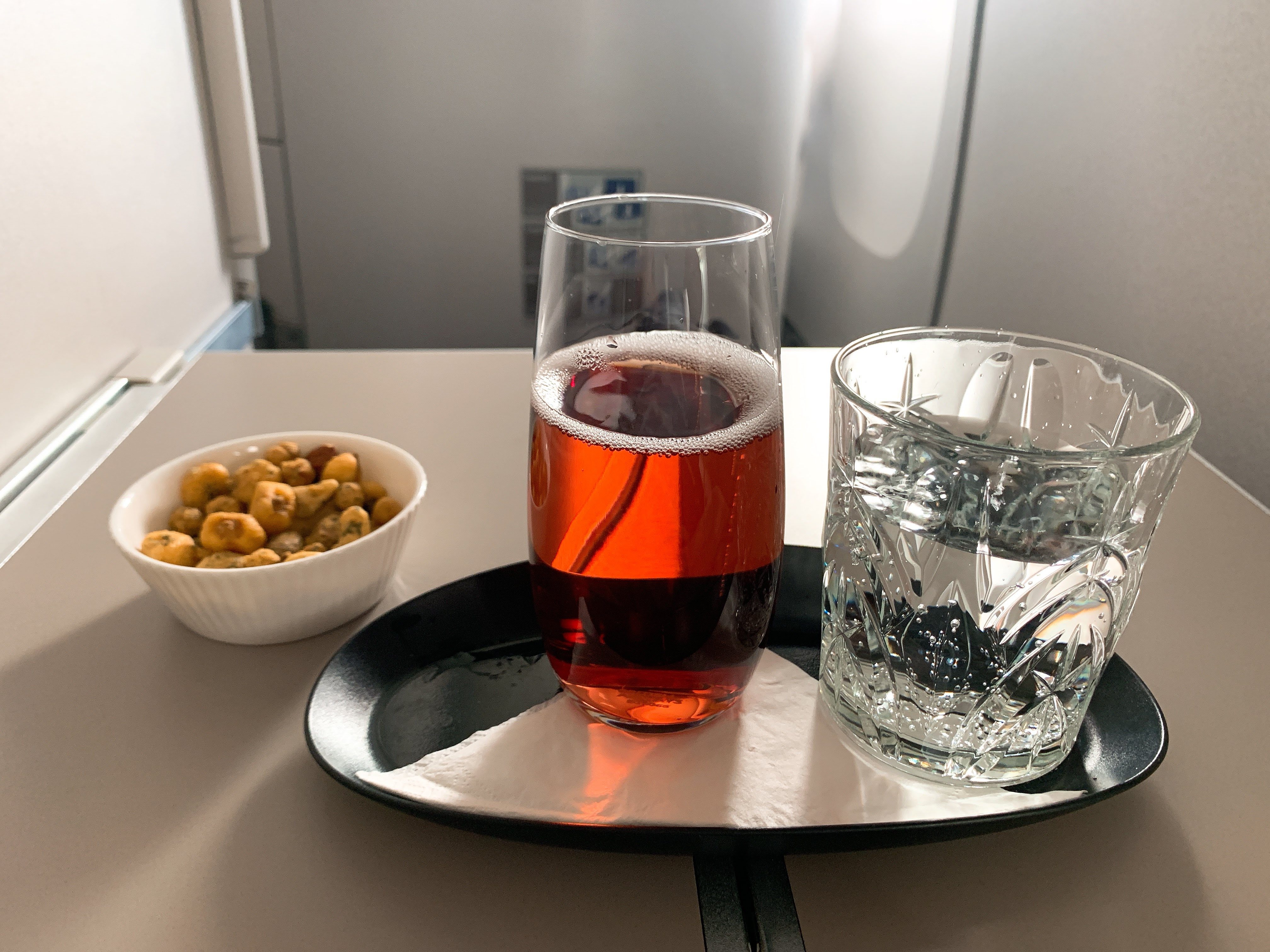 The crew were pretty attentive on this flight and I was offered a top-up of my Kir before the food started to be delivered. BA now have changed from Castelnau to Canard Duchene champagne which I much prefer.
The menu looked pretty good and I was torn between the soup and the salmon. In the end, I went for the salmon which was pretty good with some lovely juicy caperberries. Warm bread was served and you could have olive oil instead of butter if you prefer. I really love these bread rolls in Club – they are actually better than many of the ones in First I think. They have a lovely malty flavour and a nice crusty outside.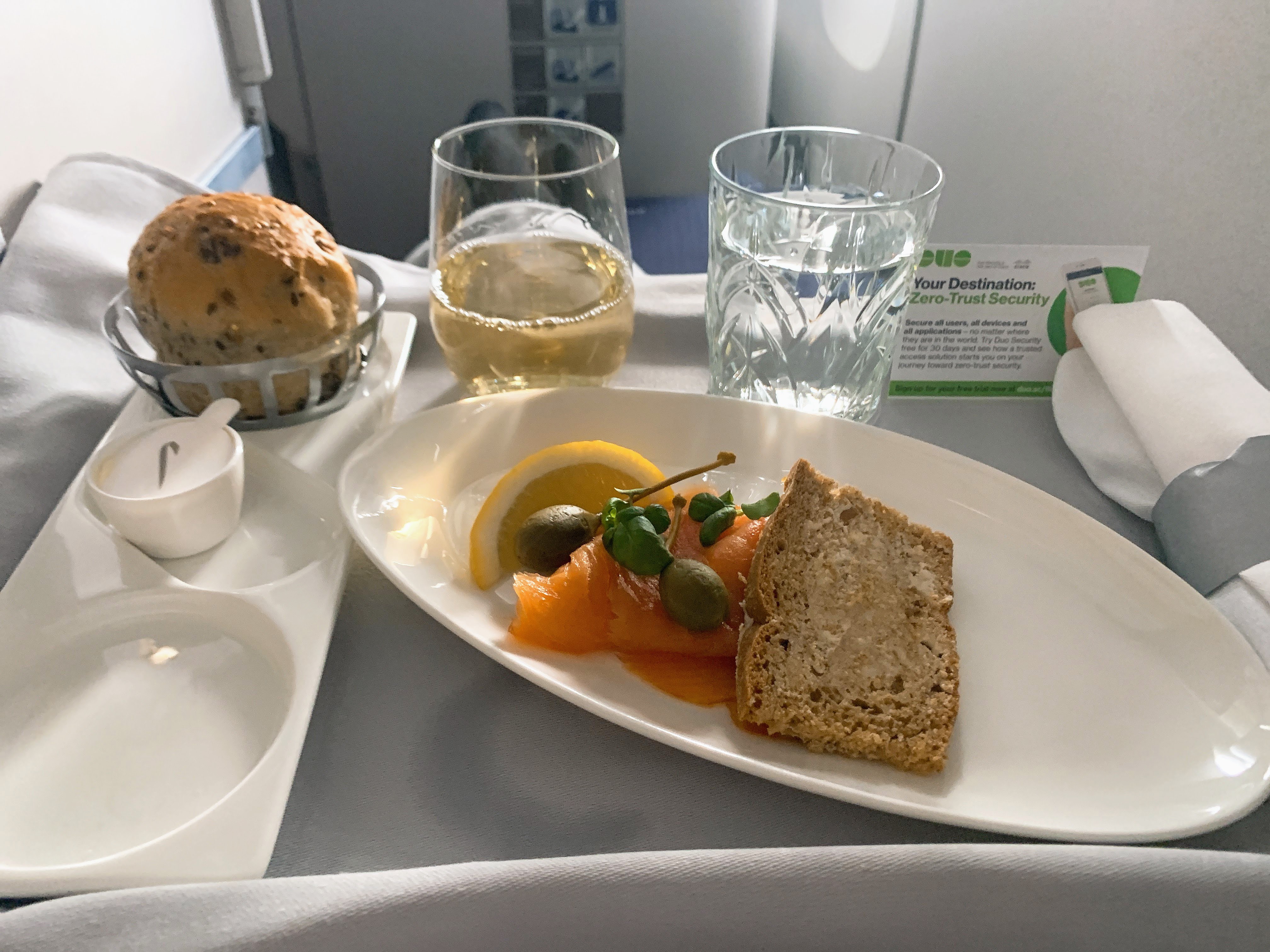 If you are keen-eyed you may notice the advertising card that was placed on the tray on the right of the photo. It was the first time I had seen this and I can't say I was a fan of it in business class. What do you think about this being placed on the tray?
For the next course, I chose the Red Thai chicken curry. I normally find curries very good on BA and this was no exception. It tasted very authentic with a good flavour of lime leaves and just the right amount of heat. The chicken was tender and not overcooked. To drink I had a glass of the Graves Bordeaux white which I thought was good and the crew were quick to offer top-ups of wine and water during the meal.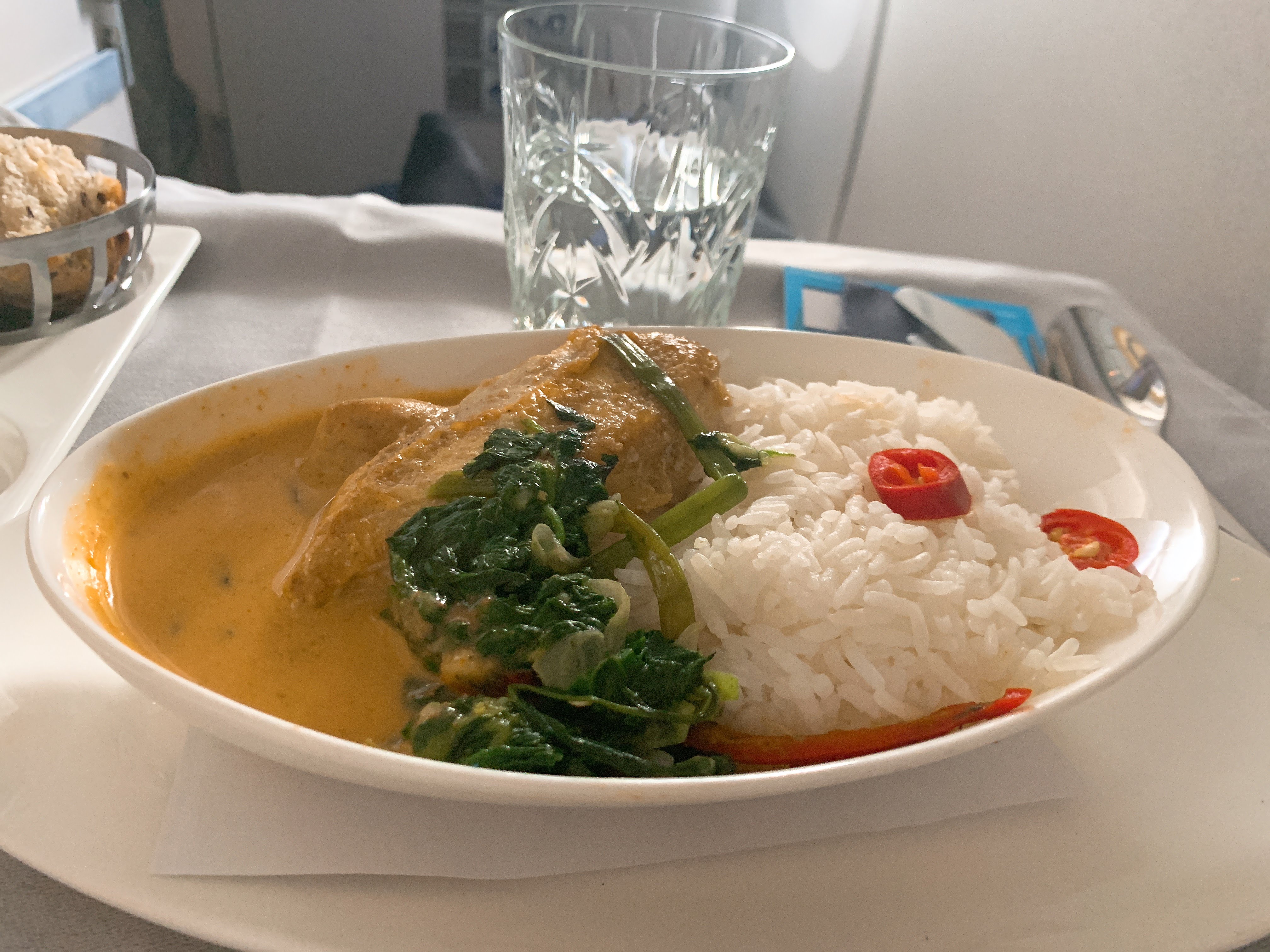 I decided to be adventurous and have the dulce de leche tart which had nuts which I am not normally a fan of. I also had a glass of the Otard VSOP cognac which I always enjoy. The tart was warm and reminded me a bit of pecan pie. It could have been very sweet but the custard managed to offset the sweetness nicely.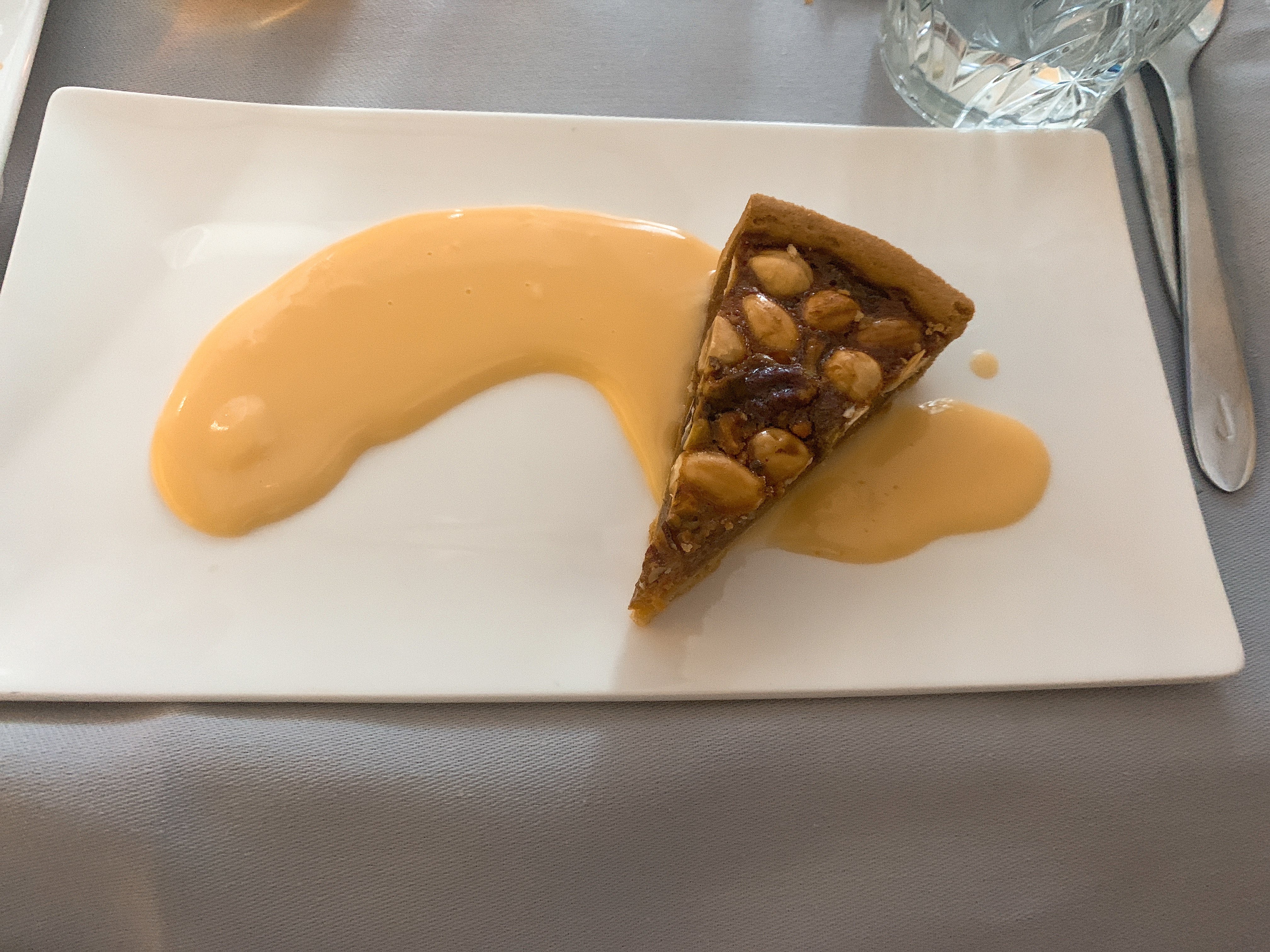 I don't always bother with the second meal on this length of flight but since it was a lateish arrival and I was planning to go to bed not long after getting to the hotel I thought I would try the afternoon tea.
There was a choice of the traditional sandwiches or the tapas (which I have had before and are normally good). I went for sandwiches. If you were hungry you may have found it a bit small but it was fine for me.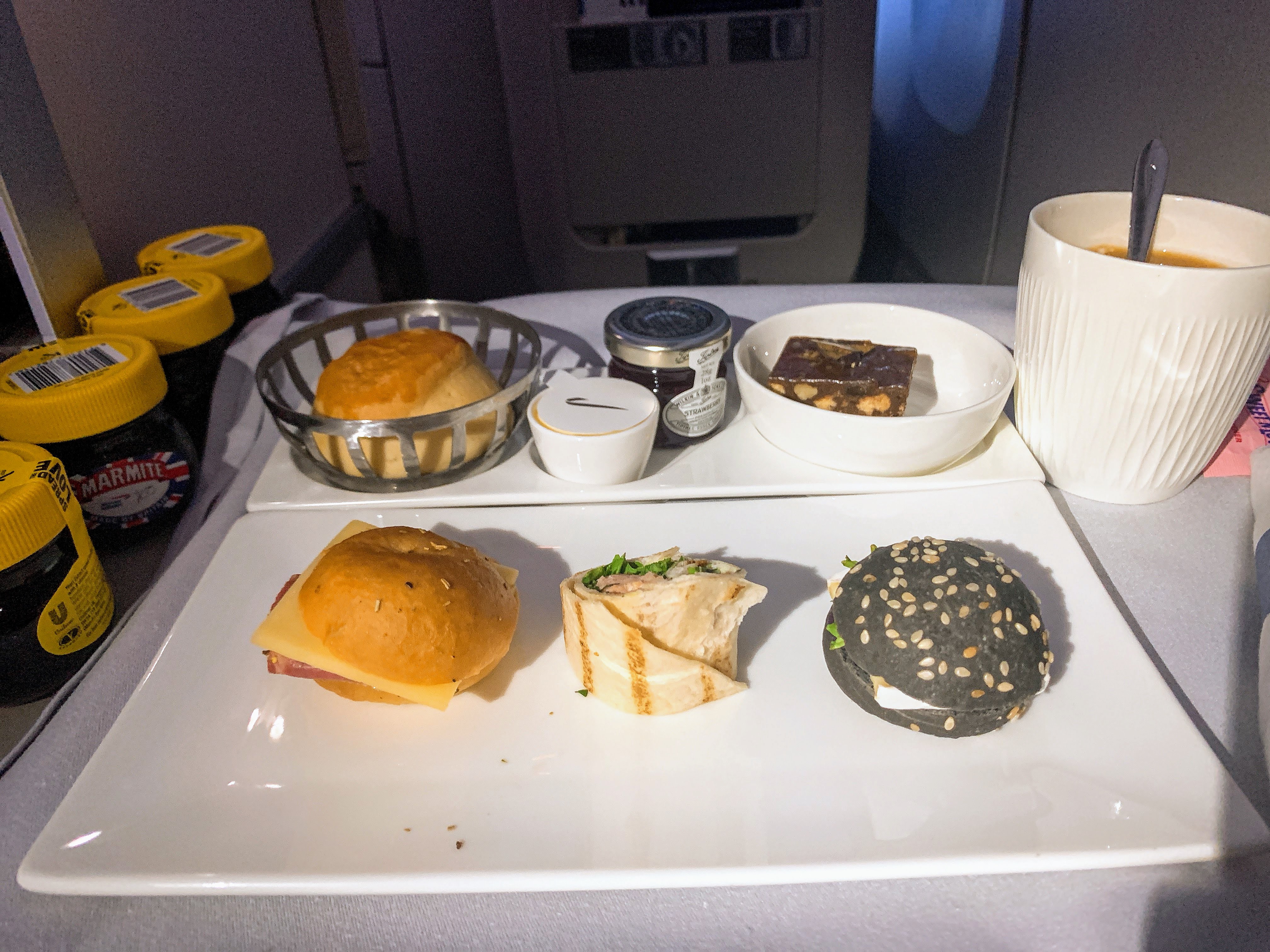 I was pleased to see a nice variety of sandwich/roll/wrap with some different breads too. The charcoal one was good in particular. As usual, the scone was very good with some clotted cream and jam. You may notice some jars of Marmite in the picture. These were not part of the tea! I have bought a few of the special BA centenary edition Marmites to give away in our next TLFL prize draw which will be in about a week's time.
Entertainment and connectivity

Some of the B777s have old and low definition TV screens but luckily this aircraft had one a modern screen with excellent definition.
There was an excellent selection of new films and TV programs. I watched A Star is Born which I hadn't got round to watching before. The screen was controlled by a hand-held remote that was fairly simple to use and responsive. Noise cancelling headphones are supplied but I find my own Bose QC35s more comfortable.
Many BA long haul aircraft have wi-fi but it wasn't available on this flight. If you wanted to charge your devices there were two USB ports and a multi-country socket at floor level.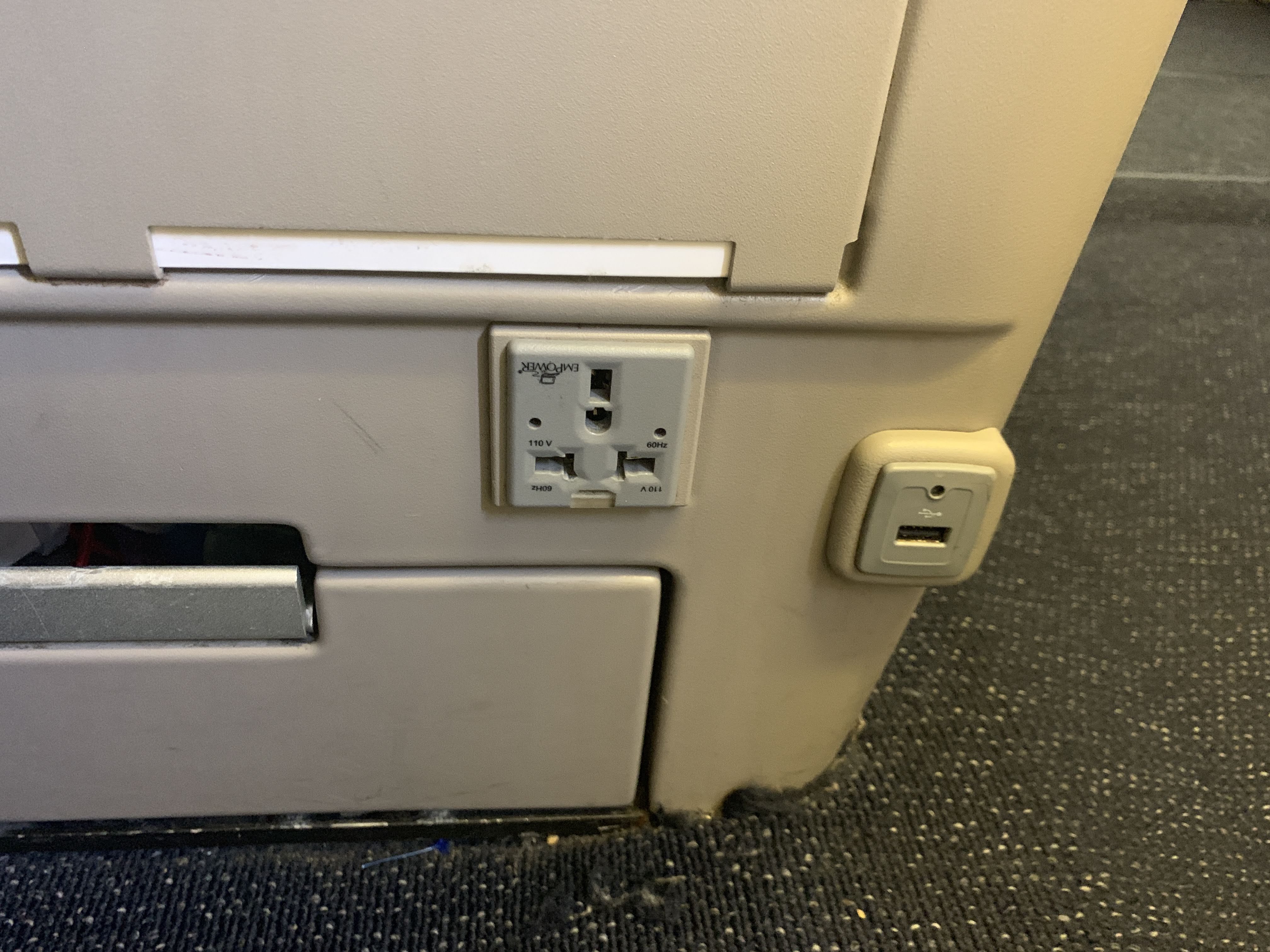 Conclusion
Although the B777 is not my favourite BA aircraft this was a good flight. The staff at the airport and on board were all very friendly, helpful and efficient. I thought the food was tasty and it was nice to see a few different things at afternoon tea. The entertainment screen was good and there were plenty of new films and TV programs to choose from. Overall there was little I could fault apart from the Club seat lack of aisle access which will be rectified once BA retrofits their Club Suites to all their aircraft.