Paul recently wrote about why he has transferred his loyalty from Hilton to Hyatt. Now that a number of new Hyatts have opened in the UK it was time to take a more in-depth look. In this article, Mr Brightside, our undercover points and miles expert, looks at World of Hyatt in more detail.
World of Hyatt is the loyalty programme for the hotel chain whose best-known brands all include the "Hyatt" name: Park Hyatt, Grand Hyatt, Hyatt Regency, Hyatt Place. Approximately 900 Hyatt-branded hotels participate in World of Hyatt, along with 300+ hotels from a partnership with Small Luxury Hotels of the World and a handful of MLife casino hotels in Las Vegas and elsewhere. As a smaller hotel chain, you might struggle to find a Hyatt hotel during your travels. But if earning and spending points is important to you, some Park Hyatt hotels and many SLH hotels are simply the most luxurious you will find.

How Do I Earn World of Hyatt Points?
Hotel Stays
World of Hyatt members earn 5 base points per US dollar spent.
You earn points on your pre-tax room rate and other eligible room charges, including telephone calls and food/drink. When paying for your room in a currency other than US dollars, Hyatt will strip out any taxes included in the rate, and convert the remainder to US dollars (at a rate usually to their advantage).
You must book directly with World of Hyatt to earn points. Reservations made via online travel agencies (such as hotels.com, booking.com, etc.) will not entitle you to points. The exception is booking through a Hyatt Privé agent. This gets you all the usual Hyatt points and perks but also extras such as
Hyatt Prive clients staying at any Hyatt Hotel will receive the following exclusive added-value benefits:
A $100 property credit per room per stay
Daily full set breakfast for up to two persons.
Welcome Amenity
Room upgrade priority subject to availability, confirmed within 24 hours of booking.
Connecting Room priority subject to availability, confirmed within 24 hours of booking.
Early Check-in and Late Check-Out subject to availability, confirmed within 24 hours of booking.
World of Hyatt will usually run two chain-wide promotions per year, one in the late winter / early spring and the other in the autumn. There will usually be additional ad hoc promotions throughout the year.
Hyatt also offers 500 bonus points for each stay booked at a new hotel. The list is updated frequently and can be found by clicking here.
Other Ways of Obtaining World of Hyatt Points
You can buy an annual maximum of 55,000 Hyatt points. The standard price is 2.4 US cents (1.8p) per point, although Hyatt regularly offers a 40% bonus promotion that reduces this price to 1.71 US cents (1.3p) per point.

There are no ways for Europeans to earn Hyatt points from a credit card.
You can pool your points with anybody.
The Bright Side… Earning Hyatt points is HARD!!! Luckily I can easily buy 77,000 points per year (55k + bonus) and spend them on rewards that save me far more than 1.7 cents per point…

How Can I Spend World of Hyatt Points?
World of Hyatt is fairly unique in that it allows members to book almost ANY room type using points at a fixed price, from the standard room up to premium suites. However, World of Hyatt will be implementing an off-peak / standard / peak award pricing structure in March 2020.
Hyatt has assigned its hotels to one of 8 award categories.
Standard Room Rewards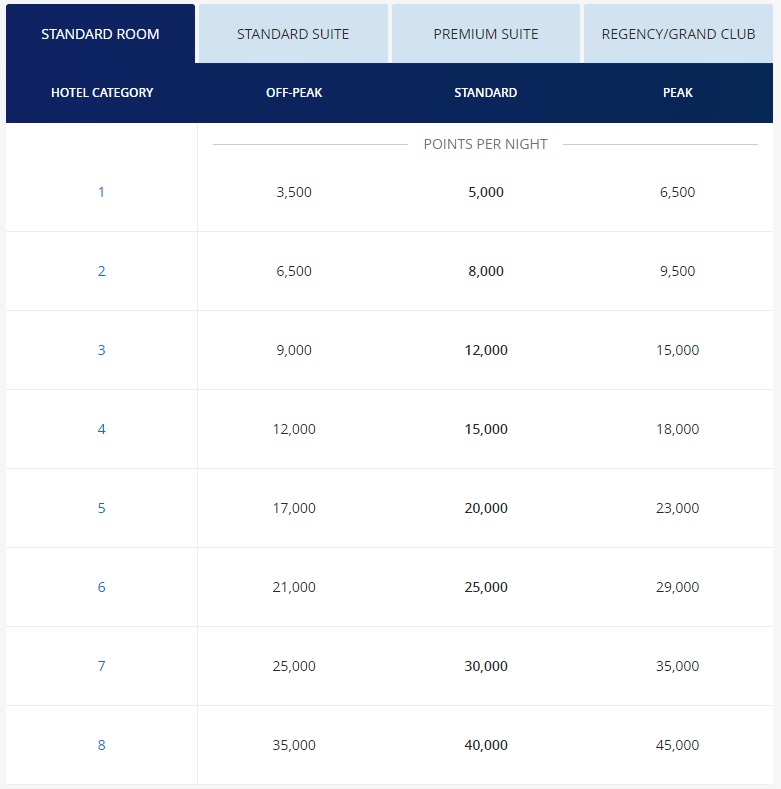 Regency Club (Executive Lounge) Rewards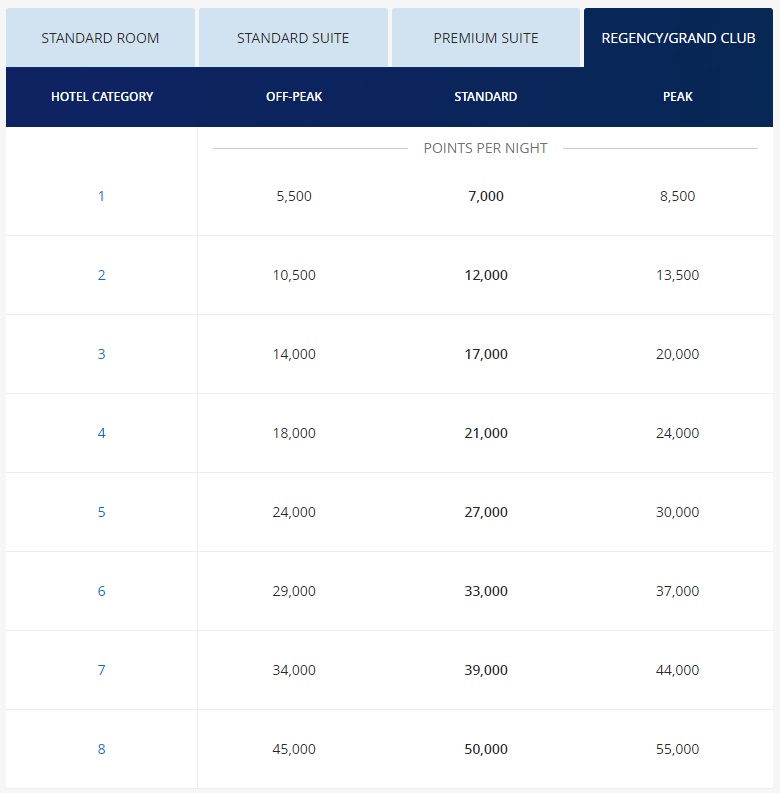 Standard Suite Rewards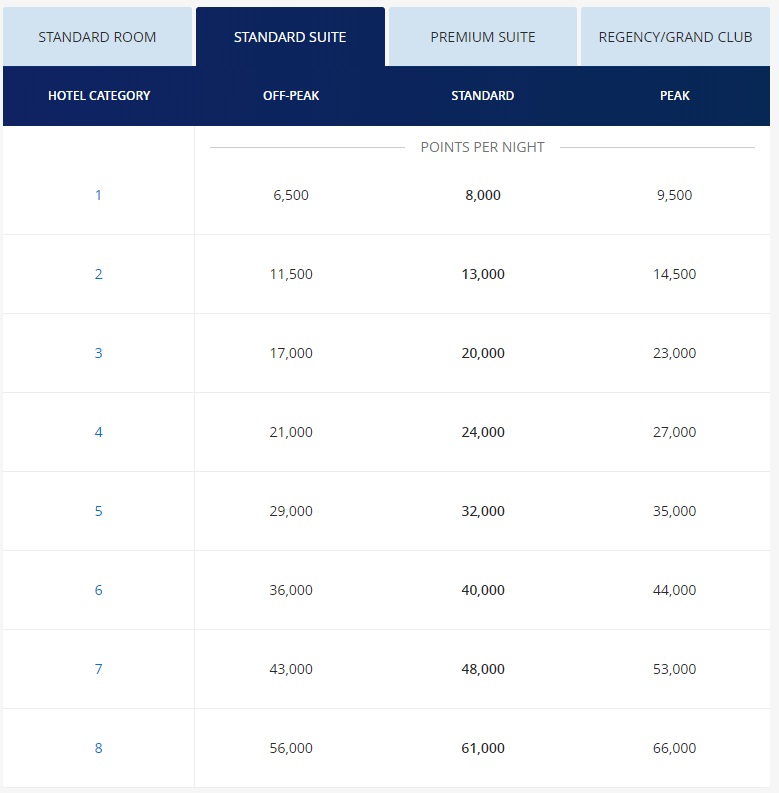 Premium Suite Rewards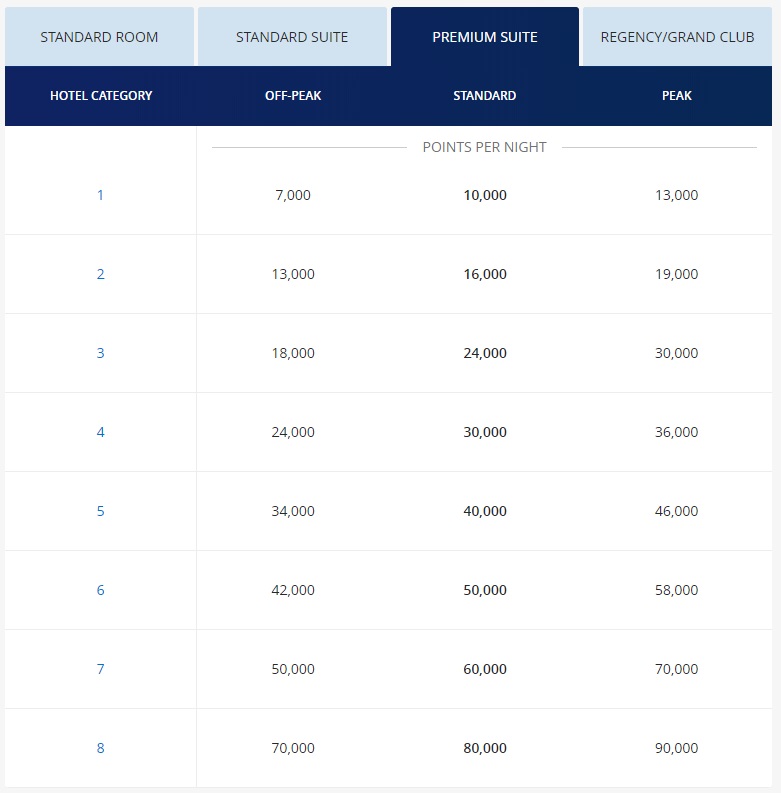 Free Night Certificates
5-Brand Challenge
If you manage to stay at 5 different Hyatt brands over your lifetime, you will receive one free night certificate valid for a standard room at any Category 1-4 hotel. This certificate expires one year after being earned.
As Hyatt currently offers 17 corporately-owned brands – Small Luxury Hotels and MLife do not qualify – you can earn a maximum of 3 free night certificates.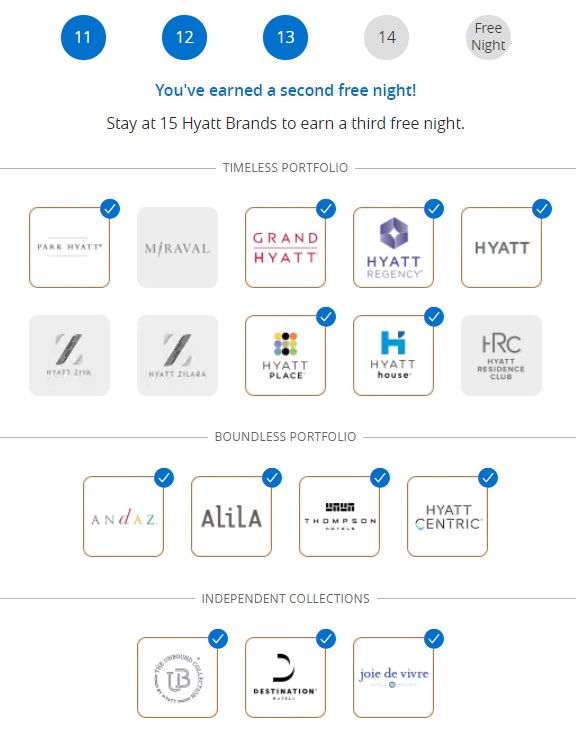 Do Hyatt Points Expire?
Points expire after 24 months of account inactivity. Tools such as Award Wallet allow you to track expiry dates.
In the absence of a Hyatt hotel stay, the easiest way of extending the life of your points is to buy 1,000 points for $24. (£18)

How Do I Earn Elite Status?
World of Hyatt has several levels of absurdly-named status: Globalist, Explorist and Discoverist.
A recent, interesting poll on Flyertalk had 75+% of respondents claiming Globalist or Lifetime Globalist status. Although Flyertalk members are clearly not representative of the wider population, this heavily skewed result does suggest that those in-the-know either aim for Globalist status or they simply don't bother with Hyatt…
Through Nights
Elite status qualification runs on a calendar year basis – 1 January until 31 December. To reach elite status, you must complete:
Globalist – 60 nights
Explorist – 30 nights
Discoverist – 10 nights
Reward stays (and free night certificate stays) count for elite status purposes.
Short Cuts
Paul recently wrote about his experience with switching to Hyatt thanks to a targeted status challenge.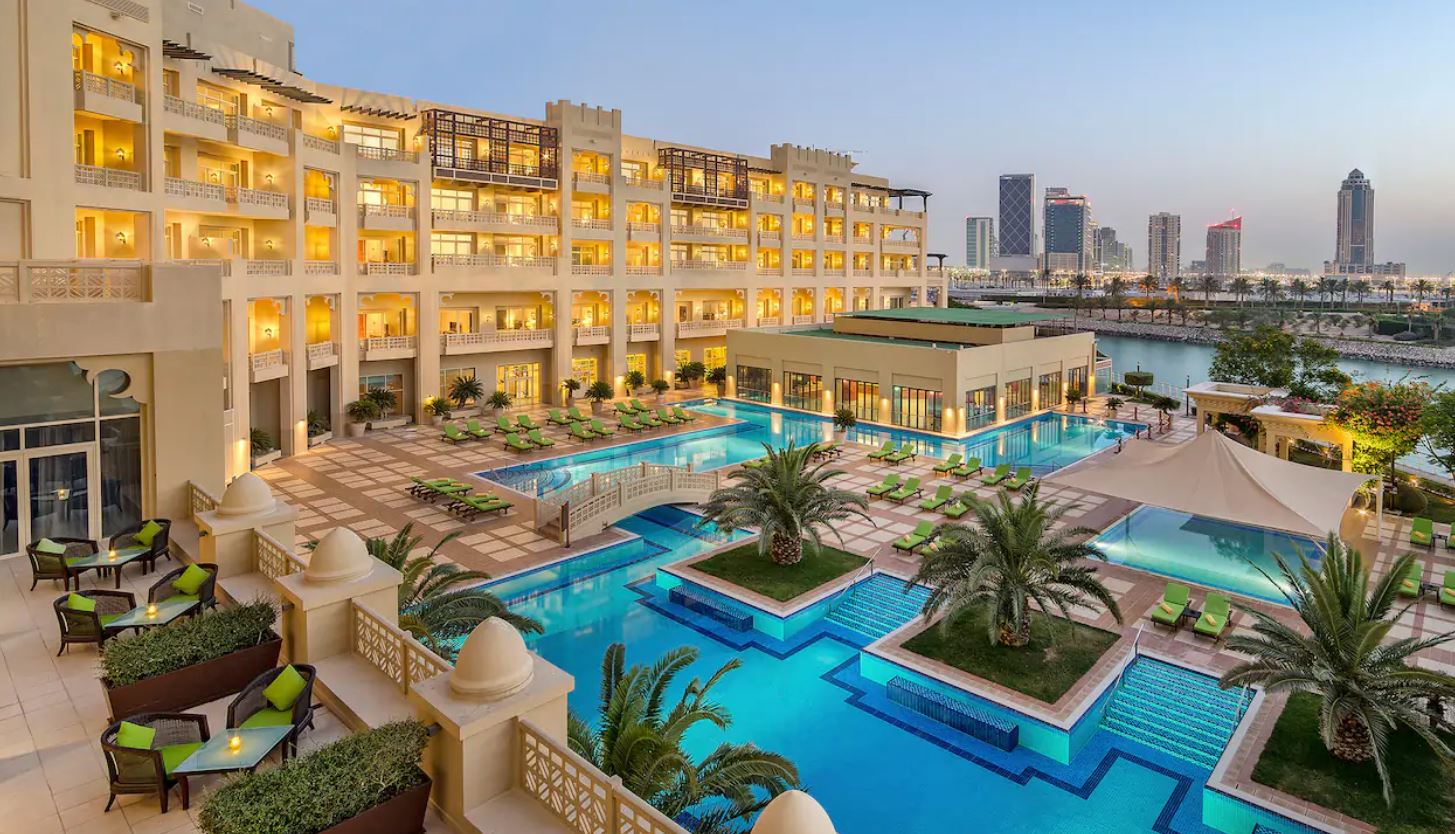 What are the Benefits of Elite Status?
Globalist members will receive:
Free breakfast
Guaranteed 4 pm late check-out
Guaranteed executive lounge access
30% bonus points
Upgrades to the best available room (including standard suites)
Parking fees waived when staying on award nights
Resort / Destination fees waived
An assigned Concierge who will handle any requirements you might have
Globalist members can also spend their points on Guest of Honor reward bookings for family or friends. Those guests will be treated as if they were a Globalist member
The Bright Side… even though you might be tempted to save those hard-to-earn Hyatt points for yourself, Guest of Honor allows you to treat loved ones to a special hotel stay. My parents still rave about their visit to Tokyo and their GoH stay at the Hyatt Regency.
Milestone Rewards
World of Hyatt has de-coupled some benefits from a member's level of elite status, and instead provides rewards during the year based on the number of nights stayed.
20 nights – 2 Club Lounge access awards for stays of 1-7 nights
30 nights – 1 free night certificate at a Category 1-4 hotel (valid for 6 months) and 2 Club Lounge access awards
40 nights – your choice of a $100 Hyatt gift certificate, 5,000 points or a 10,000 point discount on a FIND experience
50 nights – 2 Suite Upgrade Awards for stays of 1-7 nights
60 nights – 1 free night at a Category 1-7 hotel (valid for 6 months) and 2 Suite Upgrade Awards
70 nights – your choice of 1 Suite Upgrade Award or 10,000 points
80 nights – your choice of 1 Suite Upgrade Award or 10,000 points
90 nights – your choice of 1 Suite Upgrade Award or 10,000 points
100 nights – your choice of 1 Suite Upgrade Award or 10,000 points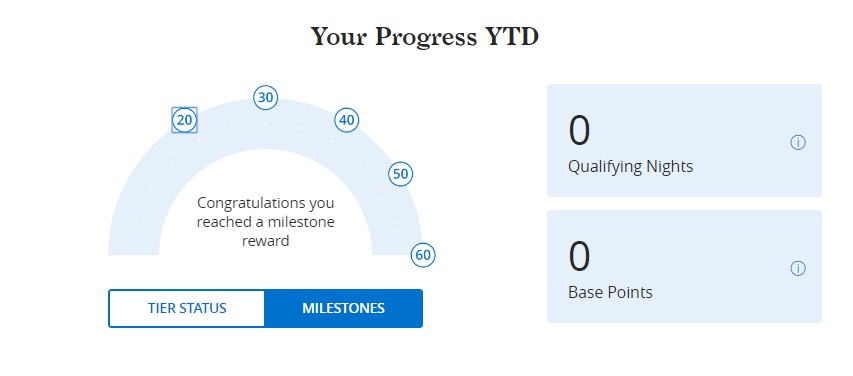 The Suite Upgrade Awards are the BEST perk available from the major hotel chains. At the time of booking your stay, you can CONFIRM a suite upgrade. It doesn't matter whether you pay using cash (booked direct) or points.
The Bright Side… Once you've made it to 60-night Globalist status, the flexible and well-organised can stay at least 28 nights per year in a suite. 60 nights aren't quite so daunting if your Asian beachfront stays are so pleasant!
Can I Earn Cashback? Or "Milesback"?
Simple answer… NO.
The 30-Second Lowdown
The most common complaint about World of Hyatt – its limited footprint of hotels – is also the reason why its elite benefits are so special. It takes serious effort to become (and stay) a Globalist when there isn't a Hyatt everywhere, so Hyatt makes sure that this effort is rewarded.
However, Hyatt has struggled to make World of Hyatt worthwhile for those travellers who cannot manage 60 nights per calendar year. (2 whole months!) The Milestone Rewards starting at 20 nights are an attempt to fix this, but they are relatively difficult to understand, especially compared to Hilton's simple offer of free breakfast for Golds.
The earn-to-burn ratio with Hyatt is excellent and the free night certificates you can pick up at 30 and 60 nights (as well as with 5 brands) can be deceptively valuable. However, it is truly disappointing that there are no cashback options.
I have mixed feelings about credit cards, and how an excess of points in circulation can cause devaluations, but the lack of a European credit card options places us at a serious disadvantage vis-a-vis Hyatt's American members. The ability to spend points on club rooms or even suites would be a fantastic option, but how is a European resident supposed to earn them!
I suppose that eventually I'll grow tired of the discipline needed to find 60 Hyatt nights in a calendar year, but as long as there are new Hyatt hotels to discover in exotic locales, and confirmed suite upgrades to make those hotel stays even better, I'll continue to make Hyatt my main hotel loyalty programme…
You can join World of Hyatt here.