Michael Caines, MBE is my favourite chef. Not only for his stunning food but for being an inspiration to so many people. Michael was just 25 years old when he got his head chef job at Gidleigh Park. Only 3 months into the job, tragedy struck in the form of a serious car crash which resulted in him losing his hand. Many people may have given up on being a chef at this point since your hands are as essential as your palate to most chefs. Not Michael, however, who was back at work in the kitchen in an unbelievable 2 weeks after the accident. He later went on to win 2 Michelin stars for his food at Gidleigh Park. I was lucky enough to eat at Gidleigh Park a couple of years ago and the meal was one of the best I have had in terms of the food, although I wasn't so keen on the decor and service.
When I heard Michael was opening his own hotel, Lympstone Manor, I was excited to try it.
Lympstone Manor Hotel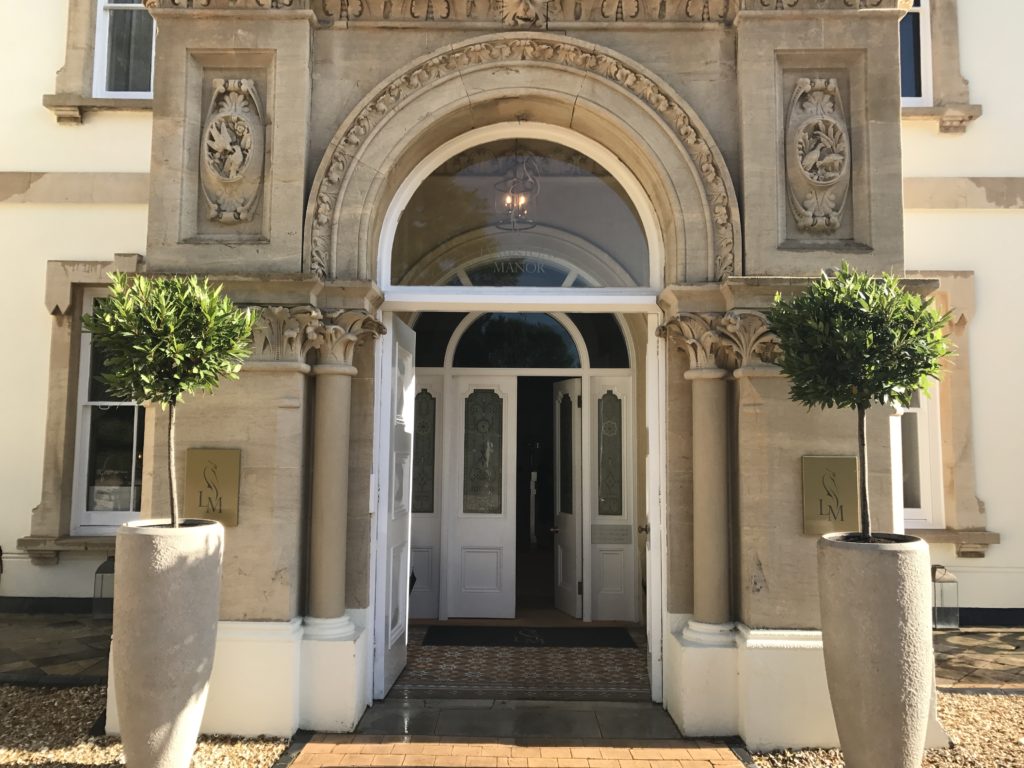 Lympstone Manor is set is a sublime spot overlooking the Exe Estuary in Devon. The Grade II listed Georgian mansion was once a private home and was previously owned by The Barings family of Baring bank fame. The hotel is set in 28 acres countryside with plenty of walks to try around the grounds and along the Estuary. It also has the quintessential English summer pursuit, a croquet lawn. East Devon has the nearby beaches and seaside towns of Regency Sidmouth, Budleigh Salterton and Exmouth; the gateway to the UNESCO Jurassic Cost. Moving inland you have historic towns such as Ottery St Mary and Honiton; well-known for its lace and weekly market.
"The opening of Lympstone Manor is the realisation of a dream," says the two-Michelin star chef, who hails from nearby Exeter. "Everything that I have achieved in my long career has brought me to this point where I can fully express my vision of contemporary country house hospitality for the 21st century. I can't wait to welcome old and new friends to my new home!"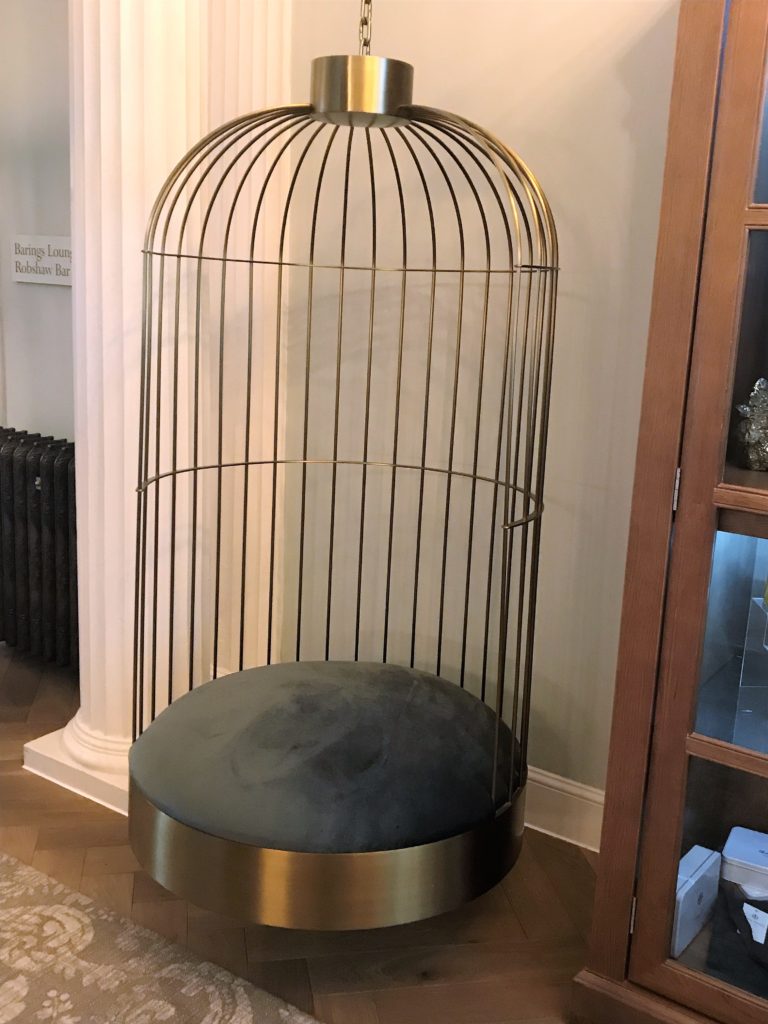 As we arrived we weren't sure whether to drive up to the main house as the car park was just before the main house. After I had wheeled my suitcase over the gravelled drive and left tram lines like a raked Zen garden over it, we discovered that you are meant to pull up at the door and they will park your car for you! We were greeted at reception with a scented hot towel and informed that as we were celebrating a special occasion we had both been upgraded to Junior Suites in the main house. This was a lovely surprise and a great way to start the trip. However, it was about to get even better.
As I was about to head up the stairs to my room, Michael Caines appeared in reception and said hello which really made my trip. There are many restaurants and hotels owned by celebrity chefs where you never actually see them but Michael is a regular presence in the hotel and kitchen here.
The Lympstone Manor Hotel doesn't have much in terms of facilities yet but they can arrange for spa treatments in your room and there are free bicycles to use too. We enjoyed a cocktail on the terrace whilst looking at the magnificent views after check-in.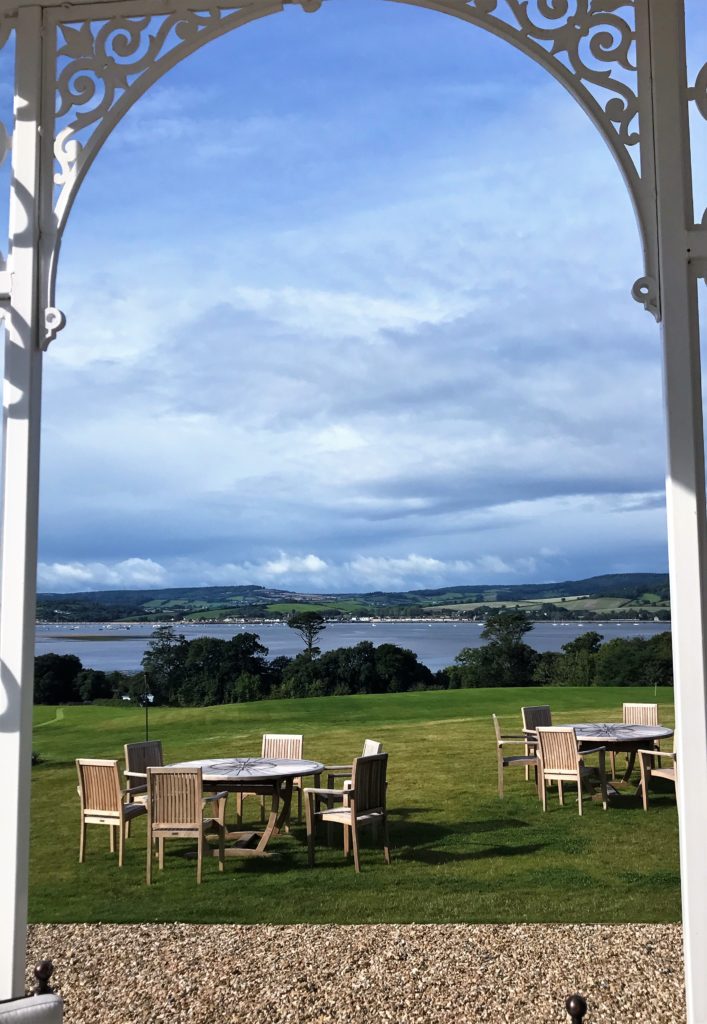 Lympstone Manor Rooms
Once we had completed the formalities we were shown where the bar and restaurant was and then escorted to our rooms. Each room is named after a bird that lives on the Estuary and the decor coordinates with the colours of the bird. We were in Kingfisher and Oystercatcher which both had stunning views of the Estuary.
Lympstone Manor Hotel Kingfisher Junior Suite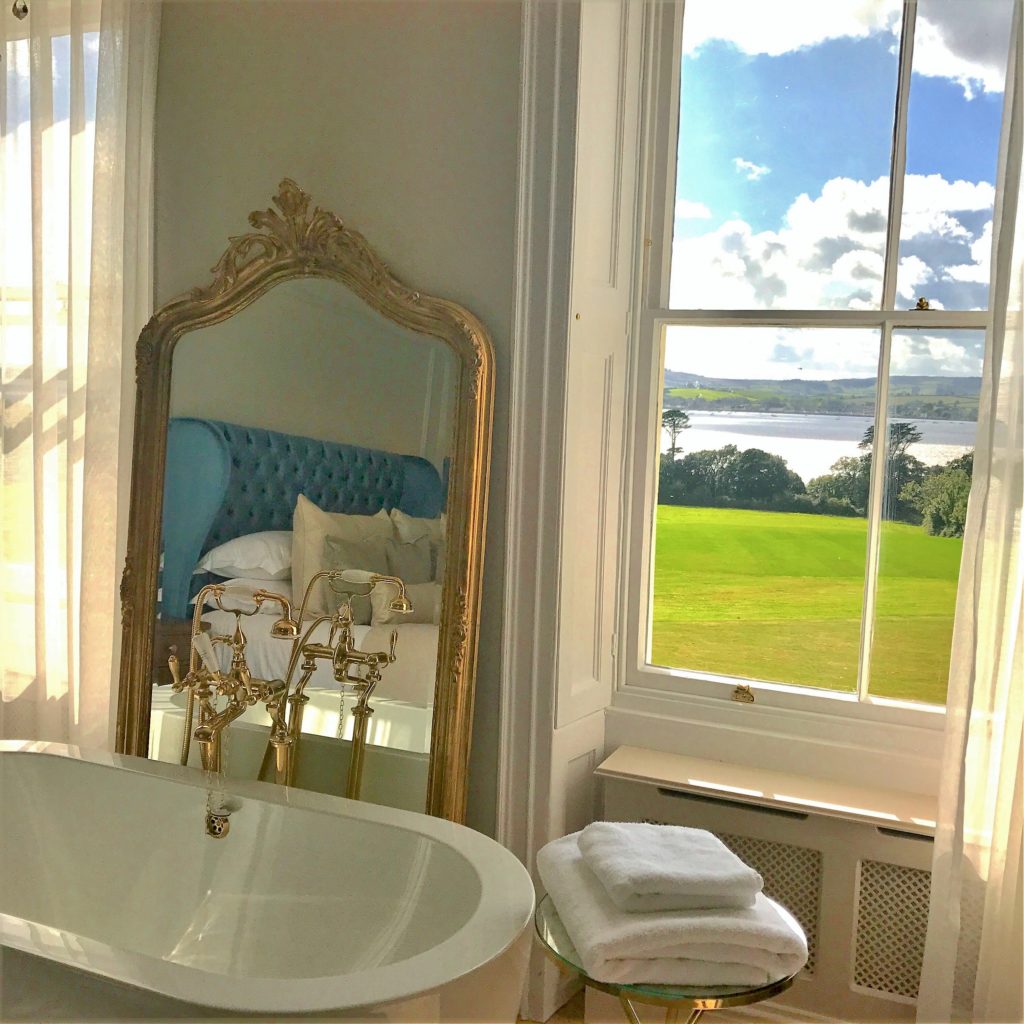 The Lympstone Manor Hotel room was decorated in a neutral decor with duck egg blue accents and opulent gold accessories. I would call the hotel style luxurious modern classic which is similar to one of my other favourite hotels, the Corinthia in London. The room felt luxurious and well equipped with a lot of attention to detail like much of the hotel. The Lympstone Manor Hotel rooms are all individual owing to the layout of the building which obviously could only be changed so much due to its grade II listing. If you have stayed at Gidleigh Park, Michael's former restaurant home, you will recognise a lot of the touches he has brought with him. The room had a Nespresso machine, kettle with excellent quality Canton teas which are very premium, fresh milk in a steel thermos container and freshly baked biscuits in a jar.
There were also GHD straighteners plus a GHD hairdryer and a magnifying mirror to ensure you look your best for the fancy restaurant!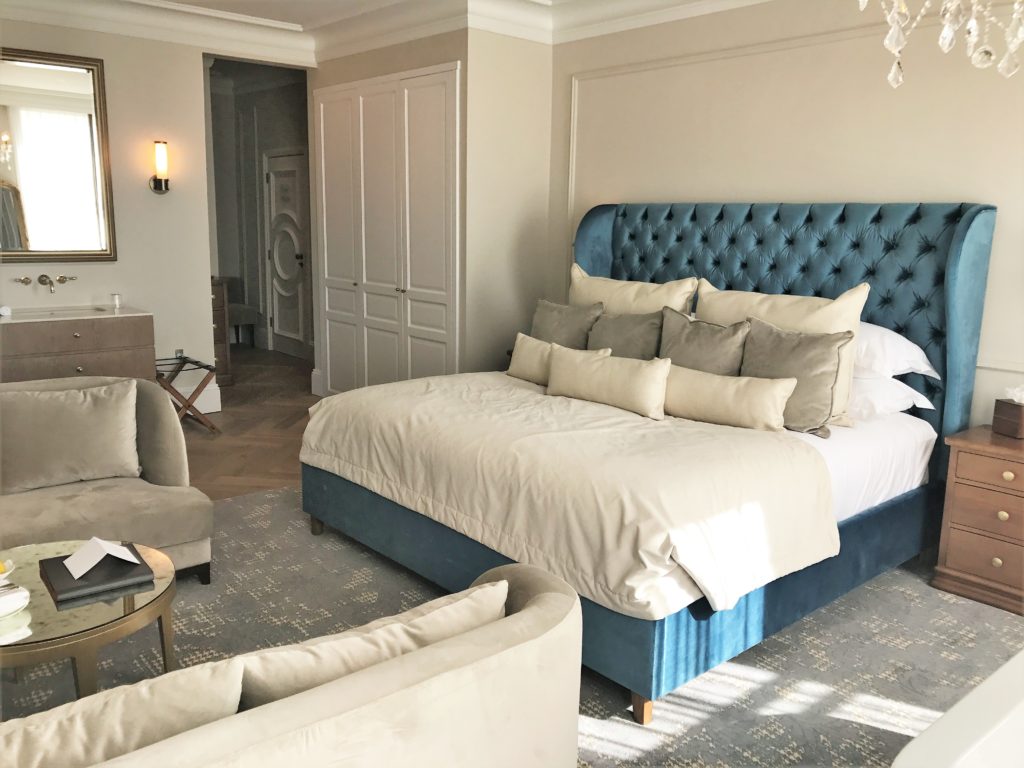 Above the fireplace was a large Smart HD TV which had some useful features such as being able to mirror your iPhone or iPad and apps such as Youtube.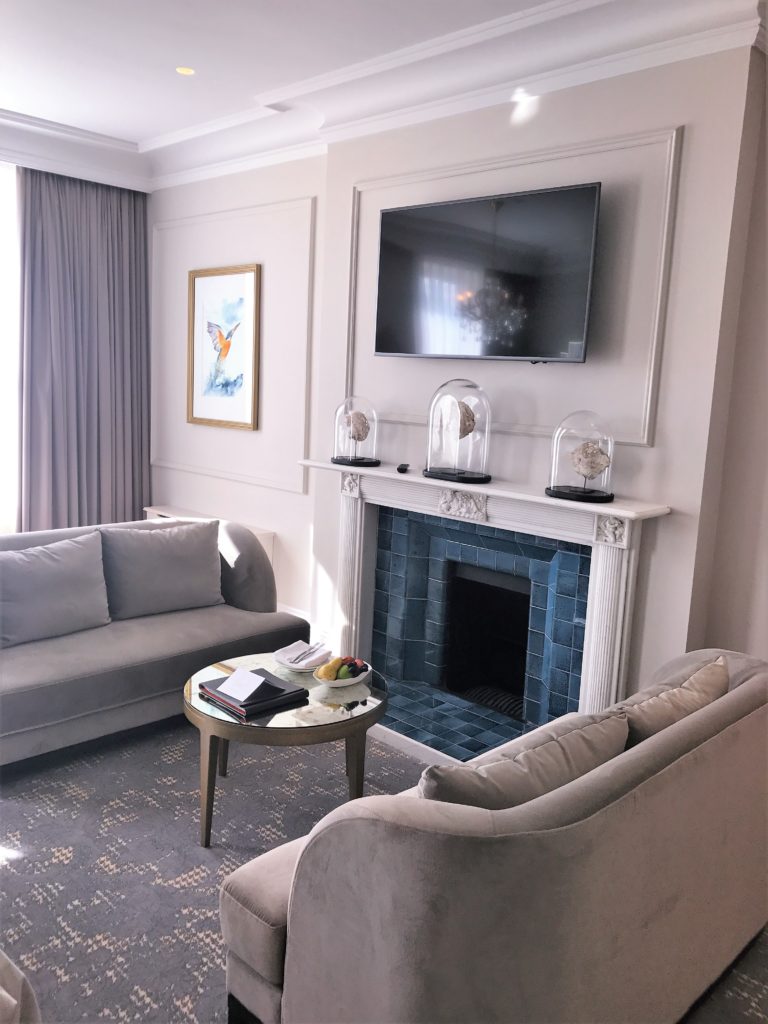 One of the other features I loved was the gin tray. This had two different types of British Williams Gin, Fever Tree tonic and a lime with a cutting board and knife. Ice was also provided when we arrived and again at turndown. Two bottles each of still and sparkling mineral water were provided and replenished at turndown.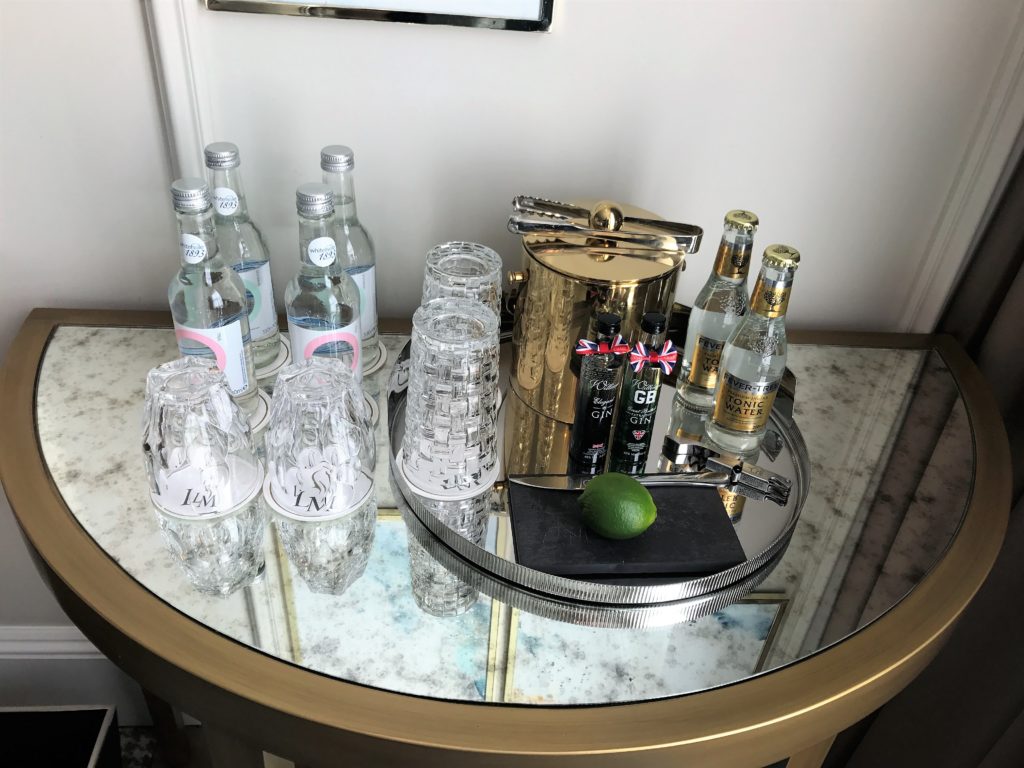 There was a double sink unit in the room which was about my only complaint (and as my readers know I am pretty picky!) I would have preferred the sink unit in the bathroom but obviously, it wasn't possible with the room layout. There was nowhere to hang a towel by the sinks which I found annoying and could be easily remedied.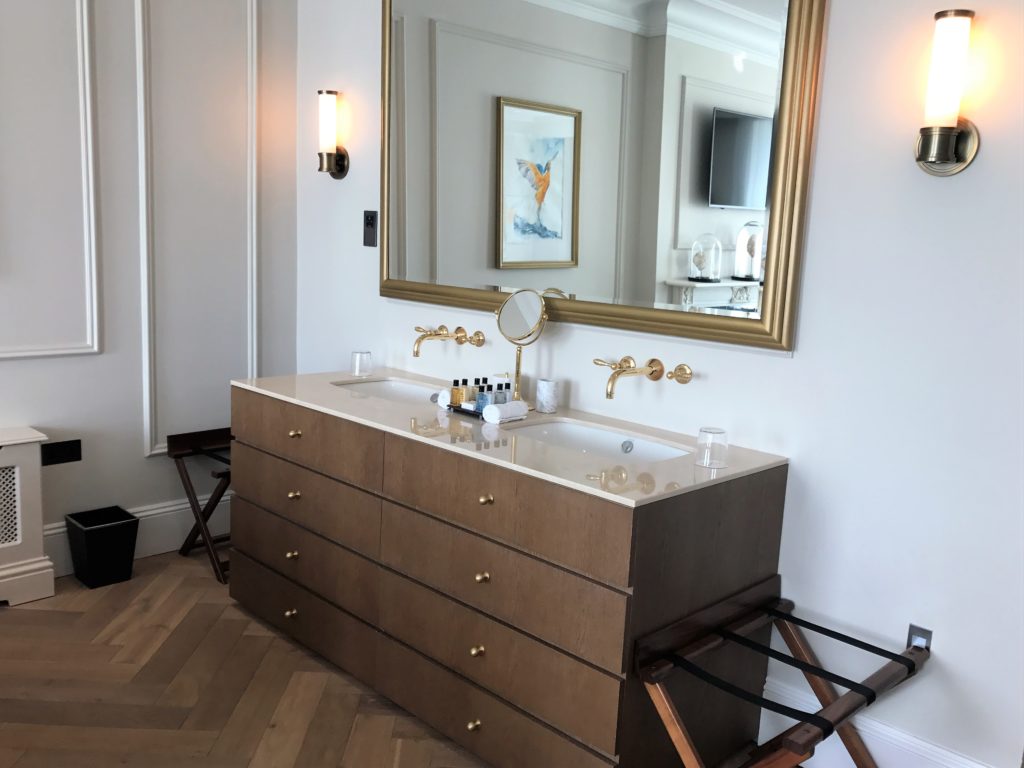 There was an excellent selection of L'Occitane toiletries with 2 choices of fragrances which is a great idea for his and hers or if you just aren't keen on one. It would have been nicer if it had been a British brand though. In a separate area, the toilet was housed in a small room and a large walk-in shower was situated in the open with an enormous rain-head. Bathrobes and super soft slippers were also provided.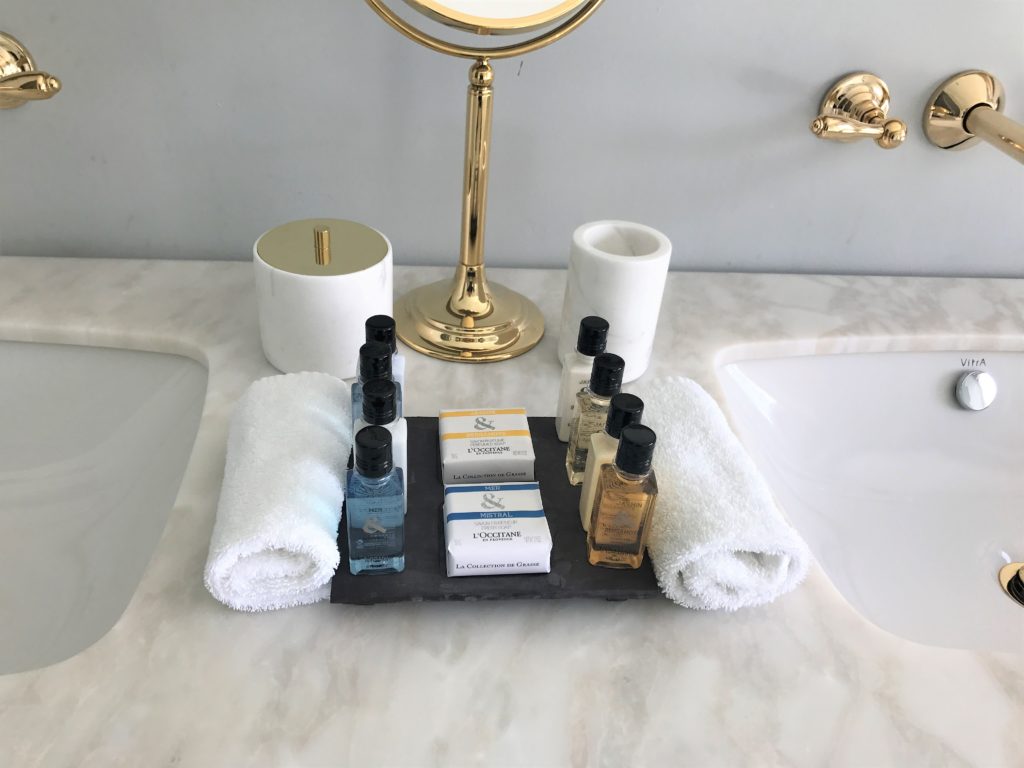 Oystercatcher
This was slightly different in layout as the sink and bath were in the bathroom. A nice touch were the candles flickering in the fireplace. The room had a much more masculine feel to it, which was more suitable for my travelling companion, Turning Left For Less's Roving Reporter.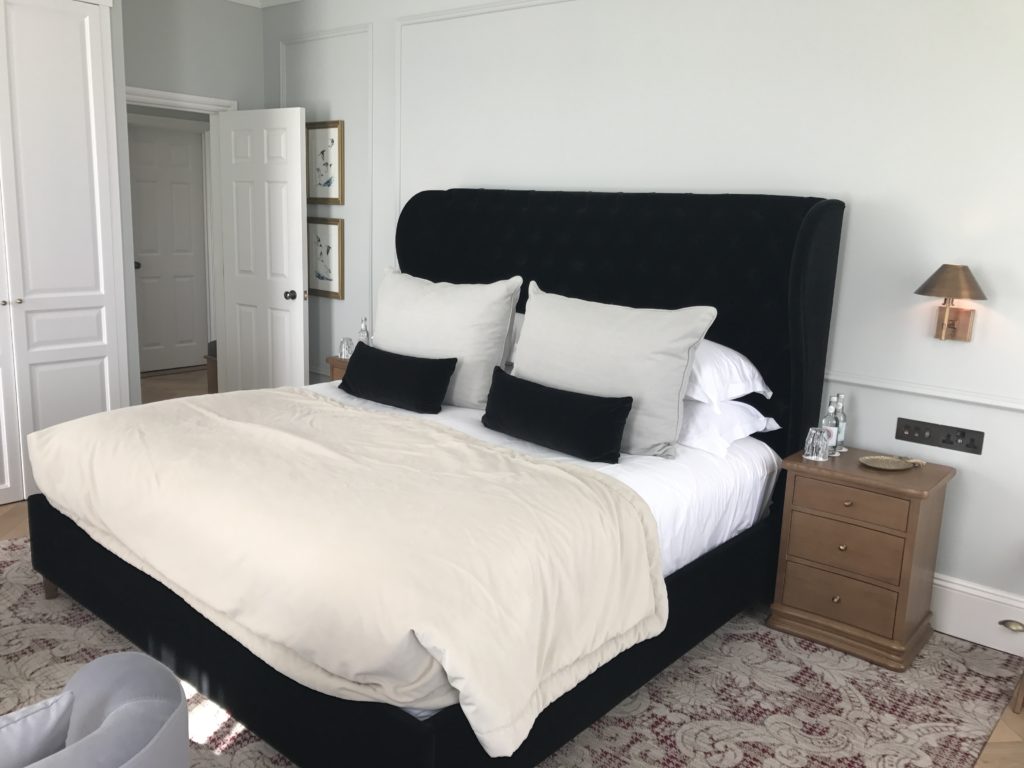 Estuary Suites
We were shown some of the other rooms in the hotel and our favourite was the Estuary suites. The ones on the lower floor have an outdoor bath and a firepit. All of the estuary rooms are situated in a private area with lawn chairs to relax in and enjoy the view.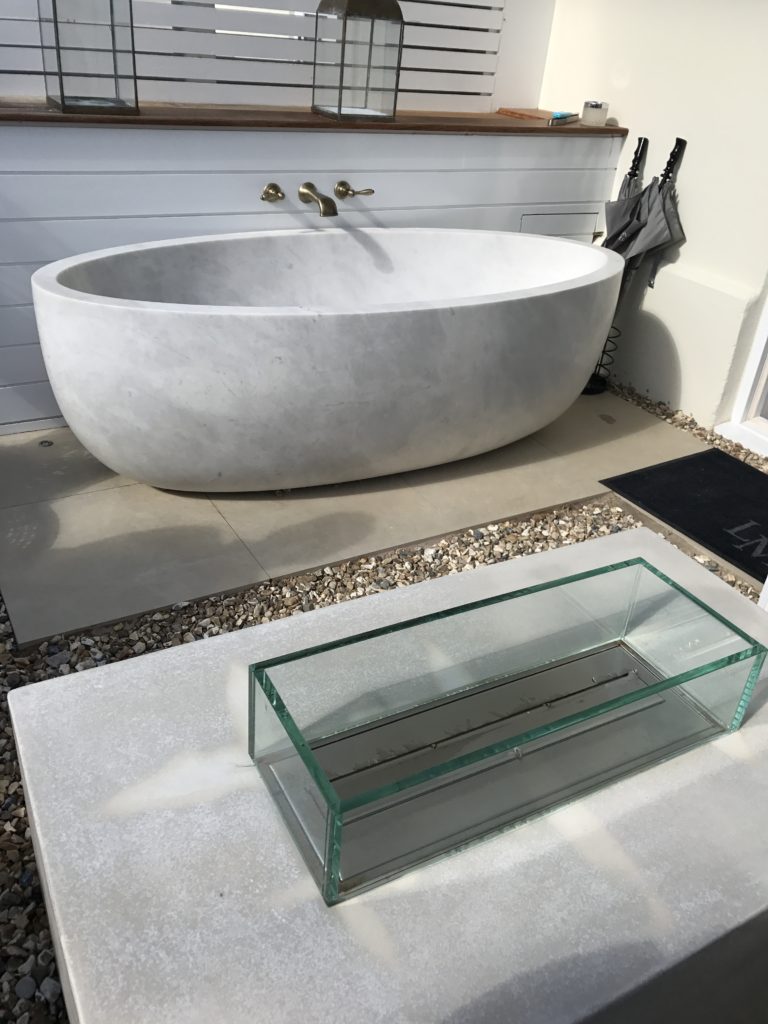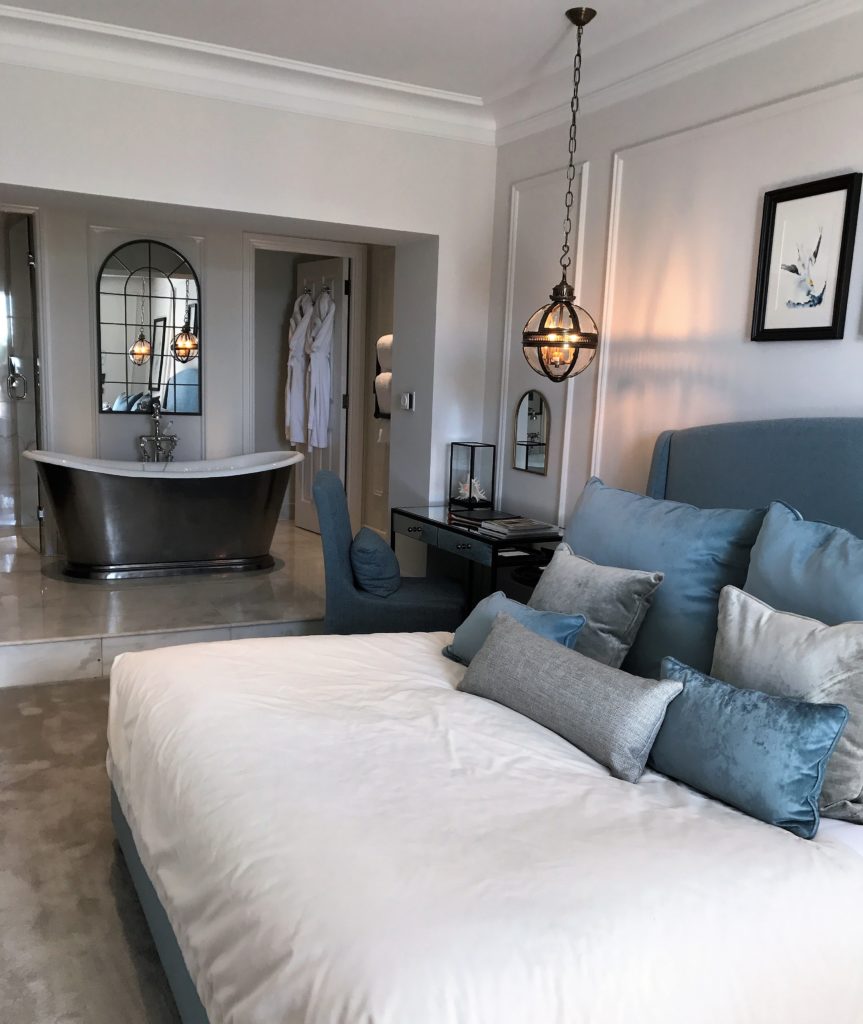 Other amenities
If you get peckish or need extra room supplies, Michael has bought the pantry concept with him from Gidleigh Park. In the pantry, guests can help themselves to fruit, tea, coffee, milk and water as well as cakes in the afternoon.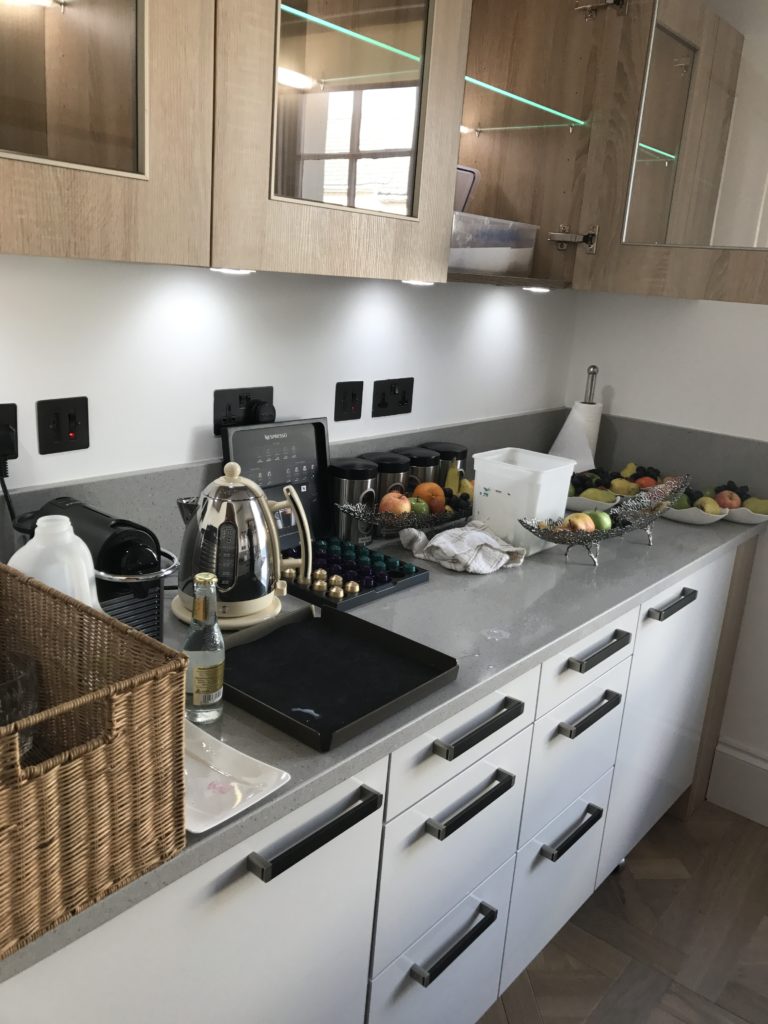 Another nuance from Gidleigh is the morning tea tray which is brought to your room at the requested time. There is something very decadent about being served tea or coffee first thing in the morning to enjoy in bed looking at the fabulous views.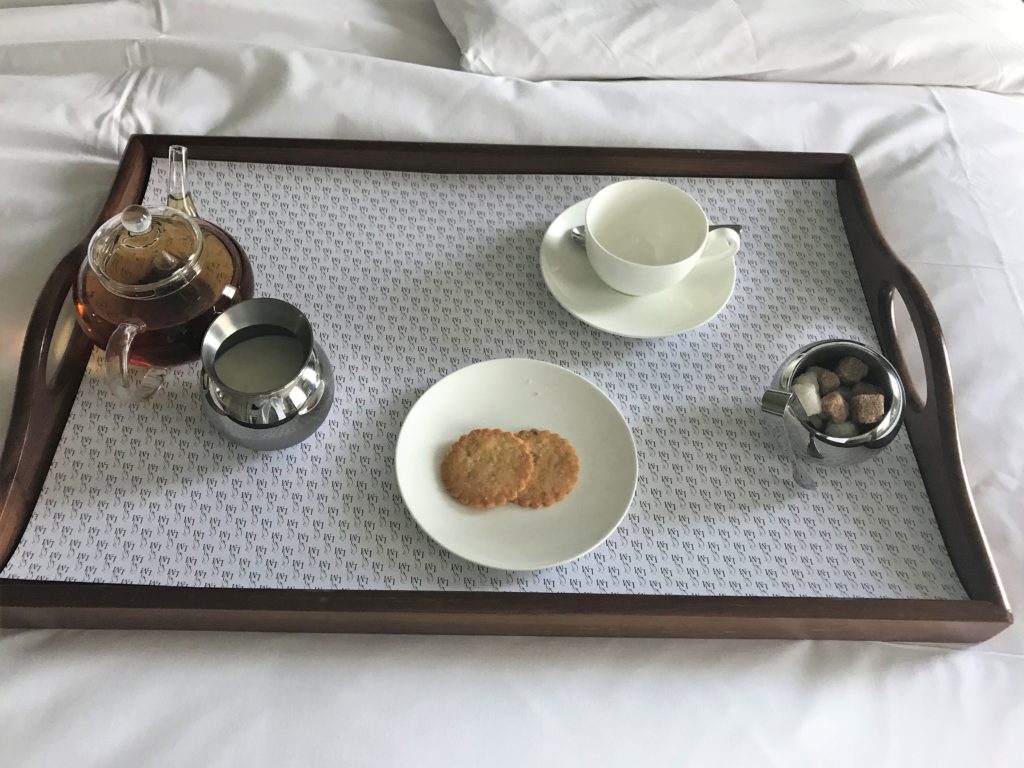 Lympstone Manor Food and drink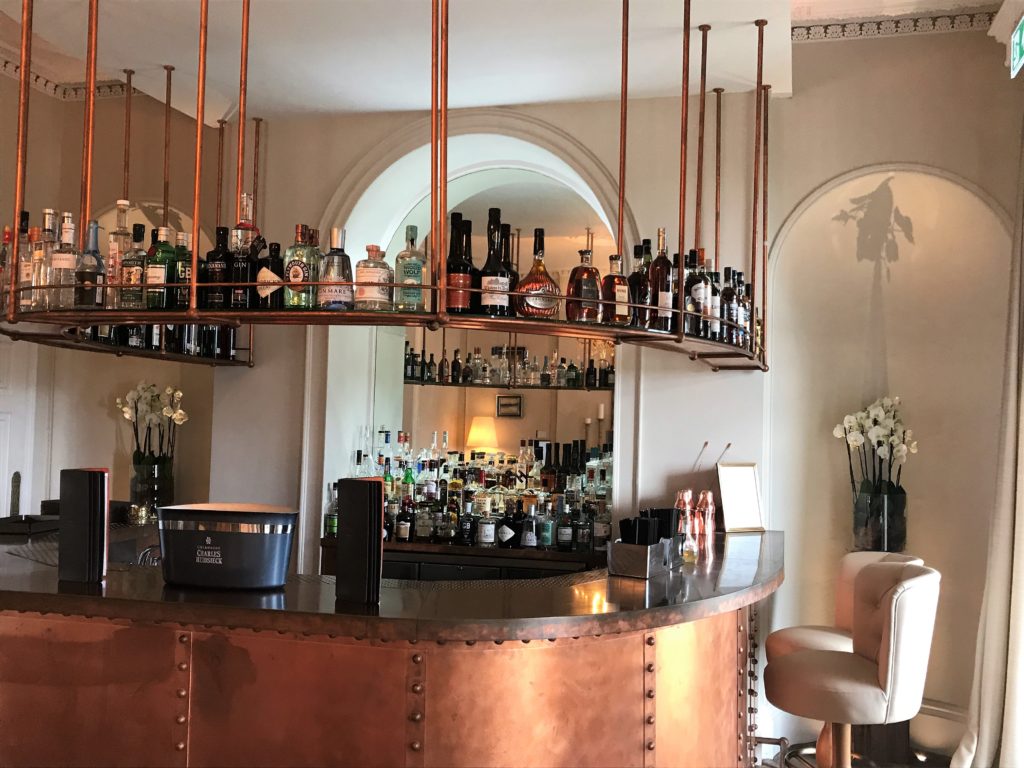 Obviously coming here the food is the main event and it would be criminal not to sample Michael Caines' food if you visit. Lympstone Manor was awarded one Michelin star only six months after opening.
If you are staying for a few nights they also have a simpler menu available as well as room service. We started with a champagne cocktail in the bar and lounge area. This had a lovely copper bar as well as comfortable sofas to relax whilst you peruse the menu.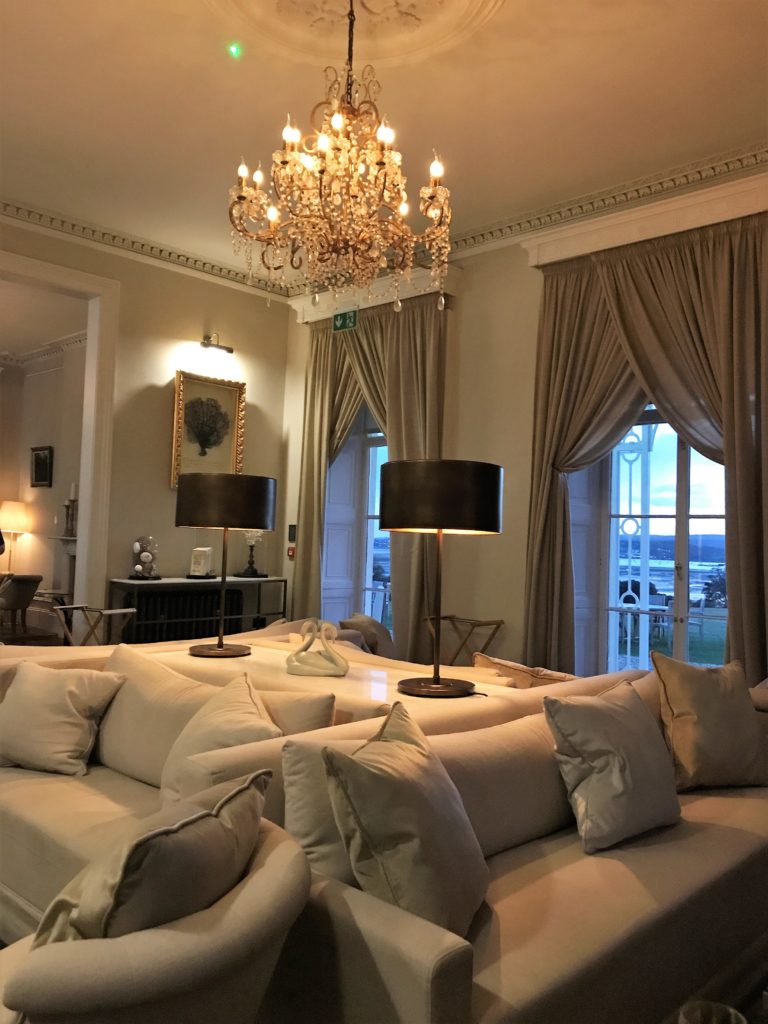 On a warmer night, there is a lovely terrace to sit out and watch the sunset over the Estuary. Thoughtfully blankets were provided but we had put the terrace to good use earlier when it was still relatively warm.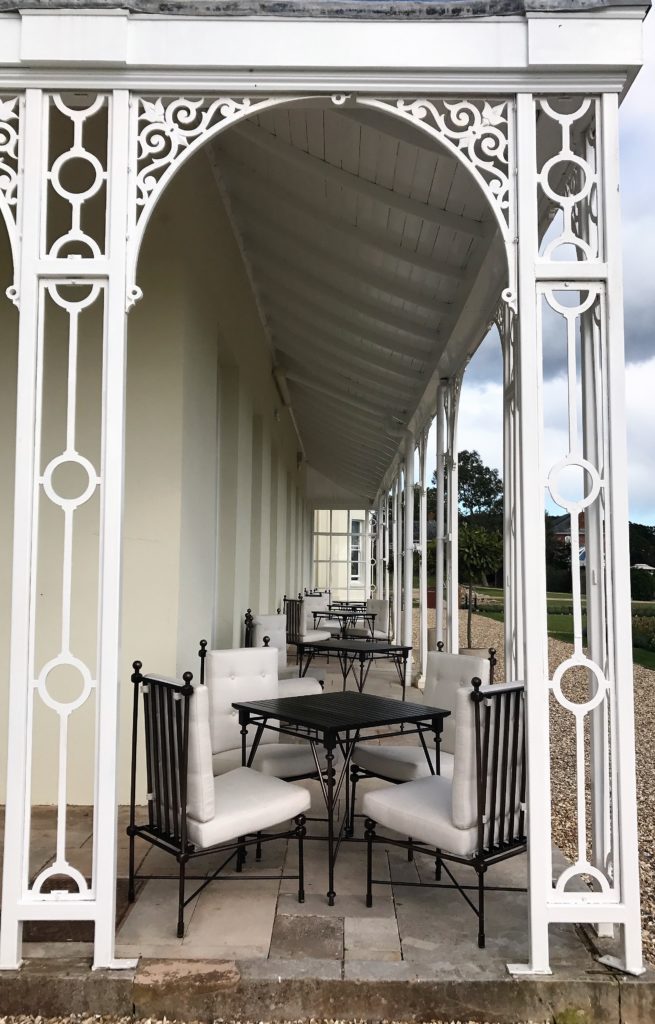 We both had the signature drink, Lympstone in Bloom, which contained Michael Caines Champagne, Chase Grapefruit Gin and Elderflower. This was accompanied by a selection of canapes which included a punchy carrot and ginger mousse, a delicate salmon tartare and a delicious beef fritter with an earthy truffle mayonnaise.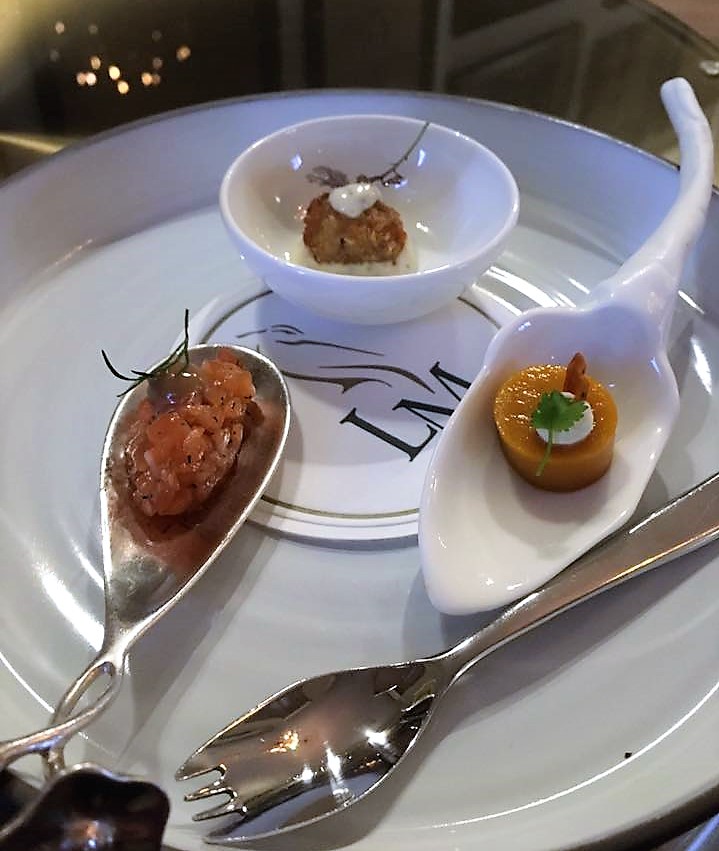 There are 3 choices for dinner which is served between 7.00pm and 9.30pm. You can have Michael's à la carte menu at £115, the Signature eight-course tasting menu at £160 or his creative taste of the Estuary menu at £150 championing the Exe estuary produce. We decided to go for the Signature menu since it featured a balance between fish and meat and also had a cheese course. You can go for matching wines if you wish but we decided to pick our own by the glass aided by the knowledgeable Sommelier. If you are a wine buff you may like to have a look at the wonderful wine room where the hotel can also organise wine tastings for a charge.
Roving Reporter is something of a bread fiend so his eyes lit up when the waiter served our bread from a choice of 3 and then left the whole basket. We have eaten a lot of good bread in our time but this was definitely the best, both light and fluffy as well as crusty. RR summed it up well as 'eating a cloud with a crusty outside." Michael's food is based in the classics and does not have the molecular gastronomy elements that you can expect from somewhere like the Fat Duck. Put simply, it's just delicious food cooked to perfection and well-balanced between each element.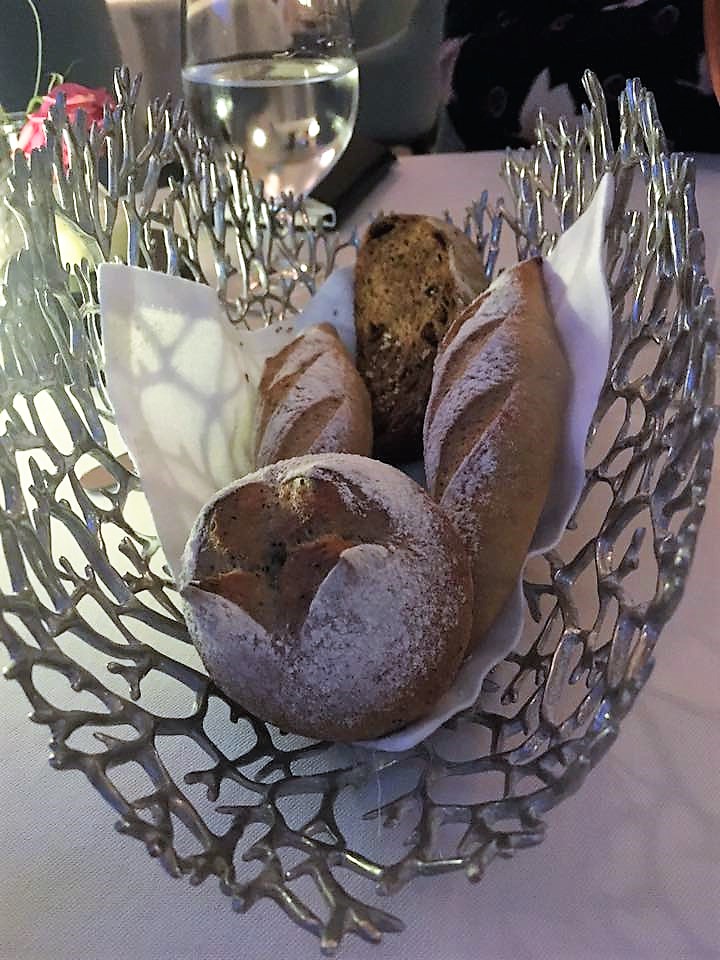 The menu started with Langoustine cannelloni with sauce vierge, lemongrass and ginger. The Asian flavours accents were very subtle as was the whole dish. It eased you into the tasting menu with the delicate sweetness of the Langoustine surrounded by silky smooth pasta. We accompanied this with a glass of the Michael Caines Rose Champagne.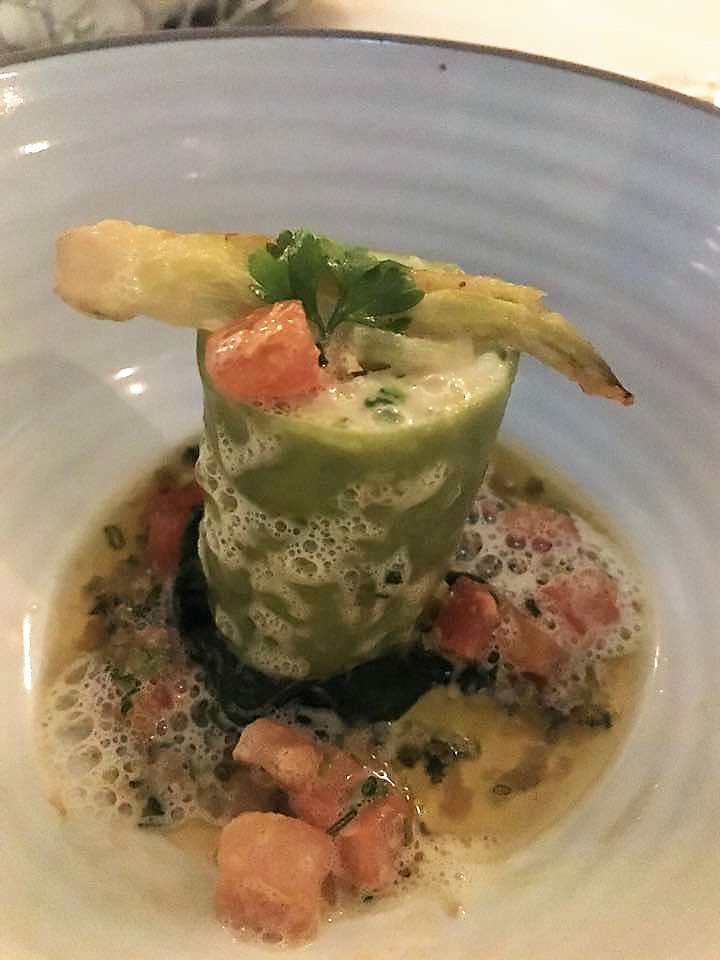 Next came Quail's egg tartlet with onion confit, black truffle and smoked bacon and a light quail jus. This had the perfect balance between the crisp pastry, rich quails egg and the beautifully cooked tender and moist quail with just the right amount of fresh truffle grated over.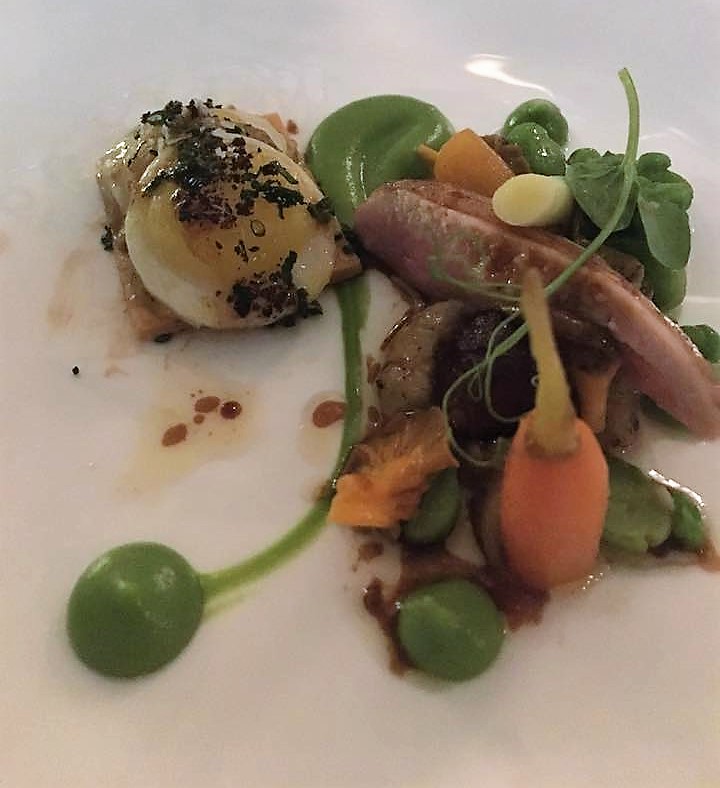 The next course was Cornish salt cod, Beesands crab, chorizo, samphire, tarragon and lemon purée. I am not a fan of tarragon but it was fairly subtle in this Mediterranean inspired dish. The lemon puree was not too bitter and added a nice zing to the dish along with the paprika dusted on the outside of the soft salt cod which also worked well with the chorizo flavour. None of the flavours overpowered the delicate crab which would have been easy to do. We accompanied this with a glass of Albarino from Marimar Estate, Russian River Valley which was exceptional.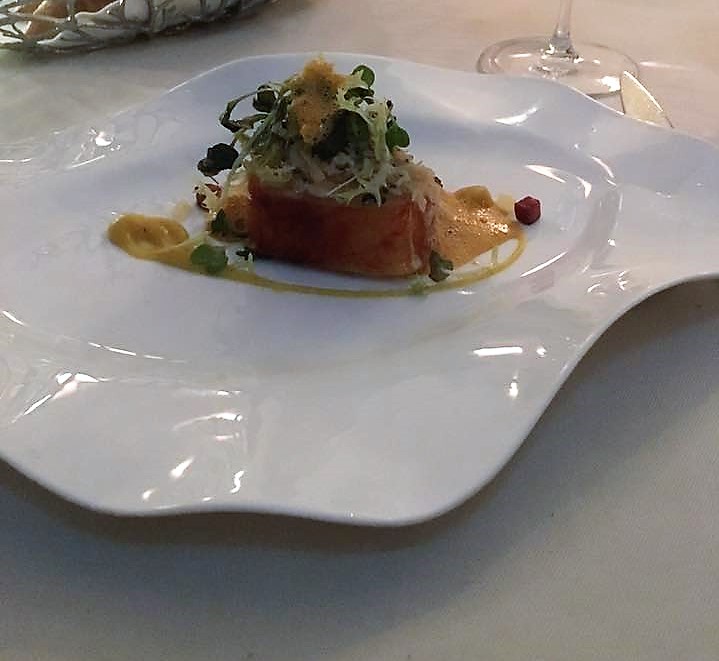 Pan-fried duck liver with orange braised chicory, marinated raisins and caramelised walnuts in orange sauce was next. I was worried this may be quite rich but again Michael's deft touch offset the rich iron liver flavour with the orange sourness and the bitterness of the chicory. The crunchy sweetness of the nuts added texture to the tenderness of the liver. This was one of my favourite courses of the evening.
At this point, we switched to the cheekily named Sangiovese, Call Me Crazy, from the Napa Valley. This was an excellent example of a Sangiovese with ripe cherries but not too much tartness or tannins.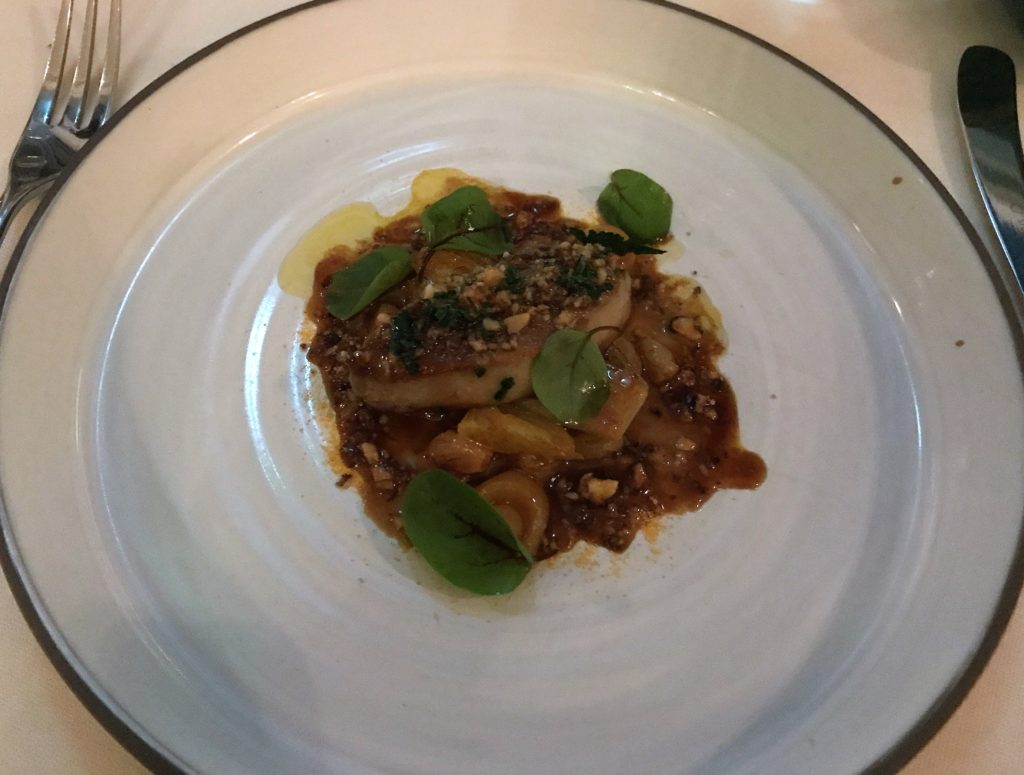 The main event was the Fillet of Darts Farm beef with horseradish and shallot confit, celeriac purée, mushrooms and red wine sauce. This was unsurprisingly a delicious celebration of beef which was cooked medium rare. The sauce had just the right amount of wine flavour with a rich beef undertone. The horseradish gave the necessary punch to the beef whilst the celeriac puree was silky smooth with a hint of aniseed flavour coming through.
I decided to be adventurous and try the local wine Lily Farm, Jurassic Red from Devon. The sommelier had warned me that it would be earthy and she wasn't kidding! This was a challenging wine and quite unlike anything I have had before. It was almost like compost and tomato tops with its earthy notes but I actually quite enjoyed having something different!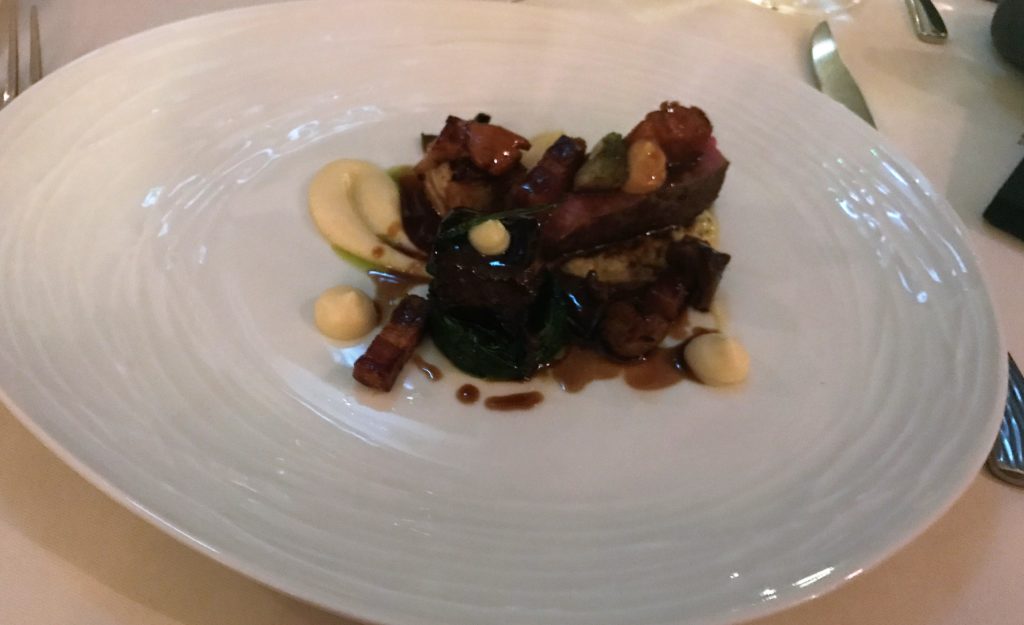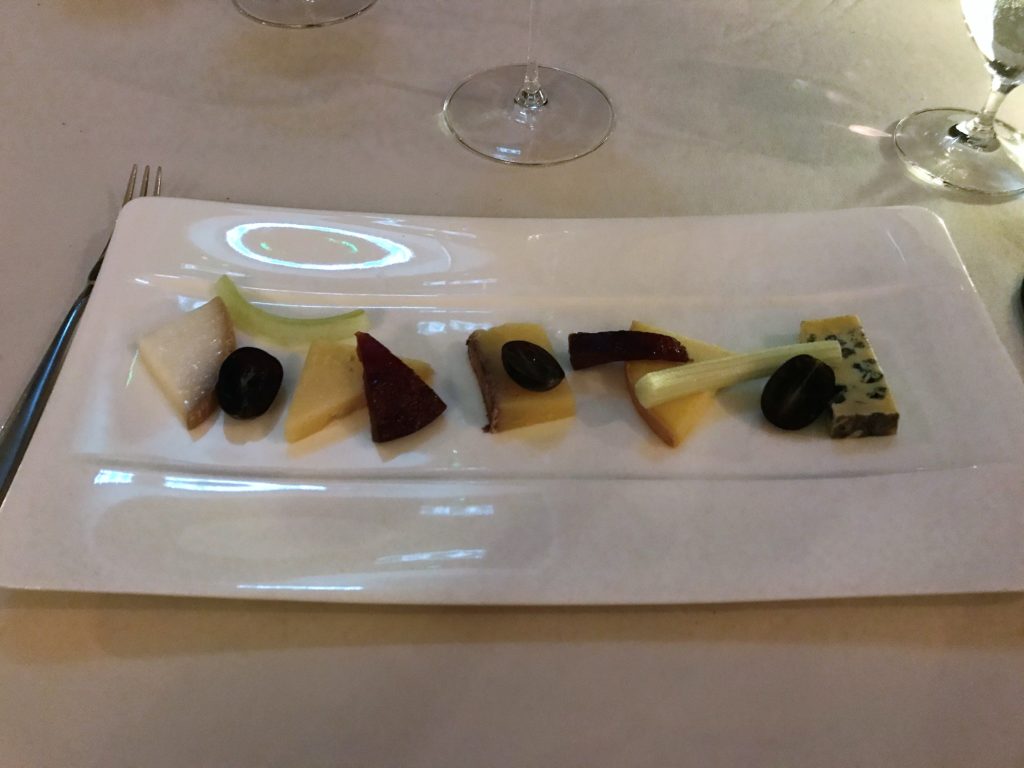 Selection of English cheeses
Another of my favourite courses was the Apple mousse with green apple sorbet. This was a wonderful palate cleanser with a surprisingly delicate but creamy apple mousse offset with a sharp refreshing sorbet. The sorbet was like biting into a granny smith with its delicious tart acidity and sweet juice.
The final course was one of Michael's signature dishes – Chocolate orange confit mousse with orange confit sorbet. We had both had this at Gidleigh Park and this was just as good. I am not usually a fan of chocolate desserts as I find them a bit much at the end of a big meal. However, Michael's mousse is incredibly light and the sweet orange flavour helps cut through the richness especially with the tangy sorbet. I loved the playful orange shape of the mousse.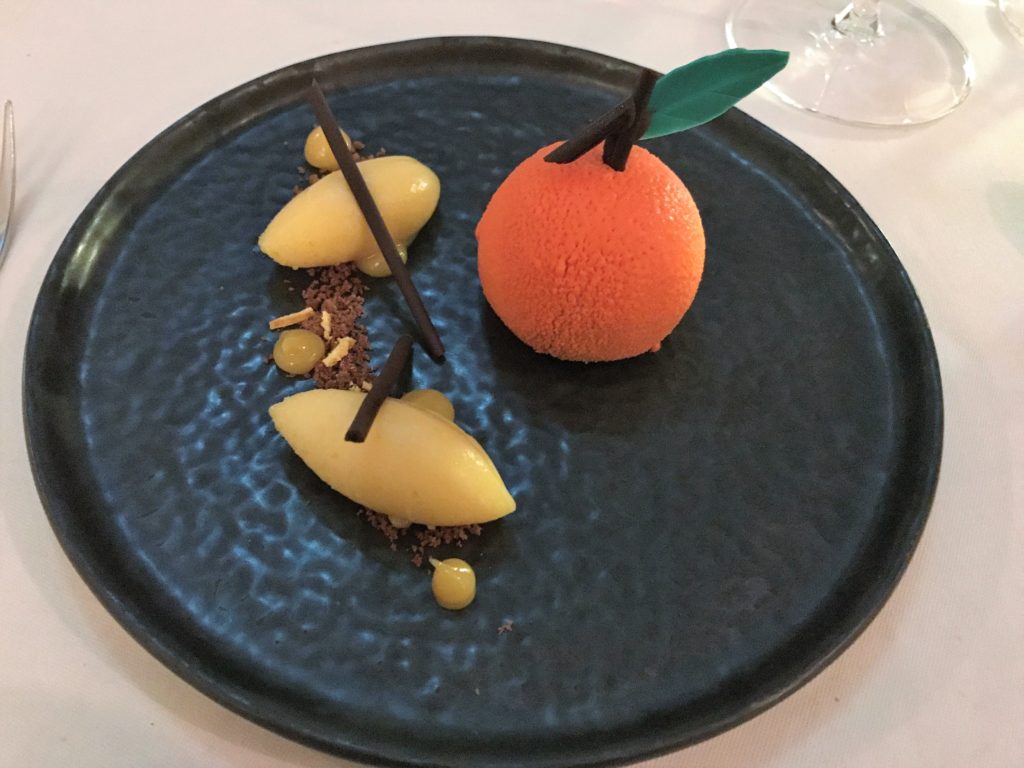 The decor in the restaurant was much nicer than at Gidleigh and there is a choice of 3 rooms to sit in. The service was also excellent. Our young Dutch waiter was great – friendly but knowledgeable and he knew the answer to any questions we asked him about the food.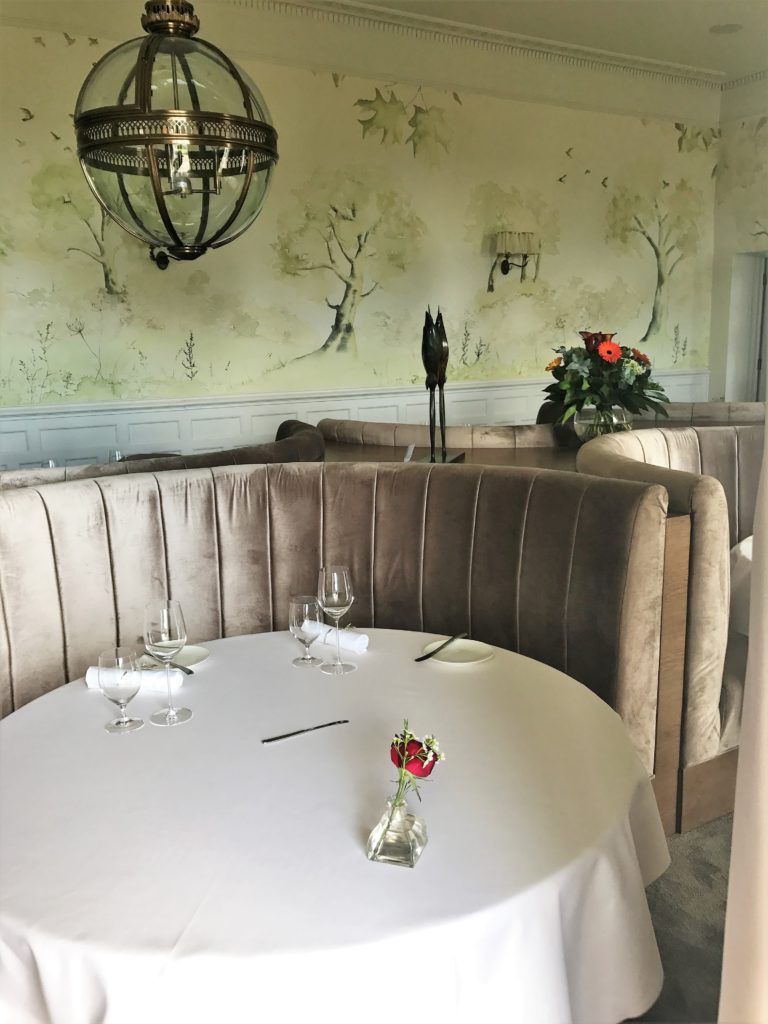 Coffee and Petit Fours was also included but although they looked lovely we couldn't face any more food!
Lympstone Manor Breakfast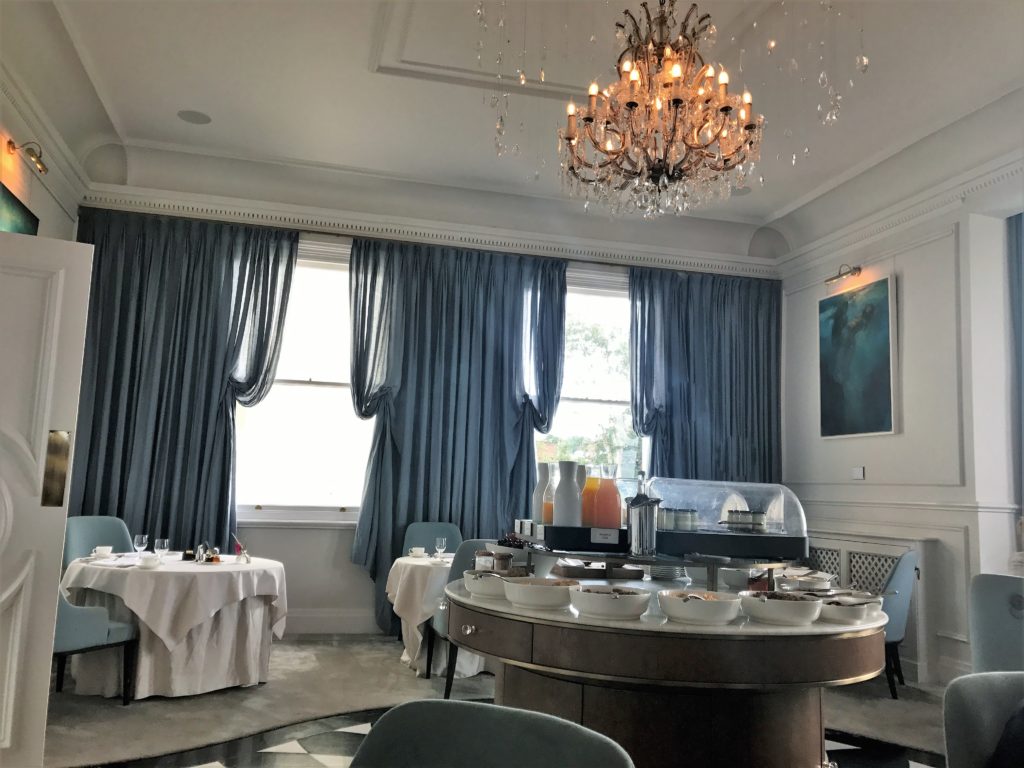 Breakfast is served in the same restaurant and consists of a small but high-quality buffet with meats, cheeses, fruit compote and fruit salad, yoghurt and cereal. The coffee and tea we had were both excellent and a basket of deliciously flaky pastries is brought to your table along with toast of your choice. The jam and marmalade are homemade and we were both so impressed with the marmalade we bought some to take home!
There is a choice of cooked items to order including full English, scrambled eggs with smoked salmon and kippers. We chose the eggs Benedict. This was good although the eggs whites were still a bit runny and not as good as Gordon Ramsay's Plane Food which is still the best Benedict I have had.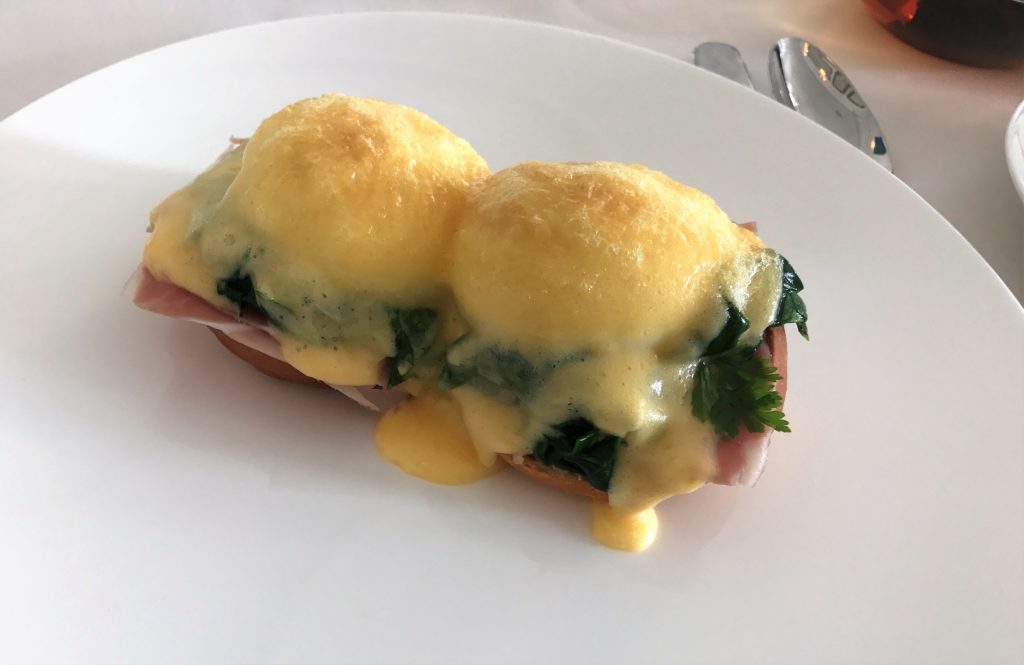 Conclusion and offers
I am pretty fussy about hotels when I pay a lot of money but there was very little to fault here. From the elegant decor to the sublime food and stunning location, the Lympstone Manor Hotel pretty much has it all. It could perhaps do with a few more facilities, such as a spa, for a longer stay but I certainly plan on returning in the future. It is now firmly in my top 5 UK hotels!
Extra perks are available if you book through our partnership with luxury travel agent Debonair here:
A bottle of Michael Caines Champagne Blanc de Blanc in room on arrival
chocolates welcome amenity
upgrade at time of booking
Like our review of Lympstone Manor Hotel? You can read more hotel reviews here.