There are some hotels that are a destination in themselves, and none more so than one on a remote private island of its own in Scotland. The hotel has all you need for a relaxing break without ever leaving the vicinity, as it includes two restaurants, a spa, pool and magnificent walks around the island, to mention a few.
Location
The hotel is located on the West Coast of Scotland 25 minutes from Oban and 50 minutes from Glencoe. It takes around 2 hours 15 minutes from Glasgow airport by car. I visited on my back from the Isle of Skye and then headed off to Loch Fyne, so it is a convenient spot for a tour of the West Coast.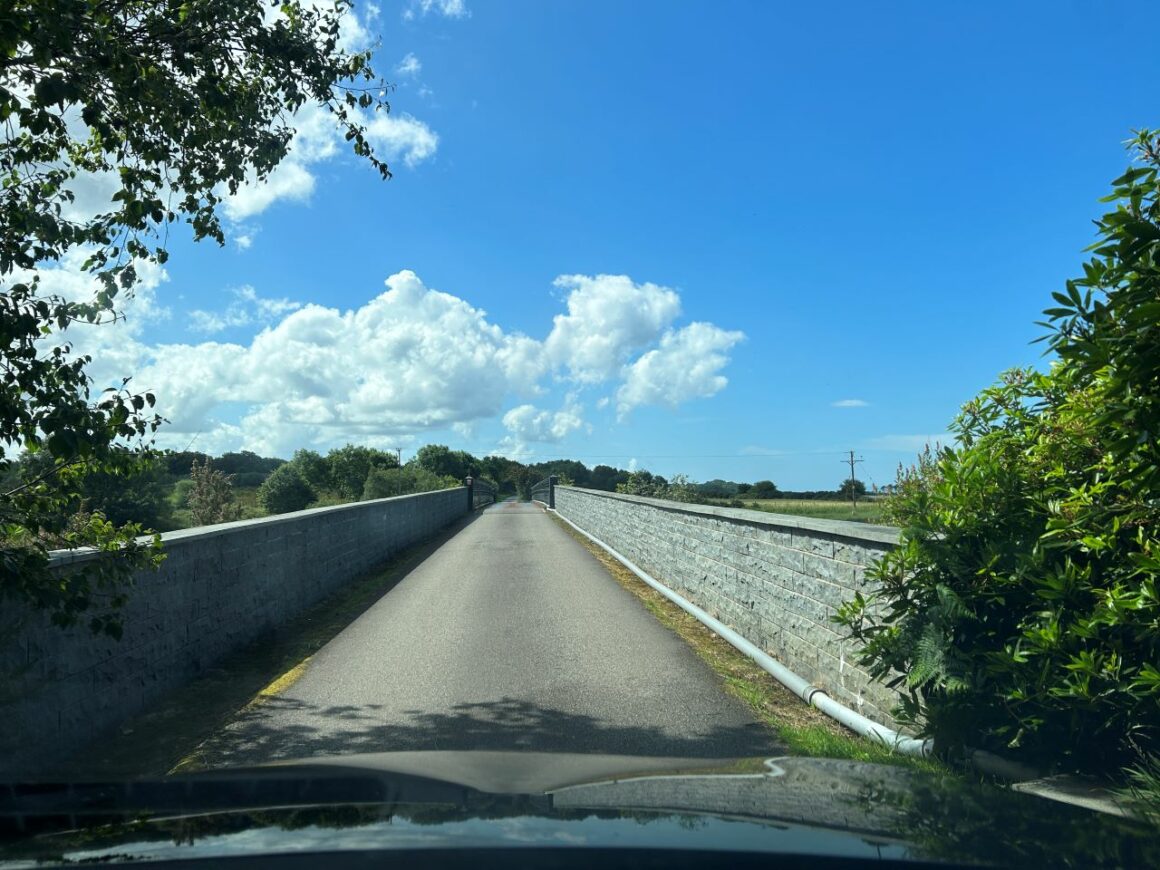 There is a drive for around 3 miles down a single-track road for the final part of the drive, but this was very easy with plenty of passing places and virtually no cars.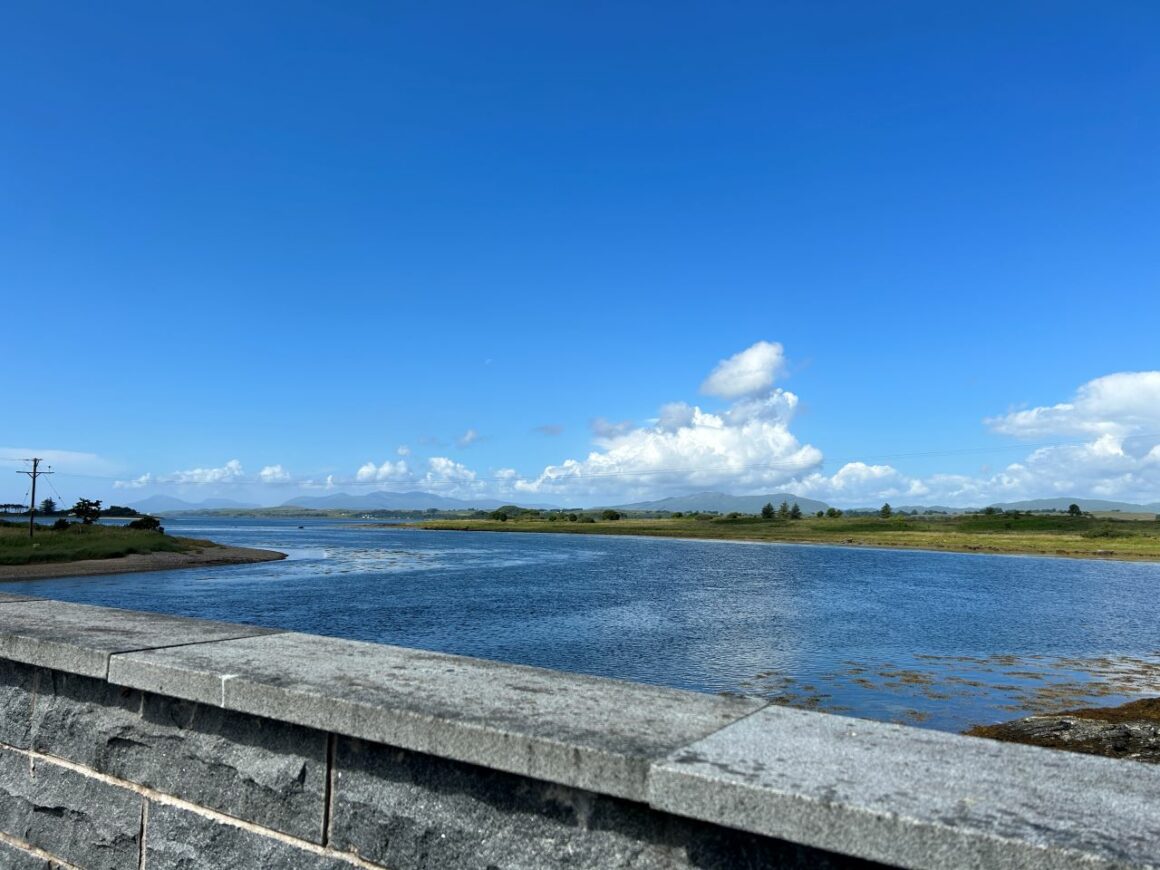 Check-in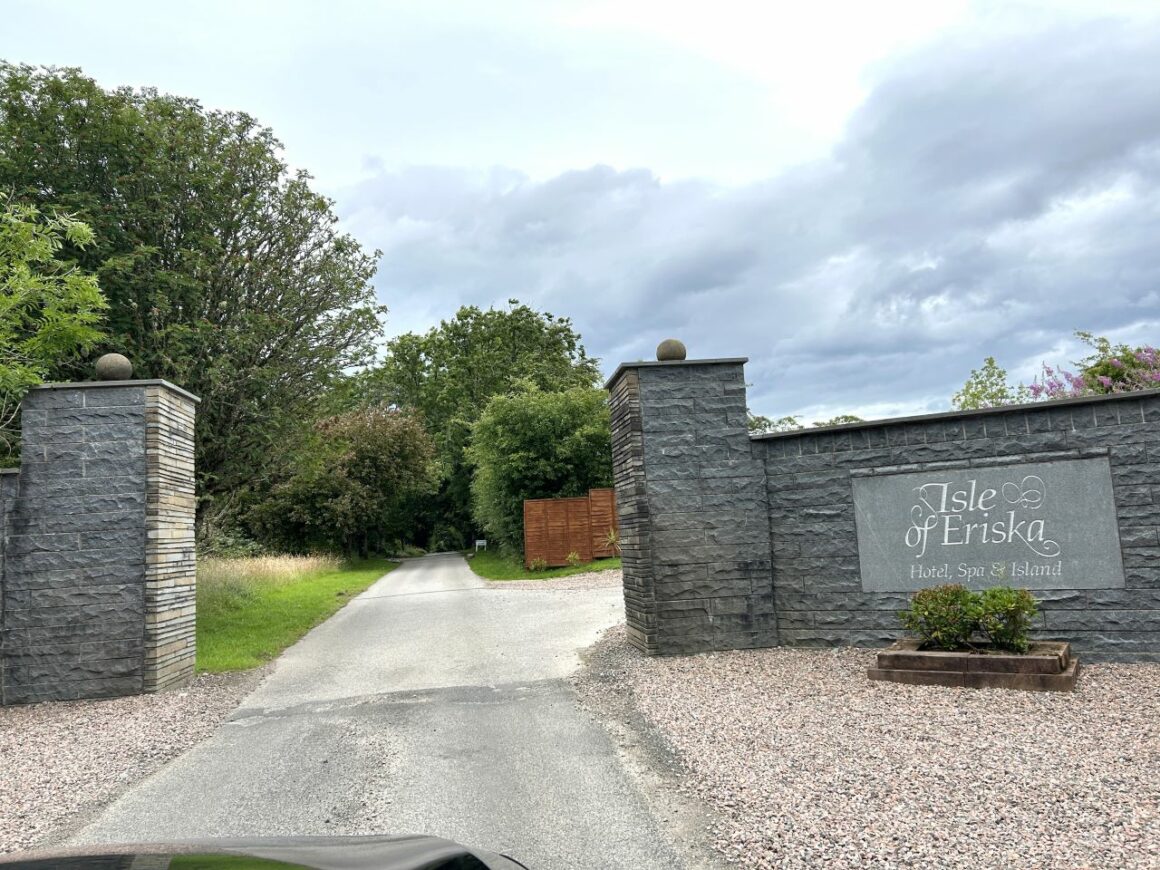 The hotel consists of the main building, and then a number of self-contained accommodations across the property, some of which are self-catering. The hotel is centred around what is known as "The Big House", built in 1884 by the architect Hippolyte Blanc, who was also responsible for St Cuthbert's Church and the Argyll Tower at the Castle, both in Edinburgh.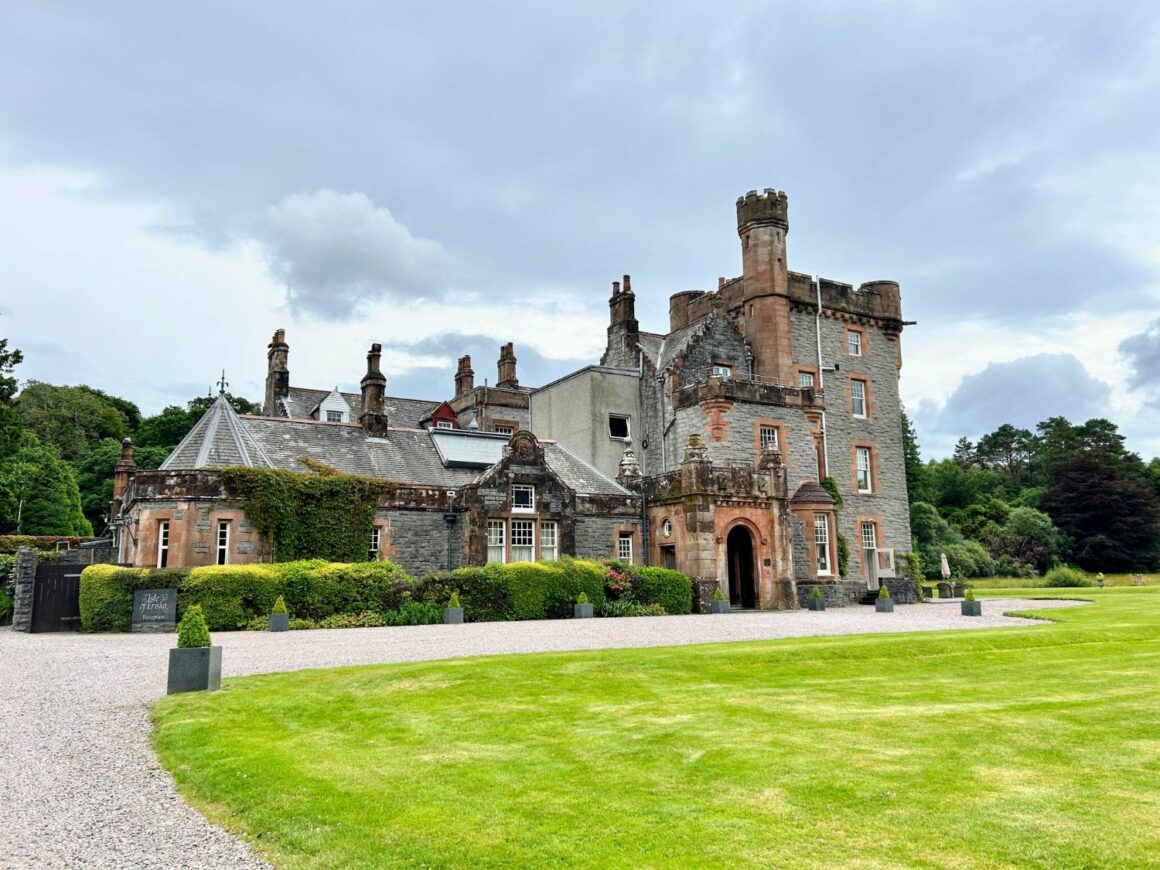 You check in with reception in the main building.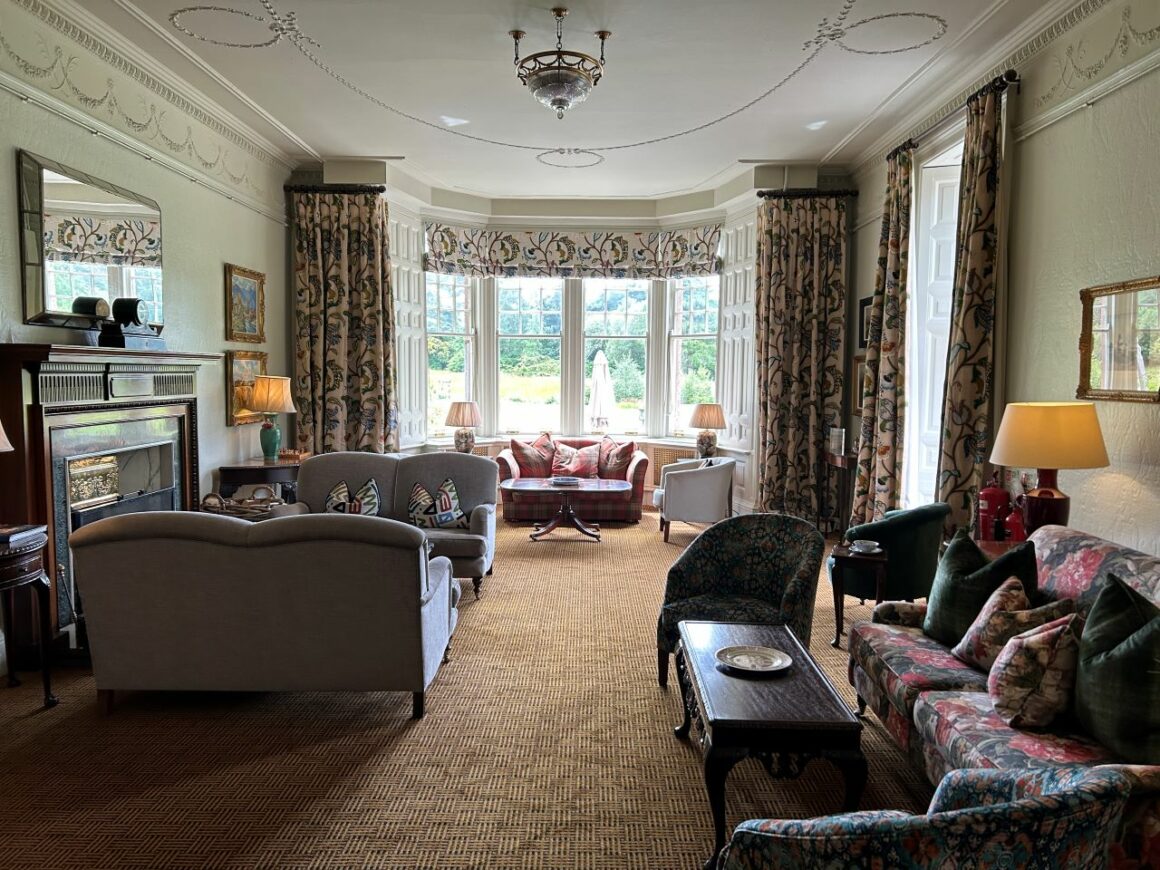 The check-in was in the corner of the lounge area, and felt more like I was a guest in a private country house than a normal hotel which was lovely. I was offered a drink while the formalities were taken care of.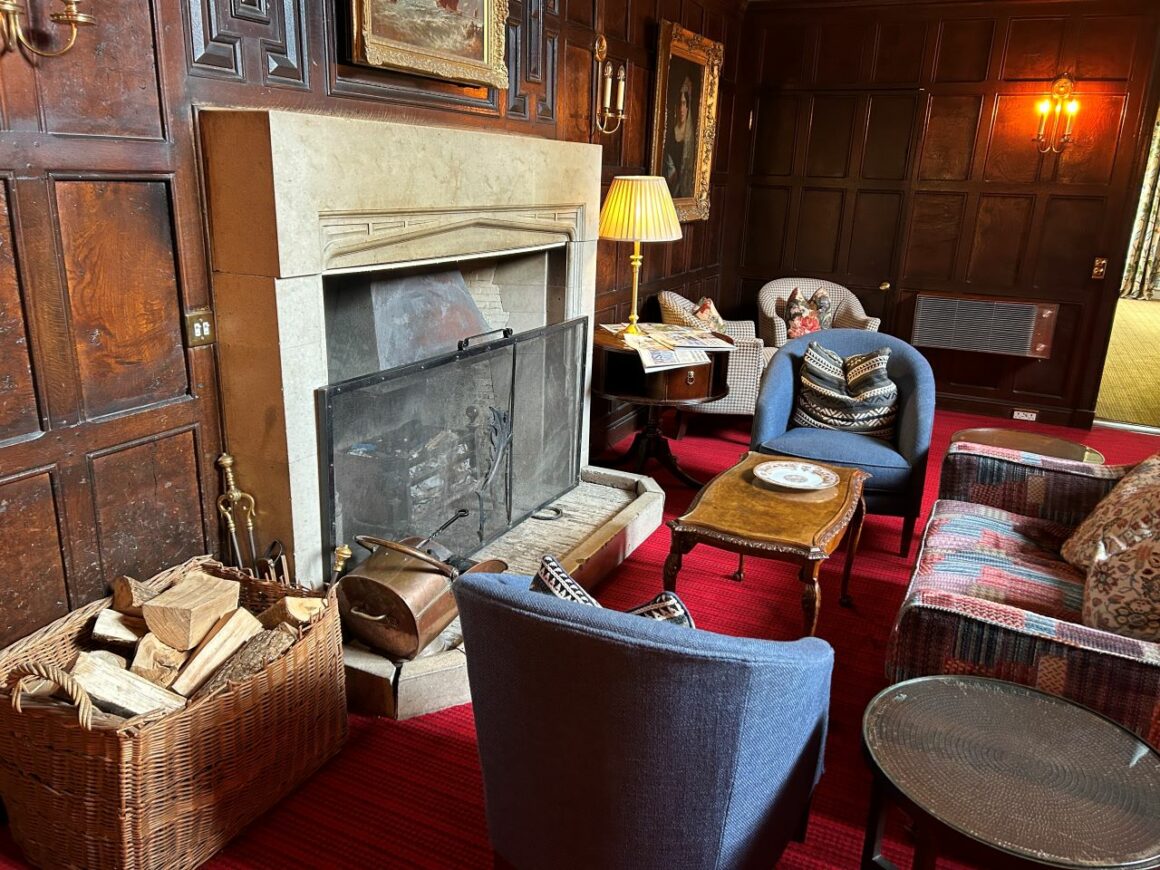 I was then escorted to my room and given a tour of it so I understood how to work everything. The main house has lots of cosy corners to sit and enjoy a drink by the fire or admire the countryside that surrounds the hotel.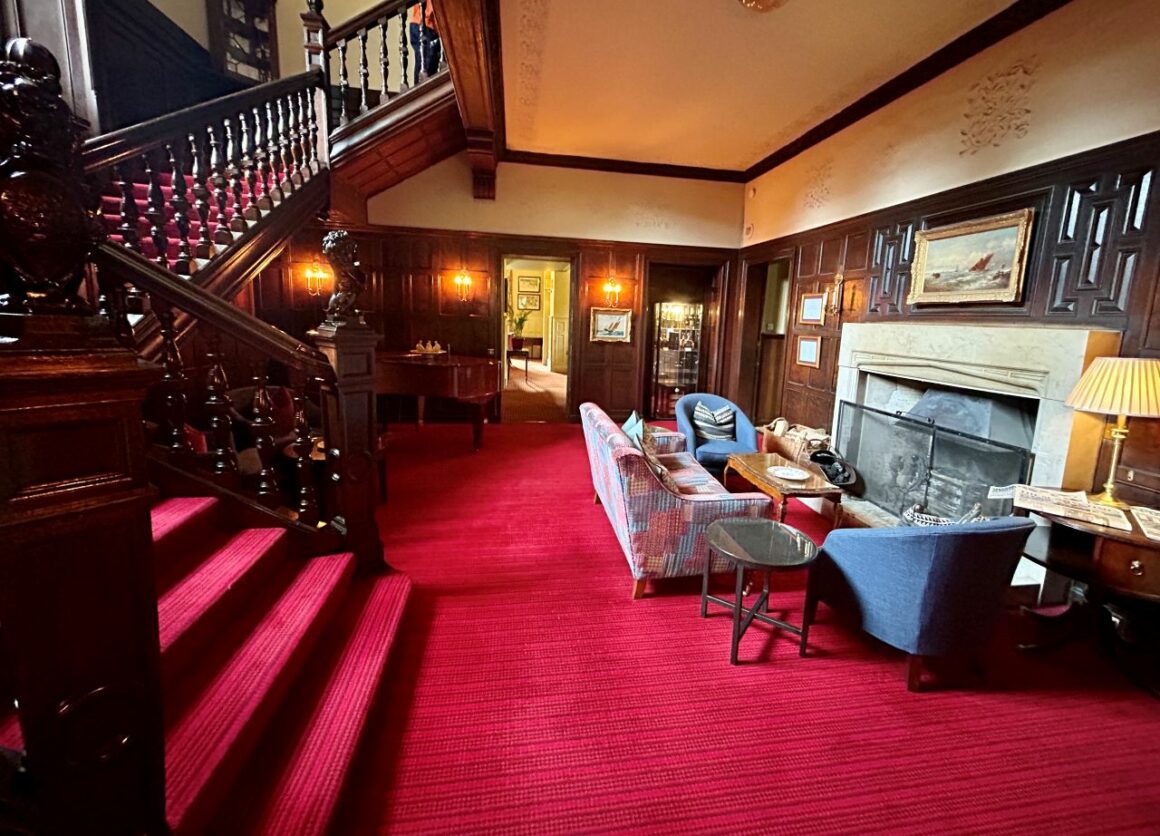 The room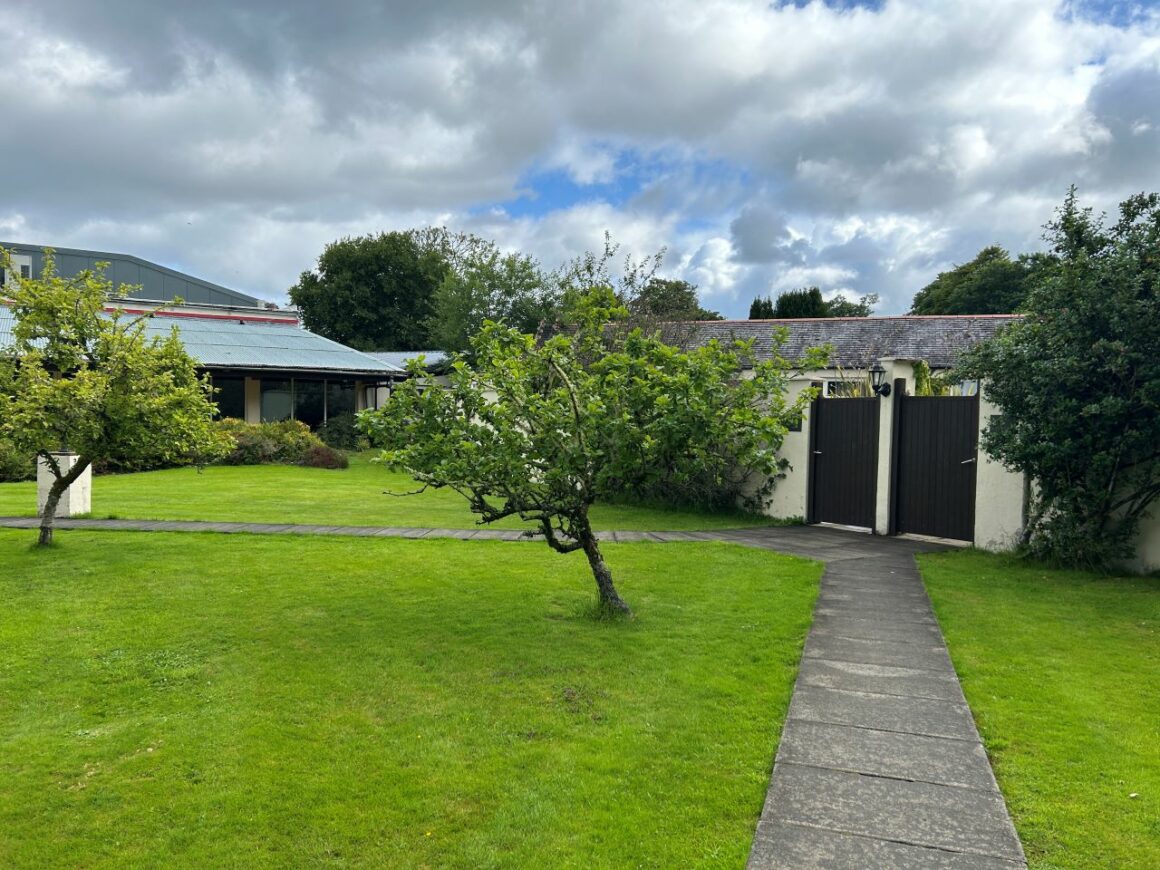 I had booked one of the last remaining rooms, which was a spa suite. These are situated next to the spa just across from the main building, so you get lots of space and privacy, but you are close to everything.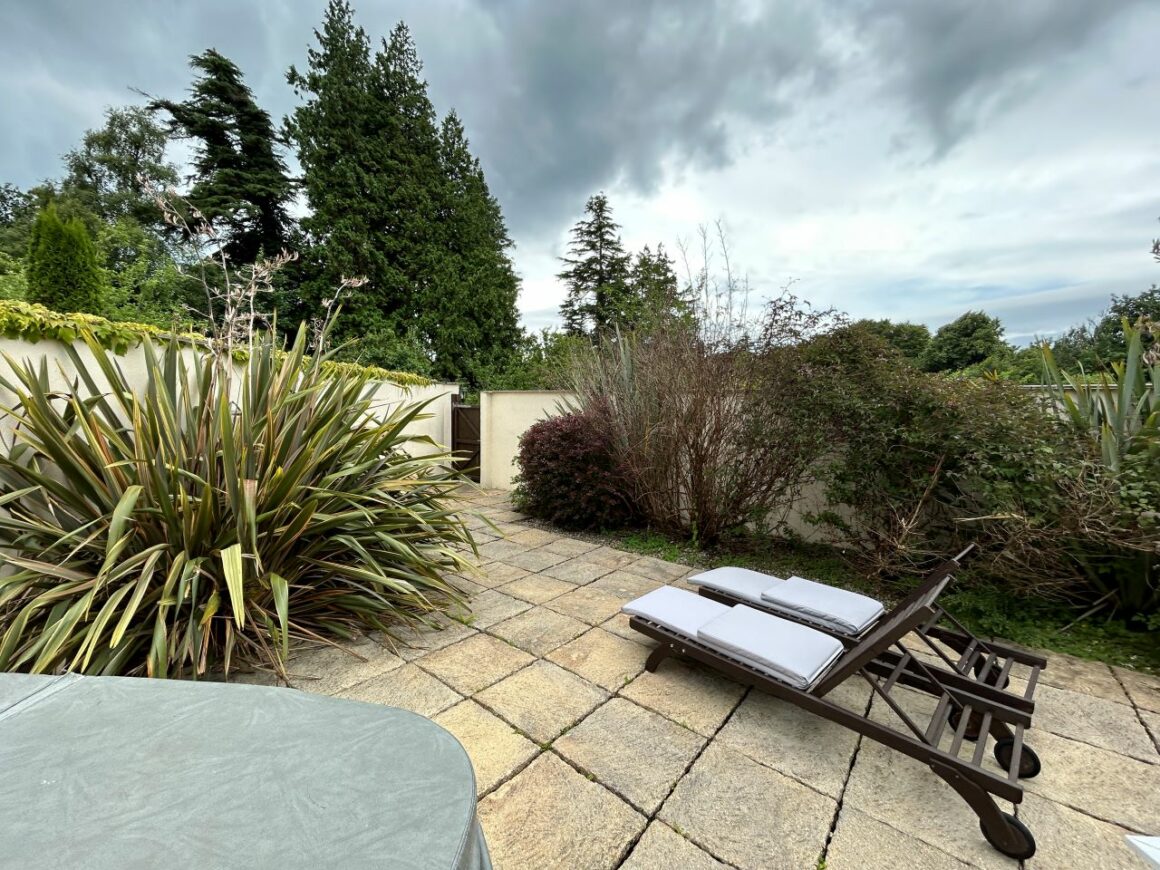 You enter from a courtyard into a private patio area with loungers and a large private hot tub. I was impressed with the hot tub as it had some very fancy controls on it and a waterfall feature! It was so much nicer having a private jacuzzi you could just hop into whenever you fancied. It was extremely private too.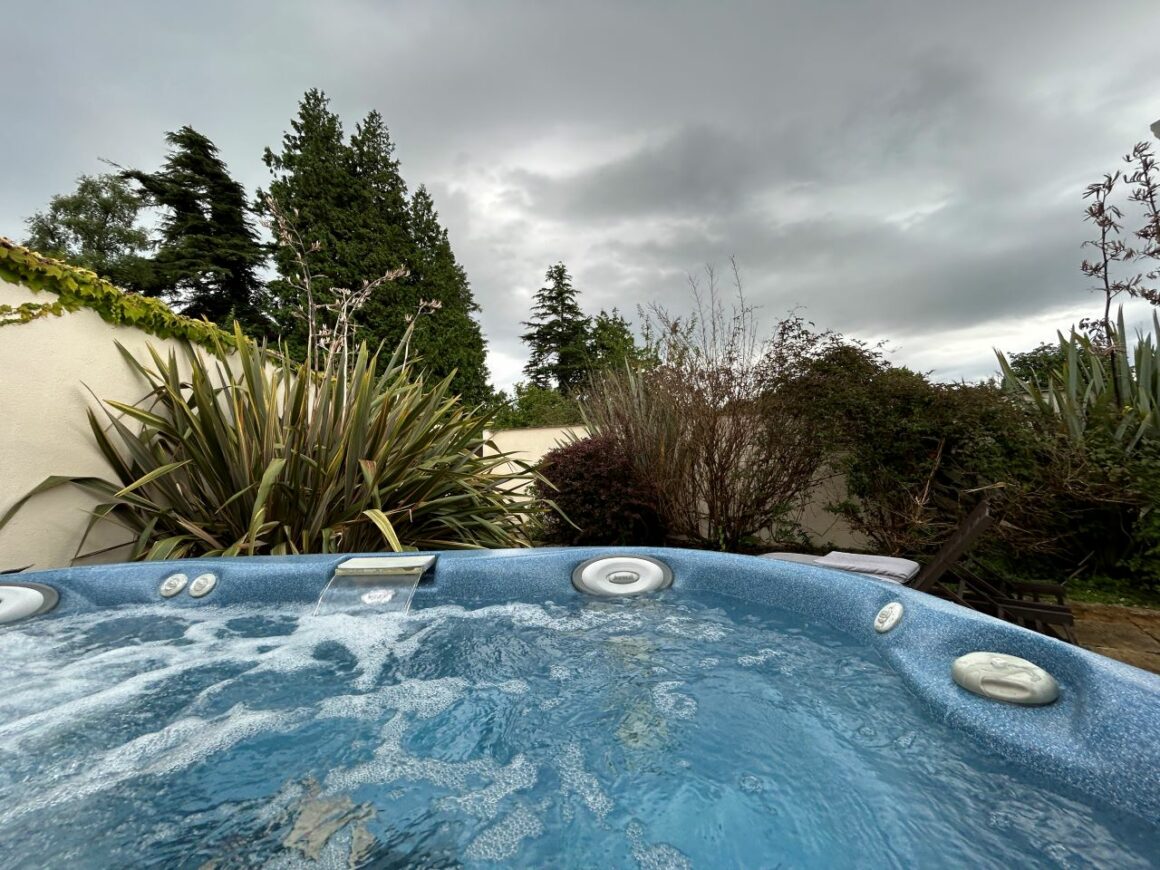 Then, if the weather is not so good, you also have a large conservatory to relax in.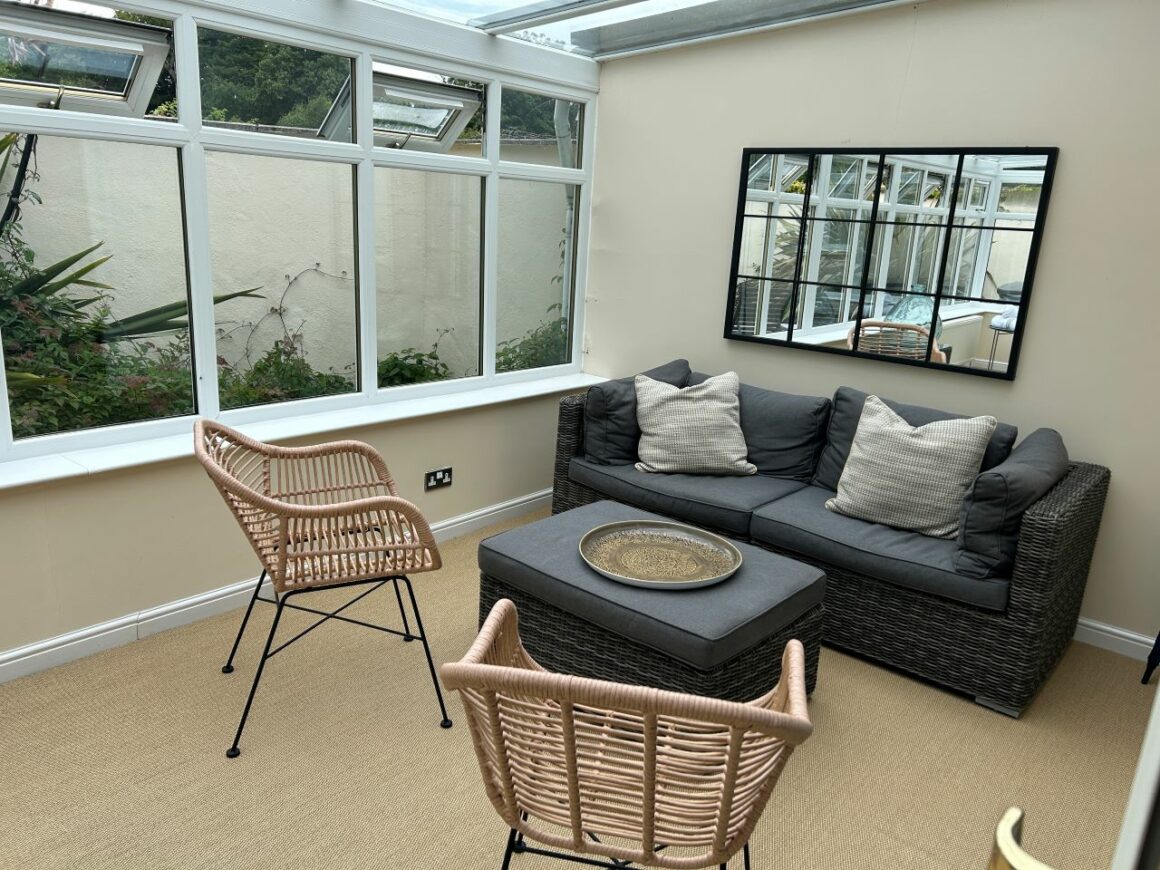 Next is a living room with a remote-controlled fireplace and some complimentary local whisky on the desk.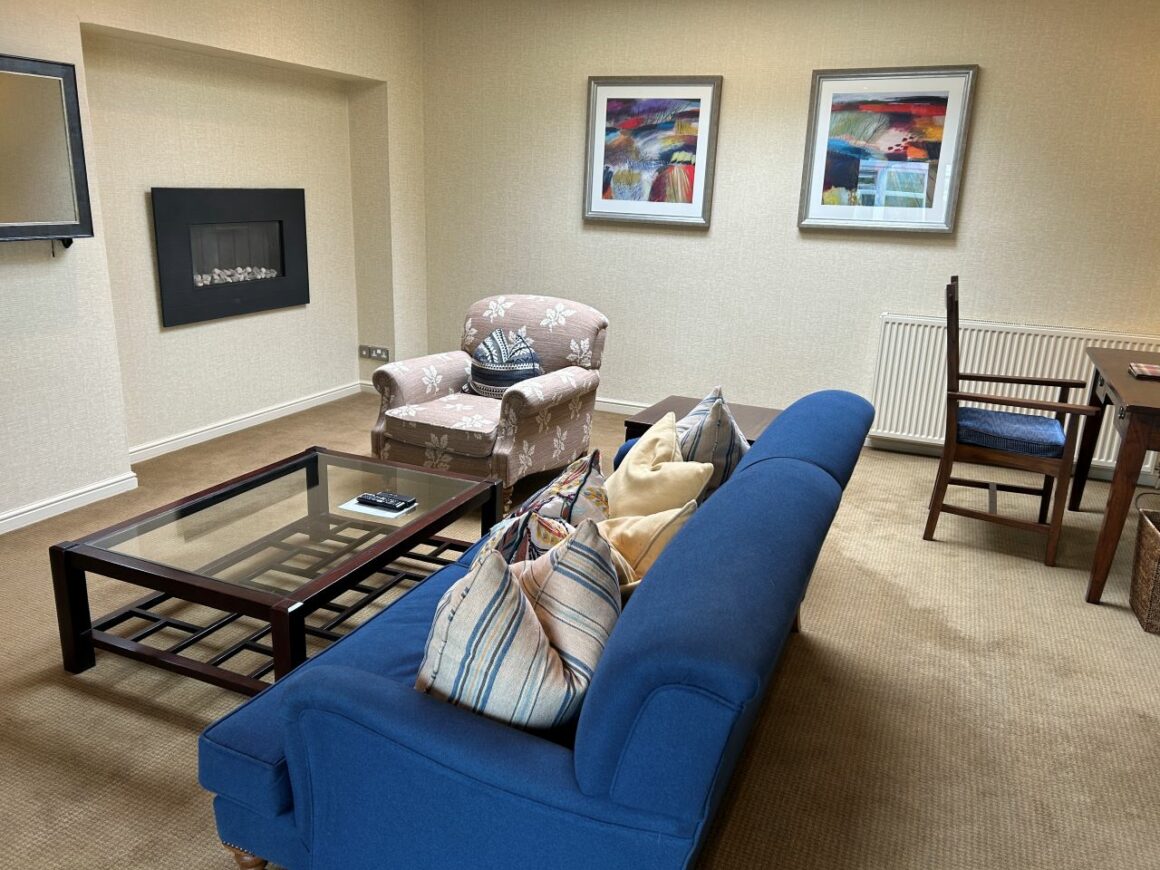 Hidden away is a "wet bar" as the Americans call it.

It was basically a sink with a fridge with milk, a coffee machine, tea and some basic cutlery and glasses. Handy if you wanted a snack in your room.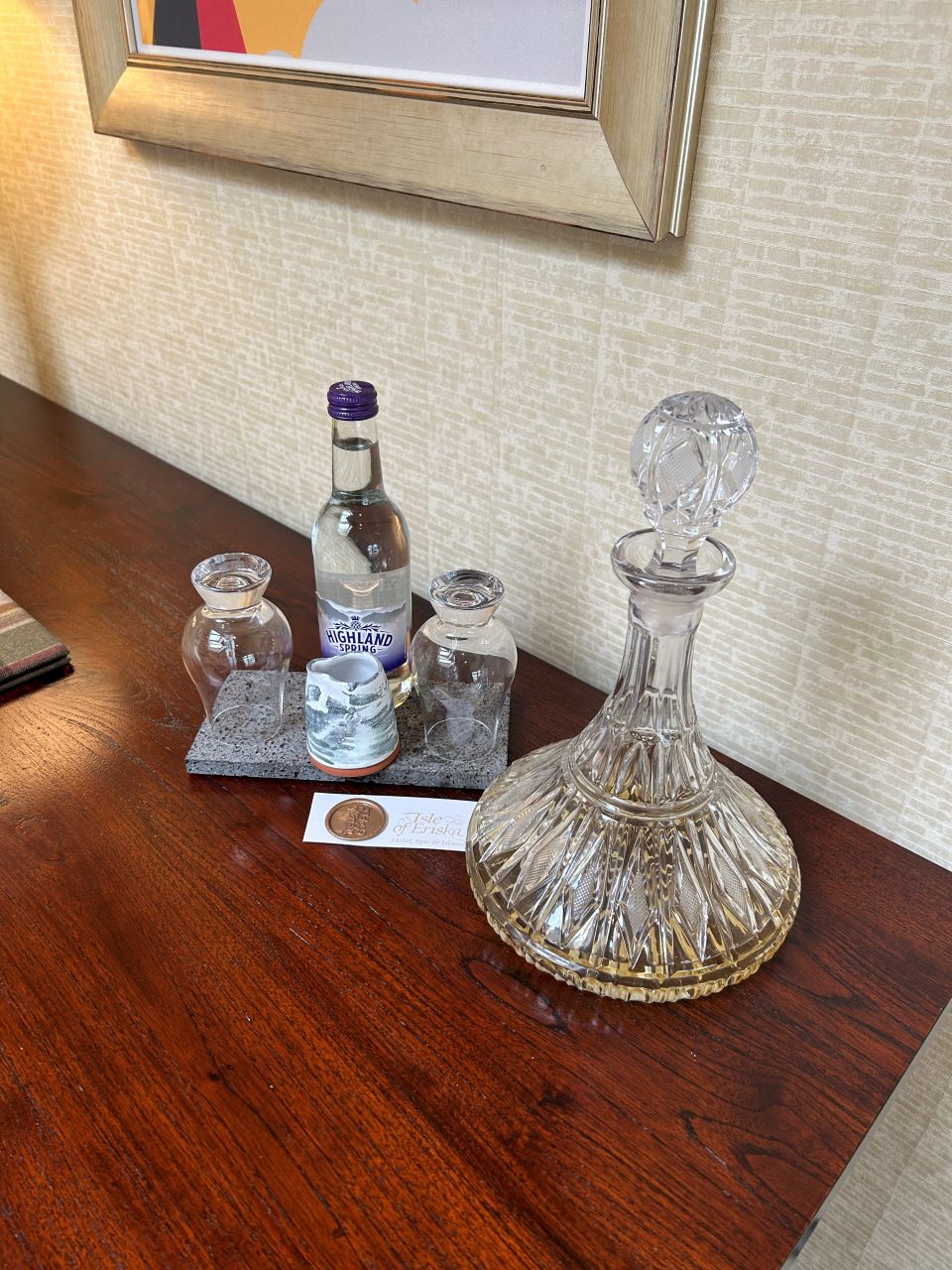 The bedroom was also large with a walk-in wardrobe. I did find the pillows a bit cheap feeling – like a firm polyester pillow. I passed this on to hotel management so hopefully, they will look into this. Other than that the bed was comfortable.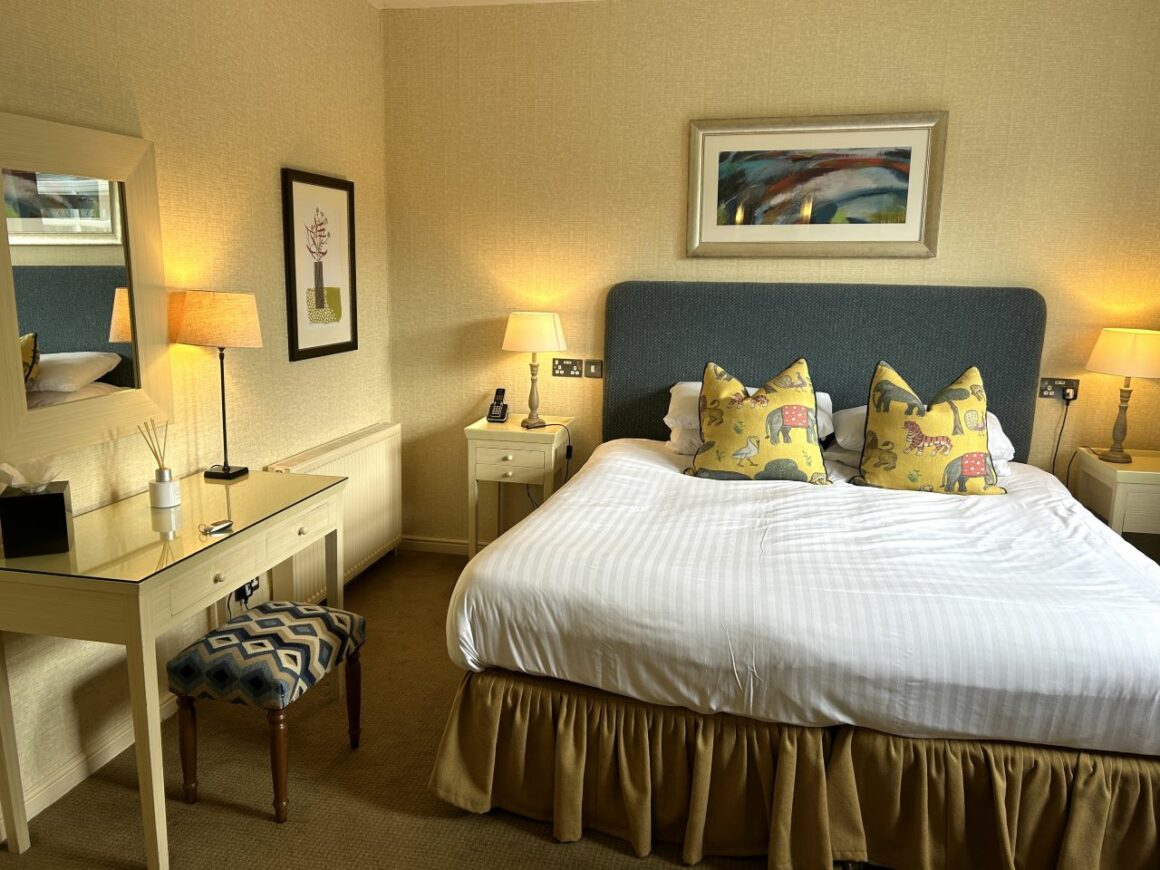 I would describe the style as country/classic style rather than modern, as you would expect in this sort of setting. I appreciated the large dressing table with a mirror that had sockets nearby and drawers to store your bits and bobs. Despite appearing more classic, the room had all mod cons, such as air conditioning and plenty of sockets by the bed. I have to say, this was probably the quietest hotel in terms of noise that I have ever stayed in. Apart from the odd hoot of an owl, there was blissful silence at night.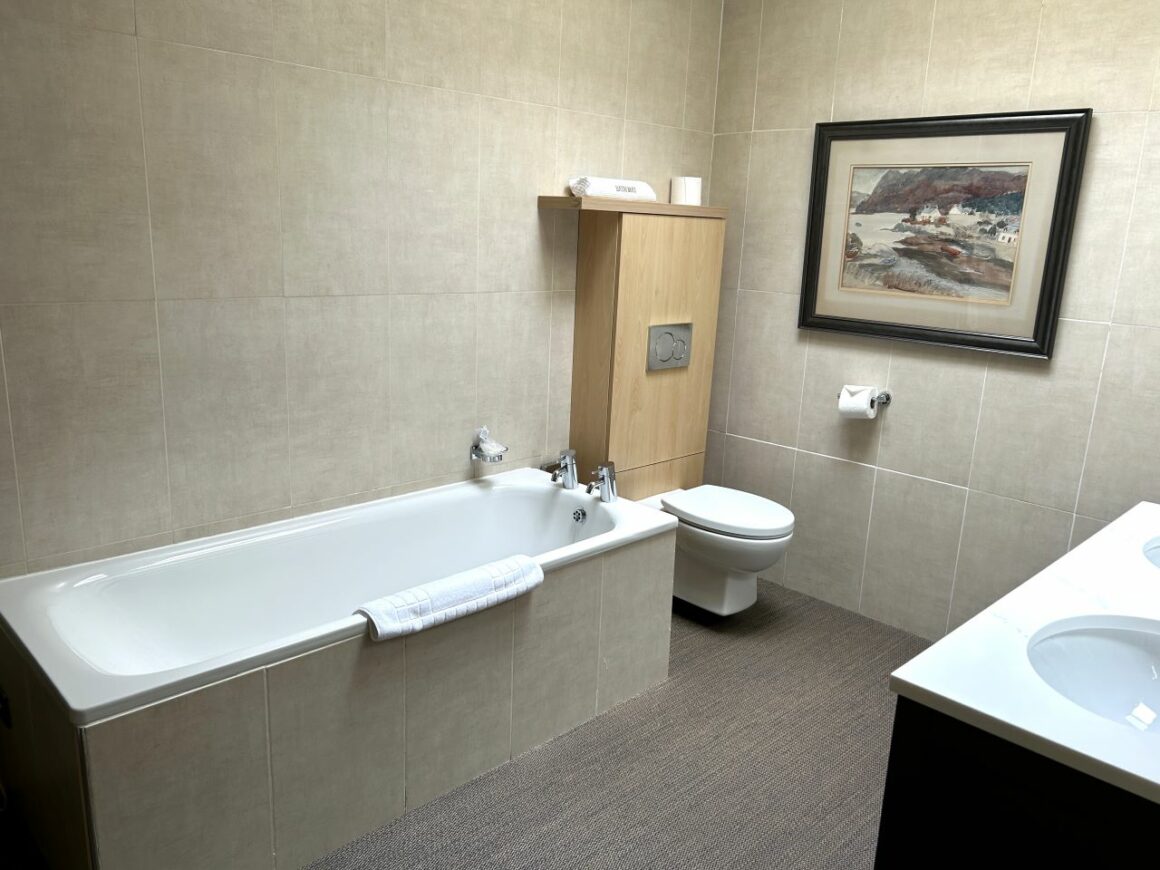 The bathroom had one of the fanciest showers I have seen, with lots of different jets and settings. If the hot tub wasn't enough, there is also a decent size bath for a soak.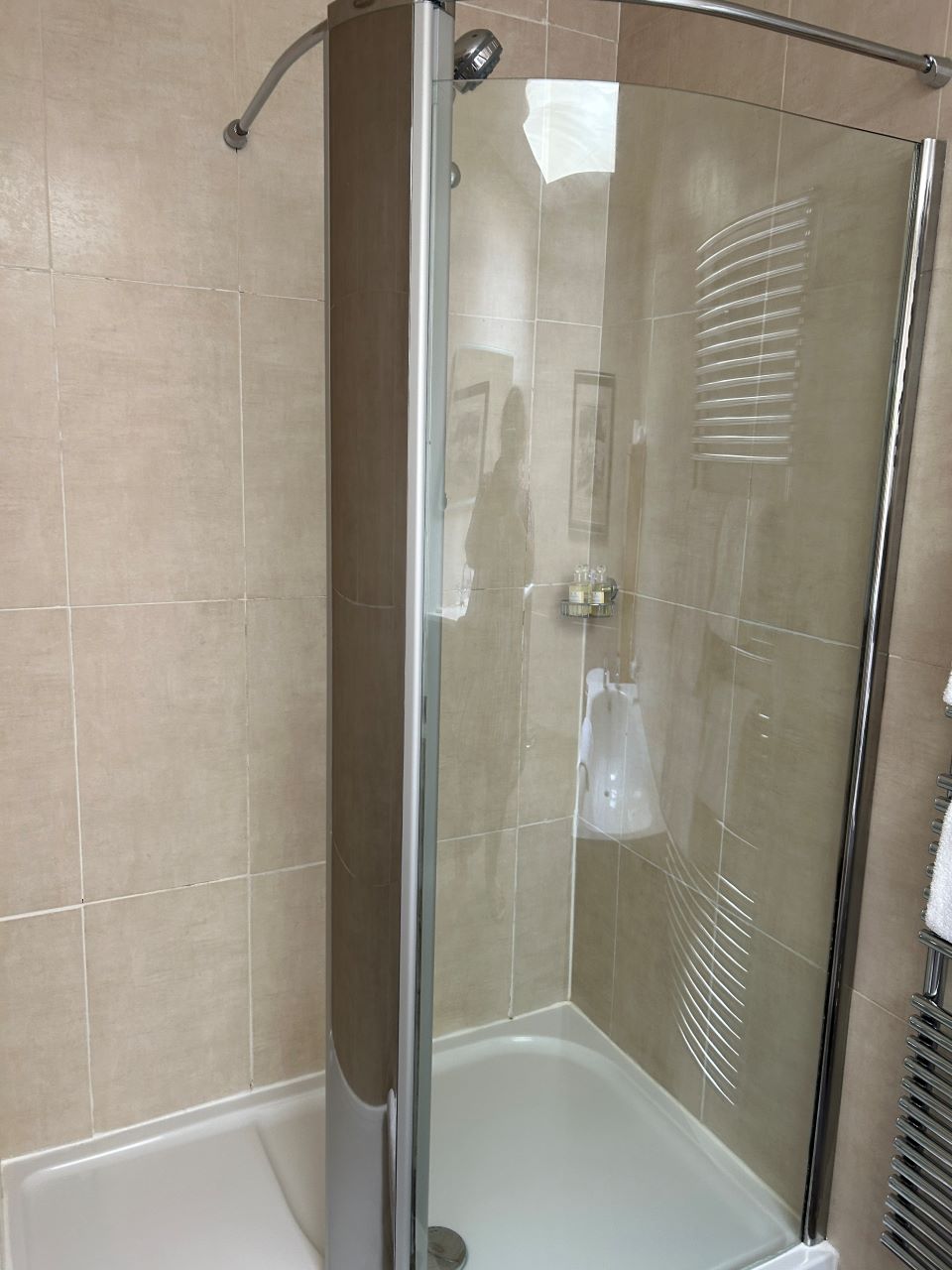 Toiletries were Penhaligions Quercus in large sizes, which fit in well with the theme of the hotel.
If I went again, for me, the best room is the Hilltop retreat, which has a full kitchen and stunning views. They are very private and also have a hot tub.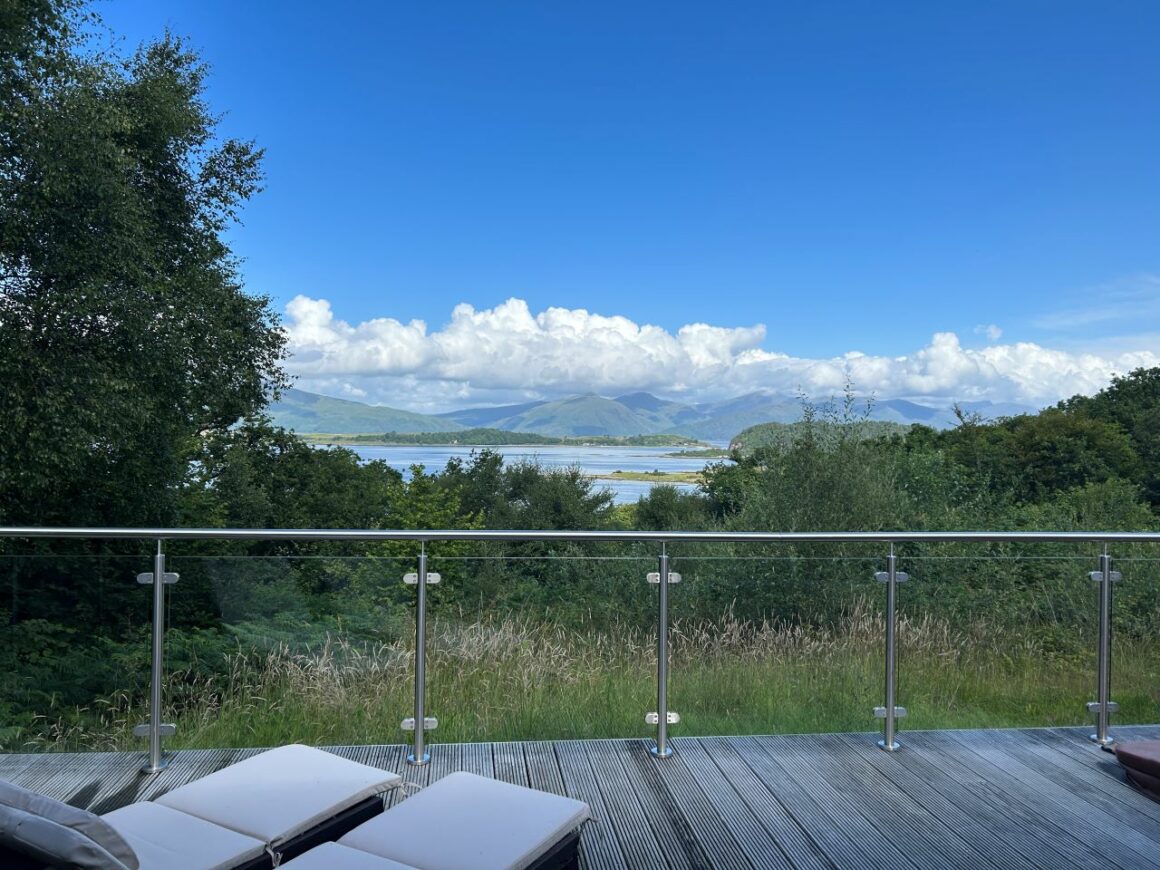 The furnishings are also much more modern in style.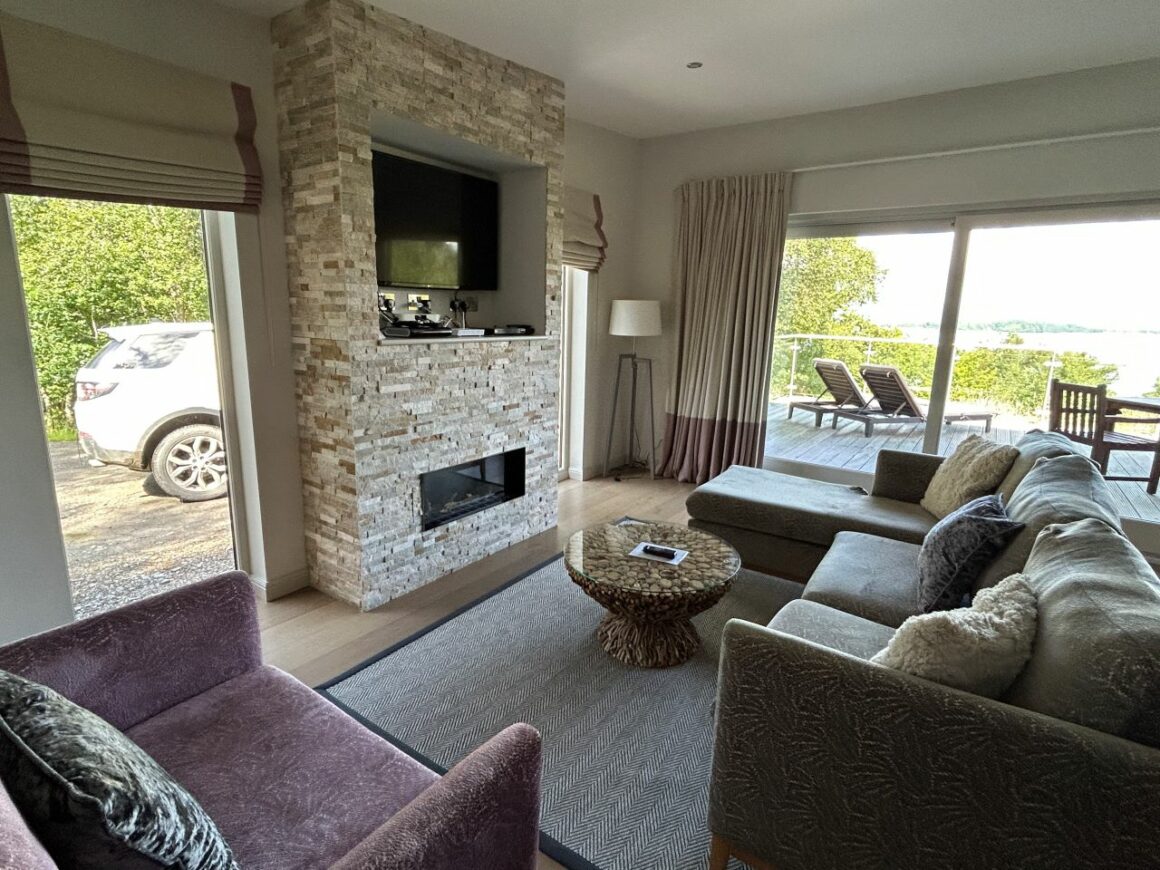 Rooms in the main building take you back in time with romantic four-poster beds and claw-foot Victorian baths.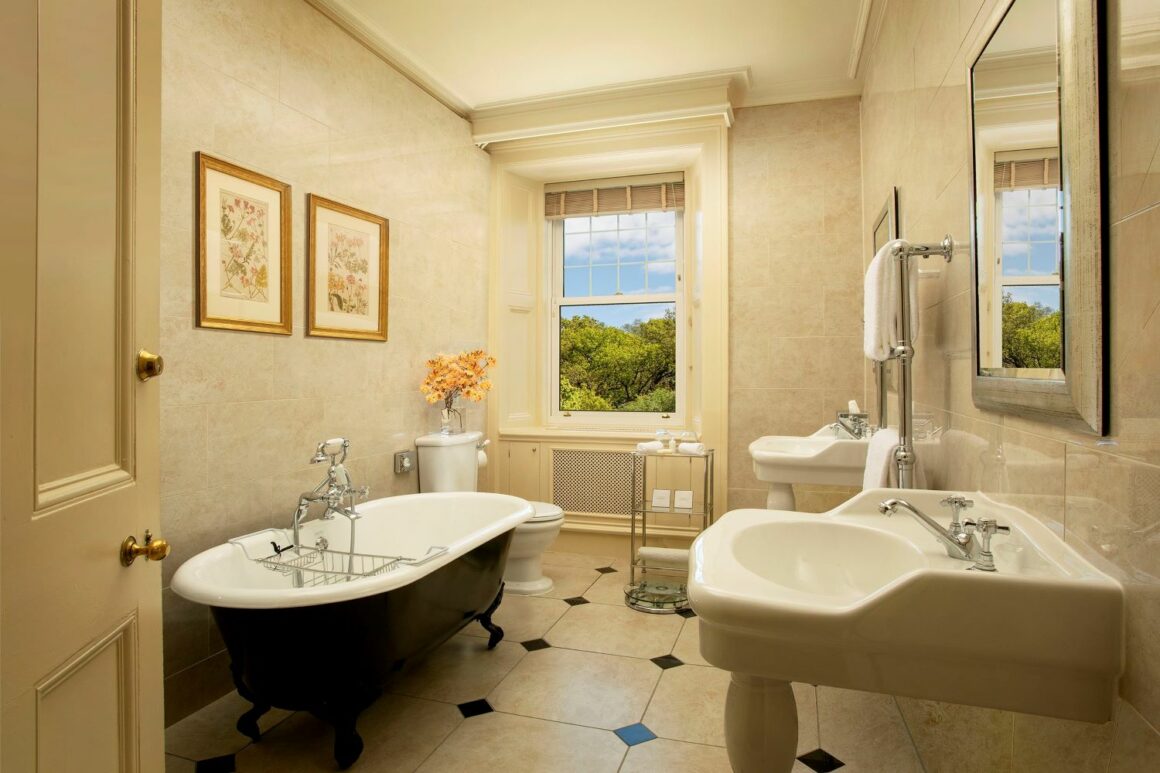 Each room is slightly different, with some being more modern than others.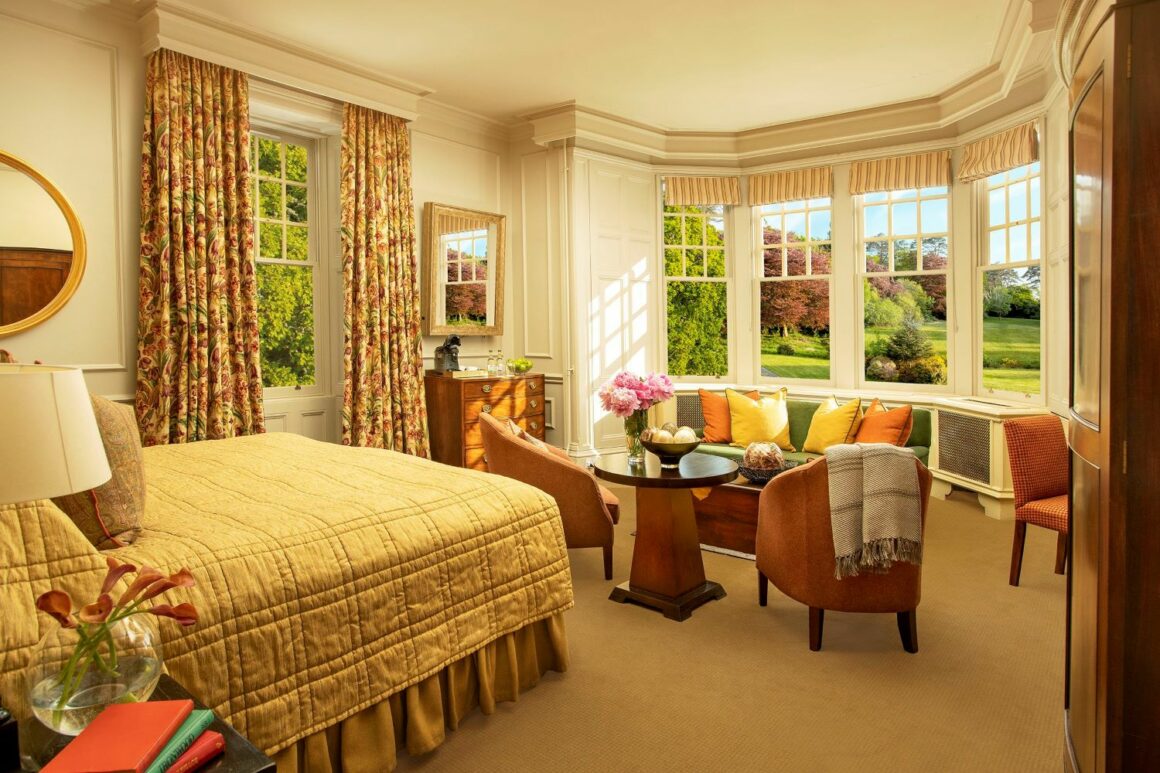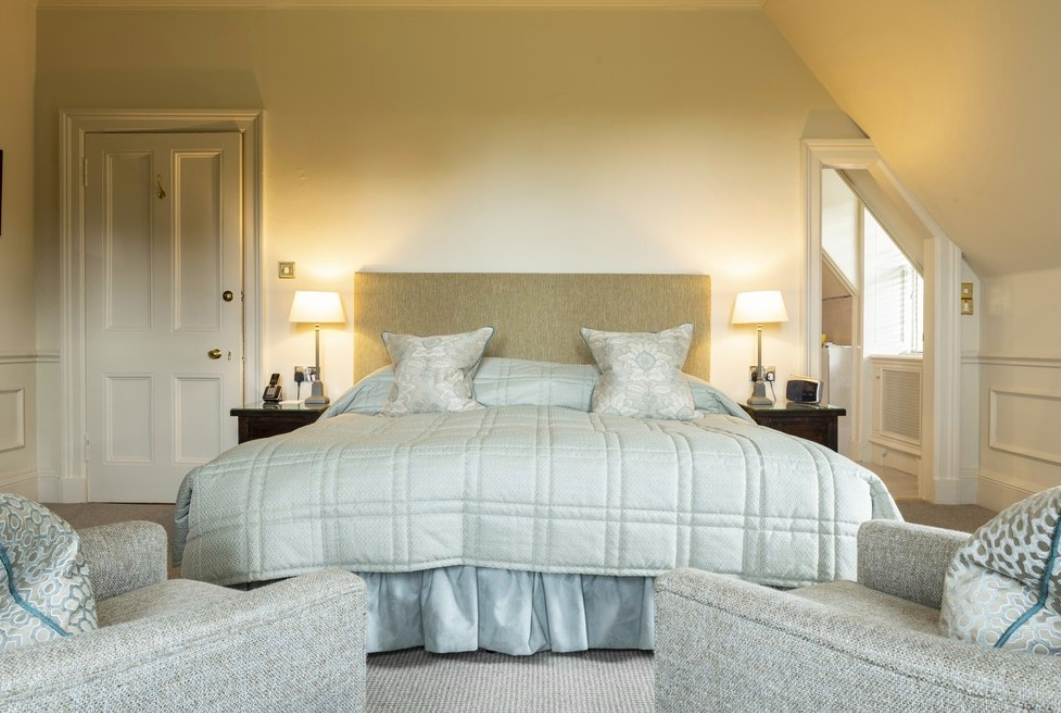 The spa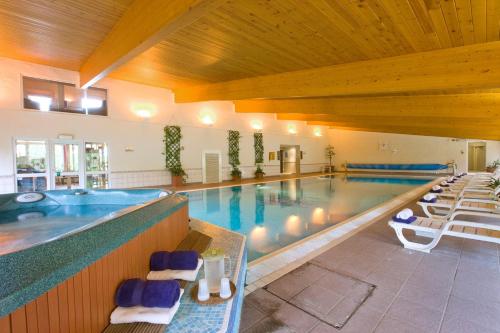 The spa is in a separate building away from the hotel and has a 17m heated swimming pool, sauna, steam room, Jacuzzi and fully equipped air-conditioned gymnasium.
I had a back, face and scalp treatment, which was like a massage combined with a facial, which wasn't immediately obvious from the description. The therapist I had was great, but they did originally try to put me with a male therapist, which I always find odd for something where you are wearing nothing but pants! However, they did quickly switch the therapist over at my request, so no harm done. The treatment was great and not overly expensive at £106 for 80 minutes. The spa uses mainly ESPA products.
Food and drink
The Deck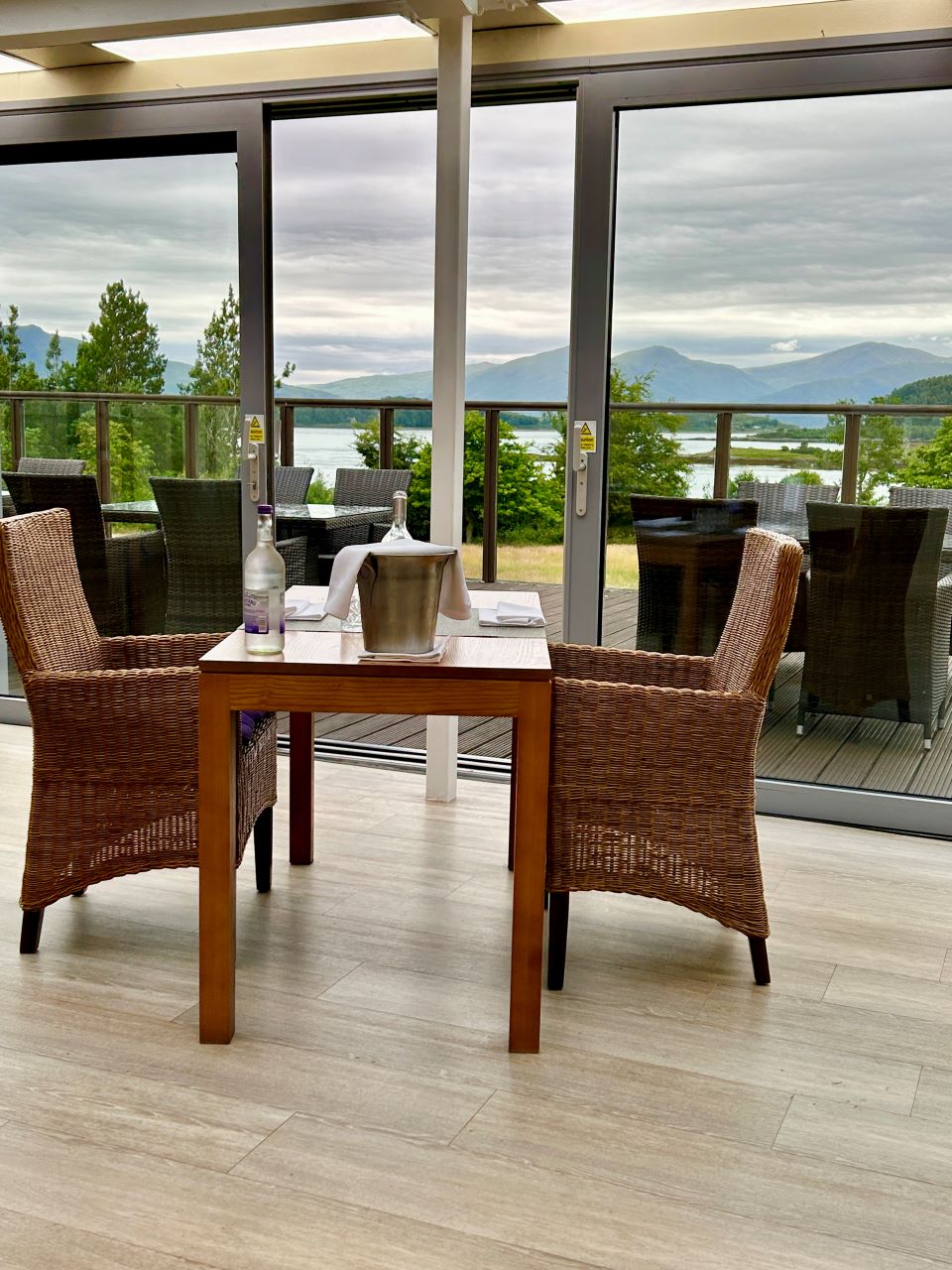 This was definitely a highlight of the stay, and it would be a crying shame if you came to the hotel and did not experience the magic of the fine dining restaurant with its stunning views. If you do want to dine in the hotel, make sure you reserve your table in plenty of time.

The menu is all based on local produce, and you get a map showing where all the main ingredients are from, which is cute.

The restaurant has 3 AA rosettes but for me, it felt like it should have a Michelin star. I found the staff here particularly charming and knowledgeable.

The meal is a set tasting menu and starts with a selection of canapes and a glass of rosé champagne, which is definitely the right way to start a special evening.
The menu featured a lot of Scottish fish and shellfish, which was fantastic quality. However, the standout dish was the cheese course. This had the most incredible silky cheese panacotta and toasted Tunworth cheese topped with caviar. It's making my mouth water just writing about it! The dishes were beautifully presented, with some more like a work of art than food.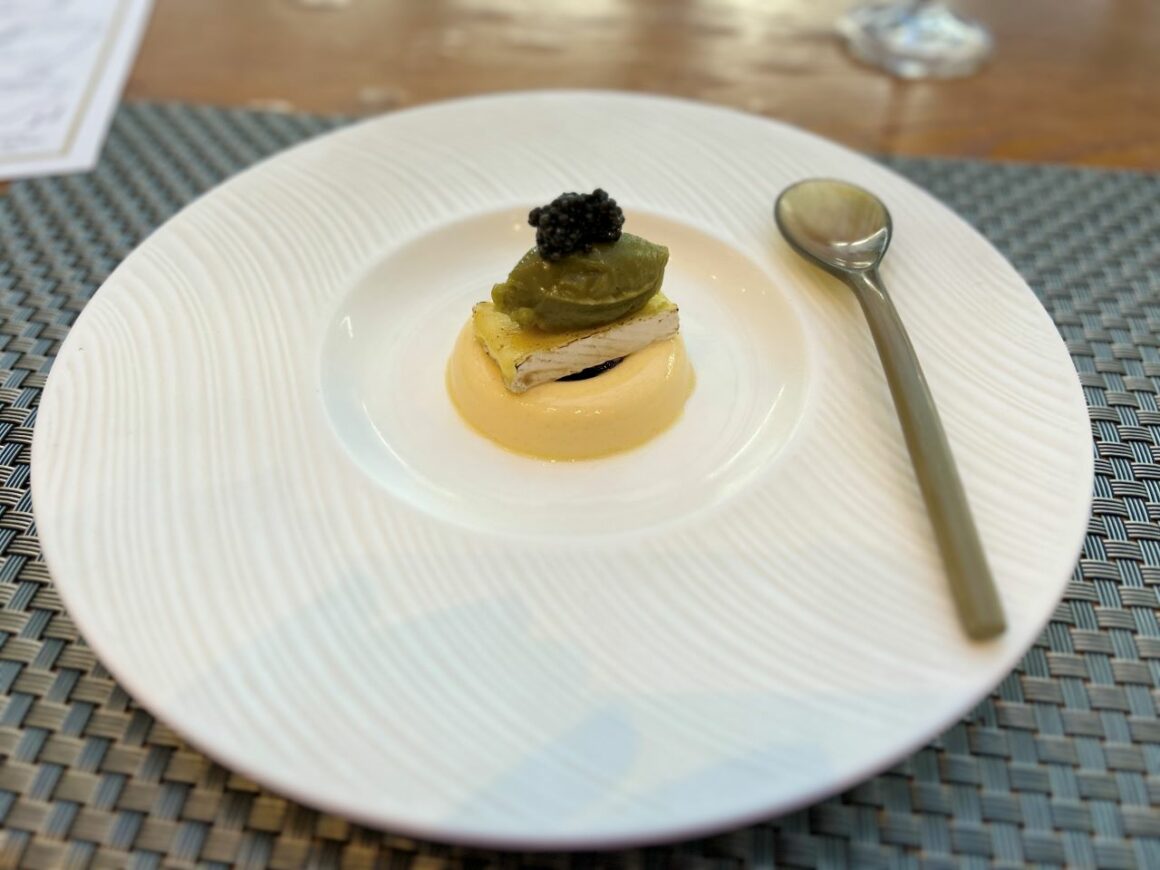 Some parts were almost playful with the "Loch Ness monster" butter and some beautifully crunchy bread with a light, fluffy interior which was full of malty goodness.
The petit four was also fun being more of a "grand" four as it was a large beautifully decorated cookie.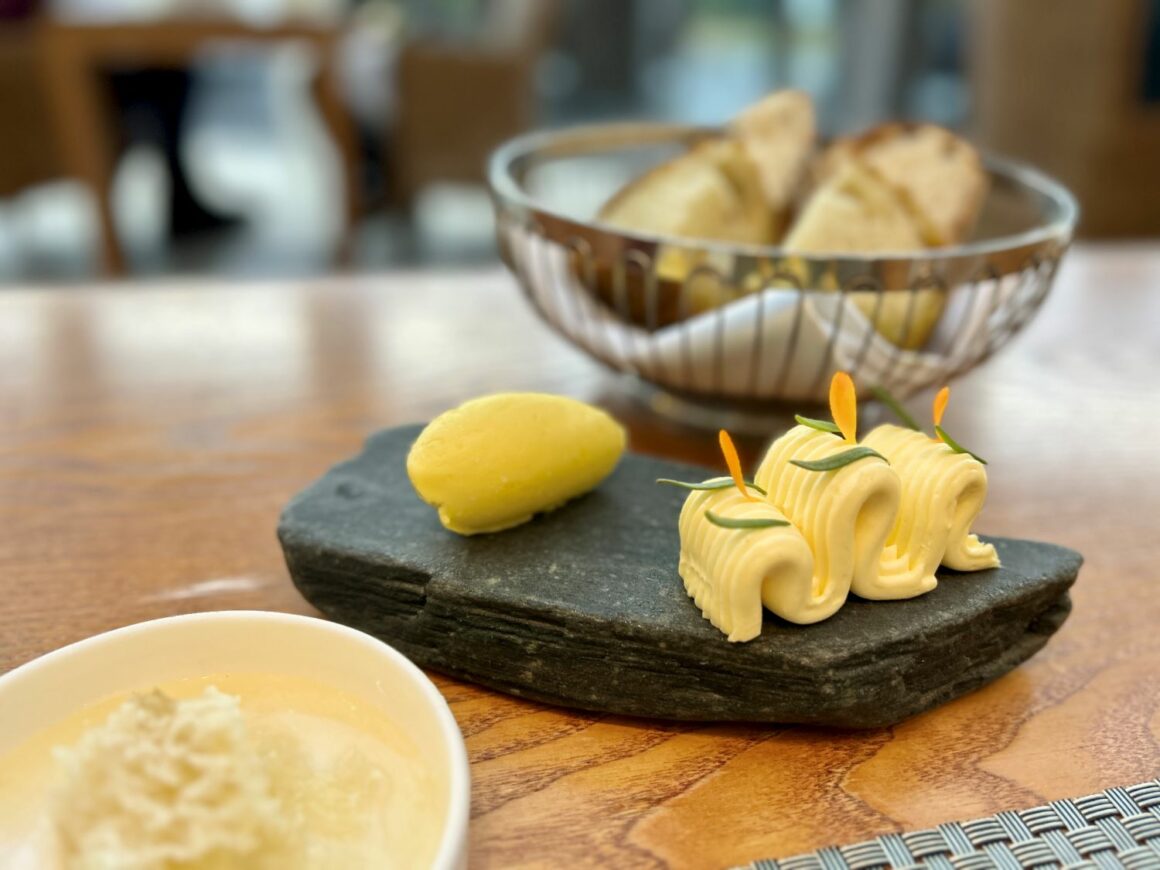 The Library bar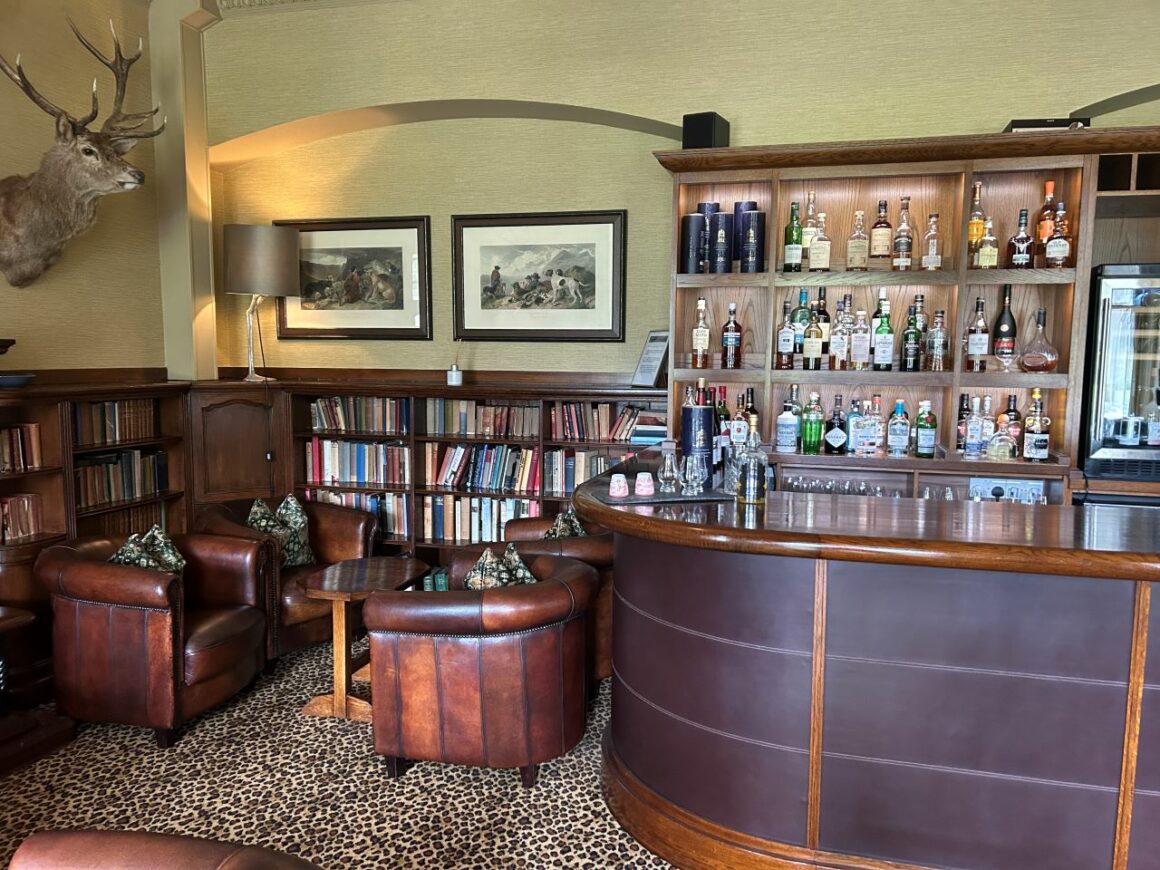 During the day, the lovely bar serves lunches while the other restaurants are shut. If you are lucky with the weather, there are tables and chairs outside in the beautiful grounds. If not, there is also a conservatory-type area.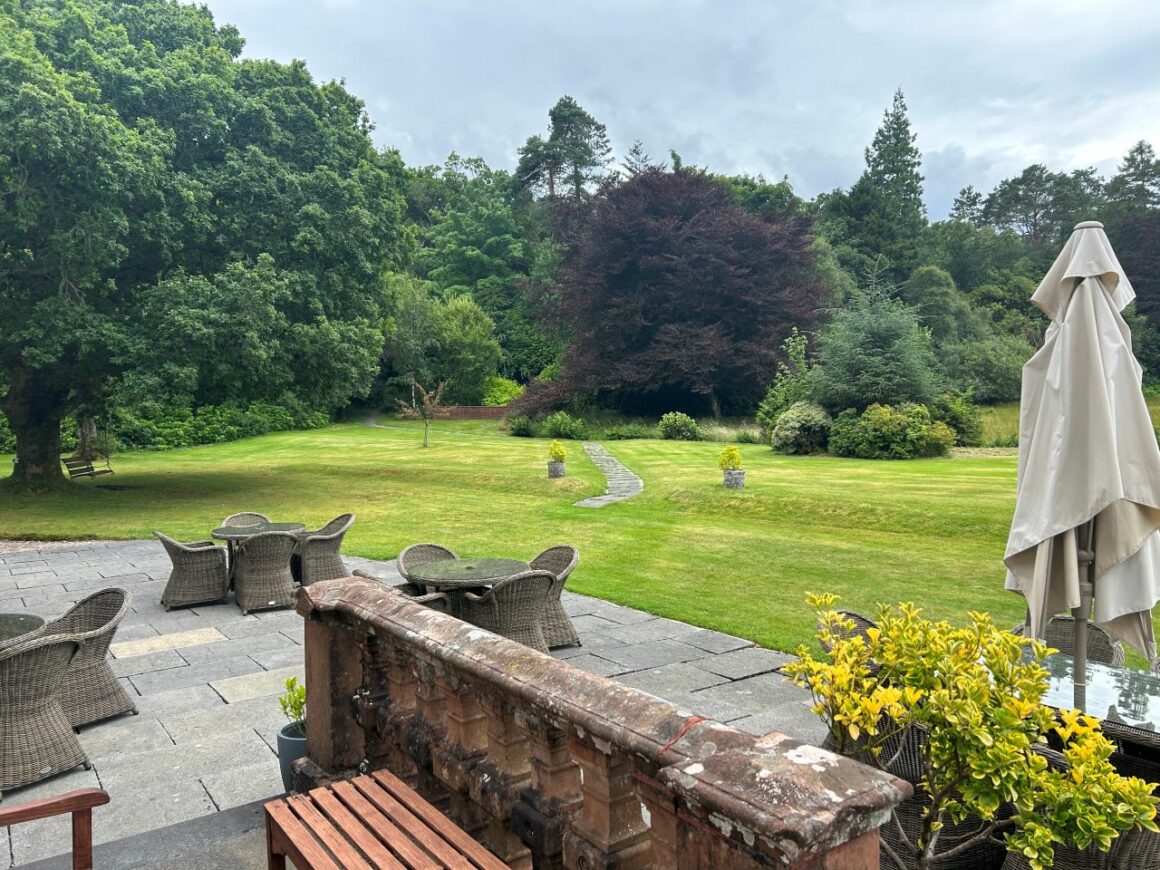 Afternoon tea is also served, which can be taken in any of the lounges as well. Naturally, the bar has a great selection of single malt whisky as well as cocktails.
The Main House Restaurant
The Main House serves an a la carte menu with local produce such as scallops, lamb and steaks.
Breakfast
Breakfast is served in the Main House, and I was impressed with the selection. In fact, it all looked so good I couldn't make up my mind and had to order two dishes (which was not a problem).
Here is the menu: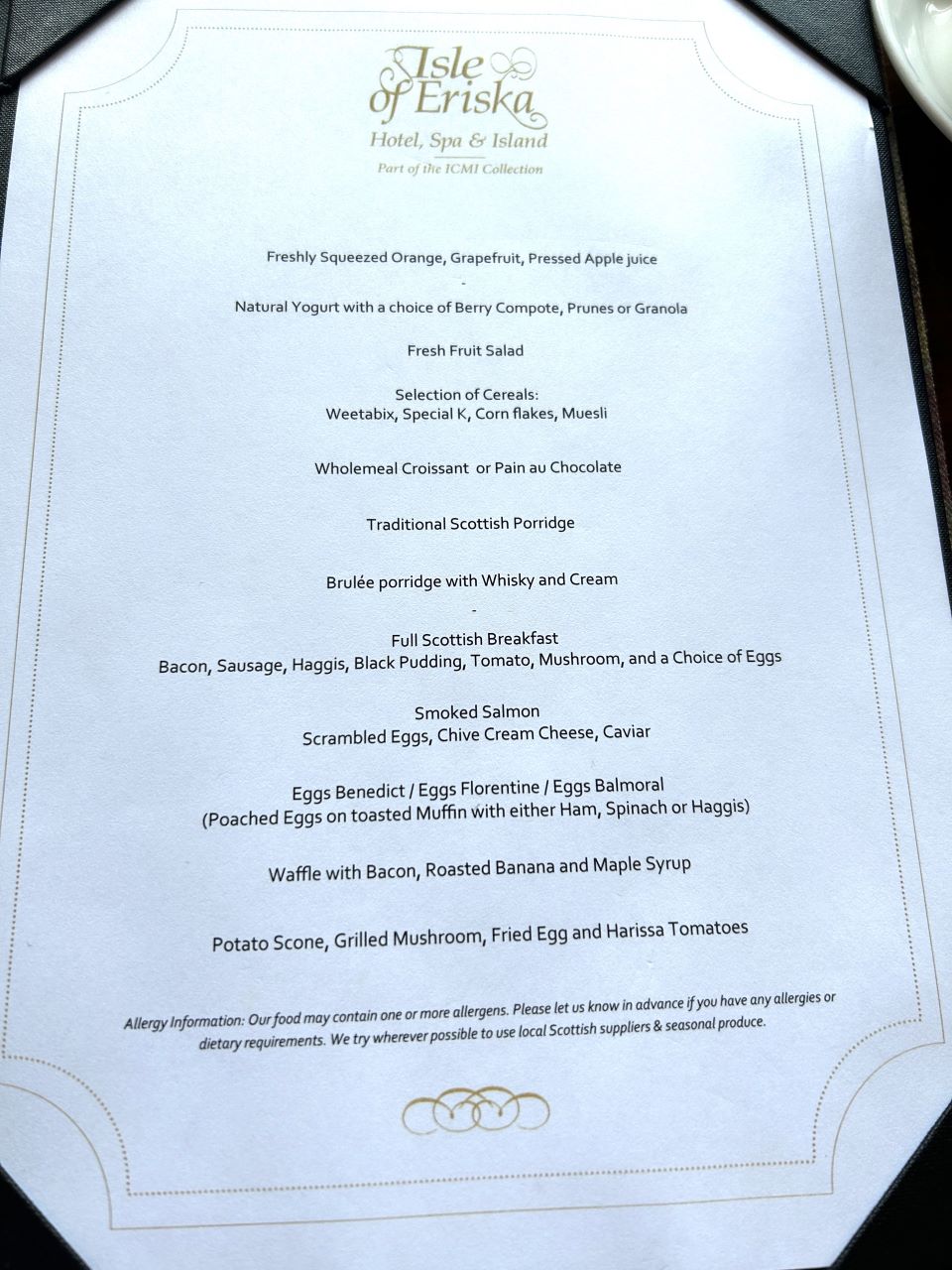 I'd already tried a Scottish breakfast on this trip so I thought I would go for the scrambled eggs as they sounded delicious.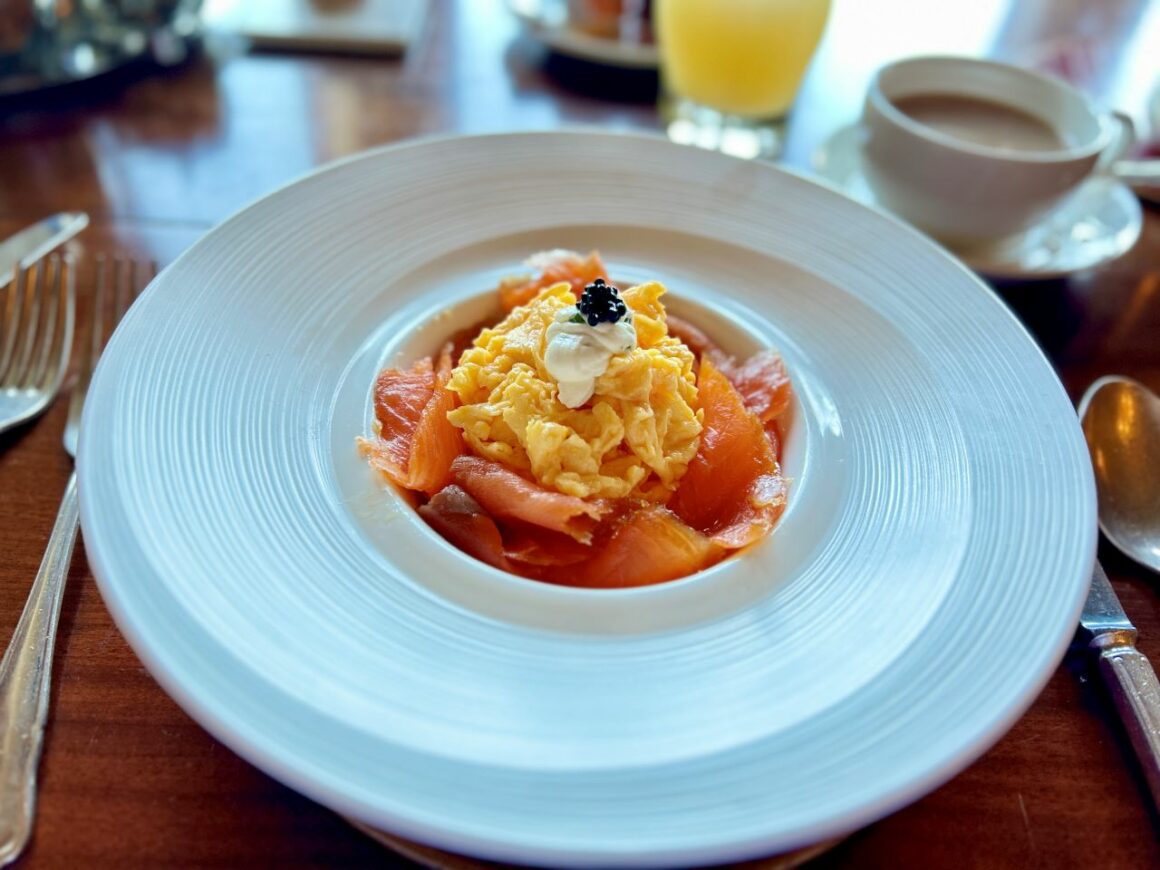 This felt a very indulgent start to the day with a generous helping of smoked salmon and even some caviar on top.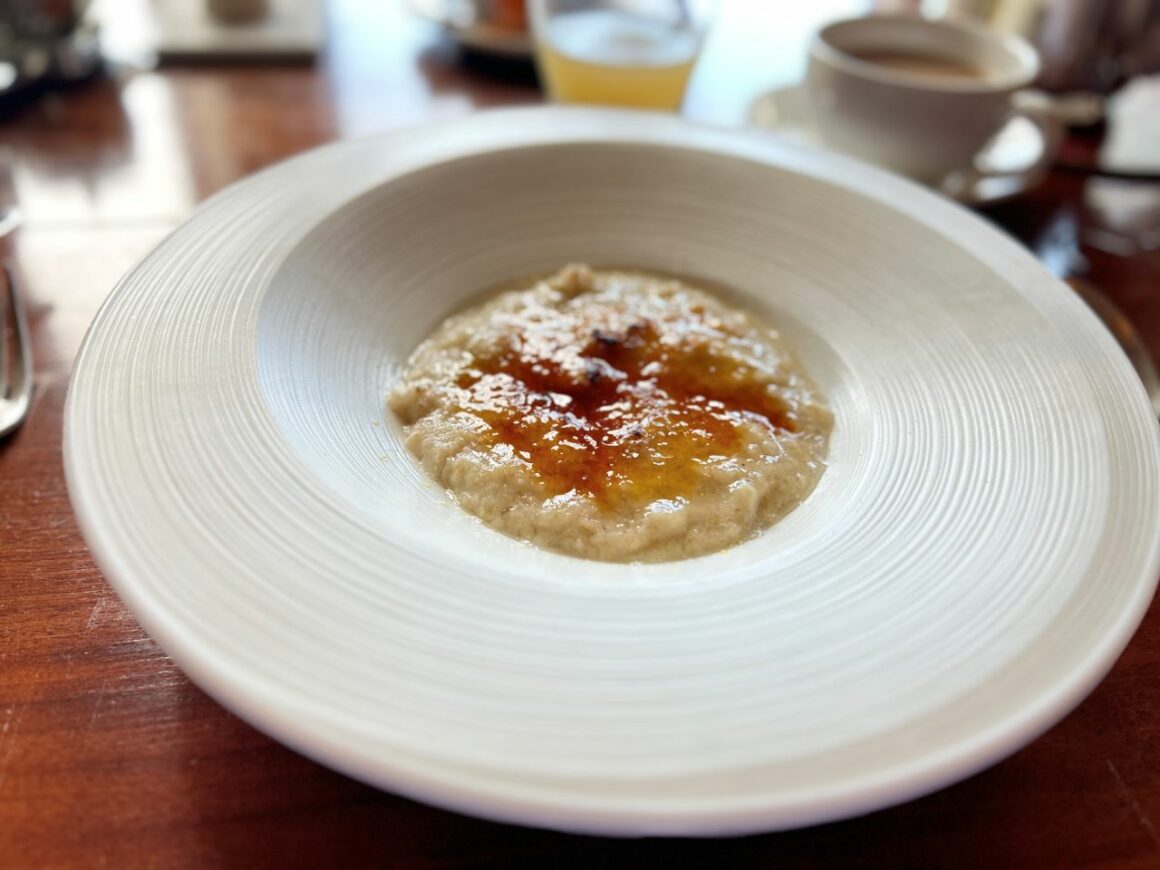 I followed this up with "dessert" with the creme brulee porridge. The brulee topping was quite light, and there was only the merest hint of whisky, so it didn't overpower the porridge.
This was definitely a wonderful way to start the day while gazing through the windows at the lovely grounds.
Activities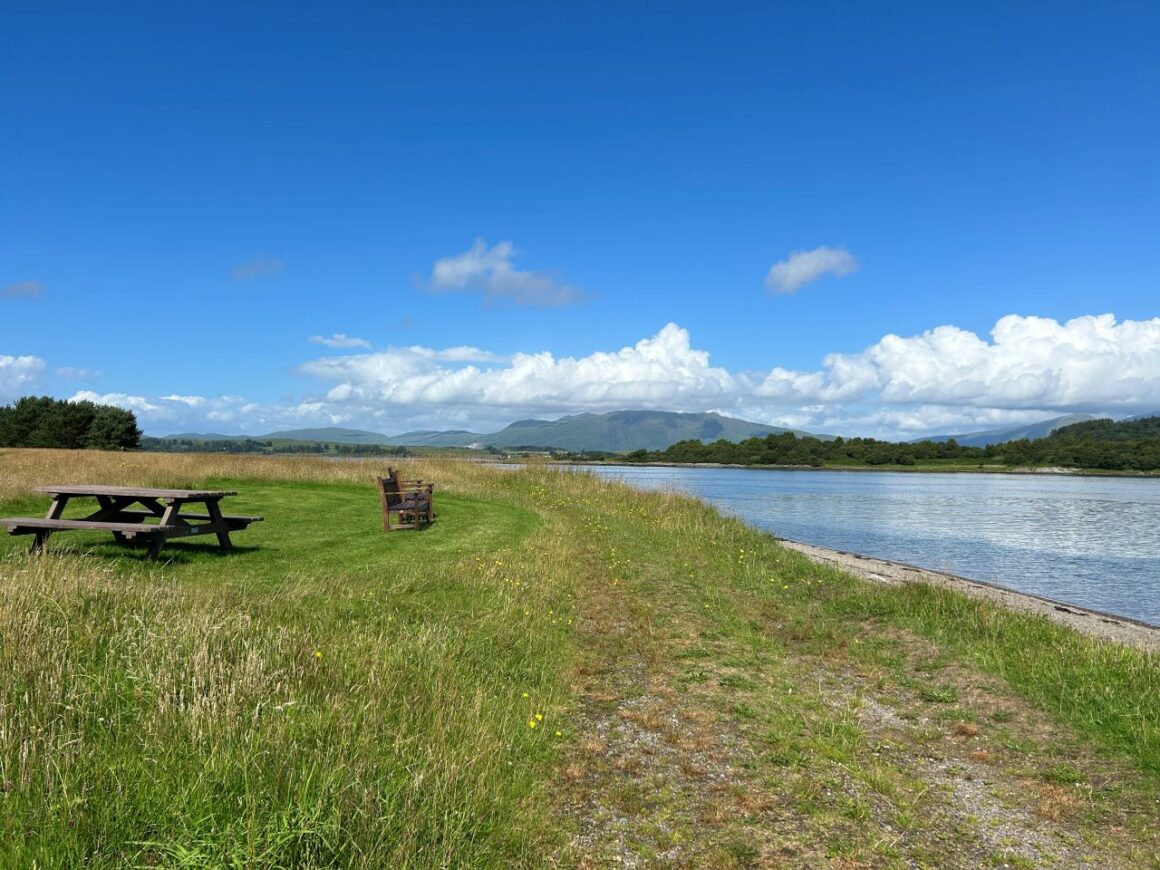 When you arrive, the hotel will give you a map of all the trails on the island. There is an area where you may spot otters, a jetty and plenty of wildlife to look out for such as roe and red deer as well as red squirrels.
The hotel has a range of activities on site:
Driving range
Croquet
Sports Hall
Clay shooting and archery
They can also help you organise other activities such as:
Sea fishing
Mountain biking
Walking
Kayaking and luxury yachting
Clay shooting and archery
Scenic flight with Hebridean Air Services
Oban Distillery Malt Whisky Tour
Seafari Adventures
Mull Wildlife Tours
Staffa Trips – Daily trips to Staffa, Fingal's Cave and Iona
Sealife and Wildlife Tours
Booking
I booked directly with the hotel, but it is also a member of Small Luxury Hotels. If you join their loyalty scheme Invited, you get 10% off, daily continental breakfast, room upgrades and more. This also means it can be booked via World of Hyatt for 25,000 points per night.
There is a special summer offer currently from £475 per night in a Standard Room which includes accommodation, breakfast and 3-course dinner for two from the a la carte menu. You can also pay a supplement to dine at The Deck, as I did. The offer is available until 31st October 2023.
Prices start from around £290 per night including breakfast.
The hotel is also available on sites such as Booking.com.
Conclusion
I only had one night here, but I really wish I could have stayed for longer and had time to explore more of the island. It was worth the visit for the food at The Deck, along with the exquisite location and views. If I returned, I'd be tempted to splash out on one of the hilltop suites, as these looked amazing when I was given a quick tour. The food quality here was outstanding, it was definitely one of my top three meals this year (and I'm lucky enough to eat at a lot of great restaurants).