This review, Philippine Airlines Business Class, is from our regular contributor, Jason.
My first ever flight!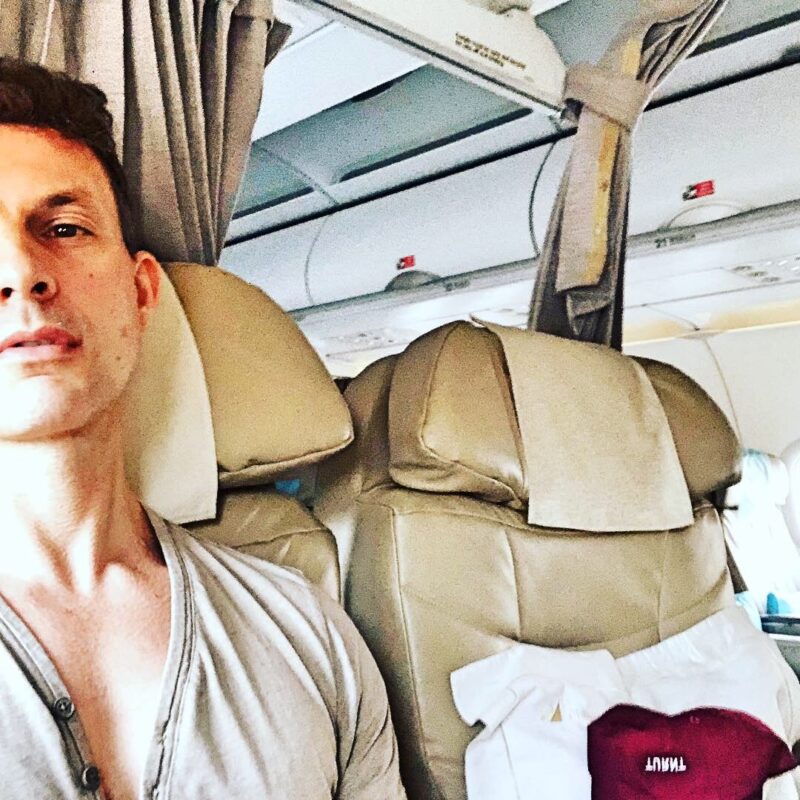 Philippine Airlines' marketing tagline is 'the heart of the Filipino' and it also holds a special place in my heart. My very first flight ever in 1991 was on a Philippine Airline DC10 from Sydney to Brisbane. My Grandmother and I (it was her first ever flight too at the age of FIFTY!) had been booked to fly the recently launched Compass Airlines, which was the first challenger to the Ansett/Australian Airlines duopoly when domestic aviation in Australia was deregulated.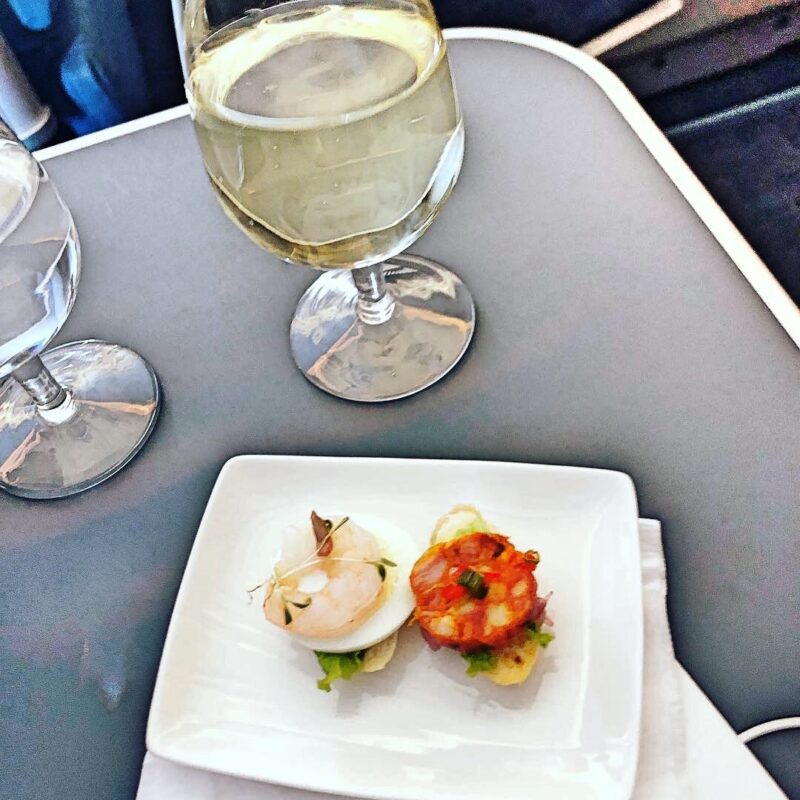 Unfortunately, Compass didn't really have a chance to take on these two huge established carriers and folded a year after its first flight.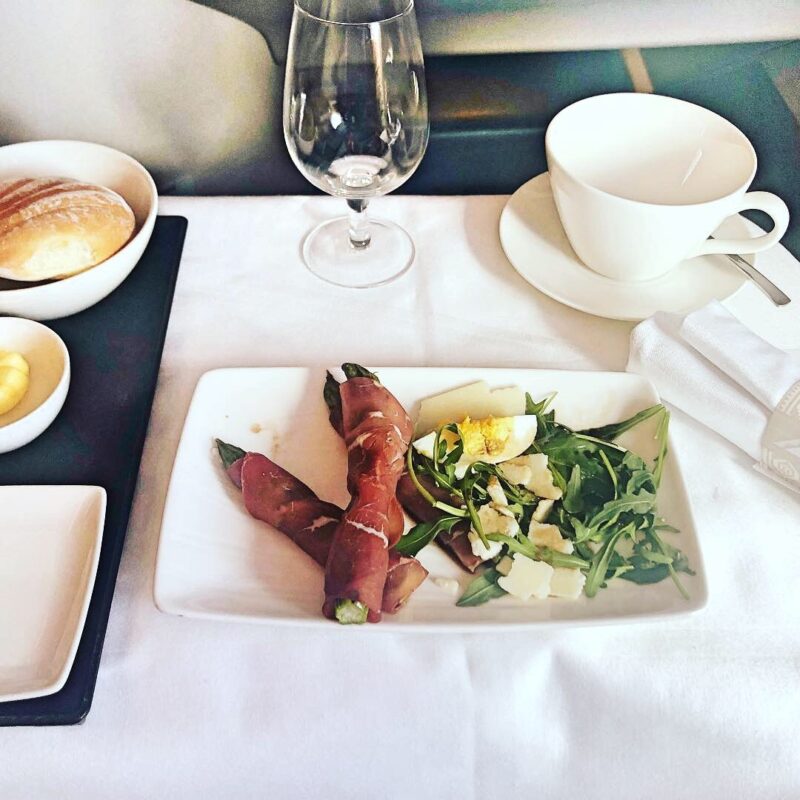 For a short period of time, after Compass went bust, stranding thousands and leaving many more with purchased tickets that were now worthless, the Australian Government allowed foreign carriers that operated domestic 'tag' flights to accept Compass tickets on their services and receive the revenue from a government fund set up.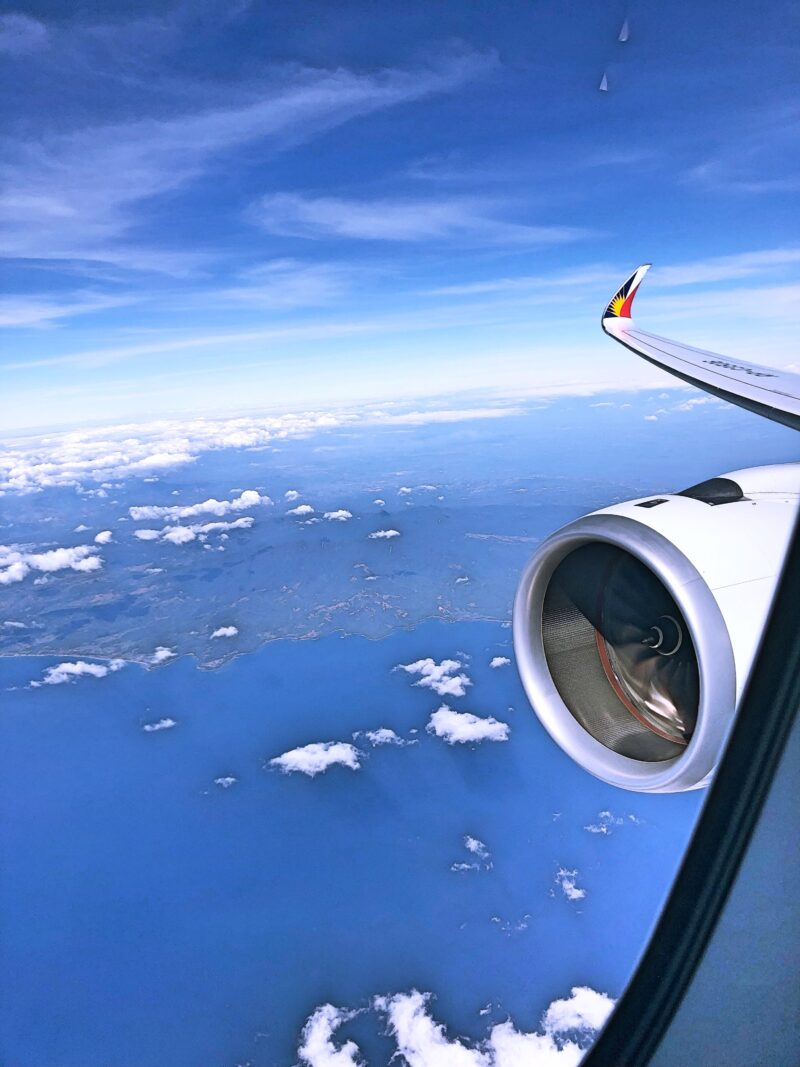 Philippine Airlines operated a daily Sydney to Manila via Brisbane service at the time, and that's how it ended up being my first ever flight – a short one-hour domestic hop on a big DC10 operated by a foreign airline. I can still remember the excitement like yesterday getting on this exotic international airline without actually leaving Australia.
In 2019, I again had the chance to fly PAL between London Heathrow and Manila when they had just received their A350. They had lagged behind their neighbouring competitors in terms of fleet and product, and due to the poor airport that Manila is, they were never able to compete with the likes of Cathay or Singapore in the transit market. The A350 kind of signalled their rebirth and the launch of the 'heart of the Filipino' tagline, and in 2019, I was so impressed with my flights. Everything was top-notch. So, how would they fare four years later and after a pandemic?
Unfortunately, when the COVID pandemic hit, the airline was forced to return the majority of their A350's to lessors, and the LHR route was cut and has not yet restarted. However, Philippine Airlines recently announced that they have placed firm orders for nine A350-1000's so hopefully, we will see a return to London.
Although Philippine Airlines has not yet returned to Europe, it does have a fairly good Australian network and also operates flights direct from the US. In Australia, it flies nonstop from its Manila hub to Sydney, Melbourne, Brisbane, and Perth. Sydney and Melbourne are operated by A330 widebodies whereas Brisbane and Perth are usually operated by A321 narrowbodies, although all aircraft flying to Australia are rostered with flat beds in Business.
Unlike most of their other legacy competitors like Singapore, Cathay, and Thai, Philippine Airlines seems to target their home market in bringing people to and from the Philippines and operating to international destinations with large Filipino communities instead of focusing on transit travellers. They are the only long-standing Asian airline that I can think of that still does not belong to one of the main alliances and seems to be a bit of a loner on the airline front.
Booking Philippine Airlines Business Class:
As part of my crazy Manchester to Sydney itinerary, I needed to get myself from Jakarta, where I had arrived from my tier point run on Sri Lankan (review to follow), to Sydney. There wasn't much available out of Jakarta, but I did find a Business fare through an OTA out of Kuala Lumpur – via Manila for £580 one way, which was excellent value. In typical style for me, it was flying north to then go south, but hey, it's all part of the fun.
Check-in Kuala Lumpur: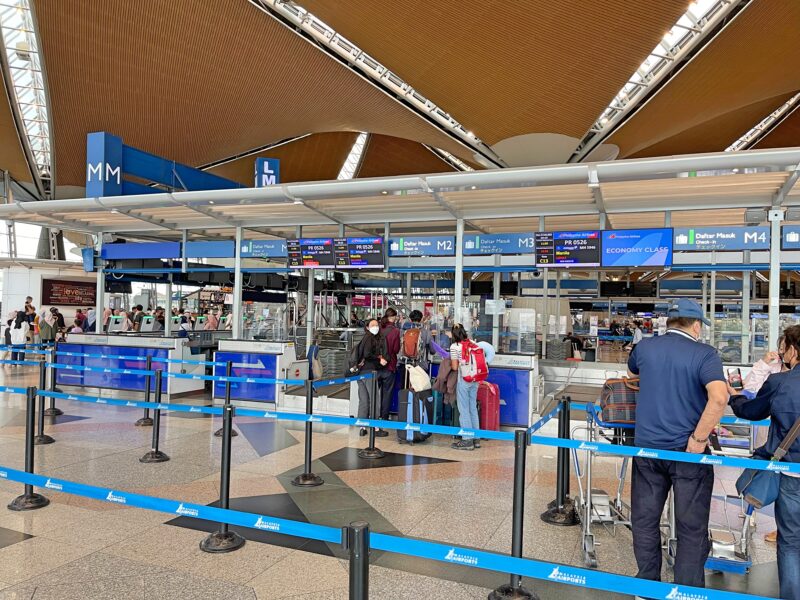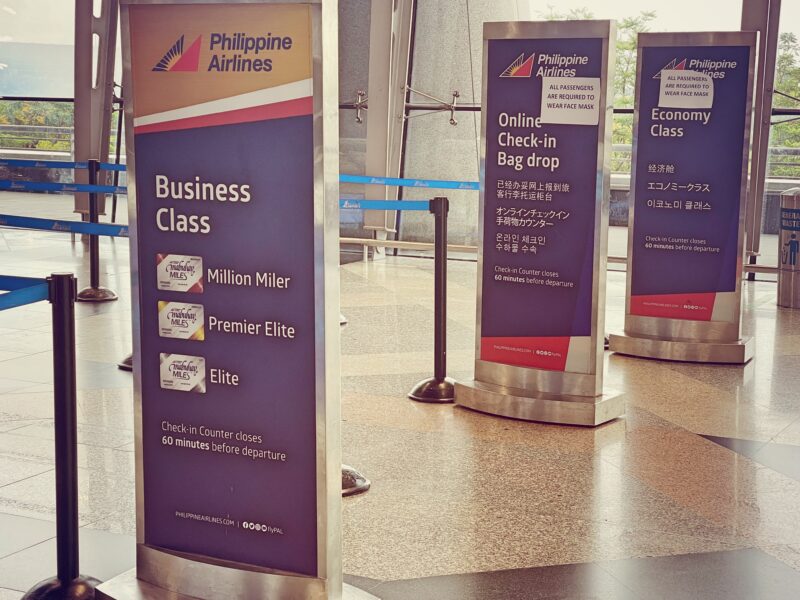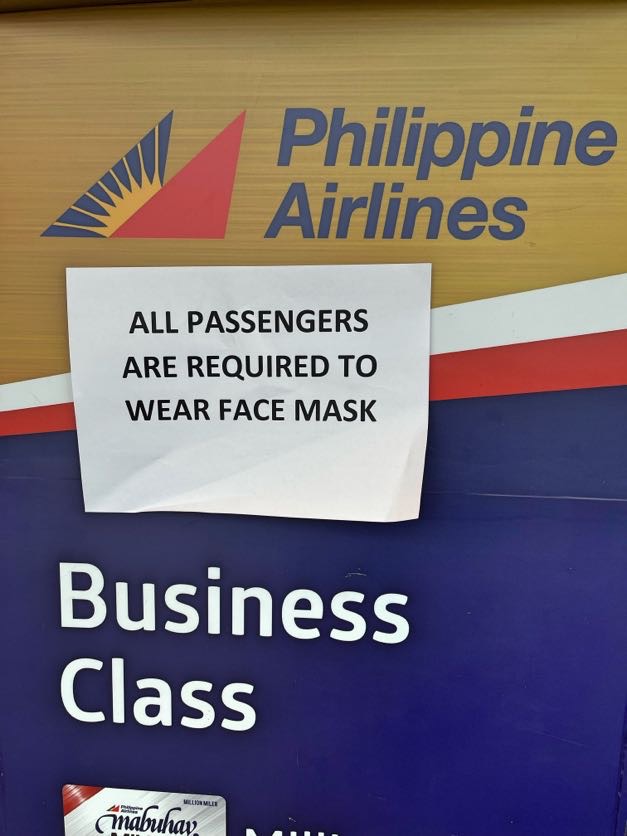 I had checked in online the day before the flight via the PAL app, which worked without a hitch.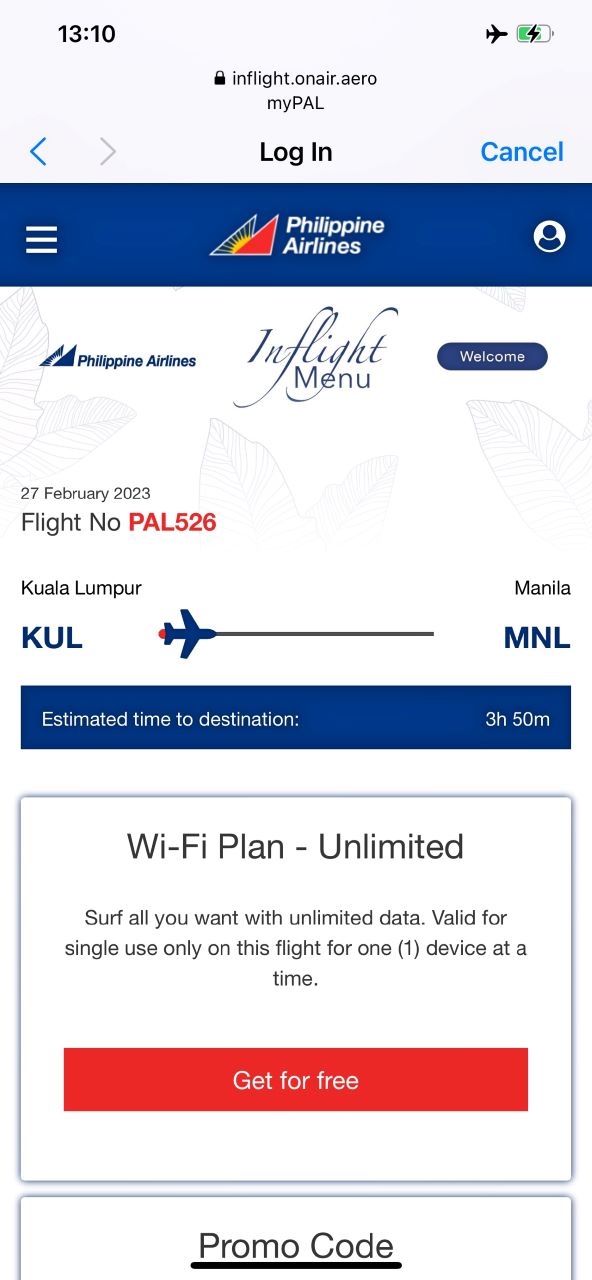 I was able to receive my boarding passes on my iPhone but decided to still go to the counter, and if there was no queue, I would grab my paper ones also. I had received both a text and email notification the morning of the flight advising of a one-hour delay, so I arrived at the airport at 10:15am for what was now a 12:50 departure. There were no queues at the PAL Business Class counter, so I re-checked in and received my paper boarding passes and lounge invite. I also took note of the signs up around the PAL check-in area advising face masks still needed to be worn onboard PAL flights.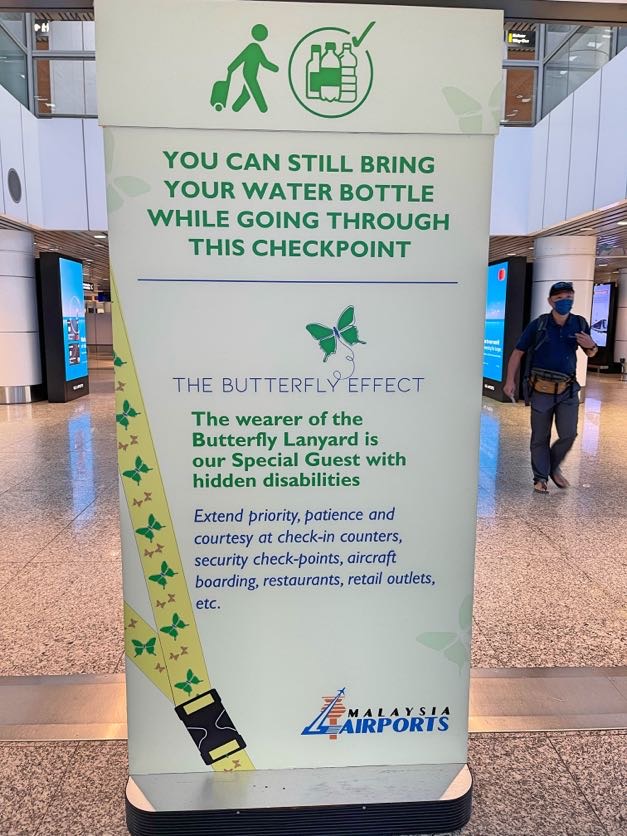 On my way to Immigration, I passed the Pakistan International Airlines check-in desk where people were queued at a counter with a sign displaying 'collect meal voucher here – ONLY valid at McDonalds'. Youch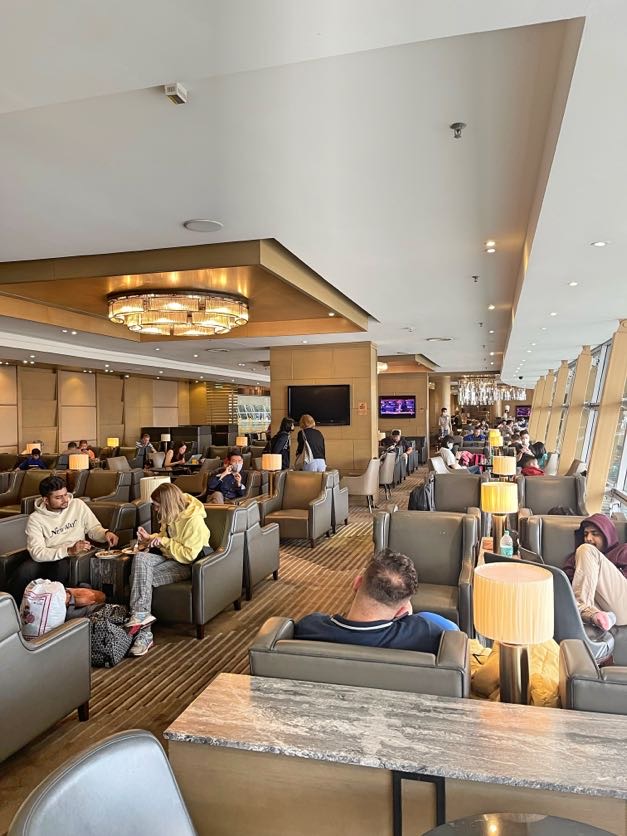 It's worth mentioning that Philippine Airlines is one of the few airlines I am aware of that offers a fixed price upgrade called 'instant upgrade'. The fixed amount is listed on the airlines' website, and this can be requested during online check-in or at the airport. Examples of amounts on the website from Economy to Business are US$270 from Manila to Hong Kong or USD$720 to Sydney.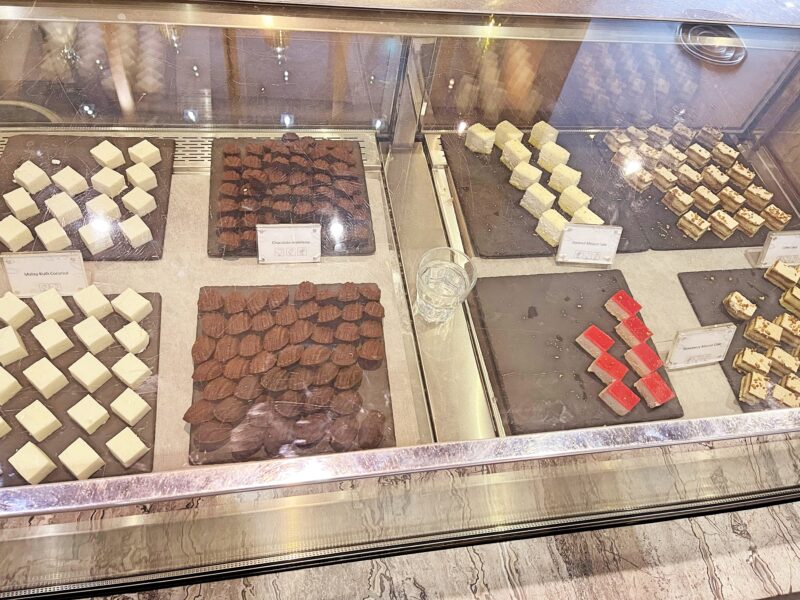 I am not sure what is going on with Kuala Lumpur International Airport (KLIA), but it was the worst experience I have had travelling through the airport. Arriving the day before, I queued for over an hour to pass immigration, which was woefully understaffed, with maybe 20% of the desks open. Departing was easier in terms of immigration as they have designated lanes for First and Business Class. When I approached these, they were, however, both unstaffed. Next to these lanes was a staffed 'Diplomatic Lane' and no passengers waiting, so I approached the immigration officer who processed me but then barked, 'next time use the business class lane'. When I replied that that was exactly what I planned on doing, but they were both unstaffed and then also mentioned the ridiculous lines the day before he kind of grunted and looked a little embarrassed.
Security takes place at each gate, so I made my way to the lounge. Bizarrely, the automated people mover that transits passengers between the terminal which serves regional destinations (and where immigration is) to the terminal that serves long-haul destinations now only runs during certain times of the day.
Outside these times, a bus ride it is. I have no idea why. There was no obvious maintenance happening on the people mover, and it is driverless, so it couldn't be a staffing issue.
PAL contracts the use of the Plaza Premium Lounge at KLIA, which is located on the Mezzanine level of the satellite (long haul) terminal, although signage was very poor. I knew where it was as I had passed by when heading towards the Malaysia Airlines lounges on previous trips, but if you didn't know where it was, you would struggle to find it. It was a pleasant lounge as far as contract lounges go. The décor was pretty standard Plaza Premium, which seems to have a fairly consistent aesthetic these days. It was busy, though not overcrowded, and had nice views over the tarmac. There was a decent range of hot and cold food as well as a tended bar where barista coffee was also available. From my nest in the lounge, I could see when my PAL A321 taxied in from the runway and parked, so shortly after, I made my way to the gate.
Boarding the Philippine Airlines Business Class: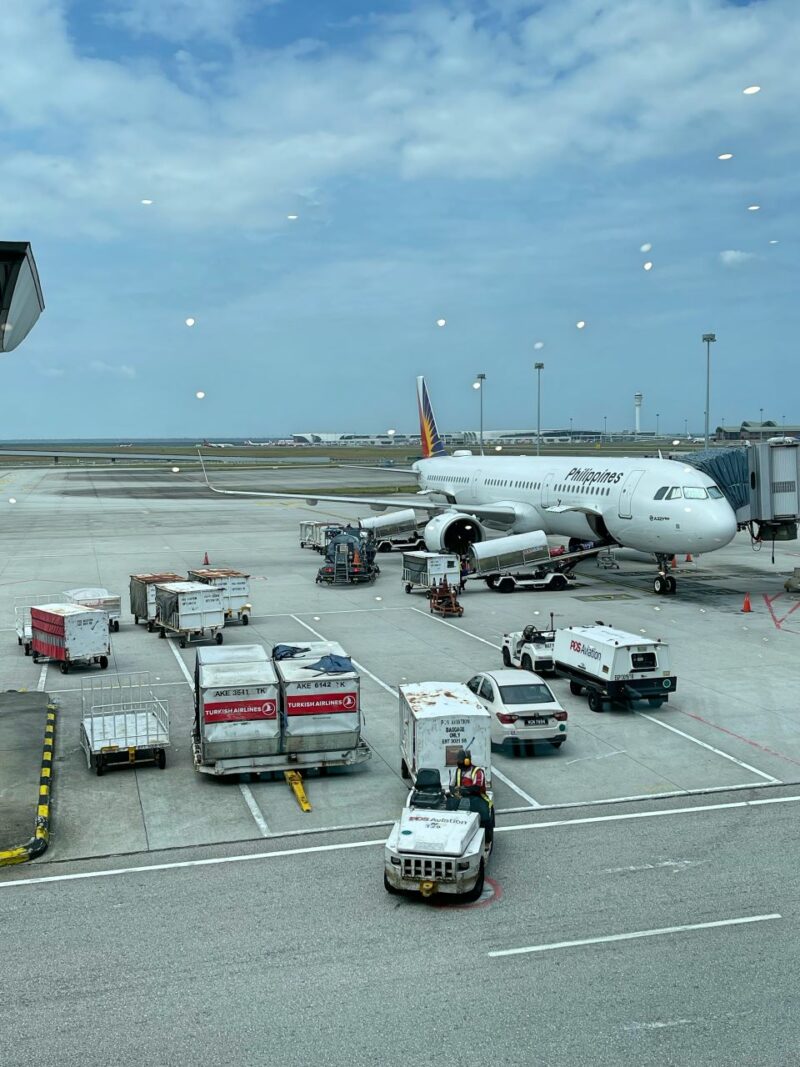 KLIA is like Changi in that there is no central security facility. Instead, you pass security at each gate. Airports that do not separate arriving and departing passengers tend to use this system. I guess there are pros and cons to it, but the biggest benefit is that as long as everyone is at the gate when they should be, no one will be left behind because of security delays. Security was the IATA regular laptops and liquids out though was efficient. Boarding started as soon as I had entered the gate area with Business Class called first.
When PAL updated their fleet with the A350, they also ordered the A321 configured with flat beds to operate some of their long, thin sectors, for example, Manila to Brisbane. Up until around a week before departure, my flight was rostered with one of the normal regionally configured A321's with recliners however, Experyflyer sent me a notification that there had been a configuration change, and when I checked, I noticed it was the flatbed fitted aircraft. It's worth pointing out that from a seat map of business class, you cannot tell which configuration you have as both show three rows of four seats. However, it is the economy seat map that reveals what kind of business class you will have. On the flatbed aircraft, the last row of economy only has seats on the left-hand side.
Kuala Lumpur to Manila. Actual flight time 3hr35min. Seat: 3A Aircraft A321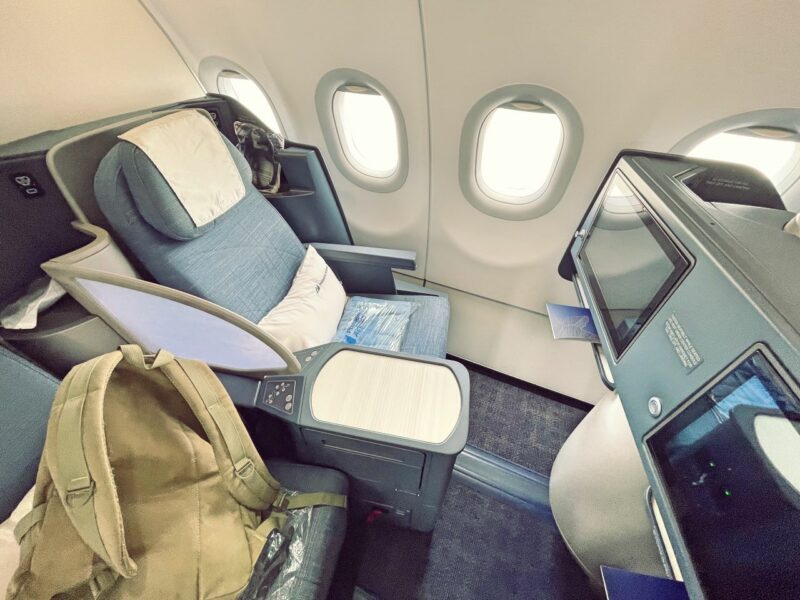 On boarding, I was warmly welcomed onboard and directed to my seat 3A, which was the window seat on the last row. The cabin looked impressive, and the seats are exactly the same as you will find in Business Class on Qatar's narrowbodies with flatbeds or American Airlines A321T aircraft that service select transcon routes.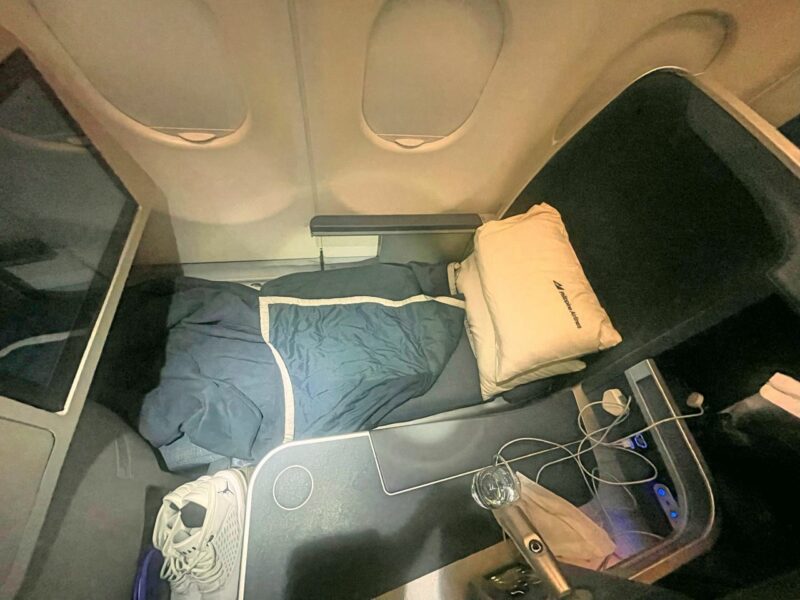 The seats form a fully flatbed, although still in a traditional 2 x 2 configuration, so it's a case of climb over or be climbed over. The seat pairs are ever so slightly angled and staggered, so the aisle seat is slightly behind the window seat, so you are not shoulder to shoulder, and this affords a little privacy.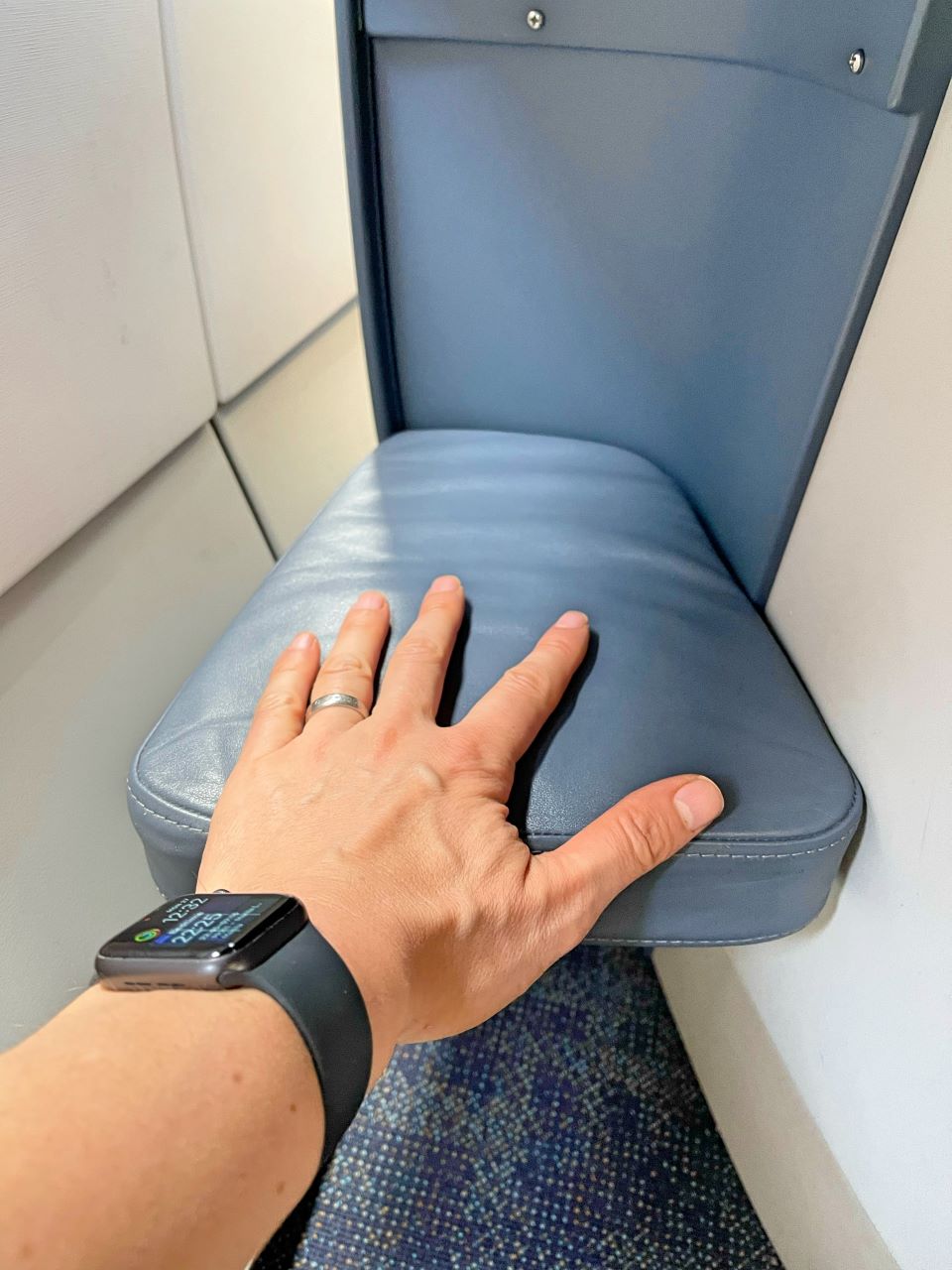 Fully flat beds on narrowbodies are impressive. However, the footwell was tiny, although I did notice it was slightly bigger for the aisle seats. Each seat has a multi-plug power adaptor and USB port, as expected.
There was a menu, pillow, blanket, and headset at each seat.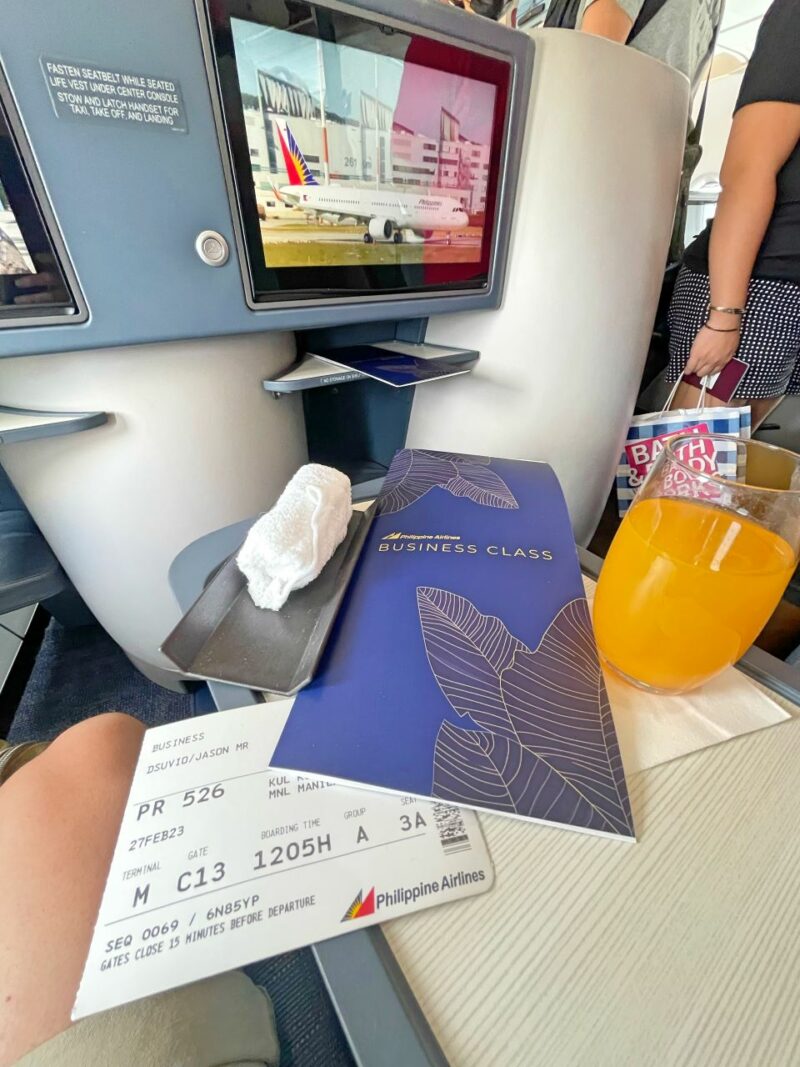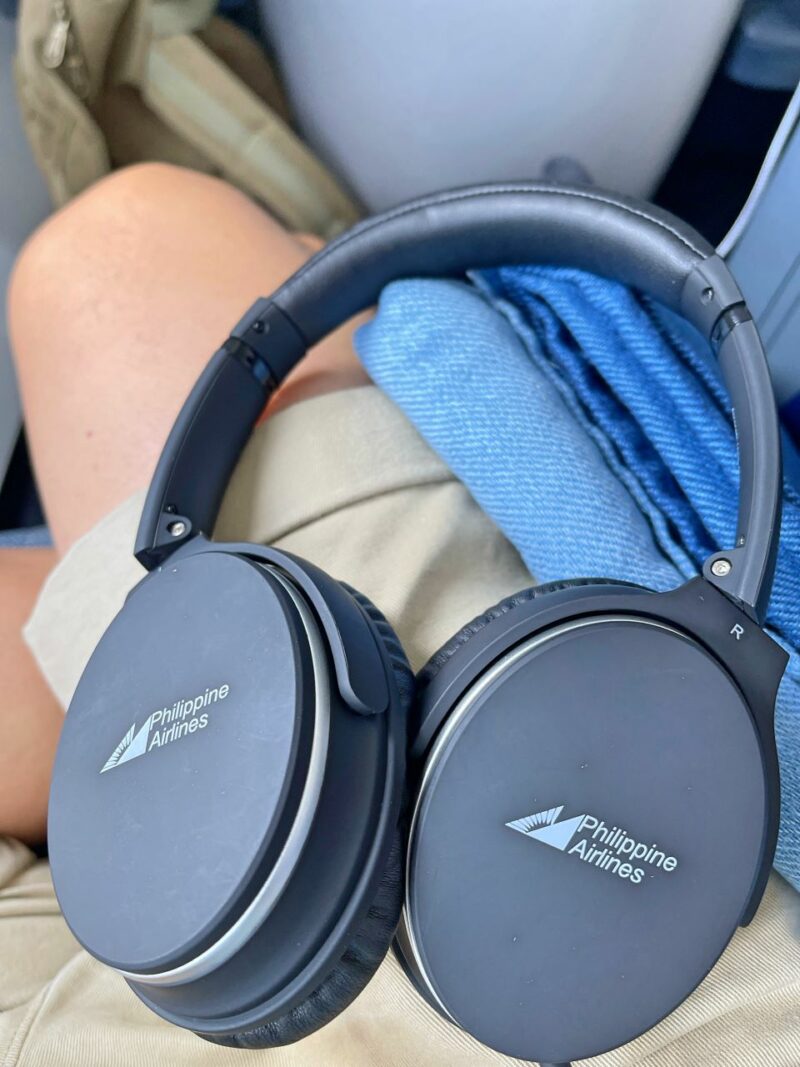 I have always found PAL crews to be friendly, and this crew was no different. A crew member offered me a choice of orange, apple, or 'four seasons' juice, which I declined. This was followed by a hot towel. Another crew member then came and introduced herself and took my meal and drink order.
We pushed back at 12:50, which was exactly the re-timed departure time, and were airborne shortly after.
Philippine Airlines Business Class Inflight:
I will start by mentioning that along with the requirement to wear a mask at all times unless eating or drinking, there was also an announcement that there is a 'modified' service on board due to COVID. This seemed crazy in March 2023, but in describing the product offered, I am not sure whether the 'modified' service extended to business class or whether this is just the norm.
Service got rolling half an hour after taking off, and from the choice of beef, chicken, or fish as mains for lunch, I had selected the beef koftas. A crew member laid my table with a tablecloth and, shortly after, hand run the trays, which consisted of the quinoa starter, some packaged cashews, a plain bread roll, the dessert, a glass of water, and an empty glass for my wine.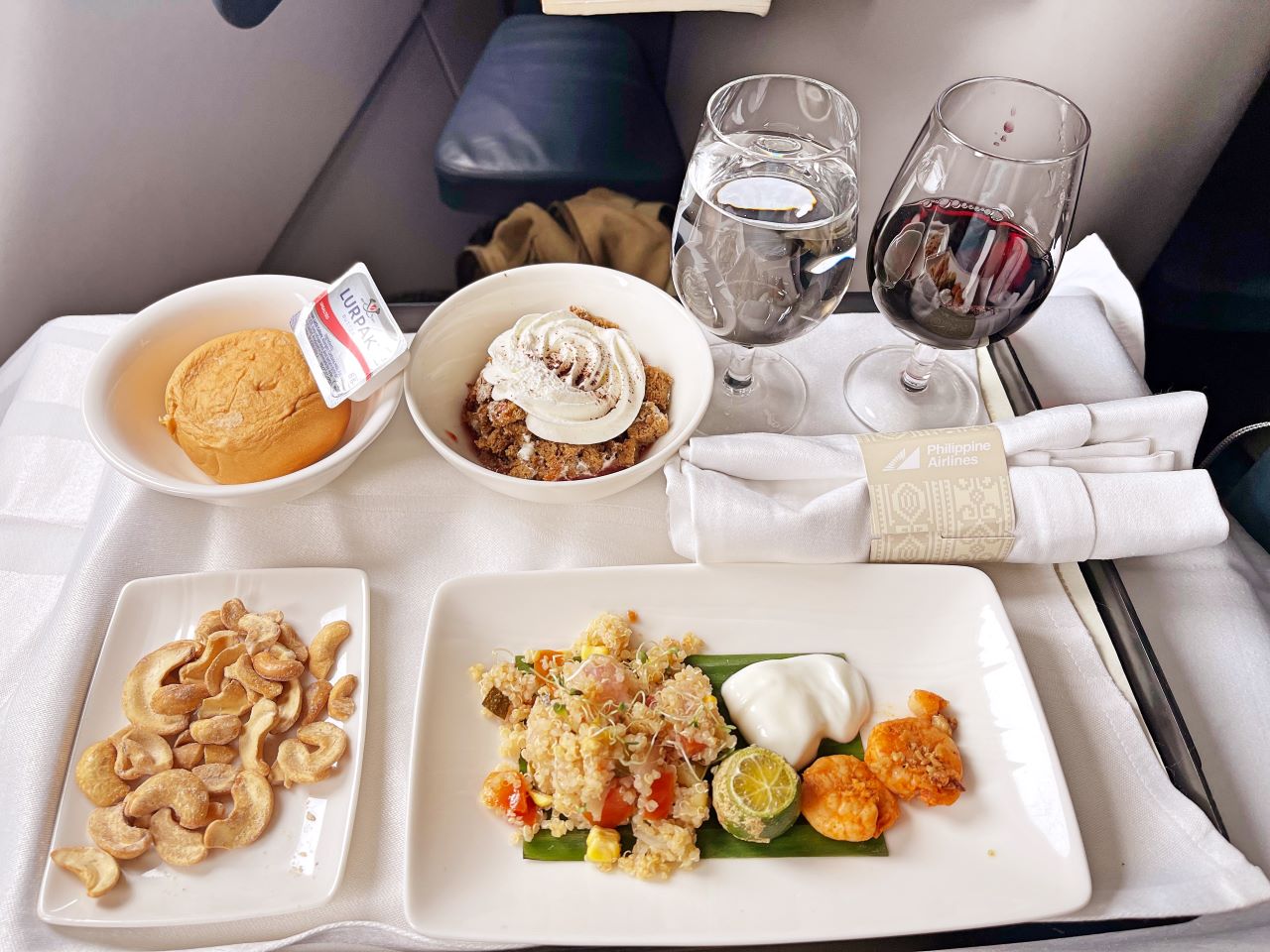 The crew member then came and presented the wine bottle before pouring at my seat, which is great attention to detail on a short hop.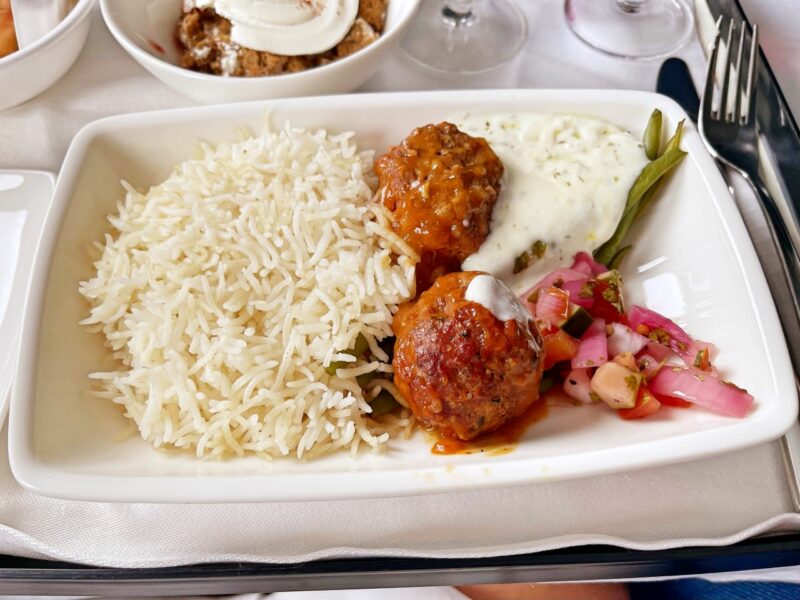 Once the starter was finished, it was cleared away, and the main brought out. Although the menu had listed the meal as 'beef koftas, ' it was more like a meatball dish. The food was perfectly fine, but I do miss bold branding on service items these days. I know it is now fashionable to just have everything white and cream and plain with tiny little logos hidden somewhere on the items, but I loved seeing crockery and napkins branded with the bold and colourful logo of a modified Philippines flag.
If I had to be picky, what I would say about the meal service is that it would have been nice to have maybe a choice of bread instead of the one plain dinner roll. Although, in fairness, this may have been one of the COVID modifications. And the service could have got started a little quicker. But, here's the thing…. There was one crew member looking after the twelve passengers in business class. And that isn't uncommon these days in what is a very competitive industry. Most airlines have cut crew complements onboard. But what I found crazy on this flight (and my flight to Sydney) was that the Purser/In charge onboard the plane but does NOTHING. On this flight, instead of helping out her colleague, she just sat on her jump seat and tried to look busy. Doing 'paperwork' or sorting out her handbag. I mean, jeez, if you aren't going to involve yourself in the actual service, at least engage with your customers, say hi, introduce yourself, and do a bit of public relations. But she did not leave that jump seat once during that sector, and if you had not visited the front galley during the flight for some reason and saw her at the door when disembarking, you would think she was one of the ground staff that had just walked on the aircraft in Manila.
The other crew were all great. Friendly, engaging, hard-working. And as is nearly always the case with Filipinos, flawless English.
One thing that I found impressive was that the aircraft had Wi-Fi, which had a decent speed and was free for everyone to use. The IFE content was fine, with fewer options than Sri Lankan had, but adequate; however, the thing I watch the most – the map – was not functional (nor was it on my Manila – Sydney flight).
The cabin was secured for the final approach into Manila, and it was a bit of an exciting landing, we were hovering over the runway and then aborted the landing, accelerating and climbing again before going around and landing around fifteen minutes after. The first officer made a PA explaining it had something to do with winds on landing. Although a PA was made that, in line with COVID protocols, we would disembark in groups, this didn't actually happen, and I was off the aircraft fairly quickly.
Transit: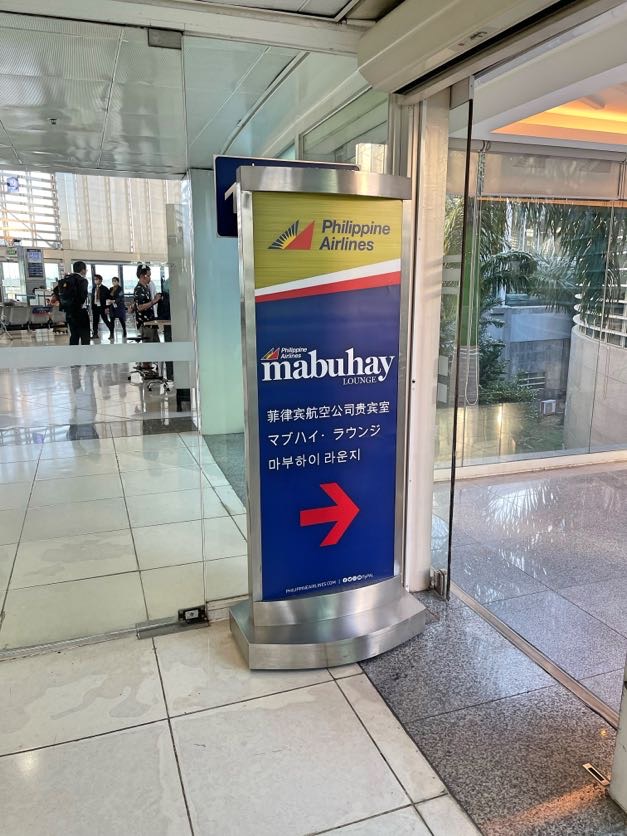 When you arrive at Manila Ninoy Aquino International Airport, it becomes obvious why PAL has never really cracked the transit market. The airport is dire and is spread out over two terminals connected by a bus. Even though I was connecting within the same terminal, it can be a challenge. I followed the signs for 'transit' where you must first attend the 'transit desk', and here your boarding card is checked and stamped. You are then sent off to security, which I guess, due to the lack of transiting passengers, is nice and quiet. After security, if you are lucky, you can climb the stairs or take the lift straight up to departures.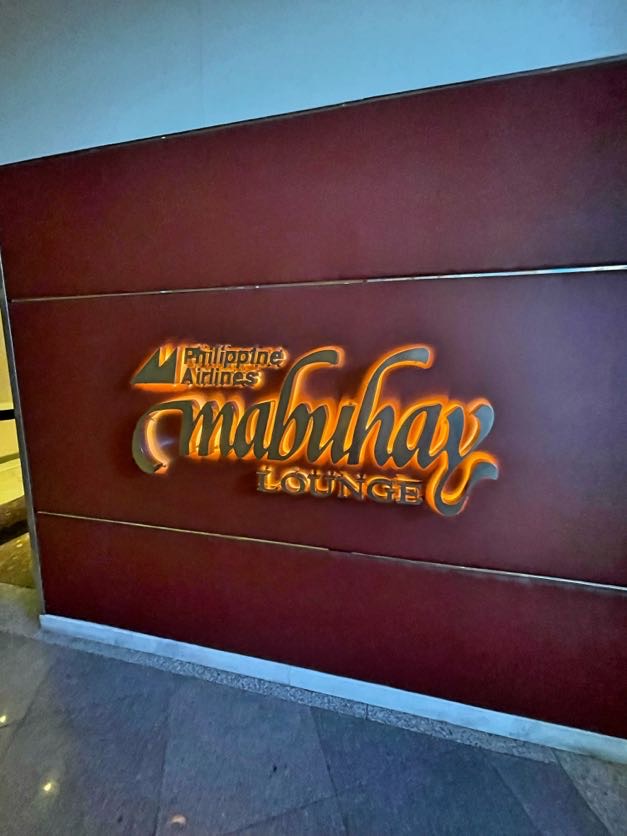 If you are unlucky, you may have to wait forty minutes before you can pass. Why? Because this transit route up INTO the terminal also doubles as a bus gate down FROM the terminal. So, if you arrive whilst a flight is boarding from the bus gate, you have to wait until boarding finishes. I was lucky and could head straight up. I do say 'lucky' but six hours at MNL is nothing to look forward to. The terminal is small outdated, and this theme carries through to PAL's flagship lounge at its hub.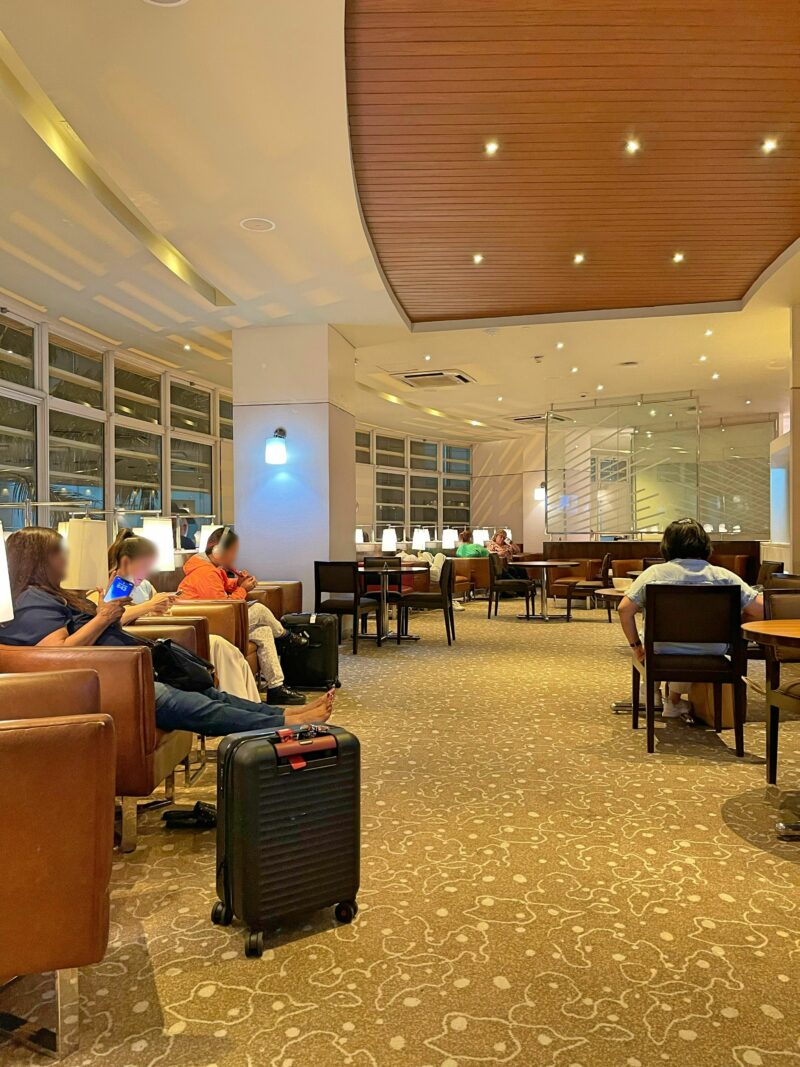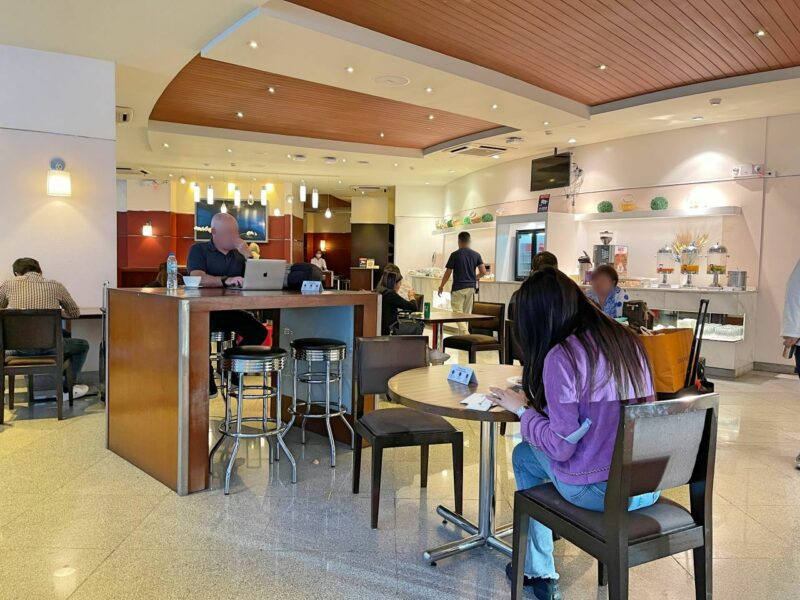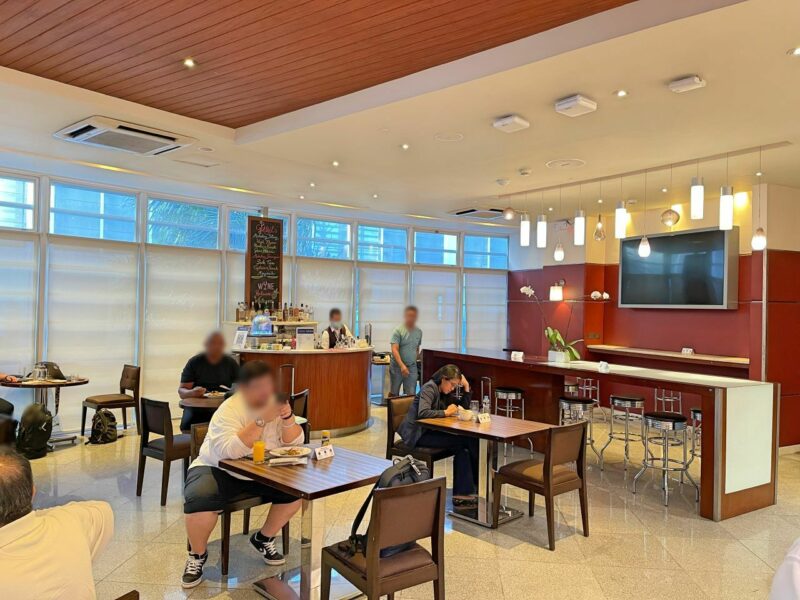 I can remember when departing MNL in 2019, which was the first time I had visited the PAL lounge and thought, 'wow' this lounge is really poor for a national airlines lounge at its biggest hub and really in need of a refurbishment. Suffice to say, when I entered in 2023, not a thing had changed. The lounge is still dank and dark, and old-fashioned. After having my boarding pass scanned, I passed through a kind of large TV room, which brings you to a buffet area.
There's a selection of hot and cold food, which is not too bad, to be fair. There's also a coffee machine, self-serve soft drinks, and a small, tended bar. Passing through this area is another lounge area with traditional seating. The fact that every single flight departure is announced over the loudspeaker doesn't help with a calming ambience either. Wi-Fi, however, was quick and easy to connect to.
SYD boarding in Philippine Airlines Business Class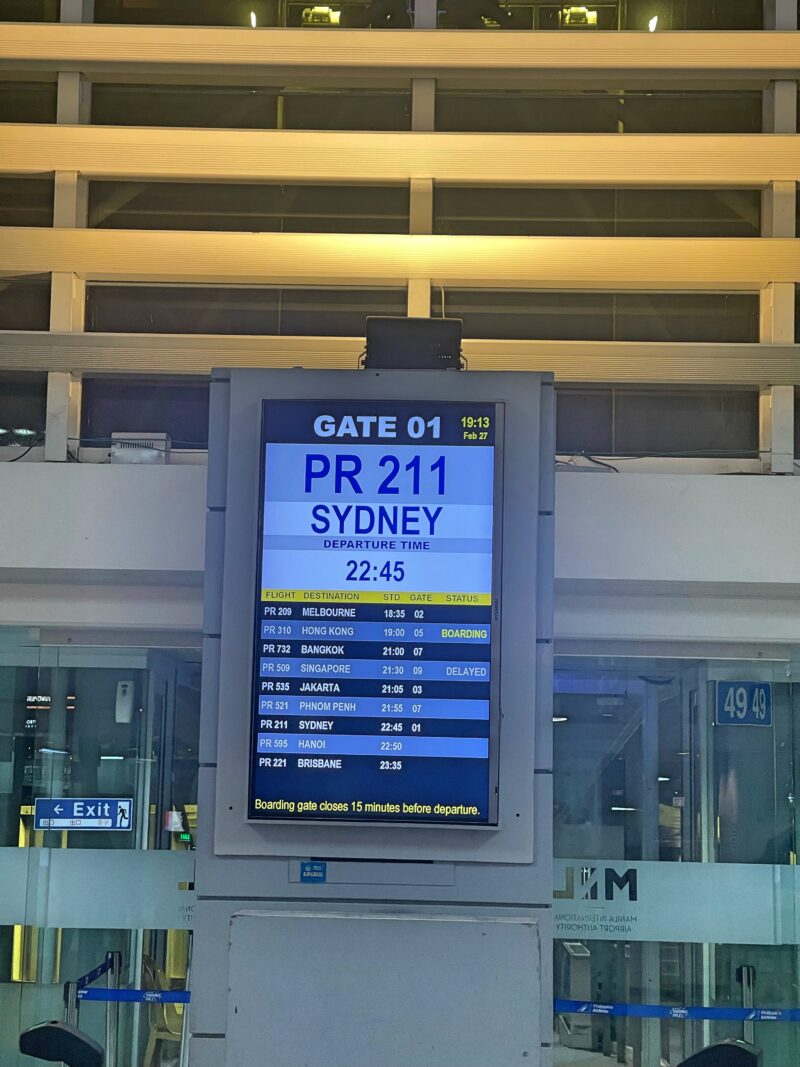 The terminal is fairly small, so all the gates are easily accessible from the lounge. My Sydney flight was departing at 22:45, and boarding started fifty minutes before departure. Due to outdated Australian Government requirements, NO liquids over 100ml are allowed to be brought on board flights to Australia – not even drinks or duty-free purchased airside. So, there is an additional hand baggage check at the gate for Australian-bound flights.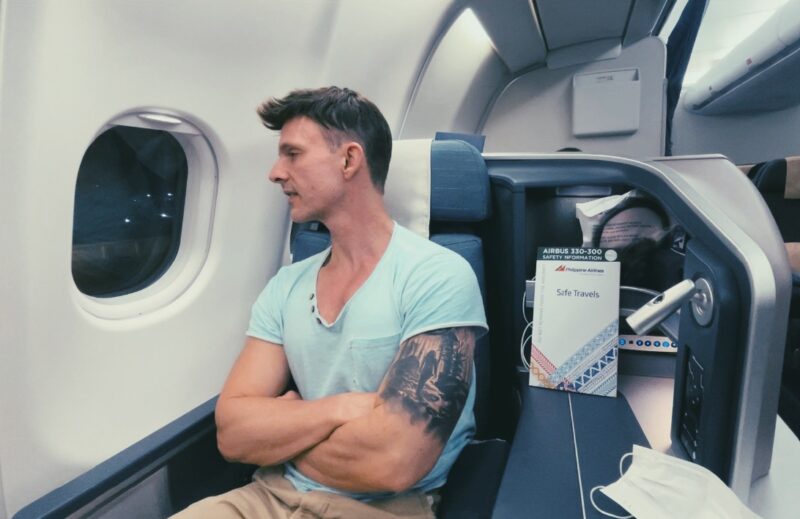 PAL has chosen the Vantage XL seat for their A330's which they use on mid-haul routes to Sydney, Melbourne, Dubai, and other regional destinations occasionally.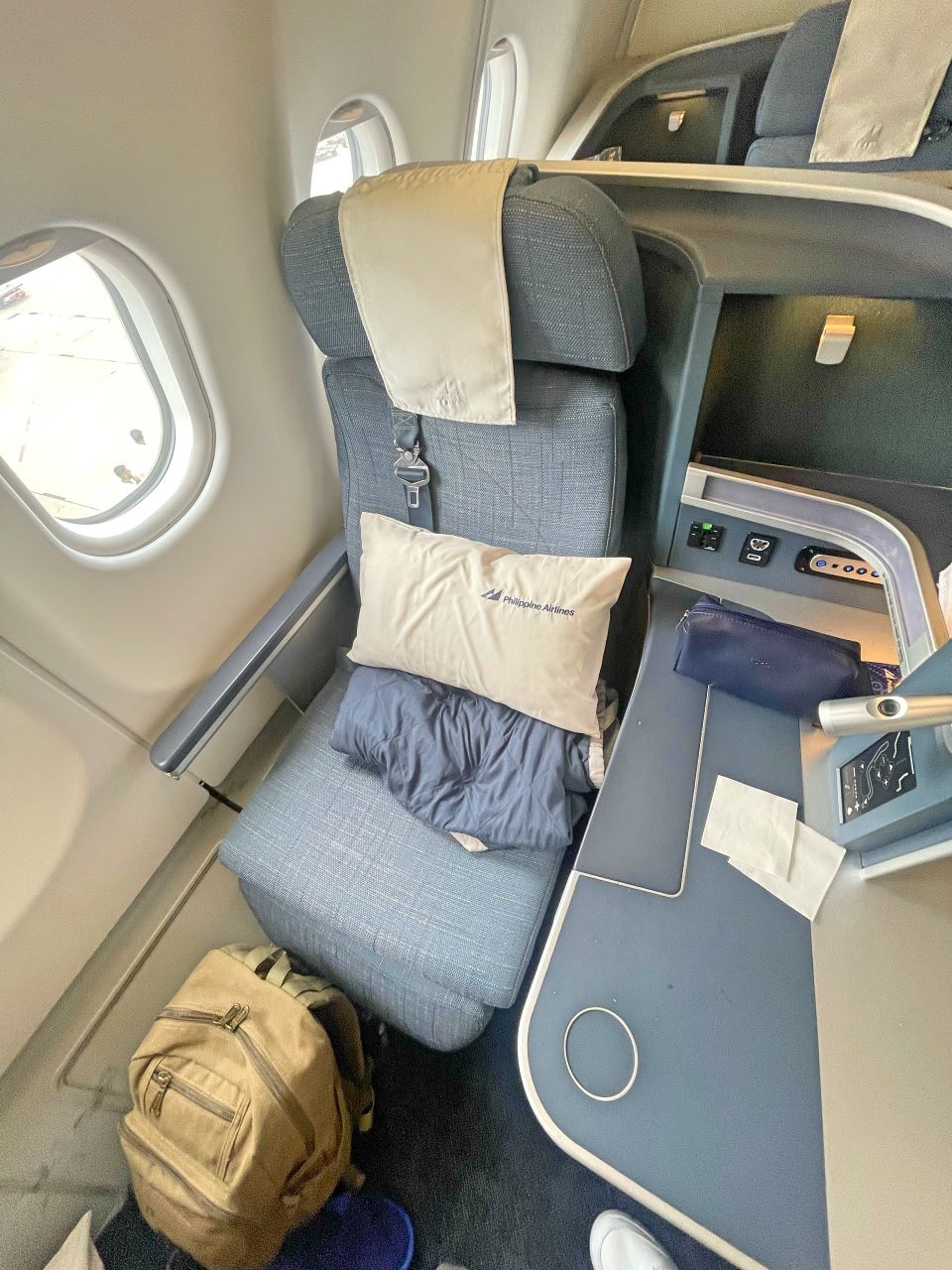 The seats on Philippine Airlines Business Class are staggered in a 1 – 2 – 1 configuration, with those by the windows having the cocktail table either on the window side or the aisle side. If you've flown on Qantas' A330's/787's or SAS long haul business class, the seats will be immediately familiar. I had chosen seat 4K as having the cocktail table closer to the aisle and the seat closer to the window afforded more privacy. There are only 18 business class seats on PAL's A330's so five rows, and they occupy around two-thirds of the forward cabin with Premium economy behind it.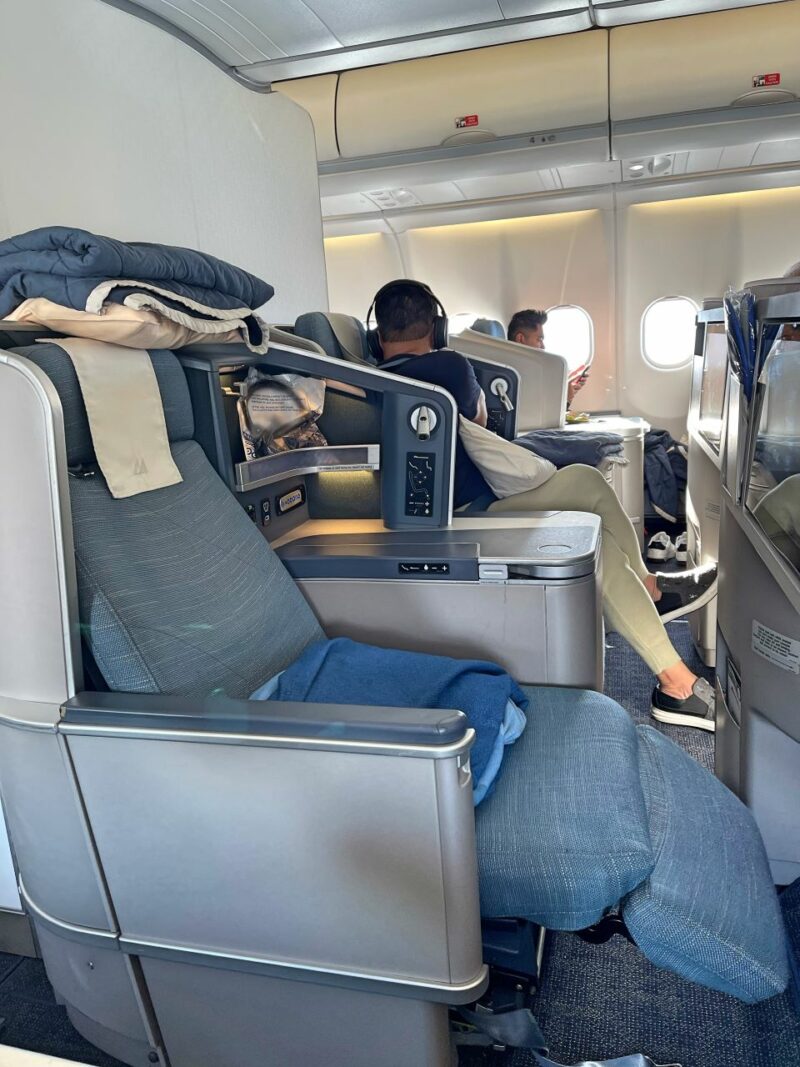 I found the cabin of Philippine Airlines Business Class a little drab again. Maybe it's just personal preference, but it would be nice if they personalised the cabin with some branding instead, it is just light blue seats on blue carpet and plain bulkhead walls. It was one of those airline cabins where if you saw a video of it online, you would struggle to identify the airline as nothing is tailored to Philippine Airlines, no branding. Just generic off the shelf. A pillow, blanket, menu, slippers, and headphones were at each seat. Crew introduced themselves, addressed me by name, and took my main course order.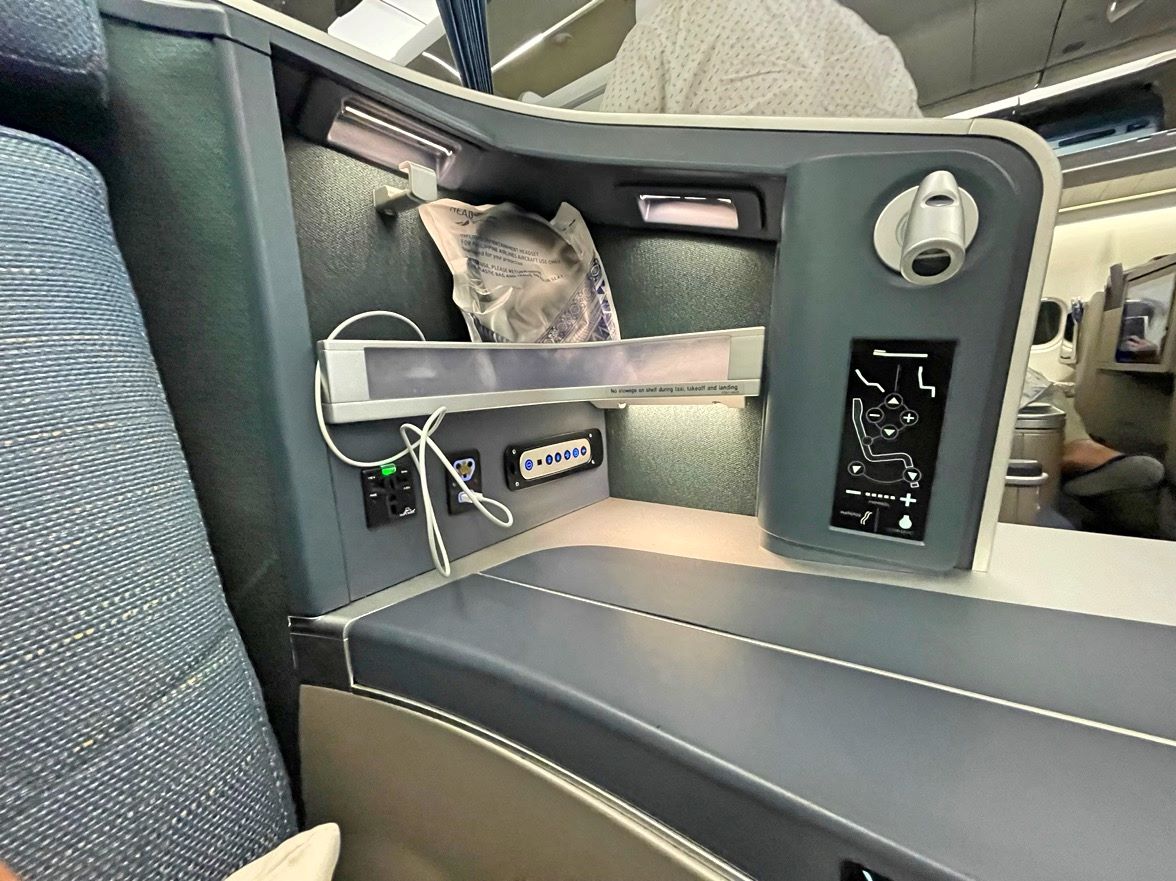 They also came through the cabin proactively clearing in bits of plastic from the bedding and headphones, which again shows great attention to detail. Washbags were then distributed, which were relatively well stocked, and hot towels were given out. It would have been nice to have a bottle of water at the seat as, obviously, you cannot bring any on due to the additional Australian government regulations.
The captain made his welcome and announced the flight time to Sydney of 7hr45min and gave a little information on the route and weather. We pushed back exactly on schedule at 22:45, and seventeen minutes later, we were in the night sky above Manila.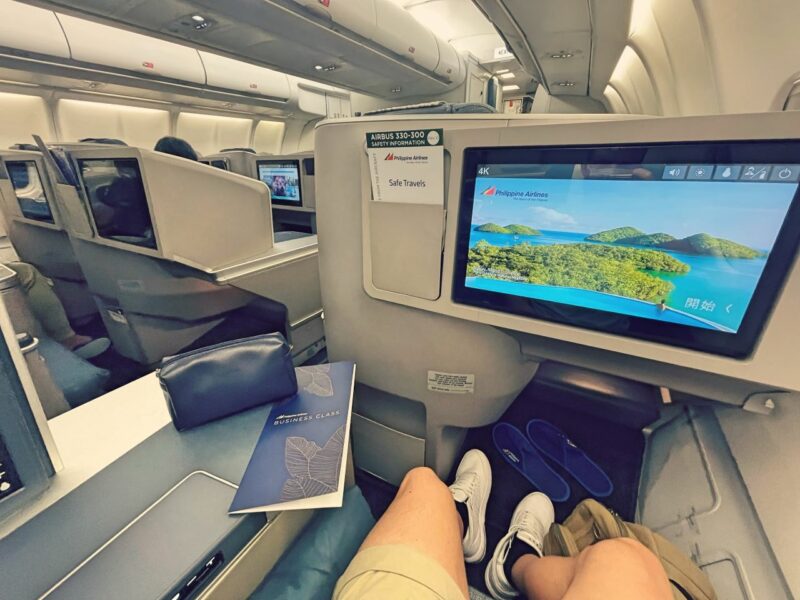 Within half an hour of rolling down the runway, I had my drink in my hand, and I checked out the IFE. Again, it had a decent amount of content (137 movies in total), although it was an extremely worldwide selection with very few Hollywood new releases.
Frustratingly, the map was again not working. There was a Wi-Fi symbol on the bulkhead of the aircraft; however, I couldn't connect, and when I asked one of the crew for assistance connecting, she advised me it wasn't operational as it was being 'updated'. A quick announcement at the beginning of the flight probably would have been helpful in this matter. There is also only one business-class toilet, which is at the front of the cabin. And 'cos of covid' you couldn't wait in the galley if it was occupied, which was a little annoying.
Again, the flight had a heavy crew ratio. For eighteen seats, there were three crew members – plus the once again invisible Purser, who, exactly like on the previous sector, did exactly nothing the entire flight.
The irony is these are crew complements that most managers, service designers, and cabin crew at other airlines would dream of, and yet, PAL has hardly turned a profit in its entire history. I wonder why?! There was only one empty seat, which was the aisle seat next to me, so I quickly nabbed the pillow. I did feel a little guilty when, around 45 minutes later, one of the pilots came to take his rest in the seat, but before I could offer him his pillow back, one of the crew had sourced two pillows from Premium Economy for him, which were exactly the same as the Business Class ones. On the subject of pillows, bedding is another area where PAL could improve. The pillow is quite small, and the blanket is similar to what you would find in World Traveller Plus on BA. Tablecloths were laid, and trays were hand-run.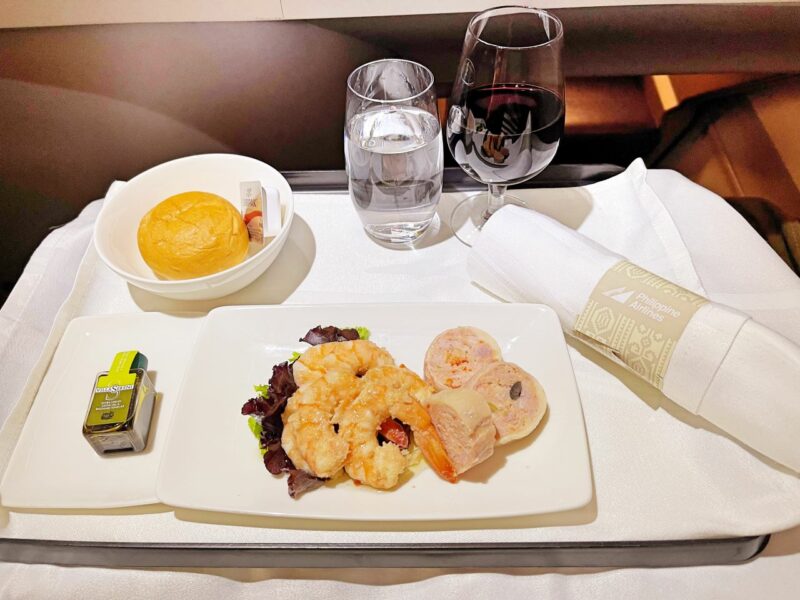 The flight contained the starter, the exact same plain dinner roll as on the previous sector, a glass of water, and, oddly a salad dressing but no salad. The starter had its own dressing, so I am not sure what I was meant to add the salad dressing to. The starter was tasteless and bland. The starter was cleared away, and the main was delivered.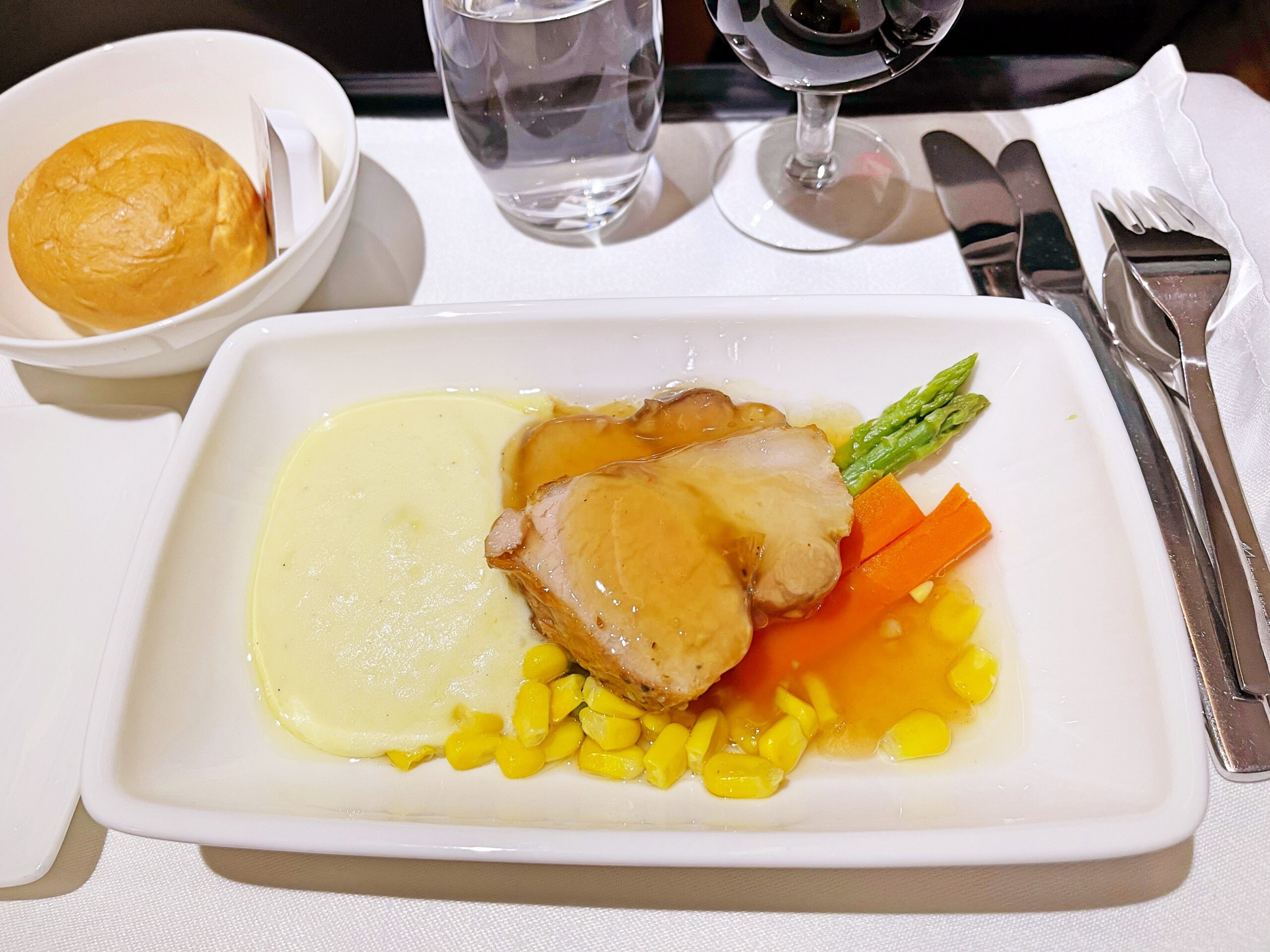 I had thought that given the long-haul nature of the flight and the high crew to passenger ratio, meals might be plated in the galley, but my pork was in a pre-assembled casserole dish and was basically like an economy hot meal but in crockery.
There were two small slices of pork loin in some weird jelly sauce. It was a really disappointing meal, to be honest, and resembled nothing like what I had been served a few years before on my Philippine Airlines flights.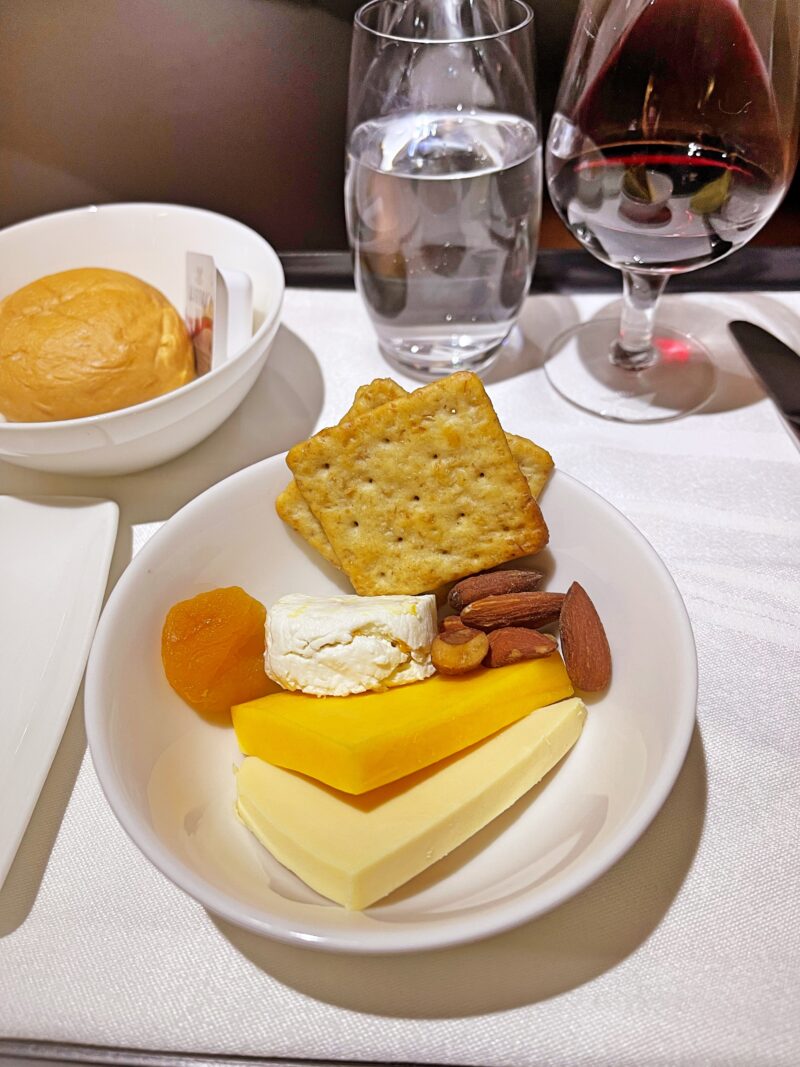 Cheese, dessert, and ice cream were then offered, and I went for some cheese, which was fine. There is such a high crew to passenger ratio that the crew member on my side of the cabin was often standing in the aisle waiting for something to do, which was amusing. Once the crew member cleared in the rest of the items, I put my seat in bed mode and slept a little.
Just shy of two hours before landing into Sydney, the lights were turned on, and the breakfast service commenced. The choice was between a cooked or continental option, and I overheard the crew member say to the passengers in the row in front of me they had run out of the cooked option and only had the continental. I was happy with that as that is what I would have chosen anyway, but it is poor to only have two options and already run out of one of them while only halfway down the aisle.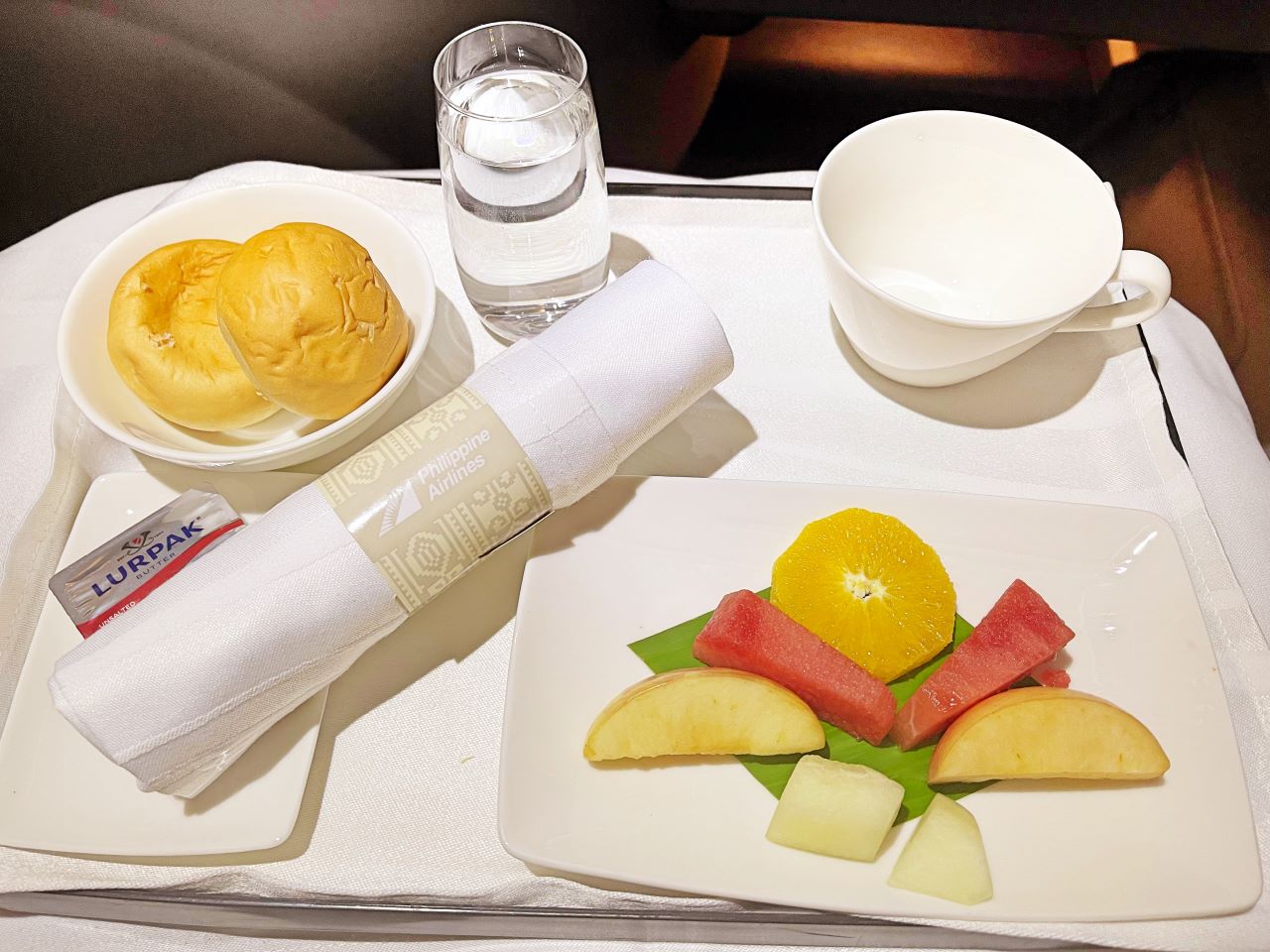 Breakfast was served from a trolley, and everyone received the same starter tray, which comprised some fruit that was already brown around the edges and that same damned dinner roll for the third time. There were no other bread options, no pastries etc.
The fruit plate was cleared, and the main delivered, which comprised of cold cuts and which I enjoyed. Coffee and tea were also offered, and despite an aircraft espresso-based machine being completely feasible for an 18-seat cabin with three crew, it is not offered.
Once again, the crew were all very polite and helpful and tried their best given what they had to work with. However I felt that they seemed to have lost the sense of pride that they had in their airline when I last flew with them in 2019. I know a lot of the flying public thinks that airline crew love having the absolute minimum to serve because it is quicker and easier, but from my own experience and most crew, I know we want to take pride in what we deliver. Which this crew rightly did not.
The announcement to prepare for landing was made, and we touched down in a sunny Sydney and were on stand at 10:05, 10 minutes before scheduled arrival.
Bottom line for Philippine Airlines Business Class: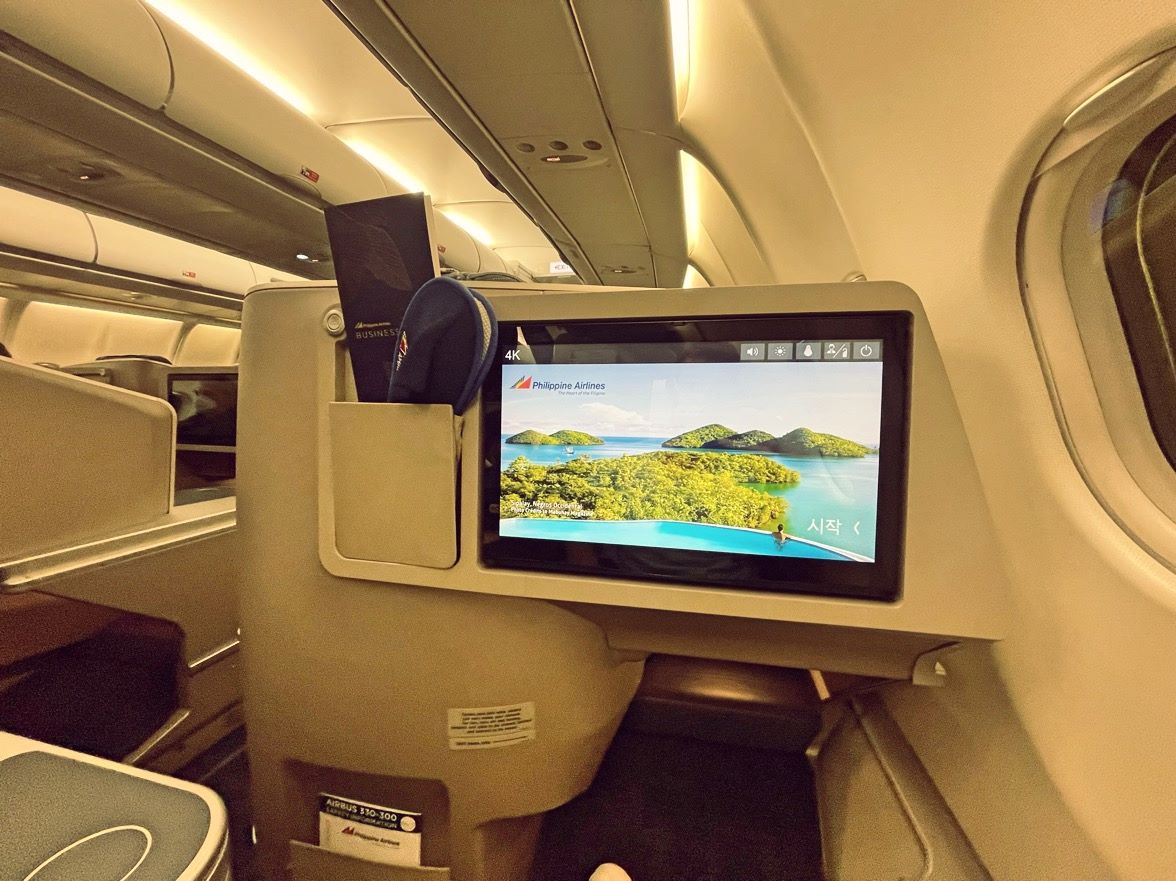 I'm not sure if the heart of the Filipina is still in PAL. The lack of colour on the bulkhead walls and the crockery also resembles the whole PAL experience a little – drab, a bit dated, in need of some….well, colour and life. It seems that they are cost-conscious in all the wrong ways – catering is fairly poor, and the lounge is decades past refurbishment. Yet they roster so many crew on flights that other airlines would dream of having in order to uplift the business class service and really engage with the customers, yet the Pursers seem to have the job of simply 'being there'. Also, the equipment just isn't there to enhance the business class proposition by plating each meal, for example or being able to make an espresso-based coffee. Saying that, in terms of the fare I paid and what PAL's competitors are charging, I do feel I got good value for money on these two sectors.
Like our Philippine Airlines Business Class review? You can read more flight reviews including our pre-Covid PAL review from London here.